March 24 - 30, 2019: Issue 398
Warriewood SLSC Surf Boats Carnival: End Of Season Pre-Aussies Training - Homage To Legendary Warren Molloy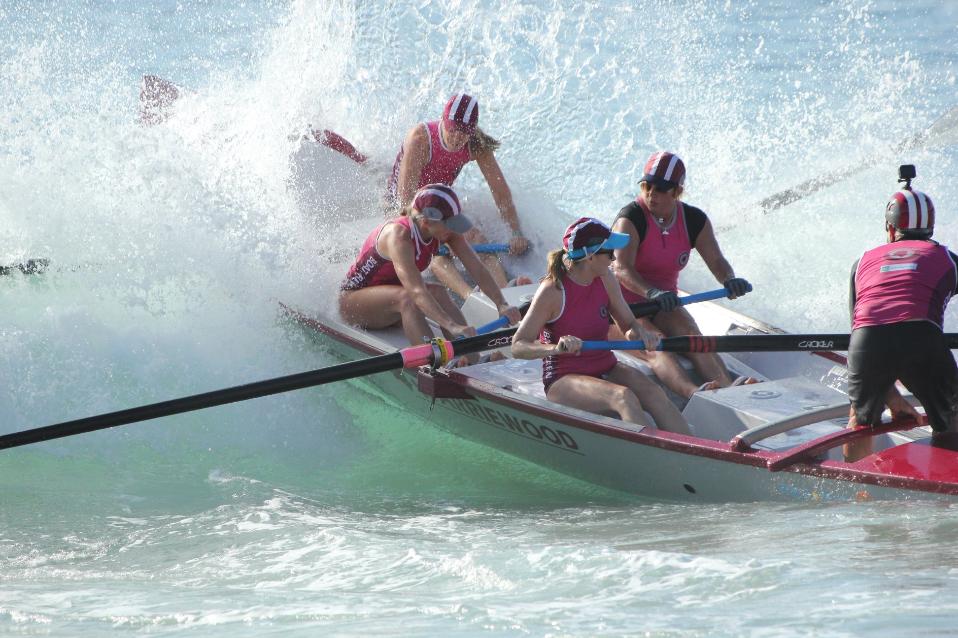 Warriewood SLSC's 'Rusty's at Warriewood yesterday, Sweep: Russell Lamb. Photo by Ashley Cardiff, ABSLSC.
Surf Boat crews made their way to Warriewood Beach yesterday, March 23rd, for an End of Season carnival hosted by the beach's surf club.
Organiser Russell Lamb said the main object of Warriewood SLSC's Boat Carnival was to give crews an opportunity to have a bit of training before they headed off to Aussies.

"Each division had 4 races each, " Russell explained after the carnival
"We had a little bit of surf, but not too much, so it wasn't too hard for the younger crews and newer rowers to gain some more experience. People at all levels had a good run. "
"This is such a good sport for so many, brings people from all walks of life together to learn about rowing, surf life saving, the ocean, and have some great fun."
Crews from south of the harbour and all along the northern beaches made their way to that beautiful little beach tucked beside Turrimetta. Mr. Lamb ensured there were some great prizes yesterday – Eco Downunder beach towels for all U19's crews for starters.
"Great prizes and a great carnival – thank you Russell and Warriewood SLSC." Avalon Beach SLSC President Ashley Cardiff said after the event.
The End of Season carnival participants also paid homage to legendary Sweep Warren Molloy who passed away on March 16th. He was aged 82.
Warren Molloy was the sweep of the 1977 Gold medal winning Warriewood Open Mens Crew. The champion '77 crew were in attendance at yesterday's carnival.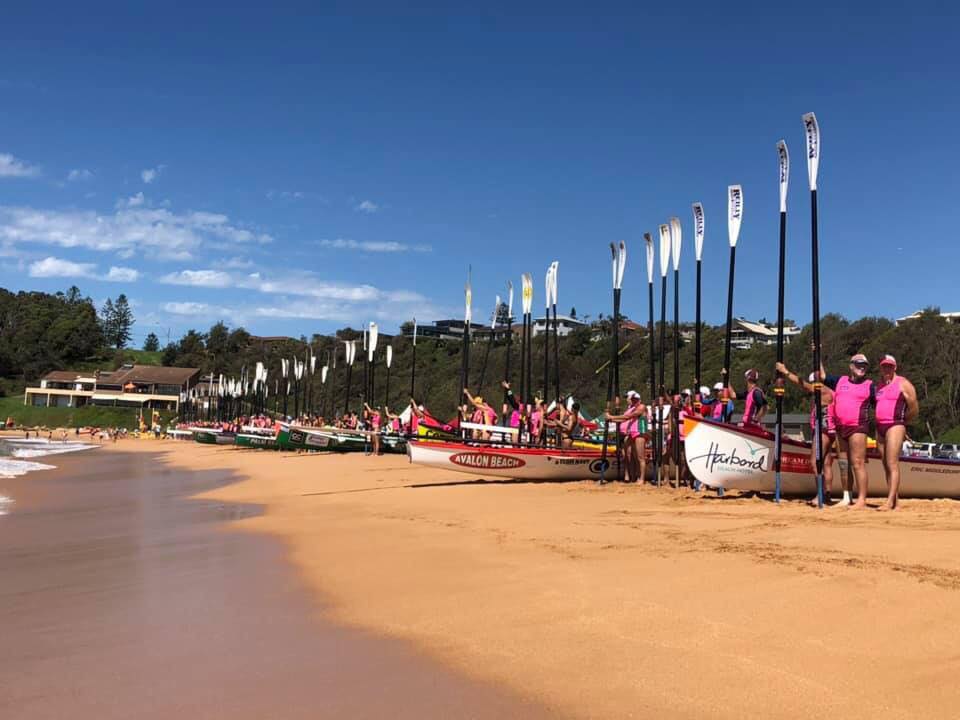 Warren Molloy Tribute at Warriewood Beach - March, 23, 2019 - photo by Russell Lamb.
Mr. Molloy was captain of the Australian representative surf team to New Zealand in 1972 and won two Australian open boat championships. Overall, he won 25 Branch, Interbranch, Metropolitan, State, Interstate and National Championships and two international contests against South Africa and New Zealand. Warren was inducted into the ASRL Hall of Fame in 2006.
Warren Molloy was not only one of Australia's best sweeps in surfboat racing but a man who was strong on discipline and behaviour.
Current North Narrabeen sweep Don McManus said ''He influenced my life tremendously in surfboats,'' during his Profile interview of 2014.
''He taught me about team effort, training, discipline, how to row and behaviour out of the boat.''
Don first met Mr. Molloy when he started out with Port Macquarie in 1960. ''He was my sweep and coach,'' Don said.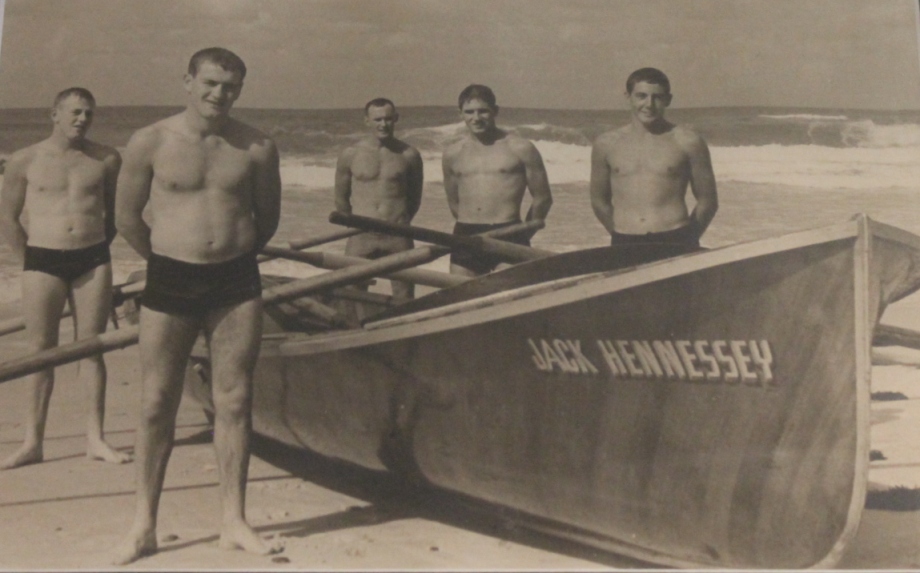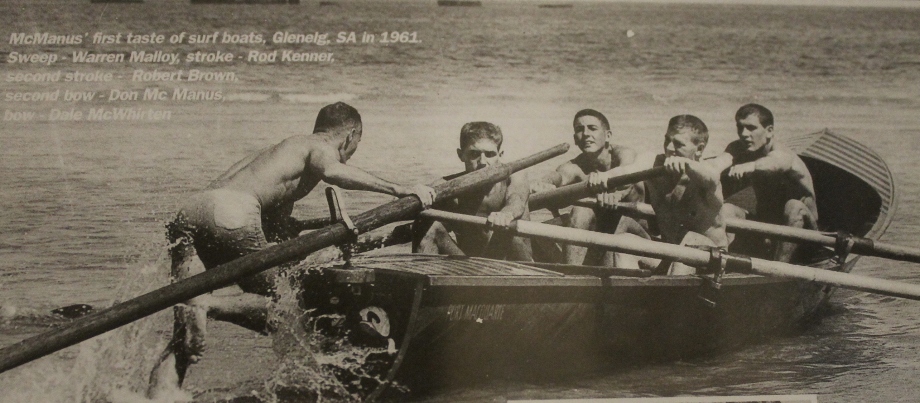 Photos courtesy Don McManus.
Warren first started out with the Garie SLSC in 1955 and became their boat captain at just 19.
As he had a long association with Queenscliff SLSC and was their club president in 1980-81 the family celebrated his life on Friday, March 22 at Queenscliff surf club. In lieu of flowers, the family asked for donations to Queenscliff SLSC.
Warren will be forever remembered by all especially his support of his wife, Helen. At the State Titles a few weeks ago he could be heard yelling out "run for the line".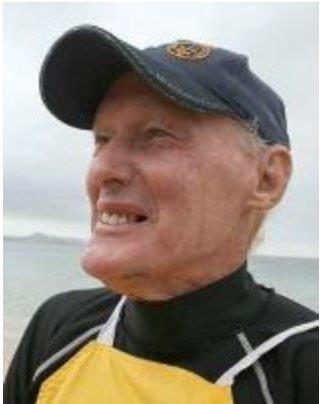 Professionally, as a Special Licensing Branch, Acting First Class Sergeant with the NSW Police Force, Warren Molloy was instrumental in bringing an end to reign of Abe Saffron at Kings Cross and ending the corruption that had crept into some parts of the force during the 1980's. He was incorruptible - a country boy, and you know what is said about country people - you can take us out of the country, but you can't take the country out of us.
On being a policeman Mr. Molloy said in an interview seven years ago, "I only ever wanted to be a police officer. All I wanted was to catch the baddies and look after the good people."
Joining the mounted police force at 19, Warren started his career in the country. He was later transferred to Campsie, Lakemba and Port Macquarie, eventually landing himself in Kings Cross.

Mr. Molloy left the Force in 1990, having been promoted to Inspector shortly after the tribunal that sorted out some aspects of what was going on. A scholarship awarded to him by the dean of the Law faculty of The University of Sydney allowed him to study law, where he graduated aged 55. Success followed him to the field of law where he ran the largest licensing law firms in Sydney in the 1990s.

Sporting success remained a constant in his life. In 1972, Molloy was named the Police Sportsman of the Year, an honour of which he is obviously very proud. He was also a surfer, some residents remembering this week seeing him out at Queenscliff Bombie, acing it.
When asked if the sporting success helped his career. "In some small way, yes; it's all self discipline and really to preserve, to do something, it's just a matter of giving it your best shot really and keep[ing] at it," he observed.

The northern beaches community extends deepest condolences to Helen, son David and daughter Vikki, grandchildren Charli, Jordan and Jayden, and great grandchild Willem.
Certainly a record to be proud of. The gentleman was a legend.
More legends will be heading to the 2019 Surf Life Saving Australia Championships (The Aussies) this coming week. Hosted by Broadbeach SLSC and North Burleigh SLSC and running from March 30th to April 7th 2019, the event brings together life savers from all over Australia. This year over 7,000 athletes from 314 Surf Clubs will compete in more than 400 beach and ocean events.
In announcing the return to the Gold Coast for the 2019 and 2020 Aussies in April 2018 Graham Ford AM, President, Surf Life Saving Australia said "the Gold Coast is a world-class location for surf sports and the region's recent experience hosting the Commonwealth Games means it is an opportune time to return to Queensland.
"Millions of dollars have been spent in the region on public infrastructure and beach facilities, making it an ideal location for the country's biggest and most prestigious surf sports event."
The Youth Championships will be conducted at North Burleigh SLSC from 30-31 March, with the Masters and Open Championships being held from 1-7 April at Broadbeach SLSC.
Timetables here: sls.com.au/aussies/the-aussies-2019-maps-and-timetables
The Surf Boat Events will take place on Broadbeach.
Warriewood is sending three crews north – the Rustys (2019 State Championships Gold medal winners), the Crustys and the Warriewood SLSC Angels.
"The Angels hope to win the Boaties Convention," Russell joked yesterday after the club's carnival.
"I'd like to thank all who attended our End of Season carnival – it was great fun and had an awesome vibe." Mr. Lamb said
"Thank you for honouring the great man, Warren Molloy."
And, "Good Luck at the Aussies!"
Photos by Ashley Cardiff from yesterday's carnival run below.
Report by A J Guesdon.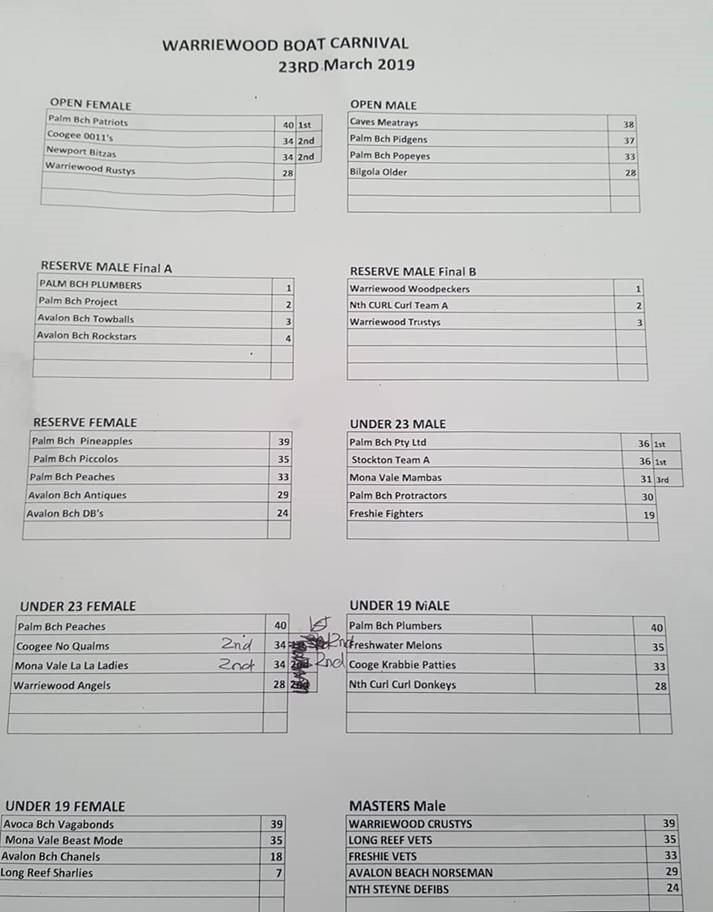 Warriewood Boat Carnival
Massive thanks to everyone who made it such an awesome day. What's that old saying about "it takes a village to raise a boat carnival"....
I'm reluctant to name individuals as I with miss a few... but, thank you to:
The SURF gods!
The WEATHER gods!
Our OFFICIALS. It started on time, ran smoothly, everyone got 4 races and done by 1pm! Sorry, but I have to name a couple, special mention to our referee Nick Sampson, you are the best! and Megan Hayward for getting all the draws and everything else up in advance as well as the results posted before we even got to the club. It saves so much time on the beach!
Our SPONSORS. Lot's of prizes and giveaways from Pittwater RSL, Graybuilt, KeySun and Ecodownunder.
Our Warriewood members who made it work. There were so many of them...... you know who you are..... but, special mention to President Jen and the committee for getting behind us, Club Captain Simo for organising the logistics, Elise for making sure the food was great and the officials were looked after, Cathy and Rob Milliken who were there from before sunrise till after everyone else left.....
The crews who traveled! Great to see Stockton, Caves, Avoca and Coogee and good luck for Aussies.
The Palmy Army! Seriously, it wouldn't have been the same without you. Looking at the results, we might have to name it the "Palm Beach v the Rest" carnival next year!
Our LIVE MUSICIANS, Nathan Cole and To Los Angeles.
All the crews! Thanks for the positive attitude and good competition. It was the perfect last hit out for Aussies for our crews.
If you enjoyed it, leave a comment, if there is something we can improve, send me a message.
Thanks again ALL for making it a great day.
Russ Lamb
Warriewood SLSC