November 25 - December 1, 2018: Issue 385

A Fresh Salt Spray From Freshwater SLSC Surf Boat Carnival: Event 3 Of 2018-2019 SLS SNB Premiership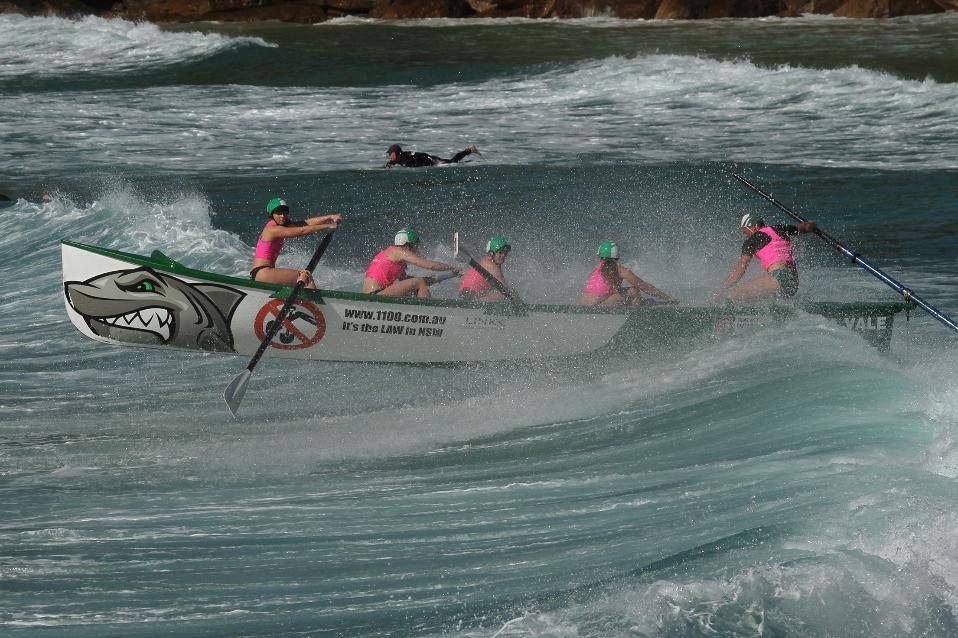 Mona Vale takes off ! - photo by Bill Sheridan, 2018
We've had choking dust storms followed by hard fast incessant winds and a return to snowy weather that switched to a warm verge of Summer humidity a day later this week.
The conversations around everything else impacting on the community has been through the full gamut of everything too.
This morning, sweet Sunday, has broken still, peaceful, pink and quiet. So, before you catch up with all that, take a deep draught of this and exhale - it's why we all live here in the first place!
Freshie hosted an excellent carnival yesterday, with those attending thanking Ian 'Crash' Cradock for a great carnival. There were some apologies due to locals having gone south to be part of the Lifesaving World Championships currently being held in Adelaide. The weather has been a bit of an outstanding feature there too.
A few weeks back boatie crews headed west for the Boaties Big Food Drop, and have been dubbed the 'yellow shirts' by Dubbo locals.
Go you good things - More HERE
Ingleside 'New Suburb' Development Plans Put On Back-Burner Due To Unacceptable Bushfire Risks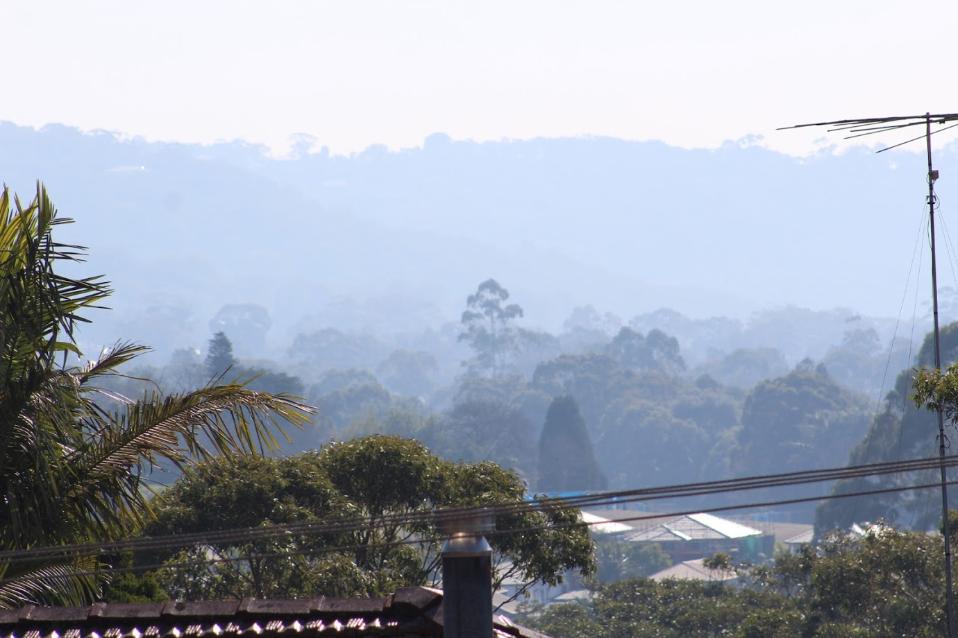 Safety First For Ingleside
November 23, 2018: Departmental Media Release- NSW Department of Planning and Environment
Proposed development plans for Ingleside will not proceed after an independent bushfire risk assessment found the 2016 draft plan would put future residents in danger.
Department of Planning and Environment's Acting Deputy Secretary, Planning and Design, Brett Whitworth, said the safety of residents is of paramount importance.
"Above all, we need to ensure the safety of residents at Ingleside," Mr Whitworth said. "During consultation, we heard loud and clear that bushfire risk and mitigation was a key concern to residents in the area. We listened and responded to these concerns, by going back and relooking at the way we were planning for bushfire protection in Ingleside," he said.
Mr Whitworth said the Department have halted plans at this stage to work with the Council and NSW RFS.

"We need to ensure we have the right evacuation measures in place for current and future residents – especially in the context of other nearby areas such as Elanora Heights, Warriewood, Bayview and Church Point," he said.
"This evacuation assessment, as well as consultation with landowners will help determine whether any further development could safely exist in the area.
"Any development would need to be at a much lower scale and we would need a guarantee that the road network could handle the extra development in the event of an evacuation.
"It would also need to include upgrades to the existing road network and bushfire defences, for example by introducing strategic fire-fighting water supply tanks," he said.
Campaigners Say A Networked Solution The Way Forward For Beaches Hospitals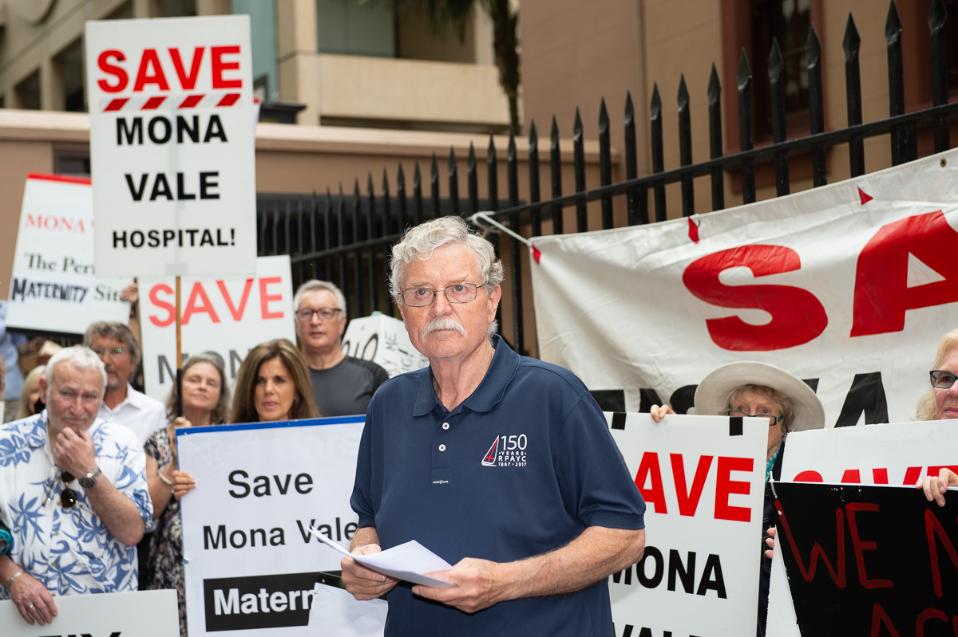 Save Mona Vale Hospital chairman Parry Thomas outside Parliament House this week Mr. Thomas at this week's Mona Vale Hospital 'Wake'. - photo by Michael Mannington, Volunteer Photography.
November 24, 2018
The NSW government should step in to resolve the Northern Beaches Hospital debacle and reopen acute services at Mona Vale as part of a networked solution, campaigners say.
Save Mona Vale Hospital chairman Parry Thomas today said the problems at the new hospital could be eased in part if acute services were reopened at Mona Vale Hospital under a networked hospital model.
Mr Thomas said his group had warned the state government that the new hospital would attract larger numbers than expected due to its catchment extending to the North Shore rather than just along the coastal strip.
"The Northern Beaches Hospital operators Healthscope and state government have clearly been broadsided by the number of patients going to the new Frenchs Forest facility, now that full hospital services are no longer available in the actual beaches area," he said.
"An extra 15 minutes to half an hour travel time to the new hospital for coastal residents is exacerbating the danger of life-threatening emergencies.
"Therefore, Mona Vale Hospital should be reimagined as part of a network of hospitals serving the northern beaches, restoring a fully-functioning emergency department, surgery, ICU and maternity.
Mr Thomas said a vote of no confidence by senior doctors in the NBH medical director Dr Louise Messara and resignation of its CEO Deborah Latta this week clearly showed the issues at the new hospital were more than "teething problems" – as they have been described by NSW Health Minister Brad Hazzard.
"The state and federal governments must step in to end the dysfunction by turning the new hospital into a public facility to restore the public's confidence," Mr Thomas said.
"And with not a single medical practitioner prepared to support Dr Messarra, it's time that she resigns from her post."
Station Beach Off Leash Dog Area Proposal Ignores Current Uses Of Area, Environment Values, Long-Term Fauna Residents, Lack Of Safe Parking And Clearly Stated Intentions Of Proponents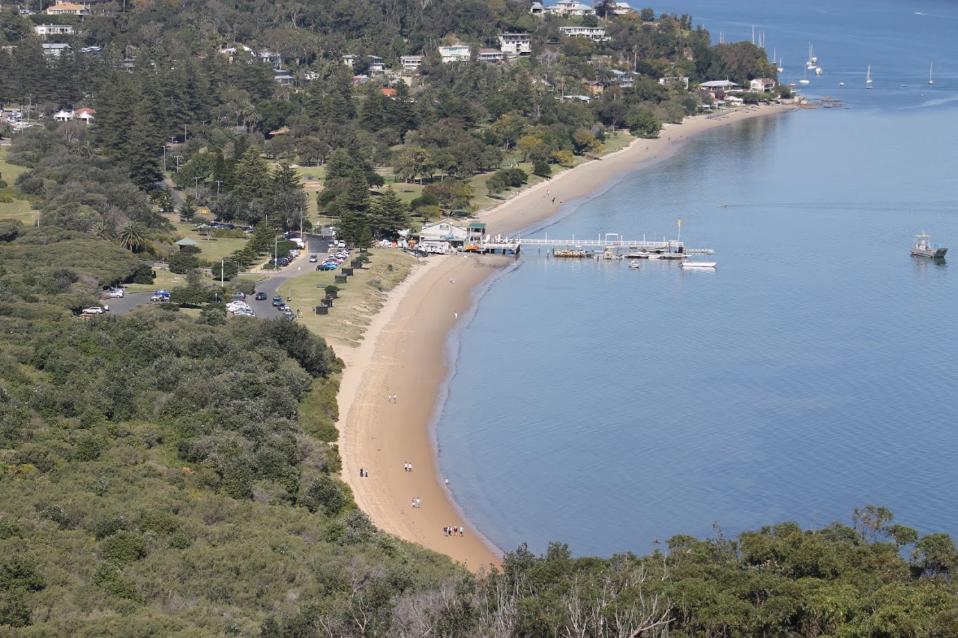 Barrenjoey/Station Beach.
Those who strolled through Careel Bay playing fields or along the shore at Careel Bay during the pre local government elections would have been approached by people forcing on them the below 'how to vote' leaflet. The lobbyists were not interested in any discussing any other point of view.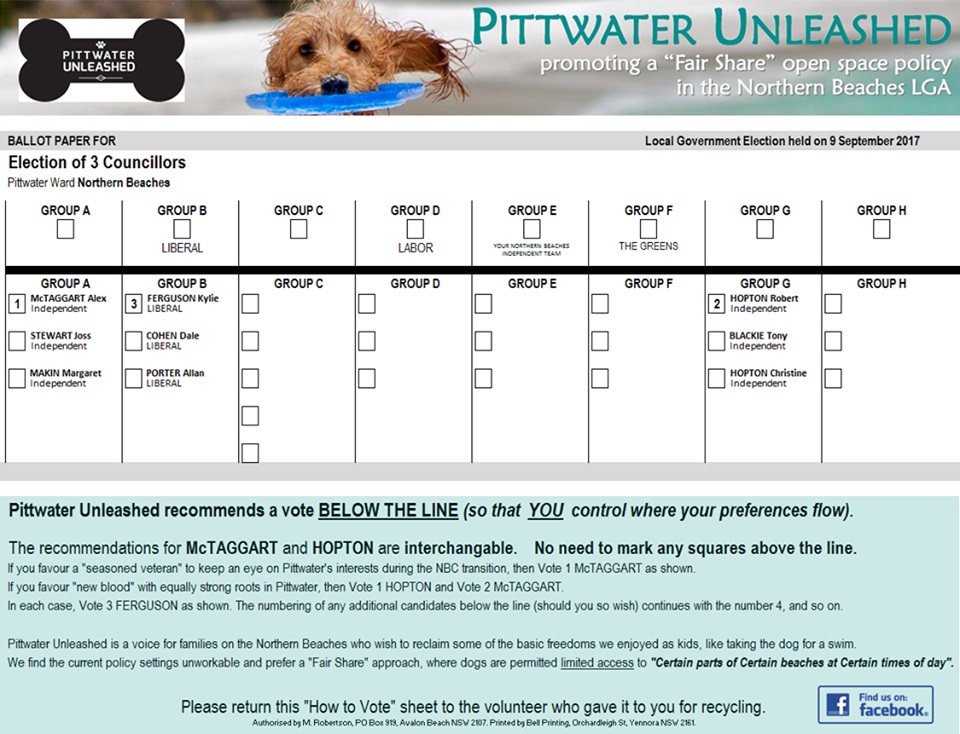 The same councillor preferenced, who voted against Pittwater Council seeking to defend its right to exist via legal action, action that proved successful for those who did so and remain intact, secured a seat as a representative for Pittwater in the forcibly amalgamated council and pushed for what was promised to the 'how to vote card' volunteers.
As a result the community is now asked to have its say on allowing dogs off-leash into an area known for its endangered ecological community, known for being beside a golf course where an errant ball may whack someone in the head, as has occurred at Mona Vale since a public pathway was installed alongside it, known to be a place where seabirds live and have lived for a long time, known to be a place where people who breakfast at The Beach House stroll, known to be a place where thousands of visitors to Barrenjoey Headland and Lighthouse visit, and known to be a place where Palm Beach residents are already walking their dogs, leaving a faeces trail behind them.
In the most recent State of the Beaches report Station Beach/Barrenjoey Beach, showed the highest range of faeces present of all estuary beaches. If it is not dog leavings, per the definitions of such annual reports, then the faeces present must be that of birds, lots of birds, and not an area suitable for dogs to be running around off-leash in.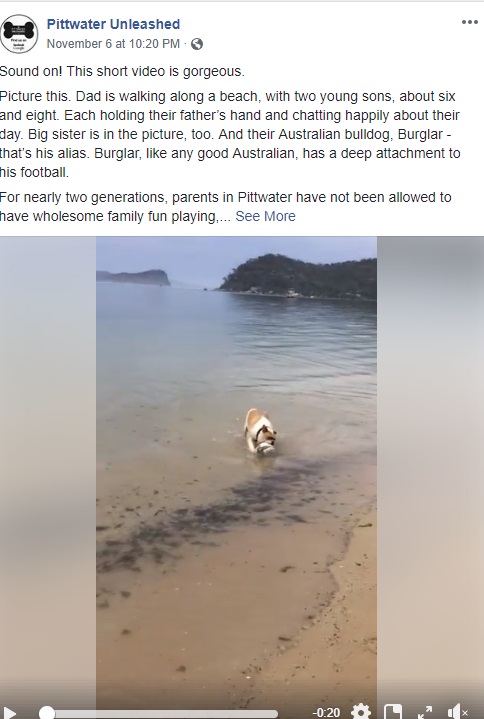 The proposed area is also known to be one frequented by families with very young children as it provides a safe area for toddlers to paddle. One postee on the Pittwater Unleashed page has pointed out;
'Please keep training each other to pick up after your dogs. And if you're not in control of your dog don't take it to the beach and wreck it for everyone. Was there in May and 2 dogs let out ran up to little kids jumped up on them and scratched them all in a few seconds and right next to their mother. If you think first everyone will have more pleasure and freedom…' – August 26, 2018
The area proposed is meant to terminate at the Boat Shed wharf. However, posts on the Pittwater Unleashed Facebook page make clear their intention to gain access to the Barrenjoey Headland National Park.
Extension On Submission Period For Proposed Fenced Lease Of Green Space Thoroughfare Adjoining Careel Creek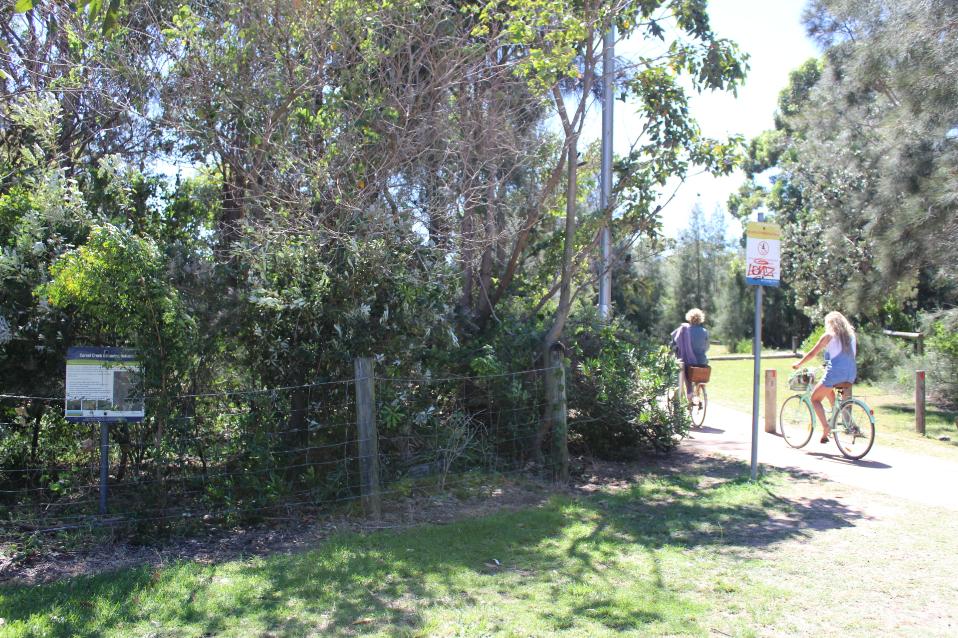 Community members have expressed concern this week regarding the proposed lease of 547.8 sqm of land to provide a fenced school playground extension at North Avalon.
The proposal by the school to expand its current school land holdings was not publicised where community members could see it and many reacted with surprise once they knew. Consequently the public exhibition period and opportunity to make a submission was extended this week until Sunday December 2nd, along with signage being placed in the adjacent area where passers-by may read it.
The land extends from the Barrenjoey Montessori buildings to the junction of the creek and yellow brick road pathways. The land currently features a council bush regeneration area and open grass.
Although the proposed lease is called 'road reserve adjoining 2B Tasman Road, Avalon Beach' most people recognise it as green open space - as shown in the location photograph above.
Under section 153 of the Roads Act 1993, 'A roads authority may lease land comprising a public road (other than a Crown road) to the owner or lessee of land adjoining the public road if, in its opinion, the road is not being used by the public.'

Under section 154 of the same Act, Public notice is to be given of the proposed lease, identifying the 'public road' to which it refers and also notify the public that anyone may make a submissions regarding the proposed lease.
The red section shows the area proposed to be fenced off: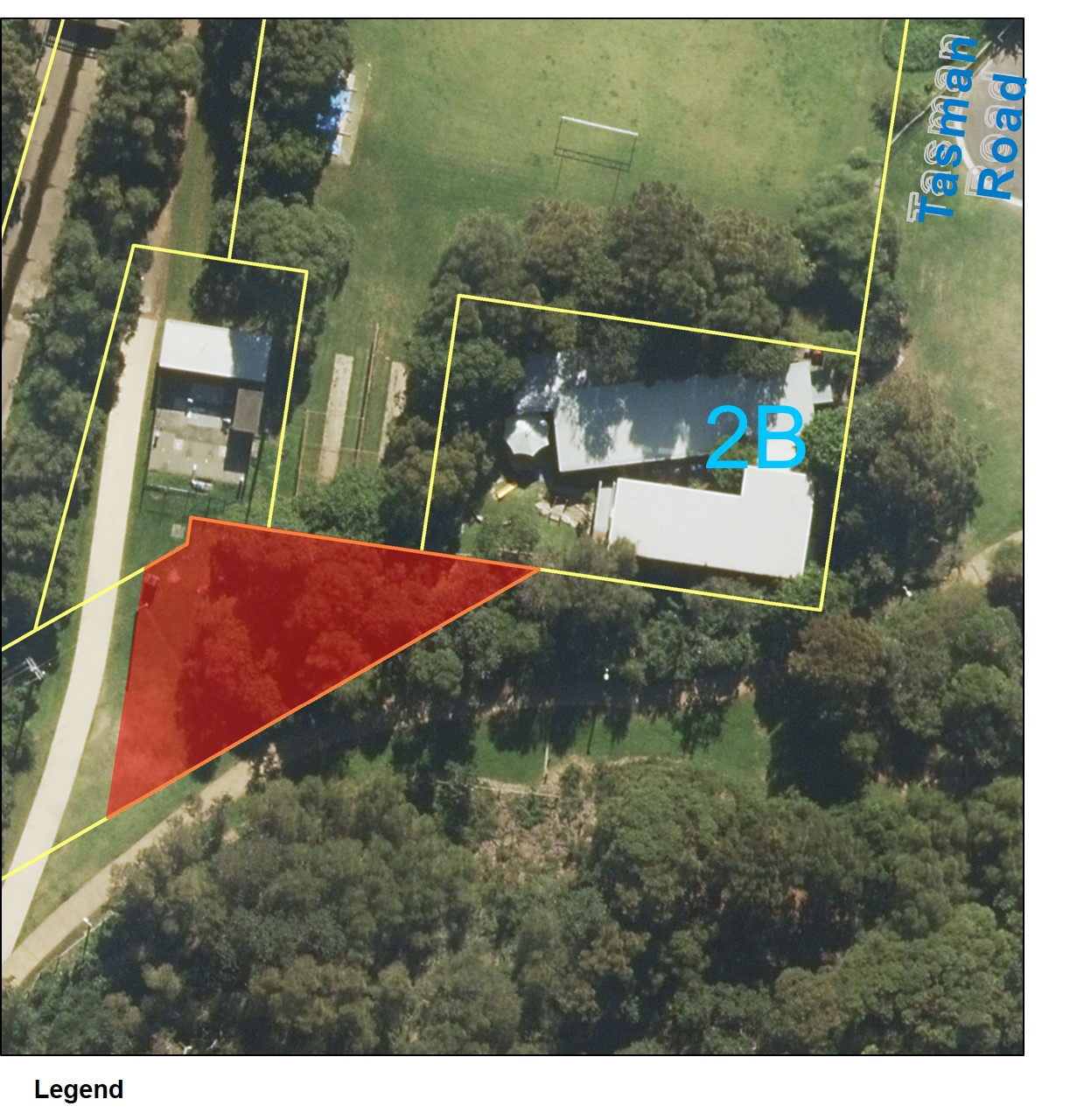 The above, the 'lease plan', along with a surveyors drawing commissioned by the school, 'the site plan', along with 'Council hereby gives Public Notice of its intention to consider a lease for a term of five (5) years for the land adjoining 2B Tasman Road, Avalon Beach known as Lot 2 Deposited Plan 793596.' are available on the same webpage where you may Have your say - Online and In writing to the CEO, Northern Beaches Council, PO Box 82, Manly NSW 1665, marked "Proposed lease 2B Tasman Road, Avalon Beach".
Visit: Proposed lease - road reserve adjoining 2B Tasman Road, Avalon Beach (Barrenjoey Montessori School)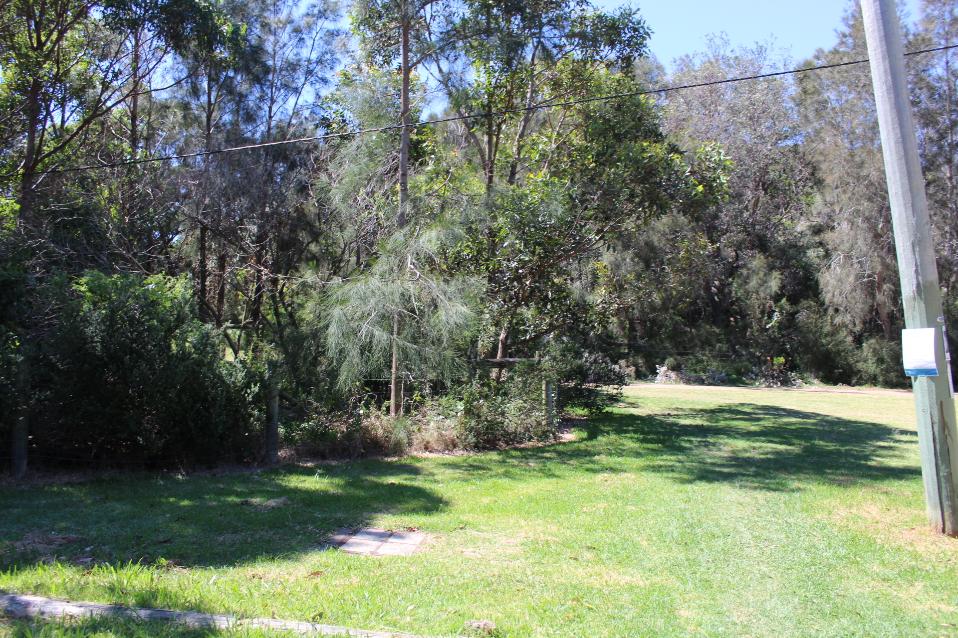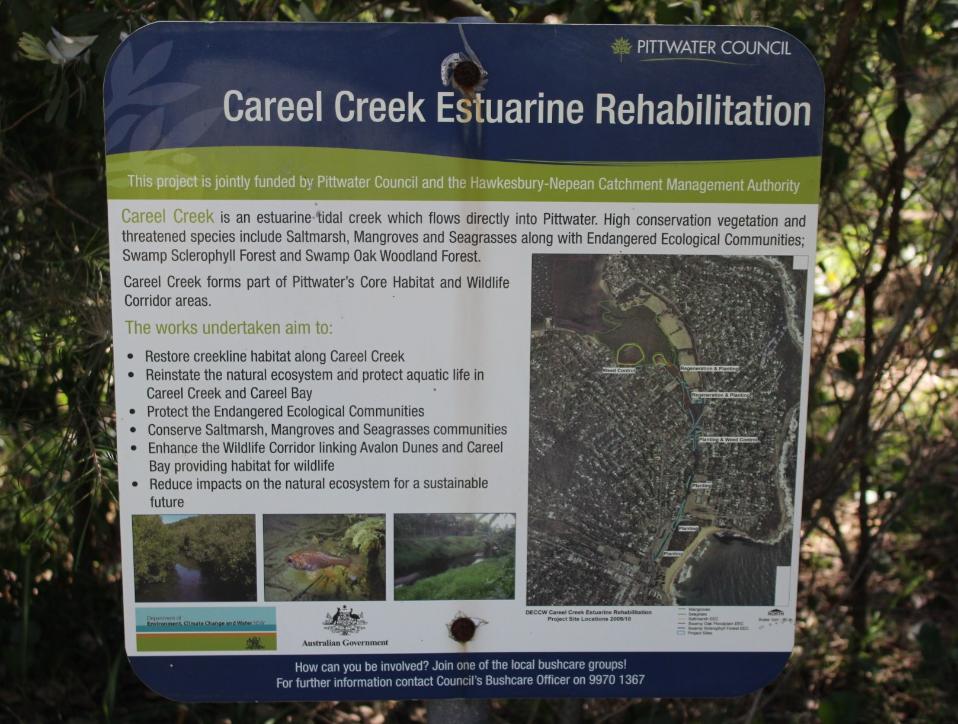 Be Brave Artspace - The "BRAVE" 2018 Exhibition By 14 Artists: Open To Dec. 23

A large crowd turned out to the opening night of end of year 'Brave' Exhibition in the Be Brave Artspace, Gallery and Studio at North Avalon-Careel Bay Friday night, November 23rd.
Celebrating and showcasing the works of 14 Artists, the works range from jewellery, to ceramics, landscapes, portraiture and mixed media - there are even some beautiful mosaic stools.
Brave 2018 features work by James Cooper, Tara Axford, Maria Viviana Ramirez, Tracey Trinder, Sue Richardson, Tina Berkeley, Mark Kingston, Brenda Mackenzie-Haig, Flavia Julius, Nicholas Osmond, Chris Sutton, Fiona Mitchell and Kajinki.

'At the end of each year I will be curating a group exhibition called "Brave". ' explains Be Brave's owner, an Artists herself, Tina Berkeley explains.
'I decided to leave the theme loose, focusing more on each artists signature works. I want the exhibition to demonstrate courage, creativity and commitment and for the first time I have decided to join the exhibiting artists in this Group Exhibition.'

The Be Brave Artspace opened on December 1st 2017. Since then the floor level airy and light filled space has hosted a range of brilliant Artists.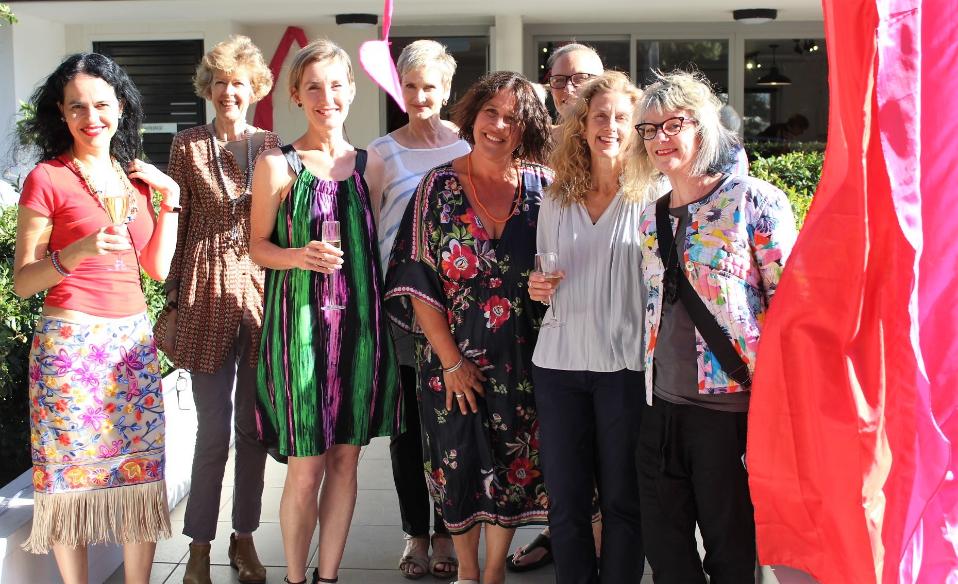 Some of the Brave 2018 Artists outside the gallery at this years' Opening Night.
Palm Beach Sailing Club's Beware The Bullets Regatta 2018

A 'cracking weekend' was had by all sailing in this year's PBSC Beware the Bullets Regatta, great conditions, great people, great support crew and great courses on a brilliant Pittwater. Even those who couldn't sail due to a dodgy knee, for example, had a great time catching up with everyone. Newcomers also commented on the friendliness of the club and its members and the superlative way the regatta is run.
This was the 53rd consecutive running of the annual regatta. In the 1970's and 1980's the Beware The Bullets regatta was conducted from Governor Phillip Park where over 200 off-the-beach catamarans would attend.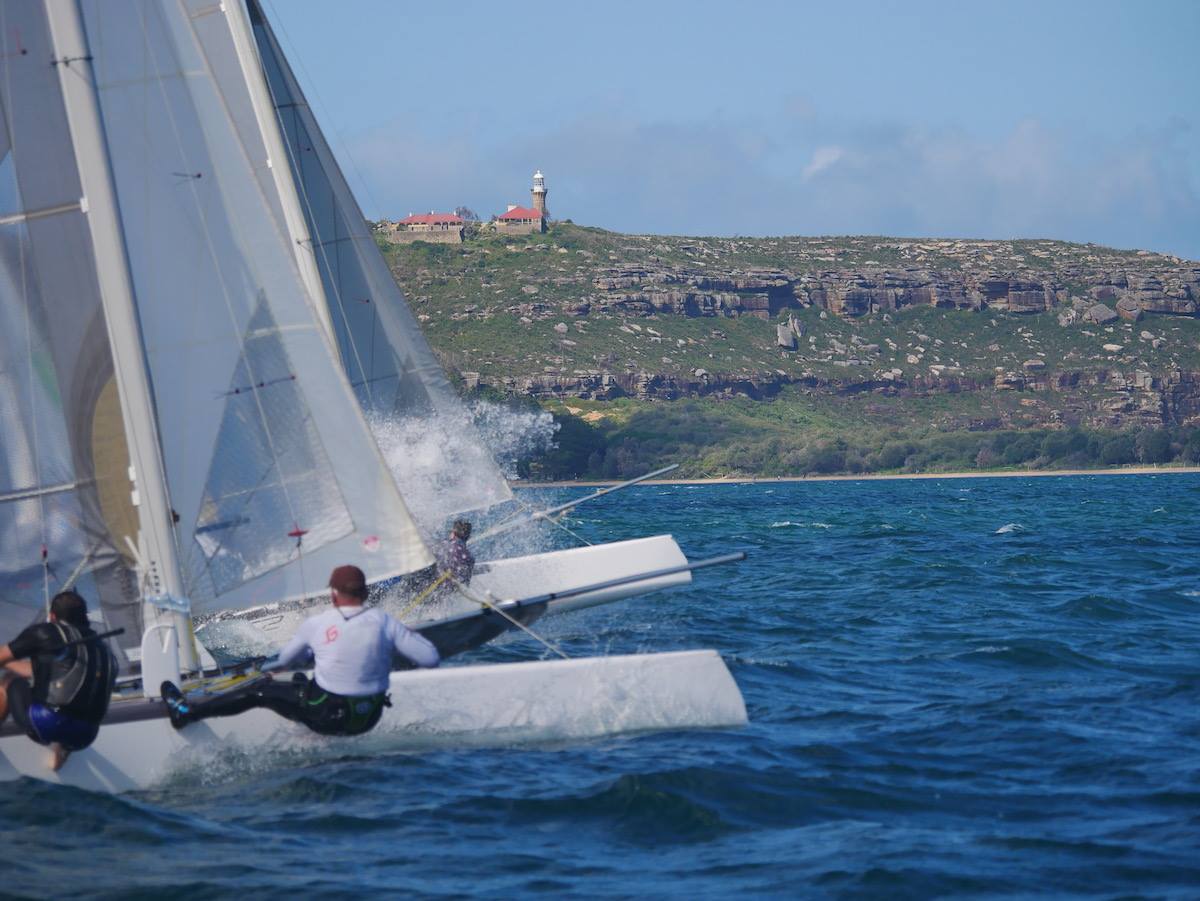 Every year we see catamarans flying a hull very high as a result of the bullets and, if you are not careful and react swiftly, the bullets can make the boat capsize and sailors lose their position in the race.
Doggie Rescue's 2019 Calendar Is Out!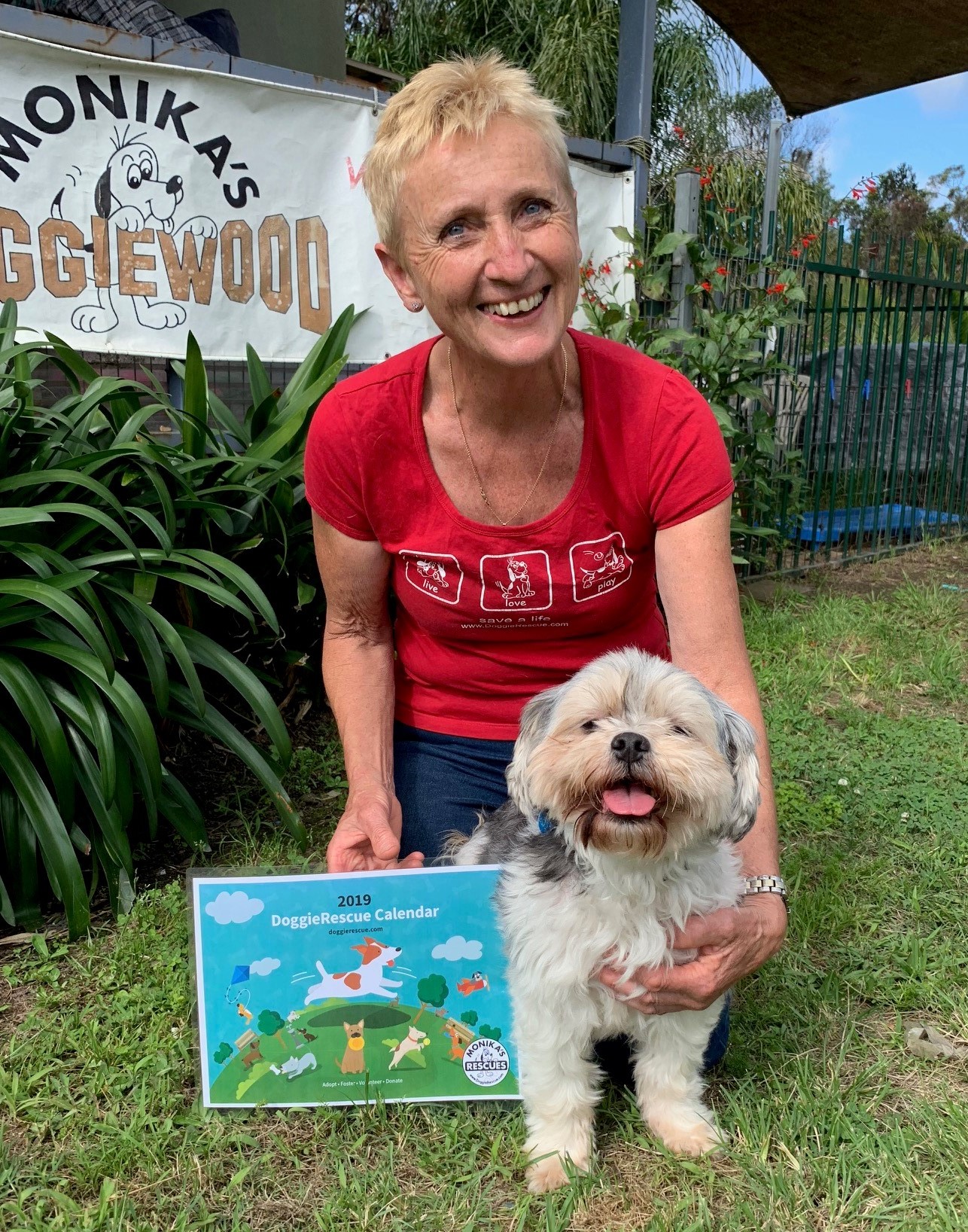 Monika and Pepper
DR's ever popular calendar is out now. Each month features a winning photo from the calendar competition showing DoggieRescue dogs in their new forever homes.

The cover depicts our new Freedom Dog Park that now brings so much pleasure and happiness to our dogs and volunteers. This is your opportunity to grab a calendar for yourself and perhaps a few as Christmas presents for your doggy friends.
At $15 it makes the perfect Christmas gift, knowing that 100% of the proceeds of the calendar goes directly to the animals in our care.
It is available online at www.DoggieRescue.com or can be purchased by calling 02 9486 3133 or by visiting the shelter at Ingleside.
Spring Becomes Summer In Pittwater
The last week of Spring each year brings the annual HARKEN International Youth Match Racing Championships, hosted by The Royal Prince Alfred Yacht Club, to Pittwater. The 2018, which is the 26th consecutive HARKEN, is seeing 12 crews compete for the Rockin' Robin Perpetual Trophy on the RPAYC's Elliot 7 performance keelboats with a team of four or five, all of who must be under 23 years of age.
The RPAYC has two great crews in this year, Skippered by James Farquharson and Juliet Costanzo.
The plan for today is to get straight into the quarter finals with a full schedule of sailing to complete including Semi's & Finals. You can watch all the action LIVE today with an added bonus - two very special sailing commentators...

You want want to miss them!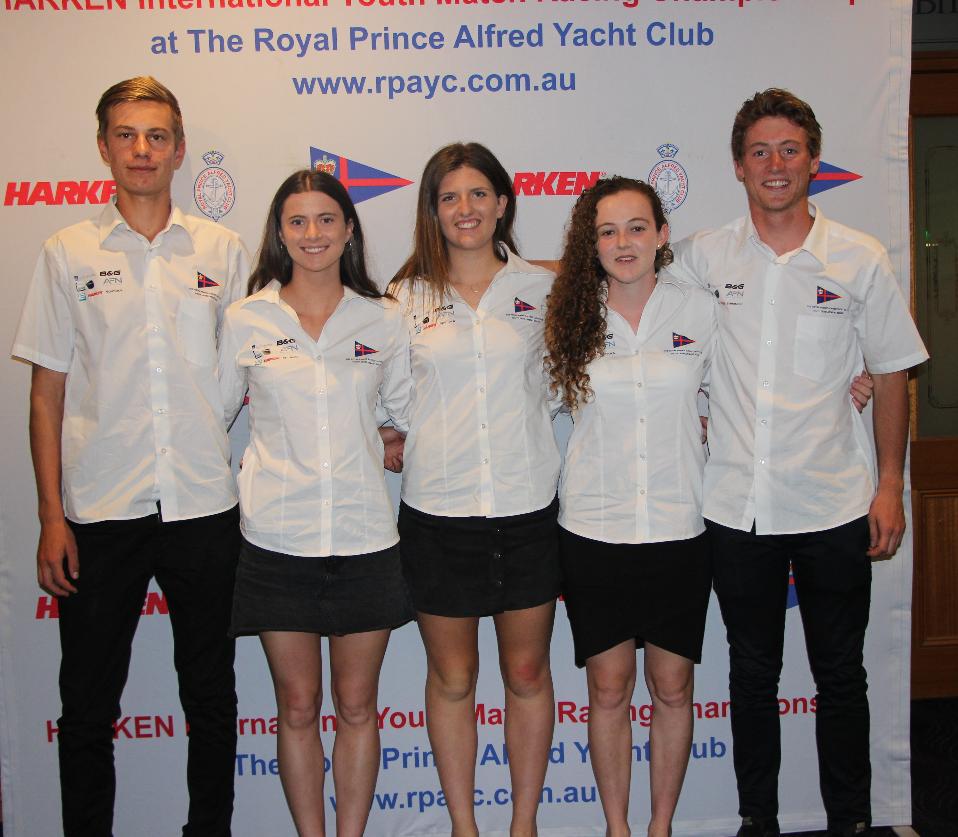 Past Features Archives (pre 2014)
Pittwater Online News was selected for preservation by the State Library of New South Wales and National Library of Australia. This title is scheduled to be re-archived regularly.
Archived Issues (2014 on) may be accessed here: pandora.nla.gov.au/tep/143700