November 25 - December 1, 2018: Issue 385

Be Brave Artspace - The "BRAVE" 2018 Exhibition By 14 Artists: Open To Dec. 23

A large crowd turned out to the opening night of end of year 'Brave' Exhibition in the Be Brave Artspace, Gallery and Studio at North Avalon-Careel Bay Friday night, November 23rd.
Celebrating and showcasing the works of 14 Artists, the works range from jewellery, to ceramics, landscapes, portraiture and mixed media - there are even some beautiful mosaic stools.
Brave 2018 features work by James Cooper, Tara Axford, Maria Viviana Ramirez, Tracey Trinder, Sue Richardson, Tina Berkeley, Mark Kingston, Brenda Mackenzie-Haig, Flavia Julius, Nicholas Osmond, Chris Sutton, Fiona Mitchell and Kajinki.

'At the end of each year I will be curating a group exhibition called "Brave". ' explains Be Brave's owner, an Artists herself, Tina Berkeley explains.
'I decided to leave the theme loose, focusing more on each artists signature works. I want the exhibition to demonstrate courage, creativity and commitment and for the first time I have decided to join the exhibiting artists in this Group Exhibition.'

The Be Brave Artspace opened on December 1st 2017. Since then the floor level airy and light filled space has hosted a range of brilliant Artists.
Lots of red dots on Opening Night, and great buzzy vibe among Artists and Visitors is an indication of how good all the Brave 2018 collection of works are.
Brave 2018 runs until December 23rd - perfect those who want to find something unique for Christmas gifts.
Some photos from Brave 2018 Opening night run below
Be Brave Artspace
5-7 Careel Head Road, Avalon
Hours Wednesday to Sunday: 10:00 AM - 4:00 PM
Visit: www.bebraveartspace.com.au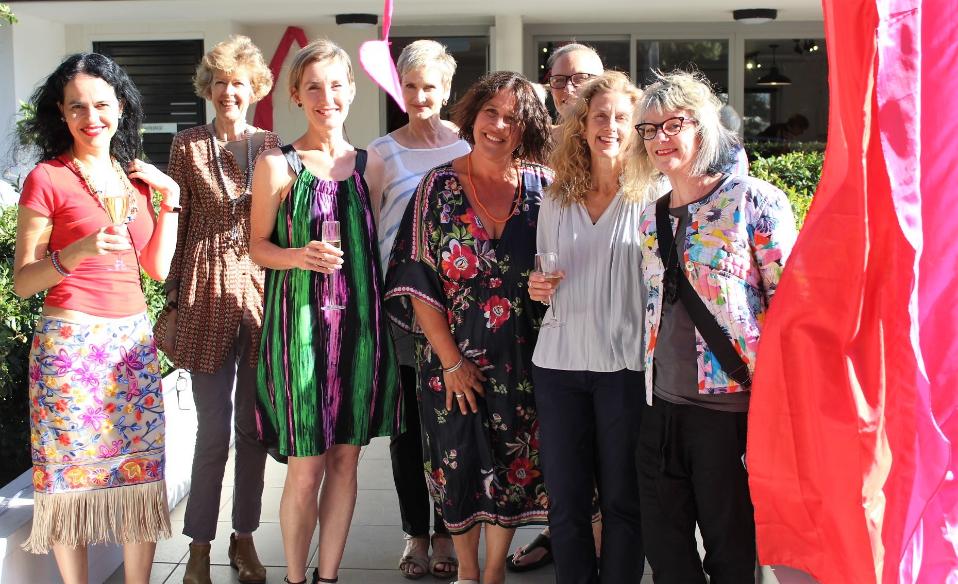 Some of the Brave 2018 Artists outside the gallery at this years' Opening Night.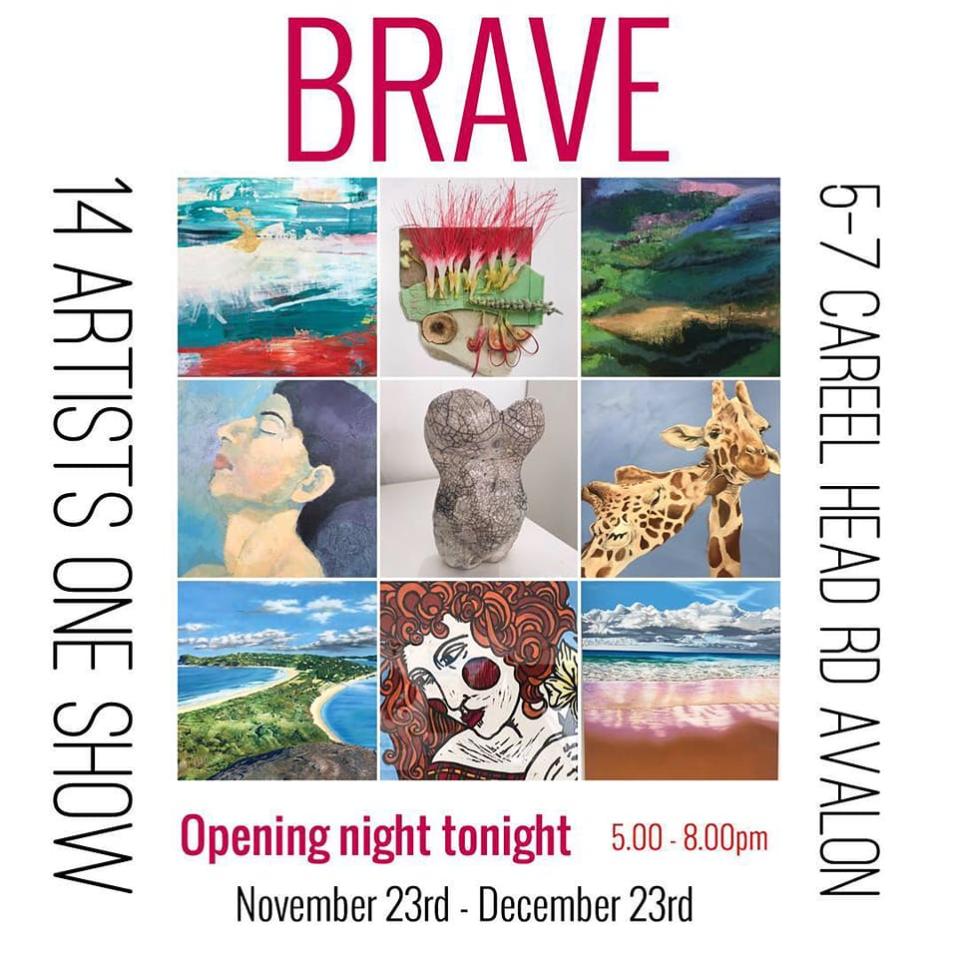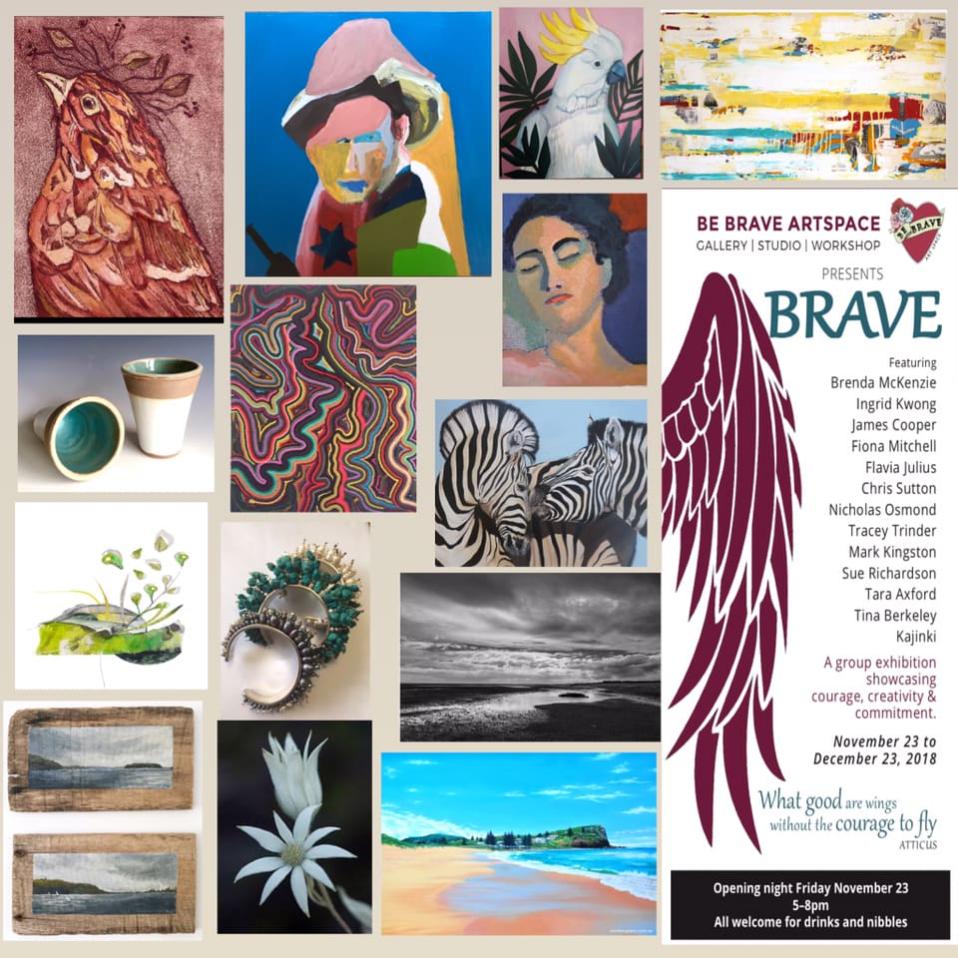 Brenda McKenzie
Linocut/Hand Painted Prints
Most of Brenda's life journey has been one of observing and creating artistic images. For many years she worked as a makeup artist involved in the Australian film and television industry, painting faces and bodies.
Her love of art took her to National Art School and TAFE to study drawing, painting, ceramics and printmaking.
Living on the the northern beaches of Sydney, is one of her inspirations: focusing on the natural physical elements and visual beauty.
For the past two years she has been exploring the different aspects of printmaking. Discovering traditional and contemporary practises. This allows her to connect her drawn and painted images using Relief and Intaglio printing processes, such as Dry Point etching, Linocut, Aluminium Etching and Collagraph. Scratching and cutting images into various materials that can be made into printing plates, then inking and printing either by hand or on a press.
Brenda also enjoys life drawing and exploring the art of portrait painting.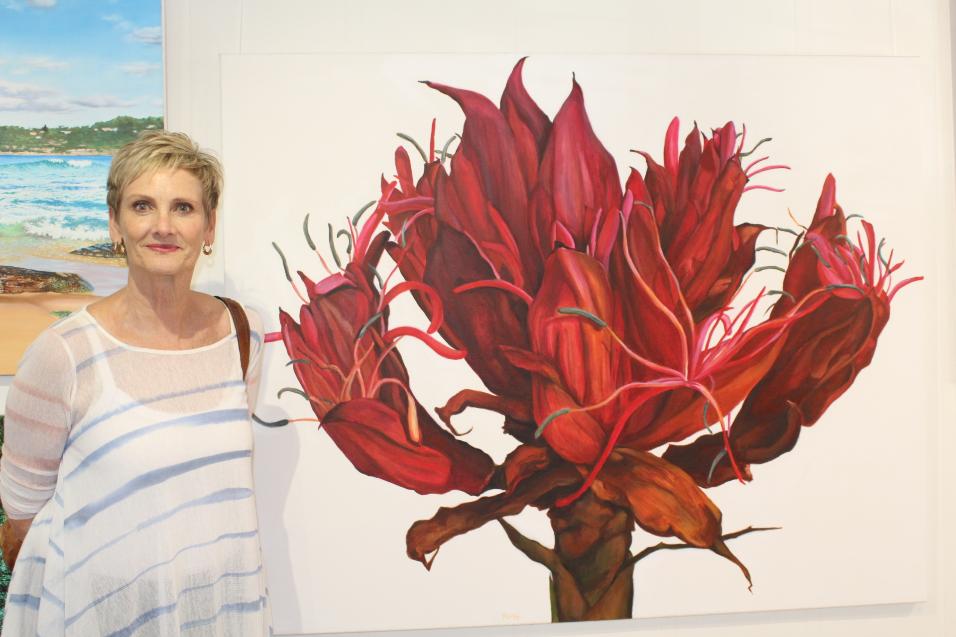 Brenda with one of her works, Gymea Lily
Ingrid Kwong
Little Scapes
Originally trained as a graphic and book designer, Ingrid is now fulfilling her passion for painting through her 'little' landscapes on salvaged wood and timber. Spending time at her much-loved Little Black Shack, an original waterfront fisherman's shack in Mackerel Beach, she is constantly inspired to capture the beauty of the surrounding Pittwater and Ku-ring-gai Chase National Park.
Completely immersed in nature as she paints - on a rock beside the sea, under a tree, on the beach or at her seaside shack window - with brush in hand and the environment in her heart, Ingrid mixes colours on a palette with sea and rain water and creates her 'little scapes' on salvaged timber, often carried to her on the sea by the wind and tides.
Caring about sustainability and the environment, Ingrid hopes her 'little scapes' inspire others to see the beauty in her area and want to protect it as much as she does.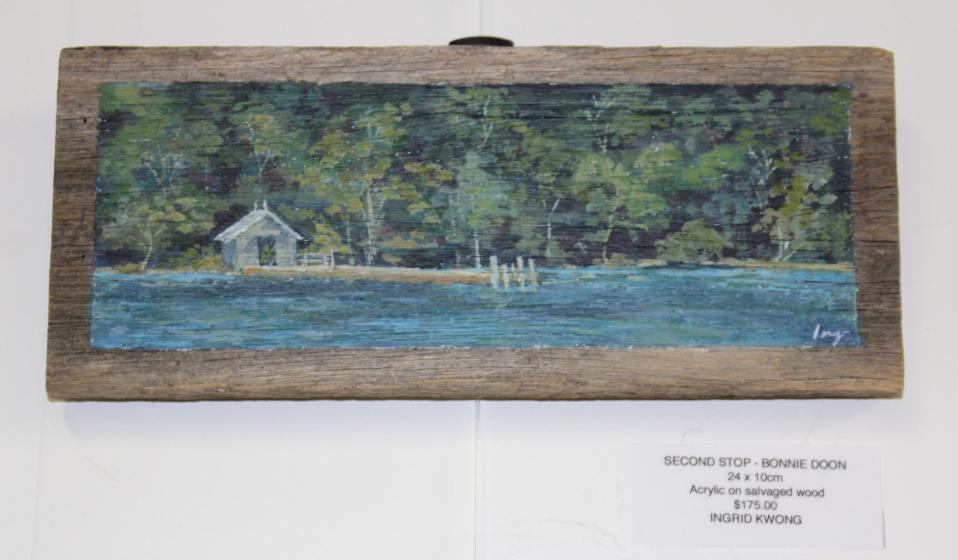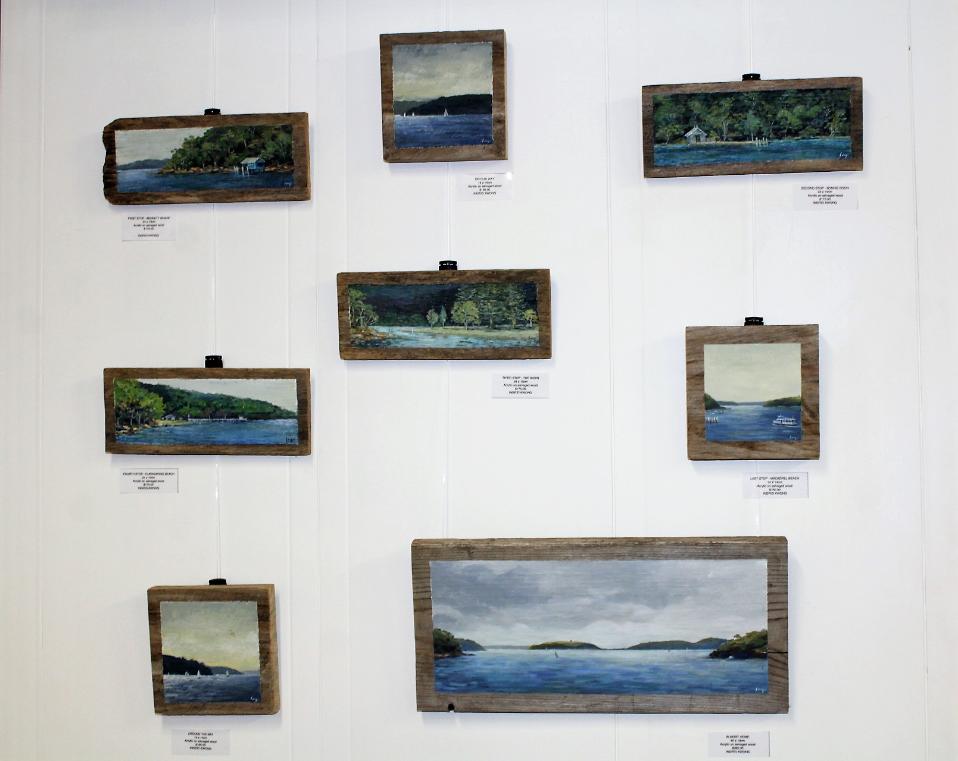 James Cooper
Abstract
James Cooper is an Australian artist living and working between Sydney & California. He studied in Sydney, and holds a degree in Visual Communications & Design and has lived abroad for many years in Europe and America.
His work is inspired most directly by a combination of mysticism, the metaphysical and the visible natural environment, specifically the oceans and marine environments. Cooper likes to layer and texture his work, building up images up over a period of time – often taking months just to complete one image.
His practice has always revolved around drawing as a way of seeing and understanding / interpreting the world around him. Time living and working abroad in London, Dublin, New York and Los Angeles has informed Cooper's process and influenced his aesthetic notions.
A recent trip to Japan opened Cooper's eyes to a new way of seeing and his drawn and painted works have undoubtedly been influenced by this Japanese aesthetic. James was hand picked by world art experts to show as 1 of 100 of the very best emerging artists in Sydney at The Other Art Fair presented by Saatchi Art, March 22-25 2018, Australian Technology Park. He was invited to show at the Melbourne edition of the show in early August, 2018.
His works are held in private collections in the US and Australia.
Fiona Mitchell
Portraits & Still Life
Fiona Mitchell is an architect and artist.
As part of her architecture degree she took classes in drawing, painting and printing as well as art history. A favourite lecturer was Lloyd Rees.
Her subjects are often still life and portraits painted in acrylic on canvas or board.
'In architecture, light and proportion and colour can change our perception of a space. Similarly, light falling on an apple or a face can change the mood of a painting.'
I love the freedom of painting... of pusing colour around on the canvas and watching a painting 'happen'... the way an expression can be captured in a brushstroke.
I enjoy painting from life and the relationship between the sitter and the artist. There is also the challenge of portraying a 'personality' as well as a likeness.'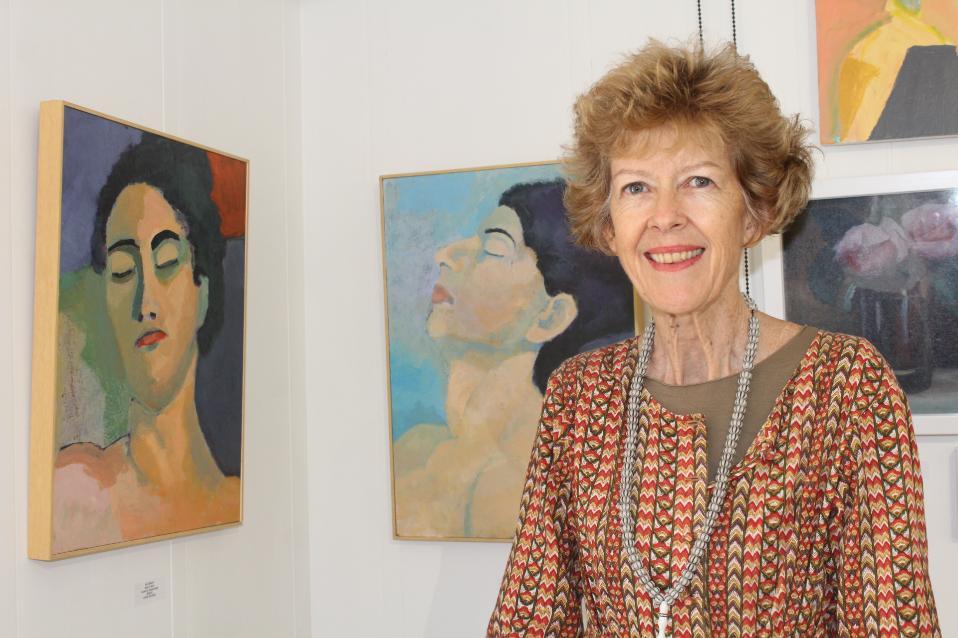 Fiona with some of her works
Flavia Julius
Abstract
Flávia Julius was born in São Paulo and moved to Sydney after meeting her Australian husband on the Amazon River.
Flávia took private oil painting classes in Brazil for a number of years, whilst working in advertising, travel journalism, and writing and publishing her two travel books. She has ultimately settled in Australia where the dream of becoming a full-time artist has become a reality.
Indigenous and African culture have always been major inspirations, and Aboriginal culture was love at first sight. As a result, Flávia has incorporated dot painting into her technique, being very careful and aware to respect cultural appropriation. She paints her own stories, her background, experiences, feelings and desires for change.
Flávia is influenced by Monet and other Impressionists, as well as Van Gogh, Cézanne, pointillism, Matisse, Paul Klee, Brazilian art naif, Brazilian modernism, street art… Music plays a huge role: samba, bossa nova and, lately, hip hop. Her areas of interest include philosophy, sociology and anthropology, which also appear in her work.
Above all, Flávia is more than anything inspired by people, in particular the ones who have fought or currently fight for human rights. Through her art, she aspires to contribute to a better and fairer world.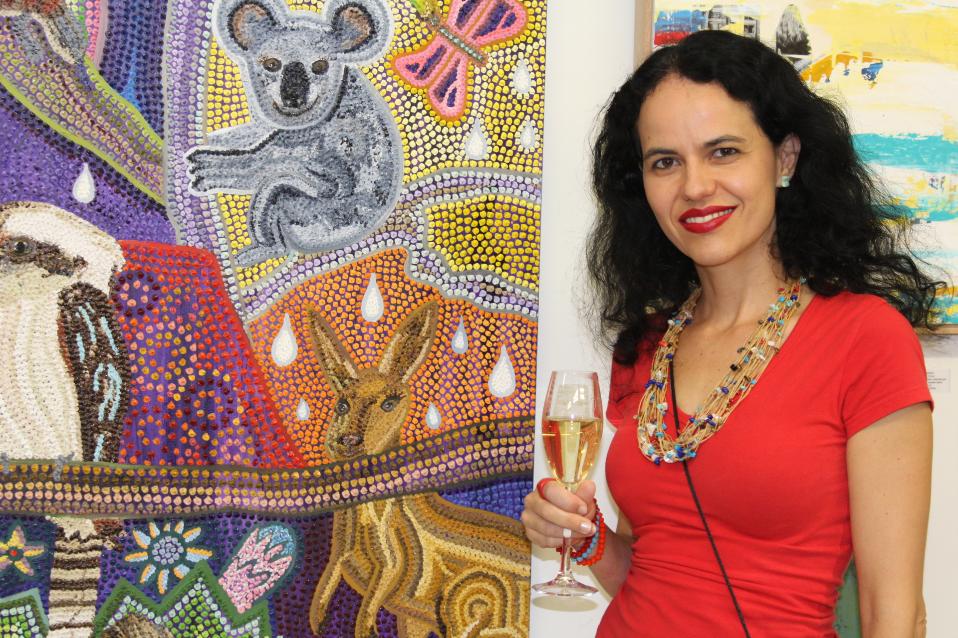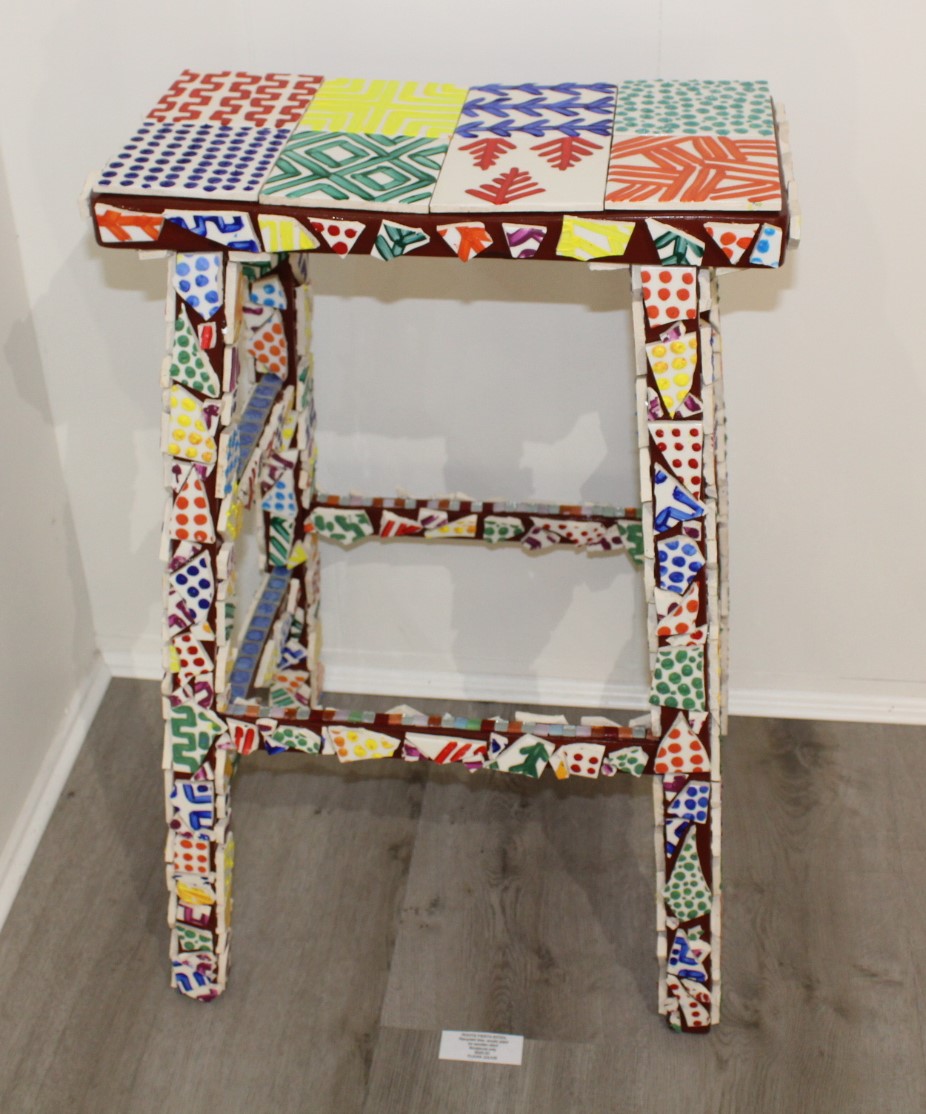 Chris Sutton
Photography
Chris has a lovely feel for the abstract in his surroundings. It demonstrates his point: "The challenge for any photographer is not to show what a place or subject looks like, it's to convey how it feels. A sense of place can be purely derived from how it looks, but for most people it comes from experiencing the place, what the weather was like, the light, the surrounds.

"In recent years I've worked with a widening range of photographic techniques to show how a place feels to me. As I've done so, my images have evolved and many now inhabit a space between realist and abstract, but no matter what technique I use for a particular image, the goal is to express what it felt like to be there. As a consequence, I'm less concerned about technical perfection and more focused on the story and emotion of the moment. The tools I use to realise that goal are whatever I have to hand, and both cameras and phone serve equally well."
Chris's works in the show are drawn from several photographic inspirations: people, flowers, wild light and architecture.
"These images are part of an ongoing project to explore the moments and experiences that have both beauty and meaning for me, and I hope you'll find meaning and a sense of place in this work."
Chris started out as a professional photographer but worked for a long time as a web designer and software developer. He used photography to relax and found that "not only was a passion still there, a lifetime of experiences informed the work I was doing and gave meaning to the images I produced. In this return to photography, I've learned much: to pause and take the time to appreciate the subtleties of a space, from the often hidden beauty of a flower, to the glory of a stunning landscape. I've learned to truly see the beauty that surrounds us all.
Now I simply can't imagine not exercising that creative itch every day."
Nicholas Osmond
Portraits & Still Life
Nicholas Osmond draws from his embedded connection to place around his home in Moree in Northern NSW. Only new to painting, over the last three years he has been prolifically honing his practice. Anchored by his intuitive sense of colour and guided by emotion, he works the surface to achieve a unity of colour. He sees himself as an observer, painting past and current narratives in Australian history. (Lucy Stranger)
Tracey Trinder
Ceramics
For this exhibition I have indulged my love of functional ceramics. I relish the feel of clay from inception to the finished piece. I go to many ceramics exhibitions and the desire to touch the sculptures is almost overwhelming (just between us - it sometimes is.) So I see functional ceramics as art you can get your hands on and enjoy in a tactile way. In a world full of disposable plastics and flimsy quality, selecting a unique, hand made mug for your morning coffee feels very grounding, guilt free and a real treat. These pieces haven't been mass produced in a squalid factory by an undervalued person, or travelled thousands of kilometres polluting the earth, they've been created locally, with care and consideration, by someone who loves what they are doing and wants you to experience that love too.
First discovering ceramics in her twenties, Tracey quickly realised it was a new love that could easily put at risk her fledgling writing career. Many years later, the writing career well and truly established, she returned to ceramics to discover the love had not diminished and it is now a surprisingly good mix with writing - one allowing space and ideas to develop organically for the other without the pressure cooker feeling of staring at a blank screen or lump of clay. Yes, it seems in this case a threesome is working out wonderfully!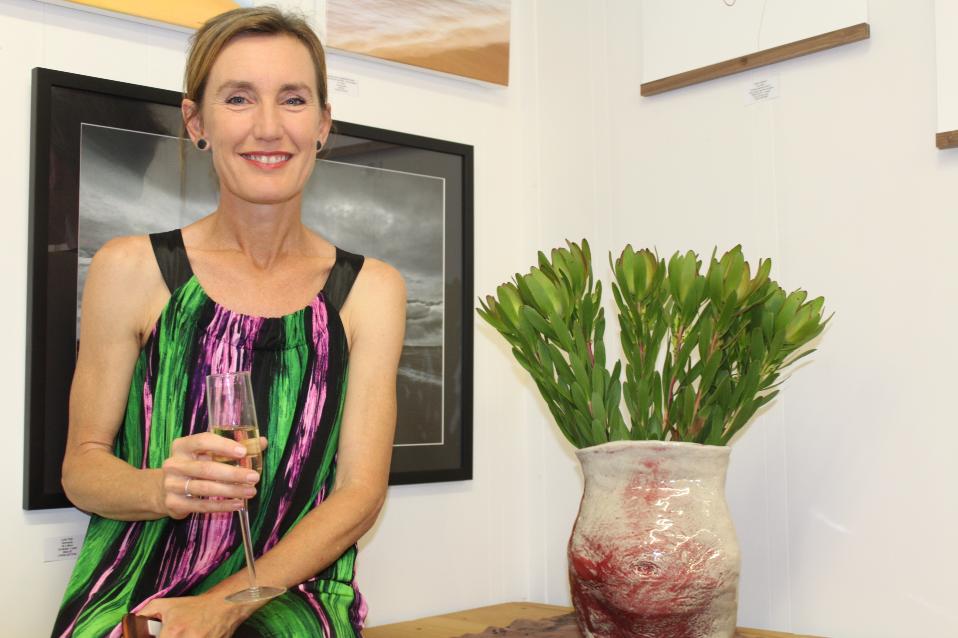 Tracey with one of her works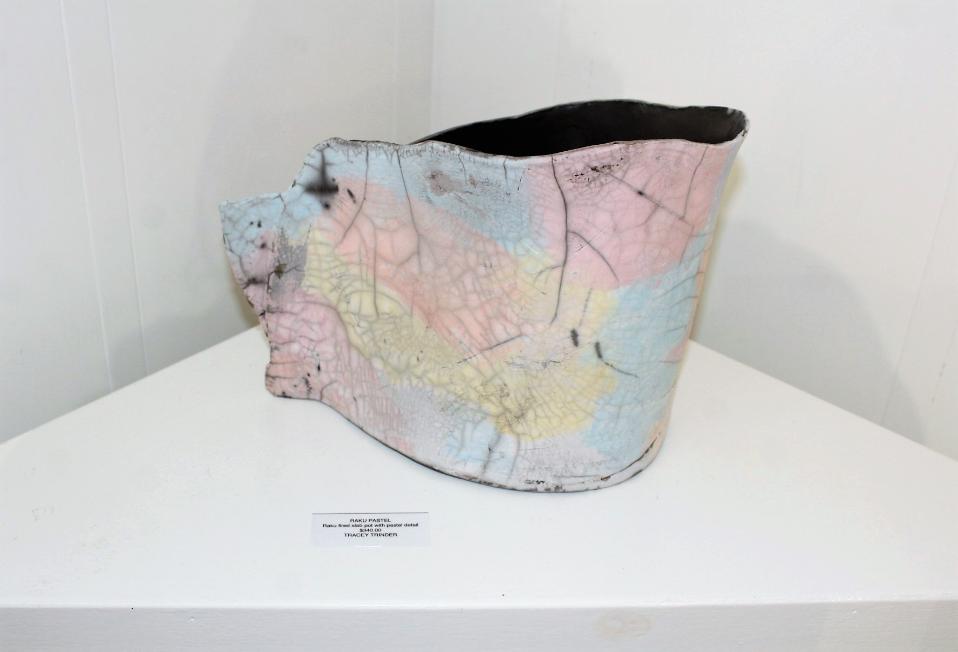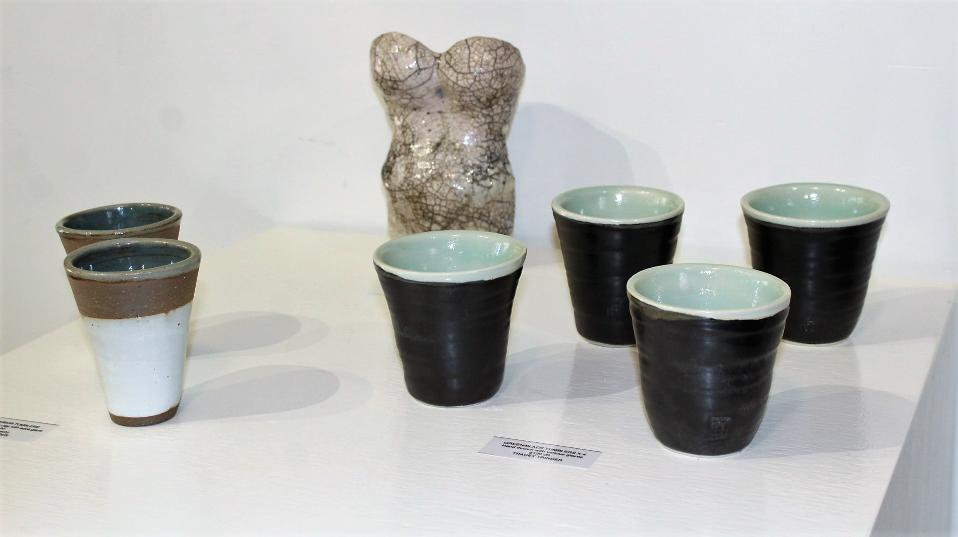 Mark Kingston
Landscape
Mark Kingston is one of Australia's most talented realist oil painters. His attention to detail, exquisite painting technique and love of colour has made his work popular with art collectors and the general public. With over 40 group and solo shows across Australia, his paintings have been recognised by corporate collections such as the Roche Group who has invested in several paintings.
Mark was born in Sydney and studied art in both Australia and the USA. He started his studies at Sydney University completing a Bachelor of Fine Art degree in 1999. He was then offered a chance to work with a successful US based Realist Artist James Gucwa. James exhibited in blue chip galleries in New York and California. In 2004 Mark went on to complete a Master of Art degree at the University of NSW.
Mark's work has been featured in 'The Sydney Morning Herald', 'The Sun Herald' and 'The Daily Telegraph' newspapers. His work has repeatedly been showcased on the cover of and as a feature article in the 'Australian Artist Magazine'. He has also had articles written about his work in 'Belle Magazine', 'Australian Road Rider Magazine' and '24 Hours Magazine'.
Mark has been chosen as a finalist in an impressive list of prestigious art prizes, including the Mortimer Art Prize, Hills Grammar Art Award, ANL Maritime Art Prize and as one of ten finalists exhibited on the Museum of Contemporary Arts online gallery.
To view his website: http://www.markkingston.com.au To purchase or commission paintings contact Mark via his email: mark@markkingston.com.au or call him on: 0415 353 456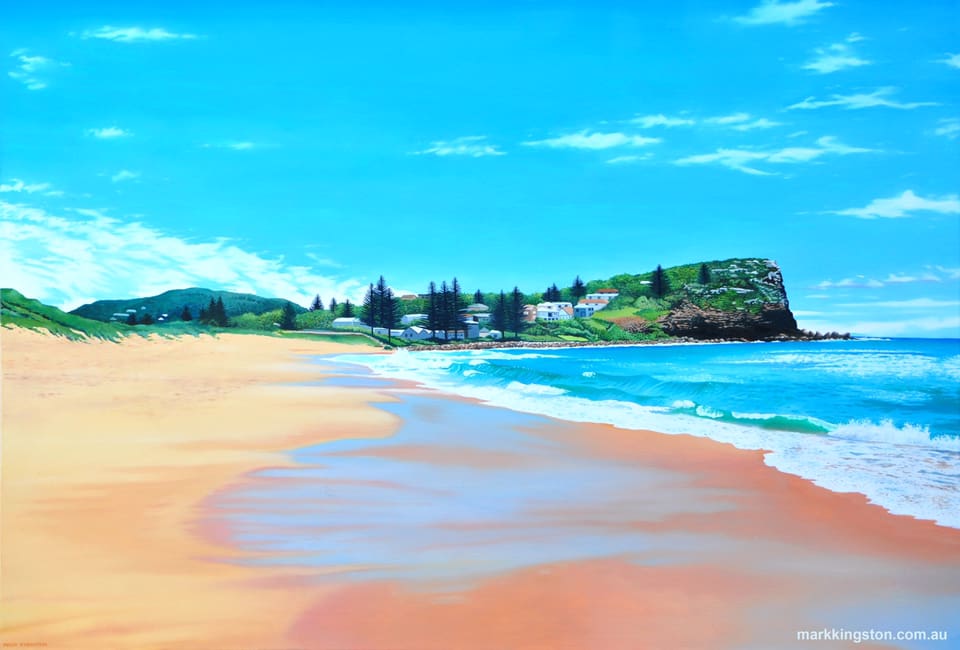 Sue Richardson
Landscape
Sue has been teaching Visual Arts in high school, tutoring adults in Community Colleges and working in Tertiary Education for over 35 years. Sue paints in her home studio in Newport and works mostly in watercolours and oils but also loves acrylics, pastels and ink.
Her last major exhibition was in 2016 at Creative Art Space North Curl Curl.
Sue aims to paint in a slightly Impressionistic way and attempts a show a spiritual connection, mood, atmosphere and a love of colour.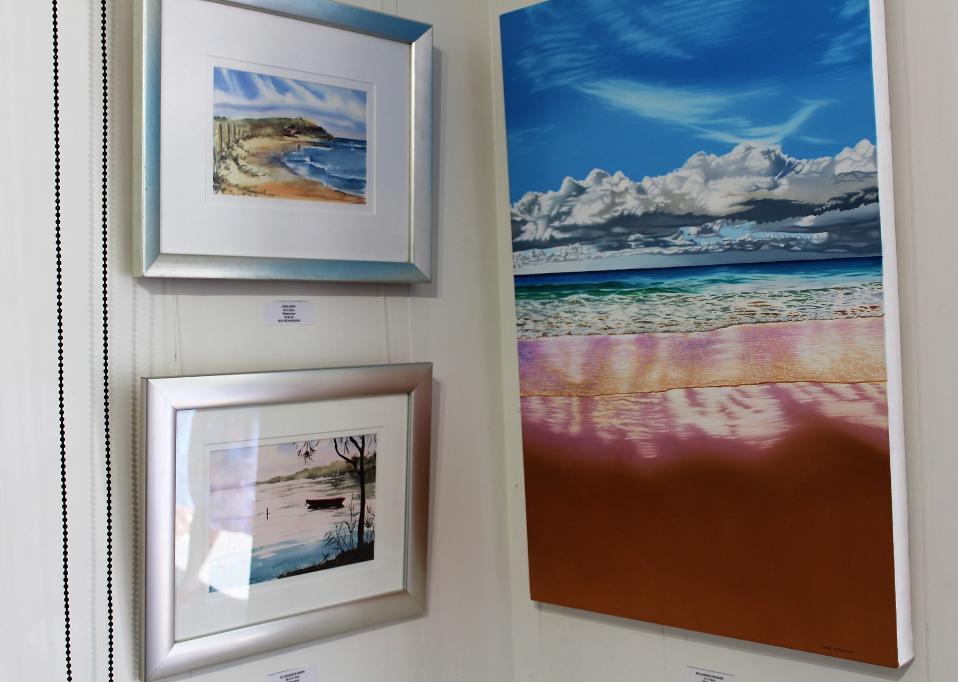 Tara Axford
Mixed Media
Tara Axford is a Sydney based mixed media artist whose work explores a sense of place. Working with site specific found objects she plays with scale to create something new. The worn, weathered and discarded appeal to her. Using photography, printmaking and painting she works with nature and found pieces to rearrange the familiar into something new, so that something previously overlooked can be seen with 'fresh' eyes.
This statement sums up my approach:
"The looking is the trick. All of us can look, but few can see. Seeing is looking with knowledge. The knowledge of what to look for and how to see it" - Will Stubbs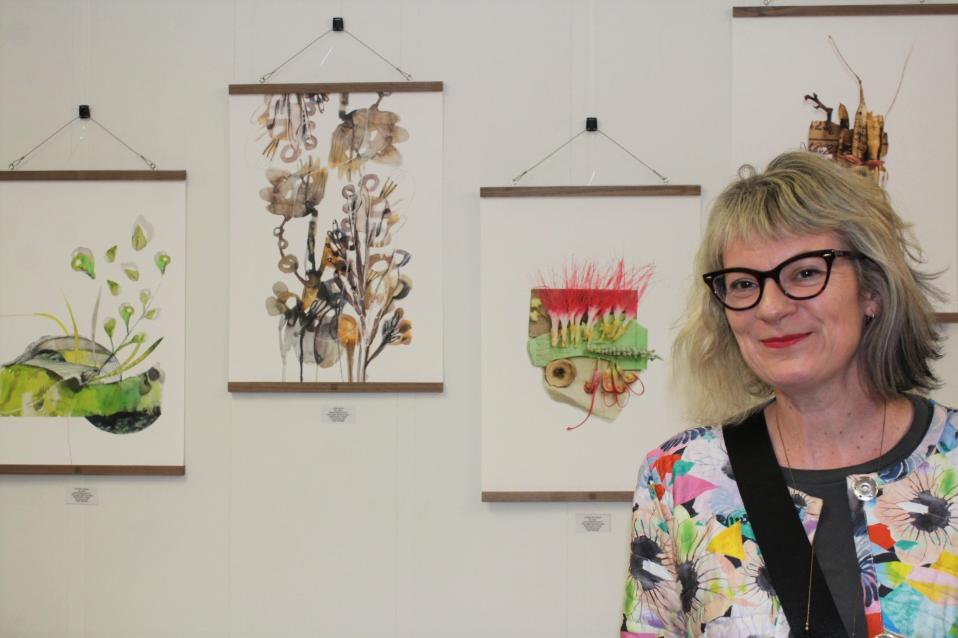 Tara with some of her works.
Maria Viviana Ramirez
Portraiture, Still Life & Landscape
Mexican born artist living and working in Sydney, Australia.
I have always been interested in figurative painting, portraiture as well as the landscape and the sense of space and time.
My Art practise focuses in exploring, everyday life, my childhood experiences and my response towards the environment and society. I use oil paints , watercolour, Ink, mixed media drawing and printmaking.
I believe Art should be genuine and bare, straight from your inner self a gaze in the mirror, and even though sometimes I don't like my own reflection I shall capture the truth in detail.
Poetry is another source of inspiration to my work. I often write poetry in Spanish. I am strongly influenced by Arthur Boyd, Francis Bacon, Francisco de Goya, Rene Magritte, Leonora Carrington, Paula Rego, José Clemente Orozco, Odd Nerdrum and Yves Tanguy.
Awards:
Noel Chettle Memorial Art Prize September 2018
Exhibitions:
See Street Gallery End of year group exhibition 2017
See Street Gallery from A to G group exhibition 2018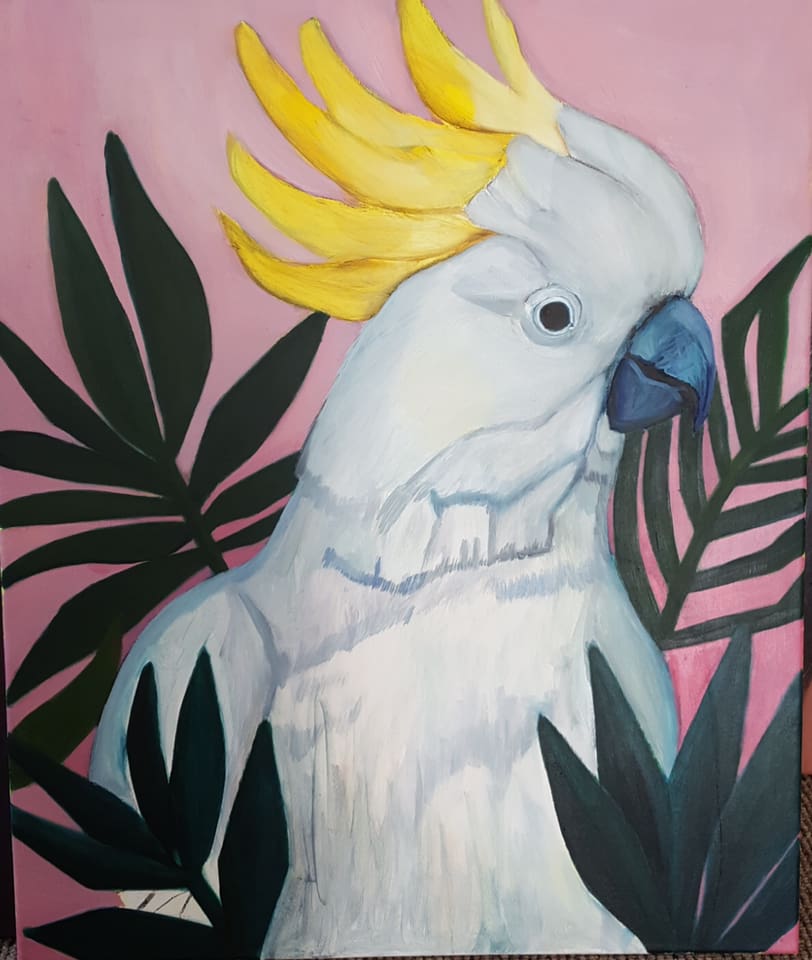 Kajinki
Jewellery
Kajinki was born out of a love of nature and travel throughout Asia. I began designing jewellery in early 2000 working closely with my silversmith in Bali, I was able to bring to life pieces that are both bold and unique incorporating semi-precious stones and in some cases materials found within nature. Many Kajinki pieces have been sold in high end boutiques across Australia and the South Pacific.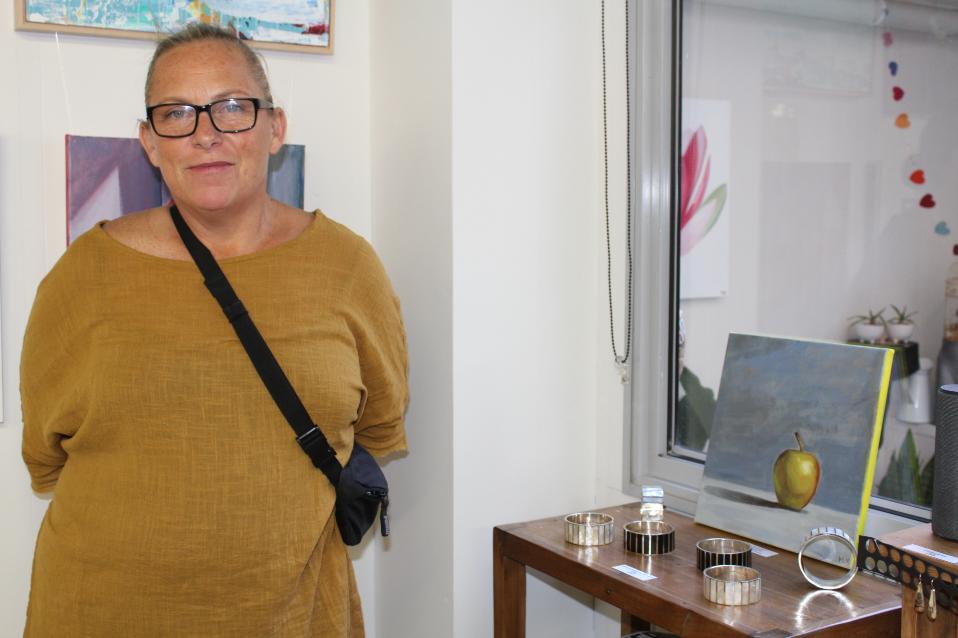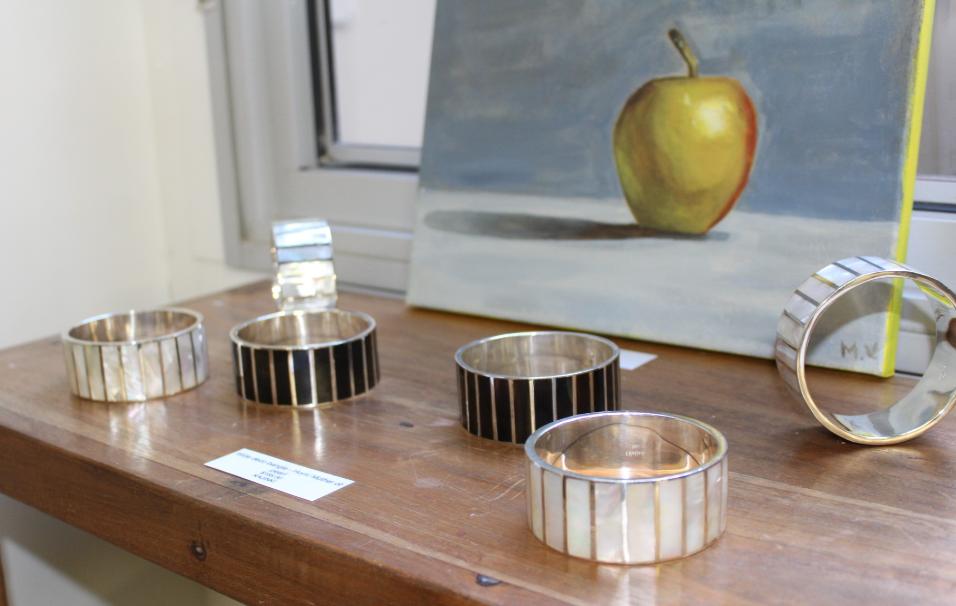 Tina Berkeley
Mixed Media
After months in the planning Be Brave Artspace in Avalon opened its doors on December 1st 2017.
Originally I wanted to find a studio space where I could be creative again. To 'Be Brave' and start painting with the enthusiasm and drive I used to have prior to raising my 4 boys. As it turned out I found a space that had two floors which allowed for a gallery on entry level with the possibility to extend exhibitions into the studio space downstairs.
I have been hosting solo exhibitions all year. Showcasing talented local and regional artists. We have an opening at the start of each exhibition. The openings are on a Friday night from 5.00-8.00pm where everyone is welcome to come and have a drink, some nibbles and be inspired by new artworks and fresh artists.
I love art, for me curating an exhibition is an absolute Joy. I love being presented with a room full of new paintings and ceramics and making sense of the Colour, Tone, Form, Shape, Shadows, Line, Texture, Light and Dark and finding a flow to the hang that tells a story based on aesthetics. There is always something different to look at and I'm excited to be able to share this passion with others.
At the end of each year I will be curating a group exhibition called "Brave". I have decided to leave the theme loose, focusing more on each artists signature works. I want the exhibition to demonstrate courage, creativity and commitment and or the first time I have decided to join the exhibiting artists in this Group Exhibition.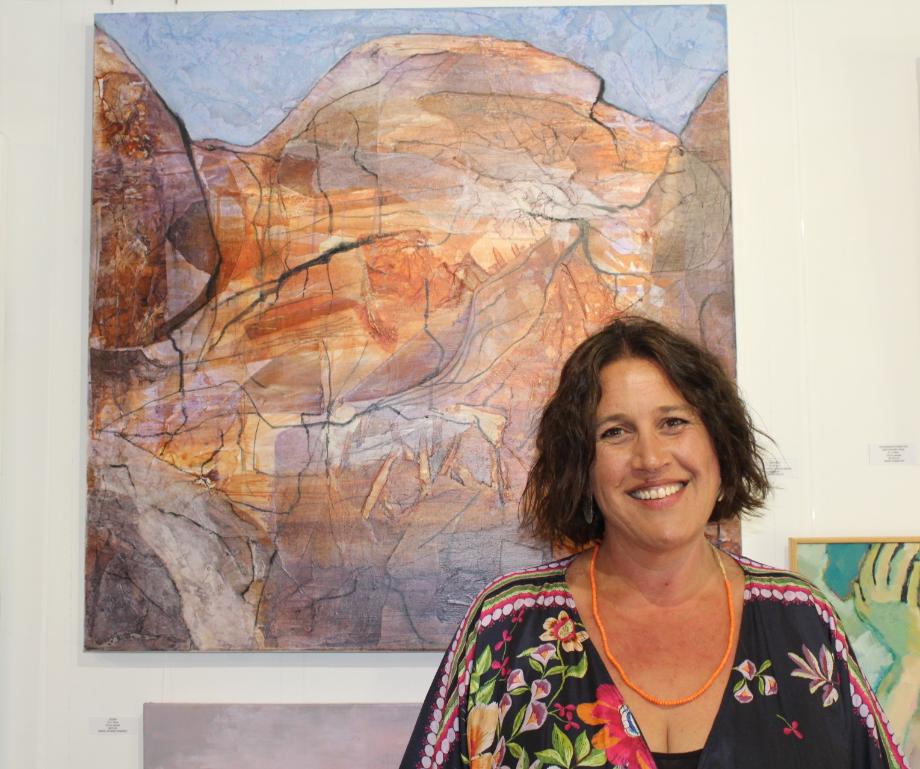 Be Brave Artspace originator Tina with one of her works.