June 30 - July 6, 2013: Issue 117
Peninsula CommUNITY of Schools Art Exhibition - Guringai Festival 2013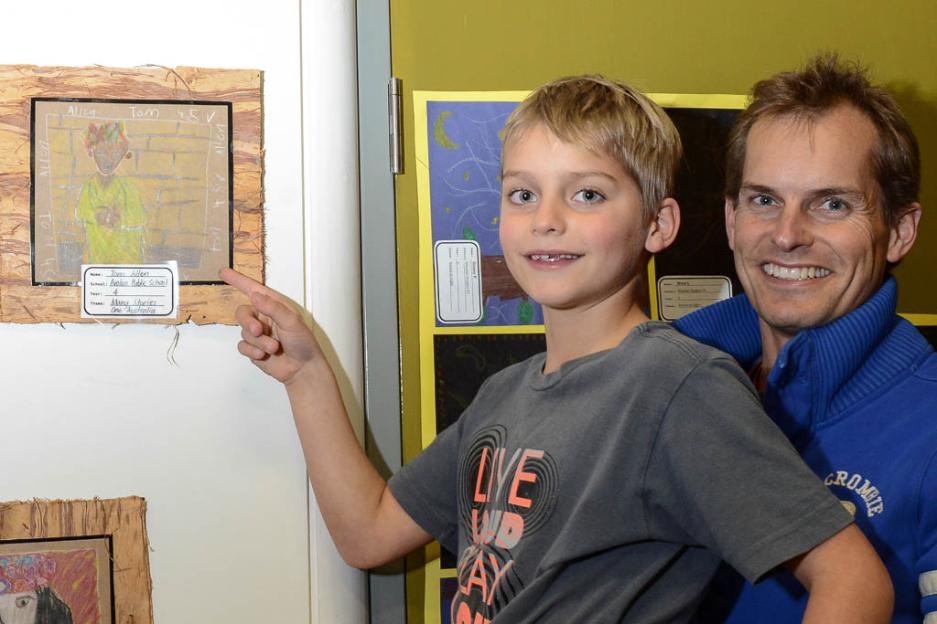 Artist Tom Allen from Avalon Public School with James Allen. Photo by Michael Mannington.
Two wonderful community events involving thirteen schools and including artworks from children in Kindergarten up to year 6 occurred this week as part of the Guringai Festival and our local school's celebration of NAIDOC Week (7-14 July, 2013) occurred this week, the Peninsula CommUNITY of Schools Art Exhibition and 'Melaleuka Moonlight' ; a variety of activities; Indigenous Art, Dance, Bushtucker garden Planting, Storytelling and camping out under the stars at Wheeler Heights Public School. More here
Northside Aboriginal Art and Craft Exhibition - on Today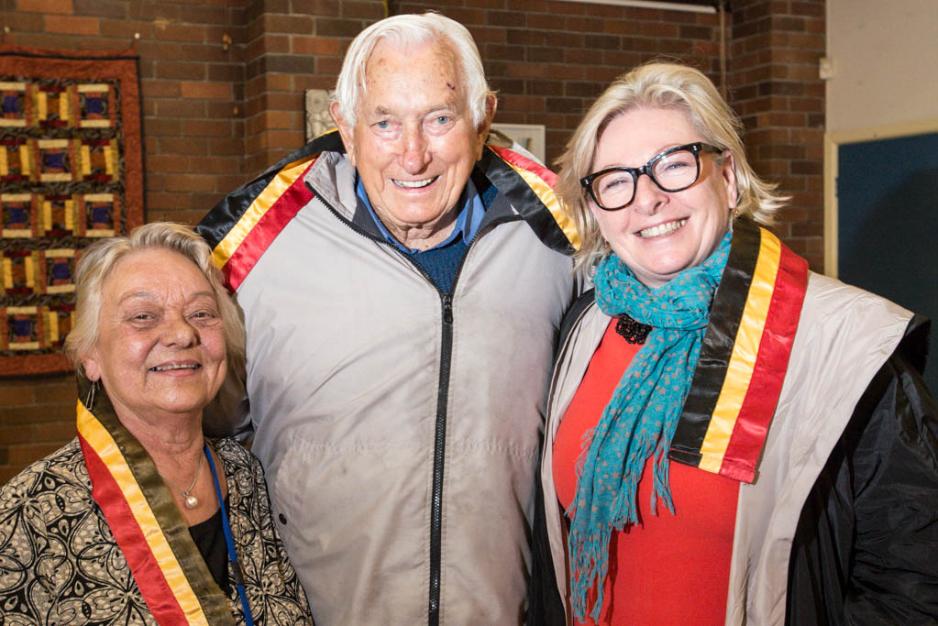 Exhibition Curator Clair Jackson, Bob Waterer with Cr. Jacqueline Townsend, Mayor if Pittwater. Photo by Michael Mannington.
There's a wonderful exhibition and workshop activities happening at the Mona Vale Memorial Hall today. The Inaugural Northside Aboriginal Art and Craft Exhibition opened on Friday evening. Details by S Evers and pictures by Michael Mannington here
Soibada Priests Visit Pittwater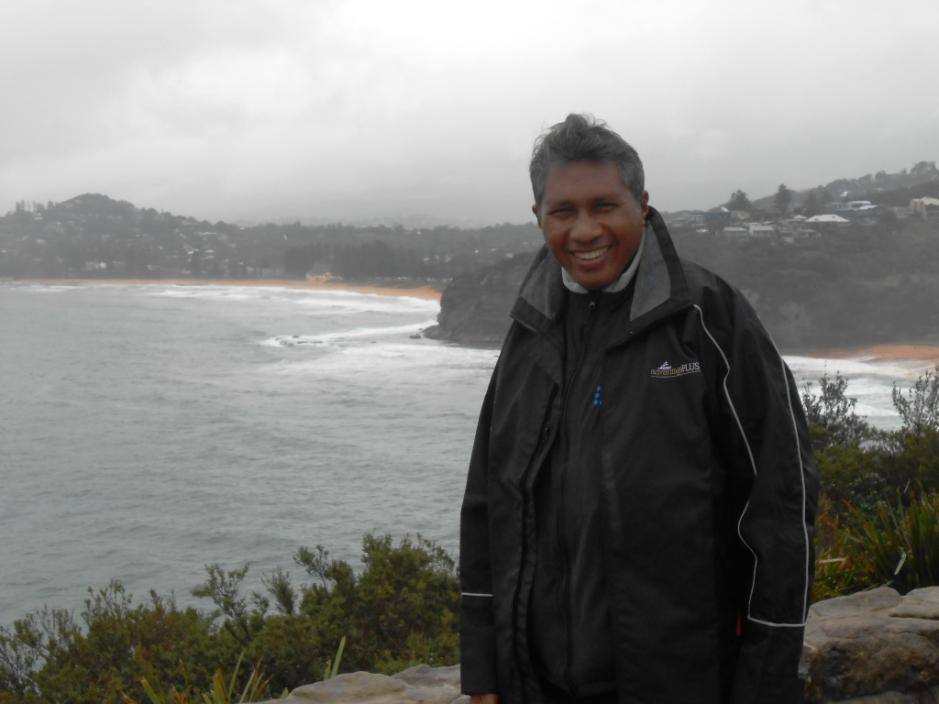 Father Abel Soares Alves at A J Small Lookout, Bilgola/Avalon headland, 29.6.2013. Photo by Tamara Sloper Harding.
Two wonderful gentlemen, Father Abel Soares Alves and Father Tiago Soares da Costa, are visiting from Pittwater's sister village in Timor Leste at present. This week they have been visiting schools in Pittwater and engaging with community members on a range of subjects. Report by Tamara Sloper Harding, Chairlady of Pittwater Friends of Soibada, here
Week Long Storms Bring Australian Fur Seal to Rest at Bilgola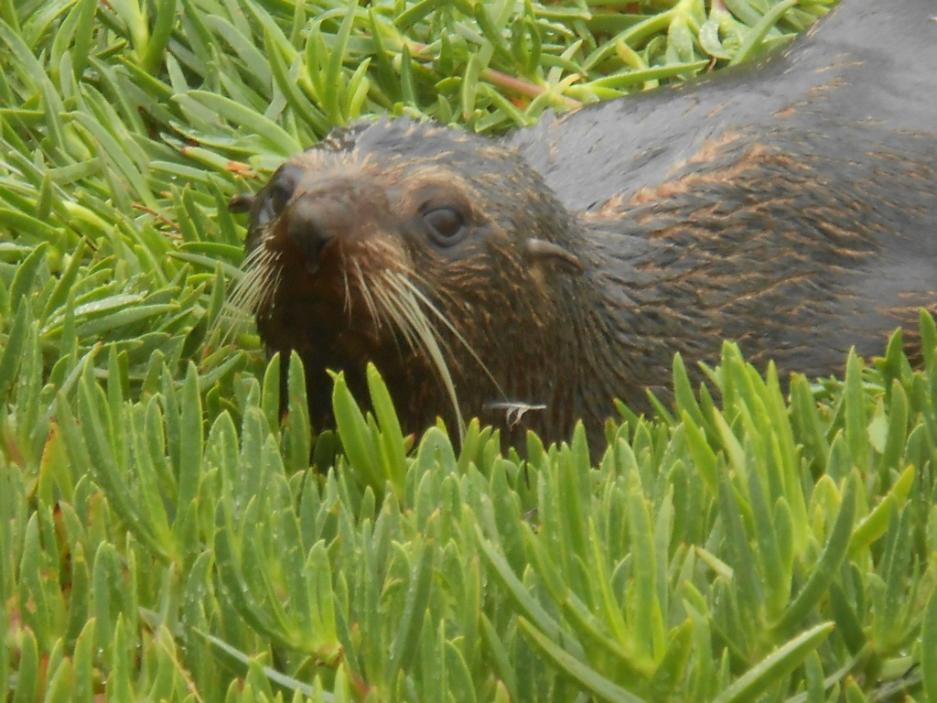 Australian Fur seal resting at Bilgola Saturday afternooon(29.6.2013). Poto by Tamara Sloper Harding.
This Australian fur seal, photographed by Tamara Sloper Harding on Saturday afternoon sheltering and resting at Bilgola, is a sure sign of how rough our weather has been this week. Huge swells and incessant downpours are taking their toll on our wildlife, so please be careful if you have little birds coming to shelter under your roof eaves or find those who are normally safe in the sea coming to land for shelter. Should you find any animal in distress, please don't distress it further by approaching it too closely (less then 40 metres) and call the National Parks and Wildlife Service (9895 7128), Sydney Wildlife (9413 4300) or WIRES (1300 094 737) to report a critter in need or your local vet for advice.
Please don't all rush down to Bilgola beach and scare this darling; enjoy Tamara's pictures here instead and let her rest.
Seals are protected in New South Wales. It is an offence to interfere with or approach within 40 metres of an adult and 80 metres of a pup seal or sea lion. Maximum penalties for indiviudlas include fines of up to $110, 000. 00 and imprisonment for two years.
More pictures and a bit about Australian Fur Seals here
Mona Vale Hospital Becomes A Constructions Site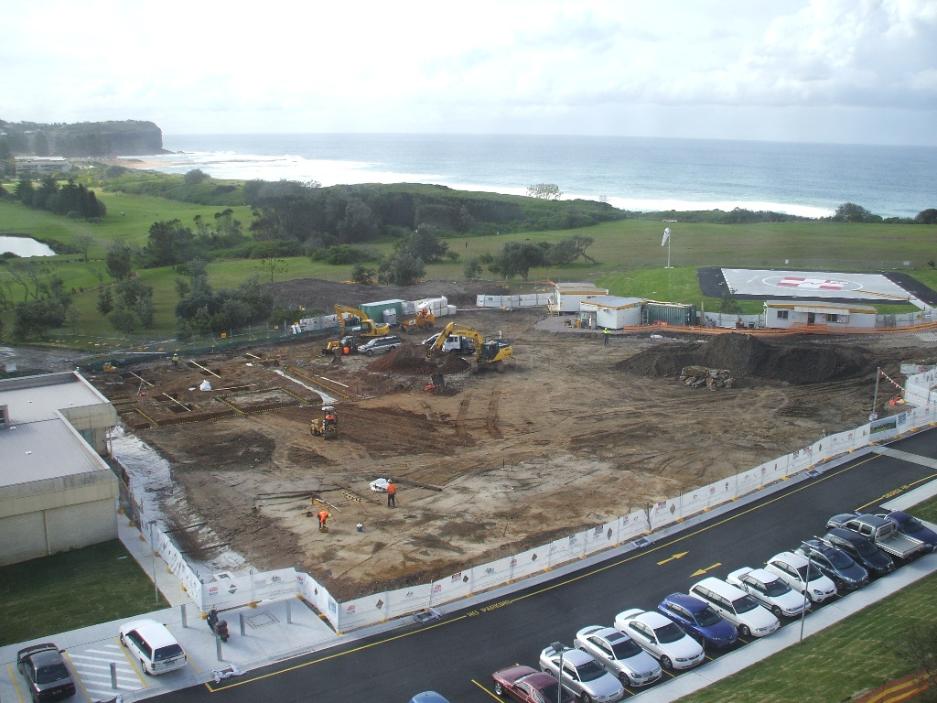 Photo by Andrew Johnston.
Since the NSW Liberal Government came to office over $20 million has been invested in capital improvements at Mona Vale Hospital. The latest stage of these works is well underway at present. An update and overview from Hon. Rob Stokes office is here this week.
Updates on Amalgamation Discussion and White Paper Presentation by BPN at Mona Vale this Week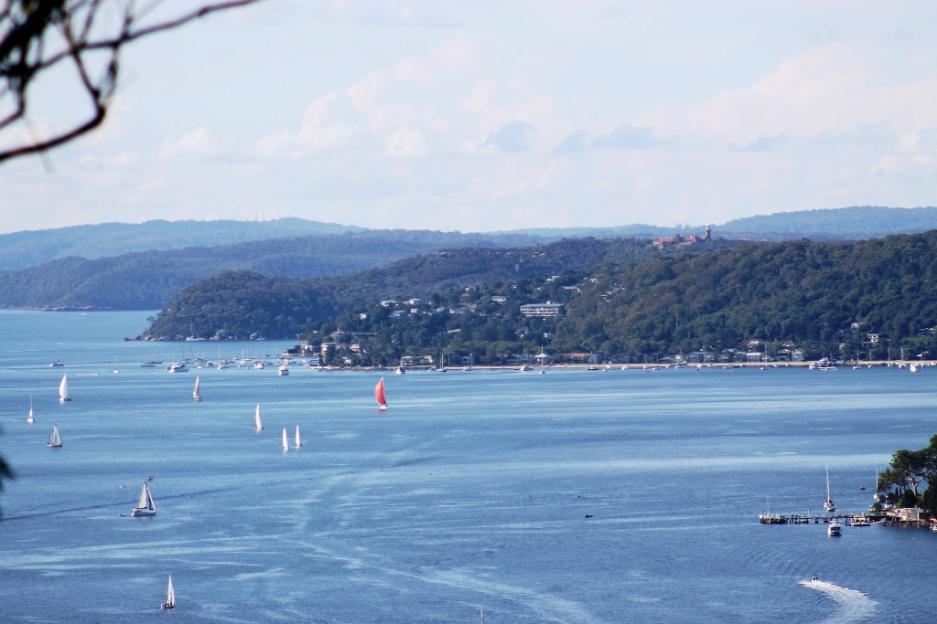 View over Pittwater to Barrenjoey Lighthouse. Photo by A J Guesdon, 2013.
Wet Winter School Holidays Forecast - Some Alternative Songs for Those Who Sing "I'm Bored"!!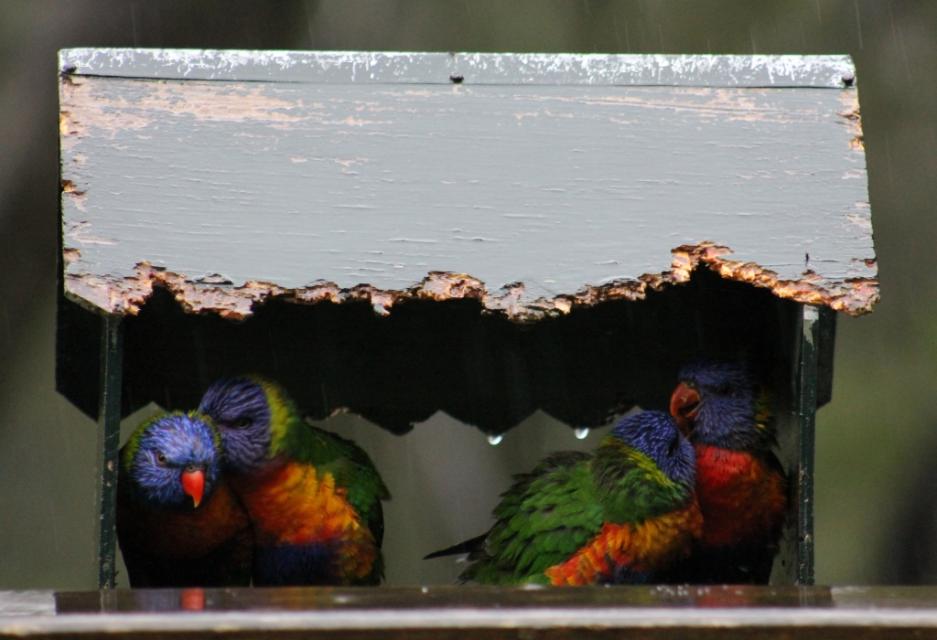 Rainbow Lorikeet Family Sheltering in Bird House, Saturday 29th of June, 2013. Photo by A J Guesdon.
This family of lorikeets that frequents our yard were sheltering from yesterdays deluge, young ones pestering mum and dad incessantly. Since more rain has been forecast for the next few days, the first week of the Winter school holidays, we have loaded full length movies, a few online games and links to where to find more, as well as a few indoors activities being offered for those who may start singing "I'm bored" at mums and dads this week. There's also a few competitions on offer to turn their creative talents to. See our
Children's
and
Youth
pages for details.