June 30 - July 6, 2013: Issue 117
Peninsula CommUNITY of Schools Art Exhibition - JUne, 2013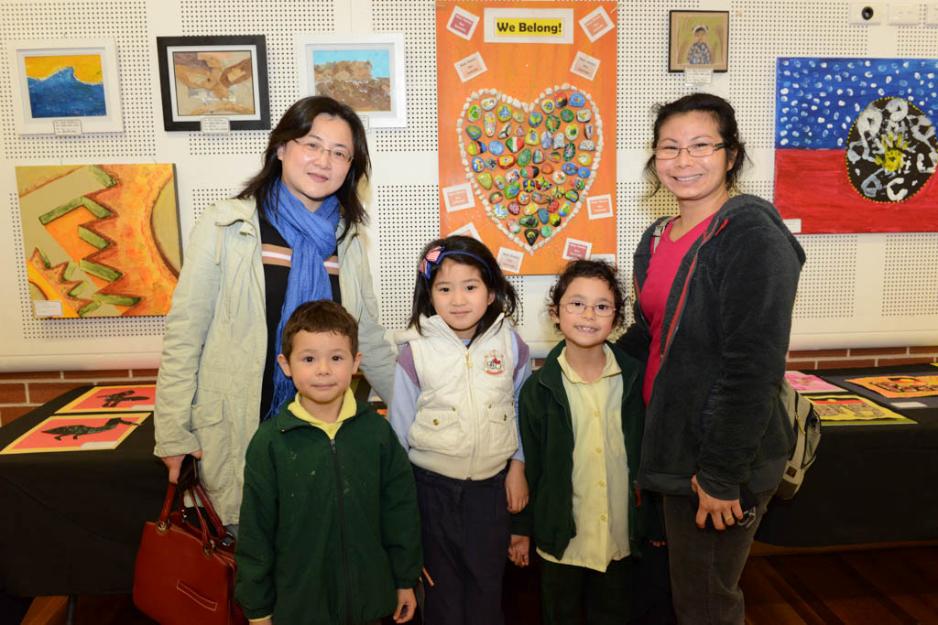 Hao, Luke, Selina, Jesse, Cherry
Peninsula CommUNITY of Schools Art Exhibition Wednesday 26 June, 2013
On Wednesday evening the thirteen Peninsula Community of Schools; Barrenjoey HS, Avalon PS, Bilgola Plateau PS, Newport PS, Pittwater HS, Mona Vale PS, Elanora PS, Narrabeen North PS, Narrabeen Sports HS, Narrabeen Lakes PS, Wheeler Heights PS, Collaroy Plateau PS, and Cromer PS held an Art Exhibition at Wheeler Heights Public School in celebration of the 'Guringai Festival', showcasing student artwork from Kindergarten to Year 6 as part of our Naidoc Week celebrations.
On Thursday night many Indigenous students and their friends returned to Wheeler Heights Public School for 'Melaleuca Moonlight'. There they participated in a variety of activities; Indigenous Art, Dance, Bushtucker garden Planting, Storytelling and camping out under the stars.
We contacted Neil Evers of the Aboriginal Support Group -Manly Warringah Pittwater, who gave the Welcome to Country, for an insight on the Art Exhibition:
The Peninsula CommUNITY of Schools Art Exhibition on Wednesday 26th at Wheeler Heights - what a night! The collection filled the hall with many styles of art and the kids were so happy and proud to show them off.
The Aboriginal dancing by Darug man Gerard McMinn (Ged) was very energetic and the Didgeridoo playing by one of the teachers was a surprise. It is so pleasing to see the younger generation being encouraged to listen and learn about the past because the more we talk about the past the better the future will be.
Thank you to all who were involved in such a wonderful art show and including it as a part of the Guringai Festival and NAIDOC week.
Neil Evers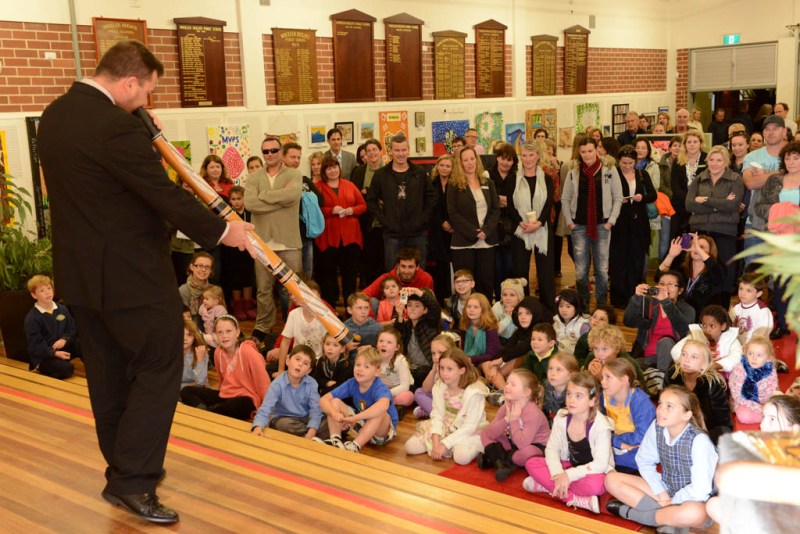 Many local children have also contributed works to the Northside Aboriginal Arts and Crafts Exhibition currently open at Mona Vale Memorial Hall. There are a range of activities encompassed today, 30th of June, so if you're tired of being stuck indoors by all this rain, have a look at what's available in this week's article on Friday night's opening of this and pop down from 9am.
On Wednesday 10th of June there will be an Aboriginal Cultural performance for Children at the Mona Vale Library too. Details below.
Our thanks to the children and parents who allowed our Michael Mannington to capture some of your beautiful and very wonderful works!
Extra Activities at Mona Vale Memorial Hall today:
There are a number of workshops on Sunday 30th .Two Grass Weaving Workshops with Karleen Green: 1.00 p.m and 3.30 p.m. All classes are $15 each.
Also on Sunday,1.00pm and 3.30pm: 'Re-discover Bush Tucker of the First People of Australia' will be held by local Guringai man Jess Relton and Yuin man Les McLeod. This will include tasting some bush tucker.
The events finish with a performance by Bangaly, a local Aboriginal band from 7pm – 9pm
Aboriginal Cultural Performance for Children - Wednesday 10 July, 11am – 12.15pm: Mona Vale Library, 1 Park Street, Mona Vale
Admission: $10. Come along and enjoy the didgeridoo, face painting, song and dance, Aboriginal art and storytelling. For children aged 5 to 12 years. Under 7 will require parental supervision. Bookings essential: Sharelle Ravenscroft 9970 1600 www.pittwater.nsw.gov.au/library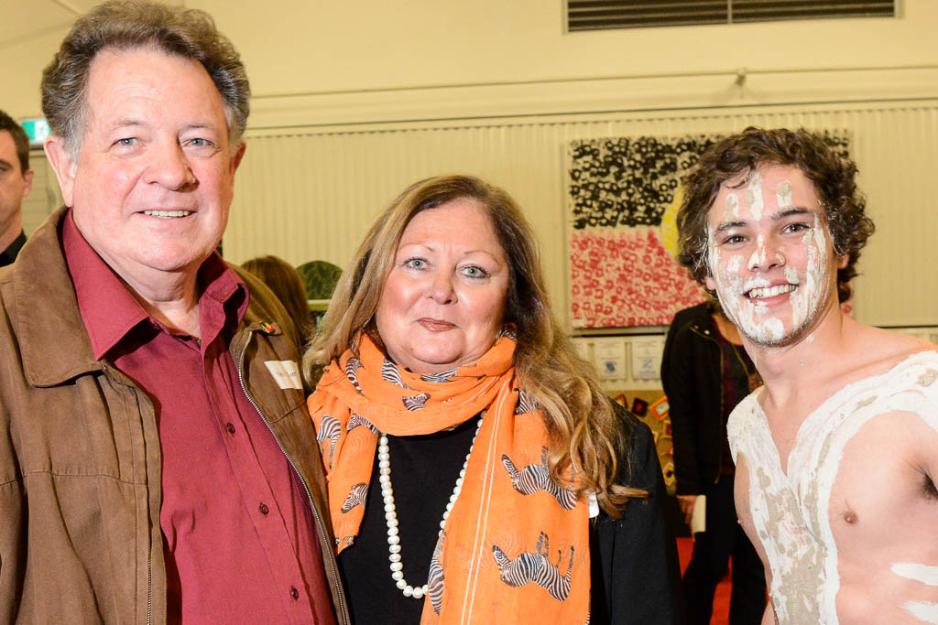 Neil Evers, Sharon Smithers and Ged McMinn.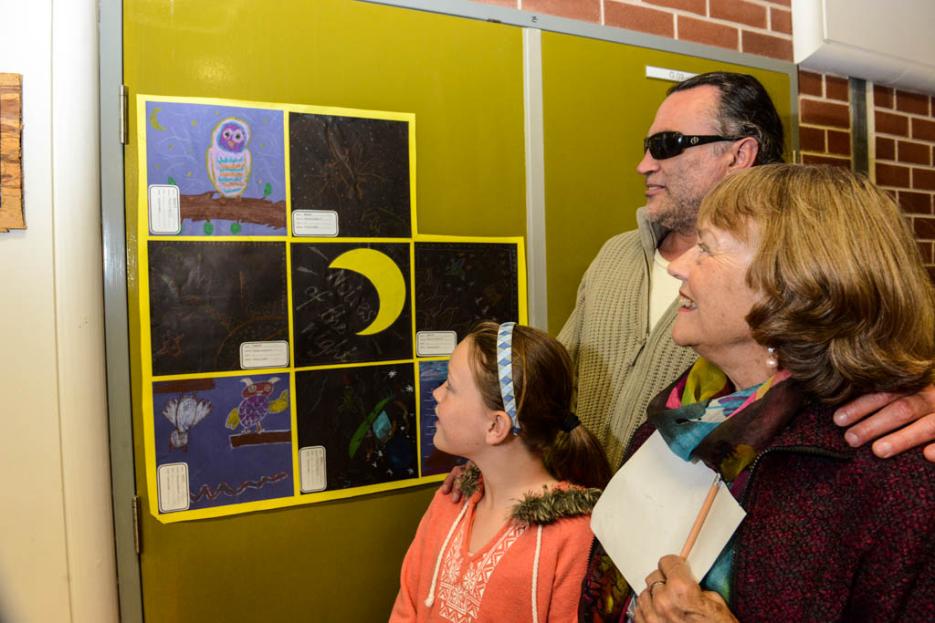 Honey Matthew and Helen Piper admiring Honey's owl.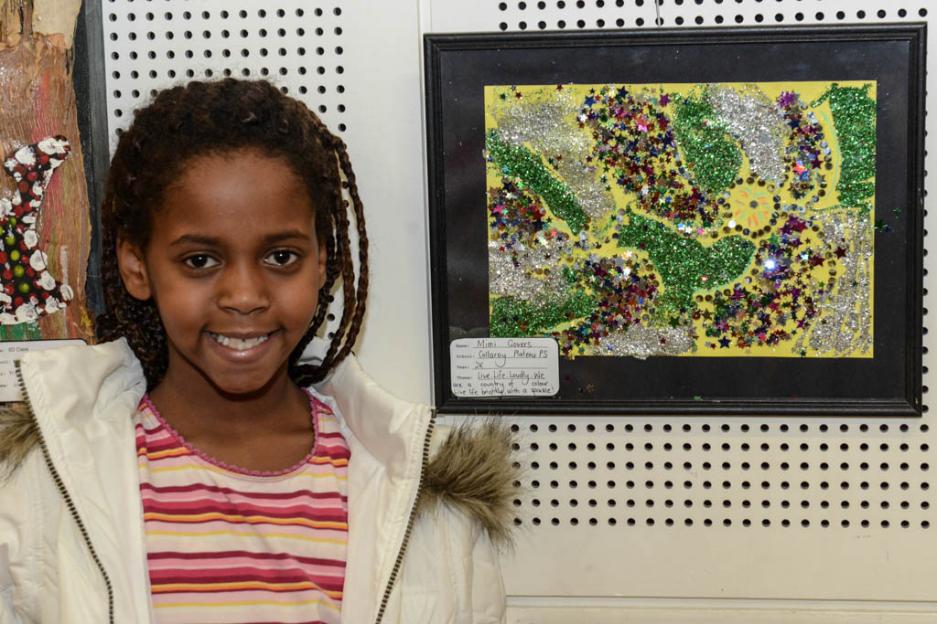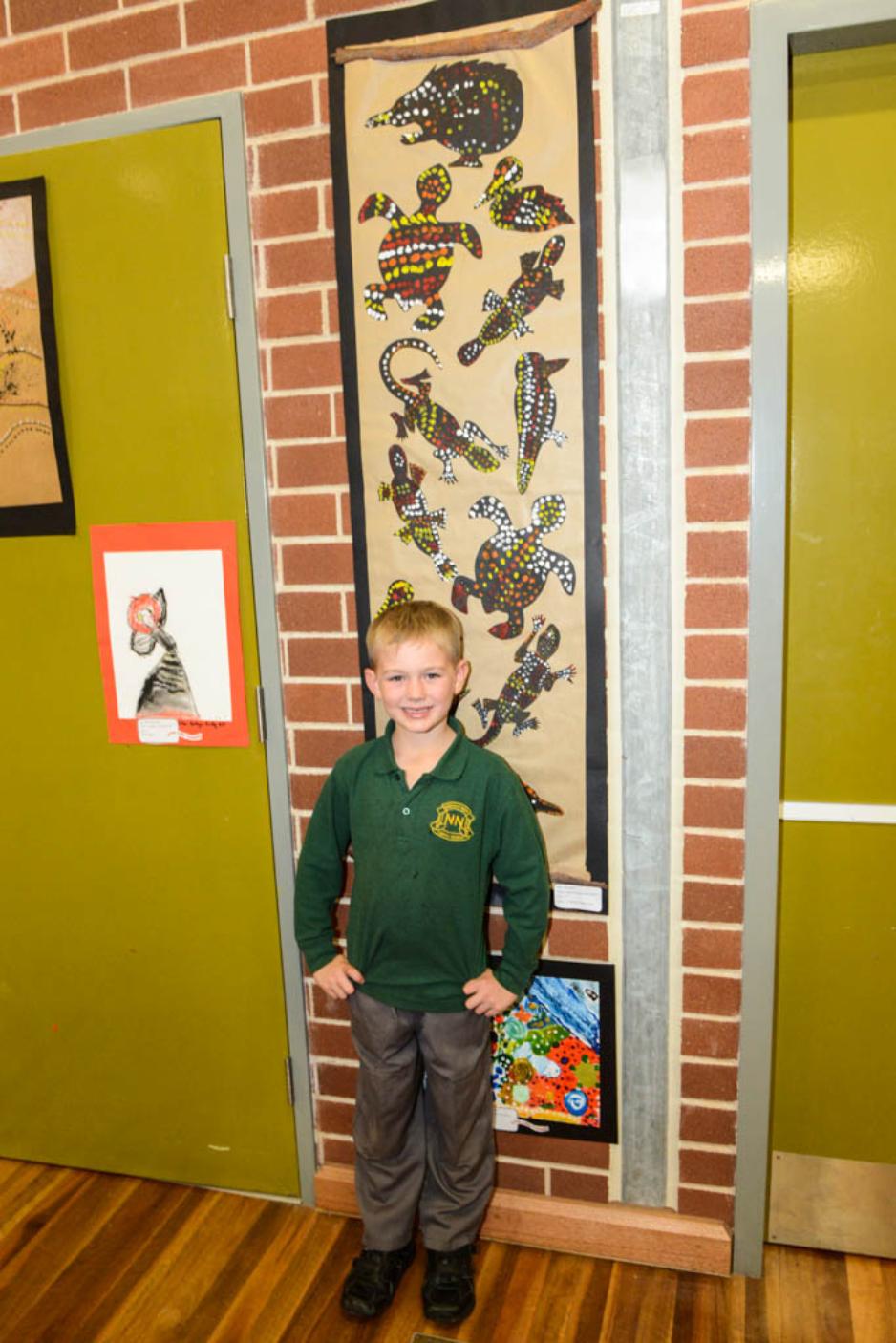 Toby Smith Narrabeen North PS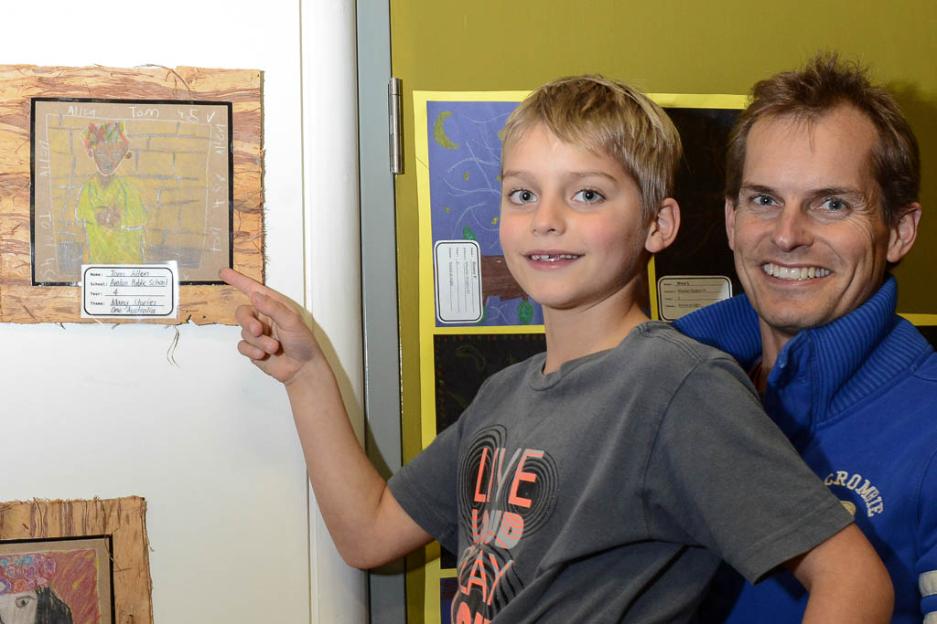 Artist Tom Allen from Avalon PS with James Allen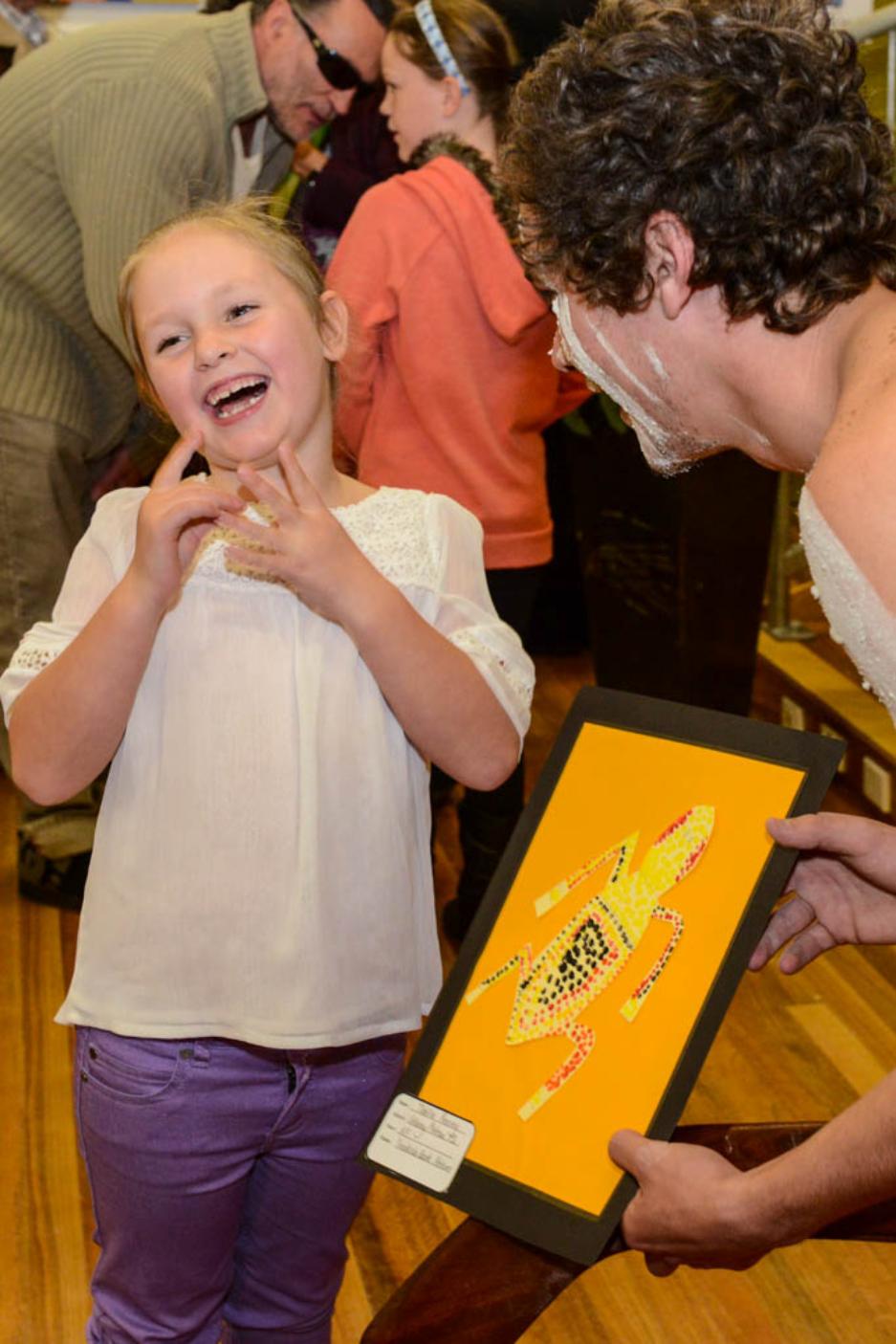 Thalia Penney and Ged McMinn
Pictures by Michael Mannington, Text by A.J.G, 2013.