October 4 - 10, 2015: Issue 234
Yachting NSW Youth Championships Tough Opening Schedule Ahead of Light Forecast: ASC, BYRA, RPAYC Sailors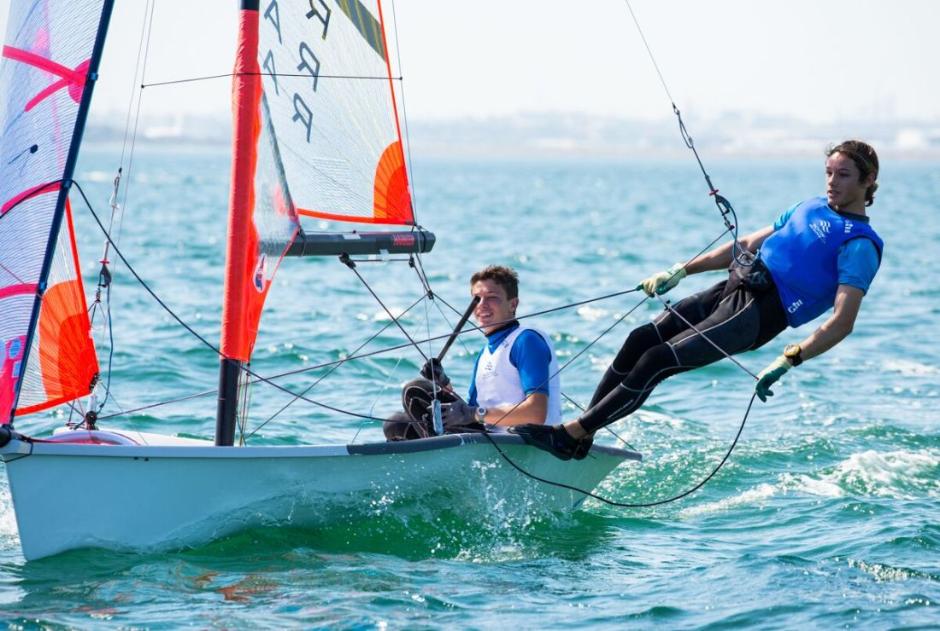 29er leaders Jim Colley & Kurt Hansen - photo by Robin Evans
Yachting NSW Youth Championships tough opening schedule ahead of light forecast: ASC, BYRA, RPAYC Sailors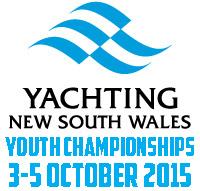 3 October 2015
Event: Yachting NSW Youth Championships, 3-5 October 2015 hosted by Georges River 16' Skiff Sailing Club with racing on Botany Bay, Sydney

Grand Final weekend in Sydney on a perfect holiday long weekend. Out on Botany Bay 300 plus young sailors aged six to 18 enjoyed gentle breezes and flat water sailing across four courses set up between Ramsgate beach and Kurnell on day one of the annual Yachting NSW Youth Championships.
Georges River Sailing Club is once again hosting the three-day series for multiple youth classes and crews have travelled with family and coaches from Tasmania, Queensland, Victoria and the ACT to give the state title a nudge, and for the less experienced it's a chance to learn and refine competition fundamentals.
Back at GRSC this afternoon NSW Optimist Association president Seamus Campbell said, "We had 61 in Open fleet and the tide really sorted them out, and made for some interesting top mark roundings. Champions like Archie [Cropley] and Otto [Henry] were able to work through the tide and shifty conditions."
Woollahra Sailing Club is dominating early Open Optimist results, Cropley on Archernator 3.1 and Henry on Chippa leading the scoresheet in that order after results from three of four races were tallied up. Otto finished 5th at the Optimist World Championship in Poland in September, by far the best result for an Aussie at a world championship given the previous best placing was outside the top 50.
In the Intermediate Opti group, Pearl Toomey, who only graduated from Green fleet (beginner) at the start of the year, found herself at the front of the pack in race one and went on to take the bullet. The Middle Harbour Yacht Club sailor finished ninth overall after three races and Campbell says she's got the family pedigree and talent to be one to look out for in the future.
For the Optimist Green fleet of 18, including the regatta's youngest competitor, six year old Jago Tucker on Tuckerbox, today's gentle conditions were ideal and the coaches were delighted with their progress.
A morning 8 knot ENE wind swung marginally to the NE and built to 10 knots during the afternoon - the forecast 20+ knot sea breeze a definite no show. Given the light forecast for the next two days, the race committee opted for a tough four race opening session for every class other than the Laser 4.7s, to record as many early results as possible.
Tasmanian Flying 11 pair of William Wallis and Lara Racape on Flying Colours finished four races with the lowest number of points, which puts them in the lead from a second Royal Yacht Club of Tasmania team, Brendan Crisp and Daniel Maree on Wedgewood.
The top three crews in the 420 division are level-pegged on eight points, a countback giving the Victorians Nick Joel and Hugo Llewelyn on Hooligan the narrowest edge over Charlotte Griffin and Chelsea Connor (MHYC/RPAYC) and their boat, Crush.
Other than the growl of planes coming and going from Sydney Airport, the occasional roar of jet skis and the quiet hum of outboard motors from race management vessels and parents in RIBs moving around the courses, Botany Bay was pretty quiet. There was the odd verbal exchange and bumping of boats at the mark roundings, but plenty of times "sorry" could be heard when polite youngsters apologised for getting in their competitors' way.
The forecast for Botany Bay for Sunday October 10, 2015 is north westerly winds 10-15 knots tending westerly in the middle of the day then becoming variable. Racing is due to commence from 1100hrs.
The state youth championship is run annually under the auspices of Yachting NSW, a not for profit organisation responsible for the administration, promotion and advancement of the sport of sailing throughout the state. Supporting sponsors include; the NSW Government, Nautilus Marine Boat Insurance, Gill Marine Technical Clothing, Steve Jarvin Motors, Tohatsu Outboards, Lejen Marine and Sydney Harbour Boat Storage.
Facebook
Provisional results
by Lisa Ratcliff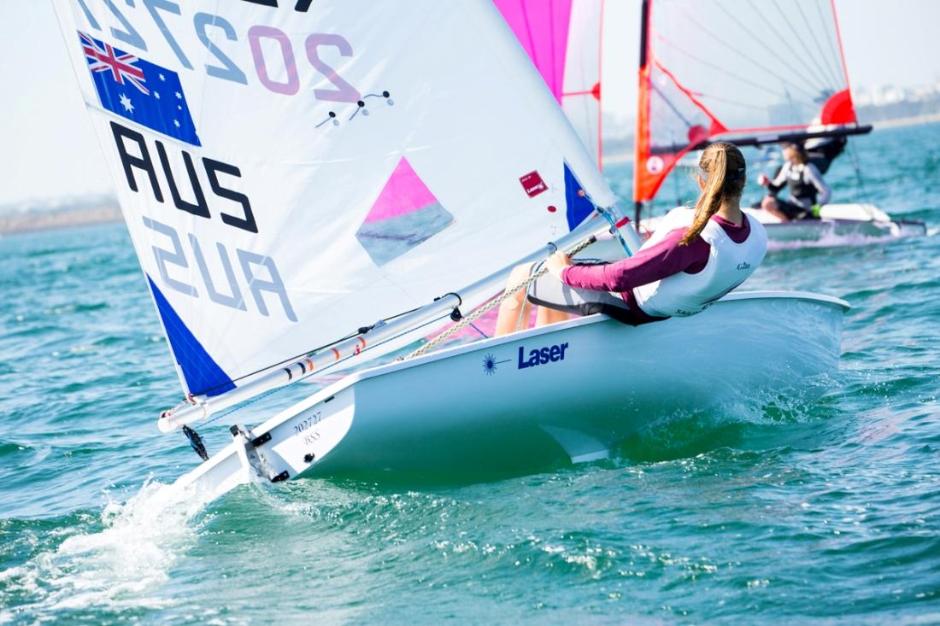 YNSW Youth Championships 2015 Laser sailor photo by Robin Evans
Pittwater Sailors Participating from Avalon Sailing Club (ASC), Bayview Yacht Racing Association (BYRA) and Royal Prince Alfred Yacht Club (RPAYC):

Optimist - Intermediate
Blossom Olivia Williams RPAYC
FIRECRACKER Cooper Bellingham RPAYC

Optimist – Open
Jonge RPAYC Alexander Bijkerk
Ripple II BYRA Brooke Wilson
Optimized RPAYC Morgan Wells
Snowflake RPAYC Bella Green
Sail 1532 RPAYC Luke Derry
Sketchy RPAYC Fletcher Walters
The Mighty Muppet RPAYC Daniel Links
Better Knot RPAYC Jonathan Tuite

29er
Salty RPAYC Ashlegh Coles Juliet Costanzo
AUS 1943 RPAYC Daniel Bromelow Niall Powers
Objective RPAYC/GSC Jim Colley Kurt Hansen
Smiling Assassins RPAYC Natasha Bryant Annie Wilmot

Laser 4.7
SKIRMISH RPAYC Logan Cortis
Beau RPAYC Georgia Tuckey
Silver Bullet RPAYC Jake Sweeney
Dream RPAYC Charley Wells
? RPAYC Jarrah Sheppard
Nemesis RPAYC Antony Hawke
Speedy RPAYC Nathan Bryant
I wasnt expecting that RPAYC James Derry
On the Gas RPAYC Cameron Whiteside
FUSION RPAYC/RPEYC Boston Cortis

Laser Radial
Lunatack RPAYC Morgan Singleton

420
Crush MHYC/RPAYC Charlotte Griffin Chelsea Connor

Flying 11
Chill ASC Anneliese Scholten Chloe Briscoe

Open Bic
Walk On Water ASC David Dooley
Flying Piggies ASC Danielle Hyde
Inappropriate Behaviour ASC Thomas Skinner
Speedie ASC Max Oughtred
Click BYRA Evan Gauci

Optimist – Green
Commando RPAYC Kye Williams
Where's Wally RPAYC Walter Tuite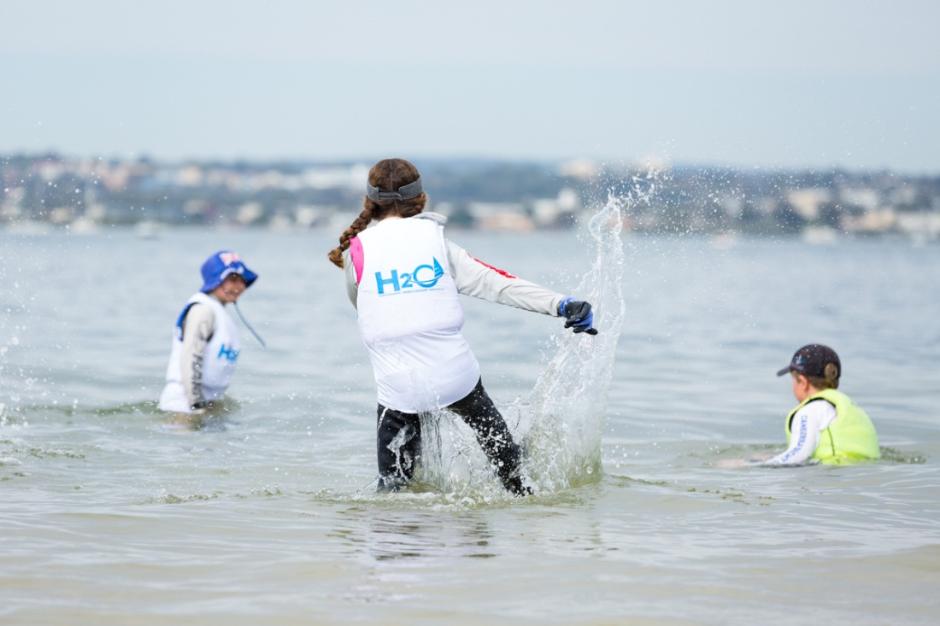 YNSW Youth Championships 2015 cooling off - photo by Robin Evans
Yachting NSW Youth Championships: Botany Bay breather from Sydney heat
Day 2: Sunday October 4, 2015
Hot and gusty west nor'westerly winds made day two of the Yachting NSW Youth Championships on Sydney's Botany Bay the perfect place to escape the worst of the 33 degree spring day.
A morning glass-out dictated the race committee postpone the scheduled start time and keep competitors ashore at Georges River Sailing Club until the land breeze began to build and the four course areas could be established by officials and volunteers. Help has come from yacht clubs right around Botany Bay, as well as the Sydney Harbour and Broken Bay, to support Yachting NSW and GRWC to once again stage the state's largest youth title.
Dry westerly winds between 7-12 knots came and went and swung frustratingly around the compass, playing havoc with some races that began promisingly then were abandoned when a fair course became impossible to maintain.
On the 49er track the two Toms from Belmont 16s, Tom Crockett and Tom Grimes, stepped it up to give the Objective lads of Jim Colley and Kurt Hansen something to think about. Crockett is one of the younger skippers in the class, at just 13, while Grimes crews and uses his weight on the wire to keep the skiff well balanced. "Tom's a local with plenty of natural ability and we've been mates for a long time," Grimes said of his new skipper.
The talented teenager is also balancing high-level competition with his HSC and exams are in a week. Grimes opted to complete the normal year 12 workload, rather than the Pathways option, and says he's aiming for an ATAR in the 90s. With so much going on in sailing he says it can be tough hitting the books. "It's discipline knowing I need to sit down to schoolwork. Dad said I should get my studies over with so I can sail and do a three-quarter load at Uni and Mum's an academic and is writing her PHD – I see her managing everything."
Grimes' NHS Plasterboard Timber moved on Objective in today's opening races and the two crews were sitting side by side on eight points, then the Toms, both NSW Youth Sailing Team members, posted a fourth in the final race 7 and slid back to second overall by two points.
At the youth title, NSW Sailing Performance head coach Larry Cargill is overseeing the Lake Macquarie duo plus YST sailors in the 420, Laser Radial, Laser 4.7s and Optimist classes.
"Yachting NSW has been building the YST program for five to six years and we are starting to see the results. Going into the youth worlds in Langkawi just after Boxing Day, Australia has secured places in multiple classes, and some of those were in the first YST intake. They are live examples of the YST pathway and good examples for other keen sailors to follow."
Cargill highlighted the great support from QLD and Victoria and their talented sailing programs, "It's almost an interstate rather than a state regatta, and well supported by parents as you can see from the number of RIBs out there."
Richard Scarr is Cargill's Tasmanian equivalent and at Georges River he's in charge of the Tassie team of 16 youth and invited class sailors. His state's emerging talent program is a joint effort between the Tasmanian Institute of Sport, Yachting Tasmania and the Royal Yacht Club of Tasmania.
On attending the NSW championship Scarr says, "It's a really important regatta for us, a way of checking in. The opportunity to mix with the fleet at mainland regattas is a must; we can come away and make changes leading up to the nationals."
Laser 4.7's whizz kid, Nathan Bryant from the Royal Prince Alfred Yacht Club, stormed the field in the fickle conditions on Sunday October 4, 2015, picking up two bullets in races 4 and 5 with his aptly named Speedy. Bryant finished mid-fleet in race 6 but still maintains a gap of two points to Jack Littlechild skippering Fast Forward for Woollahra Sailing Club.
Racing is due to commence from 1000hrs tomorrow, Monday October 5, and a high pressure system over the western Tasman Sea means winds are likely to be light and variable and another hot day is on the cards for Sydney-siders. After the final race the placegetters will be acknowledged at the official trophy presentation in the GRSC clubhouse.
Event manager Andrew Hawkins paid special tribute today to Marine Rescue NSW for their assistance as volunteers and providing the radio relay truck.
Facebook
Provisional results

by Lisa Ratcliff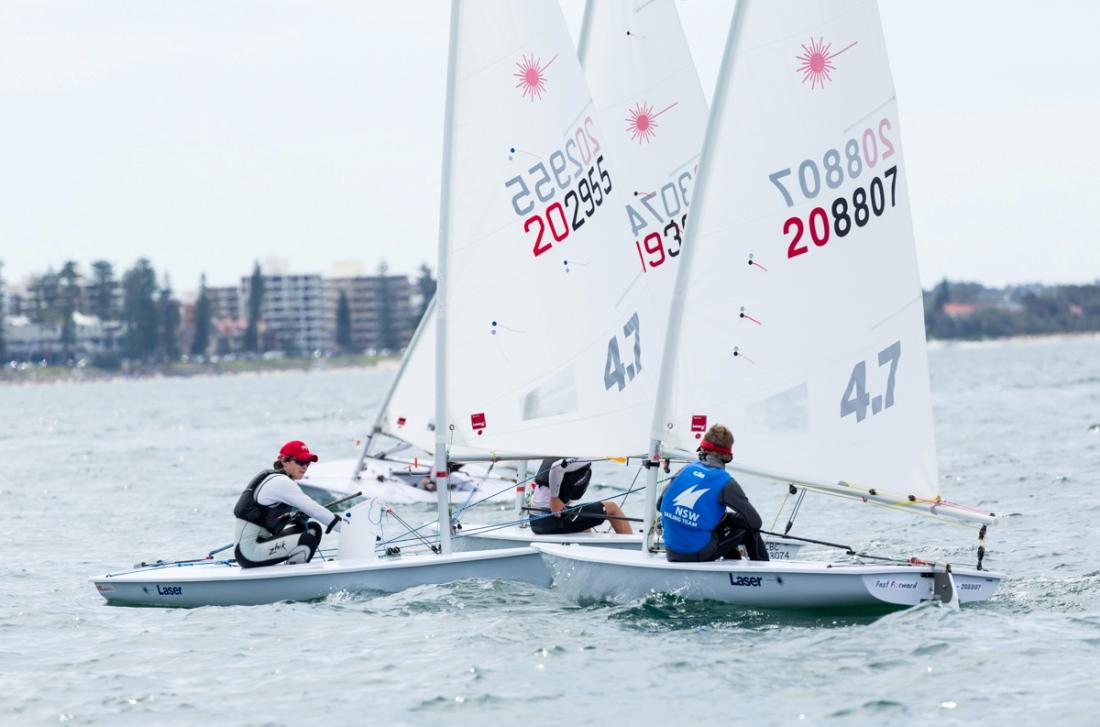 YNSW Youth Championships Laser 4.7 Fast Forward - photo by Robin Evans
Yachting NSW Youth Championships: breeze shutdown makes day 2 results final
5 October 2015
Event: Yachting NSW Youth Championships, 3-5 October 2015 hosted by Georges River Sailing Club with racing on Botany Bay, Sydney
Final results at the Yachting NSW Youth Championships stand at the close of racing on Sunday, the breeze shutdown thwarting any chance of a start on Monday October 5, 2015 for all classes other than the Optimist Green fleet.
Locals described the morning winds on Botany Bay as Katabatic, a local offshore wind that occurs when the land cools more quickly, and to a greater extent, than the sea, setting up the land breeze circulation.
Close to 300 dinghies and skiffs headed to their respective course area in hope but the window was too tight and after an hour long wait officials sent everyone back to shore and out of the hot sun, and that's where the racing ended.
As event manager Andrew Hawkins highlighted, "it's a pity about the final day but the sailors understand no wind is part of the sport".
Winning 29er pair of Kurt Hansen and Jim Colley (RPAYC/GSC) sailing the skiff Objective appreciated how close Tom Crockett and Tom Grimes from the Belmont 16' Skiff Club came to the current Australian class champions and past 29er world champion skipper.
"It was really close and would have been fun to have a tussle with the other fellas on the final day, they are really good, and that Crockett he's a grommet – and smart," Hansen said. Both Hansen and Colley have been studying for the HSC for the past month, once school finishes they'll resume training for the youth worlds in Malaysia and messing around in their 49er. The upcoming summer season will the pair's last on the youth circuit, the cut-off being 19 years old in December.
Hansen and Colley won last year's NSW state title on the October long weekend, their first regatta sailing as a new combination. "The competition has got a lot better since then," Hansen noticed.
NSH Plasterboard & Timber (B16SSC) finished two points off Objective, third was Amelia Stabback and Pia Doyle with Spike (MH16SSC).
Nathan Bryant's two point lead going into day three was enough to deliver up the overall Laser 4.7 win to the Royal Prince Alfred Yacht Club sailor when racing was abandoned. Bryant is coached by Traks Gordon and is showing lots of promise, a win at Sail Sydney last December and now a state title.
The focused grade 7 student missed last night's NRL Grand Final, heading straight to bed beat after a long day on the water in tricky conditions, saying this morning during postponement, "I was tired after yesterday and it does get harder to concentrate towards the end of a regatta."
Bryant is aiming for the Malaysian youth worlds following the ISAF Sailing World Cup in Melbourne and Sail Sydney, all adding up to a big summer for the second half of the talented Bryant siblings from Pittwater. Older sister Natasha finished eighth in the 29er class skippering Smiling Assassins.
Jack Littlechild (WSC) joined his younger brother Ryan (Optimist Open winner) on the podium, finishing second Laser 4.7 by two points with Fast Forward and third was Antony Hawke and Nemesis, another RPAYC entry.
Talented Finn Alexander from Double Bay Sailing Club proved himself against the Laser Radial line-up, putting his boat Infinity beyond Victorian Brody Riley and Spindrift representing Mornington Yacht Club by five points. Third was another Victorian boat, Will Fox and Ozone.
"It feels great, this regatta is a good check in to refocus and see how everything's going in terms of boat speed and preparation," the new state champion said just before receiving his trophy at the final awards ceremony. This Alexander's third year in the Laser Radial class and representing Australia at the Olympics is his ultimate goal.
Canadian dual Olympic sailor Mike Leigh is Alexander's coach and mentor and the YST sailor who is starting year 12 this week says sailing is his obsession, and he wants to go all the way. "You do it as much as you can and the rest follows. I'm out on the water 3-5 days a week and then at the gym and boxing plus school. It's a juggling act fitting everything in but I manage."
The only all girl team to take out the top podium placing at the NSW states were Youth Sailing Team sailors Charlotte Griffin and Chelsea Connor in the 420 class, their first win as a new combination. Representing Middle Harbour Yacht Club and RPAYC, Crush edged out Xavier Winston-Smith and Alec Brodie on Selden for Sailing, and Connor admits it feels good to beat the boys. "They were trying to psyche us out this morning saying there was only one point in it, but we don't let them get to us…. it's good to have a joke around," she laughed.
Finishing so close to second illustrates the tight class racing and gave the teens plenty to fight for. Connor found the experience of incorporating tides and racing on Botany Bay really helpful for their learning.
The pair, who met four years ago sailing Optis, have a busy calendar ahead; Sail Sydney, Sail Country at Albury/Wodonga, the Australian Youth Championships in January at WSC then QLD Youth Week. At the end of the circuit is their final aim for the season, qualifying for the 2017 youth world title.
Final points were tight in the Optimist Open fleet. Across seven races, newcomer to the top three, Ryan Littlechild's Rallar, managed to out-sail Archie Cropley's Archernator 3.1 and Australia's top ranked Opti sailor, Henry Otto skippering Chippa, by one point. "This is the first time I've been at the front," the Woollahra Sailing Club junior said, not realising he'd taken out the series. He says he's improved a lot coming into this season and has a different mind-set, something he attributes to his state coach Rob Brewer.
Ethan Loveski from Dobroyd Aquatic Club took top honours in the Intermediate fleet from Jeremy Gray and Gold Bullet and Jellybean Warrior skippered by Luca Gambacorti.
The Royal Yacht Club of Tasmania's Flying 11 teams of William Wallis and Lara Racape on Flying Colours and Brendan Crisp and Daniel Maree on Wedgewood hogged the top of the leaderboard all regatta, posting top placings consistently over seven races. Wallis and Racape are a new combination after Will stepped in to helm for Lara's older brother, who broke his leg some weeks ago.
On their success at the NSW title, scoring an extraordinary six wins and one second, Wallis agreed, "We sailed fast and we picked the shifts better than anyone else. It's been light and tricky but we seemed to battle through."
The NSW team of MWD collected third overall.
In the Invited classes Thomas Larkings from Lane Cove 12' Skiff Sailing Club made a clean sweep of the Sabot 1-up results sheet with six wins from six races against a field of 24 other Sabot sailors. In the BIC Open results Thomas Wright and Sailing Biro achieved the same perfect score, six from six for the Queensland sailor from Southport Yacht Club.
Final words from the event manager
Andrew Hawkins speaking on behalf of Yachting NSW said he was especially pleased with the support from the other states; Tasmanian, Victoria; Queensland and the ACT. "Those teams making the effort to be part of the state title demonstrate the status of the regatta, and gives their sailors different benchmarks. We had no safety issues and kids took our safety messages seriously, and the support from parents has been extraordinary with at least 80 parent and coach boats out there and others watching the Optimists off Ramsgate beach through binoculars."
Hawkins made special mention of the staff and volunteers of the youth championship host, Georges River Sailing Club, and the Optimist Green fleet, some of who are on the pathway to being future state champions, for their enthusiasm.
The state youth championship is run annually under the auspices of Yachting NSW with the support the NSW Government through Transport for NSW, Nautilus Marine Boat Insurance, Gill Marine Technical Clothing, Steve Jarvin Motors, Tohatsu Outboards, Lejen Marine and Sydney Harbour Boat Storage.
Final results available here.
By Lisa Ratcliff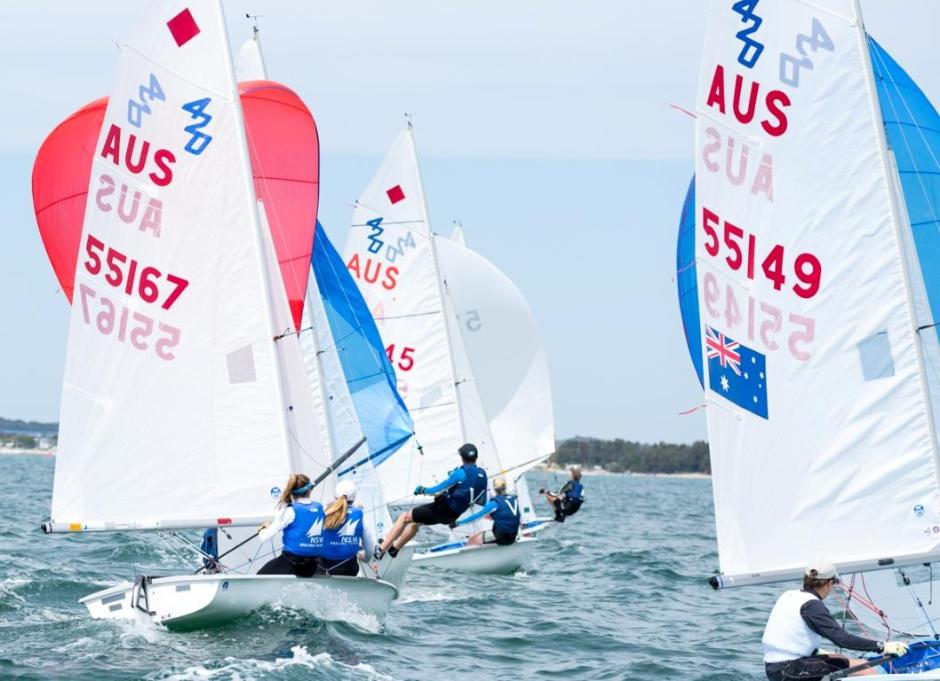 YNSW Youth Championships 2015 420 winners photo by Robin Evans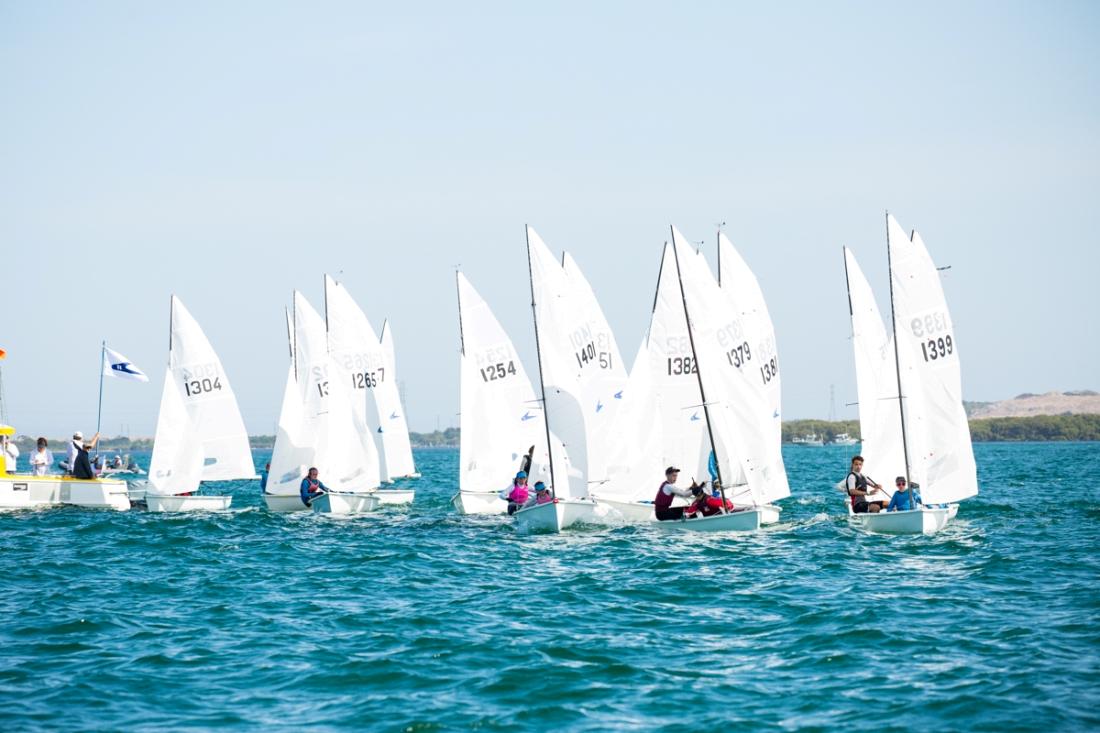 YNSW Youth Championships 2015 Flying 11 start - photo by credit Robin Evans