February 15 - 21, 2015: Issue 202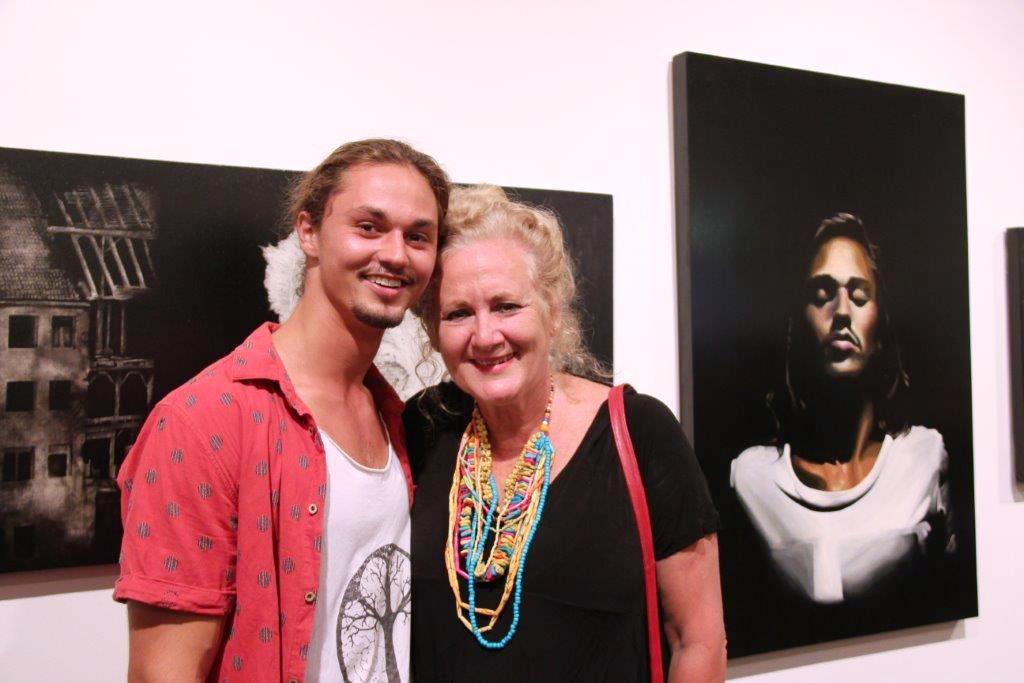 Tom Hammond and Debby Waters. Tom won this year's Theo Batten Youth Art Award - Debby has been teaching Tom for years.
Picture courtesy Jean Bentley.
EXPRESS YOURSELF 2015: 13 February - 22 March 2015
At Manly Art Gallery
Express Yourself is a vibrant, fascinating and dynamic exhibition showcasing the immense talent and creativity of the 2014 crop of HSC Visual Arts students from Sydney's Northern Beaches.
The exhibition kicked off at the Manly Art Gallery & Museum (West Esplanade, Manly) on Friday evening, 13 February 2015, and was opened by Professor Colin Rhodes, Dean, Sydney College of the Arts.
Express Yourself is an exhibition that celebrates the range of emerging artists from the region and is a show not to be missed.
The diversity of media - from painting to printmaking, installation to photo media - and the outstanding technical and artistic calibre of the works in Express Yourself - reflect the artistic strength of the students in Sydney's Northern Beaches region, and the high quality of teaching and learning in Visual Arts at the HSC level.
The exhibition features more than 35 students' artworks selected from 20 secondary schools.
Gallery curator, Ross Heathcote, says 'Express Yourself 2015 is genuinely representative of the high quality of artwork coming from this region's schools.
Some works reflect very subjective themes of family, time and personal memories and histories, some explore a sense of place and the natural environment, while others raise broader social, political and cultural issues that clearly concern these emerging young artists'.
Displayed alongside the artworks are statements written by the students expanding on the inspirations and influences that informed their works - and their journey through this unique and demanding creative process.
Two awards are granted annually to students featured in the exhibition. Manly Art Gallery & Museum Society presents a $3,000 award and the Theo Batten Youth Art Award of $5,000 is awarded to a student continuing studies in the arts. The winners of the 2015 Manly Youth Art Award and Theo Batten Youth Art Award were announced on the opening night.
Tom Hammond won the Theo Batten award at Express Yourself 2015. This will give him $5000 dollars to further his art career. Tom is going to look into getting into architecture.
The Manly Art Gallery Award & Museum Society was split this year between two artists, Jessica Pollock and Thomas Kobula.
Express Yourself Artists in Conversation
Join the Express Yourself artists as they discuss their HSC major works with curator Ross Heathcote.
When: Saturday 1 March, 2 - 3pm. Cost: Free Bookings Not Essential. Street address: West Esplanade, Manly NSW 2095 Free Entry
CREAM OF THE CROP. Young artists shine in 'Express Yourself' 2015.
We list all the brilliant Northern Beaches artists who feature in this year's Express Yourself 2015 and are lucky to have been forwarded some of the artworks by Pittwater HSC students.
Some of these artists have had the wonderful Debby Waters guiding and teaching them through her Mixed Palette studio facilities at Newport – Debby will feature as our Artist of the Month for March 2015 and we run her as Profile of the Week next Issue.
We asked Debby about these students during the week: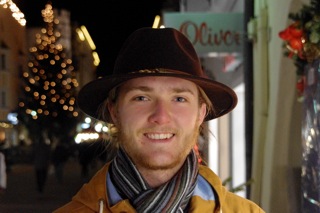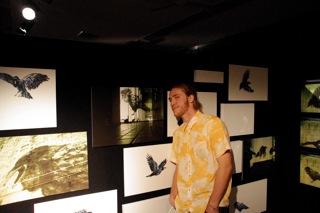 Ewan Coopey and his HSC major work.
" I first starting teaching Ewan 9 years ago when art studio was opened. It has been a privilege to see him grow into a caring and considerate young man.
Ewan is a very talented artist and this is reflected in his Major work. His work is based around his passion for the Medieval period which was depicted in a very conceptual way in using the raven. The raven was used to carry messages and it was also very symbolic of the battles that took place as it frequented the battle to feast on decaying bodies. "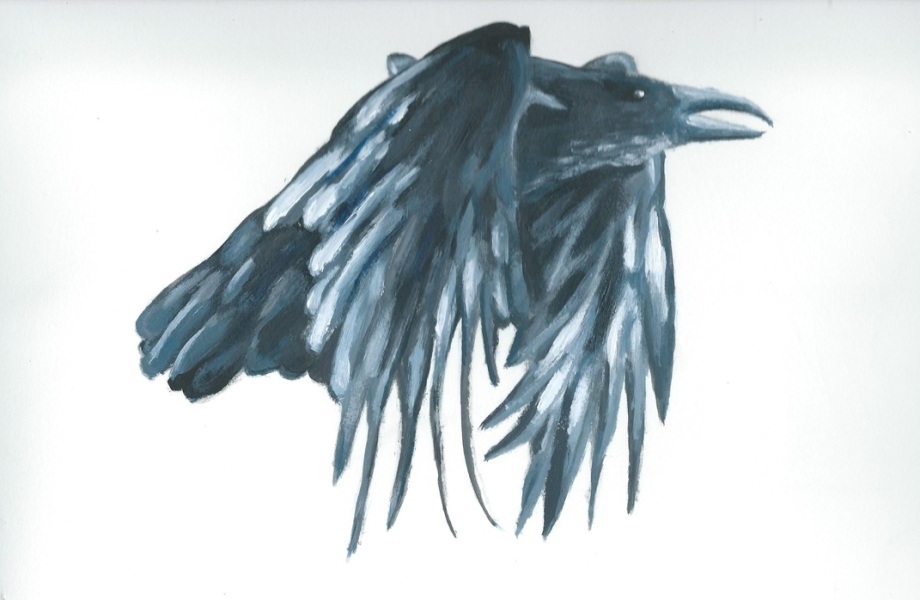 One of Mr. Coopey's ravens
Tom Hammond has been a student of Mixed Palette Art Studio, under teacher Debby Waters, for many years. He is not only an exceptional artist but he is also an exceptional young man. He was the captain of Freshwater High in Yr 12. Tom's Major work for HSC was based on his Grandfather's history on what he left behind in his war torn homeland to what he became in his new land, Australia.His body of work titled 'Closed Infinity Unfulfilled' is in the style of photo realism. Tom has an extraordinary ability to portray people in this realistic way.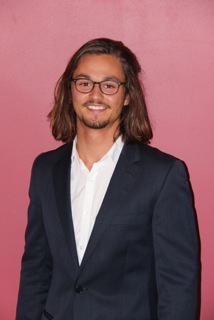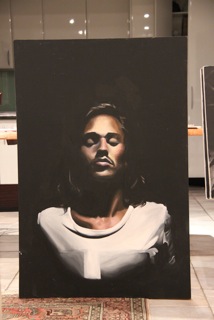 Tom Hammond and his work - 'One for sorrow- Two for Joy'
Another artist on exhibition is Geoff Searl's granddaughter, Alexandra, who starts University at Notre Dame Uni. in a couple of weeks - in primary school teaching! Geoff, quite the artist himself, is so proud it's hard to keep the smile off his face... not that you'd want to.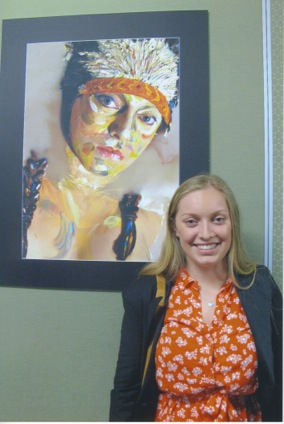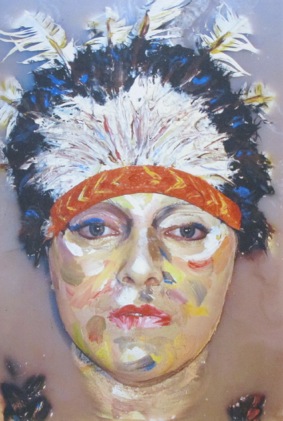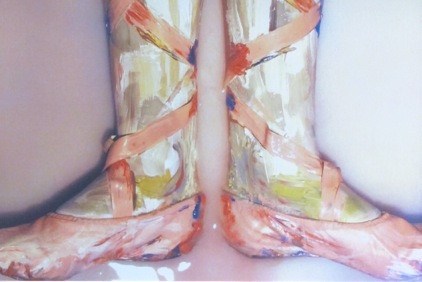 Alex and her work
If the quality and range of mediums to be displayed in Express Yourself 2015 is anything to go by, Art on the Northern Beaches has a very bright future. These are wonderful works.
The Express Yourself 2015 exhibition will be on display at Manly Art Gallery until March 22nd - make sure you visit and have a look. Manly Art Gallery is on West Esplanade, Manly (along from the wharf) and is open Tuesday to Sunday, 10am to 5pm.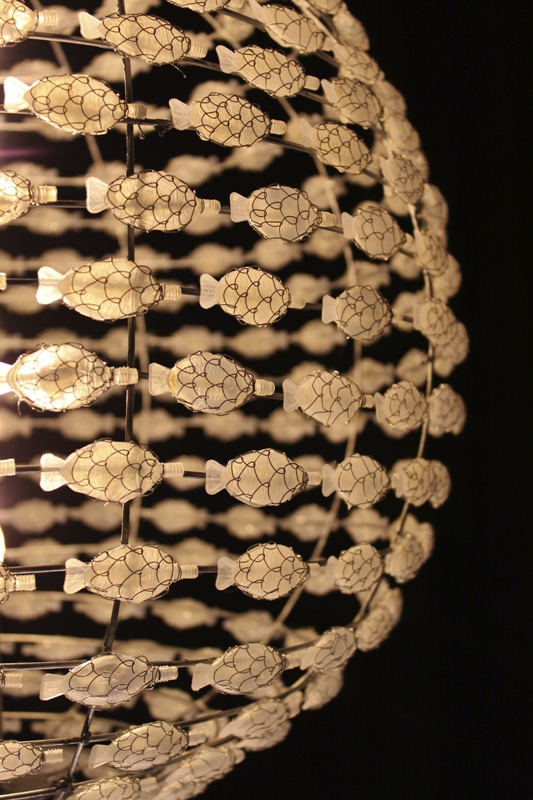 Jesse Divola - Manly Selective Campus - NBSC
_________________________________
The artists that form part of Express Yourself 2015 exhibition at Manly Art Gallery are:
Gabrielle Picard - Manly Selective Campus - NBSC
Jessica Pollock - Manly Selective Campus - NBSC
Timothy Boulton - St Luke's Grammar School
Angel Cheung - Covenant Christian School
Jeremiah Dumesny - Oxford Falls Grammar School
Tonia Swanson - Killarney Heights High School
Jemma Jahnsen - Mater Maria Catholic College
Sarah Carr - The Forest High School
Monica Colla - Northern Beaches Christian School
Emma-Louise Dukic - Barrenjoey High School
Douglas Greenwood - St Paul's Catholic College, Manly
Sebastian Callum - Manly Selective Campus - NBSC
Thomas Kobula - Freshwater Senior Campus - NBSC
Carla Whittaker - Killarney Heights High School
Lochie Mortensen - Pittwater High School
Bianca Wei - Killarney Heights High School
Aimee Wall - Covenant Christian School
Finian D Simes - Freshwater Senior Campus - NBSC
Nicholas Allen - Northern Beaches Christian School
Jacob Lumsdaine - St. Pauls College, Manly
Alexandra Searl - Stella Maris
Jesse Divola - Manly Selective Campus - NBSC
Thomas Hammond - Freshwater Senior Campus - NBSC
Peter Bromhead - The Forest High School
Stephanie Tian Yi Chang - Stella Maris
Matt Wiseman - Barrenjoey High School
Jack Vanzino - Freshwater Senior Campus – NBSC
Lily Austin - Stella Maris
Tarminya Brown - Mackellar Girls Campus – NBSC
Brandon Ardito - Mater Maria Catholic College
Jasper Rinkel - Killarney Heights High School
Joseph Thwaites - St. Pauls Catholic College, Manly
Lachlan Buttrose - Northern Beaches Christian School
Beau Avedissian - Killarney Heights High School
Brianna Jackson - Oxford Falls Grammar School
Ewan Shanks Coopey - Pittwater High School
Mali Koopman - Mackellar Girls Campus - NBSC
Harrison Power - St Augustine's College
______________________________________________