February 15 - 21, 2015: Issue 202
NSW Community Members ask Premier Baird to Reduce the Burden - Cancer Council 'Saving Life' campaign gets major boost from Manly MP Mike Baird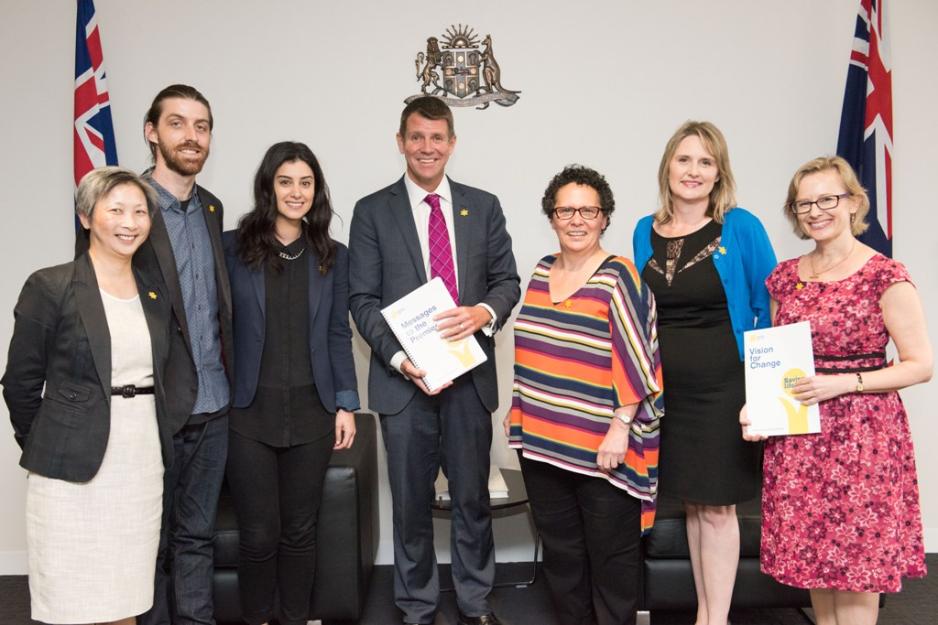 Anita Tang, Michael and Lillian Birchall, Mike Baird, Julie Hendicott, Nicole Winram and Kathy Chapman
NSW Community Members ask Premier Baird to Reduce the Burden - Cancer Council 'Saving Life' campaign gets major boost from Manly MP Mike Baird
Friday 13th February 2015
Personal messages from northern suburbs residents who have been affected by cancer have been directly delivered to NSW Premier Mike Baird, as part of a book of almost 400 messages from people across the state, highlighting the need for government action on key cancer related issues.
The messages were delivered at an intimate meeting, which took place with Premier Baird in Sydney on Wednesday 4 February 2015, and marks a significant step in Cancer Council NSW's Saving Life: Change Starts Here election campaign.
Cancer Council NSW is asking the next State Government to consider five key areas of change, including: addressing chemotherapy co-payments, increasing palliative care services, improving access to care co-ordination for cancer patients, addressing the selling of tobacco across the state and improving cancer services for Aboriginal people.
One of those invited to speak with the Premier was Aboriginal woman and breast cancer survivor, Julie Hendicott. A Ngugi woman originally from North Stradbroke, she now lives on the northern beaches and works for UnitingCare Ageing as a Support Advisor.
"I wanted him to hear why Aboriginal people need an increasing Aboriginal Workforce in Health and Cancer services and how Aboriginal people have a higher rate of having cancer and are less likely to complete their treatment," she said.
"We met the Premier as a small group and he gave each of us individual time to hear our concerns. Mike Baird listened with interest and compassion and expressed to those of us he met that he wanted to make our lives easier."
Over the past six months, Cancer Council NSW's Saving Life: Change Starts Here election campaign has seen community members from the northern suburbs take action to make sure that the politicians of the next Parliament understand what they need to do to better prevent cancer and ensure that those living with cancer get the care and support they need.
Liz Hing from the Cancer Action Network said that volunteers and members of the Cancer Action Network have been hosting and attending events throughout northern Sydney for the past six months.
"In September last year they attended the Manly Relay for Life – raising awareness for the issues at this event as well as engaging with Premier Mike Baird who was also at the Relay. In October, the Northern Suburbs Cancer Action Network hosted an event where local community members had an opportunity to speak with Gladys Berejiklian, Member for Willoughby, and Matt Kean, Member for Hornsby, about why these issues are important to them. This week another event was held in Hornsby to raise awareness – Matt Kean again attended this event.
"With the northern suburbs community having already put so much effort into this campaign, I was pleased to learn that Premier Baird listened with interest and compassion to the community members who met with him in Sydney. I really hope he can take the personal messages which were delivered on behalf of the northern suburbs and wider NSW, on board as a catalyst for change," continued Liz Hing.
Following the meeting, Premier Baird said:
"I am grateful these community members from across NSW took the time to come and meet with me. It is impossible not to be touched by their stories and we want to do everything we can to make their lives easier.
"Under the Baird Government, 95 per cent of the NSW population now has access to a comprehensive cancer care centre within 100 kilometres of their home.
"But we know we can always do more and that is why it is so important to have received these nearly 400 personal messages."
In NSW alone, by 2016 over 45,000 people will be diagnosed with cancer in a single year. With a strong community focus, Saving Life: Change Starts Here looks to address the five issues affecting not only Sydney and metro-based cancer patients but regional and rural cancer patients too.
Tobacco Retail Reform - Our retailer audit found that there are about 5 times as many tobacco retailers in NSW as there are pharmacies.
Increased Aboriginal Workforce in Cancer Services - Aboriginal people are 60% more likely to die from cancer. But it doesn't have to be this way.
No Chemotherapy Co-payments - Some cancer patients pay up to $180 in co-payments for their initial chemotherapy treatment, and may even be charged more down the track if their treatment changes.
Coordinated Cancer Care - Coordinating appointments and keeping up with complex information can be confusing and distressing for cancer patients and their families.
More Palliative Care Services - We know that around 70% of Australians say they want to die at home, but only 16% are able to do so. People in regional and rural areas are particularly disadvantaged.
Read more at www.cancercouncil.com.au/savinglife
And tune into The Gentlemen's Club, this Tuesday at 3.30 pm - details below: