March 23 - 29, 2014: Issue 155
Pittwater Festival 2014 Classic Yacht Regatta Hosted by RMYC Concludes Today - Don't Miss these Beauties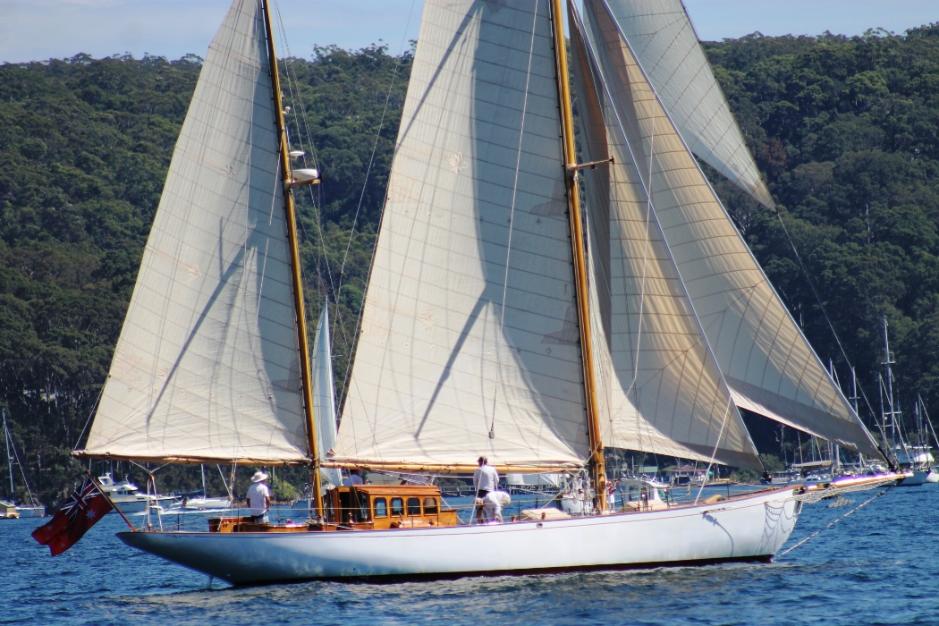 Hurrica (from Great Gatsby) on Pittwater yesterday. Picture by A J Guesdon, 2014.
If you want to see some classic wooden yachts then get to the Royal Motor Yacht Club of Broken Bay at Newport this morning in time to see these wonderful vessels sail out to begin the final day of the R-Marine Riley RMYC Pittwater Festival 2014's Classic Yacht Regatta.
A light breeze yesterday made this fleet and Pittwater look fantastic. Last night an evening with many of the skippers in the Garden Forecourt, really a chance to spend time with Australian sailing legends and hear more sailing history, stories, interviews and a whole lot of fun will provide our readers with many a page dedicated to these classic yachts for weeks to come - one per page we promise!
We have dedicated this week's Pictorial to some of what we saw and provide a link to a Public Gallery so owners, families and crew may help themselves.
A full overview of the whole Classic Yacht Regatta in Issue 156. Pictorial HERE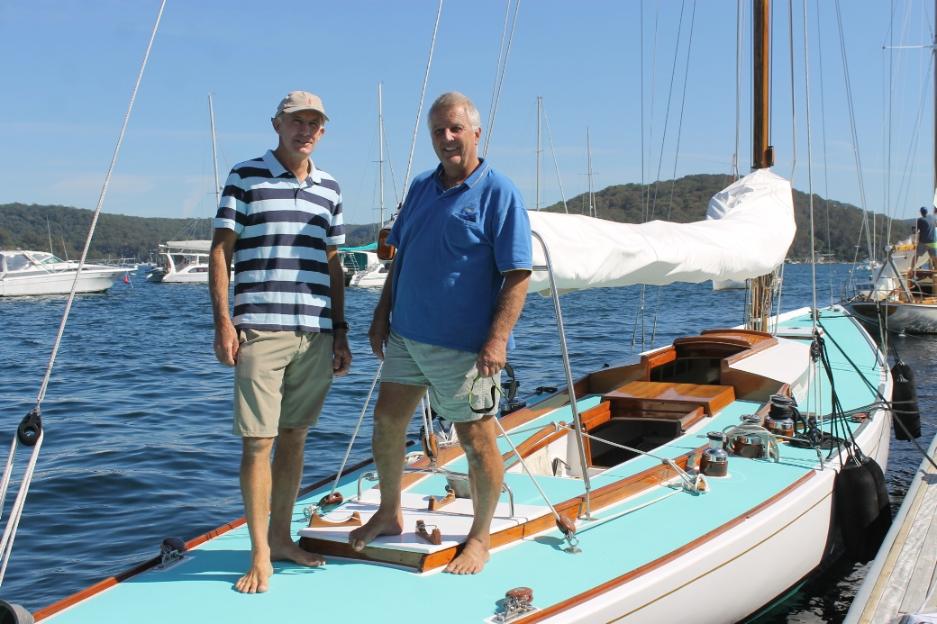 Pittwater Legendary Sailors Colin Beashel and Phil Smidmore aboard Defiance yesterday - Australia's oldest 8 metre class. Picture by A J Guesdon, 2014.
Sea Guardian at RPAYC for Club Marine Pittwater Sail Expo This Weekend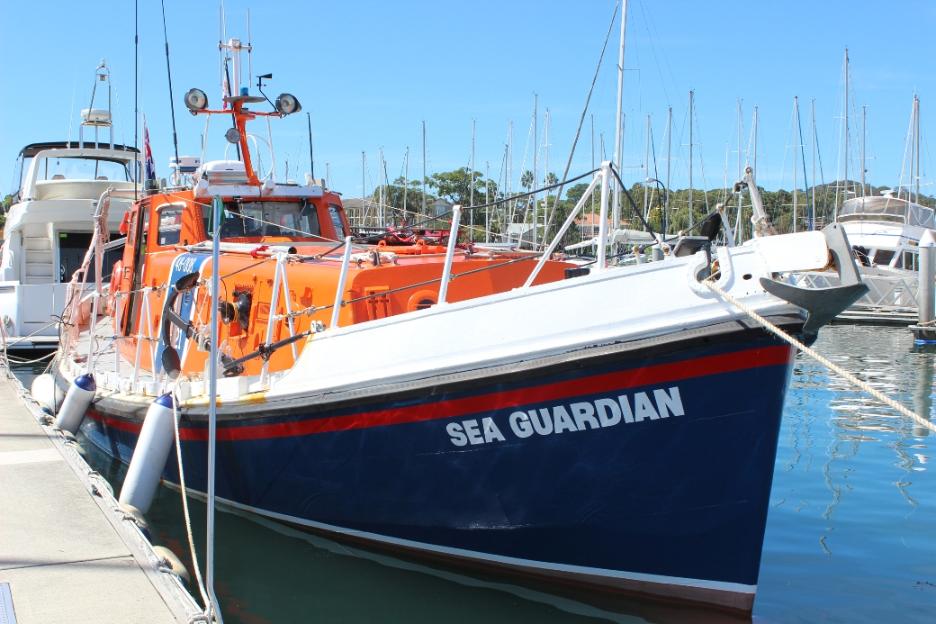 Sea Guardian. Photo by Damian Devine.
The vessel Sea Guardian, the historic 14.6 metre Solent Class ex-RNLI lifeboat, is currently berthed at the RPAYC and will be on display during the Club Marine Pittwater Sail Expo this weekend (between 10am and 4pm).
On behalf of the owner John Bauer, the RPAYC extends an invitation to members and visitors to come down and view the vessel at the Pittwater Sail Expo this weekend. John is only too happy to show interested parties onboard. The vessel is berthed on the Services Wharf at the RPAYC marina.
The Sea Guardian has saved scores of lives over the past 45 years. She started her working life in Ireland, where it performed 150 rescues and saved 76 lives, before it came to serve in Wollongong in 1993 and then St Helens in 1998.
The boat is probably most known for its fight against 24 metre waves and 160km/h gusts in the tragic 1998 Sydney Hobart Yacht Race when it pulled 10 yachts to safety.
More on the Sea Guardian and the Club Marine Sail Expo 2014 in a Report by Damian Devine HERE
Champion of Australian Wildlife Dr Howard Ralph Supported by Annual SCWC High Tea at Coomalong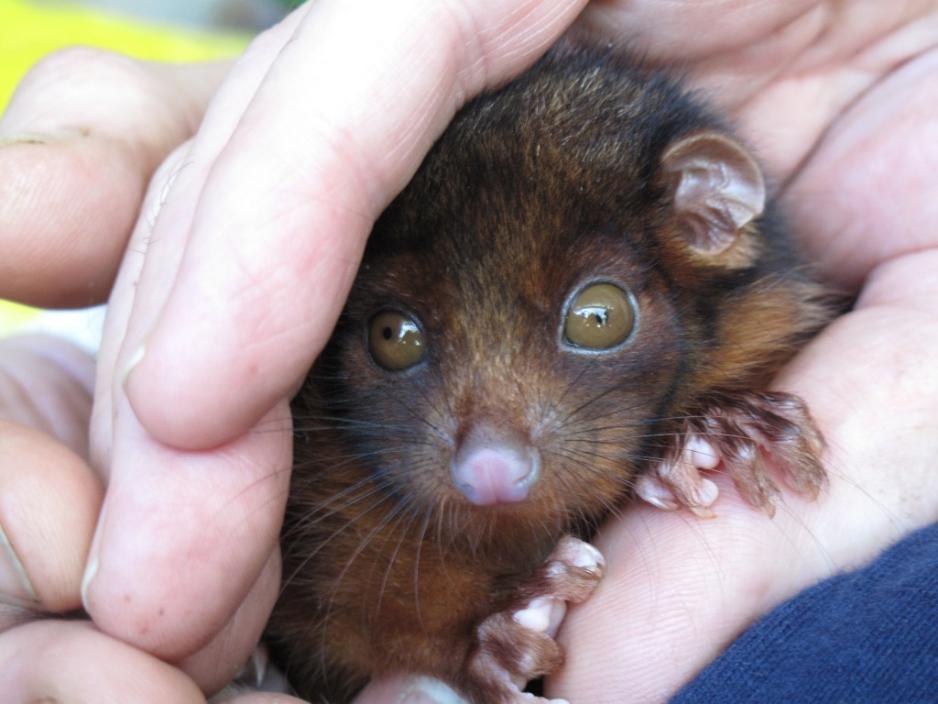 Photo by Southern Cross Wildlife Care.
It's getting near that time of year again when you may spoil yourself by visiting the wonderful home and grounds of Mr and Mrs. Glasson and have a very delicious High Tea while at the same time doing something good for all our furred, finned, feathered and scaled Australian Wildlife - yes, it's the annual Southern Cross Wildlife Care High Tea at Coomalong overlooking the best view in the world - Pittwater!
This year the High Tea shall be held on Sunday April 6th (Contact Lindy 0409 404 570) in Lentara Road, Bayview.
We asked SCWC volunteers, the tireless Lindy Stacker, and the lady who curates our 'Critter of the Month' section in Community News, Lynleigh Grieg, to share some insights into a few of the furred, finned, scaled and feathered 'critters' Dr Ralph and his team of volunteer carers have saved in recent months just to bring home how vital this work is. Southern Cross Wildlife Care is not supported by Government funding but solely by donations, so it essential that the work of this team, the overheads of the clinics and costs involved in medicines needed are met by we who are For the Animals!
Report by Lindy and Lynliegh HERE
Avalon Quilters 2014 Show Raises Thousands For Australian Mitochondrial Disease Foundation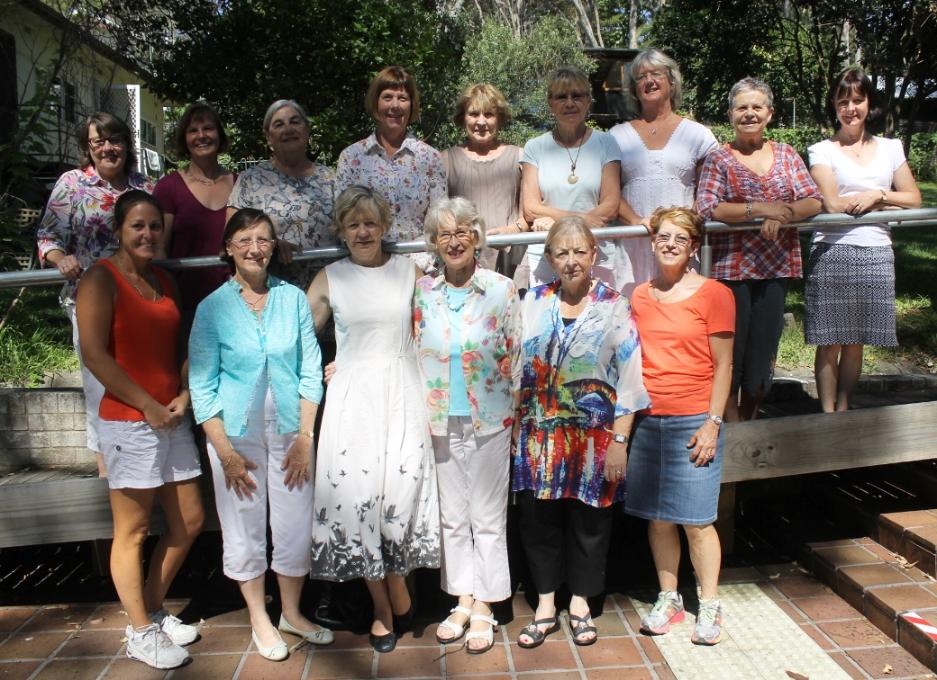 Margie Lingard with the Avalon Quilters Ladies on Thursday (20.3.2014), picture by A J Guesdon, 2014.
The recent 2014 Avalon Quilters Show and Raffle for that wonderful quilt, the "Josephine Bennett Quilt", an Antique American Raffle Quilt c.1870 raised just over $6000.00 for the Australian Mitochondrial Disease Foundation. Every year the Avalon Quilters display many magnificent quilts in their annual exhibition and have, since making the Australian Mitochondrial Foundation their elected charity, raised $20 000.00 over three years.
This is the phenomenal result of the ladies who are Avalon Quilters efforts.
On Thursday Margie Lingard (Chair of Fundraising at AMDF), visited the ladies for morning tea so they could present a cheque for this year's raised funds and spoke about this disease, the work this foundation is supporting and a little about The Bloody Long Walk from Palm Beach, which will be run in October this year.
Report HERE
Avalon Festival of Surf – Avalon 15th - 16th March, 2014 – The Wrap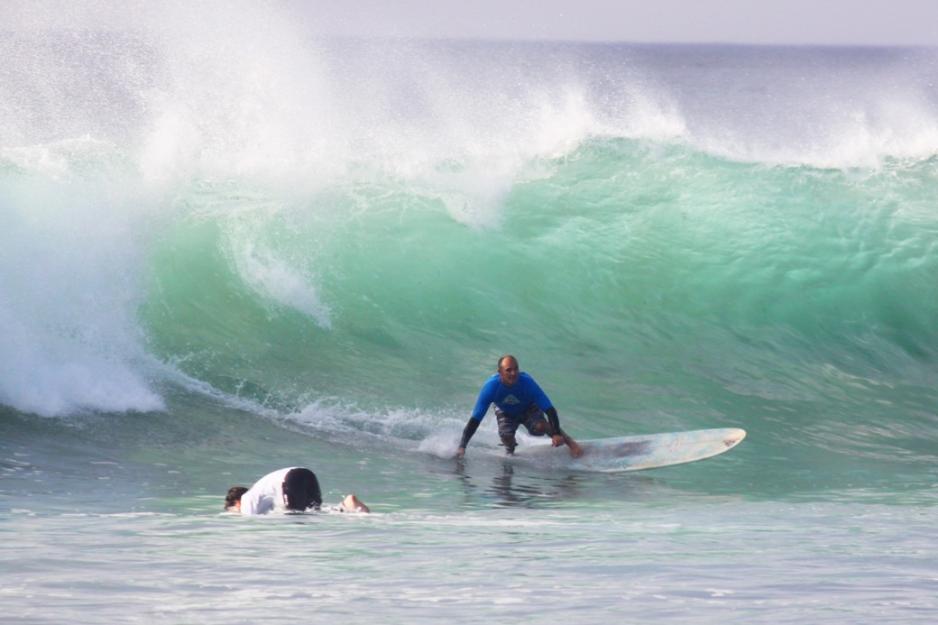 Inception Longboard - Jason Livingstone.

A huge Success.
Following on from last years Adrenalin 360 Surf & Skate inaugural comp, all who attended the now 2-day event agreed that it was a huge success. With support from Pittwater Council and their Enliven Pittwater initiative, The Chamber of Commerce, Avalon Surf Lifesaving Club, Avalon Bowls Club, Charities, shops and business, it was truly a community event.

With over 200 competitors, their families and friends, Avalon certainly had a carnival atmosphere. And the surf didn't disappoint either. It was equal to the event with near perfect conditions with 4 and 6 footers coming through.

Report by Joshua Axford and results HERE