March 23 - 29, 2014: Issue 155
Avalon Quilters 2014 Show Raises Thousands For Australian Mitochondrial Disease Foundation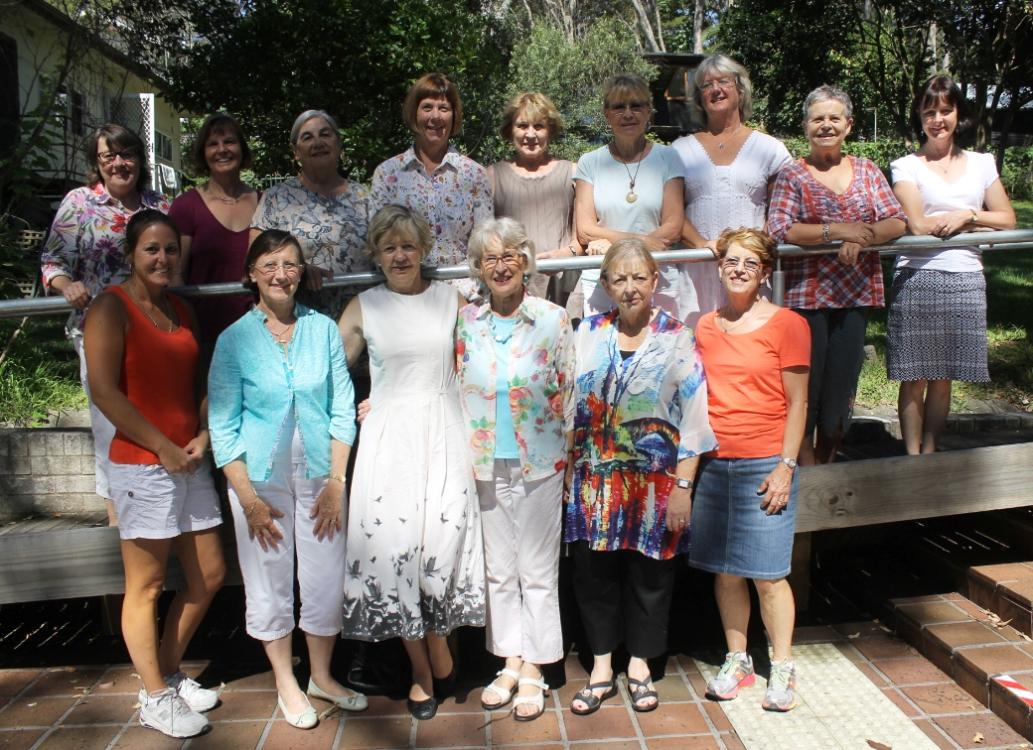 Margie Lingard with the Avalon Quilters on Thursday morning - picture by A J Guesdon, 2014.
Avalon Quilters 2014 Show Raises Six Thousand for the Australian Mitochondrial Disease Foundation
Every year the Avalon Quilters display many magnificent quilts in their annual exhibition. Most of the sixty or so quilts on display have been made by the quilters, and some are for sale. The 2014 exhibition will included the "Josephine Bennett Quilt", an Antique American Raffle Quilt c.1870, and quilts from other countries, many of which have been bought by the quilters on their travels overseas. There was a stall of quality handcrafted items for purchase. Once again, proceeds from the show were going to the AMDF and this year the ladies raised just over $6000.00 for AMDF. This brings the amount raised over the last three years to $20 000.00 including $500.00 raised at last year's 30th Birthday Party Luncheon.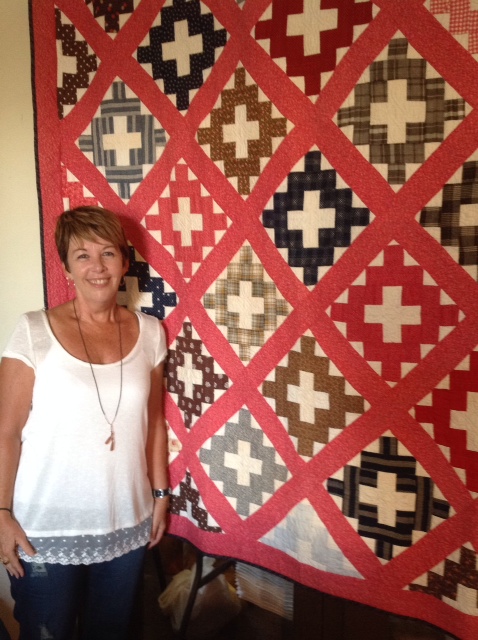 More than 800 people enjoyed the Avalon Quilters' exhibition the 7th and 8th of March this year. The group, which held its first tiny show in 1983, had more than 60 quilts, mostly made by members, on display. The exhibition included quilts collected on overseas travels and a stall of quality handcrafted items.
Local resident, Meredith Inskster (pictured) was delighted to have the winning ticket in the draw for the magnificent Josephine Bennett Quilt.
On Thursday March 20th Margie Lingard brought the wonderful Avalon Quilters ladies some morning tea and stayed to share some insights into her and husband Dr Doug Lingard, President and Chairman and a founding director of the foundation, personal experience with this little known disease.
Mitochondria are the power houses of the cell providing the body with over 90% of the energy it needs to sustain life. Mitochondria take in sugars and proteins from the food we eat and produce energy called ATP that our bodies use to function properly. Mitochondrial disease (mito) is a debilitating and potentially fatal disease that reduces the ability of the mitochondria to produce this energy. When the mitochondria are not working properly, cells begin to die until eventually whole organ systems fail and the patient's life itself is compromised.
The Mission of the Australian Mitochondrial Disease Foundation (AMDF) is that it hopes to connect all mitochondrial disease sufferers. One of its main purposes is to provide support and practical information that will improve the quality of life for sufferers and their families.
The AMDF wants to raise the profile of this debilitating disease among the medical profession and society at large. The support of the Australian philanthropic community will be essential to fulfil its ultimate aim, a cure.
Margie's Story
Thirty years ago our seven year old son, Alex died from what was then an unknown illness. Despite his tissue samples being sent to several top laboratories overseas and being seen by many neurologists there was no firm diagnosis – possibly a virus of unknown neurological origin. As a mother I was shattered to find out there was no cure for Alex and yet men could walk on the moon. Where were peoples' priorities?
Alex's illness was always at the back of my mind.
Six years ago we received a phone call that brought Alex's death flooding back to haunt us. Our beautiful daughter, Rose (20) had been found convulsing and unconscious by her flat mates. We knew, although we hoped we were wrong, that she had the same illness as Alex.
After a phone call to one of Alex's neurologists we were told that he had most likely died from a mitochondrial disorder. What? It was the first time we had heard the word, and when we Googled it our hearts and hopes sank ... an incurable illness for which there was yet no cure.
Meanwhile Rose's life hung in the balance as she spent several weeks on life support and in a coma. She recovered consciousness but spent months in rehab learning to walk again, regain her balance and many other physical activities we take for granted. A cocktail of anti-convulsants and supplements to enhance her body's energy production became part of her daily diet - about 30 different pills in total.
Rose's determination, for which she deserves a medal, and outstanding medical support, have given her part of her life back. Her greatest wish is to be normal, get through a day without convulsions, and be like her friends. It breaks our hearts to see her struggling and trying so hard but it's also what motivates us to find a cure for Rose and every other sufferer.
Rose has since finished her studies and graduated! Congratulations to her for her perseverance and determination.
ADMF also runs The Bloody Long Walk, which is scheduled for October this year. The Bloody Long Walk is 35 kilometres along Sydney's Stunning coastline. Challenge yourself to walk or run from Palm Beach to North Head on Sunday 19 October in the 2014 Bloody Long Walk. See more here
Margie stated the funds raised this year would be put towards the AMDF's Incubator Grants
Find out more about AMDF and how you can get involved or help out is at: http://www.amdf.org.au/default.htm