November 9 - 15, 2014: Issue 188
Artspot 2015 Supports Sharing Stories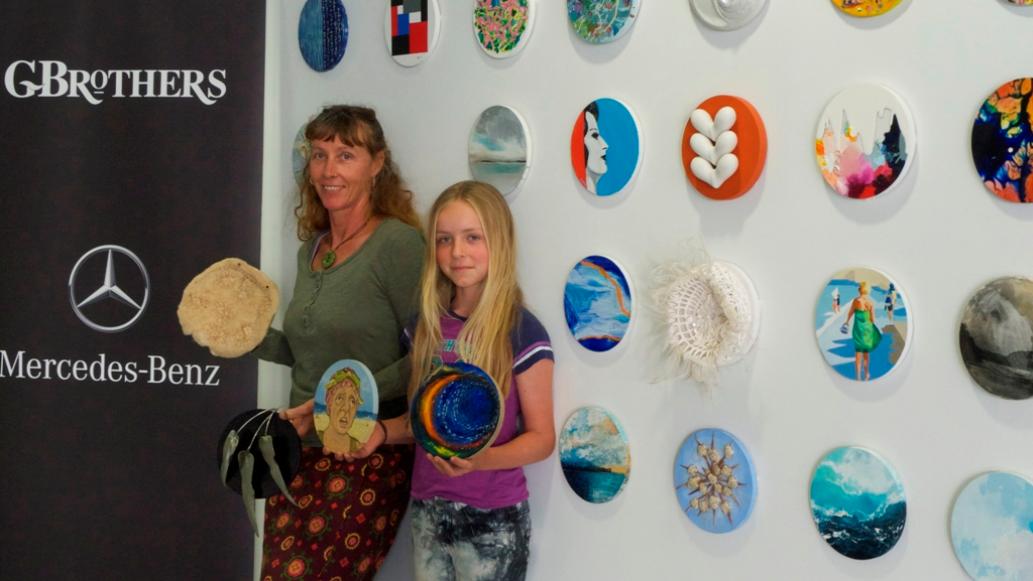 Liz Thompson from SharingStories with her daughter Sienna at G Brothers Mona Vale. Photo by Mary Meyer.
Artspot 2015 Supports Sharing Stories
Artspot Exhibition in January 2015 will feature 28 artists from varying modalities (painting, drawing, printmaking, ceramic, photography, video art and sculpture).
Charity Spots
As part of the exhibition Artspot artists have painted 'charity spots' which will be silent auctioned during the exhibition.
Each of the 28 artists were provided a round canvas to paint, print, photograph or adhere ceramics which reflects their artworks to be featured in the upcoming exhibition. These were generously provided by Baillie Lodges, a collection of intimate luxury lodges in unique wilderness destinations – www.baillielodges.com.au.
All monies raised by the silent auction of these artworks will go to SharingStories Foundation, established by gifted photographer- documentary filmmaker and Mackeral Beach resident Liz Thompson to scale work commenced with over twenty-five Indigenous communities across Australia. This work includes the book series, Sharing Our Stories, in which traditional stories shared by Senior Cultural Custodians are illustrated by children in participating communities. The series won the Australian Awards for Excellence in Educational Publishing.
The work of SharingStories Foundation is imperative in a time of rapid cultural and linguistic loss. Any monies raised will be put toward the creation of interactive iBook versions of the Sharing Our Stories book series and the documentation of additional stories with communities.
Become a supporter of this valuable work! To learn more, see www.sharingstoriesfoundation.org
For an early preview of these works please visit Artspot major sponsor G Brothers Mercedes dealership at the corner of Barrenjoey Road and Bassett Street, Mona Vale NSW www.mbgbrothers.com.au.
Seascape Artists Profiles
As a sneak preview, we present 7 of those artists who love to capture the seascape atmosphere of our northern beaches. You can view all 28 artists at www.artspotontheweb.com prior to the exhibition at Avalon Recreational Centre January 3-11, 2015 running 10 – 6pm daily.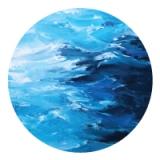 Matilda Dumas seascapes were inspired by her sail down the east coast of Australia "being on the seas for months where she felt the sea sky and self-became blurred not sure when one stopped and the other began". Using oil and wax with gestural brush and pallet knife work she captures the essence of her experience at sea.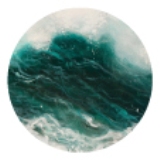 Catherine Garrod feels that the Australian coastline is the true work of art here. Her paintings remind us of days spent in the surf, tingling skin, salt licked bodies and call of the gulls. She skilfully conveys the translucence of water, its depth and motion through her pthalo blue and green palette.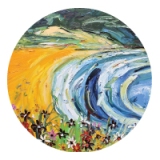 Nada Herman's selection of works strongly feature the life on northern beaches using her well known splashes of colour, her oil canvasses reflect people sun–baking, surfing, fishing and swimming.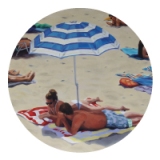 Liz Pasqualini works for Artspot are titled "simple pleasures", having immigrated to Australia she strongly feels the sense of Freedom in Australia, particularly depicted through beach and sea – soaking the sun up, enjoying a swim – all without any fear for their personal safety. Delightful abandon, simple freedoms – realistically portrayed in her signature 'alla prima' style.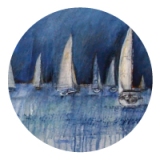 Gemma Rasdall returns to Artspot with her inspired mixed media artworks on recycled sail clothe that explore, through the metaphoric form of a boat, her ambiguous relationship with the weather and its ability to manipulate my emotions.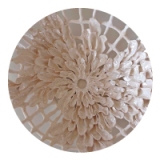 Christine MacKinnon is an award winning ceramicist who has created symbolic three dimensional traps reflecting the depletion and extinction of species in our ocean floor. She combines her ceramic traps with the detritus of nature to bring attention to the beauty of the natural world and to highlight the need to protect it.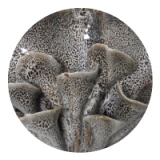 Blue (Karen) Stuart new ceramic artworks for Artspot are aptly titled "The ocean meets the rainforest" showcasing a playful installation, inspired by the Great Barrier Reef and the Daintree, of related sculptural vessels that could be found on the ocean bed, coral reefs or on the forest floor.
Artspot is a professional art exhibition made possible by our sponsors Pittwater Community Arts (PCA), G Brothers, Raine and Horne Palm Beach, Baillie Lodges, Enliven Pittwater, Stoneleigh Wines and Avalon Chamber of Commerce.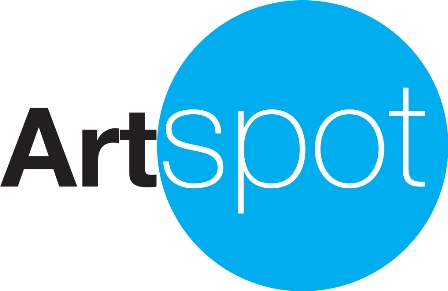 By Cindy Goode Milman, 2014.