September 23 - 29, 2018: Issued 377
Upgrade, Not Demolition Needed at Mona Vale Hospital: Phelps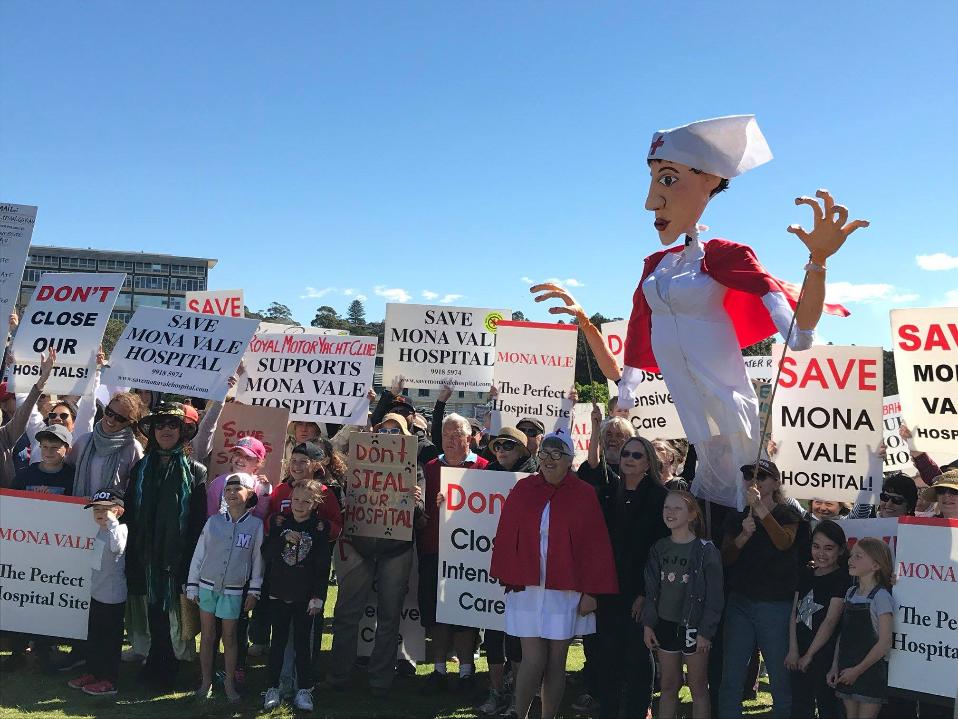 Local author, film and TV star Peter Phelps is calling for acute services at Mona Vale Hospital to be retained, saying that what's needed is an upgrade rather than demolition of its buildings.

Emergency, maternity, surgical and intensive care departments will all close at Mona Vale when the Northern Beaches Hospital opens at Frenchs Forest at the end of October. The main hospital building will be demolished next year.
Speaking as MC at the Save Mona Vale Hospital Big Picnic last Sunday, Phelps encouraged residents to speak up to make sure local politicians get the message that the community wants acute care at the hospital and its iconic main building saved.
"We have a local government, whose leader, the mayor, is not elected by you," he said.
"We have a state government, whose Premier, is not elected by you.
"We have a federal government with a Prime Minister who is not elected by you.
"So that it's only through your petition, your voices, that we can keep medical services here at Mona Vale."
Phelps acknowledged the value of some recent developments at the hospital, such as the rehabilitation unit and 10-bed palliative care unit.
"But we do need the existing services," he said.
"We need an upgrade not demolition of what we have."
Another renowned local actor Richard Roxburgh last week condemned the decision to close acute services at Mona Vale Hospital as "dunderheadesness", saying the NSW government should reconsider its decision.
Hundreds of residents joined the Big Picnic in the park next door to the hospital last Sunday, where a larger-than-life sized puppet of Nurse Karen Draddy - who managed and advocated for maternity services at the hospital for nearly 30 years – made an appearance.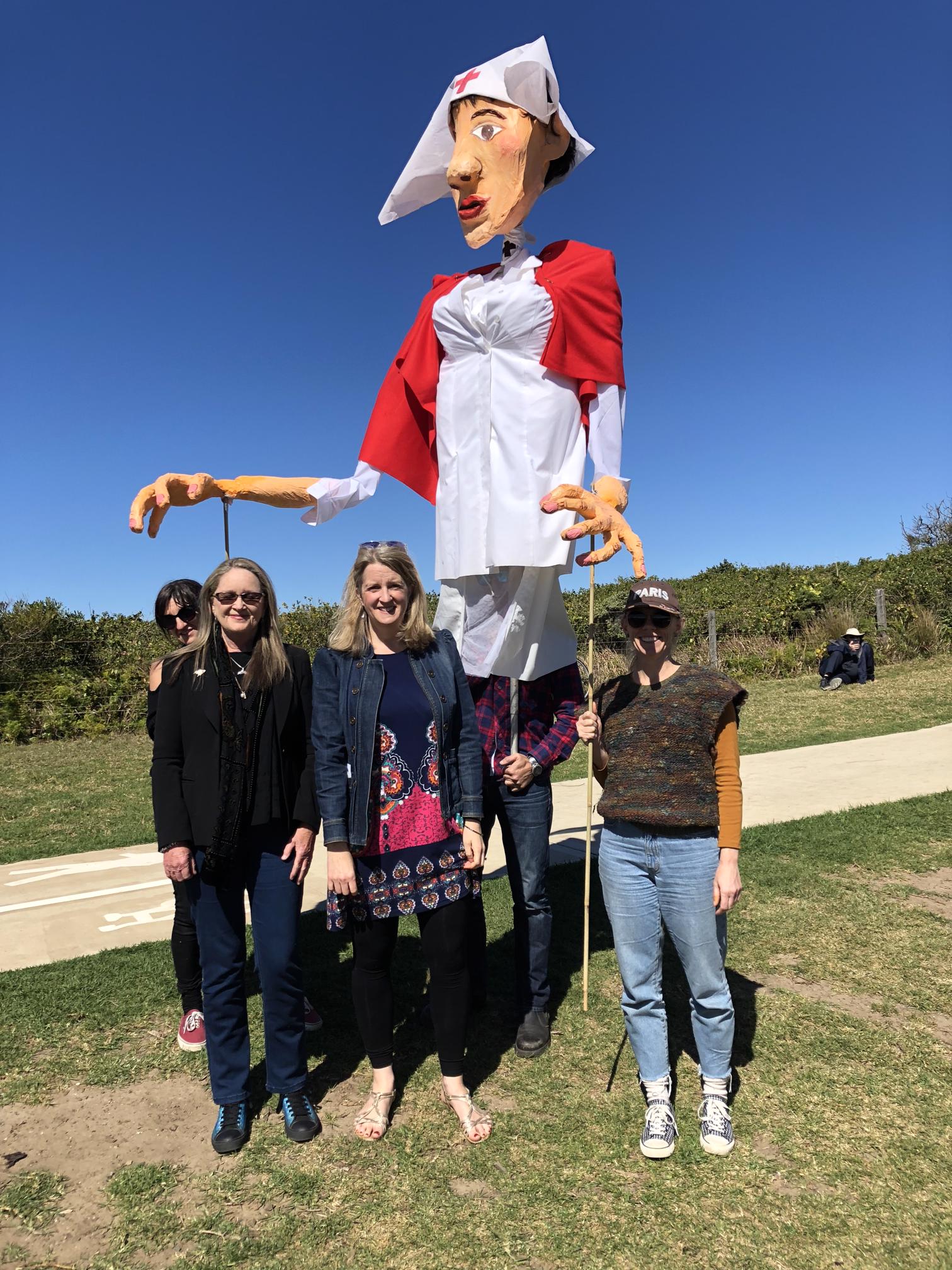 Karen Draddy at the MVH picnic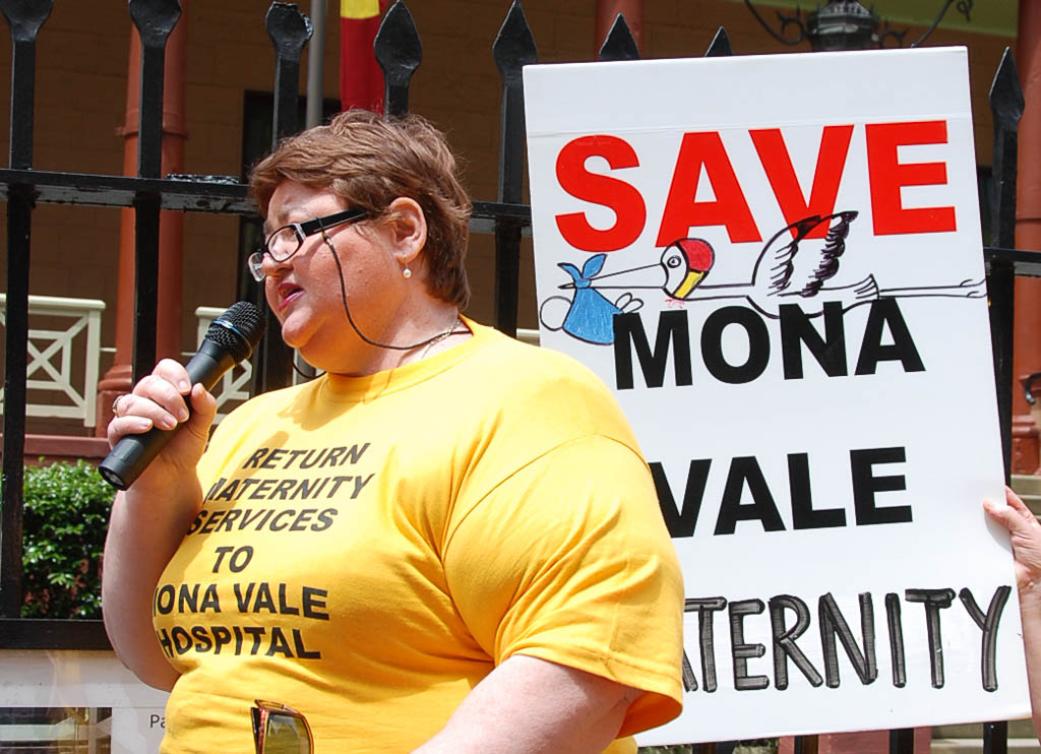 Karen being Karen at Macquarie street, photo by Michael Mannington.
Picnickers arrived at the park as Matthew James played didgeridoo, and were then entertained by international jazz duo Joy and Dave Yates, followed by The Rions, a Year 9 band from Barrenjoey High School, whose set included a special version of "Let It Be".
Clown Jean Paul Bell introduced "Dr Roger Ring" to the audience, a supposed internationally renowned thoracic surgeon who demonstrated "the surgery we need to apply to our political class" – as he mimed ripping the guts out of a patient.
Nurses at the picnic warned that patients will die unnecessarily and women will give birth beside the road after the closure because of the extra distance to the new hospital.
Jools Farrell, a long-term emergency nurse, said injuries such as broken bones and drownings often occurred in the Pittwater area due to the surrounding water, high cliffs, skate park and cyclists knocked off bikes.
Ms Farrell, who trained at Mona Vale Hospital and worked in a specialist trauma centre in the US for three years, is also concerned about the risk for heart attack patients, who she said needed treatment within minutes.
"If you're at Palm Beach, what's it going to be? Beam me up Scotty – up to Frenchs Forest Hospital?" Ms Farrell told the hundreds of picnickers.
"It's just not going to work. And sadly there are going to be deaths.
"It'll be on Rob Stokes' shoulders as far as I'm concerned."
NSW Health Department statistics from the myhospital.gov.au website show that of 35,000 presentations to Mona Vale Hospital last year:
144 needed immediate medical attention - all except one of them requiring resuscitation.

4,700 needed help within 10 minutes for life-threatening conditions.

Another 12,000 needed to be seen within 30 minutes.

And in total, 17,000 people needed urgent attention within 30 minutes.

Inez Addison - who has 10 years' experience as an intensive care nurse and a daughter with anaphylaxis - explained how on a number of occasions her daughter had turned blue, struggling to breathe.
With waits of over 30 minutes for an ambulance, most recently in August when the closest one was at Waroongah, she has had to drive her daughter to Mona Vale Hospital.
"So now not only are they moving our hospital further away, we've got an ambulance system that's overburdened…," she said.
"Where does this leave our community?"
"When you are sick, time is of the essence. The quicker you get medical attention, the higher your chance of survival."
Helena Mooney, a doula from Friends of Northern Beaches Maternity Services, said her group had been lobbying the NSW Government to improve local public maternity services since members discovered Mona Vale Hospital's maternity unit would close.
Ms Mooney said they had called for a free-standing birthing unit close to home that could be supported by the hospital at Frenchs Forest – modelled on a similar one at Ryde, which is supported by Royal North Shore Hospital.
"The reason we were told 'No' was political - because they had already sold off our public health care," Ms Mooney said.
"So now women are at risk of birthing their babies on the side of the road.
"It's such a travesty that we're losing the possibility to birth our babies close to home.
"It's postcode health care and we're at a severe disadvantage."
Others who spoke at the picnic included former Sea Eagles legend Max Brown and the first person born at Mona Vale Hospital Chelsey Baker.
Ms Baker, who lives at Avalon, also encouraged hospital supporters to email Pittwater MP Rob Stokes and Health Minister Brad Hazzard, saying they want Mona Vale Hospital to remain as a Level 3 facility with acute care services.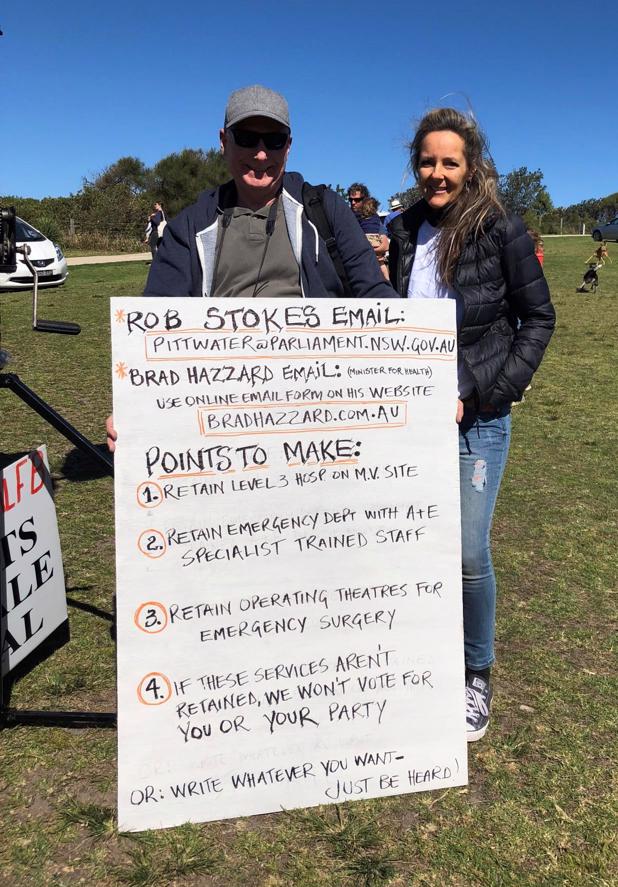 Chelsey Baker at the MVH Picnic
"From a purely personal perspective, I feel incredibly sad that the government is closing our hospital," Ms Baker said later.
"Being the first baby born there and the fact that Mona Vale has treated every member of my family over the years, means I do have a close connection.
"But beyond those emotional ties, I'm very angry and quite fearful that due to the distance required to reach the new hospital in an emergency, many sick or injured people in our community are going to be in very real danger, so it's not just about me and my family.
"It is simply too far on our heavily clogged, flood prone, often single lane, roads to reach the new hospital from our northern beaches area.
"The tyranny of distance is going to put peoples' lives at risk and means our community is vulnerable."
Mr Brown recounted at the picnic how Mona Vale Hospital's Emergency Department saved his life last October when he had a heart attack before transferring him to Royal North Shore Hospital.
The former Sea Eagles winger warned that youngsters playing sport locally would endure painful injuries for longer periods with the increased distance to the hospital at Frenchs Forest.
"Do you want this to be one of your family? A parent's anguish at the serious injury of a child, a premature birth on Wakehurst Parkway?" Mr Brown said.
"There is obviously a long list of procedures that reduce pain and prevent death – there is a proven record of that right here at Mona Vale Hospital.
"What I can say Rob Stokes, is remember Wagga. It will happen here."
The NSW government lost the seat of Wagga Wagga at a by-election on September 8 to independent candidate Joe McGirr, a doctor and academic.
A rally supporting retention of acute services at the hospital will take place on October 14 at Mona Village Green, followed by a march to the hospital. The rally starts at 11am.
By Miranda Korzy, Save Mona Vale Hospital Community Action Group
'THE RIONS' at the SAVE MONA VALE HOSPITAL PICNIC, SEPT 2018
Video by John Illingsworth
HELENA MOONEY, MATERNITY NURSE - SAVE MONA VALE HOSPITAL PICNIC SEPT 2018
Video by John Illingsworth
PARRY THOMAS - SAVE MONA VALE HOSPITAL PICNIC SEPT 2018
Video By John Illingsworth