January 13 - 19, 2013: Issue 93
Karen Draddy – Tribute and Celebration Of A Wonderful Life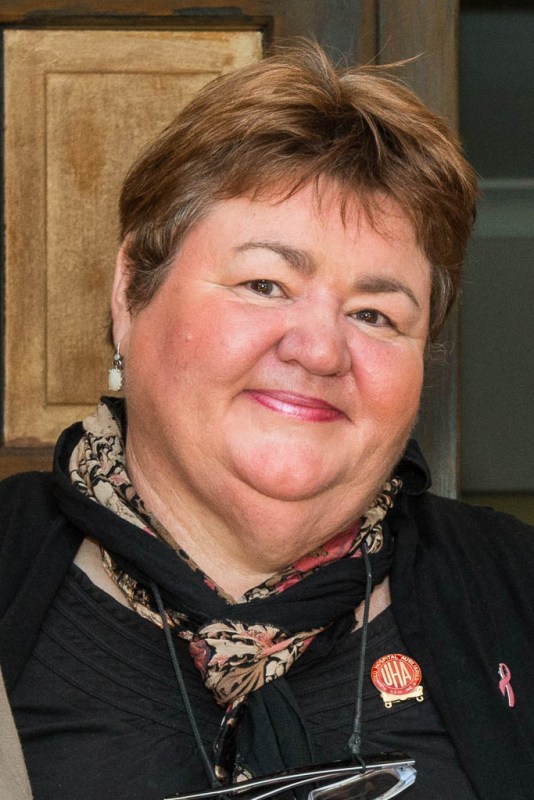 There was standing room only by 11.30am for the Memorial Service for Karen Draddy at Mona Vale on Wednesday and by the 12pm commencement close to a thousand people had gathered to honour this wonderful woman. Feeling and emotional tributes were interspersed with laughter despite tears, anecdotes about a long career peppered with instances of moral fibre and passion underlined Karen's determination to not only ensure no one left on her watch but the safety of women and nurses became better. Four eulogies from friends, colleagues and family were followed by shorter tributes from patients and those she had served beside.
We share extracts from those who spoke at the Service for Karen, with the kind permission of her family, for all of you who could not attend or fit inside the chapel:
Four Eulogies:
Mathew Fear, cousin of Karen:
This morning I'd like to welcome everyone here and thank you all for coming. We knew in Karen, being the kind of person she was, that there would be so many people who would want to come here and celebrate her life. Thank you very much.
My name is Mathew Fear and along with my brother Kevin and sister Rebecca, we were Karen's cousins. My mum Janet and Karen's mum Pat were sisters. They (the Draddys) had a very close bond with us and as a consequence we visited them and they visited us quite often over the years, first at Dee Why, then at Botany, finally at their family home at Tuggerawong on the Central Coast. The Fear kids were quite often billeted out to stay with the Draddys in school holidays. Some of the time when mum and dad travelled or needed a break, sometime there was an impromptu overnight stay, sometimes for a weekend, but more often then not for a week or so at a time. Staying with Auntie Pat and Uncle Morrie ( Maurice ) it was obvious they shared a love for each other and Karen and they loved us and loved us all completely. I have no doubt that Karen learnt from them her mediation skills, her generosity and her persistence.
My fondest memories of Karen from that time are of many trips to the beach, the fair and just about anywhere else she could think of to take us kids. She was like a big sister to us. She was always quiet about her achievements and would often tell friends about our latest exploits and this remained evident to this day when her friends recount stories of my early and not so early adventures. It wasn't until much later that I realised the selflessness of her actions. This was the time of her life and she chose to spend it ferrying her young cousins from one place to the next and she loved it. She was always there for us, always generous with her time and always generous with her love.
More recently our mum Janet developed breast cancer and Karen didn't hesitate to offer herself as mum's carer and moved in with mum and 'Bec as she recovered from numerous surgeries. Not long after this Karen herself was diagnosed with breast cancer and moved back into mums and the roles were reversed. I know she took great pleasure in announcing the news at her 60th birthday celebration last year that she was free from cancer and looked forward to enjoying a long and healthy retirement. It is an absolute tragedy that the Lord should choose to call her so young and so quickly.
Karen Draddy was a one of a kind. She always put the interests of others before her own. She brought joy and laughter to all who knew her. We're all devastated by her loss. We miss her completely. And we'll never forget what an absolute gift she was to have in our lives. Thank you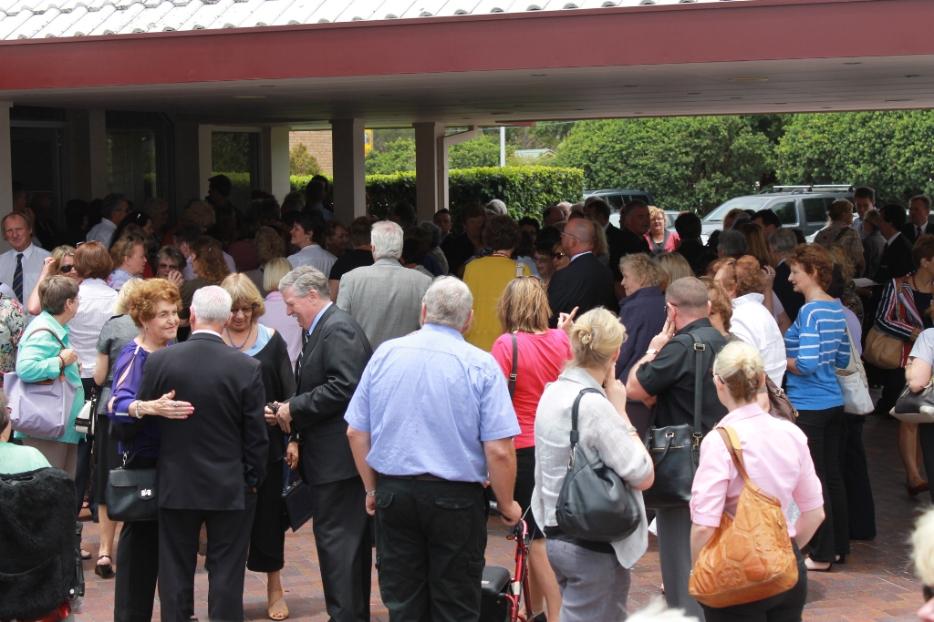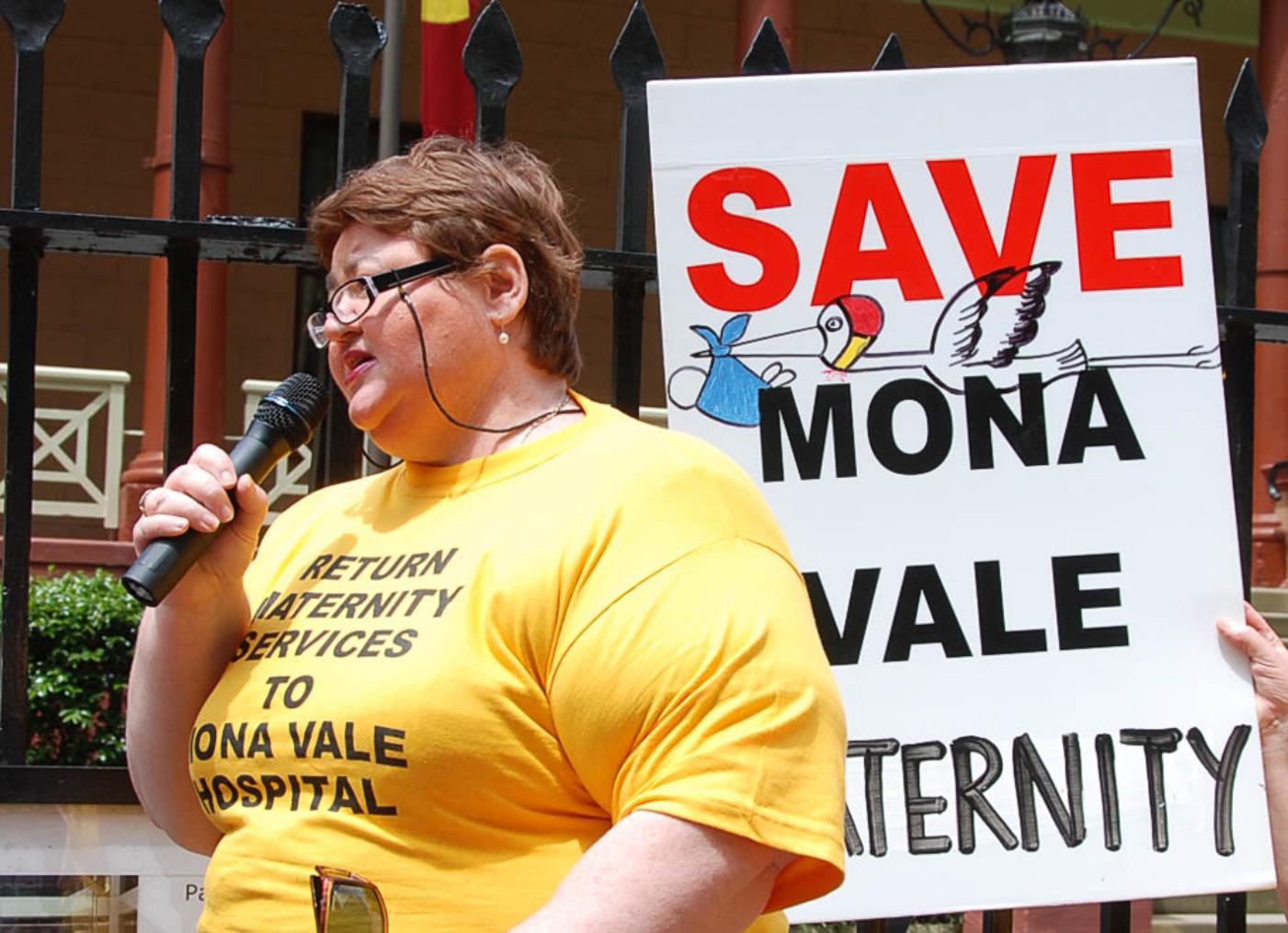 Karen being Karen, photo by Michael Mannington.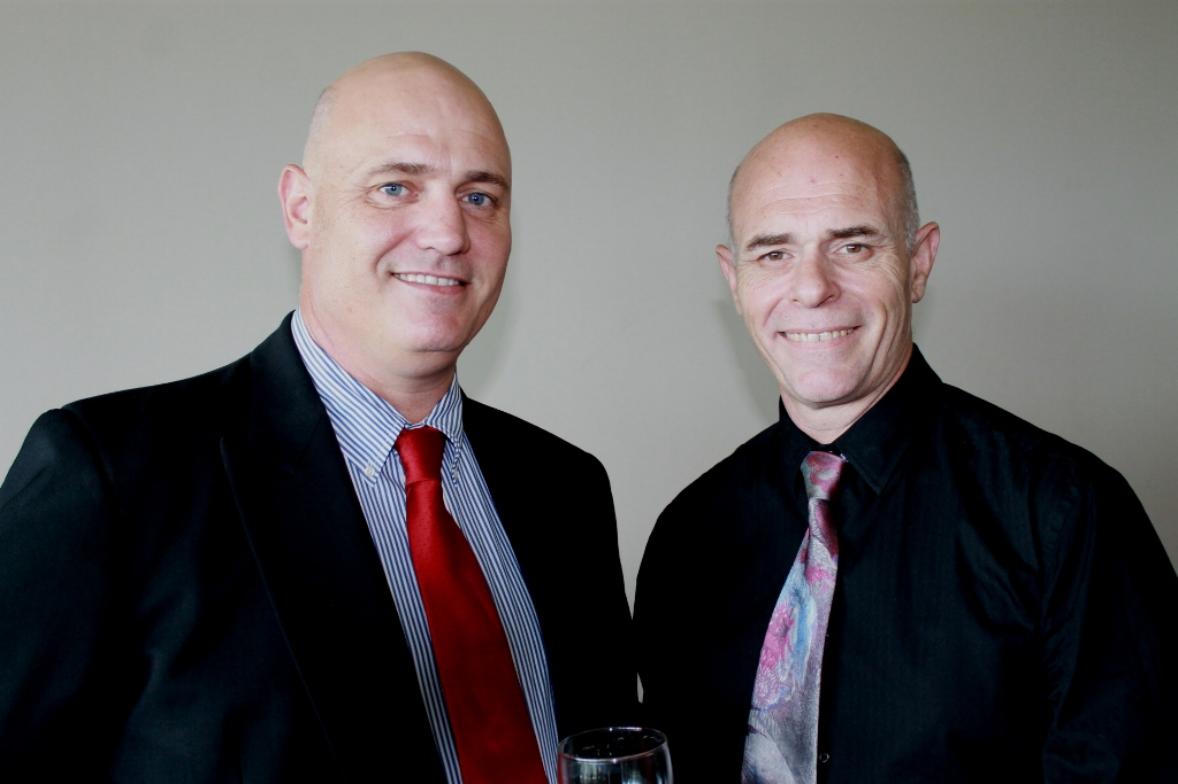 Trish Keating, friend and colleague:
Karen Draddy was my best friend. We first met and became mates during our midwifery training in 1973 and 1974. Karen was best known by her nickname 'Drad' and called this by all her knew her. During her stint we were often invited to a party by a friend to a party in Moncur Street Woollahra, the same street made famous by the TV program Number 96, a house owned by Paul _ , who became great mates with Karen. A long time after their friendship started he called into the family home in Tuggerawong. Her mum answered the door and he asked to speak to 'Drad's. She said "I'll get Karen for you.", he said " No, I want Drads" as he did not know that Drad's name was 'Karen'.
After our training was completed I went overseas and Karen stayed on at Auburn until 1978. Then she and I explored the USA with a backpack, a 63 day pass on the Greyhound buses and our bible; a book on 'How to Survive in the USA on $20 A Day". A couple of quick stories about that trip;
One day Karen and I hopped on the cable car in San Francisco. We beat a fellow passenger to the last spare seat. She was most indignant and said "You Southerners, you're all so rude." And Karen, in a very broad Aussie accent said, "Lady, we come from so far down south we have Polar Bear juice for breakfast!"
I could barely contain my glee.
I was very worried about travelling to New York, worried we could get accosted by some very unsavoury characters. Karen was eager to go and told me not to be silly and only to worry if we got rolled for our dough, then we'd be in real trouble. In the end we had a trouble-free and great few days there.
Karen, while not having any children of her own, mothered quite a few, in particular her young cousins Kevin, Mathew and Rebecca. On one occasion when their parents were overseas and Karen's mum Patty was in charge of their care, young Mathew refused to go to school. In a phone call later that day to Karen Patty mentioned this; she said to her mum "Get him ready and I'll be over." She drove over and it was after lunch by the time she got there. She put Mathew in the car, took him to the Principal's office, gave him a dressing down and event the Principal was shaking in her boots…. But I don't think Mathew ever again missed going to school. At least on Pattie's watch.
Karen was the kindest and most selfless person I could wish to meet. As illustrated by the following example; one day while Karen was visiting me during my pregnancy I was having a whinge about not being able to fit into my shoes because of my extremely swollen feet. She took off the canvas shoes she had on her own feet; special hand-painted shoes given to her by a friend of hers. She told me to try them on, they fit and I wore those everywhere. Karen was godmother to my son Sean and fairy godmother to Erin. After Sean's arrival Karen wasn't too fused with changing nappies or pacifying crying babies. She told me when Sean was old enough to hold a conversation and old enough to go out for a meal then she would take on her role. And this was something she did until her demise. She supported every raffle, spell-a-thon and fundraiser those children brought home. I was always to include her and she would always forward a cheque. She was always interested in their school progress, their sports and interests and would engage in conversation, one on one, and they adored her presence in their lives.
Karen was engaging and connected well with all walks of life, young and not so young, black, white, high-flyers, and heads of state. She was intelligent, articulate and well-versed to speak on any topic or current affairs to one and all. We've all been at one time or another her captive audience. One of her favourite pastimes was reading, she was an avid reader. I think she gained this love from her parents as on weekends Karen would usually retreat to the family home where she would truly unwind. It was not uncommon to see them nestled throughout the house with a book in hand, immersed in a story. Her other great love was spine-bashing.
Her father Maurice passed away in 1974, she was very close to him and they'd bounce off each other. I remember her telling me on one occasion of travelling on Tuggerawong road. Her father, a passenger, criticised her driving. She stopped the car, told him to get out. He thought she was joking but she was deadly serious. She then drove home, made herself a coffee, drank it and said to Patty; "I think I'll let him suffer a little longer." Eventually she returned to where she'd left him and he never said anything adversely about her driving again.
Karen took Leave in 2003 to nurse her mother, who also died from mastitic breast cancer. She was inspirational, so very gentle and patient. Karen cared for her until her death.
Over the years Karen had taken trips to Canada with her great friend Cathy who had worked there and had family. Karen was instantly adopted by her family as she was by my own. Karen and Cathy had planned one more big world tour which they hoped to do in her retirement; but it was not to be. It was when Karen took long service leave that she discovered her breast lump and underwent treatment. It was a devastating blow to her future. She realised this wasn't a cure and said on more then one occasion that she would not make old bones. She had dreamt of having a retirement-come sixtieth birthday party six years before her battle with cancer; it was always to coincide with her official retirement as her birthday was in late December and a busy time for everyone. Karen's party was fabulous; I looked around at all the people who were guests. There was one table who were family and the rest were all her friends. I realised that Karen's popularity and the extent of her circle of friends. She was well loved and respected by all her friends and work colleagues.
Karen's baby was Mona Vale Maternity Unit where she was Unit Manager for approximately 27 years. She was passionate about her work, a devoted and staunch supporter of her staff, and heartbroken when the unit was closed and moved to Manly (Hospital).
In late November I had the pleasure of taking Karen to the Opera House to see a comedy as a birthday treat. We had a great day followed by dinner. My daughter, who invited herself, recently told me, unbeknownst to me when I got up to get a drink, that Karen made some comment about my driving. I only found out later when Erin was sharing a laugh with her brother and was texting and made a boo-boo and texted me instead of him. Karen had never said anything to me as I knew what she did to her dad and it was a long walk home to Avalon.
Karen's health deteriorated quite quickly. She had commenced oral chemotherapy and had experienced overwhelming fatigue, nausea and pain. I rang her everyday and she would always sign off "Love you." And I would say "Love you too."
When I visited her during these weeks she told me she had had a fascinating life and for that I am so pleased. I was once told that if during one's life one achieved one true friend then one had really achieved something. I am so lucky to have achieved that and notice that Karen has also excelled in her achievement. On the 2nd of January I made a dash from Port Stephens to the hospital and arrived one hour after her passing. She looked so peaceful and pain-free with not a wrinkle on her face that to wish her back would be selfish. So, thank you Karen for being a wonderful, loyal, steadfast and kind friend. My life was much richer for you being in it. May the road rise to meet you, the wind be always at your back. May the sun shine warm upon your face, the rain fall softly upon your fields. And until we meet again, May God hold you in the palm of his hand.
Kerry Heinrich, friend and flatmate:
I first met Karen when she commenced working at Mona Vale Hospital on October 4th 1981 where she worked for 28 years as the NUM of the Maternity ward. Karen represented on almost every committee in the hospital at one time or another for clinical, corporate and management at local and State levels. Karen was elected official NSW Nurses Association branch member at the hospital and spent many years as President and Vice President representing and advocating for nursing and midwifery and was made a Lifetime Member in 2012 which she was extremely proud of. She was also was a lifetime member and past President and Secretary for Nursing and Midwifery Unit Managers' Society of NSW. Every day she would have someone in her office needing help or advice or giving or receiving code of silence information. Karen worked on many tribunals, for the Nursing and Midwifery boards of NSW as an expert consultant.
In 2005 Karen was named Pittwater Woman of the Year, a role she was completely surprised and humbled by. In 2009 they moved her beloved Level 4 to Manly without Karen which caused her much distress as she wasn't there to support her staff. Karen was placed in Complaints where she would spend the next 18 months of her working career and as usual put all she had into making this different role a success.
While on long service leave in July 2011 Karen was diagnosed with breast cancer which she dealt with her usual positivity, bravado and strength. Karen retired on March 11 2012 and remained very positive and had many dreams and plans. She never got to fulfil her dreams.
I remember in 1992 when we were both living in the nurses home, supposedly to save money, when this figure appeared at my door and said 'we need to get out of here and own our own home'. We wouldn't be able to achieve this on our own (separately) so I thought this is not a bad idea. We decided we wouldn't live past Newport but I did go and look at a place in Avalon. I marked on the brochure 'HAS POTENTIAL'. We decided to go and have a look, how fortuitous that the estate agent had had his babies at MV and my brother was the bank manager. To cut a long story short we bought the house. In December 1992 we got the keys for our new home. So, excited, we went to have a look. We burst into tears saying OMG what have we done! But after a lot of hard work we finally moved into our new home in May and 20 years later we still shared our home.
We were planning to pull down and rebuild a dual-occupancy so we could retire, still be close but in our own little homes and look after each other. We had tried to think of everything that two little old ladies would need in retirement. Everything in place the plans were to go to council on January 24. Karen wanted me to continue with our plans but it wouldn't mean the same to me to continue without Karen.
Karen was a very proud DOG GOD MOTHER to Madison Kate and took the role very seriously. Each year I travelled Karen was the only person I trusted to leave Maddy with, we would text everyday while I was away and I would get a daily update on what Maddy was up to. She used to say if anything happened to Maddy while I was away she would put her on ice till I came back. Maddy Kate was a great comfort to Karen in her last few weeks.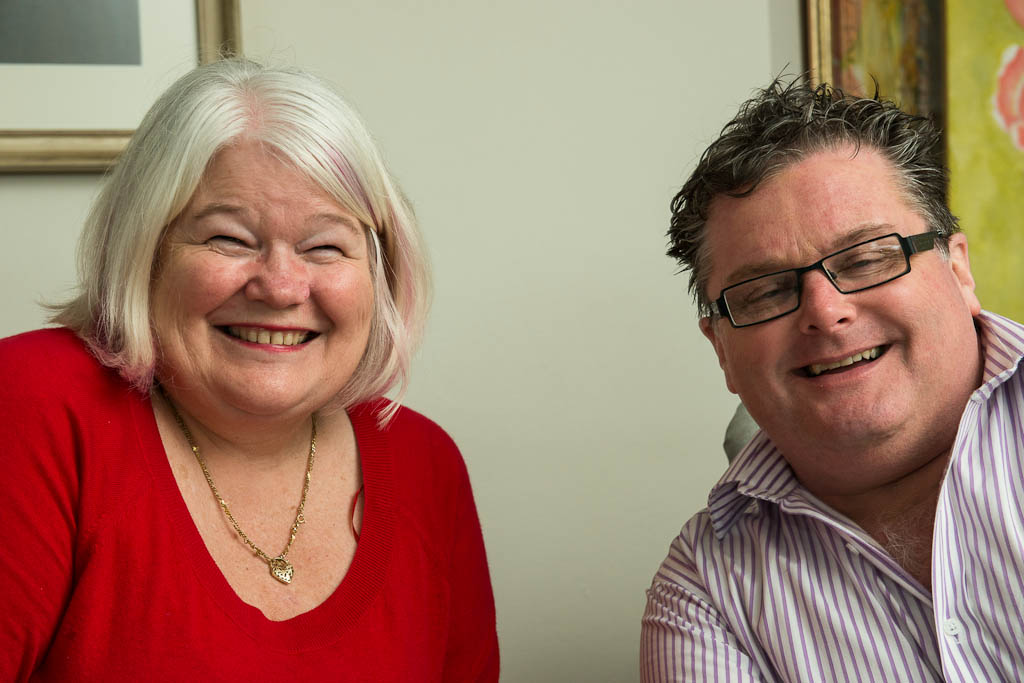 Kerry Heinrich, Mona Vale Hospital with Anthony Dombkins, Director of Nursing and Midwifery for the Northern Sydney Local Health District, photo by Michael Mannington at the event organised by MVHA and held at Ornella Tamaino's home
Sean and Erin Keating Poems:
God Took Her To His Loving Home
God saw her getting tired, a cure was not to be.
He wrapped her in his loving arms and whispered 'Come with me.'
She suffered much in silence, her spirit did not bend.
She faced her pain with courage, until the very end.
She tried so hard to stay with us but her fight was not in vain,
God took her to His loving home and freed her from the pain.
GOD LOOKED AROUND HIS GARDEN
Author Unknown
God looked around His garden,
And found an empty space;
And then looked down upon this earth
And saw your tired face.
He put His arms around you
And lifted you to rest;
God's garden must be beautiful
He only takes the best.
He knew you were in pain.
He knew you might never get well upon this earth again.
He saw the road was getting rough and the hills were hard to climb-
So He closed your weary eyelids and whispered, "Peace be thine."
It broke our hearts to lose you, but you never went alone,
For part of us went with you the day God called you home
Kathy Baker AM – Professional Eulogy:
As I look around at all the wonderful family, friends and colleagues gathered here I can actually see Karen. I can see her beautiful smile and can't you see those beautiful twinkling eyes. I'm here to speak about Karen's Professional Life today.
Like many of us here today I got to know Karen through work where she provided me with advice and support as the area Director of Nursing in Northern Sydney and then as Chief Nursing Officer for N.S.W. I know I speak for all of her friends and co-workers when I say how very much she will be missed. I'm so honoured to have this opportunity to share some of Karen's significant achievements with you.
Karen completed her General Training at Gosford Hospital in 1973 followed by Midwifery at Auburn Hospital in 1974. That was the beginning of a long professional career spanning 41 years working for N.S.W. Health. Karen never sat back waiting for someone to ask her opinion – if she had a view she shared it! Midwifery and our health services (our patients and staff) in Northern Sydney are the better for it. One of the best things about having Karen as a colleague was that she was always prepared to give you a hand – something that I've been grateful for myself on numerous occasions, and I am not alone in that. Just having Karen around made you feel better, whatever the challenge, and we all got to know her quick smile and ever ready words of encouragement and her view.
Karen was held in high esteem by all at Mona Vale Hospital. In a recent article in the Pittwater Online News Karen was asked 'What is your motto for life or a favourite phrase you try to live by. Her reply; 1) See a job and do it and 2) Don't go home till the job's done.
What eptiomises that comment is Karen's professional commitment, which was significant. If I were to list them all we would be here for a few more days! So, I would like to share some of those with you as this highlights an individual who has given much to our profession, Health Services in general and our society.
Over many years Karen has been involved with the Nurses and Midwives Association as Branch President and Vice President. She was a member of the Royal Australian Nursing Federation and the Australian College of Midwives. One of her greatest loves was to become a Life Member of the Nursing and Midwifery Unit Manger's Society of N.S.W., where she was an Executive Member for several years, Past President for two terms, News Editor and Secretary.
Karen was also the Nursing and Midwifery Unit Manger's Representative when meeting with the Chief Nurse and Midwifery Officer, N.S.W., the College of Nursing, now The Australian College of Nursing, General Secretary N.S.W. Nursing and Midwifery Association, Australian Medical Association and the Minister for Health.
Karen was a panel member for Tribunals and Professional Practice for the Nurses and Midwives Board of N.S.W. She was a Representative of the Northern Beaches Lactation Interest Group; Member of Soroptimists International of Manly Club – where she was the Past President for two terms, Vice President, and Treasurer and a Member and Vice President of Mona Vale Hospital Auxiliary. Mr Rob Stokes Mp (Pittwater) acknowledged Karen (and others) for their fabulous work and for the provision of services to Mona Vale Hospital in April 2008.
As we all know Karen's greatest love was Midwifery and this love of Midwifery spanned over 26 years at Mona Vale Hospital from 1983-2009 where she was Nursing and Midwifery Unit Manager and then Complaints Manager for 18months, serving a total of 28 years at Mona Vale Hospital and the Northern Beaches Health Service.
On the 4th of January Mr Stokes said "Karen's ability to comfort women, offer reassurance and advice to families and provide professional assistance was second to none and Karen's passion for our community and the health and wellbeing of local mums and bubs had to be seen to be believed."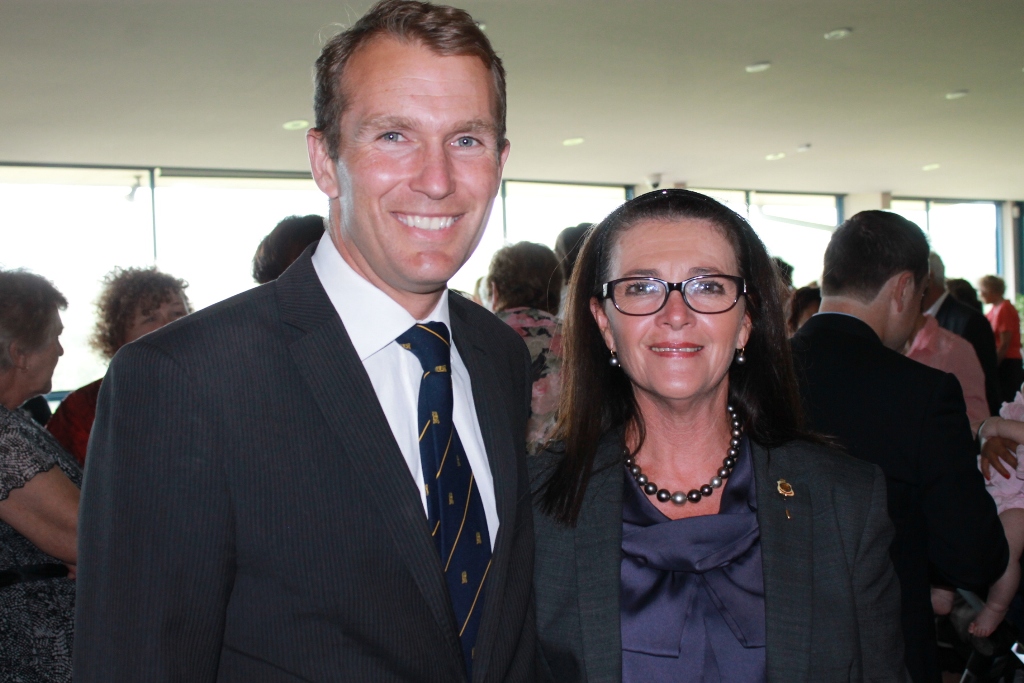 Hon. Rob Stokes and Deborah Carter, loving friend of Karen's.
Over this 28 years Karen etched her knowledge, support, mentoring, passion, stubbornness, advocacy and tenacity into her role and she indeed became an icon not just at Mona Vale Hospital but also within Northern Sydney LHD and for Maternity Services across N.S.W.
I cannot go further without mentioning Karen's passion and sense of humour and let me share with you all an amusing story that one of my colleagues tells – what happened was this….
The General Manager (not the current incumbent) at the time changed the policy stating nurses and midwives could not wear their uniforms to and from work - Karen made a time to meet with the General Manager and asked him to explain why the change in policy especially in light of the fact that nurses and midwives had to pay for their uniforms - The General Manager would not budge - Karen then asked what is expected that the nurses and midwives wear? – Anything, the General Manager replied, as long as they were covered - as Karen lived across the road to Mona Vale Hospital she wore her nightie, dressing gown and pink fluffy slippers to work for a week - the policy was changed!
What I have said here today is a snapshot of what Karen had achieved in her short 61 years. Karen has been a true leader, a true and loyal friend and colleague. She has demonstrated this to us with high integrity and through her professionalism for causes that were dear to her and we are all the better for that. It has been a privilege to share some of Karen's professional career with you.
'Legacy' is a very over-used word these days; it seems that everyone and everything has to have one – but with Karen it's true: she left behind a very real legacy, which will affect the way we do things in Midwifery and at Mona Vale Hospital for a very long time to come.
On a personal level, every one of us who knew Karen and worked alongside her whether things were going well or badly will remember her with great affection. When all is said and done, however much you like your work, it's the people you meet in it that really matter and colleagues like Karen are something special: you don't come across many of them and when you do, they leave a lasting impression.
Karen, you did do it your way!
We're really going to miss you.
Eunice Raymond, Chair of the Save Mona Vale Hospital Committee:
We were overjoyed towards the end of last year when Karen came onto our committee. We thought 'wow!' here's this lovely lady with a personality bigger then all outdoors, knows everybody, not afraid to turn up and be counted, she's really going to help us along with inside advice on how to deal with Jillian Skinner and others in Health…. And she was an enormous help as you have heard so many times today. Rest assured we will continue the fight for our hospital and will try to get as much as we can there with your help but I know that behind us all will be Karen; "go on there, get in there, stand up." And would like to close with the lines 'Do not cry because I am gone, smile because I have been.'
Hon. Jillian Skinner NSW MP for Health:
Can I say that I'm here, and I don't often attend funeral services (like these), because I truly admired and respected Karen Draddy. I'd known her for several years. As you probably know I was Shadow Health Minster for 15 years and I met her on many many occasions at the big rallies, at the small ones and in her capacity as Nursing Unit Managers for Midwifery and she was always very generous, courteous and willing to share ideas. I admire people who have the courage to put their views. She wasn't fussed by somebody being a minister or anything like that. She was just Karen and she was honest in her views. I now stand here to tell you Rob Stokes, in the last election, he and I stood outside Mona Vale Hospital with a group of local people and promised we would reopen the Maternity Department at Mona Vale. (applause interrupts). Can I say that it took a while for us to do that, even though some people thought that wasn't a good idea, but the Minister, and certainly Mr Stokes, had made a promise and Karen was not somebody that you promised something to and then walked away from. So the reopening of the Maternity Unit at Mona Vale Hospital, and it was an expensive job as a lot of capital investment work was needed, was really due to Karen Draddy. So the Maternity Unit at Mona Vale Hospital is Karen Draddy and can I tell you that when the new Northern Beaches Hospital opens, and I do say when, it will not be 'if', it will be when, the Maternity Unit in that hospital will be run along the lines that Karen would have wished because she was a true professional and I think she had, at heart, the interests of everybody, not only in this part of the world but also the rest of Australia. So I honour Karen by being here.
Anthony Dombkins, current Director of Nursing and Midwifery for the Northern Sydney Local Health District praised Karen's contribution and feisty nature. Former patients and colleagues reiterated the outstanding work and care this lady had given to one and all, not only in shaping reforms as a member of the Tribunal, even while ill, but also from decades past when each and every mother who passed through her ward, and their needs, were met. Some spoke of her great voice, not only in hearing her coming along the ward but also when attending rallies to save Mona Vale Hospital.
At Mona Vale Golf Club afterwards, with a great view of Mona Vale Hospital, people gathered to share more anecdotes about Karen. Her great friend Ornella Tamaino related one mother's story. This lady, in labour for too long, had Karen called who came in and told her to "push" with such emphasis that the recalcitrant child decided to obey almost immediately.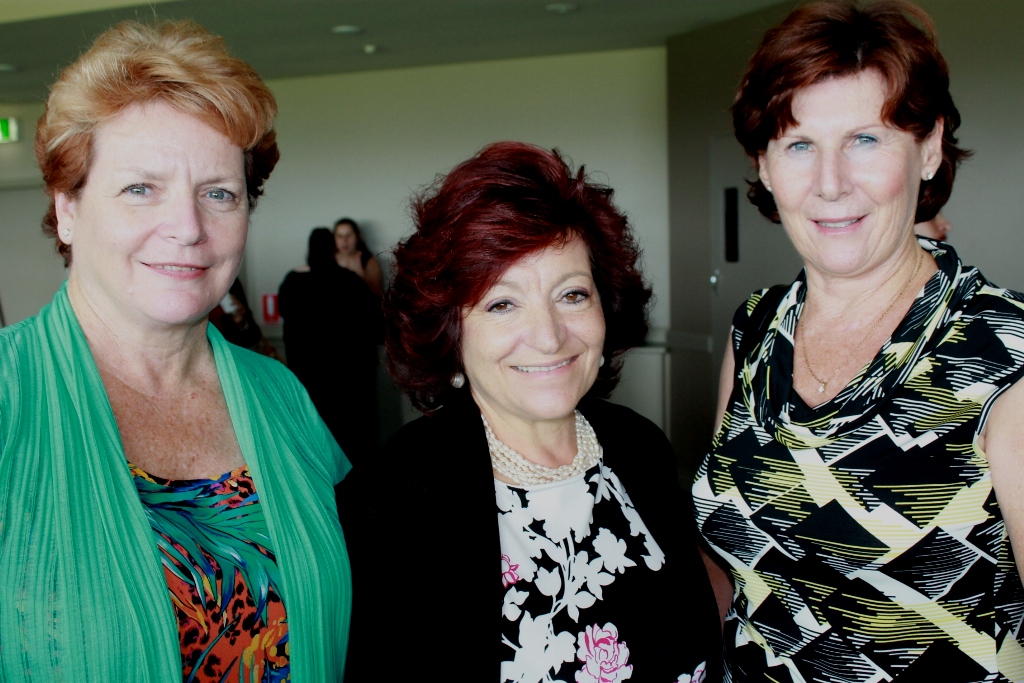 Vicki Foley, Ornella Tamaino and Beverly Jones - Karen's friends since childhood
We will miss Karen's voice in our community. Her family, friends and colleagues will miss her presence, dedication to women's health and the energy applied to ensuring Mona Vale Hospital remains the place Pittwater people choose to give birth to their children. Eileen Gordon, President of the Mona Vale Hospital Auxiliary, among many others we spoke with at the wake on Wednesday who also raised this idea, expressed a sentiment in our community to have the Maternity Ward named to honour Karen Draddy. Letters to support this may be addressed to Eileen care of The Kiosk, Mona Vale Hospital, PO BOX 81, MONA VALE NSW 1660.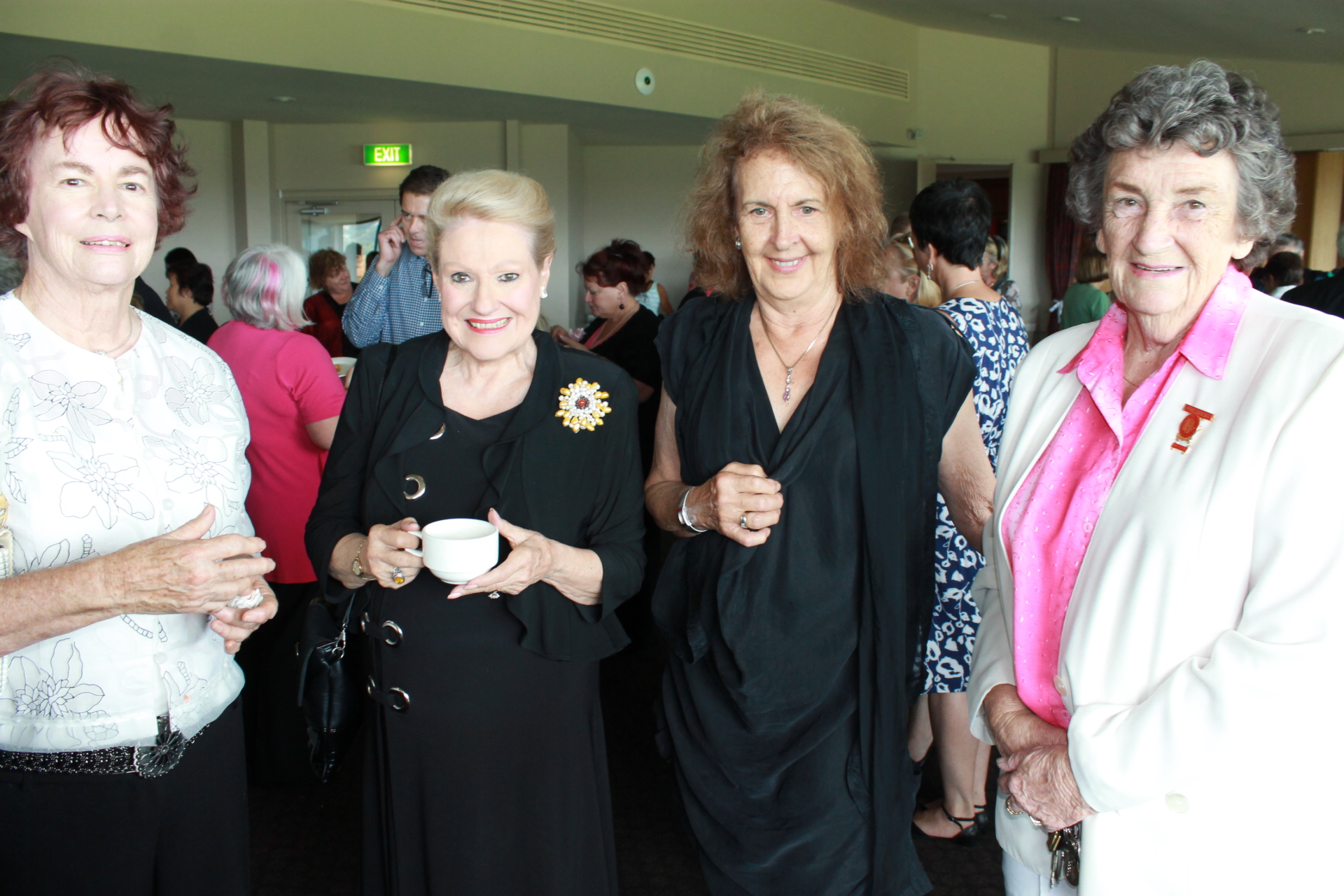 Jean Beveridge, Hon. Bronwyn Bishop, Gail Carew and Eileen Gordon, MVHA
Attending to pay their respects were Hon Rob Stokes MP for Pittwater, Hon. Bronwyn Bishop Federal MP for Mackellar, Hon. Jillian Skinner, former Mayors Harvey Rose and Patricia Giles, who had written a lovely poem especially for Karen, Cr. Bob Grace, Deputy Mayor of Pittwater, Cr. Alex McTaggart, hundreds of friends, colleagues and her family.
Psalm 23 was the reading requested by Karen's family to close the service. Our Profile of Karen gives a small dose of her voice.