July 25 - 31, 2021: Issue 503
the Australian Olympics team: locals + others in the Tokyo Summer Games of the XXXII Olympiad residents will be cheering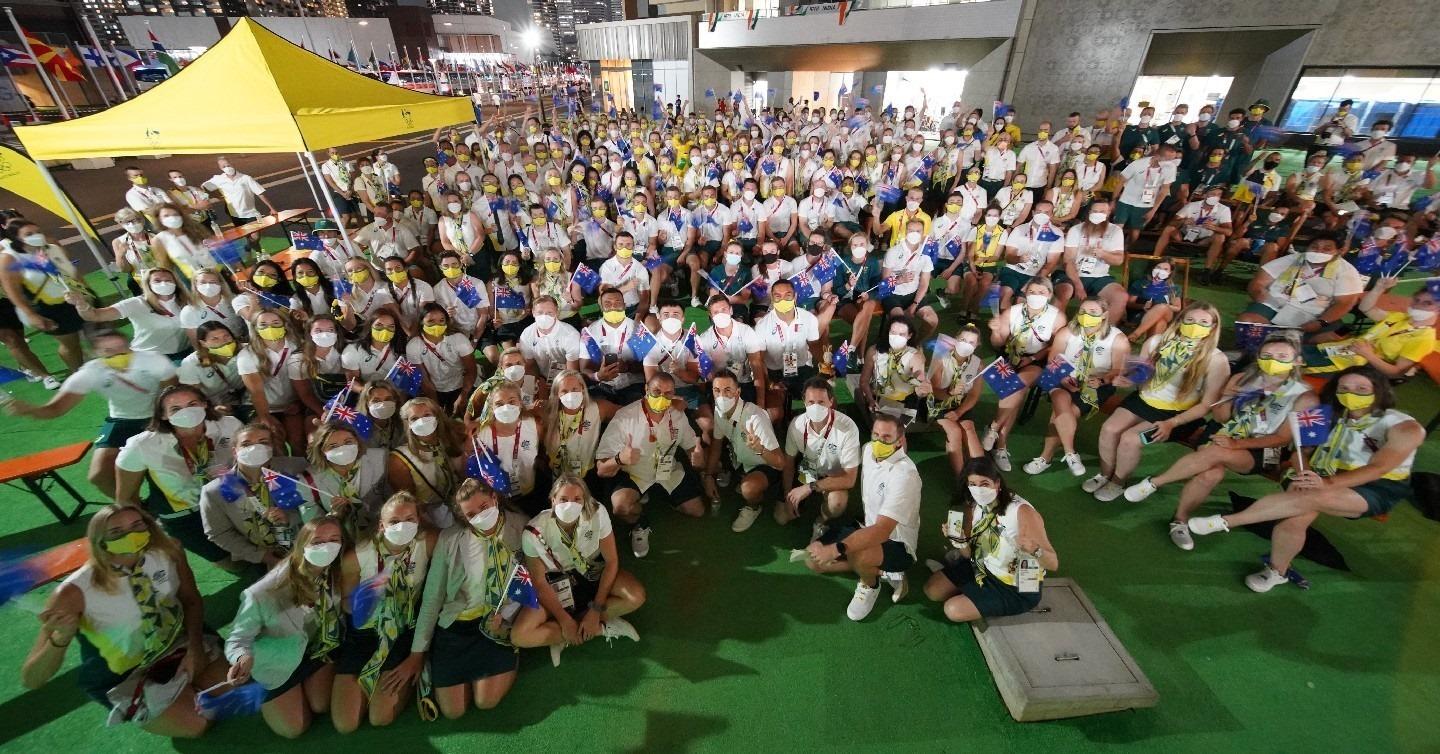 Australian Olympic Team Tokyo 2020 - getting ready for Opening Ceremony - from the AOC FB page.
There are 19 athletes competing across a range of sports disciplines that will be cheered on especially by locals during the next few weeks simply because they are from our area.
Younger residents will also have a keen eye on debuting sports Skateboarding and Surfing, with all four of the surfing team being New South Wales residents they have seen competing on their local beaches, particularly at the WSL Narrabeen Classic earlier this year.
Avalon Soccer Club members will also be keenly watching the Matildas and Chloe Logarzo, who visited during the June 2018 Super Sunday Celebration of Female Football.
They are all part of the Australian Olympic Team, currently at 487 athletes, and our largest ever Team for a Games on foreign soil. This 'crew' features the greatest proportion of women (53.4%) and the largest Indigenous athlete representation (16 athletes) in Australian Olympic history.
Chloe Logarzo inspiring the next generation in 2018 at Careel Bay Soccer Fields. Photo by Adriaan van der Wallen
The Matildas came up against world number five ranked Sweden last night (July 24), going down 4-2 in an edge-of-your-seat battle. Coach Tony Gustavsson and Matildas' forward Kyah Simon spoke to Tokyo 2020 media about the team's performance and the positives that can be taken away ahead of their next match up with the US.
"It would've been an entertaining game to watch, but not so entertaining to lose, especially when you perform that well," Gustavsson said of the game.
"I brought the players together in the circle afterwards and said, don't let this loss blind you of your performance. With the help of our analyst afterwards all of the stats said that we should have won the game with the amount of chances we created.
"The first hour, things were close to perfect, we had one chance and we scored in that one and the other thing I'm really proud of is how the players bounced back from short-term setbacks.
"When Sweden scored, they brushed that off and went into performance again and scored 1-1, coming back into the second half we scored 2-1 and then unfortunately, we had a bad period of about 10 minutes of football coupled with low energy and Sweden amped up their game and the score went 2-2 then 3-2, but again, I think the players responded phenomenally, to get back into the game and create the PK."
Gustavsson was asked for his thoughts on the penalty taken by skipper, Kerr, to which he said it was unfortunate but he was proud of the players.
"Unfortunately, it was a good save on the PK but I'm extremely proud about the player's performances tonight and I said to them, if we're gonna lose, we're gonna lose our way.
"Everyone was talking to me before this game saying, 'You haven't won against Sweden for decades and you haven't beaten any European teams and all these things that they kept throwing at us, but you look at the girls and what they did when they went out to the park tonight."
"Sweden dominated the US in the opening game and then we dominated them and the attacking-minded confidence that they played with I'm really proud of the confidence and belief in this team because we're showing that we're on the right track.
"Like I said, the result is disappointing but at the same time, we can hold our heads high knowing that we left it all out on the field and they were just a little bit more clinical in the final third but at the end of the day, the scoreline doesn't show a true representation of how the game actually went."
Coach Gustavsson also added his thoughts on the upcoming match against the world ranked number one.
"It starts with ourselves, we need to believe in each other and believe in what we're doing and who we are and I think we showed in both of these opening games, that we are very true to who we are as a team," he said.
"We're ready to play our best with the crest on our chest and leave it all out there."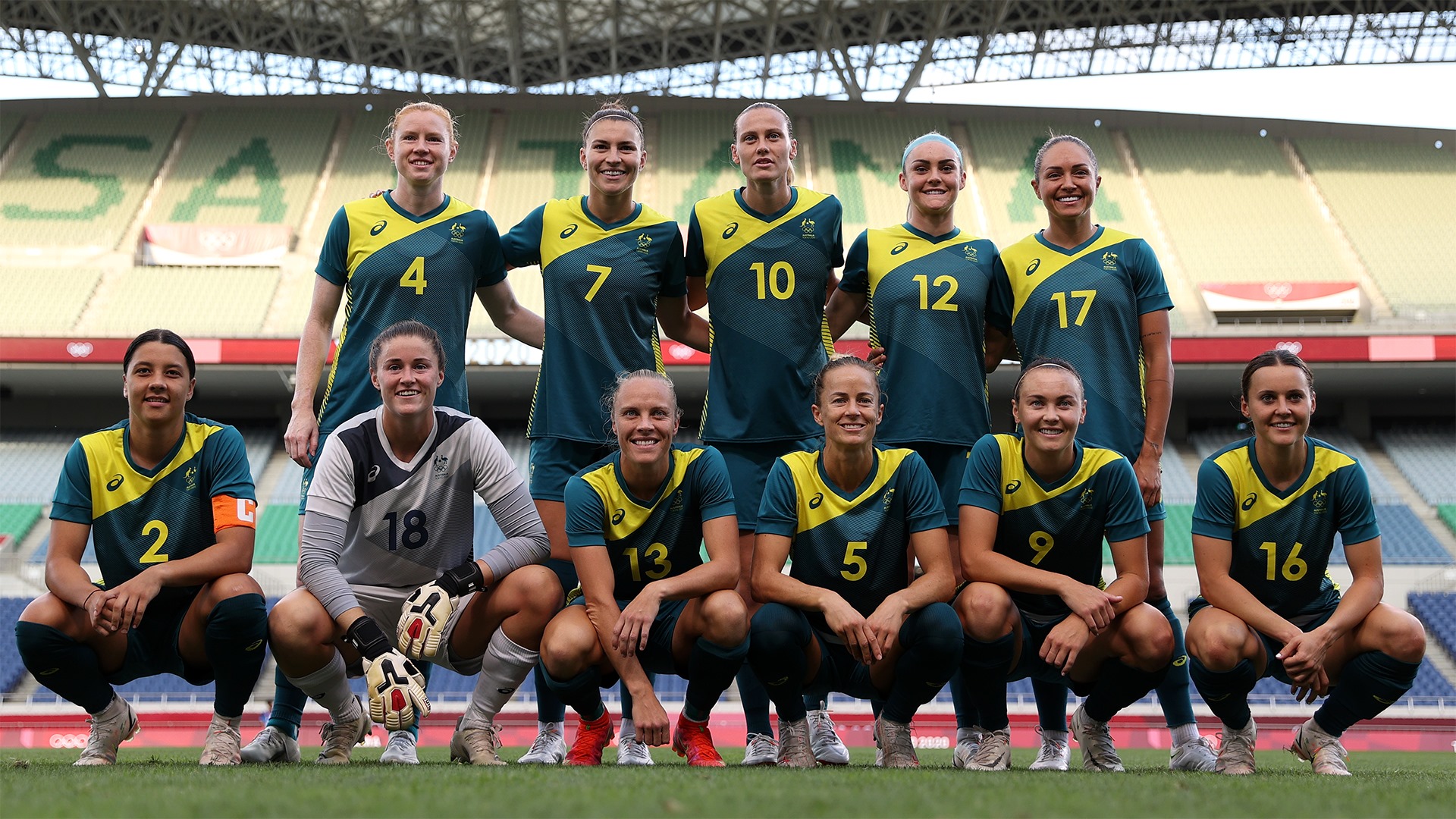 Australia's Matilda's, post match - from their Facebook page - GO girls!
Here's an overview of locals to keep an eye on:
Rugby Sevens
Sharni Williams, 33, Newport, her 2nd Olympics (Rio 2016)
Faith Nathan, 20, Forestville, her first Olympics
Sariah Paki, 19, Dee Why, her first Olympics
Josh Turner, 25, Queenscliff, Rugby Sevens, his first Olympics
Nick Malouf, 28, Collaroy, Rugby Sevens, 2nd Olympics (Rio 2016)
Our Australian Women's Sevens took Gold in Rio and will be hoping to win back to back medals. The team unfortunately lost Chloe Dalton on July 1st when she sustained an injury during the Oceania Sevens Tournament in Townsville, the final warm-up event before the Olympics. They will have Shannon Parry, Emma Tonegato and Charlotte Caslick from that history making Rio 2016 team along with Dominique Du Toit, Evania Pelite, Madison Ashby, Tia Hind, Demi Hayes and Maddison Levi - all strong players.
Sharni will be sporting her latest headgear for this Olympics.
"It's a rainbow!" Williams said in June
"Rugby is a safe and inclusive game, and this headgear is the epitome of that message. I'm an out and proud member of the LGBT+ community; however, this headgear isn't to tell that story.
"It's a celebration of our game, a game that has given me so much, and something which I hope to share.
"It has allowed me to be the person I am, allowed me to represent my country on every stage without hesitation or uncertainty," Williams added.
Through the support of both the Australian Olympic Committee and the International Olympic Committee, this headgear can now also be worn in Tokyo. Chef de Mission of the Australian Olympic Team Ian Chesterman threw his support behind the celebration and Williams for lodging the request.
"It's wonderful for our athletes to celebrate their identity as well as promote all of our Olympic sports as safe and inclusive," Mr Chesterman said. "I'd like to thank the IOC for their support in allowing Sharni to wear the headgear and thank Sharni for sharing her story with us during the games."
Go Sharni!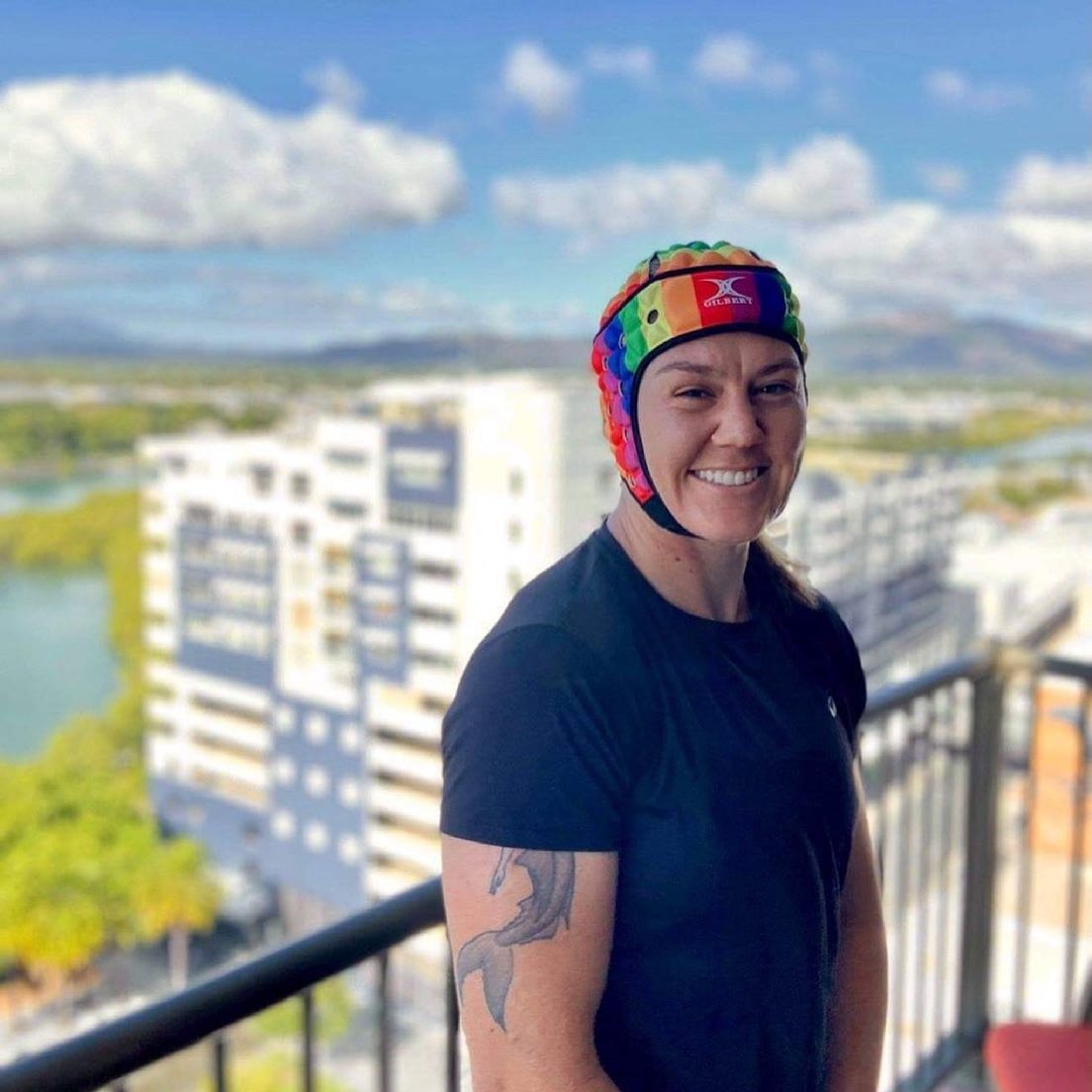 Sharni is having a BIG year having proposed to her partner Mel. During her spare time, Williams is out coaching with Newport and the Narrabeen Tigers and hopes that wearing the headgear will help encourage the next generation of Olympians to pick up a Rugby ball.
''As the saying goes and as I've always said, Rugby is a game for all.
It's where I first felt comfortable and accepted for who I was. That inclusivity plays a big part in why I still choose to play rugby today.
Visibility and awareness is an important part of making the world of sport a better and safer place for members of the LGBTQI+ community. So I've teamed up with Gilbert to create this amazing rainbow headgear that shows my pride in being part of this incredible community. Hopefully this encourages others in the sporting world, young and old, to get out and wave their pride loudly also.''
On the Water
Jason Waterhouse, 29, Newport, Sailing, Nacra, 2nd Olympics (Rio 2016)
Lisa Darmanin, 29, Balgowlah Heights, Sailing, Nacra, 2nd Olympics (Rio 2016)
Jason and Lisa are GO on their Nacra from July 28th. They watched the Opening Ceremony from Enoshima Bay with the Australian Sailing Team - ''All dressed up at our own mini Opening Ceremony. The Games Begin.'' they posted on their FB page.
The Waterhouse-Darmanin Sailing team have had a turn at the Tokyo 2020 Olympic Sailing Competition venue in Enoshima, Japan in September 2018 as part of the 2019 World Cup Series. They came away with the Gold medal then for that event - let's hope that bodes well for their campaign commencing this week.
Then Jason said "We had a game plan before the start,"
"We knew the left was going to be very strong, so we wanted to lead that way off the pin end. It was tight. We had to do a lot of tactical battling to keep the Italians off behind us. Lisa did a great job by keeping us in the right spot and I made the right tactical decisions."
Lisa added, "The Italians have definitely had an edge over the last year and we've been chasing to be better everyday. They showed at the beginning of the week that they're quick and we know we have to go home and work hard to be just as quick or quicker. ''
GO Jason and Lisa!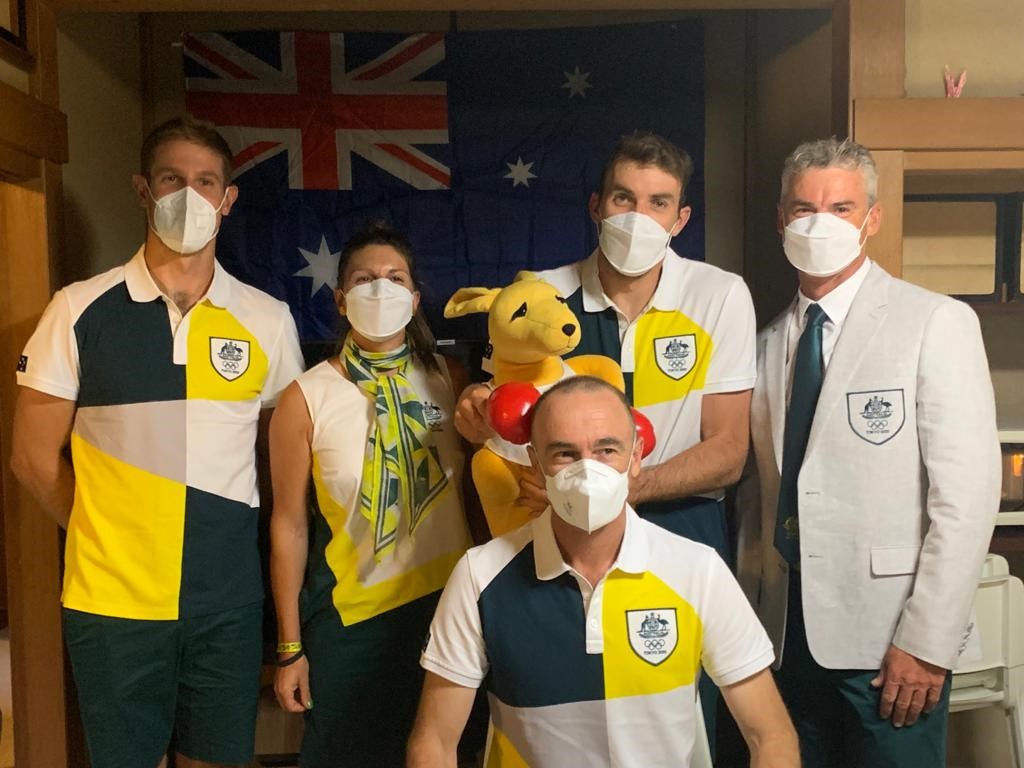 Jo Brigden-Jones, 33, Narrabeen, Canoe - sprint, women's kayak, 2nd Olympics (London 2012)
While many a Narrabeen soul will be missing those divine cakes Jo creates, this athlete will be focused on something else this week. Jo and her fellow team-women flew out yesterday, pretty excited to be heading north. Since 2004, Jo has represented Australia every year in international competitions all around the world. Her highlight was racing at the 2012 Olympic Games in London where her K4 crew placed 9th. Racing at the Olympics was an incredible reward for years of commitment and hard work. Jo is one of Australia's most versatile paddlers as she has raced over all sprint distances (200m, 500m & 1000m) in all boat classes (K1, K2 & K4) at various World Championship and World Cup events. Jo has won a World Championship medal and multiple World Cup medals. She also has 40 Australian National Titles to her name. During a 2020 catch-up Jo explained this will be her last Games, although she will still keep her paddle in the water.
''I think I try to move along the lines of trying to do something that will improve you as a person everyday, something that will make you a better person, for yourself, and for others. That's my starting point whether I'm training or at work.''

GO Jo!
Jo Brigden-Jones with Bernadette Wallace at Sydney Airport.

Murray Stewart, 35, Wheeler Heights, Canoe - sprint, men's kayak, 3rd Olympics (London 2012, Rio 2016)
Georgie Rowe, 28, North Narrabeen, Rowing W8+, her first Olympics
Former surf boat sensation Georgie has been breaking records as practice in her lead into these Games - because that's what rowers do!
GO Georgie!
Australia's rowing team is the second largest team within the Australian Olympic Team, with a total of 38 athletes competing across nine boats. Competition begins on Friday 23 July and runs through to Friday 30 July – with boats set to race in heats first, followed by either repechages or semi-finals, and then A-Finals on differing days.
Australia qualified eight of its boats by virtue of their placings at the 2019 World Rowing Championships, held in Austria, while it's ninth boat, the Women's Quadruple Scull qualified late, at the Final Olympic Qualification Regatta in May 2021. The team includes 2019 World Champions, the Women's Four, plus multiple World Rowing Cup and World Championships medallists in its ranks. The Women's Eight will be coxed for the first time by a male, James Rook – who is overseeing a crew including Rio Olympians Genevieve Horton, Molly Goodman and Olympia Aldersey, as well as former surf-boat rower, Georgie Rowe.
Australia has a strong standing in rowing, having won 11 gold medals, 15 silver medals and 14 bronze medals while its current group of athletes own over 150 World Rowing Cup medals between them and multiple World Rowing Championship titles.
On the Track
Anneliese Rubie-Renshaw, 29, Elanora Heights, Athletics 4 x 400m relay, 2nd Olympics (Rio 2016).
Brandon Starc, 27, Collaroy Plateau, Athletics, high jump, 2nd Olympics (Rio 2016).
Emma Jeffcoat, 26, Collaroy, a Dee Why SLSC member, is a debut competitor in the Triathlon.
GO Anneliese, Brandon and Emma!
In the Water
Bronte Halligan, 24, Manly, Water Polo, her first Olympics - GO Bronte!
Carolyn Rayna Buckle, 20, of Balgowlah is part of the Artistic swimming, team. GO Rayna!
The Australian Olympic Committee announced on July 2nd they had selected artistic swimmer Rayna Buckle to the Australian Olympic Team for Tokyo 2020, replacing Hannah Cross who has retired from the sport. This will be Rayna's first ever Olympics.
Rayna said competing for Australia at an Olympic games was a dream come true.
"I'm absolutely thrilled to be able to represent Australia in a sport that has been my passion for so much of my life," Buckle said.
"Even though I'm a new addition to this team, I'm so proud to be part of this amazing team and am immensely grateful for this opportunity. I really want to swim my best for the team and for Australia."
Head Coach Loredana Montico welcomed Rayna's selection.
"My congratulations to Rayna for being selected for the 2021 Olympic Team," Montico said.
"Rayna has shown a significant improvement since she began training with the team in January. She adds a lot to the team and is a pure joy to coach."
ASAI President paid tribute to Hannah Cross' involvement with the team.
"We want to thank Hannah for her contribution to the sport and wish her all the best in her retirement," Davis said. "Rayna is welcomed to the team and we are grateful that she was ready and eager to take on this opportunity so close to the Olympics".
Artistic Swimming made its Olympic debut in 1984 (named Synchronised Swimming) and is one of only two events that is female only at the Olympics. Donella Freeman (Burridge) and Lisa Critoph, currently a Mona Vale SLSC Member and still competing in beach Masters events, were the first Australian synchronised swimmers to compete at the Olympics in 1984. Freeman is still competing to this day in the Masters category of this sport.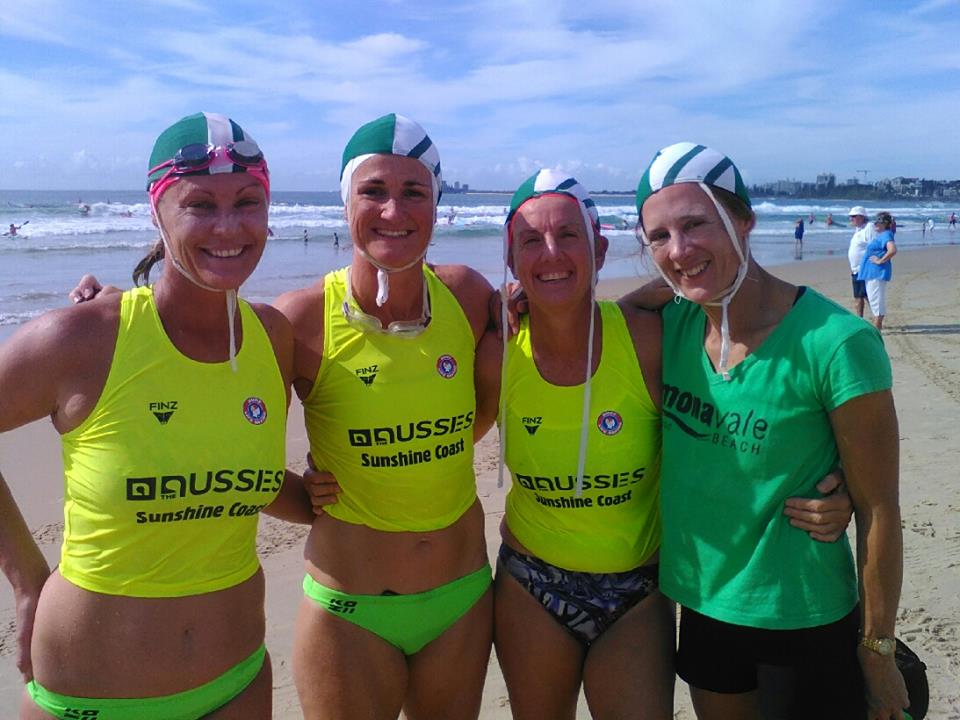 Paula Tocquer, Kris Monnock, Lisa Critoph and Sophie Stokes: Mona Vale Masters rule at the 2016 Aussies!
Teams must perform a Technical routine of three minutes containing five technical elements that all teams must perform and a Free routine of four minutes that emphasises creativity and choreography.
Competitors use techniques such as sculling, in which they move their hands through the water to hold position or move; and an eggbeater kick, in which they do the same with their legs to propel themselves up out of the water. They develop an impressive amount of power in that moment, rising waist-high above the surface. Another technique enables swimmers to turn upside down underwater so that only the lower half of their bodies is visible.
What you will be seeing:
Highlight – when one athlete is thrown out of the water
Double Highlight – athletes split up and execute two lifts at the same time.
Spin – Like a pencil, the athletes keep their legs together while upside down and slowly spin downwards.
Barracuda – A dynamic movement with the legs, starting underwater, athletes very powerfully propel themself up and then sink.
Russia is the raging hot favourite. They are a perfect 10-for-10, winning every Olympic gold medal possible in artistic swimming—duet and team—since the turn of the century. When will we see them? Duet: Monday-Wednesday, August 2-4 | Team: Friday-Saturday, August 6-7.
Super Softball Girls
Kaia Parnaby, 30, Bilgola Plateau, Softball, her debut in Olympics
Rachel Lack, 26, Bilgola Plateau, Softball, her debut in Olympics
Michelle Cox, 30, Elanora Heights, Softball, her debut in Olympics
Tarni Stepto, 21, North Curl Curl, her debut in Olympics
Australian Surfing Team
In June the Australian Olympic Committee officially selected the four surfers to the Australian Olympic Team as the sport makes its Olympic debut in Tokyo.
Stephanie Gilmore, Sally Fitzgibbons, Julian Wilson and Owen Wright will make history as Australia's first Olympic surfers when they take to Tsurigasaki Beach in Chiba, east of Tokyo.
While the four surfers earned provisional quotas based on their 2019 World Surf League (WSL) tour rankings, their ticket to Tokyo was only confirmed after competing in the ISA World Surfing Games in El Salvador, with Fitzgibbons winning the competition in an exciting show of form ahead of Tokyo.
With 7-time world champion Gilmore, three-time champion of ISA World Surfing Games and winner of the most recent WSL tour event in Rottnest Island Fitzgibbons, and multiple WSL tour event winners in Wilson and Wright, the squad is bursting with talent.
Chef de Mission of the Australian Olympic Team Ian Chesterman was thrilled to officially select the first Australian athletes to compete in a sport making its Olympic debut in Tokyo.
"Congratulations to Sally, Steph, Julian and Owen on today's selection to the Australian Olympic Team," Mr Chesterman said on June 11 2021. "It's a fantastic opportunity for them to show what Australian surfers are capable of on the world's biggest sporting stage.
"These athletes are clearly world class and are fantastic ambassadors for their sport and for our country. I know Australia's surfing community have been following their progress for years and I'm sure we will see all of Australia get behind them in Tokyo as they showcase their incredible skills in this new Olympic sport.
"Thank you to Surfing Australia for all you have done to support surfing from juniors to these newly selected Olympic athletes. We are thrilled to have you as part of the Olympic family."
Seven-time world champion Steph Gilmore sees surfing's inclusion as a beacon for the next generation of Aussie surfers.
"It's a true honour to have qualified for the Olympics and get the opportunity to represent my country," Gilmore said. "As a surfer it's something that I never thought I'd ever get the chance to do but here we are and I'm going to do my very best to bring some medals back to Australia."
"Seeing surfing in the Olympics will hopefully let up-and-coming junior surfers realise a new dream that they can go out there and hopefully win a medal for the country. It's going to be a whole new opportunity for these junior surfers."
"Now we're competing as a team, if anything it will push us to even greater success, to support each other and have that on the world stage. It will mean everything to show up and be able to represent so much more than just ourselves."
30-year-old Fitzgibbons, who as a talented athletics junior won two gold medals in the 1500m and 800m at the 2009 Australian Youth Olympic Festival, was honoured at the chance to sport the Olympic rings on her jersey.
"It's an incredible feeling to be officially selected for the Australian Olympic Team for Tokyo," Fitzgibbons said. "I used to draw the Olympic rings on myself back in school – to have the rings on my shirt now, to have it legit is so cool.
"It's been a long journey but being there in Tokyo will feel all the more special. I'm going to give it my all, I want to compete for my country, fly that flag and hopefully come home with a gold medal. But more importantly, I want to go in with a smile and come out with a smile – to experience that whole emotional journey, it's a big moment."
31-year-old Wright says surfing's inclusion in the Olympics will help broaden the surfing community in Australia.
"We compete all over the world all the time, but it's such an individual sport whereas here we're travelling as a team – it will give some of that great Aussie team spirit."
"We're going as an Australian team, that Olympic spirit you get whenever you see any Aussie competing in the Olympics – you get all fired up and want to see them do well. I feel honoured to represent Australia – after listening to Cathy Freeman talk to us surfers [at Surf Australia High Performance Centre in 2019] about what it means to compete at the Olympics – I know it will be one of the biggest privileges of my life."
Wilson said Australia's deep talent pool made making the team an honour.
"To be one of two Australian males and one of four Australian's feels like an incredible achievement," Wilson said.
"I feel like we have a strong team and an extremely deep talent pool of surfers over the country, and I think I can represent them and the country really well in Japan."
The Australian surfing team have been officially named The Irukandjis after the extremely venomous species of jellyfish that inhabit Australian marine waters. The Irukandjis name was generously gifted to Surfing Australia by the local Yirrganydji people of North Queensland.
Seven-time World Champion and Surfing Australia Chair Layne Beachley welcomed the announcement.
"It's going to be something special, being in this first Olympic Games for surfing as a sport," Beachley said. "I have no doubt our four amazing athletes will give their all in a quest to bring home medals from Japan and I can't begin to imagine how they feeling now the games are just around the corner. Best of luck Steph, Sal, Owen and Julian, I can't wait to watch and cheer you on as you all make history!"
Australia Olympic team for Tokyo 2020 – Surfing
Name Event Age Olympic Games Suburb State Postcode
Stephanie Gilmore Women 33 Debut Kingscliff NSW 2487
Sally Fitzgibbons Women 30 Debut Gerroa NSW 2534
Owen Wright Men 31 Debut Skennars Head NSW 2478
Julian Wilson Men 32 Debut Merewether NSW 2291
The Tokyo Olympics surfing program will take place at Tsurigasaki Surfing Beach in Chiba, Japan, from July 25 to August 1, 2021. The Surfing competition will run from 25-28 July, with additional 'lay days' until August to allow the competition to move depending on conditions.
Australian skateboarding team
Across the Park and Street competitions, the Australian team featuring some of the world's top ranked skaters, including a World Champion and one of the youngest members of the Australian Olympic Team.
Newcastle's Poppy Starr Olsen, 21, enters the Tokyo Games ranked fourth in the world in the women's Park format, while in the men's event, the Gold Coast's Keegan Palmer, 18, is currently ranked seventh and Minnamurra's Kieran Woolley, 17, is ranked 24th.
In the women's Street discipline, Hayley Wilson, 19, from Mansfield in Victoria, is a five-time national champion currently ranked ninth in the world while, in the men's event, Melbourne's world No.15 Shane O'Neill, 31, is the 2016 World Champion and 2020 Oceania Continental Champion.
The skateboarding competition is made up of two disciplines – Street and Park – with 20 competitors featuring in each of the men's and women's competitions. Each discipline features four heats of five competitors, with the top eight from the heats progressing to the Finals.
Street: Skaters complete two 45-second runs where they perform a sequence of tricks across replicas of real-life urban terrain, such as stairs rails and ledges. They then perform a "best trick" section consisting of five separate attempts to perform tricks of their choosing.
Park: Skaters perform three 45-second timed 'runs' where they execute their best sequence of tricks on a course consisting of traditional concrete bowls and quarter pipes containing a range of features known as spines, gaps, extensions, hips, banks and variable grinding surfaces. In the Final competitors have four 45-second runs.
Judges use specific criteria to formulate their scores, based on difficulty, execution, use of course, flow and consistency.
Street: Both of the runs and each of the five tricks are scored out of 10 by five judges. The highest and lowest judges' scores for each run or trick are dropped and the remaining scores are averaged to give a final score for each run and trick. The best four scores from the runs and tricks are then added to give the total score.
Park: Five judges score competitors from 0-100. The highest and lowest scores for each run are dropped and the remaining three scores are averaged to two decimal points to give a score for the run. The skater's best 45-second run counts as their final score.
The women's event will be one of the most anticipated competitions at the Tokyo Games. World No.4 Olsen will go head-to-head with two of Japan's most heralded stars, 15-year-old world No.1 Misugu Okamoto and 19-year-old world No.2 Sakura Yosozumi, as well as world No.3, 13-year-old British sensation Sky Brown. Top-ranked American duo Heimana Reynolds and Cory Juneau headline a world class field in the men's event.

American Nyjah Huston and Japanese pair Yuto Horigome and Sora Shirai top the men's world rankings, while Brazilian duo Pamela Rosa, 21, and 13-year-old Rayssa Leal are the top ranked competitors in the women's event.
The Lingo: Skateboarding has its own language when it comes to tricks, so get set to learn all about kickflips, frontside 180s, backside bluntsides and nollieflip noseslides, to name a few. The foundation of modern Street skateboarding is the Ollie, which sees skaters lift their boards off the ground using only their feet and opens up a myriad of opportunities for different tricks. In Park, tricks consist primarily of airs, lip tricks and inverts. Such is the creativity, competitiveness and courage of the world's best skaters, expect to see some never-before seen tricks in Tokyo.
Not only is Poppy Starr Olsen Australia's top-ranked Park skater, she is also a movie star! Tall Poppy: A Skater's Story is a documentary that chronicles Olsen's journey from an eight-year-old starting out at the skate park at Bondi, in Sydney, to becoming an Olympian and one of the biggest stars on the world skateboarding tour.

Keegan Palmer, our top-ranked male skater, is the youngest ever male medallist at the Park World Championships, winning bronze in 2018. Kieran Woolley, 17, is the third youngest member of the Australian Olympic Team. He sealed his qualification for the Games while competing in wrist braces as he recovered from two broken wrists.
The skateboarding events are being held at the Ariake Urban Sports Park.

The men's Street heats, featuring Shane O'Neill, start at 9am local time on Sunday (10am AEST), July 25 (Day 2) with the Final starting at 12.25pm (1:25pm AEST), while the women's Street heats, featuring Hayley Wilson, start at 9am (10am AEST) local time on Monday, July 26 (Day 3) with the Final starting at 12.25pm (1:25pm AEST).
The women's Park heats, featuring Poppy Starr Olsen, start at 9am (10am AEST) local time on Wednesday, August 4 (Day 12) with the Final starting at 12.30pm (1:30pm AEST), while the men's Park heats, featuring Keegan Palmer and Kieran Woolley, start at 9am (10am AEST) local time on Thursday, August 5 (Day 13) with the Final starting at 12.30pm (1:30pm AEST).
The Medal ceremonies will immediately follow the Finals.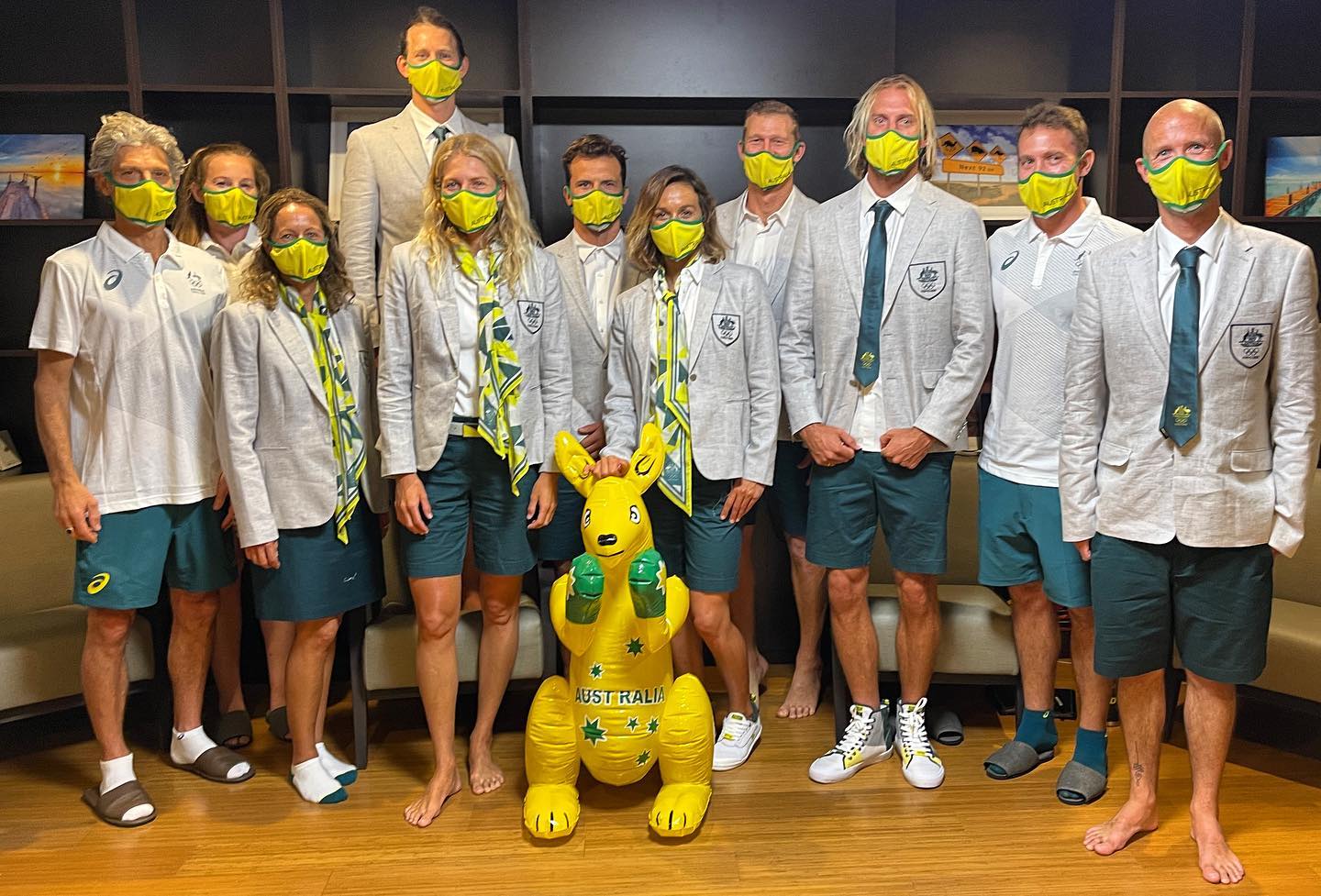 Australia's Olympics 2020 Surfing Team - ready to rock. Surfing Australia photo
Tennis Man from Across the Broken Bay Pond
Also worth keeping an eye on will be another champion called up in the last moments.
Across the water Wyong Tennis Club's Max Purcell, now based in Sydney, will take to the biggest sporting stage in the world at the Ariake Tennis Park when the tennis events get underway on the fourth day of the Olympic Games. Max was announced as part of the AOT on July 17th following Alex de Minaur's withdrawal due to a positive Covid-19 test.
Purcell, who made the Australian Open doubles final in 2020, will contest the doubles competition in Tokyo with John Peers.
How to watch
The Tokyo 2020 Olympics will be broadcast in Australia by Channel 7, with action shown across their three free-to-air digital TV channels including 7, 7TWO, and 7mate.
The 7plus app will have over 40 channels streaming live action from the Games. To view sailing, simply log in to the app on your smartphone, tablet or smart TV, go to the Olympics section and browse the streams to find sailing. You will then be able to watch the action live and uninterrupted. On your computer right now the best place to go is 7plus.com.au/Olympics.
Those watching from their phone app can also stream the action on to a big screen using a Chromecast or other similar casting device.
Visit the Apple App Store or Google Play to download the 7plus app now.
The motto of the Tokyo Games is "United by Emotion."

They are also diverting our eyes away from what's unfolding in Sydney, with anti-lockdown, anti-vaccination people putting all at risk towards moments of hope. Tuning in and dropping out of all but keeping our loved ones safe at home will bring welcome relief - get stuck into Pittwater!
Good luck to ALL Aussies participating in the XXXII Olympiad - although you may not see us or hear us cheering you on, everyone here knows how hard you have worked to be there and how many sacrifices you have made to earn your spot.