June 3 - 9, 2018: Issue 362

Avalon Soccer Club's Super Sunday - A Celebration of Female Football:
at Careel Bay Soccer Playing Fields
Last Sunday, May 27th, Avalon Soccer Club's Super Sunday - A Celebration of Female Football took place at the Careel Bay Soccer Fields, home ground of the Mighty Reds.
All day, from 8.30 a.m. 19 matches from U8's to the trophy winning Premier League side took place. There was an all day BBQ, Cake Stall 'womaned' by the Vanuatu 2018 team, great entertainment, a visit from current Sydney FC and Matilda's star Chloe Logarzo who gave some skills sessions and Kenny the Koala was on hand to cheer on the home side.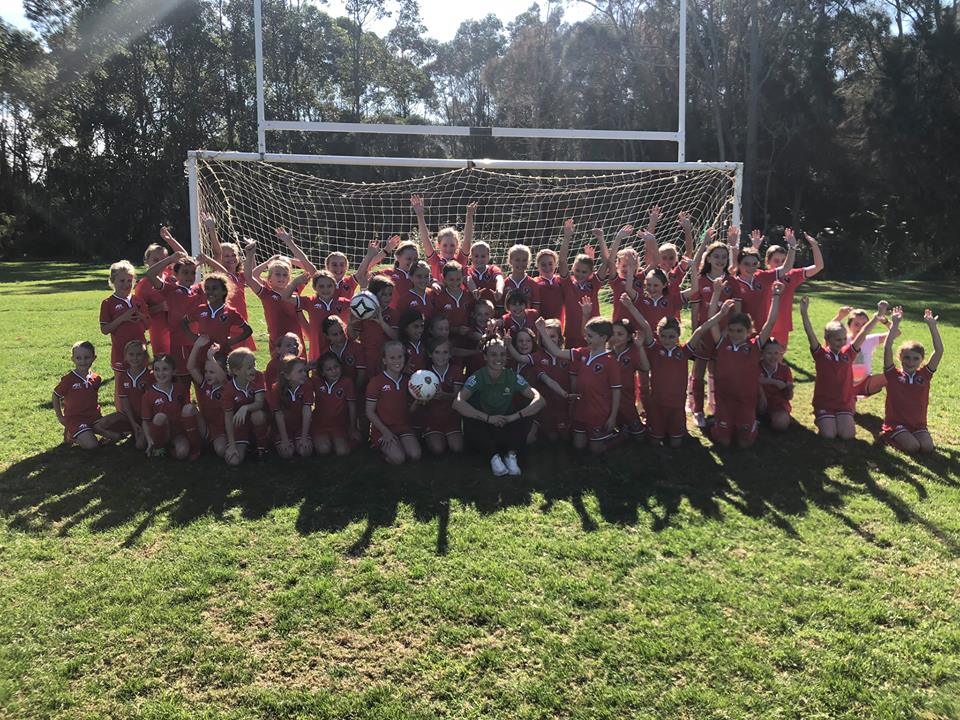 Chloe Logarzo inspiring the next generation. Photos by Adriaan van der Wallen

As the dust settles following a wonderful Super Sunday, time for one final tale of inspirational female footballers at Avalon Soccer Club from the club itself.
As ASC's weekend of celebration draws to a close we would be remiss to not mention the female behind the scenes who is the epitome of Avalon Soccer Club dedication - Blair McEwan.
Blair has dedicated countless hours every day over many weeks organising and scheduling to ensure the Super Sunday was an event to remember. She worked closely with the MWFA which resulted in 19 x female games being played at home. Blair was the author and creativity behind the wonderful Facebook inspirational stories on our GK's, Referees, Mothers/Daughters, Sisters and Dual registered players.
Blair was instrumental in the successful roll-out of Avalon Soccer Club's Buddy/Mentor program where the club's Senior Female Players mentor and assist in the coaching of our younger female teams to provide the link across all levels of football.
Blair also manages and plays in the WAL1/WPL team and is a member of the Executive Committee where she performs her role as Competition Secretary to an exemplary standard.
Blair was awarded MWFA Female ClubPerson of the Year and AVSC ClubPerson of the Year in 2017.
Blair McEwan we celebrate you and we thank you. You are an inspiration to us all!
An Example of a Blair post;
Fun fact - of Avalon Soccer Club's 456 registered female players for the 2018 season, there are over seventy sets of sisters playing, five of which have three girls playing for the Club!
One group which is filled with sisters is the Avalon WAL1/WPL.
WAL1 Coach and Senior Women's VP Kerry McEwan says it makes doing the ID checks fairly amusing for opposition managers.
In WAL1 there are three McEwans (Ashley, Blair and Eliza), two Joneses (Courtney and Chelsea) and two Shepherds (Annie and Xanthe) on the card. Most of these girls now live out of area, but love coming back on the weekend to play for their hometown club and catch up with each other (and occasionally their parents). WAL1 also boasts super-mums Lyndal Carruthers and Naomi Woods, whose daughters play in W16 & W18 (making them helpfully eligible for borrowing…)
Add WPL into the mix and you have the amazing Bates girls (Kirra and Elyce - daughters of WPL Coach Larry) as well as Zara Harrison and Maeve Gerathy who, together with WAL1 striker Ella Smith have talented little sisters (Lexi - W16, Ana - W13 and Ciara - W16) coming up the Avalon ranks.
With genes like these, no wonder there are so many successful Avalon girls teams!
The Avalon Girls U16 Football Vanuatu Tour 2018 cake stall, loaded with goodies the girls had made themselves, was also a popular corner last Sunday.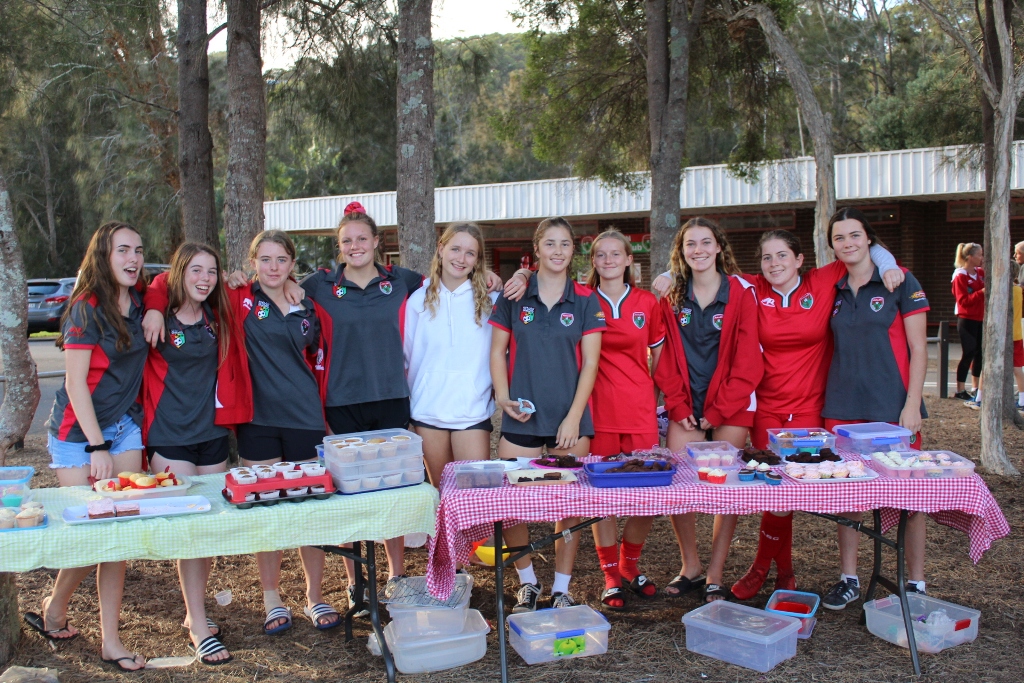 Now in its eighth year, the purpose of the tour is to champion women in sport internationally and, in so doing, teach our daughters the power of equal opportunity, team collaboration and community spirit.
Whilst on tour the girls will be playing a series of 'friendlies' against local schools and villages, culminating in a match against the Vanuatu national side. They
will also be taking with them as much as they can muster in terms of sports gear, school and medical supplies, plus other items sourced with the real needs of the local Vanuatu communities in mind.
An Example of a Blair post;
"Did you know that at Avalon SC we have a whopping 26 girls who play the "double-header" every week in both a Saturday mixed and Sunday women's team in 2018? Add in State Cup commitments, night games and multiple training sessions and you get a whole lot of football! But these girls wouldn't have it any other way.
One such player is Ava Roberts, who plays for two successful Avalon teams - the U12/1s and the W13/1As. Ava lives and breathes football and dreams of one day playing for the Matildas like her hero Lisa de Vanna.
Ava loves plays soccer because she gets to play with some of her best friends - Jazzie and Frankie on Sundays and Kai and her older brother Jack on Saturdays. Last season Ava was a member of the W12/1 team that won the premiership and grand final as well as of the mixed U13/4 team that were minor premiers and grand final runners up.
She has some amazing coaches in Matt Brennan, Chris/Sarah Chisman-Duffy and fellow defender Imogen Carlisle from WPL (our 2018 W13/1A team "buddy") who Ava really looks up to."
One more, they're too good;
THE MOTHERS AND DAUGHTERS OF AVALON SOCCER
Avalon SC, like many local clubs, is built on community and family. And in the case of our women's teams, we mean that quite literally. Over the years we have been graced with some truly wonderful mother/daughter pairs (and trios) across the Club who have helped grow and shape women's football at Avalon SC into what it is today. Today we are going to feature some of the extraordinary mothers and daughters both playing for Avalon in the 2018 season.
Jacqui Green (WAL1) and mother Carol Forlonge (WAL3) started together in 2004 for Avalon W12 and W35. Now both playing for senior Avalon teams they love it when the fixtures line up so that they can support (heckle) each other from the sidelines.
First timer footballer Sarah Chisman-Duffy (WAL3) spent many seasons on the sidelines watching her kids, including daughter Ives (W13/1A) before deciding to give it a go herself and register with Avalon in 2018.
Amie Stylianou (WAL3) returned to football in 2018 after a 27 year hiatus to join teenaged daughter Saskia (W16/1A) in Avalon red. Another player keeping her kid her toes is Jean Walsh (WAL3) whose daughter Keira (W15/1) has played for Avalon since U6s!
Cindy Papallo (WAL4) returned to the Club in 2018 after a break in order to join her amazing mum Sue Papallo (WAL3) in her 23rd consecutive season with Avalon (having not missed one since 1996).
Avalon rising stars Mia (U7), Sophie (W14/1), Tara (W18/1) and Alicia (W16/1A) were each inspired to play by their incredible mums - Junior VP Sharon Burton (WAL3), former Senior Women's VP Sonya Armitstead (WAL3), Club VP Naomi Woods and "CCC" coach extraordinaire Lyndal Carruthers. Each of these women have dedicated countless hours to the service of Avalon Soccer Club and we are so lucky to have them both on and off the field.
Know a mum who plays (or should be playing)? Invite them to come down to Super Sunday and see these Avalon superwomen in action - both WAL1 and WAL3 play at 1pm on Careel Bay 1 & 2."
Some of last Sunday's action runs below - album with images
available here
to download for your family albums - apparently there will be another Super sunday hosted by the club prior to the Season's close - don't miss it!
Super Sunday: Fun And Action