February 2 - 8, 2020: Issue 436
Pittwater Regatta 2020 Hosted by RPAYC: entries open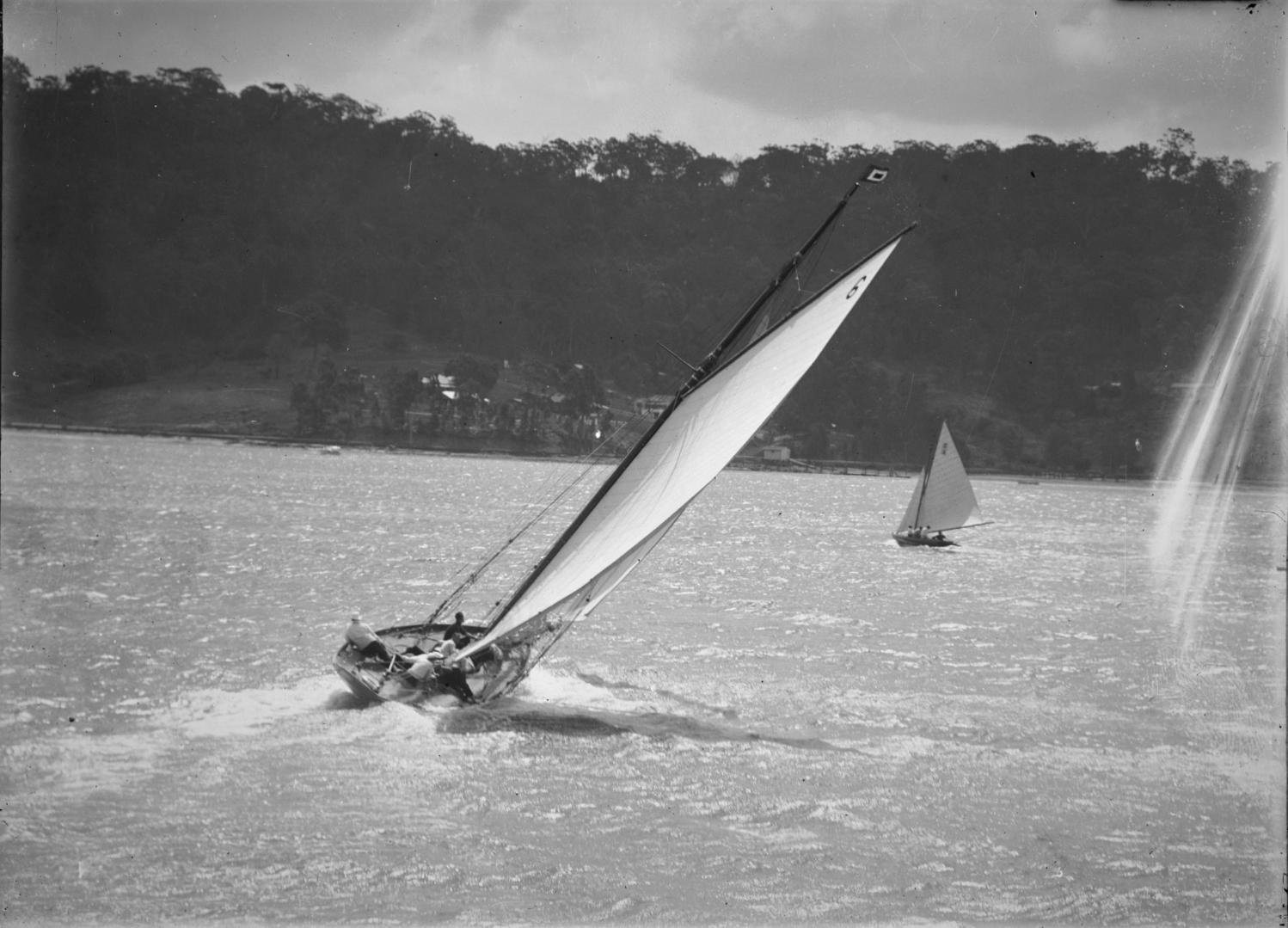 RAWHITI sailing at the 1921 Pittwater Regatta - image taken on December 26th, 1921. This image appears in The Sydney Mail, 4 January 1922, page 18. The yacht in the background is most likely to be CORELLA.
In the 1920s, around Christmas time, scores of boats would begin heading north from Sydney Harbour to visit one such spectacular site and to take part in one of the most important events on the New South Wales yachting calendar – the Pittwater Regatta.

To continue this tradition, on the weekend of the 15-16 February, 2020 the Royal Prince Alfred Yacht Club (RPAYC), with the assistance of the Royal Motor Yacht Club (RMYC), will be hosting the annual Pittwater Regatta, a yachting regatta that dates back as far as 1888.
The revitalised regatta continues to promote its heritage inviting all yacht owners to enjoy the friendly competition expanding across the waters of Broken Bay, Pittwater Estuary and Inshore, with participation from Sydney to the Central Coast and our local Pittwater sailors.
Three course areas are planned to cater for the various racing formats on offer.
From the Premier and Performance IRC & ORCi racing yachts, who will compete offshore on a Grand Prix windward leeward course (6 races);
ENSIGN Yachts Estuary Passage Series of races for club racers and cruisers (2 races);
Additionally there will be the Summer inshore Sprint Series for a variety of fast paced one design and sports boats (6 races).
The two race Estuary Series is brought to you by Ensign Yachts "Australia's largest brokerage and exclusive dealer of a selection of premier yacht brands". A newly commissioned Perpetual Trophy will be unveiled at the presentation on Sunday together with awards for placegetters in each series. With a range of fantastic awards on offer.
This year sees the Sydney 38 One Design Australian Championship run in conjunction with the Pittwater Regatta. One Design boats will compete over 3 days, 14-16 and other Sydney Yachts over 2 days in a mixture of windward leeward and passage races.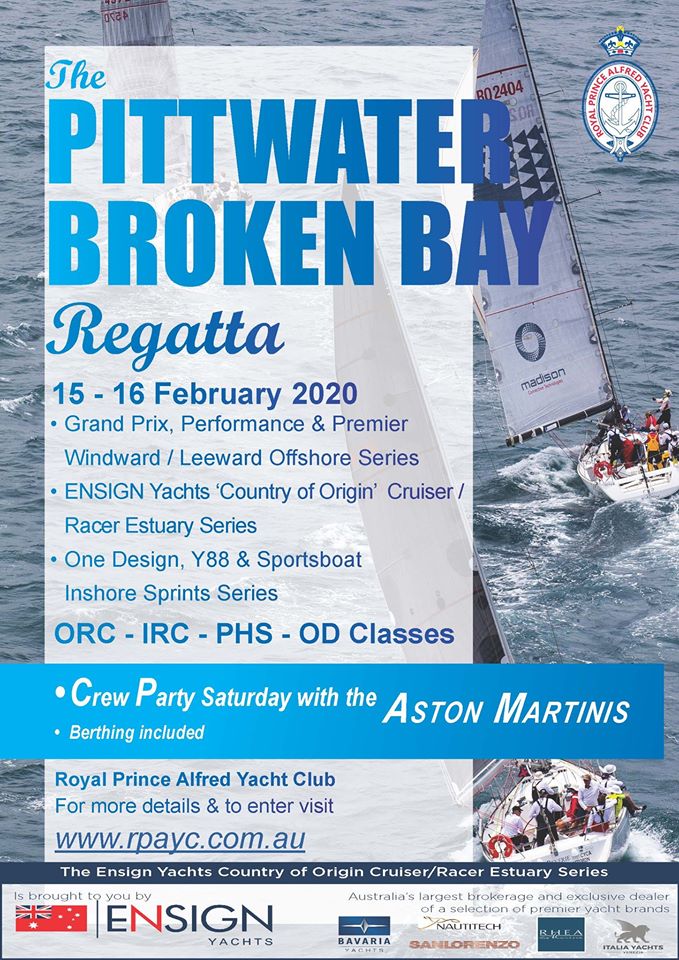 There is an event for all sailors and including a Crew Party on Saturday afternoon back at the Alfred's Clubhouse by the Aston Martini's performing a great mix of Cool Swing and Classic Soul with a touch of class and lots of energy.
Visiting competitors will be able to berth free of charge over the weekend at RPAYC. Boats wishing to do so will need to arrange berthing details by contacting the Waterfront department at waterfront@rpayc.com.au
To be a part of this great tradition visit, register here: https://www.rpayc.com.au/sailing/yacht-racing/regatta-and-championships
To learn more about the history of the Pittwater Regatta visit: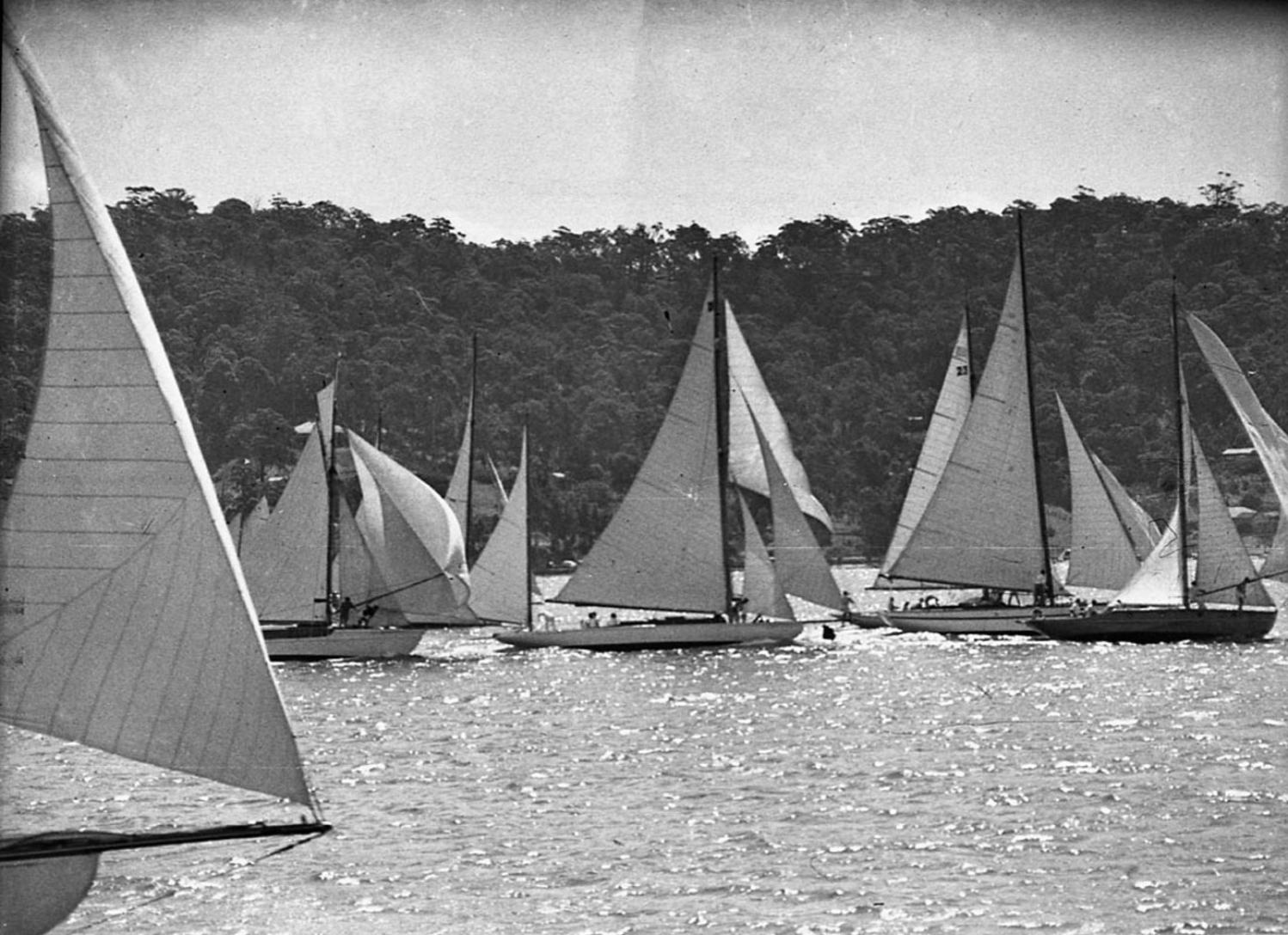 Pittwater Regatta; 26/12/1937, by Sam Hood, from Home and Away - 16614 series, courtesy State Library of New South Wales