October 20 - 26, 2019: Issue 425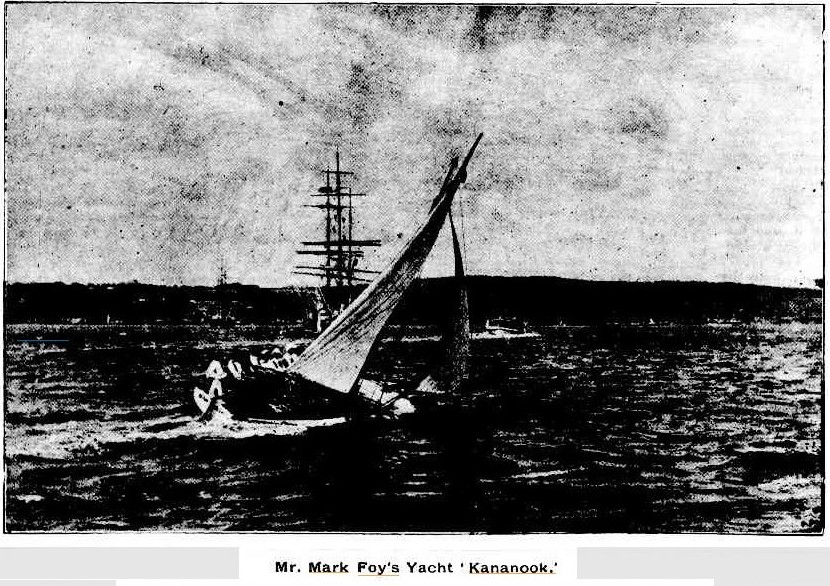 The Kananook, 26ft., quarter - deck, centre - board boat, hails from Melbourne, where she was first known to us as the ' Mayflower,' successfully competing at the Victoria Regatta Carnival, in November, 1888. On arrival here, her name was altered, and although taking part in a number of Sydney and Botany races, she has not been victorious.
Her owner is Mr. Mark Foy, the well-known draper of this city, who has enrolled the ' Kananook ' in the Sydney Amateur, Port Jackson, East Sydney, and Botany Sailing Clubs. AQUATICS. (1891, April 11). Illustrated Sydney News (NSW : 1853 - 1872), p. 3. Retrieved from http://nla.gov.au/nla.news-article63616436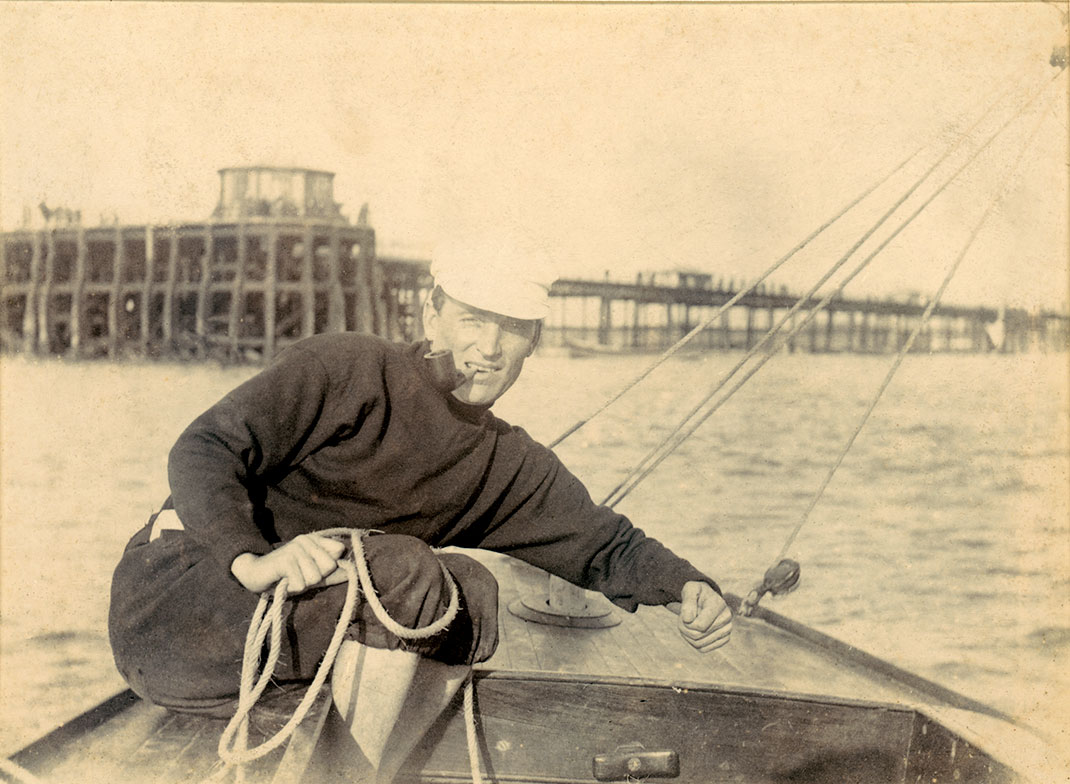 Mark Foy - Intercolonial Challenge Cup, 1898
Mark Foy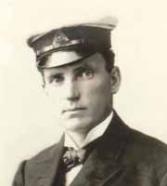 In the life of Mark Foy is seen some of our pioneer Australian spirit, our impetus to get up and go, to create new frontiers where old class systems tried to place obstacles by establishing sailing for all, especially the working man, and being the founder of the Sydney Flying Squadron in 1890 (some sources state it was 1891, others cite 1892) as well as introducing handicap racing, which was originally referred to as the 'Mark Foy System';
The Columnist Neptune encouraged the club to support the new Mark Foy system. Named for the Australian who invented it, this system of staggered start times according to handicaps, so that participants and spectators know exactly where the boats place without having to wait for the handicappers' report; Notes by "Neptune.". (1890, March 1). Australian Town and Country Journal (NSW : 1870 - 1907), p. 38. Retrieved from http://nla.gov.au/nla.news-article71108468
His contribution to sailing has resulted in his being inducted into Australian Sailing's Hall of Fame in October 2019.

Mr. Foy exemplified how business can be combined with pleasure and sportsmanship, whichever area or state of Australia you may be in, as the list of Mark Foy Cups or championships run in sailing and horse racing extended from Queensland to Western Australia and follows a pattern of introduction that aligns his setting up and opening of further Mark Foy stores in these same areas. Mark Foy is also among the first people on record to ensure Pittwater's beautiful spotted gums stayed where they belong;
SPOTTED GUMS AT BAYVIEW.
Bayview, one of the most delightful of the many beauty spots round the waterfront at Pittwater, is more beautiful than usual today because of the presence of numbers of the young and middle-aged spotted gums on the roadside. Anyone, who has an eye for a tree trunk and a shapely headpiece, should see these hardwoods at work on their home holdings, over which Mr. Mark Foy and his neighbours hold sway. The grown trees are 30 and 40 feet in the barrel, and are quite perpendicular. All the young stock are lighter in body and shorter as well, but even the babies among these yellow-stemmed trees are as straight as a plumb line. Young trunks and old trunks, too, are coloured with unbroken bark of yellow-green pastel shade, blotched with spots of dull mauve, which clearly indicate the family to which they all belong. Only lately they were engaged in dropping their old bark in readiness for the work which has to be done during the year.
Thanks to Mr. Foy, Mr. Graham, Mr. Sinclair, and to the other tree lovers of Bayview, who are bent on preserving these native timber trees, visitors are able to enjoy from the roadside pictures which are too seldom seen on or near an outer suburban highway. In too many places all the native trees are cut down to make room for favourites from other continents. None of the Imported trees compare with those of our own wild land. Bayview's spotted gums stand head and shoulders above anything near them. While their present owners have power to protect them they are safe from the axemen. Recently, some splendid trees were taken off the roadside to make room for the electric light wires. Other trees were lopped or shortened for the same purpose. Many a bayside resident was sorry to see that work done. However, the chopping could not well have been avoided. The men who handled those spotted gums did their work feelingly, and saved every tree they could. SPOTTED GUMS AT BAYVIEW. (1930, January 3). The Sydney Morning Herald (NSW : 1842 - 1954), p. 10. Retrieved from http://nla.gov.au/nla.news-article16615090
Mark Foy had a residence in Pittwater called 'The Cabin' at 28 Bay View Road before this access was renamed 'Pittwater Road' by Warringah Council. Other family members also purchased property in Pittwater. His youngest sister Sophie, through her marriage to James Joseph Smith, had also been a visitor to Pittwater and the family had a property called 'Trincomalee' at Elvina Bay, while sister Alice married James Joseph Macken, a family still well known here, who have been associated with Collaroy and Coasters for many decades.
IN consequence of leaving for Algiers, Mr. Mark Foy's residence, EUMEMMERING HALL, Bellevue Hill, is to Let on lease for a term of 5 years: also a water-frontage seaside Residence, THE CABIN, Bayview, Pittwater, 6 rooms, motor garage, and boathouse and baths. SHELEAGH COTTAGE, Medlow Bath, tho mosthandsome cottage on the Blue Mountains, electriclight and water laid on, beautifully furnished', also GLENARA COTTAGE, Medlow Bath, unfurnished, anda dwelling-house at Blackheath, six rooms, unfurnished. THE BUNGALOW, In KANIMBLA VALLEY, also STOEWER OFFICE, 12 City road. Full particulars of all these propcrties at HOOAN'S KIOSK, VICTORIA ARCADE.Opposite the Australia Hotel. Advertising. (1914, April 11). The Sydney Morning Herald (NSW : 1842 - 1954), p. 25. Retrieved from http://nla.gov.au/nla.news-article15500675
This 'early departure to Europe', and a leasing of his properties at that time due to this, gives an insight into this list:
Mr Foy brought cars and car racing to Australia, was a proponent of motor boats and cruisers, and these were just a few of the investments he made in Australia. The list of health initiatives he contributed large sums to reflects early tragedy in his own life as much as a few personal health scares and an unceasing love of world wide travel paralleled bringing the latest and best back to Australia when people journeyed by ship.
A few motor launch insights:
AN AQUATIC FUNERAL.
(For letterpress see "Yachting.")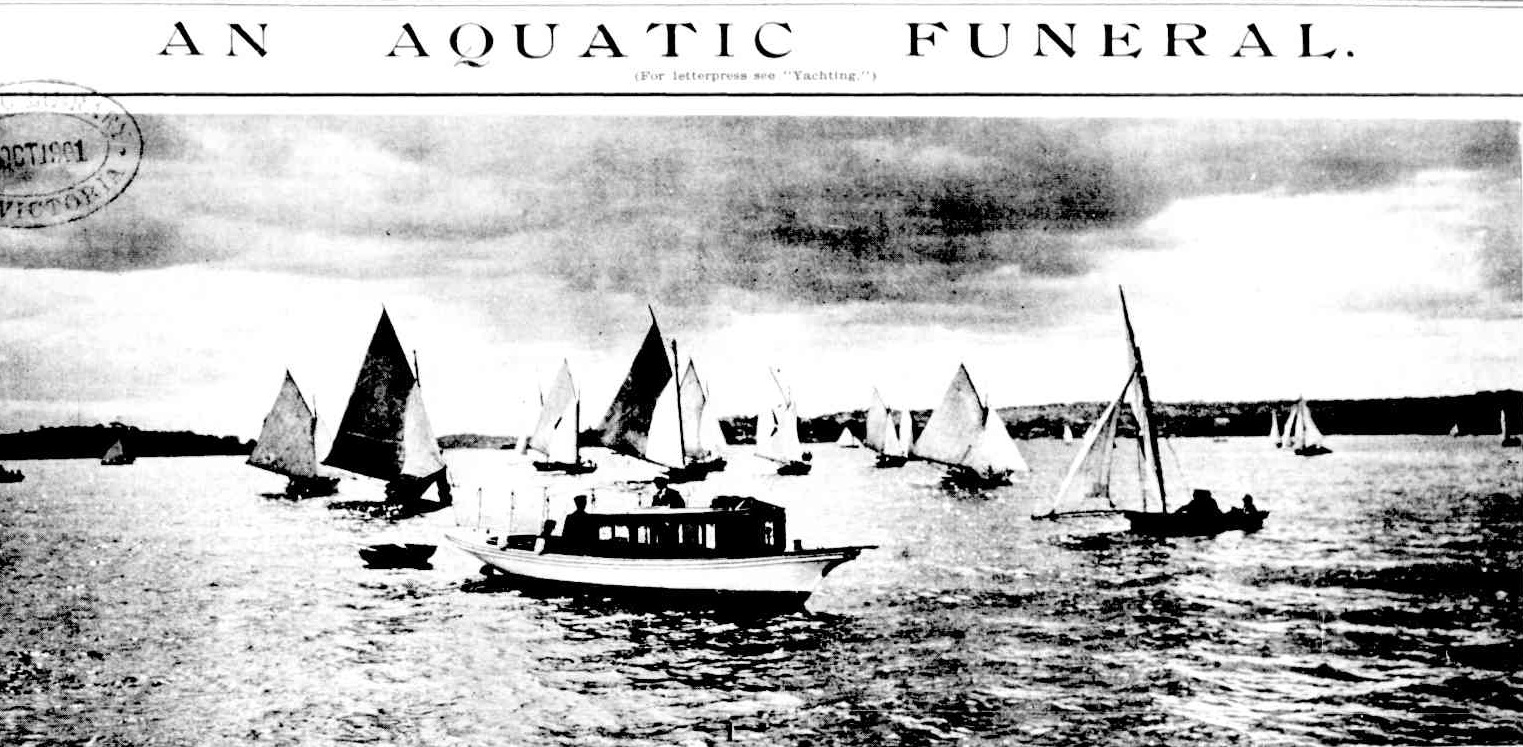 Mr. Mark Foy's Launch Leading the Fleet. 2.-The Steamer Carrying the Coffin, Clark Island. 3,-Landing at Watson's Bay. 4.-The Procession of Sailing Boats Down the Harbor.
The members of the Sydney Flying Squadron have every reason to be pleased with the success which attended their efforts on Sunday afternoon, to mark, by means of an aquatic funeral, the esteem in which.they held an old comrade, Mr. A. E. G. Thomas, who died at Samarai, New Guinea, twelve months ago. The remains were brought to Sydney for interment, and the members of the squadron, of which Mr. Thomas had been secretary for a number of years (some articles on this funeral state he helped Mark Foy found the club), were determined to mark their appreciation of the great assistance he had been in bringing it to its present successful position, by according his remains a unique and at the -same time a distinctly appropriate funeral. The aquatic ceremony of Sunday afternoon was the first of its kind that has ever taken place on the. waters of Port Jackson. Those who witnessed it, whether from steamers, sailing boats, or the shore, must have been strongly impressed with the picturesqueness of the solemn procession.
The steamer Agenoria with the coffin and. relatives of; the deceased left Circular Quay about 2 o'clock, proceeding to Clark Island, in the vicinity of which the various craft taking part had been notified to assemble in order to take up the positions allotted to them in the procession. The owners and crews made a liberal response to the call for their attendance, for between 80 and 100 sailing-boats of all classes took part in the funeral, each bearing the Sydney Flying Squadron colors carried halfway up the after leach of the mainsail. ' The steamer Garnet left the Quay shortly after the Agenoria, having on board a full complement of members and friends of the squadron. Mr. Mark Foy, commodore of the S.F. Squadron, attended in his launch Marionette.
A number of sailing boats other than those belonging to the squadron took part, also.a number of launches, including those belonging to Mr. H. C. Pritchard, on which members of the press and photographers were accommodated by Mr. W. Holmes. The cortege left Clark Island about a quarter to 3, the steamer Agenoria leading the way, the sailing boats following in her wake. The procession passed Shark Island on the southern side, and went in stays, and stood over to Taylor Bay Point, where they came about again, and then lay a course for "Watson's Bay, the wharf being reached shortly after 4 o'clock. ... An Aquatic Funeral. (1901, October 19). Australian Town and Country Journal (Sydney, NSW : 1870 - 1907), p. 23. Retrieved from http://nla.gov.au/nla.news-article71473386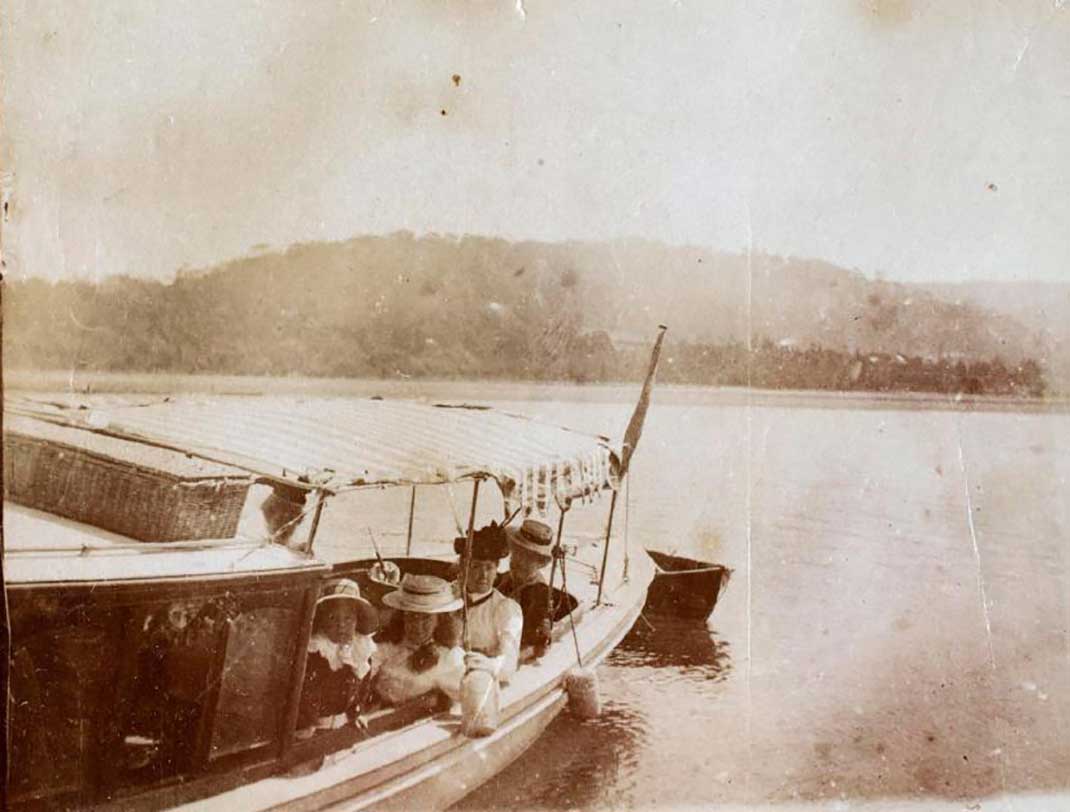 Marionette, circa 1901, from ANMM Collection, gift of Mary Shaw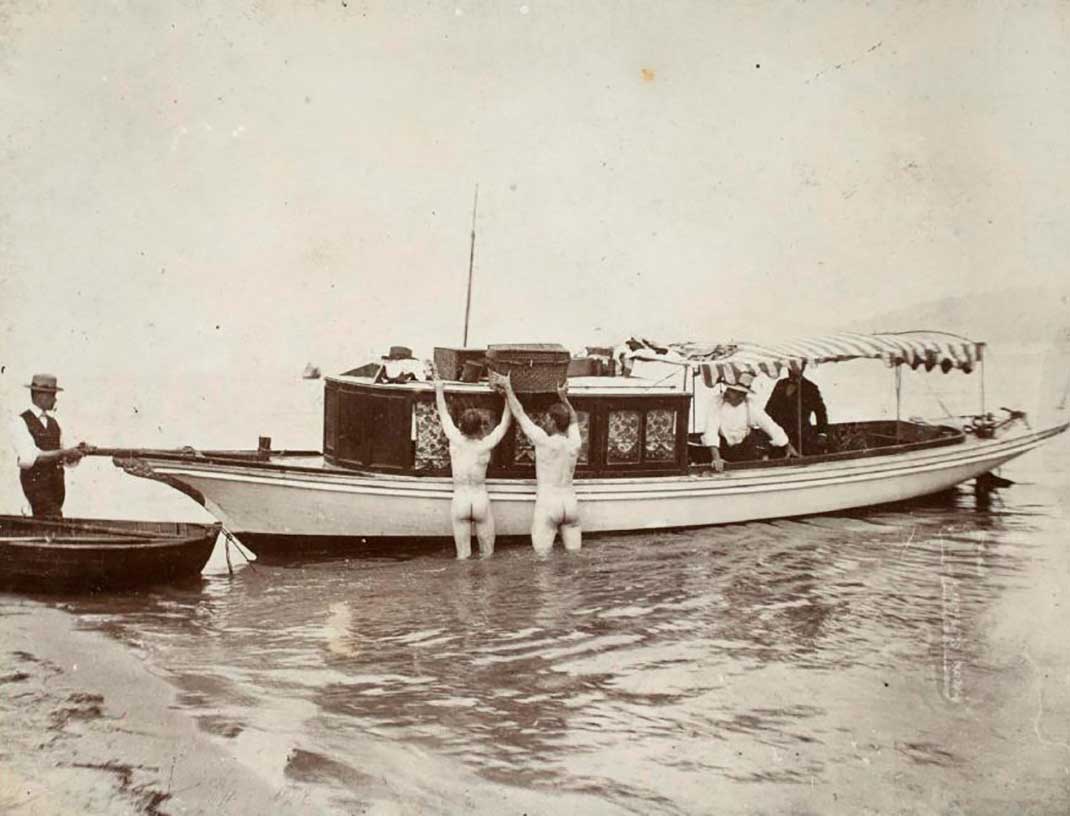 Internal combustion driven launch Marionette being loaded, circa 1901, from ANMM Collection, gift of Mary Shaw
MOTORING 'ON THE WATER.'
The latest information received in Adelaide from England states that the King who has always taken a keen interest in motoring on land, has recently entered with enthusiasm on the new development of the motor, which is seen now on the waters along the English coasts. There does not seem to be any valid reason why South Australians should not enter heartily into the same sport, for there is ample sea space to practise on round the shore from Brighton to Largs Bay, while it is a very simple matter to run the motors into safe harbor when rough weather threatens. In European waters the oil launch-a dainty looking boat, containing an engine similar to that of the best French motor cars, capable of speeds running from ten miles up to 30 miles an hour-has long been popular, while of late years its vogue has almost rivalled that of the motor cars.
In Sydney the European fashion has already been largely followed, and the Daily Telegraph states that there are today 300 oil launches on "the beautiful harbor." Mr. Mark Foy, a great patron of automobilism, was among the pioneers of the sport there. TOPICS OF THE DAY. (1904, September 21). The Advertiser(Adelaide, SA : 1889 - 1931), p. 4. Retrieved from http://nla.gov.au/nla.news-article5007959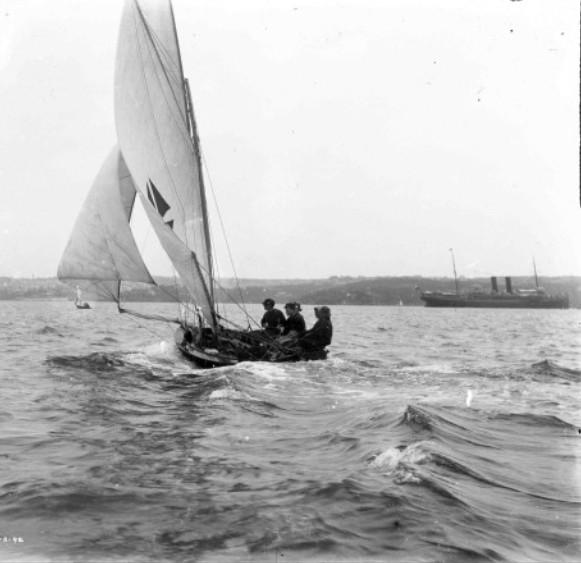 The note that resonates strongest from masses of material is a love of sailing and his favourite vessel, the Flying Fish, an earlier catamaran which he tried to find or rebuild once she disappeared.
The picture at left, courtesy of the Australian National Maritime Museum and dated 1898, is one version of this favourite.
An article regarding her modifications from a gentleman known only as 'Clipper', who claims to have witnessed a SFS meeting, may be found in the Australian Historical Sailing Skiff Association Inc. August Newsletter 2012 HERE
Mark Foy was born at Bendigo on February 15th 1865 to Mark Foy and Mary (nee Macken). His father, a draper in his former home of Dublin, had moved to Melbourne by 1870 and set up a store in Smith Street, Collingwood that prospered and had become big enough to occupy six shops by 1880. He was already a keen sportsman winning medals in the United States of America for rifle shooting.
At the age of 19, in 1884, he moved to Sydney with older brothers Francis and Hugh Victor, with sisters Alice and Sophie included, to set up their own store. The stories of how this came about are many. One of them;
In the Equity Court on Wednesday last, before His Honor Mr. Justice Molesworth, an action of the Trustees, Executors, and Agency Company, Limited, v. Foy, was heard. The plaintiffs were executors of the will of the late Mr. Mark Foy, draper, of Smith-street, Collingwood, and the defendants, Mrs. Catherine Foy, widow of the testator, and Maximilian John Foy, his infant son, now aged three years, who was represented by Mr. David Power (name of both father and brother of Catherine)as guardian ad litem. The deceased died on the 14th of January, 1884, at San Francisco, California, leaving a will executed at the same place on the 13th December, 1883. Mrs. Catherine Foy was the second wife of the testator, and the infant defendant is his only child by her. The present action was brought to have the will of the testator construed by the court.
In 1888 Mark Foy junior married a lady whom he may have met in his childhood, Annie Davy (June 2nd, 1864 - May 26th, 1921). Annie was the daughter of Mary Ann and John Davy both of whom had died by 1870, leaving her an orphan. Consumption, a term which describes how this disease wastes or 'consumes' its victims, and is now called tuberculosis and spread by breathing the air of those infected during close contact, claimed her grandfather, uncle, her mother and her father;
In 1898 Mark Francis Foy, eldest son of Mark Foy junior, was born in London. Some sources state this first son was born of Elizabeth Dominca Foy (nee Tweedie) who Mark Foy married in St Mary's Cathedral, Hobart, Tasmania on the 19th of September, 1900, two years later.
A Miss Tweedie had been working at Foy's in Sydney, with a responsible position and some acclaim for her dressmaking skills. This Miss Tweedie 'returned to London' shortly prior to Annie and Mark sailing for there. Annie may have caught the disease, or been suffering for some time from it, that caused the death of so many family members and was taken there for a 'cure'.

Annie died at Bournemouth a place renowned for its Baths and treatments for people suffering from Consumption at that time. A will, sealed and lodged in 1899 offers some insight;
Some of what Mark Foy may have been experiencing during these events can be glimpsed in him retiring from full time work at Mark Foy's in 1898 to 'pursue other interests', as reported in one article.
His zeal for new projects shows in acquiring land in the Blue Mountains in 1901-1902 what would become the Hydro Majestic Medlow Baths, which opened in July 1904.
Fire destroyed the Gallery building in 1905, and the original Belgravia wing in 1922:
Mark Foy's clearly quick mind and passion for all new innovations of humankind, combined with a buy and sell upbringing of knowing how to keep the financial wheels turning to back all ventures, runs through his passion for motor cars. According to information gleaned from Foy's niece Mary Shaw by motoring historian Bill Boldiston, at the turn of the 19th century Mark Foy asked his friend Bill Elliott, who lived in France, to purchase a motor car for him.
He later bought three Bedelia French cyclecars, which he kept at his Megalong Valley property, Valley Farm. The vehicles were made available to guests who wished to indulge in motor racing on the nearby Medlow Showground circuit.
Foy's next purchase, a 1910 Fiat Tipo Zero, so impressed him that he became an agent for the brand.
Not only did he compete in the first ever marathon car race in Australia from Sydney to Melbourne he also had the knack for using his collection at Medlow Baths as well as selling it off when it suited:
Elizabeth's funeral took place almost six weeks later;
FUNERAL OF MRS. ELIZABETH FOY.
Plans to change things at Bayview appear in Warringah Shire Council records;
The above was part of a larger land holding at Bayview;
This gentleman of innovation continued in his love of sailing, attending to family business and watching his precious Hydro Majestic come in for War Service as this construction against the toll of disease and unhappiness was used for convalescing American servicemen during WWII to once again be a haven of restorative health and a few laughs.
Extras
FOY, MARK (1810-1884),
draper, was born at Moystown, King's County, Ireland, son of Marc Foy, French emigré and flourmiller, and his wife Catherine, née Hennessy. He was educated at Banagher and was reputedly intended for the legal profession but because of family problems he was apprenticed to a drapery firm in Dublin. In 1858 he arrived at Melbourne in the Champion of the Seas. He probably worked first for Buckley & Nunn but in 1859 went to the goldfields. He had a butcher's shop at Campbell's Creek till 1861 when he moved into a produce store at Castlemaine. In 1873 he went to Bendigo where his brother Francis had a wholesale produce business. Early in 1867 Mark went into partnership with Robert Bentley, a storekeeper. In December 1868 he followed a new rush to Spring Creek, in Melvor Shire, where by January 1869 there was said to be 'a business for every claim at work'. They raw settlement suffered great discomforts and at a public meeting in Foy's premised on 24 February he moved that Spring Creek be constituted a borough. He was elected to a committee for planning separation of the town from nearby Heathcote, the new borough of Graytown was proclaimed on 9 August 1869 and named after Wilson Gray, a family friend. On 11 September Foy became magistrate for the Melvor General Sessions. He also helped to arrange the first borough election and on November was elected a councillor. However, the town's decline continued and he soon dismantled his shop and went to Melbourne. On 11 February 1870 the partnership with Bentley was dissolved 'by mutual consent'.
Foy set up a new drapery shop in Smith Street, Collingwood, where he prospered, occupying three shops by 1875 and six by 1880. At Carrum Swamp he selected 195 acres in November 1871 and later another 129 acres. In November 1882 he settled the Smith Street business on his eldest son Francis, withdrew his capital, brought in William Gibson as Francis's partner and left with his wife for Europe. In San Francisco his health worsened and he died on 14 January 1884. Soon afterwards Francis sold on to Gibson and moved to Sydney to establish a new business under his father's name.
Energetic and resourceful, Foy was described as a 'Liberal Conservative' and was later said to have donated money to Sir James McCulloch's party. He was also sympathetic to the early closing movement. He was married twice: first in Ireland about 1848 to Mary Macken (d. 21 March 1879) by whom he had six surviving children: and second in Melbourne to Catherine Power (d.1930) by whom he had one son.
MARK FOY'S EARLY HISTORY.
A writer in the Bendigo "Advertiser," styling himself "The Almanac," unburdens himself as follows concerning the late Mark Foy, one of the most successful business men Australia
has seen:—
The other day I was travelling by train to Carrum, a new watering place on the Mordialloc line, when I saw in passing between Aspendale and Chelsea huge posters alongside the line, stating that this land is now for sale in suitable blocks in the estate of the late Mark Foy. Mr. Mark Foy when I
first met him kept a shop in Pall Mall, near the Bank of Australasia, the firm being Foy and Bentley. Mr. Foy came from Castlemaine, I think. His odd advertisements and his way of selling drew attention. They were general drapers, and they were always having clearing sales of goods slightly damaged by salt water from wrecks, "Loch something or other." The goods calicoes, etc., were exhibited outside the shop, in some eases the water drip-ping out of them, and as they were placed well outside the shop on to the footpath, the firm were continually be-ing summoned and fined for breaking the law for so doing. Mark Foy him-self was invariably outside the shop in his shirt sleeves, which were always spotless white, pattering to the people. He had the gift of oratory, and his rich, Irish brogue always drew a crowd, and he did large business. It was wonderful the quantity of "wrecked" goods he always seemed to have, and, strange to say, no one else had heard about the wrecked vessels or where they came from. It is said that one day an intimate friend said to him, "Why, Mark, where do you get all your wrecked drapery from? You must belong to a wreckers' syndicate." "Come here, my friend, and I will show you," and he took him to the rear, and showed him a water tap and some nice stable manure, and said "that is where I rescue my goods." I do not vouch for this yarn.
There was hardly a week that he was not up at court for encroaching on the footpath, and one day in passing I said to him, "Mr. Foy, it must cost you a good deal for fines." He said, "Sonny, that is alright, it pays me well, and is a splendid advertisement." While I was at Bendigo I often used to call and have a chat with him, and his conversation was most amusing and droll. He was at Bendigo when I left, but I was told that when the Graytown rush broke out he went and started business there, and remained for some time, and was Mayor or Pre-sident of the town. I did not hear about him for some years, when I ran across him in Flinders-lane, coming out of one of the softgoods warehouses. I said, "Hallo, Mr. Foy, where have you sprung from, and how are the wrecks?" He said, " Mr. Scott (I had grown a beard by this time) I have come from the country, and I am going to start business in Collingwood, to be nearer the wrecks. I open in Smith-street next week. Come up and see me, and how I will stir things up in that locality." I cannot remember what year it was, but I think it was in the early seventies. His odd advertisements and mode of business again drew attention, and he got on well, and started the drapery trade by announcing "Half-yearly Sale", "'Mark Foy's Fair," "Don't miss the Fair," "Come to Mark Foy's Fair for Bargains," etc. At this time he re-sided on the promises, but his business increased to such an extent that he soon had to take other premises adjoining, and Mark Foy's was a well-known landmark in Collingwood. He continued for some years, but in the eighties Mr. William Gibson, a Glasgow man, came to Melbourne to have a look round, and purchased a half-interest in the business, Mr. Mark Foy, the original, going out, leaving his son as partner, the firm being known afterwards as "Foy and Gibson, late Mark Foy." This was carried on for some years till Mr. Gibson purchased the share of the son, and the firm then then became entirely under the control of Mr. William Gibson. MARK FOY'S EAR[LY HISTORY. (
1908, December 4
).
Barrier Miner
(Broken Hill, NSW : 1888 - 1954), p. 6. Retrieved from
http://nla.gov.au/nla.news-article45043662
WANTED Nursery GOVERNESS for 3 children. Mrs. Mark Foy Eumemmering Bellevue Hill
Advertising. (
1910, August 9
).
The Sydney Morning Herald
(NSW : 1842 - 1954), p. 13. Retrieved from http://nla.gov.au/nla.news-article15174609
LADY HOUSEKEEPER required. No washing or cooking. Also first-class COOK-LAUNDRESS. Mrs. MARK FOY, Eumemmering Hall, Victoria-road, Bellevue Hill.
Advertising. (
1913, June 28
). The Sydney Morning Herald(NSW : 1842 - 1954), p. 27. Retrieved from http://nla.gov.au/nla.news-article15431357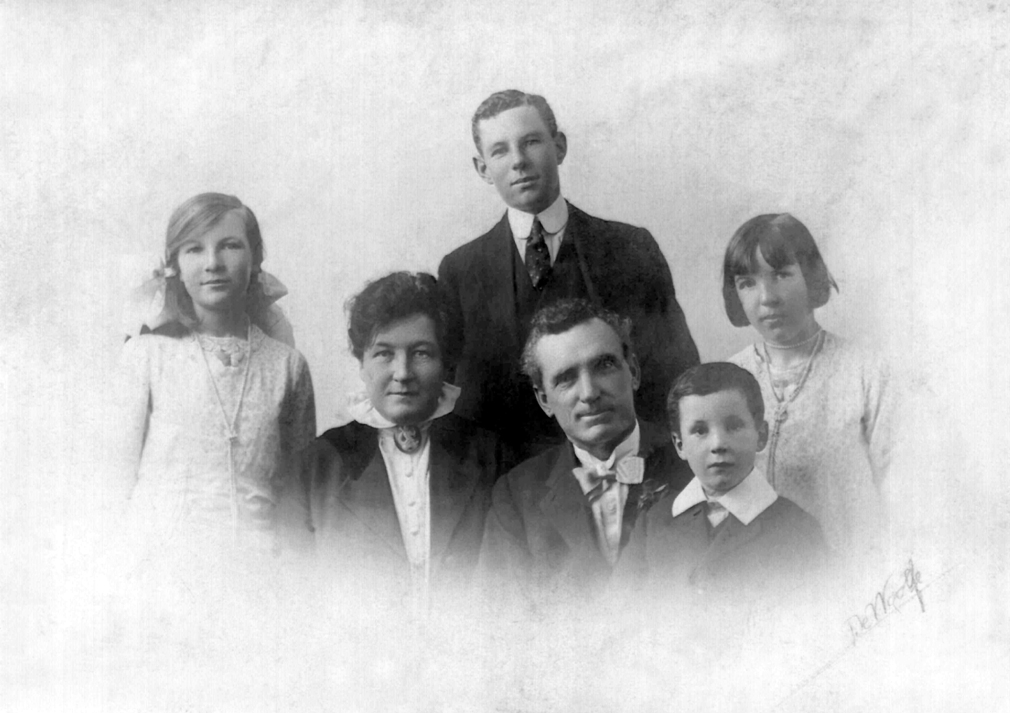 Mark Foy, pictured here with his family, circa 1915

Illuminated Address, from Australian National Maritime Museum online library of digitised materials, items numbered 00005752_1d and 00005752_1e dated 1892.
Southerly Buster adorns the front of this Dinner Menu - courtesy Australian National Maritime Museum online library of digistised materials. Item No.: ANMS0204[006] Dinner Menu
Including: TWO 18-31 H.P. FIAT CARS. TWO 10-12 H.P. FIAT CARS. 15-22 NEW CABRIOLET STOEWER CAR. This Car has not run 1500 miles, fitted with C..A.A'.Lighting Set, and is the most perfectly fitted Car in the State. TWO 8-10 H.P. DE DION CARS. 12-10 H.P. LIMOUSINE N.A.G. CAR. 10-12 H.P. STOEWER CAR. Detailed particulars set out in Catalogues, which can be obtained from the Auctioneers, or will be posted on application. BARNARD AND CO. will sell by auction as above.
1936's Pittwater Regatta
PITTWATER REGATTA. UNFAVOURABLE WEATHER. SAILING EVENTS SPOILT. Unfavourable weather spoilt the Pittwater Regatta on Saturday. Clouds hung low over the hills surrounding the normally picturesque arm of Broken Bay, and rain swept over the water to the accompaniment of variable pull of wind from every point of the compass, until late in the afternoon when there was a dry spell. In the circumstances, the various sections of the regatta had a stiff task to instil life and colour into the scene. Aeroplanes provided the liveliest interlude After a delay, caused by bad weather, iii machines competed in a race from Mascot C. H. Fischer won by five seconds from R. It Hirst. The latter, with N. Mulroney and ' K. Swain, then gave a display of formation flying and aerobatics, after Mulroney and Swain engaged in a mock attack on a "warship." As missiles from the 'planes fell there were realistic explosions close to the target which finally burst into flames. Sjo-Ro, with a "sail-over" In the morning an only one opponent In the afternoon, was a dual winner. Ozone, against much stronger opposition also had two firsts, and Currawong, Alice, Cygne Pandora, and Sarita each had wins. Of the motor craft. Diana, with a win and dead-heat for first; Argo, a first and a thin Cariny a an equal first and a third, Wyvern and Sinabada. each a first and a second, and Zelma were most successful. Rowing events were Included In the programme amateurs rowing over a course from Newport to the flagship, and professionals from Church Point to the flagship. Although the rain made conditions unpleasant, comparatively smooth water allowed all events to be carried out without a hitch. The morning rowing event, the heavy boat championship of New South Wales, provided a great race, H. Robson, of Parramatta River, winning from M. Bell by half length. G. Cook being third, half a length further back. V. Fox won the outrigger handicap for amateurs, and he also rowed No. 2 In the winning unclassified four-oar crew.
SAILING. Mrs. E. G. Greig memorial handicap, for local boats, to 22ft overall length: Biirlta (R Jeffery), scr, 1; Frolic Junior (E. Bell), 10m. 2 won by lin 15s. Owing to the light wind, the race was shortened by eliminating the second round of the course. Palm Beach Handicap, for big class yachts, nominated or lady skippers, White Horse Whisks trophy. 9 miles: Sjo-Ro (Mrs. C. Plowman), lim, only starter. Sailed over course In lh 38m 45s. "Mischief" memorial handicap, for boats of Sydney Amateur Sailing Club and Lake Macquarie Yacht Club, nominated skippers-women or men trophy presented by Captain S. Spain-6 nautical miles: Ozone (F. Barlow), scr. 1: Blue Peter (Ge«. Morris). 4m. 2; Caprice (J. Pfeiffer), 2m 3; Epacris (F. A. Moss), 8m. 4; Adina (J. Young). 9m, 5: St. Thais (J. Bridgland. 10m. 6. Won bv 5m 42s. with 8m 12s between second and third. Finishing times: Ozone, lh 15m 48s; Blue Peter í,1? 2Jfi,30s; i.""]'!"' 'i1 20m 4S" Epacris, lh .Uni los; Adina, lh 45m 15s: St. Thais, lh 4Bm 30s: Womerah lh 51m 10s. Light airs practically eliminated most of the time allowances. Blue Peter protested against Ozone for alleged breach of the port and starboard tack nile
Schooner Wanderer Handicap, for deep-keel cruising yachts, nominated skippers.-Currawong fÇoIIn Prlritîl. 4m. 1; Valiant (C. Foxall). 7m. 2 Allc« 'R. labor), scr.. 3. Won by 5m 23s. with sm, u,7s between second and third. Adiusted finishing times: Currawong, lh 42m 10s: Valiant, Matangl also started.
One-design Vee Jay Class Sailing Boats Handicap morning race, five miles.-Cygnet (P. C. Taylor), 7m. 1: Pandora I P. de. Burgh 2m. 2. Won Sv F'nl»hlnir times: Cygnet, 2h 8m; Pandora, 2h J3m. Five started. John Roche Memorial Trophy. Big Class Yachts Handicap. 1: Narburra (A. E. Glazcbrook). 2: Steady Hour (F. Harris). 3. "A. D. Walker" Speedboat Handicap (all comers). 3m-Wyvern (J. c. (Parramatta). 3.Mark Foy Men's Single Sculls Heavyboat Handicap, im.-First heat: G. Cool:, ls, 1; Gi'Ash, 11s. 2; H. Price. 30s, 3 Second heat: J. Dickens. 14s. 1: A. Evers, 6s. 2; J. Erickson, 2s. 3. Final: H. Price, 1; J. Dickens and G. Ash (dead heat), 2;' G. Cook, 4. Won by a length. Newport Women's Gladstone Skiff Handicap, J-3m.-Miss D. Hammond. 22s, 1; Miss J.Gilroy, scr.. 2; G. Stebbing,- 22s. 3, 1 . Hydro Majestic Women's and Men's Double Sculls, Miss G. Stubbing and G. Ash. 6s, 1; Miss M. Wilnon and C. Wilson, 2s, 2; Miss D; Hammond and H. Towns, 12s. 3.Newport Youths' Single Sculls Handicap, 5m.-P. Porter, 18s 1: W. Solomon, scr., 2;, G.' Wilson, 2s. 3. AMATEUR ROWING. Unclassified Fours. 3m.-Pittwater No. 1 (N. Fox, V. Fox. A. Fryer. C. Williams, B. McFec cox), I; Pittwater No. 2 IB. Hudson, H. Hickson, F. Smith. G. Hanlen. C. Hickson cox), 2. Men's Best and Best Handicap (outriggers). 3m. -V. Fox. 20s, 1: N. Fox, 12s, 2; A. Fryer, 30s. 3. Gladstone Skiff Handicap (A class), 3m.-F. Smith, 12s, 1; A. Fryer, 11s, 2; C. Williams, scr. 3. Gladstone Skiff Handicap (B class), lm.-G. Leach, scr.. 1: H. Shepherd, 7s. 2; T. Shepherd, 4s, 3. . AEROPLANE RACE. Aerial Derby, trophy presented by Charles E. Blanks (Mascot. Palm Beach flagship), 28m.C. H. Fischer (Cirrus Moth). 1: R. M. Hirst (Genalrco), 2: T. R. Swain (Gipsy Moth). 3; T. Mulroney (Gipsy Moth), 1: D. Macarthur Onslow (Hornet Moth), 5. PITTWATER REGATTA. (1936, December 28). The Sydney Morning Herald (NSW : 1842 - 1954), p. 9. Retrieved from http://nla.gov.au/nla.news-article27988276

From - Historical Parish Maps – Narrabeen 1905 – updated 21st January, 1914 – signed by C G Ireland

Mark Foy, threads collected and collated by A J Guesdon, 2013.