January 12 - 18, 2014: Issue 145
Hon. James J. Macken (Jim)
When it comes to Pittwater legends they don't get much more legendary than the Honourable James Macken. Rapscallion, generous to the core, with integrity as high as summer days can be long, this gentleman has not only written numerous histories of Pittwater he has been part of Australian history.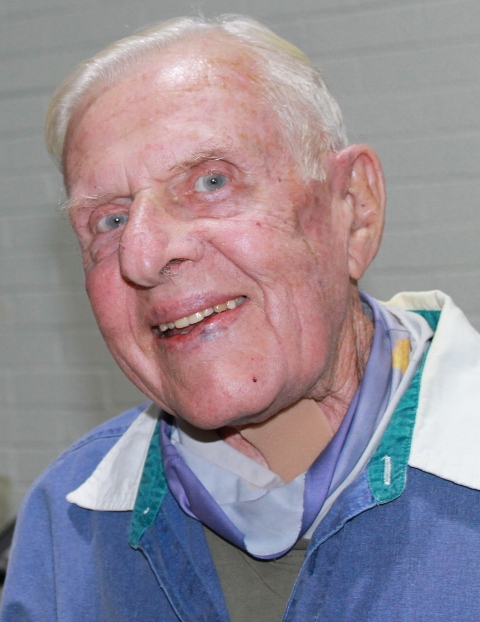 As the Hon. James Macken, a judge of the Industrial Court of NSW , this is the man who oversaw the end of the petrol disputes of the 1970's that saw Australia grinding to a halt and the electricity strike, among many others. As with all our Profiles though, the story is best told by the gentleman himself…
When and where were you born?
Sydney, December 1927.
So you were a child during the Depression in Australia – where were you living then?
Most of the time at Collaroy.
Were there campers there then?
There weren't any campers at Collaroy, they were all at Malabar and around where Long Bay is now, that's where the unemployed camps were.
What was it like growing up at Collaroy?
Paradise. We owned a house on the beach at Collaroy which is now the site of those two idiot towers – that was the family home, we owned the two blocks of land there.
When my grandmother died it had to be sold for State Duty so we had to move away from Collaroy to Vaucluse and I went to a free school up there.
MRS. E. G. WARD.
Mrs. Alice Ward, wife of Mr. E. G Ward, of Narri, Collaroy, and widow of the late Mr. J.J. Macken, died at her residence, Collaroy, on Friday morning. The funeral took place on Saturday at the Manly Cemetery after a Requiem Mass held at the Roman Catholic Church Manly at which Father Morris of Collaroy and Father McDonald, of Manly officiated.
Mrs Ward was a sister of Mr H V Foy and Mr Mark Foy and was 68 years of age. She is survived by her husband and seven children of her previous marriage. Her eldest daughter is the wife of Mr H H Mason of Darling Point and her youngest daughter is married to Dr Howard Bullock of Macquarie street. Her sons are Messrs J V and H M Macken of Mark Foy s Ltd and Messrs N MN A and J C Macken. Another son Mr E S Macken, was killed In action in France in 1916. MRS. E. G. WARD. (1931, June 24). The Sydney Morning Herald (NSW : 1842 - 1954), p. 15. Retrieved from http://nla.gov.au/nla.news-article16788198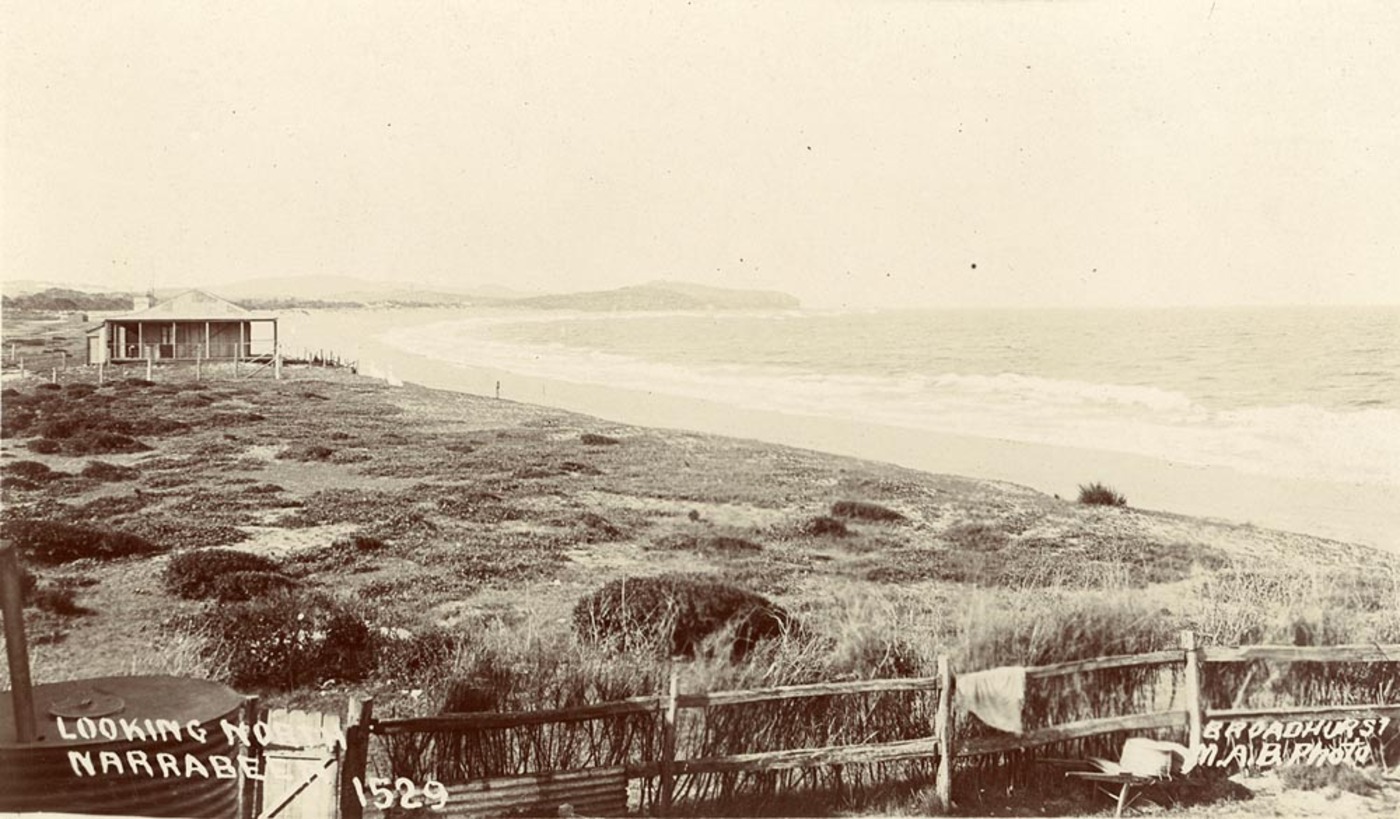 The first Macken Summer shack at Collaroy 'Looking north to Narrabeen', From Scenes of Narrabeen album, circa. 1911-1927 Sydney & Ashfield : Broadhurst Post Card, Images No.: a106058h and below; a105160h courtesy State Library of NSW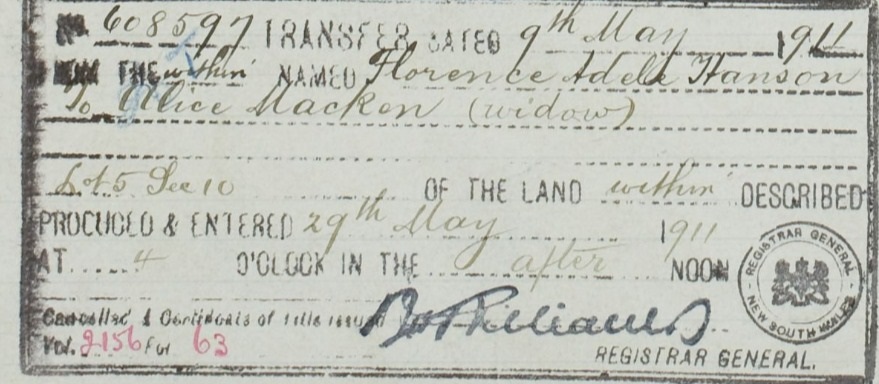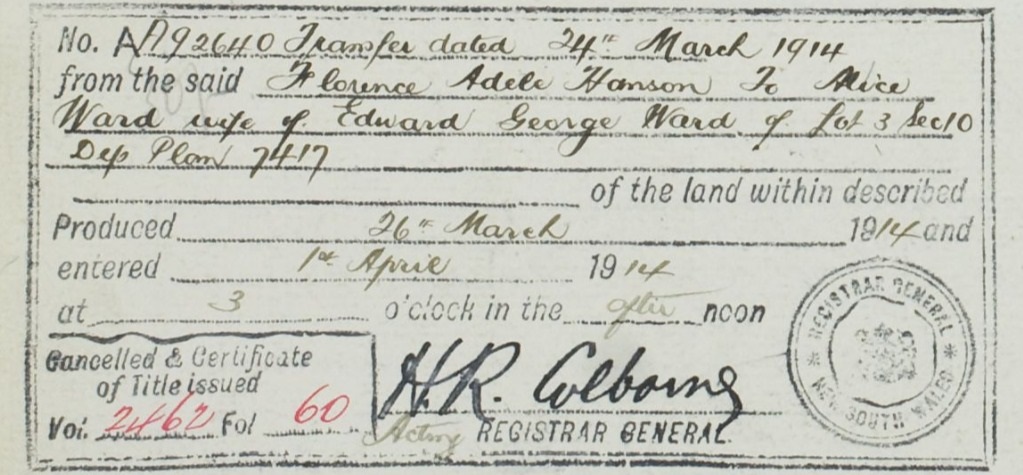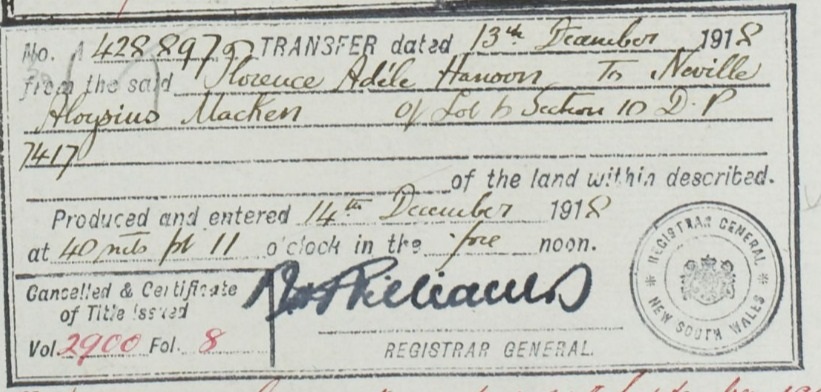 Where did you go to Uni?
I didn't have to go to Uni, I was too intelligent for that. No, no – in those days you could do Law by doing the exams at the Supreme Court and Barristers in the Courts – so that's what I did.
With your first pay packet you joined the Labour Party?
No, I joined my Union. In those days it was the Federated Clerks Union – I was working in Melbourne for Catholic Schools Movement as a journalist and met the organiser and joined, everyone did. That was the beginning of the rumours through the grapevine of links between the ALP and the Communist party – I'm not sure now it was the right choice but at the time it was.
What stands out from those early years?
I was an organiser, I was a journalist, I was a Union secretary, a Union Council delegate and ACTU delegate. I was very active in the Union Movement. I was also on the waterfront and Secretary of the Union on the waterfront during some very turbulent times.
I was in Melbourne until 1950 and came back to Sydney in 1951 or '52 and went down onto the waterfront until 1956 or '57 as secretary of the sub-Union.
What was the worst thing that occurred during those years in your experience?
I can tell you but you'll never print it.
Yes we will Jim – as long as it's not swearing – we won't print swearing…
During my time there were no women on the waterfront – in all my time working there not once did I encounter a woman, they just weren't there. During the 1950's, if a woman walked past you'd stop swearing, there was a gentility regarding that around the waterfront.
It got really bad when I tried to get two of my members of my Union paid for overtime. There was no overtime originally, they weren't working any, and everyone else was working too much. And we had an equalisation of earnings so everyone got the same earnings and they got no overtime – everyone got the same standard rate of pay and these particular two weren't getting paid to do overtime, even though they were, so I was trying to get them paid for working overtime.
What I didn't realise is that these two didn't have to work at all – they were witnesses in the Stalby-Stanis murder trial – I was lucky to get away with my life. One of them was tried for the same murder but he was acquitted – they were good blokes but I didn't realise that they'd been witnesses in the Dave Alby Stannarder trial and one had given him an alibi – the waterfront was like that in those days – everybody was up to something and murder or dying was very common.
So the waterfront was pretty rough during the 1950's?
The political struggle was rough between the Communist Party trying to control it – the Waterside Workers and the Seaman's Union and on the ALP side we controlled the other 14 Unions. The Communist Party killed us hands down – they won easily. I was in my early 20's then.
When I first started in the Aircraft Industry I started a Union called the Flight Stewards Union and then the Airline Engineers Union. I founded those Unions and then they helped me get through Law – I studied Law while secretary of those Unions.
How do you establish a Union?
The Labour Council asked me to establish a Union because these people were un-unionised. They had bad working conditions so we organised everyone to become a member of the Union and then we could fight for them – in the end we took so much money from Qantas we began to feel bad about it.
SYDNEY, Tuesday.— The Federal Government had instructed Qantas to stop recruiting extra cabin crews, the Arbitration Commission was told today. Qantas needed more staff to comply with the provisions of a new award for its flight stewards, the commission was told. Mr J. J. Macken, counsel for the Flight Stewards Association, said that Qantas had breached an agreement with the union. Qantas 'told not to recruit cabin staff'. (1974, July 24). The Canberra Times (ACT : 1926 - 1995), p. 3. Retrieved from http://nla.gov.au/nla.news-article110720626
So you were studying law through?
The Supreme Court – you did most of it by correspondence and every three months they'd set an exam that you'd sit for to progress.
What did you do then?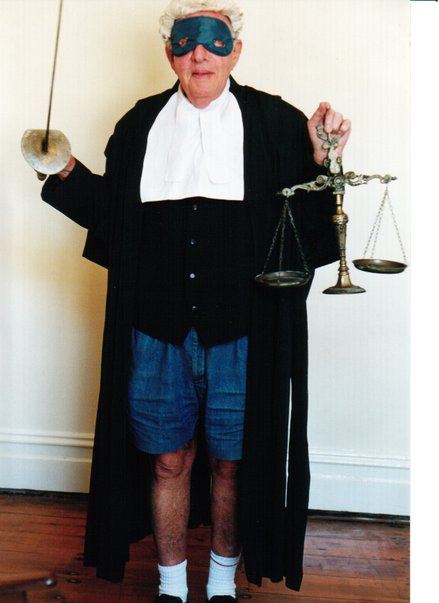 In 1963 I finished Law and went to the Bar – it took me about three and a half years to get through Law. When I finished I retired from secretary to these Unions and was just a Barrister in private practice.
During my first four years at the Bar I did a lot of criminal work – I'd do jury work on trials and rapes, robberies, that kind of thing – ordinary criminal work.
Was that interesting?
You never got paid for most of that work so it wasn't that interesting.
Any challenges though?
Oh yeah – every day was different; it was always a bit nerve wracking. I then went and specialised in Industrial Law and began lecturing at the Law Building in Industrial Law and did that until 1975. By that time I was quite senior by then. I was also doing a lot of Industrial Law work at that time as well so they asked me to go on the Bench – you lose a lot of money doing that, but still, I went on anyway.
You have a strong community service streak in you Jim.
It's never done me any good.
______________________
In fact Mr Macken's whole family has a strong service streak, an ethos of giving back – Jim has 11 children, who he states are "all very active in the ALP" and all in service professions, a daughter who writes for Greenpeace, a son who works as a paramedic, another in India serving others, another who works for Lifeline – all in service of others.
Jim is a descendant of two of Australia's no nonsense families, the Foys and the Mackens, his grandfather, James Joseph Macken, when general Manager of Foy's in Sydney, was known for his fair treatment of all workers and ensuring their rights were protected long before 'laws' did. His grandmother Alice (nee Foy) was renowned for a generous spirit. His great-uncle James Joseph Smith, was one of the early contributors of time, money and energy to Pittwater Regattas, and also a resident of the Western foreshores when needing respite, while great-uncle Mark Foy, who also contributed to aquatic events here, are testament to an ethos of as far as you look back, or forward, of keeping it simple, a disdain of hoi polloi and championing the less affluent, of earning your own way, and giving back.
How long were you a judge?
From 1975 until 1989, about 15 years.
That 15 years covers a lot of industrial disputes here - The big waterfront strike that we had during that time…
That's why they appointed me – they thought I could handle such stuff. The other big one was the Federal Transport strike where everyone was running out of petrol every second week and the Electricity Strike where they were running out of electricity. Because I had had that industrial background they wanted me on the bench to end all those strikes. So I did all those heavy industrial ones and that suited me.
You did get things resolved – how did you do that?
Well, the delegates knew not to mess with me because they knew I'd been around and knew how to handle Union delegates, some of whom thought they were pretty tough, so while I was the judge they knew they had to listen to me, to be reasonable…
Or bugger off…?
I told them that many a time.
Which was the most difficult to resolve?
They were all very similar. The Federal (petrol) strike was a difficult one. I can remember calling the delegates in to private chambers at once stage and telling them 'they were a bunch of a***holes and I don't believe you want this strike settled. I'm telling you I have filled my jerry cans with petrol and have enough to keep driving for two months now get out of here – so you can stay on strike if you want to'…. so they all went back to work after that little talk.
You continued to lecture during this period too?
Yes, I lectured all that time. I did that for 35 years at the Sydney University Law Building.
Who were your outstanding students during those years?
Nearly everybody in the Union Movement and the Employer Organisations who went through Law at that time.
What was the structure of your lectures – what did they cover?
Most of them were on the Statutory Laws surrounding Employment – I did two hours a day on Tuesdays, Wednesday, Thursday.
You have also written some papers that are still referred to.
I started to write these as notes to accompany the lectures and they were on Employment Law – you can still get this – (The law of employment / James J. Macken ... [et al.]. Edition 5th ed. Published. Sydney : Lawbook Co., 2002.). They kept my name on it because as the law stands you have to keep original author's names on these works for twenty years.
So in 1989 you decided to finish with sitting on the bench?
I was sick of it and they told me I was entitled to a pension. I wanted to and decided to do other things – branch out into other areas, a lot of other areas. One was to write other books, another was to be a volunteer ranger in the National Parks so I joined Chase Alive as one of the members of the Chase Alive Foundation.
You must have been in the first intake for this?
Yes, I was.
You have written several history books on Pittwater. When I read these you get an impression that you have gone for a walk, stood in certain places, and can see what has come before you – the markings on rocks by original landowners, and those made by settlers – is this what has happened?
I have done extensive aboriginal and European settlement studies. With the aboriginal studies I originally became interested because there were no aboriginal studies of interest on the Ku-Ring-Gai and West Head areas – so I went out and found where the songlines and markings were. Now I show others where the songlines are; they come to me and we try and trace them right through – I seem to know more about those songlines and the engravings than the aboriginals who visit now. There are a lot in very remote places – you can't get to them now, they're too far in the bush.
You can work out where most of them are going to be once you know there is a songline. You go to the end of a songline and you know that ten feet on there will be another one then another one and then another one – you can follow it. There's a great one up there that goes right across to Flint and Steel beach.
We must be sensitive about this and protect the privacy of these sites from vandals – but what are the songlines that you sense or hear when there?
Well, most of the ones on that side of Pittwater are maritime songlines. There are other songlines which are about animals or mass engravings every quarter of a mile or so which seem to be mass burials. The one top Flint and Steel is all maritime though.
Do you think, as some state, these are interconnected with the seasonal returning of fish species?
I don't know – I do know that every so often among them are some that I cannot explain – like an engraving of a goanna. Now, where that goanna is pointing is something significant but I cannot tell what it is, and it has got nothing to do with a songline.
When the aboriginals all died from the plague, those that survived left here in a great hurry. Before they left they destroyed all of their iconic figures – there's one cave down there with the most beautiful art and they've rubbed it all out with mud and other paint.
Why?
Because they knew they'd never be back.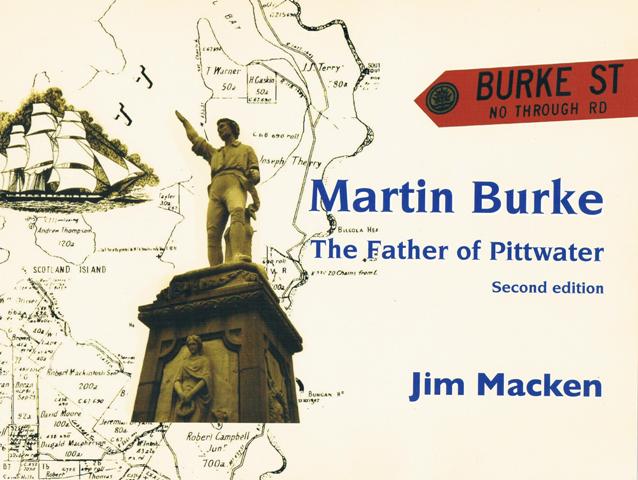 Your history on Martin Burke is quite extensive...
With Martin Burke and colonial history you've got to go back to find out what the history was like before they got here to have any understanding of what they did when they did get here. He was part of the rebels in Ireland – I wanted to know what he was doing before he got here and he had a phenomenal history in Ireland before he got here. He came out on the Tellicherry with most of the rebels of 1898. They all seemed to end up at Pittwater somewhere – one at Barrenjoey, one at Allambie, a couple over at Bayview and one at McCarr's creek – James McCarr – they were all around here.
You have published a few history books now though – why do you think it's important to do this?
Well unless people do this you don't know why it is they acted as they did when they got here. A case in point is Martin Burke – how did he come to get the first land grant up here without giving the history of what he had experienced in Ireland – it's important to preserve our history. … there was always a reason that points back to Ireland for what they did when they got here. Except in case is John Lovett he too came out in 1898 but he took to the sea and became a British Navy sea captain.
Whenever I'm doing research on vessels and shipwrecks in and around Pittwater there's a 'JM' as a reference point against many of these notations – are you fascinated with shipwrecks?
It's very easy to track down the history of the ships because there's detailed records. After 1848 and 1850 every movement of every ship along the coast was detailed – all their cargoes, all their crews – and I've got all those records; these are in the Summary of Shipping Movements – they tell you where the ship was and where it was wrecked and where it's lying at.
But everyone also wants you to be the Patron of their Historical Society…
Oh, how wise they are!
Why though Jim?
Because they can't get anyone better. They can't get anyone worse either.
Well, ok – I was Patron of the Manly Historical society when Rose Cutler died. I left there and Geoff Searl brought me into the Avalon Historical Society – and we have a Coasters Retreat Historical Society of our own which I formed. We could hold our General Meeting in a phone box if we had to.
We also formed a Coasters Retreat RFS unit in 1991/92.
What or who are the standouts in the Coaster's Retreat history?
Martin Burke probably – because he was a settler on the mainland and around Bayview and on the Western foreshores. He was the first person to own Mackeral Beach and Currawong. He also applied for The Basin camping ground as well. He wanted it mostly for running a still – he was a distiller.
But he was the constable !
He was sacked from being the constable but he was a pretty good constable really – he didn't like bushrangers because they kept robbing the locals of their cows. The Farrell family were a dominant family there but there was a period during the 1850's and 1860's where the whole place fell into disuse, there was an abandoned farm, there was a family at North Narrabeen that was murdering people – the mad Collins, one of them murdered his wife – Lavinia Collins. These are different from the Collins family that lived in Avalon. The mad Collins they were known as.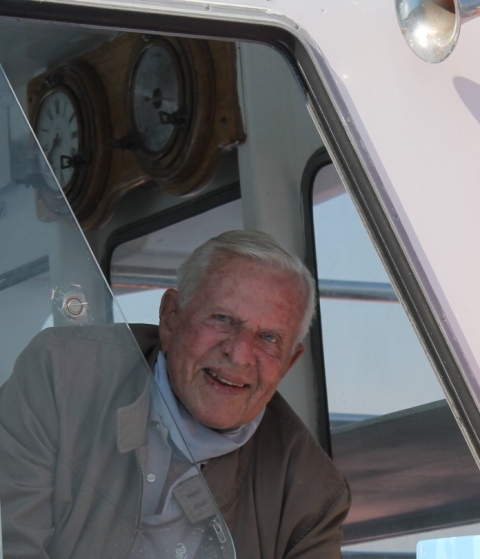 There are also sailors graves at Coasters?
That was the Pittwater Cemetery – the middle of The Basin. There's also some graves among the terraces – those date from around 1806 through to 1830 – they're very elaborate and run the whole length at the base of that hill at The Basin. And on the aboriginal side there, where they used to drink, there's about four graves there too, probably more if you had a good look.
Right: Jim on the Myra - Coaster's ferry.
When did you first move to Coasters Retreat?
I got moved there in 1960 odd – we'd always gone there on holidays and he (father) bought a house down there and it was reasonable but then my family got bigger so we bought another house there about 35 or 36 years ago. So we've got two houses there now – I have one and my brother has one. That's my permanent residential address – Coasters.
Why do you like Coasters so much – it's cut off, peaceful?
Yes – we don't bother much with the law – the inspectors don't both us much so you can do pretty much what you like and yet it's close enough to the mainland so you can over if you like. We've got good sense – we can pretty much look after ourselves.
You have done a variety of things throughout your career – what s the standout, what are you most happy about having achieved?
I don't know – I don't look back much. There's a lot of things that make me smile, also a lot of honours – all bullshit really. They made me a Member of the Order of Australia and I'm (d)ucked if I know why.
[Jim was awarded an Order of Australia in 2003 for his contribution to industrial relations as 'a judge, an advocate, an academic and an author'.]
What about being made a Life Member of the Labour Party?
Oh well, I probably deserved that one.
What's the best thing about the Labor Party to you?
Well, currently it's in need of a few reforms.
Forgetting negatives for a moment- what are the Labor Party's positives?
Well, it's history of looking after more then the big man in a country, fighting against the oppression of the poor; the driving down into poverty of many that stems from big business – I've seen some employers do some terrible bloody things to their workers – that kind of thing gives me the shits. If you had to pick one of the two parties, you certainly wouldn't pick the Libs.
I've read a piece you wrote for the Catholic Press, A Catholic understanding of the nature of work, which outlines and states a basis in Christianity for looking after employees that underlines the basis of Unions….
One of the Pope's is very good on this – he's supporting the moral and ethical position of Trade Unions. He said there is a right to strike in the in the amendments of every state and that people have an absolute right and obligation to join unions and that unions have a right to fight for the rights of workers and the poor and refugees.
Do you think this has been denigrated?
Very much so. There are a lot of people struggling now and the Unions have lost the will to fight. We used to go on strike every three months on the waterfront just for practice.
What do you feel in your experience is needed to redress this?
I don't know – sooner or later there will be a blow up.
What is your favourite place in Pittwater and why?
I don't know if I have a favourite place –When I want to get away from it a bit I like a drive along the West Head road – saves me walking up the bloody hill behind my place. There's lots of little spots up there where I can dive into the bush – there's a lot of aboriginal sites – there's an aboriginal site with boys engraved – it was one of the aboriginal sites where boys, once they got to 13 they went. There's a spot there with an underground river with hand paintings that was half destroyed by them before they left. There's lots of little places like that no one knows about and I just go to one of them.
Do you think, if you hadn't done all else you have done, that you may have been a bushman instead?
One of my hobbies is I go to the Kimberley every year and study the rock art of the aboriginal/ Dambimangari people up there. I was on the Kimberly Land Council Board for quite a few years. I started a program up there and every year I go into the bush there – the aboriginal people there are friends of mine. I seem to get on well with their elders; They call me 'Murrumburra' which means 'a white old man' and because my hair is grey.
What is your 'motto for life' or a favourite phrase you try to live by?
Nothing matters very much.
Extras:
Pittwater's war / James J. Macken by Macken, J. J. (James Joseph), 1927- Sydney : J. Macken, c2002, Book.
Coasters' Retreat / James J. Macken by Macken, J. J. (James Joseph), 1927- Sydney : J. J. Macken, 2003, Book.
The law of employment / by James Joseph Macken, G.J. McCarry, Carolyn Sappideen, by Macken, J. J. (James Joseph), 1927- Sydney : Law Book Co., 1984. Book.
The Lovetts of Pittwater / James J. Macken by Macken, J. J. (James Joseph), 1927- Sydney : J.J. Macken, 2007. Book.
The iron coffin / James J. Macken by Macken, J. J. (James Joseph), 1927- Sydney : James J. Macken, 2008, Book.
Martin Burke: father of Pittwater / [by James J Macken] by Macken, J. J. (James Joseph), 1927- Sydney : J.J. Macken, 1994. Book.
Sally Morris - of The Basin / James J. Macken, by Macken, J. J. (James Joseph), 1927- [s.l.] : J.J. Macken, c2001. Book.
The wreck of the "Hazard" & other true sea stories of Broken Bay / [Jim Macken] by Macken, J. J. (James Joseph), 1927- [Sydney] : J. Macken, 1994 Book.
Sydney-1942 : two wartime mysteries-or none? / by James Macken by Macken, J. J. (James Joseph), 1927- [Sydney : J. Macken, 2002]
Macken on work choices / James Macken by Macken, J. J. (James Joseph), 1927-Rozelle, N.S.W. : Lawbook Co., 2006. Book.
The law of employment / by James J. Macken ... [et al.] Sydney : Lawbook Co., 2002. Book
Australia's unions : a death or a difficult birth?/ Jim Macken by Macken, J. J. (James Joseph), 1927- Annandale, N.S.W. : Federation Press, 1997. Book.
Mediation of industrial disputes / J.J. Macken, Gail Gregory by Macken, J. J. (James Joseph), 1927- Leichhardt, N.S.W. : Federation Press, 1995. Book.
Australian industrial laws : the constitutional basis / by J.J. Macken. by Macken, J. J. (James Joseph), 1927- Sydney : Law Book Co., 1974. Book.
What is to be done? : the struggle for the soul of the labour movement / Jim Macken by Macken, J. J. (James Joseph), 1927- Annandale, N.S.W. : Federation Press, 2012. Book.
Early Pittwater : a nostalgic look at its soldiers, seamen, smugglers and settlers / James J. Macken by Macken, J. J. (James Joseph), 1927- [Cammeray], N.S.W. : Anchor Publications, 2004. Book
Board of Inquiry Mine Safety Enforcement Policy : report to the Hon. Ian Macdonald MLC, Minister for Mineral Resources / by James J. Macken by Macken, J. J. (James Joseph), 1927- Sydney : Independent Board of Inquiry Mine Safety Enforcement Policy, 2007. Book.
An outline of industrial law, Commonwealth and New South Wales : being part of the Law Book Company's Industrial arbitration service / by C.L. Cullen [and] J.J. Mackenby Cullen, C. L. Sydney : Law Book Co., 1972, c1965. Book.
Report of the Commission of Inquiry into Industrial Relations in the Public Transport Commission of New South Wales / carried out by the Honourable Mr. Justice Maken [i.e. Macken] by Commission of Inquiry into Industrial Relations in the Public Transport Commission of New South Wales. [Sydney] : Government Printer, 1981. Book
___________________________________________________
Shell dispute action lunacy, judge says.
SYDNEY: Action by the Shell Company in the dispute at the Clyde petrol refinery had reached "the lower levels of lunacy", Mr Justice Macken, of the NSW Industrial court, said yesterday. He handed down his reserved decision on the strike by Federated Engine drivers and Firemen's Association members. He said the company's actions had militated against acceptance of his recommendations.
Its decision to distribute a record of private negotiations "could have made no possible contribution to a resumption of work". Making an order would not be in the public interest. He appealed to the unionists to end their strike because of the thousands of other employees who were beginning to be adversely affected. Shell dispute action lunacy, judge says. (1978, September 15).The Canberra Times (ACT : 1926 - 1995), p. 3. Retrieved from http://nla.gov.au/nla.news-article110909393
Long-weekend fuel drought averted.
SYDNEY, Friday.- A threatened strike which would have tied up eight of the 12 Australian, oil refineries was called off today. The easing of the oil dispute has assured NSW motorists o£ enough petrol over the holiday weekend.
Because of a continuing shortage of distillate, there will be no government bus, ferry or hydrofoil services in Sydney after 1pm tomorrow.
The breakthrough came this afternoon when workers at the adjoining' Kurnell refineries of the Australian Oil Refinery Pty Ltd and Australian Lubricating Oil Refinery Ltd returned to work on the recommendation of Mr Justice Macken of the NSW Industrial Commission.
The Caltex company, which operates the two Kurnell refineries, agreed today to Mr Justice Macken's recommendation that men at AOR and ALOR should be reinstated without loss of pay. A further hearing would be held next Wednesday. The decision means that petrol, distillate and other products have begun flowing through the pipelines which link the AOR refinery to the Banksmeadow distributing terminal on the opposite shore of Botany Bay. Long-weekend fuel drought averted. (1975, October 4). The Canberra Times (ACT : 1926 - 1995), p. 1. Retrieved from http://nla.gov.au/nla.news-article110661194
INDUSTRIAL NEWS - Petrol rationing in NSW
SYDNEY: Petrol rationing will come into force in Sydney, Newcastle and Wollongong at midnight tomorrow night. Service stations in those areas will be closed this weekend as the first part of a petrol-rationing package announced yesterday. The State Minister for Energy and Water Resources, Mr Landa, announced rationing from Monday because of industrial action by 470 operators at the Caltex refineries at Kurnell in Sydney. He also appealed to motorists in country areas to conserve fuel.
The Kurnell operators, members of the Australian Workers Union, defied a State Industrial Commission directive ordering them to keep their plant open, and began shutting the two refineries yesterday morning. Mr Landa told a news conference that he had been forced to introduce a $4 minimum and $8 maximum on all sales from Monday because the State's petrol supply would last only up to 20 days.
He also said the odds-and evens system for petrol allocation will be introduced from Monday, with vehicles getting petrol according to the last number of their number plates, and as Monday is October 26, drivers with even number plates will be able to buy petrol.
"There will be an urgent hearing on Monday before the State Industrial Commission judge, Mr Justice Macken, in an effort to halt the dispute and will continue on Tuesday", Mr Landa said.
The two Caltex refineries at Kurnell are now facing a total shutdown by tomorrow evening. A Caltex spokesman said yesterday afternoon that the process had passed the point of no return. An urgent hearing before Mr.Justice Macken in the commission yesterday morning failed to settle the dispute. Mr Justice Macken told both parties he had done everything he could, wished both parties the best of British luck and said he would go out and buy petrol himself. Mr Justice Macken on Thursday ordered the union operators not to shut down the plant and yesterday said the action was not over money but was an example of "industrial knuckle".
The Kurnell operators are protesting at what they say is the delay in the handling of 32 claims served on the Caltex Company in August, 1980. The operators are remaining on duty until Monday and intend to meet on Friday. Jack Johnston, vice-president of the NSW Service Stations Association, said rationing was unnecessary and hasty. INDUSTRIAL NEWS Petrol rationing in NSW. (1981, October 24). The Canberra Times (ACT : 1926 - 1995), p. 3. Retrieved from http://nla.gov.au/nla.news-article126853646
Agreement in NSW petrol strike reached
SYDNEY: The parties to the NSW oil dispute had reached an agreement, the Premier, Mr Wran, said last night. The Premier said he could not reveal the points of the agreement, which would be put to Mr. Justice Macken in the State industrial Commission this morning. The dispute has severely restricted petrol supplies in the State.
"There will be a short hearing before Mr Justice Macken at which the company [Caltex] and the operators will report to the judge the points of agreement which have been reached today", he said. "Then they are expected to go into private conference and then, as it is expected some progress will be made at the conference, it seems likely that a mass meeting of the operators will be called on Saturday morning.
"So a lot hangs on the private conference tomorrow".
Mr Wran said the Government was optimistic there would be progress at the private talks. On Wednesday, Mr Wran said that if there was a resumption of work by the end of the week or over the weekend, the odds and evens system would have to be maintained for a few days after that until the Kurnell refinery became fully operative.
There will be no deliveries of fuel in Sydney today. Petrol supplies had been drying up for many Sydney service stations because of the strike by operators at the Caltex oil refinery. But a 24-hour strike by storemen and packers under a federal oil industry award at the second biggest refinery, Shell at Clyde, will halt all deliveries. Agreement in NSW petrol strike reached. (1981, October 30).The Canberra Times (ACT : 1926 - 1995), p. 3. Retrieved from http://nla.gov.au/nla.news-article126854696
Petrol dispute settled
SYDNEY: A dispute which caused severe petrol shortages throughout much of NSW during the past week was settled in the State Industrial Commission yesterday in Sydney. Mr Justice Macken ordered Caltex to pay an anomaly amount of $3.60 to its assistant operators, trainee operators, storemen and assistant storemen at the two big Kurnell refineries.
About 470 operators took indefinite strike action on October 23 in dispute over the delay in the hearing of certain claims in the industrial commission. They voted to return to work on Saturday after a proposal was worked out between their union, the Australian Workers Union, the NSW Labor Council and Caltex Management in the commission on Friday. Petrol dispute settled. (1981, November 3). The Canberra Times (ACT : 1926 - 1995), p. 3. Retrieved from http://nla.gov.au/nla.news-article126855617
Wage-round system attacked by judge
GOULBURN: Mr Justice Macken, of the NSW Industrial Commission, attacked yesterday the way in which private wage negotiations in the metal industry scheduled for December would determine general community increases. He also spoke strongly against35-hour-week agreements in certain industries and the damaging implications of the increase in casual employment. On the latter point, he referred to the "misuse" of industrial law by some fast-food chains and wondered why union action could not be taken.
Mr Justice Macken, delivering the keynote address to delegates representing about 80 councils at the annual conference of the NSW Local Government Association, was particularly disturbed by the state of wage fixing.
He had never been "particularly wrapt" in the wage-indexation system abandoned in July last year, "but at least it seemed fair". The subsequent de-facto system was based upon agreements in the metal, transport and building industries. Mr Justice Macken referred specifically to negotiations set down for December involving Mr Ron Fry, of the Metal Trades' Industry Association, and Mr Laurie Carmichael of the Amalgamated Metalworkers and Shipwrights' Union. The results of this private deal would be "translated into every sector of Australian industry whether they can afford it or not.. .
"It may be one thing which will Fire us back to a centralised system," he said. "There is no way that can be stopped, because every industry in the Commonwealth employs fitters and has maintenance workers. Whatever that fitter gets, tradesmen's assistants will get, supervisors will get and everybody in, around and about will get."
Local government would have to pay rates fixed for them without any right to be heard. On the subject of working hours, Mr Justice Macken said industries which had gained a 35-hour week, including maritime, oil, electricity production and coal-mining, were the very ones which did not deserve them.
"Those industries which have a 35-hour week are the ones - if you want to be realistic - which ought not to have it," he said. "Those are the industries which are capital intensive. By and large, the workers in most capital-intensive industries have a fairly easy shift, doing monitoring work rather than physical work."
They were industries that needed a significant degree of overtime, so there was, in fact, no35-hour week. Thirty-five hours was the basis of calculating overtime, and so it simply resulted in higher pay.
"In those industries where you would expect to find some sympathy for unemployed workers . ..these people have no sympathy at all," he said.
It would not be possible to "sell" the prospect of changing manning scales to put more workers on a shift because overtime would be reduced. Employers formed a united front with unions because the overtime was cheaper than the cost of additional employees.
Mr Justice Macken went on to say, "The fast-food industry has its own peculiar application of that principle which results in the employment of children between the ages of their intermediate certificate and the time they leave school to go on the dole. Their ages will determine [when] they are sacked." Wage-round system attacked by judge. (1982, October 19).The Canberra Times (ACT : 1926 - 1995), p. 1. Retrieved from http://nla.gov.au/nla.news-article116476482
Power crisis worsens in NSW
SYDNEY: The NSW power crisis worsened yesterday when a 300-megawatt unit was shut down for repairs and a judge granted stand-down orders affecting about 40per cent of the State's workforce.
The first group of 150,000workers was laid off yesterday in the northern zone of the State, and today the metropolitan-south and the western zones will have no industrial power. Western zone includes Broken Hill. Double zoning is to continue till the end of the week, resulting in up to 800,000 workers being stood down. But the State Labor Council is confident power workers will lift their bans and limitations today.
The NSW Minister for Energy, Mr Landa, said late yesterday that double zoning would be maintained because continuing bans at a number of power stations had prevented extra generators being returned to service.
Domestic restrictions will remain in force throughout the week. Mr Landa said the position was expected to deteriorate further last night when the No 1 unit at Liddell power station, which resumed operation only three days ago, would have to be taken out for more repairs. Repairs would begin this morning but would be delayed by work bans by foremen which are limiting shifts to one a day instead of three.
Meanwhile, a Vales Point generator needing two to three hours' repair work and 24 hours to reach capacity was still out of action because of the continuing bans. And the new 660-megawatt unit at Eraring, which was started yesterday after delays of 10 weeks, was expected to take about a month to break in.
POWERCRISIS
The assistant secretary of the NSW Labor Council, Mr John MacBean, said he believed power workers could be persuaded to lift their work bans at meetings today.
A lengthy meeting yesterday of Electricity Commission union delegates had reached unanimous agreement to try to convince members to resume normal work. Meetings of technicians and foremen at three major power stations today would consider lifting the remaining bans.
The decision by Mr Justice Macken in the State Industrial Commission yesterday to grant an application for stand-downs during the crisis will affect workers covered by 154 State awards. The application was made jointly by the NSW Employers Federation, the Chamber of Manufactures and the Metal Trades Industry Association.
Workers under some 100 State awards not affected in the State Government's zoning system have been exempted from stand-down provisions, which are to last for a month.
Mr Justice Macken said the provisions would permit workers to be rostered off work for up to two days a week without pay in industries which could not usefully employ them because of zoning. He criticised the power workers whose bans and limitations had forced him to grant the stand downs.
"It was little wonder the bans imposed by some selfish unionists had been condemned by the trade union movement," he said. He particularly regretted the enormous numbers of workers who would be affected by the stand-downs —"numbers which I am told range from between half a million and one million workers," he said.
"It is a sad commentary on industrial relations in this age to have to say that the average wage of the workers stood down is about one third of the wage of employees who have caused the stand-down, and who, throughout the stand-down periods, will continue to enjoy their high salaries while their less fortunate brothers and sisters bear the brunt of their selfish bans and limitations."
Thousands of workers in the NSW northern industrial zone were stood down yesterday as their employers shut off electricity. Some companies had to shutdown completely for the day, while others relied on emergency power supplies or their own generators to carry on production. A few industries managed to keep all their employees working by rostering them to other duties not involving the use of electricity. Essential food, agricultural and coal mining industries were exempt from the restrictions. The Newcastle-Hunter Valley region was the worst hit. Most factories stood idle and thousands of employees were stood down or rostered to other work. Many of the workers stood down opted to take the day as part of their annual leave, while others who work a 38-hour week took it as their paid leisure day. The BHP steelworks in Newcastle rescheduled production and curtailed some operations, avoiding having to stand down any workers. Power crisis worsens in NSW. (1982, March 23). The Canberra Times (ACT : 1926 - 1995), p. 1. Retrieved from http://nla.gov.au/nla.news-article126911422
_____________________________________
Death of Mrs. E. G. Ward. NOTABLE CHURCH WORKER. Mrs. Alice Ward, wife of Mr. E. G. Ward, of 'Narri' Collaroy, and widow of the late Mr. J. J. Macken, died at her residence, Collaroy, on Friday morning, after a long illness. The funeral took place on Saturday at the Manly Cemetery, after a Requiem Mass celebrated at the Church of Mary Immaculate, Manly, at which Rev. Father P. Morris, of Dee Why, assisted by Rev. Father McDonald, P.P., of Manly, officiated. Mrs. Ward was a sister of Mr. H. V. Foy and Mr. Mark Foy, and was 68 years of age. She is survived by her husband and seven children of her previous marriage. Her eldest daughter is the wife of Mr. H. H. Mason, of Darling Point and her youngest daughter is married to Dr. H. Bullock. Her sons are Mr. J. V. and IT. M. Macken, of Mark Foy's, Ltd., and Mr. N. M., N. A. and J. C. Macken. Another son, Mr. E. S. Macken, was killed in action in France in 1916. Mrs. Ward was a woman of marked character, possessed of an extraordinarily clever wit, which she could turn to account on any and every occasion. She was also of a most charitable nature, and many will miss in her a friend who could always be relied upon. She will be mourned by a large circle of friends. — R.I.P. Death of Mrs. E. G. Ward. (1931, June 25). The Catholic Press(NSW : 1895 - 1942), p. 14. Retrieved from http://nla.gov.au/nla.news-article103848425
A sensational struggle with a burglar took place between Mrs. Macken at her residence at Mary-street, Longueville, and an unknown man, at between 1 and 2 o'clock yesterday morning. Mrs. Macken and a female servant were the sole occupants of the house at the time, Mr, Macken being out of town. Mrs. Macken was disturbed at about 1.30 in the morning by hearing a noise in the dining room. She at first thought that it might have been occasioned by the nurse, who always came early in the morning, but in order to be prepared for any emergency she procured her husband's revolver and went into the dining-room. She could hear nothing, but could feel that someone was near her, so she called out to ascertain if it was the nurse. No sooner had she spoken than she was seized by a man, who caught hold of her by the throat and swung her backwards, her head striking against the wall. She, however, retained her grasp of the revolver and tired, the bullet lodging in the lintel of the door. The burglar was evidently unprepared to face firearms, as he let Mrs. Macken go and dodged behind the dining-room table. The room was in perfect darkness, but a thunderstorm was in progress at the time, and the lightning flashes every now and again lit up the room. Whenever this happened Mrs.Macken fired in the direction of the man. After he had dodged the fifth shot he evidently thought if he stayed much longer he might meet with a mishap, so he dashed through the dining-room door on to the verandah. Mrs. Macken still pursued him, and as there were no more cartridges left in the revolver she threw it after him, but he managed to make good his escape.
An Investigation of the premises yesterday morning disclosed blood stains on and around the verandah. They were traced along the garden walk, across the road to the river, where the trail was lost. A quantity of silver, which the burglar had collected, was found on the dining-room floor. It is thought that in attempting to remove a heavy silver salver from . sideboard in the dining-room the burglar caused the disturbance that awakened Mrs. Macken. The police have examined the premises, but could find no sign of a forcible entry into the house. Mrs. Macken is a sister of Mr. Mark Foy, of Oxford-street. She was entirely prostrated after her terrible experience. INTERCOLONIAL TELEGRAMS. [From Sydney papers] NEW SOUTH WALES. (1896, March 10). The Mercury (Hobart, Tas. : 1860 - 1954), p. 3. Retrieved from http://nla.gov.au/nla.news-article9322026
Mrs. Edward Ward, who has been visiting her son, Mr. Noel Macken, at his station home; Mimic, in the Western District, returned to Collaroy early in the week; As she intends to entertain during the visit of the British Fleet, she has taken a flat at Waratah House, and will use her bungalow at Collaroy only for week-end parties. TEA-TABLE GOSSIP. (1924, March 30). Sunday Times (Sydney, NSW : 1895 - 1930), p. 16. Retrieved from http://nla.gov.au/nla.news-article128145848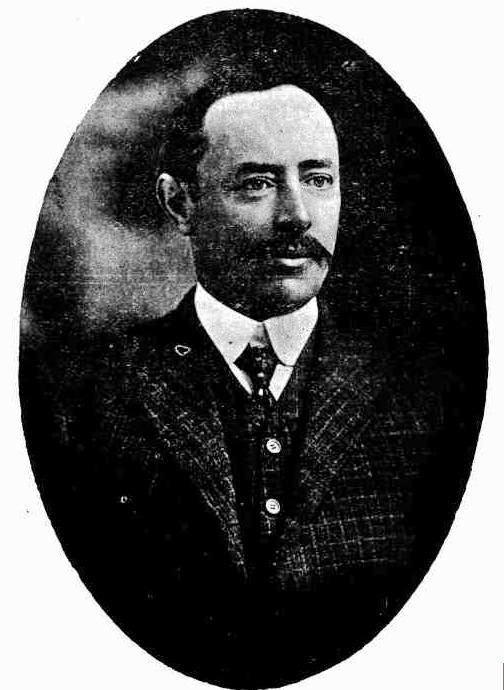 Mr. J. J. MACKEN. Mr. J. J. (James Jospeh) Macken of the firm of Mark Foy, of Sydney, died early on Friday (4.8.1908) morning at 'Colebrook,' Double Bay, after seven weeks' illness. His loss will be keenly felt in business circles as well as in the world of sport, where he was a prominent figure. For some time past Mr. Macken had been a patient in a private hospital for an internal complaint, for which he had to undergo an operation about several weeks ago. For a time his recovery was anticipated, but for the last week his condition became serious, and a telephone message was sent to St. Mary's Cathedral early on Friday morning, when the Rev. J. O'Gorman, who had spiritually attended Mr. Macken during his illness, attended the call and administered the last Sacraments.
Mr. Macken was a native of Ireland, and was in his 45th year. He had received a sound commercial training, and when he arrived in Sydney, about 25years ago, he became a member of the firm of Mark Foy, the other members being Messrs. Francis, Mark, and Victor Foy. Mr. Macken married Miss Alice Foy, daughter of the late Mark Foy, of Melbourne. He leaves a widow, six sons and two daughters.
His eldest son is a student at Sydney University, and one of his daughters is at present on her way from Europe, in company with Mr. Francis Foy, the head of the firm. She has been studying for several years in Europe. She will arrive in Sydney in about a fortnight's time.
In sporting circles Mr. Macken was perhaps best known. His career on the turf was that of a clean, honourable sportsman, whose death is regretted by ail who knew him. He was a member of the Australian Jockey Club, Tattersall's Club, and the New South Wales Breeders, Owners, and Trainers' Association, and was vice-president of the last named body. He owned a number of racehorses, including Australian Colours, Tartan. Luciana, Oronisilla, and Archillan. Australian Colours carried Mr. Macken's popular livery — white and green check— to victory in Australia and England; but undoubtedly the best horse he owned was Tartan, a son of the famous Lochiel, who credited his owner with the Australian Cup. 1906,V.R.C. C. B. Fisher Plate, 1905 (when he ran third to Blue Spec in the Melbourne Cup), V.R.C. Loch Plate and Champion Stakes, 1906, and the Cumberland Stakes and the A.J.C. Plate, 1906, as well as several minor races.
Mr. Macken also took a keen interest in aquatics. He was a member of the Sydney Sailing Club and the Sydney Flying Squadron Club, and held the position of president of the latter institution up to the time of his death, while with his 24 footer Southern Cross he took part in the contests promoted by both clubs. At the St. Ignatius' College sports Mr. Macken was a well-known figure. At that college he had his sons educated, and, in addition, was a practical supporter of all the college undertakings.
At a meeting' of the council of the Master Retailers' Association on Friday last a resolution was passed expressing the sincere regret of the council at the death of Mr. J. J.Macken, who was vice-president of the association. The Shop Assistants' Union of New South Wales placed on record its appreciation of Mr. Macken's sterling worth as a fair minded employer, who at all times was prepared to recognise the rights and to deal justly with all sections of his employees.
A Requiem Mass for the repose of the soul of the deceased was celebrated on Monday morning at nine in St. Mary's Cathedral by Monsignor O'Haran, and was well attended. The funeral, which moved from 'Colebrook,' Double Bay, the residence of Mr J.J. Smith, brother-in-law of deceased, was largely attended. In addition to several hundred employees of Mark Foy's business house, many representatives of city sporting associations marched in procession to the cemetery. At 3 o'clock Monsignor O'Haran, attended by the Rev. J. O'Gorman, arrived at 'Colebrook' and recited the prayers for the dead. He was assisted by the Very Rev. T. Garflan (Rector of St. Ignatius' College, Riverview), the Rev. Father P. B. Kennedy O.F.M., end Father J. C. Coleman, O.F.M. The remains were then conveyed to the South Head cemetery, where they were interred. The chief mourners were Masters Victor, Hugh, Robert, and Neville Macken (sons), Messr.s. Mark Foy, J. J. Smith, and A. M'Gahey (brothers -in -law), Messrs. Chester and Gibson Foy and Mark M'Gahey (nephews). Among others present were: — The Lord Mayor of Sydney (Alderman Thomas Hughes), Dr. Chisholm Ross, Dr. Kenna, and Dr. C. W. MacCarthy, Majors Lenhan and Greed, A. Flanagan, Joseph Haigan, P. Tiernan,.... and many others. — R.I. P. THE LATE MR. J J. MACKEN. Mr. J. J. MACKEN. (1908, September 10). Freeman's Journal(Sydney, NSW : 1850 - 1932), p. 22. Retrieved from http://nla.gov.au/nla.news-article111280893
Death of Mr. J. J. Macken. THOUSANDS MOURN A PROMINENT SPORTSMAN AND CATHOLIC CITIZEN. (1908, September 10). The Catholic Press (NSW : 1895 - 1942), p. 19. Retrieved from http://nla.gov.au/nla.news-article104911265
DR. AND MRS. HOWARD BULLOCK,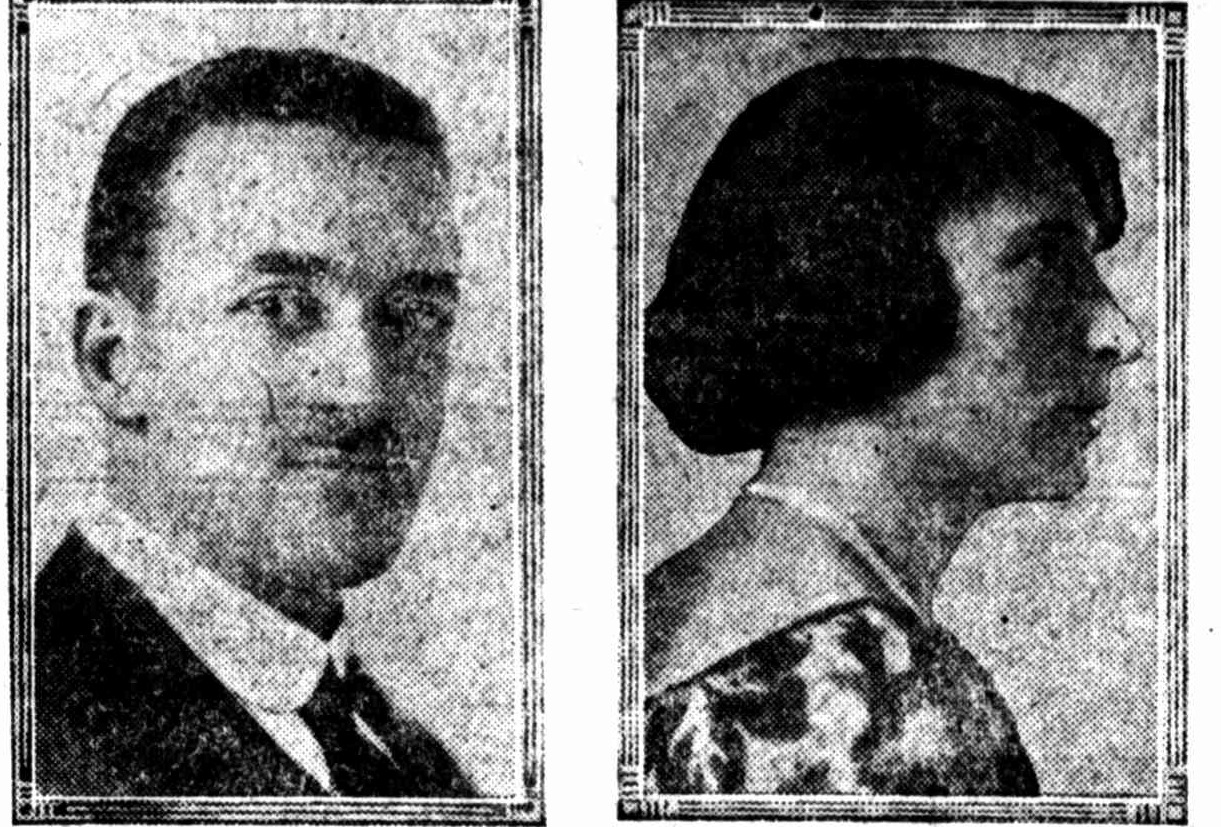 Who were married on Tuesday. The bride was Miss Lorna Mary Macken, daughter of the late Mr. James J. Macken, of Crum Crum, Longueville, and of Mrs. Edward G. Ward, of Narri, Narrabeen. — Photos by Romney Studios and Bernice Agar. SUNSHINE CLUB (1923, February 25). Sunday Times (Sydney, NSW : 1895 - 1930), p. 3. Retrieved from http://nla.gov.au/nla.news-article120541903
Sydney Flying Squadron Yacht club was founded in 1891 by Mark Foy in the birthplace of the famous Sydney Harbour sailing skiff classes. It was founded to allow people to enjoy skiff sailing regardless of financial background.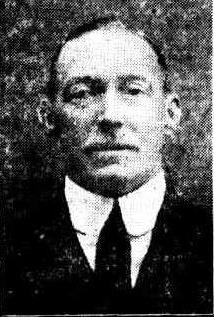 THE LATE MR. J. J SMITH. The death occurred at his residence, Colebrook, Double Bay, yesterday afternoon, of Mr. James Joseph Smith, chairman and managing director of Mark Foy's, Ltd. Mr. Smith died on the anniversary of his birth, which occurred in Dublin 57 years ago.
He arrived in Australia when In his twenties, and soon afterwards entered the business of the late Mr. Mark Foy. He rose in the service until, upon the retirement of the late Mr. Francis Foy, he became general manager, being associated with Mr. Victor Foy. Mr. Smith had been suffering from illness for the past two months, and had been confined to the house for several days. He was exceedingly popular with all classes, and was of a very charitable disposition.
He married Sophie, youngest daughter of the late Mr. Mark Foy. She died some years since, leaving two daughters and one son. The former have just returned from a trip to England. He married later, Miss Turner, of Hobart, who also survives him. He was particularly fond of yachting and waterside recreation, being a member of the Royal Prince Alfred Yacht Club. He also spent a good deal of time at Pittwater. He was a member of the A.J.C. Mr. Smith was the son of the late Mr. William Smith, a large army contractor In Dublin. THE LATE MR. J. J. SMITH. (1921, July 22). The Sydney Morning Herald (NSW : 1842 - 1954), p. 10. Retrieved from http://nla.gov.au/nla.news-article15929913
Delightful House Party. Mrs. J. J. Smith and Mr. Neil Smith are entertaining a large party of friends at 'Trincomalee' Pittwater, these latter weeks. Mrs. Smith will not return to her flat at 'The Wellington,' Woollahra, for another month or so. She is a charming hostess, and is particularly good to the younger set. SOCIAL NEWS AND GOSSIP. (1925, December 31). The Catholic Press (NSW : 1895 - 1942), p. 22. Retrieved from http://nla.gov.au/nla.news-article114740613