Inbox and Environment News: Issue 432
December 8 - 14, 2019: Issue 432
Narrabeen's Octopus
Joe says: 'This is our resident octopus in the tidal flats near the swimming pool at Narrabeen Headland. The water is about half a metre deep, and the picture was taken laying down on the pool wall and holding my mobile phone camera out at arms length. The okkie comes out when big seas expose the rocks. Normally these rocks are under water and covered in sand.'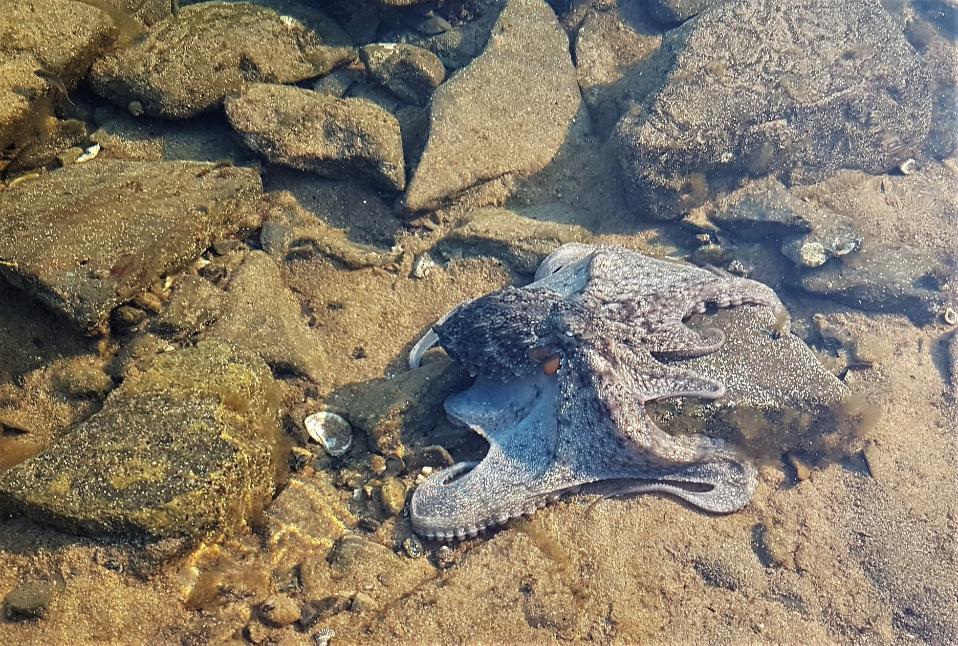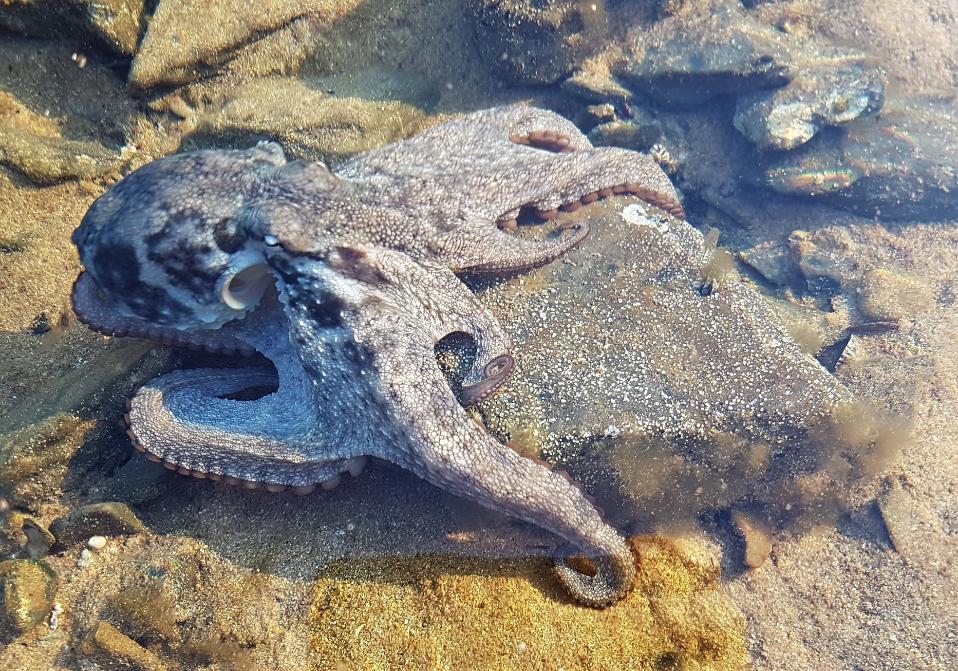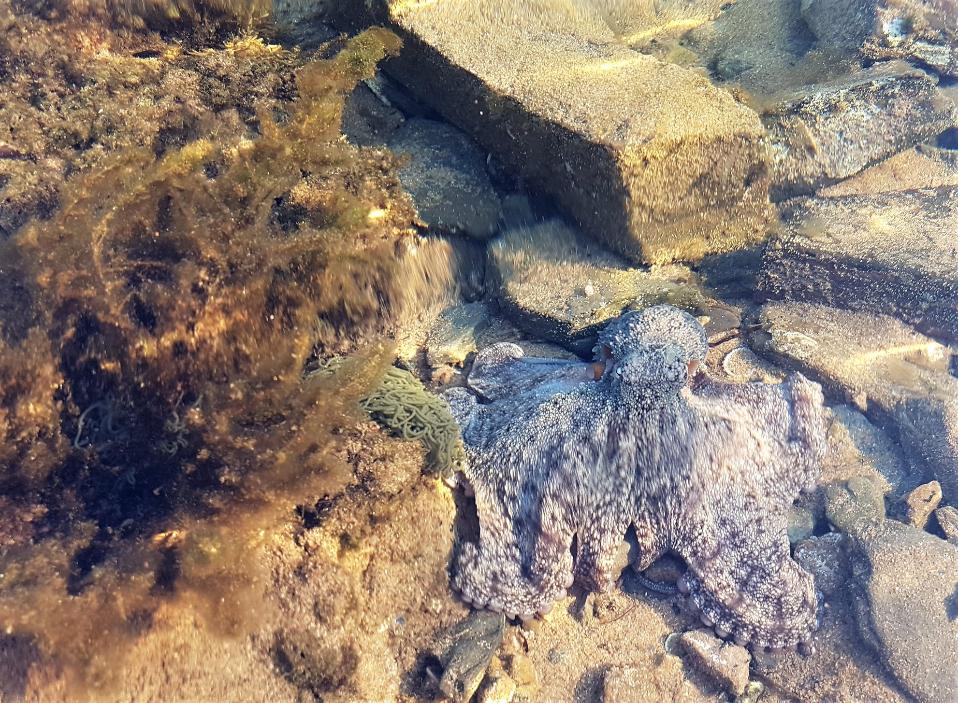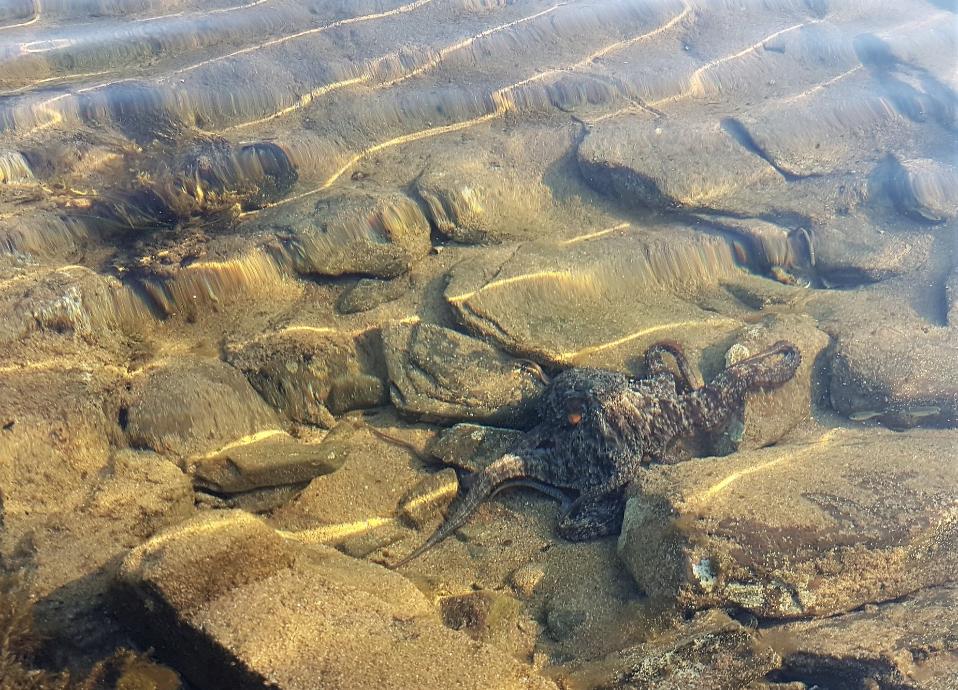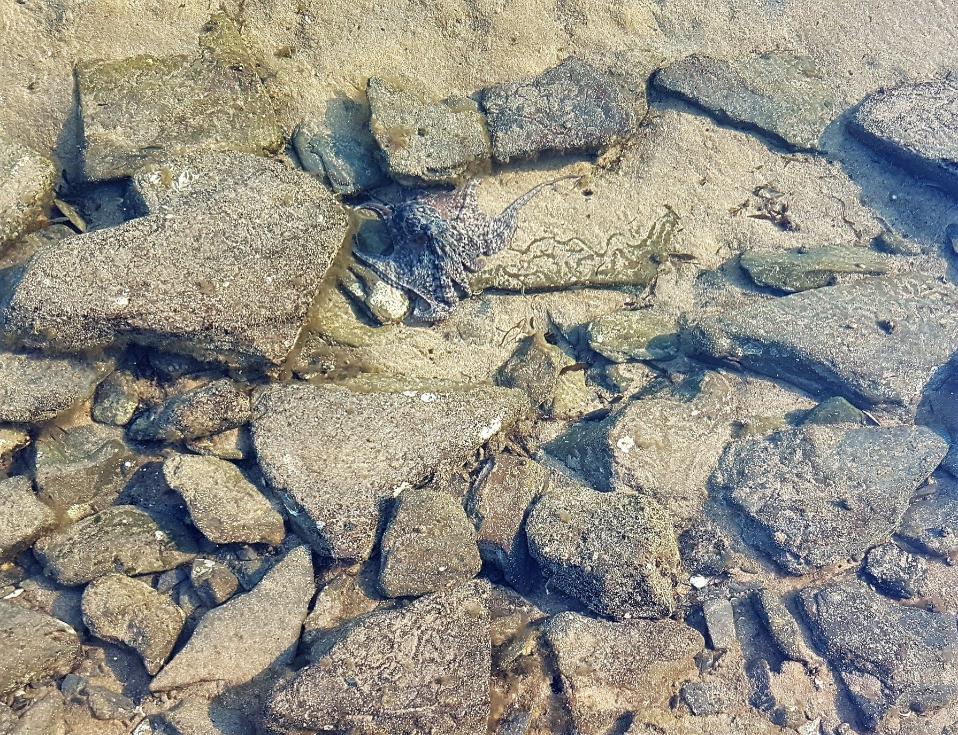 Dense Bushfire Smoke Impacting Pittwater
Smoke from fires on the Central Coast, particularly the Three Mile (Hawkesbury and Central Coast LGA) has brought thick smoke to the valleys and estuary this week.
The NSW RFS posted on December 5th, 2019:
A bush fire is burning in the Yengo and Dharug National Parks. The fire is more than 6,300 hectares in size and is out of control.
Current Situation
The fire is burning in the Yengo and Dharug National Parks between Lower Macdonald and Mangrove Mountain.
Winds are resulting in significant smoke impacting Mangrove Mountain and surrounding areas.
Smoke is also visible further to the east, across the broader Central Coast.
The Wrights Creek fire is burning to the north.
Today will be a challenging day for firefighters and communities in parts of the Central Coast.
Under forecast conditions, two large fires are likely to spread in an easterly direction.
These fires may impact on areas between Kulnura and Greengrove, including Mangrove Creek, Mangrove Mountain and Upper Mangrove.
Advice
If you are in the areas between Kulnura and Greengrove, including Mangrove Creek, Mangrove Mountain and Upper Mangrove, decide now what you will do if you're threatened by fire. The safest option is to leave early, such as early in the day – and return only when it is safe. Only stay if you and your property is well prepared. Stay up to date and be ready to take action.
If you are in the area of Lower Mangrove, Central Macdonald and Lower Macdonald, activate your bush fire survival plan. If your plan is to leave, leaving early is the safest option.
If you are in the areas of Central Mangrove and Peats Ridge, monitor conditions. Watch out for embers and spot fires. Activate your bush fire survival plan. If you are not prepared, leaving early is your safest option.
If you are in the area of St Albans, Gunderman, Spencer, Wendoree Park, Calga, Mount White, Glenworth Valley and Kulnura, monitor conditions. Know what you will do if fire threatens.
Wisemans Ferry Road is closed from the Ferry, east to Mill Creek near Gunderman.
If you are threatened by fire
Do not be in the path of the fire.
Protect yourself from the heat of the fire. Wear protective clothing and footwear. Cover all exposed skin.
If the fire impacts, seek shelter in a solid structure to protect yourself from the heat of the fire.
If your life is at risk, call Triple Zero (000).
Other Information
Stay up to date on bush fires in your area by checking the NSW RFS website, listening to your local radio station, or by calling the NSW RFS Bush Fire Information Line on 1800 679 737.
For information on road closures, check Live Traffic NSW. Roads may be closed without warning.
Photo-Thursday morning in Pittwater: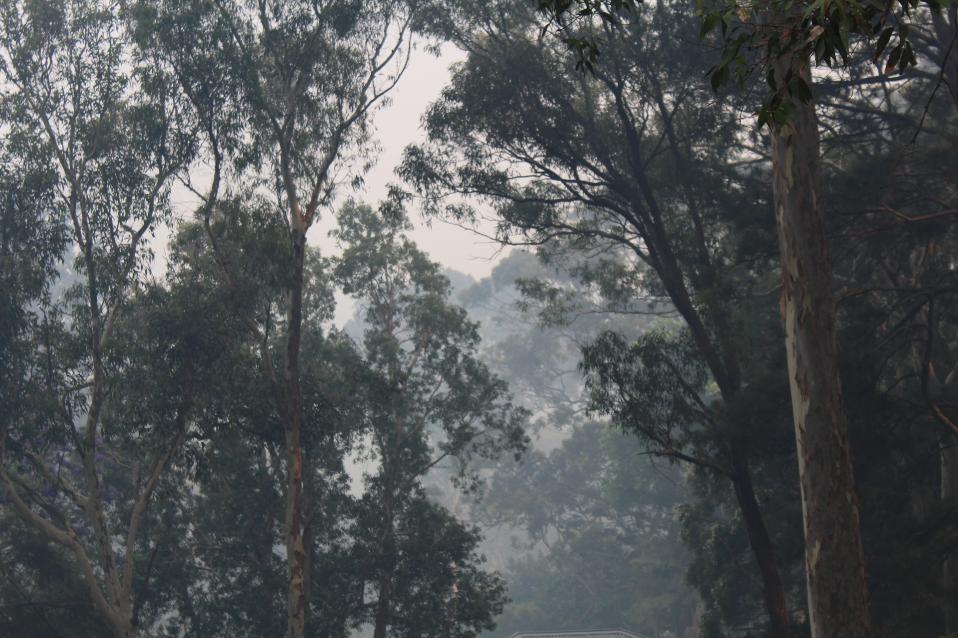 Geminids 2019
Geminids meteor shower 2019 will begin at 1:00 pm on Saturday, 14 December and ends at 10:00 am on Sunday, 15 December
All times are in Eastern Australia Time.
The Geminid meteor shower – always a highlight of the meteor year – will peak around the mornings of December 13 and 14, 2019, though under the light of a bright waning gibbous moon. The Geminids are a very reliable shower if you watch at the peak time of night (centered on about 2 a.m. for all parts of the globe) and if you watch in a dark sky. The meteors tend to be bold, white and quick. This shower favors Earth's Northern Hemisphere, but it's visible from the Southern Hemisphere, too. The curious rock comet called 3200 Phaethon is the parent body of this shower.
On a dark night, near the peak, you can often catch 50 or more meteors per hour. The bright moonlight this year is sure to diminish the numbers this year, but some Geminids should be bright enough to overcome the moonlit glare.
The Geminids are a prolific meteor shower caused by the object 3200 Phaethon, which is thought to be a Palladian asteroid with a "rock comet" orbit. This would make the Geminids, together with the Quadrantids, the only major meteor showers not originating from a comet. The meteors from this shower are slow moving, can be seen in December and usually peak around December 6–14, with the date of highest intensity being the morning of December 14. The shower is thought to be intensifying every year and recent showers have seen 120–160 meteors per hour under optimal conditions. Geminids were first observed in 1862, much more recently than other showers such as the Perseids (36 AD) and Leonids (902 AD).
The meteors in this shower appear to come from the radiant in the constellation Gemini (hence the shower's name). However, they can appear almost anywhere in the night sky, and often appear yellowish in hue. Well north of the equator, the radiant rises about sunset, reaching a usable elevation from the local evening hours onwards. In the southern hemisphere, the radiant appears only around local midnight or so.
The Earth passes through the debris cloud scattered by an asteroid called 3200 Phaethon in December each year. The fiery display is caused as the debris is vapourised by the Earth's atmosphere, having travelled through the solar system for 4.6 billion years.
The Geminids shower is noted for producing 120 or more meteors per hour, which travel at around 35 kilometres per second, and are often brightly coloured. The colours indicate the main chemical composition of that particular meteor. An orange or yellow colour denotes sodium, yellow signifies iron, blue-green means magnesium and violet indicates calcium. If the meteor appears red, that's nitrogen and oxygen atoms in the atmosphere glowing as they are super heated by the space dust slamming into them at high speed.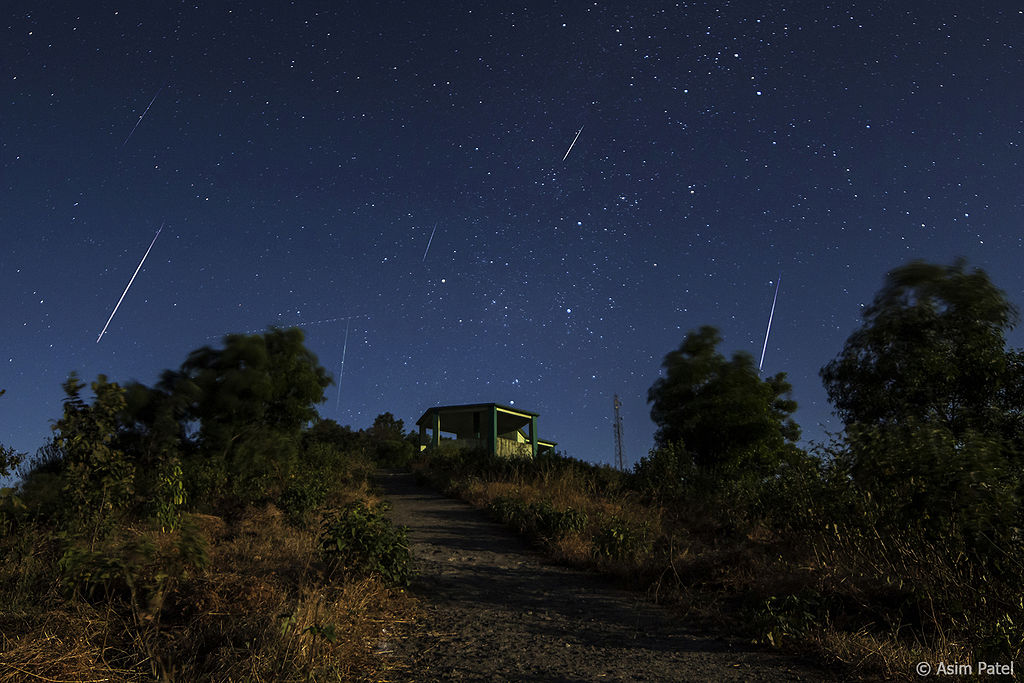 Two-Year-Old Return And Earn Keeps Delivering
The NSW Government's highly successful Return and Earn container deposit scheme has had its second birthday and continues to deliver big wins for the environment and the community.
Parliamentary Secretary for the Environment James Griffin said the people of NSW should be commended with over 2.7 billion containers returned through its state wide network of more than 640 return points.
"Return and Earn now has over 5 million drink containers returned everyday and growing, and an impressive current redemption rate of 67% of eligible drink containers supplied into NSW," Mr Griffin said.
"This time last year we were celebrating one billion containers returned on the first anniversary of Return and Earn. The growth of the scheme has seen us knocking on the door of three billion a year later."
"There's no doubt Return and Earn has been a great success and has fundamentally changed people's thinking and behavior around litter."
"Equally significant has been the impact Return and Earn has had on charities, schools and community groups, helping 430 official donation partners and countless other groups to fund a range of programs, resources and assistance for communities in need."
This summer, people can opt to donate their 10c refund to 'Bottles for the Bush' and help support our fire and drought affected communities by donating some of their empty bottles, cans and cartons at any Return and Earn reverse vending machine.
"Return and Earn was launched with the aim of reducing litter and it's doing that. Other flow on benefits have been revealed as people find new ways to utilise the fundraising benefits of the scheme it's inspiring.
"Over $617,000 has been raised for donation partners in the last two years. The scheme has brought on so many positives across communities and every bottle returned is a bottle redirected from landfill and a win for the environment.
"Alongside scheme coordinator Exchange for Change an d network operator TOMRA Cleanaway, we look forward to continuing to work closely with industry to find new and innovative ways to make 'Returning and Earning' even easier and continue to grow," Mr Griffin said.
For more information about Return and Earn including your nearest return point or to check container eligibility, visit
www.returnandearn.org.au
.
Farmers Take New Acland Fight To High Court
Determined Oakey farmers battling the New Acland thermal coal mine expansion on the Darling Downs have sought special leave to apply to the High Court.
The move comes after farmers resolved to continue the fight following a disappointing Queensland Court of Appeal decision last month.
Darling Downs dairy farmer David Vonhoff said farmers battling severe drought and the threat of searing bushfires could not afford to lose their precious groundwater to mining.
"We're really in a dire situation here with this drought, while farmers just east of here have been battling extreme bushfires the likes of which we've never seen before," he said.
"We just can't afford to lose our groundwater to the Acland Stage 3 coal mine - we need water to produce food and we need water to fight fires, we can't waste it on a coal mine.
"Our agricultural soils are among the top 1.5 percent in the state and we need to protect them from mining.
"It's been incredibly difficult for us fighting this mine for over a decade, it's a real David and Goliath battle, but our future is at stake."
Oakey Coal Action Alliance secretary Paul King said the farming and residents group had made the decision to take the challenge to the High Court, because of the severe risks posed by the Acland Stage 3 project.
"We believe it is really crucial that these important matters are tested in court, because once groundwater is lost it's most likely lost forever," he said.
"That's why we've sought special leave to appeal to the High Court.
"We hope that we will have an opportunity to have these important legal issues considered in the highest court in the country."
Last year, the Land Court found recommended against the mine because the impacts on groundwater would be too severe and the noise and dust impacts too great. You can read a short summary of the Land Court decision
here
. Then earlier this year, the Queensland environment department rejected an Environmental Authority for the mine.
But New Hope Coal appealed the Land Court decision, and the Supreme Court found in their favour, ruling that the Land Court did not have the jurisdiction to reject the mine on groundwater grounds.
That represents a major change in legal interpretation which will also mean groundwater can not be considered by the Land Court in future legal cases against coal mines.
However, local farmers have now lodged their own appeal to the Supreme Court decision, in a bid to stop this damaging project once and for all.
Gas Inquiry Hearing Reveals NSW Government Is Unaware And Unprepared On CSG
A damning public hearing held today by the NSW Legislative Council inquiry into the implementation of the Chief Scientist's recommendations on coal seam gas has revealed the state is unaware and unprepared for the damage of coal seam gas production, according to Lock the Gate Alliance.
The inquiry heard from senior representatives of government agencies, including the EPA and the Industry Division of the Department of Planning, Industry and Environment.
Department representatives were unable to answer a series of questions from the NSW Opposition and Independent MLC Justin Field about the implementation of recommendations the Chief Scientist said were necessary to manage the environmental risks of the industry five years ago.
Lock the Gate Alliance NSW Coordinator Georgina Woods said, "Five years on, the NSW Government has completely dropped the ball on implementing their promised world-class regime for coal seam gas, putting farmers and water at risk.
"The NSW Government is leaving farming communities in the North West of the state exposed to unforeseen and irreversible loss or contamination of water resources and other environmental and health impacts from the CSG industry.
"The agencies that appeared today were unable to answer basic questions about the way coal seam gas is managed in New South Wales. It was very clear that major recommendations made by the Chief Scientist have not been implemented.
"The biggest gaps include failure to provide a three-tiered environmental insurance scheme, failure to establish a standing expert committee, and failure to develop systems that can detect cumulative impacts of the industry on precious water resources.
"There are 12 legacy coal seam gas licences languishing over the farmland, towns, and precious water resources of the drought-stricken North West that have never been through the Government's new system for assessing areas for gas exploration.
"Today's hearing demonstrates that New South Wales is unprepared for the damage of coal seam gas five years after the people of the state were promised that damage could be managed. No one even knows what has become of those promises.
"There is still time to stop the Narrabri gas project from puncturing holes in a recharge aquifer of the Great Artesian Basin, one of Western New South Wales' most precious groundwater resources. There is still time to make this important water recharge area a no-go zone for coal seam gas and safeguard the water resources of North West New South Wales."
Business Chamber's Gas Gullibility Lets Down Its Members
Building expensive polluting gasfields in NSW's north west cannot lower gas prices in New South Wales, according to Lock the Gate Alliance.
Responding to a new report released by the NSW Business Chamber today, LTGA NSW spokesperson Georgina Woods said the Chamber's narrow focus on expensive gas from Narrabri failed to provide a vision for sustainable industry supplied by low-cost and inexhaustible renewable energy.
"Santos is an architect of the gas price crisis and it is in that company's interests for gas prices to stay high enough to crash the state's manufacturing industry," she said.
"Coal seam gas produced at Narrabri would entrench the pattern of high-cost, low-yield and unreliable gas supplies. What manufacturing needs in NSW is a bit of vision and an industry plan for switching to cheap and reliable renewable energy.
"This year's
ACCC gas inquiry interim report
showed that supply for gas has increased and demand has dropped. There's no shortage of gas, there's just too much expensive gas that drains aquifers and wrecks rural communities and economies.
"We are in a gas price crisis and drilling new polluting and expensive gasfields will do nothing to solve the problem."
Ms Woods said opening up the north west of NSW to coal seam gas production would risk damaging the Great Artesian Basin and other aquifers relied on by farming communities, particularly during this time of severe drought.
"Farmers and communities in the north west do not deserve to be sacrificed for the profits of big gas companies and neither does our manufacturing industry," she said.
"The NSW Business Chamber needs to look ahead to how its members can access the reliable low-cost energy that renewables can provide.
"It needs to tell the Government to support switching industry to cheaper, sustainable energy to bring down costs and safeguard our precious groundwater."
On Hot Days Please Keep Your Bird Baths Topped Up Or Put Out Dishes Of Water For Local Fauna
Photo by AJG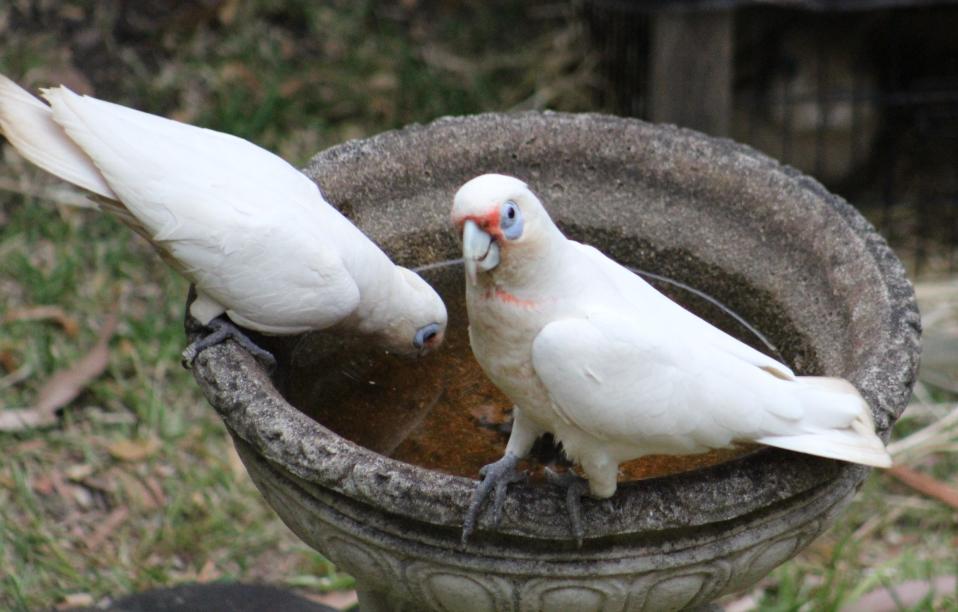 PNHA Christmas Cards Of Local Beauties
PNHA Christmas Cards with local trees, flowers, insects, birds, scenery are now ready - write your own message. $2.00 each. Contact us on pnhainfo@gmail.com to select from our big range. A few of the images available on their covers sampled here: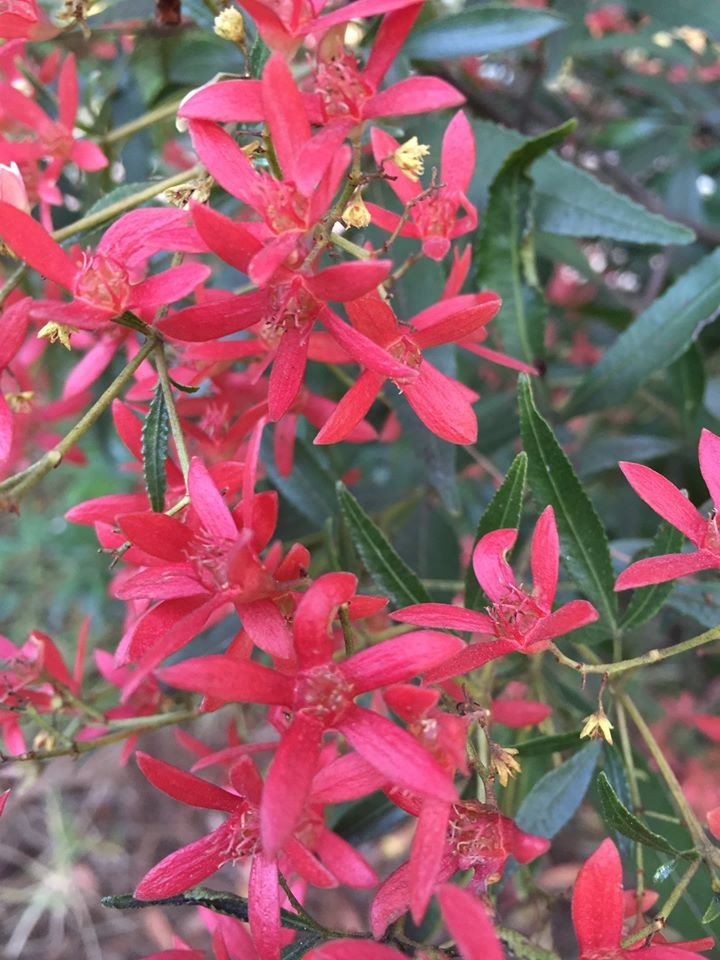 NSW Christmas Bush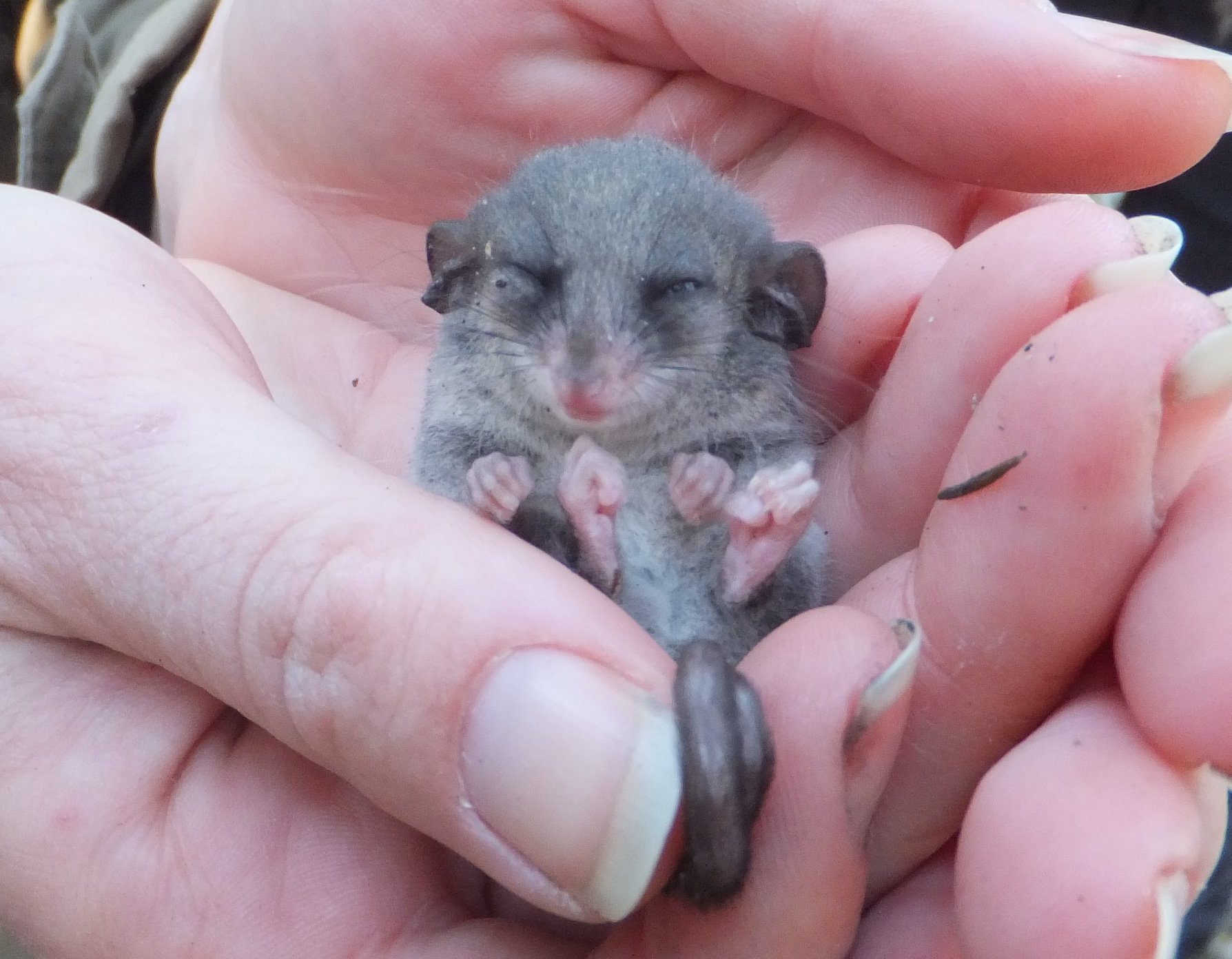 Sleepy Eastern Pygmy Possum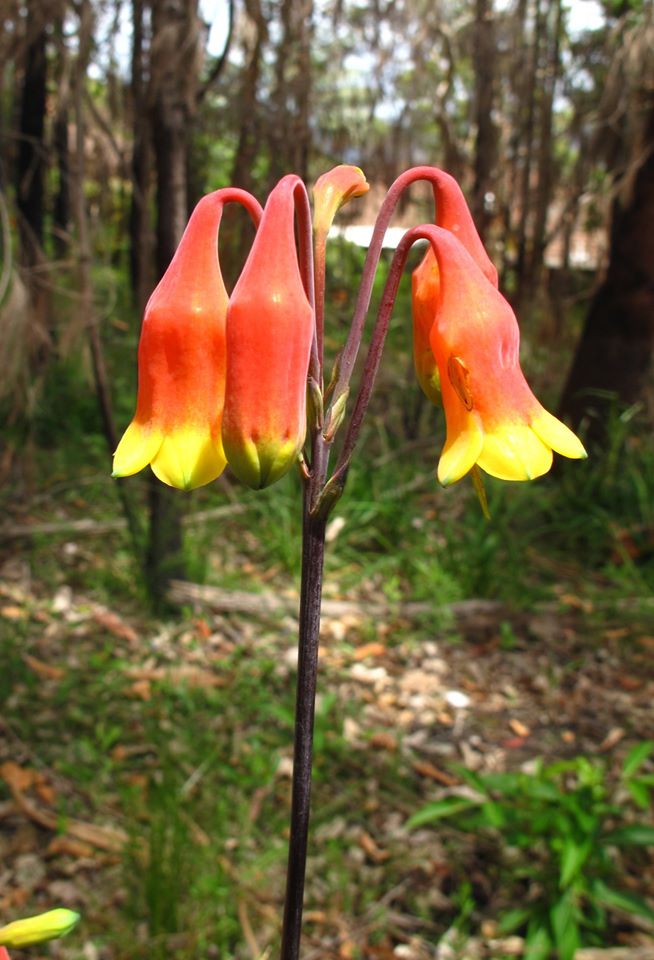 Christmas Bells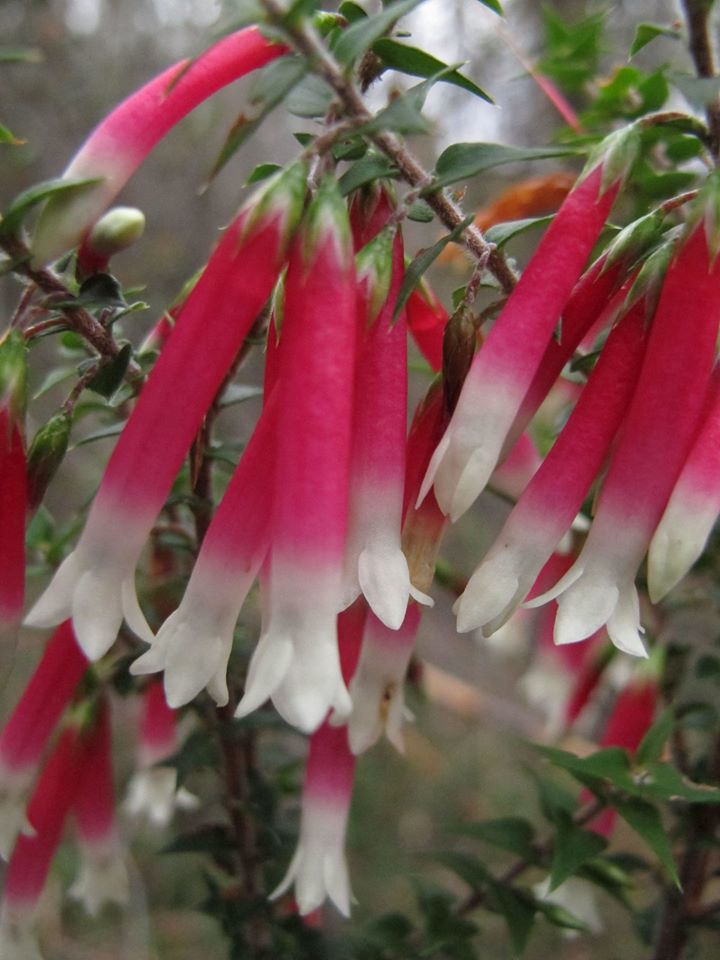 Native Fuchsia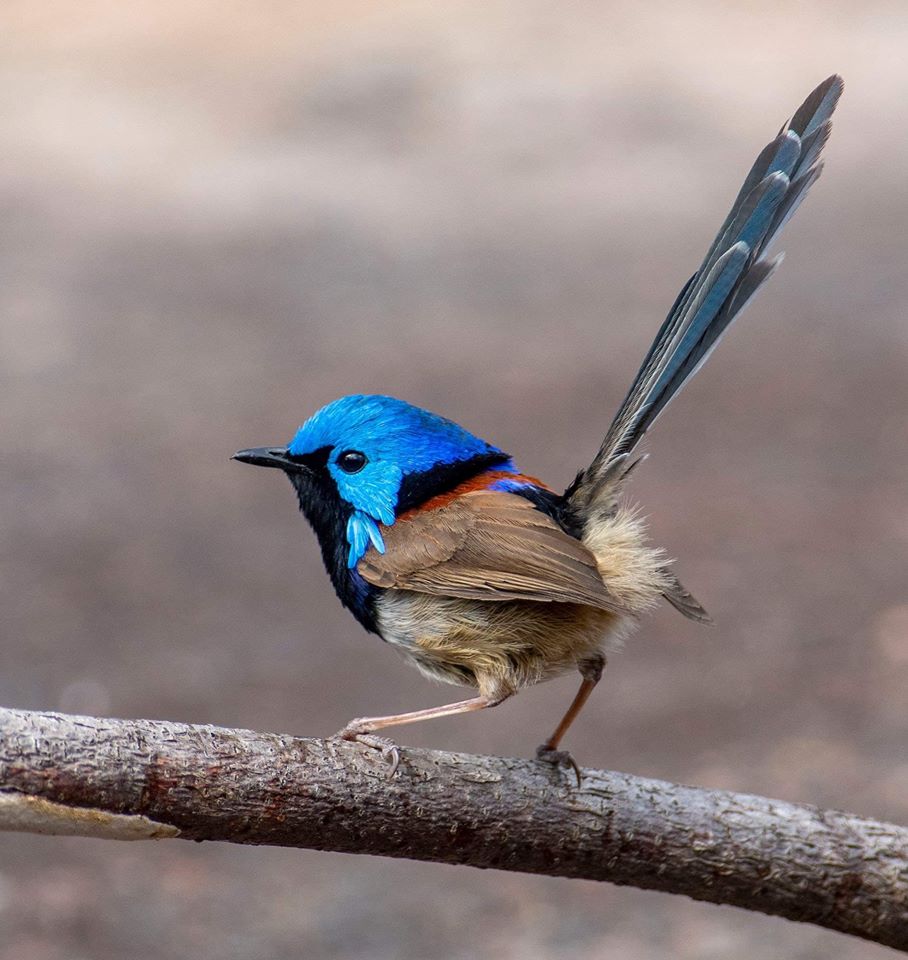 Male Variegated Wren, one of Pittwater's two Fairy Wrens. Image: Neil Fifer

Bushcare In Pittwater
For further information or to confirm the meeting details for below groups, please contact Council's Bushcare Officer on 9970 1367
BUSHCARE SCHEDULES
Where we work Which day What time
Avalon
Angophora Reserve 3rd Sunday 8:30 - 11:30am
Avalon Dunes 1st Sunday 8:30 - 11:30am
Avalon Golf Course 2nd Wednesday 3 - 5:30pm
Careel Creek 4th Saturday 8:30 - 11:30am
Toongari Reserve 3rd Saturday 9 - 12noon (8 - 11am in summer)
Bangalley Headland 2nd Sunday 9 to 12noon
Bayview
Winnererremy Bay 4th Sunday 9 to 12noon
Bilgola
North Bilgola Beach 3rd Monday 9 - 12noon
Algona Reserve 1st Saturday 9 - 12noon
Plateau Park 1st Friday 8:30 - 11:30am
Church Point
Browns Bay Reserve 1st Tuesday 9 - 12noon
McCarrs Creek Reserve Contact Bushcare Officer To be confirmed
Clareville
Old Wharf Reserve 3rd Saturday 8 - 11am
Elanora
Kundibah Reserve 4th Sunday 8:30 - 11:30am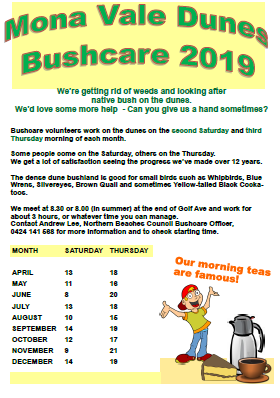 Mona Vale
Mona Vale Beach Basin 1st Saturday 8 - 11am
Mona Vale Dunes 2nd Saturday+3rd Thursday 8:30 - 11:30am
Newport
Bungan Beach 4th Sunday 9 - 12noon
Crescent Reserve 3rd Sunday 9 - 12noon
North Newport Beach 4th Saturday 8:30 - 11:30am
Porter Reserve 2nd Saturday 8 - 11am
North Narrabeen
Irrawong Reserve 2nd Saturday 2 - 5pm
Palm Beach
North Palm Beach Dunes 3rd Saturday 9 - 12noon
Scotland Island
Catherine Park 2nd Sunday 10 - 12:30pm
Elizabeth Park 1st Saturday 9 - 12noon
Pathilda Reserve 3rd Saturday 9 - 12noon
Warriewood
Warriewood Wetlands 1st Sunday 8:30 - 11:30am
Whale Beach
Norma Park 1st Friday 9 - 12noon
Western Foreshores
Coopers Point, Elvina Bay 2nd Sunday 10 - 1pm
Rocky Point, Elvina Bay 1st Monday 9 - 12noon
Grants Available To Reduce Climate Change Impacts
NSW communities are invited to apply for grants that will assist them reduce climate change impacts such as heatwaves, bush fires or floods.
The Increasing Resilience to Climate Change (IRCC) community grants program is providing $600,000 in the first round of grants. Grants between $10,000 and $30,000 are available for individual projects.
Community groups can partner with local councils in their applications for funding under the IRCC.
The grants are funded through the Climate Change Fund, which allows the NSW Government to better support the community in its response to the effects of climate change.
Environment Minister Matt Kean said these grants will help local communities plan, coordinate and take action to increase their resilience and adapt.
"IRCC grant funding has already benefited Western Sydney Regional Organisation of Councils for a cool suburbs rating tool and Bega Valley Shire Council to upgrade community halls to be more climate-resilient during extreme heat events," Mr Kean said.
Apply for round one funding by 31 January 2020
HERE
Aussie Bread Tags Collection Points
Collecting bread tags enables us to provide wheelchairs that change the life of disabled people in need, as well as keeping the tags out of landfill to help to preserve the environment.
Bread Tags for Wheelchairs was started in South Africa in 2006 by Mary Honeybun. It is a community program where individuals and organisations collect bread tags, which are sold to recyclers. The money raised pays for wheelchairs for the less fortunate which are purchased through a local pharmacy. Currently about 500kg of bread tags are collected a month in South Africa, funding 2-3 wheelchairs.
We have been collecting bread tags nationally in Australia since September 2018 and now have more than 100 collection points across the country. In February 2019 we started local recycling through Transmutation - Reduce, Reuse and Recycle in Robe, SA, where our tags are recycled into products such as door knobs and bowls. Tags from some states are still sent to South Africa where a plastics company called Zibo recycles them into seedling trays.
These humble bits of polystyrene can make a real difference so get your friends, family, school, workplace and church involved. Ask school tuck shops and boarding school kitchens, child care centres, aged care facilities, hospitals, cafes and fast food outlets to collect for you - they get through a lot of bread!
All the information and signage for collecting or setting up a public collection point is
on our website
.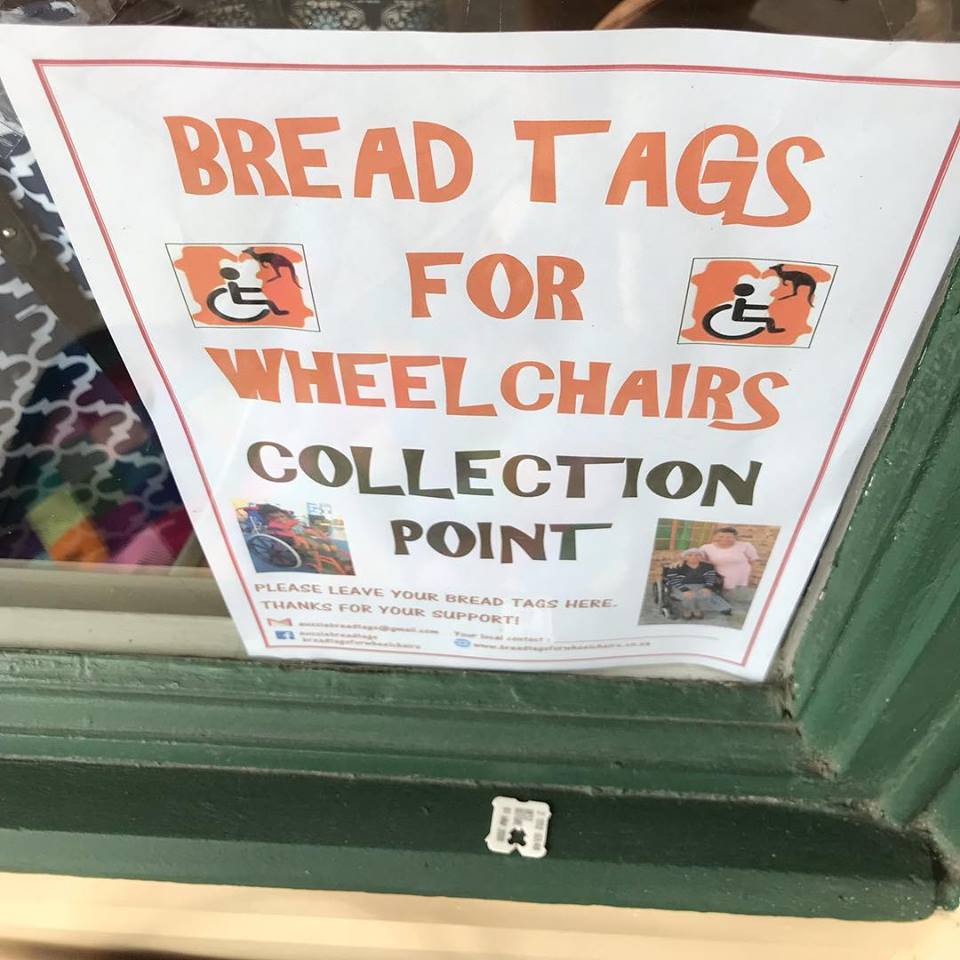 Surfing NSW Unveils 2020 Event Calendar
With less than a month until the end of the year, Surfing NSW has unveiled its 2020 event calendar.
Over 40 events are already confirmed to be taking place over the calendar year, with proceedings getting underway from the 14th – 16th January when the Rip Curl GromSearch National Final kicks off in the Illawarra.
The full list of events can be found
here
- also available to download as a PDF below.
Benchmark events on the calendar include The Sydney Surf Pro, The Vissla NSW Pro Surf Series (Carve Pro, Mothernest Great Lakes Pro and Vissla Central Coast Pro), The Port Stephens Pro and the Australian Surf Championships.
Surfing NSW will be conducting daily media services at over 35 of the events.
Dates for the 2020/2021 Woolworths Surfer Groms Comp Series, the Rip Curl GromSearch series and the nudie Australian Boardriders Battle series will be confirmed in the coming months.
More information on specific events can be found by checking out the Surfing NSW events page.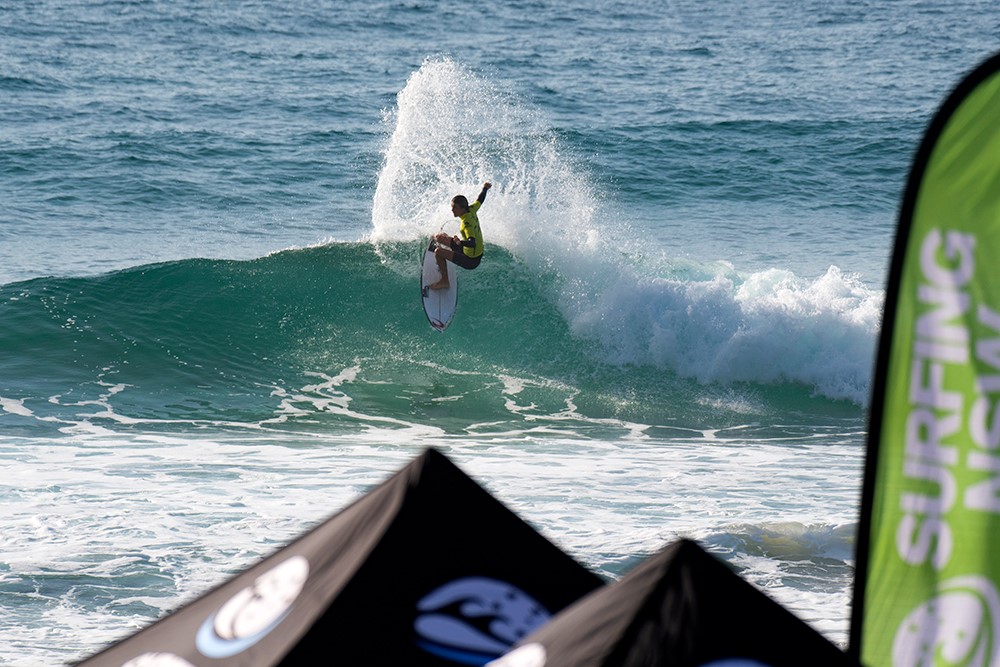 photo by Ethan Smith/Surfing NSW
Christmas Card Brings Joy To The Outback
Six-year-old William Burnheim is the winner of Education Minister Sarah Mitchell's Christmas card competition.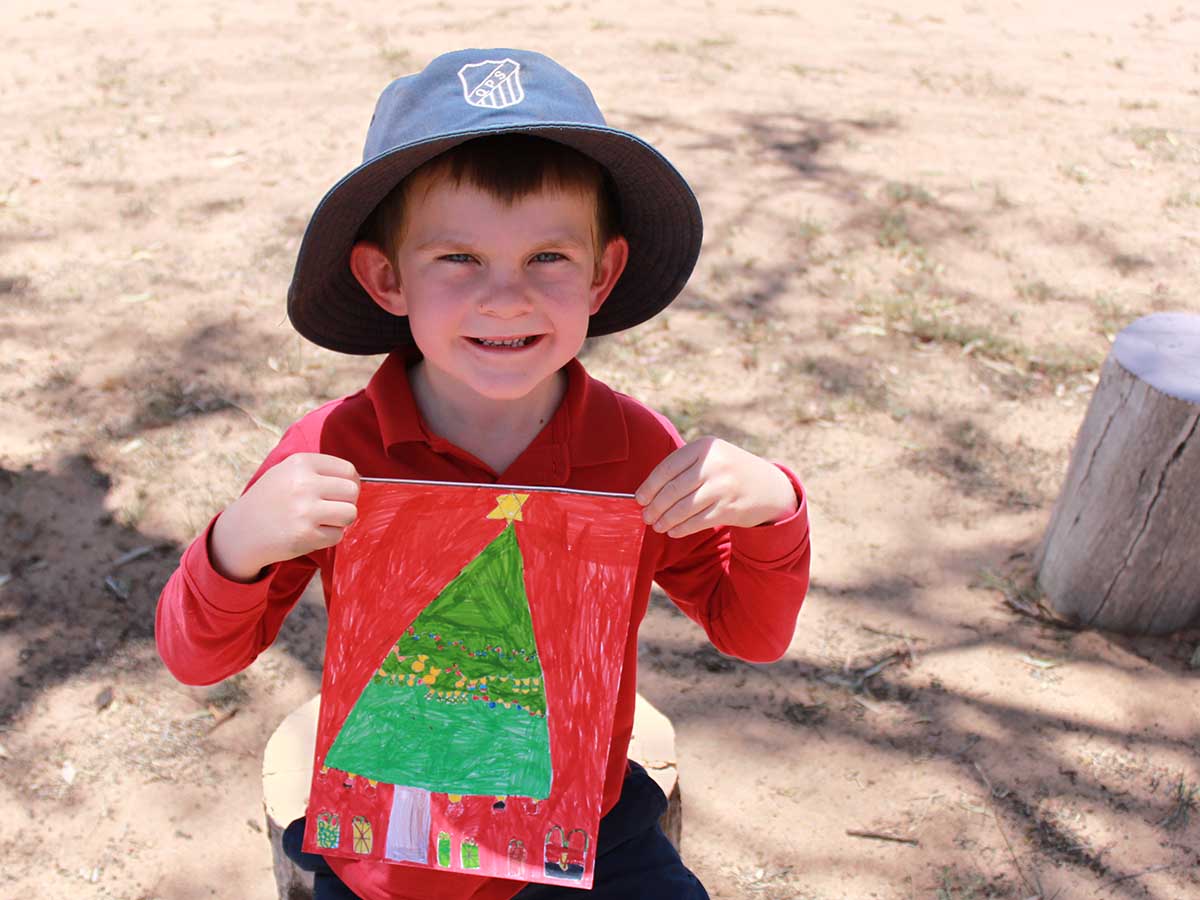 Kindergarten student William Burnheim with his winning artwork.
Even the parched, burnt-off environment of outback NSW cannot dull the colourful Christmas dreams of Quambone Public Kindergarten student, William Burnheim.
His winning entry features a bright green tree with brilliant yellow, blue and red decorations covering gifts in front of a bright red background.
Quambone Public School Relieving Principal Paula Buttenshaw said William's vivid rendition was very much the product of his imagination and in stark contrast to what he sees every day around the school and on his family property 30 kilometres away.
"It's very dry, very beige, very dusty and not a lot of green," Ms Buttenshaw said.
With the drought weighing heavily on the community, located around 600 kilometres west of Sydney, she said all her students' Christmas wishes are for rain.
"One-hundred per cent," Ms Buttenshaw said. "I think they would give up all their toys and Christmas gifts for rain, without a doubt."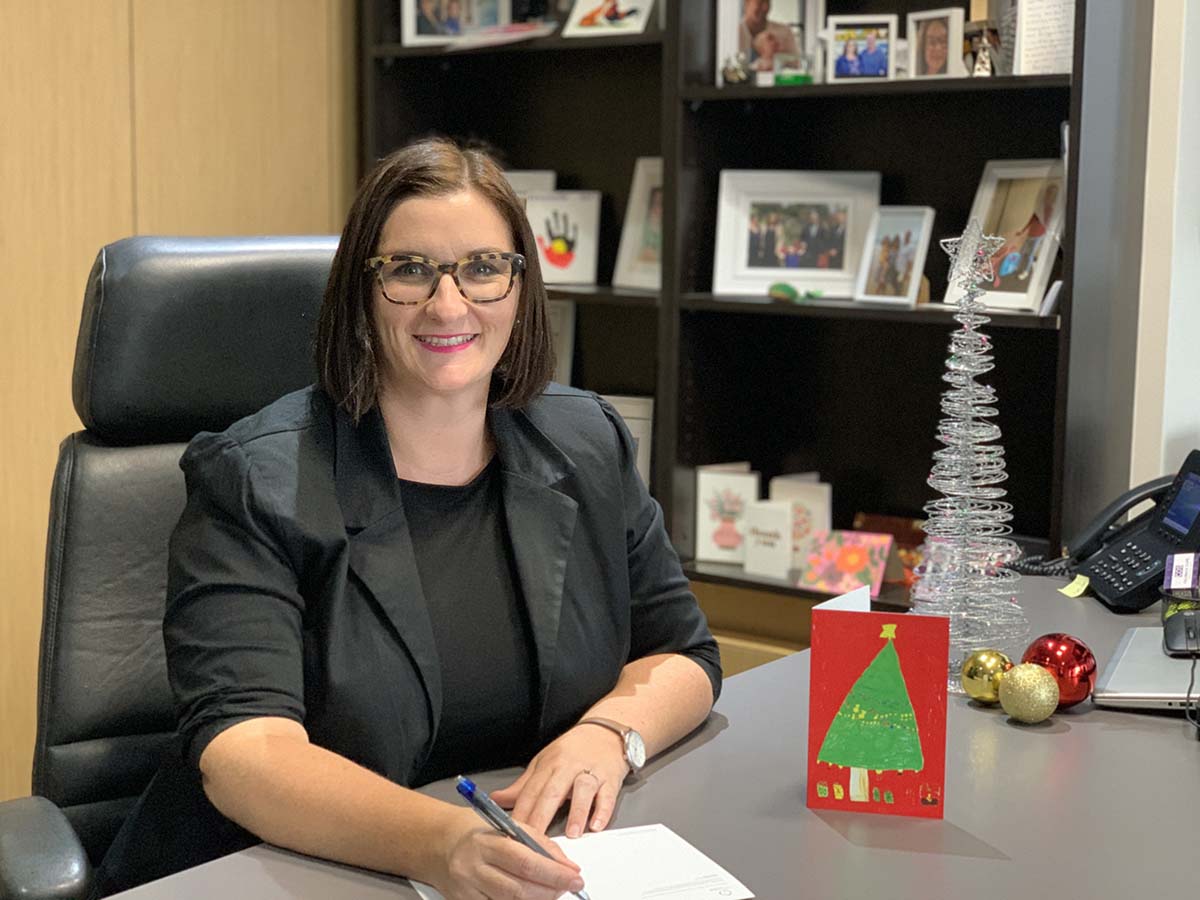 Education Minister Sarah Mitchell signs her Christmas cards designed by young William.
William's surprise win came as a thrill to him and the 12 other students at Quambone Public School and has given the community a boost.
Ms Buttenshaw said William was very excited to hear of his win when called by Ms Mitchell but she was not sure he appreciated the enormity of his win or just how widely his cards will be appreciated.
"As he is one of only two Kindergarten students here, I don't think he fully comprehends how he was chosen from so many Kindergarten students who entered the Minister's Christmas card competition," Ms Buttenshaw said.
"His parents were over the moon. They're a farming family so life is hard at the moment and they've been working very, very hard to feed and fence and things like that, so they were so excited and proud."
As well as the honour of having his cards carry the Minister's Christmas greetings, William wins some cards that he can share with family and friends and a pack of books which he will welcome as an avid reader.
Mind-Blowing Results For Our Schools
Teams from NSW public schools have taken first places and honours in the International Tournament of Minds final in Tasmania.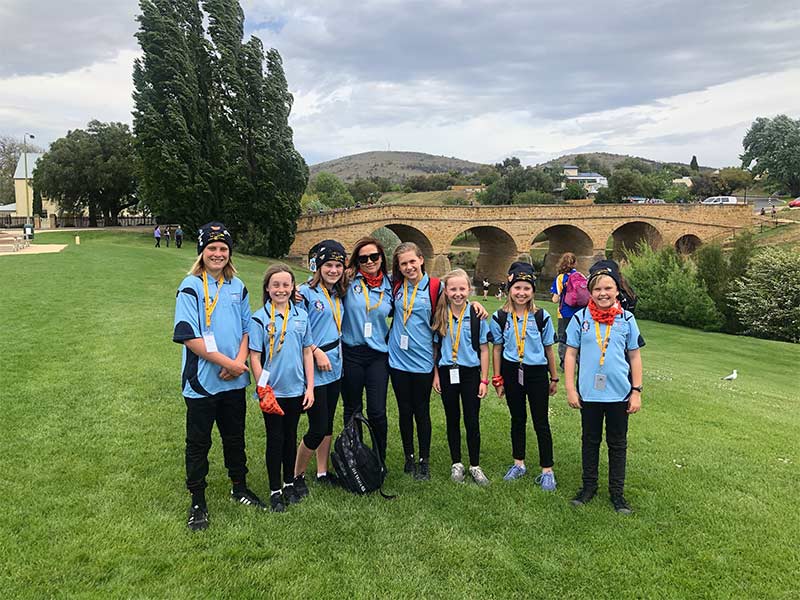 The Toormina Public School team in Richmond, Tasmania: (L-R) Fyn Harrison, Amy Dart, Siena Walsh, teacher Mrs Jodie Perry, Regan Luck, Miranda Crawford, Emily Crawford, Hunter Broadbent.
Teams from NSW public schools have taken three first places and two honours (second placings) in the International Tournament of Minds final in Hobart, following their victories at regional and state level.
Tournament of Minds is an international team problem-solving contest, in which seven-member teams in primary and secondary school categories are judged on a Long Term Challenge, prepared with three hours' notice, and a Spontaneous Challenge, in one of four areas: the Arts, STEM, Language Literature and Social Sciences (moral and ethical issues). The Hobart final included entries from New Zealand and Hong Kong.
The competition aims to develop students' enterprise, time-management and collaboration skills as well as their problem-solving ability.
Smiths Hill High School triumphed with two first places in the secondary division, in Social Sciences and STEM.
The Social Sciences Long Term Challenge involved teams designing relief housing for individuals and families taking into account their safety and needs, but also how to raise support for the design and how construction could be funded.
The STEM Long Term Challenge involved building a machine that could move a ping-pong ball from 1.6-metre high to a specific spot.
Principal David Deitz said the school was very proud of the team's achievement.
"The Tournament of Minds program is a wonderful opportunity for our students to demonstrate their passion for learning, problem-solving and to demonstrate their skills and talents in an exciting, vibrant, and public way," he said.
"Their recent success at the highest level was testimony to the guidance provided by their teachers and their personal dedication, teamwork and passion for the program."
The Long Term Challenges were the same in the secondary and junior divisions, and the Spontaneous Challenge for all teams was to create a road sign identifying the challenges the team faced on their way to the final.
In the primary division, Woollahra Public School won in the Arts section, in which the challenge was to demonstrate how the team had travelled across the galaxy to the newly discovered planet Thylacine to record its finest creative arts, with the team presenting the planet's best on their return to earth.
Toormina Public School won Honours in the Language and Literature category, in which the challenge was to identify a missing book and who took it after a lightning strike throws all the books in a library off the shelves.
Hastings Public School won Honours in the STEM section. Hastings Public School teacher Karl Morris said the skills required include creative thinking, critical thinking and communication.
"And these kids obviously have this in spades," he said.
Benjamin Grummitt from the school's team said it's a real mind-tester. "You have to think outside the box," he said.
Team-mate Frida Aaso agreed. "We got to do something new and it helped me think about things in a different way," she said.
"It also helped work out our strengths and weaknesses."
The judges were professionals from education, the arts and industry, trained to assess creative performance and the technical aspects of the presentations.
The event was sponsored by the University of New South Wales and Macquarie Dictionary.
Entries are now open for the 2020 Tournament through the event's website
HERE
Seniors' 2020 Vision
Increased medical rebates, an independent tribunal to set the age pension, an end to the waiting list for home care packages and bringing politicians' super in line with the rest of the community top the list for what National Seniors Australia wants in the new year of 2020.
The country's peak membership organisation for older Australians has given its wish list to the government via its submission for next year's Federal Budget.
Among the other items listed in the submission are:
Increased rental assistance for pensioners
Lower deeming and taper rates on the Age Pension
An adult dental benefit scheme
And a scheme for older Australians to invest in green energy infrastructure.
National Seniors Australia Chief Advocate Ian Henschke says the rising cost of health, especially the cost of seeing a specialist, is the number one concern among members.
"On average a patient will be $84 out of pocket when they see a specialist, compared to around $38 for a visit to the GP," he said.
"Older Australians by far spend the largest proportion of household income on medical expenses."
Despite the last week's announcement for extra aged care funding, National Seniors continues to call for an end to the home care package waiting list, a key recommendation of the Royal Commission into Aged Care Quality and Safety.
Mr Henschke says the $496 million announced last week for extra home care packages was barely a fifth of the $2.5 billion identified in the Royal Commission to fix the problem
"Last year 16,000 people died waiting for a home care package and more than 13,000 were placed into an aged care facility when they wanted to remain in their homes.
"We know what the figure is to fix it and yet the government is still well short of the mark," Mr Henschke said.
He also says it's time the government took the politics out of the pension with an independent tribunal setting the Age Pension.
"Successive governments on both sides have been balancing the budget on the backs of pensioners.
"The deeming and taper rates are too high while savings returns for pensioner are too low.
"Governments use the deeming and taper rates to get their hands in pensioners' pockets and a pension rate set independently would put an end to the politics of the pension."
National Seniors also believes the politicians' superannuation guarantee rate should be brought in line with that of ordinary workers in the interest of fairness.
Currently MPs and Senators receive a SG rate of 15.4%, while ordinary workers receive a SG rate of 9.5%.
National Seniors Australia says in its submission;
"At a time when politicians are calling for spending restraint and for further delays in increasing the SG to 12%, it would be symbolic if politicians moved to align their own entitlements with the current SG."
Finally, National Seniors is proposing an innovative way which gives safe returns for older Australians while at the same time funding green energy infrastructure.
The Snowy Hydro Green Bonds Scheme would give older Australians the opportunity to invest safely in Snowy Hydro 2.0, contributing to future energy security and lower energy prices.
"It's win-win for investors, the government and the environment," said Mr Henschke
The 15-page document has been handed to the government well in time for consideration ahead of next May's budget.
Strengthening Independent Oversight Of Aged Care
December 5, 2019: Senator the Hon Richard Colbeck, Minister for Aged Care and Senior Australians
Minister for Aged Care and Senior Australians Richard Colbeck said the new laws bolster the Commission through additional regulatory functions and powers ensuring a safer and quality-assured sector.
From January 1, the Commissioner's role will be expanded to include oversight of:
approving all residential and home care providers;
aged care compliance and enforcement actions; and
the administration of the responsibilities of approved providers to report assaults.
"The Government has delivered on its commitment to strengthen independent oversight across the aged care sector," Minister Colbeck said.
"Expanding the role of the Aged Care Quality and Safety Commission gives older Australians and their families a single point of contact and a reassurance their concerns will be responded to.
"The Commissioner will now have the ability to approve providers' entry into aged care, stronger powers to monitor quality of the care and broader responsibility to enforce provider compliance.
"If a provider is not delivering the care older Australians deserve, the Commissioner can impose sanctions, including revoking Commonwealth subsidies."
The new laws will also give the Commission additional powers to seek information from providers related to their suitability to deliver services and financial management.
The reforms are part of the second stage of the direct response to the findings and recommendations of Ms Kate Carnell AO and Professor Ron Paterson ONZM in the
Review of National Aged Care Regulatory Process
. The first stage occurred on January 1 this year with the establishment of the Commission and appointment of Ms Janet Anderson PSM as Commissioner.
"It is clear there is more work to do, as the work of the Royal Commission continues," Minister Colbeck said.
"Transferring the aged care regulatory functions to the Commission will provide the Government with a robust platform from which to respond to its findings and future recommendations.
Going Global: Putting NSW On The World Stage
Thousands of new jobs will be created across industries of the future including advanced manufacturing, agribusiness and space, as NSW launches the nation's most ambitious international investment strategy.
Premier Gladys Berejiklian today launched Global NSW – a strategy to unlock international investment into NSW to keep our State as the nation's economic powerhouse.
"As Premier, I have worked hard to bring international investment into NSW, helping to secure 17 MOUs into our Western Sydney Aerotropolis," Ms Berejiklian said.
"This international investment will translate to high quality local jobs.
"Our new strategy takes this work to the next level. This is about expanding our key markets around the world and ensuring we take advantage of the incredible economic opportunities on our doorstep."
Deputy Premier and Minister for Trade John Barilaro said under the strategy the number of trade and investment offices located overseas will grow from 11 to 21.
"NSW has successfully marketed itself globally as a 'bucket list' tourism destination for decades and it's time to take that up a notch and highlight our State as this region's centre of excellence for business, industry and innovation," Mr Barilaro said.
As part of the strategy, revamping the NSW trade and investment network will include the appointments of an Agent General in London and five Senior NSW Commissioners in Mumbai, New York, Shanghai, Singapore and Tokyo.
The new strategy will focus on key growth industries, including:
Health
Defence and aerospace
Agribusiness and food
Resources
Infrastructure
Treasurer Dominic Perrottet said a key part of ensuring the State's economic future was making more of expanding markets in China, South-East Asia and India, as well as diversifying our exports in established markets like Japan, the US and Europe.
"NSW has always been a leader, not a follower, and as part of this Strategy we will target growth in sectors such as medtech, cybersecurity, space, advanced manufacturing, quantum computing and blockchain," Mr Perrottet said.
Australian GPs Widely Offering Placebos
December 3, 2019: University of Sydney
Most Australian GPs have used a placebo in practice at least once, with active placebos (active treatments used primarily to generate positive expectations) more commonly used than inert placebos, according to a new study.
International studies indicate that placebo use by general practitioners (GPs) is remarkably high, but until now usage in Australia was unknown.
A new survey by Associate Professor Ben Colagiuri, in the School of Psychology at the University of Sydney, and Dr Kate Faasse at the University of New South Wales, examined rates of use and beliefs about placebos in Australian general practice. The findings are published today in the journal The Australian Journal of General Practice.
Key findings:
77% of GPs had offered an active placebo (such as antibiotics for a virus)
39% of GPs had offered an inert placebo (such as saline spray or a water-based cream)
GPs primarily used placebos because they believed they could provide genuine benefit and viewed themselves as having a strong role in shaping patients' expectations
53% of GPs felt that administering placebos deceptively was unethical, but most (>80%) believed openly providing placebos -- ie with the patient's knowledge -- is ethical
GPs felt that medical trainees would benefit from more education about placebos
"We already know that doctors and GPs use placebos regularly overseas," Associate Professor Ben Colagiuri said. "So, we wanted to see what was happening in Australia. We found that placebo use is also relatively common here. The good news is that Australian GPs are predominantly using placebos because they believe that there's some real benefit to them. They are simply trying to help their patients."
The more concerning news, Associate Professor Colagiuri said, is that in some cases GPs are also prescribing antibiotics, an active medication, for purposes other than its design.
"The most common case is when a GP prescribes antibiotics when they know or strongly suspect that the patient doesn't have a bacterial infection," he said. "In these cases, they are prescribing antibiotics as a type of placebo, often because a patient expects or demands treatment. But antibiotics can have side effects and there are problems with antibiotic resistance if we prescribe antibiotics too much."
According to Associate Professor Colagiuri, one of the most important findings coming from the study is that GPs felt that medical trainees could benefit from more education about the placebo effect. "Currently, there are no guidelines on placebo use in clinical practice in Australia. As such, GPs and other medical professionals are left to make up their own minds as to if, at all, and how to use placebos. It is really important for medical professionals and patients that we develop evidenced-based guidelines for placebo use in Australia."
Co-author Dr Kate Faasse, from the School of Psychology at UNSW said the study found rates of placebo use by Australian GPs that were similar to those seen in other countries -- the rates of use that we are seeing in the current study are very much in line with international research.
"Now we need more focus on understanding the role of psychological and social factors in physical health outcomes," Dr Faasse said. "There is so much more than just the active ingredients of a medicine, for example, that can help to improve people's health."
"In terms of future research, I think the possibility that we -- either as individuals, or in medical contexts -- can be harnessing the placebo effect in our own lives by knowingly using 'open-label' placebos is fascinating," Dr Fasse said. "Figuring out the best way to do this, for example what information helps open-label placebos be most effective, in what dose, and for what outcomes, are really fascinating research questions that we're starting to explore."
A placebo is a treatment that works because the patient expects it to. Placebos have been found to produce genuine therapeutic benefit in conditions ranging from pain, nausea and sleep, to hypertension, immune function and even Parkinson's disease.
An inert placebo treatment is something that has no active ingredients whatsoever, such as a sugar pill, saline nasal spray or a water-based cream. An active placebo treatment is one that contains active ingredients -- an antibiotic or cough mixture -- but is unlikely to have a specific physiological effect on the patient's current condition.
What is the placebo effect?
The placebo effect occurs when the patient believes a treatment will help them to feel better. These beliefs trigger changes in the central nervous system -- such as the release of neurotransmitters in our brains -- that actually cause improvement. Usually placebos involve deception, that is the patient is led to believe that they are receiving an active treatment. However, recent studies have shown that the placebo effect can happen even when the patient knows they are receiving a placebo. The vast majority of Australian GPs -- more than 80 per cent -- believe that giving a placebo openly, without deception, is ethical.
Kate Faasse, Ben Colagiuri.
Placebos in Australian general practice: A national survey of physician use, beliefs and attitudes
. Australian Journal of General Practice, 2019; 48 (12): 876 DOI:
10.31128/AJGP-11-18-4755
New Tool To Predict The Global Spread Of Dengue
Researchers at CSIRO, Australia's national science agency, QUT and Queensland Health have developed a new tool to predict the global spread of human infectious diseases, like dengue, and track them to their source.
The tool draws on travel data from the International Air Transportation Association and dengue incidence rates from the Global Health Data Exchange to derive new insights about the spreading dynamics of dengue, a mosquito-borne disease.
Dr Jess Liebig, postdoctoral fellow at CSIRO's data science arm Data61, said international travel significantly contributes to the rapid spread of dengue from endemic to non-endemic countries.
"According to the World Health Organisation, around half the world's population is at risk of contracting dengue," Dr Liebig said.
"By understanding the travel behaviour of infected individuals, we can estimate the number of infections that are imported into different countries each month.
"The tool also determines the infections' country of origin and is able to uncover the routes along which dengue is most likely spread,"
In non-endemic countries such as Australia, local outbreaks are triggered by individuals who acquire the disease overseas and transmit the virus to local mosquitoes.
Professor Raja Jurdak, QUT, said that in many locations, infected individuals are not diagnosed, and dengue can be under-reported to health authorities, making it challenging to monitor risk and prevent the spread of infection.
"According to recent studies, around 92 per cent of symptomatic infections are not reported to health authorities mainly due to low awareness levels and misdiagnosis," Professor Jurdak said.
"Our tool is one of the first to be able to forecast the absolute number of dengue importations, rather than the relative risk, at a global level."
The tool identifies the travel route from Puerto Rico to Florida as having the highest predicted volume of dengue-infected passengers travelling to a non-endemic region.
"This provides a useful tool to assist public health authorities with dengue preparedness," Dr Cassie Jansen, researcher at Queensland Health said.
"It can also help authorities to identify those locations where new dengue outbreaks may occur, following the arrival of infected passengers."
The tool can be applied to other vector-borne diseases of global concern such as malaria, Zika and chikungunya.
It expands on previous work, which modelled how dengue infections from overseas might spread in Australia.
The research is part of the Disease Networks and Mobility (DiNeMo) project aimed at developing a real-time alert and surveillance system for human infectious diseases.
An earlier model was developed to predict the spread of dengue within Australia.
DiNeMo combines CSIRO's expertise in health and biosecurity with the deep technology capabilities of its data science arm, Data61.
Jessica Liebig, Cassie Jansen, Dean Paini, Lauren Gardner, Raja Jurdak.
A global model for predicting the arrival of imported dengue infections.
PLOS ONE, 2019; 14 (12): e0225193 DOI:
10.1371/journal.pone.0225193
Sydney Light Rail To Open On Saturday 14 December 2019
Customers will be able to ride the light rail for free when the L2 Randwick Line opens to the public on Saturday 14 December 2019.
The first Sydney CBD light rail service will start at 11am on Saturday 14 December 2019 and run between Circular Quay and Randwick until 1am. The service will be fare-free for customers during the opening weekend.
After the opening weekend, the service will run daily between 5am to 1am. During peak hours, services will run every 4 to 8 minutes between Circular Quay and Central, and every 8 to 12 minutes between Central and Randwick.
The L2 Randwick Line includes 14 stops between Circular Quay and Randwick. The service will run through the CBD, Central, Surry Hills, Moore Park and UNSW and end at the Randwick Hospitals Campus on High Street, Randwick.
Minister for Transport Andrew Constance said it's more important than ever for the community to pay attention to safety messages around trams.
"We have launched multiple safety campaigns telling people to stay safe around light rail. We need pedestrians to keep their heads up and drivers to stay out of the tram corridor and not queue across intersections," Mr Constance said.
In March 2020, the L3 Kingsford Line will open, adding five more stops between Moore Park and Kingsford at Nine Ways.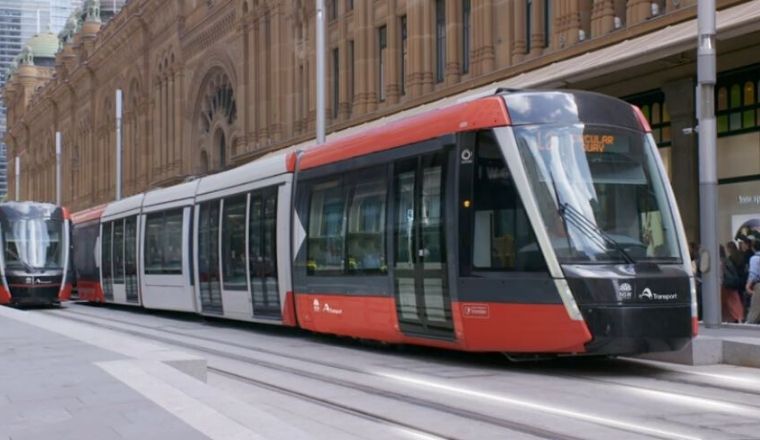 For Some Corals Meals Can Come With A Side Of Microplastics
Tiny microplastic particles are about as common in the ocean today as plastic is in our daily lives.
Synthetic clothing, containers, bottles, plastic bags and cosmetics all degrade and release microplastics into the environment. Corals and other marine organisms are eating microplastics that enter the waterway. Studies in this emerging field show some harmful effects, but it's largely unknown how this ubiquitous material is impacting ocean life.
A new experiment by the University of Washington has found that some corals are more likely to eat microplastics when they are consuming other food, yet microplastics alone are undesirable. Two coral species tested responded differently to the synthetic material, suggesting variations in how corals are adapting to life with microplastics. The study was published Dec. 3 in the journal Scientific Reports.
"The more plastic we use, the more microplastics there are, and the more corals are going to be exposed," said lead author Jeremy Axworthy, a UW doctoral student in the School of Aquatic and Fishery Sciences. "Our study found that some corals probably won't eat microplastics and will keep going about their daily business. But some might -- and if they happen to be sensitive to warmer ocean temperatures or other stressors, this is just another compounding factor to be worried about."
Corals are tiny animals that are rooted to the reef or rocks on the ocean floor. They use tentacle-like arms to sweep food into their mouths. Many rely on algae for energy, but most also consume drifting animals for survival.
This study is the first to examine whether corals eat microplastics when exposed to warmer water, which is expected to accelerate with climate change. Rising ocean temperatures can be deadly for coral: warm water stresses them, causing corals to lose their symbiotic algae partner that undergoes photosynthesis and provides energy for them to survive. When this happens, coral bleaching and eventual death can occur.
But some corals have adapted to bleaching by shifting their diets to feed on tiny marine organisms called zooplankton, which provide an alternate energy source. As they munch on these small animals -- often the same size as microplastics -- the research team wondered whether they also were ingesting plastic fragments.
The experiment shows corals do eat microplastics when they switch to a zooplankton diet, adding one more stressor for corals in a changing ocean environment.
"Microplastics are not as simple as a life-or-death threat for corals -- it's not that black or white," said senior author Jacqueline Padilla-Gamiño, assistant professor at the UW School of Aquatic and Fishery Sciences. "It's about total energy lost. If corals constantly are dealing with microplastics, it might not kill them, but there will be less energy for them to grow and to reproduce."
The researchers collected two species of common corals off the east coast of Oahu, Hawaii, and exposed half of each species to warmer water for several weeks to induce stress and bleaching. Then they ran four different feeding experiments on both bleached and non-bleached corals: corals were fed only microplastics; only a type of zooplankton; microplastics and zooplankton; or nothing.
After dissecting the coral polyps, researchers found that corals stressed by warmer temperatures actually ate much less than their counterparts in normal seawater. This was unexpected and possibly due to stress from high water temperatures. However, one of the two species, known for its voracious eating habits in the wild, consumed microplastics only while also eating zooplankton. Neither coral species ate microplastics alone.
The researchers don't know why one species of coral readily ate microplastics in the presence of other food, but avoided microplastics when they were the only thing on the menu. They suspect that this species of coral can read certain chemical or physical cues from the plastics and the prey, but might not be able to distinguish between the two when both are present.
It's also possible the plastic used in this experiment is less desirable to corals, and that plastics with a different chemical makeup could, in fact, be tasty to corals. The researchers plan to test the "tastiness" of other types of microplastics, such as synthetic fibers from clothing.
Ultimately, some coral species likely face greater risks from exposure to microplastics than others, the study found. The researchers will look next at impacts on the physiology of corals that are exposed over a longer period to microplastics.
"Knowing that will provide a lot more context to this work," Axworthy said. "We need to know the full physiological impacts of chronic exposure to microplastics on corals, especially at increased temperatures, to understand how serious the problem is."
In the meantime, the problem of microplastics isn't going away. A 2014 estimate found between 15 and 51 trillion microplastic particles in the oceans, and plastic waste entering the oceans is expected to increase tenfold between 2010 and 2025.
"It's important when talking about waste management to think big picture -- what are we putting in the oceans?" Padilla-Gamiño said. "We don't know where plastic goes, where it stays, who grabs it, and what are the mechanisms by which we get it back. We are just at the tip of understanding these implications."
Jeremy B. Axworthy, Jacqueline L. Padilla-Gamiño.
Microplastics ingestion and heterotrophy in thermally stressed corals.
Scientific Reports, 2019; 9 (1) DOI:
10.1038/s41598-019-54698-7
Mobile Devices Blur Work And Personal Privacy Raising Cyber Risks
December 5, 2019: Queensland University of Technology
Organisations aren't moving quickly enough on cyber security threats linked to the drive toward using personal mobile devices in the workplace, warns a QUT privacy researcher.
Dr Kenan Degirmenci from QUT's Science and Engineering Faculty's School of Information Systems said workers worldwide expected to take their work with them whenever and wherever.
But he warned Bring Your Own Device (BYOD) had opened up a can of worms for employers and employees alike.
Dr Degirmenci's published research, Future of Flexible Work in the Digital Age: Bring Your Own Device Challenges of Privacy Protection, will be presented at the International Conference on Information Systems in Munich in December.
"The breakneck speed of digital transformation brought with it opportunities as well as threats," he said.
"Organisations don't appear to be keeping up with the pace of change, deliberately putting the brakes on digital transformation because it comes with security challenges."
Dr Degirmenci said, nonetheless, by 2021 the BYOD and enterprise mobility market which incorporates segments such as software, security, data management and network security is estimated to grow to US$73 billion globally.
Data breaches including stealing of personal information are also on the rise for all kinds of businesses and workplaces.
Often employees use their personal devices, but many don't know if their employer has a policy in place to protect their data and usage.
"Some organisations wary of malware or theft of data can track employees' locations during work and non-work hours, wipe data, as well as access private emails and photos," Dr Degirmenci said.
The research involved a case study of two multinational companies and a survey of almost 550 employees from the United States, Germany and South Korea about bringing their own devices (BYOD) to work.
Dr Degirmenci said the multinational companies from the survey used mobile device management (MDM) to monitor, manage and secure devices of employees.
"American employees placed greater emphasis on BYOD risks compared to Germany and South Korea," he said.
He said Australia ranked similarly to the United States in terms of its "individualist-type culture" and while workers wanted increased flexibility there were drawbacks to using their own devices.
New technologies and digital capabilities are also omniscient across the education sector with schools enacting BYOD.
"We've recommended BYOD security management be improved, particularly for countries like America and Australia."
Research resource: Degirmenci, Kenan , Shim, J.P. , Breitner, Michael H. , Nolte, Ferry , & Passlick, Jens (2019) Future of flexible work in the digital age: Bring your own device challenges of privacy protection. In ICIS 2019 Proceedings , Munich, Germany.
Disclaimer: These articles are not intended to provide medical advice, diagnosis or treatment. Views expressed here do not necessarily reflect those of Pittwater Online News or its staff.