Inbox and Environment News: Issue 430
November 24 - 30, 2019: Issue 430
Spring Becomes Summer In Pittwater
Save Grevillea Caleyi With PNHA's Baha'i Bushcare This Monday: November 25th
What have you got on this Monday morning? How about: Saving Grevillea caleyi with PNHA's Baha'i Bushcare. Join us for the final morning of bush regeneration for 2019 at the Baha'i Temple on Monday, November 25, starting at 8.30 am. We'll be planting some tubestock as well as our usual weeding.
Please meet in the Picnic Shelter on site.
New volunteers welcome - training will be provided.
Wear long trousers, a long sleeved shirt and boots or closed in shoes.
The session will be cancelled in the event of rain.(if only!)
For more information contact David Palmer on 0404 171940.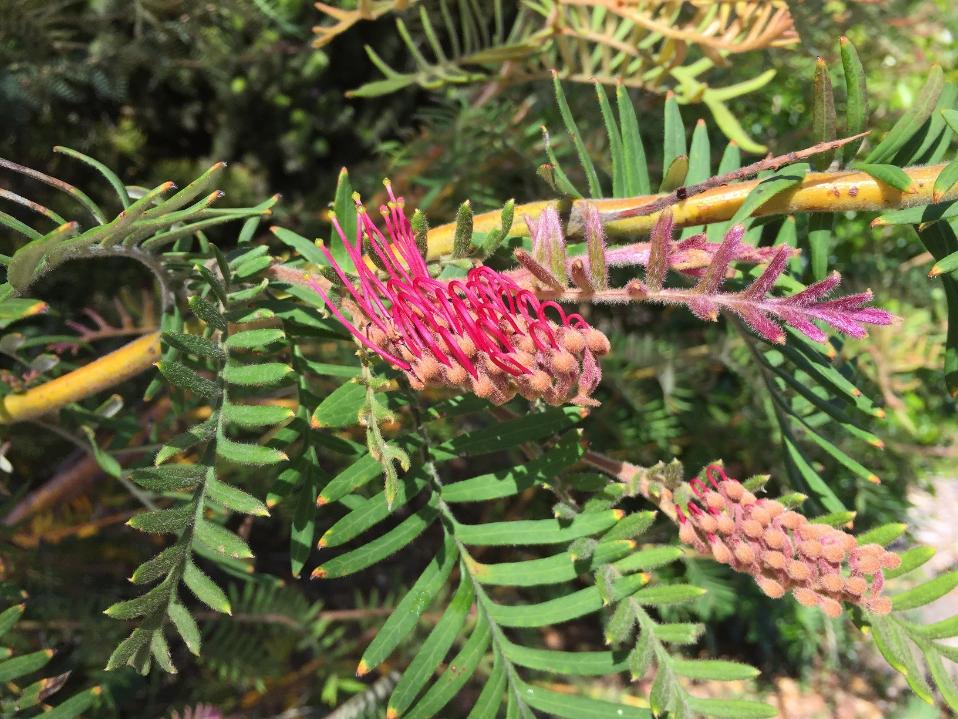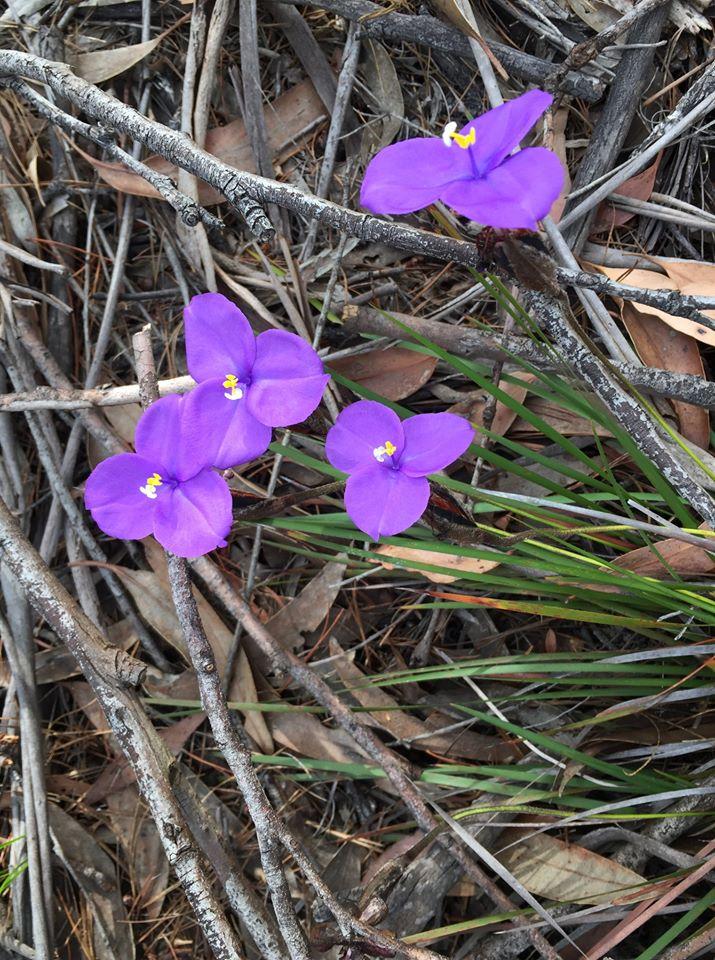 In the Baha'i bushland Native Iris flowers on sunny spring days - PNHA photo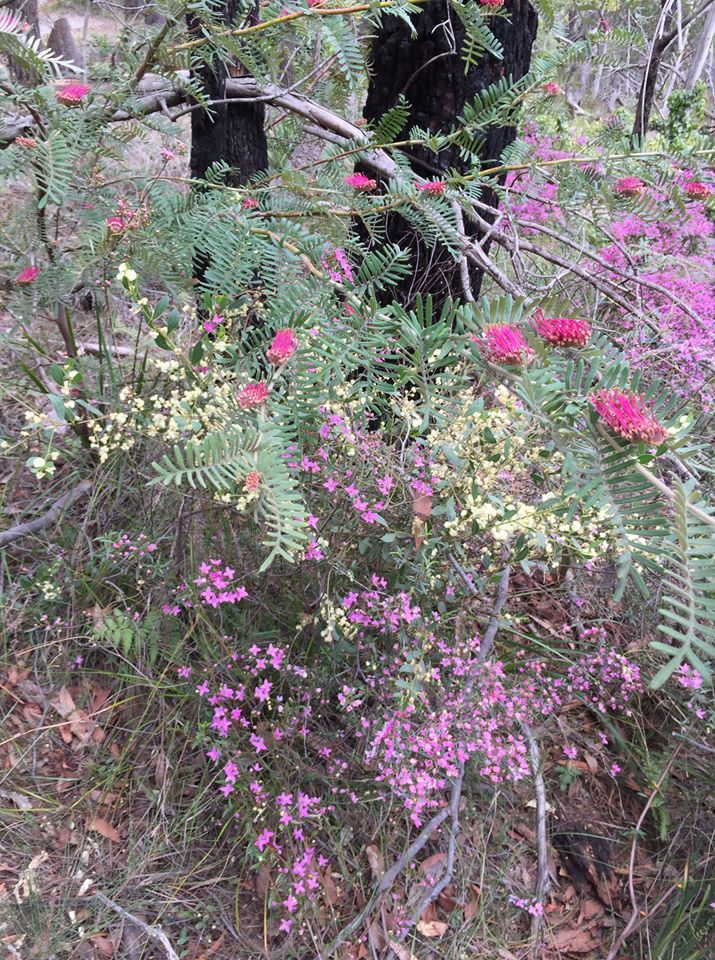 Grevillea caleyi growing with boronia and wattle in the Baha'i bushland - PNHA photo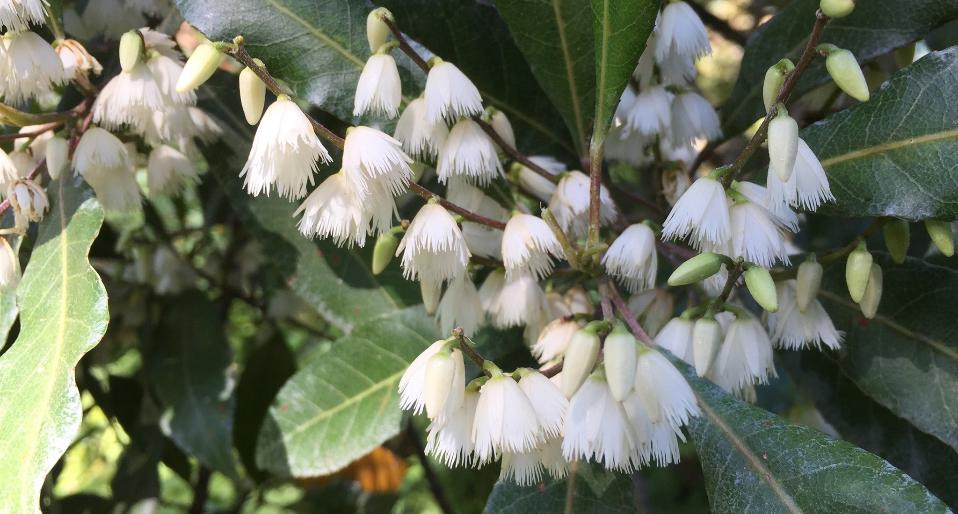 Blueberry Ash Elaeocarpus reticulatus flowers every November. The local Sydney colour is white but a pink version is routine on the NSW south coast and can be obtained from nurseries. The enamel blue berries are favourites of Currawongs, despite there being little edible flesh between the blue skin and the large seed, so it forms a major component of their castings. PNHA photo
First Christmas Beetle Spotted At Elanora Heights/ Ingleside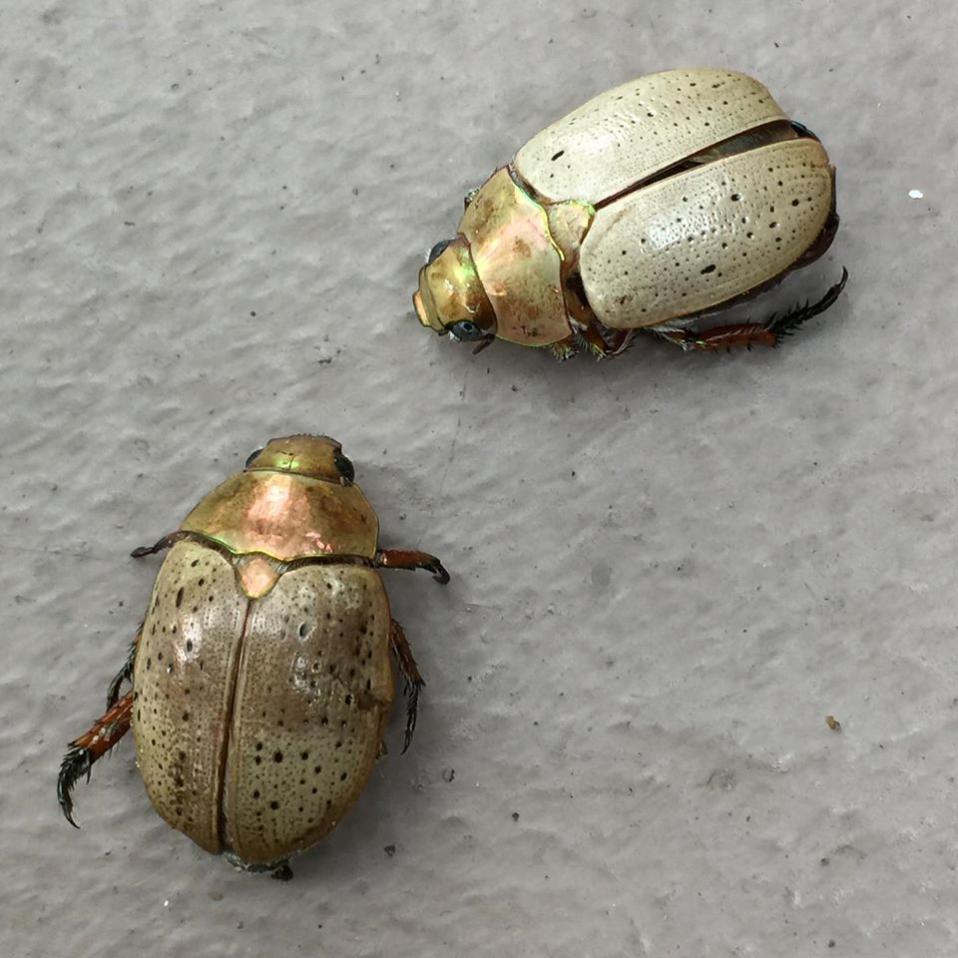 On Hot Days Please Keep Your Bird Baths Topped Up Or Put Out Dishes Of Water For Local Fauna
Photo by AJG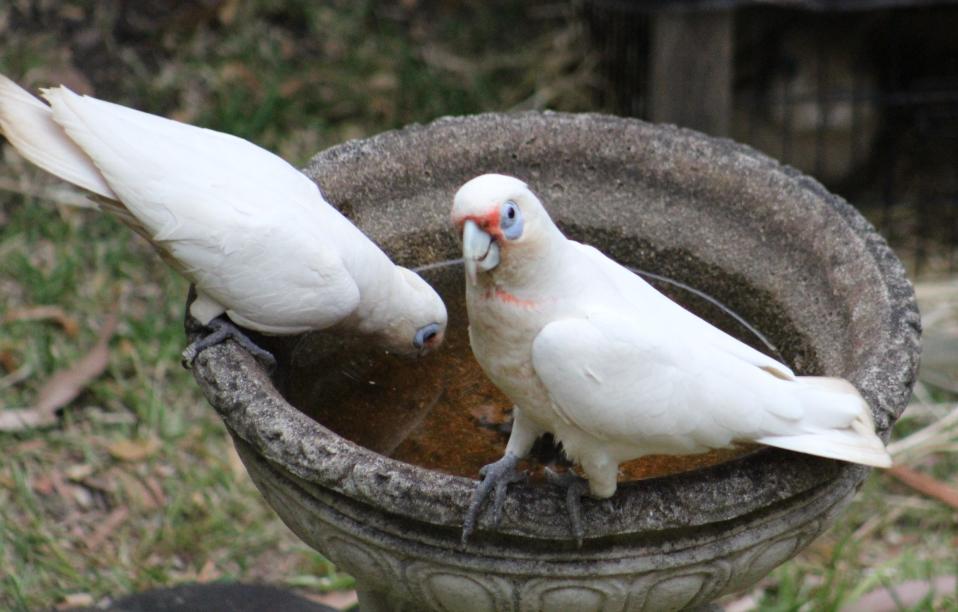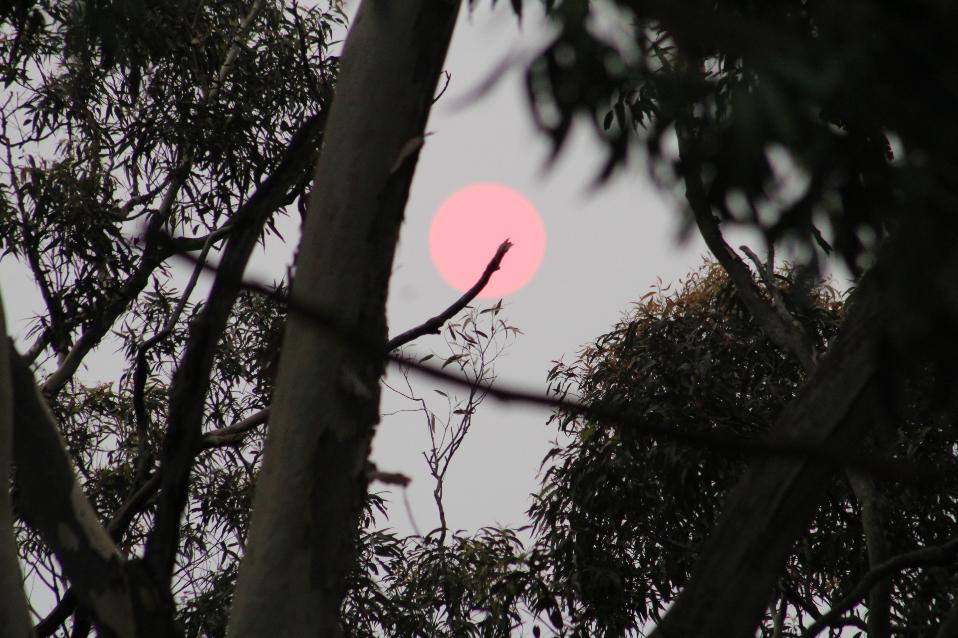 The sun sent pink by bushfire smoke over Pittwater on Thursday this week - AJG photo.
PNHA Christmas Cards Of Local Beauties
PNHA Christmas Cards with local trees, flowers, insects, birds, scenery are now ready - write your own message. $2.00 each. Contact us on pnhainfo@gmail.com to select from our big range. A few of the images available on their covers sampled here: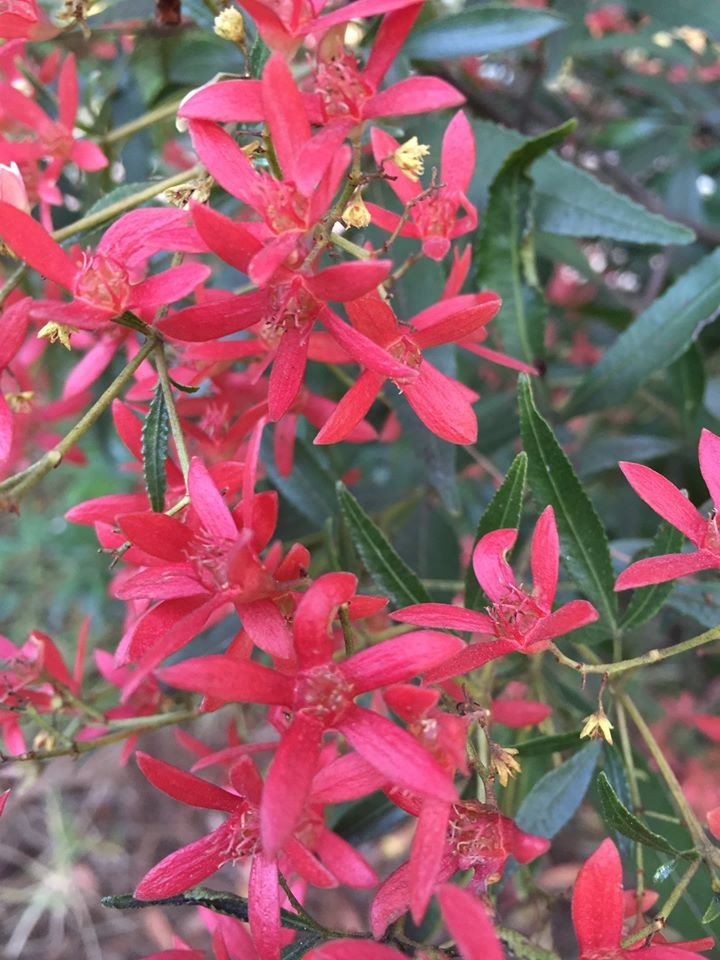 NSW Christmas Bush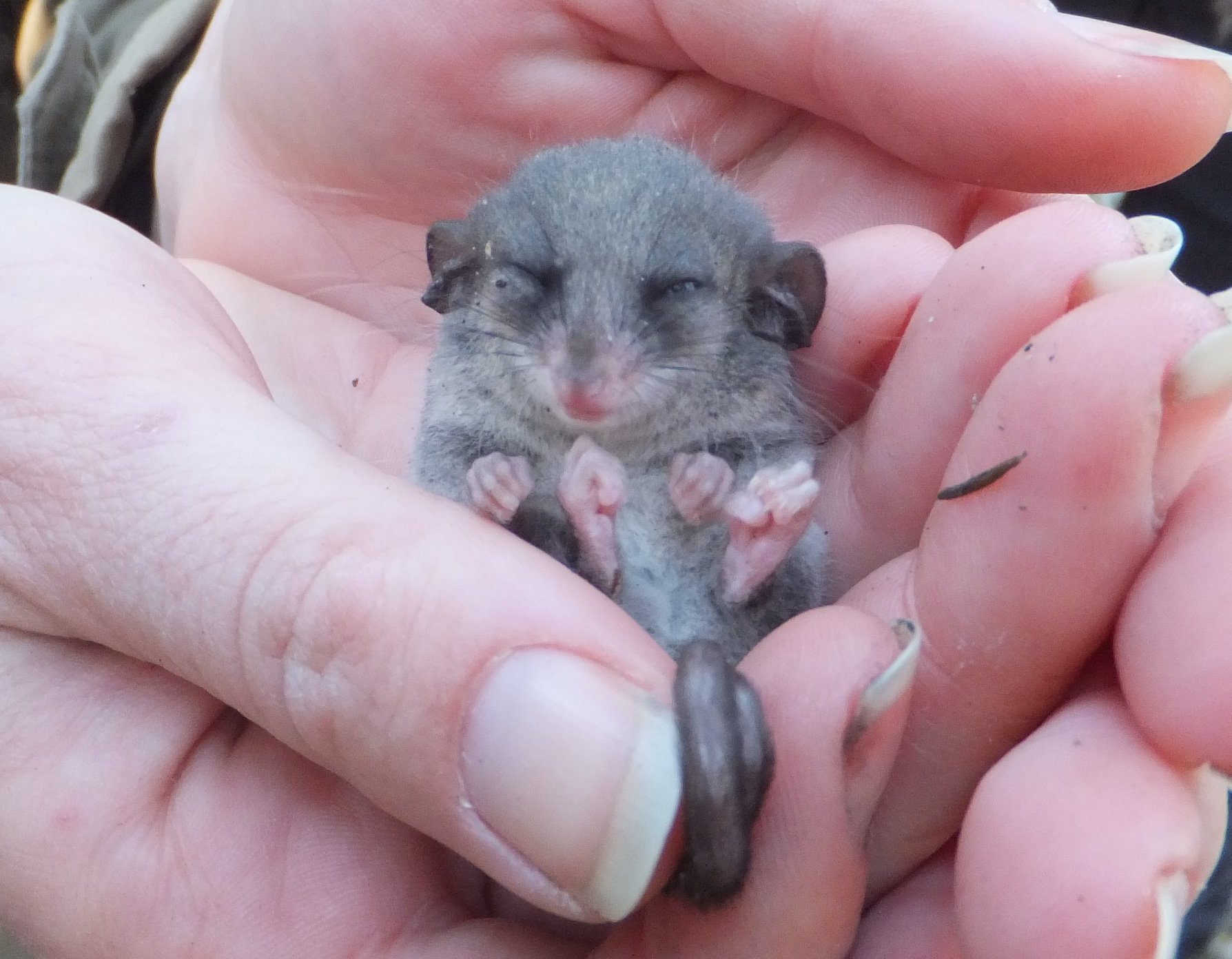 Sleepy Eastern Pygmy Possum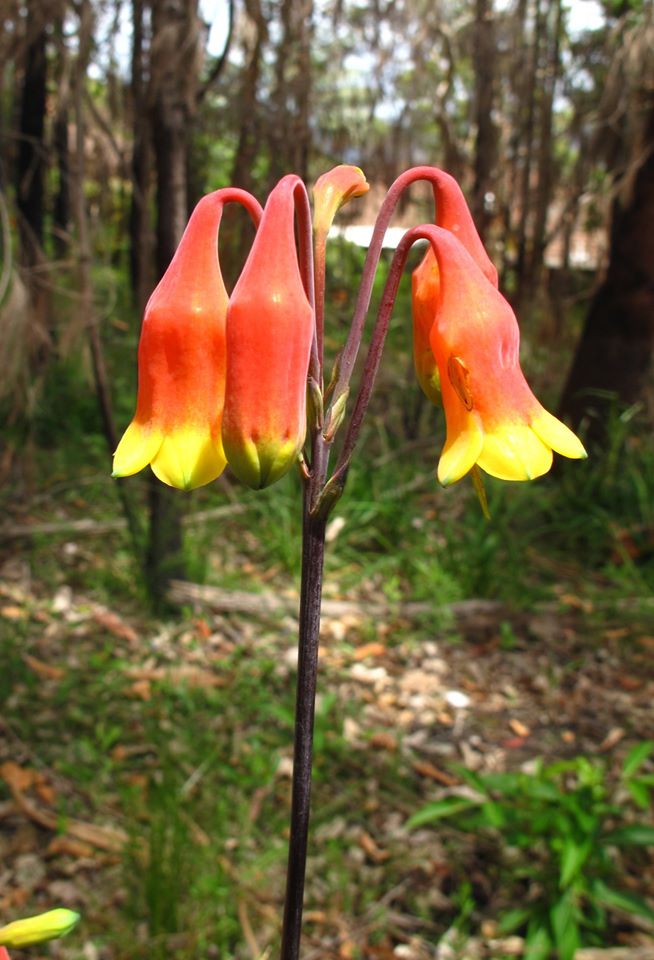 Christmas Bells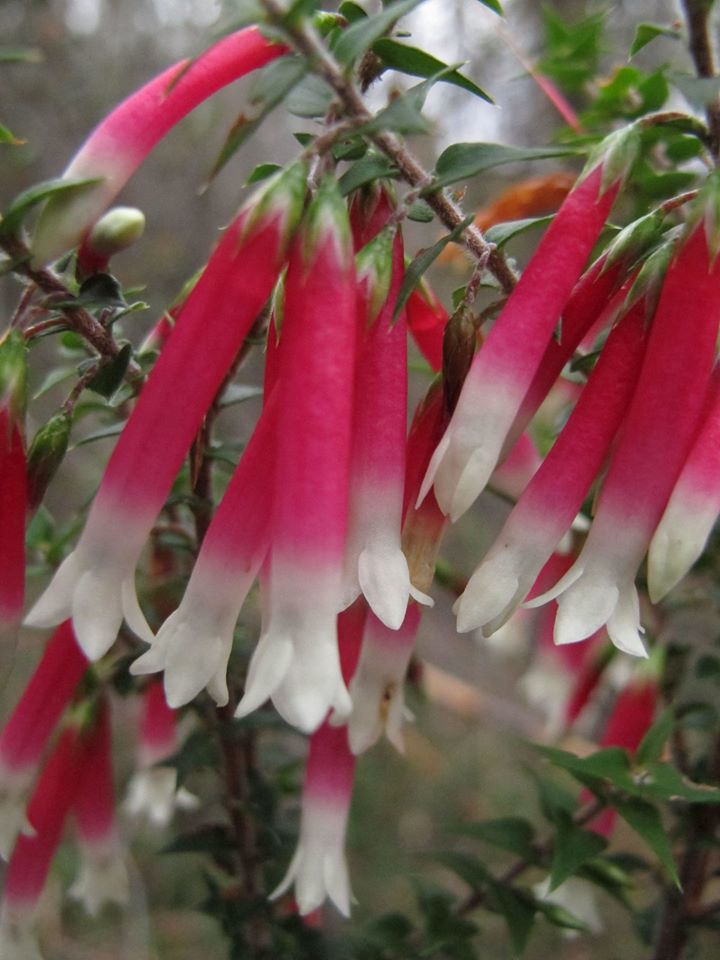 Native Fuchsia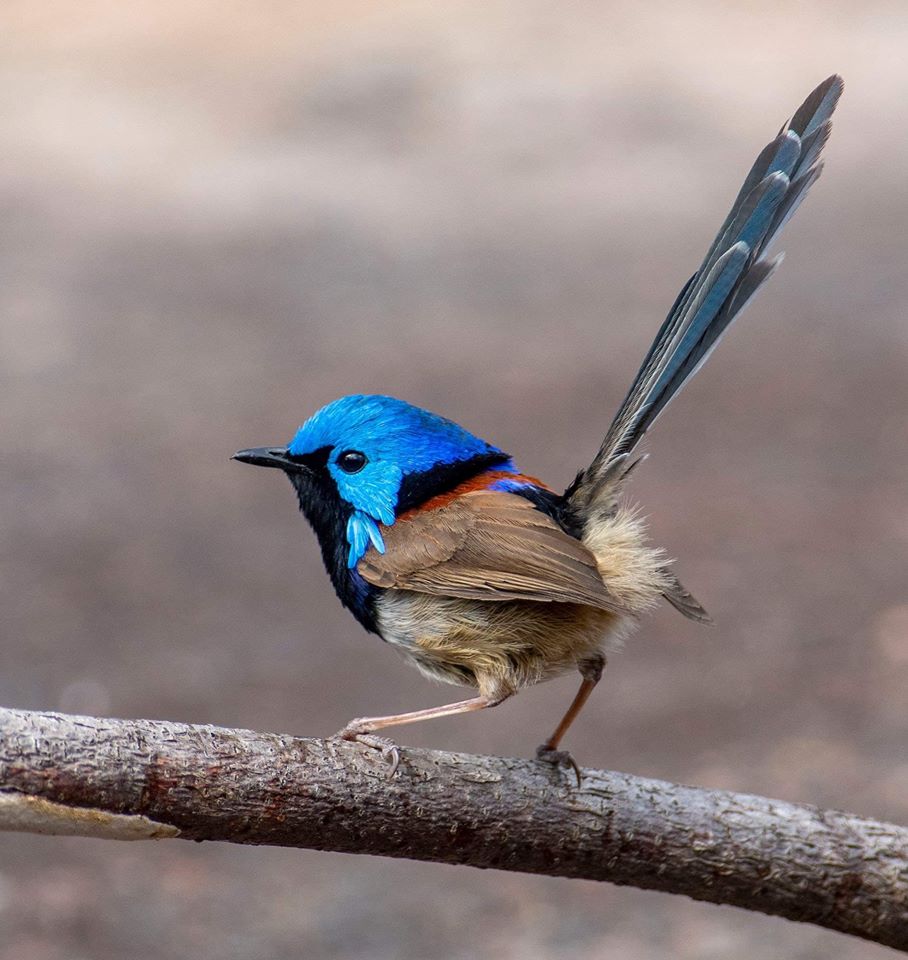 Male Variegated Wren, one of Pittwater's two Fairy Wrens. Image: Neil Fifer

Bushcare In Pittwater
For further information or to confirm the meeting details for below groups, please contact Council's Bushcare Officer on 9970 1367
BUSHCARE SCHEDULES
Where we work Which day What time
Avalon
Angophora Reserve 3rd Sunday 8:30 - 11:30am
Avalon Dunes 1st Sunday 8:30 - 11:30am
Avalon Golf Course 2nd Wednesday 3 - 5:30pm
Careel Creek 4th Saturday 8:30 - 11:30am
Toongari Reserve 3rd Saturday 9 - 12noon (8 - 11am in summer)
Bangalley Headland 2nd Sunday 9 to 12noon
Bayview
Winnererremy Bay 4th Sunday 9 to 12noon
Bilgola
North Bilgola Beach 3rd Monday 9 - 12noon
Algona Reserve 1st Saturday 9 - 12noon
Plateau Park 1st Friday 8:30 - 11:30am
Church Point
Browns Bay Reserve 1st Tuesday 9 - 12noon
McCarrs Creek Reserve Contact Bushcare Officer To be confirmed
Clareville
Old Wharf Reserve 3rd Saturday 8 - 11am
Elanora
Kundibah Reserve 4th Sunday 8:30 - 11:30am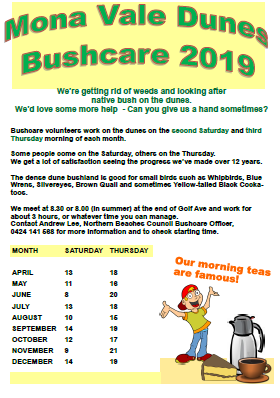 Mona Vale
Mona Vale Beach Basin 1st Saturday 8 - 11am
Mona Vale Dunes 2nd Saturday+3rd Thursday 8:30 - 11:30am
Newport
Bungan Beach 4th Sunday 9 - 12noon
Crescent Reserve 3rd Sunday 9 - 12noon
North Newport Beach 4th Saturday 8:30 - 11:30am
Porter Reserve 2nd Saturday 8 - 11am
North Narrabeen
Irrawong Reserve 2nd Saturday 2 - 5pm
Palm Beach
North Palm Beach Dunes 3rd Saturday 9 - 12noon
Scotland Island
Catherine Park 2nd Sunday 10 - 12:30pm
Elizabeth Park 1st Saturday 9 - 12noon
Pathilda Reserve 3rd Saturday 9 - 12noon
Warriewood
Warriewood Wetlands 1st Sunday 8:30 - 11:30am
Whale Beach
Norma Park 1st Friday 9 - 12noon
Western Foreshores
Coopers Point, Elvina Bay 2nd Sunday 10 - 1pm
Rocky Point, Elvina Bay 1st Monday 9 - 12noon
Affordable Reliable Power For NSW
November 22nd, 2019: NSW Government
Households across NSW are expected to save $40 per year on their electricity bills and the State will have one of the highest reliability targets in the world under the NSW Electricity Strategy, released today.
Energy Minister Matt Kean said the Strategy will ensure reliable and affordable electricity supply for the people of NSW, particularly in peak summer periods.
"We want to create a competitive, low-cost market that delivers resilient energy supply while putting downward pressure on electricity prices," Mr Kean said.
"Not only does this Strategy help us achieve that, it will attract $8 billion in investment for emerging energy technologies in NSW, diversifying our energy supply and creating jobs for the future."
The Strategy includes a new Energy Security Safeguard to drive the roll-out of energy efficiency technologies and smart appliances that use electricity when it is cheap and off-peak, and an Energy Security Target to ensure there is enough capacity in the electricity grid on the hottest days, even with the two largest generating units offline.
It will also include a plan to deliver Australia's first coordinated Renewable Energy Zone in the Central-West to support the the new generation needed to get energy bills down.
"We are the first State in Australia with an electricity strategy, and this strategy sends a strong signal to market that NSW is the number one place for investment in reliable and sustainable generation," Mr Kean said.
"As our existing power generators approach the end of their lives, we need to ensure low-cost alternatives are coming online which can deliver reliable electricity supply.
"While there will always be extreme events which impact the grid's reliability, our Electricity Security Target will mean that changes to the State's energy mix do not come at the expense of our system's reliability."
Grants Available To Reduce Climate Change Impacts
NSW communities are invited to apply for grants that will assist them reduce climate change impacts such as heatwaves, bush fires or floods.
The Increasing Resilience to Climate Change (IRCC) community grants program is providing $600,000 in the first round of grants. Grants between $10,000 and $30,000 are available for individual projects.
Community groups can partner with local councils in their applications for funding under the IRCC.
The grants are funded through the Climate Change Fund, which allows the NSW Government to better support the community in its response to the effects of climate change.
Environment Minister Matt Kean said these grants will help local communities plan, coordinate and take action to increase their resilience and adapt.
"IRCC grant funding has already benefited Western Sydney Regional Organisation of Councils for a cool suburbs rating tool and Bega Valley Shire Council to upgrade community halls to be more climate-resilient during extreme heat events," Mr Kean said.
Apply for round one funding by 31 January 2020
HERE
Aussie Bread Tags Collection Points
Collecting bread tags enables us to provide wheelchairs that change the life of disabled people in need, as well as keeping the tags out of landfill to help to preserve the environment.
Bread Tags for Wheelchairs was started in South Africa in 2006 by Mary Honeybun. It is a community program where individuals and organisations collect bread tags, which are sold to recyclers. The money raised pays for wheelchairs for the less fortunate which are purchased through a local pharmacy. Currently about 500kg of bread tags are collected a month in South Africa, funding 2-3 wheelchairs.
We have been collecting bread tags nationally in Australia since September 2018 and now have more than 100 collection points across the country. In February 2019 we started local recycling through Transmutation - Reduce, Reuse and Recycle in Robe, SA, where our tags are recycled into products such as door knobs and bowls. Tags from some states are still sent to South Africa where a plastics company called Zibo recycles them into seedling trays.
These humble bits of polystyrene can make a real difference so get your friends, family, school, workplace and church involved. Ask school tuck shops and boarding school kitchens, child care centres, aged care facilities, hospitals, cafes and fast food outlets to collect for you - they get through a lot of bread!
All the information and signage for collecting or setting up a public collection point is
on our website
.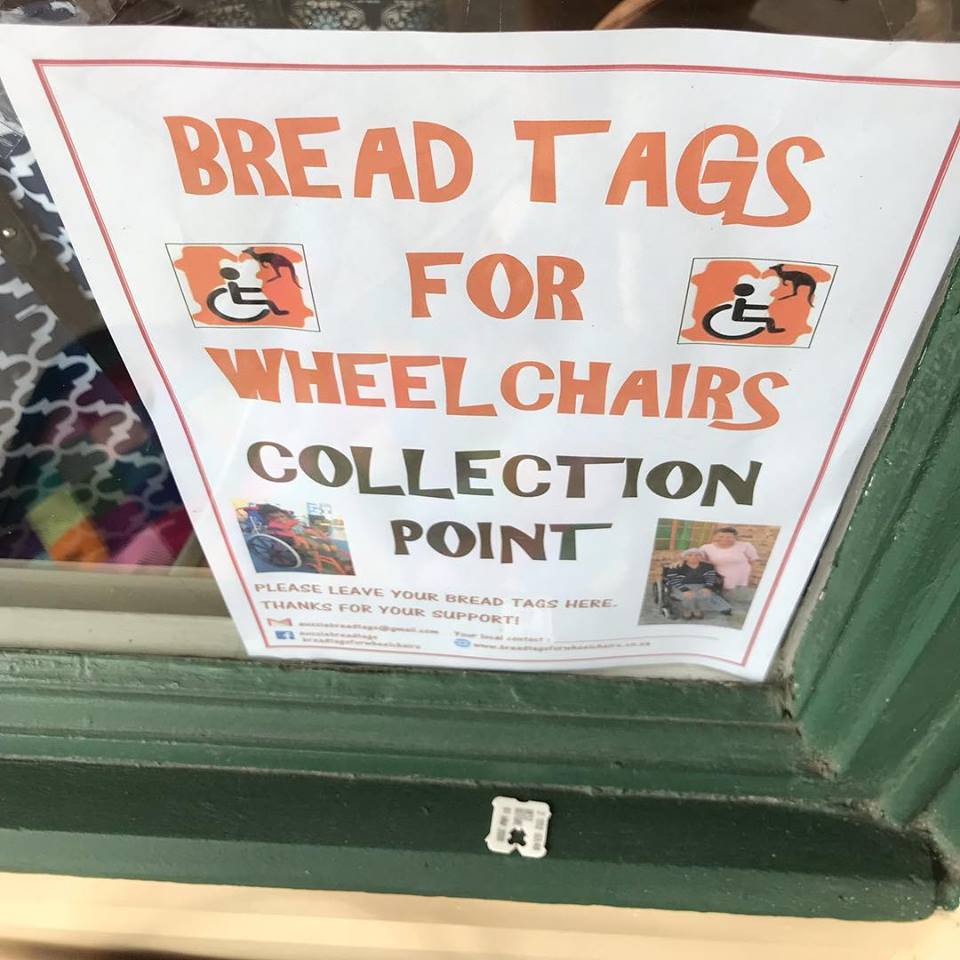 Rain Cloak
When I draw my rain cloak around me
Soak the land
Until the earth is drenched
Wash all the stones clean
Bask the koala, the kangaroo and kookaburra in the sup of wet light
Bare toes among the thin puddles
Growing deeper in the boles of trees and fields
When I draw my rain cloak about me
Lift that docile grey-white wing to east and west
Blow, with shift 'neath and simple up then down and closer, across and through all the valleys, plains, creeks
Kissing, melding
Raining
When I draw the rain with and to me, from northern flows running south in these Spring-Summer verges, and from south flowing north during that same seasonal verge too
Drawn through the air and surface crevices
Drawn by the scent of trees
When I draw my trees about me
Tend their roots
Their creatures
Their tall
It adds song cycles to drawing my rain cloak about and around them
When I draw my rain cloak about thee
And all the gutters start to flow
With clean, fresh, cold water
Even you will know.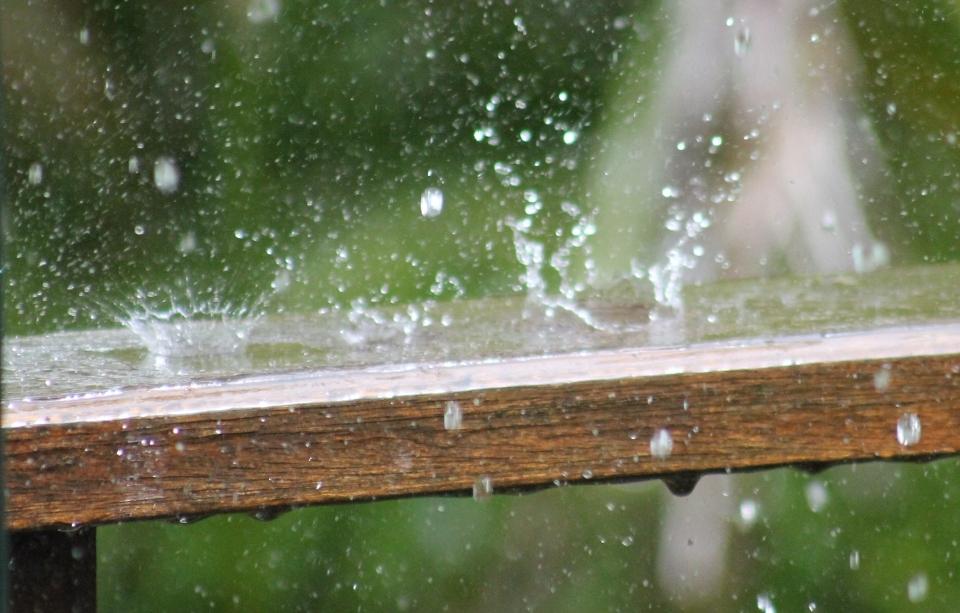 Transpiration Is How Plants Help Make Rain
Transpiration is the process of water movement through a plant and its evaporation from aerial parts, such as leaves, stems and flowers.
Water is necessary for plants but only a small amount of water taken up by the roots is used for growth and metabolism. The remaining 97–99.5% is lost by transpiration and guttation.
Leaf surfaces are dotted with pores called stomata, and in most plants they are more numerous on the undersides of the foliage. The stomata are bordered by guard cells and their stomatal accessory cells (together known as stomatal complex) that open and close the pore. Transpiration occurs through the stomatal apertures, and can be thought of as a necessary "cost" associated with the opening of the stomata to allow the diffusion of carbon dioxide gas from the air for photosynthesis. Transpiration also cools plants, changes osmotic pressure of cells, and enables mass flow of mineral nutrients and water from roots to shoots. Two major factors influence the rate of water flow from the soil to the roots: the hydraulic conductivity of the soil and the magnitude of the pressure gradient through the soil. Both of these factors influence the rate of bulk flow of water moving from the roots to the stomatal pores in the leaves via the xylem.
Mass flow of liquid water from the roots to the leaves is driven in part by capillary action, but primarily driven by water potential differences. If the water potential in the ambient air is lower than the water potential in the leaf airspace of the stomatal pore, water vapor will travel down the gradient and move from the leaf airspace to the atmosphere. This movement lowers the water potential in the leaf airspace and causes evaporation of liquid water from the mesophyll cell walls.
This evaporation increases the tension on the water menisci in the cell walls and decrease their radius and thus the tension that is exerted on the water in the cells. Because of the cohesive properties of water, the tension travels through the leaf cells to the leaf and stem xylem where a momentary negative pressure is created as water is pulled up the xylem from the roots. As evaporation occurs at the leaf surface, the properties of adhesion and cohesion work in tandem to pull water molecules from the roots, through xylem tissue, and out of the plant through stomata.
In taller plants and trees, the force of gravity can only be overcome by the decrease in hydrostatic (water) pressure in the upper parts of the plants due to the diffusion of water out of stomata into the atmosphere. Water is absorbed at the roots by osmosis, and any dissolved mineral nutrients travel with it through the xylem.
Plants regulate the rate of transpiration by controlling the size of the stomatal apertures. The rate of transpiration is also influenced by the evaporative demand of the atmosphere surrounding the leaf such as boundary layer conductance, humidity, temperature, wind and incident sunlight. Soil water supply and soil temperature can influence stomatal opening[citation needed], and thus transpiration rate. The amount of water lost by a plant also depends on its size and the amount of water absorbed at the roots. Transpiration accounts for most of the water loss by a plant by the leaves and young stems. Transpiration serves to evaporatively cool plants, as the evaporating water carries away heat energy.
During a growing season, a leaf will transpire many times more water than its own weight.

An acre of corn gives off about 3,000–4,000 gallons or 11,400–15,100 liters, of water

each day. A

large oak tree can transpire 40,000 gallons, or 151,000 liters, per year. That's a lot of water going back into the air and earth!
Growing trees taking water from the soil and releasing it into the atmosphere accelerates the air getting saturated and so brings in rain. Scientists have studied this process and shown that in places where there are tall trees and thick forests the trees are actually creating their own rain.
Tree leaves also act as interceptors, catching falling rain, which then evaporates causing rain precipitation elsewhere — a process known as evapo-transpiration.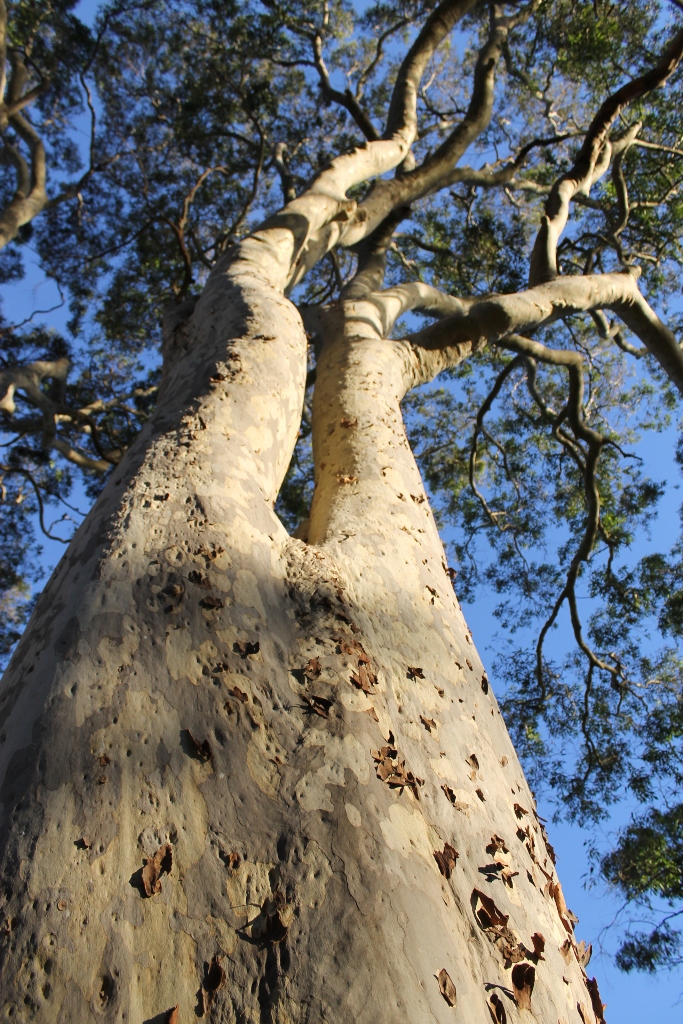 Greedy Wild Hamster Stuffs In More Than He Can Chew!
Published November 21st, 2019 by BBC Earth
If it fits in my cheeks, I eats! Wild hamsters roam Vienna in search of fresh flowers and candle-wax, sometimes with hilarious consequences!
Subscribe: http://bit.ly/BBCEarthSub
Students Join Lions In Protecting Koalas
Students from 25 Hastings-Macleay region schools have displayed plans to support the local Lions Club's Koala Smart conservation project.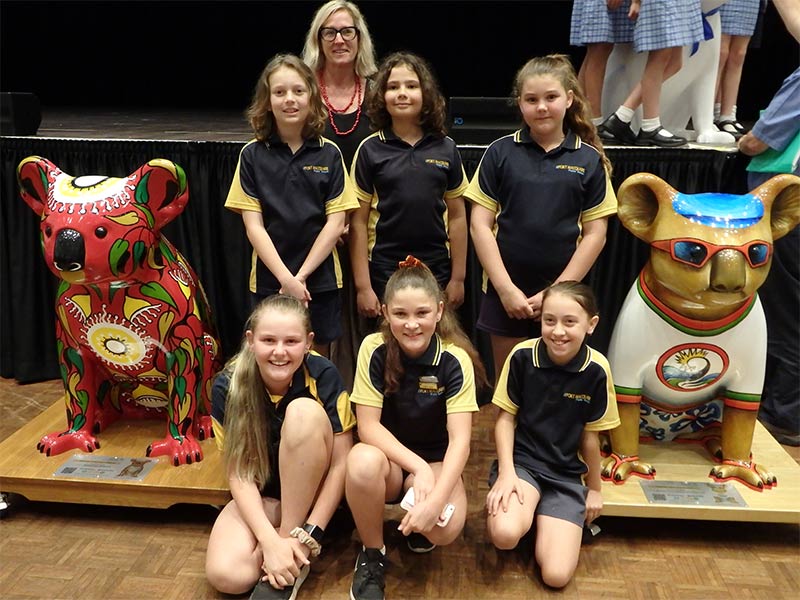 Port Macquarie Public School students coming up with urgently-needed new ideas to conserve koalas on the bushfire ravaged NSW north coast.
Entries from schools taking part in the Port Macquarie - Tacking Point Lions Club's Koala Smart conservation project have taken on a new importance since bushfires ravaged hectares of prime koala habitat the week after the 25 schools presented their ideas.
Organiser Janice McGilchrist said the tragedy has given fresh urgency to selecting and implementing the best entries as soon as possible, given that more than 300 koalas are estimated to have perished in the fires which burnt two-thirds of the Lake Innes Nature Reserve.
"With the Koala Hospital in Port Macquarie now treating around 20 koalas, and many new admissions expected, it's doubly important that practical ideas come into play to protect the local koala habitat and the animals themselves in the long term," Janice said.
Students from 25 primary and secondary schools across the Hastings-Macleay region presented their ideas and solutions to raise awareness of – and help arrest – the decline in local koala populations.
The presentations included interactive picture books, videos and paintings. The schools also displayed the half-metre tall koala models the Lions Club had provided each school with to be painted.
Professionals in koala health and conservation, general and environmental education evaluated the entries which were displayed at Settlement City and Wauchope CWA hall in the last week of October.
Kate Connolly, a teacher at one of the participating schools, Telegraph Point Public School, said the project has given true local, practical meaning to the students' environment studies.
"Having the opportunity to go into a serious local issue in such depth, guided by the expert partners in the project, has given the students deeper insights into what conservation's about at a practical level," Kate said.
"We are really looking forward to what the professionals' opinions of the different projects are, and which may be taken further, but it has been a wonderful learning experience for all the students involved."
The judges were from the Hastings-Macleay Koala Recovery Partnership, Koala Conservation Australia Inc., the Department of Planning, Industry and Environment, the NSW Department of Education and Charles Sturt University.
A selection of the ideas and presentations is being considered for implementation early next year by the Lions Club's partners in the project, the Port Macquarie Koala Hospital and the Koala Recovery Partnership.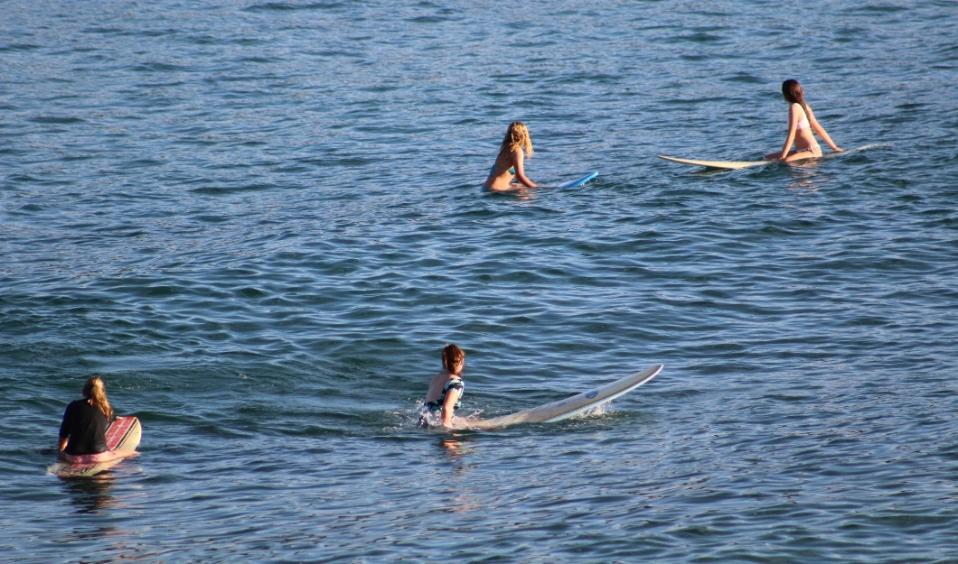 The Queen's Album: The
NSW State Archives And The State Archives Collection
Published by NSW State Archives
Executive Director, Adam Lindsay, provides an introduction to NSW State Archives and the State Archives Collection. Hear about the different ways that NSW State Archives engages with the public and the Collection, including through exhibitions such as 'The Queen's Album'. Find out about the Western Sydney Records Centre, home of the State Archives Collection.
AUSTRAC Applies For Civil Penalty Orders Against Westpac
AUSTRAC, Australia's anti money-laundering and terrorism financing regulator, has today applied to the Federal Court of Australia for civil penalty orders against Westpac Banking Corporation (Westpac).
The civil penalty orders relate to systemic non-compliance with the Anti-Money Laundering and Counter-Terrorism Financing Act 2006 (AML/CTF Act). AUSTRAC alleges Westpac contravened the AML/CTF Act on over 23 million occasions.
AUSTRAC Chief Executive Officer, Nicole Rose, says that AUSTRAC's decision to commence civil penalty proceedings was made following a detailed investigation into Westpac's non-compliance.
It is alleged that Westpac's oversight of the banking and designated services provided through its correspondent banking relationships was deficient. Westpac's oversight of its AML/CTF Program, intended to identify, mitigate and manage the money laundering and terrorism financing risks of its designated services, was also deficient. These failures in oversight resulted in serious and systemic non-compliance with the AML/CTF Act.
appropriately assess and monitor the ongoing money laundering and terrorism financing risks associated with the movement of money into and out of Australia through correspondent banking relationships. Westpac has allowed correspondent banks to access its banking environment and the Australian Payments System without conducting appropriate due diligence on those correspondent banks and without appropriate risk assessments and controls on the products and channels offered as part of that relationship.
report over 19.5 million International Funds Transfer Instructions (IFTIs) to AUSTRAC over nearly five years for transfers both into and out of Australia. The late incoming IFTIs received from four correspondent banks alone represent over 72% of all incoming IFTIs received by Westpac in the period November 2013 to September 2018 and amounts to over $11 billion dollars. IFTIs are a key source of information from the financial services sector that provides vital information into AUSTRAC's financial intelligence to protect Australia's financial system and the community from harm.
pass on information about the source of funds to other banks in the transfer chain. This conduct deprived the other banks of information they needed to understand the source of funds to manage their own AML/CTF risks.
keep records relating to the origin of some of these international funds transfers.
carry out appropriate customer due diligence on transactions to the Philippines and South East Asia that have known financial indicators relating to potential child exploitation risks. Westpac failed to introduce appropriate detection scenarios to detect known child exploitation typologies, consistent with AUSTRAC guidance and their own risk assessments.
"These AML/CTF laws are in place to protect Australia's financial system, businesses and the community from criminal exploitation. Serious and systemic non-compliance leaves our financial system open to being exploited by criminals," Ms Rose said.
"The failure to pass on information about IFTIs to AUSTRAC undermines the integrity of Australia's financial system and hinders AUSTRAC's ability to track down the origins of financial transactions, when required to support police investigations."
AUSTRAC's approach to regulation is based on building resilience in the financial system and on educating the financial services sector to ensure they understand, and are able to comply with, their compliance and reporting obligations. Businesses are the first line of defence in protecting the financial system from abuse.
"We have been, and will continue to work with Westpac during these proceedings to strengthen their AML/CTF processes and frameworks," Ms Rose said.
"Westpac disclosed issues with its IFTI reporting, has cooperated with AUSTRAC's investigation and has commenced the process of uplifting its AML/CTF controls."
Westpac is a member of the Fintel Alliance. The Fintel Alliance is a private-public partnership established by AUSTRAC to tackle serious financial crime, including money laundering and terrorism financing.
Differences In Sensory Brainwaves Of Autistic Teenagers Could Assist In Earlier Diagnosis And Support
November 19, 2019: Macquarie University
Variances have been found in the brainwaves responsible for visual perception between autistic teenagers and those teens not on the autism spectrum. Researchers believe this could assist in earlier diagnosis and help inform how support is given to young people with autism.
Cognitive neuroscience post-doctoral researcher at Macquarie University, Dr Robert Seymour, worked alongside researchers at the Aston Neuroscience Institute (ANI), located at Aston University in Birmingham, United Kingdom.
The researchers focused on sensory areas of the brain because a substantial number of people with autism report issues with processing incoming sensory information, often suffering from hypersensitivity, meaning that bright lights, loud sounds or crowded situations can be overwhelming.
The findings, which have been published in the journal BRAIN, found that different patterns of brain-wave activity were triggered in teenagers diagnosed with Autism Spectrum Disorder (ASD) compared to neuro-typical teenagers, when performing the same simple visual task.
"The results suggest that even during very basic sensory processing, there are differences in the pattern of brain waves between autistic individuals and their peers who do not have ASD. This is important, given that sensory symptoms were recently added to the condition's diagnostic criteria," says Dr Seymour.
"Our results might also explain why over 90 per cent of autistic individuals report atypical sensory responses to visual stimuli," he says. "These experiences are often described in terms of hyper-sensitivities, with more pronounced responses to certain stimuli which result in overwhelming and unpleasant sensations."
At the Aston Brain Centre, the research team used Magnetoencephalography (MEG), an imaging technique that measures the small magnetic fields produced by neuronal activity in the brain, to look at brain activity within the visual system of 18 teenagers with a diagnosis of ASD and 18 teenagers without the diagnosis (aged between 14-20 years). They specifically measured brainwave activity in the visual cortex.
It was found that so-called 'alpha' brain waves were less connected from higher level to lower level brain regions in the autistic visual system. In addition, brainwaves across a broader range of frequencies (gamma range) were 'dysregulated' in the autistic group, meaning they were not organised as efficiently over time and in synchrony with alpha waves.
In Australia, the latest government figures suggest at least 164,000 people have autism, representing about 1 in 150 Australians. Of those who were estimated to have autism in 2015, 143,900 were identified as also having a disability (physical or intellectual), i.e. 88 per cent. In the UK, there are around 700,000 autistic people – that's more than 1 in 100 people – with approximately 33 per cent estimated to have a learning disability, as well as there being three-million carers and families (National Autistic Society).
The findings of this study, titled Dysregulated Oscillatory Connectivity in the Visual System in Autism Spectrum Disorder, could in future allow for an alternative approach to early diagnosis of autism, offering a new perspective on the current understanding of how circuitry in the brain of an individual with ASD functions.
The project's lead, Professor Klaus Kessler, Professor of Cognitive Neuroscience, at the ANI says the research is just the beginning.
"We found an interesting link between brain connectivity and autistic symptoms, as measured via a questionnaire. This finding suggests that in the future, MEG brain scanning could potentially aid clinicians as a tool for earlier ASD diagnosis. Our research could also lead to interventions aimed at managing sensory issues in ASD. These might include brain stimulation techniques; and neuro-feedback training."
The next stage of the research will be to broaden out the MEG scan tests to younger children under the age of 12 years old.
"This is the first step in a long process of understanding autism, improving diagnosis and implementing interventions," says Dr Seymour. "In future we might be able to look at using a combination of MEG scanning and formal clinical assessments."
Watch Out For 'Feather Duvet Lung' Caution Doctors
November 18, 2019
Watch out for 'feather duvet lung' doctors have warned in the journal BMJ Case Reports after treating a middle aged man with severe lung inflammation that developed soon after he bought feather-filled bedding.
The 43 year old was referred to respiratory specialists after 3 months of malaise, fatigue and increasing breathlessness which affected the simplest of activities, such as going from room to room and walking up the stairs at home.
His symptoms worsened to the point where he could only stand or walk for a few minutes without feeling as if he were about to pass out. He was signed off work and managed to do little more than sleep all day.
He was quizzed about possible triggers for his symptoms: there was a small amount of mould in the bathroom, and he owned a cat and a dog, but no birds, so the doctors concluded that these factors were unlikely to be responsible.
But he had recently swapped a synthetic duvet and pillows for feather filled bedding, he said.
Blood tests revealed antibodies to bird feather dust, and his chest x-ray was consistent with hypersensitivity pneumonitis -- a condition in which the air sacs and airways in the lungs become severely inflamed as a result of the body's exaggerated immune response to a particular trigger.
The man was diagnosed with a variant of hypersensitivity pneumonitis -- feather duvet lung -- which is caused by breathing in organic dust from the duck or goose feathers found in duvets and pillows.
He was given a course of steroids to quell the inflammation and told to revert to synthetic bedding. After 12 months his symptoms had cleared up and his life had returned to normal.
This is just one case, and it's not known how common feather duvet lung is, say the authors, precisely because it is often missed as doctors rarely ask patients about feather bedding.
But in the first four months of 2015 alone, 7 million duvets were sold in the UK, they point out. And repeated exposure to the culprit trigger in hypersensitivity pneumonitis can lead to irreversible scarring of the lung tissue, so it's important to identify this promptly, they say.
Patrick Liu-Shiu-Cheong, Chris RuiWen Kuo, Struan WA Wilkie, Owen Dempsey. Feather duvet lung. BMJ Case Reports, 2019; 12 (11): e231237 DOI: 10.1136/bcr-2019-231237
Beyond The Green Revolution
November 19, 2019
There has been a substantial increase in food production over the last 50 years, but it has been accompanied by a narrowing in the diversity of cultivated crops. New research shows that diversifying crop production can make food supply more nutritious, reduce resource demand and greenhouse gas emissions, and enhance climate resilience without reducing calorie production or requiring more land.
The Green Revolution -- or Third Agricultural Revolution -- entailed a set of research technology transfer initiatives introduced between 1950 and the late 1960s. This markedly increased agricultural production across the globe, and particularly in the developing world, and promoted the use of high-yielding seed varieties, irrigation, fertilizers, and machinery, while emphasising maximising food calorie production, often at the expense of nutritional and environmental considerations. Since then, the diversity of cultivated crops has narrowed considerably, with many producers opting to shift away from more nutritious cereals to high-yielding crops like rice. This has in turn led to a triple burden of malnutrition, in which one in nine people in the world are undernourished, one in eight adults are obese, and one in five people are affected by some kind of micronutrient deficiency. According to the authors of a new study, strategies to enhance the sustainability of food systems require the quantification and assessment of tradeoffs and benefits across multiple dimensions.
In their paper published in the Proceedings of the National Academy of Sciences (PNAS), researchers from IIASA, and several institutions across the US and India, quantitatively assessed the outcomes of alternative production decisions across multiple objectives using India's rice dominated monsoon cereal production as an example, as India was one of the major beneficiaries of Green Revolution technologies.
Using a series of optimisations to maximise nutrient production (i.e., protein and iron), minimise greenhouse gas (GHG) emissions and resource use (i.e., water and energy), or maximise resilience to climate extremes, the researchers found that diversifying crop production in India would make the nation's food supply more nutritious, while reducing irrigation demand, energy use, and greenhouse gas emissions. The authors specifically recommend replacing some of the rice crops that is currently being cultivated in the country with nutritious coarse cereals like millets and sorghum, and argue that such diversification would also enhance the country's climate resilience without reducing calorie production or requiring more land. Researchers from IIASA contributed the design of the optimisation model and the energy and GHG intensity assessments.
"To make agriculture more sustainable, it's important that we think beyond just increasing food supply and also find solutions that can benefit nutrition, farmers, and the environment. This study shows that there are real opportunities to do just that. India can sustainably enhance its food supply if farmers plant less rice and more nutritious and environmentally friendly crops such as finger millet, pearl millet, and sorghum," explains study lead author Kyle Davis, a postdoctoral research fellow at the Data Science Institute at Columbia University, New York.
The authors found that planting more coarse cereals could on average increase available protein by 1% to 5%; increase iron supply by between 5% and 49%; increase climate resilience (1% to 13% fewer calories would be lost during times of drought); and reduce GHG emissions by 2% to 13%. The diversification of crops would also decrease the demand for irrigation water by 3% to 21% and reduce energy use by 2% to 12%, while maintaining calorie production and using the same amount of cropland.
"One key insight from this study was that despite coarse grains having lower yields on average, there are enough regions where this is not the case. A non-trivial shift away from rice can therefore occur without reducing overall production," says study coauthor Narasimha Rao, a researcher in the IIASA Energy Program, who is also on the faculty of the Yale University School of Forestry and Environmental Studies.
The authors point out that the Indian Government is currently promoting the increased production and consumption of these nutri-cereals -- efforts that they say will be important to protect farmers' livelihoods and increase the cultural acceptability of these grains. With nearly 200 million undernourished people in India, alongside widespread groundwater depletion and the need to adapt to climate change, increasing the supply of nutri-cereals may be an important part of improving the country's food security.
Davis K, Chhatre A, Rao N, Singh D, Ghosh-Jerath S, Mriduli A, Poblete-Cazenave M, Pradhan N, & DeFries R. Beyond the Green Revolution: Balancing multiple objectives for sustainable cereal production. PNAS, 2019 DOI: 10.1073/pnas.1910935116
Disclaimer: These articles are not intended to provide medical advice, diagnosis or treatment. Views expressed here do not necessarily reflect those of Pittwater Online News or its staff.