August 25 - September 1, 2018: Issue 373

Historic Photographers Of Pittwater: Harold 'Caz' Cazneaux 1878 - 1953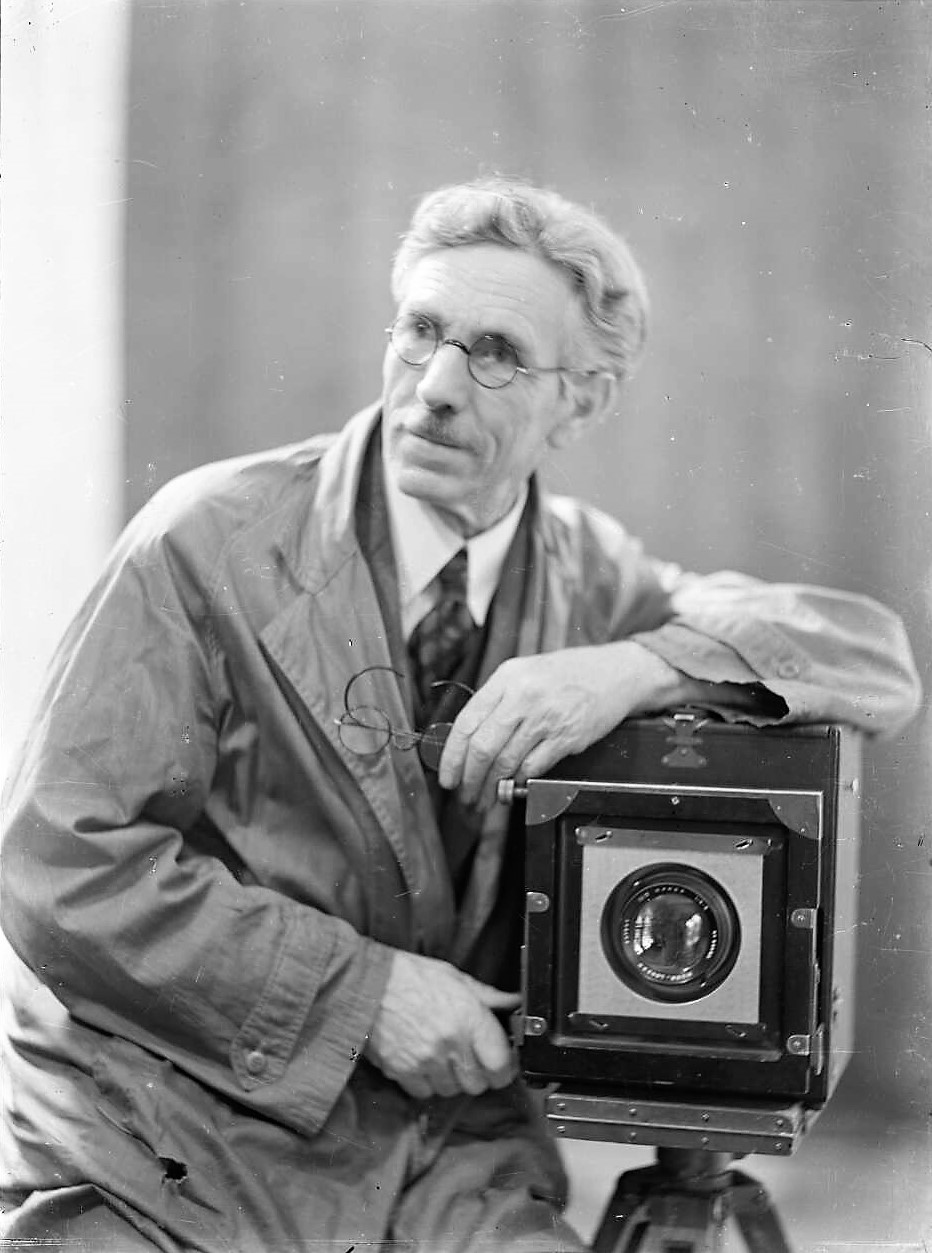 Cazneaux, Harold. (193-?).
Harold Cazneaux leaning on a camera looking to one side, 1930s?
Courtesy National Library of Australia.
Retrieved from
http://nla.gov.au/nla.obj-144168829
For anyone who loves photography the visions captured by Harold Cazneaux will feature among their favourites. A gentleman who worked ceaselessly in his chosen vocation for decades, Mr. Cazneaux, or 'Caz' as he preferred to be known, shifted the ground in terms of what was captured and how and when it was captured creating not only imagery of iconic places and events but also photographs that in themselves have become iconic for their style, essence and the presence we sense in them - still.
His images of our area allow us to see here as it was prior to the sprouting of suburbs and also celebrate the person placed in this environment, more so when you understand that many of his early and later images of here contain family members. In fact, family was his wellspring, his heart and his home.
Dick Smith, yes the Dick Smith of Dick Smith Electronics, the grandson of Harold Cazneaux, stated in a 2008 interview where yet another Art Gallery of NSW Exhibition 'Harold Cazneaux: Artist in Photography' was celebrating his works;
'He used to take me to the beach at Dee Why.'
'he was a very gentle person, unassuming..'
'his photographs were of places that he loved – the Flinders Ranges and Dee Why beach. Most people would not realise that the photos which show the Razzle Dazzle or the beaches come from Dee Why beach because that was my grandfather's favourite place to take us.
'We would all go down in the silver anniversary Buick that he owned, to Dee Why beach, this was in the early 1950's when he wasn't photographing ( full time any more). To look at those photographs now and see the headland of Long Reef on the background, it takes me back to the wonderful weekends we had with my grandfather and my grandmother.'
Harold was himself the grandson of celebrated Artist, Edward Lancelott Cazneau. Family records speak of members moving from their native country France to Boston, U.S.A., in the middle of the 18th century. Some records state the Cazneaus were French Huguenots whose ancestor Paix (Peace) Cazneau migrated to America and established the family in Boston Massachussetts in the late 17th century. Some of our earliest newspapers record one relatives activities and interest and an attitude that was rare in those times:
PARTIES IX THE ISLAND.—CAZNEAU'S NEGOTIATIONS.
Santiago (island of Hayti), Sep. 14, 1854.
The inland of Hayti is divided nominally between two Governments, namely the Dominican He public at the east, which is under white preponderance, and the west, which is exclusively under the black. There is, however, a third party in the centre of the island, almost distinct from either. The rich district of the gold-teeming Cibao and the fertile plain of the Vega are considered a part of the Dominican Republic, but it has its own independent aims and sympathies not entirely in accordance with those of the capital and extreme east of the Republic.
Central Hayti is white with a dash of Indian, as Eastern Hayti is white with a dash of African, and more than any other part of the island it cherishes an uncompromising hatred of the Haytiens. In every quarter the inhabitants have before their eyes the ruins of their former prosperity, and every family has its own tale of the horrors about negro invasions. They are afraid of even a positive peace and free intercourse with Hayti, lest it might lead, as it did once before, to a union of the whole island under a coloured government. They openly declare themselves in favour of annexation to the United States, and have never ceased to demand white immigration.
You will understand, therefore, that the island of Hayti is divided into two governments and three parties, and that each party has about an equal share of the territory, but the Hayti jqs have two-thirds of the entire population, or 650,000 out of a million souls.
Eastern Hayti is so much under European influence that it may any day succumb to the European policy, which is declared here without reserve, of uniting with Hayti, bat for the central districts, which are anti-European almost to a man.
The geographical position of these districts is much against their independence, for they are between the two fires of Hayti on the one side and European rassatage on the other. A recognition by the United States would be highly serviceable to the Dominican Republic and if it comes in time would unite its sections in a common sentiment, and settle it firmly in its place as an independent American State. I do not wish to see this island or any part of it annexed to the United States. It ought to be recognized for the sake of our own citizens, who would then have the monopoly of her trade, and entirely clothe his people with our
cotton.
A Commissioner from the United States is at the capital of the republic, negotiating a treaty which will give our citizens the right to buy land and work mines, with all the rights and privileges of native citizens.
This is the same as giving a new State to American enterprise, and we must not forget that these rights and advantages extend to all classes and colours, and in particular it opens a splendid field for educated men of mixed blood. The laws and the constitution make no distinction of colour, and the customs of society accept for white men ail in whom the white blood visibly preponderates.
I cannot say how pure African would pass, for I have not met any one whose education and position would place him in the highest society if he was white, and the want of these requisites is keeping down the blacks here quite as positively as in the United States.
Let the friends of the coloured race try out the problem of its capacities on this friendly soil and in this favourable climate. There is nothing here, not even the prejudices of society, to hinder their efforts. Land is cheap, fertile, the laws liberal, society kind, and the country very near to you.
Send school-books and teachers, and encourage the flower and force of the coloured men of the Union to
come here and show the world what they were worth.
There will be sense and reality in such a movement, and its results will be tangible facts, and we want some real solid facts to thicken all the froth of philanthropy with which the United States are simmering. PARTIES IN THE ISLAND.—CAZNEAU'S NEGOTIATIONS. (

1855, March 17

). Adelaide Observer (SA : 1843 - 1904), p. 7. Retrieved from http://nla.gov.au/nla.news-article158102694
THE CAZNEAU PLAN— THE SPANISH WEST INDIES.
In a letter to an officer of the West Indian' Company, General W. L. Cazneau, U. S. Commissioner, under Pierce and Buchanan, to the Dominican Republic, suggests a very concise solution of the Dominican entanglement with Spain. He says, under date 3 of September 7th, 1865 : —
Spain demands the repayment of her outlays in the attempted subjugation of the Dominican Republic, and under this pretence, she will grasp at Samana, the Gibraltar of the Antilles, if. the United States maintain silence.' ' If no objection is made to this acquisition in front of our Southern coasts, of a capacious bay, commanded by natural strongholds, unequalled in the West Indies, as General M'Clellan can testify by personal survey, France may accept the precedent and seize _ upon Lower California or the Tehuantepec transit route, in compensation for her services in forcing an Emperor on Mexico. ' In either case, an appeal to the just arbitration of a disinterested power would force an award for damages in favour of the American Republic, who have suffered so ruinously from European invasion. . ' So soon as President Johnson shall have established treaty relations with the Dominican Republic, this Spanish demand will be met by a counter demand for damages for the destruction of the Dominican cities of Puerto Plata and Santiago, and for other immense lasses inflicted on the Republic by the invading forces of Spain. ' The suppression of the Dominican Republic by Spain had no colour of legality. It was not in accordance with the will of the people, for it was never in any form submitted to them, and all the representatives of the foreign Powers know, and without exception must admit, that not one hundred Dominicans in a hundred was willing to accept the rule of Spain. The masses were disarmed, and their fortified points already delivered into the hands of Spanish emissaries by the subtle treason of President Santana, when the Queen of Spain was proclaimed in Santo Domingo by a coup d'etat. The city was completely covered by Spanish cannon when the blow was struck, and for a brief space the betrayed Dominicans were stunned and powerless. They soon rallied, however, and after a desperate struggle of three years, during which they have displayed a heroic, self-sacrificing constancy almost without a parallel in history, Spain was compelled to retire from the Dominican soil. It was never a just or legitimate occupation. It was the temporary extinction of a truly free and independent American Republic, by an infinitely stronger European power, through the treason of the Executive, aided by a daring combination of secret fraud and open force. ' The project of the annexation to Spain was never submitted to the co-ordinate branches of the Government, any more than it was to the Dominican people. It was to the last possible moment kept from their knowledge and action, as it was from the people, and Spain can make no claim on the plea of legally authorised invitation to enter into possession. I regret, therefore, that it is of damages to be put to, not of indemnity from the Dominicans, that we should treat. Let every Spanish demand be met with Dominican counter-claims, and let England or the United States hear and arbitrate between them.' ' THE CAZNEAU PLAN—THE SPANISH WEST INDIES. (
1866, January 13
).
Sydney Mail
(NSW : 1860 - 1871), p. 6. Retrieved from
http://nla.gov.au/nla.news-article166663051
William Leslie Cazneau (1807–1876) was a Texas pioneer and is credited with having buried the Alamo Heroes with full military honors.
Cazneau was born in Boston and came to Texas in 1830. He was the older son of ship master William L. Cazneau (1768–1866). In the late 1840s, he married Jane McManus Storms Cazneau (1807-1878, daughter of Congressman William McManus).
His brother was Gen. Thomas N. Cazneau of California (1812–1873). His sister was Mary Eliza Cazneau who married Joshua Holden in Texas in 1844 and later moved to Sonora, California in 1849.
He died at his estate in Jamaica in 1876.
Early in the 19th Century two great-uncles returned to England, one of them to become a master ship-builder in Liverpool; another to preach in Trinity Chapel, London. Harold's grandfather, Edward Lancelot Cazneaux, born 1809 or 1810 in England according to some records, studied at the Royal Academy of Arts and become a successful portrait and landscape painter.
In 1828 E L Cazneau entered Dublin's Society Schools as a pupil.
In 1935 he married Margaret Sharpe in Dublin, who was then 16, the daughter of Sarah Sharpe, robe and gown maker for the University. Four of their sons were born in Ireland.
Pierce Mott Cazneau, father of Harold, was born in 1849 in Birkenhead, Cheshire (1851 census) and grew up in Liverpool.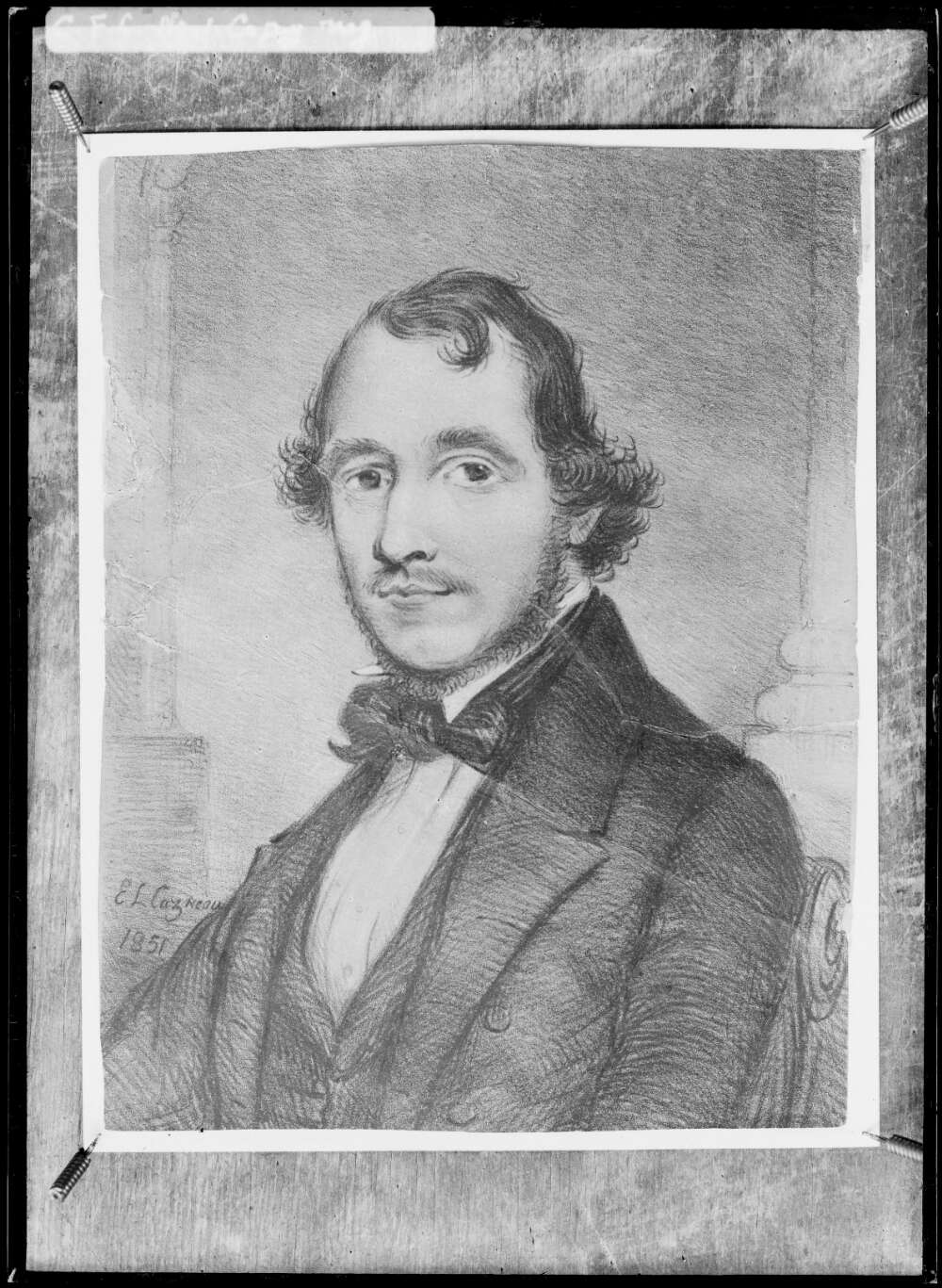 Edward Lancelott Cozneau, artist– family has a drawing done by him dated 1851 Cazneaux, Harold & Cazneau, Edward Lancelot. (19-?). Portrait of Edward Lancelot Cazneau Retrieved from
http://nla.gov.au/nla.obj-144115574
Edward Lancelot Cazneaux died in Liverpool in 1855. His widow, acting on the advice of her brother who was a sea-captain in the Australian coastal trade, came out to Australia with her five of her sons in the ship "Great Britain" in 1855. One son,
Edward Lancelot junior died in 1853.
Margaret invested her money in sheep at Eden on Twofold Bay and when this venture failed, moved to
Newcastle
and then Sydney and supported herself as a concert pianist and a teacher of music - very fine music:
EDEN. (From a Correspondent. On Saturday evening October 8th, this township translivened by
a grand vocal and instrumental concert given by Mr. W. Cazneau, assisted by Mrs. Cazneau
and Mr. J. de Wolb; the programme was very-tastefully selected, and the performances of a very creditable affair, especially the comic singing of J. de Wolb, and the performance of Mrs. Cazneau on the pianoforte. We regret to say that the attendance was not at all worthy of the spirited effort of the performers. We hope that they will not be dispirited by the example of the Eden people, but try their fortunes at Pambula, Bega, and other places, as such amusements are much required, and deserve the support of the country districts. EDEN. (
1859, October 19
).
The Goulburn Herald and County of Argyle Advertiser
(NSW : 1848 - 1859), p. 3. Retrieved from
http://nla.gov.au/nla.news-article118246560
MARRIAGE.
CAZNEAU — KUHN. — On the 25th January, at St. Andrews Church, Waratah, by Rev. E. Lewis,
WARREN HOUSMAN CAZNEAU
,
third son of the late Edward Lancelott Cazneau, Esq., of Liverpool,
England,

to ANETTA KUHN, eldest daughter of P. Kuhn, Waratah. Family Notices (

1872, February 3

). The Newcastle Chronicle (NSW : 1866 - 1876), p. 4. Retrieved from http://nla.gov.au/nla.news-article111144985
CAZNEAU—May 25, at Newcastle, the wife of Mr. Warren H. Cazneau, of a daughter. Family Notices (
1873, June 14
).
The Sydney Morning Herald
(NSW : 1842 - 1954), p. 9. Retrieved from
http://nla.gov.au/nla.news-article13313610
THE annual general meeting of the Newcastle Liedertafel was held last night at the old Masonic Hall (Moroney's Hotel). There was a good attendance of members, and the chair was occupied by Mr. W. A. Orr.
Mr. PRESCOTT CAZNEAU moved,
"That Mr. Joseph Wood be re-elected to the presidency of this Liedertafel." He was sure, if he addressed them all night, that nothing he could say would be sufficiently eulogistic of Mr.. Wood, and he considered he had proved himself to be a thorough enthusiast in the -society; because it was a well-known fact that if anyone wanted to know the value of a man they touched his
purse, and Mr. Wood in this respect had showed practical sympathy for the society. (Applause.) He considered, in proposing Mr. Wood, that that gentleman's valedictory remarks were coupled with such affection to the society and members. that it should be the last thought in their minds to appoint another president whilst he was able to conduct the society. (Applause.)… NEWCASTLE LIEDERTAFEL. (

1888, June 29

). Newcastle Morning Herald and Miners' Advocate (NSW : 1876 - 1954), p. 5. Retrieved from http://nla.gov.au/nla.news-article135919054
CAZNEAU.—June 17, 1893, at her son's residence, 25 Forbes street, Darlington,
Margaret Cazneau, relict of the late Edward Lancelott Cazneau, artist, Liverpool, England
. Family Notices (
1893, June 24
). The Sydney Morning Herald (NSW : 1842 - 1954), p. 1. Retrieved from
http://nla.gov.au/nla.news-article13922538
Pierce Mott Cazneau (1849 -1928) was a professional photographer. He worked in Sydney during the 1860s, first for Freeman Brothers. At Freemans he met Emily Bentley, a miniature portrait painter and colourist for the studios who also was known to take photographs later on.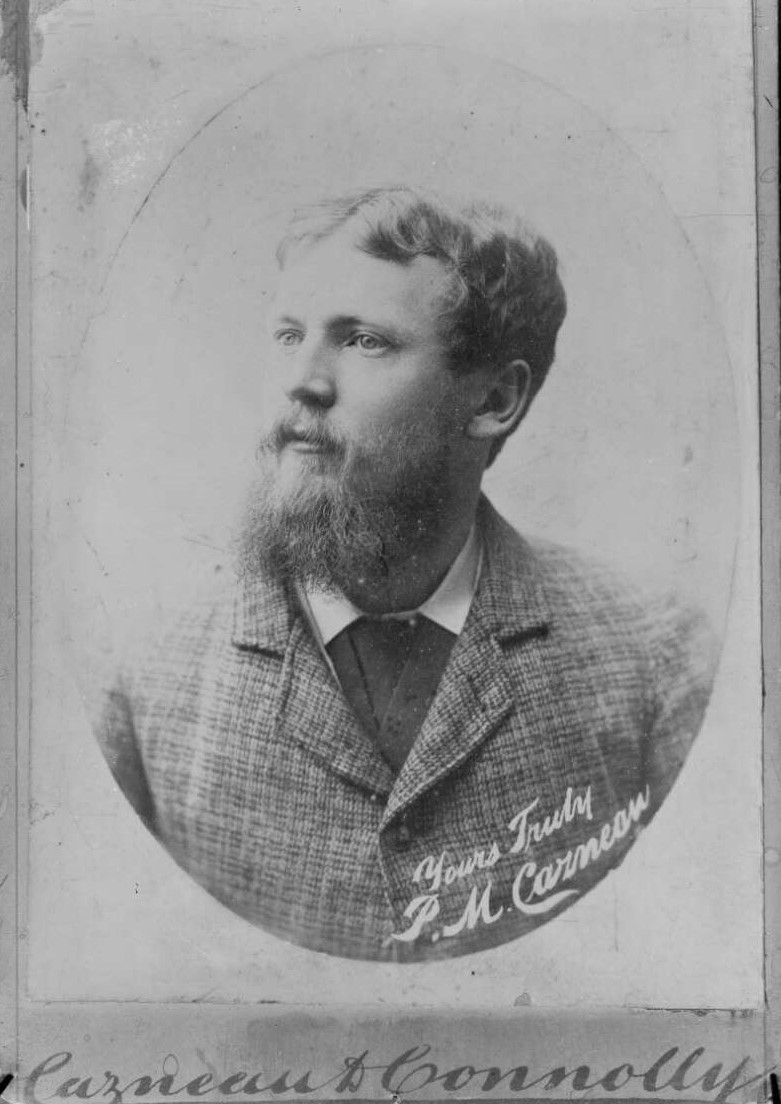 Cazneaux, Harold & Cazneaux & Connolly (N.Z.). (19-?). Portrait of
Pierce Mott Cazneau
, 2 – 1870s' Courtesy National Library of Australia. Retrieved from
http://nla.gov.au/nla.obj-144115828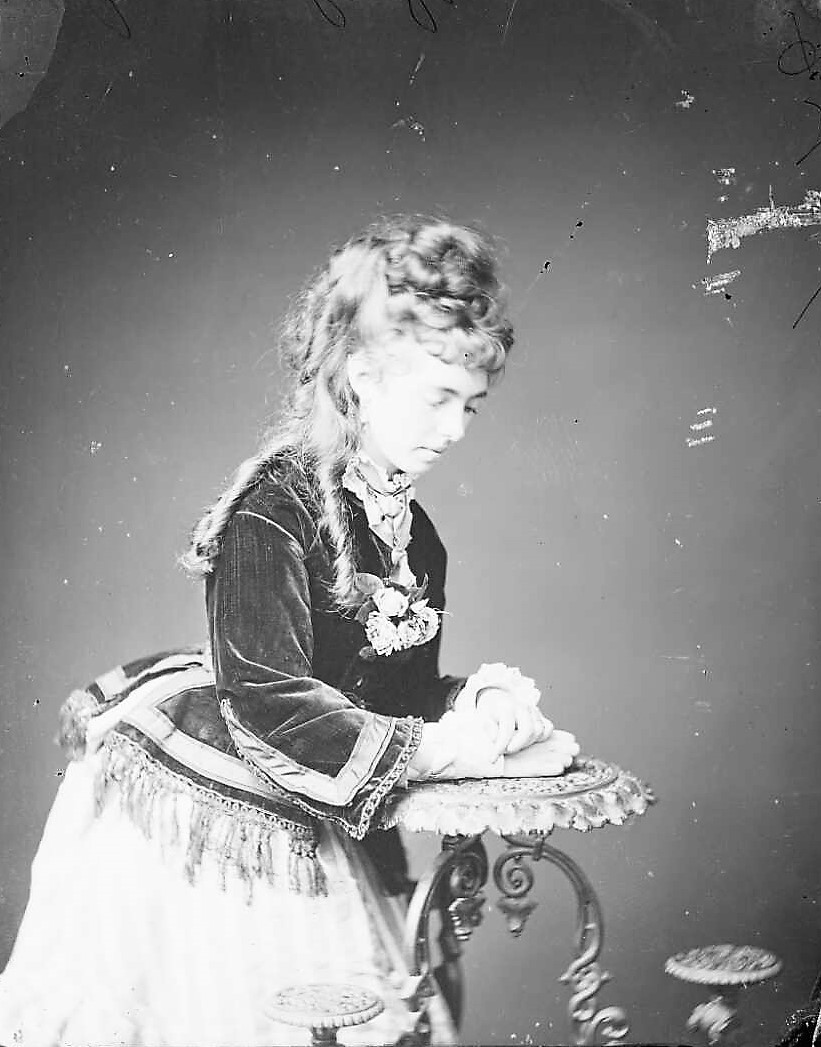 Cazneau, Pierce Mott & Freeman & Co. (187-?). Portrait of
Emily Florence Bentley,
Sydney, ca. 1870s, 1
Courtesy National Library of Australia.
Retrieved from
http://nla.gov.au/nla.obj-144115937
He formed a short lived partnership the "Cazneau Brothers" with his older brother Warren in 1870, taking over the studio of Alex Smithers in Hunter Street, Newcastle that appears to have closed the following year.

CAZNEAU, BROTHERS
, beg to draw the attention of the inhabitants of Newcastle and surrounding districts, that they have OPENED a PHOTOGRAPHIC STUDIO, where they intend producing Pictures in the best and most fashionable style ;
also, the Improved Systom of Taking Children INSTANTANEOUSLY, whereby they can obtain an accurate and pleasing likeness.
CAZNEAU, BROTHERS, also respectfully draw the attention to the Coloured Portions of their Art, now on view in their Studio, and worthy of inspection.
They can guarantee a beautiful, soft, and natural tint to their pictures. They will spare no expense and at-tion to please those who patronise them.
CAZNEAU, BROTHERS, also take View, Business Houses, Ships, Horses, and Cattle, in the most approved style.
Specimons can be seen at the STUDIO, Hunter-street, Next door to Mr. Turri's.
Florence joined Mott in Wellington where they were married and they worked together for Wrigglesworth and Binns.
COZNEAU-BENTLEY
.-December 23, by the Rev. H. B. Redstone, New Zealand,
Pierce Mott, Cozneau, sixth son of the late Edward Lancelott Cozneau, artist, Liverpool, England, to Emily Florence Bentley, youngest daughter of the late R. Bentley, Esq., Sydney.
Family Notices (
1877, January 13
).
Australian Town and Country Journal
(Sydney, NSW : 1870 - 1907), p. 33. Retrieved from
http://nla.gov.au/nla.news-article70598252
The couple resided in Martin's Cottages, Taranaki Street and had three children, including son Harold Pierce Cazneau born 30 March 1878, Carmen, born 1882, and Major Gordon, born 1880, also known as 'King' and another boy, possibly a twin of Gordon/King - Gerald, or he was born after Carmen. Gerald passed away when still young in 1901:
The following is the 345th list of casualties sustained by members of the Australian
Imperial Forces:—
NEW SOUTH WALES.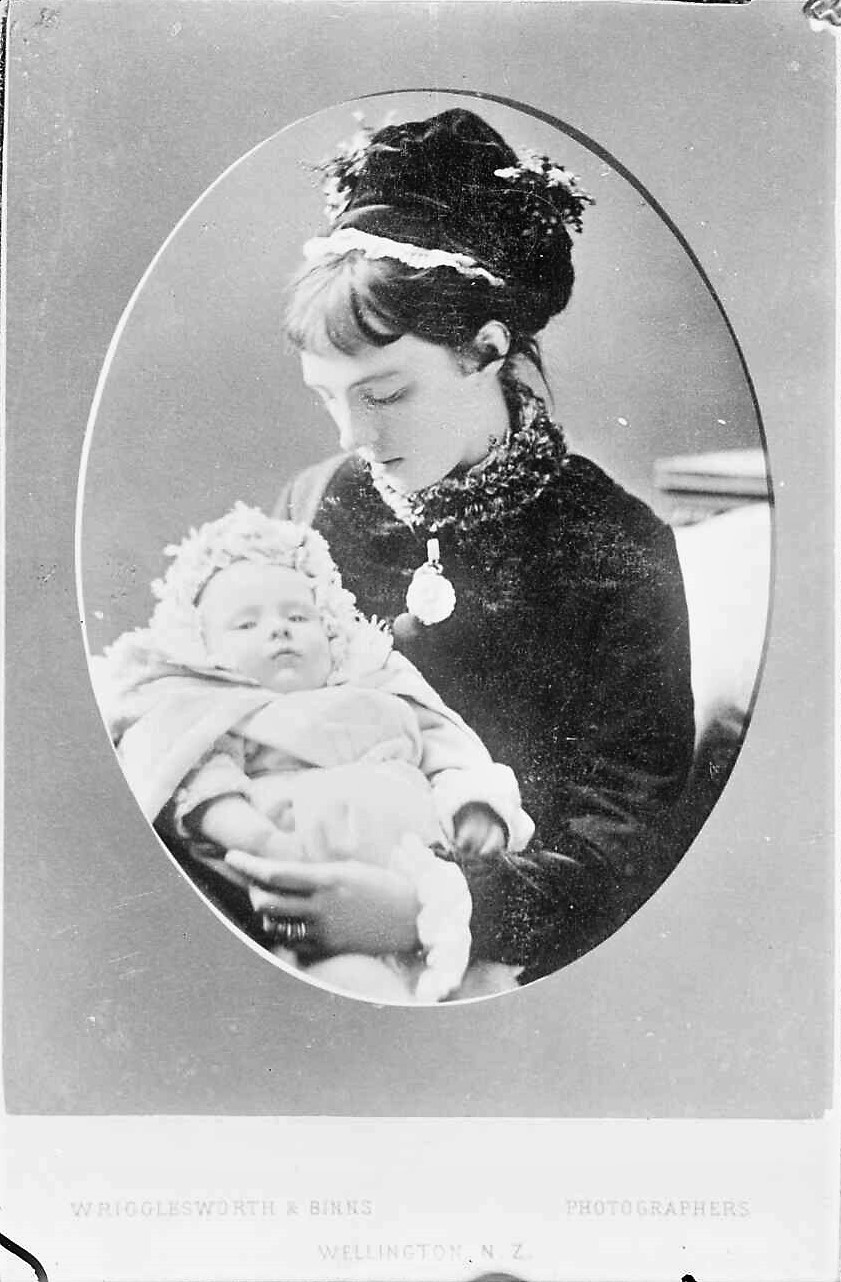 Cazneaux, Harold & Wrigglesworth & Binns (Wellington, N.Z.). (19-?).
Emily Cazneau wearing a hat and holding baby Harold
Courtesy National Library of Australia.
Retrieved
from http://nla.gov.au/nla.obj-144117069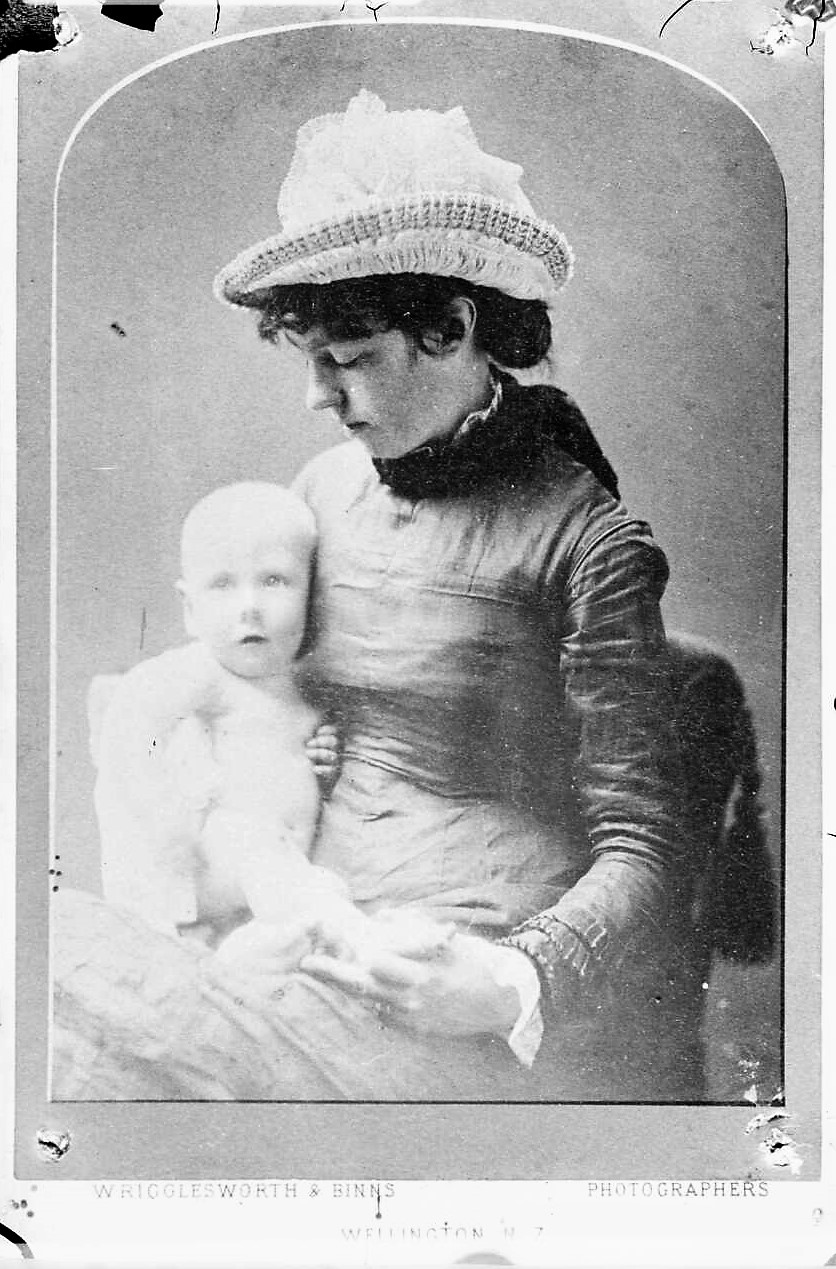 Emily and 'King' circa 1881 - Cazneaux, Harold & Wrigglesworth & Binns (Wellington, N.Z.). (19-?).
Emily Cazneau wearing a hat and holding baby King
Courtesy National Library of Australia.
Retrieved
from
http://nla.gov.au/nla.obj-144117172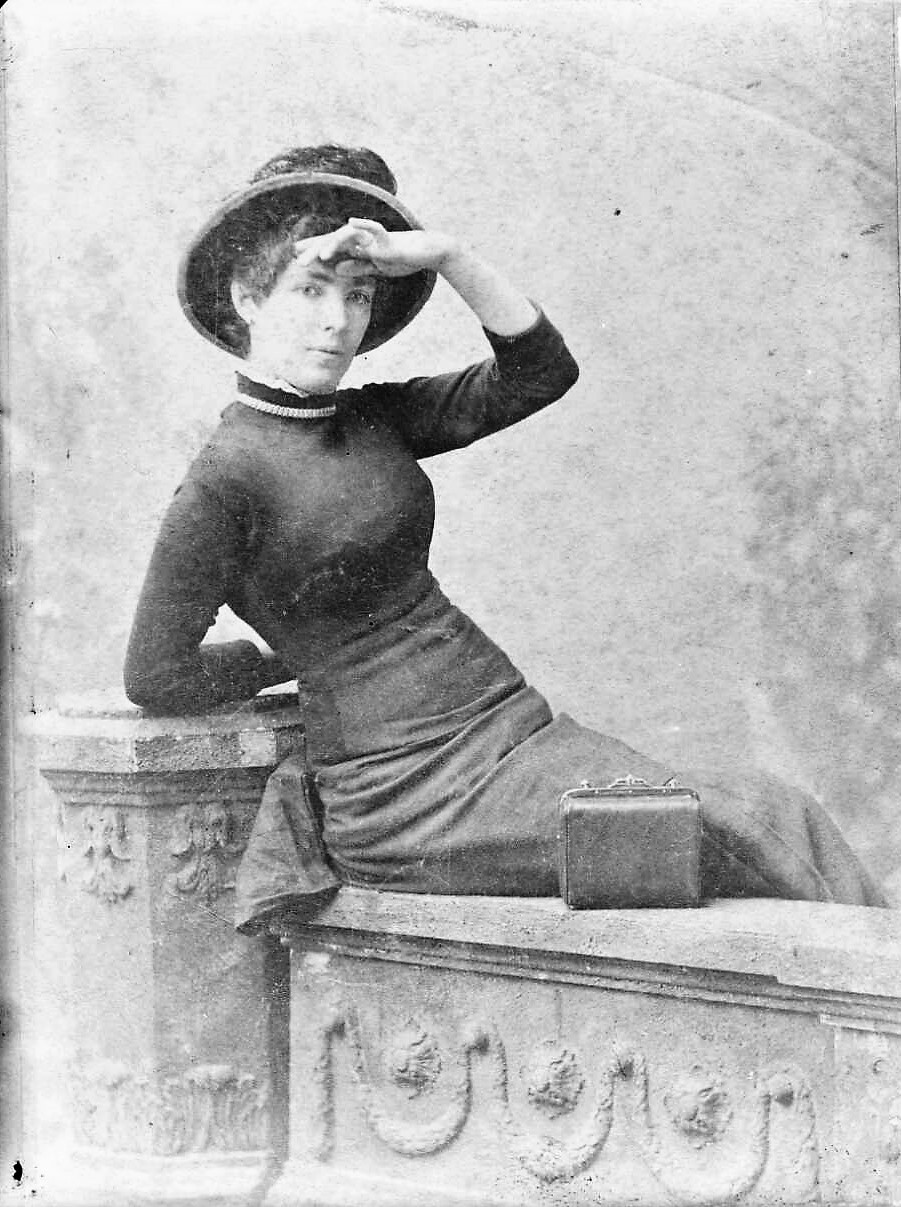 Records indicate P. Mott Cazneau had his own studio during the period of his tenure with Wrigglesworth and Binns as he was fined for allowing the chimney in his home to catch fire and described as a photographer of Cuba St (
Evening Post
, 22 May 1878) whereas Wrigglesworth & Binns studio was in Willis Street.
In 1883 he left the employment of Wrigglesworth and Binns and opened his own studio on Lambton Quay, Wellington with James Bennett Connolly trading as "Cazneau & Connolly" and they advertised that they had "spared no expense in importing the very newest instruments from London, and a large variety of the latest accessories and scenery from Paris and San Francisco" (Evening Post, 24 January 1883). P. Mott and James Connolly were acquainted as musicians. They played together in amateur and professional productions in Wellington, often at the Athenaeum Hall with Mott playing violin, cello and bass and Connolly playing violin or conducting.
GRAND SACRED CONCERT.
...
Mr Cazneau performed a violoncello solo, " Abend Gebet,'' composed for this concert by Mr G. Robertson, with great ability
. The next item on the programme was omitted, it being explained that the young lady who was to have sung had been prevented leaving Wellington by a family bereavement, however, for this was substituted the solo "He wipes the tear from every eye," with violin obligato, and Miss Hounsell sang with good expression, and in capital voice. Mr J. M. Clark having given a recitation, which proved his ability as an elocutionist, Mr E. J. Hill sang the recitative and aria '' He counteth all His sorrows" (Lobgesang), and in the second part, he sang "The Priory Gate," in both acquitting himself well.
An instrumental Trio, for violin, violoncello, and piano, by Messrs Isherwood, Robertson, and Cazneau, having been duly appreciated,...
GRAND SACRED CONCERT.
COLONIST
, VOLUME XXVII, ISSUE 3891, 12 APRIL 1884
Later in 1883 Cazneau and Connolly advertised the employment of a first-class American photographer (Evening Post, 5 December 1883). This is probably the Mr. Besse mentioned in advertisements as manager of a branch facility that opened 4 February 1884 in Hastings St, Napier in premises previously occupied by photographer James Corbett. Briggs G. Besse was from Maine in the USA and had worked as a photographer in Bombala and Bega, New South Wales and Deloraine, Tasmania during the preceding couple of years. Interestingly this branch studio had a mammoth plate camera "which will produce negatives 24 inches long by 17 wide" (Hawkes Bay Herald, 12 March 1884).
Early 1885 the Wellington Studio was renovated with a "new collection of accessories" "just imported from Home" (Evening Post, 24 January 1885) but by the middle of the year the business partnership had ended with Connolly retaining the business name (Evening Post, 27 June 1885) and later taking former employee Richard Herrmann in as a new partner. Cazneau announced that he was opening his own studio on 1 August (Evening Post, 1 July 1885)This studio at 64 Cuba Street operated under his wife's name, probably to avoid conflict with his former partner, although Emily is known to have taken photographs during this time.
Just over a year later that the studio folded and the equipment was auctioned by Francis Sidey & Co on 21 September including a George Hare camera, two Dallmeyer B lenses, contents of printing and finishing rooms and household furniture (Evening Post, 18 September 1886).
By November they had returned to Australia, landing first at Melbourne
then P M Cazneau worked as manager of the London Photographic Company at 419 George Street from 1887 to 1889
prior to going on to Adelaide in South Australia, where he
worked managing Townsend Duryea junior's studio in Rundle Street, then he moved on to Hammer & Co's studio at 6 Rundle Street.
PHOTOGRAPHERS. P. M. Cazneau well- known Photographic ARTIST from New Zealand open for ENGAGEMENT P.M.C Argus office.
Advertising (
1886, November 30
).
The Argus
(Melbourne, Vic. : 1848 - 1957), p. 1. Retrieved from
http://nla.gov.au/nla.news-article11581235
Hammer studios described themselves as "art photographers" catering to the cream of society and specialising in fine platinotypes. William Henry Hammer had established his first studio in Adelaide in 1879 and at one point he had three city studios and one at Port Adelaide. By 1888 he had consolidated to just one studio.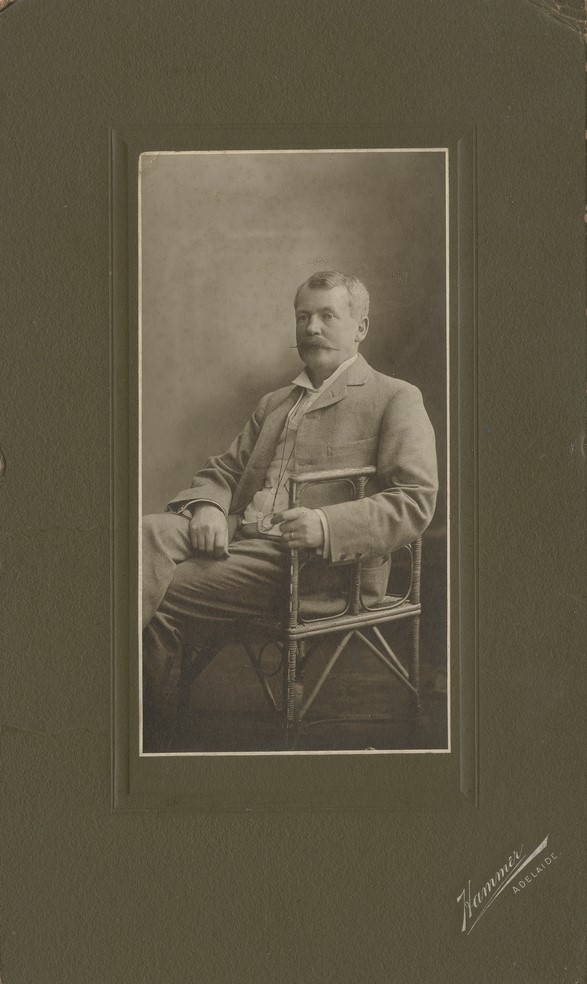 Photograph Pierce Mott Cazneaux
, Photograph, PRG 737/27 - courtesy State Library of South Australia
Studio portrait of Pierce Mott Cazneaux, father of Harold Cazneaux.
After a couple of years working in Adelaide, Emma succumbed to tuberculosis in 1892:

CAZNEAU.-
On the 24th March, Emma Florence, the beloved wife of Pierce Mott Cazneau, aged 31 years.
Wellington (N.Z.) papers please copy. Family Notices (
1892, March 30
).
The Express and Telegraph
(Adelaide, SA : 1867 - 1922), p. 4. Retrieved from
http://nla.gov.au/nla.news-article208326375
Three years later in 1895 he married Christina "Tean" Harley, born October 12th, 1867 who was working in the Hammer studios. Their union produced more children:

CAZNEAUX.—On the 17th of February,
Christina Margaret Jane Cazneaux, relict of Pierce Mott Cazneaux
, of 355 Esplanade, Henley Beach.
loving mother of Jack, Pip, Dot and Carmen,
and youngest daughter of the late Mr. and Mrs. J. Harley, of Hindmarsh: aged 70 years. Family Notices (
1938, February 21
).
The Advertiser
(Adelaide, SA : 1931 - 1954), p. 12. Retrieved from
http://nla.gov.au/nla.news-article30846124
THE FRIENDS of
Mr. P. M. CAZNEAU are respectfully informed that the Remains of his late SON (Gerald)
will be removed from his residence, Wellington-road, Payneham, TOMORROW (Thursday), at 11 a.m., for interment in the Payneham Cemetery.
Family Notices (

1901, October 16

). The Advertiser (Adelaide, SA : 1889 - 1931), p. 2. Retrieved from http://nla.gov.au/nla.news-article4928198
MARRIAGES.
MINEAR—CAZNEAUX.—On the 6th August, at St. James's Church, Torrensville, by the Rev. Whitfield, William Mansell, youngest son of Mr. J. Minear, of Clifford street, Torrensville, to
Dorothy Harley, youngest daughter of Mr. and Mrs. P. M. Cazneaus, of Ebor avenue, Torrensville.
Family Notices (
1923, September 15
).
Saturday Journal
(Adelaide, SA : 1923 - 1929), p. 30. Retrieved from
http://nla.gov.au/nla.news-article199233415
In Adelaide Harold went to a local state school then started to work as a retoucher and colourist for Hammer & Co in 1896. He attended H. P. Gill's evening classes at the School of Design, Painting and Technical Arts. As a young man his passion for photography as an art was aroused by an exhibition of new 'pictorial movement' photographs from England.
Writing to the Australian photographic historian and writer Jack Cato in 1952, Harold Cazneaux, recalled how the 1898 international exhibition of pictorialist photography forever changed him. 'I stood spellbound and inspired,' he told Cato, 'here was a new beauty beyond anything I had dreamed of in terms of the camera.'
This wide eyed young man would later be described as 'the father of modern Australian photography'. The commencement was not with anything too fancy, as '
His first photographic work was by way of an old borrowed camera with a shutter which worked with a piece of elastic
' according to one South Australian newspaper article.
During 1904 Harold Cazneau joined Freeman Studios in Sydney where his parents had both previously worked. The studio was by that time being managed by Alfred Samuel George who had also been a former manager of the London Photographic Company and possibly a friend or at least acquaintance of P. Mott Cazneau.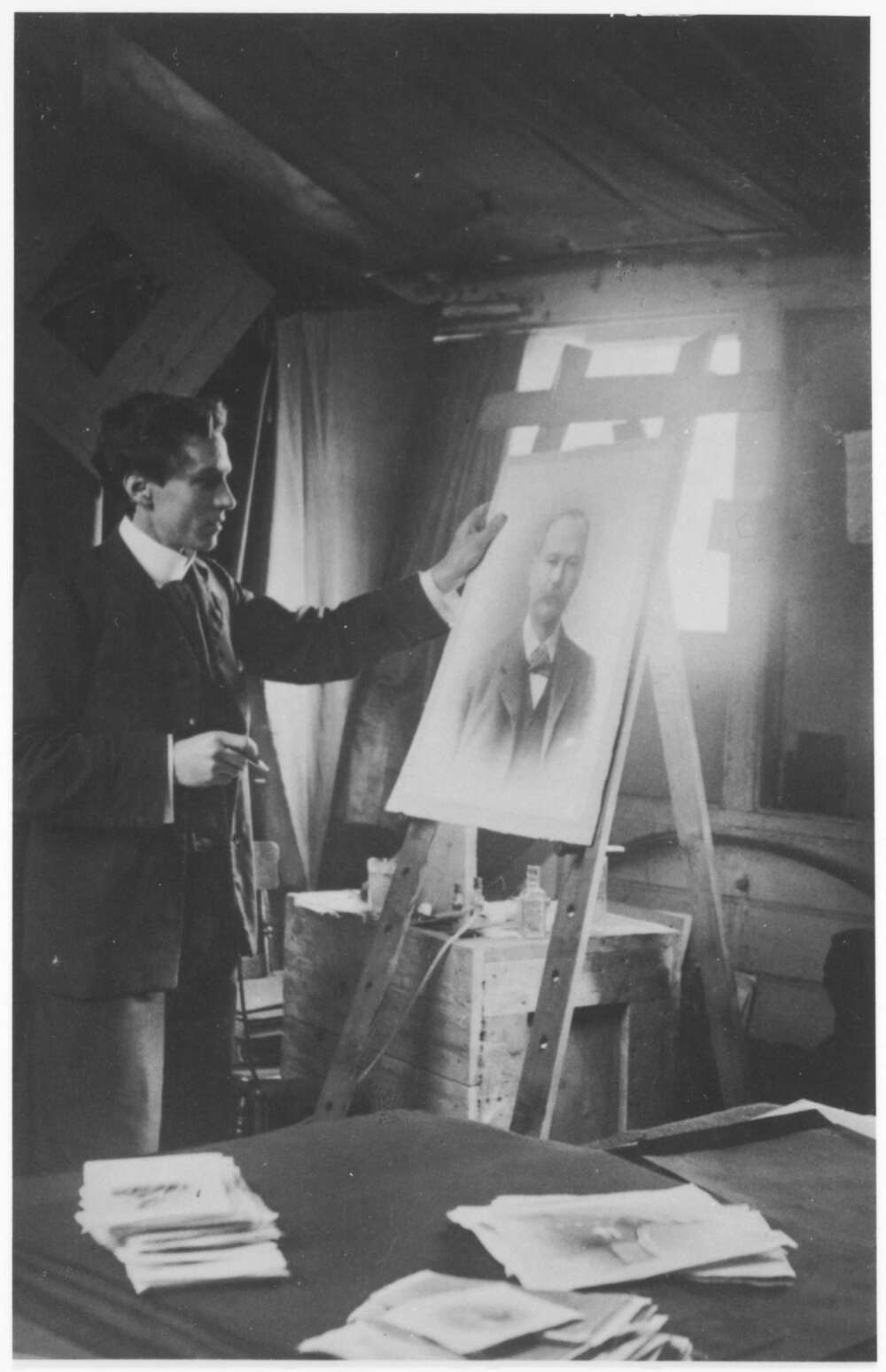 It was in 1905 that one of his first photographs taken in Sydney won a Prize - enough,with his ongoing income from Freemans, to get married and put the deposit down on a small home at North Sydney - and easier access to this area. In what some may call serendipity, this was of fishermen at Waverly and called 'Fishing at Waverly' and also 'Breaking Wave' -
What is interesting about this article is the adding back of the original 'x' at the end of his name -
something
Harold found out had been removed by relatives and which he reinstated - proud of his Huguenot (French protestants) heritage. Winning this also allowed him to pay for a camera!:
"THE AUSTRALASIAN"

FIFTEENTH PHOTOGRAPHIC

COMPETITION.
CLASS I. FOR WORK BY WHOLE PLATES, ANY
SUBJECT, CONTACT PRINTS, ANY PAPER.
PRIZES, £3 AND £2.
First Prize.—Mr. James J. Hay, Pittstreet, Palmerston North, N.Z.—"Far From the Madding Crowd."
The second prize was not awarded, as there was no print considered meritorious enough.
Honourable Mention.—Mr. D. Mawson, Mr. T, Werrey, Mr. J. P. Campbell, Air. J. H. Bestman, and Mr. John Hanlon.
CLASS II. FOR WORK BY HALF PLATES, ANY
SUBJECT, CONTACT PRINTS, ANY PAPER.
PRIZES, £2 AND £1.
First Prize.—Mr. Harold Cazneaux, 44 Good Hope street, Paddington, Sydney— "Fishing at Waverley."
Second Prize.—Mr. L. Perriman, 117 Rath-mines-road, Hawthorn—"River Yarra at Warburton."
Honourable Mention.—Mr. W. Laidlaw, Mr. A. Propsting, Mr. R. G. Massey, Mr. J. Williams, Mr. E. Antoine, Mr. G. H. Army-tage, Mr. J. P. Campbell, Mr. J. Williams, Miss F. Small, Mr. F. Cornell, and Mr. W C. Tonge.
CLASS III. FOR WORK BY QUARTER PLATES,
FIVE BY FOURS, OR UNDER, ANY PAPER, AMY SUBJECT. PRIZES £2 AND £1.
First Prize.—Mr. J. C. Morrison, 104 Victoria-road Auburn—"After Dinner," "We Two," and "Expectation."
Second Prize.—Mr. R. J. White, Sand-ringham—"A Burning Off, Getting Beyond
Control".
Honourable Mention.—Mr. J. F. Holland, Mr. Cecil de Lissa, Mr. A. Blanch, Mr. P. J. C. Wallace, Mr. R. J. White, Mrs. W. R. Clarke, Mr. J. G. Barlow. Mr. R.M. Everard, Mr. H. J. Gray, Mr. H. A. Car-ruthers, Mr. A. H. C. Campbell, Mr. A. Weigall, Mr. F. J. Rawlings, Mr. Harry Moflit, Mr. Everard Marshfield, and Mr. J.
R. Wall.
CLASS IV. ENLARGEMENTS, ANY SUBJECT,
ANY NEGATIVE. PRIZES, £2 AND £].
First Prize.—Mr. C. Davies, jun., Hobart —"With Wind and Tide."
Second Prize.—Mr. T. H. Stoward, Mile End, Adelaide—"A Country Road."
Honourable Mention.—Mr. J. R. Byfield, Hobart; and Mr. J. F. Holland, Ballarat.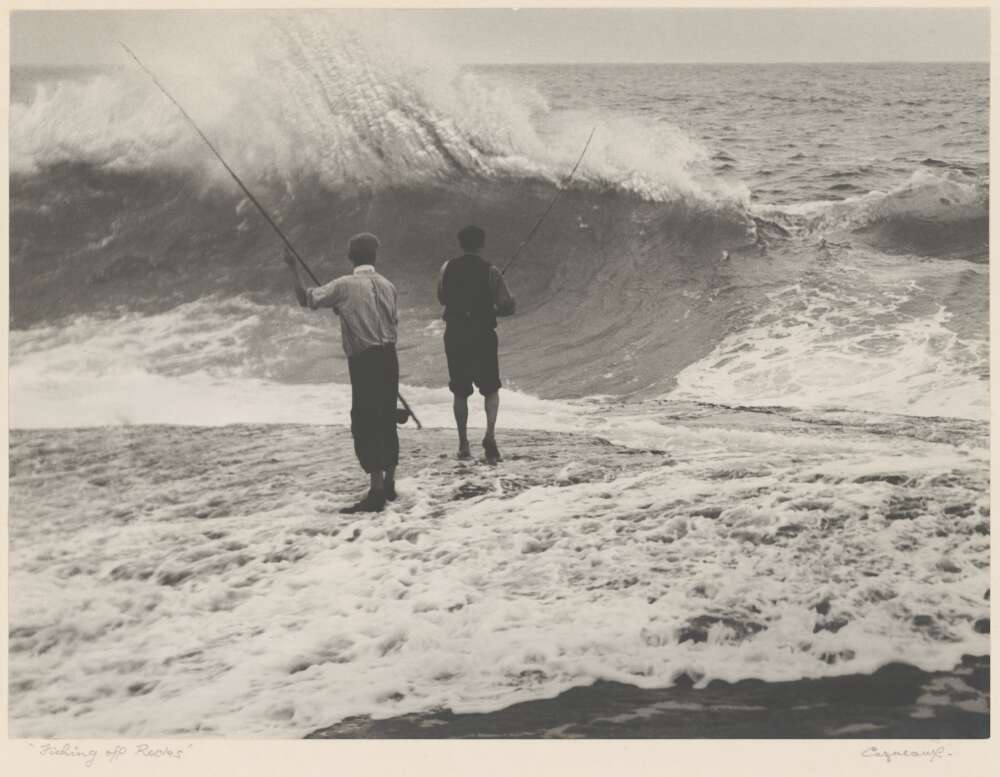 'Fishing at Waverly' and also 'Breaking Wave' and 'Fishing off Rocks' - 1904: Cazneaux, Harold. (1904). Fishing off rocks Retrieved from http://nla.gov.au/nla.obj-140207732

Harold was joined in Sydney by Mabel Winifred Hodge in Sydney during 1905 who was another former employee of Hammer & Co and the pair married not long after. Cazneau's daughter Carmen married Albert Hammer, the son of his former employer in the same year and they too lived in Sydney.

MARRIAGES
CAZNEAUX-HODGE.—On the 1st September; at Methodist Church, Boulevarde, Lewisham, Sydney. by the Rev. Dr. Sellars. Harrold, eldest son of Pierce M. Cazneaux, Malvern, to Winnifred,
youngest daughter of late John Hodge,- Adelaide

. Family Notices (

1905, September 30

). The Express and Telegraph (Adelaide, SA : 1867 - 1922), p. 1. Retrieved from http://nla.gov.au/nla.news-article208782847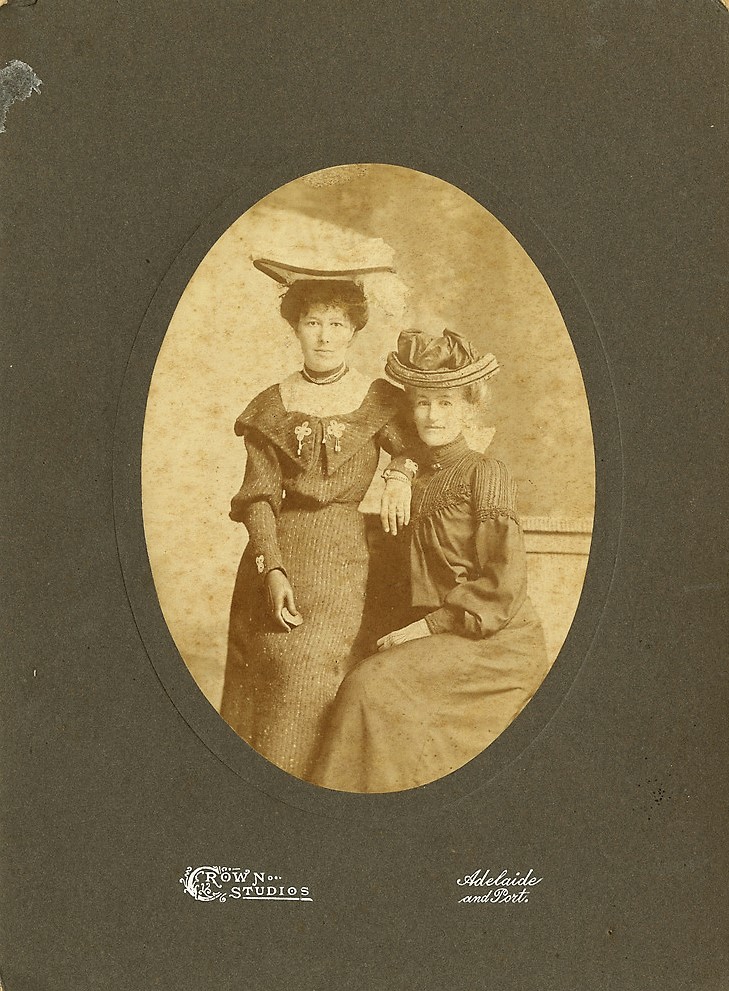 Portrait of Harold Cazneaux's wife, Winifred Hodge. Caption on the back reads 'Mother and Miss Adey? (Winifred Hodge 1905 - taken when leaving Hammer Studio, to go to Sydney to marry Harold Cazneaux on 1-9-05)'. image No.: PRG-737-28 courtesy State Library of South Australia.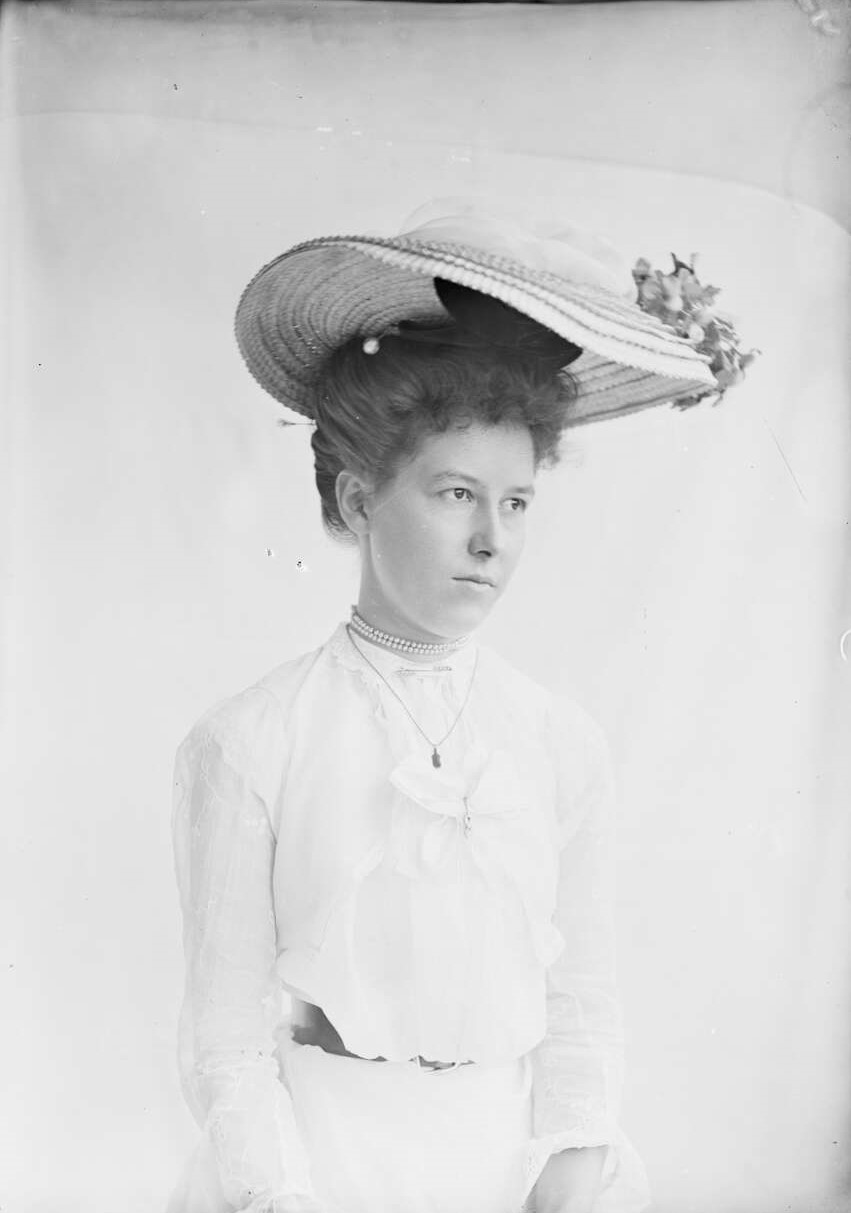 Cazneaux, Harold. (1905).
Winifred Cazneaux wearing a hat, North Sydney, ca. 1905
, 2
Courtesy National Library of Australia.
Retrieved from http://nla.gov.au/nla.obj-144120725
HAMMER—CAZNEAUX.-
On the 6th September, at St. Augustine's Church, Unley, by the Rev. Eugene Perrin, Ralph, third son of William H.. Hammer, Llandower, Payneham, to Carmen, eldest daughter of Pierce Mott Cazneaux, of Te Aro, Malvern.
At home October 26, First avenue, East Adelaide. Family Notices (
1905, October 17
).
The Register
(Adelaide, SA : 1901 - 1929), p. 4. Retrieved from
http://nla.gov.au/nla.news-article56857590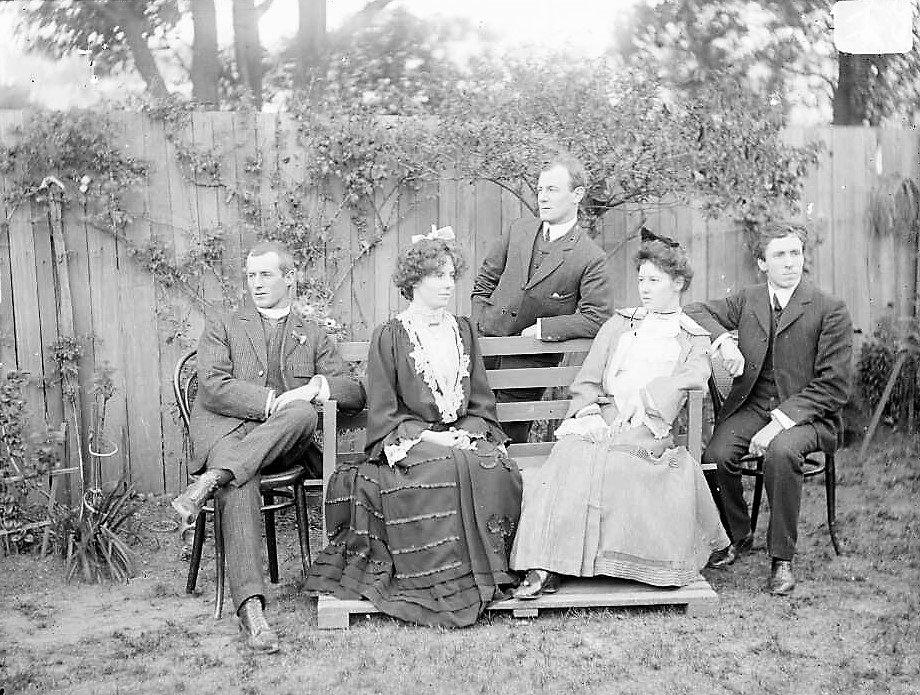 Bert Hammer, Carmen Hammer nee Cazneau, King Cazneau, Harold and Winifred Cazneaux, Sydney, September/October 1905
Courtesy National Library of Australia.
Retrieved from http://nla.gov.au/nla.obj-144119782
Harold bought a home at 10 Riley street, North Sydney in 1905 and it is here, and in the surrounds, where brother 'King' also lived, that some of the early family photos are taken, as it is with the one above. Some of these lend insights into North Sydney when there was still more bush and access to beach than buildings and the joy of children. Winifred and Harold had five daughters and one son: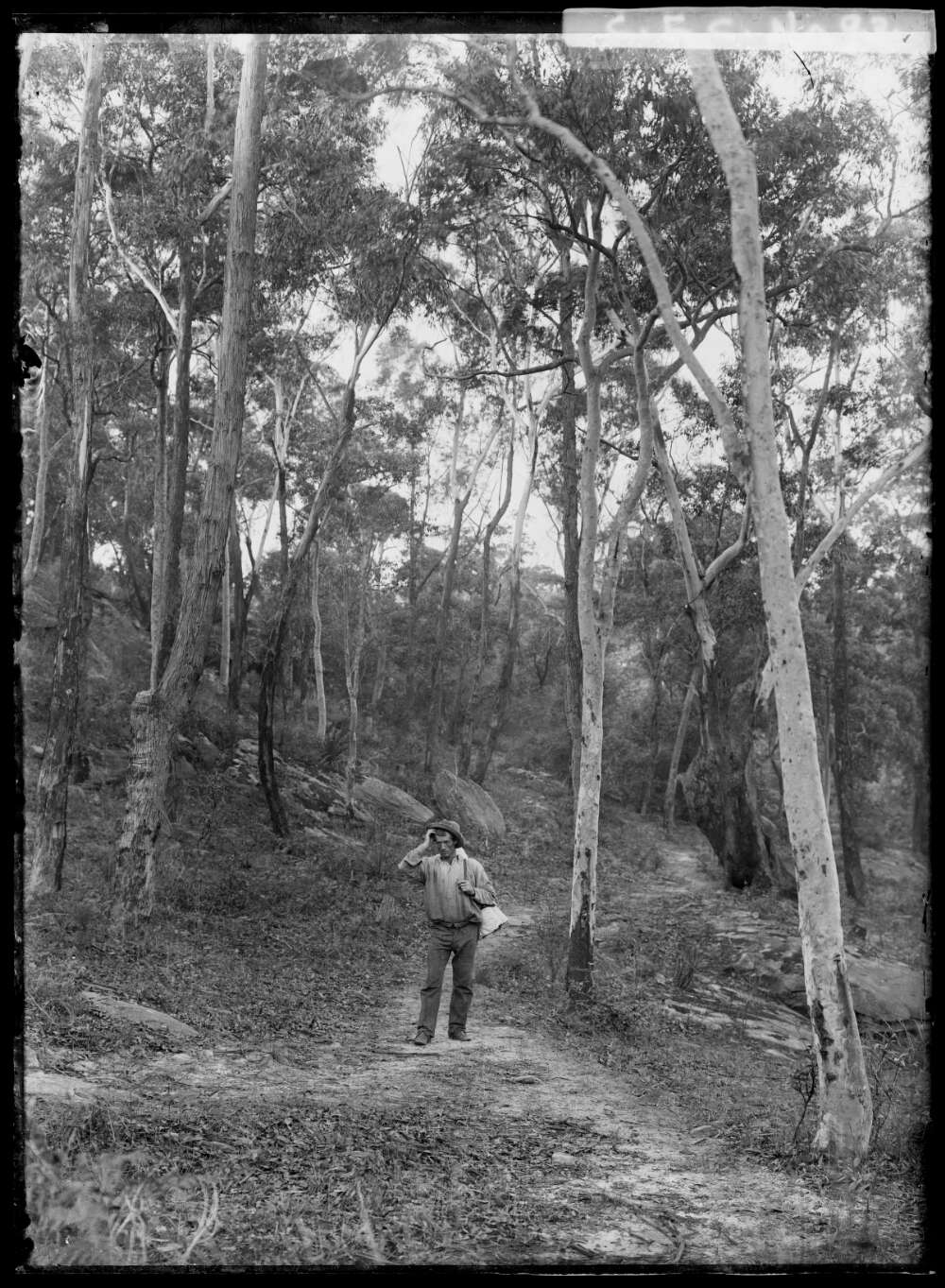 Cazneaux, Harold. (1905). King Cazneaux in bush at North Sydney, ca 1905, 3 Courtesy National Library of Australia. Retrieved from http://nla.gov.au/nla.obj-144129577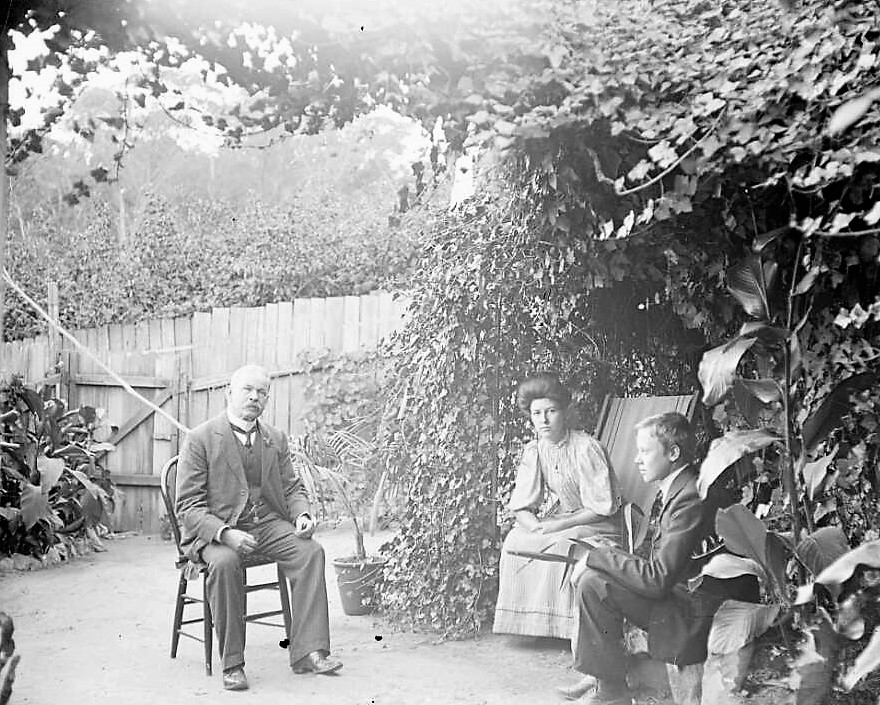 Cazneaux, Harold. (1906). Winifred Cazneaux, Prescott Cazneaux and his son Fergus sitting in backyard, North Sydney, ca. 1906 Courtesy National Library of Australia. Retrieved from http://nla.gov.au/nla.obj-144121311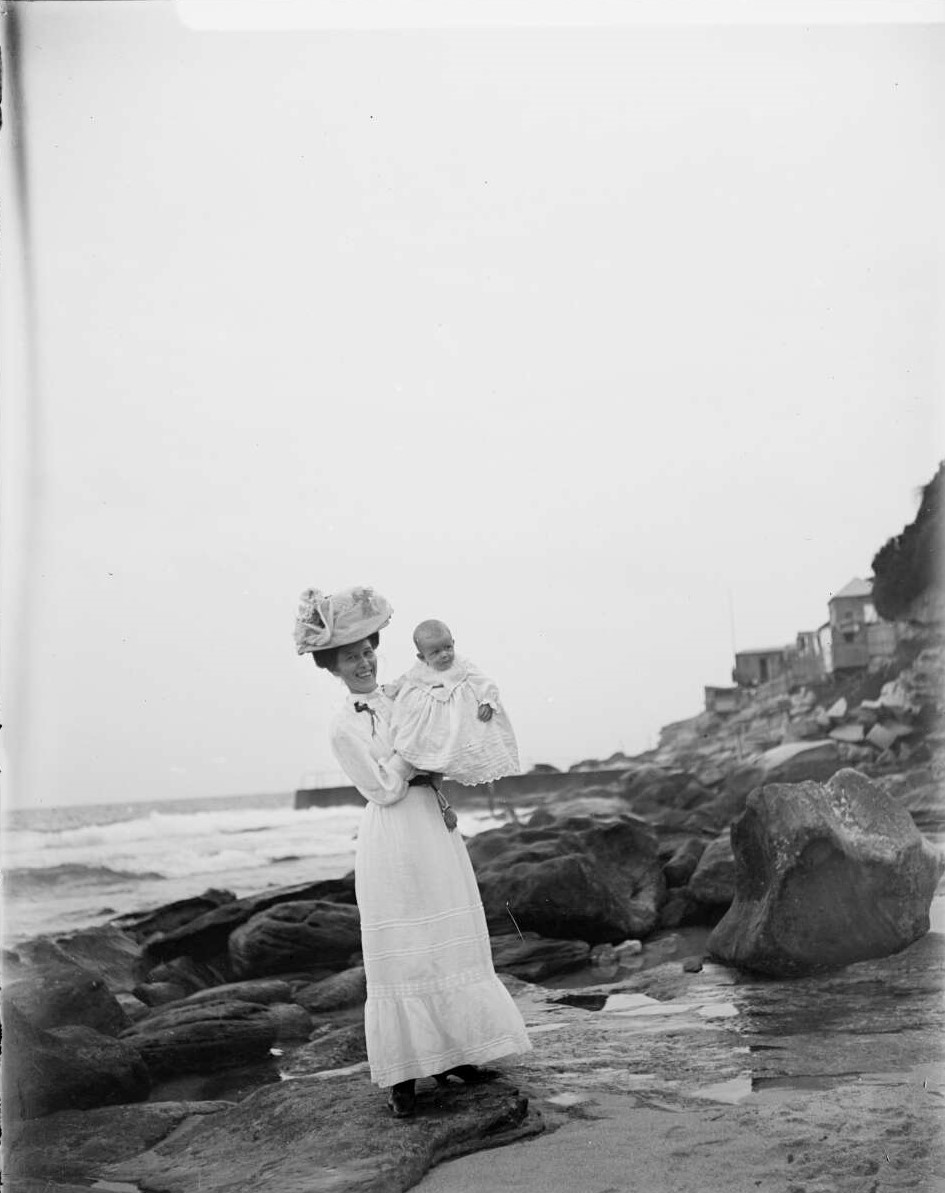 Cazneaux, Harold. (1908). Winifred at the beach with Rainbow, Sydney, 1908, 1 Courtesy National Library of Australia. Retrieved from http://nla.gov.au/nla.obj-144130052 - is this the Collaroy-Long Reef with Fishermen's shacks in background?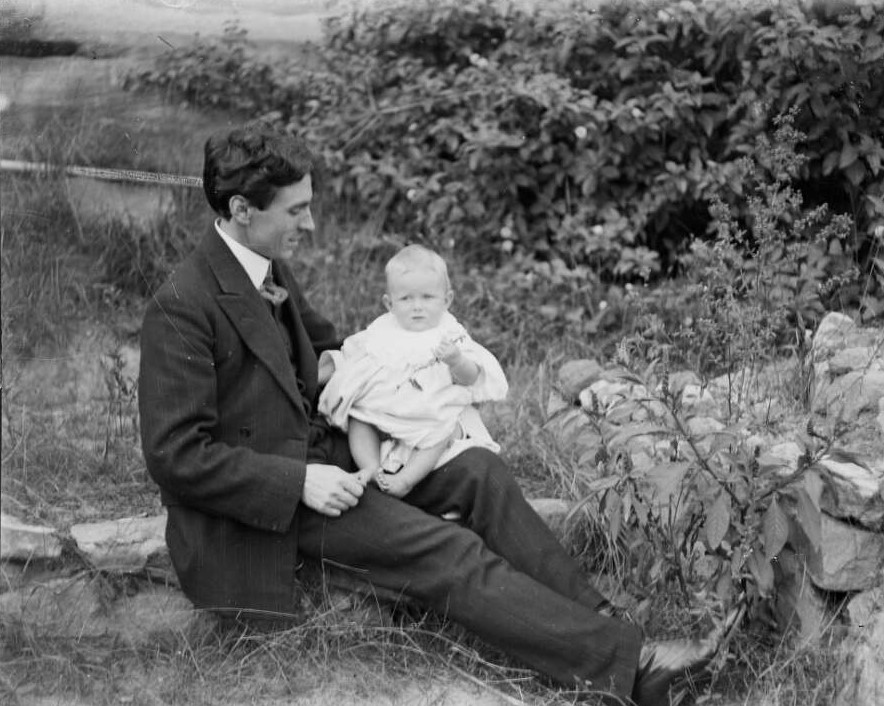 Cazneaux, Harold. (1909). Harold Cazneaux with Rainbow in the garden at Riley Street, North Sydney, 1909 Courtesy National Library of Australia. Retrieved from http://nla.gov.au/nla.obj-144130819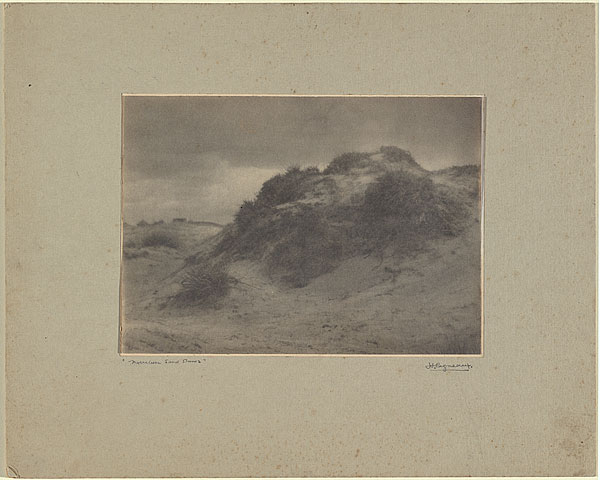 Narrabeen sand dunes c.1909 - courtesy National Gallery of Australia
Signed on mountboard lower right in black pencil, 'H. Cazneaux [underlined]'. Signed on verso of mountboard in black pencil, 'H. Cazneaux'.
Cazneaux, Harold. (1911). Winifred Cazneaux at the beach with Jean and Rainbow, 1911 Courtesy National Library of Australia. Retrieved from http://nla.gov.au/nla.obj-144126786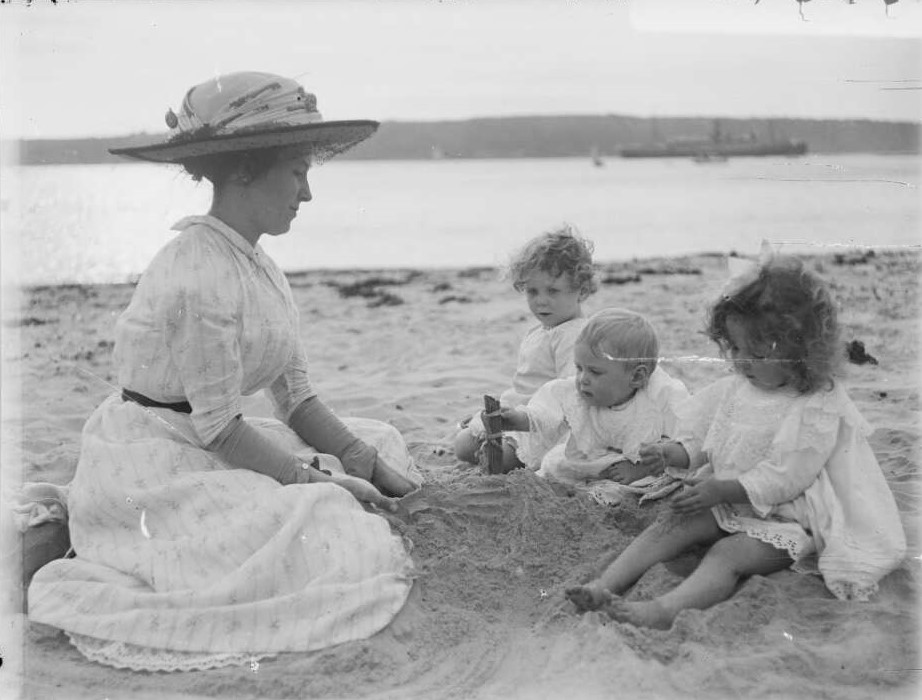 Cazneaux, Harold. (1911). Winifred Cazneaux at the beach with Rainbow, Jean and baby Beryl, 1911 Courtesy National Library of Australia. Retrieved from http://nla.gov.au/nla.obj-144126882 -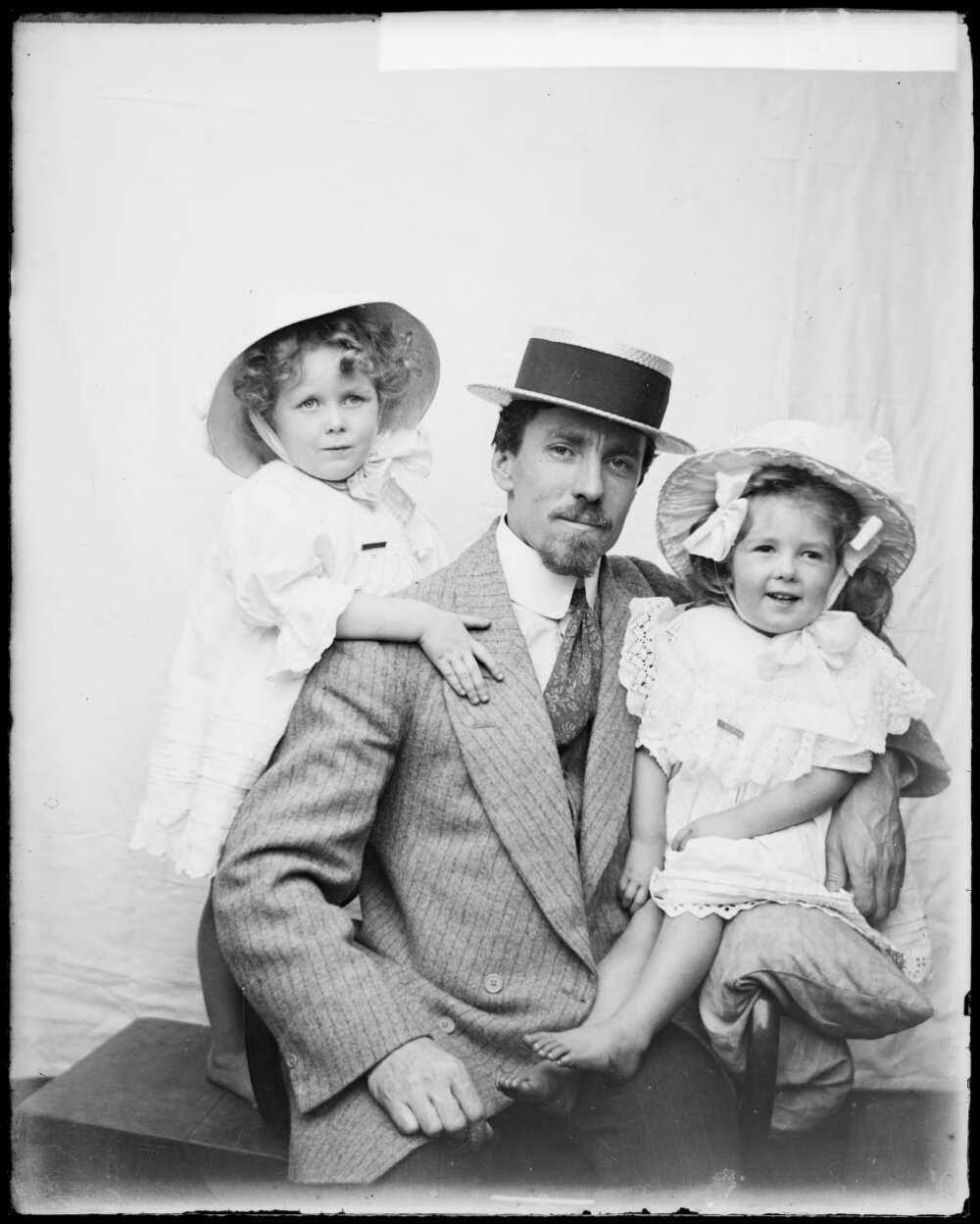 Cazneaux, Harold. (1911). Harold Cazneaux with his daughters Jean and Rainbow, 1911 Courtesy National Library of Australia. Retrieved from http://nla.gov.au/nla.obj-144125787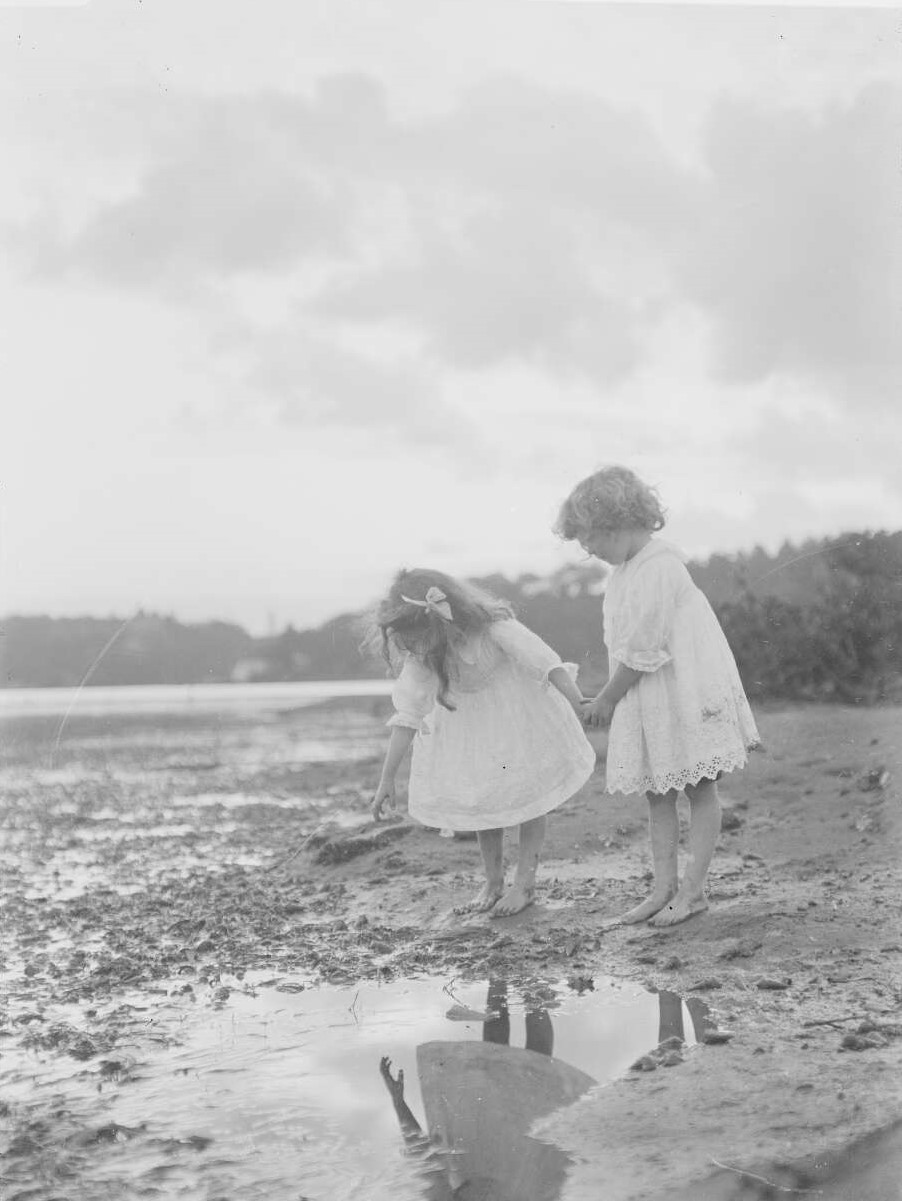 Cazneaux, Harold. (1912). Jean and Rainbow Cazneaux at the beach, 1912 Courtesy National Library of Australia. Retrieved from http://nla.gov.au/nla.obj-144126676
In 1909 he held the first one-man exhibition in Australia: the critics praised the diversity of his work despite this preemptive conjecture:
One-Man Show.
The Photographic Society of New South Wales announces a one-man show by Mr. Cazneaux for March 9. This well-known and artistic worker will exhibit between 60 and 70 prints, in the preparation of which he has been engaged for some months past.
He sent some of his pictures overseas and was recognised as a pioneer of the local pictorial movement.
Cazneaux processed all his work in his own darkroom at Ambleside, originally in a bedroom, and when Bostock's studio was sold, lack of suitable and affordable city premises sent him back to Ambleside, where he built an adjoining studio. This was Cazneaux's workplace for the next 35 years.
His love of the garden at Ambleside features in many family photographs. Apart from a profusion of flowers in a quite wild 'cottage garden' state, the family had fruit trees and chickens, with subsequent jams and chutneys and eggs.
Despite being unable to serve in WWI alike his brother, Harold contributed what he could:
By 1920, Cazneaux had his own studio at his home at Roseville, and was engaged by publisher and artist Sydney Ure Smith as the photographer his magazines from then - as well as other commissions.
A few notes on some of these works:
Since the demolition of old Milson's Point Wharf to make room for workshops, every stage of the Harbour Bridge has been carefully watched and recorded by painters, etchers, and photographers. A fine pictorial record exists, and many examples by Australia's best artists will lie shown at various exhibitions during the bridge celebrations this month.
The Pageant.
The official opening should be a spectacular ceremony. Diagrams of the original scheme for the historical pageant were recently published in Sydney. Such well-known names as those of Messrs. Ure Smith, Fred Leist, Raynor Hoff, D. H. Souter, and Walter Jardine, assisted by the Technical College and the Sydney Art School, were connected with these designs. The ideas conveyed by the diagrams are the finest that have ever been sub-mitted for an Australian pageant. "Floats" allowing "tableaux vivants of great events in Australia's history are beautifully arranged. In its original state the pageant will not be witnessed. Other "experts" have decreed differently. In the end it will probably smack of the usually dull Eight Hours Day procession. What a pity!
Souvenirs.
And being a family man and servant of the community all the while:
Frensham was founded by Winifred Mary West (1881–1971) on 17 July 1913, with three students and five teaching staff. [3.]
After so much said about the gentleman, some of Mr. Cazneaux's articles:
WHERE THE ARTIST FAILS
BY H. CAZNEAUX, PHOTOGRAPHER
MANY well-known artists say that, in the hands of the artistically gifted, photography is an art; but many more jump at the mere mention -of the question to a tirade of arguments so hopelessly wanton that modest Mr. Photographer slides back into the shadows of his dark-room, there to delve into the secrets of the effects of actinic light action upon silver, ultimately bringing out his essays into honest daylight.
At the exhibition, the poor photographer trembles. He notes the distinguished art connoisseur discoursing on the merits, and mostly upon the demerits, of his photographs on the wall. "Perhaps - some day", he says. "At present, all I can see is the rendering of mere record".
Looking back, the photographer's mind seizes the fact that so many artists have made use of snapshot photography. Many of them, on tour, have cameras peeping out of their pockets - perhaps their dislike of the word "art" being added to "photograph" has come with the slap knowledge with which they manipulated their cameras, and gave the films to quick - printing ma-chines, which turned out horrid, black-and-white, glossy little cheap photos. But — even these snaps were useful to the authors, in ways known to themselves.
The truth must come out. Mr. Paintquick deigned to make use of the cheap snapshot to fill in details on his canvas — and the humble photographer was modestly proud. Apart from this, had not his beloved photography supplanted the artist in journals and newspapers, just on account of the wonderful action-of-a-second of arrested, motion — the grace of the dancer, the tension of the racehorse in full gallop, the decorative effect of flying birds? These speed photographs gave the artist just the insight he needed, that frozen fraction of a second which the human eye could not hold. No more stiff, unnatural drawings!
But the photographer has gone further than this. Those of his kind with artistic instincts so far developed the subtleties of photography that to-day it is possible to make pictures with all the skill of the artist. There are still limitations: colors are not perfected, but it is only a matter of time. The world will yet see the photographer's pictures in color, and he will be artist enough to control the color rendering, just as he has studied the control of monochrome, which has given his pictures that sense of color.
INDIVIDUALITY
There is the argument that it is impossible to show individuality in camera studies. Utter non-sense. If six camera artists were given the same scene to photograph, each would show pictures that would not only be entirely different from the rest, but one could pick out each artist by his picture. Individuality? The camera artist is full of it.
What notoriously bad pictures the painter would turn out if a camera were put in his hands! Worse, perhaps, than the result if a brush were thrust into the photographer's hands.
The camera man does not need to draw. He concentrates upon the art of selection, his eye is sensitive to the pictorial quality of light and shade. His lens does the drawing. He can control the tones of his negatives, eliminating unnecessary details. He has the artistry of being capable of adding accent to high lights, greater depths to shadows - the whole range of light and shade is absolutely under his artistic control. The greater his artistic conception, the greater will be the pictorial quality of the finished photograph -which is just what can be said of the painter or etcher.
WHERE CAMERAS SCORE
What an advantage over the artist has the photographer in portraiture! It is here that the camera scores, for, with exposures of a second, and even less, the photographer can secure natural expressions and positions under a variety of different lightings, so that he does not worry even the most nervous of sitters. But how elusive the pose and expression when spread over the long sittings necessary to complete a drawing or painting. In the end, the work may show the artist off in some style of finish, such as the working of his own personality into the canvas, but it may be a bad like-ness, backed by a stiff, exaggerated pose. Perhaps everyone - except the sitter - is thrilled.
Without conceit of any kind, the photographer, in the space of 30 minutes, may secure a dozen different positions and various expressions. Some, to be sure, will be bad, but he offers at least a couple of excellent portraits, untrammelled by fanciful style or distortion, and all for a modest fee of a few guineas for a dozen copies. The painter, for all his cleverness, must charge the sitter 50 or 100 guineas for making a single bad likeness. How well has the camera served the masses in past years. Think of the magnitude of the service. Good or bad, expensive or cheap, there can scarcely be an individual who shakes off this mortal coil without leaving a distinctive, personal like-ness behind him to console friends and relatives. For rich and poor, the photographer has robbed the grave of something of its victory. Imagine a world in which there were only artists, ready to grant this shadow of immortality only to those who could pay the price - and often, what a shadow!
A study in curves. - Another Royal Photographic Society picture.

WHERE THE ARTIST FAILS (1929, November 10). The Sun (Sydney, NSW : 1910 - 1954), p. 25. Retrieved from http://nla.gov.au/nla.news-article225157833
ART OF THE CAMERA.
Its Amazing Growth.
By Harold Cazneaux.
The photographic art in Australia is comparatively young, but it has made remarkable progress, and is destined to achieve much greater distinction. Until a few years ago Australia was practically unknown in the photographic world, but to-day, at the time of our 150th Anniversary, the work of Australians is recognised in all the noted salons overseas.
The Photographic Society of New South Wales, in association with the Sydney Camera Circle and the Professional Photographers Association of New South Wales, has organized the Commemorative Salon of Photography, which is now open in the gallery of the Commonwealth Bank building. This important salon, which is officially recognised by the Anniversary Celebrations Council, includes examples of photographic art by amateur and professional workers from all over the world, and illustrates the tremendous advance which photography has made. The beauty of the pictures and the wide range of subject matter render the exhibition of unique interest to the public.
THE VELVET COAT
Photography had not been invented when Governor Phillip landed at Sydney Cove. It is a little over 100 years ago since Daguerre and Fox Talbot worked out the difficult experiments which led to the discovery of photography.
The real development of photography occurred only in our parents' day, and there are many old but well-preserved "Daguerreotypes" and even old silverprints still in existence which belonged to them. There came a change-over from the "wet plate" to the "dry plate " and the old and cumbersome process slowly gave way to the new and lighter method. Studios were opened in greater numbers in the cities, and spread to country towns. The photographer, garbed in his velvet coat and perhaps a velvet cap was a personage in those days. He worked "by appointment only," and his studio bore the appearance of "back stage" of the old-time theatre, for he had to supply the accessories for his sitters — backgrounds that would provide interiors of mansions, churches, seaside scenes, and landscapes. His stock-in-trade included fake terraces, staircases, ship's masts, boats, elaborate furniture, and huge clam shells for the baby. Some possessed stuffed birds and animals and children were often specially dressed up to fit in with the photographer's ponderous accessories.
All this passed away. The accessories and velvet coats were sold as junk, heavy cameras and huge old-fashioned lenses were bundled out of the way, and a newer era was ushered in. Young Australians got hold of newer cameras, lighter and more efficient lenses, and simpler studio equipment. Electric light appeared, and daylight was considered out of date. The photographer to-day works in a modern studio, he takes your portrait while you are chatting to him, he touches buttons and switches, and lights appear from all angles of his studio, and he uses thin sensitive films instead of heavy glass plates.
Australia is up to date in photographic matters, although it must still rely upon world centres for high-grade cameras and equipment. For many years, however, quality sensitive film, plates printing papers and much other photographic material have been manufactured in Victoria and New South Wales, and eventually we may hope to produce cameras, lenses and other delicate equipment.
Australians' Fine Work.
Australia has photographers whose work compares very favourably with that done overseas. It is being accepted and hung in the noted salons of the world, such as the annual show of the Royal Photographic Society of Great Britain and the London Salon of Photography, and many foreign salons exhibit Australian pictorial photographs, which become a splendid advertisement for this country.
The amateur photographer has been responsible for a great deal of the progress of artistic photography in Australia. His in-dependent and individual outlook has enabled him to produce pictures without thought of sales, and much of the artistic quality apparent in to-day's photography has developed from the amateur's sound and natural outlook. We have throughout Australia many amateur photographic clubs and societies who work purely for the love of advancing artistic photography. The Photographic Society of New South Wales, which is affiliated with the Royal Society, was founded over 40 years ago, and it continues its good work.
Photography is one of the world's great hobbies and our workers have shared in the international interchange of the best examples of pictorial art.
Commercial and advertising photography, like press photography has undergone a transformation, and the old-time inartistic type of cameraman has no value to-day. The new work is exacting and only men and women of the highest artistic ability and photographic technique can hope to succeed.
Photography for the million is a great teacher it compels attention to detail, develops the powers of observation, imagination and patience, and brings out latent artistic talent. Above all, it encourages a love of our great Australian outdoors. What- ever is spent on photography as a hobby is returned to the discriminating user tenfold.
A remarkable fact about photography is that while it is capable of being employed by scientists for record and other work, the artist, using the same materials, can produce a picture which will portray a subject arranged with pleasing composition and rendered in beautiful tonal quality — a picture which can be justly looked upon as a work of art. Critics who say that photography is only a mechanical means of producing a picture know little of artistic photographic technique. A first-class photographer who possesses depth of feeling, an eye for artistic selection and a creative mind can give lasting joy to the beholder of his work and elevate photography to the realm of true art.
ART OF THE CAMERA. (1938, March 26).The Sydney Morning Herald (NSW : 1842 - 1954), p. 7. Retrieved from http://nla.gov.au/nla.news-article17452105
Harold Cazneaux remains the 'father of Australian photography' - his works captured the essence of a nation coming into its own and establishing an identity that has been reinvented a million times since. Everyone has one or several Cazneaux photographs that they love for many reasons.
Cazneaux wrote: "The photographer must be in accordance with all nature's moods, he must feel the very spirit of the scene if he is to be successful".

A great photographer is able to immerse themselves - knowing thereby they will capture the essence of what is there and what is happening if that is at all possible. For Harold Cazneaux it certainly was; despite a battle with depression that went on for decades, he found immersing himself in music and the beauty of Nature, whether at home in his garden, or elsewhere, was not only a curative but an inspiration to creating pure ART.
The man himself, quiet, humble but serious about his work, communicated a sense of home that sprang from being and remaining embedded in his own family and showed in thousands of visions that other great home - Australia, and for us, visions of the place we call home as it was that are imbued with love and bring joy.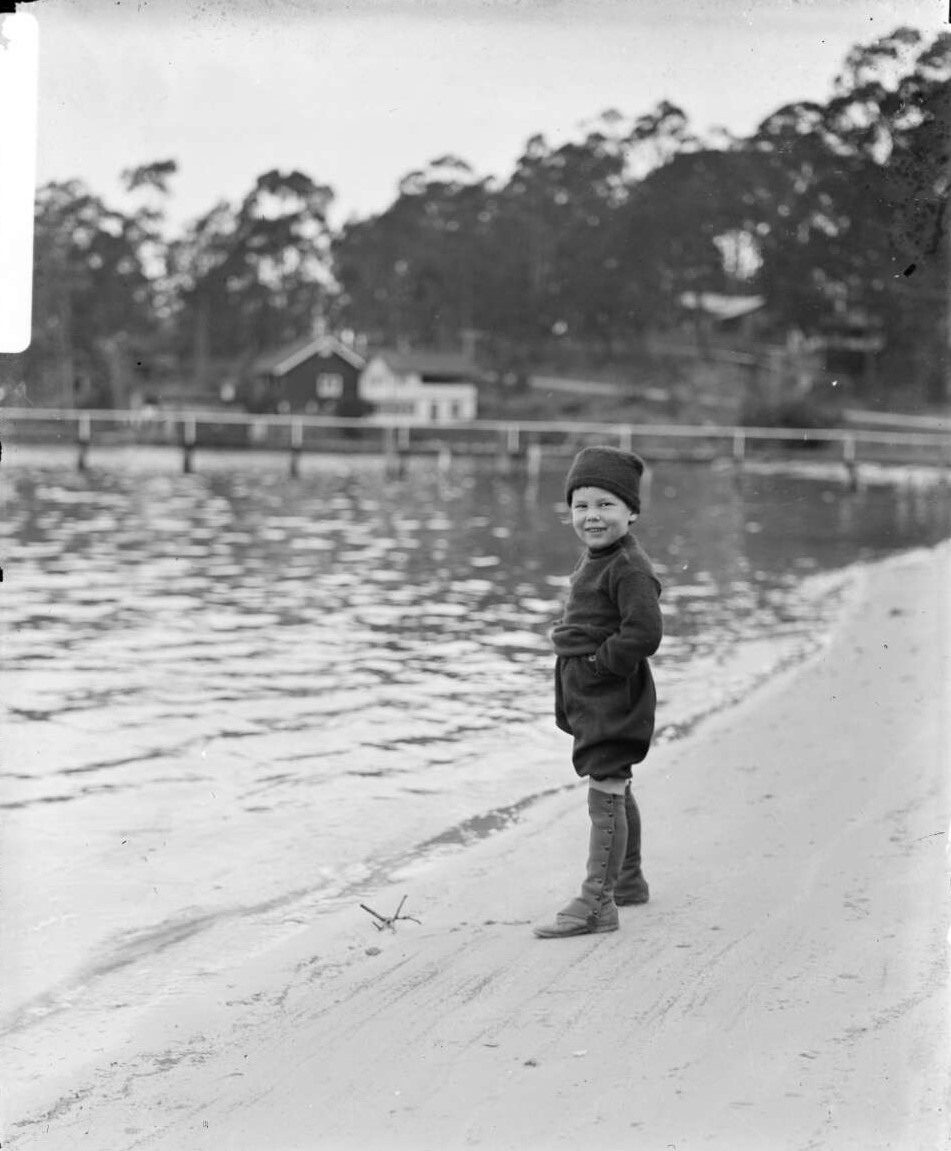 Cazneaux, Harold. (1924). Harold standing on water's edge in cap and gaiters, Sydney, 1924 Courtesy National Library of Australia Retrieved from http://nla.gov.au/nla.obj-144143944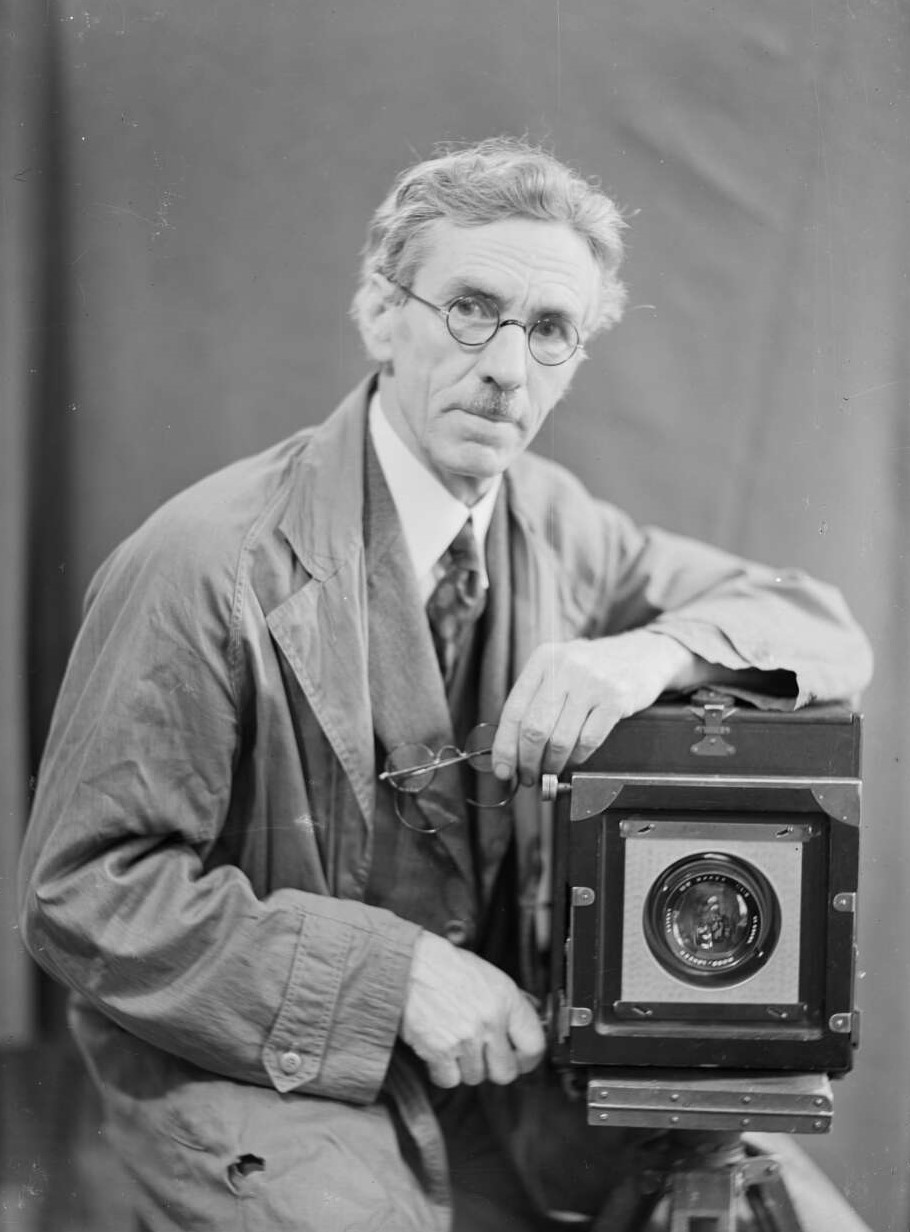 Cazneaux, Harold. (193-?). Portrait of Harold Cazneaux leaning on a camera, 1930s?
Courtesy
National Library of Australia
Retrieved from
http://nla.gov.au/nla.obj-144168700
References And Extras
1. TROVE. The National Library of Australia
2.Edwards, Zeny, Ambleside, Dictionary of Sydney, 2008, http://dictionaryofsydney.org/entry/ambleside
3. Lesley G. Lynch, 'Cazneaux, Harold Pierce (1878–1953)', Australian Dictionary of Biography, National Centre of Biography, Australian National University, http://adb.anu.edu.au/biography/cazneaux-harold-pierce-5542/text9443, published first in hardcopy 1979
Winifred and Harold's Family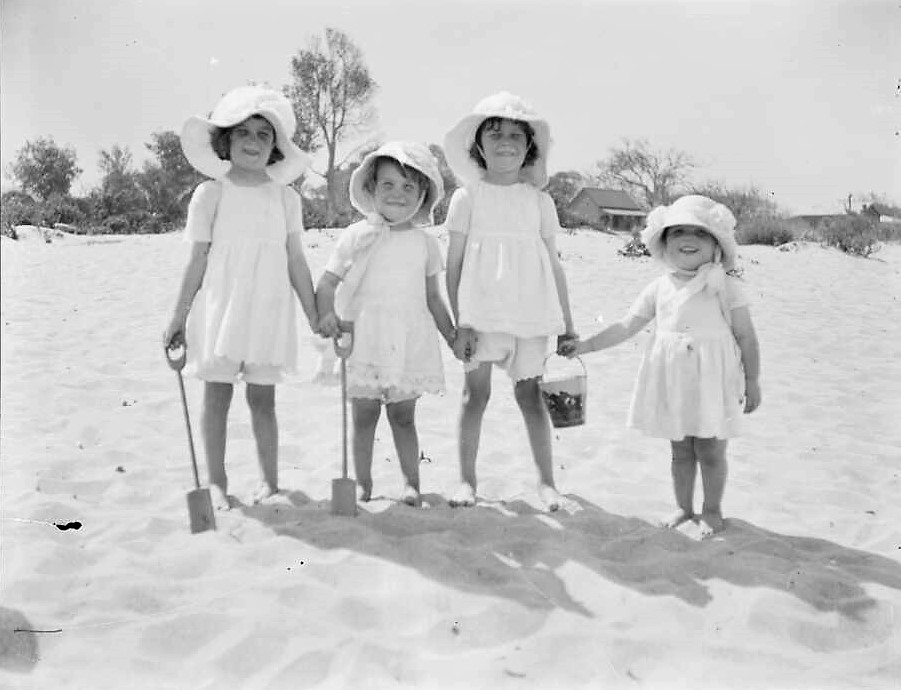 Cazneaux, Harold. (1915). Jean, Beryl, Rainbow and Carmen at the beach, North Sydney, 1915 Courtesy National Library of Australia Retrieved from http://nla.gov.au/nla.obj-144143173
Rainbow W Cazneaux born circa 1908 reg. 18662/1908 St Leonards, married Hugh Malanai Johnson, killed during WWII during sinking of HMAS Hobart RAN (parents of Robert and Sally)
Jean L Cazneaux born circa 1909, reg. 41494/1909 St Leonards
May Beryl Cazneaux born circa 1911, reg. 20775/1911 St Leonards - served in WWII
Carmen Cazneaux born circa 1913, reg. 19310/1913 St Leonards, married Vincent Frederick Field
Joan Cazneaux married Herbert Smith
Harold Ramsay Cazneaux (2nd A.I.F.) killed 14 September 1941 at Tobruk, just 21 years old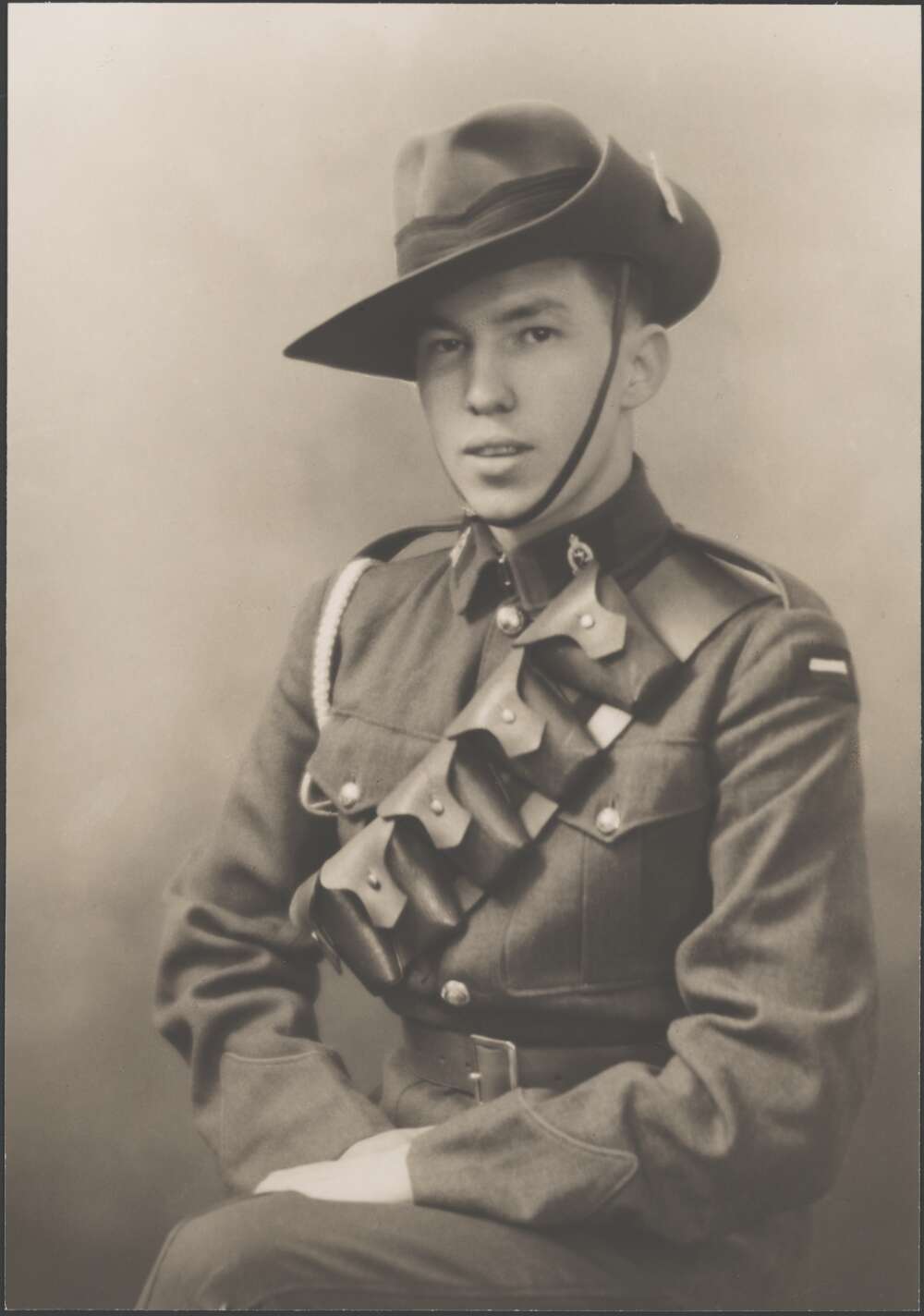 Cazneaux, Harold. (). Corporal Harold Ramsay Cazneaux in uniform, New South Wales, 1940 Courtesy National Library of Australia Retrieved from http://nla.gov.au/nla.obj-140228344
JOHNSON-CAZNEAUX-June 5 1934 at St. Andrew 's Church Roseville, by Rev. W J Roberts, Rainbow eldest daughter of Mr. and Mrs. Cazneaux Roseville to Hugh Johnson Paymaster Lieutenant RAN only son of Mr. and Mrs. M C Johnson Adelaide S A. Family Notices (1934, June 23). The Sydney Morning Herald (NSW : 1842 - 1954), p. 14. Retrieved from http://nla.gov.au/nla.news-article17095958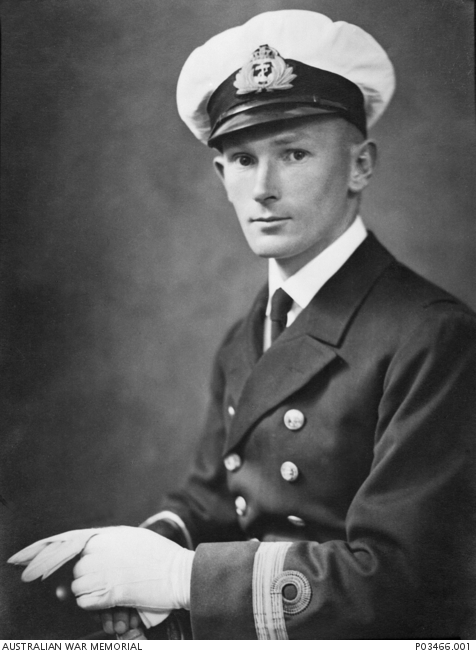 Studio portrait of Paymaster Lieutenant (later Paymaster Commander) Hugh Malanai Johnson - taken by Harold Cazneaux

Rainbow's husband was killed in action 20 July 1943. Paymaster Lieutenant Johnson boarded his first ship, HMAS Tingira, on 13 April 1921, and began his career with the Royal Australian Navy in the rank of Boy, 2nd Class. Having served on many ships during his career, including HMAS Melbourne, HMAS Sydney, and HMAS Cerberus, Paymaster Lieutenant Johnson joined the HMAS Hobart on 8 April 1942. Promoted to Acting Paymaster Commander on 25 May 1942 and having this position confirmed in May 1943, he lost his life just two months later when the HMAS Hobart was torpedoed by a Japanese submarine. Bio courtesy Australian War Museum.
JOHNSON -(nee Cazneaux) — On the 25th of October, at Roslyn Private Hospital, Lindfield, N.S.W., to Rainbow, wife of Paymaster Lieutenant Commander H. M. Johnson. RAN. — a daughter. Family Notices (1939, November 2). Chronicle (Adelaide, SA : 1895 - 1954), p. 23. Retrieved from http://nla.gov.au/nla.news-article92454672

The year 1941 was a horrific one for Harold and Winifred - they lost their son, Harold's brother and their son-in-law.

The birth notice for Dick Smith, electronics wizz - it should no longer be a surprise why he, alike many of us, is so very pro-Australian!:
SMITH (nee Joan Cazneaux).-March 18, at Tonga, Roseville, to L./Bdr. and Mrs. Herbert Smith, of Roseville-a son (Richard Harold). Family Notices (1944, March 22). The Sydney Morning Herald (NSW : 1842 - 1954), p. 12. Retrieved from http://nla.gov.au/nla.news-article17866094
Dick Smith grew up opposite his grandparent's home. It was his uncle Harold's radio bits and pieces that he was finally allowed to explore years after Harold's untimely death. It had been locked up and left for years prior to then.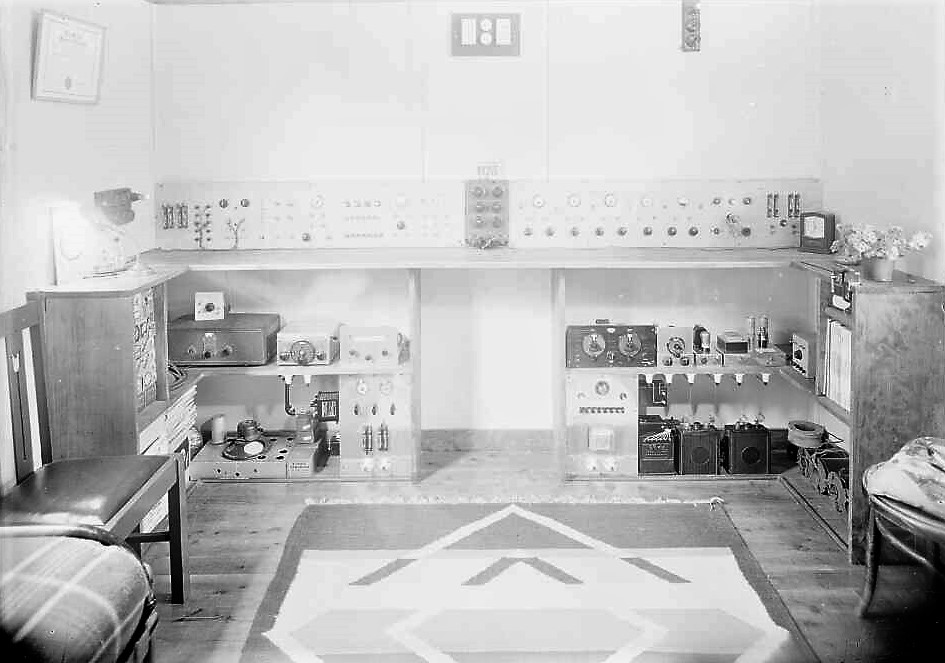 Cazneaux, Harold. (1936). Interior of Harold's room at Ambleside, Roseville, New South Wales, 1936 Courtesy National Library of Australia. Retrieved from http://nla.gov.au/nla.obj-144157615

Negative outlook in photo. art
NO Dobell influence has crept into the New South Wales Photographic Society's exhibition at Farmer's Blaxland Galleries. Most exhibitors are still painstakingly taking the same kind of photograph that their predecessors took 20 years ago. This is the view of Mr. S. Dunleavy. "Sunday Sun" photo-graphic expert, of the work in the exhibition. "The walls are covered with pre-war photo mounts with pre-last war photographs stuck to them. Mr. Dunleavy said excellent technical work in the exhibition was wasted on banal landscapes and portraits. Three of Australia's best photographers, H. Cazneaux. Dr. Julian Smith and Monte Luke, entered the best photographs, all taken many years ago. Cazneaux and Monte Luke, masters of the bromoil process, avoided the splashiness of less-skilful artists. "Old" child studies "Dr. Julian Smith's child studies are still unbeatable, though the Manpower authorities have probably caught up with most of the children by now", Mr. Dunleavy said. Mr. Dunleavy said the most original exhibitor was Ainslie Roberts, with a table-top composition. "We shot down a Junkers 89" - a picture of aerial combat. Good example of a scenic study injected with life and drama was John Street's "The Magic Wood". Other exhibitors worthy of mention were John Wray, J. Metcalf and Clarence Young.
This looks like a thrilling scene of aerial combat, but is actually a composite table-top photograph, entered by Ainslie Roberts in the NSW photographic Society's exhibition.
"Longing", by A.E.F. Chaffer, outstanding in the same exhibition.
"Drummer Boy", one of many excellent child studies by Dr. Julian Smith.
Negative outlook in photo, art (1945, January 21). The Sun (Sydney, NSW : 1910 - 1954), p. 6. Retrieved from http://nla.gov.au/nla.news-article231705728
The great man himself passes away:
CAZNEAUX, Harold Pierce.—June 19, 1953 (suddenly), at his residence, Roseville, beloved husband of Mabel Winifred and loved father of Rainbow, Jean, Beryl, Carmen and Joan and Harold. (deceased 2nd A.I.F). Family Notices (1953, June 20). The Sydney Morning Herald (NSW : 1842 - 1954), p. 40. Retrieved from http://nla.gov.au/nla.news-article18366746
TO HONOUR NOTED CAMERAMAN
A tribute which members of the Northern Tasmanian Camera Club had arranged to pay well-known Australian photographer, Mr. Harold Cazneaux, will now hold a much deeper significance for them. OFFICIALS of the club were notified yesterday that Mr. Cazneaux died in Sydney early yesterday morning. Mr. Cazneaux, who was an Honorary Fellow of the Royal Photographic Society, had been prominent in Australian photographic circles for more than 50 years. Last year photographic societies in Sydney combined to pay a tribute to Mr. Cazneaux at a function at which 50 of his best works were displayed. Recorded Tape recordings and a film of the pictures display-ed, with comments by Mr. Cazneaux, were made and distributed to photographic societies all over Australia. Arrangements had been made to have this tribute in Launceston next Tues-day, and officials of the N.T.C.C. decided yesterday that they would hold the function as planned. Members of other clubs in the North and North-West have been invited to at-tend the function, which will be held at the club's rooms at the Queen Victoria Museum. TO HONOUR NOTED CAMERAMAN (1953, June 25). Examiner (Launceston, Tas. : 1900 - 1954), p. 6. Retrieved from http://nla.gov.au/nla.news-article225918986
TRIBUTE CAME TOO LATE
AFTER the Northern Tasmanian Camera Club had arranged to pay a tribute to the well known Australian photo-grapher Mr. Harold Caz-neaux, news was received last week of his death in Sydney.
The function, however, was held last night at the Queen Victoria Museum, Launceston, but before it opened the club president (Mr. J. Ikin) referred to Mr. Cazneaux's death, and the gathering stood in silence out of respect to his memory.
Mr. Cazneaux, who was an honorary fellow of the Royal Photographic Society, had been prominent in Australian photographic circles for more than 50 years. TRIBUTE CAME TOO LATE (1953, July 1). The Mercury (Hobart, Tas. : 1860 - 1954), p. 18. Retrieved from http://nla.gov.au/nla.news-article27148768
WIDOW CANT GET HER MONEY, BUT …
Gaoled Woman Has Her Respect
Miss Joan Hamilton who went to gaol last Tuesday for contempt of Court as a strong admirer in Mrs. Mabel Winifred Cazneaux, the parson most affected by the stand that sent her there.
"I respect Miss Hamilton's courage. I admire her principles," said gentle, grey-haired little Mrs. Cazneaux yesterday.
Miss Hamilton, of Carlton St, Waverley, was sent to Long Bay Gaol for refusing to identify in the Probate Court a signature on a will as her own. '
The will is that of Mr. Harold Cazneaux, who died on June 19 last year, aged 75, and his widow had applied to the Court for proof of the will.
Miss Hamilton's refusal to attest has held up probate for almost a year, and Mrs. Cazneaux, the principal beneficiary, has been deprived of her income for that time.
Miss Hamilton told the Court she would not identify her signature until the pro-bate rule that solictiors and doctors receive £1/1/ for attesting a will, while other people receive nothing, was changed.
Mrs. Cazneaux said yesterday, "It has been hard. I haven't been able to buy any clothes, but I've managed.
"It has upset me terribly that Miss Hamilton has had to go to gaol.
"Sometimes I wish I had been able to talk to Miss Hamilton and get to know her better. Maybe it. would all have been different.
Only Met Once
'But I only met her once -at the solicitor's office where she worked, when she witnessed my husband's will-and that was in 1937."
Mrs. Cazneaux was gardening at her Roseville home when the "Sun-Herald" re-porter called to see her.
"Gardening steadies me when I'm upset," she said, and went on quietly:
"Perhaps this whole business wouldn't have troubled me so much if it hadn't come so soon after the first anniversary of my husband's death.
"All his friends were so kind to me then.
"Even the Prime Minister, Mr. Menzies, took the trouble to write.
"I believe Miss Hamilton will come before the Court to-morrow when the case is resumed. If she has a second chance I hope she will change her mind."
An official of St. Vincent's Hospital said yesterday that an operation which was to have been performed on Miss Hamilton this morning had been cancelled. WIDOW CAN'T GET HER MONEY, BUT... Gaoled Woman Has Her Respect (1954, August 8). The Sun-Herald (Sydney, NSW : 1953 - 1954), p. 9. Retrieved from http://nla.gov.au/nla.news-article28663768
Marriage

925/1883 CAZNEAU WILLIAM L BUCHANAN SUSAN SYDNEY
Cazneaux, Harold. (1905). Portrait of William Lancelot Cazneau, Harold's uncle, Sydney, ca. 1905 Retrieved from http://nla.gov.au/nla.obj-144123826
William passed away in 1912
CAZNEAU.—May 3, 1912, at his residence, 125 Victoria-street, Darlinghurst, William Lancelott Cazneau, aged 75 years. Family Notices (
1912, May 4
).
The Sydney Morning Herald
(NSW : 1842 - 1954), p. 14. Retrieved from http://nla.gov.au/nla.news-article15335287
CAZNEAU. —May 18, 1917, at Sydney, Susan, widow of the late William L. Cazneau. At rest. Family Notices (
1917, May 21
). The Sydney Morning Herald (NSW : 1842 - 1954), p. 6. Retrieved from http://nla.gov.au/nla.news-article15721250
DEPARTURE OF A RAILWAY OFFICIAL. Farewell to Mr. Canzneau. As the Railway Stores Department, Newcastle, is about to lose the services of Mr. P. Cazneau, through his removal to Sydney, his fellow officers determined that he should not leave for Sydney without being given a "send off." Accordingly last night the principal officials met at the Centenial Hotel, to the number of twenty, for the purpose of spending a convivial evening, and bidding good-bye to Mr. Cazneau. Mr. T. M. Halligan (district engineer) presided, and Mr. Thomas Boag (late locomotive superintendent) occupied the vice-chair. The usual loyal toasts having been honoured, that of the guest of the evening was proposed in felicitous terms by Mr. Scott Laing, who referred to the action of the Railway Commissioners in effecting the changes that were being made. Those changes, he thought, it would ultimately be seen would result beneficially to those who remained in the service. Mr. Cazneau responded, expressing his surprise at being recorded such a "send off," as he had anticipated being able to depart quietly by train to-day to Sydney. A number of other toasts were given, including "The Railway Department," "The Ladies," and "The Press," which were duly acknowledged. Songs and recitations filled in a very pleasant evening for all who were present. DEPARTURE OF A RAILWAY OFFICIAL. (1889, August 31). Newcastle Morning Herald and Miners' Advocate (NSW : 1876 - 1954), p. 7. Retrieved from http://nla.gov.au/nla.news-article138930120

CAZNEAU.—May 20, 1924, at his residence,
Aigburth
, 109 Brighton-street, Petersham, Prescott, dearly beloved husband of Maria Ann Cazneau, aged 81 years. Family Notices (
1924, May 30
).
The Sydney Morning Herald
(NSW : 1842 - 1954), p. 8. Retrieved from http://nla.gov.au/nla.news-article16155523
Aigburth is a suburb of Liverpool, Merseyside, England. The name Aigburth comes from Old Norse eik and berg, meaning oak-tree hill. The name can be interpreted as "hill where oak trees grow" and is a hybrid place-name: the first part of the name is from Old Norse eik meaning "oak tree" (which is found in Eikton in Cumbria and Eakring in Nottinghamshire) and Old English beorg or berg meaning hill but as there is no real hill in Aigburth the sense here is more likely to be rising ground.

BIRTHS.
HAMMER [nee Carman Cazneau].—On the 21st August, at "Aroha," First avenue, St. Peters, to the wife of Ralph Hammer—a daughter (Carmen Cazneau). Family Notices (
1922, August 31
). The Register (Adelaide, SA : 1901 - 1929), p. 6. Retrieved from
http://nla.gov.au/nla.news-article63927363
Ethel Turner : At Her Window
(By M. Cox-Taylor)
At her desk we know her. From this forum she addresses an audience of Youth Unlimited. And for twenty-eight years, inspired by that bubble of perennial childhood in her heart, she has so addressed it in her peaceful study at Avenel. There have been two desks. An older favourite, not so often used in recent years, is more or less pensioned off, with bulging largesse of papers, MSS, which she has hurriedly scribbled and put aside, rough notes that collect, like accidents, in the best regulated homes.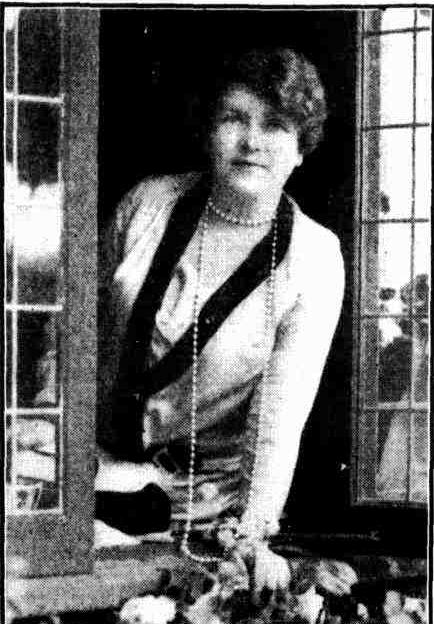 ETHEL TURNER (MRS. H. R. CURLEWIS).
IN her work Ethel Turner (Mrs. H. R. Curlewis, wife of Judge Curlewis, of Avenel, Mosman) is most methodical. Not precise. She is too young to fidget — eternally young with those blue eyes, radiant smile, and sweet, unspoilt nature— about the habit of papers that hang on a borderline between the things that are carefully pigeonholed and the things that ought to go to the waste-paper basket. So they just tuck away in that old writing-table's drawers.
Perhaps she has, with the sensitive temperament of the literary woman, gradually flung an atmosphere that helps into that other big, high-backed desk of hers. There she sits most mornings in the week.
'How do you arrange your days?' I asked her recently.
'I have no rules — except the rule that one cannot give way to the lure of fine mornings when the world out of doors is calling. I am very fond of gardening. There would always be an excuse to leave my desk and do something in the garden when I feel less inclined to write.
Then are days when I keep on till I have finished something — and time means nothing.' In this attitude, which is firm and insistent on making to-day carry its own task — the task of her choice and the work for which she has inimitable skill — Mrs. Curlewis has achieved a library shelf full of children's books.
Though youth in the teen age also absorbs them — since the year when 'Seven Little Australians' made a sensational success — they are essentially the reflex of all that is most naive and humorous in the child mind. With Judy and Punch Ethel Turner has in her more recent book carried on the story which made her name.
ANTHONY TROLLOPE, with his watch on the table beside his desk, weighed out in minutes the hours he intended to sit and sift the lives of bishops, prebendaries, and poor curates in English cathedral towns. Possibly he began with the difficulty of acquiring concentration. Without turning his head to look at a clock, the friendly face of a large fat watch reminded him that he must, like the Perpetual Curate, be amenable to the advice, 'It's dogged as does it!'
Tennis used to be a favourite game of Ethel Turner.
Now her play-time goes in golf and surfing. In the latter she gets that exhilaration that is passed on to the breezy dialogue of boys and girls
. Her garden, like her home, is beautiful. In both there is a great deal of this popular writer's favourite colour — blue.
'I am trying to have whole beds of nothing but blue flowers,' said Mrs. Curlewis; 'but somehow little pink ones will come up between.'
The seaside cottage at Palm Beach
and the new cream and blue bungalow on the brim of the Leura golf links are her play places. At her desk in serious working hours, when the call of the outdoor is persistent, and song of the thrush in the tree near the gate is a clarion cry to 'come out and have a game in the garden,' Ethel Turner knows where to rest a moment.
She likes to sit on the deep, low sill of the casement window and take time off — just five minutes to watch the butterflies flaunt, gauzy wings over the blue of tall delphiniums.
Leon Gellert Finds Himself.. AMONG THE KOALAS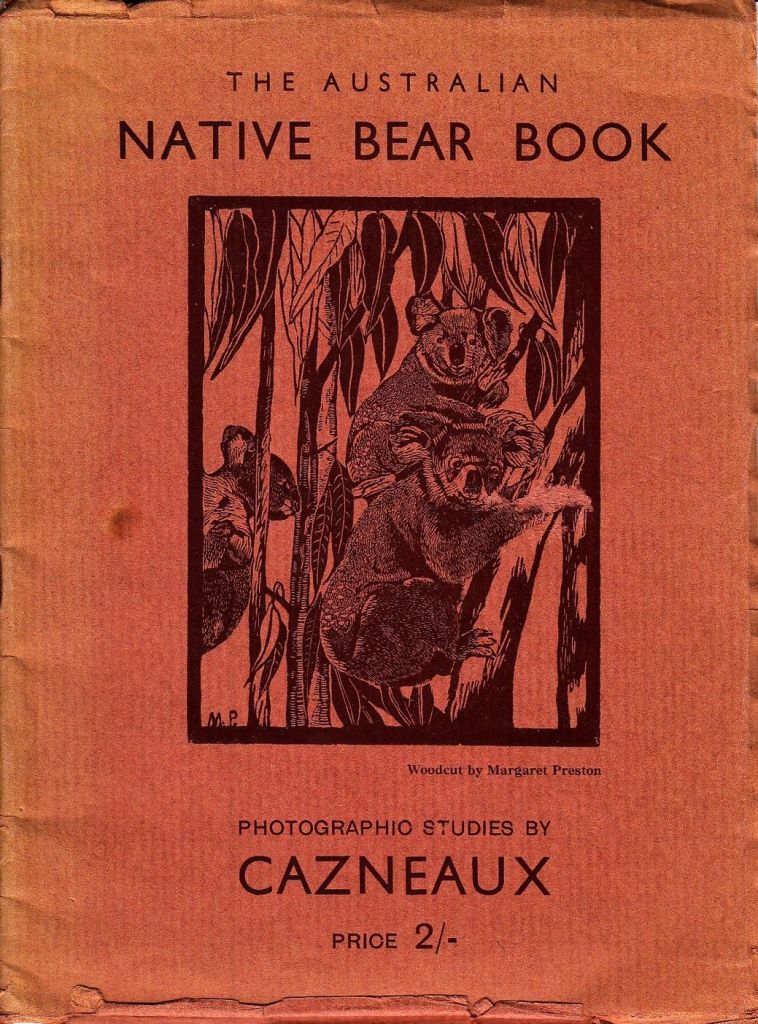 AN incensed reader has sent me a newspaper clipping in which, she claims, a libellous injustice has been done to a koala. It states that at Mona Vale one of these animals bit and poisoned the hand of a solicitous naturalist who was trying to succour it-a Mr. John Hallstrom. The name seems familiar. Were there any truth in this alarming story it could only be assumed that the unhappy marsupial, immeasurably wiser than its kind, singled out that particular hand as most deserving the honour of the first koala-bite in history.
Such reckless stories of the ferocity of our native bears may have their uses. Apart from frightening us into barring our doors more securely at night, they should act as a warning to those foolhardy wayfarers who are always eager to rescue a country's fauna from its natural surroundings.
Man, in his dealings with creatures of the wild, suffers many misadventures. He may be torn asunder by raging silkworms, brutally battered to death by butterflies or trampled underfoot by stampeding ladybirds, but he is never, never, never bitten by koalas.
This is not to say that every-body who chooses to play fast and loose with a koala comes away unscathed.. The single occasion on which I engaged one of the species single-handed proved to be a pretty bloody affair.
MANY years ago my friend Harold Cazneaux (the celebrated photographer) and I were assigned to bring out an illustrated booklet on the Australian native bear. During the preliminary operations of getting facts and photographs at Koala Park, Mr. Noel Burner, the director of the sanctuary, placed an exquisite cub of about seven inches long in my arms while he and Cazneaux went in search of a larger specimen.
Mistaking me for the bole of a stunted bluegum, the animal began to mount, hand over hand,[for the topmost branches where, if instinct could be relied upon, the most succulent pastures were to be found. I tried as gently as possible to thwart its purpose, but my tender restraint was met with a cheerful but desperate opposition. The harder I tugged, the deeper its needle-sharp claws dug in.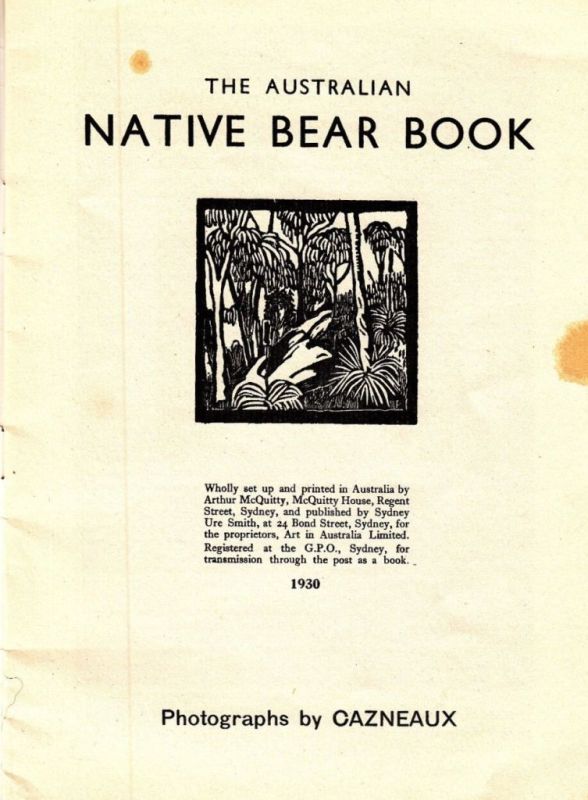 Having negotiated my vest, it scrambled from one chin to the next and began its ascent of the face, itself, where the yielding, penetrable tissues were more to its liking. Eventually it gained the summit and, as far as I remember,- settled down among the sparse undergrowth and quietly dropped off to sleep.
By the time Mr. Burnet returned my countenance was ashambles. But, there and then, I was given a lesson in the correct method of disengaging a koala bear from the human face. The procedure is much like removing a cluster of fishhooks that have become embedded in the flesh. The booklet is long since out of print and Mr. Cazneaux's incomparable photographs have circulated on their own merits and have been acclaimed in every quarter of the globe.
THE publication I speak of was an inexpensive little thing, and I can recall only one other incident in connection with it, and that was a true story that my friend Hemsley told me while it was in preparation.
Hemsley is one of those kindly, sensitive mortals who shudder visibly at the very thought of pain wantonly inflicted.
One evening, as we were travelling together on the ferry-boat from the city, I told him of our prospective brochure on the koala, and saw him wince at the mention of the name. After some moments of grave silence he came out with his story. It was simple and brief.
"It was towards the end of my knicker bocker days," said Hemsley. "There were three of us all boys of about the same age and armed with pea-rifles, we had set out across country one morning for a day's rabbit-shooting.
"We had tramped through the fields and low-lying paddocks for hours. We had scattered through the stubble and peered into burrows. We had combed the bushes and the dead wood for miles around but with no sight of a rabbit, except, here and there, a vanishing tail.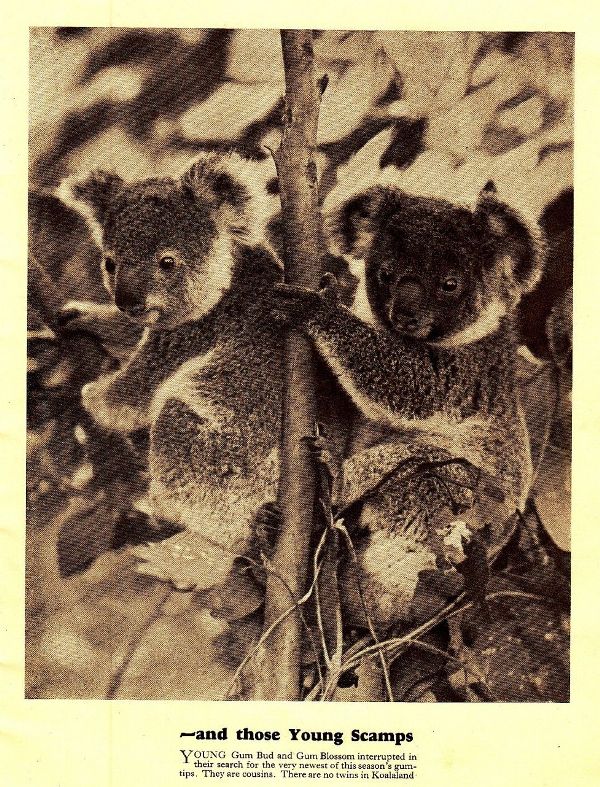 "By midday not a shot had been fired. And then someone suggested that we make our way up the gentle slope of ground to the foothills where, out of reach of the sun, under the tall timber we could eat our lunch.
"AS soon as we got well into the belt of towering gums we collapsed forlorn and frustrated at the foot of the largest of then and lay there on our back munching and grumbling.
"Revived by our meal, we gathered enough energy to make a target of a young sapling. But we soon wearied of sapling shooting and once more lay on our backs in the shade looking up at the blue fragments of sky showing through the distant wickerwork of leaves. It was close timber and the lowest branches emerged from their trunks some twenty feet from the ground.
"Suddenly the idling eyes one of us descried a small brown shape huddled in the delicate fork of the highest limb of our tree. It swayed in the mild wind overhead like a tiny mariner caught in the farthest rigging. And although none of us had seen one we all knew that it was a koala.
"There was great excitement. Game at last!-and nicely silhouetted against a clear heaven.
"After the usual dispute as to whose privilege it was to have the first shot we were all at it firm singly, at first, and then in volleys
"The brown shape continued to swing unconcernedly and then someone scored a hit.
"There were yells of delight as our marksmanship improved and we could hear our bullets find their mark.
"Slowly the small brown bundle began to stir, unfolding itself like a woollen glove. And then we saw a drop of blood among the dead leaves at our feet. Another drop fell beside it and another. It wouldn't be long now, we thought, before that clump of fur came tumbling down. It must be fairly riddled with lead by this time.
"Nevertheless a feeling of un-easiness had set in. From away up in the tree-top there came drifting down to us a sound that made us lower our rifles and stand close together-a white faced little group, paralysed with awe. It began as a soft whimpering such as might have come from a forsaken child and swelled to the terrible grief-stricken lamentation of a heart hopelessly broken. It went on and on.
THERE was no protest in that piteous crying-only an inconsolable anguish. And as the moaning continued we noticed that the bear had begun to move.
"It was coming down-not falling down, but slowly, falteringly groping its way along the branch to the main stem, weeping and shaking its head from side to side as it paused, every now and again, to steady itself.
"Eventually it arrived at the lowest limb and commenced its backward descent of the smooth trunk. Never was progress so slow.
"And all the time we stood there watching and listening watching its poor feet fumble for a grip so that pieces of bark came clattering down-listening to that interminable crying of despair.
"When at last it reached the ground, it hesitated for a second or two and then, as though it had lost the power to see, it came stumbling to where we stood petrified with shame and horror. And there it sank at our feet.
"Not till we had realised that it was dead did we notice, clinging to its back, another diminutive bear looking up at us with bright beady eyes. It seemed as though that heroic mother had, with its last gasp, trustingly committed her cub into our care.
"I tell you that during the whole of that horrible journey home none of us spoke a single word. And since that day I have never touched a firearm of any kind."
COULD see that Hemsley was considerably upset. But it was time for me to leave him. The boat was drawing into my wharf.
As I rose to go I said, "And what became of the . . ."
But somehow I could not get the words out of my mouth. With a dumb gesture of understanding I left him sitting there.
Leon Gellert Finds Himself.. (1950, October 15). The Sunday Herald (Sydney, NSW : 1949 - 1953), , p. 2. Retrieved from http://nla.gov.au/nla.news-article28670685 Visit: Sir Edward John Lees Hallstrom - The sanctuary referred to in this article, where Harold's photos were taken, was in Castle Hill road, Pennnat Hills.
One corner is devoted to mementoes of Pavlova's two Australian visits during world tours in 1926 and 1929: an inscribed ribbon from a bouquet presented by the Russian Club of Sydney, theatre programs and photographs, two of which were taken by Cazneaux ("he was so nervous meeting her that he took a picture of the stool she would sit on and forgot to change the plate, so I had to retouch that one"). A MEMORIAL TO ANNA PAVLOVA (1974, December 18). The Australian Women's Weekly (1933 - 1982), p. 49. Retrieved from http://nla.gov.au/nla.news-article52270460
ARTS, PHOTOGRAPHY
Art Gallery of NSW: … Photography: On during the school holidays is an exhibition of photographs by Harold Cazneaux, one of Australia's most important early photographers, and the Power Gallery Acquisitions, which will show the painting, sculpture and printing purchased internationally for the Power Foundation Gallery at the University of Sydney. HOW TO ENJOY THE SCHOOL HOLIDAYS WITHOUT GOING INSANE (1975, July 30). The Australian Women's Weekly (1933 - 1982), p. 7. Retrieved from http://nla.gov.au/nla.news-article47122135
WORKS OF PIONEER PHOTOGRAPHER ON SHOW
An exhibition of photographs by the man who staged Australia's first one-man photographic show in 1909 has opened at the National Library. The pioneer photographer, Harold Cazneaux, Cazneaux, known to the camera world as Caz. was born in New Zealand but moved to Australia in the early 1890s.
The 1909 one-man show was shown in London in 1911 and critics ranked Cazneaux with "the few outstanding workers of the world in pictorial photography".
There were 75 pictures in the 1909 show, including one of his most famous studies 'The Razzle Dazzle".
'The Razzle Dazzle' is among the 60 photographs in the exhibition at the National Library. Cazneaux died in 1953. The photographs on display were selected from a collection of his pictures given to the library by his daughter, Mrs R. Johnson, of Sydney, on behalf of the family. The exhibition will continue until the end of December. LIFE STYLE PEOPLE Early photos at library 60 WORKS OF PIONEER PHOTOGRAPHER ON SHOW (1976, November 18). The Canberra Times (ACT : 1926 - 1995), p. 20. Retrieved from http://nla.gov.au/nla.news-article131796654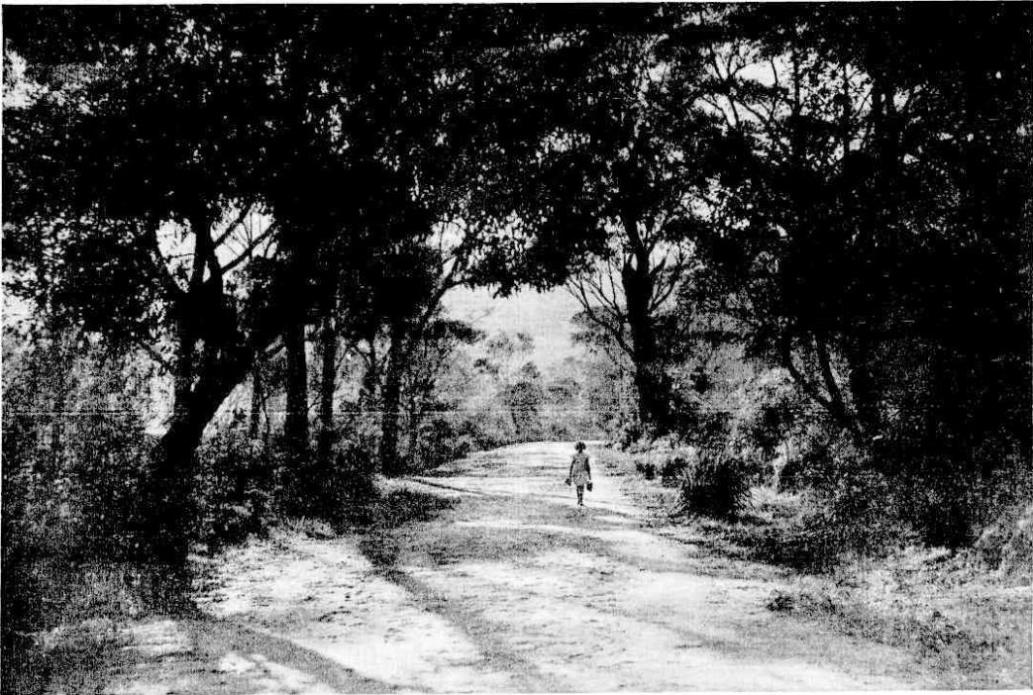 This is not a confirmed Cazneaux photograph - it just bears all the hallmarks of his works and may have been taken by someone he taught if not from his own camera. Given that he took thousands - and they are everywhere of everything - anytime you see a 'study' in light, with trees, and nature, and a child, you have to wonder - is it a Cazneaux?
Photographers of Pittwater: Harold 'Caz' Cazneaux
- threads collected and collated by A J Guesdon, 2018