October 8 - 14, 2023: Issue 600
Inaugural Sydney To Auckland Ocean Race 2023 Gets Underway

Pittwater's Royal Prince Alfred Yacht Club is renowned for being both an innovator and initiator in the sport of sailing. The club has launched new classes of boats throughout its history, founded programs for talent and sustained determination to be honed into sailors that have circumnavigated the world, won America's Cups and Olympic medals, and produced grass roots social inclusion for all genders, ages, abilities, and interests, along with hosting regattas year round at local, state and national level for everything from windsurfing and catamarans to MC38's.
Through the RPAYC's policy of 'Excellence in Sailing' the club is always looking to extend opportunities of what can be done in sailing and for sailors.

In June 2019 the Royal Prince Alfred Yacht Club announced the 1250nm Sydney to Auckland Yacht Race, originally slated to start on Sydney Harbour on 30th of January 2021 and finish in Auckland Harbour in time to help the Royal New Zealand Yacht Squadron celebrate their 150th Anniversary and enjoy the 36th Americas Cup.
The RPAYC may be a much valued part of our community but the club has always been part of the national and worldwide community of sailing as well. This commenced when the Prince Alfred Yacht Club, later to become the Royal Prince Alfred Yacht Club, was formed on Tuesday October 15th 1867 and named in honour of Prince Alfred, the first royal visitor to our shores, continued when Walter Moffit Marks, then Commodore of the RPAYC, sailed aboard Sir Thomas Lipton's America's Cup contender Shamrock in 1908 and returned to help with the trials for another Shamrock vying for the 1914 America's Cup, and persists today through blue water classics such as the annual Pittwater to Coffs race.
MR. WALTER MARKS AT COWES
Writing to Captain Mark Brasch, of Sydney, Mr. Walter Marks, the well-known local yachtsman, relates that he was at Cowes early In August.
He was racing on Sir Thomas Lipton's Shamrock IV. nearly every day, and was on the mainsheet, at which he
was was not disgracing Australia.

The yacht won the Cowes Royal Yacht Squadron's Cup on the 7th ult" under full sail in a nor'-west gale'. The Sydney yachtsman remarks, ''It was a treat.".
RACING ON SHAMROCK IV. (
1908, September 8
).
The Australian Star
(Sydney, NSW : 1887 - 1909), p. 1 (FIRST EDITION). Retrieved from http://nla.gov.au/nla.news-article229100292
Sir Thomas Lipton would later present the Lipton Cup to the RPAYC, topped by an effigy of the Shamrock.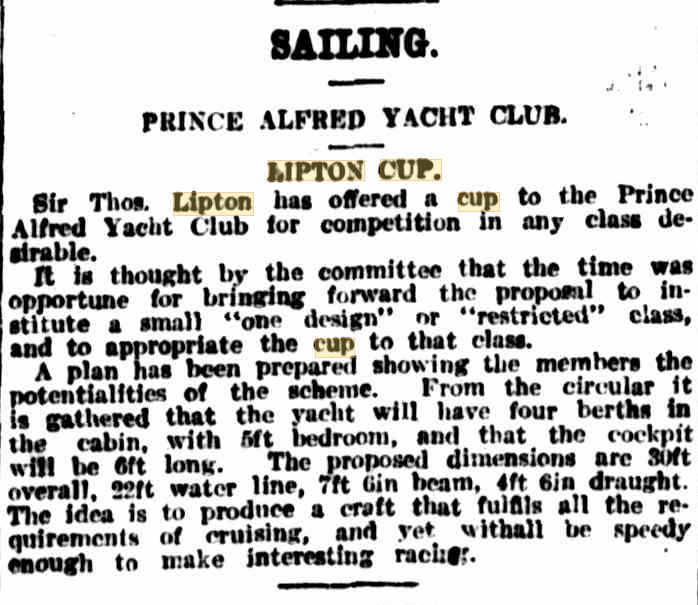 SAILING. (1908, May 9). The Sydney Morning Herald (NSW : 1842 - 1954), p. 16. Retrieved from http://nla.gov.au/nla.news-article14925522

THE LIPTON CUP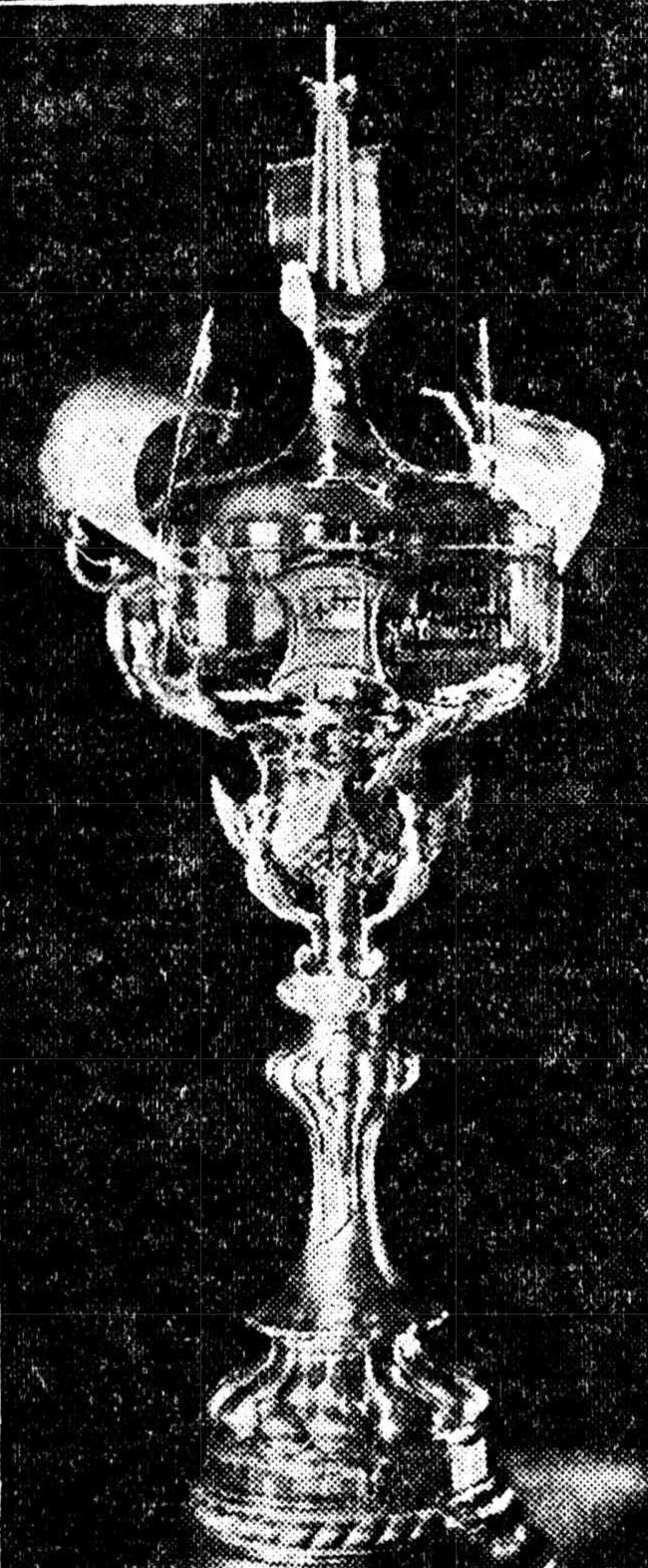 THE CHALLENGE CUP PRESENTED TO THE ROYAL PRINCE ALFRED YACHT CLUB BY SIR THOMAS LIPTON. THE LIPTON CUP (1920, June 10). The Daily Telegraph (Sydney, NSW : 1883 - 1930), p. 4. Retrieved from http://nla.gov.au/nla.news-article239627914
Covid caused the postponement of the first ever Sydney to Auckland but in late 2022 the RPAYC revived the proposal and opened for entries with a new start date of Saturday October 7 2023.

Among the first entries was RPAYC's Mark Griffith with lnity.
Mr. Griffith commented, "I think it's going to be a premier race, the longest (from Australia) and an international race. This is the first time anyone gets to do it, so there should be quite a bit of interest and a strong fleet."
On the dynamics of the race, the yachtsman says, "It will probably be six or seven days. The Sydney Hobart and Melbourne to Hobarts are a sprint by comparison. We will have to pace ourselves more with various conditions."
The crew plans to take full advantage of the New Zealand end of the race.
'We've got plans to stay over," Griffith says. "The Coastal Classic is only a week later and gets around 160 entries. We don't want to miss that. We also plan to cruise to the Bay of Islands (one of the most spectacular places on the planet), and that's on the way home. So we might leave the boat there and do the Bay of Islands Regatta.
"This is not something we get to do every day, so we want to go hard at it," Mr. Griffith said
The Royal Queensland Yacht Squadron's James Irvine was another to sign on for the inaugural Sydney to Auckland Ocean Race and represents the first interstate entrant for the Royal Prince Alfred Yacht Club's (RPAYC) race.
Mr. Irvine entered Mayfair, a Rogers 46 he bought in 2020, upgrading from earlier yachts of the same name. He particularly enjoys the cut and thrust of major offshore events, including those away from home.
The lure of the Sydney to Auckland race has many positive connotations: "I've got some ex- Kiwis who sail with us and it's a bit of a bucket list thing. I'm originally a Kiwi. I came to Australia in 1989, so I've been living here longer than I lived in New Zealand. It'll be good to go back there - and in this way - a new and long race," Irvine stated "It's going to be a great race."
Irvine's crew will mainly be a core of those who regularly sail with him in offshore events.
"We like getting out there racing and having fun. The biggest part is to remember to have fun because you can get carried away with things otherwise. It's important to come back to the enjoyment of sailing," the Queenslander observes.
"We'll probably stay on to enjoy the New Zealand hospitality. I still have family there, including my mother, who follows our racing on the trackers at different events. When we're finished, she wants to know why we made certain moves and decisions," he said amid laughter.
James has six Sydney Hobarts behind him, including last year's, along with a string of other major races along the east coast of Australia. Like other entrants in this race, he is relishing the opportunity of a new and different offshore challenge. And hearing others are keen to do it too, he says, "We're looking forward to good competition."
RPAYC's Robert McClelland explained the race's communications have been simplified for the 1250 nautical mile race: "Satellite phones, AIS and trackers on each boat, no time consuming skeds. This follows the Club's successful Pittwater to Coffs Harbour Yacht Race, which is run on the same basis."
The other joy for competitors is that the Sydney to Auckland Ocean Race was timed to allow prospective competitors to compete on the northern circuit in Queensland beforehand and to be back in Australia in time for the Rolex Sydney Hobart and Melbourne to Hobart yacht races.
The Cruising Yacht Club of Australia (CYCA), the great Australian sailing club that gave the world the Sydney to Hobart Yacht Race which commenced with just 9 yachts in 1945, has two entrants; Frantic, Michael Martin's entry, and Geoff Hill's Antipodes, while the Royal Sydney Yacht Squadron's Graham Barrett's Painkiller is also racing.
The RPAYC sent in the following report after the race commenced:
Inaugural Sydney To Auckland Ocean Race 2023 Gets Underway
And they're off! At 1300hrs AEDT on October 7, 2023, the yachts and crews in the inaugural Sydney to Auckland Yacht Race left Sydney Harbour, bound for Auckland.
Their start, adjacent to the famous Sow and Pigs near the Heads of the iconic harbour, saw them get underway in a 12-17 knot Southerly with sunny skies, before they turned left to go up Sydney's spectacular Northern Beaches to a turning mark off Barrenjoey Head at Broken Bay, where they then turned right to head East, and make for New Zealand.
It is a 1250 nautical mile course, which is virtually double that of the famous Sydney to Hobart event, and sees the competitors deal with the many challenges the Tasman Sea can deliver, from becalmed to large swells, as well as true bluewater ocean conditions, where you can smell the land, once you get close enough.
Race Organiser, the Royal Prince Alfred Yacht Club (RPAYC) and partner the Royal Akarana Yacht Club (RAYC) are delighted to see this race get away after a COVID-19 enforced delay. Once in New Zealand, crews can partake in some of the famous events there, including the mighty Coastal Classic, or return promptly to get organised for the myriad of events on Australia's East Coast in the lead up to and during the holiday period.
The overall winner will be crowned under the IRC measurement system, and will be awarded, but obviously not retain, the splendiferous Sir Lipton Cup that was first used as a trophy back in 1922.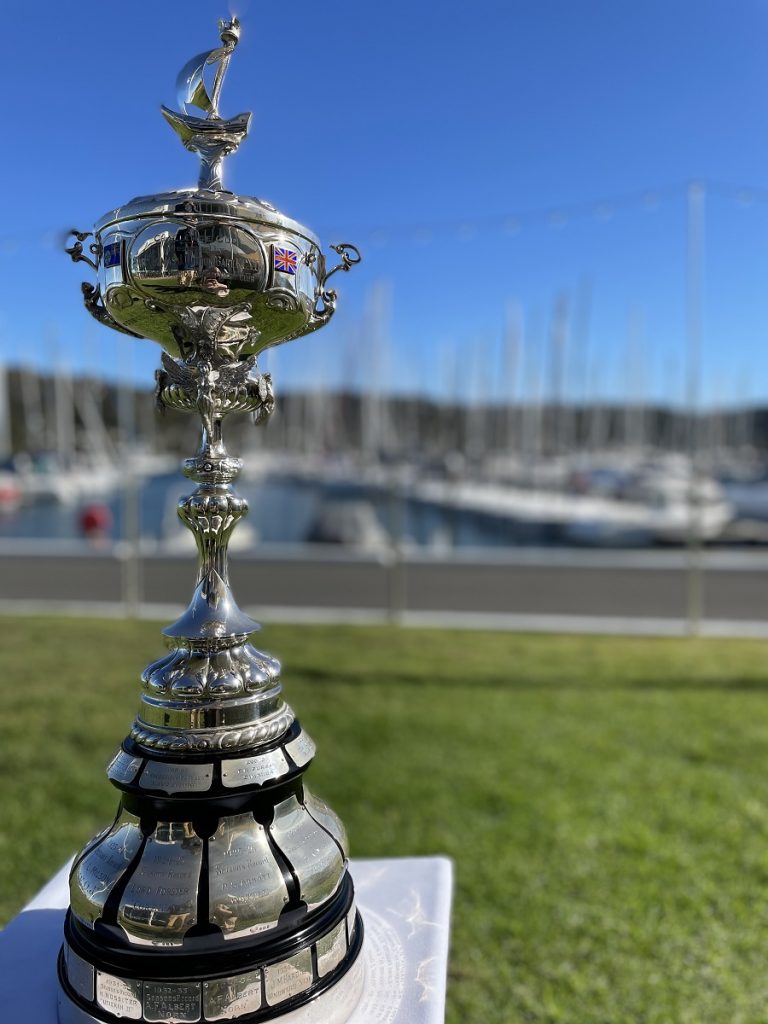 The Sir Lipton Cup
New Turimetta Beach Emergency Rescue Board Saves Lives - Prevents Tragedies: Council Installs More Boards Along The Coast, State Government Commits $23 Million Over Four Years To Help Keep NSW Beaches Safe During 2023 Raising Of The Flags Ceremony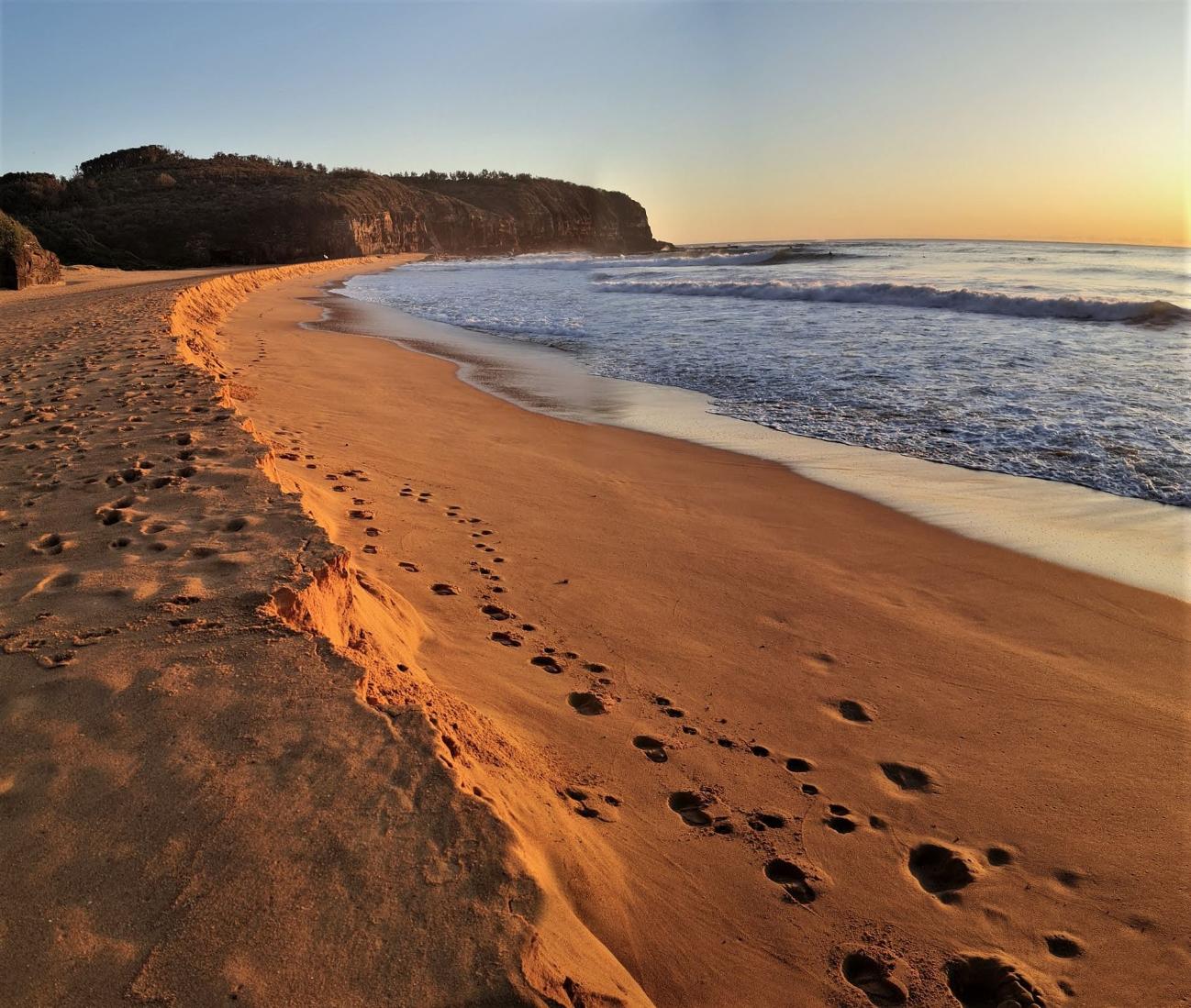 Turimetta Beach on October 5 2023 after swell stripped the beach of sand. Photo: Joe Mills
In a remarkable display of bravery and community spirit, three swimmers have been rescued in recent weeks by community members at Turimetta Beach, an unpatrolled location, and South Curl Curl, a popular beach outside of patrol hours, with the help of Council's new emergency rescue boards.
With temperatures reaching up to 35 °C over September 18 to 21, before the Volunteer Surf Lifesaving Patrol Season had commenced, people have been heading en masse to local beaches, some of whom are not familiar with local conditions.
On Saturday October 7 regular photography contributor to Pittwater Online Joe Mills sent in his weekly dose of images celebrating Turimetta, Narrabeen and Warriewood.
Joe (Turimetta Moods) stated, ''The continuing sand movement has been massive, changing weekly. There is a lot of erosion in the middle of the beach, and the rocks at the northern end are being exposed again. The southern end of the beach has been completely covered in sand, with no signs of the rocky gutters.
During this week on Wednesday, October 4, there was a great set of morning waves which drew a big crowd of board riders, both young and old. Some were not locals, as they launched into the surf from the rocks at the northern end, whereas the locals go in straight from the beach.''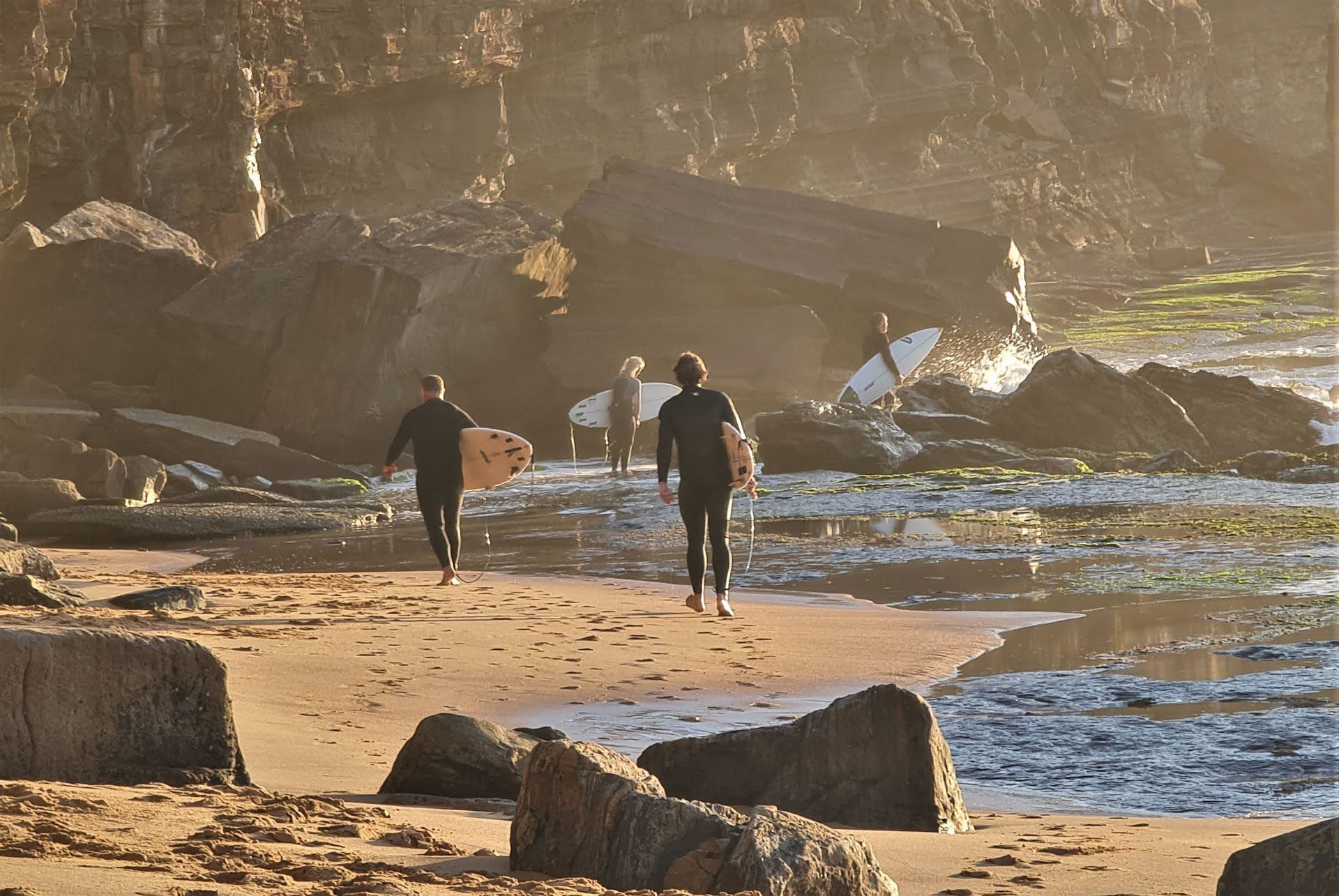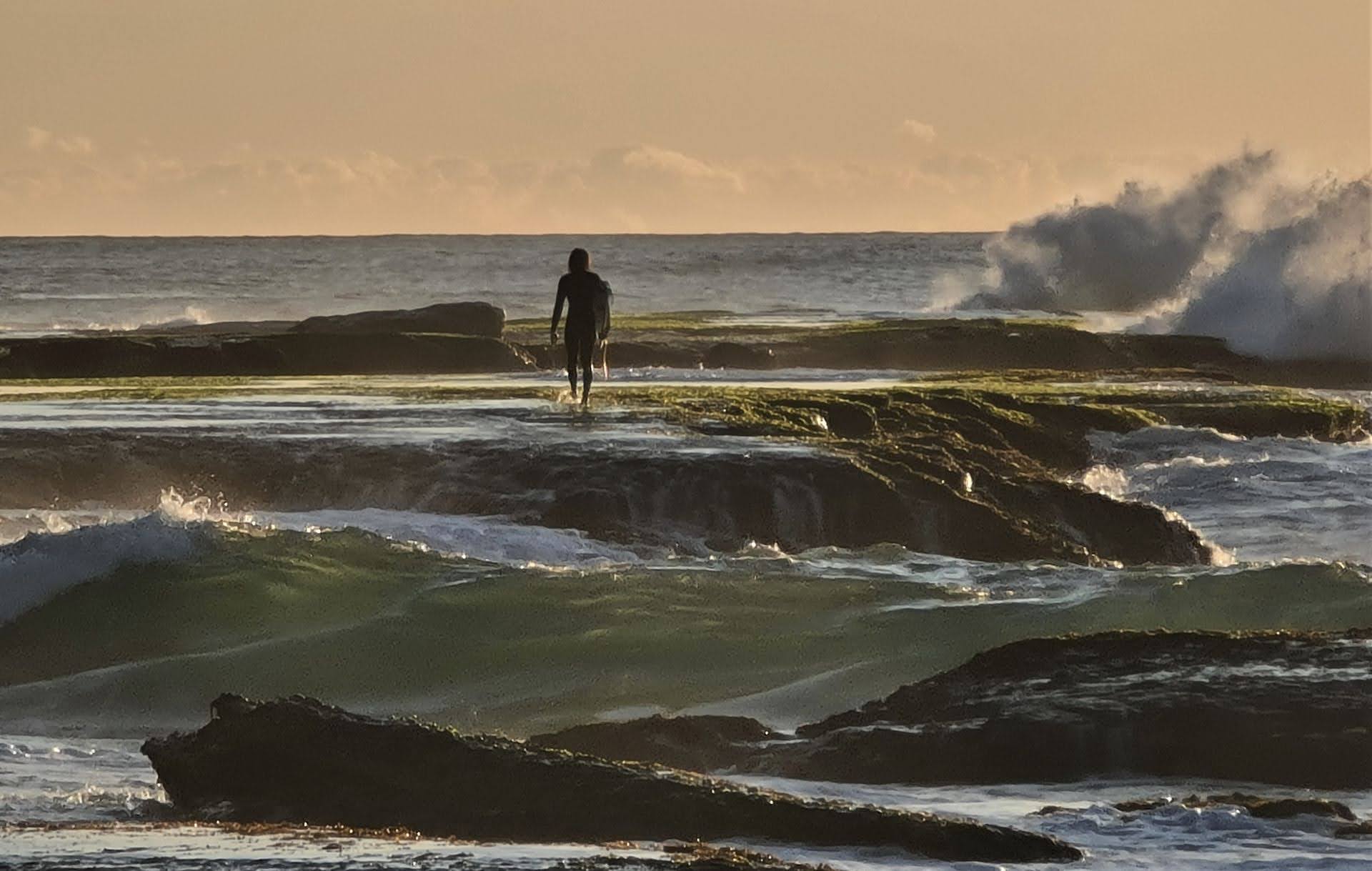 Photos: Joe Mills
The National Drowning Report 2023, released just before the start of the Season, records that 66 per cent of the coastal drowning deaths occurred more than 1km from a Surf Life Saving service, as people continue to seek out more secluded swimming spots instead of swimming between the red and yellow flags. There were 281 drowning deaths across Australia last year, with over a third of these occurring in NSW.
"Drowning deaths in coastal environments including beaches, ocean/harbour locations, and off rocks decreased by nine per cent compared to the previous year, although sadly there were 125 coastal drowning deaths recorded, three per cent above the 10-year average," Surf Life Saving Australia, Chief Executive Officer, Adam Weir said
In launching the first day of the 2023-24 Volunteer Patrol Season on September 23 Premier of New South Wales Chris Minns said that 48 people drowned on the NSW coastline last year, most of these tragedies occurring on unpatrolled beaches. There were 26 coastal drownings recorded over the Summer months alone.
The loss of these lives mark 2022 as one of the worst on record for drowning fatalities.

The NSW Government announced the biggest funding commitment ever for Surf Life Saving NSW (SLSNSW), pledging an additional $23 million over four years to help keep NSW beaches safe, at the 2023 Raising of the Flags ceremony.
With predictions of a hot and dry summer, the funding commitment reinforces the critical role of SLSNSW in safeguarding the lives of NSW beachgoers. The increased funding for will build on SLSNSW's capacity to protect lives over the warmer months.
As part of the funding package, SLSNSW will receive $18 million over four years through the NSW Rescue Capability Grant, for additional resources and equipment including 67 rescue watercraft, such as jet skis.
The funding will also deliver 40 permanent Emergency Response Beacons in blackspot locations, helping SLSNSW extend services in unpatrolled areas in an effort to reduce coastal drownings.
The NSW government's investment in SLSNSW will continue to support the upgrade, restoration and construction of surf lifesaving facilities through an additional $5 million over four years for the Office of Sport's Surf Club Facility Program. This program aims to assist eligible Surf Life Saving Clubs to develop facilities that will enable increased participation in Surf Life Saving for all people, increase facility usage, and improve safety.
SLSNSW is one of the largest volunteer organisations of its kind in the nation with a membership of more than 75,000.
Additionally, every Surf Life Saving Club across NSW serves as a vital community hub.
On top of the $23 million, the national body Surf Life Saving Australia will receive almost $5.8 million over four years for the Westpac Life Saver Rescue Helicopter, including a crucial upgrade to the hangar door at La Perouse.
In launching the Season Premier of New South Wales Chris Minns said, "New South Wales has the best beaches in the world and we're incredibly fortunate to have the best surf life savers as well."
"We have very dedicated, very brave volunteers, who often put themselves into dangerous situations to help others."
"We want everyone to be able to enjoy our beaches safely. This is an important investment in life saving technology and human capital, so we know we have the resources we need right up and down the coast this Summer."
Minister for Emergency Services Jihad Dib said:
"This is the largest amount of funding the NSW Government has ever committed to Surf Life Saving NSW and we are proud to deliver on our promise to support these heroes in their vital work."
"I want to thank our volunteers who give their time so that the community can enjoy a day in the surf, so please follow their advice to stay safe."
"By equipping Surf Life Saving NSW with vital resources and cutting-edge technology, we amplify their life-saving efforts and reaffirm our promise to protect our communities."
Minister for Sport Stephen Kamper said:
"Surf Life Saving Clubs provide a vital service, protecting people in the water and supporting a healthy lifestyle and often lifelong passion for members."
"Our volunteer surf lifesavers are on our beaches, rain, hail or shine, protecting the community and ensuring people are safe at the beach."
"The record funding for the Surf Club Facility Program will provide our surf life savers with more modern, inclusive and accessible facilities that will better enable them to keep the community safe at the beach."
President of Surf Life Saving NSW Peter Agnew said:
"This is a great time to remind the community about the benefits of volunteering to be a lifesaver. You can volunteer as little or as much as you like and in every role, from admin, to first aid, to teaching Nippers or helping in the club canteen."
"You can learn new skills like flying a drone or driving an inflatable rescue boat, improve your fitness and mental wellbeing and be part of a great community."
"Finally, I want to thank our lifesavers for again standing tall and protecting our beaches and I wish them all a safe summer."
Council is stepping up its own commitment to saving lives on local beaches this Summer.
The newly installed boards will serve as a valuable addition to the existing tube box system, which comprise approximately 60 units strategically placed across beaches and ocean pools. The boards are part of a targeted initiative that focuses on high-risk areas known for hazardous surf, providing essential equipment accessible to bystanders for potential rescue situations.
Mayor Sue Heins expressed gratitude for those individuals who took immediate action to save the swimmers.
"We extend our heartfelt appreciation to the kind-hearted individuals who courageously used the rescue boards to assist the swimmers, as well as the dedicated lifeguards and surf club volunteers who were present during one of the rescues," Mayor Heins said.
"Of note is the heroic act of a young adult rescuer who single-handedly saved two swimmers. Such acts of bravery serve as an inspiration to us all."
To ensure the safety of beachgoers, Council has strategically placed emergency rescue boards at Turimetta, South Curl Curl and Avalon beaches. At both South and North Avalon beaches the boards have been put in place in partnership with the surf club.
Council states plans are underway for the installation of two more boards at South Narrabeen and North Narrabeen. Each location features easily accessible storage and clear signage indicating the presence of the rescue boards.
"While Council plays a significant role in safeguarding beachgoers, the cooperation and vigilance of the community and visitors are equally vital in ensuring a safe beach season," Mayor Heins said.
"With 65 trained lifeguards patrolling 21 of the Northern Beaches and working closely with volunteer lifesavers, Council strives to maintain a high standard of safety, offering swift response and expert first aid and rescue services.
"However, recent incidents have highlighted the importance of water safety even outside of patrol hours. We urge both locals and visitors to prioritise water safety by swimming between the flags, identifying rip currents, and refraining from entering the surf during dangerous conditions."
Council will be launching a comprehensive beach safety campaign in time for summer to educate and inform beachgoers in preparation for the upcoming summer season.
Beachgoers are being urged to exercise caution and observe water safety advice from lifesavers and lifeguards this patrolling season, which runs until 28 April 2024.

Beachgoers can check the status of local beaches on Surf Life Saving Australia's Beachwatch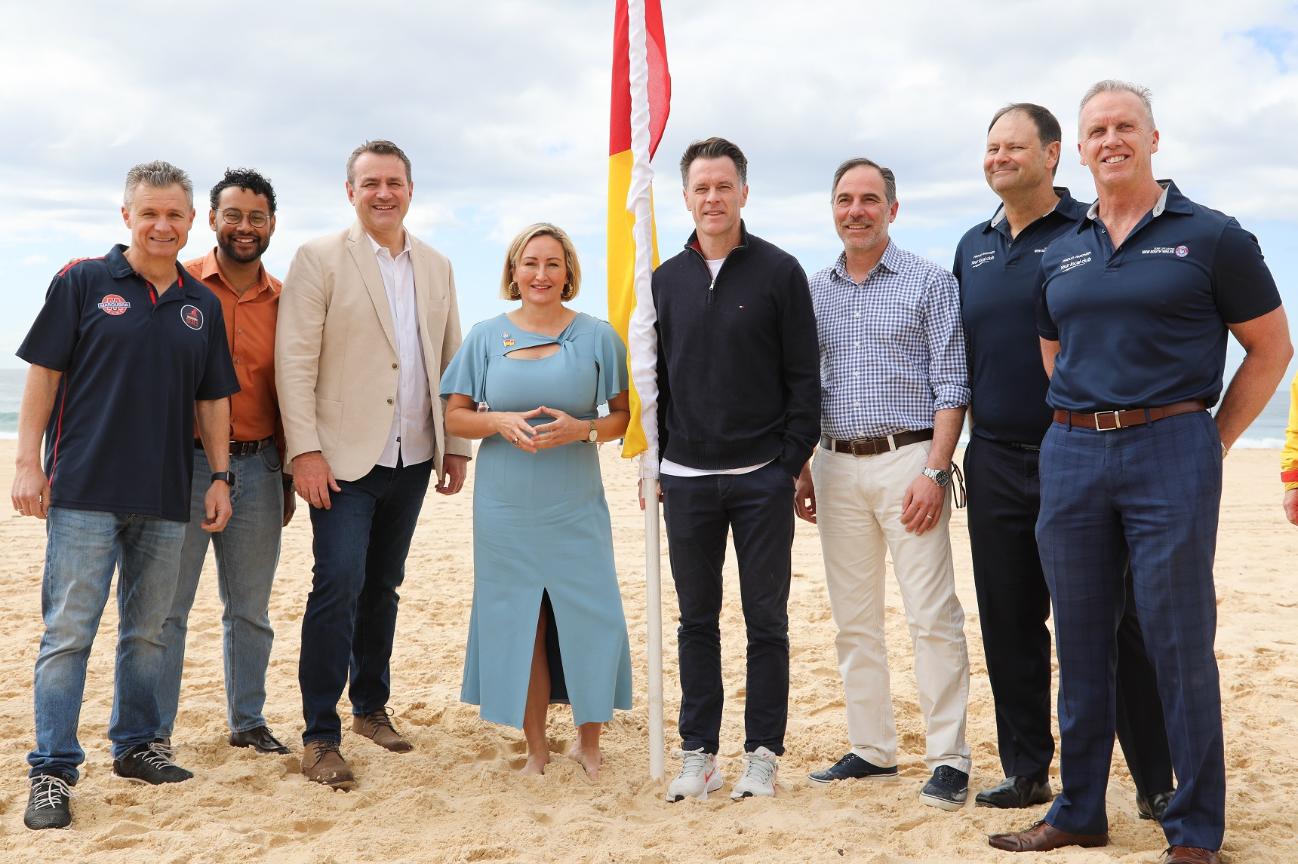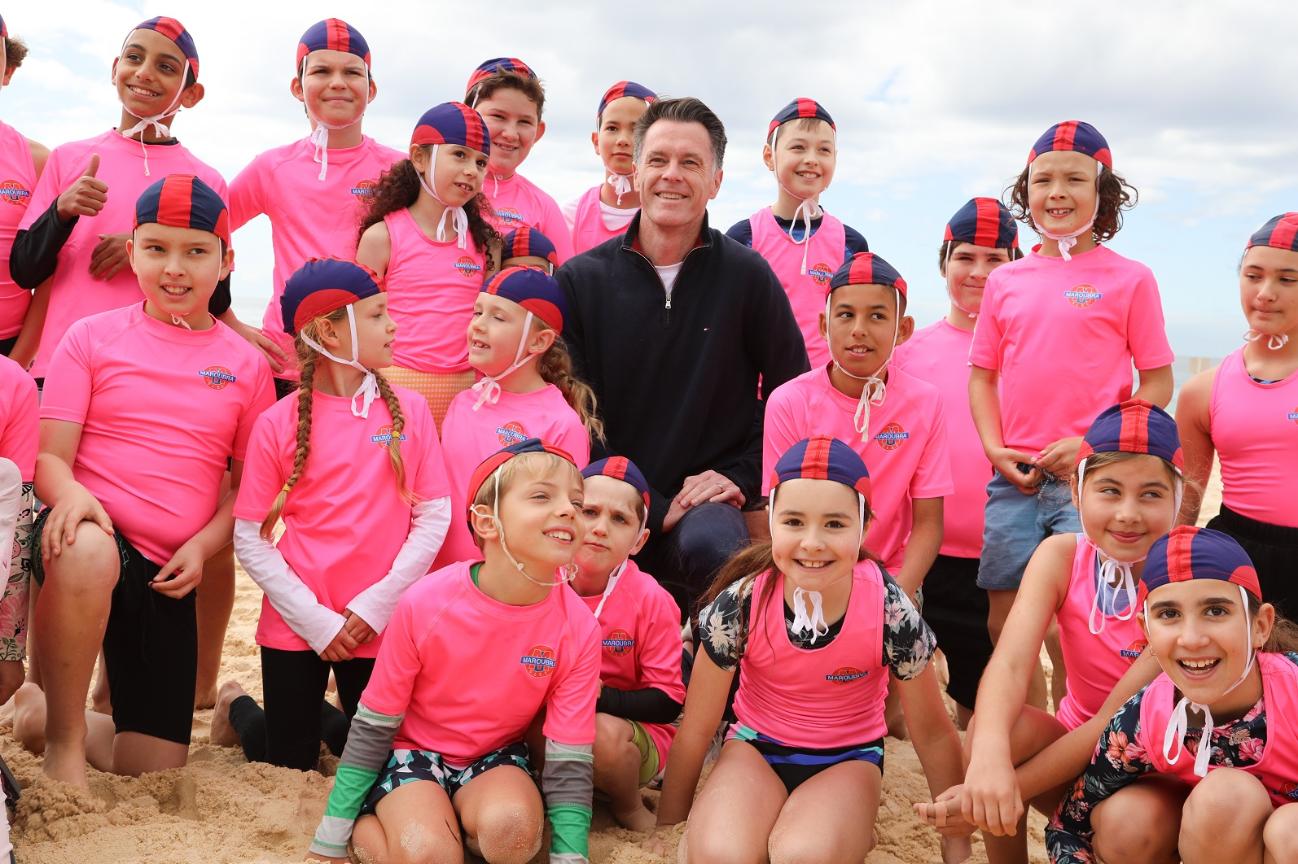 The symbolic raising of the red and yellow flags at Maroubra Beach, on September 23 2023. Photos: SLSNSW
Council Partners With NPWS To Sniff Out Soil Borne Pathogen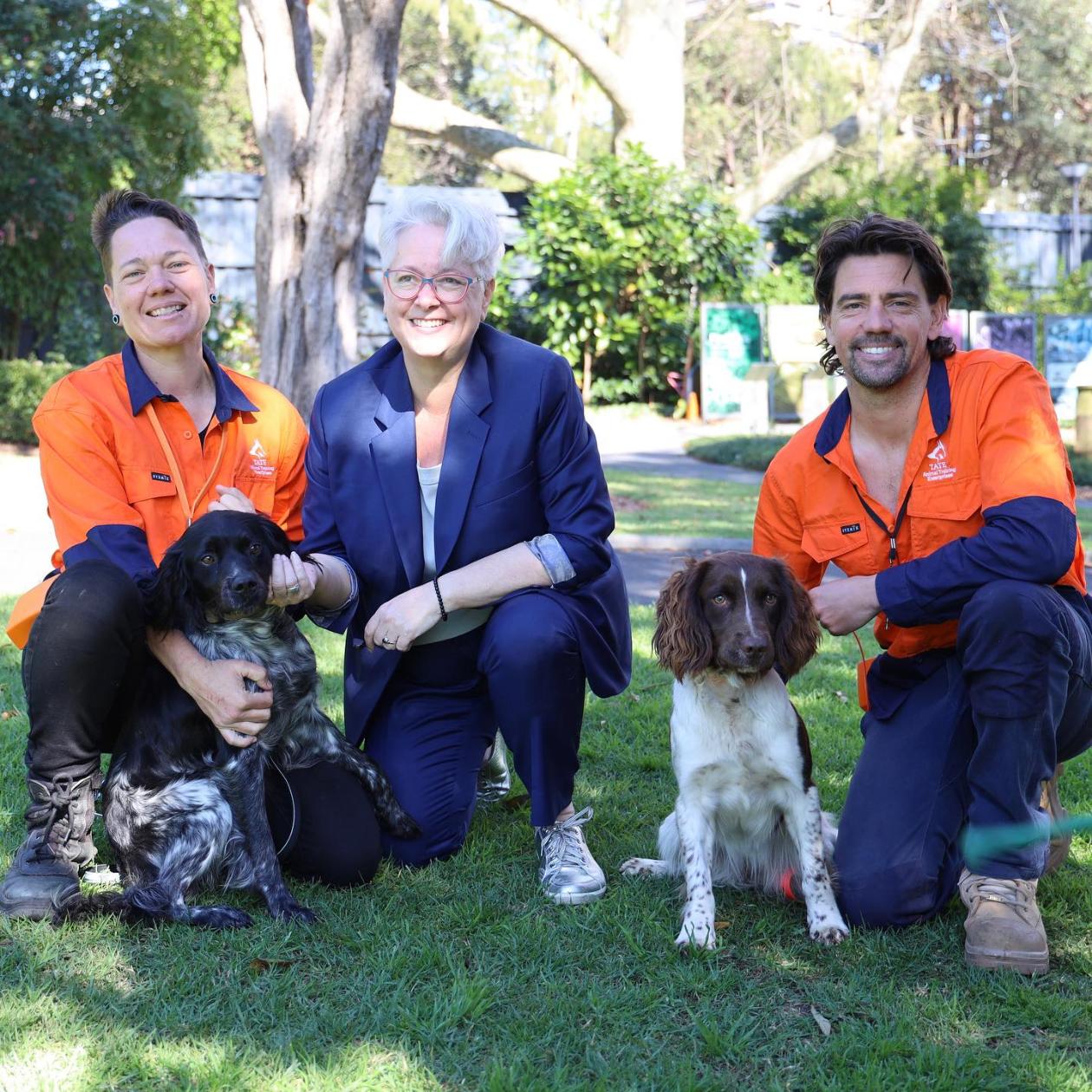 The Hon. Penny Sharpe MLC, Minister for Climate Change, Energy Environment & Heritage with Alice the Springer Spaniel and Echo the Britney Spaniel and their trainers, including Ryan Tate from Tate Animal Training. Photo: NSW Government
Northern Beaches Council has partnered with National Parks and Wildlife Service (NPWS) to stop the spread of Phytophthora cinnamomi, a soil borne pathogen that infects threatened and iconic plants, by using specially trained sniffer dogs to detect the disease.
The soil pathogen threatens a number of endangered species and can causes root rot in susceptible plants.
With funding from NPWS Saving Our Species program, the NPWS Invasive Species Unit developed a project in mid-2022 to see if conservation detection dogs could be trained to detect Phytophthora and prevent new infestations to protect threatened species.
With the expertise of TATE Animal Training Services and two of their newest dogs – Alice, a Springer Spaniel and Echo, a Brittany Spaniel, the dogs have been successful in identifying the pathogen in controlled trials.
Northern Beaches Mayor Sue Heins said Phytophthora free tube-stock, propagated and grown by environmental volunteers in Council's community nurseries, was donated by Council and infected with the disease by University of Sydney staff for training purposes.
"Results from the pilot study have proven the dogs can discriminate the scent of Phytophthora and they can successfully locate infected tube stock when placed with uninfected tube stock. These dogs are simply incredible," Mayor Heins said.
"We're so pleased to be partnering with NPWS on this unique project and hope the hard work by the team at TATE and their dogs can stop the spread of this pathogen infecting our precious flora."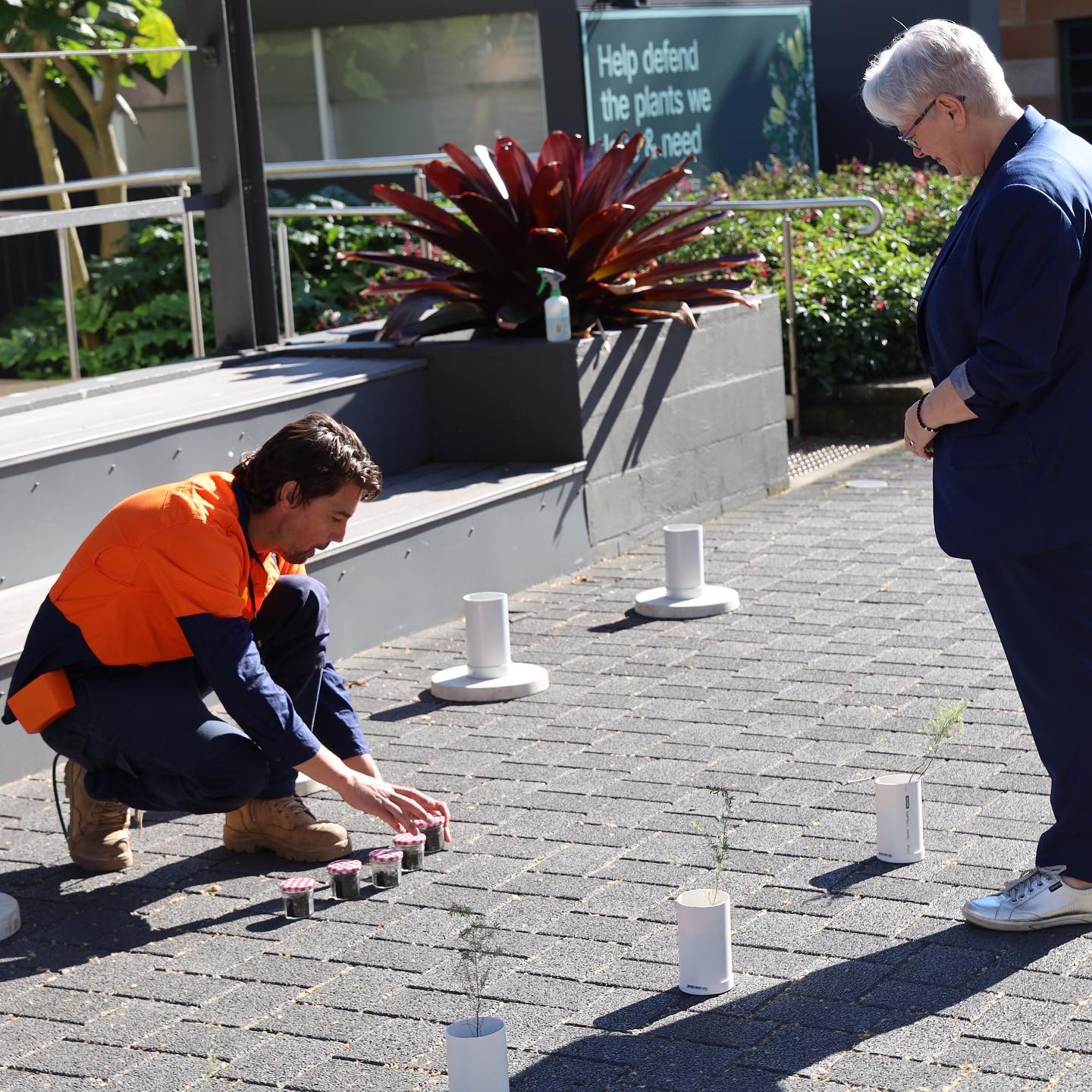 Demonstration of the DD's at work. Photos: NSW Government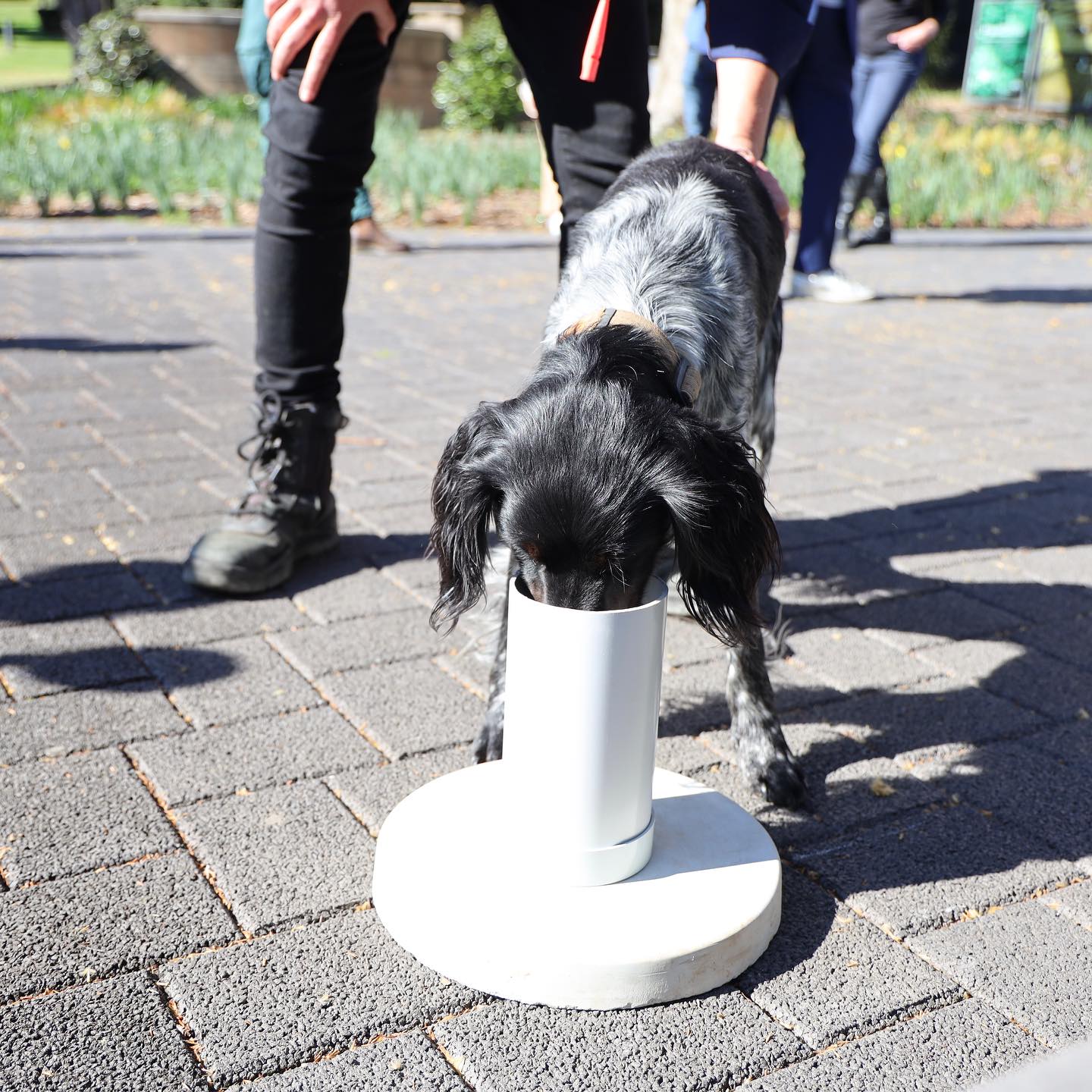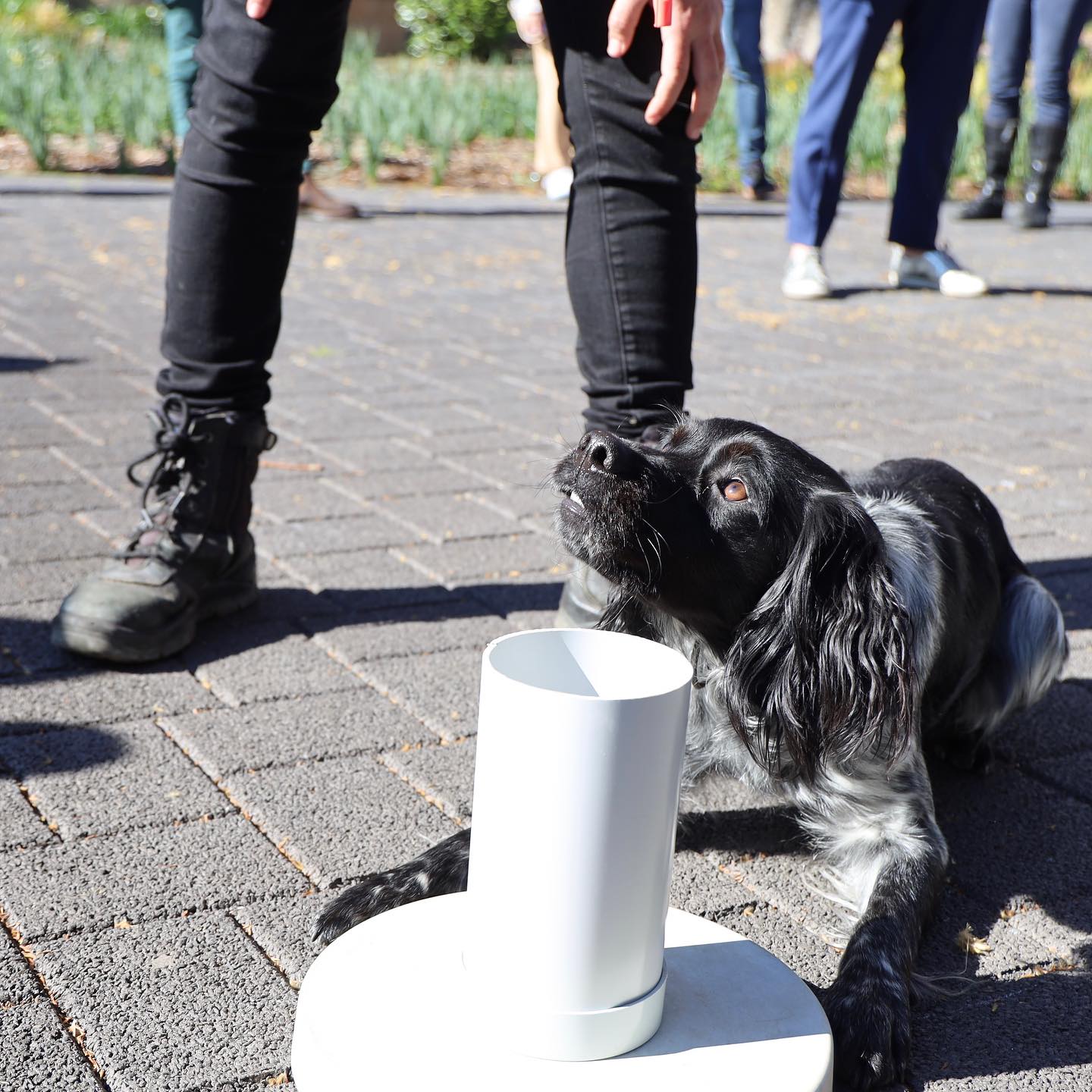 Ten months into their training, Alice and Echo can now confidently discriminate infected from non-infected plants in a lab environment and are learning how to detect the pathogen lying dormant in soil as well as on vehicles, clothing and cutting equipment.
They've been practising on plants provided by Northern Beaches Council, which is working to protect critically endangered Caley's grevillea (Grevillea caleyi) from infection.
Based on the success of this trial, the NSW Government is awarding a grant of a further $50,000 to fine-tune the dogs' skills and deploy them to test soil in Barrington Tops National Park and Scheyville National Park, where Phytophthora poses a significant threat to several threatened plant species.
The 2-year project will involve the NSW National Parks and Wildlife Service, TATE Animal Training Enterprises, the University of Sydney, Botanic Gardens of Sydney's PlantClinic, Northern Beaches Council and the NSW Department of Planning and Environment.
Minister for the Environment Penny Sharpe said, ''There's huge potential for conservation dogs to help prevent the spread of this devastating disease in New South Wales, particularly in high-risk pathways like national parks, nurseries, and as part of bush regeneration projects, ensuring sites and materials are Phytophthora-free.
'There is currently no treatment or cure for Phytophthora-induced dieback. Once the disease takes hold, there is no way to eradicate it.
'Alice and Echo represent a step towards early detection and appropriate intervention to help prevent the spread of this disease and protect our native flora.''
New Veteran Wellbeing Centre In Dee Why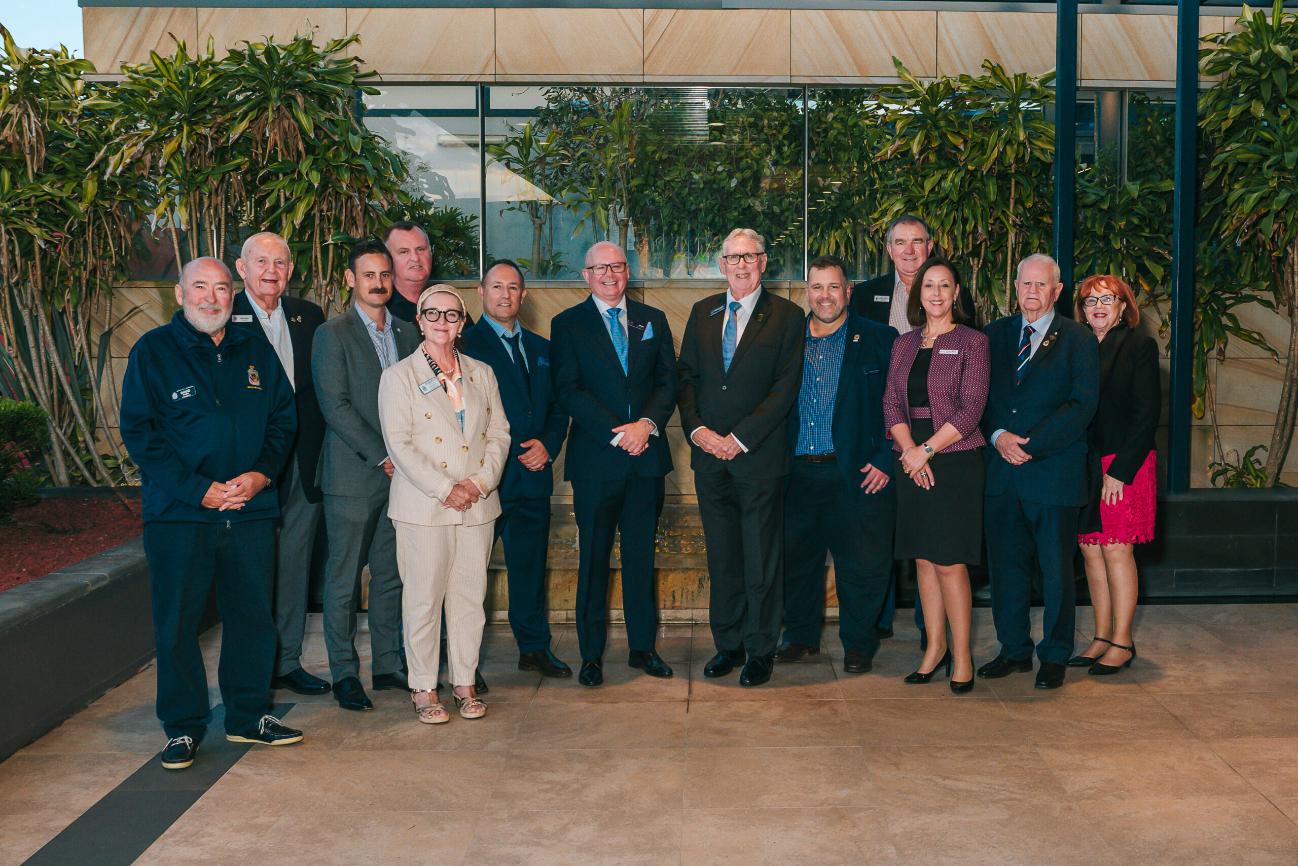 RSL LifeCare is set to extend its crucial service delivery for local veterans and their families with the opening of a Veteran Wellbeing Centre in Dee Why.
This centre has been made possible thanks to a partnership with Dee Why RSL, which has committed $1 million over the next four years to house and assist with the ongoing operating costs of the centre, as well as ongoing financial support from local RSL NSW sub-Branches.
A presentation to mark the occasion was attended by RSL LifeCare CEO, Janet Muir, RSL NSW President, Ray James, and RSL NSW Northern Beaches District Council President, Bob Lunnon, Pittwater RSL Sub-Branch President Deborah Carter, Dee Why RSL President, Graeme Liddell, and Dee Why RSL CEO, Grant Easterby.
The new Northern Beaches Veteran Wellbeing Centre, which will join RSL LifeCare's three established hubs in Nowra, Wagga Wagga, and Newcastle, will continue to provide financial assistance, homelessness support, DVA Claims assistance, employment pathways, and further education and training opportunities for veterans and their families who reside in the Northern Beaches region.
RSL LifeCare Chief Executive Officer, Janet Muir, said the Northern Beaches Veteran Wellbeing Centre is an extension of the 'hub and spoke' model being implemented across New South Wales that will ensure veterans can access a range of critical services that are tailored to the needs of the local communities, wherever they choose to settle.
"RSL LifeCare is always excited to announce another Veteran Wellbeing Centre, because we know the positive impact the facilities have on the mental and physical health and wellbeing of our Australian Defence Force personnel who have given so much to protect our country," Ms Muir said.
"Together with RSL NSW, we are very happy to have established this partnership with Dee Why RSL, because with a large number of veterans in the area, this is a great step forward to provide the localised assistance that those veterans and their families need."
"This important step forward is representative of our ongoing commitment to supporting veterans and their families across the state."
RSL LifeCare recently welcomed the opportunity provided by the Australian Government to submit a business case to deliver three new Veterans' and Families' Hubs in the Hunter, Tweed-North Coast and Queanbeyan regions of New South Wales. In partnership with RSL NSW, RSL LifeCare is a step closer to improving access to much-needed services in these communities for veterans and their families following the success of their stage one grant applications.
Dee Why RSL President, Graeme Liddell, said he was proud to be partnering with RSL LifeCare and RSL NSW for this important initiative.
"We know there is a need for these services in the local community, and every year on ANZAC Day we see the passion of local families for supporting veterans when they come out in the thousands for our Dawn Service at Dee Why Beach."
"This partnership and this veteran wellbeing centre reinforce our commitment to support veterans and their families across the Northern Beaches," Mr Liddell said.
RSL NSW President, Ray James, said, "RSL NSW is committed to supporting RSL LifeCare's veteran focused centres and hubs because we know they work."
"Since 2021, RSL NSW sub-Branches have donated over $5.2 million to RSL LifeCare to support the ongoing delivery of critical services to veterans and their families right across NSW."
RSL LifeCare Veteran Services support in Northern Beaches – FY23:
Provided $58,926 in financial assistance.
Assisted 28 veterans experiencing homelessness.
Helped 49 veterans to lodge 302 DVA claims.
Advocated for 6 clients at VRB hearings or dispute resolution.
Facilitated 8 veterans or partners receiving employment assistance or further education and training opportunities.
In related news RSL LifeCare are hosting a fundraiser golf day at Cromer this October. Details HERE
Dusk At Avalon Beach
September 29, 2023 - Humpback whale breaching its way south, time to leave the water and beach, the view west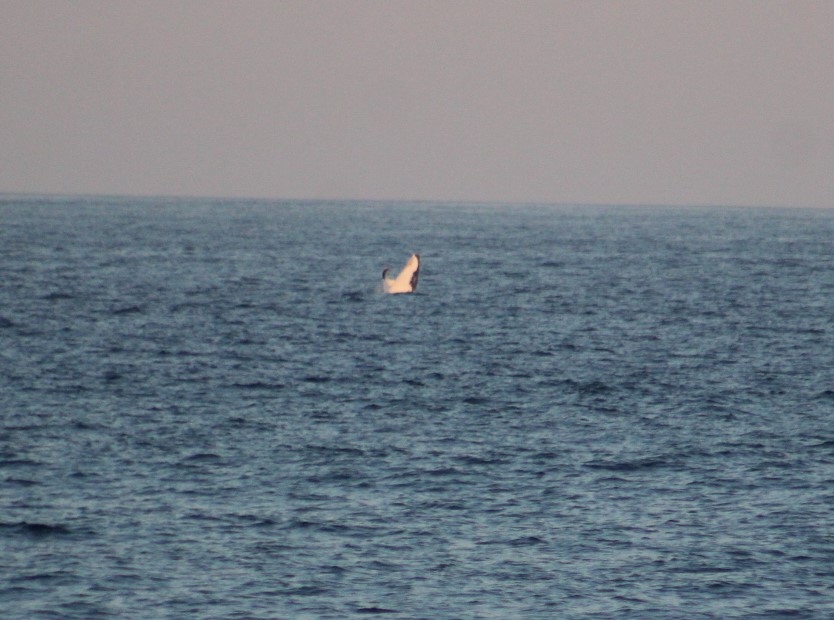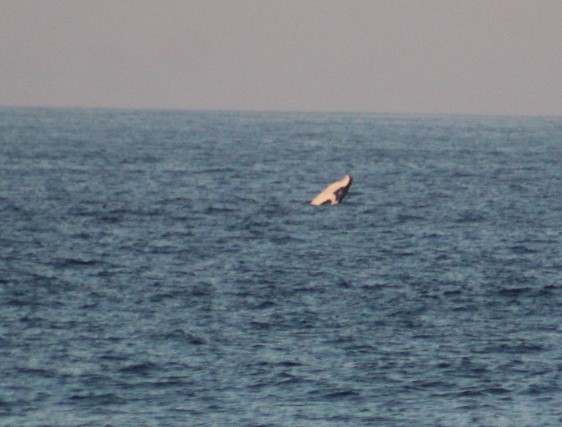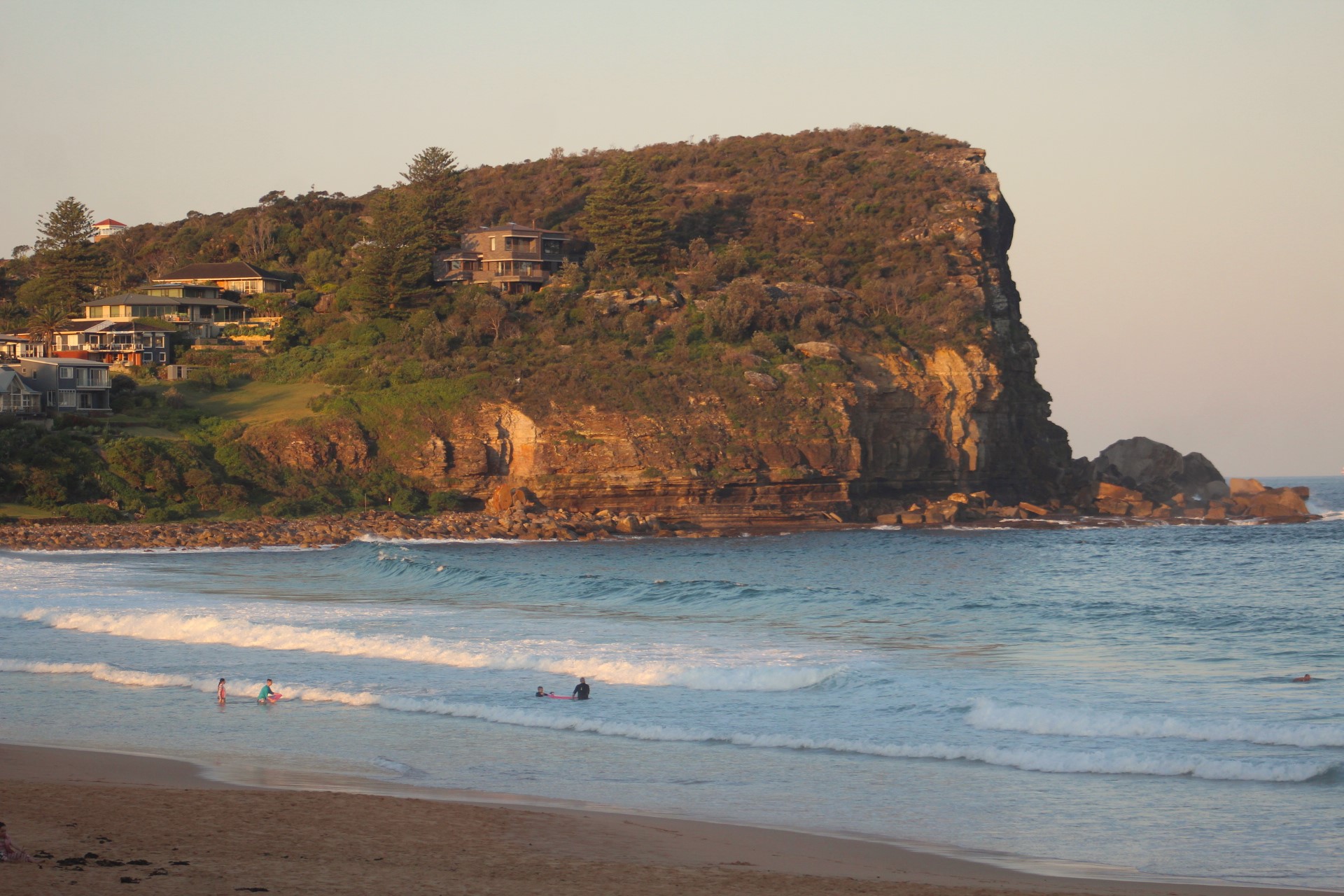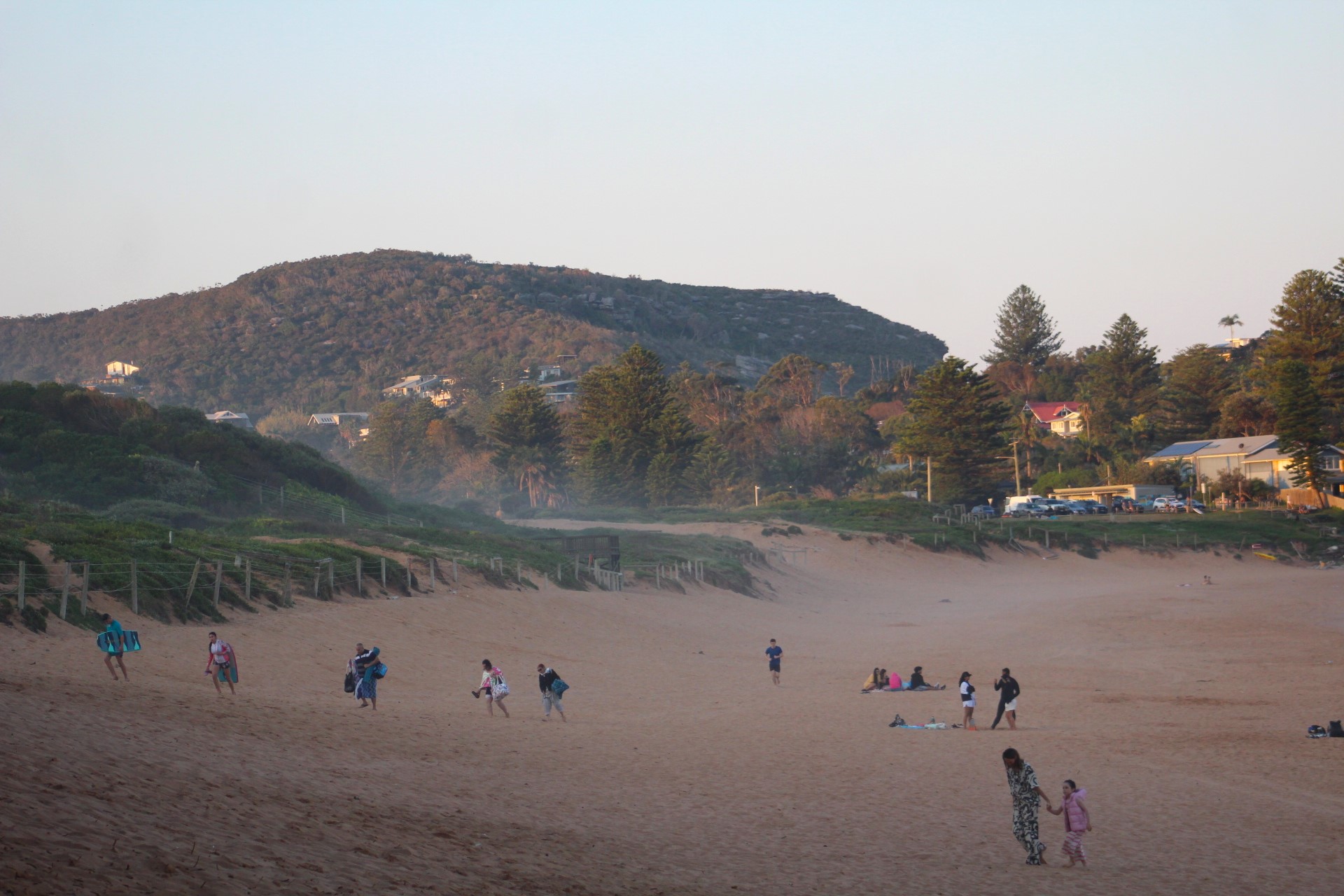 Past Features Archives (pre 2014)
Pittwater Online News was selected for preservation by the State Library of New South Wales and National Library of Australia. This title is scheduled to be re-archived regularly.
Archived Issues (2014 on) may be accessed here: pandora.nla.gov.au/tep/143700
Past Issues are also listed on site on the Community News page, by month.