October 8 - 14, 2023: Issue 600
Inaugural Sydney To Auckland Ocean Race 2023 Gets Underway

Pittwater's Royal Prince Alfred Yacht Club is renowned for being both an innovator and initiator in the sport of sailing. The club has launched new classes of boats throughout its history, founded programs for talent and sustained determination to be honed into sailors that have circumnavigated the world, won America's Cups and Olympic medals, and produced grass roots social inclusion for all genders, ages, abilities, and interests, along with hosting regattas year round at local, state and national level for everything from windsurfing and catamarans to MC38's.
Through the RPAYC's policy of 'Excellence in Sailing' the club is always looking to extend opportunities of what can be done in sailing and for sailors.

In June 2019 the Royal Prince Alfred Yacht Club announced the 1250nm Sydney to Auckland Yacht Race, originally slated to start on Sydney Harbour on 30th of January 2021 and finish in Auckland Harbour in time to help the Royal New Zealand Yacht Squadron celebrate their 150th Anniversary and enjoy the 36th Americas Cup.
The RPAYC may be a much valued part of our community but the club has always been part of the national and worldwide community of sailing as well. This commenced when the Prince Alfred Yacht Club, later to become the Royal Prince Alfred Yacht Club, was formed on Tuesday October 15th 1867 and named in honour of Prince Alfred, the first royal visitor to our shores, continued when Walter Moffit Marks, then Commodore of the RPAYC, sailed aboard Sir Thomas Lipton's America's Cup contender Shamrock in 1908 and returned to help with the trials for another Shamrock vying for the 1914 America's Cup, and persists today through blue water classics such as the annual Pittwater to Coffs race.
MR. WALTER MARKS AT COWES
Writing to Captain Mark Brasch, of Sydney, Mr. Walter Marks, the well-known local yachtsman, relates that he was at Cowes early In August.
He was racing on Sir Thomas Lipton's Shamrock IV. nearly every day, and was on the mainsheet, at which he
was was not disgracing Australia.

The yacht won the Cowes Royal Yacht Squadron's Cup on the 7th ult" under full sail in a nor'-west gale'. The Sydney yachtsman remarks, ''It was a treat.".
RACING ON SHAMROCK IV. (
1908, September 8
).
The Australian Star
(Sydney, NSW : 1887 - 1909), p. 1 (FIRST EDITION). Retrieved from http://nla.gov.au/nla.news-article229100292
Sir Thomas Lipton would later present the Lipton Cup to the RPAYC, topped by an effigy of the Shamrock.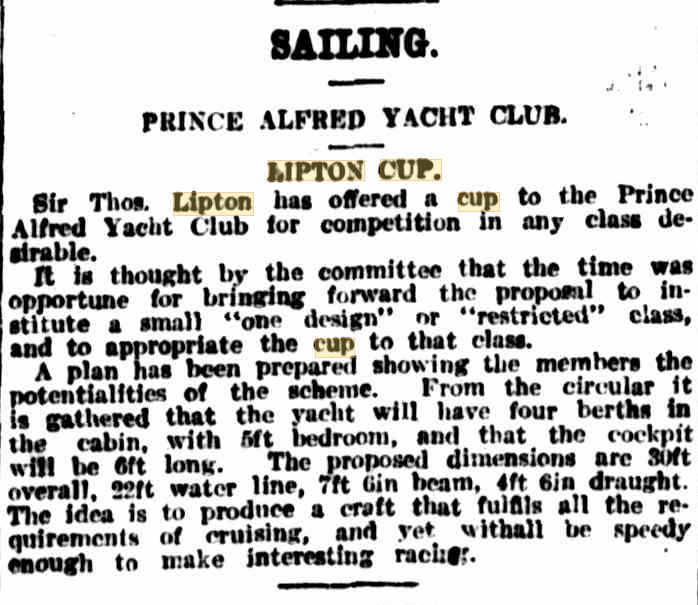 SAILING. (1908, May 9). The Sydney Morning Herald (NSW : 1842 - 1954), p. 16. Retrieved from http://nla.gov.au/nla.news-article14925522

THE LIPTON CUP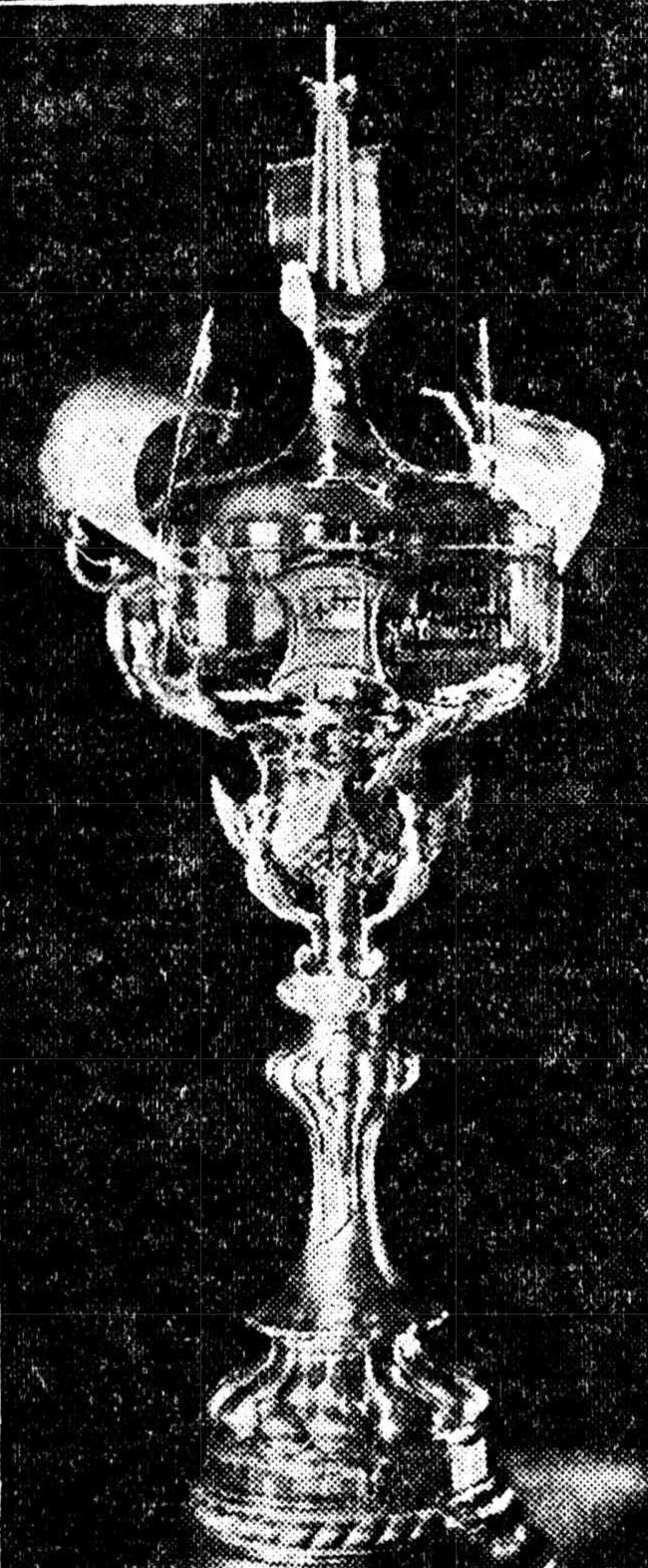 THE CHALLENGE CUP PRESENTED TO THE ROYAL PRINCE ALFRED YACHT CLUB BY SIR THOMAS LIPTON. THE LIPTON CUP (1920, June 10). The Daily Telegraph (Sydney, NSW : 1883 - 1930), p. 4. Retrieved from http://nla.gov.au/nla.news-article239627914
Covid caused the postponement of the first ever Sydney to Auckland but in late 2022 the RPAYC revived the proposal and opened for entries with a new start date of Saturday October 7 2023.

Among the first entries was RPAYC's Mark Griffith with lnity.
Mr. Griffith commented, "I think it's going to be a premier race, the longest (from Australia) and an international race. This is the first time anyone gets to do it, so there should be quite a bit of interest and a strong fleet."
On the dynamics of the race, the yachtsman says, "It will probably be six or seven days. The Sydney Hobart and Melbourne to Hobarts are a sprint by comparison. We will have to pace ourselves more with various conditions."
The crew plans to take full advantage of the New Zealand end of the race.
'We've got plans to stay over," Griffith says. "The Coastal Classic is only a week later and gets around 160 entries. We don't want to miss that. We also plan to cruise to the Bay of Islands (one of the most spectacular places on the planet), and that's on the way home. So we might leave the boat there and do the Bay of Islands Regatta.
"This is not something we get to do every day, so we want to go hard at it," Mr. Griffith said
The Royal Queensland Yacht Squadron's James Irvine was another to sign on for the inaugural Sydney to Auckland Ocean Race and represents the first interstate entrant for the Royal Prince Alfred Yacht Club's (RPAYC) race.
Mr. Irvine entered Mayfair, a Rogers 46 he bought in 2020, upgrading from earlier yachts of the same name. He particularly enjoys the cut and thrust of major offshore events, including those away from home.
The lure of the Sydney to Auckland race has many positive connotations: "I've got some ex- Kiwis who sail with us and it's a bit of a bucket list thing. I'm originally a Kiwi. I came to Australia in 1989, so I've been living here longer than I lived in New Zealand. It'll be good to go back there - and in this way - a new and long race," Irvine stated "It's going to be a great race."
Irvine's crew will mainly be a core of those who regularly sail with him in offshore events.
"We like getting out there racing and having fun. The biggest part is to remember to have fun because you can get carried away with things otherwise. It's important to come back to the enjoyment of sailing," the Queenslander observes.
"We'll probably stay on to enjoy the New Zealand hospitality. I still have family there, including my mother, who follows our racing on the trackers at different events. When we're finished, she wants to know why we made certain moves and decisions," he said amid laughter.
James has six Sydney Hobarts behind him, including last year's, along with a string of other major races along the east coast of Australia. Like other entrants in this race, he is relishing the opportunity of a new and different offshore challenge. And hearing others are keen to do it too, he says, "We're looking forward to good competition."
RPAYC's Robert McClelland explained the race's communications have been simplified for the 1250 nautical mile race: "Satellite phones, AIS and trackers on each boat, no time consuming skeds. This follows the Club's successful Pittwater to Coffs Harbour Yacht Race, which is run on the same basis."
The other joy for competitors is that the Sydney to Auckland Ocean Race was timed to allow prospective competitors to compete on the northern circuit in Queensland beforehand and to be back in Australia in time for the Rolex Sydney Hobart and Melbourne to Hobart yacht races.
The Cruising Yacht Club of Australia (CYCA), the great Australian sailing club that gave the world the Sydney to Hobart Yacht Race which commenced with just 9 yachts in 1945, has two entrants; Frantic, Michael Martin's entry, and Geoff Hill's Antipodes, while the Royal Sydney Yacht Squadron's Graham Barrett's Painkiller is also racing.
The RPAYC sent in the following report after the race commenced:
Inaugural Sydney To Auckland Ocean Race 2023 Gets Underway
And they're off! At 1300hrs AEDT on October 7, 2023, the yachts and crews in the inaugural Sydney to Auckland Yacht Race left Sydney Harbour, bound for Auckland.
Their start, adjacent to the famous Sow and Pigs near the Heads of the iconic harbour, saw them get underway in a 12-17 knot Southerly with sunny skies, before they turned left to go up Sydney's spectacular Northern Beaches to a turning mark off Barrenjoey Head at Broken Bay, where they then turned right to head East, and make for New Zealand.
It is a 1250 nautical mile course, which is virtually double that of the famous Sydney to Hobart event, and sees the competitors deal with the many challenges the Tasman Sea can deliver, from becalmed to large swells, as well as true bluewater ocean conditions, where you can smell the land, once you get close enough.
Race Organiser, the Royal Prince Alfred Yacht Club (RPAYC) and partner the Royal Akarana Yacht Club (RAYC) are delighted to see this race get away after a COVID-19 enforced delay. Once in New Zealand, crews can partake in some of the famous events there, including the mighty Coastal Classic, or return promptly to get organised for the myriad of events on Australia's East Coast in the lead up to and during the holiday period.
The overall winner will be crowned under the IRC measurement system, and will be awarded, but obviously not retain, the splendiferous Sir Lipton Cup that was first used as a trophy back in 1922.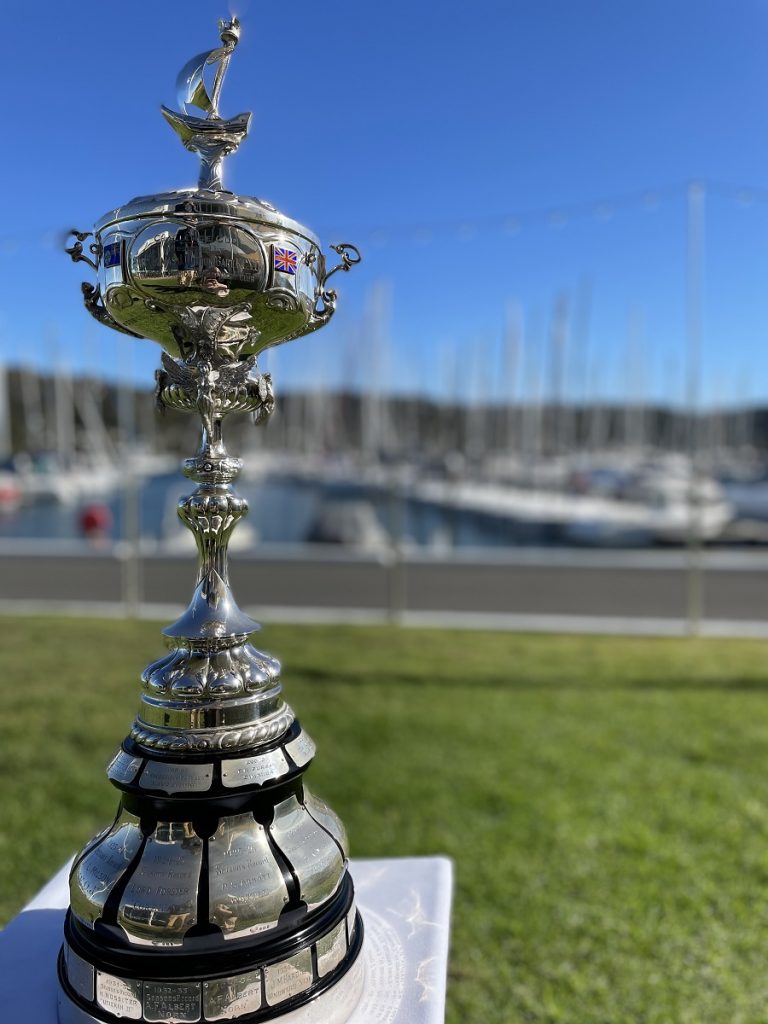 The Sir Lipton Cup

So, to the fleet then, which is as impressive in its diversity, as it is in the spirit of the 47 crewmembers to get out there and have a go.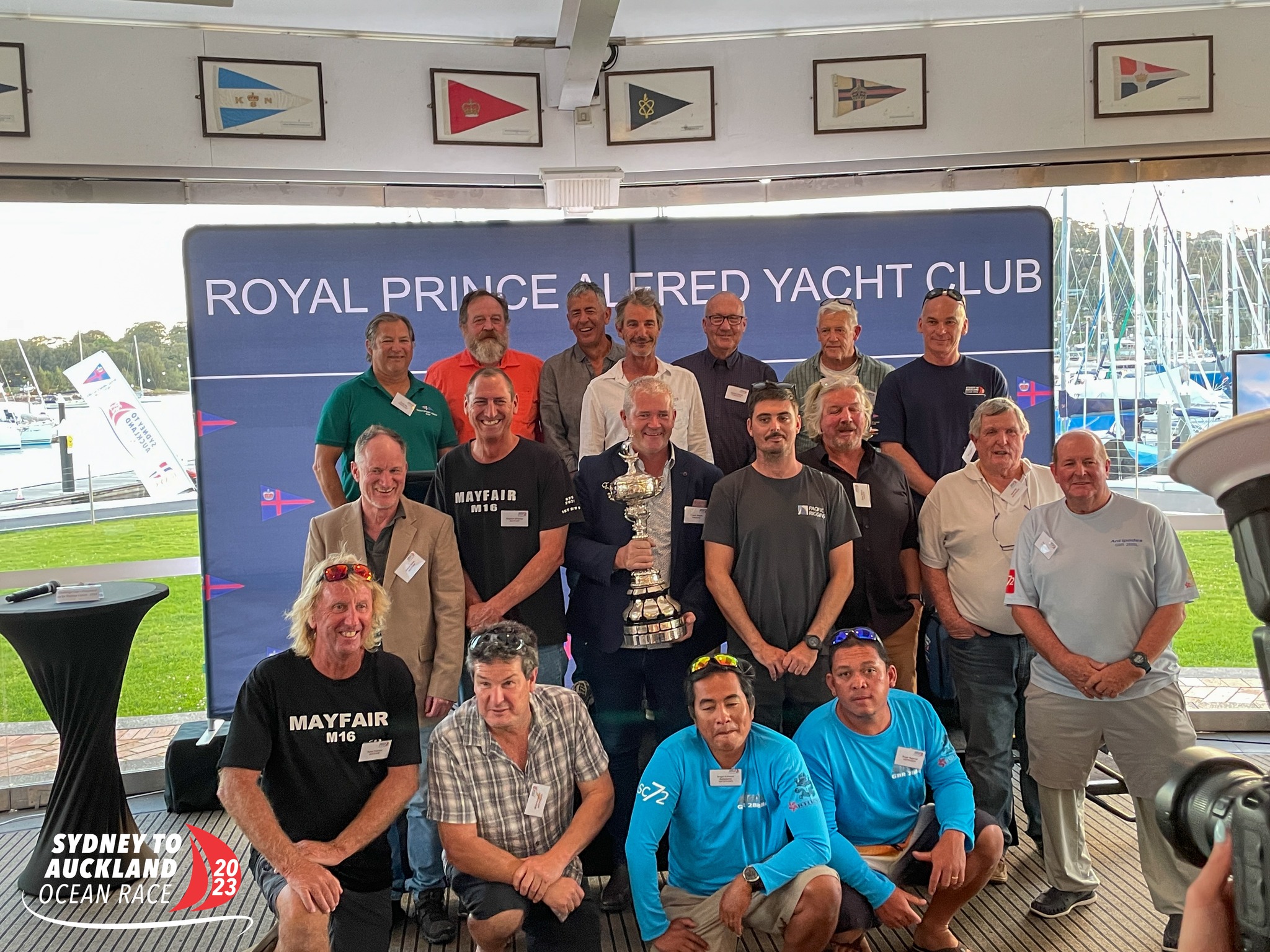 Sydney to Auckland crew members with the RPAYC Lipton Cup pre-race
The largest vessel is Geoff Hill's Santa Cruz 72, Antipodes representing the Cruising Yacht Club of Australia (CYCA). The performance cruiser led the fleet around the first and second turning mark, demonstrating how she definitely enjoyed the brisk conditions. In the morning, this crew will no doubt savour real coffee and fresh muffins form the oven.
Also from the CYCA is Michael Martin's, Frantic, an early TP52 also made the most of the conditions to be second around. The TransPac class was originally developed for races just like these (LA to Hawai'i), so with the forecast to remain on or just for'ard of the Starboard beam for some time; this is a crew that will be vigorously trimming their asymmetric spinnaker (and praying they don't break it and use up their reserve ones as well).
A very active competitor, Martin said, "We are doing all the ocean races out of Australia and when I heard of the Sydney to Auckland Ocean Race, well it was a must to take this new race on."
James Irvine's Rogers 46, Mayfair, from the Royal Queensland Yacht Squadron is another planning hull, and carries more of her beam to her stern quarters than Frantic. She is capable of lighting it up on a true beam reach, but does give a few feet away at waterline, so concentration (especially at night) and astute tactical decisions will be required to make the best of it.
Marc Depret and George Martin on Intiy are the only two-handed crew out there and are also only racing under the Performance Handicap System, so there will be no Lipton Cup on offer for them. They are in a drag race, where position on the course, and ultimately over the line is all that matters. They are also on the smallest boat (by far), but she is the most modern design.
Purposely designed and built as a two-handed craft for France's the Figaro Beneteau 3 is very identifiable due to her scow bow and inverse foils, which significantly bolster her righting moment. This means she can carry a larger sail plan higher up the wind range, and is capable of getting well into the 20+knot bracket when the breeze is from about 80 to 110 degrees apparent.
They have been in training for months and would like to do it in as little as five days. Determination and staying power will be key for them. Depret commented on their approach to things, "We will start off planning for a three-hour rotation on watch, but we will see how things go. The boat can be quite demanding to helm on a reach, so we will adjust depending on the sea state and wind angles. We are looking forward to settling into a routine which will probably take two days." This crew represent the host club, RPAYC.
Last around the mark was Graham Barrett's Bavaria 51 from the Royal Sydney Yacht Squadron. Another displacement craft, like Antipodes, for this crew it is all about maintaining a strong steady pace, with a more comfortable ride, and a significantly higher level of amenity.
For the first part of the race, the low that had caused so much devastation in South Eastern Australia a few days ago, but has since moved off into the Tasman Sea, is the dominant force. This is what is delivering the brisk 15-20 knot South to Sou'easterly wind the crews are enjoying. Definitely cool, but able to deliver good pace for those boats able to utilise it. It also means there is a significant swell line attached to it all, too.
By Sunday, the very large high-pressure system in the Great Australian Bight with its epicentre at about the same parallel as the top of Tasmania will become the overarching influence. This pushes the pressure gradients closer the islands of New Zealand, so those further advanced down the track will make the most of it. The breeze will remain from the South, so observant crews will keep regularly checking the Starboard shrouds and chainplates.
On the Monday, the centre of the high moves well North, and the breeze will abate a little and possibly even clock right to Sou'Sou'West. Again, the further advanced you are, the better, for it is a lot softer as Monday gives way to Tuesday, and it clocks even further. All very pleasant at 1020hPa and noticeably warmer, but pace is the name of the game in a race.
It gets even softer from there before the next front arrives, and it may be better to be South of the Rhumb Line to capitalise on its arrival, but it all depends on where you are on the racetrack. The saying 'Make hay whilst the sun shines' definitely comes to mind, because it could be very hard going in precious little breeze, and then a heavy and wet cold front down around 995hPa arrives on the Friday to send you home with a real bang.
Tactically, this one will be worth watching, especially for the rear of the fleet that are not able to sail to system, but rather forced to endure it. The variations in scenario after about the first two days means it is categorically something you will want to keep abreast of. A race for the Navigators and Tacticians on board…
Two to three metre seas and predominantly cloudy conditions will prevail, with isolated showers early on, the mainly fine before that next front. Layers, and the correct use of them will be the key aspect of clothing selection.
RPAYC Commodore Rob McClelland said after the fleet departed, "This really is a tremendous day. Such a great, true blue water event that we feel will definitely become a classic, and join our other events, like the Pittwater to Coffs Harbour, as a prestigious race. Being international is also a really key factor, and over time we hope to see the Sydney to Auckland race become as prestigious as the Melbourne to Osaka."
"Best Wishes to the fleet and many thanks to our partner, the Royal Akarana Yacht Club. May you see all the fleet soon and deliver your well-known hospitality to them."
At this point we can say that the passage record set in 2013 by Team Australia in the ORMA 60 trimaran of 2:19:2:45 will not be surpassed, but the eventual Line Honours Winner will set the race record, and be the first to do it. That has to account for a lot.
Full event information and yacht tracker links can be found here - rpayc.com.au/sailing/sydney-to-auckland-ocean-race
Track the Fleet as they head to Auckland
Each yacht will be submitting daily updates on life onboard during racing.
- A YB Yacht Tracker will be installed on each vessel. Check-in for updated location, distance to go and the estimated time of arrival. The YB Tracker will also have a live leaderboard. View the live tracker HERE
- RPAYC Social Media
Facebook: @royalprincealfredyachtclub/
Instagram: @rpayc #rpayc #s2a
Report: By RPAYC, Di Pearson, AJG