September 17 - October 7, 2023: Issue 599
Avalon Beach SLSC Clubhouse's Is A Community Hub: 24 Hour Row 2023 Success - Festival Of Froth - New IRB, A Film, Music, Sustainability, Bangalley Bar Over Just One Weekend
24 Hour Row 2023
The 2023 24Hour Row went off over the weekend of September 9-10 with more than 65 teams, including 37 surf clubs across Australia, taking part. The Founders, Mel and Nathan Wellings of Avalon Beach SLSC, were on hand at the Avalon Beach SLSC Clubhouse over the whole 24 hour period with a range of supporting visitors including the Trbojevic brothers popping in for the start, the Manly Sea Eagles mascot Igor here to cheer the team on and Mackellar MP Dr. Sophie Scamps taking a turn at rowing.
Nathan Wellings and surfboat crewmate Matt Mayall rowed 50km each over the 24 hours; a little challenge they'd set, while Todd and Zach, who annually take on the 2am forward shifts, rowed 13 and a half k and 40 k for Zach and were still at the club cheering on the others at the finish - legends!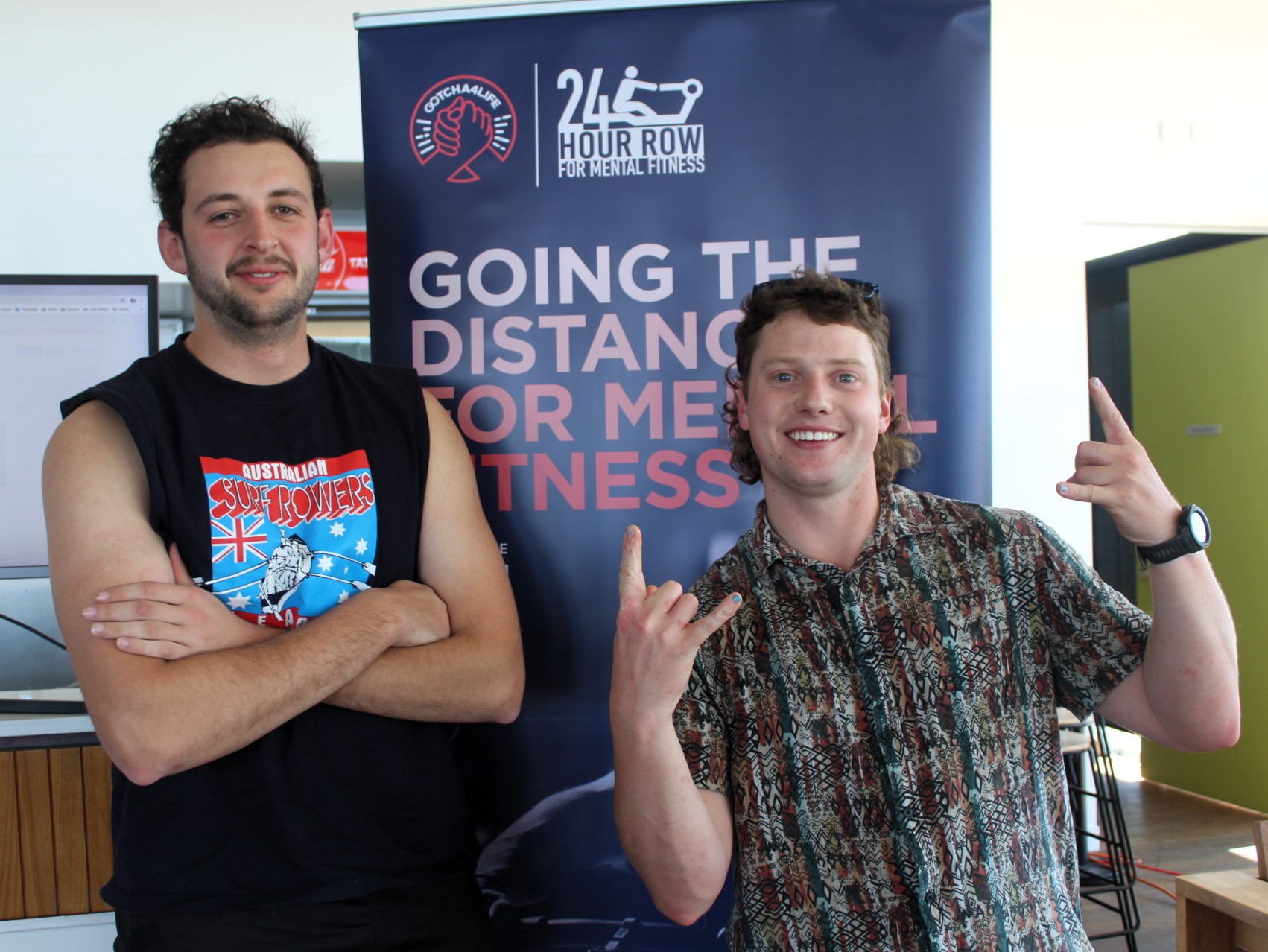 rowing 40k in the am - Zac (left, looking a tad weary) and Todd
Nathan Wellings and Matt Mayall - 50 k each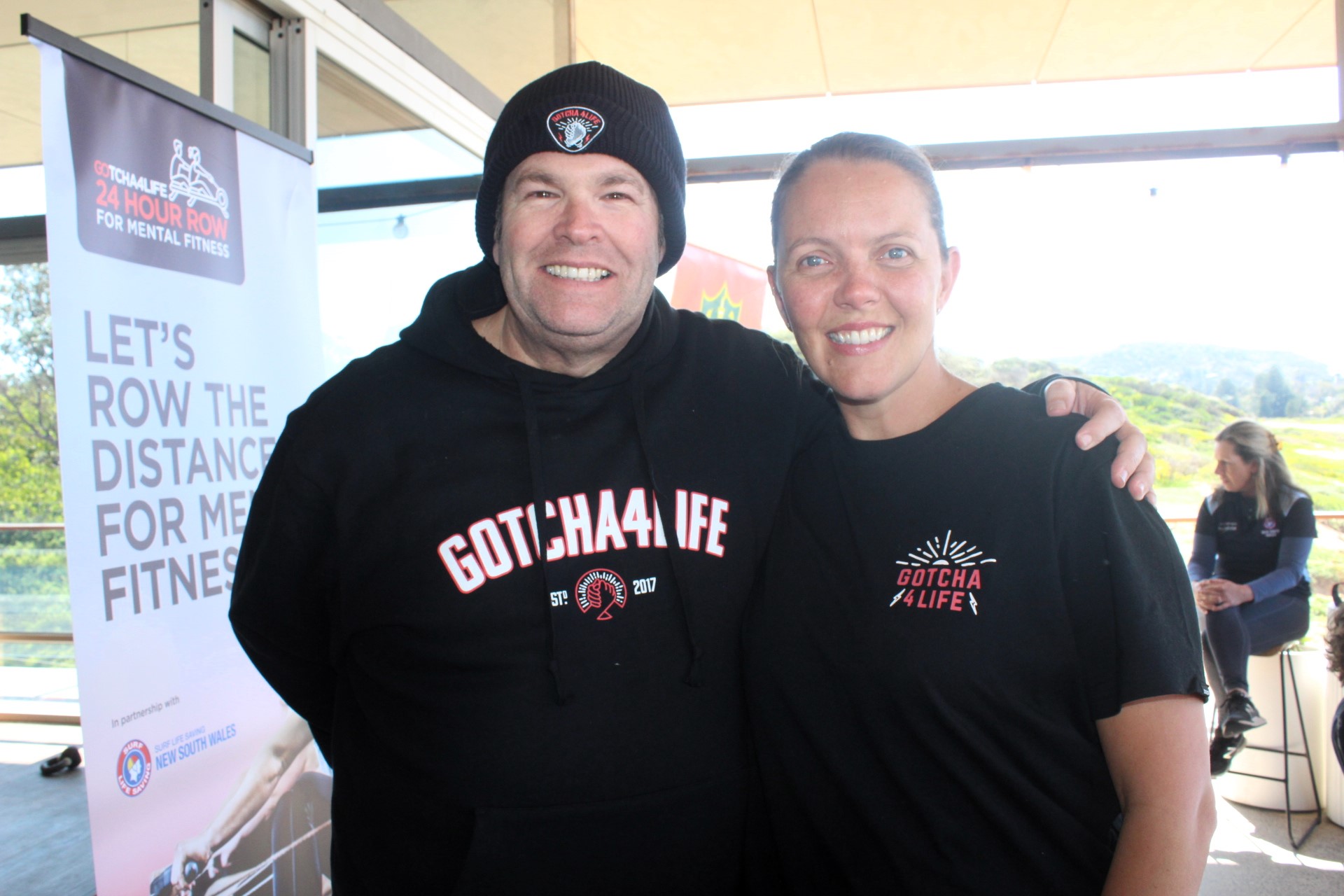 Mel Wellings and Gus Worland - Gus went from one club to another over the course of 24 Hour Row, cheering everyone on - 50 k walked, at least!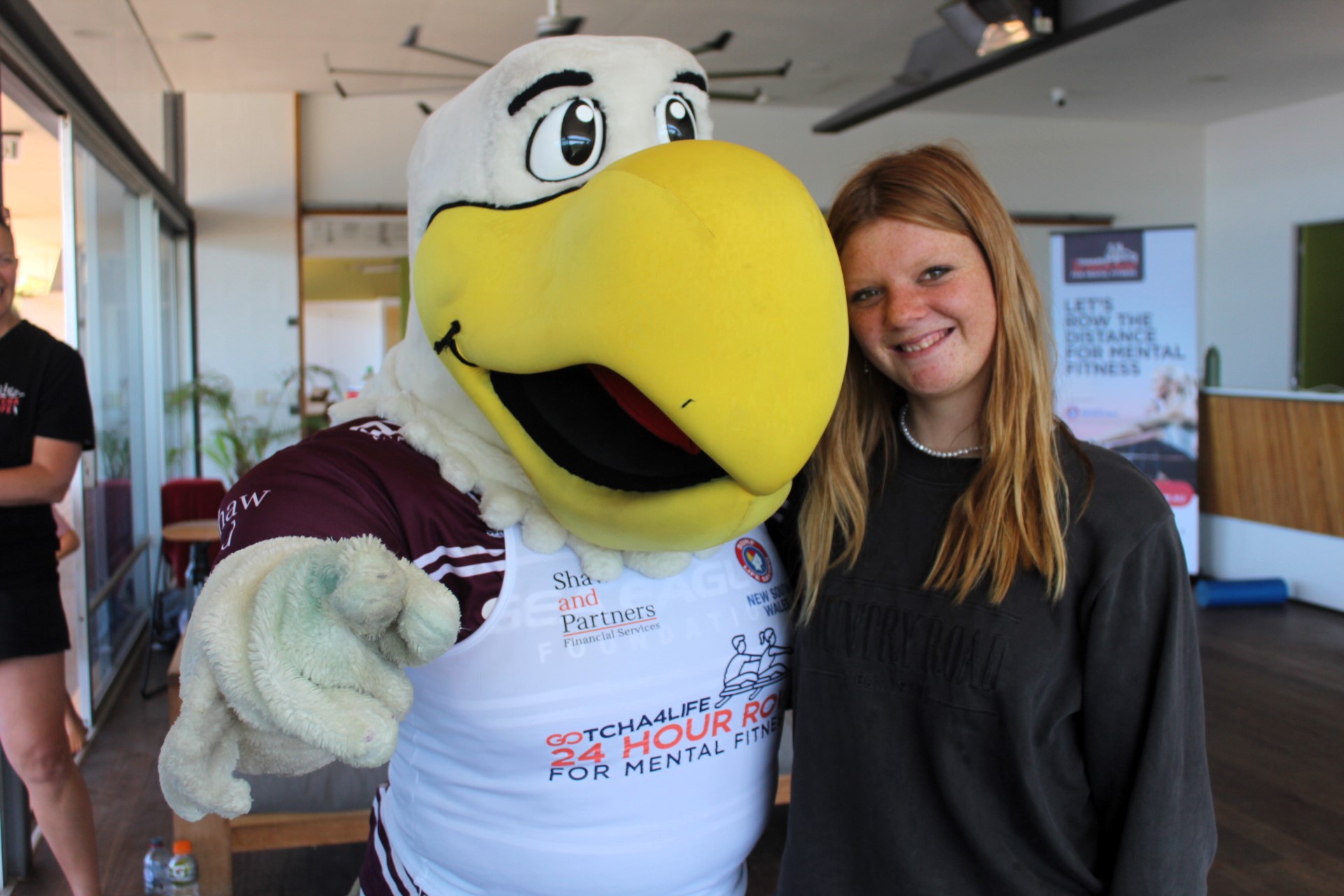 Manly Sea Eagles' Mascot Igor at Avalon Beach with his No. 1 Fan
Along the coast Palm Beach SLSC, Mona Vale SLSC had teams rowing, Barrenjoey High School had a crew going, while across Australia clubs, gyms, schools and individuals were also 'going the distance' for mental health, and generous Gotcha4Life major partner Shaw and Partners Financial Services offered to double all donations in that 9am to 12pm home straight slot, upping the ante.
The great part about the 24 Hour Row is Gotcha4Life's core element credo is funds raised by these teams are actually then spent in their communities funding programs for the community.
Gotcha4Life is a not-for-profit foundation with a goal of zero suicides, taking action by delivering mental fitness programs that engage, educate and empower local communities. Their programs create meaningful mateship, build emotional muscle, and strengthen social connection in local communities. Gotcha4Life focus on early intervention and the power of prevention through connection because they know we are all stronger, together.

Gotcha4Life founder Gus Worland said afterwards, ''We want to thank everyone who came together and took part, this event isn't just about all our incredible supporters raising money to help us build a mentally fit community (although that part is amazing). This event brings communities together and gets people talking about mental fitness. Luke said reflecting back on last year's event "The 24-hour row was the catalyst of so many positive discussions around mental health at our club.''
The donations window is being left open until the end of this week. You can put back into your community by finding your local team at: 24hourrow.com.au
Festival of Froth

Over the same weekend the Festival of Froth was held at Avalon Beach with some of the best bodysurfers of the northern beaches and Australia participating in the first Sydney-based International Bodysurfing Association (IBSA) world championship qualifiers alongside the inaugural Northern Beaches Bodysurfing inc competition. This was a fun spirited inclusive event with those on the beach amazed at what was happening on the Saturday in the water.
Spectators witnessed Bodysurfing Spin, a 360 spin or pirouette, Bodysurfing Reverse Spin where you are rolling "up" the face of the wave, the Bodysurfing Dolphin, where you are riding the wave with your body fully submerged in the water, and Bodysurfing on your back.
Advanced tricks include Tube riding, which is getting inside the barrel of the wave, Cutbacks, where in you get out as far as possible onto the shoulder of the wave without falling off the back of it and cut back into the power section of the water, and El Rollo; defined as a pin executed off the lip of a wave leading to air time.
It gets more complicated and difficult - there's the Bodysurfing Frontflip and Bodysurfing 360 Belly Spin - with points allocated for all these 'tricks' along with wave choice and execution of your ride.
On Saturday evening a buffet and the IBSA winners' presentation was held in the Ocean Room of the clubhouse, overlooking glorious Avalon Beach.
The Festival of Froth had two divisions:
A fun, family friendly competition for all ages (Juniors, Womens and Mens)
A qualifying event for the Inaugural International Bodysurfing Association (IBSA) World Titles, held early next year in Hawaii
The name of the inaugural local Festival of Forth stems from the sheer exhilaration and pure joy bodysurfers get from being a part of the flowing wave, described as the 'sheer froth of bodysurfing'.

The Northern Beaches Bodysurfers is an active bodysurfing group in the Northern Beaches. Everyone is welcome to join in. Based at South Narrabeen, the purpose of our club is to bring bodysurfers together in a supportive environment, to share the stoke and have each other's back.
On August 19, 2018, in Oceanside, California, six representatives of bodysurfing from their respective regions across the globe, signed a constitution forming the IBSA. The focus of this organisation is to: standardise judging criteria, create a main body for all bodysurfing events and contests, ensure that all groups can receive assistance and direction for insurance requirements and association registrations from a singular body and mainly to promote and represent the sport at higher levels.
The IBSA BodySurfing World Tour features both Open Men and Open Women divisions and is held in two stages. The first stage, the BodySurfing World Tour Qualifying Series, is held in different regional areas including North America; Latin America (South and Central America); Polynesia (Hawaii and Tahiti); Europe/Africa; and Australia/Asia.
Competitions with the BodySurfing World Tour Qualifying Series label take place throughout the year, and a ranking is established at the end of the season. The top-ranked bodysurfers from each regional area then represent their region in the Bodysurfing World Tour Finals. The qualifying system for men is based on the top 8 ranked BWT QS bodysurfers, with 4 being the highest-ranked and 4 selected from each national community. For women, the top 4 ranked BWT QS bodysurfers are selected, with 2 being the highest-ranked and 2 selected from each national community.
The second stage, in the following year, the BodySurfing World Tour Finals, bring together the top ranked bodysurfers from each region, as well as bodysurfers who receive wild cards (8 for open men and 4 for open women) awarded by the IBSA. A total of 48 men and 24 women showcase their skills in this competition.
The inaugural IBSA World Tour kicked off at Coolum's famous Bodysurfing Festival, a three-day celebration of bodysurfing and the community of bodysurfing. The Festival ran from the 24th – 26th March with the first day dedicated to the IBSA Men's and Women's events.

Results for the Festival of Froth are at: https://liveheats.com/events/156566
IBSA results are at: https://www.ibsabodysurf.com/ranking-2023
Surfers for Climate Film Presentation hosted by Avalon Beach SLSC

On the Friday evening Surfers for Climate action presented Come Hell Or High Water at the Avalon Surf Club, in the Ocean room next door to the bar. This was a Free entry event, with the Bangalley Bar open for those who wanted an ice cold beer or a hot coffee. All were Welcome because at Avalon Beach SLSC All Belong.

New IRB
Earlier club members gathered for the launching ABSSC's newest IRB "Johnny" named in honour of club member Johnny Harper. Huge thanks to Avalon Beach RSL for their enduring support of the Club and donation of an IRB motor each season.
An Early Spring Sunday
On the Sunday, while cheering on the final rowers in the 2023 24 Hour Row, Pittwater Online spoke to Life Member, past President and current Deputy President Richard Cole about what's coming up this Season. Mr. Cole had come to the club for the final hour, as had 2023 named Life Member Robert Hopton, who, between them, as Architect and Project Manager, did so much towards ensuring the new clubhouse as realised.
The new surf club incorporates a Club Lounge, Club Room / Community Function Space, Hall of Champions, caretakers flat, meeting room, offices, restaurant and cafe, club and public amenities, gym, nippers canteen, lifeguard room, and extensive storage areas for rescue equipment, surf boats and boards. The shape of the roof reflects the abstract form of the sand dunes, and the plane of the ceiling and eave echoes the plane of the ocean and broad horizontal of the horizon. The building is naturally ventilated, highly insulated, uses minimal energy and collects its own rainwater and solar power.

Richard explained the club will aim to host the popular Carols at the Beach again this December where residents can enjoy the choir, food trucks and stalls, face painting, kids characters - more sponsors are needed for this BIG event and businesses and individuals who can help with funding towards the costs is asked to contact the club.
They will persist in their aim to foster the surf lifesaving movement in current and new members, and aim to keep everyone safe on the beach. A Surf Rescue course starts 15 October for the upcoming next generation of lifesavers. Course info. at: https://avalonbeachslsc.com.au/surf-rescue-certificate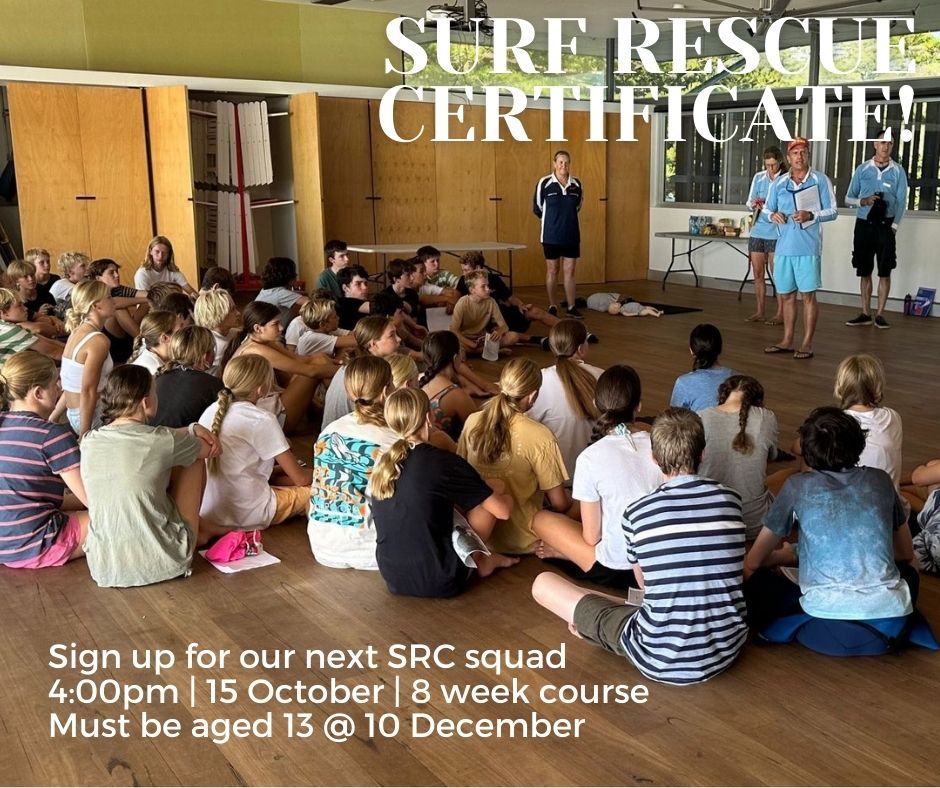 The camaraderie shared between Patrol members and club members as one whole is also something everyone looks forward to.
All they ask is that you, please, swim between the flags.
''If we can't see you it's hard to keep you safe.'' Richard explained
The Volunteer Patrol Season Opens Saturday September 23, aligned with the start of the Spring school holidays.
Meanwhile, on the beach, other club members were already doing some early Spring training with rescue boards and cleaning up equipment within the club storage. Later on that day live music was on offer in the Bangalley Bar.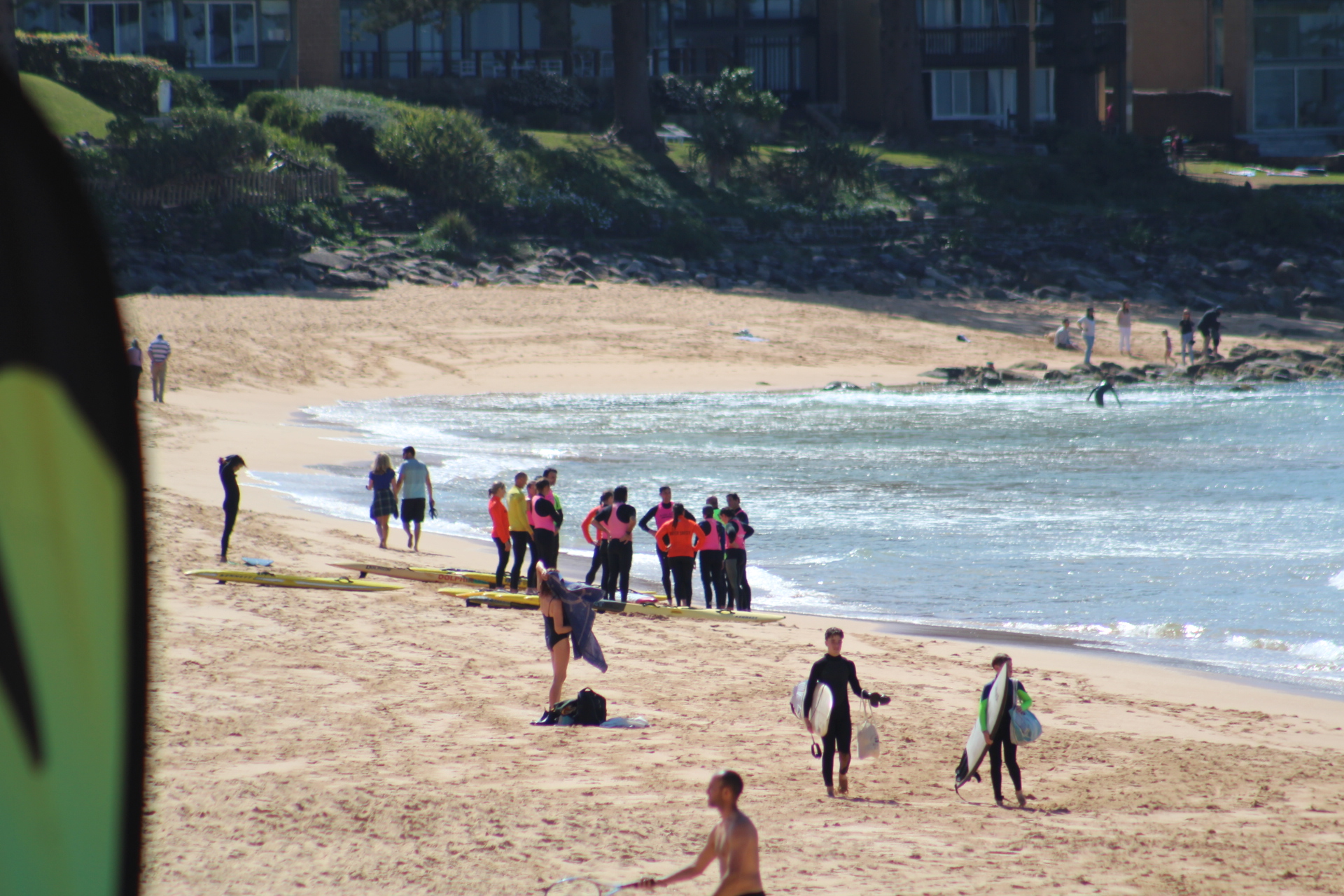 This amount of pre-season activity is happening right along our beaches - clubs have been hosting Open Days, doing compliance, checking equipment, updating their skills and going through the SLS NSW pre-season Information Pack to ensure they are equipped with the essential information for the new season including key changes to policies/procedures, links to key reference materials, key tasks to complete before the season starts and key dates to be aware of.
Throughout Autumn and Winter clubs have a team of qualified members who may be available to respond to incidents at their beach and surrounding areas outside of patrol hours. These are the people called out when someone needs help on the beach, in the water or on the rockshelfs during the colder months or those who give up paid work to go and assist people in emergencies as volunteers - such as the responses during recent years of successive floods.
One example:
Avalon Beach SLSC's Nick Sampson and Jason Dale's quick thinking and sound action in a high-pressure situation proved lifesavers are never truly off duty. On their way back to a hotel after a full day assisting the SES in response to the heightening flood emergency in the Liverpool area, Nick and Jason found themselves caught in flash flooding where, for close to three hours, they switched gears back into lifesaving mode to assist nearly 100 stranded vehicles.
The pair awarded with Surf Life Saving NSW's Rescue of the Month for July 2022.

Past President at Bilgola SLSC Romilly Madew AO is another Duty Officer for Surf Lifesaving Northern Beaches Branch, while Tracey Hare-Boyd, the first female President of the Surf Life Saving Northern Beaches Branch, has her work cut out attending to a membership of more than 19,000 in one of the biggest Branch of surf lifesaving in the nation. Tracey is also called out for everything, everywhere, all the time.

There are others in every club in the local Branch. You see them appear as if out of thin air whenever the call goes out for assistance, all year round.
Below run some pictures taken on Sunday September 10 of the finish of this years 24 Row for Mental Health, some Festival of Froth fun and what else is happening on your local urban beach as we head into the Open of the Volunteer Patrol Season.
A Raising of the Flags ceremony will take place this week to celebrate and honour those who will give over large chunks of their Spring and Summer to serve others because they want to put something back into their local community and keep all who visit our area safe.
However, a glimpse into just one weekend at Avalon Beach SLSC would indicate the flags are always up through our local surf clubs, every day and night of each week.
Which is what the aim is of all our local surf lifesaving clubs - to save lives - and to be a place to meet, to connect, to host a range of activities all year round, to offer a place to have a cool drink with he best view - and build a family within the family of community - and in doing so they are at the heart of their communities.
All are Welcome - All belong.