October 8 - 14, 2023: Issue 600
Council partners with NPWS to sniff out soil borne pathogen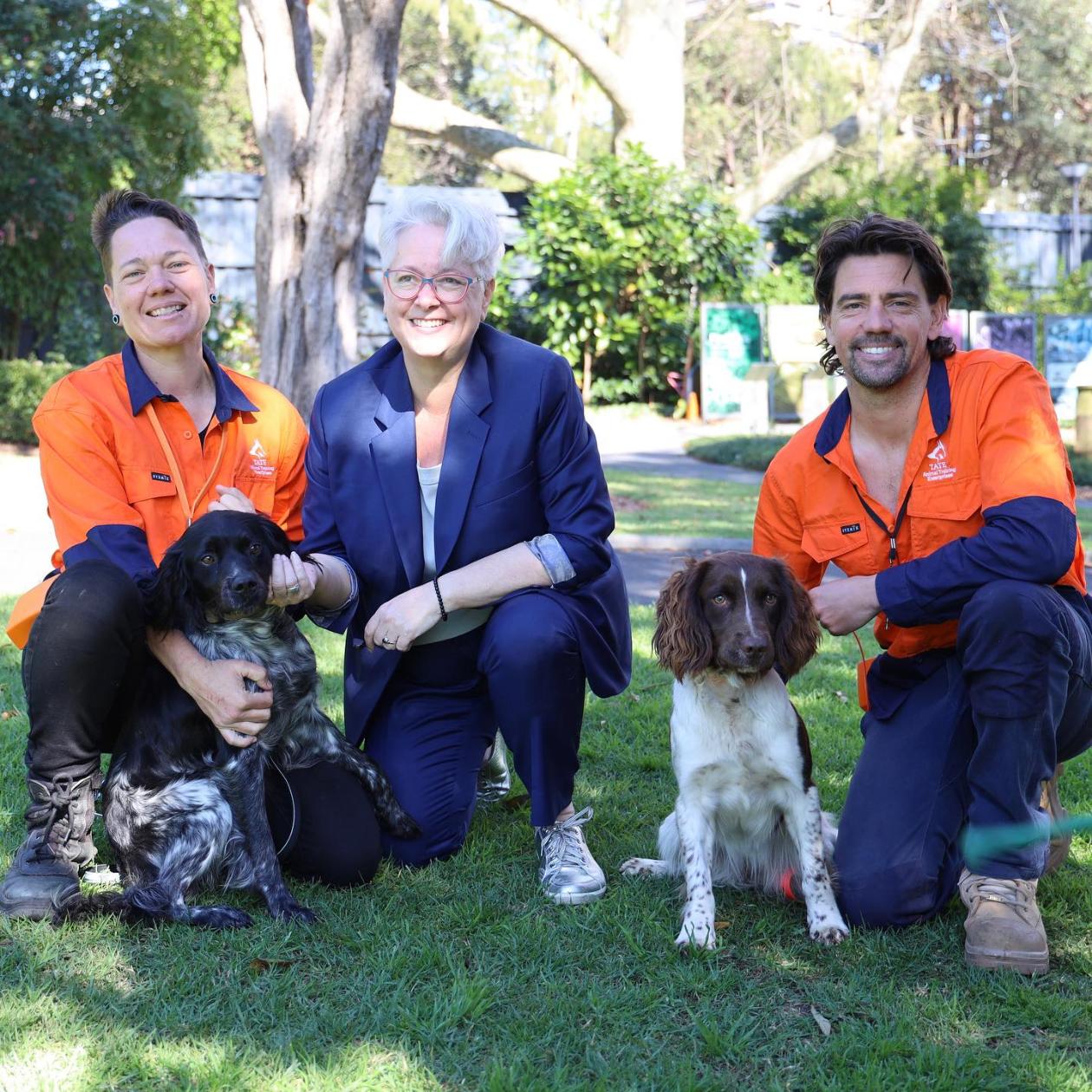 The Hon. Penny Sharpe MLC, Minister for Climate Change, Energy Environment & Heritage with Alice the Springer Spaniel and Echo the Britney Spaniel and their trainers, including Ryan Tate from Tate Animal Training. Photo: NSW Government
Northern Beaches Council has partnered with National Parks and Wildlife Service (NPWS) to stop the spread of Phytophthora cinnamomi, a soil borne pathogen that infects threatened and iconic plants, by using specially trained sniffer dogs to detect the disease.
The soil pathogen threatens a number of endangered species and can causes root rot in susceptible plants.
With funding from NPWS Saving Our Species program, the NPWS Invasive Species Unit developed a project in mid-2022 to see if conservation detection dogs could be trained to detect Phytophthora and prevent new infestations to protect threatened species.
With the expertise of TATE Animal Training Services and two of their newest dogs – Alice, a Springer Spaniel and Echo, a Brittany Spaniel, the dogs have been successful in identifying the pathogen in controlled trials.
Northern Beaches Mayor Sue Heins said Phytophthora free tube-stock, propagated and grown by environmental volunteers in Council's community nurseries, was donated by Council and infected with the disease by University of Sydney staff for training purposes.
"Results from the pilot study have proven the dogs can discriminate the scent of Phytophthora and they can successfully locate infected tube stock when placed with uninfected tube stock. These dogs are simply incredible," Mayor Heins said.
"We're so pleased to be partnering with NPWS on this unique project and hope the hard work by the team at TATE and their dogs can stop the spread of this pathogen infecting our precious flora."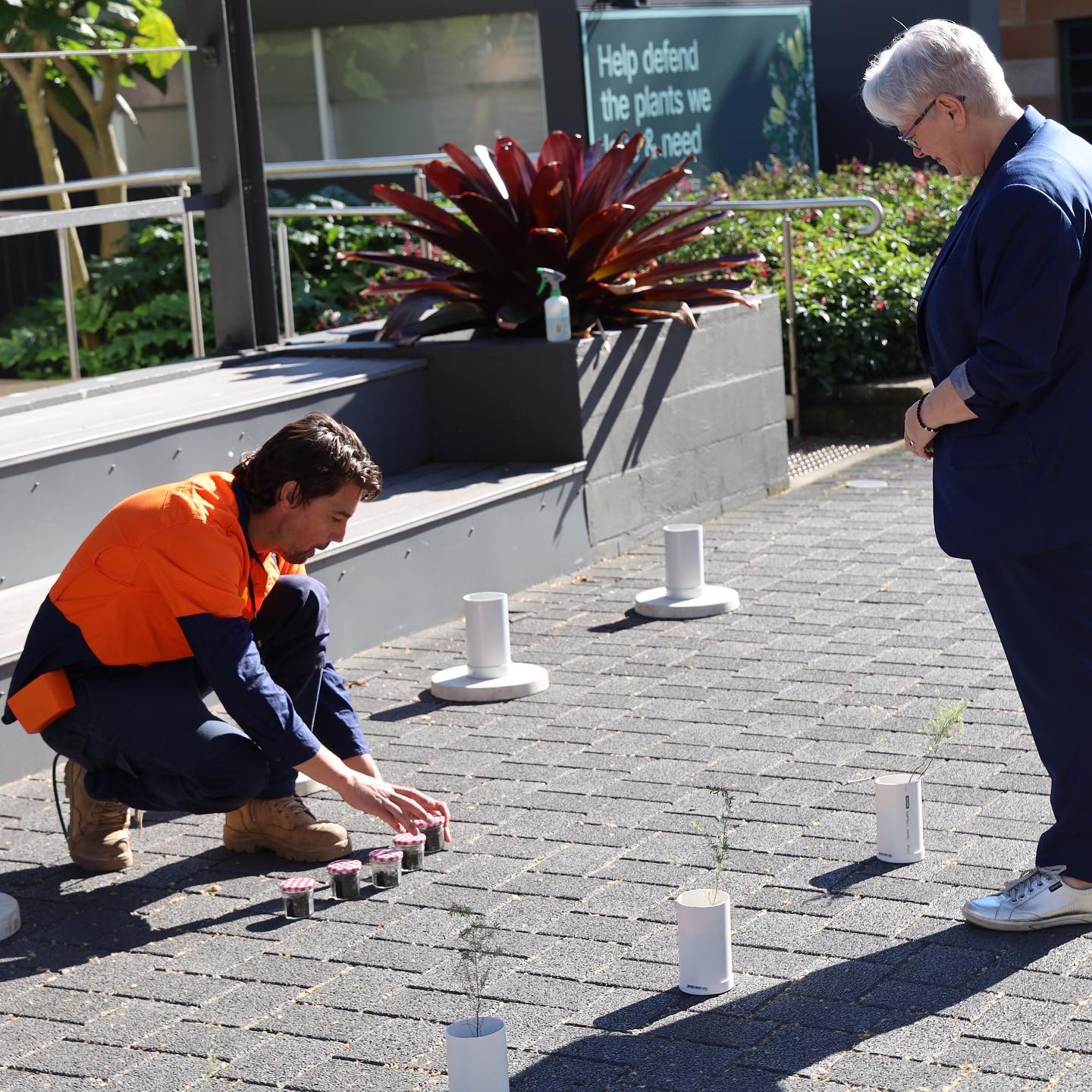 Demonstration of the DD's at work. Photos: NSW Government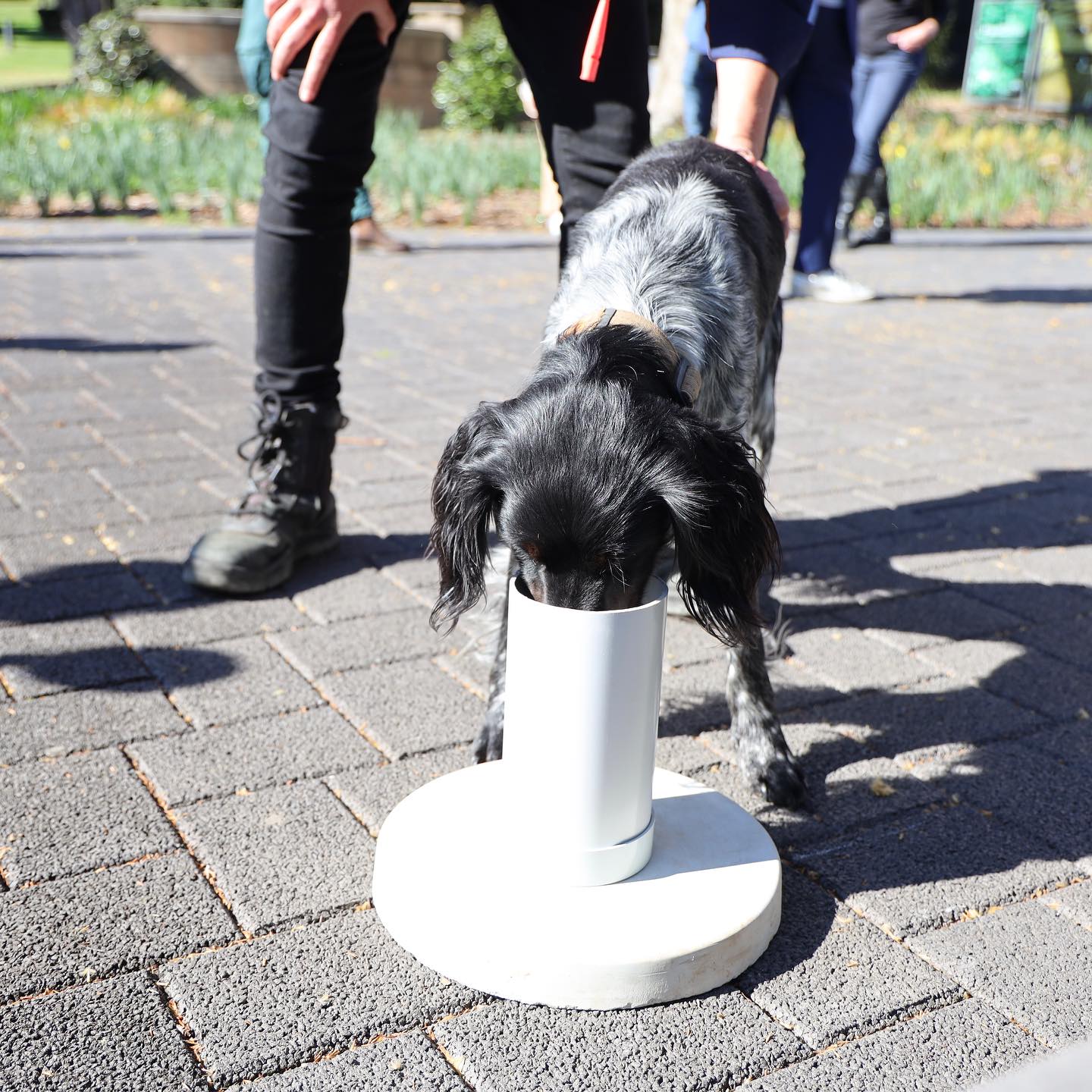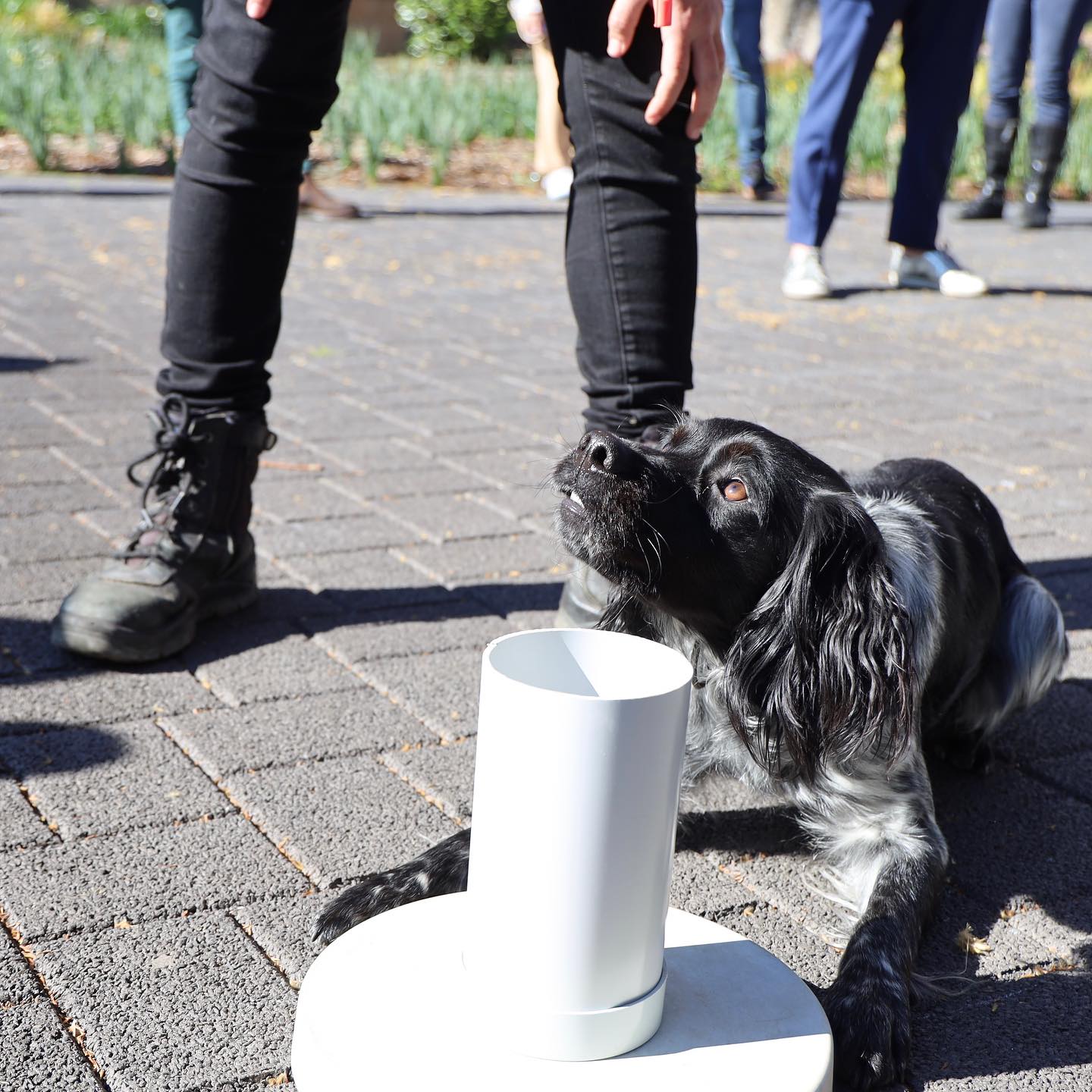 Ten months into their training, Alice and Echo can now confidently discriminate infected from non-infected plants in a lab environment and are learning how to detect the pathogen lying dormant in soil as well as on vehicles, clothing and cutting equipment.
They've been practising on plants provided by Northern Beaches Council, which is working to protect critically endangered Caley's grevillea (Grevillea caleyi) from infection.
Based on the success of this trial, the NSW Government is awarding a grant of a further $50,000 to fine-tune the dogs' skills and deploy them to test soil in Barrington Tops National Park and Scheyville National Park, where Phytophthora poses a significant threat to several threatened plant species.
The 2-year project will involve the NSW National Parks and Wildlife Service, TATE Animal Training Enterprises, the University of Sydney, Botanic Gardens of Sydney's PlantClinic, Northern Beaches Council and the NSW Department of Planning and Environment.
Minister for the Environment Penny Sharpe said, ''There's huge potential for conservation dogs to help prevent the spread of this devastating disease in New South Wales, particularly in high-risk pathways like national parks, nurseries, and as part of bush regeneration projects, ensuring sites and materials are Phytophthora-free.
'There is currently no treatment or cure for Phytophthora-induced dieback. Once the disease takes hold, there is no way to eradicate it.
'Alice and Echo represent a step towards early detection and appropriate intervention to help prevent the spread of this disease and protect our native flora.''
Ryan Tate from Tate Animal Training said, ''Across the world, detection dogs are used to sniff out a huge range of things, including drugs, pests, cancer – even water leaks.
'Over the past 10 years, detection dogs have increasingly been valued for their role in conservation as a low-cost, high-confidence, resource-efficient tool.
'We've worked with the NSW National Parks and Wildlife Service on the successful use of dogs to detect other threats, including hawkweed, and now we know they could also be trained to detect Phytophthora cinnamomi.''
David Guest, Professor of Plant Pathology, University of Sydney stated, ''Phytophthora dieback kills thousands of plant species in New South Wales in gardens, reserves, national parks and in horticulture, causing significant ecological damage.
'The microscopic pathogen lives and moves in water and soil, making detection and prevention of spread very challenging with conventional diagnostics.
'Trained sniffer dogs like Alice and Echo add a rapid, accurate and inexpensive weapon in our fight to prevent the spread of this dangerous biological bulldozer.''
Botanic Gardens of Sydney's PlantClinic Manager, Dr Matthew Laurence explains, ''Phytophthora detection is the first step in any effective management program but detecting this pathogen at the landscape scale is like finding a "needle in a haystack".
'Sniffer dogs have great potential as the first step in our fight against this deadly pathogen that threatens both our urban and native forests.''
The detection dogs will continue training and testing to provide a low-cost tool to detect this pathogen. Conservation detection dogs play an important role at NPWS and are also used in detecting threatened species such as Koalas and underground orchids, as well as invasive animals and plants like the Hawkweed eradication program in Kosciuszko National Park.
NPWS Project Officer Julia Rayment said the infection of plants by Phytophthora is a big problem and is included in the NSW Biodiversity Conservation Act as a "Key Threatening Process" requiring action to be taken to stop its impact.
"Any activity that moves soil can spread the pathogen, including movement from humans and vehicles, as well as soil movement from regeneration and translocation of nursery stock. Therefore, preventing new incursions and good hygiene is paramount," Ms Rayment said.
With both dogs still yet to reach maturity, they will only improve in consistency and skill as they grow; however, early results show strong signs of real-world applicability.
"We're so pleased the trials have been successful and with access to more plants of all varieties, thanks to Northern Beaches Council, the dogs will increase their ability to discriminate and improve their level of correct responses," Dave Wilkins, Handler at TATE Animal Training Services said.
It is hoped that these dogs can be used to sniff out Phytophthora to prevent new incursions and keep our precious bushland safe.
For more information about the project visit the NPWS website.
Pronunciation guide: [fy-toth-ra]