June 18-24 2023: Issue 588
Protect Pittwater Demerger Campaign Reinvigorated By New Committee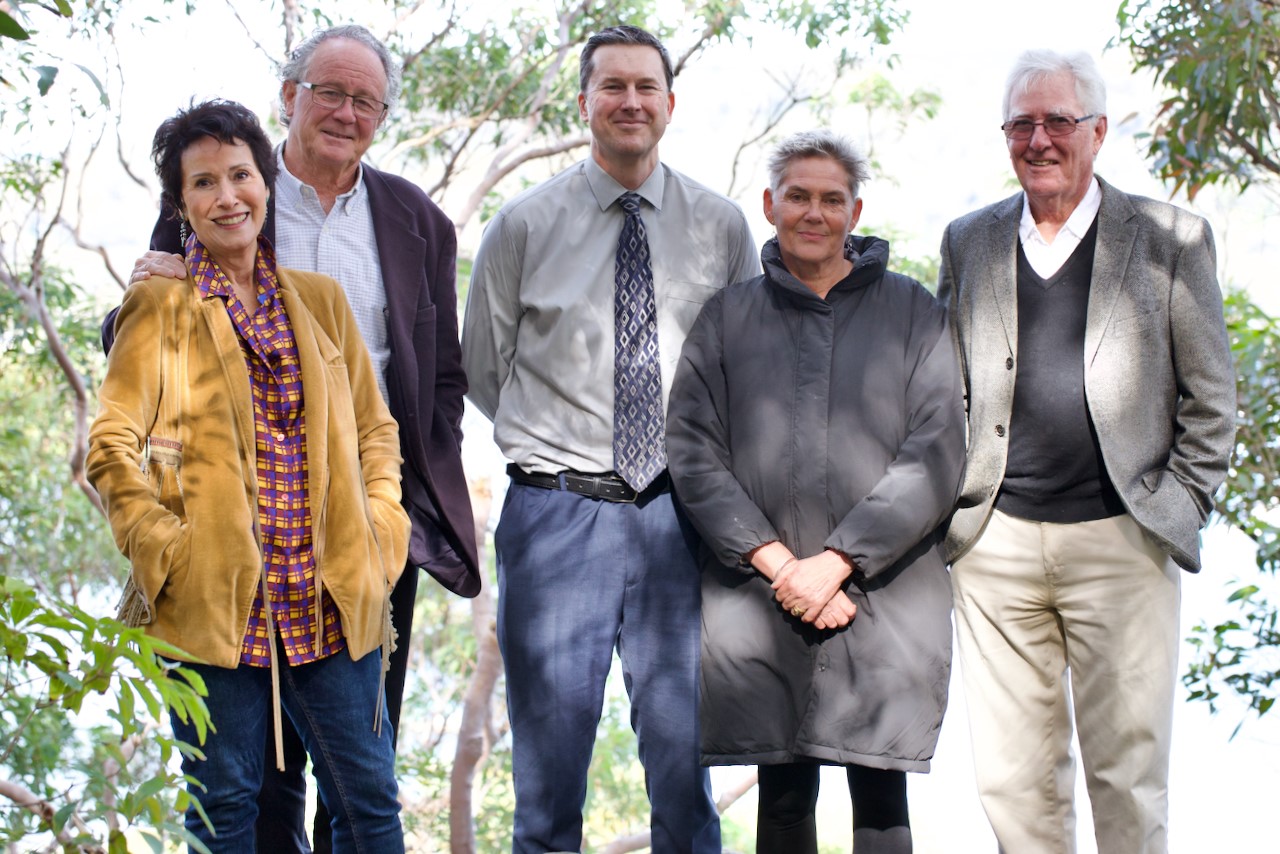 Protect Pittwater Association Committee members June 2023
June 14, 2023
Pittwater's demerger campaign has been reinvigorated by a new committee focused on regaining an independent council.
Taking over as Protect Pittwater Association president is local lawyer Simon Dunn, the son of the first elected Pittwater Mayor Robert Dunn.
The senior Mr. Dunn was at the forefront of the original and successful fight for Pittwater to secede from Warringah in 1992.
Protect Pittwater announced the new committee over the long weekend, including local residents Anna Maria Monticelli as secretary and Amanda Robson as treasurer.
See Issue 587 report: Protect Pittwater Associations' New President Simon Dunn, Son Of First Elected Pittwater Mayor, To Lead Charge To Restore Pittwater Council
Mr. Dunn flagged a vigorous campaign in coming months, noting the NSW government's promise of demerger plebiscites in former council areas that demand it.
"Never has there been a more critical time to engage the Pittwater community to protect the natural environment of Pittwater. A change of State Governments presents both a threat of increased reliance on arbitrary housing targets, but also an opportunity to hold NSW Labor to its election promise to allow communities who opposed the undemocratic forced amalgamations to return to their former boundaries and restore true local government.
The honeymoon for the oversized Northern Beaches Council is coming to an end with the temporary boost in State funding to smooth over the community anger now drying up and the impossibility of such a large organisation being able to provide any semblance of local government now resulting in a mass exodus of staff and a lack of community engagement. More alarmingly, the promise of allowing each former council area to maintain its own planning controls has been forgotten and drastic rezoning looms large under the guise of so called "harmonisation". With the recent passing of many of the previous great protectors of Pittwater, it is time for the next generation of Pittwater residents who appreciate the unique and beautiful characteristics of this great area we are blessed to live in to step up and join the push to restore Pittwater Council as the great protector of our natural environment it once was." Mr. Dunn said.
New NSW Planning Rules Mean Council Powers Are Further Diminished: New Labor Government Signalling A Backflip On Lizard Rock Proposal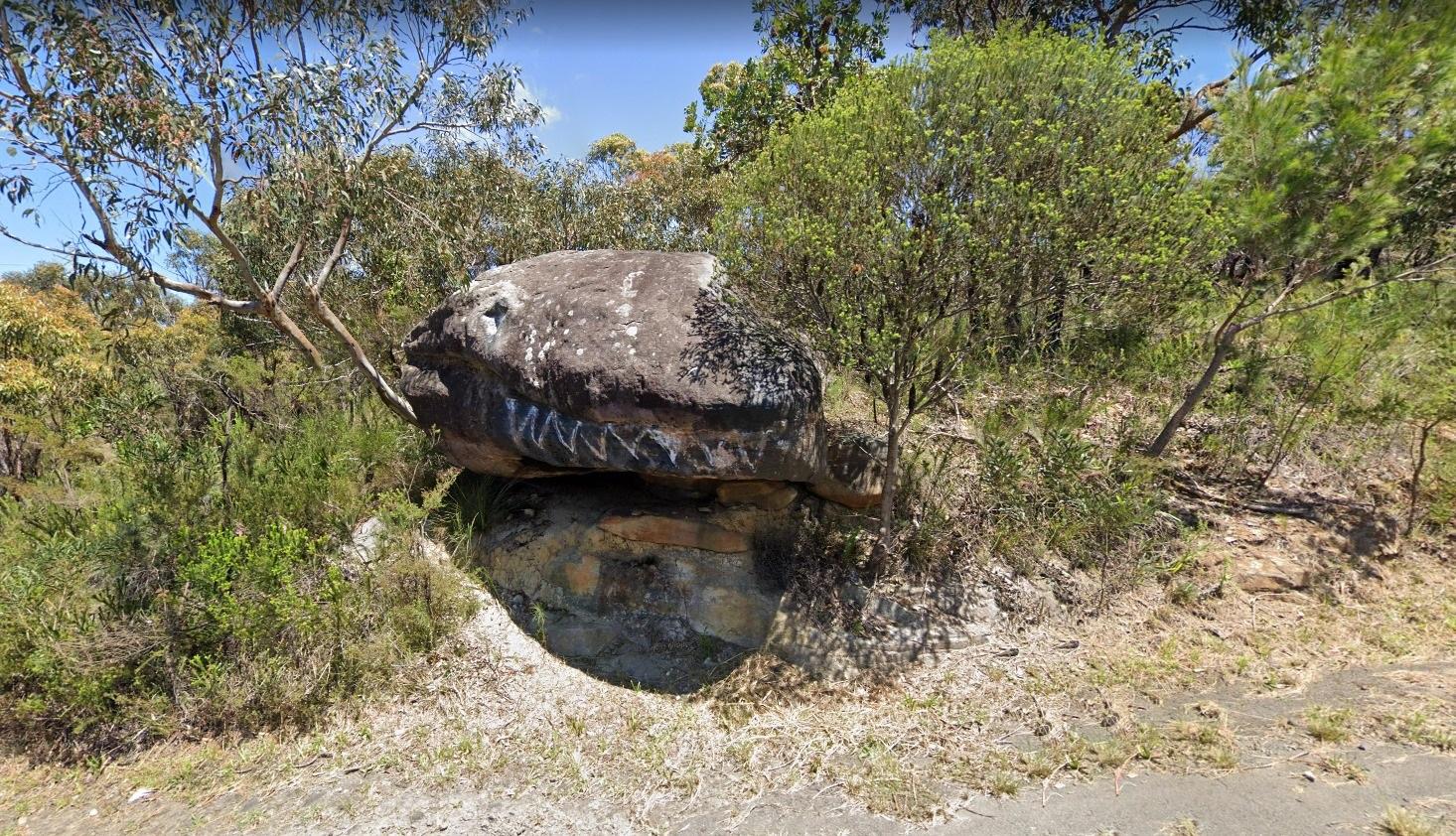 On Thursday June 15th 2023 the newly elected Minns Labor Government announced Housing developments with a capital investment value over $75 million,
which allocate a minimum of 15% of the total gross floor area to affordable housing, will gain access to the State Significant Development (SSD) planning approval pathway.
Further, these developments will also gain access to a 30% floor space ratio boost, and a height bonus of 30% above local environment plans.
Established by the former Coalition Government, the existing SSD pathway sees proposals assessed solely by the Department of Planning and Environment and bypasses local councils and planning panels. The SSD pathway allows faster planning decisions, providing certainty to developers and investors in these projects.
At the same time, planning controls or 'having a say' are taken away from the community and their Councils.
The announcement was made by the NSW Government which stated this was in response to a shortage in housing. Initial briefings to the new government revealed it had been handed a projected housing construction shortfall of 134,000 dwellings over 5 years, the government has stated.
The elimination of councils from the assessment of major housing projects impacting their residents would be a denial of local democracy, councils warned when the announcement was made.
Local Government NSW (LGNSW) President Darriea Turley AM said she had been deluged by council concerns over the announcement and had obtained a government commitment that the local government sector would be involved in developing the framework to address the housing crisis.
"This morning I was contacted by the State Planning Minister Paul Scully who assured me councils would be involved in the development of the new framework," Cr Turley said.
"This will be essential to ensure that local communities are not left out of having a voice in strategic land use impacting their local areas.
"Everybody acknowledges that there is a housing crisis in NSW and local councils want to be a part of the solution.
"The Minister assured me local councils would not be sidelined, but instead be welcomed into the fold to help develop the new framework."
"LGNSW will advocate to ensure the government keeps to this commitment and we will be fighting to make sure that councils' strategic planning powers will not be assumed by the State Government.
Cr. Turley said the local government sector has previously indicated support for a flexible and streamlined planning process and councils' willingness to work with the State Government to help fast track development proposals.
"But we would not support any actions by the Government to introduce rules that override local strategic plans," she said.
"These are plans designed, with community input, to balance development and growth with the availability of infrastructure and 'on-boarding' of local communities.
"In our talks with the Government we will be making it clear that planning processes must not violate council-led local plans and should allow councils to play a key role in assessing overall strategic merit."
Cr. Turley said LGNSW was always concerned when State Governments deemed it necessary to take planning authority out of local councils' hands, by labelling it "state significant".
"The announcement today by the Premier promises to deliver huge uplift for big developers on the proviso that they allocate a portion of their development to affordable housing for 15 years. After that, these homes would be turned over to the open market.
"Councils welcome the increased push for affordable housing targets within developments such as these, but if developers are to receive a massive 30% floorspace ratio bonus, the affordable housing delivered under with that uplift must be provided in perpetuity, not just for 15 years," Cr Turley said
However, there may be impacts on local greenfields and bush areas.
The Coalition established Sydney North Planning Panel, with former Liberal Minister Peter Debnam in the Chair, determined on May 23 2023 (published May 29 2023) that the Lizard Rock proposal should proceed towards Gateway Determination (consideration by the Minister). This is the next administrative step towards approval.
If the Minister wishes to proceed, it will then go to community consultation before a final decision is made.
Read the decision at: https://www.planningportal.nsw.gov.au/rezoning-reviews/planning-panel-or-commission-decision/lizard-rock-morgan-road-belrose
Currently the Lizard Rock proposal is accompanied by a non-binding Voluntary Planning Agreement (VPA) offer which proposes to dedicate 10% of the saleable land by area for affordable housing.

Member for Pittwater Rory Amon stated in response to the announcement that the new Labor NSW Government has been greenlit by the delegate for the Labor Minister for Planning, the Hon. Paul Scully, for the next phase in the approval process, despite significant community opposition to the plan which would see the demolition of 45 football fields of pristine bushland and wildlife habitat.
Mr. Amon cited a recently published letter, in which the delegate for the Labor Minister for Planning, the Hon. Paul Scully, wrote to Northern Beaches Council advising that the planning proposal should proceed.
The Gateway determination includes a condition for a site-specific Development Control Plan to be prepared in consultation with Council and the Department of Planning before exhibition of the Planning Proposal and the delegate was, in the letter, encouraging the Council to liaise with the proponent on this.

In March 2023 then Labor Planning Spokesman Paul Scully stated he would work with the land council and the council to find a use for the site, but that wouldn't include a housing plan.
"I have consistently campaigned against this development. This development will see 450 low density residential lots, which I am very certain will be carved up into Seniors Living apartments under the relevant SEPP after any final approval is given by government, with potentially 1,800 Seniors Living units or boarding house dwellings.'' Mr. Amon said
''On top of the loss of pristine environment, the significant congestion created, without any regional improvement in infrastructure will significantly reduce local quality of life. More than this, the risk to life is deeply concerning. My experience in the Black Summer Bush fires and my detailed study of the fire studies, have steeled my resolve to ensure this development does not progress. Placing homes in such a vulnerable area is, in my view, a recipe for tragedy. I cannot stand by and let this occur. Government must work with the MLALC and community to ensure the land is protected and that the MLALC rights as landowners are protected." the MP for Pittwater stated
Wakehurst MP Michael Regan has consistently opposed the scheme. He stated, when Mayor of Northern Beaches Council that the housing lots are "not required" and the northern beaches already has plans to build sufficient housing in better locations.
"We don't build in the bush. It's bushfire prone, there's no infrastructure ... there is nothing here and that's why it has never been considered and will never be considered," he said in February 2023
In response to Thursday's announcement and The Lizard Rock proposal update Mr. Regan stated, ''Yesterday the public was notified that the NSW Department of Planning has allowed the proposal to rezone the Lizard Rock site to move to the next stage in assessment. This is extremely disappointing, but unfortunately not unexpected. The local community have made it clear this development is not acceptable. I have made it clear, during the election campaign and since, that I am steadfast in my opposition.
In light of this step by the department, I have sought an urgent meeting with the Planning Minister Paul Scully, to reinforce my position.
In terms of next steps for the rezoning proposal, the proponent now must provide additional material and then, within three months, the proposal will go on public exhibition for a period of at least 30 days. I will be following the process closely and keep the community informed about how you can have your say. To share your concerns, please contact my office.''
However, the Lizard Rock proposal is just one on the horizon for local habitat sites.
In September 2019 the Metropolitan Local Aboriginal Land Council (MLALC) requested the Aboriginal Land SEPP be amended to include its land holdings in the Northern Beaches Council local government area.
This resulted in a proposal to include nine sites, six initial sites and three future sites, in the Aboriginal Land SEPP and the preparation of a development delivery plan. Once processed, the Metropolitan Local Aboriginal Land Council will have the ability to seek an independent review of any planning proposals for each of the six sites to consider whether they have strategic and site-specific merit.
Of the six sites, Lizard Rock on Morgan Road in Belrose was earmarked by the then NSW Coalition Government as the most suitable short-term development opportunity.
On Wednesday May 31st 2023 the NSW Government's Environmental Planning and Assessment (Housing and Productivity) Contributions Bill was passed in the NSW Legislative Assembly.
The Bill's passage in the Legislative Council would secure $1 billion over the forward estimates, and up to $700 million per year beyond that to support investment in vital community infrastructure such as roads, hospitals, parks, and schools, the new NSW Government said in a statement.
TAFE NSW Graduate - Local Female Tradie Awarded Apprentice Of The Year + Student Of The Year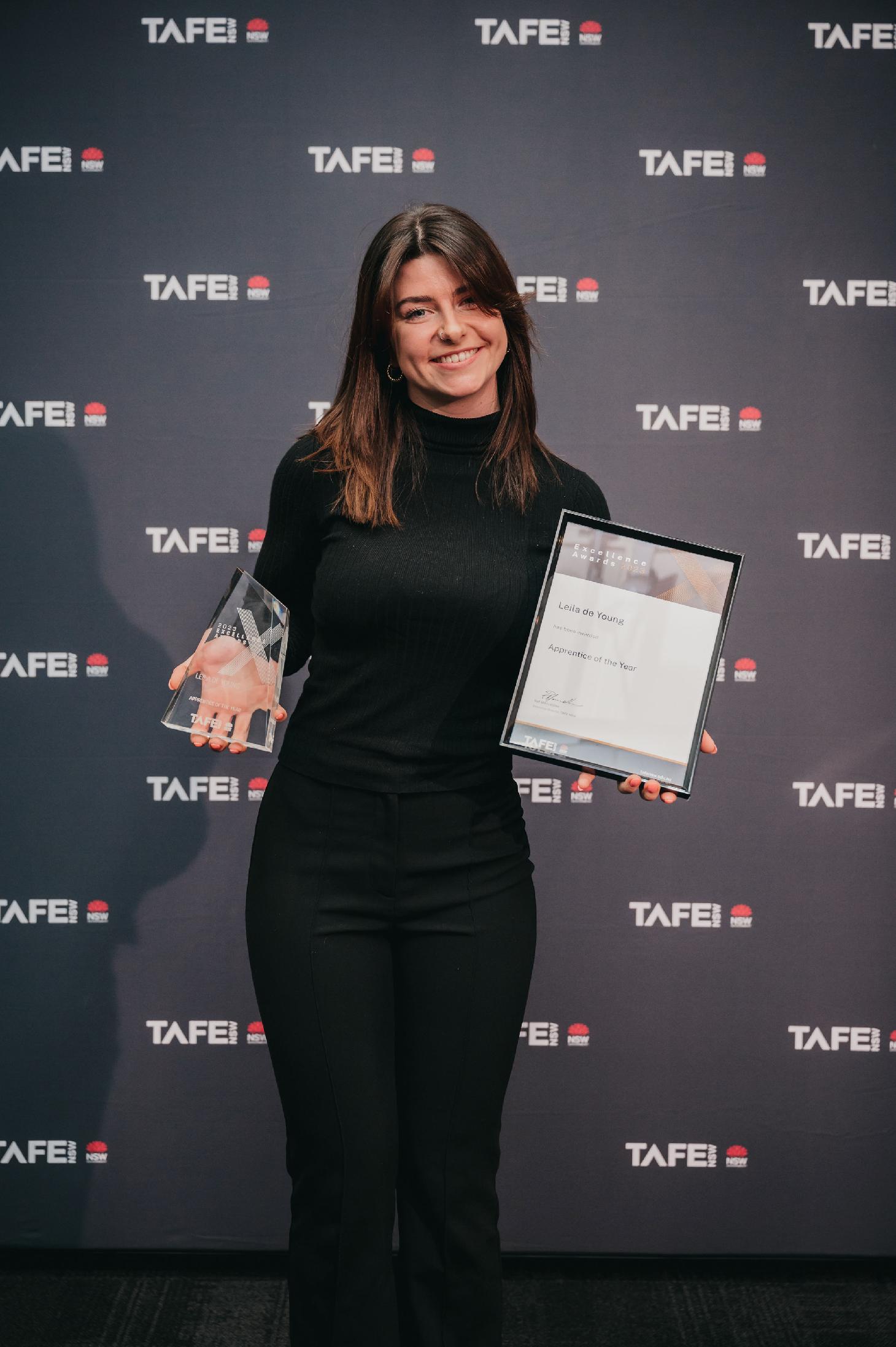 Leila de Young accepting her award. Photo supplied
June 14 2023
TAFE NSW graduate and local Leila de Young has been named Apprentice of the Year and Student of the Year at the TAFE NSW Excellence Awards.
The 22-year-old Freshwater local completed her Certificate III in Electrotechnology at TAFE NSW Northern Beaches in 2018, while undertaking an apprenticeship as part of her HSC.
She chose a vocational qualification as an alternative pathway to university after having a chat with her dad, who is in the construction industry.
"I had no idea what career path I wanted to follow and couldn't see the logic in choosing an expensive degree that I was not 100% sure I would stick with.
"The course runs for three years, with a mix of theory and practical units covering all essential electrical concepts, such as complex wiring rules calculations, testing electrical installations to ensure compliance, and workplace safety.
"A couple of integral conversations I had with both my father, a builder, and an electrician at a high school careers expo, introduced me to the construction world and I realised that there were other options apart from the traditional university route," Ms de Young said.
She worked as an apprentice for Dvine Smart Homes, headquartered in Curl Curl for over two years and believes the company was integral to "exemplifying her confidence and abilities."
"I started my apprenticeship two weeks out of high school and attained a nationally recognised trade qualification at the age of 21.
"They nurtured me at every stage of my learning and never made me feel silly if I had questions," Ms de Young said.
According to data uncovered in The Productivity Commission White Paper released in 2021, women make-up only 2% of qualified trade workers. Nationwide, there is a massive demand in industries such as building, and construction, and women are an untapped market.
To encourage women to get into trades, the NSW Government launched the Women in Trades program which is aimed at tackling skills shortages in trades areas and offers women employment security in high demand industries. For Ms de Young, studying at TAFE NSW has enabled her to be highly employable in an essential, booming industry.
"This qualification will keep me highly employable for the rest of my working life in a forever-growing, essential industry with endless room for growth," Ms de Young said.
This year, Ms de Young decided to further explore the design-oriented aspect of the profession and has now been accepted into Sydney University's Architecture degree. Due to her passion firmly rooted in construction, she continues to be a strong advocate for the value of vocational training.
"I have grown into a confident, practical, independent young woman as a result of studying this [TAFE NSW Certificate III in Electrotechnology] qualification.
"I do not regret my decision to undertake an electrical apprenticeship for an instant and am forever grateful to my teachers, employers, and colleagues for helping me to achieve what I have," Ms de Young said.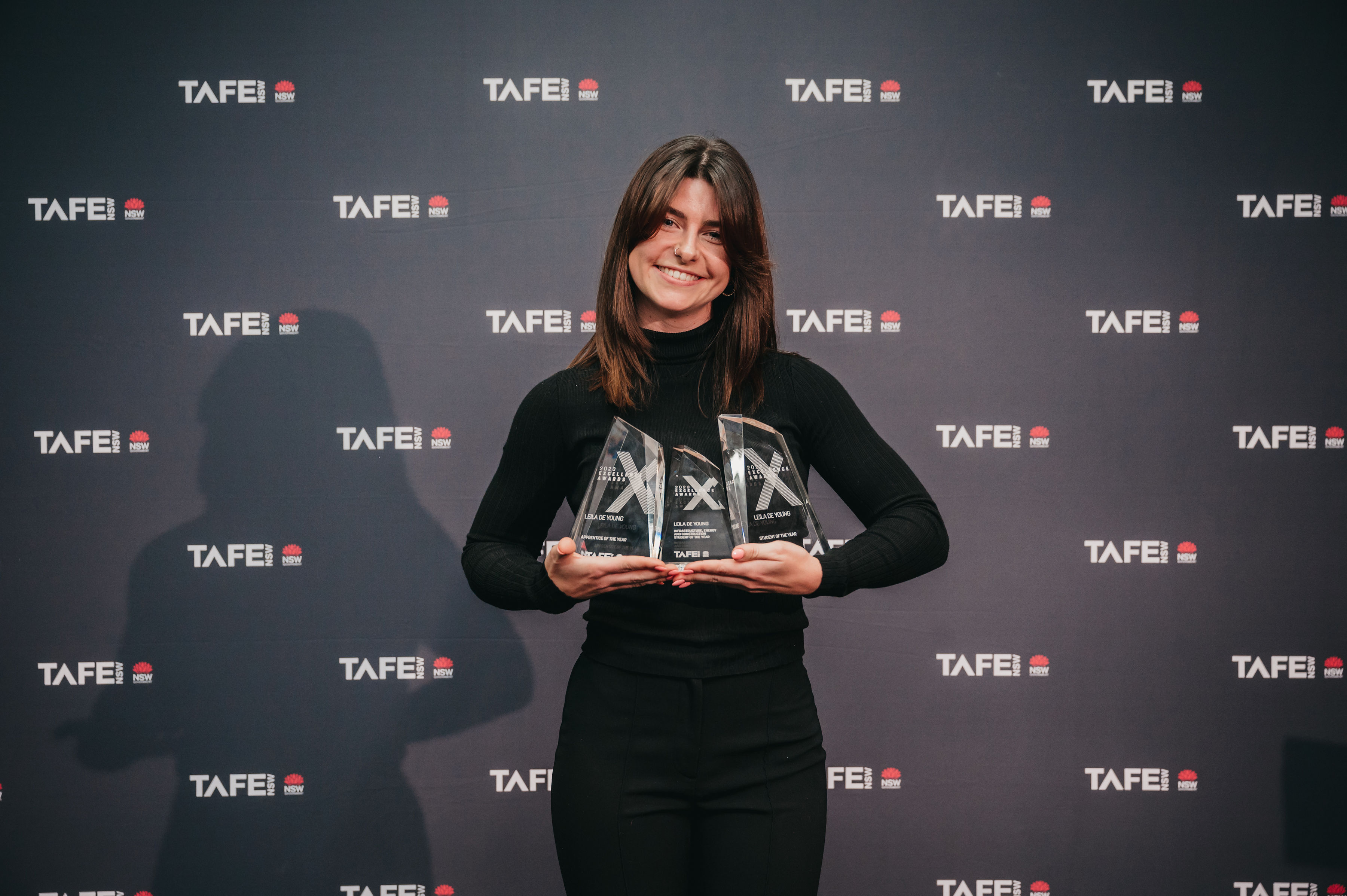 June 2023 Report: Investigation Into The NSW Shark Meshing Program Finds Fairy Penguin Killed Not Recorded - Pregnant Shark Killed Not Recorded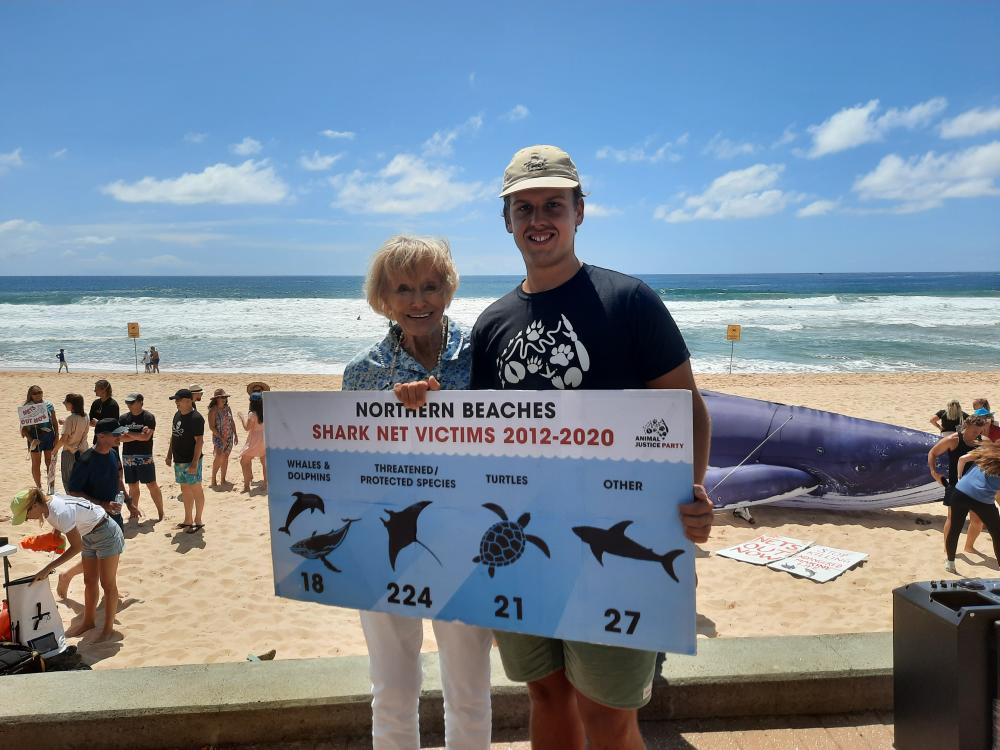 Valerie Taylor AM, 88, and Bailey Mason, not yet 20, attended the Shark Nets Out Now protest at Manly on Saturday December 3rd, 2022
In May 2021 the Council called on the NSW government to remove shark nets on beaches in the Northern Beaches Council area and replace them with a combination of modern and effective alternative shark mitigation strategies that maintain or improve swimmer safety and reduce unwanted by-catch of non-target species.
Council made the call in response to Department of Primary Industries – Fisheries (DPI Fisheries) request for input from stakeholders on their preferred shark mitigation measures.
A number of residents addressed Council's May meeting in support of shark net removal, including surfing champion Layne Beachley.
Then A/Mayor Candy Bingham said Council considered both the need to maintain or improve swimmer safety as well as the negative impacts on non-target marine species in reaching their decision.
"The effectiveness of shark nets has been questioned by many, yet their impact on other marine species is devastating," Cr Bingham said.
"We have an aquatic reserve in Manly where turtles and rays are regularly seen by snorkelers, and up and down the beaches dolphins surf the waves alongside local board riders.
"The research conducted by DPI Fisheries found that 90% of marine species caught in nets were non-target species and that sharks can in fact swim over, under and around the nets anyhow.
"If the evidence is that there are other just as, or more, effective ways to mitigate shark risk, such as drone and helicopter surveillance, listening stations and deterrent devices, then we owe it to those non-target species to remove the nets.''
The shark mitigation strategy in New South Wales (NSW) has slowly been evolving over recent years. The introduction of Shark-Management-Alert-In-Real-Time (SMART) drumlines and shark surveillance drones has provided hope to those in the community who want to see the program cease its current lethal methods. But the State has been seemingly reluctant to make the final transition away from the lethal Shark Meshing Program (SMP) that still operates for eight months of the year.

A new report, 'Investigation into NSW Shark Meshing Program June 2023' by Envoy Foundation, covers the many shortcomings of the program in detail, including some that may not have been previously discussed. For example, trigger points should effectively alert the program's impact on threatened species, but instead, are reactive. Furthermore, when trigger points are tripped, there is no contingency plan for decisive and practical actions.
The Envoy Foundation report identified "extremely concerning discrepancies in data", including a photo of a bird found in shark nets in 2019 not included in data for the 2018/19 or 2019/20 catch data.
"There is an image of little penguin, also known as a fairy penguin — which are protected in NSW," Mr Borrell said.
"It's an image of a thing that was been pulled out of shark nets, but the animal does not appear in the data. How often does that happen?"
The report states the Envoy Foundation 'attempted to identify the bird but were not able to from the image or by speaking with the Protected Species and Communities Branch of the Biodiversity Conservation Division of the Department of Agriculture, Water and the Environment.'
The answer they received was:
"Unfortunately without the last digit (I can't make it out either) it could be one of 10 birds. Each of the 10 birds were all banded in 2002 on one of three dates 22 OCT 2002, 29 Oct 2002 or 5 NOV 2002. The banding of these birds occurred at one of two locations:

Manly Point, Sydney Harbour; or Collins Beach, Spring Cove, Sydney Harbour. That is about as much as I can provide without the last digit to actually individually identify the specific bird.''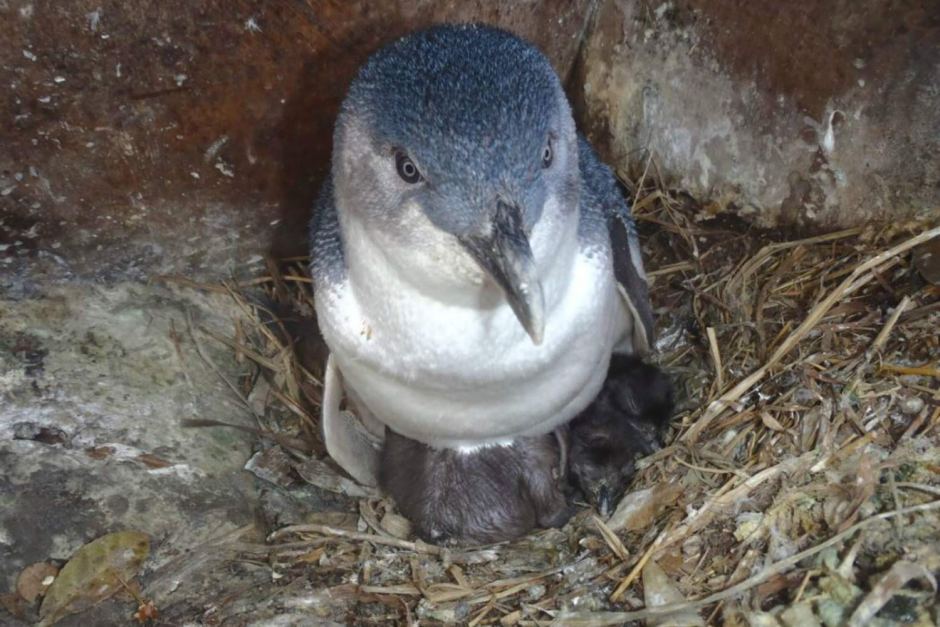 Little Penguin on nest - supplied
''Additionally, images obtained show pregnant female sharks caught and killed that have been cut open, exposing a uterus full of pups. These pups are not included in the reported count of sharks killed, and any assessment made is done based on understated data.'' the report states
The images had to be obtained under GIPA applications.
Watching Whales Within Safe Limits: Please Give Them A Safe Passage By Sticking To The Rules For Boats, Drones, Swimming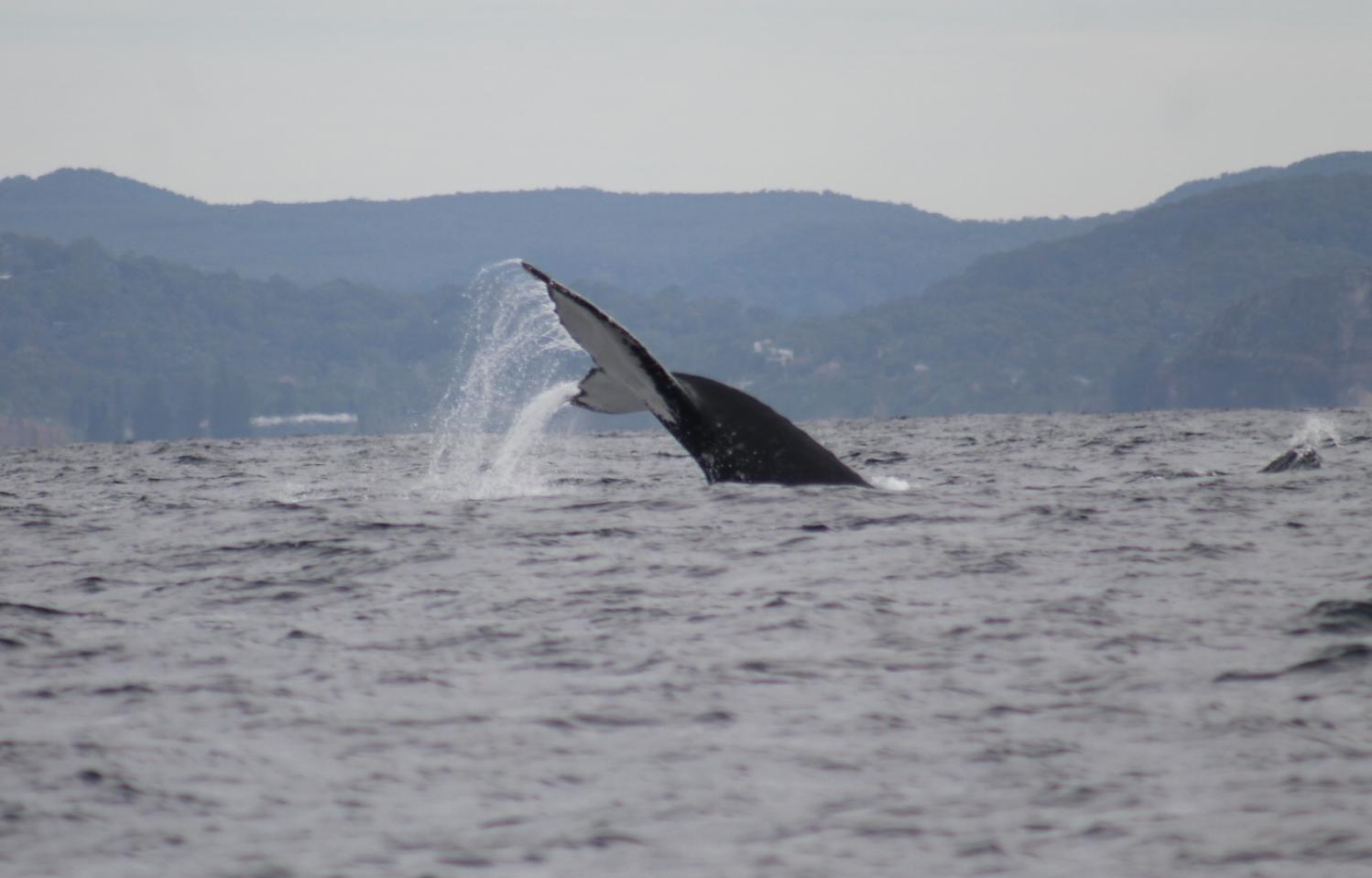 June 13, 2023
With the annual whale migration season in full swing along the south coast, the NSW National Parks and Wildlife Service is reminding all boaties and those on the water to respectfully watch these creatures from afar.
NPWS Area Manager Jo Issaverdis said this reminder comes after an incident where a small boat purposely approached a whale off Burrewarra Point, north of Broulee.
'While we are looking into this incident, our key message is one of education and awareness,' Ms Issaverdis said.
'We urge boaties, surfers, swimmers and everyone on the water to please give the whales space, and stay at least 100 meters away in all directions.
'This rule is in place to keep both the whales safe and the community safe.
'Adult humpbacks can weigh up to 35 tonnes and if frightened or threatened, can cause serious damage to vessels, passengers and swimmers.
'We understand why people want to get a closer look at these majestic creatures, but the reality is that interfering with the whale migration and getting too close is risky and unsafe for all.
'There are so many great vantage points from the coast where people can watch one of world's great migrations, and with more than 35,000 humpbacks expected to pass the coast this season, you're guaranteed to see some,' Ms Issaverdis said.
Under the NSW Biodiversity Conservation Regulation 2017 all watercraft, including boats, surfboards, surf skis and kayaks must stay at least 100 m from a whale, and at least 300 m if a calf is present.
Restrictions also apply to swimmers, snorkellers, divers and those in the water, who must stay at least 30 m from a whale. There are also restrictions for aircraft, including drones.
From May to November each year, humpback whales make the annual migration from Antarctic waters to Queensland to calve, while southern right whales tend to stay in NSW's protected bays and beaches to nurture their young.
Signs of disturbance
Disturbed whales, dolphins, dugongs and seals react with a sudden change of behaviour, including:
hastily diving
vocalising
changes in breathing patterns
sudden change in body posture or positioning
a sudden change in direction
a change in swimming speed
aggressive behaviour such as tail splashing, head lunges and charging
protectively moving between you and their young.
If you see someone intentionally harming, touching, harassing, chasing, trying to restrict the path of a marine mammal, or getting too close, please report the illegal activity to National Parks and Wildlife on 13000PARKS (1300 072 757).
Approach distance
An approach distance is the closest you can lawfully go to a whale, dolphin, dugong or seal to watch it safely and without disturbing or harassing them, so they can live naturally and without interference.
Scientists, including veterinarians, helped to develop the Biodiversity Conservation Regulation 2017, which outlines the approach distances for New South Wales. These are based on The Australian National Guidelines for Whale and Dolphin Watching 2017 and also includes seals.
Remember, if a marine mammal approaches you, slowly move back to at least the minimum approach distance. Never chase it; try to touch it or restrict its path. On a rare occasion, a National Parks and Wildlife Service officer may ask you to move back beyond the minimum approach distance if they see an animal is still distressed and behaving as if it is disturbed.
By observing the following approach distances, you can have a safe and enjoyable time while helping to keep our wildlife wild.
Whales, dolphins dugongs
The approach distance is determined by the activity you are doing, either in the air, or in or on water, the type of animal and if there is a calf present.
The exception is when a whale, dolphin or dugong that is mostly white in colour is present. You must always stay at least 500 metres from them.
Approaching when in the water – swimmers, snorkelers and divers
If you are a swimmer, snorkeler or diver, to observe a marine mammal, you may enter the water at a minimum distance of:
100 metres away from a whale
50 metres from a dolphin or dugong.
If you are in the water, you must keep at least:
30 metres from a whale, dolphin or dugong, including a calf.
For reference, 30 metres in length is approximately the same length as:
an official basketball court
2 public transport buses lined up end to end.
Approaching on the water – boats and surfboards
A vessel is watercraft that can be used as transport, including motorised or non-motorised boats, surfboards, surf skis and kayaks.
If you are on the water in a vessel you are not permitted to approach a marine mammal from behind or wait in front of it.
If a calf is present, you are not permitted to enter the caution zone for closer viewing. The caution zone boundary is 300 metres for whales and 150 metres for dolphins and dugongs.
You must comply with the following approach rules:
A vessel is in the caution zone when it is:
300 metres from a whale
150 metres from a dolphin or dugong.
A vessel can move no closer than:
100 metres to a whale
50 metres to a dolphin or dugong.
In the caution zone the skipper must:
post a lookout if 2 or more people are on board
not position the vessel ahead of the animal to wait for it
approach from the side at least 30 degrees to its direction of travel
move at a constant slow speed with negligible wake – when the waves created by the movement of the prohibited vessel are so small that if there was a boat nearby it would not move
only 3 vessels are permitted to be in the entire caution zone at any one time – other vessels must wait their turn, regardless of size and not drift closer.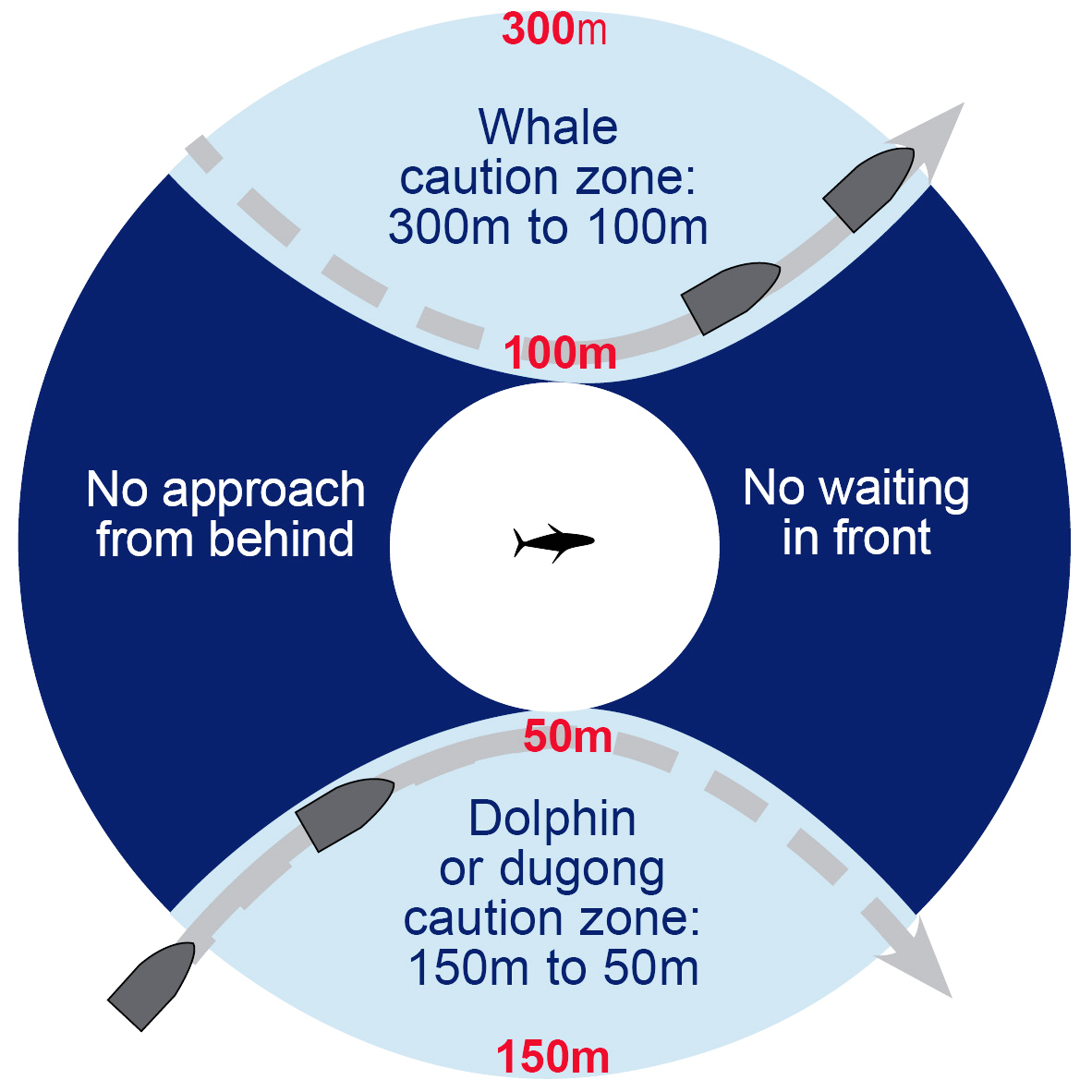 If dolphins are bow-riding, you must maintain course and speed.
If a whale approaches, slow down to minimal wash speed, move away or disengage gears and do not make sudden movements.
2023 Environmental Art & Design Finalists Announced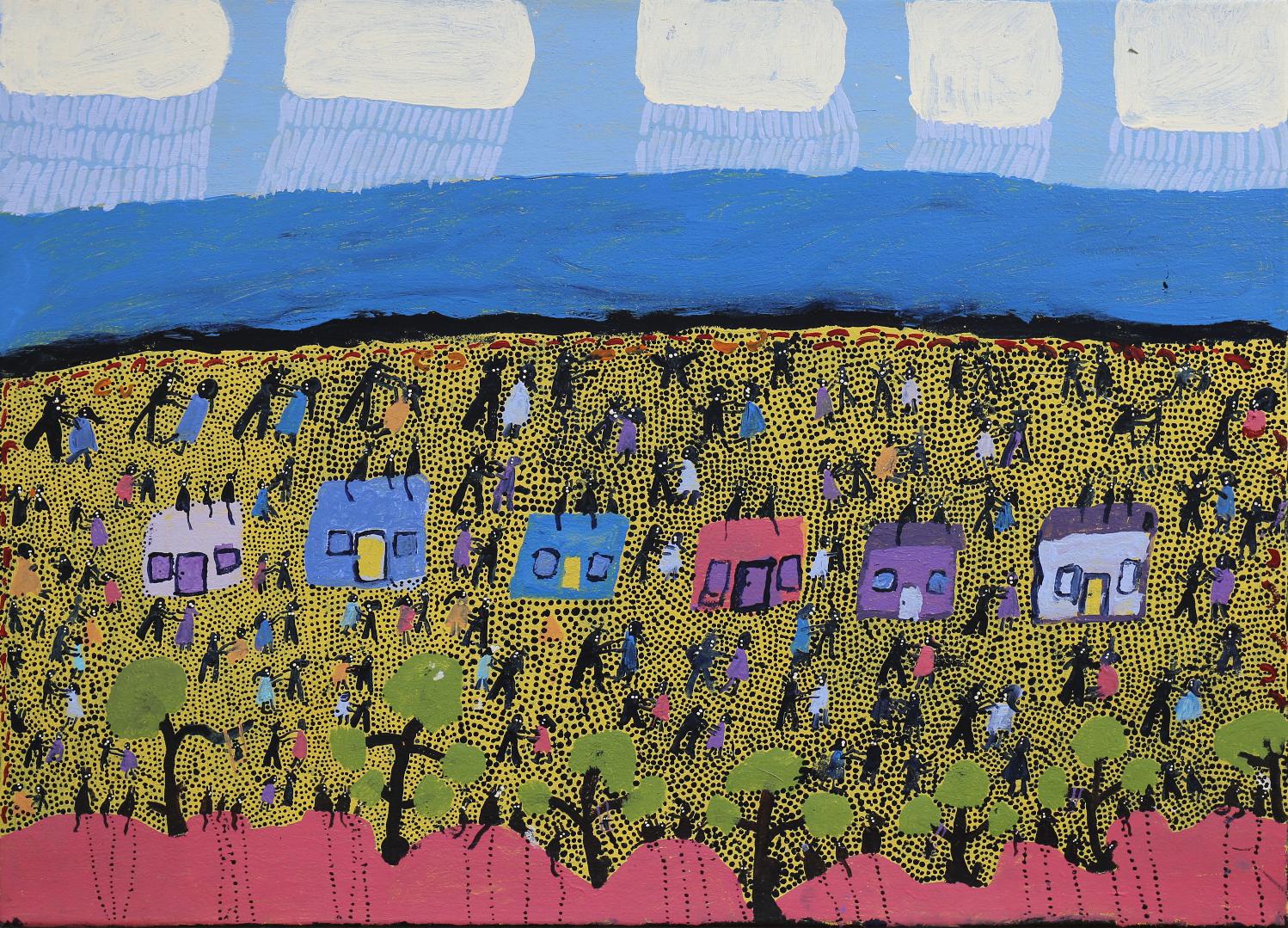 Grace Kemarre Robinya (NT), 'Raining Over Laramba, Different Times'
Friday June 16, 2023
Thought-provoking works by 215 artists and designers from Australia have been shortlisted for the prestigious annual Northern Beaches Environmental Art & Design Prize.
Now in its third year, the Environmental Art & Design Prize brings together a community of creatives to highlights our environmental concerns and hopes across the nation.
Fresh perspectives on our global climate crisis and sustainable life on earth will be on show in an outstanding exhibition of art and design from 4 – 27 August at Manly Art Gallery & Museum, Curl Curl Creative Space and Mona Vale Creative Space Gallery.
Among the shortlisted artists and designers is Perdita Phillips (WA) whose film 'Wheatbelt Anticipatory Archive II' was developed from 500 historical aerial photographs of farming properties merged together and overlaid with new images to produce visual imagery which 'unsettles the eye of settler colonialism with a more ecological vision'.
Perdita Phillips, Wheatbelt Anticipitory Archive II (Film & video) detail

Other shortlisted artists and designers include Grace Kemarre Robinya (NT), whose painting 'Raining Over Laramba, Different Times' of rain in desert country conveys the transformative and life-giving power of water. The artist used to live in the Laramba community NT, where residents were until recently forced to drink water that contains three times the level of uranium considered safe.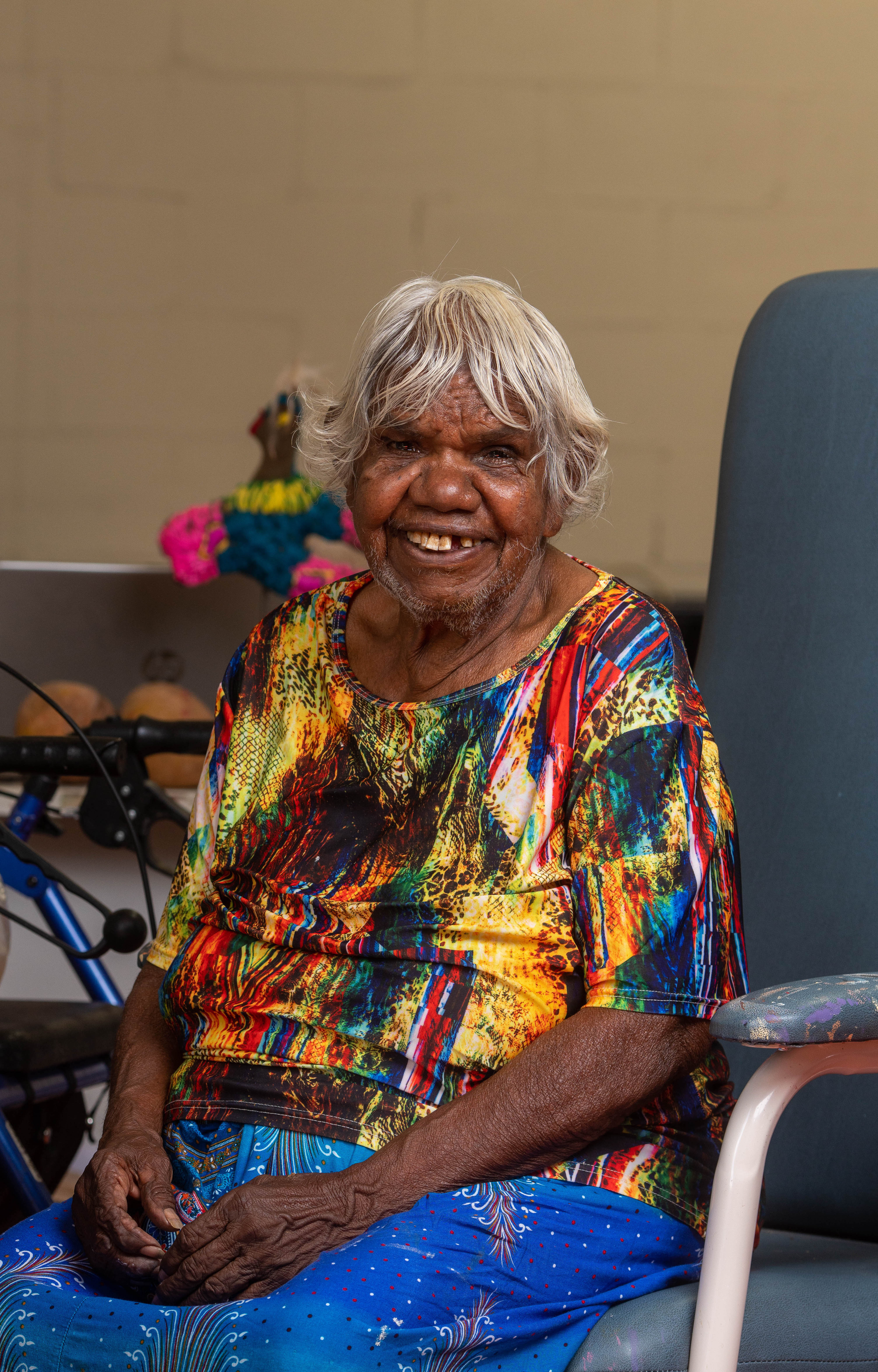 Grace Kemarre Robinya. Photo: Rhett Hammerton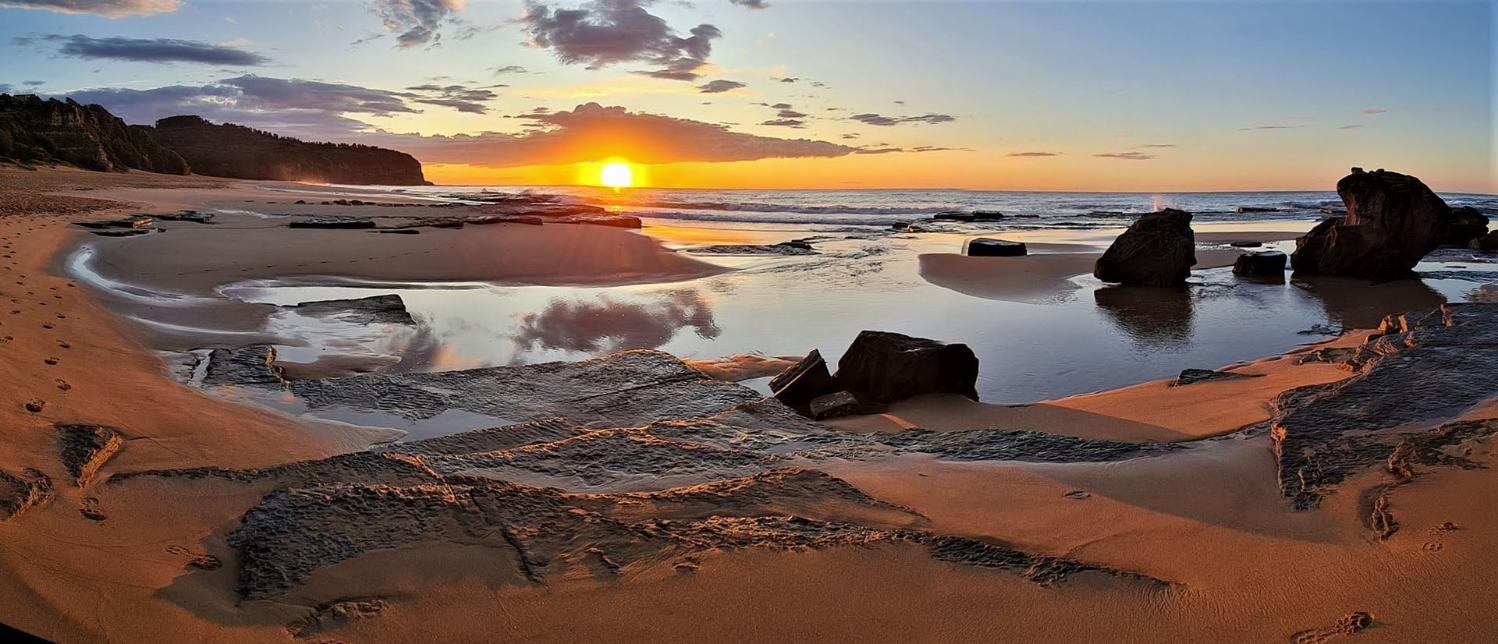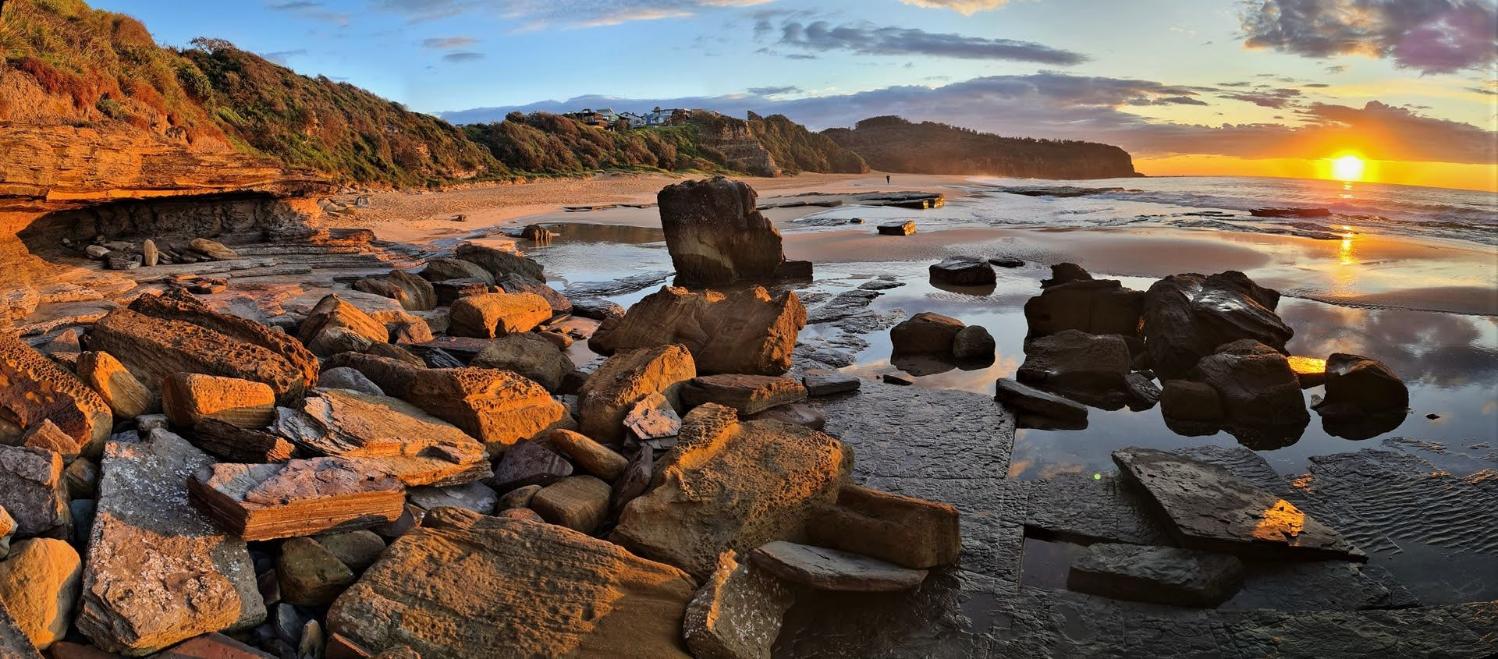 Past Features Archives (pre 2014)
Pittwater Online News was selected for preservation by the State Library of New South Wales and National Library of Australia. This title is scheduled to be re-archived regularly.
Archived Issues (2014 on) may be accessed here: pandora.nla.gov.au/tep/143700
Past Issues are also listed on site on the Community News page, by month.