June 18-24, 2023: Issue 588
Protect Pittwater demerger campaign reinvigorated by new committee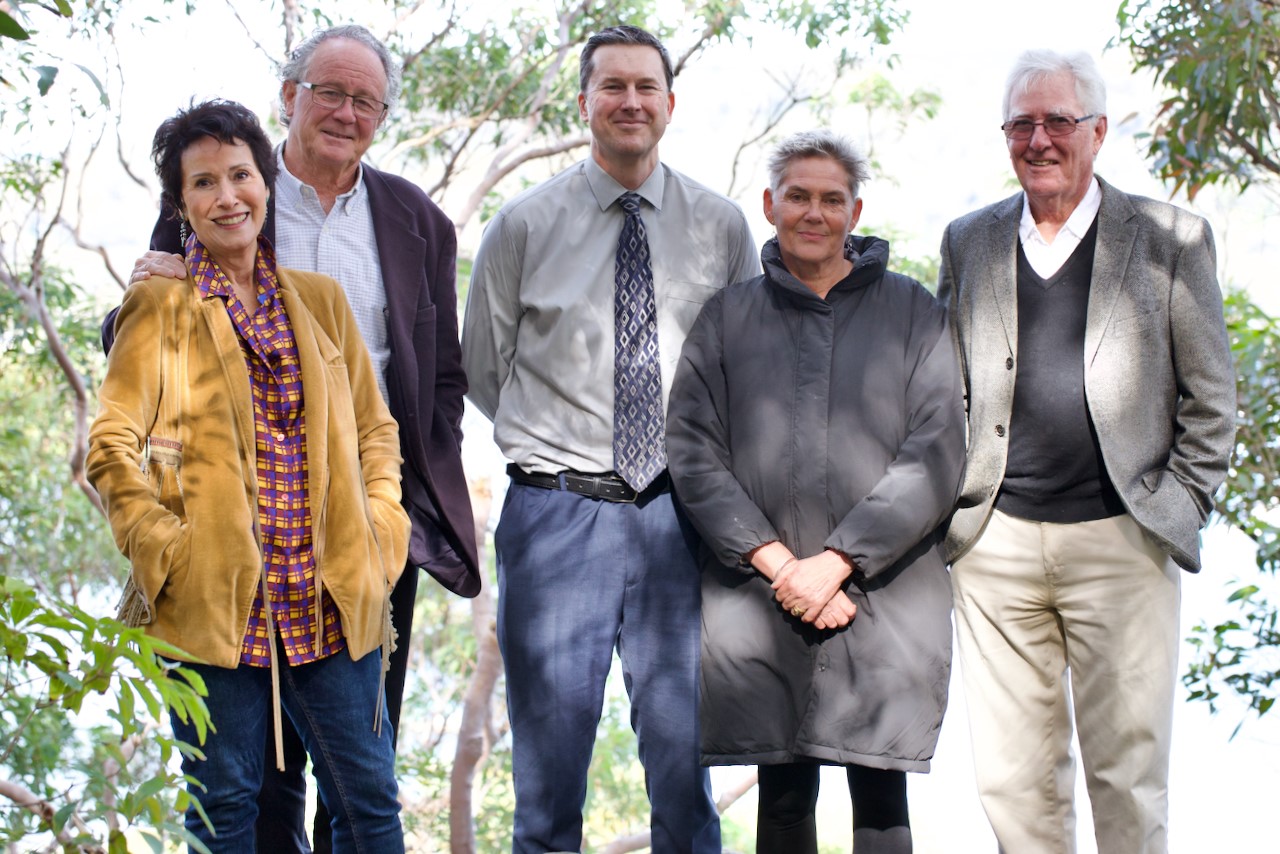 Protect Pittwater Association Committee members June 2023
June 14, 2023
Pittwater's demerger campaign has been reinvigorated by a new committee focused on regaining an independent council.
Taking over as Protect Pittwater Association president is local lawyer Simon Dunn, the son of the first elected Pittwater Mayor Robert Dunn.
The senior Mr. Dunn was at the forefront of the original and successful fight for Pittwater to secede from Warringah in 1992.
Protect Pittwater announced the new committee over the long weekend, including local residents Anna Maria Monticelli as secretary and Amanda Robson as treasurer.
See Issue 587 report: Protect Pittwater Associations' New President Simon Dunn, Son Of First Elected Pittwater Mayor, To Lead Charge To Restore Pittwater Council
Mr. Dunn flagged a vigorous campaign in coming months, noting the NSW government's promise of demerger plebiscites in former council areas that demand it.
"Never has there been a more critical time to engage the Pittwater community to protect the natural environment of Pittwater. A change of State Governments presents both a threat of increased reliance on arbitrary housing targets, but also an opportunity to hold NSW Labor to its election promise to allow communities who opposed the undemocratic forced amalgamations to return to their former boundaries and restore true local government.
The honeymoon for the oversized Northern Beaches Council is coming to an end with the temporary boost in State funding to smooth over the community anger now drying up and the impossibility of such a large organisation being able to provide any semblance of local government now resulting in a mass exodus of staff and a lack of community engagement. More alarmingly, the promise of allowing each former council area to maintain its own planning controls has been forgotten and drastic rezoning looms large under the guise of so called "harmonisation". With the recent passing of many of the previous great protectors of Pittwater, it is time for the next generation of Pittwater residents who appreciate the unique and beautiful characteristics of this great area we are blessed to live in to step up and join the push to restore Pittwater Council as the great protector of our natural environment it once was." Mr. Dunn said.
Protect Pittwater, with the support of thousands of local residents, has kept the vision of a standalone Pittwater Council alive since its amalgamation with Warringah and Manly Councils into the Northern Beaches Council in 2016.
Since the association's inception in 2017, the committee has organised crowdfunding to finance legal advice regarding a potential challenge to the merger, run and supported rallies at Parliament House and locally, as well as gathered more than 3,000 signatures on a demerger petition for the NSW state government.
Chaired by former Pittwater Councillor, the late Bob Grace, Protect Pittwater's active members have at different times included: former Pittwater Mayor, the late Lynne Czinner; former Pittwater Councillor Sue Young; current Pittwater Ward Councillor Miranda Korzy; David Wenden; Pip Rey; Pru Wawn; Guy Finlay; John Ogden; and Marcia Rackham.
Protect Pittwater is also a supporter of the Demerge NSW Alliance (DNA), joining similarly concerned citizens from at least 10 of the 21 merged mega councils, urging the new Labor government in Macquarie Street to uphold its election promise of binding plebiscites in local areas to assess support for demergers.
Mr. Dunn said Northern Beaches Council is seen by locals to be lacking an appreciation of Pittwater's distinctive natural and built environments, illustrated in its Draft Conservation Zones Review last year.
The review proposed removing over 3,300 Pittwater properties from the protected Conservation Zone to the developer-friendly Residential Zones, thus opening them up to the State Environmental Planning Policy for Housing which would allow increased density.
Although some properties exposed to serious hazards would move into Conservation Zones, the review's proposals would reduce protections for tree canopy and wildlife corridors at properties downgraded to Residential Zones - extending from Palm Beach to Elanora.
"Pittwater residents are angry about NBC's failure to meet the area's maintenance and other needs, as well as forcing a conformist suburban character on an area distinguished by a geography and ecology not shared by the council's more southern regions," Mr. Dunn said.
"With its unnecessary planned 'harmonisation' of Local Environment Plans across Pittwater, Warringah and Manly, the NBC is ignoring the valuable ecological and geographic richness of Pittwater, proverbially killing the goose that laid the golden egg."
"NBC plans would change the nature of Pittwater forever!"
To join the Protect Pittwater Association please contact us at: join@protectpittwater.org
Simon Dunn, President Protect Pittwater Association said;
"I am honoured to have been recently elected President of Protect Pittwater and to take up the cause so passionately championed by my predecessor, the late Bob Grace and by my own father, the late Robert Dunn. I grew up with the fight to establish Pittwater Council at times dominating our family life and now that I have my own young family I appreciate the sacrifice made by both my parents and the large group of community leaders who supported the cause to give the Pittwater Community the control of its own unique environment. Whilst it would be the easier and perhaps more sensible option for me not to get involved, I can't help but feel that the chance to restore Pittwater Council and prevent a total loss of environmental protections is a now or never moment for this generation"
Statements from PPA Committee members: 'Why I joined Protect Pittwater'...
Anna Maria Monticelli, Secretary and Public Officer;
"I've spent over 40 years surrounded by National Parks, reserves full of wildlife, extraordinary trees and pristine beaches. Why would I not fight to save Pittwater for future generations. One thing I've learned in my long fortunate life is that unless you fight for something you believe in nothing will happen."
Amanda Robson, Protect Pittwater Association Treasurer;
"Pittwater is a particularly beautiful and unique environment in the greater Sydney landscape. As such, it should not be subject to the same zoning laws which apply to other high-density residential or commercial suburbs such as Dee Why, Brookvale or Manly. Deamalgamating from NBC is critical to ensure the preservation of Pittwater for future generations, and for the flora and fauna which enrich it."
Peter L'Green, Committee member;
"To protect Pittwater from over-development and the destruction of the quiet, beautiful and natural places that this community cherishes. That destruction has accelerated since the forced amalgamation to form NBC. It will accelerate again if anything like the rezonings proposed by NBC are passed into law. That cannot be allowed to happen. If demerger is required to protect Pittwater, so be it."
Trevor Harrison, Media officer;
"Pittwater is not like its NB Council cousins, Manly and Warringah. Its typical landscape is sandstone ridges, steep forested hills and beaches, all bound by the waters of Pittwater, the Hawkesbury and the Pacific; it includes National Parks. Houses largely exist under a tree canopy, often in unfenced areas, allowing the free run of wildlife. These unique landscape and valuable biodiversity characteristics distinguish the Pittwater area from the NB Council areas further south and present an undeniable geological, ecological and emotional substance to our claims for a separate Pittwater LGA."
Guy Finlay, Committee member;
"I wanted to become involved in Protect Pittwater and the return of Pittwater Council as it's the only way residents and visitors to this beautiful environment will be served appropriately. Residents of Pittwater live here for the way it is, not the way some blow-ins want to come in, build it up, sell it, flip it for profit and move somewhere else leaving long term residents dealing with the consequences! Consequences that destroy the environment. An environment which is the reason for living in the place you settle. Greed that took out two public hospitals and built a private hospital that was not prepared for the public! An ER that is now too small and too busy!
Population increases in a dead-end Peninsula is not an answer - it's death!
"Bring back Pittwater Council, We are Pittwater!"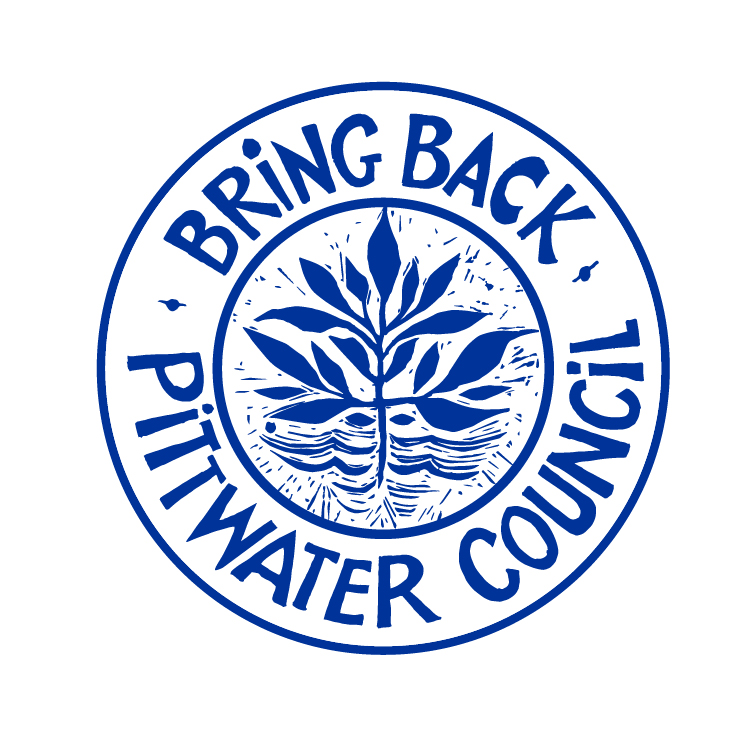 The very popular sticker appearing on bumpers in Pittwater.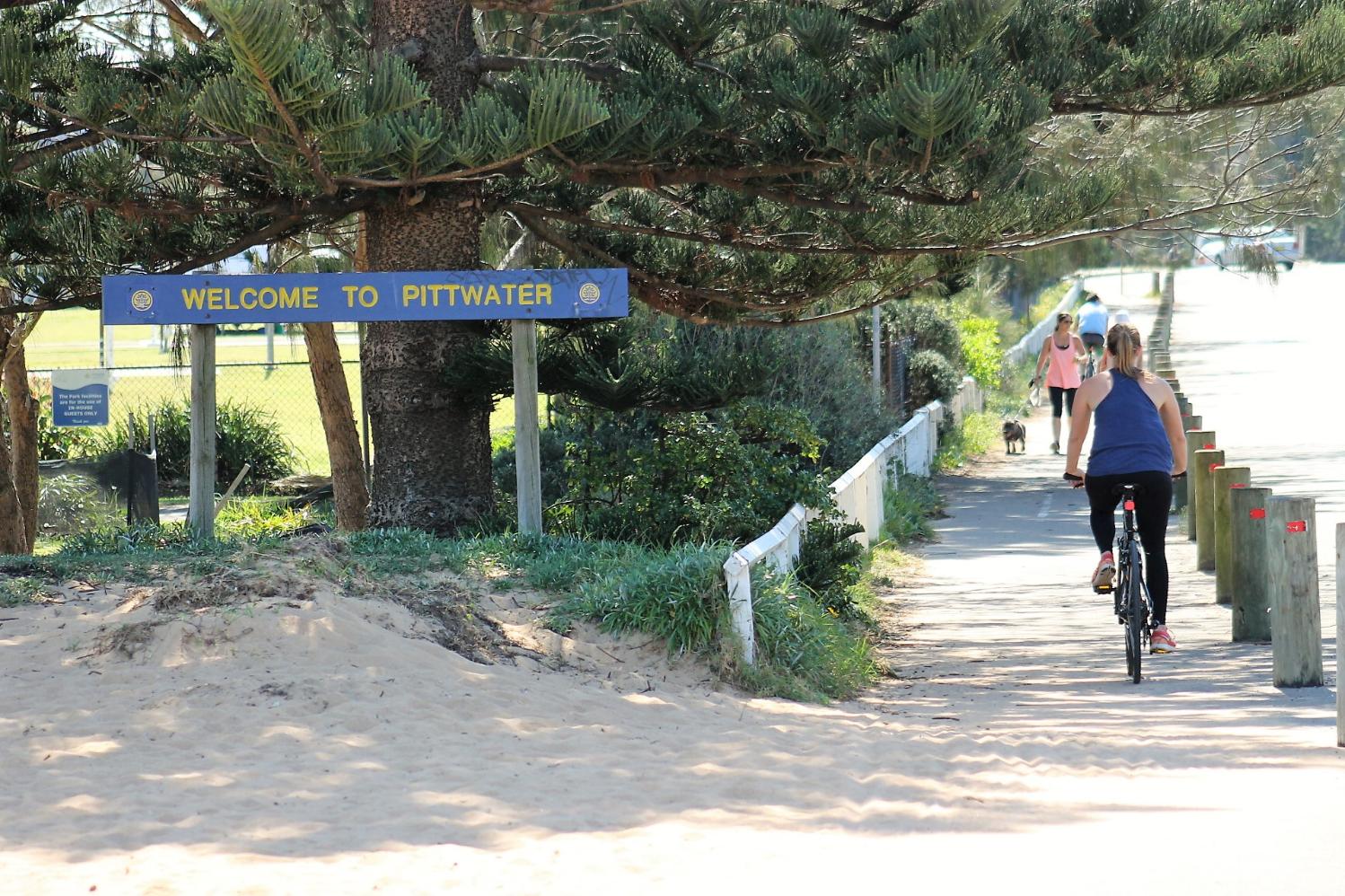 We consider the only future for this area and for the preservation of those ideals and policies for which we stand is to become an independent Shire … the need for this electoral reform has been clearly and sufficiently demonstrated to enable the Government to come to a decision and no longer forestall the issue. Put simply we call upon the Government to put the matter now to the people of A Riding to determine.
Warringah Shire Councillors Robert Dunn and Eric Green, representing A Riding - 1990
Photo: 'Welcome to Pittwater signage at North Narrabeen, where the Pittwater Council LGA commences, in 2013