June 5 -11, 2022: Issue 541
Mona Vale SLSC's New Clubhouse Grand Opening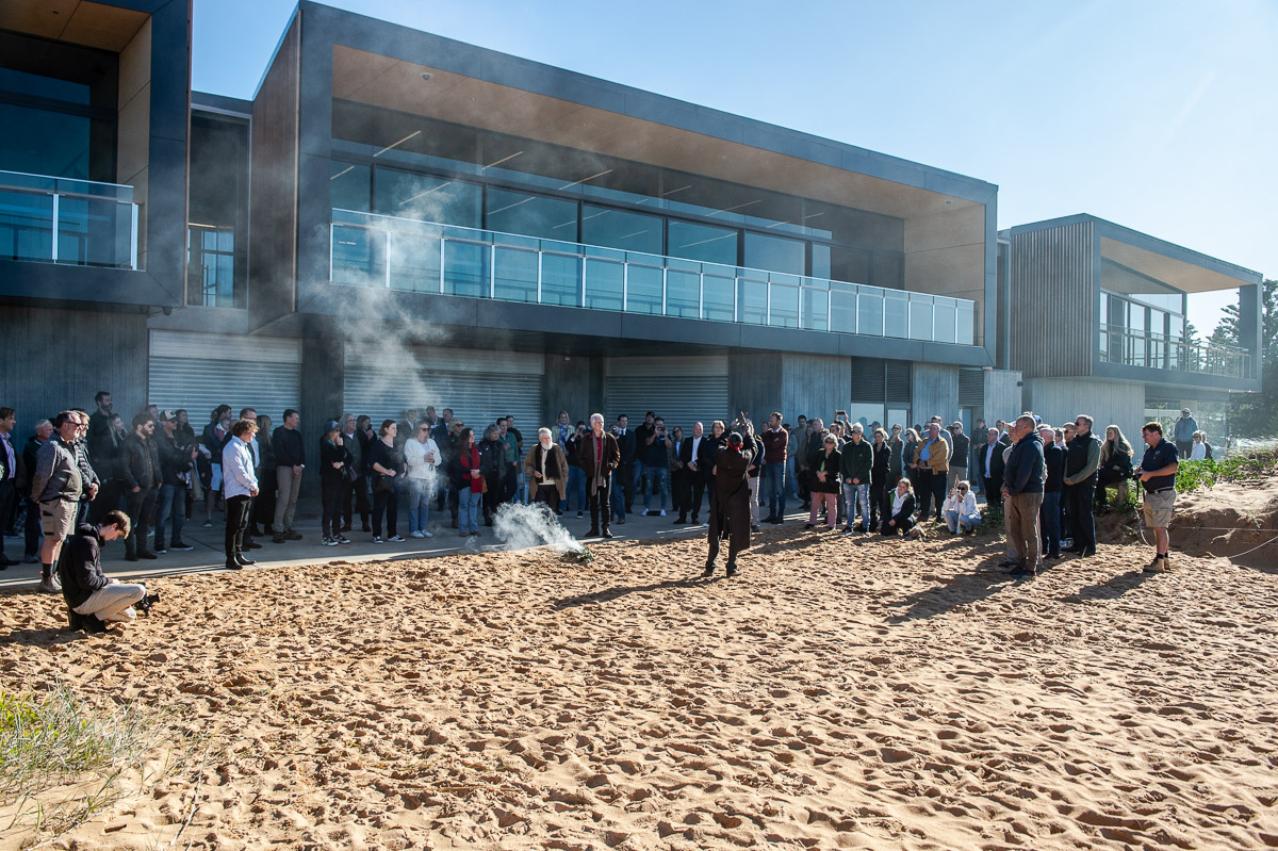 Traditional Smoking Ceremony to commence Official Opening of NEW Mona Vale SLSC Clubhouse. Photo: Michael Mannington OAM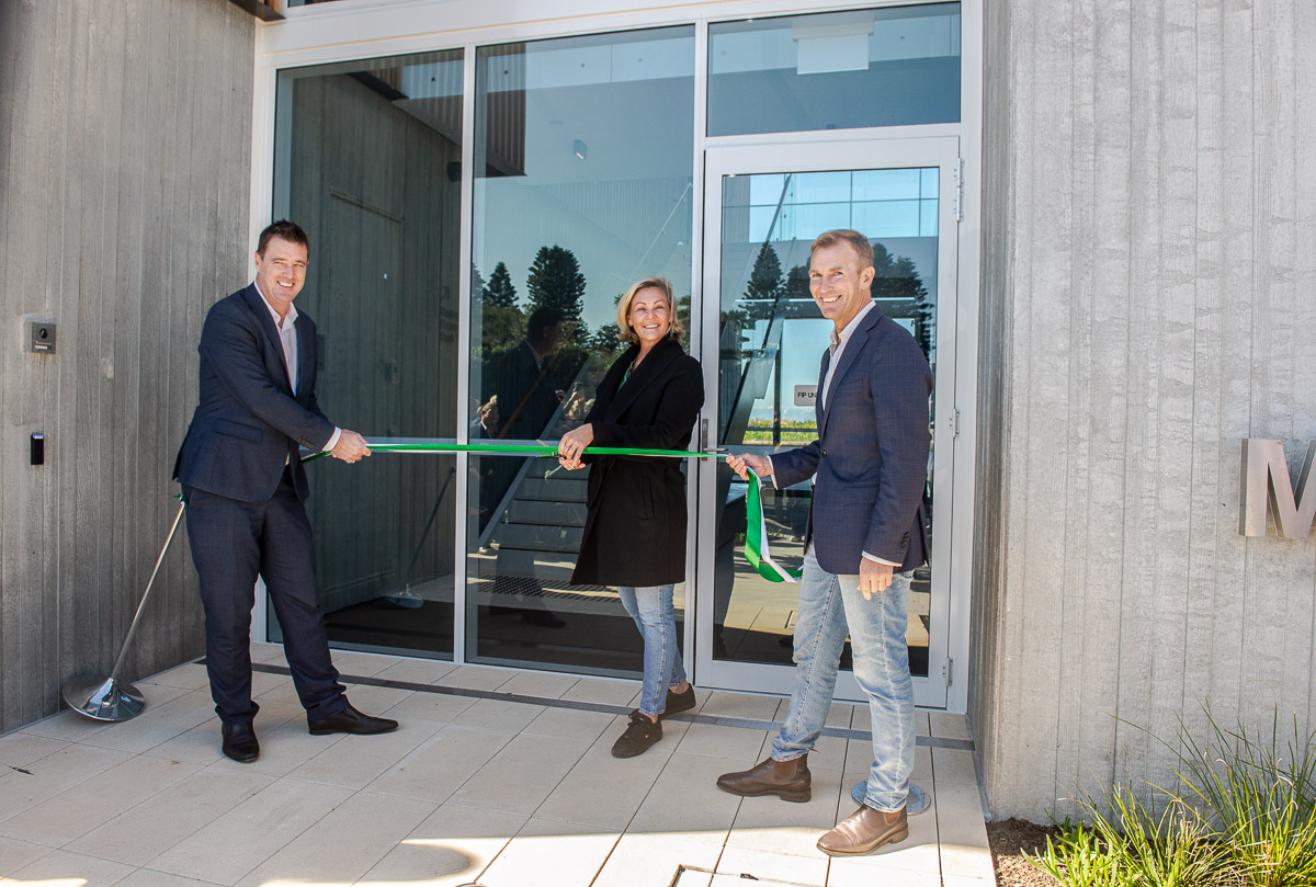 L to R: Mayor Michael Regan, Mona Vale Surf Life Saving Club President Paula Tocquer, and Pittwater MP and NSW Minister for Infrastructure, The Hon. Rob Stokes. Photo: Michael Mannington OAM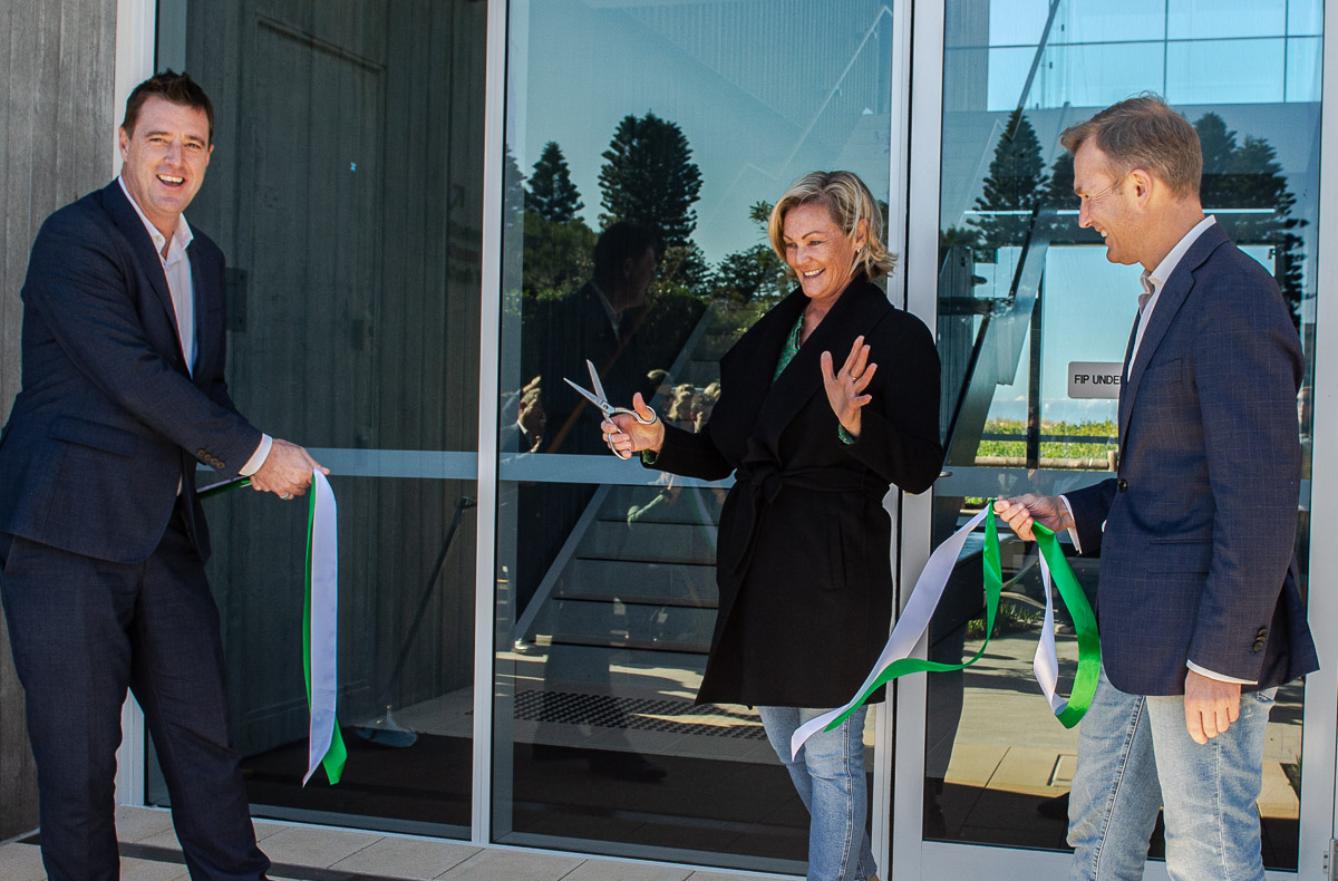 L to R: Mayor Michael Regan, Mona Vale Surf Life Saving Club President Paula Tocquer, and Pittwater MP and NSW Minister for Infrastructure, The Hon. Rob Stokes. Photo: Michael Mannington OAM
The official Grand Opening of the new Mona Vale Surf Life Saving Clubhouse took place on Saturday June 4th, 2022.
The impressive new building on Mona Vale's beachfront ticks all the boxes: sympathetic to the environment in its design, sustainable and accessible, providing a function space for the community, while meeting the operational needs of lifesavers.
Mayor Michael Regan said the beautiful new Mona Vale Surf Life Saving Club exceeds all expectations.
"Lifesavers play such a vital role in keeping our community safe and it's important that their facilities are top notch," Mayor Regan said.
"This building meets all the practical requirements of surf life savers, but it is also flexible for a wide range of uses.
"This spectacular new building is an enduring legacy and something the whole community can be proud of."
Mona Vale Surf Life Saving Club President Paula Tocquer was excited to open the doors of the new club building.
"The new club building is just amazing. The quality and the design is beautiful. So many locals have commented on how it fits into the surrounding landscape, and it looks fantastic from the water," Ms Tocquer said.
"The surf club is a building not only to keep the community safe but also as a place to meet, enjoy and gather. I am sure the Mona Vale community is just as excited as I am."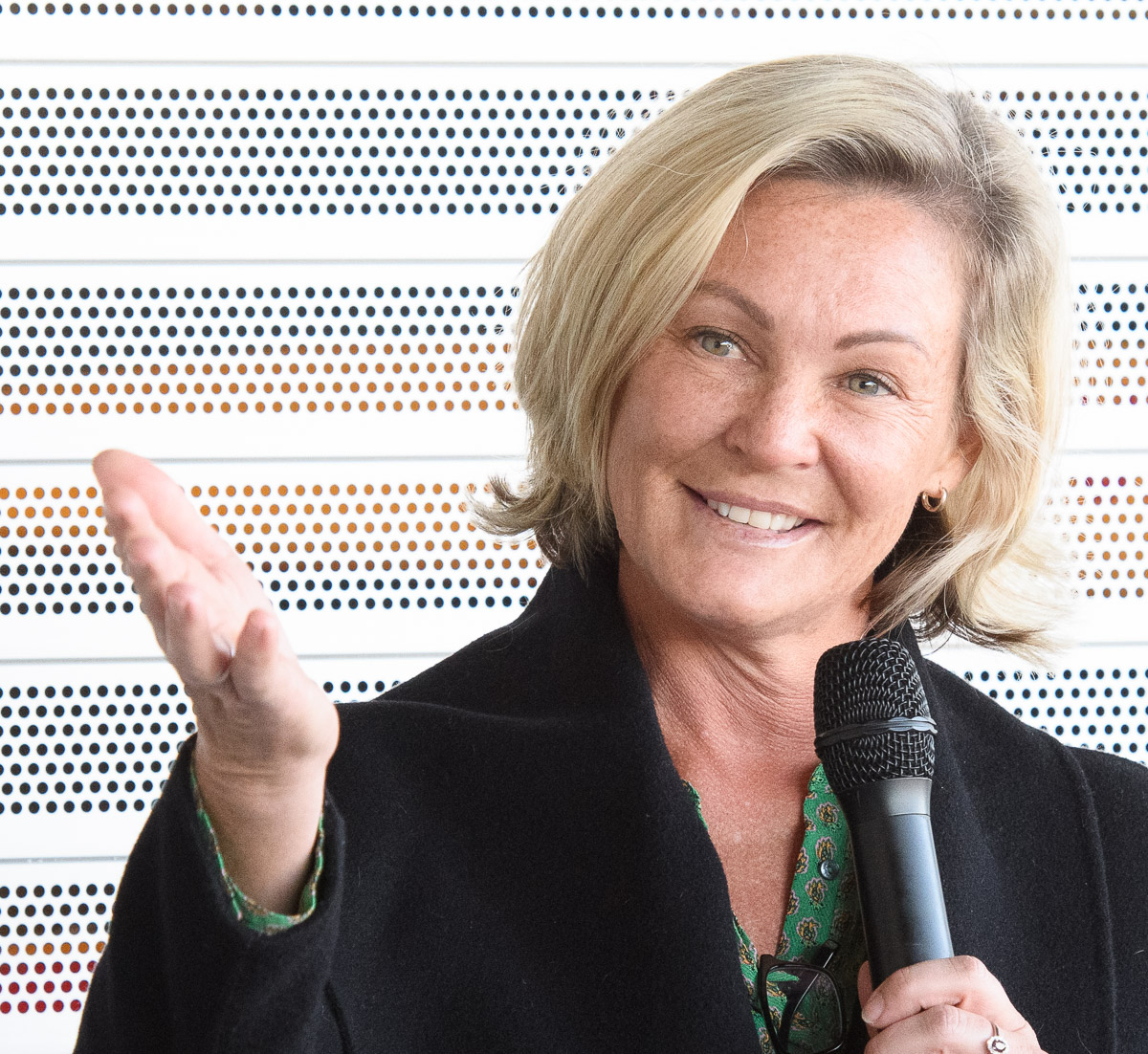 Mona Vale Surf Life Saving Club President Paula Tocquer at the official opening of the MVSLSC new clubhouse

President of Surf Life Saving NSW George Shales said the new facilities will help the club's 1,200 members and lifeguards to keep the community safe.
"Congratulations to everyone involved in this project, it looks fantastic and will provide volunteer lifesavers with fit for purpose facilities to support their vital role in protecting the public," Mr Shales said.
"The new club will be a hub for the local community and hopefully attract more people to get involved in surf life saving in the future."
Member for Pittwater Rob Stokes announced in October 2018 the NSW Government has provided a further $2.5 million to assist with the upgrade of Mona Vale Surf Life Saving Club.
The funds were in addition to $1.4 million allocated to the project in 2017, bringing the NSW Government's total contribution to $3.9 million.
The Hon. Rob Stokes said the new clubhouse is a vital upgrade to one of our most important community facilities.
"Mona Vale is one of Sydney's most popular beaches during summer and its lifesavers perform an invaluable service.
"Surf clubs aren't just places that accommodate surf rescue equipment and training facilities – they're also key community hubs used by dozens of local groups and organisations.
"This project has been on the to-do-list for many years – so it's great the NSW Government has partnered with Northern Beaches Council and the club to this vital project completed." Mr Stokes said.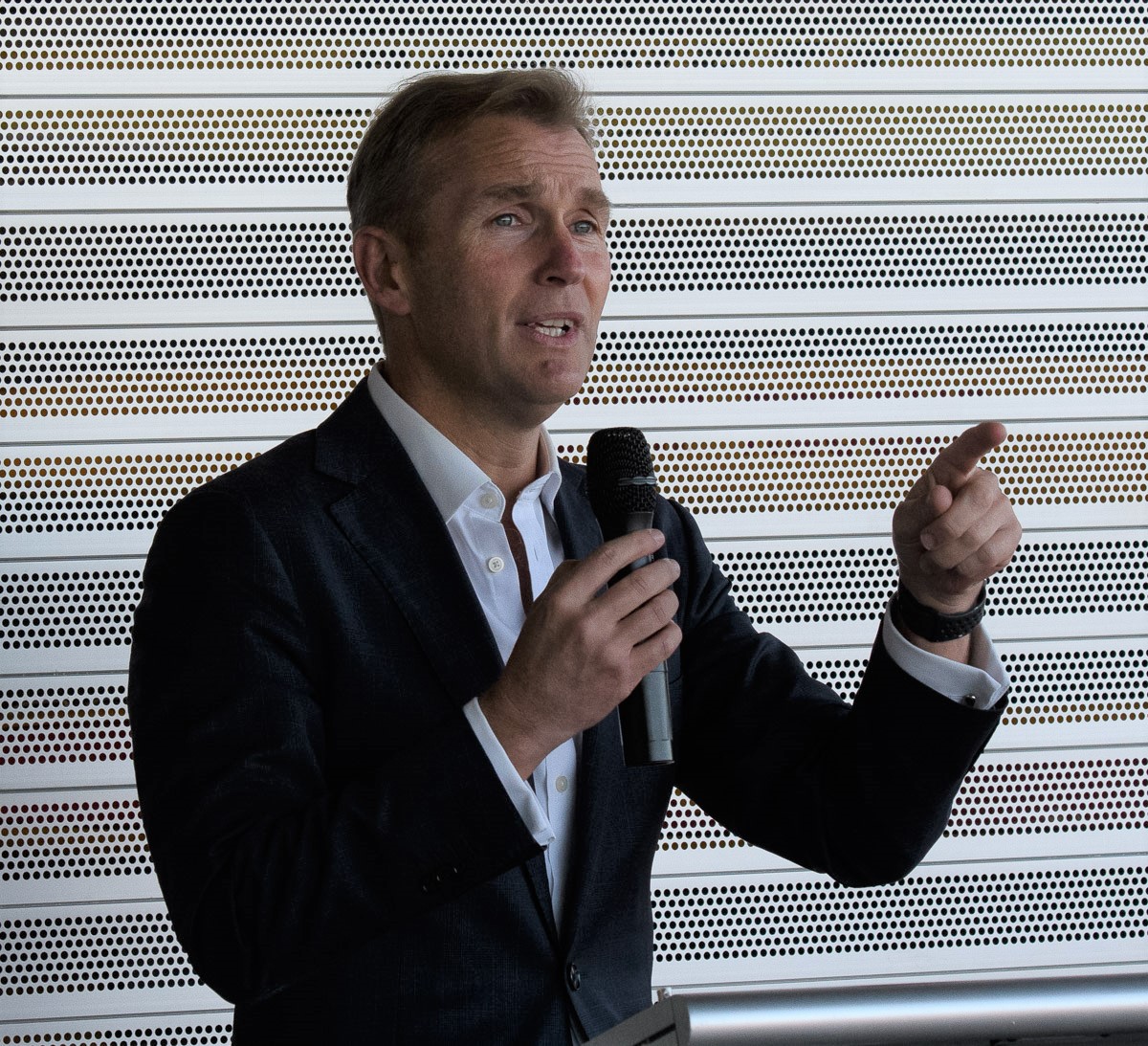 The Hon. Rob Stokes at the official opening of the MVSLSC new clubhouse

The $10 million project, which includes the new beach amenities block south of the main building, has facilities that are family-friendly and accessible. It caters not only for the surf club and its members, but also the local boardriders club, beachgoers and the whole community.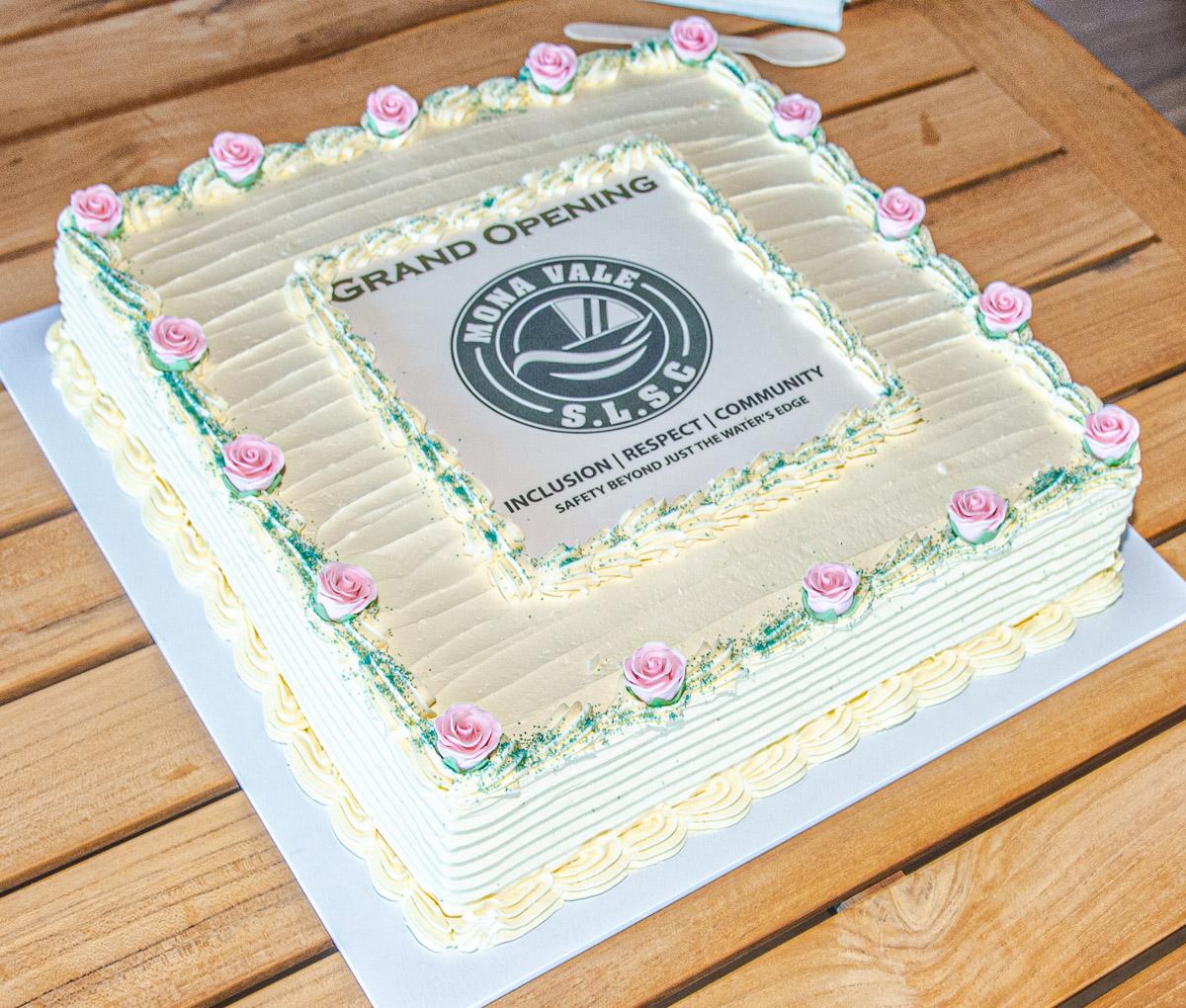 Celebratory cake!
Photo: Michael Mannington OAM
Keeping Our Local Wildlife Safe Means Keeping Cats Safe At Home - Council Part Of New NSW Government/RSPCA Project - World Environment Day 2022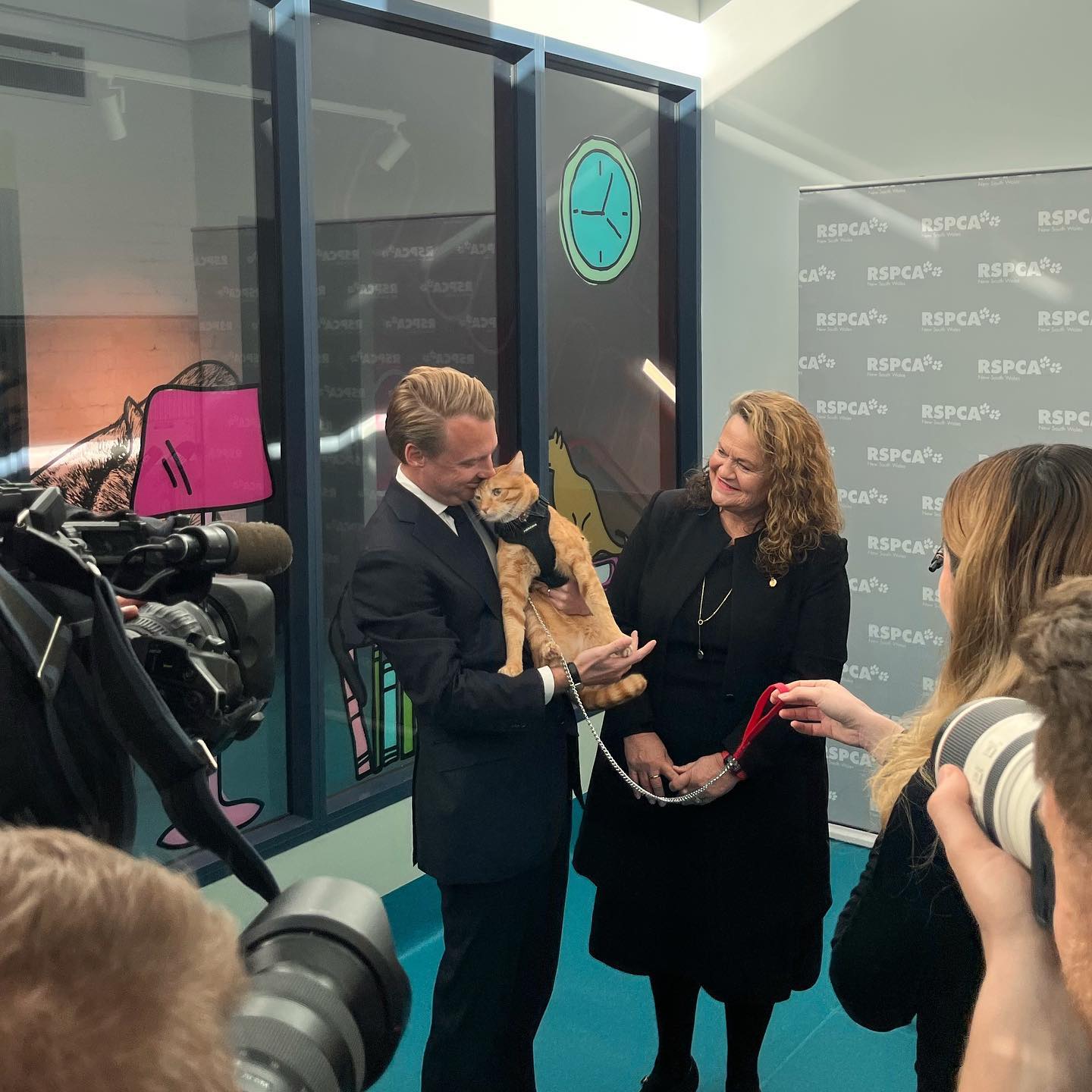 Manly MP and NSW Environment Minister James Griffin and
Minister for Local Government Wendy Tuckerman
at the launch of
the Keeping Cats Safe at Home project. Image: via FB
June 5th each year is World Environment Day.
The
2022 World Environment Day campaign #OnlyOneEarth
calls for collective, transformative action on a global scale to celebrate, protect and restore our planet.
World Environment Day on 5 June is the biggest international day for the environment. Led by the United Nations Environment Programme (UNEP) and held annually since 1973, the event has grown to be the largest global platform for environmental outreach, with millions of people from across the world engaging to protect the planet.
World Environment Day is a global platform for inspiring positive change. With over 150 countries participating, this UN international day engages governments, businesses, civil society, schools, celebrities, cities and communities, raising awareness and celebrating environmental action.
Individuals can be drivers of change through their support for businesses and governments. The actions of these larger entities can have a transformational impact, potentially locking in sustainable consumption and production behaviours for the decades to come.
Each year, World Environment Day is hosted by a different country where the official celebrations take place. The host country for 2022 was Sweden.
2022 is a historic milestone for the global environmental community. It marks 50 years since the 1972 United Nations Conference on the Human Environment, widely seen as the first international meeting on the environment. The 1972 Stockholm Conference spurred the formation of environment ministries and agencies around the world and kickstarted a host of new global agreements to collectively protect the environment. It was also where the goals of poverty alleviation and environmental protection became linked, paving the way for the Sustainable Development Goals. At the Stockholm Conference, the idea of World Environment Day was formalised, with the first one being celebrated in 1973.
This year our own local focus brings up the impact of pets on our wildlife.
One June 2nd the NSW Department of Environment announced native wildlife in NSW will be better protected thanks to an innovative project officially launched by the NSW Government and RSPCA NSW encouraging cat owners to keep their pets safe at home.
Manly MP and NSW Environment Minister James Griffin said nationally, domestic cats kill about 390 million animals every year in Australia, including mammals, reptiles and birds.
'Owners who let their cats roam might not think their moggie is doing much damage, but we know that on average, each roaming pet cat kills an average of 186 reptiles, birds and mammals per year in Australia,' Mr Griffin said.
'The majority of animals killed by pet cats are native Australian species. Cats roaming away from home is disastrous for our native species and the ecosystems that rely on each species' existence.
'Cats are lovely companion animals, which is why we're working with RSPCA NSW to encourage pet owners to keep their cats at home.'
The NSW Government has awarded a $2.5 million grant from the NSW Environmental Trust to RSPCA NSW to deliver the Keeping Cats Safe at Home project.
Minister for Local Government Wendy Tuckerman said the project involves partnering with 11 councils to educate and help people contain their cats.
'Each Council will get a tailored program to address specific needs and challenges they encounter in their local government areas,' Ms Tuckerman said.
'Crucially, the project will also improve access to free desexing and microchipping for cat owners in target areas to address cat overpopulation, shown to be highly effective in curbing the stray population.'
RSPCA NSW CEO Steve Coleman said the project's initial research showed the owners of Australia's approximately 3.8 million cats are starting to understand the importance of keeping their cats at home.
'Although our surveys have found that at least 50% of people contain their cats, either indoors or through outdoor enclosures, it's vital that we continue to increase this figure and improve the lives of our pets and our wildlife,' Mr Coleman said.
'Pet cats kept safely contained live up to 10 years longer than cats allowed to roam, making it an important change to adopt for their overall health and safety.
'The Keeping Cats Safe at Home project aims to engage directly with cat owners, school children, veterinarians and the public to help shift community behaviours and attitudes about what it means to be a responsible cat owner.'
The 11 councils in the project are:
Blue Mountains City Council
Byron Shire Council
Campbelltown City Council
City of Parramatta
Hornsby Shire Council
Northern Beaches Council
Shoalhaven City Council
*Tweed Shire Council
*Kyogle Council
Walgett Shire Council
Weddin Shire Council
* Tweed Shire Council and Kyogle Council will have a joint tailored program.
Council has been very active in seeking ways to lessen the impact of cats on our wildlife. The
Council has taken several measures to protect and conserve local wildlife by declaring significant bushland reserves as wildlife protection areas and has a full list of these on their website All cats and dogs are prohibited from entering these reserves.
Additionally, the Council undertakes regular monitoring and trapping programs to detect and remove cats from Wildlife Protection Areas. If your cat or dog is found within a Wildlife Protection Area you may be fined.
Our local bushland and reserves are home to hundreds of unique native animal species such as fairy wrens, honeyeaters, tree frogs, sugar gliders, water dragons, skinks and owls. A number of these species are threatened with extinction and need our help to ensure their survival.
The reserves declared as Wildlife Protection Areas have been identified as supporting some of the most important biodiversity values in the region. Native wildlife such as birds, lizards, frogs and possums are vulnerable to carnivorous pet animals such as cats and dogs who are allowed to roam and hunt. The number of native animals injured or killed in your area can be reduced by keeping your cat on your property and inside at night and walking your dog on a leash on formal tracks only and only where they are permitted to be.
To help pet owners look after these other local residents Council has published an informative brochure,
Protect Your Cat
.
In this residents will find a host of information of how you can protect local wildlife and protect your cat.
Kiama Downs Ducks Into Top Spot At IRB Series Round 2 - Avalon Beach SLSC Honours Peter 'Digger' Akehurst - Newport SLSC Rises To 4th Spot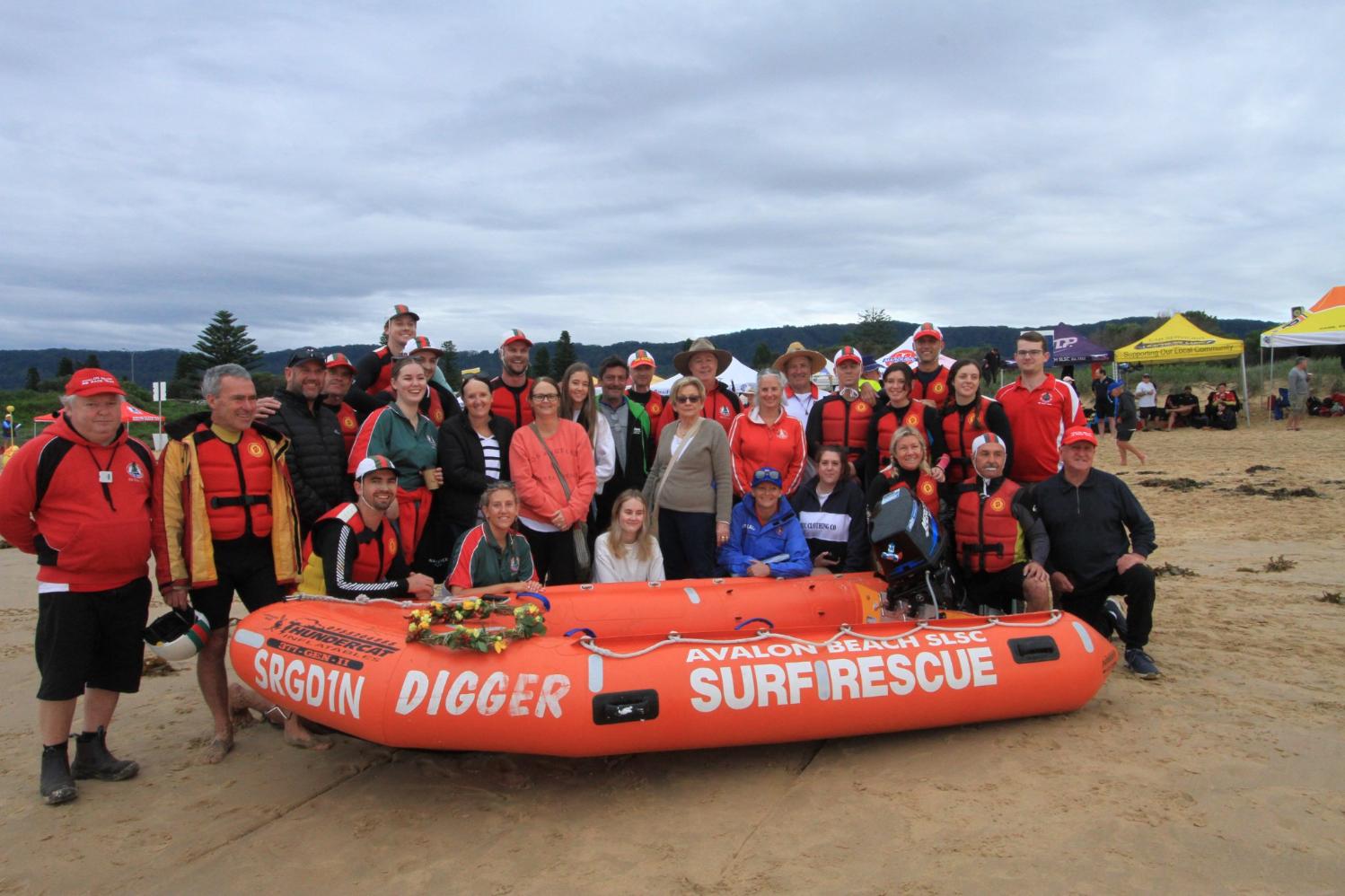 The Akehurst family surrounded by ABSLSC IRB Team. Images courtesy of Malcolm Trees and Alan Freeman
Kiama Downs SLSC has turned a string of strong showings on the water into enough points to reclaim first place from Caves Beach after Round 2 of the 2022 Sharkskin NSW IRB Premiership at Bulli.
As reported in our last Issue - Peter "Digger" Akehurst Tribute At IRB Competition On South Coasts' Sandon Beach - as part of this round members of the IRB community and Avalon Beach SLSC attendees have paid Tribute to Peter 'Digger' Akehurst.
Peter "Digger" Akehurst, Life Member of Avalon Beach SLSC, passed away peacefully on May 18th, 2022.
Pete was well known and well respected throughout the Australian Surf Lifesaving Inflatable Rescue Boat (IRB) community.
He competed in IRBs, and trained many IRB Drivers (including the undersigned) and crews for surf rescues and racing with skill, knowledge and good humour.
He organised and ran ABSLSCs premier annual Warren Mitchell IRB Carnival, which attracted competitors from all over Australia for many years because of Avalon Beach's - the Home of the IRB - reputation for always turning on a big surf for the event. He was also qualified as an examiner and carnival official.
Digger Akehurst was well known in IRB racing. Before racing commenced, the Avalon Beach SLSC's IRB "Digger", named in his honour, did a drive by tribute, in front of all clubs' competitors lined up on the sand. This was followed by a minute's silence.

A Celebration of Diggers' Life was held at Palm Beach RSL on Tuesday May 31st, 2022.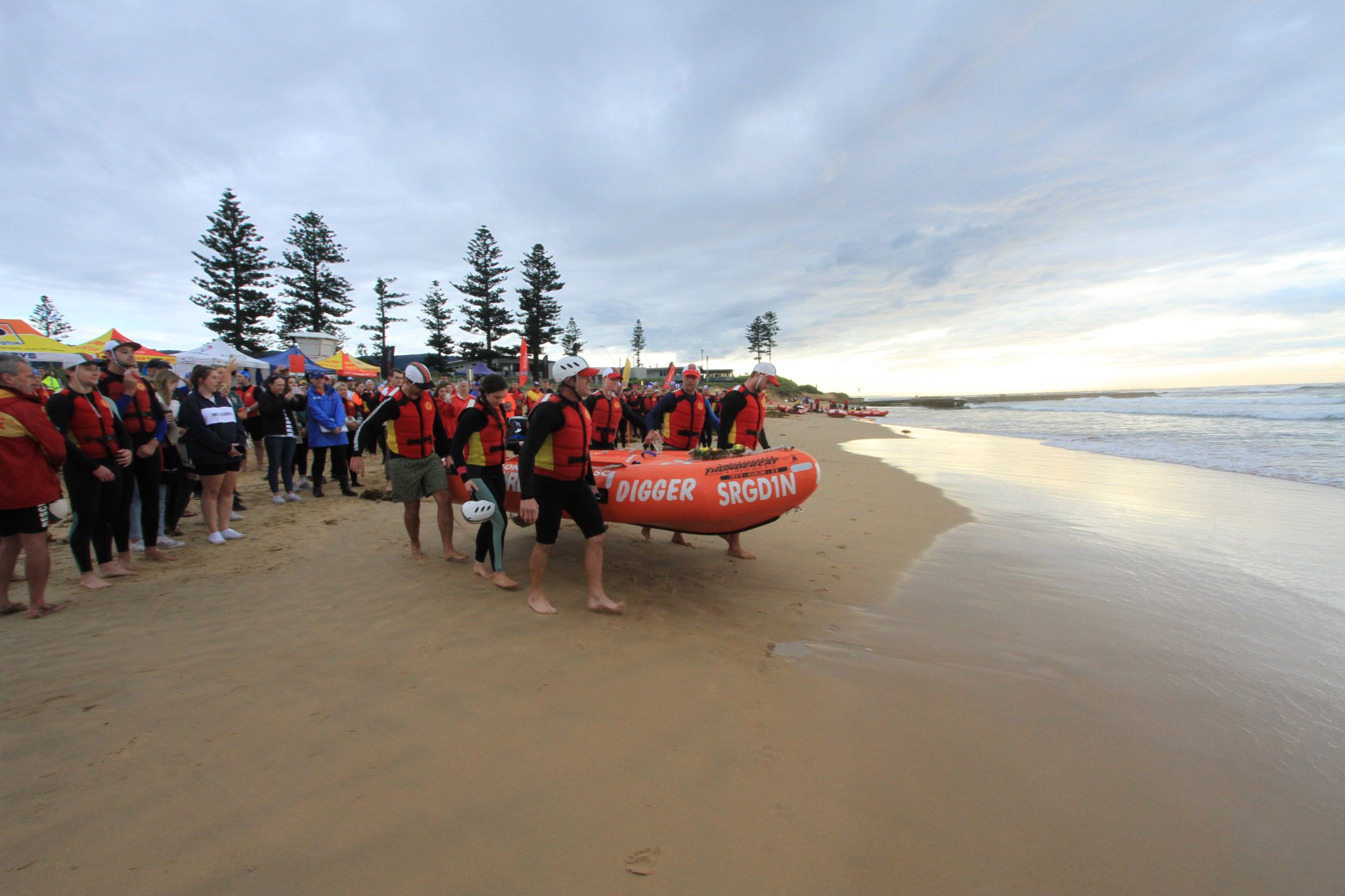 ABSLSC's IRB 'Digger' heads out. Images courtesy of Malcolm Trees and Alan Freeman
Avalon Beach SLSC's Somewhat Leaky Vessels team took out 1st place in the 45+ Yrs Mixed Teams Rescue, while their Too Quick to Thick team placed 2nd in the Rookie Surf Rescue.
Coming into the second round of the series with a 15-point lead earned in tricky conditions at Terrigal a fortnight ago, Caves Beach finished the round seven points behind their heavyweight South Coast opponents – mustering 98 points against Kiama Downs' 118 for overall points totals of 224 and 231 respectively.
Rounding out the top three this weekend was Terrigal, who built on the points they gained in their home race to claim third on the overall standings as well – overtaking Newport who, after finishing third in round one, fell outside the top four this weekend with a fast-finishing Thirroul taking fourth place.
Thirroul did not compete in the first round, so their impressive tally at Bulli is only enough for an eighth place overall.
Newport SLSC is also going strong in this series, currently in 4th spot, just 10 points behind Terrigal. During Round 1 they had 18 teams make it to semi-finals. In Round 2 their Gold team placed 1st in the U23 Mixed Rescue Tube, 4th in the Open Male Rescue Tube, 6th in the Open Male Teams Rescue, 4th in the Open Female Teams Rescue, a 3rd for Newport's Joy Ride team in the U23 Mixed Surf Rescue, and 3rd in the 45+ Yrs Mixed Teams Rescue.
Queenscliff also put in a strong bid for points, placing 1st in with their Old Mate team in the 35+ Yrs Mixed Surf Rescue and gaining more points for a 5th placing for their Coffees team in the Open Male Teams Rescue.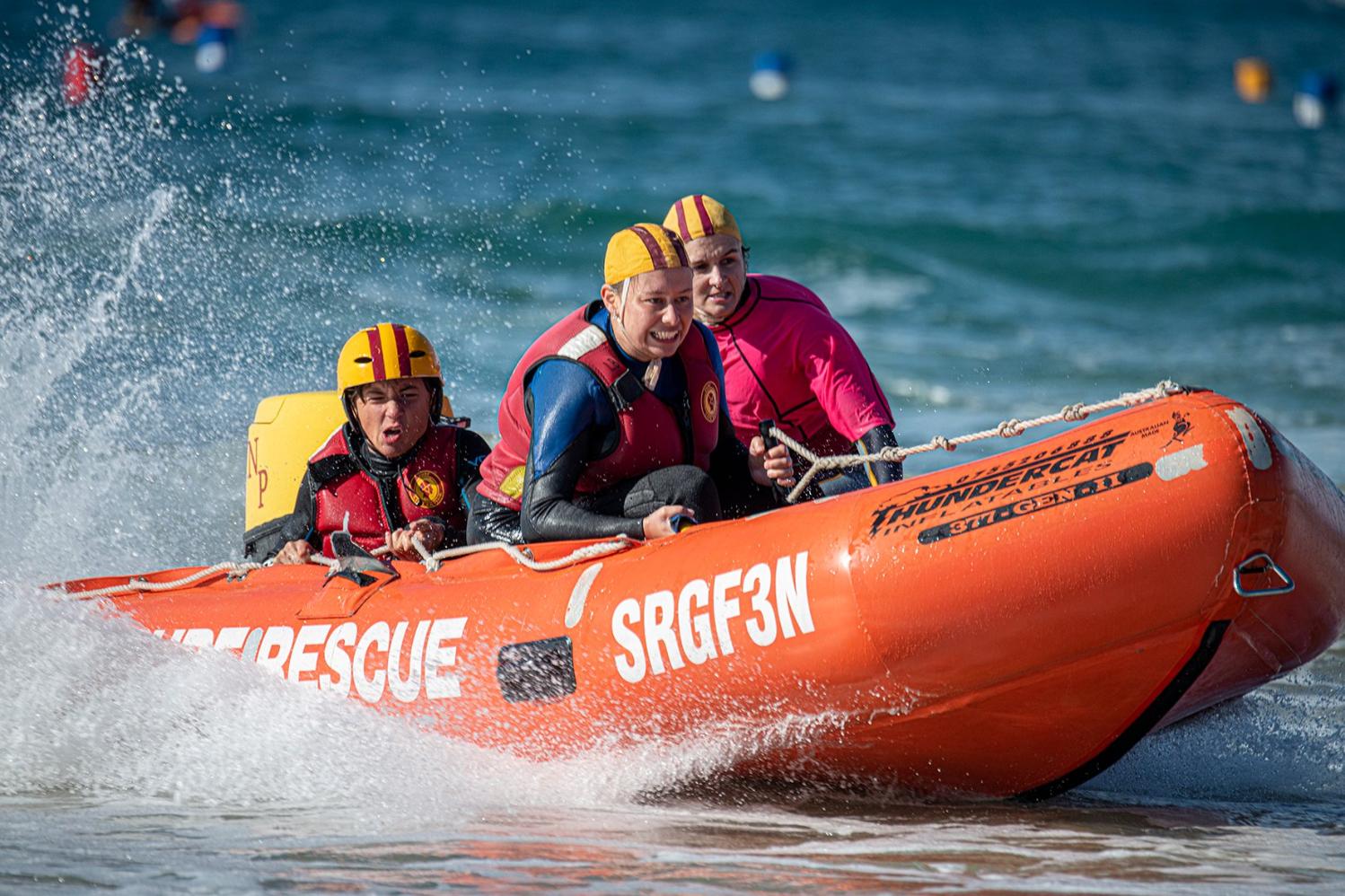 Newport SLSC IRB Teams are getting stronger. Images courtesy of Malcolm Trees and Alan Freeman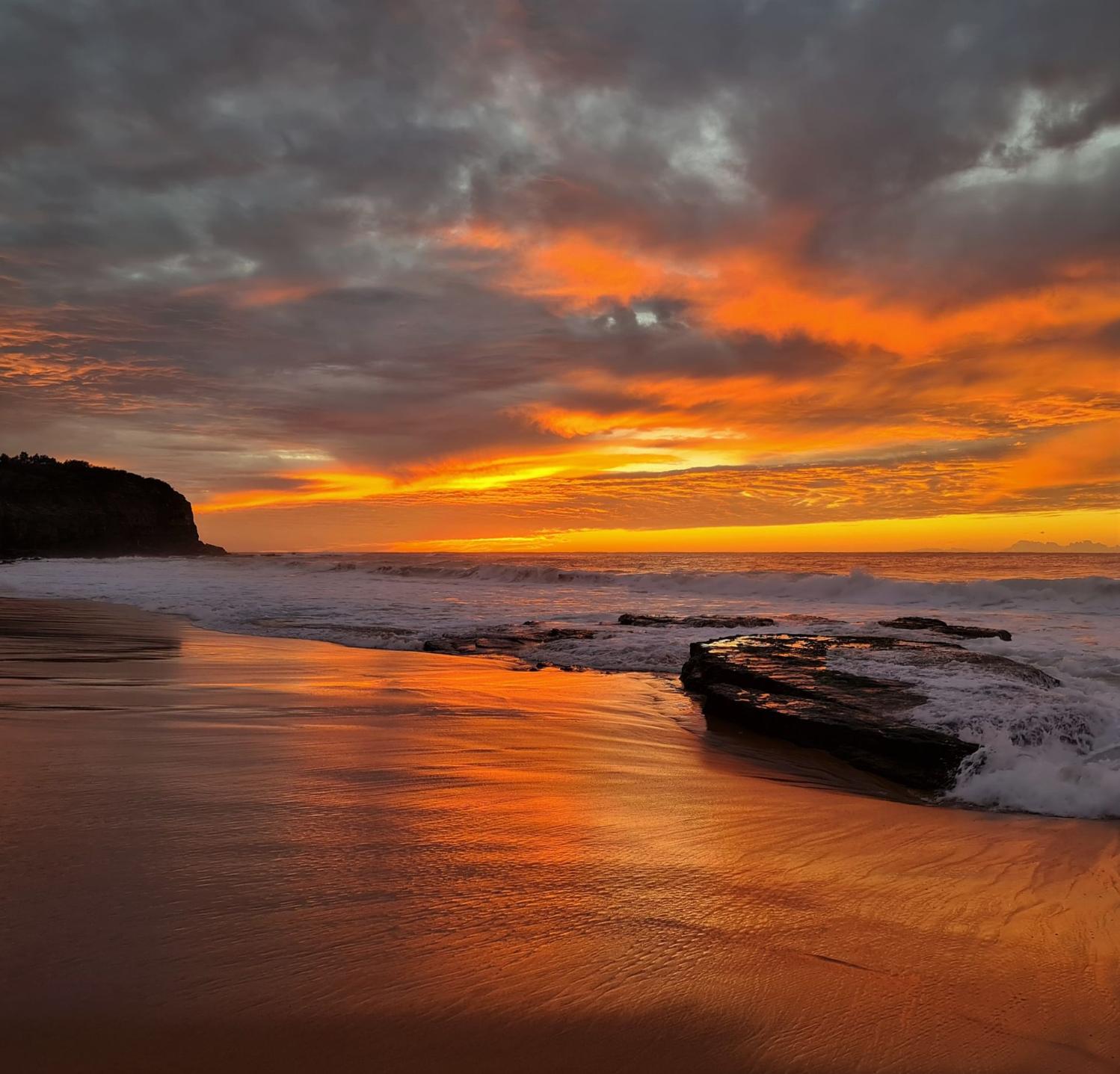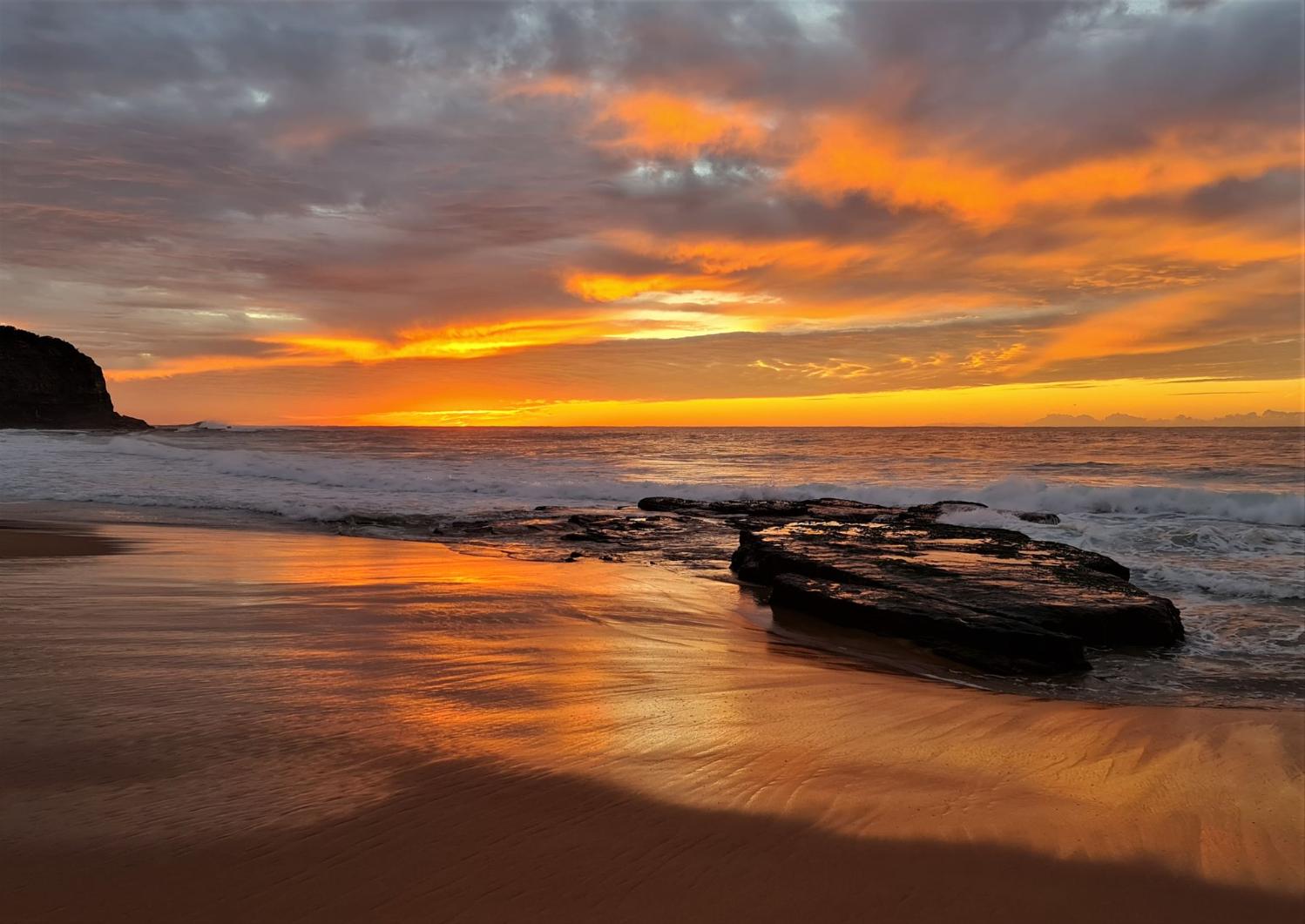 Turimetta Beach Sunrise, Friday June 3rd, 2022. Photos: Joe Mills
Past Features Archives (pre 2014)
Pittwater Online News was selected for preservation by the State Library of New South Wales and National Library of Australia. This title is scheduled to be re-archived regularly.
Archived Issues (2014 on) may be accessed here: pandora.nla.gov.au/tep/143700