June 5 - 11, 2022: Issue 541
Keeping our Local wildlife safe means Keeping Cats Safe at Home - Council part of New NSW Government/RSPCA project - World Environment Day 2022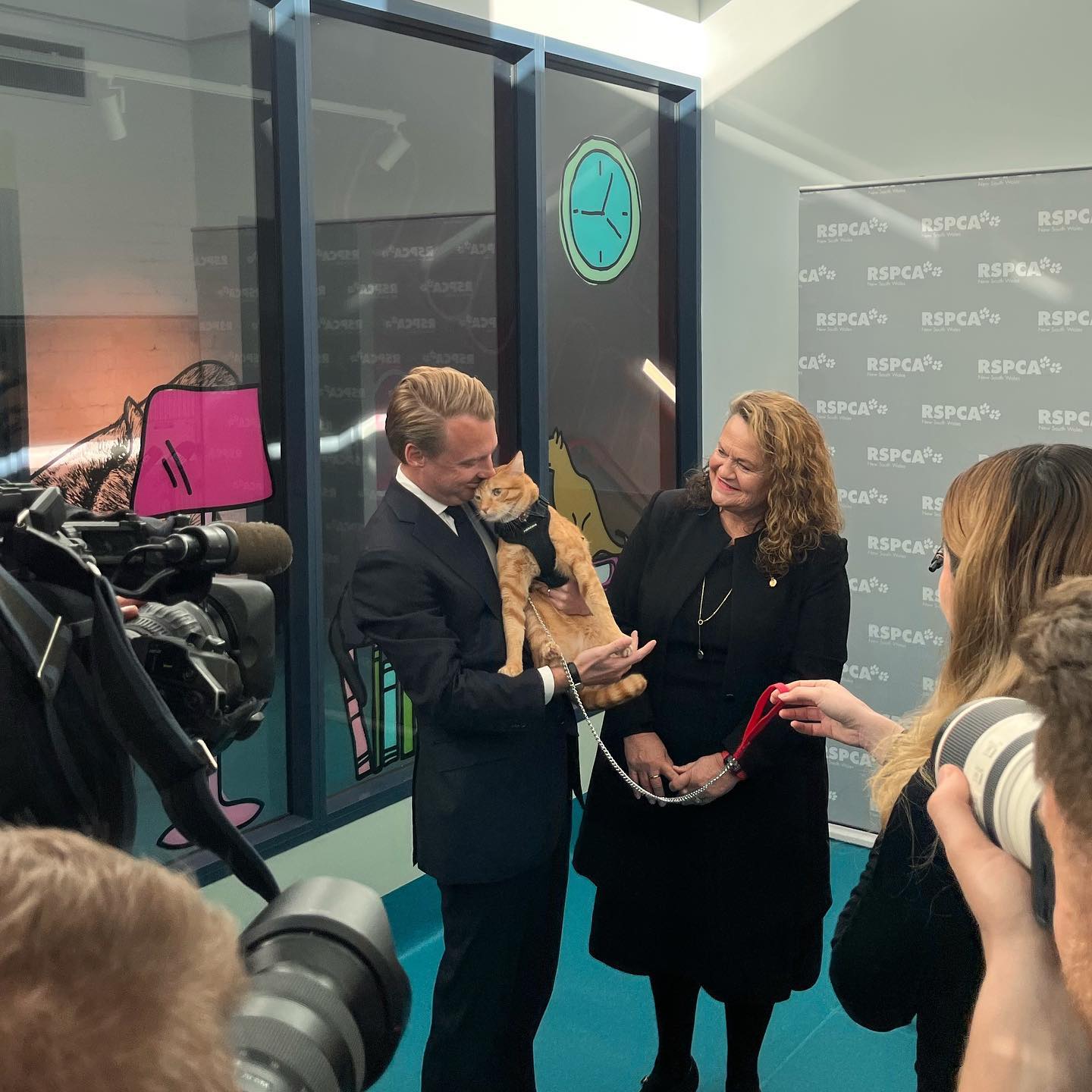 Manly MP and NSW Environment Minister James Griffin and
Minister for Local Government Wendy Tuckerman
at the launch of
the Keeping Cats Safe at Home project. Image: via FB
June 5th each year is World Environment Day.
The
2022 World Environment Day campaign #OnlyOneEarth
calls for collective, transformative action on a global scale to celebrate, protect and restore our planet.
World Environment Day on 5 June is the biggest international day for the environment. Led by the United Nations Environment Programme (UNEP) and held annually since 1973, the event has grown to be the largest global platform for environmental outreach, with millions of people from across the world engaging to protect the planet.
World Environment Day is a global platform for inspiring positive change. With over 150 countries participating, this UN international day engages governments, businesses, civil society, schools, celebrities, cities and communities, raising awareness and celebrating environmental action.
Individuals can be drivers of change through their support for businesses and governments. The actions of these larger entities can have a transformational impact, potentially locking in sustainable consumption and production behaviours for the decades to come.
Each year, World Environment Day is hosted by a different country where the official celebrations take place. The host country for 2022 was Sweden.
2022 is a historic milestone for the global environmental community. It marks 50 years since the 1972 United Nations Conference on the Human Environment, widely seen as the first international meeting on the environment. The 1972 Stockholm Conference spurred the formation of environment ministries and agencies around the world and kickstarted a host of new global agreements to collectively protect the environment. It was also where the goals of poverty alleviation and environmental protection became linked, paving the way for the Sustainable Development Goals. At the Stockholm Conference, the idea of World Environment Day was formalised, with the first one being celebrated in 1973.
This year our own local focus brings up the impact of pets on our wildlife.
One June 2nd the NSW Department of Environment announced native wildlife in NSW will be better protected thanks to an innovative project officially launched by the NSW Government and RSPCA NSW encouraging cat owners to keep their pets safe at home.
Manly MP and NSW Environment Minister James Griffin said nationally, domestic cats kill about 390 million animals every year in Australia, including mammals, reptiles and birds.
'Owners who let their cats roam might not think their moggie is doing much damage, but we know that on average, each roaming pet cat kills an average of 186 reptiles, birds and mammals per year in Australia,' Mr Griffin said.
'The majority of animals killed by pet cats are native Australian species. Cats roaming away from home is disastrous for our native species and the ecosystems that rely on each species' existence.
'Cats are lovely companion animals, which is why we're working with RSPCA NSW to encourage pet owners to keep their cats at home.'
The NSW Government has awarded a $2.5 million grant from the NSW Environmental Trust to RSPCA NSW to deliver the Keeping Cats Safe at Home project.
Minister for Local Government Wendy Tuckerman said the project involves partnering with 11 councils to educate and help people contain their cats.
'Each Council will get a tailored program to address specific needs and challenges they encounter in their local government areas,' Ms Tuckerman said.
'Crucially, the project will also improve access to free desexing and microchipping for cat owners in target areas to address cat overpopulation, shown to be highly effective in curbing the stray population.'
RSPCA NSW CEO Steve Coleman said the project's initial research showed the owners of Australia's approximately 3.8 million cats are starting to understand the importance of keeping their cats at home.
'Although our surveys have found that at least 50% of people contain their cats, either indoors or through outdoor enclosures, it's vital that we continue to increase this figure and improve the lives of our pets and our wildlife,' Mr Coleman said.
'Pet cats kept safely contained live up to 10 years longer than cats allowed to roam, making it an important change to adopt for their overall health and safety.
'The Keeping Cats Safe at Home project aims to engage directly with cat owners, school children, veterinarians and the public to help shift community behaviours and attitudes about what it means to be a responsible cat owner.'
The 11 councils in the project are:
Blue Mountains City Council
Byron Shire Council
Campbelltown City Council
City of Parramatta
Hornsby Shire Council
Northern Beaches Council
Shoalhaven City Council
*Tweed Shire Council
*Kyogle Council
Walgett Shire Council
Weddin Shire Council
* Tweed Shire Council and Kyogle Council will have a joint tailored program.
Council has been very active in seeking ways to lessen the impact of cats on our wildlife. The
Council has taken several measures to protect and conserve local wildlife by declaring significant bushland reserves as wildlife protection areas and has a full list of these on their website All cats and dogs are prohibited from entering these reserves.
Additionally, the Council undertakes regular monitoring and trapping programs to detect and remove cats from Wildlife Protection Areas. If your cat or dog is found within a Wildlife Protection Area you may be fined.
Our local bushland and reserves are home to hundreds of unique native animal species such as fairy wrens, honeyeaters, tree frogs, sugar gliders, water dragons, skinks and owls. A number of these species are threatened with extinction and need our help to ensure their survival.
The reserves declared as Wildlife Protection Areas have been identified as supporting some of the most important biodiversity values in the region. Native wildlife such as birds, lizards, frogs and possums are vulnerable to carnivorous pet animals such as cats and dogs who are allowed to roam and hunt. The number of native animals injured or killed in your area can be reduced by keeping your cat on your property and inside at night and walking your dog on a leash on formal tracks only and only where they are permitted to be.
To help pet owners look after these other local residents Council has published an informative brochure,
Protect Your Cat
.
In this residents will find a host of information of how you can protect local wildlife and protect your cat.
One excerpt, very specific to this year's World Environment Day theme reads:
All cats are natural and efficient hunters and do not have to be hungry to hunt. As a result they can kill a significant number of native animals each year and quickly decimate local fauna populations.




Research has shown cats seek out particular areas for hunting, such as bushland, making repeated visits to successful hunting grounds.




Cats are opportunistic hunters and extremely patient - they can sit and wait for hours at the entrance to a burrow or near a bird's nest.




Mother cats often bring live prey home to allow their kittens to practice hunting making young animals particularly vulnerable, such as baby birds or possums.




Cats can also spread disease to native animals through bites and scratches. For example, toxoplasmosis, which can cause blindness and damage to the nervous and respiratory systems, can be passed through a cat's saliva to animals and even people. Wound infection is common in native animals after a cat attack and few survive longer than 36 hours.




Some native animals which are preyed upon by cats are now so rare they are protected under the NSW Biodiversity Conservation Act 2016.
If you do find wildlife that has been attacked by a dog or cat please call either of our local volunteer wildlife carer associations, who operate 24/7 to help our local wildlife:
Sydney Wildlife Rescue - Phone: (02) 9413 4300
WIRES Wildlife Rescue - Phone: 1300 094 737
Council's webpage on Keeping your cat Safe states:
Be responsible and keep your cat indoors at night, desex your cat and don't dump cats or kittens. If you can't keep your cat, find new owners or take them to the RSPCA. Give your cat enough food and water and book your cat into a cattery when you go away. Finally, make sure your cat has identification.
Just as there is Only One Earth there is only one place all these wonderful wildlife residents can live. It is up to all of us to count every day as World Environment Day and look after them by keeping our pets out of their homes.