November 21 - 27, 2021: Issue 519
22nd Annual Newport Surf Boat Carnival - November 20, 2021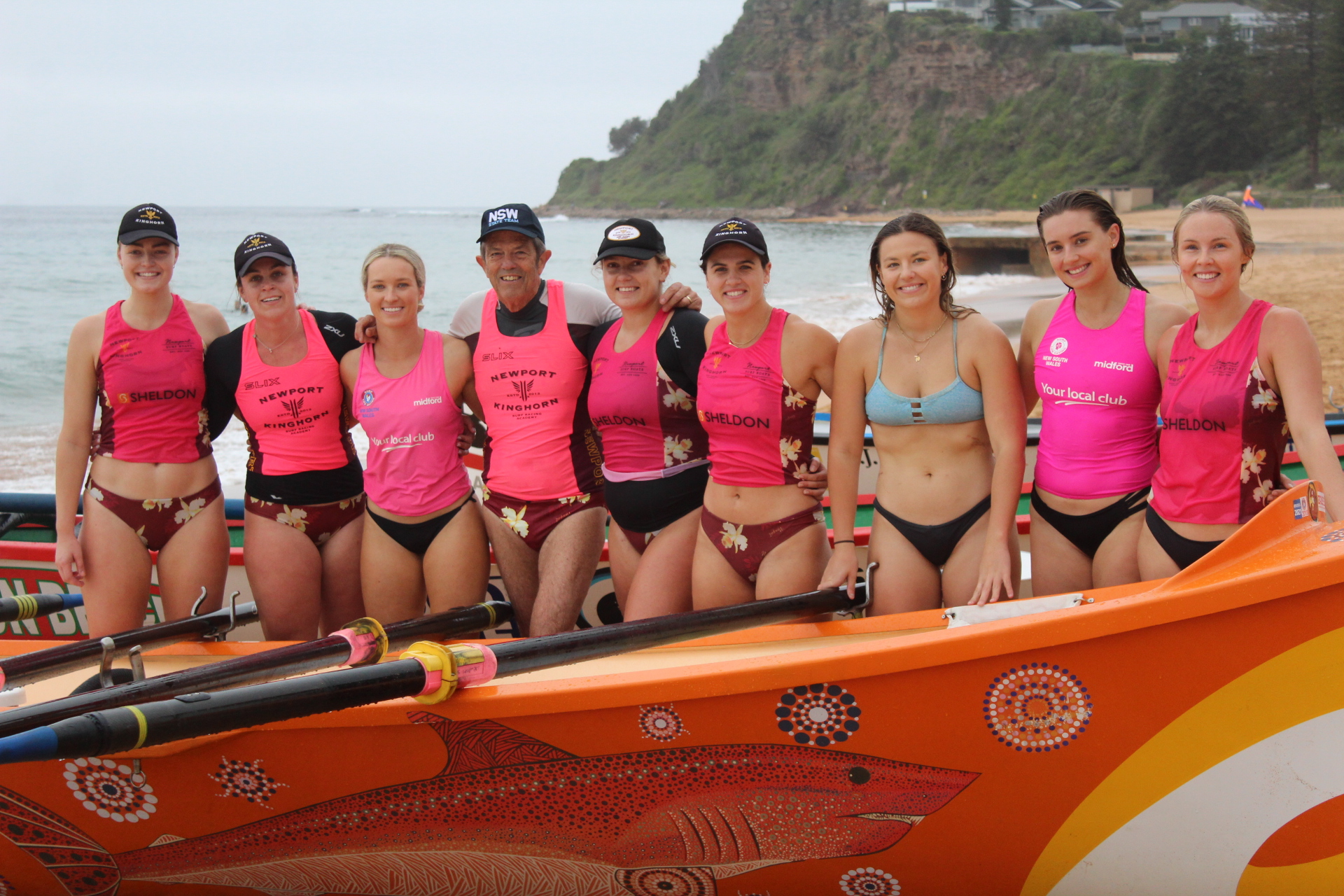 Newport Reserves (Catfish) and Thunder(at Left). Sweep: Michael King
In 1999/2000 Bilgola surf club and Newport surf club commenced their surf boats only carnivals.
Newport has a long history of hosting surf life saving carnivals. When the Surf Life Saving Manly-Warringah Branch was formed, the first Branch Carnival was held on Newport Beach in 1959. This had been preceded by the club and beach hosting the Aussies in 1953 and was followed by the States in 1967.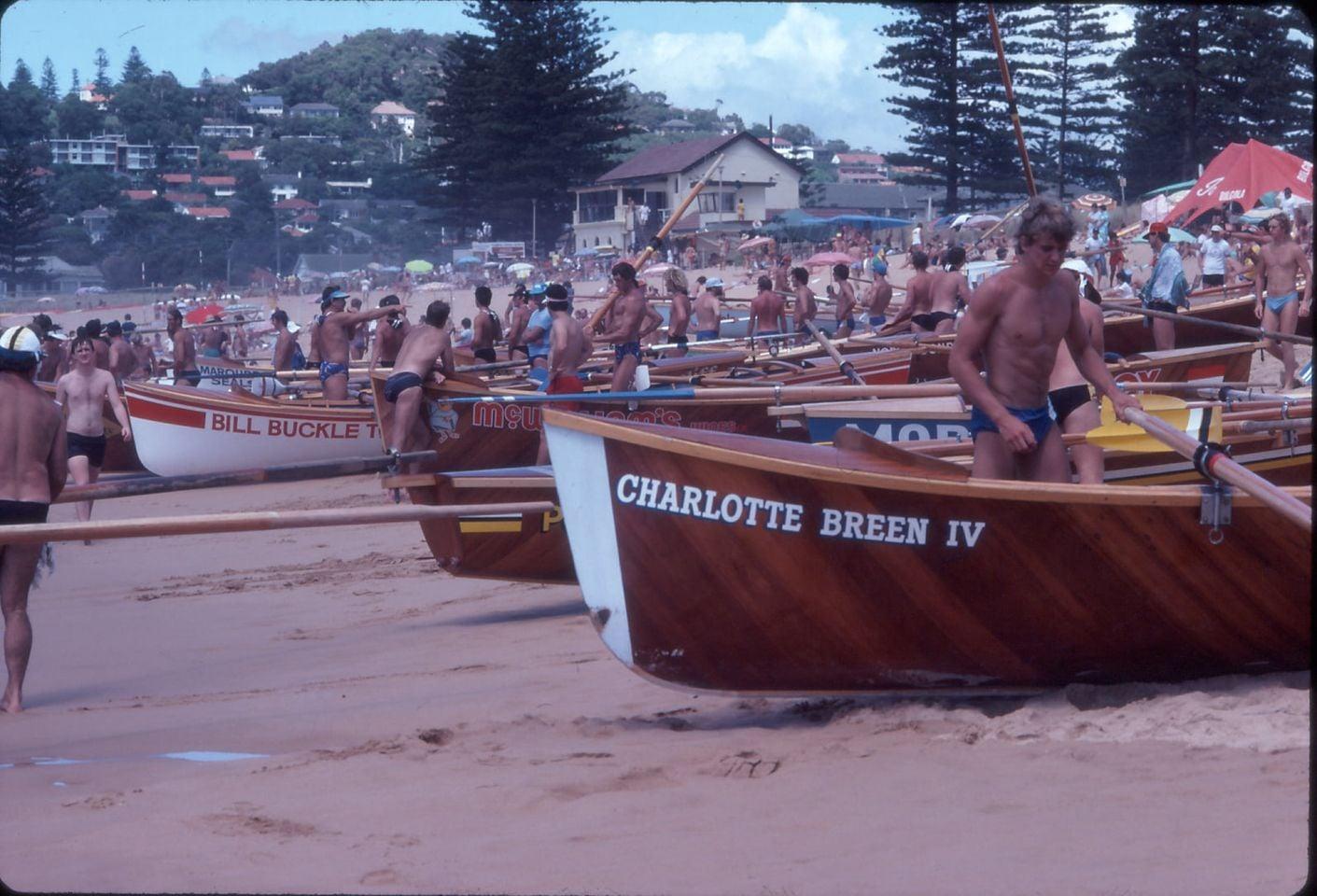 circa 1984 - photo courtesy Michael King, with Eloura boat the Charlotte Breen at front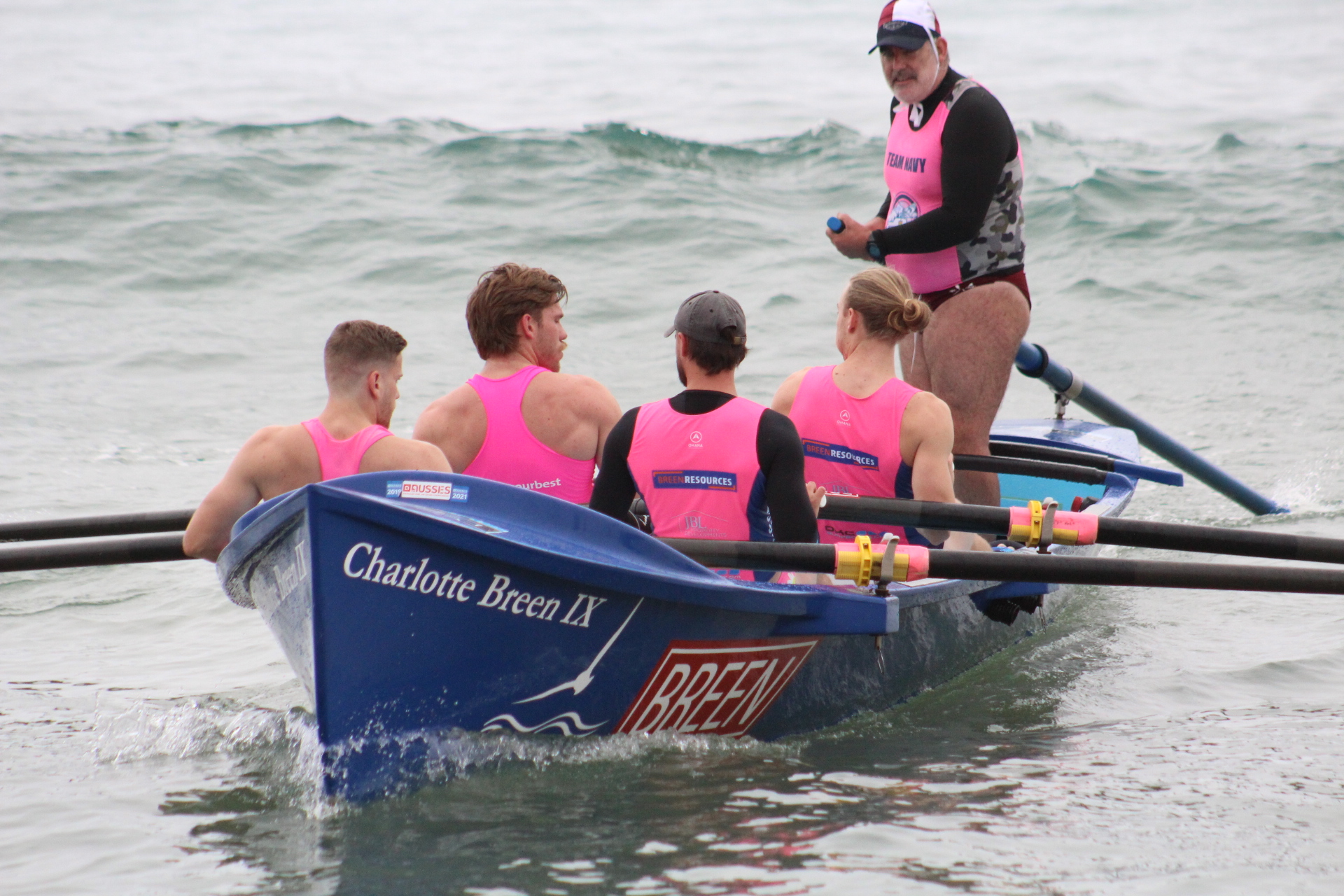 November 20, 2021, Eloura boat the Charlotte Breen with a Freshwater Sweep
Long before these the club had keen patrons to support the volunteers passion for surfboats:
SURF LIFE-SAVING.
NEWPORT CARNIVAL.
Although the various events at the sixth annual carnival of the Newport Surf Life having Club on Saturday were keenly contested, the holiday spirit was pre sent to a more marked degree than at the carnivals held nearer the city. There was a large crowd on the beach, and the surf was sufficiently lively to call for strong swimming and for careful handling of the surf boats. Representatives of 10 clubs took part, and seven clubs participated in the parade and march past the event going to North Steyne, which club is having a remarkable season
The principal event was the senior surf boat race for the Harrington Cup, presented by Mr John Harrington, a vice president of the Newport Club. A condition governing the competition for the cup is that the event must take place on Newport Beach. The cup is to remain the property of the club winning it twice in succession, or three times in all. Last year the Newport Club won the cup, but on Saturday North Steyne wrested the trophy from the local club. The race for the cup was rowed in two heats, in the first of which Newport and North Steyne A teams qualified for the final. In the second heat Deewhy and North Steyne B teams secured first and second places respectively. North Steyne Club having only one boat at Newport, that club's B team did not compete in the final, which was a tussle between Newport, North Steyne A, and Deewhy. The final was a most thrilling race, and has not been equalled on any beach round Sydney for many a day. Newport and North Steyne got away first, and the former led to the buoy, and rounded it half a length ahead of North Steyne. A few yards after turning the two boats became level, and maintained that position until nearing the beach. Then both boats caught the same wave, and although for a moment Newport's boat was a little in the lead North Steyne shot ahead on the wave, and reached the beach a boat's length in front of the local boat. ....SURF LIFE-SAVING. (1927, January 3). The Sydney Morning Herald (NSW : 1842 - 1954), p. 6. Retrieved from http://nla.gov.au/nla.news-article16344606
On Saturday November 20th Newport hosted their 22nd surfboat carnival as part of the current day Surf Life Saving Sydney Northern Beaches boats premiership for this season. As so many of these carnivals were cancelled under Covid-safety precautions last season, the welcome return to the water and training was taken up en masse with local branch rowers and some crews from Coogee and Eloura making the trip north to enjoy the morning's full tide and test themselves out.
Collaroy Seawall Prompts Calls For Residents To Join In Drawing A Line In The Sand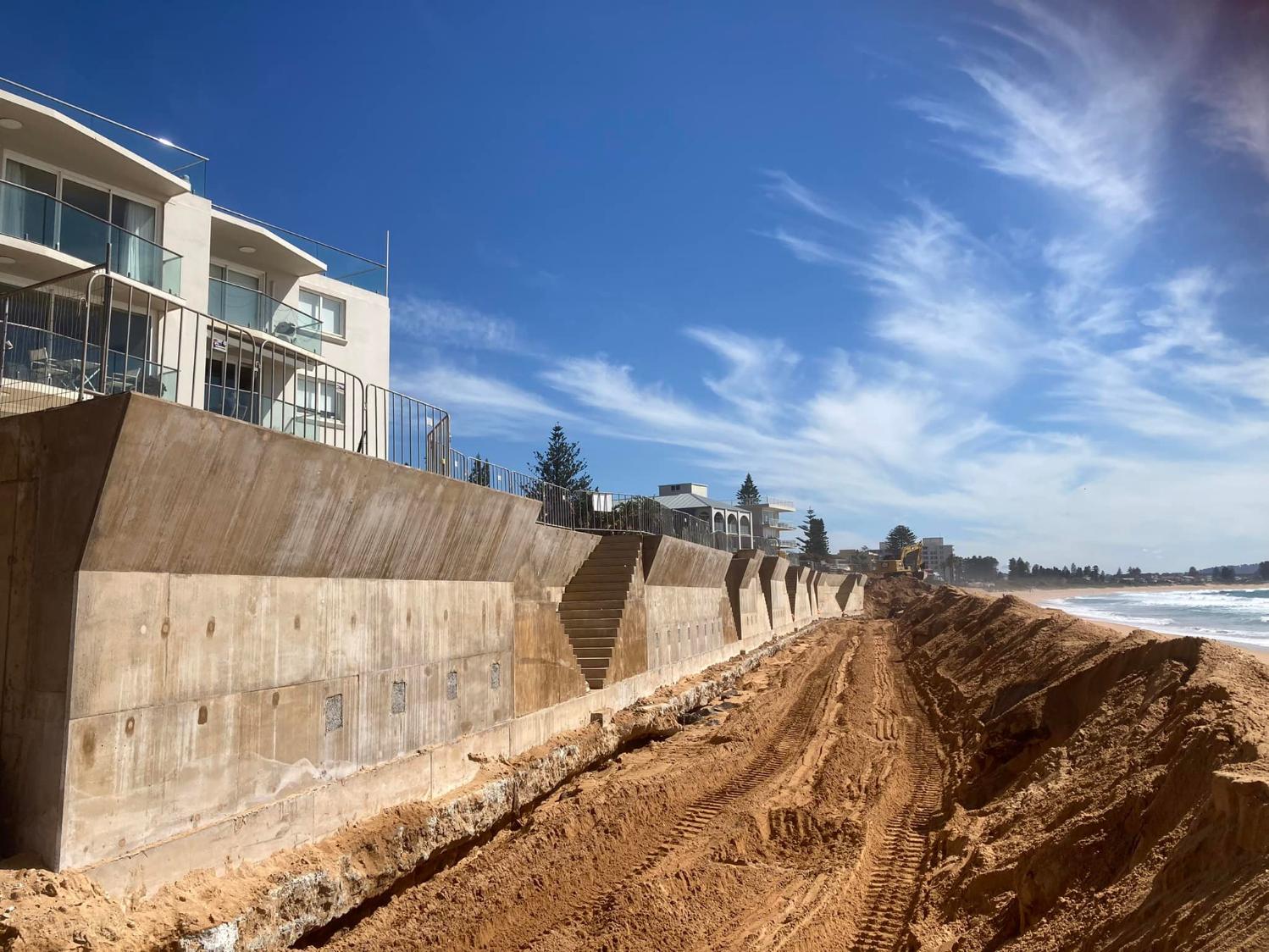 Surfrider Foundation Northern Beaches photo
There is a growing belief in our area that the council now in charge is absolutely trashing the place, without any genuine consultation or taking into account feedback when seeking the same, or following what it has stated it will do.
These concerns commenced with the destruction of and removal of trees at Bilgola beach in November 2019 when it was stated they would be retained, have been witnessed in the sudden appearance of concrete paths where no one wanted them in parks, accompanied by statements these have been installed to provide access for people in wheelchairs or prams when the path then leads to a series of concrete steps, or have facilitated subsuming these once green places into a bike plan, and in doing so have stopped these places from being a park people could stop and play safely into transport thoroughfares, to the ubiquitous roll out of concrete on foreshores that is exacerbating erosion and destroying public areas.
The latest is yet more concrete and sandstone block walls on the beachfront at Avalon, beside the surf club's northernmost wall.
As the calls to reinstall green areas to cool everything down grow, the reflective heat and impact on the surrounding environment of continuously rolling out concrete and sandstone, without any real consultation and despite the community calling for 'no more concrete', especially that currently being installed on Collaroy beach.
On Friday, 6 August 2021 council staff published ''Council Provides Facts On The Collaroy Residents' Seawall'' wherein Item 4 states; 'The current works are entirely on private land'
However, a February 20th, 2019 document by the NSW Department of Planning, Industry and Environment, 'Notice of compulsory acquisition of land in the local government area of Narrabeen' states;
'The area of land 20m wide bound to the east by a line parallel to the eastern boundaries of Lots 6 to 8 Section 13 DP 111254, Lots 1 to 5 DP 10757, Lot 1 DP 121939, Lot A DP 167490 and Lot 1 DP 170202 and bound to the north by the prolongation of the northern boundary of Lot 8 Section 13 DP 111254 to the east and bound to the south by the prolongation of the southern boundary of Lot 1 DP 170202 to the east as indicated by hatching on the diagram below.'
And corresponding webpage states;
'' The DA is for a sloping rock revetment seawall, around 210 metres in length and 15 metres wide. The proposed structure, if approved, would encroach on Crown land by around 15 metres from property boundaries…''
And;
'' The department has granted landowner's consent for the DA to be assessed by Northern Beaches Council, which is required under Environmental Planning Assessment Regulations 2000.

Landowner's consent is not development approval. It is only the first step in the planning assessment.

Should the DA be approved by Northern Beaches Council, the department will then begin negotiations on an appropriate tenure for the occupation of Crown land.''
The Guardian Australia published a photo on October 24th, 2021 by Lewis Isaacs that shows how far east from the boundaries of private land this wall has been built. The report, 'A 7m wall has gone up on a Sydney beach: are we destroying public space to save private property?' reveals that distressed property owners have a 300 thousand dollar bill to meet for their part of this wall.
Page 11, of the September 28, 2021 council meeting records that Cr Harrison and Cr Regan resolved that, in accordance with Section 356 of the Local Government Act (1993), Council provides additional financial assistance of $33,612.88 (inc GST) to the owners of 1172 Pittwater Road, Collaroy on the basis that Council's design change to its coastal protection works at Wetherill Street have increased the cost of private coastal protection works for this property. This was Resolved by Exception.
A peaceful demonstration organised by the Surfrider Foundation Northern Beaches will occur at 4pm on Saturday November 27th 2021 as residents re-enact their 2002 Line in the Sand.

Brendan Donohoe, President of the local chapter, which has been fighting against the construction of a seawall for three decades, stated this week that it beggars belief that this was what the best research could come up with.

"It's just atrocious - and really disappointing," Brendan said ''This will, literally destroy the beach. It is well known, and evidence shows where these walls have been installed elsewhere, that they cause erosion.''

On November 17, 2002 the first Line in the Sand demonstration occurred. Brendan said then the sea wall being proposed by Warringah Council to prevent beach erosion reaching houses and units on dunes along Pittwater Road would dump 85,000 tonnes of sandstone on the beach, at a cost of $12 million.
"Sea walls do nothing to ensure the ongoing conservation of the beach in front of them," he said. "Worldwide experience shows us they actively destroy it."
Surf Season Kicks Off At Bate Bay Gold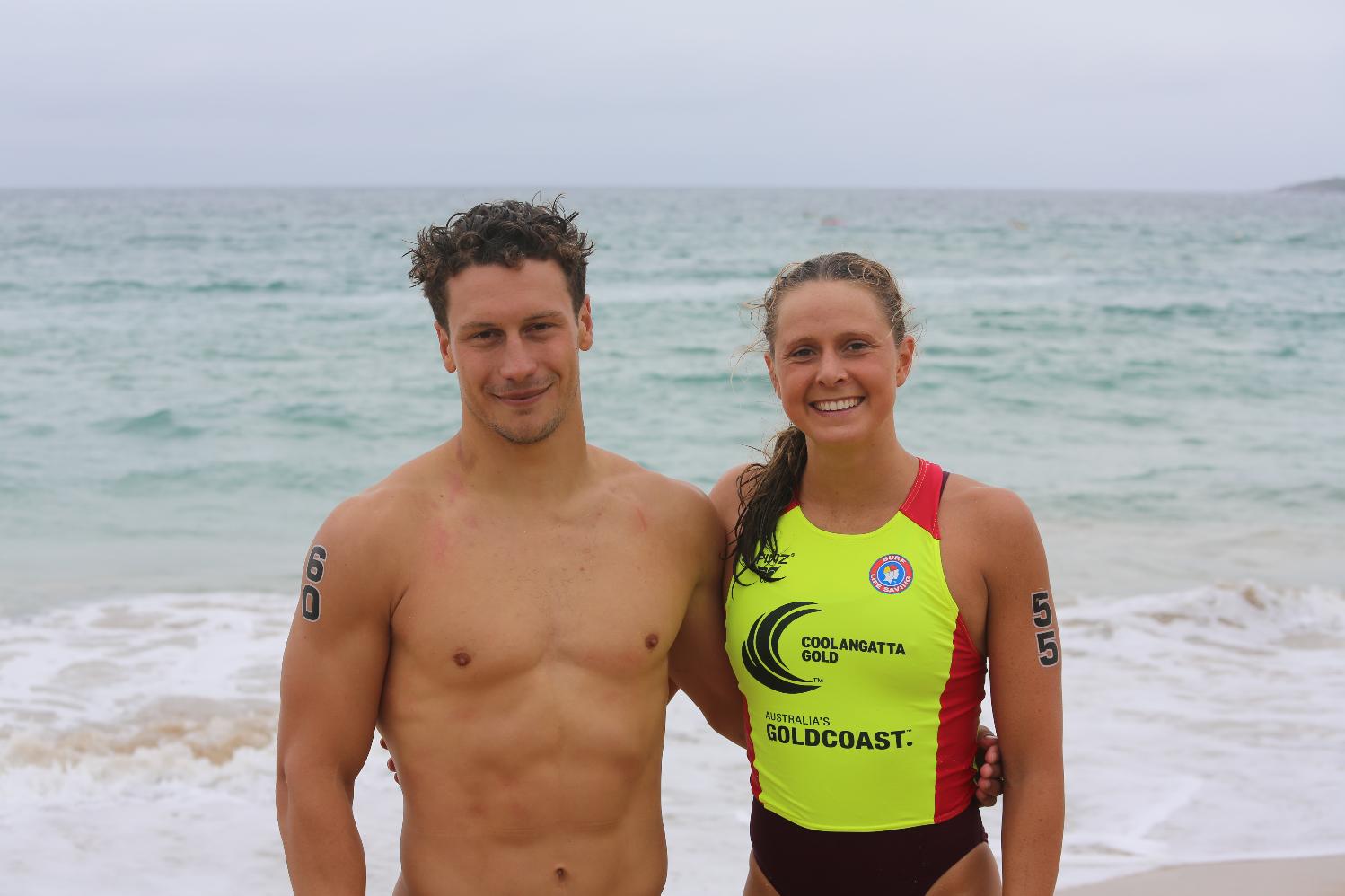 Jackson Borg and Lizzie Welborn. Photo: Surf Life Saving New South Wales
Newport SLSC ironperson competitors Jackson Borg and Lizzie Welborn showed they have lost none of their form in lockdown after taking out the 2021 Bate Bay Gold endurance event at Wanda on Saturday November 20th, 2021.
NSW's answer to the iconic Coolangatta Gold, the second year of the event saw around 200 competitors take to the water and sand, racing almost 20kms in ski, swim, board and run legs.
With NSW competitors unable to get to Queensland to contest the Coolangatta Gold last weekend, race winner Lizzie Welborn agreed the Bate Bay event was the next best thing.
"That was a really hard race and I knew it would be tricky with Jemma [Smith] leading it off in the ski," said Lizzie, who also won the elite female event in 2020.
"I'm just grateful to be back racing after winter and a long, hard lockdown. We're all so passionate about the sport so it was cool to realise that nothing would stop us, not even lockdown. We made sure we jumped in the ocean pools, or trained by ourselves at the beach. We did a lot of work over winter that was endurance stuff so that set us up for this event."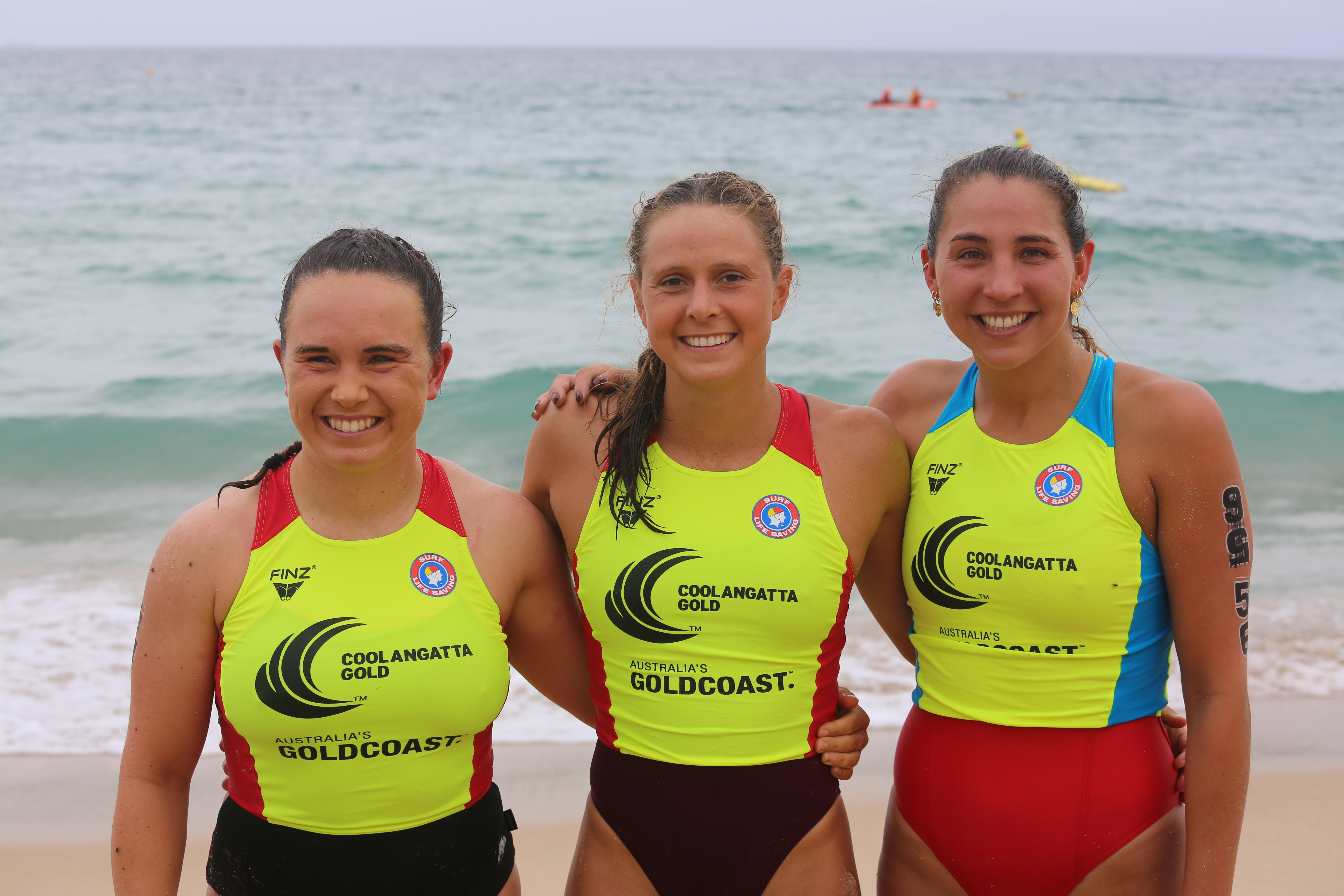 Jemma Smith, Lizzie Welborn, both Newport SLSC and Carla Papac, Wanda SLSC. Photo: Surf Life Saving New South Wales

Winner of the elite Male division, Jackson Borg agreed that keeping motivated during lockdown was made easier by staying connected and encouraging each other to train where they could.
"It's good to get some racing done, we've got a good squad at Newport and it's great to be back racing.
"During lockdown we all banded together, although we couldn't train together as a group, we were still all talking to each other and training in pairs."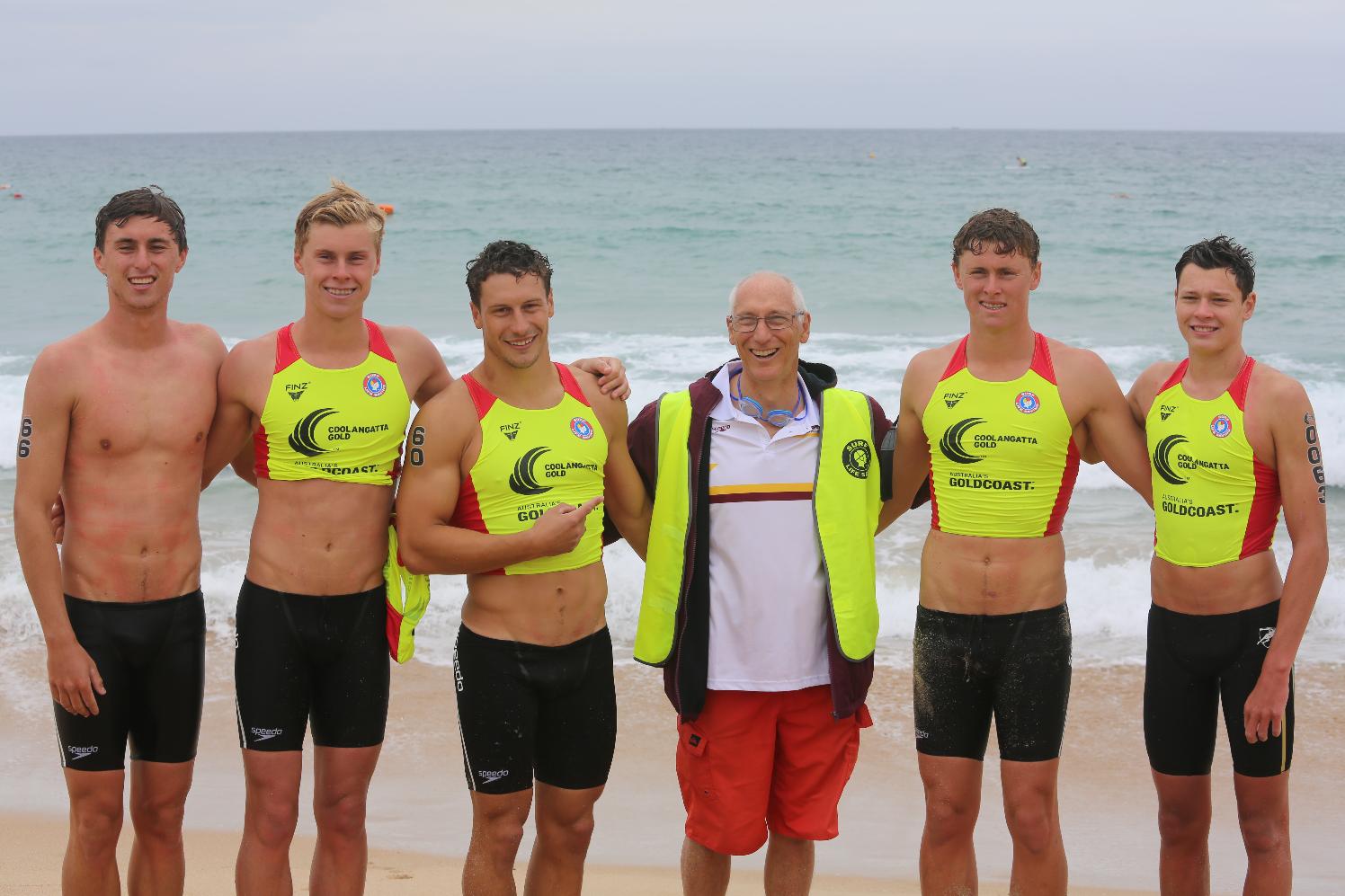 Zach Morris, Jake Morris, Jackson Borg, Glen Borg, Mitch Morris, Conner Maggs, Newport SLSC.
Photo: Surf Life Saving
New South Wales
Monika's DoggieRescue Calendar 2022: Give A Woofa A Chance!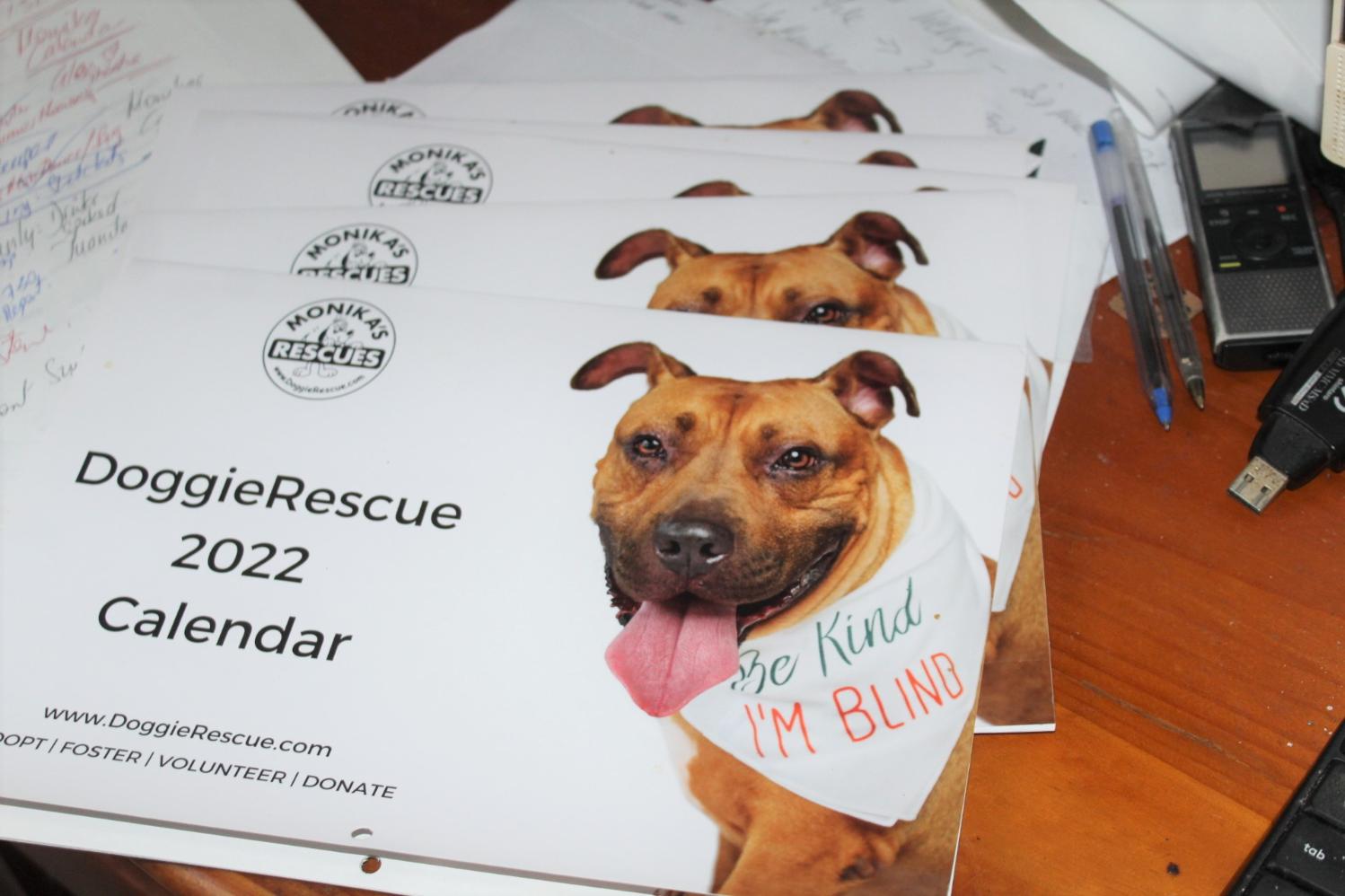 Every week when we load the pets sent in by Monika Biernacki OAM of those dogs and cats seeking a home, we say out loud 'Aren't you a darling? I hope you find a loving home gorgeous.'
Luckily all these darlings have a home at Monika's Doggie Rescue at Ingleside in the meantime.
DoggieRescue is a no kill animal shelter that's been in operation since 1998 with the primary objective of saving dogs and cats from death row in council pounds. Monika's does not place a time limit on the lives of the animals they save and are often contacted about the more difficult animals in need.
Monika's DoggieRescue's 2022 calendar is the shelters' biggest annual fundraiser and helps this great team continue to save the lives of dogs and cats on death row in NSW pounds. To date they have saved over 13,000 dogs and are home to around 100 dogs looking for their families.
Monika's DoggieRescue relies on fundraising like the calendar to keep the doors open so please help them continue to save lives by buying some for your Christmas stockings, Subbies, employees or family members this year.
We do – every year – and everyone loves that lovely bright photo that lights up the wall they put their copy up on – all year long.
This year's calendar was photographed by their volunteer photographer Dave Pigeon from The Dog's Pyjamas. Dave has perfectly captured the different faces and emotions of these resident dogs, from Bowie looking hopefully to the future with a family of his own to sad Champ who isn't sure what to do with himself facing another year without a home of his own.
Winston stars on the cover he found his way to Monika's DoggieRescue from a Sydney pound and was discovered to be blind, his bandana reminds us all to be kind to those who have extract burdens to bear. Winston was lucky enough to be adopted just before the calendar arrived!
This year's calendar features 16 DoggieRescue dogs many of whom are still waiting at the shelter for their families to come. At $20 the calendar is the perfect gift for dog loving friends and together we save more lives! Do something good for Christmas and give the gift of life.
You can grab your copy from the shelter or from the website by clicking here: https://doggierescue.com/2022calendar/
How else can you help? Find out HOW HERE
Australian First To Help Save Surfers' Lives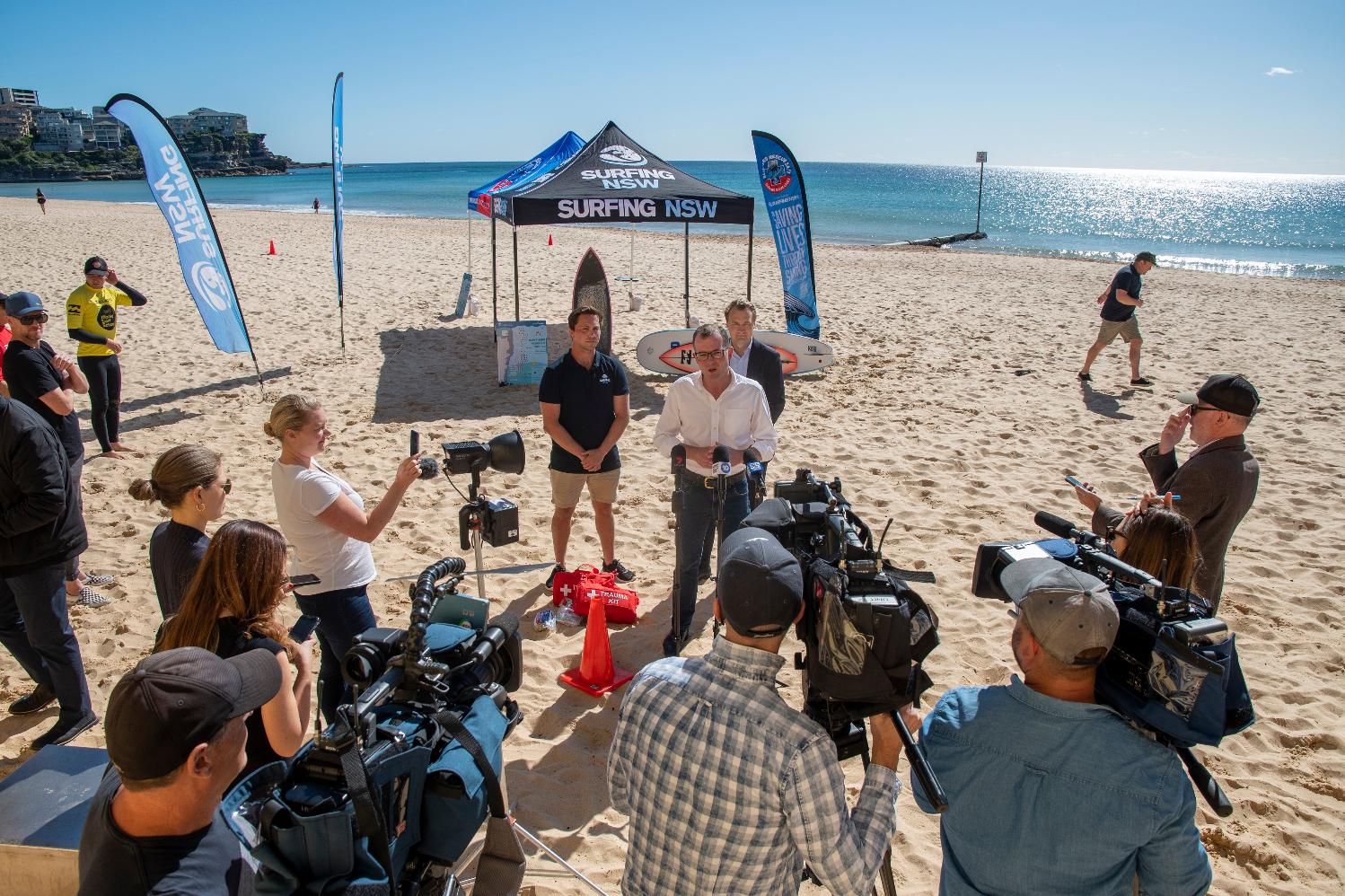 Photo: Surfing NSW CEO Luke Madden announced the new initiative this week at Manly Beach alongside Minister for Agriculture Adam Marshall and Member for Manly James Griffin. Photo: Ethan Smith /Surfing NSW
Lifesaving technology and custom first aid kits and training specific to shark attacks will be deployed to more than 160 boardrider clubs, surf schools and high-performance coaches at beaches along the NSW coastline, in an Australian-first for shark incident response.
Minister for Agriculture Adam Marshall made the announcement on Monday November 15 at Manly Beach, stating Surfing NSW would receive $500,000 in funding to roll out the revolutionary strategy.
"Sadly, most recent shark attack victims have been surfers, so this investment is about doing everything we can to ensure they get help quickly," Mr Marshall said.
"Every surfer in NSW will now have access to first-aid training through Surfing NSW's Surfers Rescue 24/7 program, while customised medical kits and training will be supplied to more than 110 NSW boardrider clubs and 55 surf schools.
"To help keep surfers even safer, an additional fleet of approximately 20 drones will be used by Surfing NSW to patrol their events, in addition to our world-leading fleet of shark-spotting drones already delivered by Surf Life Saving NSW.
"NSW has the largest shark management program anywhere across the globe and this is just another tool to help keep swimmers and surfers safe at the best beaches in the world."
Surfing NSW CEO Luke Madden said partnering with the NSW Government would upskill surfers to ensure they had the knowledge and tools needed in dire situations.
"I think I speak for a lot of surfers in this state when I say that we're grateful for this support that will ultimately benefit all NSW surfers," Mr Madden said.
"These skills and resources could prove life-saving, especially in remote regions where emergency services may be some distance away.
"Every one of us wants to make sure we have the skills and tools we need so that if the worst happens to one of our mates, we can do everything we can to save them."
All trauma first aid kits have been designed by TacMed Paramedics and Military Medics, using approved equipment developed by multiple militaries, law enforcement and ambulance agencies globally.
The trauma first aid kit has been designed in collaboration with Surfing NSW staff for boardriders and beachgoers to rapidly deploy in the event of an immediate, life-threatening trauma in an aquatic environment.
In addition to the immediate trauma/bleeding control equipment, there are also multiple hypothermia blankets and equipment for fracture management, basic first aid (minor wounds) and a compact, vacuum-sealed soft litter called the TacMed QuikLitter Lite which folds out and allows a patient to be carried off the beach to awaiting medical services.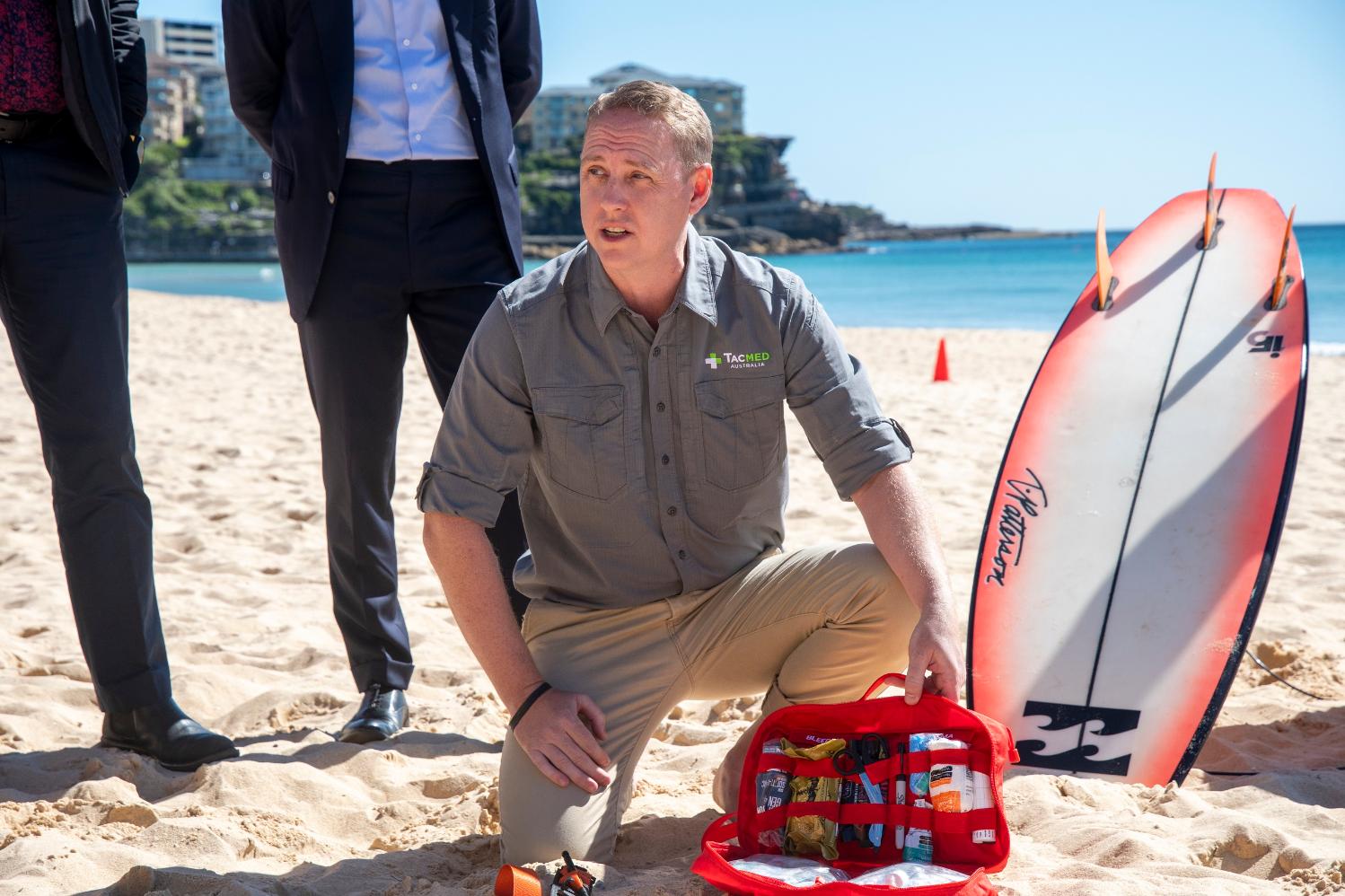 Photo: Ethan Smith /Surfing NSW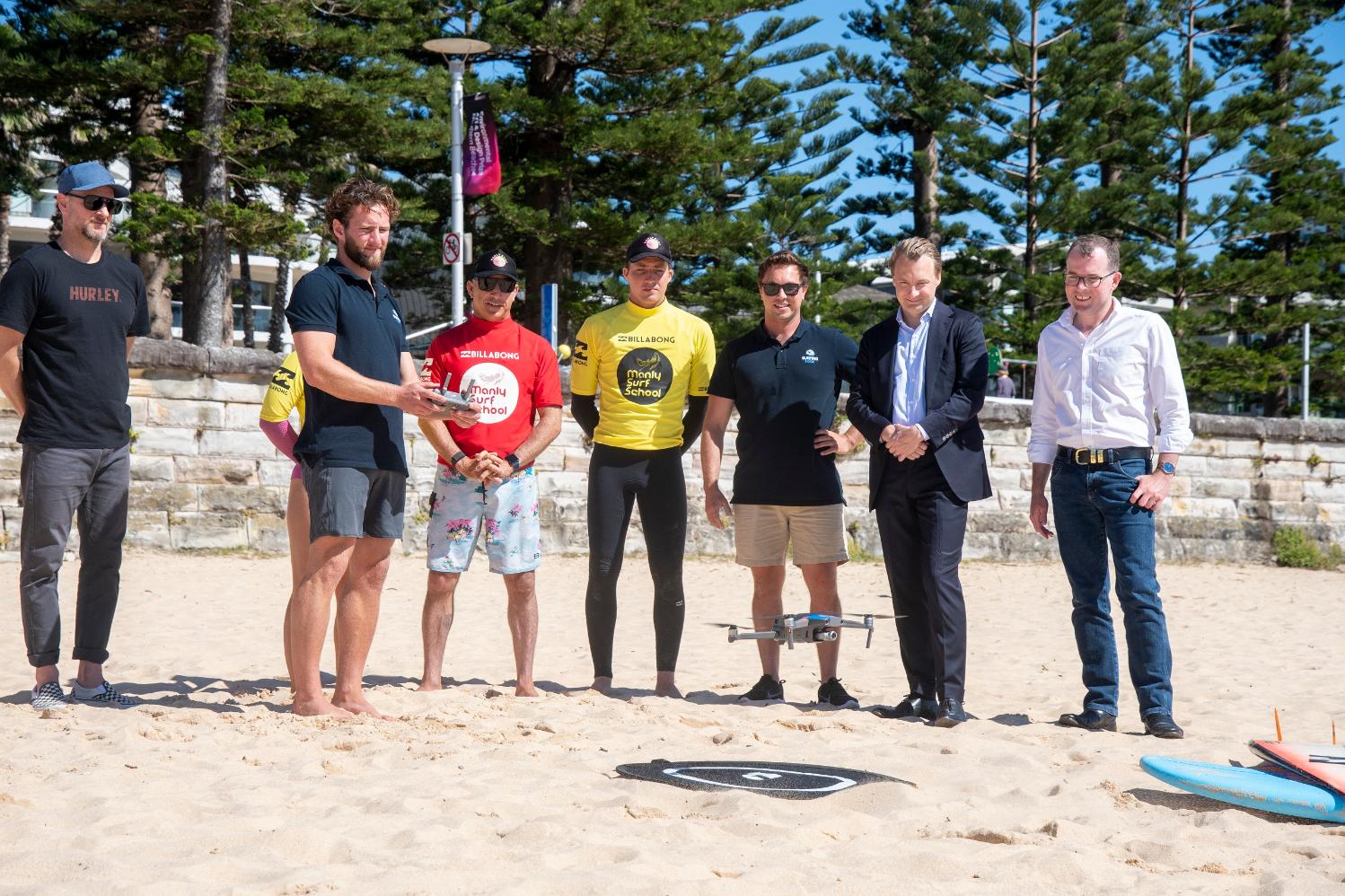 NSW now has the largest fleet of shark-spotting drones keeping watch over 50 beaches. Photo: Ethan Smith /Surfing NSW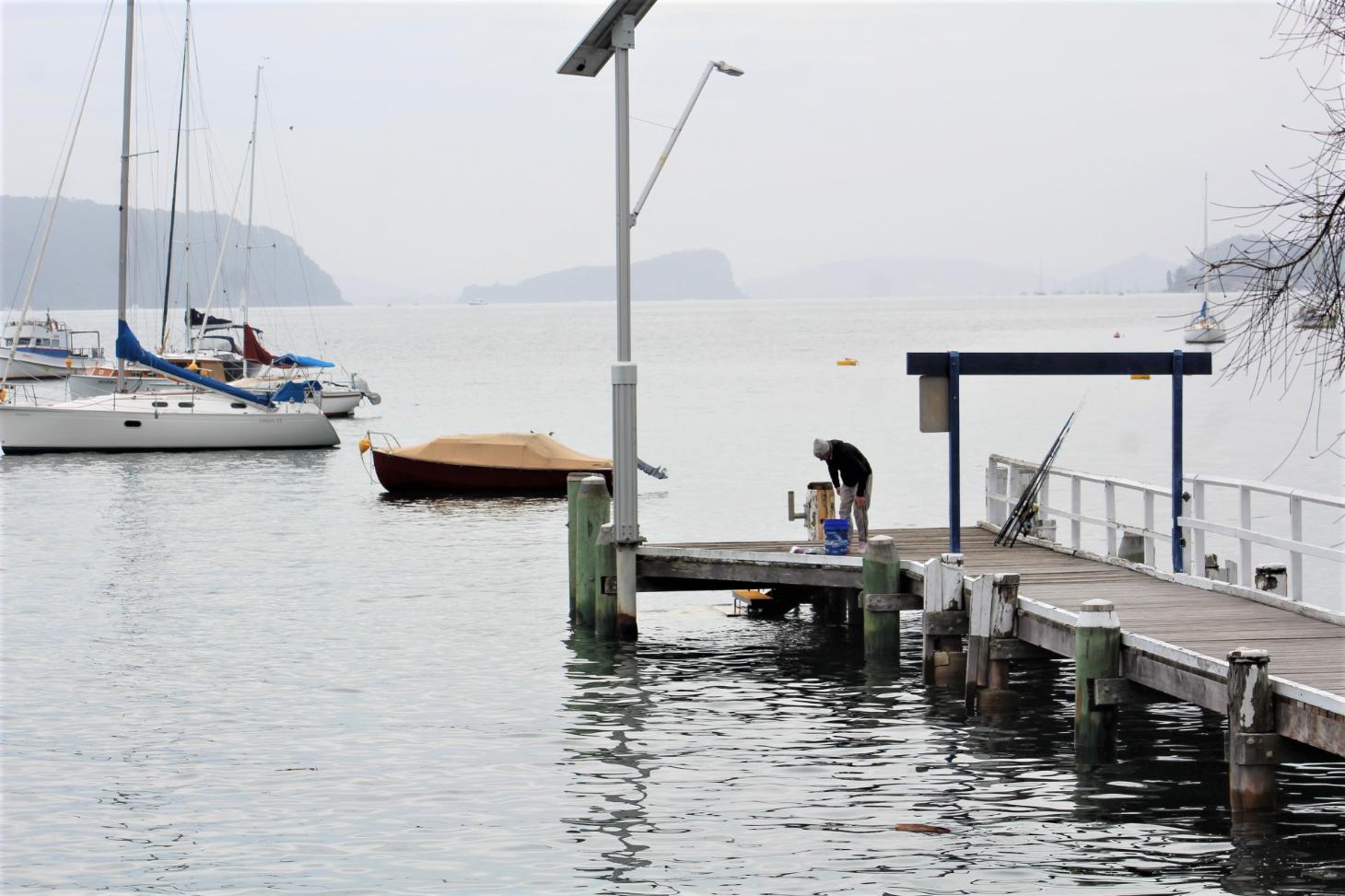 Spring Rain at Taylors Point. AJG Pic.
Past Features Archives (pre 2014)
Pittwater Online News was selected for preservation by the State Library of New South Wales and National Library of Australia. This title is scheduled to be re-archived regularly.
Archived Issues (2014 on) may be accessed here: pandora.nla.gov.au/tep/143700