November 10 - 16, 2019: Issue 428
Bilgola Banksia Razing for Coastal Trail To Bring 'all together as one' Symbolism achieves opposite affect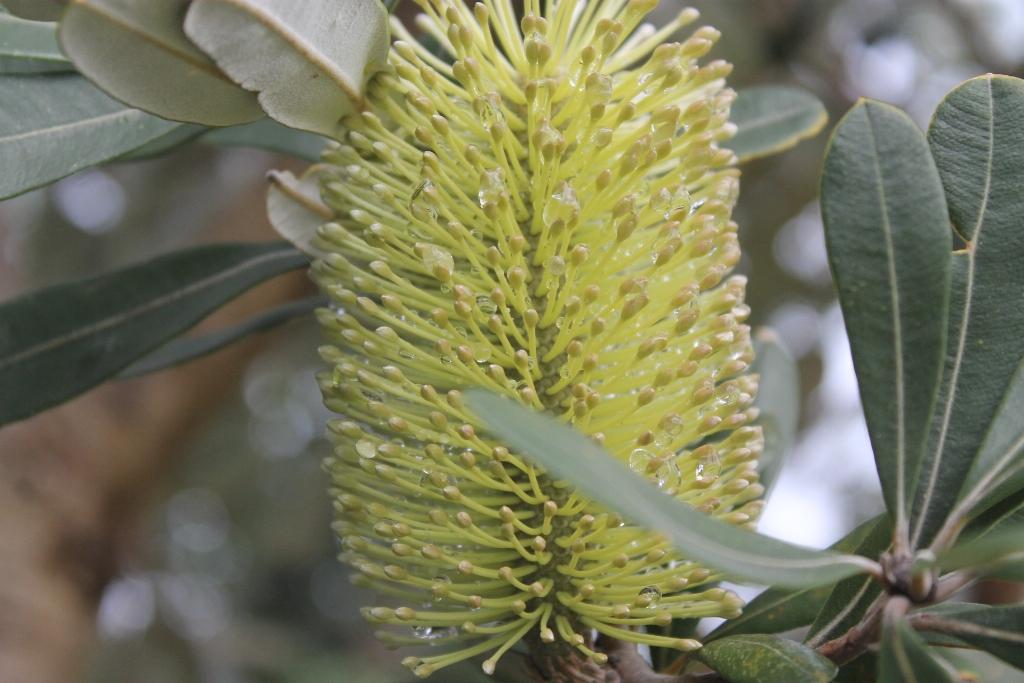 Banksia integrifolia, commonly known as coast banksia - picture by A J Guesdon
The 'Coastal Walk' upgrade of the already existing pathway from Palm Beach to Manly has caused community outcry at Palm Beach when sandstone blocks not shown on the original plans were installed, while a planned boardwalk at the southern end and excise of family access was abandoned due to community outcry, has struggled to find support with residents for its Whale Beach sections, caused outrage with its original plan to excise a favourite community greenspace at South Avalon and in the last two weeks, appalled and angered residents as it churns through Bilgola, ripping out banksia trees and installing concrete where they once were, despite assurances in the Bilgola Beach Upgrade final document of September 2018 that they would be retained and maintained.
Spruiked from the outset as a symbol of the forcibly amalgamated councils being one, the incident has only served to point out this mechanism is not working out at every stage so far and has some wondering whether that walk is actually for tourists to the area rather than for residents.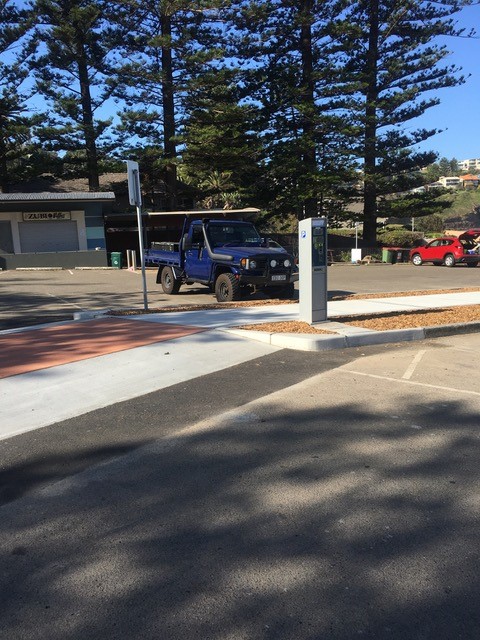 Bilgola beach carpark post Coastal Walk 'upgrades' - banksias and shrubs replaced with concrete - photos supplied
In March 2018 a plan for Bilgola Beach upgrades was placed online for community consultation. The community immediately reacted with 'feedback' which clearly enunciated an expressed wish to not have plastic turf installed alongside the beach, nor lose the greenery that offers some shade and a strip of habitat bridge for local fauna. Now both flora and fauna are gone.
The trees and shrubs that once broke the solid flat hard and hot surfaces at Bilgola Beach carpark being destroyed and concrete installed as part, as it turns out, of the branding touted as the 'Coastal Walk', is just one incident spoken of in letters received this week.

Atop Bilgola, in the little Plateau Park that goes into bush reserve behind Loblay street, more concrete has been installed where once youngsters could fall over into soft green grass. When Council workers were asked 'why' the response was that it was to stop kids riding their mountain bikes in there and eroding it –
'but putting in a concrete path isn't going to make them ride on it, just adds more concrete' residents have stated to Pittwater Online, as well as;
'didn't this council recently declare a climate emergency and state they would be pursuing practices to alleviate that in a local context?'
" Whole place will look like the eastern suburbs before we know it." has been the comment in several emails.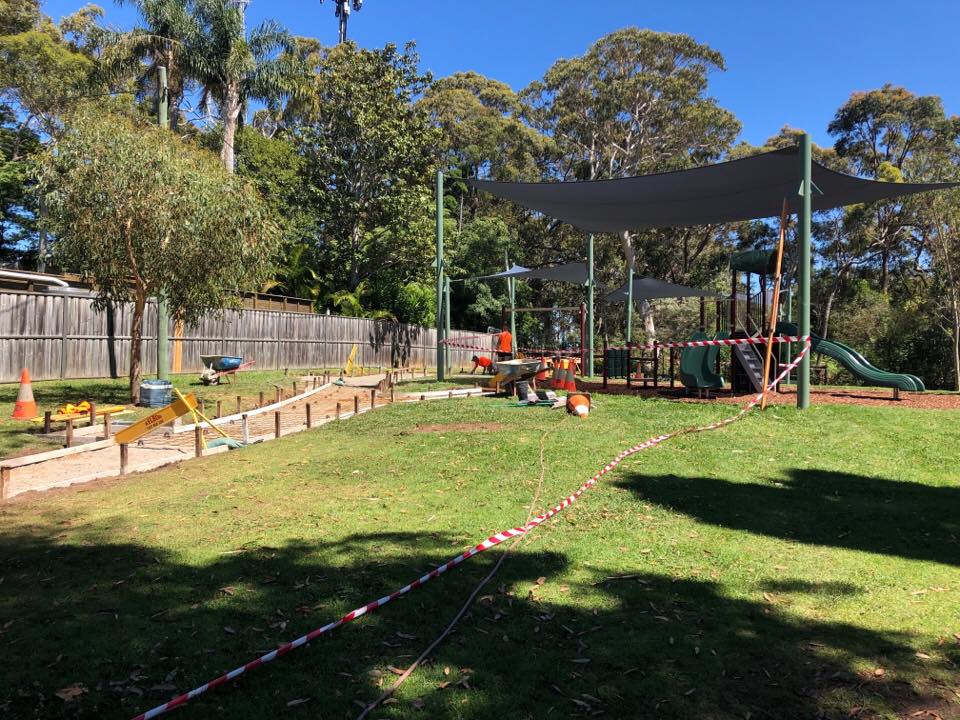 Plateau park this week - photo supplied by a resident
Last Issue one resident pointed out: -
'Did you know the coastal path from Manly to Palm Beach is planned to be up to 3.5 metres and in concrete? More of a road than a path. Much vegetation will be removed as a result. Please advise our community urgently (that they need to speak up)

Like all Pittwater Residents, I love and deeply appreciate the natural beauty of this area. The purpose of my letter is to let you know of two of my concerns regarding Council plans for the coastal walk from Newport to Avalon, and around the Bilgola bends.

Last Tuesday, I attended the council meeting and heard with disbelief for the first time that the proposed shared coastal pathway in that sensitive section was going to be 3.5 meters wide and in concrete!

This is huge, and more the size of a road that a path. It will require significant removal of vegetation which will be replaced by a substantial concrete scar, disfiguring the natural landscape.

Removing greenery and replacing it with concrete is not progress.

I receive regularly the NB community information emails, so I knew about the pathway plans from Manly to Palm Beach. I thought this was a good idea but expected it would be a sensitive integrated coastal path, certainly not in concrete and certainly not as wide.

When we arrive in Bilgola Bends, most of us breathe a sigh of relief ... we have left the big road arteries and find ourselves surrounded by nature. Man's natural biological source of well-being.

Please do not destroy that beautiful and unique environment. Residents fought years ago to protect the bends from overdevelopment. We need to protect that gem of our beaches.

I urge you to review these plans urgently from Newport to Avalon. 3.5 meters wide is a definite overkill in this sensitive and unique environment. A path one and a half to two meters wide would be ample, and it is especially important that it is not made in concrete. It needs to be in organic surfaces to integrate in this beautiful environment; timber, packed sand/gravel alternatives need to be chosen.

Replacing our vegetation with concrete is not progress.

We need to keep the balance. At anytime, I choose greenery over concrete.

Council has declared a climate emergency. Concrete creates heat and vegetation reduces it. So let's avoid concrete. Let's protect our existing trees, keep our streets and paths shaded with trees and vegetation. Let's keep our footpaths natural with grass or compacted sand mix.'
During a week where the 'quiet Australian' has been cited as the majority, and means for making quieter all Australians threatened, especially those who may object to plans being made for them, this is an at home example of why those who usually don't bother should speak up. The usually silent majority haven't been too impressed with the excise of this extant pre-Europeans track as a P.R. exercise, appalled at the ruining of the natural lines of flow in the landscape at its Pittwater end, and angered by the destruction of shade bearing flora and the destruction of native animal's homes.
This community was already one surf life saving family, already one sea-loving, bush adoring, music-sharing, school-community family. Trying to stamp a symbolic rebrand on that reeks of little men pretending they are bigger, rings hollow with a false accord, and usurps the genuine to align it with the bogus.
A query as to what happened to the assurance that the Bilgola Beach Upgrade finalised plan (to retain the natural greenery) and why council does not follow its own plans/documents (of less than 12 months old) was sent on Tuesday of this week, November 5th.
Council did not respond to these Pittwater Online News queries before we went to press.