November 14 - 20, 2021: Issue 518
New Ambulance Station At Mona Vale Hospital Campus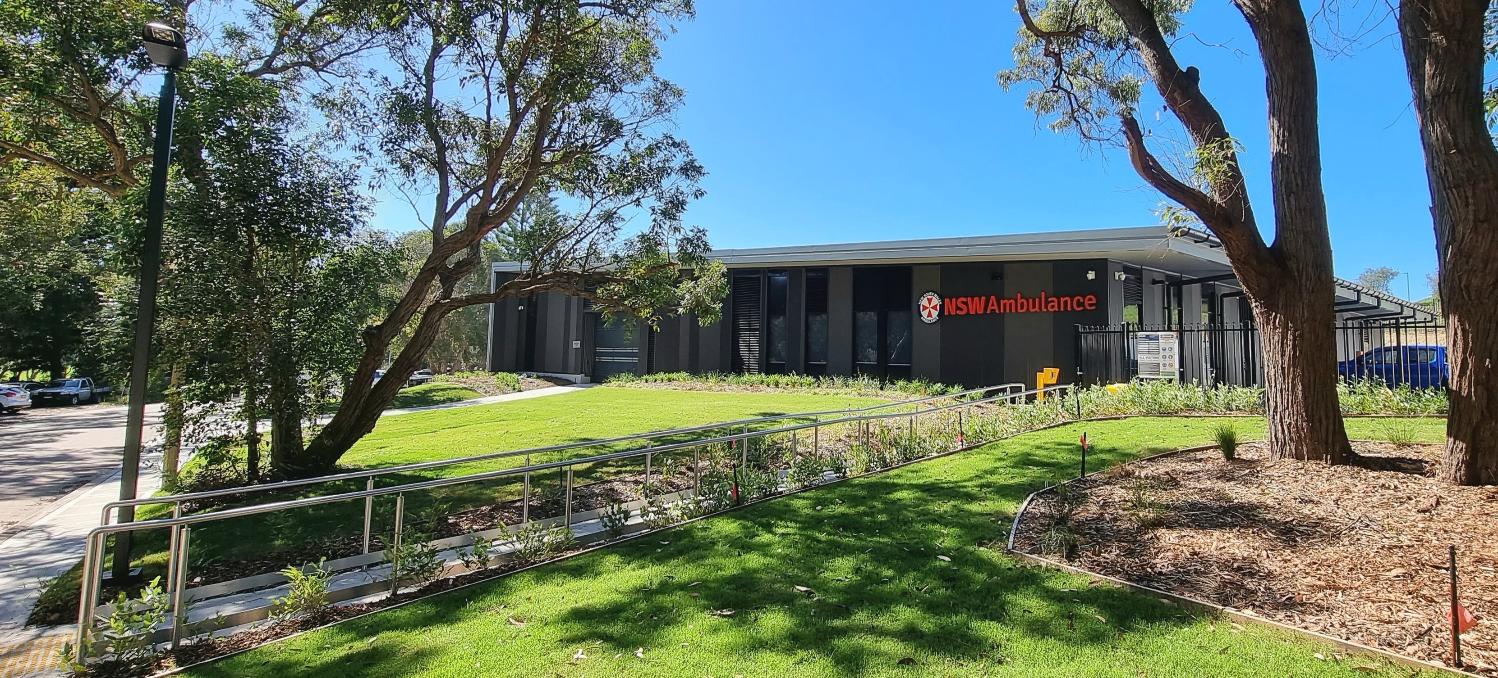 The new ambulance station opened at Mona Vale Hospital in May 2021 as part of the NSW Government's $184 million Sydney Ambulance Metropolitan Infrastructure Strategy investment in ambulance stations across Sydney. There was no fanfare, just a quiet getting operational, and then the June incidents of Covid Delta outbreaks made any celebrations or gatherings inappropriate as paramedics responded to caring for New South Wales people.
Mona Vale hospital is wholly owned by NSW Health and there are no plans to sell any part of the land, a Northern Sydney Local Health District spokesperson stated this week.
Currently the hospital's grounds are being prepared for landscaping to enhance the surroundings and amenity of the site for patients, their carers, and staff.
Mona Vale Hospital opened its purpose-built palliative care and geriatric management unit in February this year as part of the NSW Government's $619 million upgrade of northern beaches health facilities.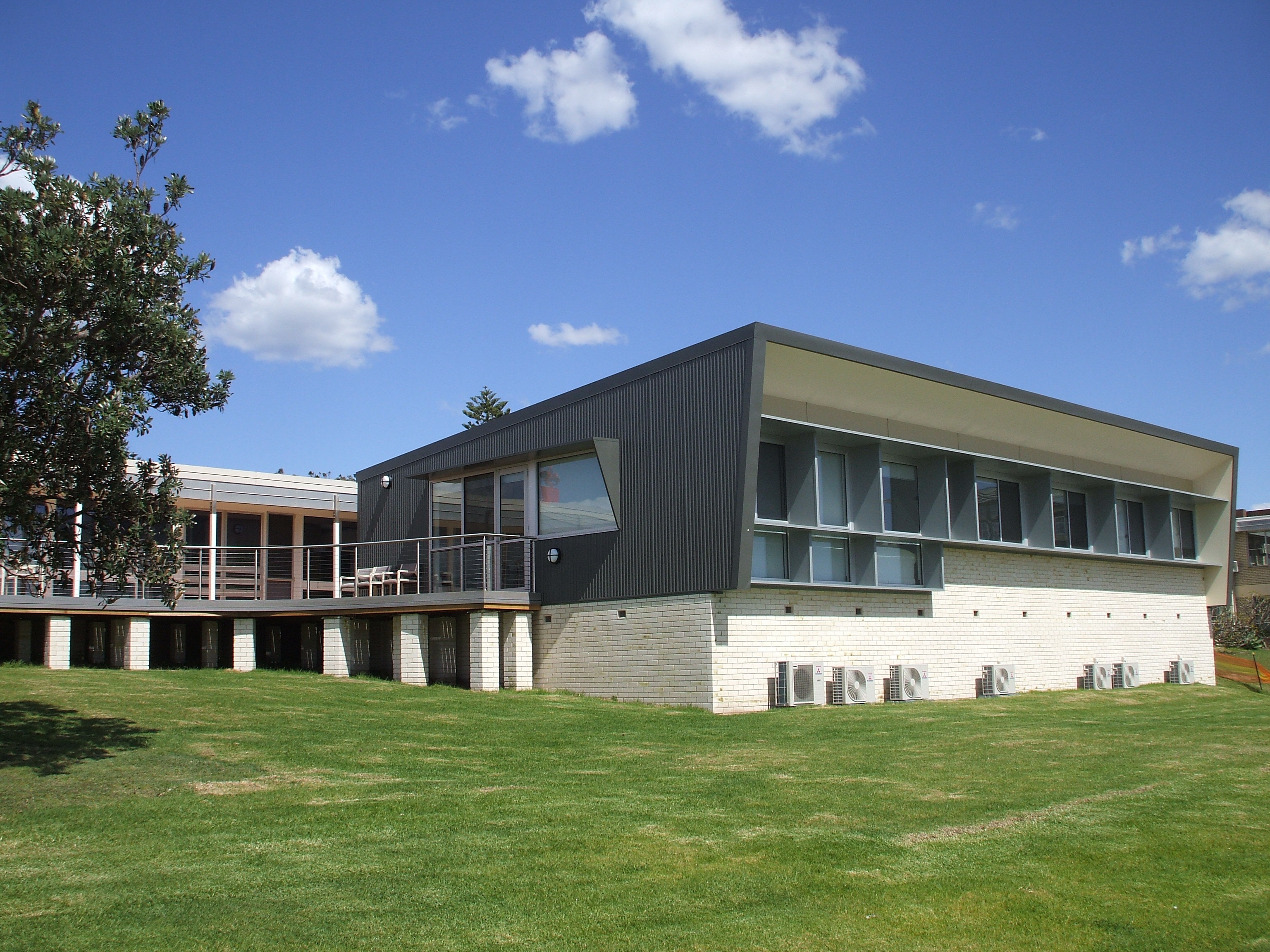 Outpatient Palliative Care Extension

The new inpatient building has two wings – a dedicated 10-bed palliative care unit and a 10-bed geriatric evaluation and management unit – which further enhance the diversity of medical services available at Mona Vale Hospital.
Rob Stokes, Member for Pittwater, said this week "The mammoth process of introducing new hospital buildings at Mona Vale Hospital commenced back in 2011 and the transformation is continuing.
"Around $90 million has been invested in new infrastructure, services and technology to ensure Mona Vale Hospital continues to provide high quality health services into the future.
"All hospital campuses evolve over time, along with advances and changes in medical care and technology. What we've been able to do in recent years is secure the Mona Vale Hospital campus and ensure it has a permanent future.
"There are exciting opportunities to see additional health services introduced at Mona Vale Hospital and the campus further expanded to accommodate even more new hospital infrastructure.
"There are currently more than 80 inpatient beds provided across rehabilitation, palliative care and geriatric medicine, as well as extensive community health services, pathology, radiography and 24/7 urgent care.
"Around 350 hospital staff are employed at Mona Vale Hospital and together with the major Northern Beaches Hospital, we now have a level of medical services never previously available on the northern beaches.
"The NSW Government has committed that all of the land forming part of Mona Vale Hospital will remain in public hands. The scale of new building activity over recent years demonstrates the ongoing need for more specialist health services to serve our local community, and Mona Vale Hospital continues to be the perfect site for focusing health care services." Rob said
Around 60,000 patients have been treated at Mona Vale Hospital's 24/7 Urgent Care Centre since it opened in late 2018. This is equivalent to almost the entire Pittwater community.

Of the 350 staff employed at Mona Vale Hospital, many have worked at Mona Vale Hospital for decades. This includes doctors, nurses, radiographers, dieticians, podiatrists, psychologists, occupational therapists, cleaners, dentists, administrative staff, clinical specialists, support staff, pharmacists and pathologists.

Mona Vale Hospital continues to be one of the largest employers on the Northern Beaches.

There are currently 86 inpatient beds at MVH comprising; 56 rehabilitation, 10 palliative care, 10 geriatric assessment, 10 drug and alcohol rehabilitation.

The most common inpatients at MVH are those recovering and rehabilitating from cardiac episodes.
Due to the pandemic, advice from NSW Health and the nature of dental work (dealing with aerosols etc.) non-urgent public dental services have been temporarily suspended. This is in line with guidelines issued to private dental practices (which requires them to use clinical judgement to determine whether it is appropriate to delay or defer treatments). However, services for patients requiring urgent or emergency public dental services are still available. Patients in these situations are currently being catered for at the sister Community Health Centre at Brookvale. Hopefully normal transmission can recommence soon.
Labor Promises Council Demerger Referendum At Launch Of State-Wide Alliance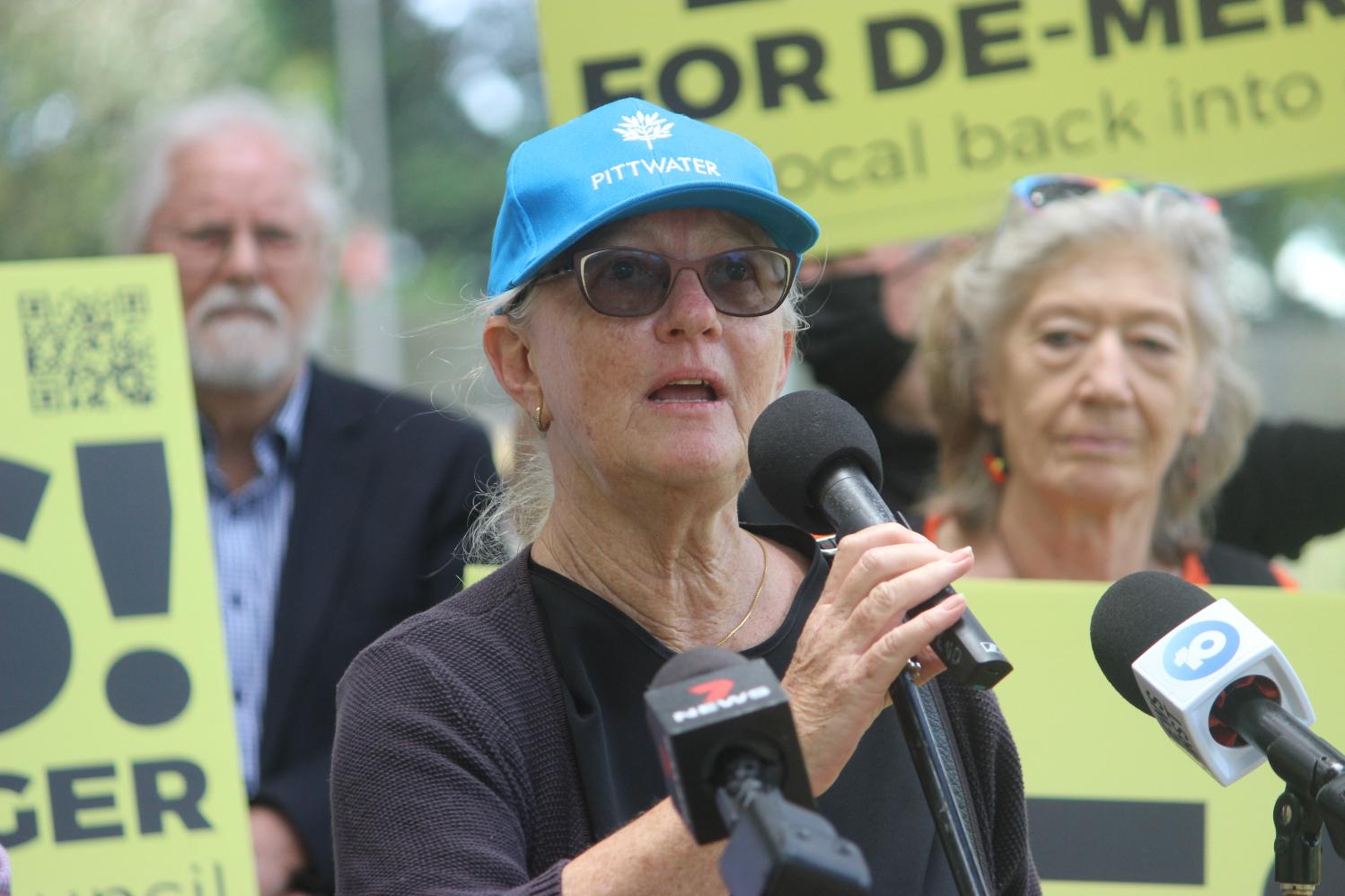 Sue Young at Demerge NSW Alliance (DNA) launch. Photo: Peter Boyle
Pittwater residents joined the launch of a new state-wide council demerger alliance this week, with Labor promising to give amalgamated communities demerger polls.
The Demerge NSW Alliance (DNA) launch, behind NSW Parliament House on Tuesday, attracted about 40 community members as well as NSW Labor MP Greg Warren, Greens MP David Shoebridge, Shooters, Fishers and Farmers MP Robert Borsak and Independent MP for Wagga Wagga Dr Joe McGirr.
Mr Warren, Labor's Local Government spokesman, reaffirmed Labor's position at the 2019 NSW state election that it would allow communities to determine their futures.
"We will give communities their say by way of referendum," Mr Warren told the launch.
"If you want to stay together so be it. If you want to demerge, also so be it. We believe the future of communities should be in the hands of local communities."
Mr Warren said forcing communities to merge had not made sense.
"It did not add up and we are now seeing the consequences, social and economic," he said.
"The cost to community has been absolutely detrimental.
DNA is a new coalition of residents and community groups from 20 merged councils across New South Wales, supporting councils that wish to demerge after being undemocratically and forcibly amalgamated by the NSW government in 2016.
It will champion the demerger of councils that were undemocratically and forcibly amalgamated by the state government in 2016, including a large number that are failing to deliver financially.
DNA coordinator Grantley Ingram said the new group now had interest from Guyra to Bombala, from the Edward River to Dubbo, from the Mid Coast through Pittwater, to the Inner West and Canterbury Bankstown.
Mr Grantley said he was from Bombala, where the pre-merger council had $10 million in the bank and a community that "knew where they belonged".
"Now we have a disaster, running a deficit of over $30 million, and we're now told we live in a place called the Snowy Monaro region - and I don't know what that is," Mr Grantley told the launch.
"I'm here to tell you that many merged councils in NSW are seriously ill.
"In 2020, 60 per cent of the merged councils were in deficit. Not in surplus. The promised $2 billion in savings had simply not occurred.
Former Pittwater councillor Sue Young told the gathering that she and her colleagues had been dismissed "disgracefully, undemocratically and against the wishes of the majority of our community".
"I believe since then, our community has lost its sense of community, our sense of belonging and we no longer have as much representation as we had in the past.
"I am here for the long haul. It took us just over 20 years to get Pittwater Council and … we were the last council (created) in NSW when we separated from Warringah Council.
"Now we have been forcibly merged back in as well with Manly. We have three into one and it's an absolute disgrace. It has been completely undemocratic."
Greens candidate for Pittwater at the council election Miranda Korzy, who joined Tuesday's launch, said she supported a Pittwater demerger.
A founder of the local Protect Pittwater deamalgamation group, Ms Korzy welcomed Mr Warren's commitment on behalf of Labor to a demerger referendum.
"A stream of NSW government grants has helped save Northern Beaches Council from the financial distress experienced by other merged councils," Ms Korzy told Pittwater Online News.
"However, Pittwater has lost its autonomy as part of NBC.
"Our community is split into two wards - Pittwater and part of Narrabeen - and our councillors can be outvoted on any issue concerning us - whether it be development, the environment or anything else.
"Only deamalgamation can restore democracy to us."
Pittwater On Notice That Sea Level Rise And Coastal Erosion Threaten Local Beaches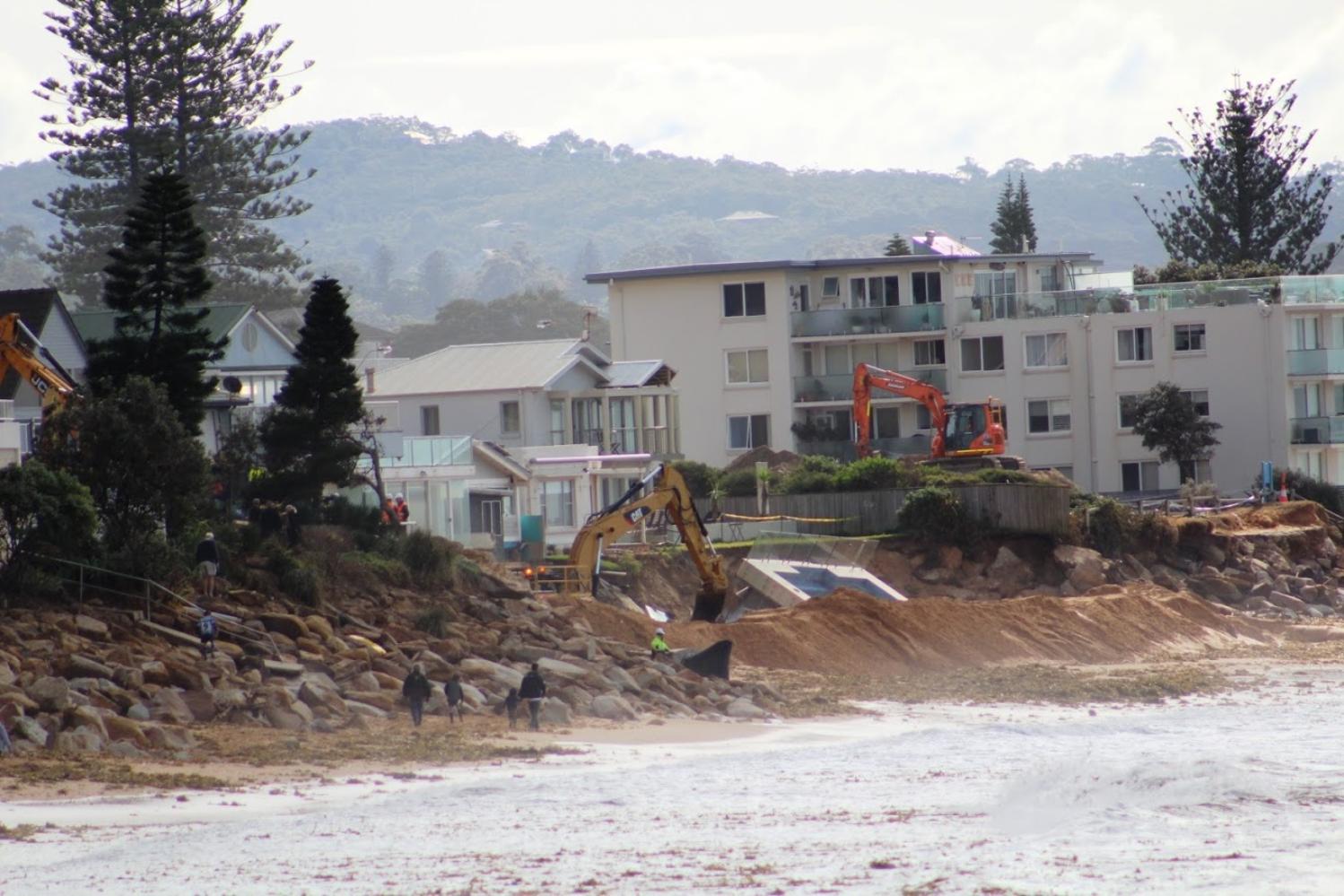 Collaroy beachfront, June 2016. Photo: A J Guesdon
November 13, 2021
By Miranda Korzy
Eminent local coastal engineer Angus Gordon has put the Pittwater community on notice that sea level rise will threaten a number of local beaches unless appropriate action is undertaken.
Mr Gordon, who was Pittwater Council's General Manager for nine years, said that coastal erosion was a natural phenomenon caused by wave and wind action and that sea level rise would accelerate that underlying trend.
Even with a relatively stable coastline for the last 7,000 years, the sea level had gone up and down by one to two metres during that time, he said.
However, the problem now was that we had built "non-adaptive assets in harm's way", he told the Avalon Preservation Association's Annual General Meeting on Thursday night.
Mr Gordon said the Northern Beaches Council was working on current projections for erosion but that local surf clubs should be moved back from the front of the dunes when they are rebuilt.
"The new Mona Vale surf club toilet block is where water washed it away in (the massive storms of) 1974," Mr Gordon told the meeting.
"If we had another 1974 event, I suspect at this beach and Bilgola, Collaroy, and Narrabeen we could see some pretty nasty outcomes.
"We have quite a lot of infrastructure and residential developments that are too close."
He said the Avalon Beach Surf Lifesaving Club should also have been moved back from the shore when it was rebuilt and that he hoped "that Newport listens" when that club carries out renovations.
"The state government was at fault because it needed to change the Local Government Act to give councils more power to act," Mr Gordon said.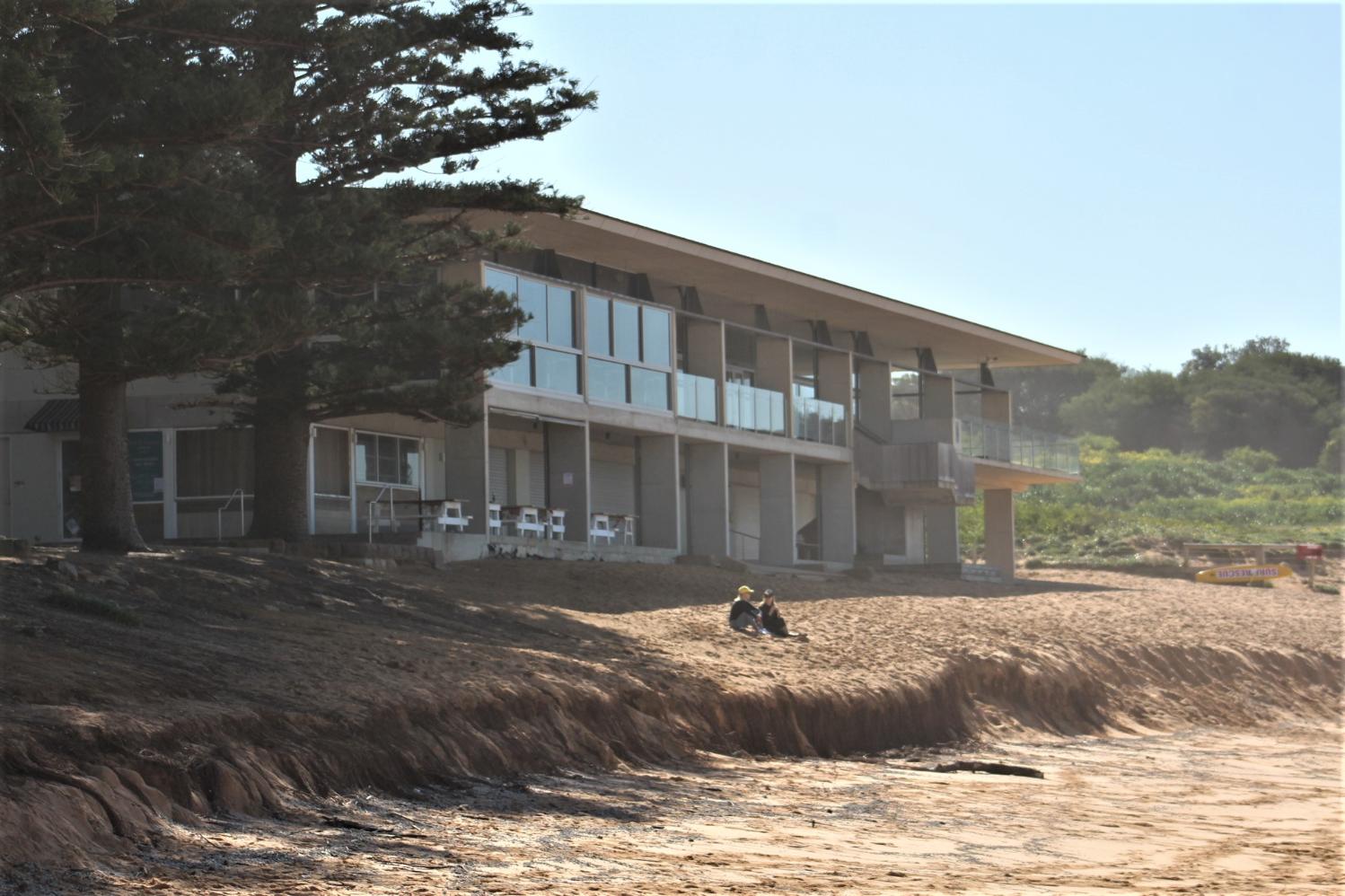 Beach before Avalon Beach SLSC clubhouse after July 2020 storm. Photo: A J Guesdon.
Remembrance Day 2021: Commemorative Service At Avalon Beach RSL Cenotaph By Sub Branch Members
The Remembrance Day Commemorative Service held at Avalon Beach RSL cenotaph was a small gathering this year, with support from Sub Branch members and including representatives from local schools. The 2021 Remembrance Day 2021 Address was given by LCDR Ryan Carmichael RAN (Retd.).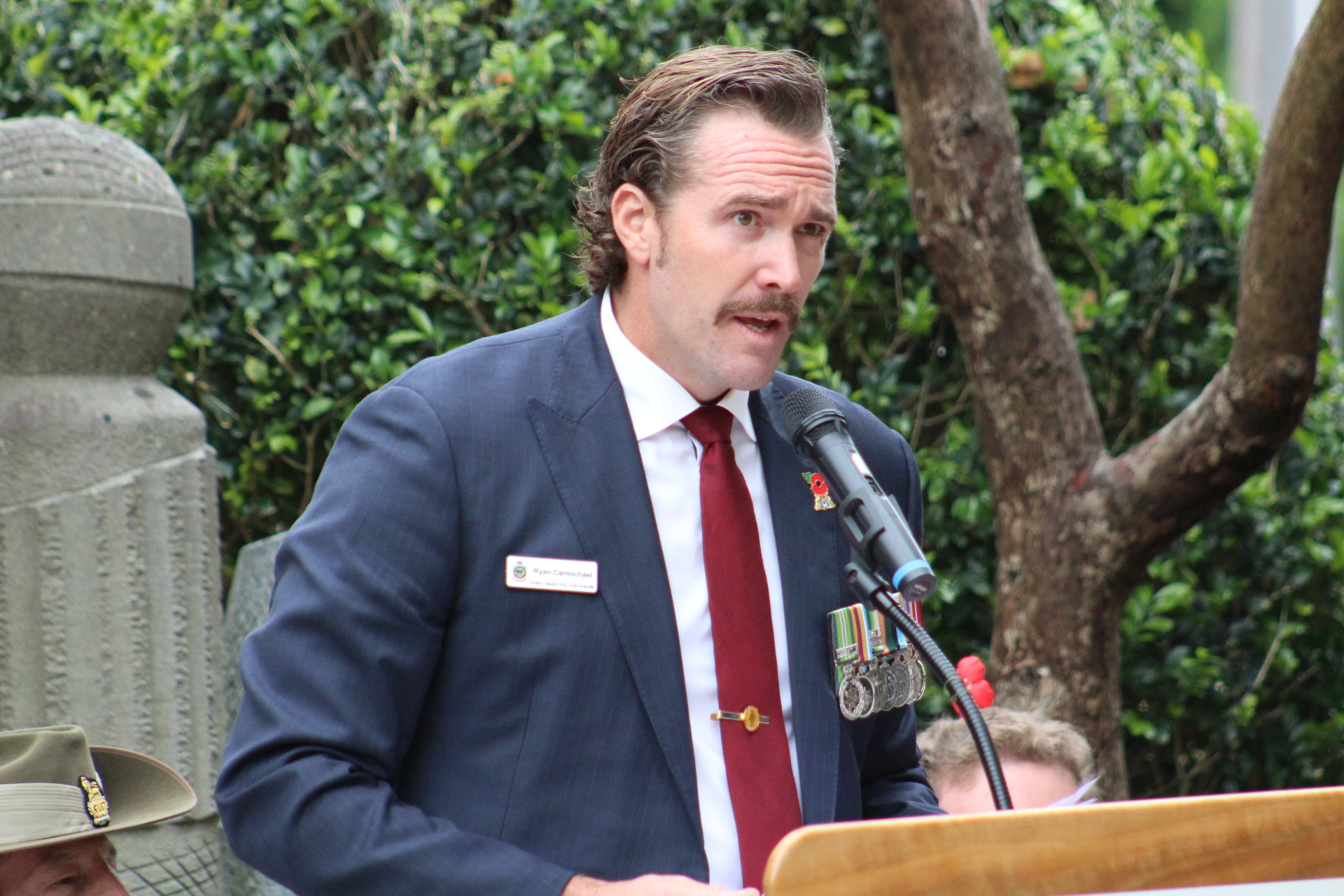 LCDR Ryan Carmichael RAN (Retd.)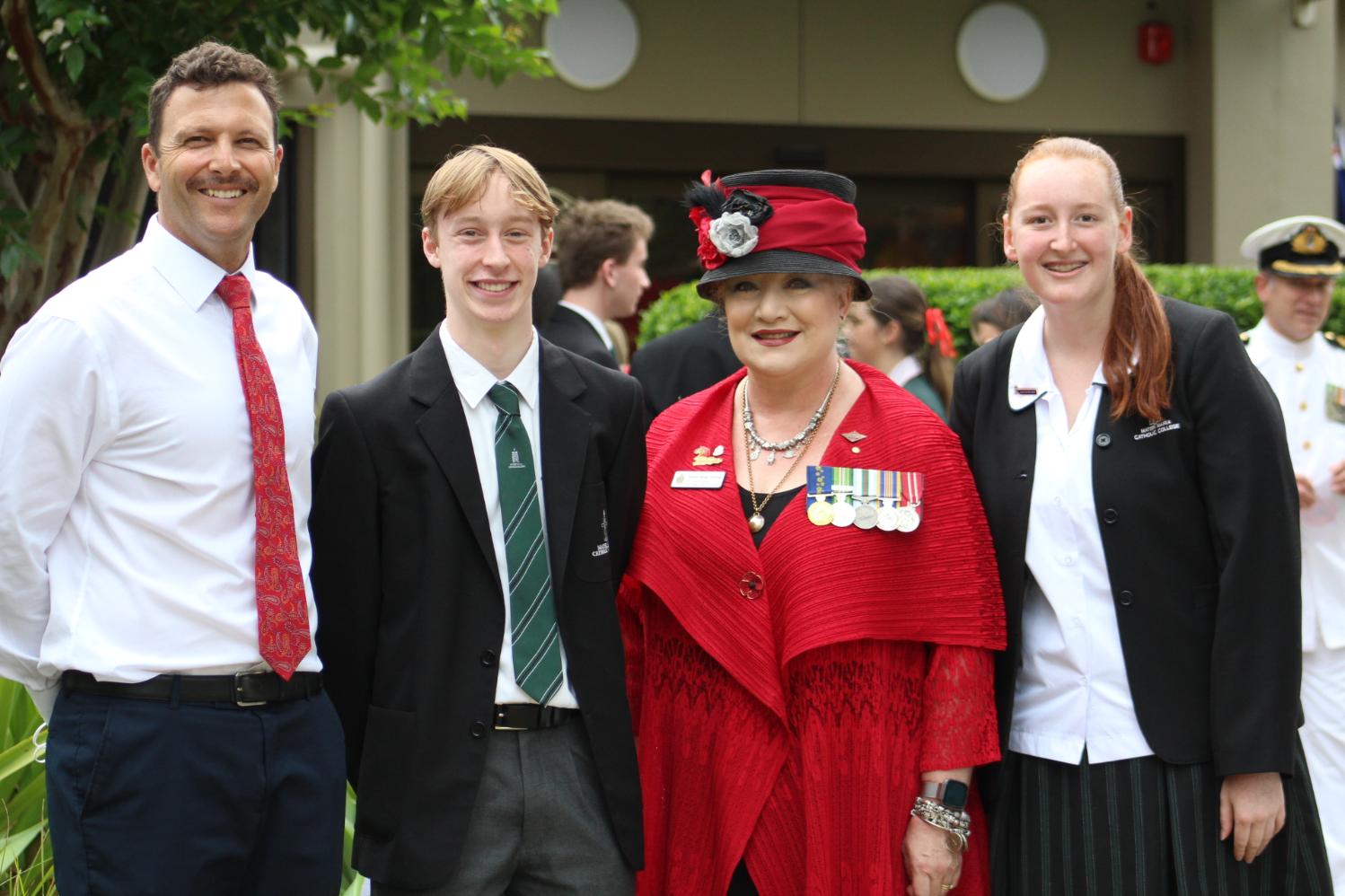 From Mater Maria Catholic College, Warriewood: Michael Rulli with Luke Peterson, Avalon RSL Sub Branch Vice President Tamara Sloper Harding OAM and Tiffany Walsh. Photo: A J Guesdon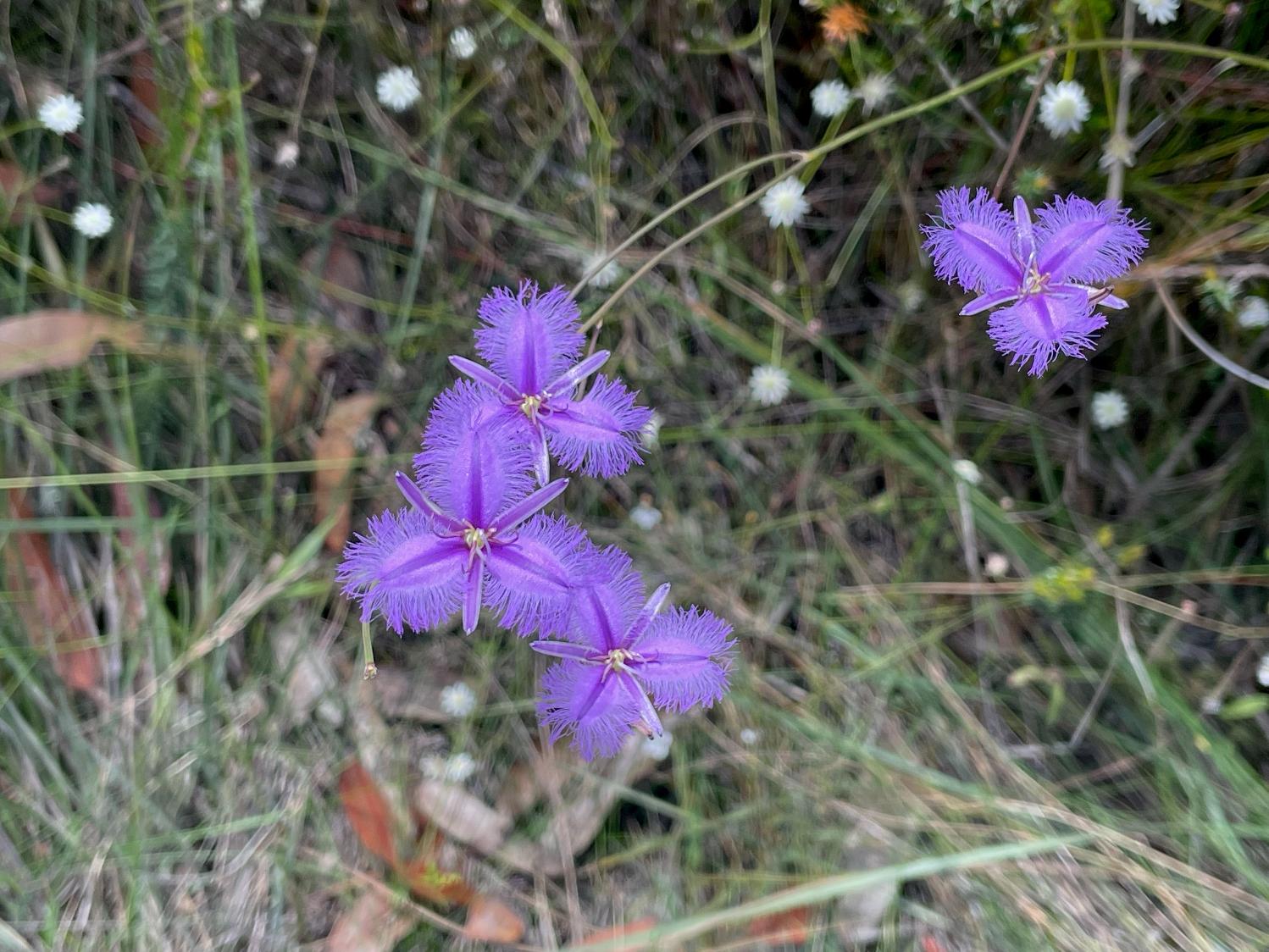 Fringed Violets, Thysanotus tuberosus, Chiltern Trail North, Ingleside, this week. Photo by Margaret Woods.
Past Features Archives (pre 2014)
Pittwater Online News was selected for preservation by the State Library of New South Wales and National Library of Australia. This title is scheduled to be re-archived regularly.
Archived Issues (2014 on) may be accessed here: pandora.nla.gov.au/tep/143700