November 14 - 20, 2021: Issue 518
Labor promises council demerger referendum at launch of State-wide alliance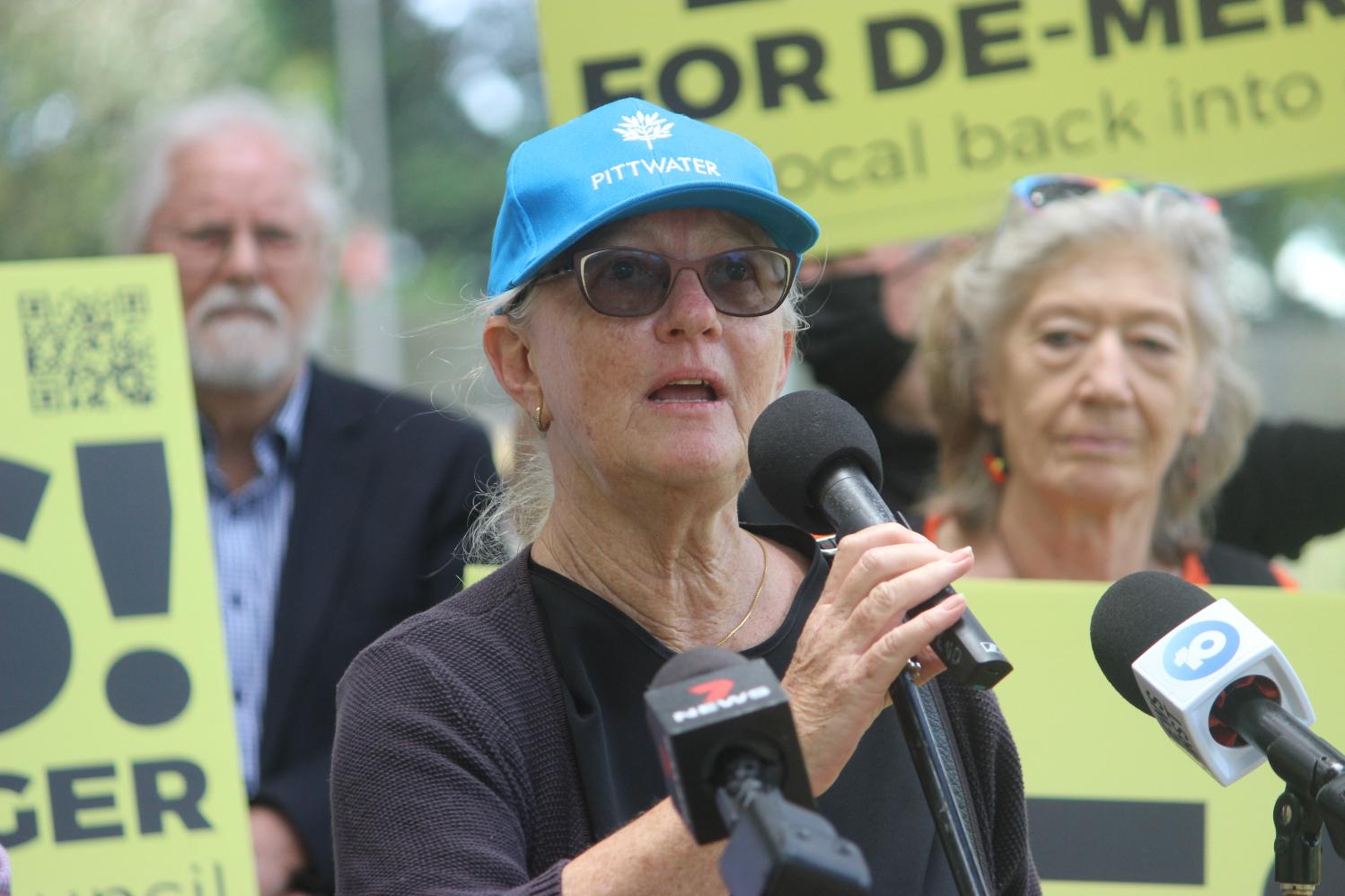 Sue Young at Demerge NSW Alliance (DNA) launch. Photo: Peter Boyle
Pittwater residents joined the launch of a new state-wide council demerger alliance this week, with Labor promising to give amalgamated communities demerger polls.
The Demerge NSW Alliance (DNA) launch, behind NSW Parliament House on Tuesday, attracted about 40 community members as well as NSW Labor MP Greg Warren, Greens MP David Shoebridge, Shooters, Fishers and Farmers MP Robert Borsak and Independent MP for Wagga Wagga Dr Joe McGirr.
Mr Warren, Labor's Local Government spokesman, reaffirmed Labor's position at the 2019 NSW state election that it would allow communities to determine their futures.
"We will give communities their say by way of referendum," Mr Warren told the launch.
"If you want to stay together so be it. If you want to demerge, also so be it. We believe the future of communities should be in the hands of local communities."
Mr Warren said forcing communities to merge had not made sense.
"It did not add up and we are now seeing the consequences, social and economic," he said.
"The cost to community has been absolutely detrimental.
"This Liberal/National Party policy intended to remove powers from the community – to forcibly merge communities. You should not have to pay the price and you are."
DNA is a new coalition of residents and community groups from 20 merged councils across New South Wales, supporting councils that wish to demerge after being undemocratically and forcibly amalgamated by the NSW government in 2016.
It will champion the demerger of councils that were undemocratically and forcibly amalgamated by the state government in 2016, including a large number that are failing to deliver financially.
DNA coordinator Grantley Ingram said the new group now had interest from Guyra to Bombala, from the Edward River to Dubbo, from the Mid Coast through Pittwater, to the Inner West and Canterbury Bankstown.
Mr Grantley said he was from Bombala, where the pre-merger council had $10 million in the bank and a community that "knew where they belonged".
"Now we have a disaster, running a deficit of over $30 million, and we're now told we live in a place called the Snowy Monaro region - and I don't know what that is," Mr Grantley told the launch.
"I'm here to tell you that many merged councils in NSW are seriously ill.
"In 2020, 60 per cent of the merged councils were in deficit. Not in surplus. The promised $2 billion in savings had simply not occurred.
"... After five years of merged councils, communities remain angry about the remoteness of the bigger councils, the rate increases, the failure to deliver and the lack of representation.
"We just want our council back."
Former Pittwater councillor Sue Young told the gathering that she and her colleagues had been dismissed "disgracefully, undemocratically and against the wishes of the majority of our community".
"I believe since then, our community has lost its sense of community, our sense of belonging and we no longer have as much representation as we had in the past.
"I am here for the long haul. It took us just over 20 years to get Pittwater Council and … we were the last council (created) in NSW when we separated from Warringah Council.
"Now we have been forcibly merged back in as well with Manly. We have three into one and it's an absolute disgrace. It has been completely undemocratic."
Ms Young said she was delighted to see the country people at the rally.
"There's a new spark, there's a new group. The DNA NSW Alliance will not rest," she said.
Greens candidate for Pittwater at the council election Miranda Korzy, who joined Tuesday's launch, said she supported a Pittwater demerger.
A founder of the local Protect Pittwater deamalgamation group, Ms Korzy welcomed Mr Warren's commitment on behalf of Labor to a demerger referendum.
"A stream of NSW government grants has helped save Northern Beaches Council from the financial distress experienced by other merged councils," Ms Korzy told Pittwater Online News.
"However, Pittwater has lost its autonomy as part of NBC.
"Our community is split into two wards - Pittwater and part of Narrabeen - and our councillors can be outvoted on any issue concerning us - whether it be development, the environment or anything else.
"Only deamalgamation can restore democracy to us."
Protect Pittwater recently wrote to councillors in the Pittwater ward asking them to put up a motion at their NBC meeting for a demerger poll at the December 4 local government election.
The DNA is supporting a demerger poll which the Inner West Council has voted to hold at the election.
It will also support candidates in upcoming council elections who commit to giving their community a demerger poll in the future.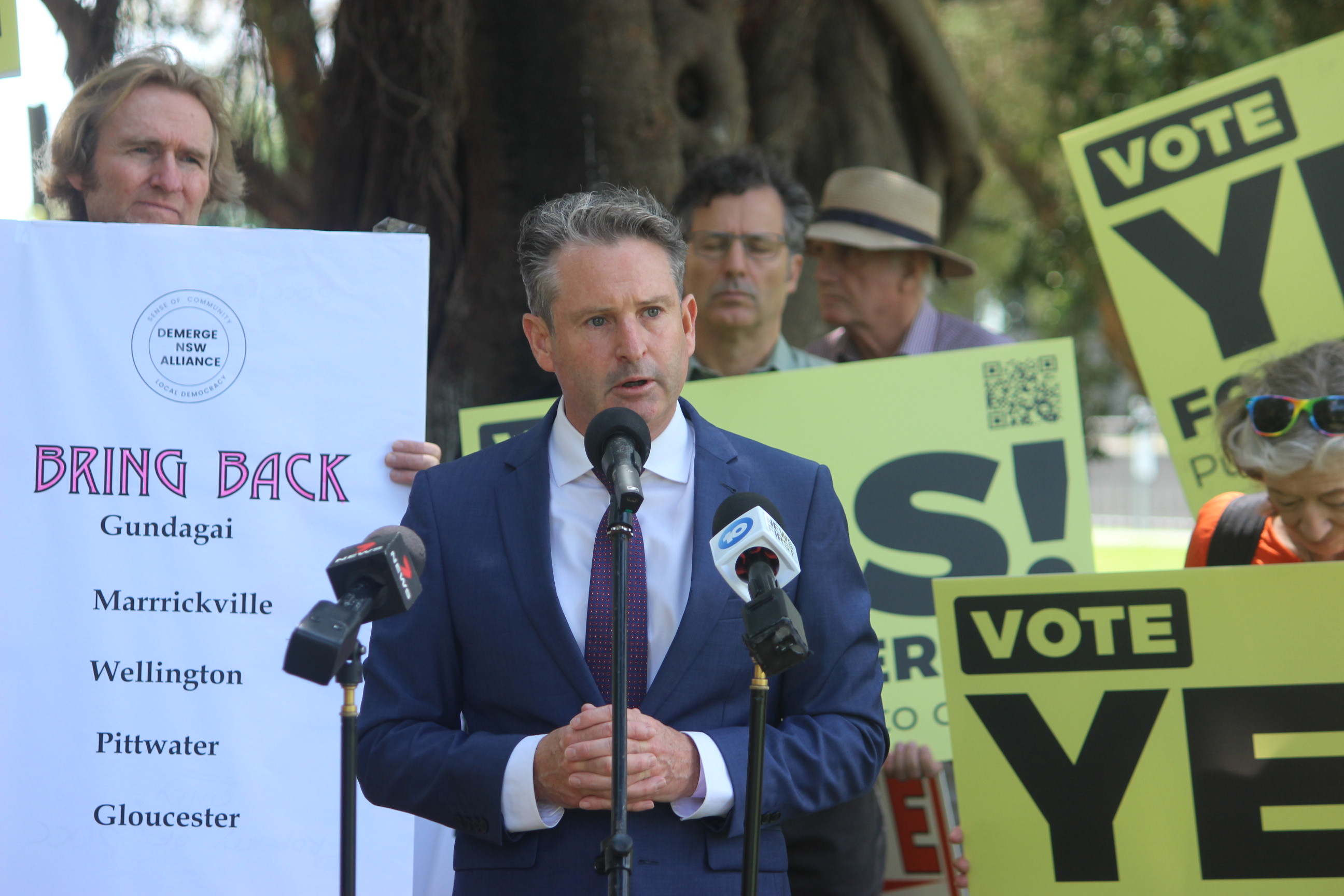 NSW Labor MP Greg Warren. Photo: Peter Boyle