November 14 - 202, 2021: Issue 518
New ambulance station at mona vale hospital campus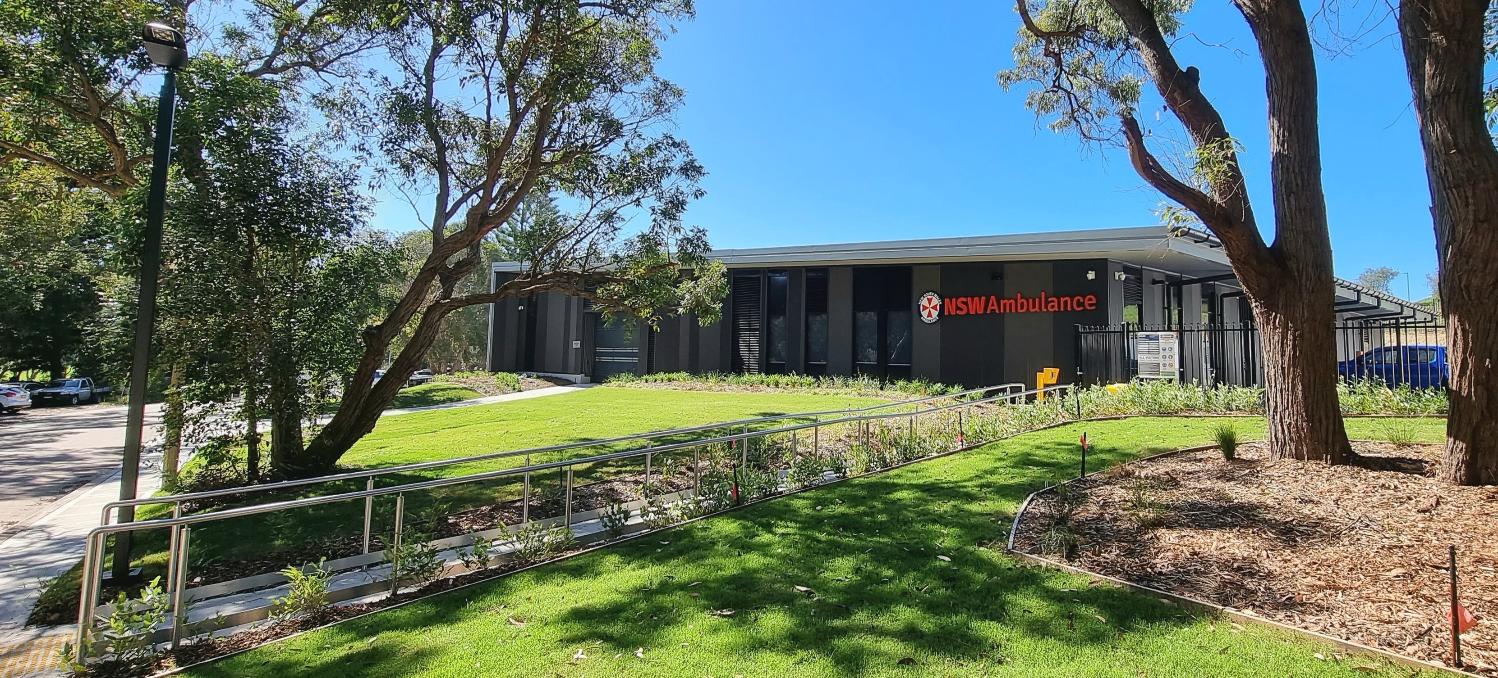 The new ambulance station opened at Mona Vale Hospital in May 2021 as part of the NSW Government's $184 million Sydney Ambulance Metropolitan Infrastructure Strategy investment in ambulance stations across Sydney. There was no fanfare, just a quiet getting operational, and then the June incidents of Covid Delta outbreaks made any celebrations or gatherings inappropriate as paramedics responded to caring for New South Wales people.
Mona Vale hospital is wholly owned by NSW Health and there are no plans to sell any part of the land, a Northern Sydney Local Health District spokesperson stated this week.
Currently the hospital's grounds are being prepared for landscaping to enhance the surroundings and amenity of the site for patients, their carers, and staff.
Mona Vale Hospital opened its purpose-built palliative care and geriatric management unit in February this year as part of the NSW Government's $619 million upgrade of northern beaches health facilities.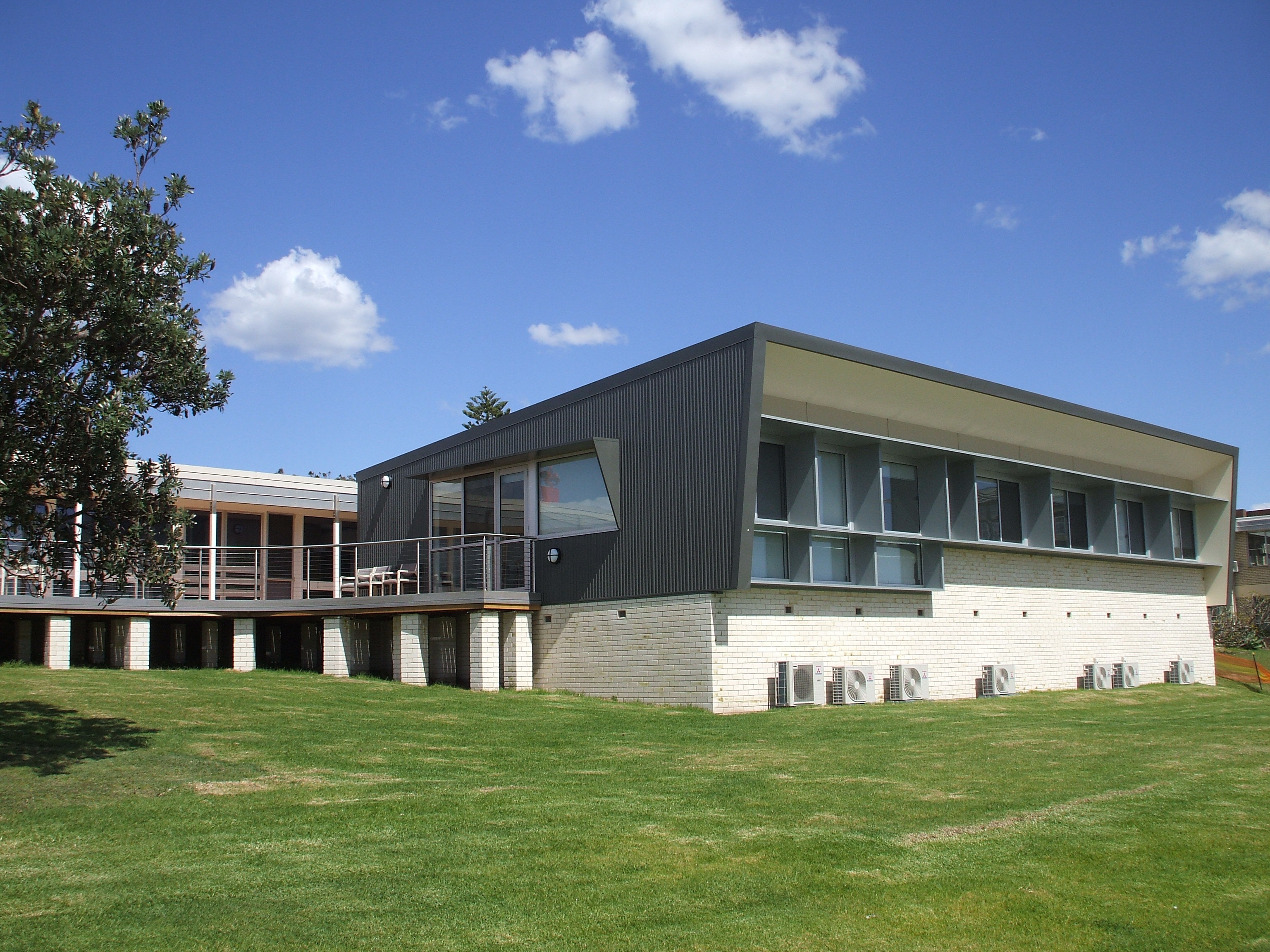 Outpatient Palliative Care Extension

The new inpatient building has two wings – a dedicated 10-bed palliative care unit and a 10-bed geriatric evaluation and management unit – which further enhance the diversity of medical services available at Mona Vale Hospital.
Rob Stokes, Member for Pittwater, said this week "The mammoth process of introducing new hospital buildings at Mona Vale Hospital commenced back in 2011 and the transformation is continuing.
"Around $90 million has been invested in new infrastructure, services and technology to ensure Mona Vale Hospital continues to provide high quality health services into the future.
"All hospital campuses evolve over time, along with advances and changes in medical care and technology. What we've been able to do in recent years is secure the Mona Vale Hospital campus and ensure it has a permanent future.
"There are exciting opportunities to see additional health services introduced at Mona Vale Hospital and the campus further expanded to accommodate even more new hospital infrastructure.
"There are currently more than 80 inpatient beds provided across rehabilitation, palliative care and geriatric medicine, as well as extensive community health services, pathology, radiography and 24/7 urgent care.
"Around 350 hospital staff are employed at Mona Vale Hospital and together with the major Northern Beaches Hospital, we now have a level of medical services never previously available on the northern beaches.
"The NSW Government has committed that all of the land forming part of Mona Vale Hospital will remain in public hands. The scale of new building activity over recent years demonstrates the ongoing need for more specialist health services to serve our local community, and Mona Vale Hospital continues to be the perfect site for focusing health care services." Rob said
Around 60,000 patients have been treated at Mona Vale Hospital's 24/7 Urgent Care Centre since it opened in late 2018. This is equivalent to almost the entire Pittwater community.

Of the 350 staff employed at Mona Vale Hospital, many have worked at Mona Vale Hospital for decades. This includes doctors, nurses, radiographers, dieticians, podiatrists, psychologists, occupational therapists, cleaners, dentists, administrative staff, clinical specialists, support staff, pharmacists and pathologists.

Mona Vale Hospital continues to be one of the largest employers on the Northern Beaches.

There are currently 86 inpatient beds at MVH comprising; 56 rehabilitation, 10 palliative care, 10 geriatric assessment, 10 drug and alcohol rehabilitation.

The most common inpatients at MVH are those recovering and rehabilitating from cardiac episodes.
Due to the pandemic, advice from NSW Health and the nature of dental work (dealing with aerosols etc.) non-urgent public dental services have been temporarily suspended. This is in line with guidelines issued to private dental practices (which requires them to use clinical judgement to determine whether it is appropriate to delay or defer treatments). However, services for patients requiring urgent or emergency public dental services are still available. Patients in these situations are currently being catered for at the sister Community Health Centre at Brookvale. Hopefully normal transmission can recommence soon.
Key infrastructure improvements since 2011 include:
New Inpatient Beachside Rehabilitation Unit (2014)
New Inpatient Palliative Care Unit (2021)
New Inpatient Geriatric Evaluation and Management Unit (2021)
New Community Health Services Building (postnatal services, paediatric speech pathology, diabetes clinic, dental surgery, podiatry, etc) (2016)
New Support Services Building (accommodating new kitchen, laundry, cleaning, engineering, maintenance facilities) (2019)
New Inpatient Drug and Alcohol Rehabilitation building (2020)
New Urgent Care Centre (including medical imaging and pathology services) (2018/19)
Upgrades to hydrotherapy pool building and equipment (2014)
Upgrades to Outpatient Palliative Care Building (Cora Adcock Building) (2012/13)
Upgrades to Inpatient Assessment Rehabilitation Unit (2014)
Introduction of solar energy infrastructure (2020)
Introduction of new helipad (2020)
New internal roads and parking (2020)
New Ambulance Station (2021)
Mona Vale Hospital Services:
24/7 Urgent Care (level-1 emergency medicine)
Radiology
Pathology
Pharmacy
Inpatient rehabilitation and assessment
Inpatient palliative care
Inpatient geriatric evaluation and management
Outpatient palliative care,
Inpatient drug and alcohol rehabilitation
Adult and child dental surgery,
Hydrotherapy,
Paediatric occupational therapy,
Paediatric speech pathology,
Paediatric physiotherapy,
Adult, youth and child mental health,
Adult musculoskeletal physiotherapy,
Acute post-acute care,
Podiatry clinic,
Diabetes clinic,
Community drug and alcohol services,
Early childhood services,
Community nursing service,
Chronic disease community rehabilitation services,
Carer support services,
Community aged care/rehabilitation service,
Continence service,
Dietetics,
Outreach maternity antenatal clinic
Ambulance station
Cardiac rehabilitation.
Covid-19 testing and vaccination
Below run two images showing the enormous transformation and expansion of the hospital campus between 2011 and 2021.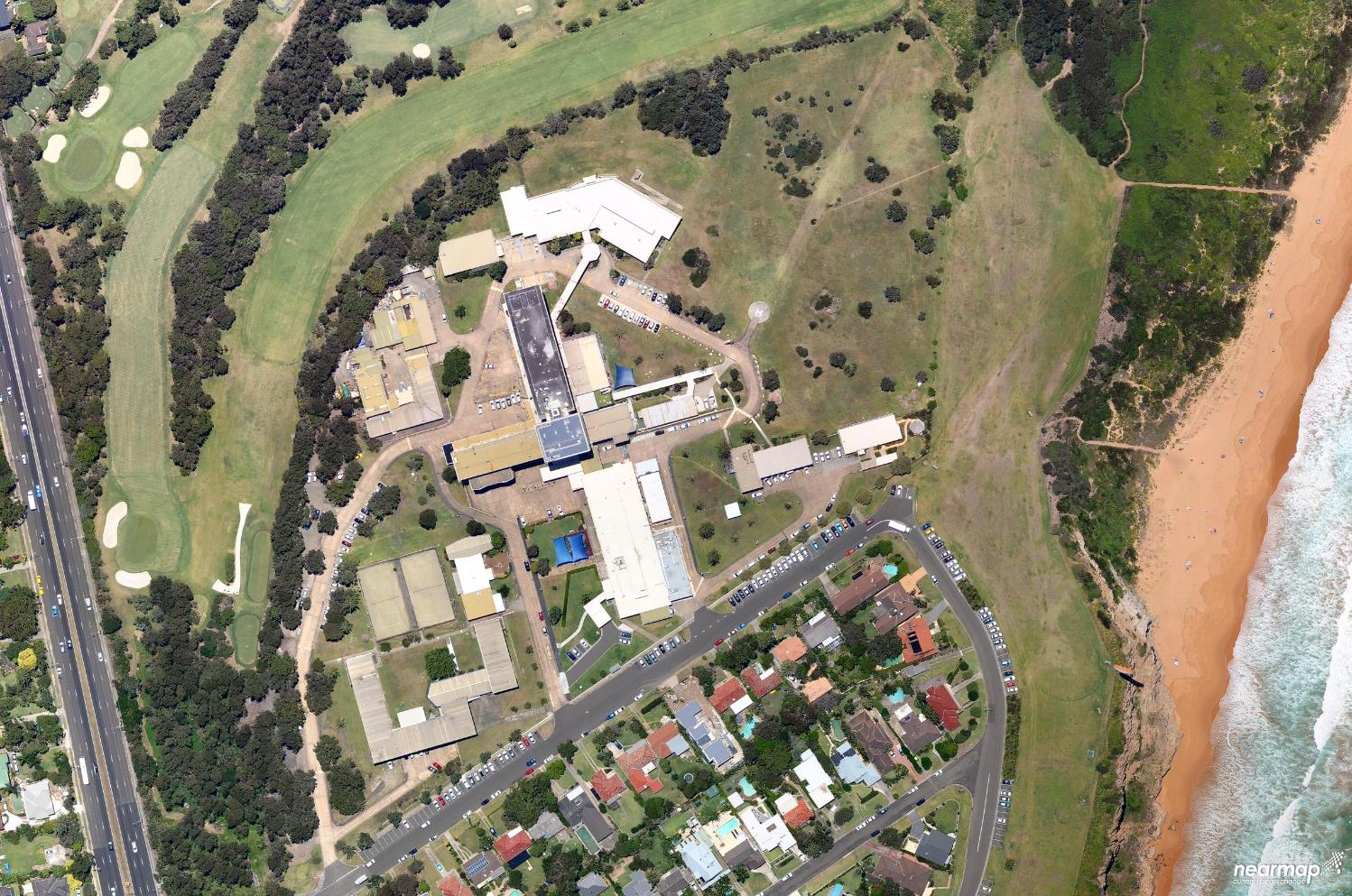 Above: Mona Vale Hospital - January 2011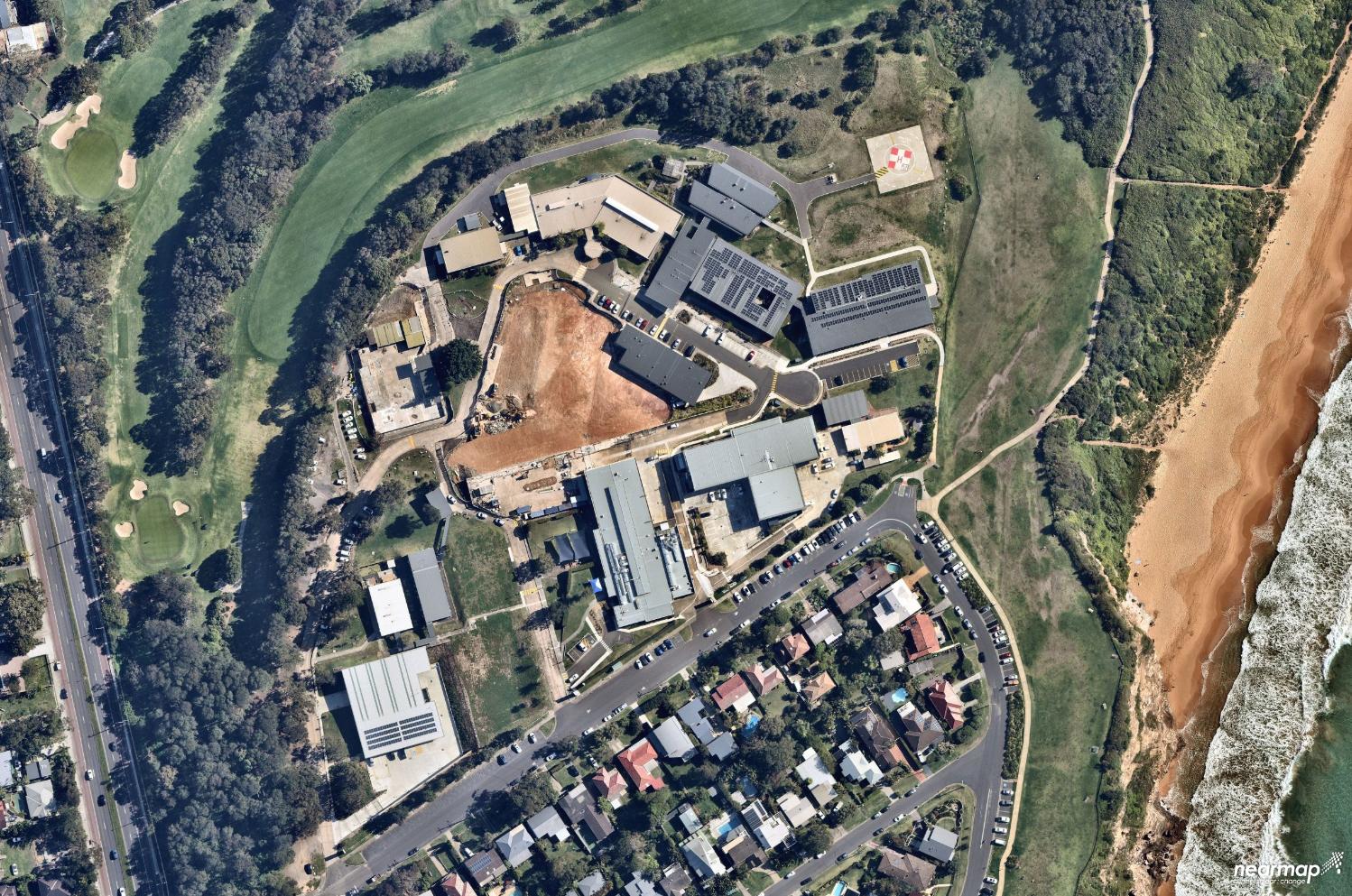 Above: Mona Vale Hospital - October 2021