October 3 - 9, 2021: Issue 512

Premier Berejiklian Resigns – Pittwater MP Rob Stokes Confirms Intention To Nominate For Liberal Party Leadership Role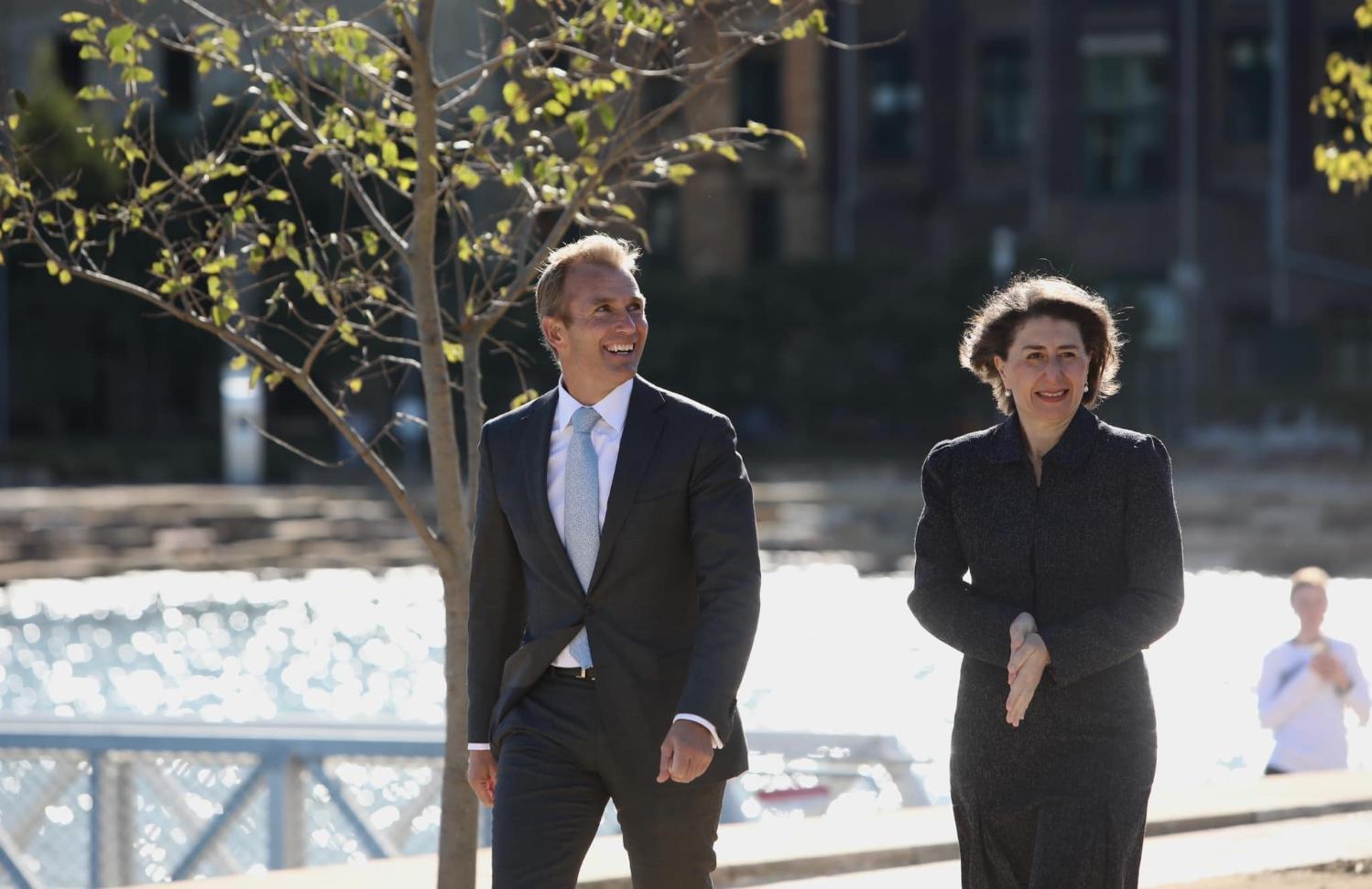 The Hon. Rob Stokes, MP for Pittwater and former NSW Premier Gladys Berejiklian - opening the Barangaroo foreshore walk in April 2021. Image from Facebook.
The Premier of Australia's biggest state economy New South Wales (NSW), Gladys Berejiklian, resigned on Friday October 1st after a corruption watchdog ICAC stated it was investigating whether she was involved in conduct that "constituted or involved a breach of public trust".
Ms Berejiklian's resignation comes as the state battles the biggest COVID-19 outbreak in the country and is poised to begin ending months-long lockdowns.
Ms Berejiklian said the issues being investigated were "historical matters" but she felt compelled to resign because of the long time frames likely to be involved in the investigation. Ms Berejiklian also said the state needed certainty over its leadership amid the coronavirus pandemic.
"I state categorically I have always acted with the highest level of integrity" Ms Berejiklian said at Fridays' news conference.
The NSW Independent Commission Against Corruption (ICAC) said in a statement on its website that it will hold further public hearings as part of its ongoing investigation, Operation Keppel, commencing on October 18th and scheduled to run for 10 days.
"My resignation as Premier could not occur at a worse time, but the timing is completely outside of my control, as the ICAC has chosen to take this action during the most challenging weeks, the most challenging times in the state's history," Ms Berejiklian said as part of her statement.
On Saturday, October 2nd, Planning Minister and Pittwater MP Rob Stokes confirmed he intended to run for the Liberal Party leadership.
Mr Stokes said he would not change the government's COVID-19 exit roadmap, that will see fully vaccinated NSW residents given a relaxation of some Covid safety measures from October 11.
In a statement to Pittwater Online News Mr. Stokes said;
"Gladys Berejiklian has been an outstanding Premier of NSW. She had led our state through some of the most challenging events in living memory.
The people of NSW know that they could not have elected a more hard-working person to lead our state. When bushfires raged and the pandemic worsened, they placed their trust in Gladys – and she delivered.
It has been an honour to work with Gladys and to serve in the essential portfolios of Planning, Public Spaces, Education, Environment, Heritage and the Central Coast.
The NSW Liberal Party is blessed to have some very talented people in its ranks, who could all bring different qualities to the role of leader.
But I believe my track record during my time in public office makes me the best candidate to lead the NSW Government.
I also believe the party room should have a choice when selecting its next leader, and I believe I provide that choice. I have the right balance of experience, vision and integrity needed during this crucial time in our history, as we continue to respond to and recover from the pandemic.
NSW is about to embark on the immense challenge of recovering from the brutal effects of the last two years. We are facing a great number of challenges and stable, unified leadership is now more important than ever.
The NSW Coalition is the best team to ensure our recovery succeeds, and I believe I am the best person to lead the government into the critical next election.
I have asked my colleagues for their support, and I am grateful many colleagues have encouraged me to nominate for leader.
I am blessed to have the support of my family in making this decision and I will continue speaking with my colleagues over the weekend." Mr Stokes said on Saturday.
Mr Stokes is expected to face at least one other contender for the top job in NSW Treasurer Dominic Perrottet.
"I think Dom has strong claims to the job and he's putting them out there," Mr Stokes said. "But I also think it's important to provide the party room and therefore the community with a choice and that's part of the reason I am committed to standing."
Tom Trbojevic Wins Dally M Medal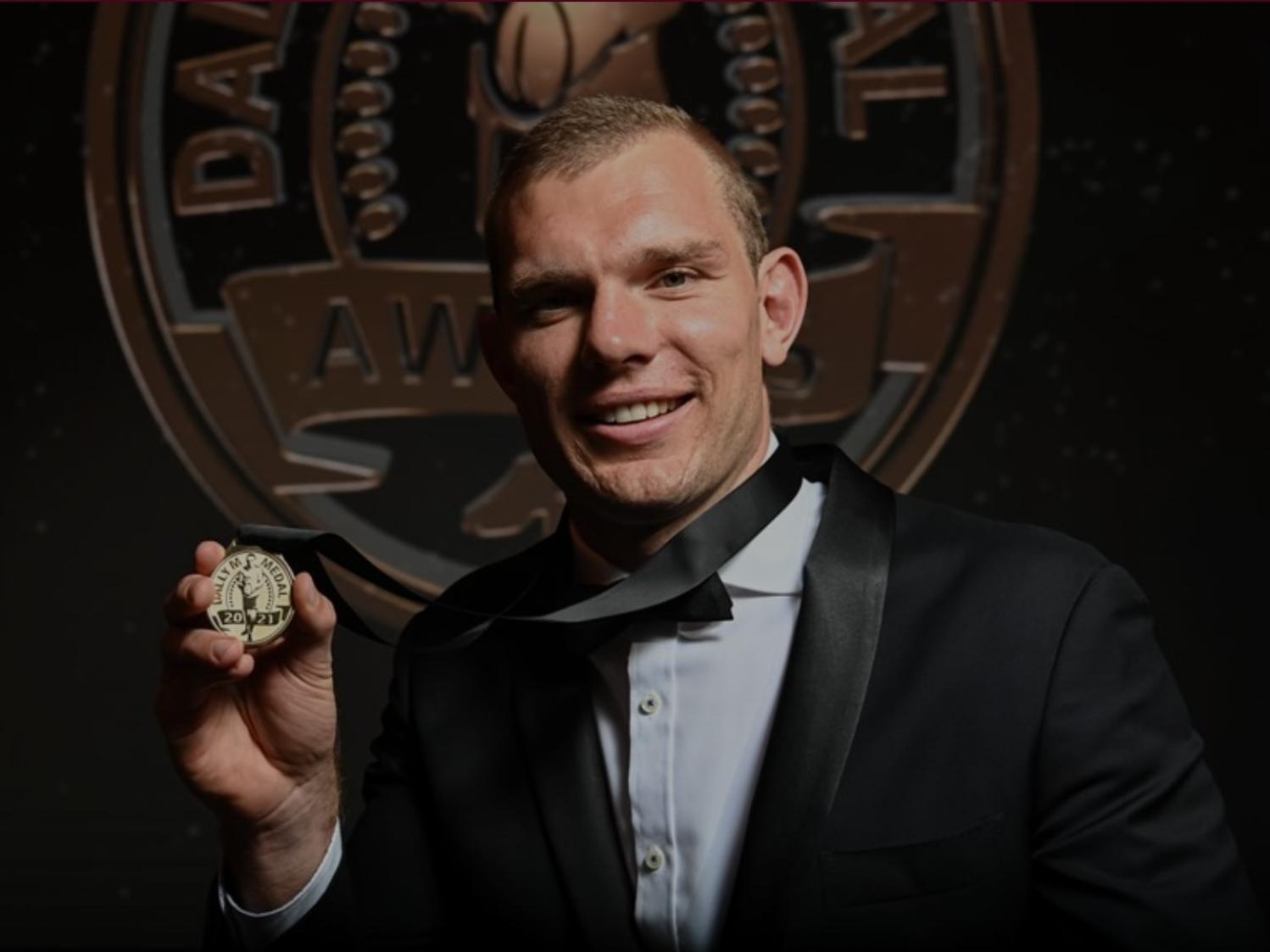 Tom and his Dally M medal: NRL Media photo
Monday September 27 2021
Former Mona Vale Raiders player and Manly Warringah Sea Eagles fullback Tom Trbojevic has capped a spectacular 2021 season by being crowned the 2021 Dally M Medal winner in Brisbane.
In a ceremony held in Brisbane for the first time ever, Tom became the first Sea Eagles player to win the coveted award since Matt Orford won in 2008.
The Sea Eagles star polled 35 points, ahead of Penrith Panthers halfback Nathan Cleary (30), and Cody Walker (29). Trbojevic's teammate Daly Cherry-Evans and Sydney Roosters fullback James Tedesco (both 23) rounded out the top five.
Trbojevic's ascension to the medal was complete in Round 24, when he polled three points against the Bulldogs. Remarkably, he polled three points in 11 matches in 2021.
This year's Dally M Awards once again featured a full 13-man team as its Team of the Year.
Grand finalists Penrith Panthers dominated the Team of the Year, with six members crowned – prop James Fisher-Harris, second-rower Viliame Kikau, lock Isaah Yeo, winger Brian To'o and centre Matt Burton joining Cleary at halfback.
Melbourne Storm's remarkable season was celebrated with a number of landmark achievements - Craig Bellamy won Dally M Coach of the Year, while the 19-match winning streak – which equalled the efforts of the 1975 Roosters team – was named the Peter Frilingos Headline Moment, alongside Justin Olam (Centre of the Year) and Brandon Smith (Hooker of the Year).
Retiring Sydney Roosters centre Josh Morris was given the honour of winning the Provan-Summons Medal – the Spirit of the Game award – after the emotional embrace with his twin brother Brett following Brett's season-ending injury in Round 8.
Sydney Roosters fullback James Tedesco was awarded Captain of the Year, while teammate Sam Walker was rewarded for a stellar season with Rookie of the Year honours.
"On behalf of the game, congratulations to Tom Trbojevic on winning rugby league's highest individual honour,'' NRL Chief Executive Andrew Abdo said.
"It's a remarkable achievement in a remarkable year to poll 3 points in 11 different games.
"Congratulations to every winner. Tonight we reflected on the people and moments of the season. The players. The coaches. The teamwork. The deep tribalism. The unmatched athleticism. The unforgettable moments of brilliance."
Tom Trbojevic was also named the Dally M Fullback of the Year and Try of the Year for the Sea Eagles' Round 25 win over the Cowboys, and the length-of-the-field team try finished by Tom.
Crescent Reserve Vandalism By Trail Bikers Destroys 24 Years Of Work By Volunteers; Is An Authorised MTB Track For Youngsters IN Pittwater Discussion Overdue?
Linda Weynton, a member of the bushcare group for Crescent Reserve Newport, has forwarded concerns about the deliberate destruction of this restored area, work this bushcare group have undertaken and continued over 24 years.
In the space of the last couple of weeks trail bike builders have removed barriers erected by council staff last year, after a similar incident damaged and felled shrubs and trees in order to create several bike trails, erected a den and tree house, excavated soil at creek level to create jumping mounds, installed a garden bench, foldable chairs, and left the tools used to destroy this reserve, namely wheelbarrows, a bush saw, brooms, shovels, chainsaw and general rubbish.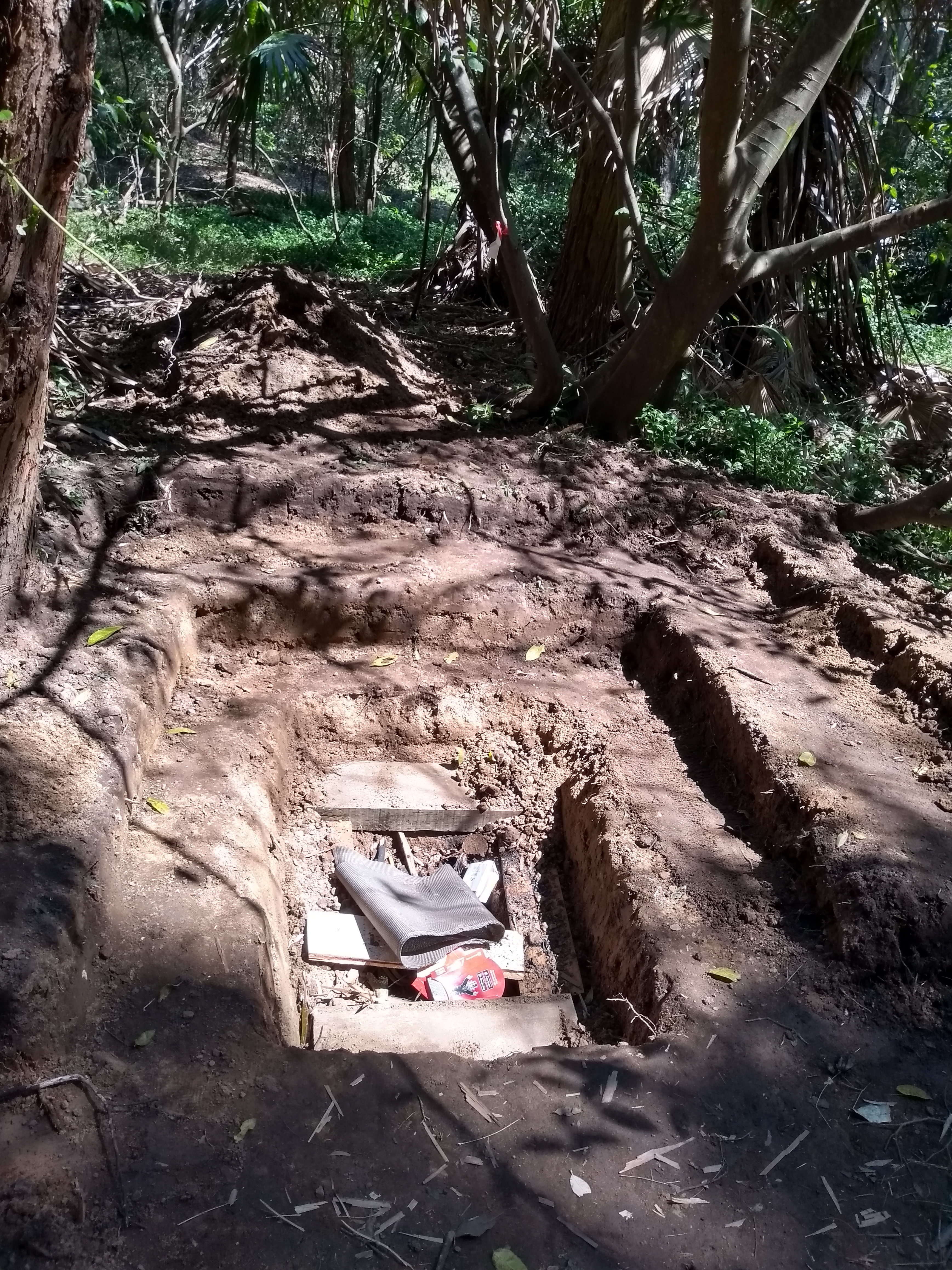 one example of what has occurred in Crescent Reserve: image supplied
On finding the teenagers in the bush doing the same on August 29th at 1.15pm the bush care volunteers called the council rangers. While waiting the teenagers informed the volunteers that 'they were doing nothing wrong' and 'council didn't mind'. One lad even claimed his dad 'owned the council'.
Their comments escalated and became threatening, causing the volunteers to call the police.
They stayed until about 4.00pm without a ranger or a police person showing up.
The volunteers stated they have been informed by a local councillor and bushcare friends the damage described is happening from one end of the LGA to the other and council have no appetite to do anything about it mainly because the mental health of the youngsters in lockdown has to be considered.
The volunteers object to this premise, wondering why the mental wellbeing of those who have invested decades of their efforts into restoring these areas and now see them being destroyed without any checks, is not also taken into account.
In light of the perceived laissez-faire attitude of management that exists at the moment the volunteers think ratepayers would be interested to know the overall cost to them over decades of bushcare programmes and reparation works, not to mention the volunteer hours worked that are not costed.
Council have responded by sending more rangers to patrol the reserve during recent weeks; efforts which are appreciated by the volunteers and local community, but would be more effective should they attend when first called. Responding to calls for help hours, days and even weeks later are ineffective and will not counter this growing problem.
Due to the ongoing issues and damage being caused within the reserve the council has determined that the installation of permanent fencing to protect the remnant bushland from repeated impacts is warranted. Quotations are currently being sought for suitable fencing options to help protect this important bushland asset.
Another aspect is pointedly announced by one of these teenagers themselves, in 'council didn't mind' and shows the messaging coming out of council, as instanced in the destroyed perimeter of Plateau Park and its adjacent EEC listed bush reserve, and in the running over of a wallaby by a mountain biker on another illegal bike track at the Ingleside end of Gairgal NP in 2020. Damage to Warriewood wetlands, a Wildlife Protection Area, that mum Nina Reynolds spoke up about also made her the target of threats from MTB 'trail builders' and the smashing of a window at her home by them, scaring her young children to the point where they could not sleep.
The Whitney Park Mona Vale illegal bike ramps not being removed and a boy ending up with a serious head injury in 2020 show what can happen – as do the rising frequency of people being hurt on illegal bike tracks in inaccessible bush areas who are not only badly hurt but require being rescued and, in some instances, being helicoptered out due to the terrain and extent of physical injury.
The deliberate unchecked destruction in Crescent Reserve echoes many similar reports Pittwater Online News has received during the past few months. This presents an opportunity for engaging with those who will inherit the custodianship of these bush reserves and the privilege of encountering the wildlife that lives in them for their own children.
A report received last year from a Narrabeen school on their in-school bushcare group of students and how much the youngsters enjoyed learning about the area they live in and restoring an area, contributing something that will grow to it, underlines this.
Complementing this is the obvious need to identify an area in Pittwater the kids can exercise their passion for this sport in – parallel to that is the idea this could also identify that area through all the tracks of weeds that need to be pulled and areas alongside them restored. As with every other 'project' or sport that exists in Pittwater, the veritable army of volunteer parents, grandparents and carers could form part of the groups that pull those weeds, build this track and restore the areas alongside it.
Newport Residents Association Update On Saving Robertson Road So It May Remain The Centre Of This Village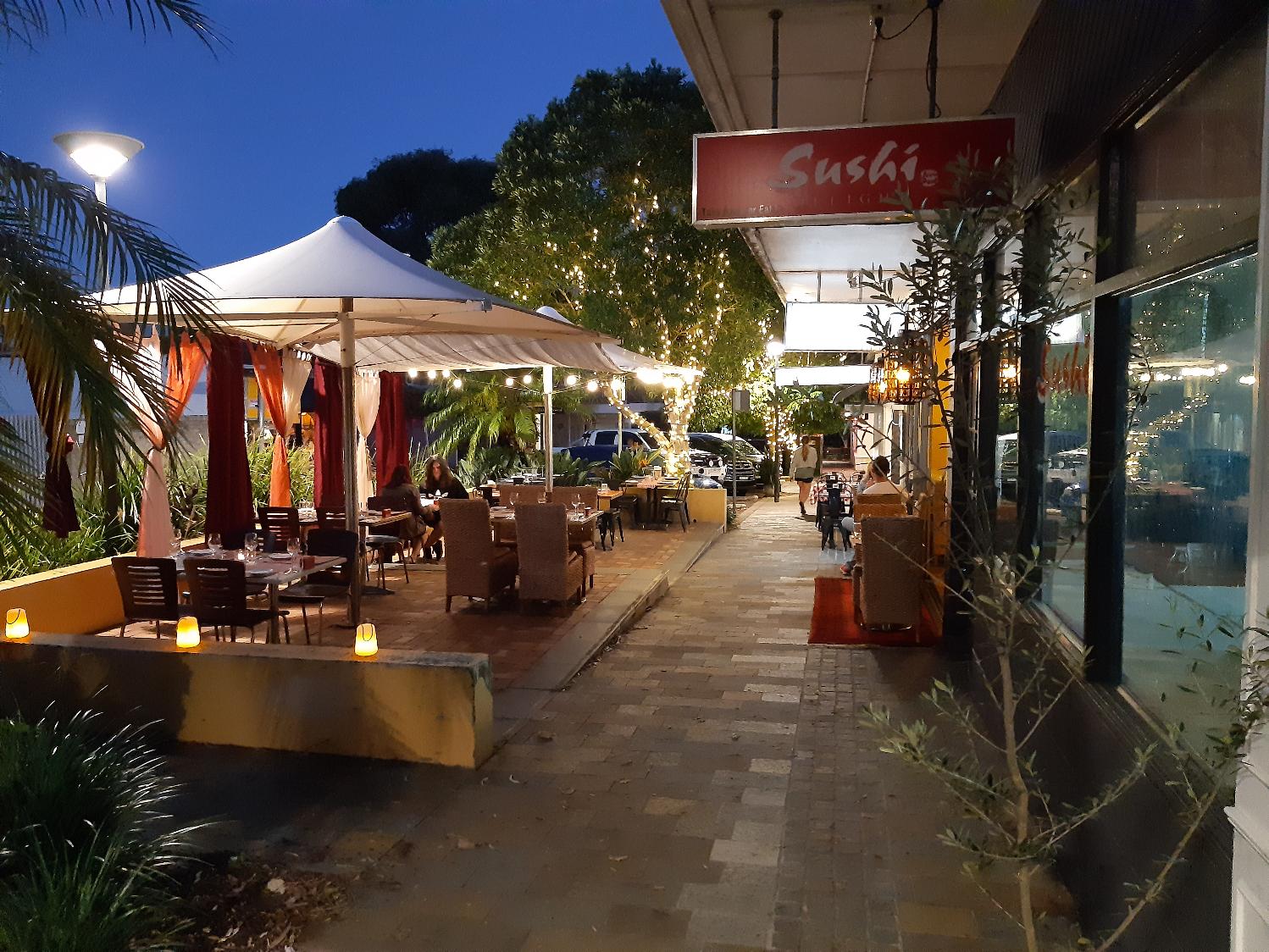 Robertson road, Newport. Image supplied.
The Newport Residents Association (NRA) is a long-standing, community, not for profit group.
Mr. Gavin Butler, President of the association, said "Currently we are working with a community group – Save Robertson Road – on the most important issue perhaps ever to affect Newport Village and we wish to give the community at large an update on where matters are at.
"Robertson Road is the centre of our village and is the focus of the Newport Masterplan (developed in 2007) to create a heart for Newport. It is under threat by two potential developments. The first one at 351 Barrenjoey Rd, has recently submitted a new DA for a shop top housing development on the north side. The other, on the south side, is at 349 Barrenjoey Rd. The second applicant had submitted one DA which was withdrawn but it is likely another DA will be submitted shortly.
"There have been over 900 followers on the ''Save Robertson Road' Facebook page'' added Mr Butler.
"Allied with this we have been involved in conducting a local survey on the future of Robertson Rd with over 1,100 people taking part (in excess of 1,000 being from Newport post code 2106). 88.3% of respondents answered Yes to the following question; 'Do you think Robertson Road is a unique and important place in Newport and should be assessed and developed accordingly: as the boutique, al fresco eating and community centre of the village?'"
This situation was the subject of a Mayoral minute, endorsed unanimously by Councillors at the March Council meeting.
Subsequently there was a zoom meeting on 28th July, organised by Council with representatives from land owners, Council, interested residents the NRA and Rob Stokes. This meeting was seen as a positive first step in moving toward the creation of Robertson Road as the communal heart of Newport.
On-line submissions to council on the current DA closed on Friday 20th August 2021. However NBC will accept new and additional submissions, due to a further set of modified plans being lodged, up until such time Council makes a determination. This can be done by sending an email via "Council@northernbeaches.nsw.gov.au" quoting "Application Number: DA2020/1756".
Following consultation with the Council the further set of modified plans was lodged on the 27th August 2021. The Council at this stage has deemed it not necessary to renotify the public, even though these modified plans show a reduction in one complete level of parking and 26 parking places. Further, these revised plans still allow for vehicle entry from the centre of Robertson Road into the proposed 351 Barrenjoey Road development.
Mr Butler stated that he and the community are extremely concerned that if this DA is approved in its current form, it will demonstrate that the Newport Masterplan is not being adhered to by Council. Any such approval will set a precedent that will be detrimental to the entire village and the desire to have a "Heart to Newport". It would almost certainly make it impossible to achieve Robertson Road becoming the pedestrianised precinct envisioned in the Masterplan.
Mr Butler went on to explain that "Residents are not opposed to development – and in fact we welcome it – but it must adhere to the Newport Masterplan".
Pittwater Parks Much The Poorer After Concrete Paths Have Been Cut Through Their Green Hearts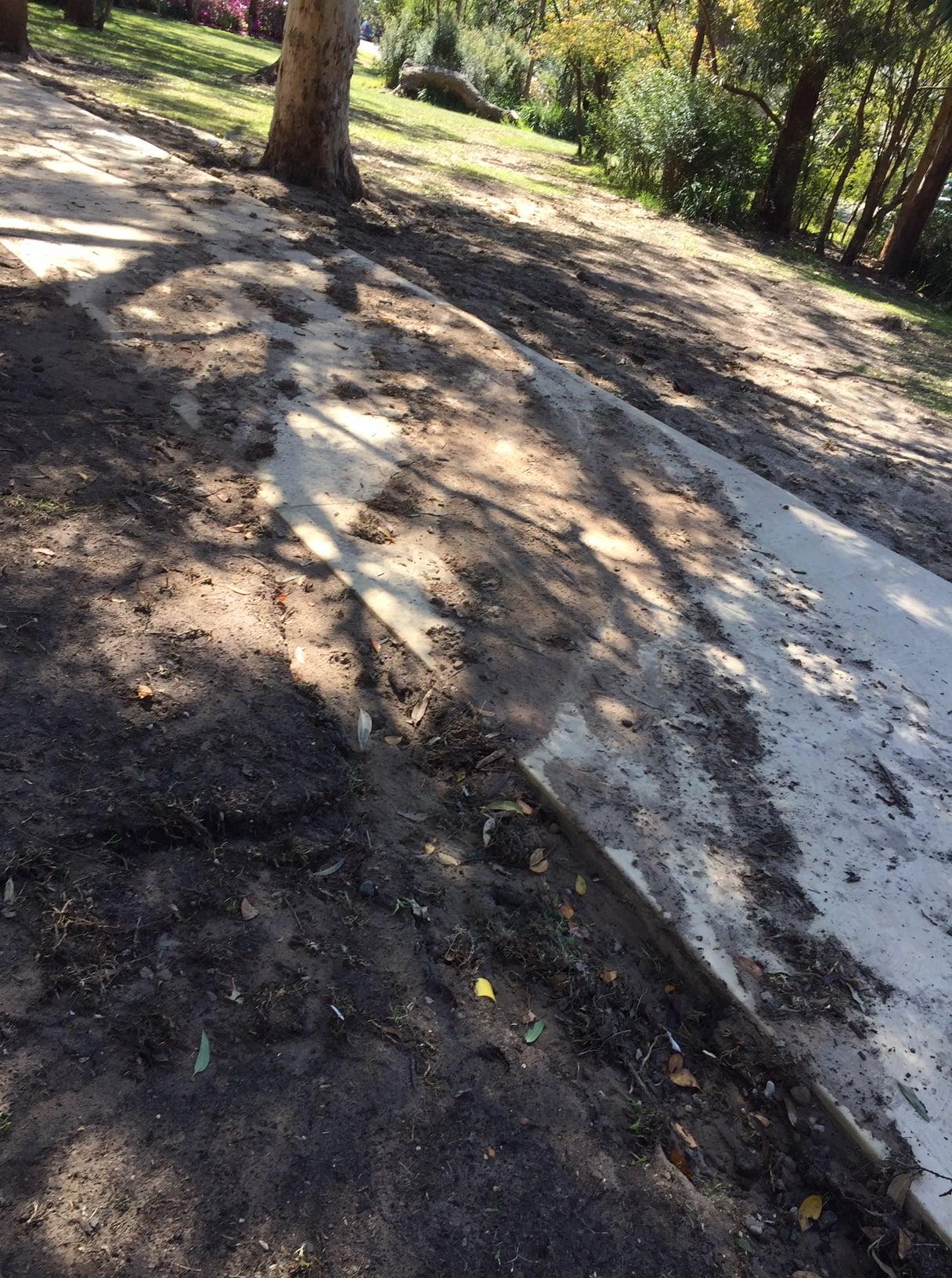 Trafalgar Park, September 2021 - photo by Penny Auburn
Newport resident Penny Auburn has forwarded photos to show what is now in place in historic Trafalgar Park. Below these images run those taken by PON staff prior to the works in 2021. The project was delivered as part of the Transport for NSW Active Transport 2020/21 grant funding program. The council webpage on this project states that finishing touches will be added soon.
The project has proved unpopular with residents as despite requests to not have the park cut in two, pointing out that this is a recreation space and park for residents and families that should not be turned into a transport thoroughfare, council proceeded.
In doing so the park has been changed from a place where people may stop and be still to a place that has been subsumed into being part of a bike riding network.

Residents had pointed out the path already preferred by those moving through the park.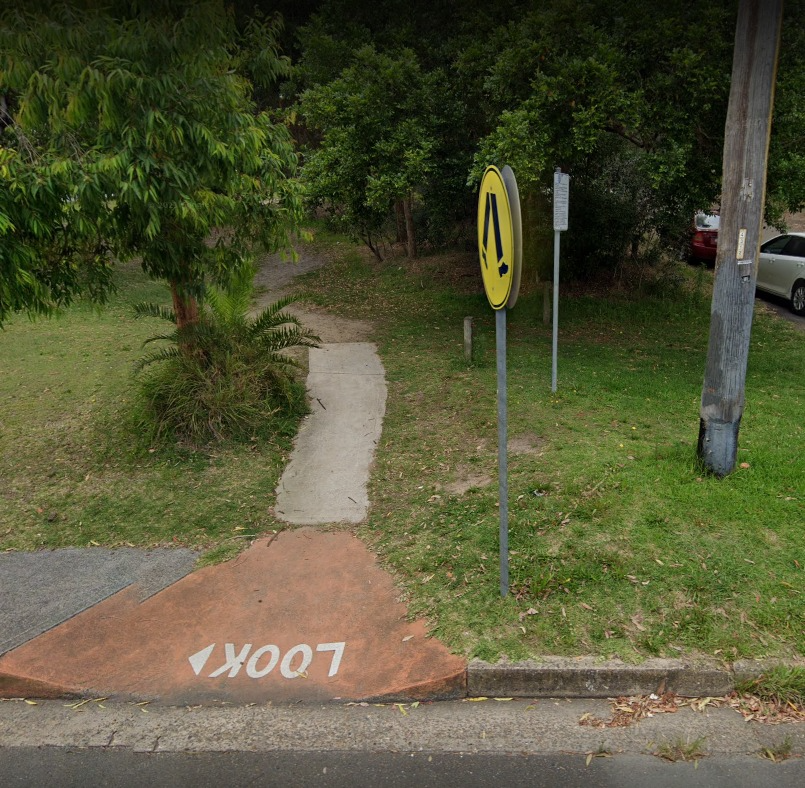 the path already being used by residents, at western perimeter of the park, prior to installation
Others opposed the project on the grounds that collisions between walkers and people on bikes are growing in the area and 'shared paths' do not work, citing some bike riders seem to think they have priority over pedestrians when on 'shared paths'.
There were also safety concerns about the path creating a 'runway' onto Gladstone street, at the base of the park, due to its steepness, and into any passing vehicles or buses.
The footprint for the path follows that long used by parents shepherding children to school and the students themselves, which is a little less steep
in gradient by weaving through the once grassy area, but still has a steepness where it meets Gladstone.
There were also multiple requests for
material other than concrete to be used.
Unfortunately rain occurred during the works period resulting in runoff of the soil placed in the path footprint and alongside it and subsequent erosion in areas of the once green area: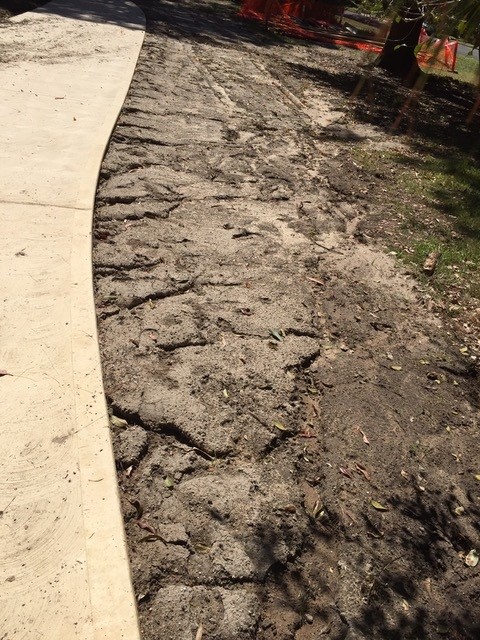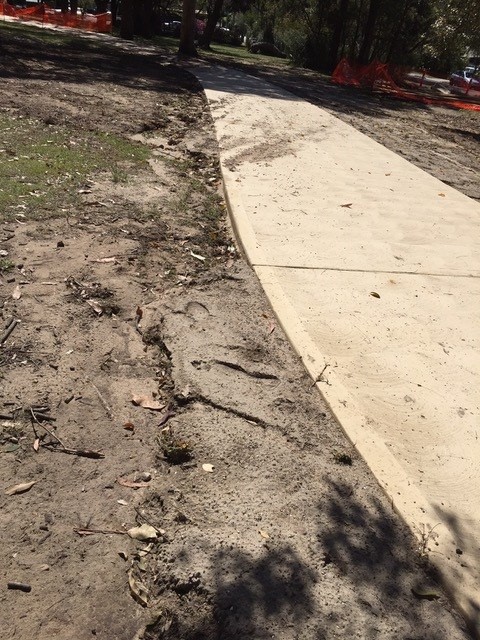 ''
It looks like an absolute dog's breakfast, and is unpleasant to walk across and around. Dirt and mud are already on the path, washed over it by the rain.'' Penny stated this week
No sediment barriers were installed throughout the works, however sediment barriers, as can be glimpsed in the above images, were used to keep residents out of the works area during the laying of the path. Much of the area alongside and downhill from the path has been damaged though, as a result of this work.
Similar erosion and exposure of the earth is now a part of historic Catalpa Reserve in Avalon. This too formalised the thin foot traffic path already created through being much used by residents. In that instance the reasoning for placing a concrete path through that previously all green grass and trees oasis was to provide easier access for prams and those in wheelchairs, a fine idea in keeping with community aspirations for all community members. However, there is a set of concrete stairs at one end of this new path which would not make this suitable for wheelchairs or prams and make that 'reason' given a falsehood.
Photos taken earlier in 2021 of that installation show the erosion that has now occurred there. In this instance as well, requests or suggestions a material other than concrete be used were similarly ignored.
During an era when communities need to 'cool down' the heating up properties of using any form of concrete in parks or reserves are out of step with looking after these parks in a responsible manner, or ensuring the wildlife, the other 'voiceless' residents of our area that are now dependant on those who will continue to speak up for them, are safe from habitat deterioration.
The hard paths program is being cited as 'the concreting of Pittwater by Pittwater-hating Warringah' and perpetuates an anti-forcibly-imposed-Council sentiment in the Pittwater community. Messages written on NBC signage at other works reiterate the message 'NO!! Not more concrete!!!, Sux':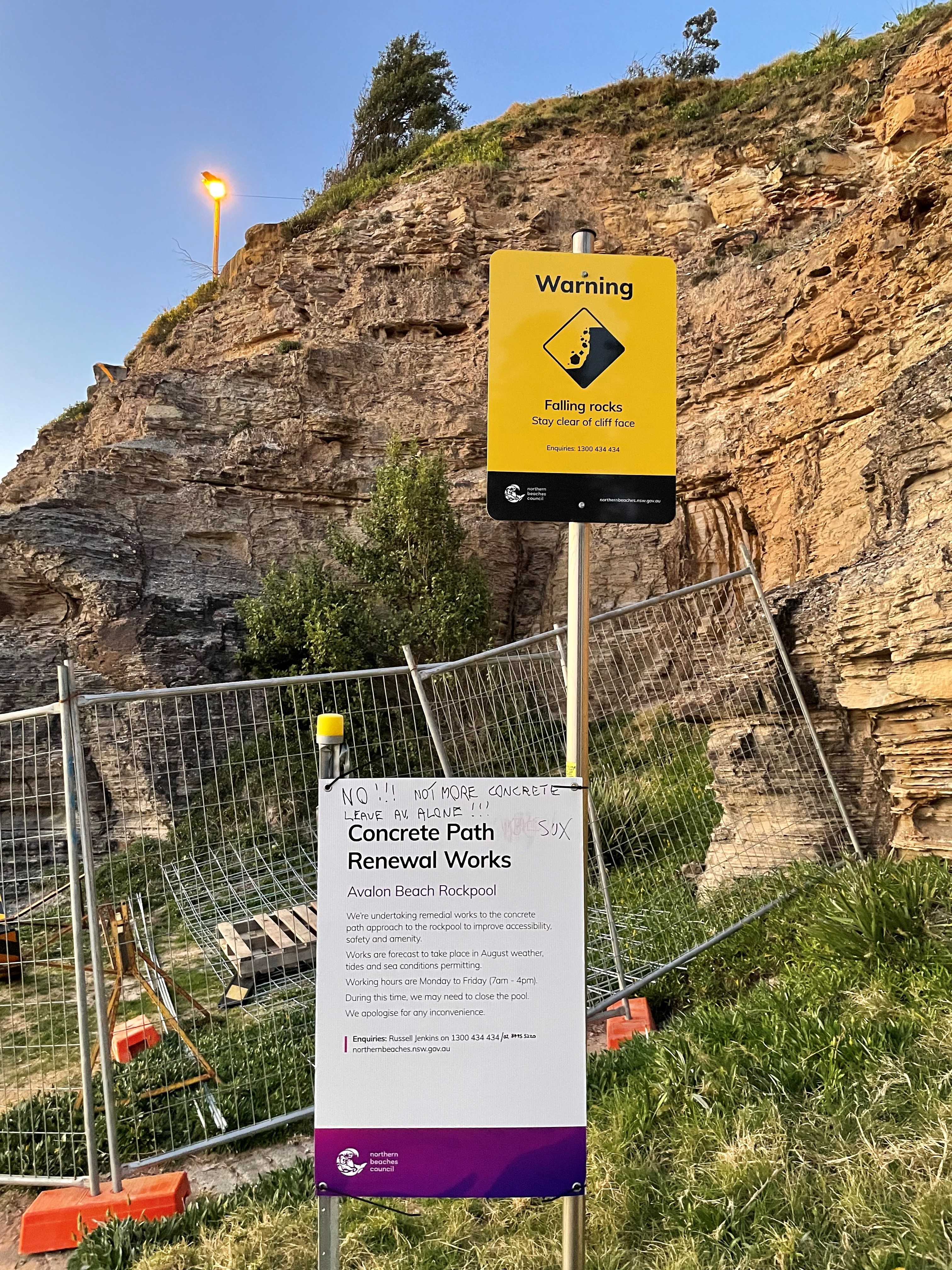 Catalpa Reserve - post concrete path Installation: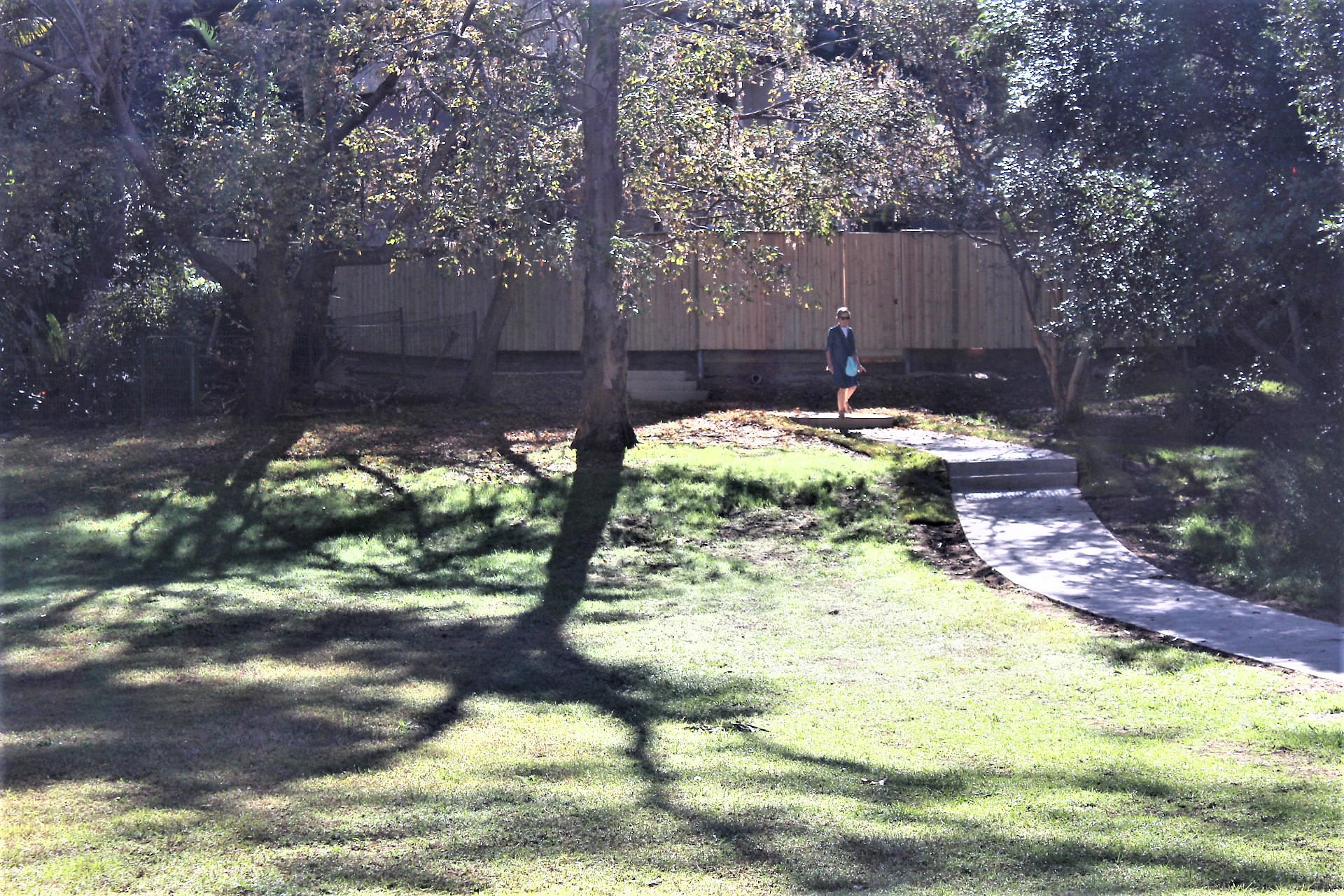 the concrete stairs that will provide 'easier access' for people in wheelchairs or those pushing prams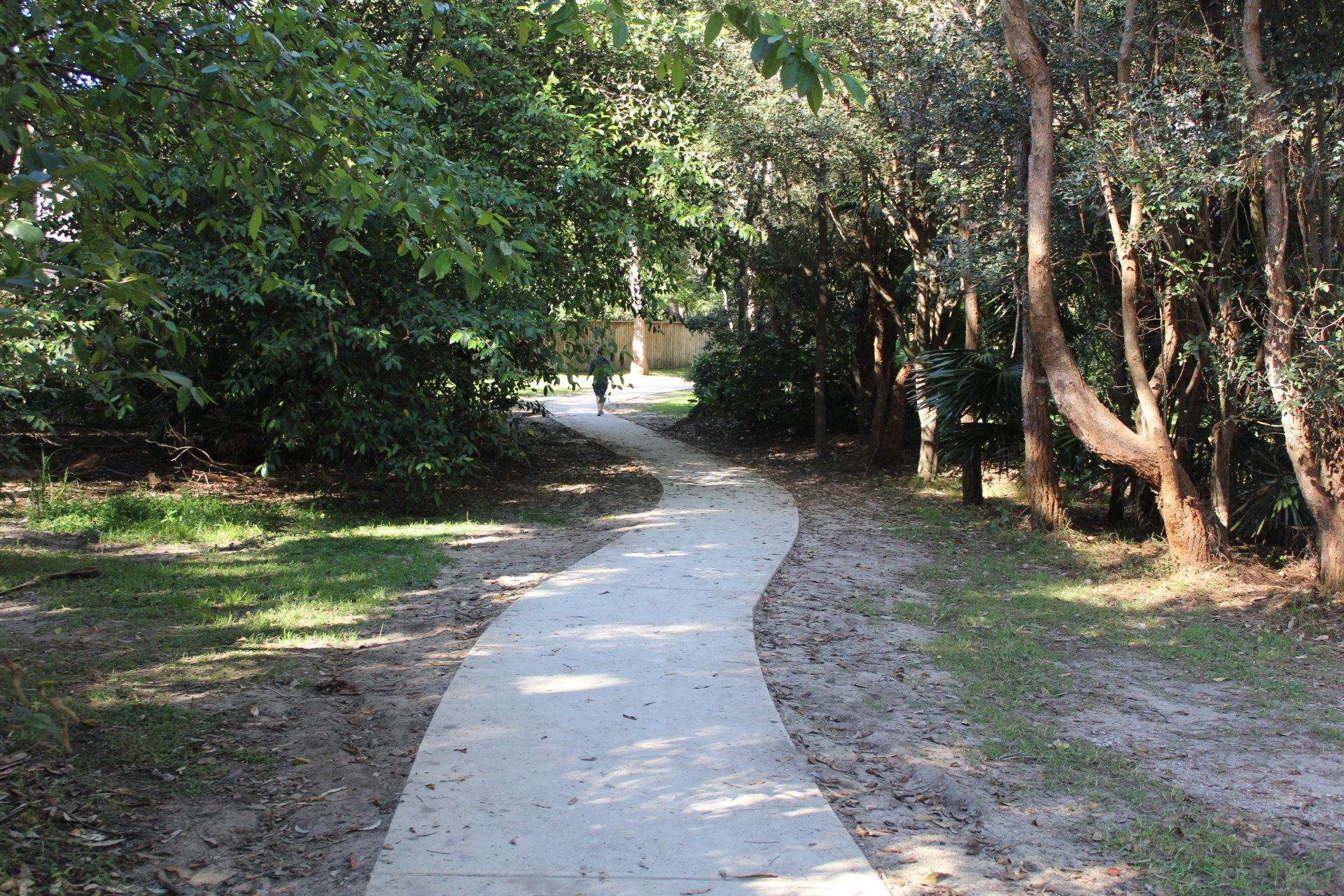 the erosion on either side of this installed concrete path
New Group Formed To Demerge Amalgamated Councils: The Demerge NSW Alliance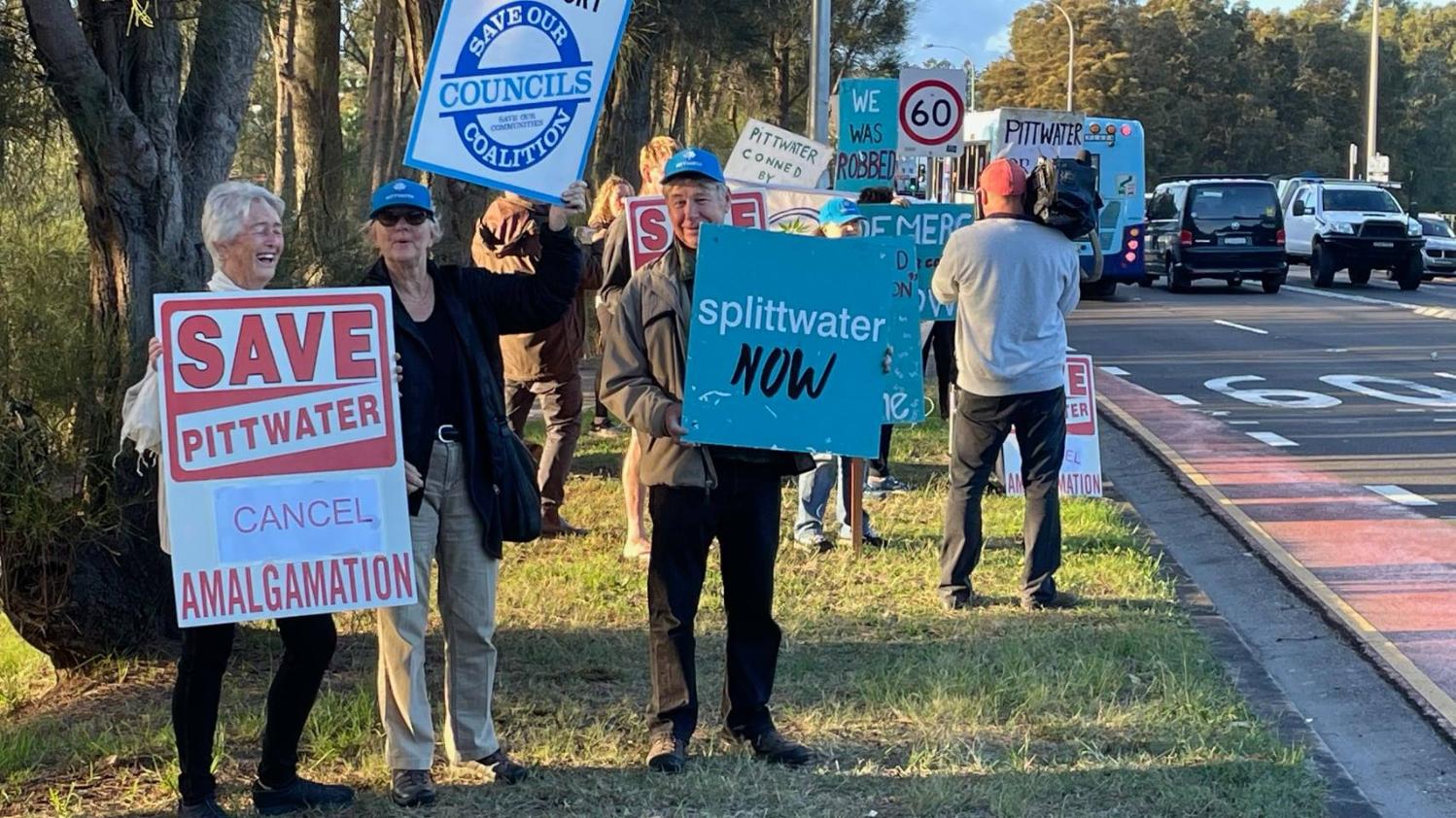 September 26, 2021
Community members from amalgamated councils across NSW have come together to form a new alliance promoting polls to gauge residents' desires for demergers. Demerge NSW Alliance (DNA) today announced that it has already attracted support from residents of a majority of the state's 20 merged councils. This covers communities across NSW from Guyra to Bombala, from Central and Mid North Coast and in Sydney from Botany Bay to Pittwater including Canterbury Bankstown, the most populous council in NSW.
DNA coordinator Grantley Ingram, from Bombala, expressed the continuing outrage of communities over the NSW government's forced amalgamations.
"After five years of merged councils, communities remain angry about the remoteness of the mega councils, the rate increases, the failure to deliver financially and lack of representation," Mr Ingram said in a statement.
"They want their local councils back."
Discontent has been brewing since 2016, when the Coalition government merged councils without giving communities a democratic vote on whether they supported the move. NSW Local Government Minister Shelley Hancock's July rejection of demerger proposals from Tumbarumba (amalgamated into Snowy Valleys Council) and Gundagai (merged into Cootamundra Gundagai Regional Council) has shocked and dismayed their residents.
In the case of Snowy Valleys, an investigation by the Boundaries Commission led to the recommendation that the demerger should go ahead. Furthermore, NSW Deputy Premier and Nationals leader John Barilaro and his Nationals colleague, Cootamundra MP Steph Cook, had demanded in June that the state government split the Cootamundra-Gundagai Regional Council.
Meanwhile, councillors from the Inner West LGA have voted to hold a demerger poll at their local government election on December 4.
"This issue will not go away until democracy is restored and polls are held either by Councils voting to hold a poll, as the Inner West has done, or after the next state election by Parliament setting up a legislative process," DNA supporter Katrina Pearson said.
DNA has sent a letter to councillors of amalgamated councils calling on them to support motions at their next council meetings for a poll on demerging to be held at local government elections on December 4.
Voting on this motion will inform their communities of the current councillors' positions on demerging.
Should residents vote for a demerger, the newly elected councils must respect that desire and put a proposal for a demerger to the local government minister.
Legislation already passed has decreed that the cost of any demerger through that process would be funded by the state government.
Members of the communities of the amalgamated councils who would like to support the Alliance can contact newdemerge@gmail.com to receive updates of actions and activities.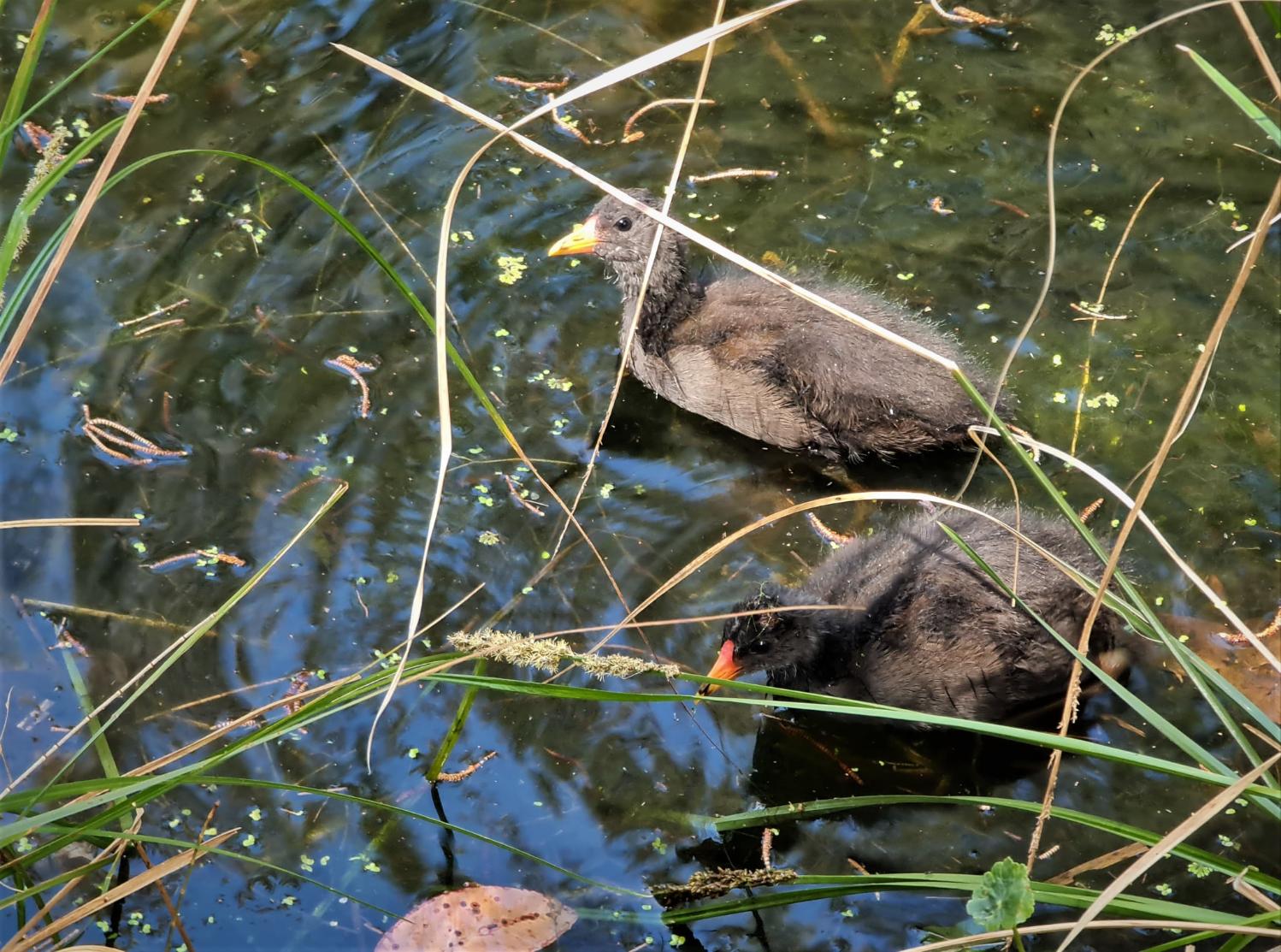 Gallinula tenebrosa, Dusky Moorhen chicks in Warriewood Wetlands this week - photo by Joe Mills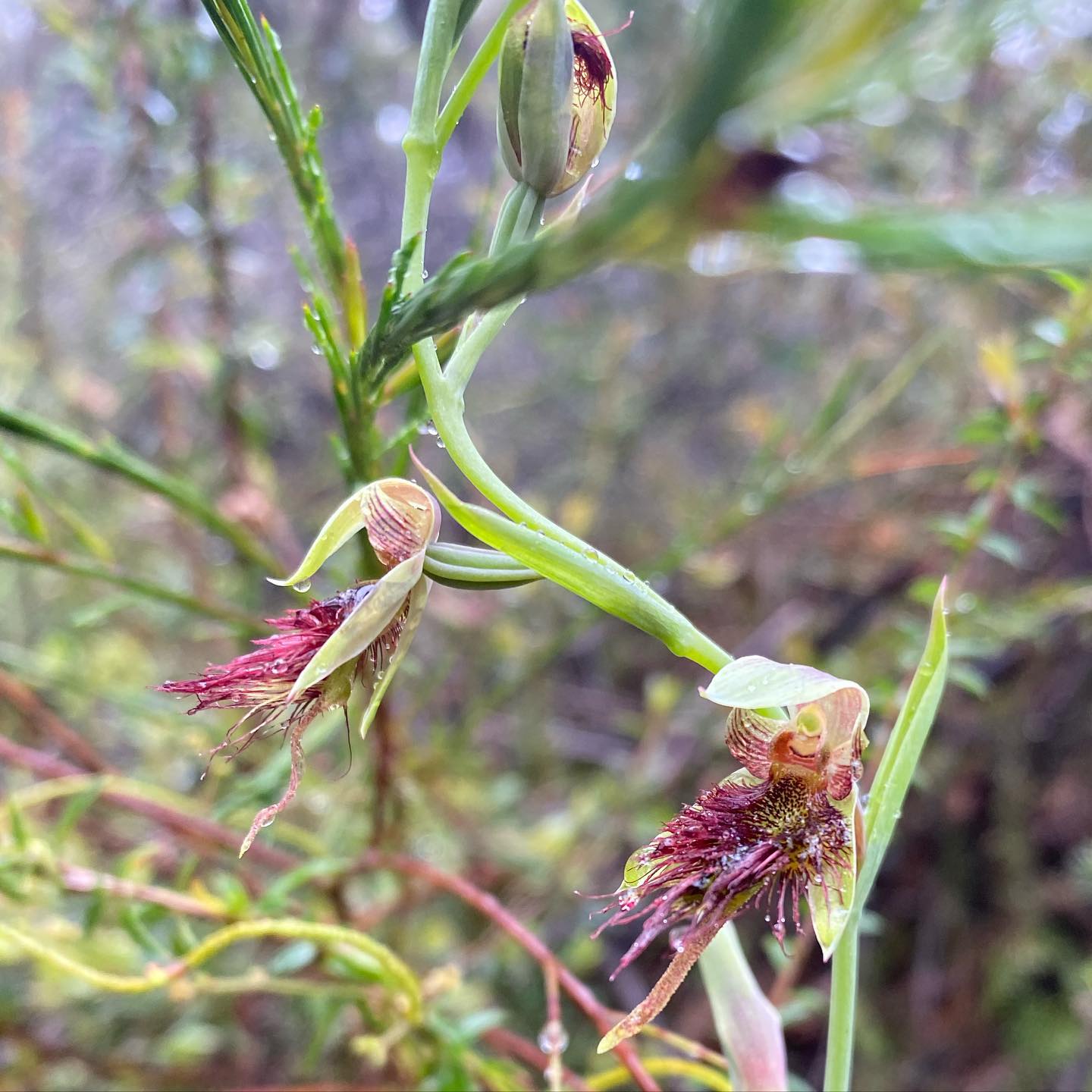 Bearded Orchid, Calochilus pulchellus, Pittwater - photo by Selena Griffith.
Past Features Archives (pre 2014)
Pittwater Online News was selected for preservation by the State Library of New South Wales and National Library of Australia. This title is scheduled to be re-archived regularly.
Archived Issues (2014 on) may be accessed here: pandora.nla.gov.au/tep/143700