October 3 - 9, 2021: Issue 512
Premier Berejiklian Resigns – Pittwater MP Rob Stokes Confirms Intention To Nominate For Liberal Party Leadership Role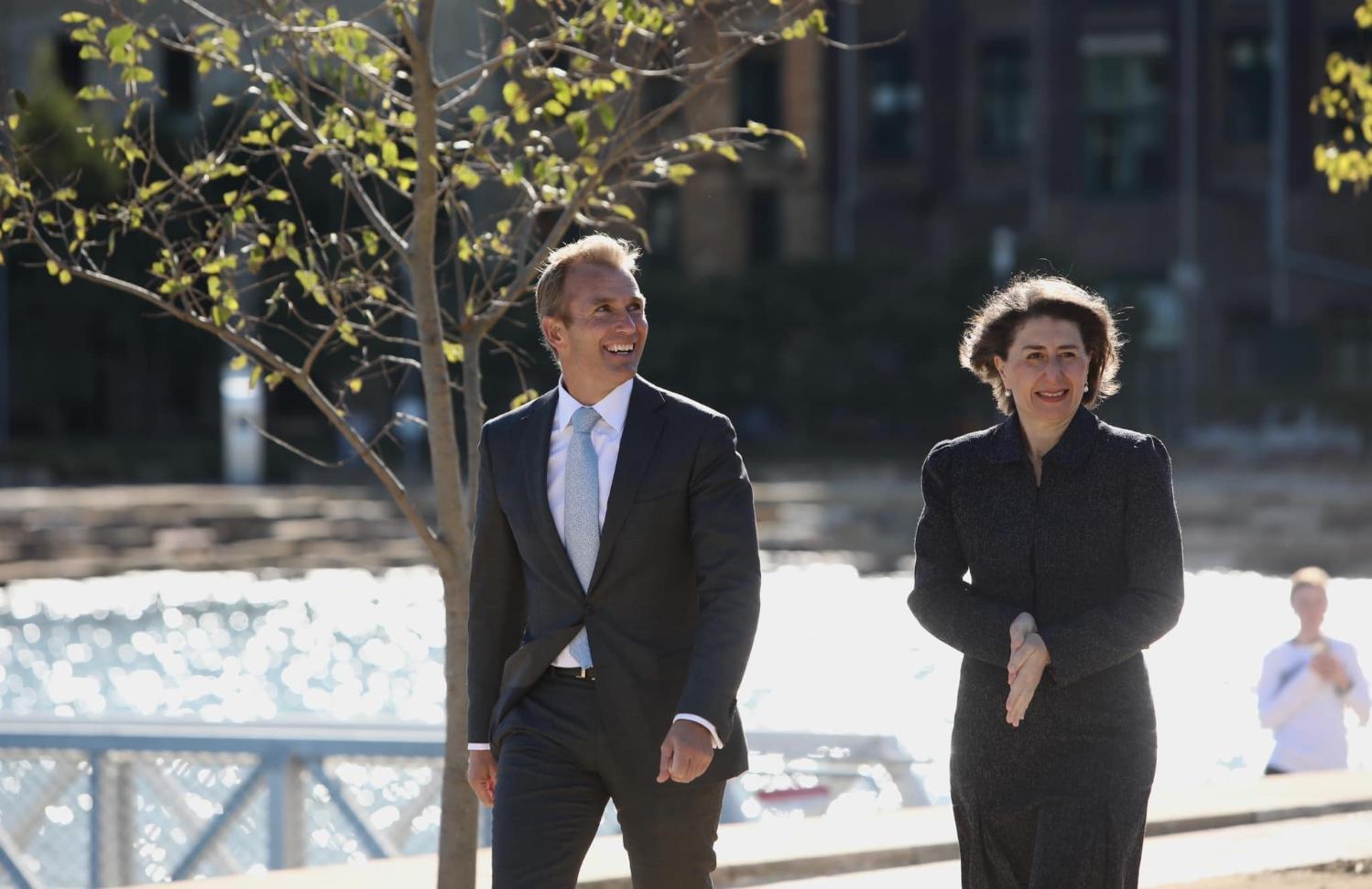 The Hon. Rob Stokes, MP for Pittwater and former NSW Premier Gladys Berejiklian - opening the Barangaroo foreshore walk in April 2021.
The Premier of Australia's biggest state economy New South Wales (NSW), Gladys Berejiklian, resigned on Friday after a corruption watchdog ICAC stated it was investigating whether she was involved in conduct that "constituted or involved a breach of public trust".
Ms Berejiklian's resignation comes as the state battles the biggest COVID-19 outbreak in the country and is poised to begin ending months-long lockdowns.
Ms Berejiklian said the issues being investigated were "historical matters" but she felt compelled to resign because of the long time frames likely to be involved in the investigation. Ms Berejiklian also said the state needed certainty over its leadership amid the coronavirus pandemic.
"I state categorically I have always acted with the highest level of integrity" Ms Berejiklian said at Fridays' news conference.
The NSW Independent Commission Against Corruption (ICAC) said in a statement on its website that it will hold further public hearings as part of its ongoing investigation, Operation Keppel, commencing on October 18th and scheduled to run for 10 days.
That investigation has already heard Ms Berejiklian was once in a relationship with a state legislator who is the focus of its corruption investigation.
Commentators have stated since Friday's announcement the Premiers' failure to recuse herself, in her then role as NSW Treasurer, from any dealings or requests from the former MP for Wagga Daryl Maguire, and non-disclosure of the relationship occurring at the time, are at the core of ICAC's investigation.
"My resignation as Premier could not occur at a worse time, but the timing is completely outside of my control, as the ICAC has chosen to take this action during the most challenging weeks, the most challenging times in the state's history," Ms Berejiklian said as part of her statement.
On Saturday, October 2nd, Planning Minister and Pittwater MP Rob Stokes confirmed he intended to run for the Liberal Party leadership. Mr Stokes said he would not change the government's COVID-19 exit roadmap, that will see fully vaccinated NSW residents given a relaxation of some Covid safety measures from October 11.
In a statement to Pittwater Online News Mr. Stokes said;
"Gladys Berejiklian has been an outstanding Premier of NSW. She had led our state through some of the most challenging events in living memory.
The people of NSW know that they could not have elected a more hard-working person to lead our state. When bushfires raged and the pandemic worsened, they placed their trust in Gladys – and she delivered.
It has been an honour to work with Gladys and to serve in the essential portfolios of Planning, Public Spaces, Education, Environment, Heritage and the Central Coast.
The NSW Liberal Party is blessed to have some very talented people in its ranks, who could all bring different qualities to the role of leader.
But I believe my track record during my time in public office makes me the best candidate to lead the NSW Government.
I also believe the party room should have a choice when selecting its next leader, and I believe I provide that choice. I have the right balance of experience, vision and integrity needed during this crucial time in our history, as we continue to respond to and recover from the pandemic.
NSW is about to embark on the immense challenge of recovering from the brutal effects of the last two years. We are facing a great number of challenges and stable, unified leadership is now more important than ever.
The NSW Coalition is the best team to ensure our recovery succeeds, and I believe I am the best person to lead the government into the critical next election.
I have asked my colleagues for their support, and I am grateful many colleagues have encouraged me to nominate for leader.
I am blessed to have the support of my family in making this decision and I will continue speaking with my colleagues over the weekend." Mr Stokes said on Saturday.
Mr Stokes is expected to face at least one other contender for the top job in NSW Treasurer Dominic Perrottet.
"I think Dom has strong claims to the job and he's putting them out there," Mr Stokes said. "But I also think it's important to provide the party room and therefore the community with a choice and that's part of the reason I am committed to standing."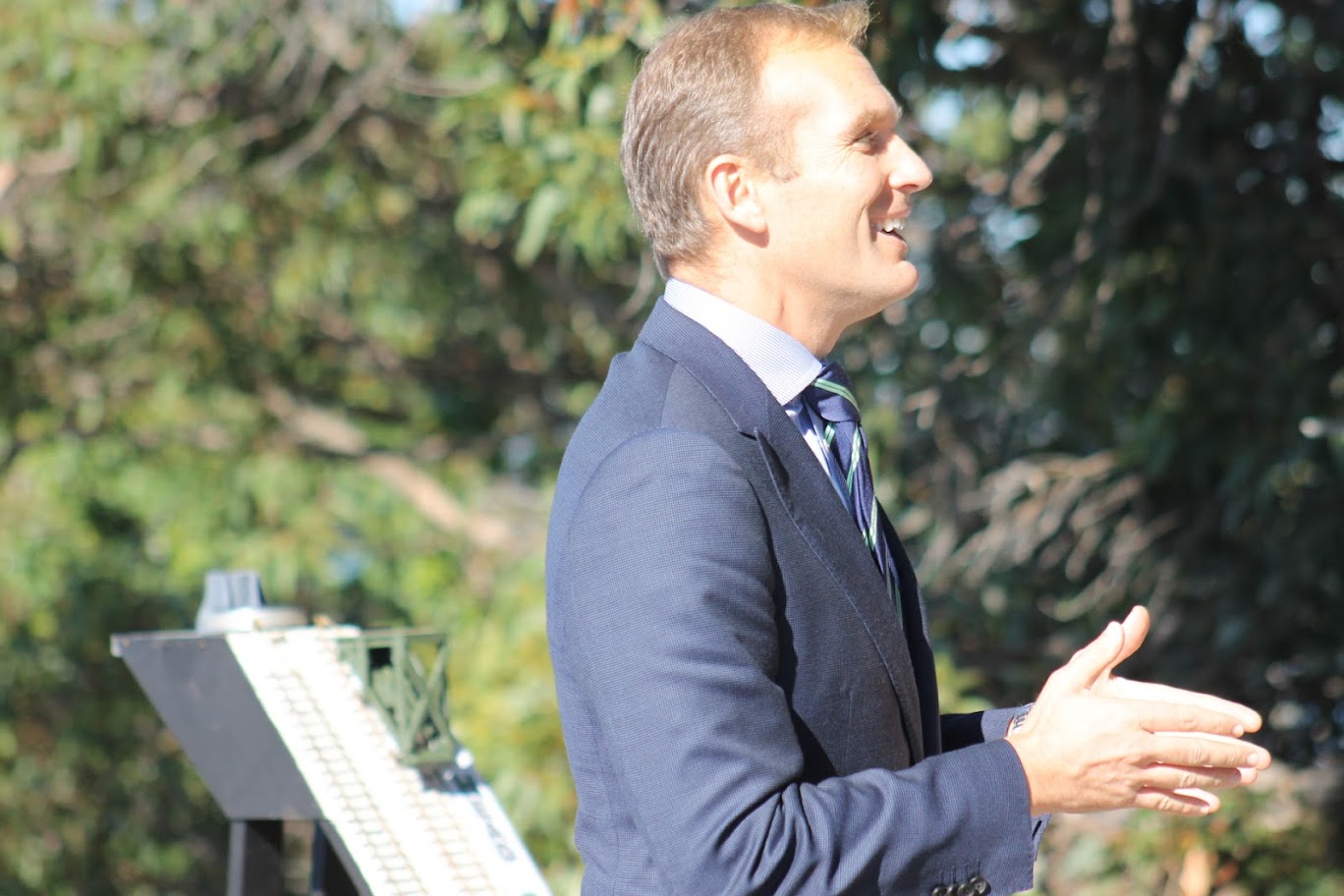 MP for Pittwater, The Hon. Rob Stokes. AJG photo
Rob Stokes, Member for Pittwater, is the current NSW Minister for Planning and Public Spaces. Prior to this appointment he has served as the Minister for Education, Minister for Planning, Minister for the Environment, Minister for Heritage, Minister for the Central Coast and Assistant Minister for Planning as well as the Parliamentary Secretary for Renewable Energy and Energy Innovation. Mr. Stokes was previously a lawyer and academic in environment and planning law, and holds a life-long interest in environmental land use planning, heritage and sustainability.
Elected to the NSW Parliament as the Member for Pittwater in 2007 and re-elected in 2011, 2015 and 2019, Rob represents the interests of approximately 65,000 residents. He is a patrol captain at Mona Vale Surf Life Saving Club and an Honorary Fellow at Macquarie University. He and wife Sophie live in Pittwater where they are busy raising three children.
Ms Berejiklian, who became NSW Premier in 2017, is the only female to be voted in as a NSW Premier. Gladys Berejiklian being re-elected as New South Wales Premier in March 2019, just over 100 years and a few months since women could finally become representatives of voters in New South Wales, was welcomed by many women in Australia and marks a historic step forward for female leadership in this state.
Ms. Berejiklian then told an exuberant crowd, which included former Prime Minister John Howard and former NSW Premier Nick Greiner, that she was proud of NSW, "a state in which someone with a long surname – and a woman – can be the premier".
"My team and I will continue to work our guts out to make sure this state and its people continue to ensure that we have the best opportunities on this planet," Ms Berejiklian said in her victory speech.

Former Labor Prime Minister Julia Gillard was among the first offering their congratulations;
"In a world of far too few women leaders, I congratulate @GladysB on being the first woman to win a NSW state election," Ms Gillard, the first woman to be an Australian Prime Minister, tweeted.
Ms Berejiklian has fronted the media on an almost daily basis to announce COVID-19 infection rates, deaths and restrictions on businesses, schools and households as the state battles an outbreak of the Covid Delta variant that began in June.
Her actions and conduct as NSW Premier during the horrific bushfires of 2019/2020 and subsequent Covid outbreaks have received high praise from peers and community. Gladys Berejiklian became renowned as the Premier who 'never takes a day off' and who is 'always working to better her state'.
Praise for her leadership, values and work have been overwhelming from community and both sides of politics in the wake of her resignation from NSW's top job, underlining her enormous popularity in her home state.
However, Ms Berejiklian is the third NSW premier to resign due to an ICAC investigation. NSW leaders Nick Greiner, who resigned in 1992 over the Liberal-turned-independent MP Terry Metherell-EPA job investigation, and Barry O'Farrell, who resigned in 2014 after giving evidence in which he forgot to tell the commission he had accepted a gift of a $3,000 bottle of Grange wine, precede her.
Mr. Greiner's Premiership oversaw the creation of ICAC. This was an election promise realised by the Government to create the Independent Commission Against Corruption (ICAC) capable of investigating allegations of corruption and graft against the government and within the state in other bodies – business, councils. In its first year, ICAC investigated large donations to the Labor and National parties. Despite significant pressure from the parliamentary Nationals, whose leader was implicated in one of the investigations, Mr. Greiner refused to dilute ICAC's powers.
Following the Greiner-Metherell matter, a parliamentary committee inquiring into ICAC's powers in December 1992 recommended that Section 9 of the ICAC Act as it was too narrow in defining corrupt conduct. While the section was not repealed, a sub-section was ultimately added in 1994 which addressed the behaviour of Ministers and Members of the NSW Parliament, and gave legislative enforcement to ministerial and parliamentary codes of conduct.

Ms Berejiklian said on Friday she had told Ministers in her government if they were ever the subject of an integrity investigation they should stand aside until their name was cleared, but in her case, as Premier, this wasn't an option.
ICAC on Friday said the scope of its investigation had widened and includes whether between 2012 and 2018 Berejiklian "engaged in conduct that constituted or involved a breach of public trust by exercising public functions in circumstances where she was in a position of conflict between her public duties and her private interest" as she was in a personal relationship with the then NSW MP Daryl Maguire.
Mr. Maguire told the same wide-ranging inquiry last year he had received envelopes full of thousands of dollars in cash at his parliament office as part of a scheme for Chinese nationals to fraudulently acquire visas, and had also tried to make money from his position as chairman of the parliament's Asia Pacific Friendship Group by promoting a series of Chinese business deals in the Pacific islands.
Mr. Maguire failed as an NSW MP through monetising his position and in doing so, has brought into disrepute the office of a representative of a community at a State level.
Below runs in full Ms Berejiklians' statement and that on the ICAC website.
Gladys Berejiklian statement
I have had to make an extremely difficult decision overnight, but one which I feel obliged to do because of the love and respect that I have for the people of New South Wales and the high regard which I have for the office of Premier.
I was advised late yesterday afternoon the Independent Commission Against Corruption would today release a public statement in which it will state it is investigating allegations made about me concerning matters relating to the former member for Wagga Wagga.
As it will be clear from the ICAC statement, the issues which it is investigating are historic matters that have already been the subject of numerous attacks on me by political opponents during the last 12 months.
Many of the matters were the subject of questions I was asked by the opposition while appearing before an estimates committee hearing earlier this year. I want to be very clear, in all the decisions I have ever made as a Minister or as Premier for New South Wales, my first consideration has always been the well-being and welfare of the people of this state.
I state categorically, I have always acted with the highest level of integrity. History will demonstrate that I have always executed my duties with the highest degree of integrity for the benefit of the people of NSW who I have had the privilege to serve.
As the leader of the New South Wales Government, I have expected the highest of standards of myself and my colleagues. I have made it clear on numerous occasions that if any of my ministers were the subject of allegations being investigated by an integrity agency or law-enforcement, then he or she should stand aside during the course of the investigation until their name was cleared. The reason for my stance was not to have made any presumptions as to their conduct, but rather to maintain the integrity of the public office which was held whilst an investigation was completed. That same standard must apply to me as Premier.
However, standing aside is not an option for me as the Premier of New South Wales. The people of New South Wales need certainty as to who their leader is during these challenging times of the pandemic. I cannot predict how long it will take the ICAC to complete this investigation, let alone deliver a report, in circumstances where I was first called to give evidence at a public hearing nearly 12 months ago. Therefore, it pains me to announce that I have no option but to resign the office of Premier. My resignation will take effect as soon as the New South Wales liberal party can elect a new Parliamentary leader.
In order to allow the new leader and government a fresh start, I will also resign from the New South Wales Parliament once I have consulted the electoral commission on appropriate timing for a by-election given the COVID restrictions.
My resignation as Premier could not happen at a worse time, but the timing is completely outside of my control as the ICAC has chosen to take this action during the most challenging weeks of the most challenging times in the history of NSW.
That is the ICAC's prerogative. Resigning at this time is against every instinct in my being and something which I do not want to do, I love my job, and serving the community, but I have been given no option following the statement issued.
To continue as Premier would disrupt the State Government during a time when our entire attention should be focused on the challenges confronting New South Wales. I do not want to be a distraction from what should be the focus of the state government during this pandemic, which is the well-being of our citizens.
Notwithstanding the challenges of the last few years and few months in particular, I have never felt stronger, nor more confident in my leadership. I have absolutely no regrets during my time in public life. At times we all stumble, pick ourselves up, dust ourselves off and start again stronger and wiser than before. I have done this many times, as we all have.
My only regret will be not to be able to finish the job to ensure the people of New South Wales transition to living freely with COVID.
However, I am extremely confident that whoever succeeds me will be more than capable of continuing this job. Please give them your trust and confidence. We will come through this period stronger, more resilient, and appreciating what really matters in life.
I feel strong, energised and optimistic about the future of this great state.
I want to thank the thousands of our frontline heroes who have kept us safe and kept us going during the darkest days in our state history. I owe you a debt of gratitude. Nothing that we can say or do will be able to demonstrate the significance of what you have done.
I would also like to take this opportunity to thank the Liberal Party to whom I owe my career, the people of the electorate of Willoughby who have elected me five times to be their member of Parliament, my Parliamentary colleagues for their support and hard work, my outstanding and loyal staff past and present, and all the professional public servants with whom I have worked.
I also want to thank my family and friends who have provided me with unconditional support and understanding when I have not been as present due to my responsibilities.
Most importantly I want to thank you, the people of New South Wales. When the chips were down in the past years, in particular during the drought, bushfires and then COVID, we stood alongside each other. We have grieved and supported each other during these tragedies. I hope you know that you will remain foremost in my thoughts. The courage that you display in your lives every day has inspired me every step of the way. The courage and the support you have shown me has humbled me and made me a better leader and a better person. Serving you has been the greatest privilege of my life. Please know that every day I gave it my all and worked as hard as I could to create a better future for our state and its people.
I truly believe that New South Wales is a place where every person, irrespective of their background and circumstances has the opportunity to be their best, to make a difference.
So as I address you for the final time as your Premier, please stay the course and stay safe. We will be shortly out of this lockdown and be able to get on with our lives. NSW and its people will come out of this lockdown stronger, and together we will build a future full of optimism and hope.
Finally, thank you again for giving me the honour of being your Premier.
______________________________________________________________________
Further Operation Keppel public inquiry
Friday 1 October 2021: ICAC media release
The NSW Independent Commission Against Corruption (ICAC) will hold a further public inquiry in Operation Keppel from 10:00 am on Monday 18 October 2021.
The Commission is investigating whether, between 2012 and 2018, the Hon Gladys Berejiklian MP engaged in conduct that:
constituted or involved a breach of public trust by exercising public functions in circumstances where she was in a position of conflict between her public duties and her private interest as a person who was in a personal relationship with the then NSW Member of Parliament, Mr Daryl Maguire, in connection with: grant funding promised and/or awarded to the Australian Clay Target Association Inc in 2016/2017; and grant funding promised and/or awarded to the Riverina Conservatorium of Music in Wagga Wagga in 2018; and/or
constituted or involved the partial exercise of any of her official functions, in connection with: grant funding promised and/or awarded to the Australian Clay Target Association Inc in 2016/2017; grant funding promised and/or awarded to the Riverina Conservatorium of Music in Wagga Wagga in 2018; and/or
constituted or involved the dishonest or partial exercise of any of her official functions and/or a breach of public trust by refusing to exercise her duty pursuant to section 11 of the Independent Commission Against Corruption Act 1988 to report any matter that she suspected on reasonable grounds concerned or may concern corrupt conduct in relation to the conduct of Mr Daryl Maguire; and/or
was liable to allow or encourage the occurrence of corrupt conduct by Mr Maguire.
The Commission is also investigating whether, between 2012 and August 2018, Mr Maguire engaged in conduct that involved a breach of public trust by using his public office, involving his duties as a member of the NSW Parliament, and the use of parliamentary resources, to improperly gain a benefit for himself, G8wayInternational/G8wayInternational Pty Ltd and associated persons.
The general scope and purpose of the public inquiry is to gather evidence relevant to the matters being investigated for the purpose of determining the matters referred to in section 13(2) of the ICAC Act.
The Commission has decided that public inquiries will be conducted, as far as practicable, remotely via audio visual link (AVL) until there is a change in the current COVID-19 public health orders. Only those whose presence on Commission premises is deemed essential for the effective conduct of the public inquiry will be permitted on-site. Members of the public and the media will therefore not be permitted to attend the premises for the course of the Operation Keppel public inquiry. There is further information in the public inquiry protocol on the Commission's website.
MS Teams is the AVL technology that the Commission will use to conduct the public inquiry remotely. The Commission will live stream the MS Teams proceedings via its website, www.icac.nsw.gov.au. The Commission will also upload exhibits (provided they are not subject to non-publication orders), transcripts and witness lists to the website. Updates will be provided throughout the course of the inquiry via the ICAC Twitter account (@nswicac).
Assistant Commissioner the Hon Ruth McColl AO SC will preside at the public inquiry. Counsel Assisting the Commission will be Mr Scott Robertson and Mr Alex Brown.
It is expected that the inquiry will continue for approximately 10 days. A witness list for the first week of the public inquiry will be published closer to the commencement date of the proceedings, along with further information about how to access the live stream. The Commission will also advise if there are changes to the public health orders that may affect the conduct of the inquiry.