August 2 - 8, 2020: Issue 460

Artists Of The Month August 2020: Cantiamo
Singing Together While Apart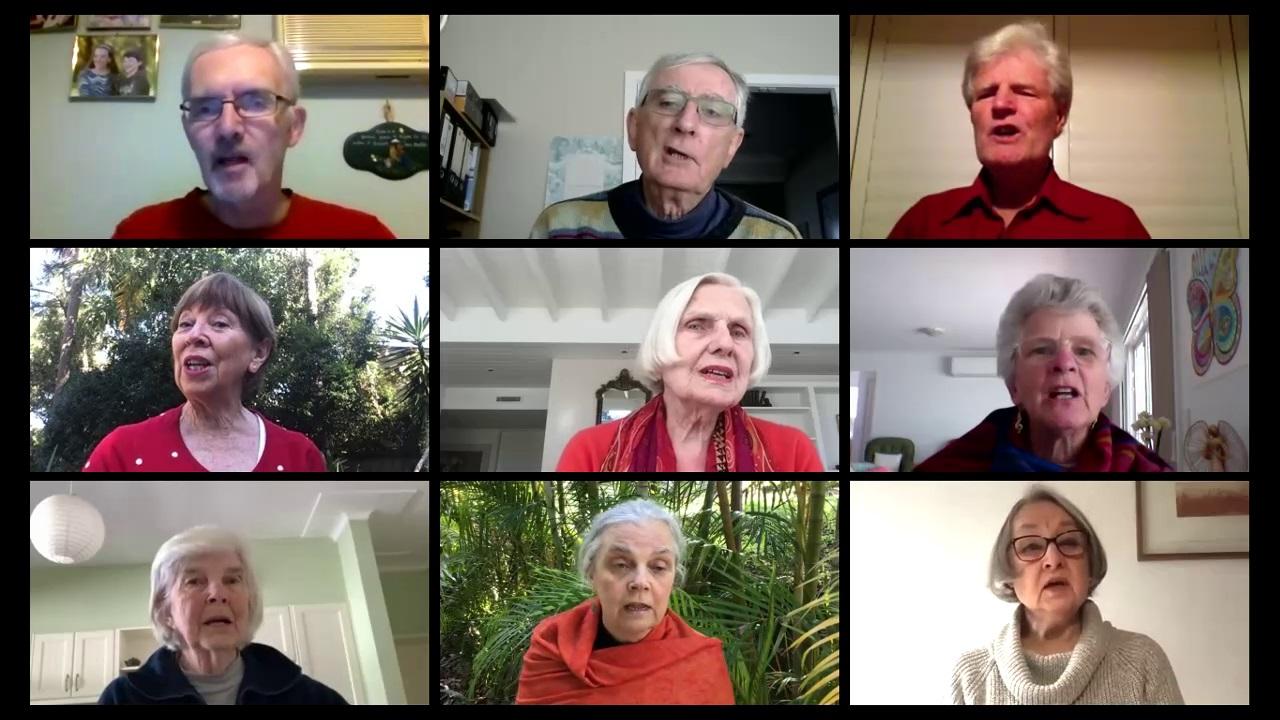 There have been quite a few videos that have been published in recent months within Australia and around the world of people joining together to provide songs and concerts to cheer the spirits of those in isolation or in lockdown due to the coronavirus pandemic. In fact, one of the first instances of rallying community spirit was the images and voices of Italian people beamed around the world as they would gather on their balconies to fill suddenly silent and empty streets with their voices.
Even in Australia professional entertainers have joined to create music together.
Locally we have an excellent a capella group Cantiamo who have also decided to keep on keeping on. A cappella music is group or solo performance without instrumental accompaniment, or a piece intended to be performed in this way. The term a cappella was originally intended to differentiate between Renaissance polyphony and Baroque concertato style. Some scholars state that a cappella could be as old as man itself. Research suggests that singing and vocables may have been what early humans used to communicate before the invention of language. The earliest piece of sheet music is thought to have originated from times as early as 2000 B.C. while the earliest that has survived in its entirety is from the first century A.D.: a piece from Greece called the Seikilos epitaph.
The word a cappella is Italian for '"in the manner of the chapel".

The word Cantiamo is from the Latin cantāre - meaning to chant, to sing, and as a verb, as it is a verb, 'let's sing'!

The current leader of the Cantiamo group is Richard Griffiths who explained the current group started in 2005 after a similar choir finished with some of the founding members forming this one – Cantiamo.
The members started meeting on Wednesday mornings and sing primarily for their own enjoyment.
They perform concerts at retirement villages and nursing homes and have, in the past, been able to use St. David's church at Dee Why and return that favour by providing a concert for the church. However, under current circumstances, and while New South Wales was in lockdown, those meetings were suspended.
These are all smaller intimate performances for small audiences – and they will stay that way.
''All choirs were and have been suspended at present,'' Richard explained this week, 'There are many studies that show when you project the voice you actually project that air from your lungs a long way and with it, any germs that many be in that air.
Thus the ''Singing Together While Apart" video process was commenced as we wanted to keep singing together but to stay safe while doing so.''
'Our membership has an average age of 75, some are younger, some are older – and we currently have 11 members.'
What They Sing
'Our songs fall into three categories – we sing a lot of Renaissance music, songs from the 1800's on – Mendelssohn and the like, as well as a smaller repertoire of more contemporary pieces.
We have also joined up with the Avalon Beach Upbeat Choir started by Roz Saunders. Upbeat is a choir for stroke survivors and other people who have or are recovering from an illness which is affecting their speech. We sing with them at their Christmas Concert each year ion the old Scout Hall at Dunbar Park – a building with good acoustics that suits this music.
The Christmas program is half Carols and we also sing music that people may not have heard of, Carols among these, for the other half of each annual concert.''
More at: https://www.facebook.com/UpbeatChoir/
''At each concert, whether meeting together, pre Covid times in each other's homes, or performing in retirement homes of villages, we sing what we like. The members put forward ideas and then we work on them together. Some sing in other choirs and will bring in ideas from these.
I'm extremely proud of what we have achieved – there is a great esprit de corps among the members, while the shift towards doing this while separated and then sharing those works has created a mini-community and hopefully brought a smile to those we cannot sing to in person at present.''
MORE HERE - including an online concert for your enjoyment this month.
New Marine Rescue Broken Bay Vessel Arrives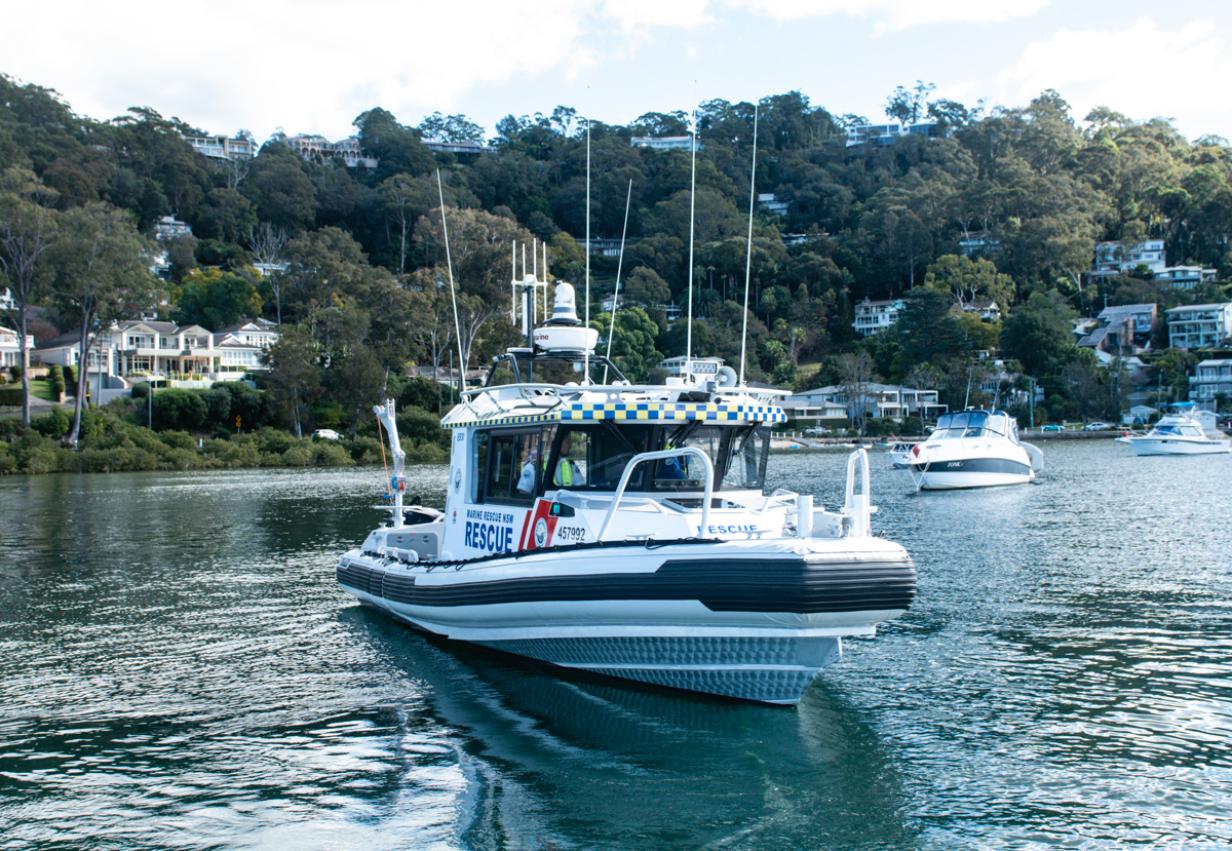 Marine Rescue NSW volunteers welcomed the first new rescue vessel to be delivered on Sydney's waterways for two years – and applauded their local community for helping them secure the $500,000 asset for their work to save lives on the water.
Marine Rescue Broken Bay's new 10 metre Naiad rescue vessel, Broken Bay 30, arrived Wednesday morning, July 29th, after it was trucked down the Pacific Highway from Yamba, where it was built, and lowered into the water at Church Point.
Unit Commander Jimmy Arteaga said the new boat was an investment in the safety of boaters on Pittwater and the waters of Broken Bay.
"Over the past year, our volunteers have launched 89 rescue missions, including seven in response to life-threatening emergencies. This new boat means we can be on the scene even more rapidly, which is crucial when every minute can mean the difference between life and death on the water," he said.
UC Arteaga thanked the local community for its heartwarming support in helping to fund the new boat.
"The State Government last year gave residents the opportunity to vote for the projects they wanted to see funded in their local area through the My Community Projects grants program," he said.
"The fantastic community in the Pittwater electorate really got behind our volunteers and voted for our new rescue vessel. As a result, we received a $200,000 grant towards the cost of this new boat, which will help us help our local boaters.
"That's an awful lot of sausage sandwiches and raffle tickets that our members now don't have to sell."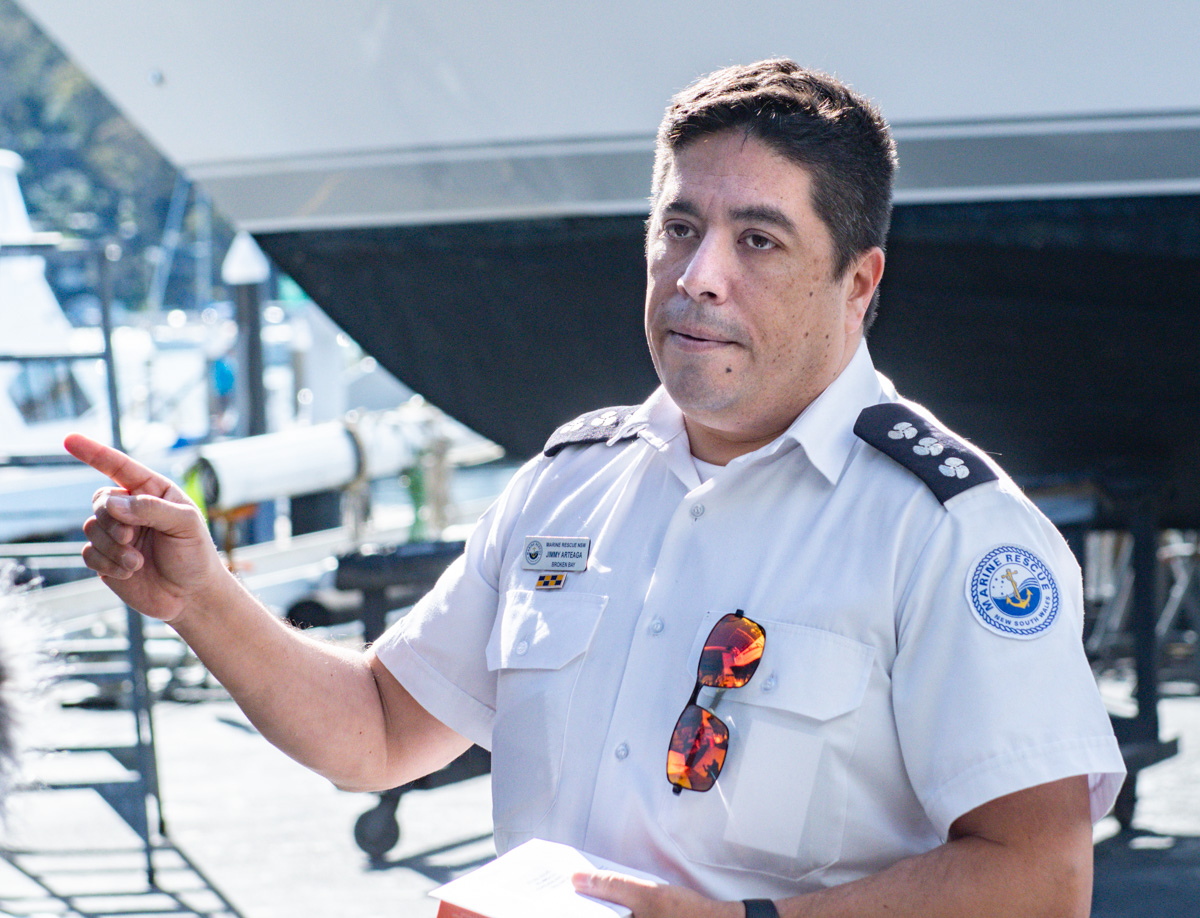 Unit Commander Jimmy Arteaga - at The Quays as BB30 arrives. Photo by Michael Mannington

MRNSW Commissioner Stacey Tannos said the volunteers from Marine Rescue Broken Bay were now better equipped than ever to respond to boaters in trouble on the water.
He said the new vessel replaced an older boat reaching the end of its operational life, also Broken Bay 30, which was the first boat to wear the new MRNSW livery when the single unified service was established in 2009.
The old BB30 was given the honorary name of Peter E Weston, and was named after a prominent member of the Broken Bay Unit, Peter Weston. Peter also held executive positions within the then Royal Volunteer Coastal Patrol.
"We have since invested more than $24.5 million to equip our volunteers with modern, safe and reliable vessels," MRNSW Commissioner Stacey Tannos said.
Commissioner Tannos thanked the boating community for its ongoing support for MRNSW and the State Government for its $37.6 million, four-year financial injection to fund upgraded volunteer resources and operational facilities.
"This support means we are able to ensure our volunteers have high quality, professionally-equipped vessels like this one for their work to assist and protect NSW boaters," he said.
Powered by twin 300hp Suzuki outboards, Broken Bay 30 will operate on Pittwater, Broken Bay and up to 30 nautical miles off the coastline. It is equipped with a full suite of search and rescue, navigation, communication and advanced first aid equipment, including a cardiac defibrillator and oxygen kit.
Boating Now Program To Deliver Upgraded Boat Ramps And Jetties From Manly To Pittwater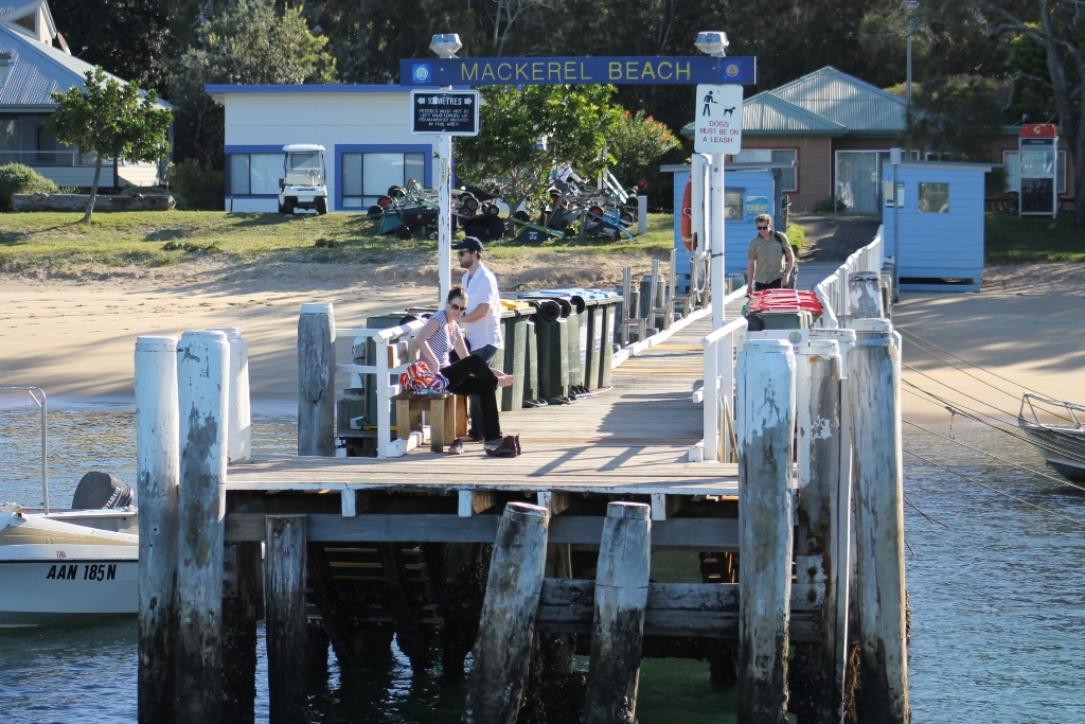 New and updated boating infrastructure will be delivered across the state under the latest round of the NSW Government's Boating Now Program.
Member for Manly James Griffin this week welcomed over $300,000 in funding from the NSW Government to deliver jetty and ramp upgrades at Little Manly and Forty Baskets Beach in Balgowlah Heights.
"We are getting on with the job of improving local maritime access and safety across the Northern Beaches," Mr Griffin said on Tuesday, July 28th.
"Through funding partnerships with Northern Beaches Council we are fast tracking the planning and delivery of these two projects in the Manly area, alongside five other projects from Narrabeen to Church Point."
"$2 million has also been set aside to make sure boating infrastructure can continue to be repaired quickly following damage caused by severe weather events such as storms and bushfires."
NSW Maritime A/ Executive Director Alex Barrell said the Boating Now Program aims to provide better access to NSW waterways for local and visiting boaters so they can enjoy their time on the water with safety and ease.
"Maritime infrastructure is an essential enabler for recreational boaters, important coastal industries and foreshore experiences for locals and visitors and this funding will improve that infrastructure right across NSW," Mr Barrell said.
Boating Now funding comes from boating licence and registration fees.
The Program is part of the NSW Maritime Infrastructure Plan 2019 - 2024. The NSW Government's Maritime Infrastructure Plan (MIP), released in December 2018, sets out a more strategic, coordinated approach to maritime infrastructure in NSW and makes a commitment to continue to provide support for maritime infrastructure owned by councils and other delivery partners, through the Boating Now Program.
In October 2019, the NSW Government announced it is investing a further $28 million of funding to the Boating Now Program for the two year period from July 2020 to June 2022.
The Round 3 grant funding will allow local councils, boating and community groups as well as private sector organisations to deliver new or upgraded access to NSW waterways and improved maritime facilities, including for boat ramps, jetties, wharves, car and trailer parking, dinghy storage racks and sewage pump-outs.
First MC38 Regatta Win For Swish - On Pittwater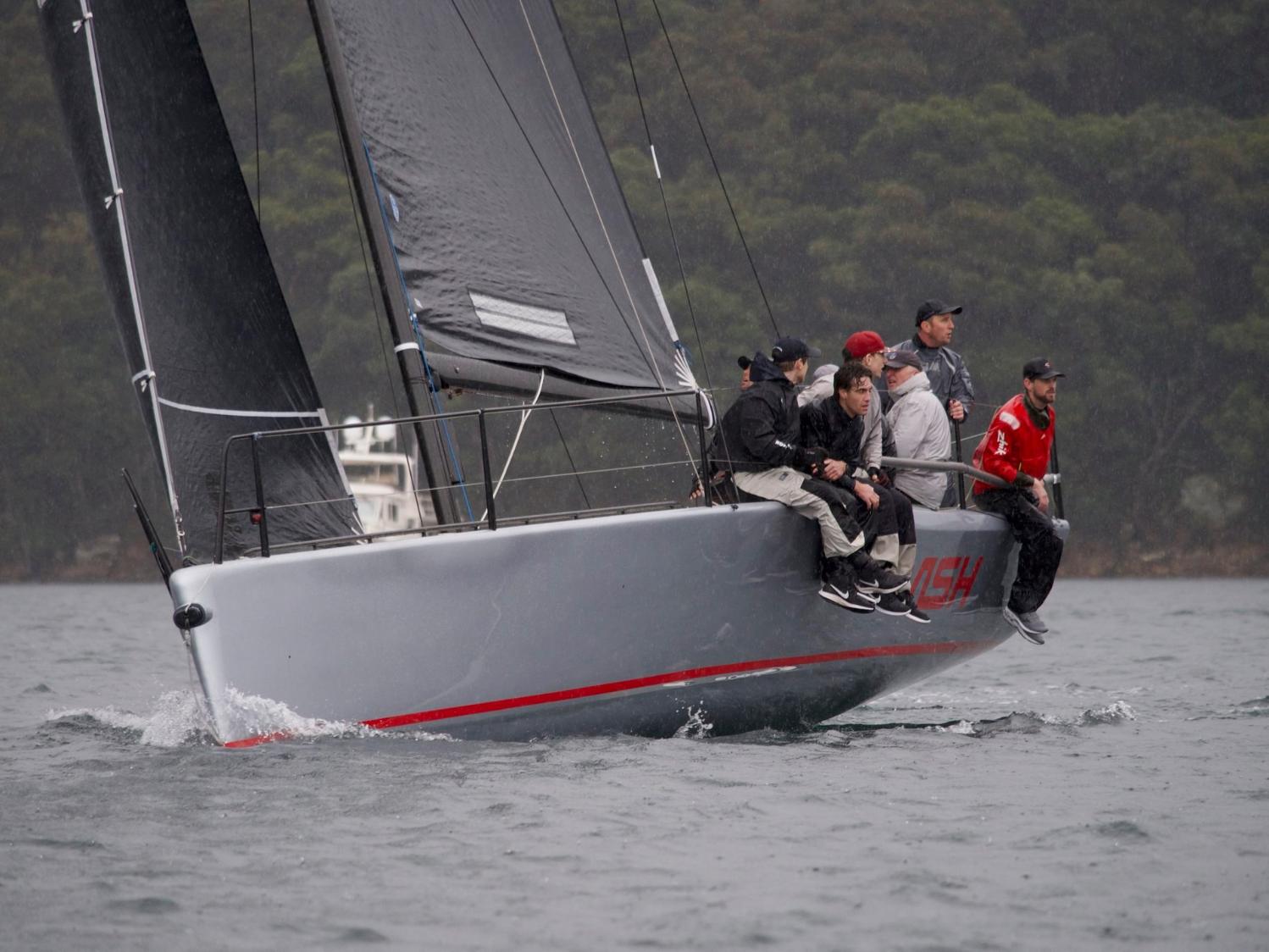 Steven Proud's winning Swish team on day 2 Act 4 - photo by Tilly Lock Media
Event: MC38 2020 Season Act 4, July 25-26 hosted by the Royal Prince Alfred Yacht Club with racing on Pittwater
Report by Lisa Ratcliff
Close to two years of shooting for a MC38 one design class top result finally yielded Steve Proud's Swish team the main prize, on dreary Pittwater in the shortened five-race Act 4 winter pointscore.
"We've had a couple of thirds before but this is our first regatta win; we've been chipping away for nearly two years and it's finally starting to come together," a grinning Proud said back at the conducting club, the Royal Prince Alfred Yacht Club.
"We've got a really good bunch of sailors. Sometimes you just have to settle down and play your own game, and not let the nerves and everything going on around you get to you. It never lets up in that fleet. Opportunities come to you and take advantage of them; that's how we played it today," Proud added.
The Middle Harbour Yacht Club skipper named his team one by one, a special mention going to longtime tactician Billy Sykes. "Billy has been with me from the start, he's put a great team together. We've got some excellent sailors. Nobody's putting tickets on themselves; we just get out there and do the job."
A second by two points for John Bacon's Dark Star - looking resplendent following a recent makeover in Newcastle - is a great result for the local team. "We're really happy and I'm really pleased for Steven, Billy and the Swish team - they have worked so hard," Bacon acknowledged.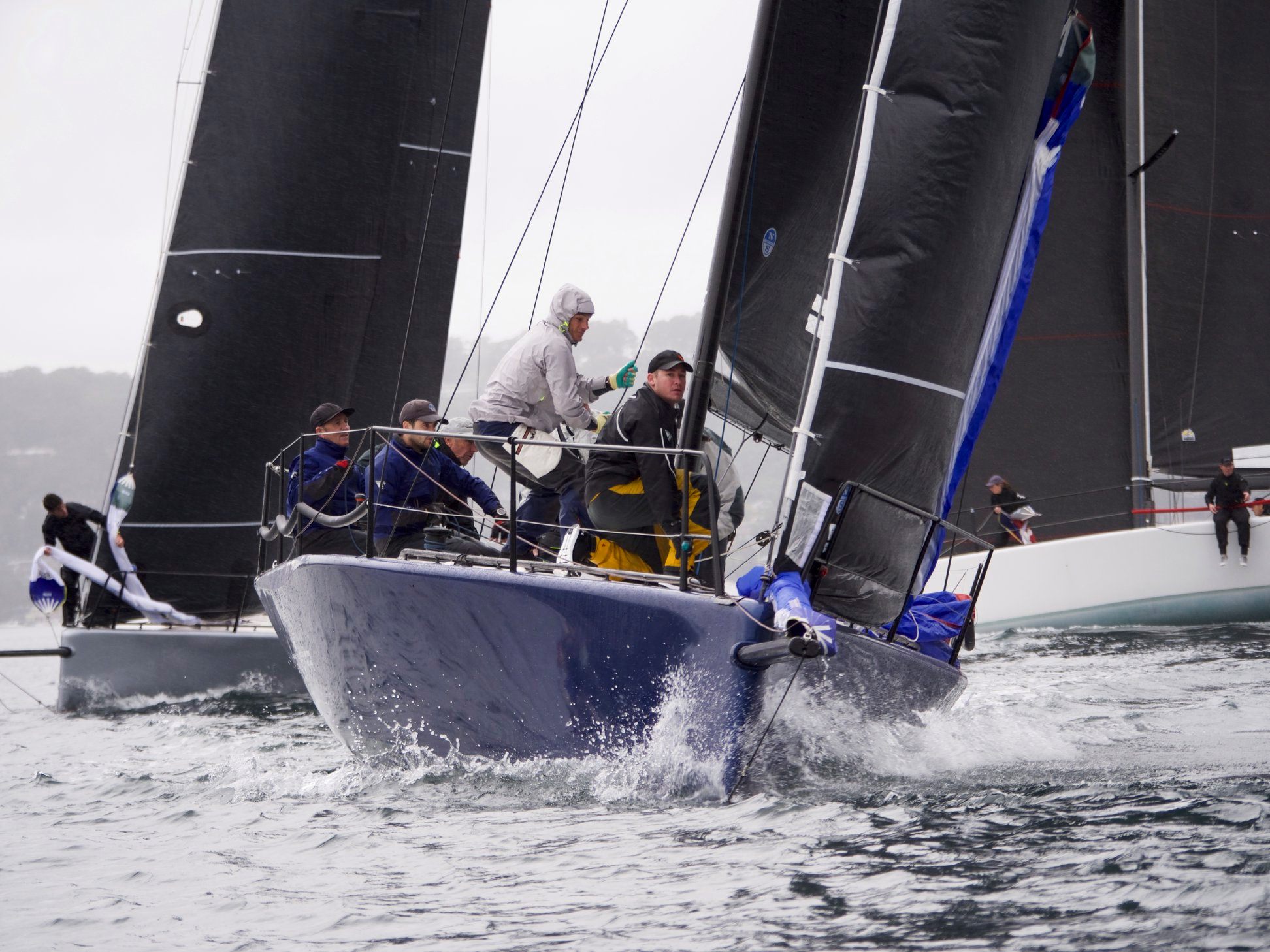 MC38 Act 4 Dark Star ready to hoist - photo by Tilly Lock Media

Most Valuable Player of the series goes to Dark Star's mainsheet Darren 'Twirler' Jones, who heads home to South Australia for his second quarantine stint in as many months, following a MC38 weekend regatta. "He's done 28 days in quarantine for the Dark Stars," Bacon pointed out.
"Things were supposed to be open this time," rued Jones. "It's no problem, I just get the dirt bike out and ride around the property. I went back home after the last series for three weeks, had one week out of quarantine then back up to Sydney. Now I'm back home for two more in isolation. I'm feeling a little institutionalised!"
Third in Act 4 went to Lazy Dog, Shaun Lane and Quentin Stewart's MHYC team who opened day two with a bullet off Mackerel Beach on Pittwater's western shoreline, then slid back in the rankings when the track was shifted to an area known as 'big pond', the expanse north of Scotland Island.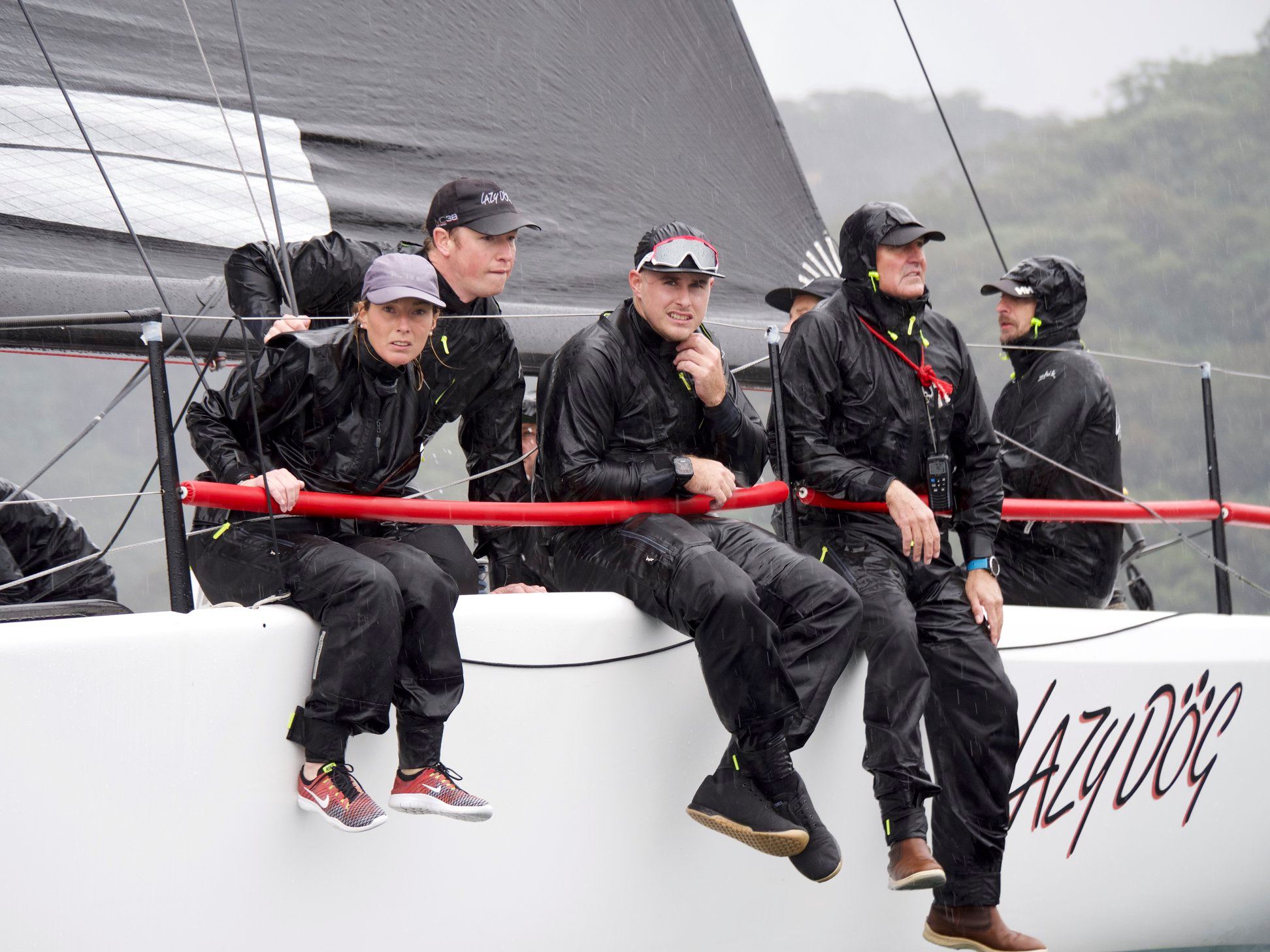 Wet dogs - Lazy Dog 3rd overall - photo by Tilly Lock Media

A south-moving and deepening low pressure system brought heavy rain and changeable breeze to the fleet on Sunday July 26, mostly south swinging to an easterly flow, 8-10 knots. On the verge of a fourth and final race, an attempt to make up part of Saturday's two race shortfall, the heavens opened. The downpour reduced visibility and played havoc with the wind, RPAYC race officer Steve Merrington deciding another start was optimistic, and the cold and saturated had probably had enough.
Pointscore and more photos HERE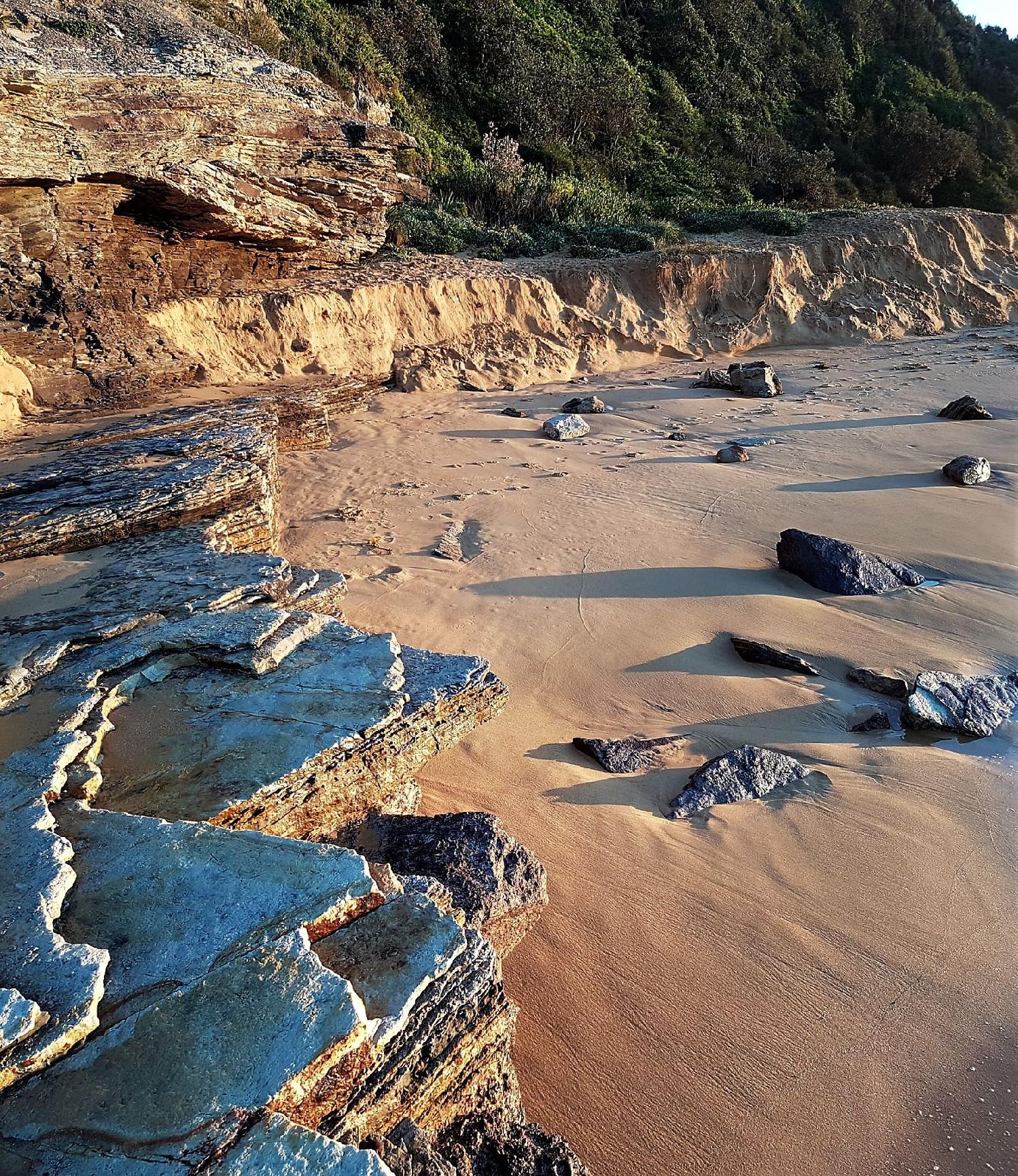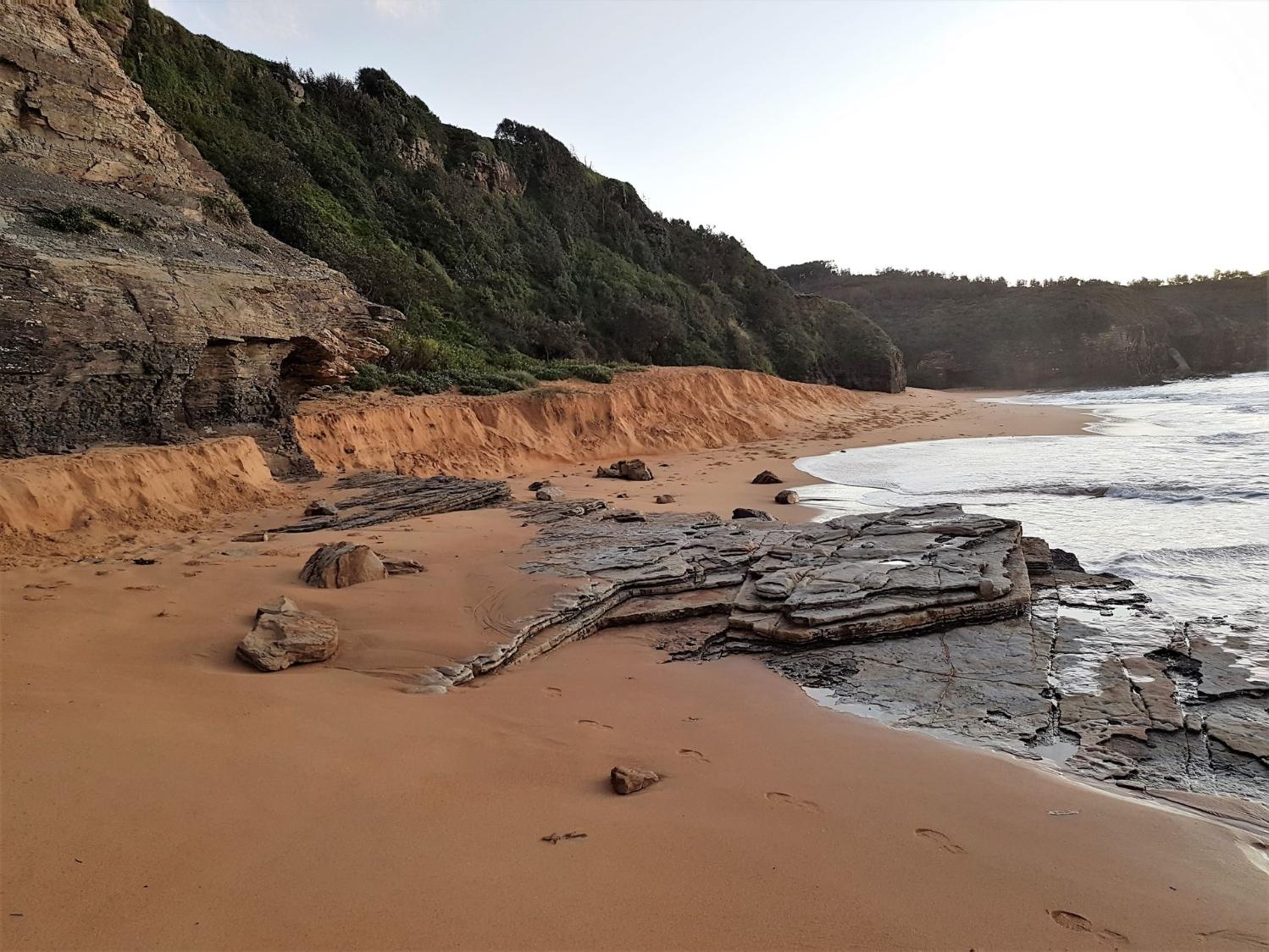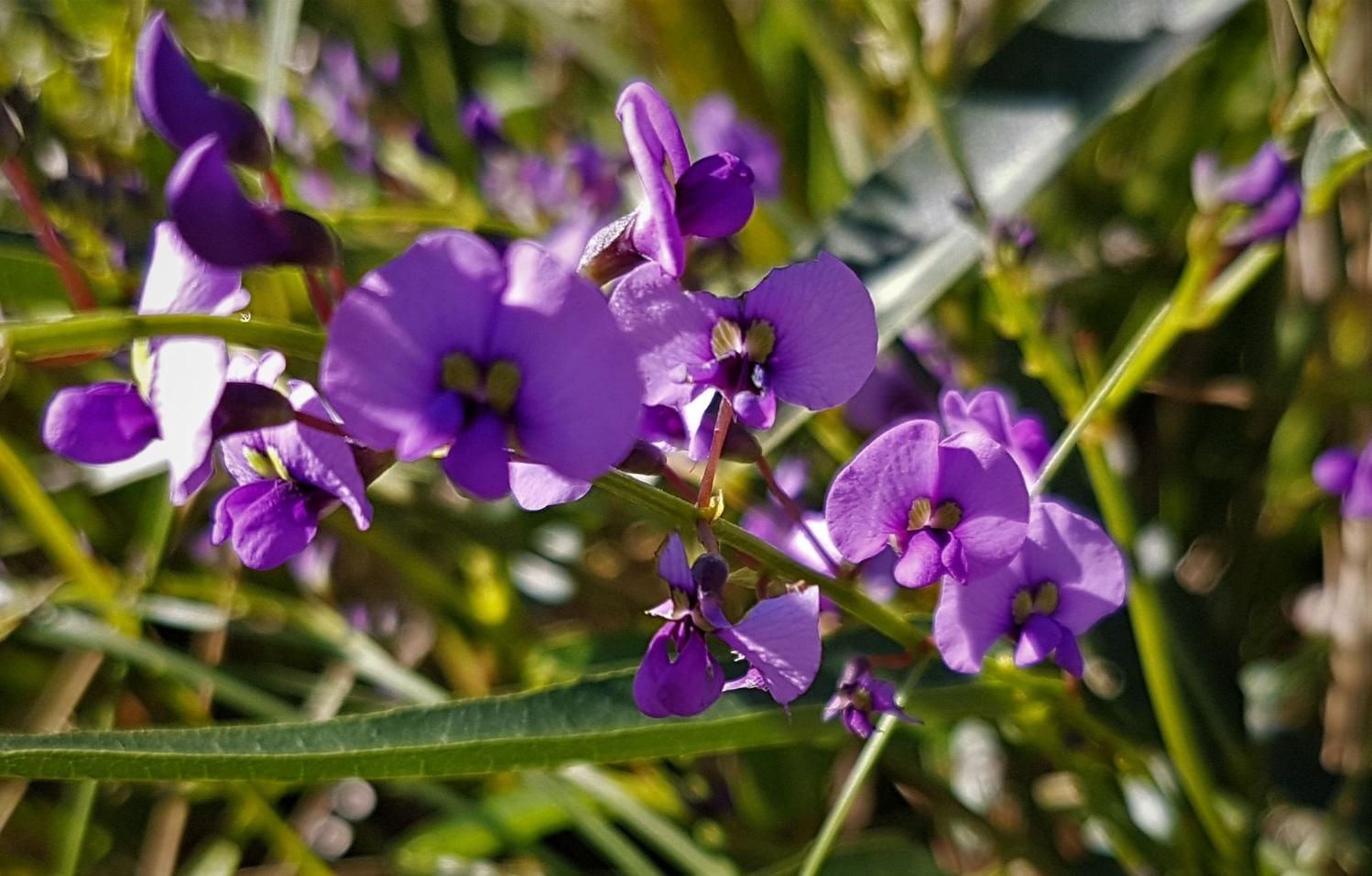 False Sarsaparilla (Hardenbergia Violacea) - photo by Joe Mills
This Hardenbergia violacea, photographed in Warriewood by Joe Mills, is a species of Australian flowering Native plant, known in Australia by the common names false sarsaparilla, purple coral pea, happy wanderer, native lilac and waraburra which comes from the Kattang language; Worimi, or Gadjang, also spelt Kattang, Kutthung, Gadhang, Gadang, Gathang.This beautiful plant grows as a climbing vine, but also as a subshrub. Flowering in late Winter and all through Spring it makes a great fence cover which should be pruned after flowering.
There are two other species in Australia; a pale pink form called Hardenbergia 'Rosea' and a pure white form as well called Hardenbergia 'Alba'.
Past Features Archives (pre 2014)
Pittwater Online News was selected for preservation by the State Library of New South Wales and National Library of Australia. This title is scheduled to be re-archived regularly.
Archived Issues (2014 on) may be accessed here: pandora.nla.gov.au/tep/143700