August 2 - 8, 2020: Issue 460
New Marine Rescue Broken Bay Vessel Arrives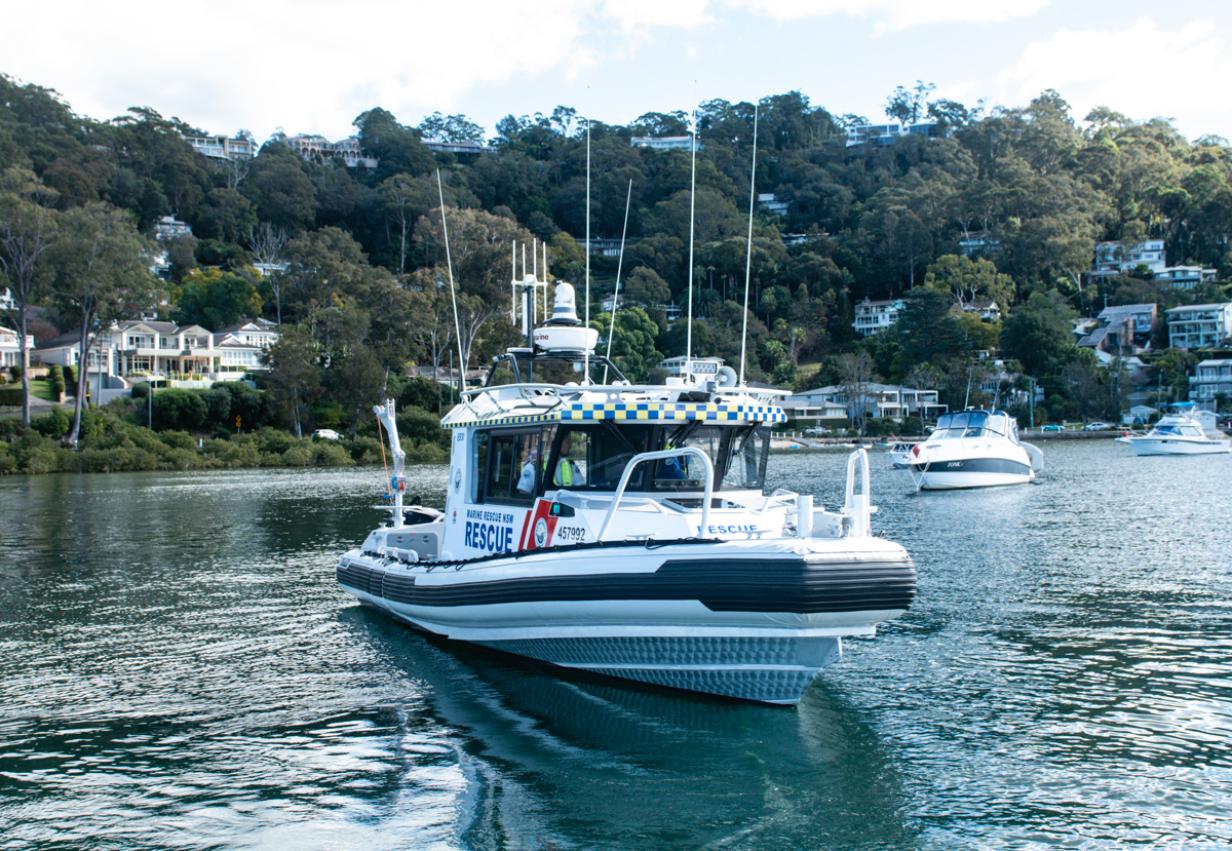 Marine Rescue NSW volunteers welcomed the first new rescue vessel to be delivered on Sydney's waterways for two years – and applauded their local community for helping them secure the $500,000 asset for their work to save lives on the water.
Marine Rescue Broken Bay's new 10 metre Naiad rescue vessel, Broken Bay 30, arrived Wednesday morning, July 29th, after it was trucked down the Pacific Highway from Yamba, where it was built, and lowered into the water at Church Point.
Unit Commander Jimmy Arteaga said the new boat was an investment in the safety of boaters on Pittwater and the waters of Broken Bay.
"Over the past year, our volunteers have launched 89 rescue missions, including seven in response to life-threatening emergencies. This new boat means we can be on the scene even more rapidly, which is crucial when every minute can mean the difference between life and death on the water," he said.
UC Arteaga thanked the local community for its heartwarming support in helping to fund the new boat.
"The State Government last year gave residents the opportunity to vote for the projects they wanted to see funded in their local area through the My Community Projects grants program," he said.
"The fantastic community in the Pittwater electorate really got behind our volunteers and voted for our new rescue vessel. As a result, we received a $200,000 grant towards the cost of this new boat, which will help us help our local boaters.
"That's an awful lot of sausage sandwiches and raffle tickets that our members now don't have to sell."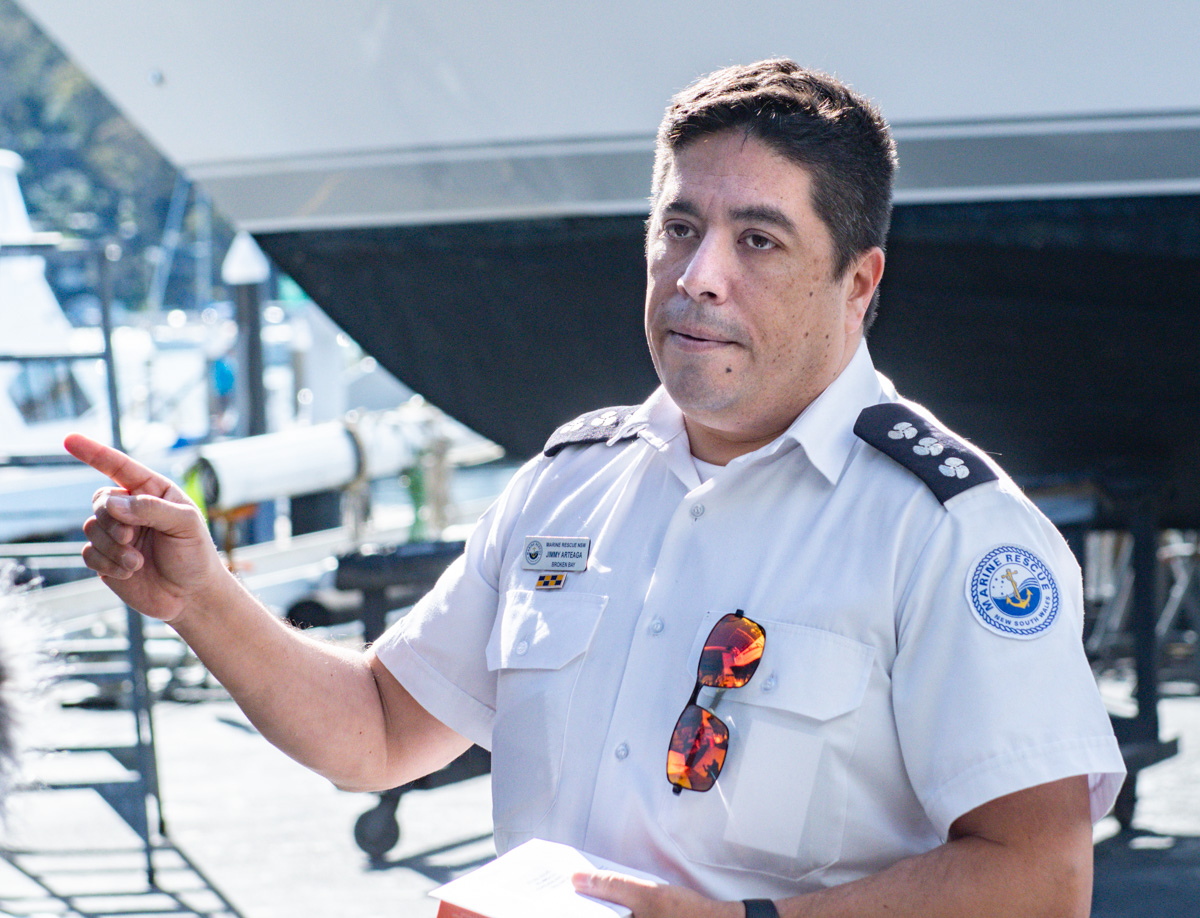 Unit Commander Jimmy Arteaga - at The Quays as BB30 arrives

MRNSW Commissioner Stacey Tannos said the volunteers from Marine Rescue Broken Bay were now better equipped than ever to respond to boaters in trouble on the water.
He said the new vessel replaced an older boat reaching the end of its operational life, also Broken Bay 30, which was the first boat to wear the new MRNSW livery when the single unified service was established in 2009.
The old BB30 was given the honorary name of Peter E Weston, and was named after a prominent member of the Broken Bay Unit, Peter Weston. Peter also held executive positions within the then Royal Volunteer Coastal Patrol.
"We have since invested more than $24.5 million to equip our volunteers with modern, safe and reliable vessels," MRNSW Commissioner Stacey Tannos said.
Commissioner Tannos thanked the boating community for its ongoing support for MRNSW and the State Government for its $37.6 million, four-year financial injection to fund upgraded volunteer resources and operational facilities.
"This support means we are able to ensure our volunteers have high quality, professionally-equipped vessels like this one for their work to assist and protect NSW boaters," he said.
Powered by twin 300hp Suzuki outboards, Broken Bay 30 will operate on Pittwater, Broken Bay and up to 30 nautical miles off the coastline. It is equipped with a full suite of search and rescue, navigation, communication and advanced first aid equipment, including a cardiac defibrillator and oxygen kit.
New marine rescue broken bay Vessel Specifications
In summary, the Vessel is a 10 metre Naiad constructed by Yamba Welding and Engineering. It is fitted with twin 300HP Suzuki outboards and an 800 litre fuel tank.
The estimated top speed of the vessel is better than 45 knots. Cruise speed for maximum fuel efficiency is estimated at 27 knots or 4000 rpm. At 4000 rpm, the vessel consumes approximately 70 litres per hour per motor providing a range of 286 nm of general running before refuelling.
It also comes and a suite of Raymarine electronics including radar, chart plotter and FLIR
Thermal Stabilised Night vision Camera
.
Thank you to The Quays Marina, Church Point for your support getting our Naiad on the water. A quick fuel and off to the MRBB base at Rowland Reserve, Bayview. Marine Rescue Broken Bay members Vic Lawrence, Graham Weir, Andrew Majewski and Ron Carr and MRNSW Fleet Officer Sean Jewiss were on hand to welcome the $500,000 10m Naiad, built by Yamba Welding & Engineering Pty Ltd on the Northern Rivers.

Vessel Honorific Name:
To be Confirmed
MRNSW Vessel Call Sign:
Broken Bay 30
Survey Number/Unique Identifier:
457992
Type of Vessel: Naiad10
AMSA Survey Class: 2C
Manufacturer:
Yamba Welding and Engineering
Year of Manufacture: 2020
Vessel Model:
10m Rescue Vessel
Length Overall: 10.28 Metre
Length Measured: 9.87 Metre
Beam: 3.25 Metre
Light Displacement: 5.96 Tonne
Engine/s:
2 x DF 300 APX - port and starboard
On Thursday, July 30th, Marine Rescue Broken Bay crew underwent familiarisation on the new BB30 10m fast response Rescue vessel. The crew underwent a very thorough vessel induction before doing some practical handling in Pittwater. The crew were very impressed with the vessel response and appreciated the differences from their previous vessel.
The crew from will continue training on Friday before inducting other members of Marine Rescue Broken Bay. Vic Lawrence and Graham Weir at the helm with Andrew Majewski and Ron Carr also inducted. Training and induction was hosted by Sean Jewiss from the fleet department and ROM Glenn Evans.