July 7 - 20, 2019: Issue 412

Bulldozers Placed In Way Of Democracy Say Mona Vale Hospital Campaigners
Residents have called for a halt to demolition of buildings at Mona Vale hospital next week while a Parliamentary inquiry is underway into facilities serving the area.

Save Mona Vale Hospital chairman Parry Thomas said the group had received information that demolition of the 1960s-era Mona Vale Hospital buildings will begin next week – starting with the removal of asbestos.
Construction crews were preparing for the demolition on site, according to reports last weekend of NSW Health Minister Brad Hazzard saying the "former main building and nurses' accommodation, which has asbestos, will go".
Mr Thomas said it was appalling and unbelievable that the government would demolish the hospital buildings just as a Parliamentary inquiry begins into hospital services on the Northern Beaches.
"The NSW Coalition is placing bulldozers in the way of democracy," Mr Thomas said in a statement.
"Health Minister Brad Hazard and our local MP Rob Stokes are showing a total disregard for the community and Parliamentary process that they're not prepared to wait for the findings of the inquiry.
"Last October – in the lead up to the state election – Mr Hazzard told us there would be no demolition.
"But the government now wants to pull the buildings down – before Parliament has had a chance to investigate the fiasco at the new hospital.
"The community has told them that we want Mona Vale upgraded and restored as an acute care, public hospital and we are outraged at the actions of the government."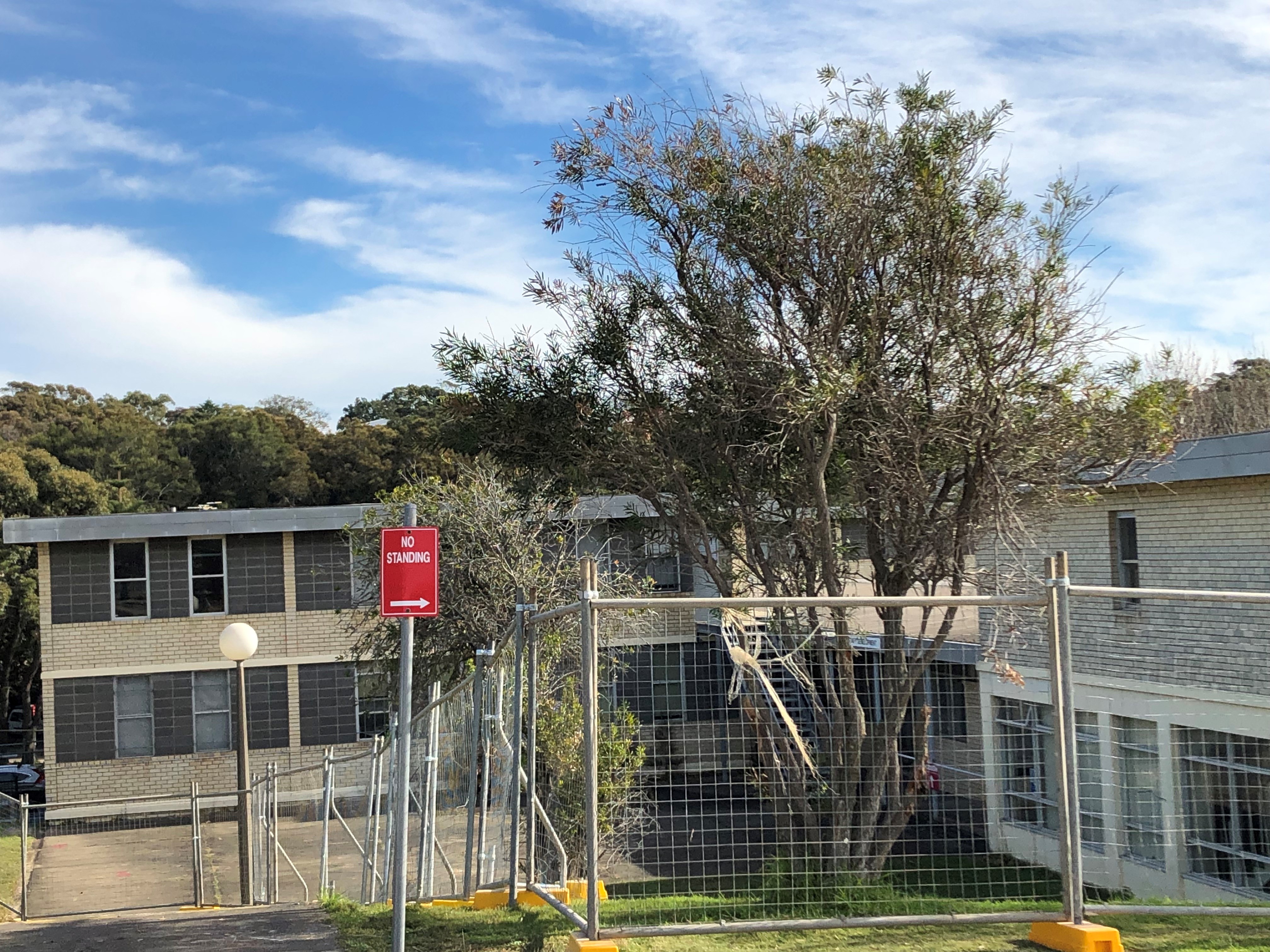 Mona Vale Hospital buildings fenced off this week - a construction site requirement. Photo supplied.
The NSW Upper House is holding an Inquiry into the Northern Beaches Hospital with wide-ranging terms, including: "The impact of the hospital on surrounding communities and health facilities, particularly Mona Vale Hospital, Manly Hospital and Royal North Shore Hospital".
Newly-appointed Labor Treasury spokesman Walt Secord – who established the inquiry last month in the Opposition's Health portfolio - said it would "help lift the cloak of secrecy surrounding the private-public partnership (PPP)" under which the hospital was developed and is administered.
On Friday, July 5th, newly named Labor Minister for Health Ryan Park MP said in a statement that locals were not happy with the announcement that demolition works on the Mona Vale Hospital building were set to commence as early as this coming week.
"I find it astonishing that this Government is going to tear down this facility when the Parliamentary Inquiry is underway. They have shown complete disregard for the concerns the community has raised." Mr. Park said.
"The community have been very clear on this issue, they want Mona Vale Hospital saved, especially given the massive failings of the Northern Beaches Hospital."
A recent Bureau of Health Information report on the Northern Beaches Hospital indicated only 59.9 % of patients were treated in the clinically recommended time frame in Jan-March this year. This compares with 85.8% at Mona Vale Hospital last year.
Submissions for the Inquiry close on July 28 and the committee will report back in early 2020.
Full terms of the inquiry can be found at: HERE
Submissions can be lodged online at:
https://www.parliament.nsw.gov.au/committees/inquiries/Pages/inquiry-details.aspx?pk=2524#tab-submissions
Also see this Issue's - Have Your Say On Our Hospital by the Save Mona Vale Hospital Committee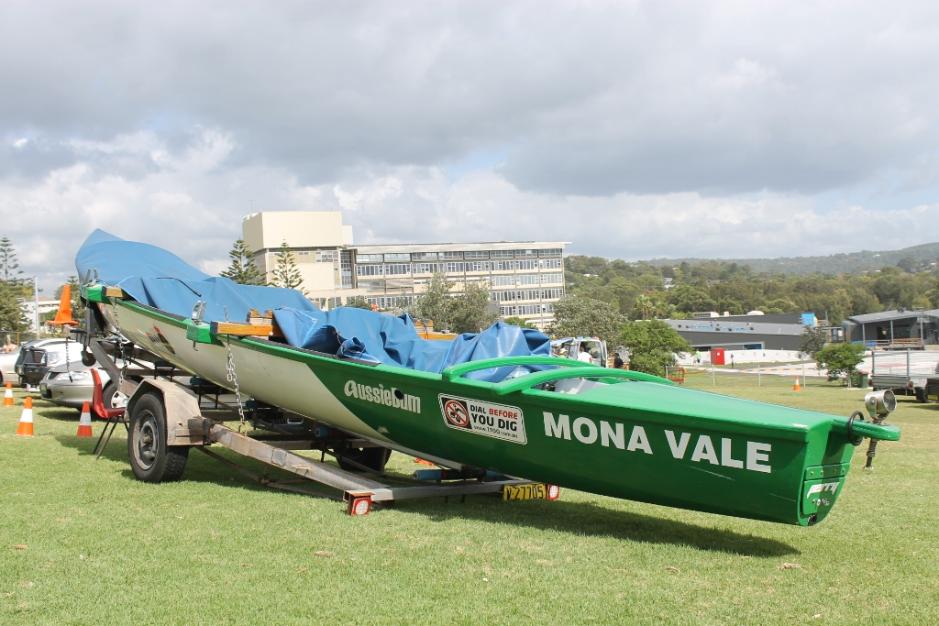 Mackerel Beach RFB Captain Bob Mitchell Steps Down After 46 Years Of Service To The

Community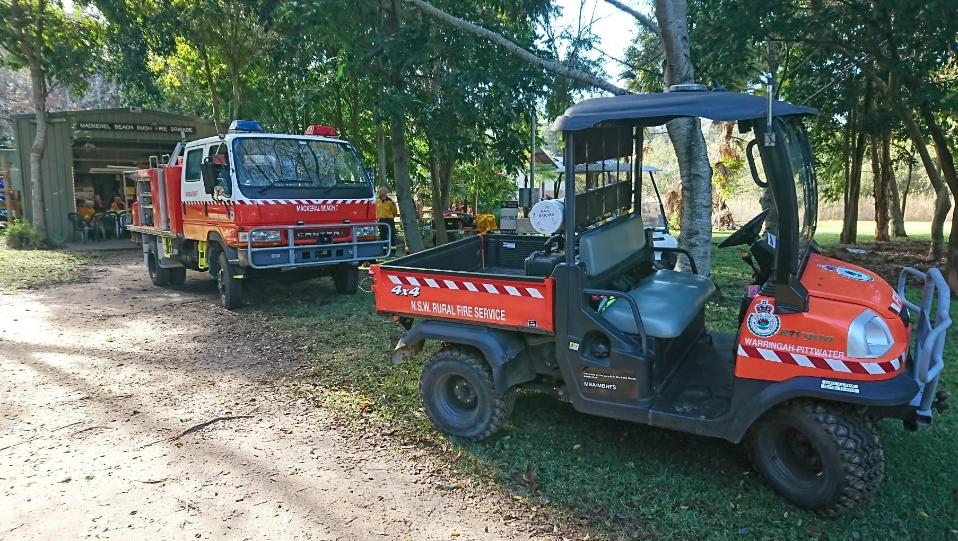 Ingleside NSWRFS volunteers had a busy day today, Saturday July 6th. Our crew attended the Mackerel Beach RFS Brigade AGM, where after 46 years, their Brigade Captain, Bob Mitchell stood down from the Captains role.
Bob is a founding member and has been instrumental in the management of Mackerel Beach RFS with his wife Christine also holding many roles over the years. In 1997, Bob was Captain, his wife Christine was Snr. Deputy Captain, their son a Deputy Captain and their daughter a fire fighter in the Brigade.
Bob is stepping away from the Captain role, but still holds an officer position within the Brigade.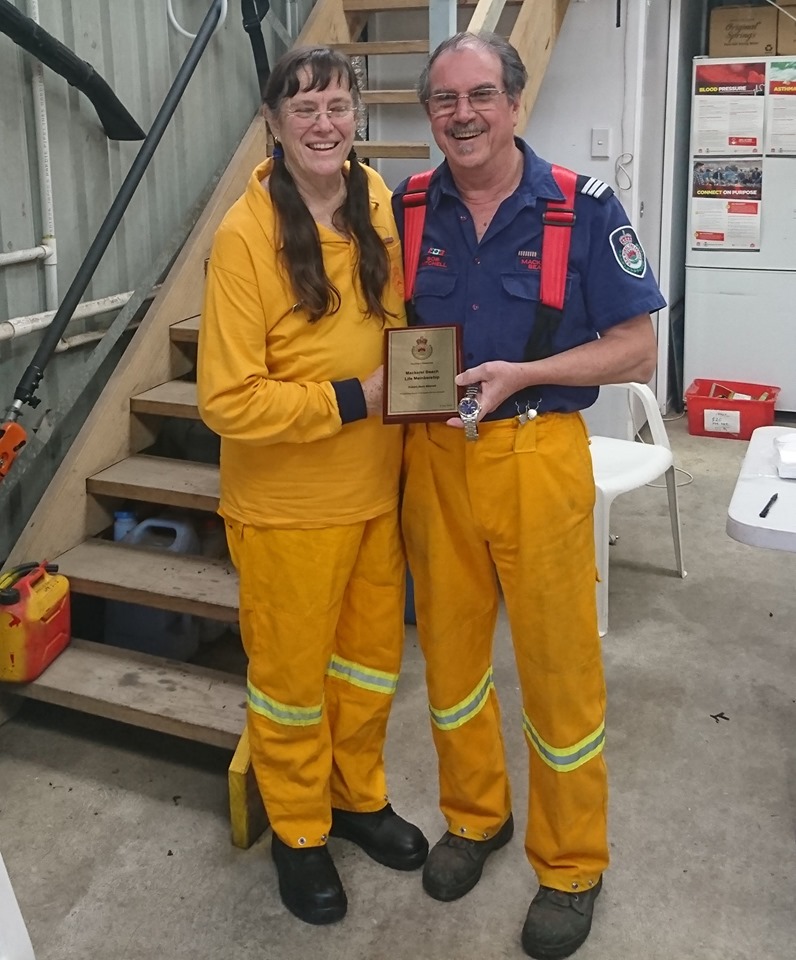 Christine and Bob Mitchell

After looking through some old photos, even spotting our current RFS Commissioner Shane Fitzsimmons in one from the station opening when he was a volunteer, Ingleside RFS took off for some fire boat training in Broken Bay, where the crew from West Pittwater RFS explained the boat operations.
A great day at Mackerel Beach Brigade and a great day on the water.
Thank You Bob Mitchell for your decades of service to our community.
Words and photos courtesy Ingleside RFS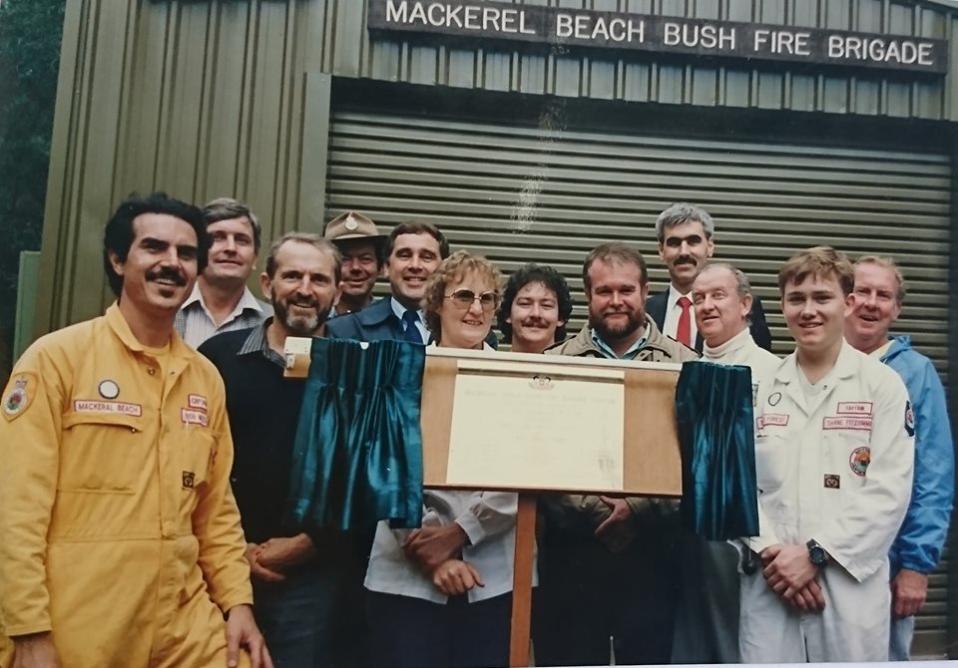 1989 Mackeral Beach Station Opening: Captain Bob Mitchell on left, our current RFS Commissioner Shane Fitzsimmons front right when he was a volunteer Captain of Duffys Forest.
Bob Mitchell, ?, ?, Ron Castle, Keith Simpson, Jan Bennett, Craig Geddes, ?, Peter Owens, Laurie Bagnall, Shane Fitzsimmons, Ingleside Captain in 1989 Rex Mitchell in light blue on the far right behind Shane - Patrick Williams front right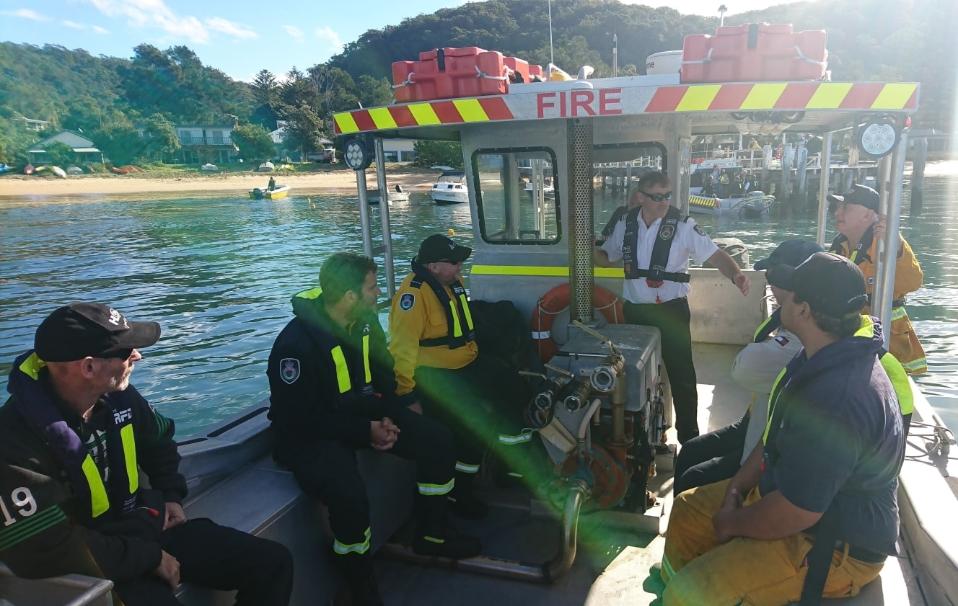 Fire boat training off Mackerel Beach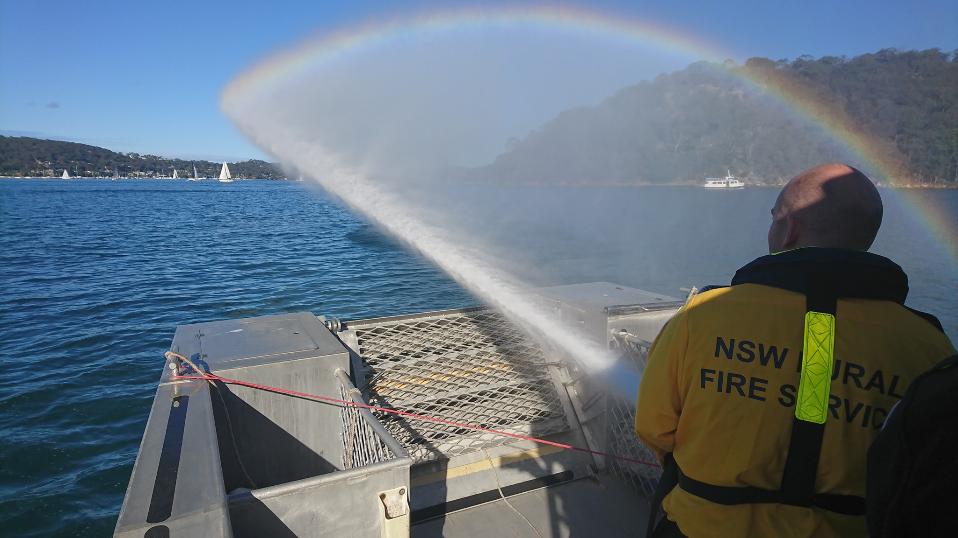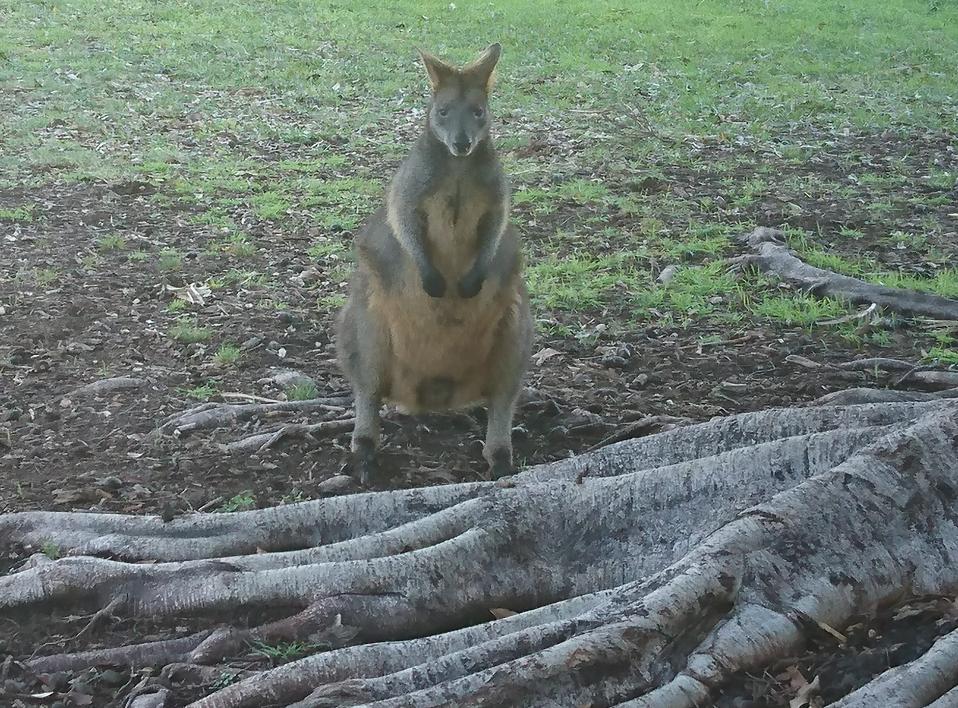 Wallaby's at the Basin on Pittwater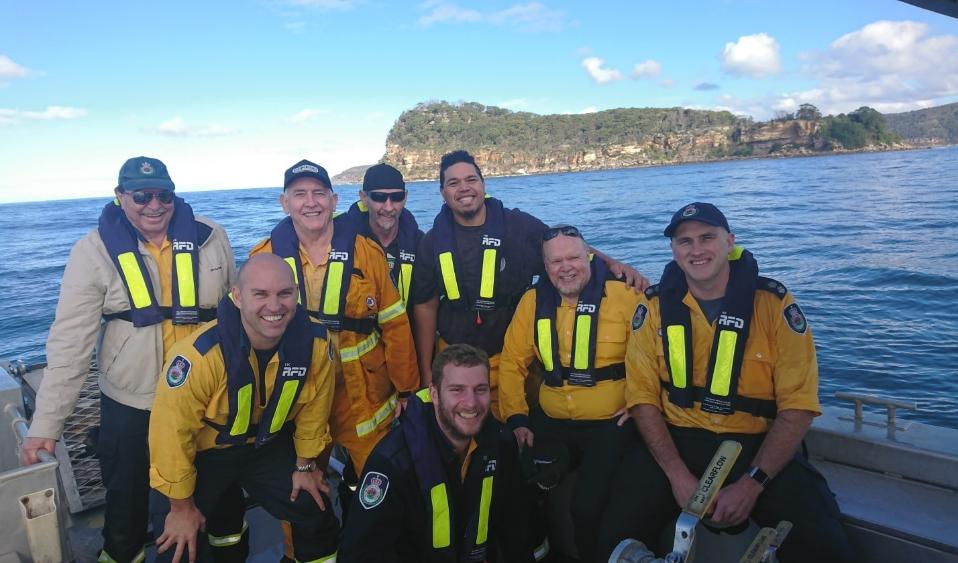 Ingleside RFS Volunteers out in Broken Bay near Lion Island.
Ethel Turner's Seven Little Australians Added To UNESCO Memory Of The World Register - The Missing Pages Restored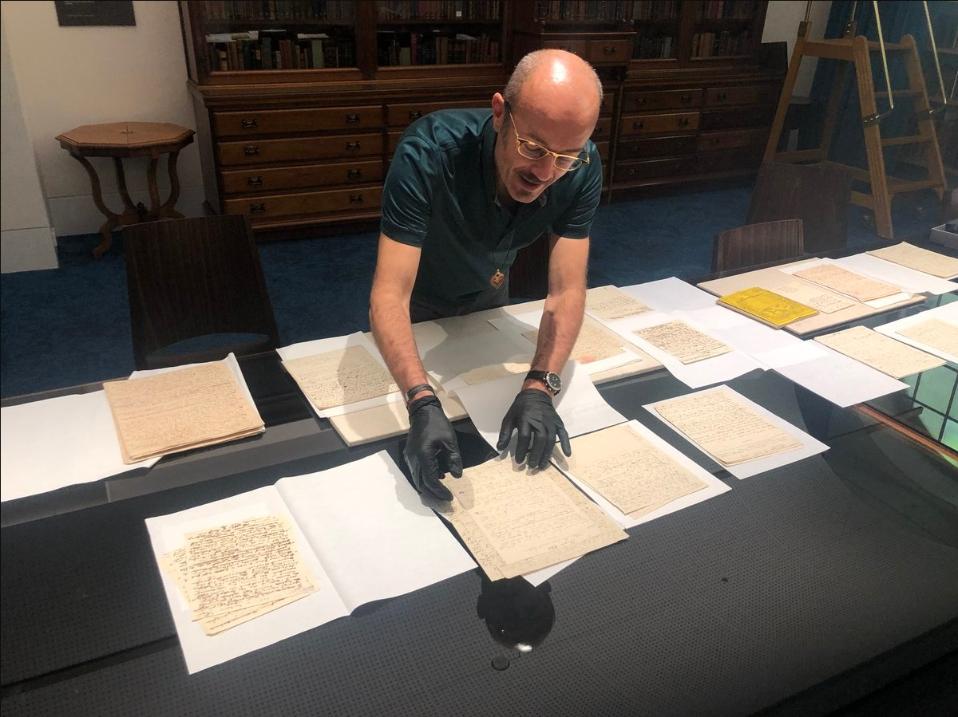 Matthew Curlewis at the State Library of NSW on Monday, July 1st, examining his great grandmother's Seven Little Australians - State Library of New South Wales Photo
The original manuscript for Ethel Turner's Seven Little Australians, held in the State Library of NSW's collection, was added to the UNESCO Australian Memory of the World Register in February 2019.
Ethel Turner's manuscript becomes the 57th item in the register, placing it alongside the 'Endeavour' journal of James Cook, the collective journals of the First Fleet, and 'Core of my Heart', the original manuscript of Dorothea Mackellar's über famous poem, 'My Country'. This in turn makes Ethel Turner (married name Curlewis), the second of only two women of literature to be included in the Australian Chapter of UNESCO's Memory of the World Program.
'Sketched out' on her 23rd birthday in 1893, Ethel's 182-page manuscript would become one of Australia's best known children's stories and arguably her greatest achievement. The manuscript, written on scraps of paper of different shapes and sizes, is a record of her creative process. The first few pages alone document the progression from working title 'Six Pickles' through to ´Seven Little Australians'.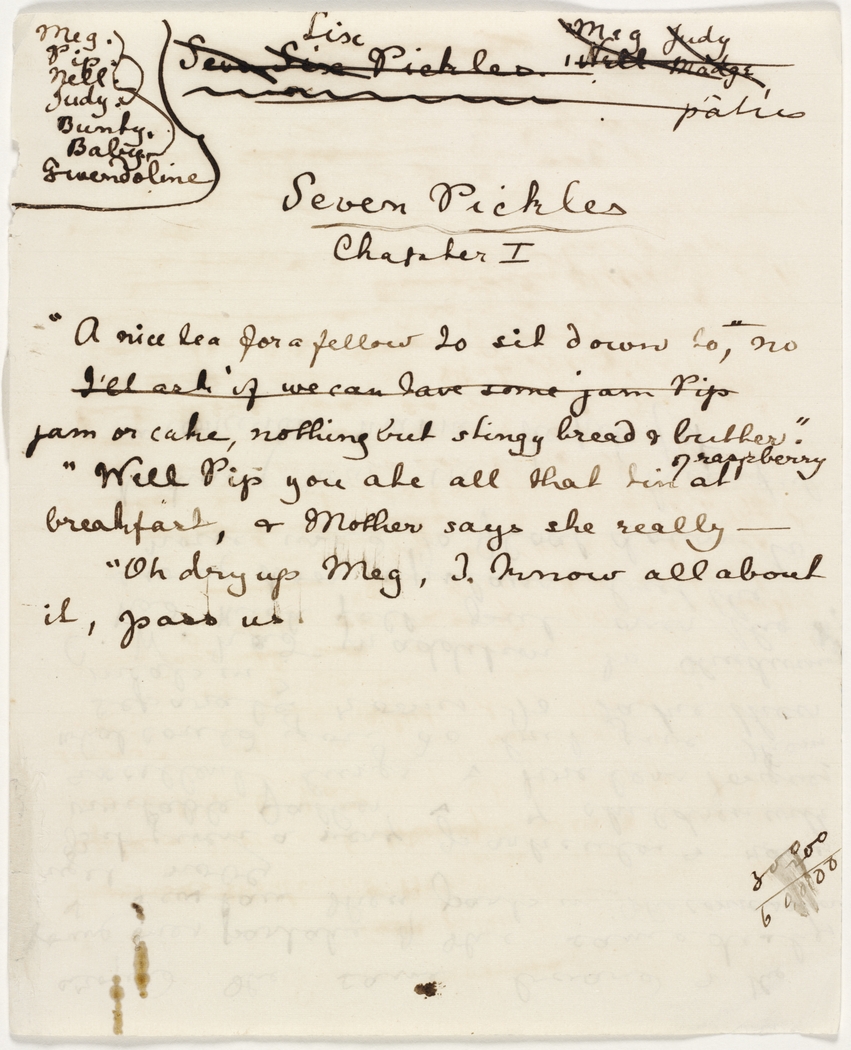 Seven Little Australians draft - Image No.: a2104001r, courtesy State Library of NSW

It is rare for a 19th century literary manuscript to survive, especially one with the significance of Seven Little Australians. The inscription of the manuscript on the UNESCO register acknowledges the important place that Ethel Turner and Seven Little Australians holds in Australian literary history.
Seven Little Australians marked a turning point in Australian children's literature. She wrote about everyday family life in urban Sydney and her characters were not only believable children – significantly, they were recognisably Australian. Seven Little Australians features a girl as its hero and, consequently, contributed to the foundation of girls' literature in Australia.
Ethel Turner married a lawyer, H.R. Curlewis in 1896 and by the time of her death in 1958 had produced over 40 books as well as numerous short stories and poems.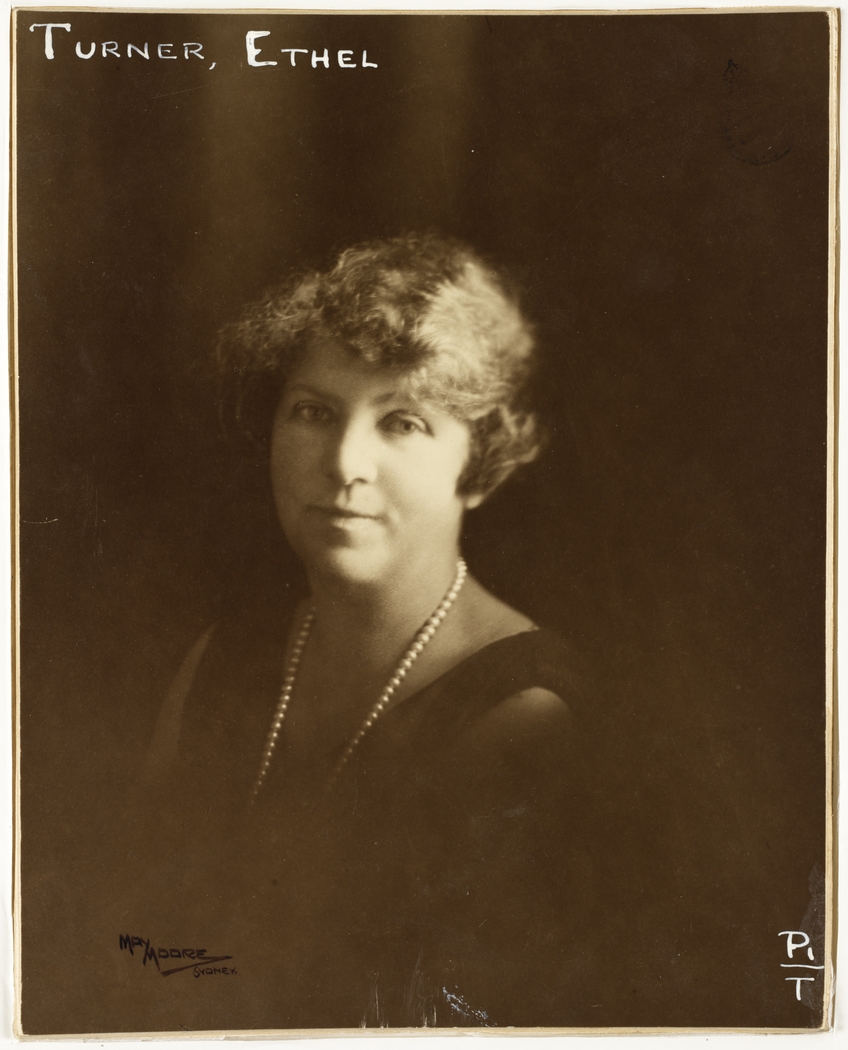 Ethel Turner, 1927 / photographic portrait by May Moore, Sydney, 1927, Image No.: a1528308h, courtesy State Library of NSW

Most in Pittwater also remember Ethel Turner as a frequent Palm Beach visitor and the mother of (Sir) Adrian Curlewis, a founding member of Palm Beach SLSC, the 'father of Australian Surf Life Saving', and her daughter Jean Curlewis, also a prolific writer, with Palm Beach, Newport and Pittwater featuring among her stories.
Adrian was the father of Ian and Philippa Curlewis (Poole) - Ian is the father of Matthew Curlewis.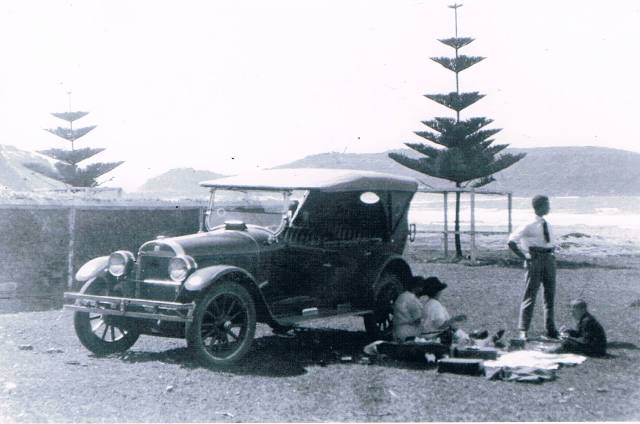 This early T Model Ford was one of the four cars to be seen at Palm Beach in the early 1900's. In this photo Ethel and her sister Lilian and son were having a picnic whilst Adrian, looking out to sea, seems to be contemplating what lay ahead for him. - Photo courtesy Philippa Poole

PALM BEACH.

THE ROCK POOL.
God in a delicate mood parted these headlands,
Bade His unwearying waters fret Him a bay.
All the bright breakers sang at the chance to adore Him,
All the blue breakers rolled from His feet to obey.
Cream as the clouds curves the sand where the light foam races,
Green, all a-patterned with grey is the gown of the land,
The land stepping down, austere, from the hill-top places
The sky in her hair and her silver feet in the sand.
There is a pool by the cliffs that the waves wash over,
A clean-cut pool where a child may dive and play.
Low on the rocks it lies, like a sky-dropped mirror,
Never a light but it catches the live-long day.
For I have waked with the sun not over the headland,
All of the sea sun-grey, with one thrust of jade,
And in the heart of the pool, like a jewel lying,
One point of light from the cold green thrusting made.
Nearer the top of the hill, the slow sun struggles,
Primrose drifts on the sea with one purple stain,
And now in the pool's pale silver, is lying, lovely.
Violet, amethyst, amethyst, violet again.
Wild rose in the pool, white clouds and the sunset's rainbow,
A moon in the pool, a shy moon, bathing alone,
And, as I sleep, the stars sown in millions around me,
One shoots down and drowns in it like a stone.
God, in a delicate mood, parted these headlands,
God let the breakers fret Him this delicate bay,
Man made the pool, the clean-cut pool in the boulders,
God, in a delicate mood, glances its way.
ETHEL TURNER.
PALM BEACH. (1926, February 6). The Sydney Morning Herald (NSW : 1842 - 1954), p. 11. Retrieved from http://nla.gov.au/nla.news-article16265379
What runs this Issue is written by Matthew Curlewis. Matthew originally wrote this shortly before Australia Day 2016 and has given us permission to republish it. His The Missing Pages was recently published in the 2019 edition Blume Illustrated, a fantastic annual arts and illustration focused magazine dedicated to bringing ideas to light through the print medium.
A Launch of this year's Blume Illustrated was held in the Blue Mountains, at Katoomba's Carrington Hotel, in the Baroque Room, on Thursday May 30th, 2019.
Matthew read his article about an aboriginal-themed story that is 'missing' from 'Seven Little Australians' editions published between 1896 and 1994. He also read from some Blue Mountains-themed work written by Ethel's writer daughter, Jean Curlewis.
Two generations represented.
Then with his father, himself and one of his sisters Luisa, plus one of his nieces Lily, they achieved five generations of family, in the room, who have all had specific and valuable relationships with the Blue Mountains over the years.
With his lovely husband Mart by his side, crying tears of happiness along with his parents, plus the huge grins of support from friends who had travelled especially to this event, it was a pretty extraordinary and emotional evening.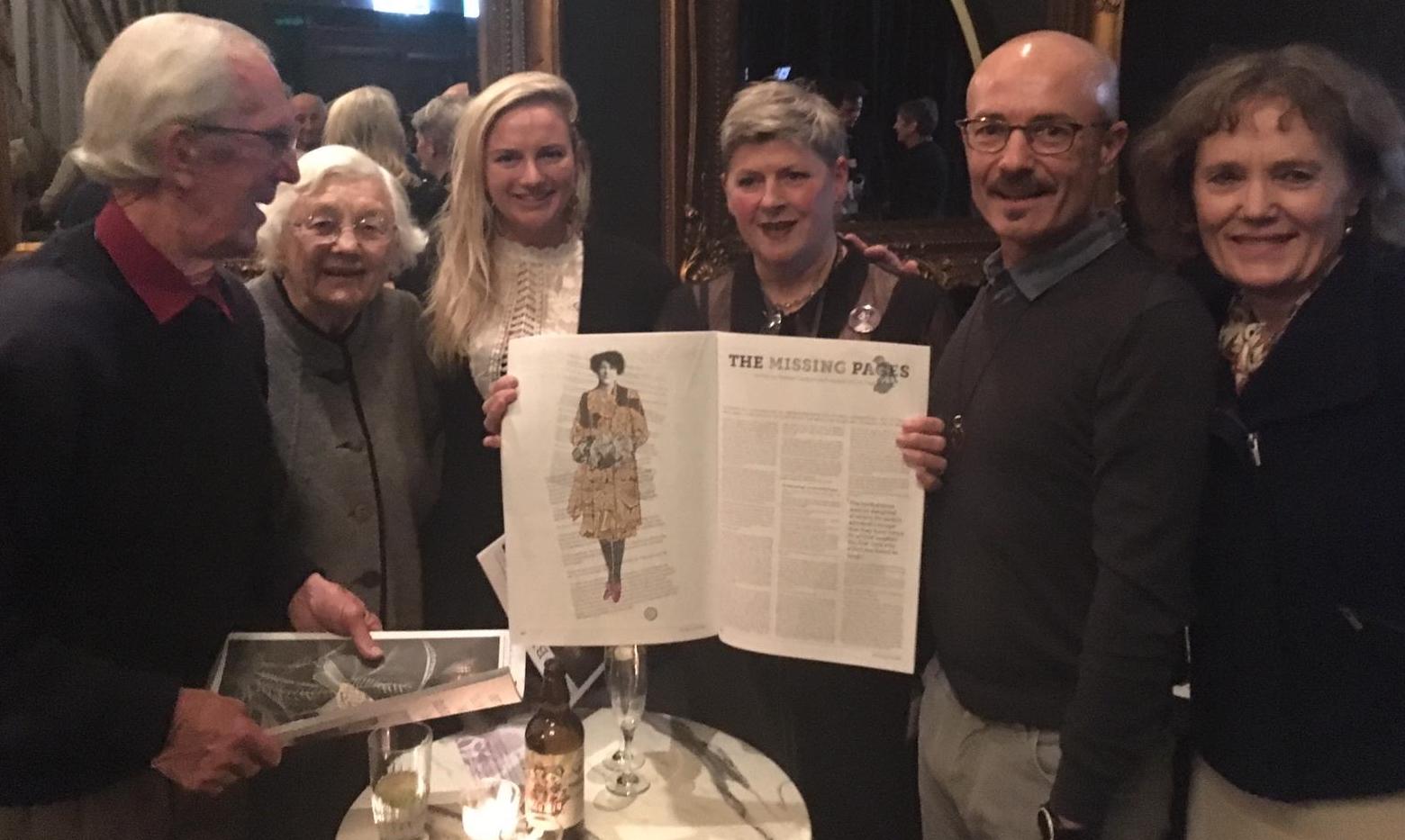 Artist Faye Wilson showing Matthew's article in Blume, including her amazing illustration of Ethel Turner, in which Faye has inlaid an illustration from the cover of Seven Little Australians' first edition, into the pattern of Ethel's dress. Matthew's parents to the left, along with niece Lily and sister Luisa.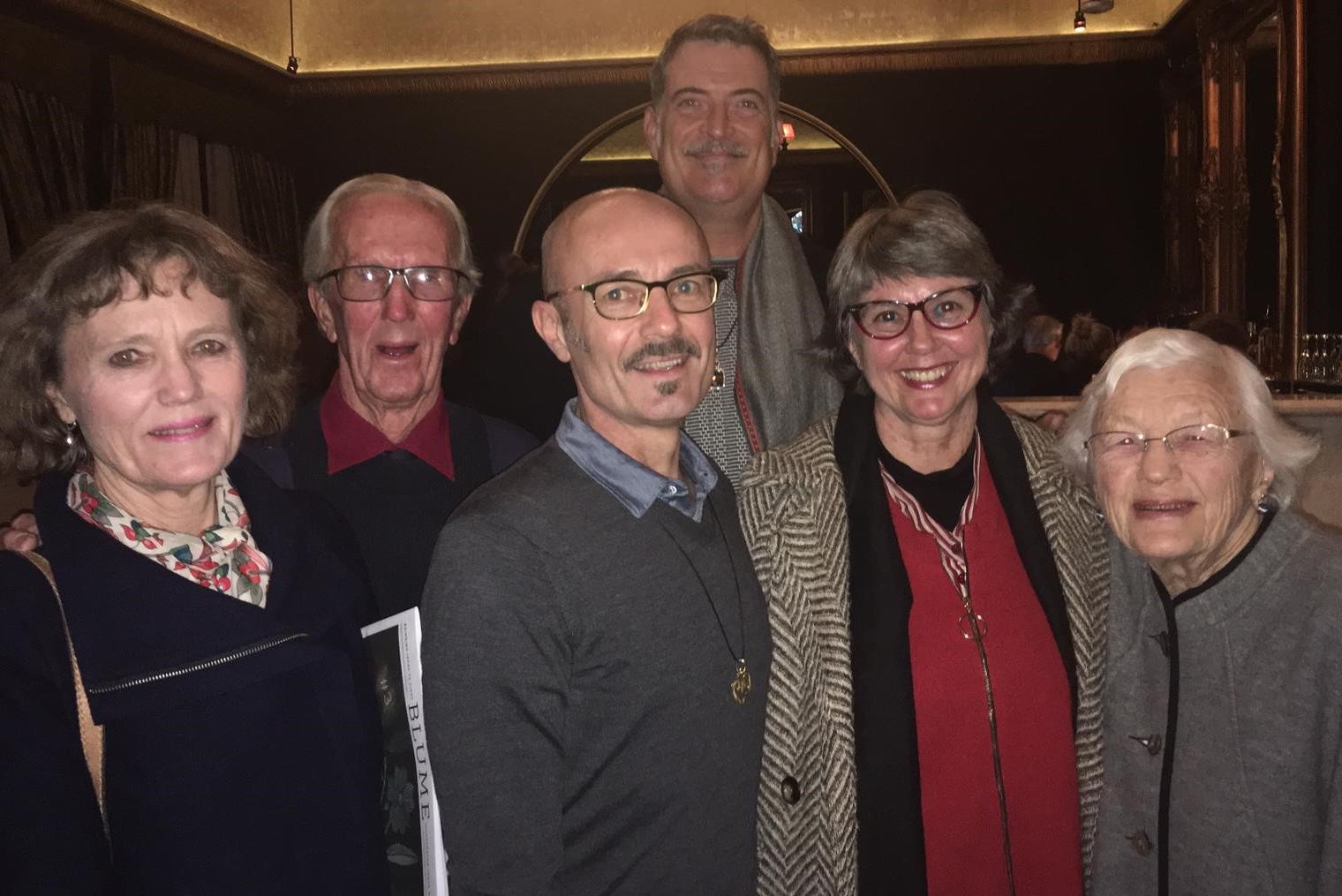 Family!
As we commence NAIDOC Week 2019 Matthew's eloquence prefaces his restoration of the four Missing Pages from his great grandmother's wonderful Seven Little Australians HERE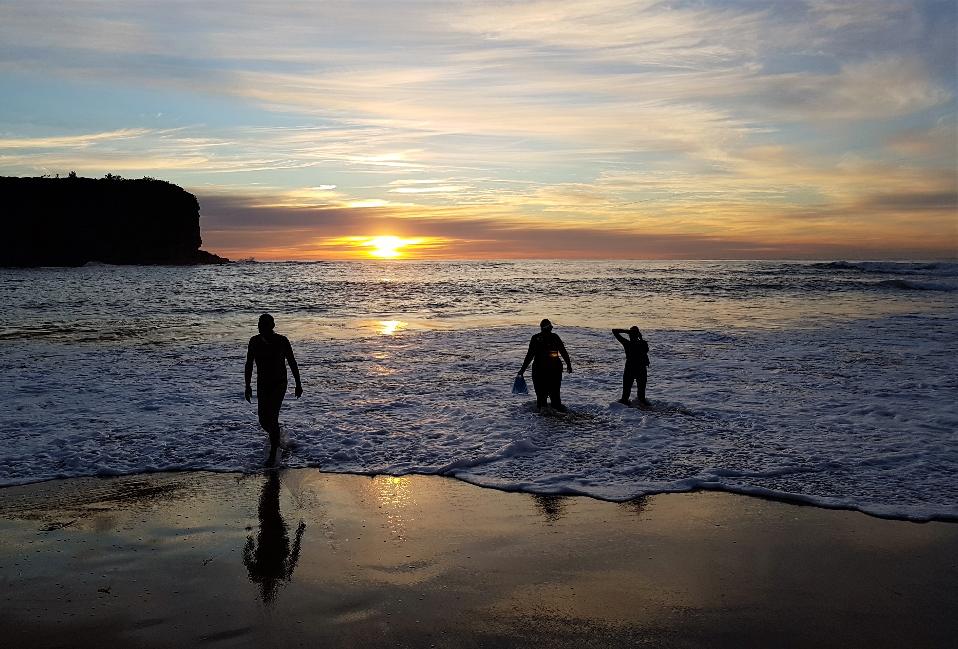 'Swimmers at the Basin Beach Mona Vale at
sunrise
about 7 am, July 5th. Some wore wet suits, others their budgie smugglers. There were about 30 swimmers. The sunrise was lovely, as usual.' - Joe Mills photo.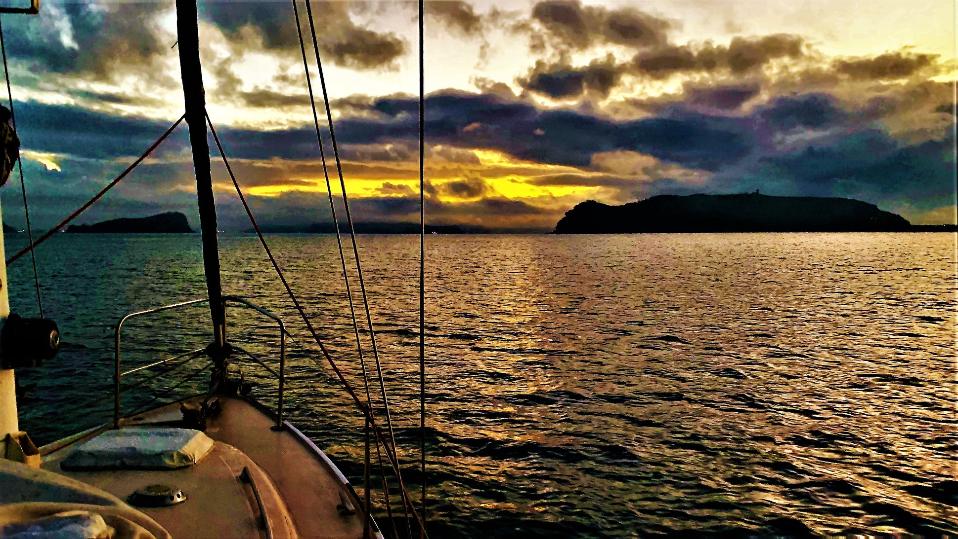 'TONDELAO - Cowan-Pittwater, Winter 2019 - returning home - underway across Pittwater at 6.40 am view across Pittwater to Barrenjoey and Broken Bay as the
dawn
light is evident. Brisbane Water is in the long distance behind Lion (Elliot) Island' - John Vaughan photo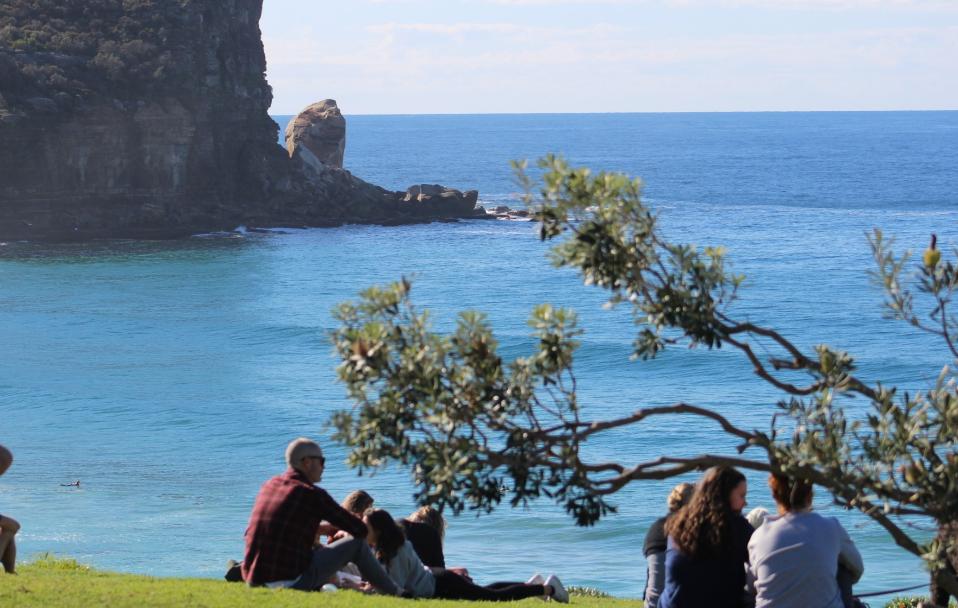 Enjoying a sunny afternoon at Avalon Beach - A J Guesdon photo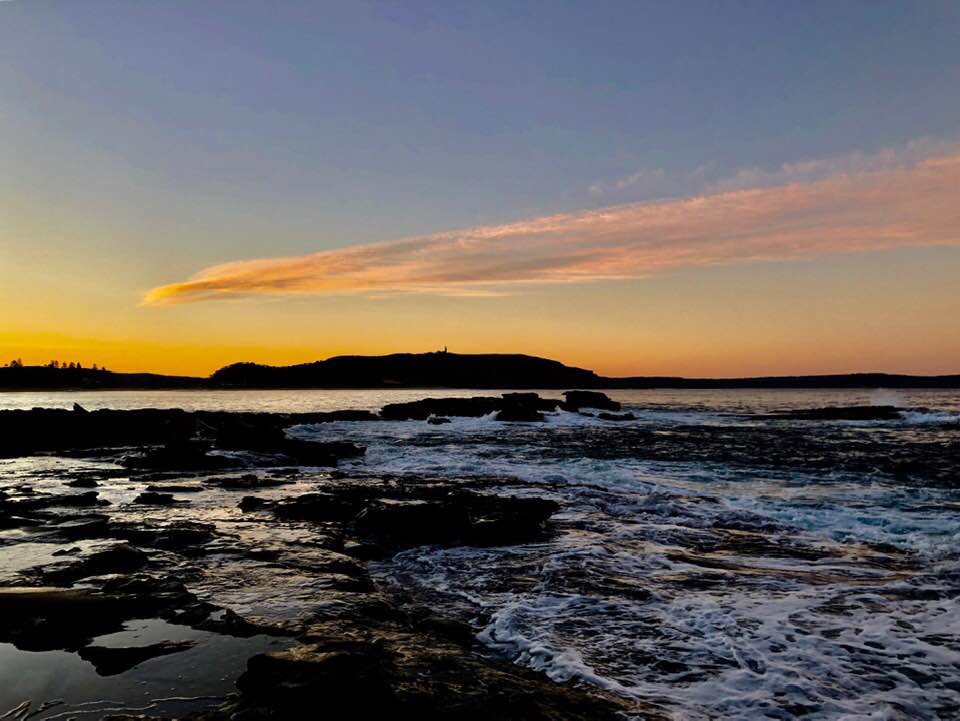 Sunset at Palm Beach - Adriaan van der Wallen photo
Winter School Holidays Break Issues
The NSW Winter School Holidays will run from Saturday, 6 July 2019 to Sunday, 21 July 2019.
Please note that there will be
NO Issue on Sunday July 14th
as staff attend to their own youngsters/families for that first week.
Issue 413 will be published on Sunday July 21st.
We hope you all have a great break catching some snow or some sun or seeing a whale do this near you - in Pittwater!: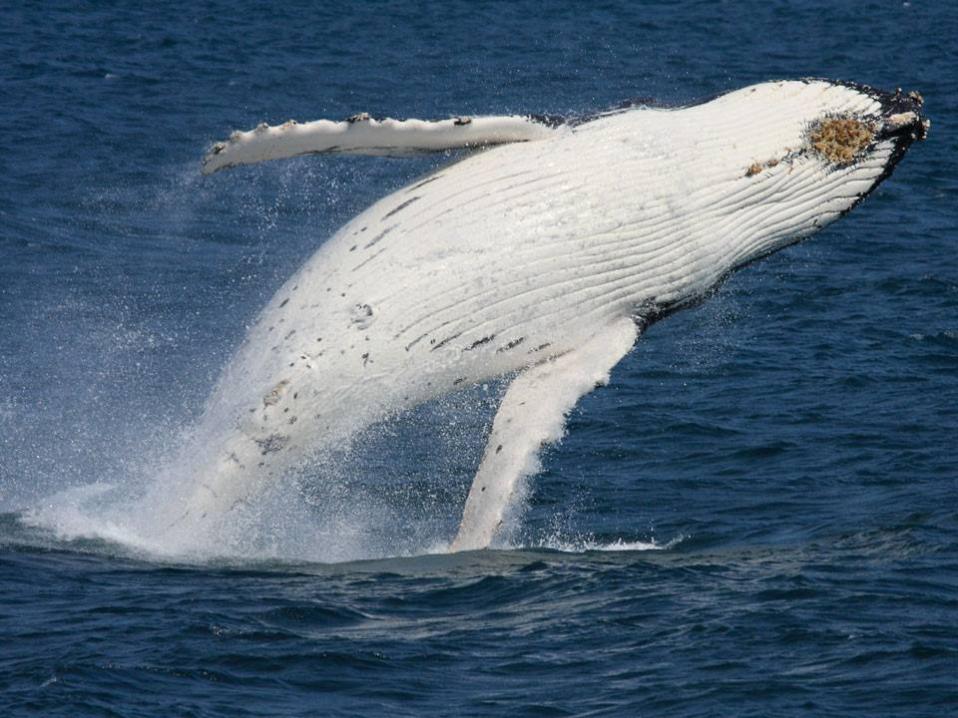 Past Features Archives (pre 2014)
Pittwater Online News was selected for preservation by the State Library of New South Wales and National Library of Australia. This title is scheduled to be re-archived regularly.
Archived Issues (2014 on) may be accessed here: pandora.nla.gov.au/tep/143700