April 7 - 13, 2019: Issue 400

Gold For Jason And Lisa In Spain!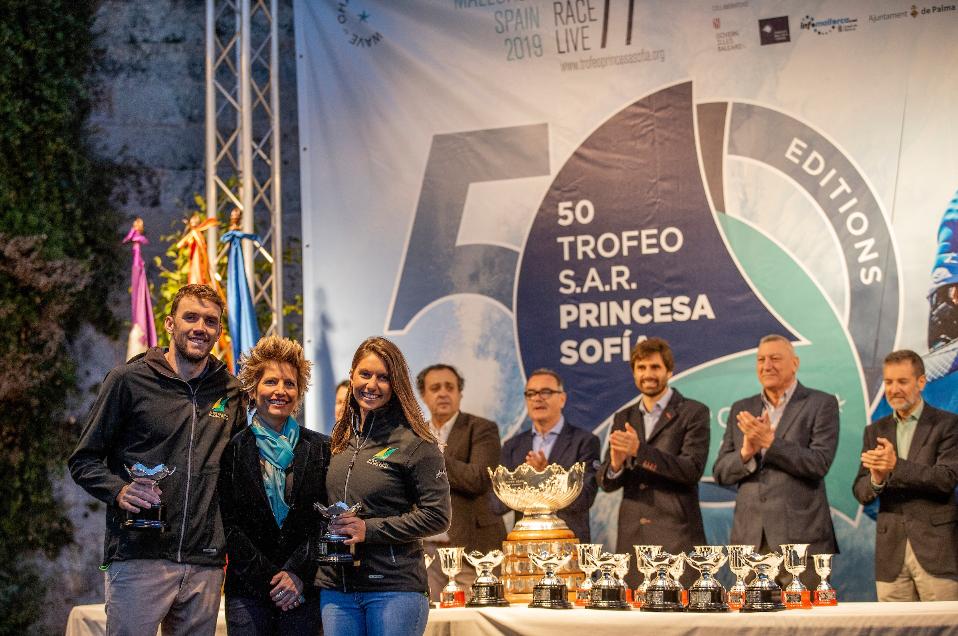 Australian Sailing Team members Jason Waterhouse and Lisa Darmanin have claimed Gold for Australia in the Nacra 17 class at the 50th Princess Sofia Trophy Iberostar in Palma, Spain today.
The Nacra 17's did not have the opportunity of sailing their Medal Race, as winds were high, causing big seas and waves. The Australian pair won the gold medal based on the fact they were at the top of the leaderboard coming into the Medal Race, 14 points up on their nearest rivals.
"A bit of an anticlimax, not racing, but good to have a win," Lisa said having waited ashore since 9am to see if they would race or not.
"The waves were just too big unfortunately. It's just not worth racing when it's like that, you end up breaking gear. The wind had dropped down, but the sea hadn't," she said.
"We are very happy. That's three big wins in a row," the NSW athlete said, referring to her and Waterhouse's gold medal performances at the Olympic Test event in Enoshima, Japan last September and at the Miami World Cup in January. "And now this one," she said.
SLSA Australian Championships -The Aussies 2019: Masters And Opens!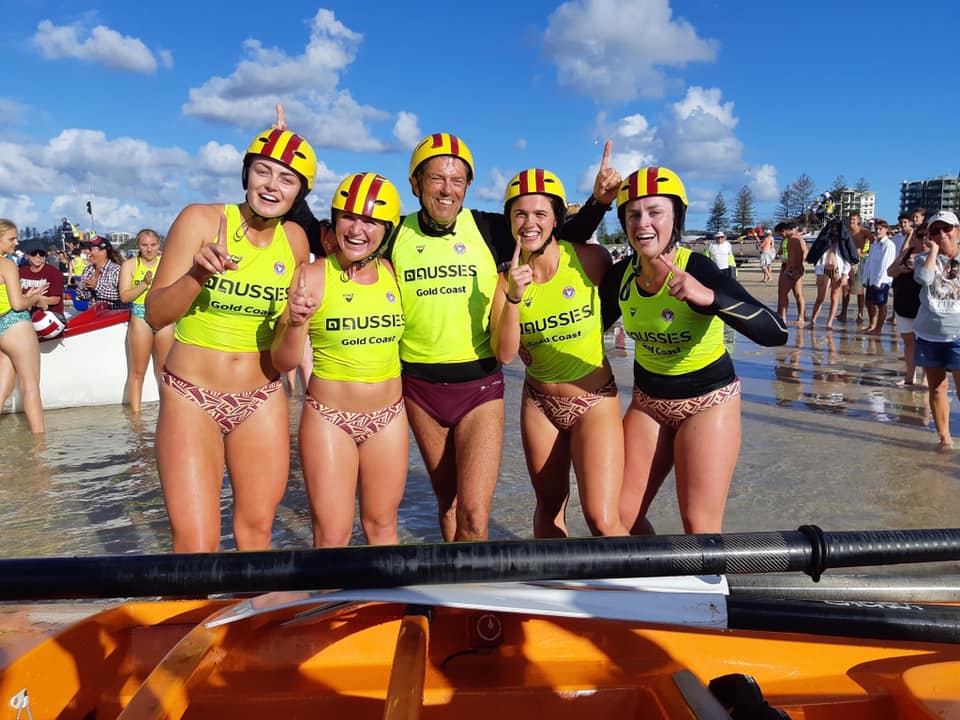 Newport SLSC's Under 23,
'Thunder' crew of Abby Ballesty, Meagan Barr, Tara Doyle, Claudia Harris, Michael King and daughter Zoe King securing Gold. This is Newport's
First female Australian Boat Gold in Newport Club HISTORY!
After the weekend of youth competition at North Burleigh, 1700 Masters competitors, aged 30 to 80+, including a large contingent from the local Surf Life saving Sydney Northern Beaches Branch, went to test their skills at Broadbeach in Queensland for this year's Australian Surf Life Saving Championships - the Aussies.
Participants from local clubs showed their strength on the sand and in and on the sea again this year with Mona Vale SLSC's Kristyn Monnock again bringing home a swag of Gold - 2 in the Ironwoman and Single ski, Silver- 5 one on the sand in the Sprint and in the Board Race and 3 in the Team events with club members Lise Layard and Sophie Stokes in the Board Relay, with Andrea Smith and Janet Proudfoot in the Surf Team, with Paula Tocquer in the Double Ski event and a Bronze with Janet Proudfoot and Lisa Critoph.
Fellow team members also picked up a number of medals - there was Aussie Gold in the Board Rescue for Chrisitine Hopton OAM and Lisa Critoph, Gold for Andrea Smith in the Single Ski and a Silver with Sophie Stokes in the Double ski, while Lisa Critoph secured Bronze in the 1 k Beach run and the Board race.
The MVSLSC Surf Boat crews brought home some great results too with Silver for the 'Masters of the Universe'; Sean Needs, Matthew Collins, Kai Cooper, Ryan Halangahu, Nathan Wilson in the 160 years Division. Their Open Surf Boat Crews have brought home some Bronze as well - Mona Vale SLSC's 'Sludge'; Christopher Bridge, Fraser Campbell, Luke Chivers, Matthew Collins, Ethan Farmer in the Open Male Surf Boat Short Course Race and Bronze for Mona Vale SLSC's 'Snow Whites'; Matthew Collins, Yvette Giblin, Taylor Richards, Kristina Larsen, Ash Watson in the Open Female Surf Boat Short Course Race.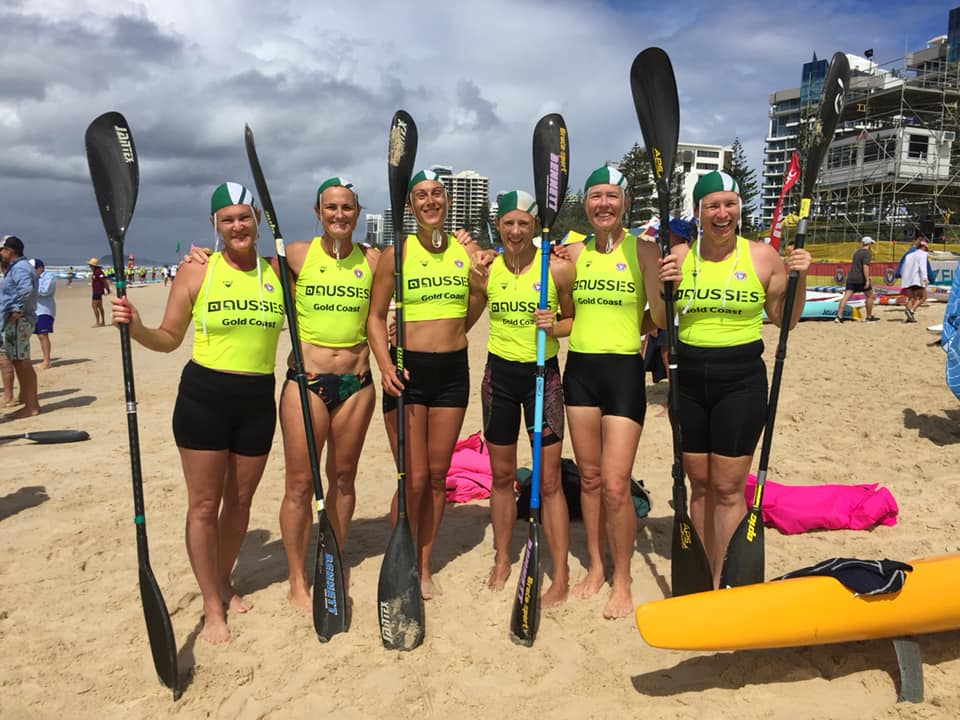 Mona Vale SLSC Double Ski Medallists: Paula Tocquer, Kristyn Moonock, Andrea Smith, Sophie Stokes, Lise Barry and Jan Proudfoot - photo by Christine Hopton OAM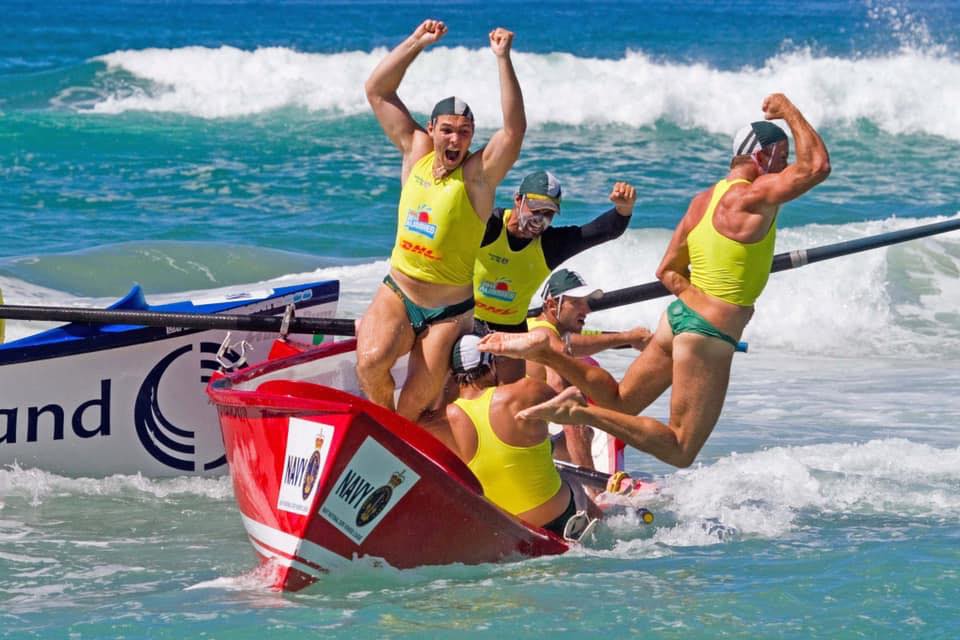 MVSLSC Surf Boaties - pretty happy about that!

Mona Vale SLSC's Masters Team accrued the most points of all clubs in the SLS SNB with 105 in total while that other very strong Masters Team Queenscliff notched up with 99 points and Manly LSC continue to fly their club's colours across Youth, Masters and Opens - in fact Anthony Vieceli won Bronze behind legend Grant Kenny in the Single Ski as some gauge as to how good the level of athleticism is on our beaches and some indication as to why these people continue to save lives. Manly Masters had 92 points by the time their 2019 Aussies
Golds, Silvers and Bronze have been secured in all clubs that participated from Palm Beach SLSC to Manly LSC with many backing up their efforts from last year in.
Warriewood SLSC's 'Rusty's' have successfully defended their Masters 200 years Female Surf Boat bout with Alex Coates, Tanya Deer, Louise Kemp, Russell Lamb and Kathryn Maguire bringing back their second successive Australian Championship while fellow Masters Surf Boat Team - 220 years, the 'Crustys'; David Peaston, Stuart Torrington, Mark Hodgson, Carl Quitzau and Russell Lamb, secured Bronze.
Australian Champions - Warriewood SLSC's 'Rusty's

Warriewood's sand dancers continued their medal run at the 2019 Aussies with a Silver in the relay for Glen Bauder, Adam Gee, Ben Hargy, Justin McDonald and a silver and an individual Silver in the men's 45-49 for Adam Gee.
Queenscliff's 200 yrs min Male Beach Relay Team of Brian Dolly, Michael Gedz, Stephen Hoy and Stephen Nelson secured Gold for their club in the Masters relay events.
The Surf Boat races remain one area where the SLS SNB are strongly represented at this year's Aussies with all clubs having crews among the Semi-Finals and medallists after the Grand Finals in both the Masters and Opens. For example, in the aforementioned Open Male Surf Boat Short Course Race the results were:
South Curl Curl SLSC; Rob Lowery, Christopher Hughes, Trent Rogers, Michael Egan, Jordan Thurlow, Death Riders, Grand Final - 1st
Mona Vale SLSC; Christopher Bridge, Fraser Campbell, Luke Chivers, Matthew Collins, Ethan Farmer, Sludge, Grand Final 3rd

And for the Open Female Surf Boat Short Course Race:
South Curl Curl SLSC; Charlotte Walters, Sophie Coolican, Mark Spiteri, Ellie Winstanley, Lara Campbell, Straw Hats, Grand Final - 1st
Mona Vale SLSC; Taylor Richards, Matthew Collins, Ash Watson, Kristina Larsen, Yvette Giblin, Snow Whites, Grand Final - 3rd
Avalon Beach SLSC; Peter Carter, Rachel Strong, Rebecca Elliott, Ashleigh Norman, Ellie Mackay, Avalon Beach Bandits, Grand Final - 5 th.
While on the U23 Female Surf Boat results, SLS SNB crews dominated the finals places with the sole team from south of here often seen in local carnivals:
1st: Newport SLSC's 'Thunder' ; Abby Ballesty, Meagan Barr, Tara Doyle, Claudia Harris, Michael King, Zoe King
2nd: North Cronulla SLSC's 'Funkys 23 Women'; Nicole Glasson, Alysha Lerond, Maggie Mahoney, Madeline McDonald, Mark Mcdonald, Hayley Urquhart
3rd: Palm Beach SLSC (NSW)'s 'Peaches'; Gabriela Chubb, Lucy Courtenay, Stephen Cox, Grace Shipway, Nicola Thomas
4th: North Narrabeen SLSC Inc.'s 'Chickpeas' ; Letitia Alford, Tamara Alford, Claire Farkas, Aleesha Gibby, Donald McManus
5th: Mona Vale SLSC's 'La La Ladies'; Kai Cooper, Grace Seaglove, Antea-Allegra Crvelin, Jaimee Henery, Natasha Cowper
Newport's dedication in the Surf Boat arena has been rewarded at this year's Aussies too with their Under 23, 'Thunder' crew of Abby Ballesty, Meagan Barr, Tara Doyle, Claudia Harris, Michael King and daughter Zoe King securing Gold. This is Newport's First female Australian Boat Gold in Newport Club HISTORY! and means there will be a bit of dancing going on at the clubhouse over the next few weeks - long trained for and hard earned. Congratulations girls and Mr. King - your dad and granddad Bert King will be dancing with glee too!

The spirit of Rick Millar and a determination to honour him has seen some great results for the Avalon Beach SLSC boaties: Gold in the 180 yrs min Female Surf Boat, Avalon Beach SLSC; Melinda Akehurst, Amanda Dale, Shannon Fletcher, Matthew Mayall, Stephanie Stoddard, the 'DBs' , and Bronze in the same division for Avalon Beach SLSC's Sally Macintosh, Kate Munro, Beverley Tilbury, Nathan Wellings, Donna Wishart, the ' Antiques' while the men in the 180 yrs min Male Surf Boat Avalon Beach SLSC's President Ashley Cardiff along with Peter Carter, Daryl Johnson, Adam Schofield, and Nathan Wellings, the 'Avalon Beach Rockstars' have also won Bronze.
Bilgola SLSC romped home too, Gold for their 140 yrs min Male Surf Boat crew of Jason Crump, Ben Gill, Mark Hooley, Matthew Nugent and Luke Perrin, the ' Bilgola Bends', and Gold again for 200 yrs min Male Surf Boat crew of Ben Gill, Grant Jacobs, Mark Parsons, Norman Pounder and Garett Smith.
Avalon's Chris McGuckin and Robert Richardson boosted their club's Masters point score this year - Gold in Board Rescue and Chris went on to notch up another Gold for himself in the Board Race. Avalon's Jean Harper won Bronze in the 50-54 Male Beach Flags and points in the Grand Final for the Beach Sprint. All up Avalon Beach SLSC's Masters Team secured a very respectable 45 points.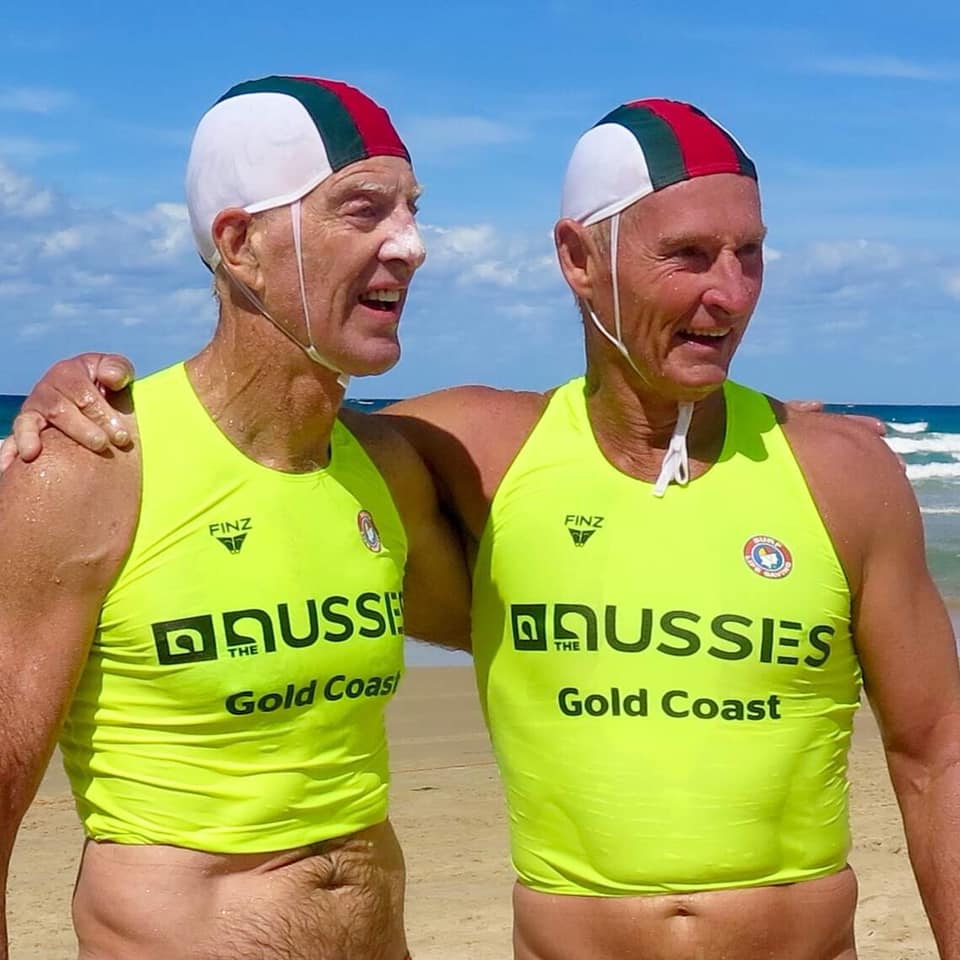 Australian Champions - Chris McGuckin and Robert Richardson
The Palm Beach SLSC's Masters Team of Annabelle Chapman, Karen Begg and Fi Rae won Gold in the Board Relay and Silver for their Female Taplin Relay Team of Annabelle Chapman, Fi Rae and Di Van Ooi. Fi Rae won an individual Bronze in the Ironwoman, and Silver for Di Van Ooi in the Surf Swim, while this same team of girls appeared among the finalists in other Masters events too and had a total of 43 points overall for their Masters participants - outstanding considering they weren't the largest team there.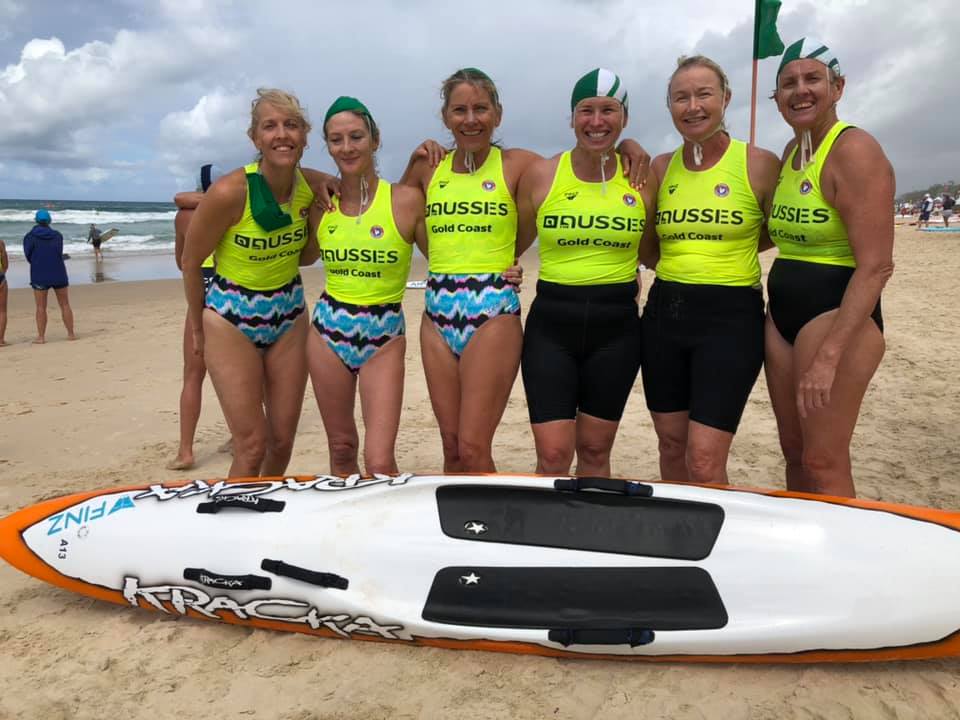 Palm Beach SLSC's Fiona Rae, Karen Begg and Annabelle Chapman, with Mona Vale SLSC's Jan Proudfoot, Christine Hopton OAM and Lisa Critoph - Australian Champions! - photo by Joanne Nelson.

Barrenjoey High School

Students

To The Rescue At Avalon Beach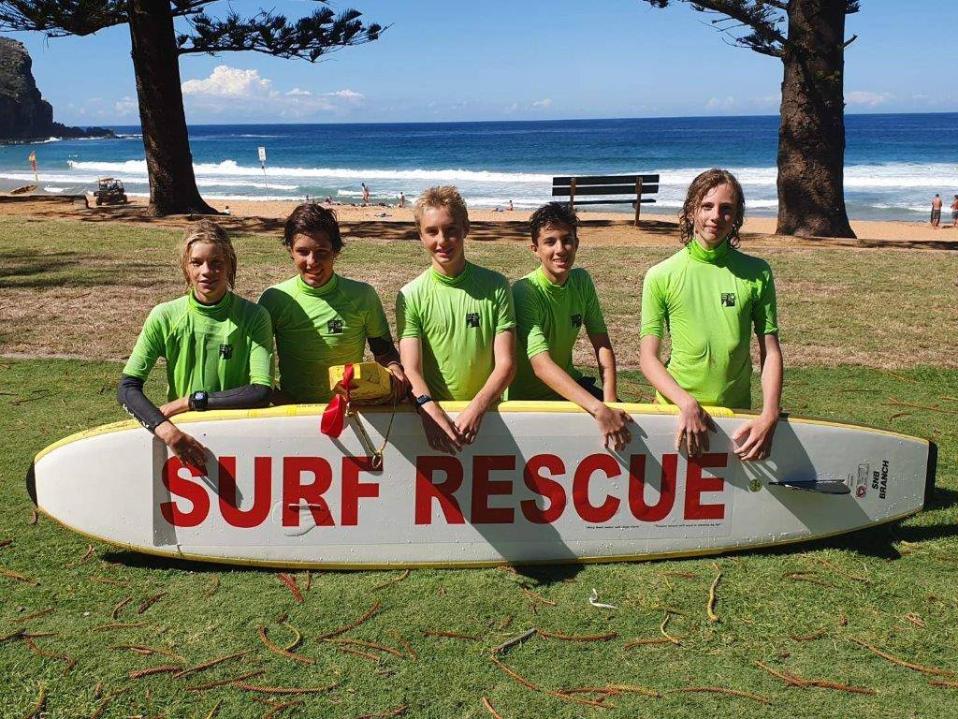 Photo: Barrenjoey High School students Sebastian Smith (left), Remy Garner, Jake Peters, Jacob Cowan and Rudy Duke-Yonge. Picture courtesy SLS SNB
Two students from Barrenjoey High School were heroes on Wednesday this week when they rescued a young boy who got into difficulties in the surf at Avalon Beach.
Five boys from the school were doing their Surf Survival Assessment when they heard cries for help in the water.
Two brothers from Darwin were at the beach with their grandmother. The younger boy, 7, got into trouble about 50m from shore and was in distress, yelling out for help.
Rudy Duke-Yonge fortunately had the rescue tube around him and swam to the boy's aid and held him up until Remy Garner arrived to assist. Remy removed the tube from Rudy and put it around the boy and he was taken safely back to shore.
It certainly turned out to be an eventful day for the boys from Barrenjoey High. Rudy did the course because he just wanted to do something different.
While he was not involved in the rescue, Jacob Cowan told one of the SLS Sydney Northern Beaches instructors Tracey Hare-Boyd that he wants to do the course again in fourth term because he gained so much out of it.
Pittwater Lady Announced As Max Gardner Award Recipient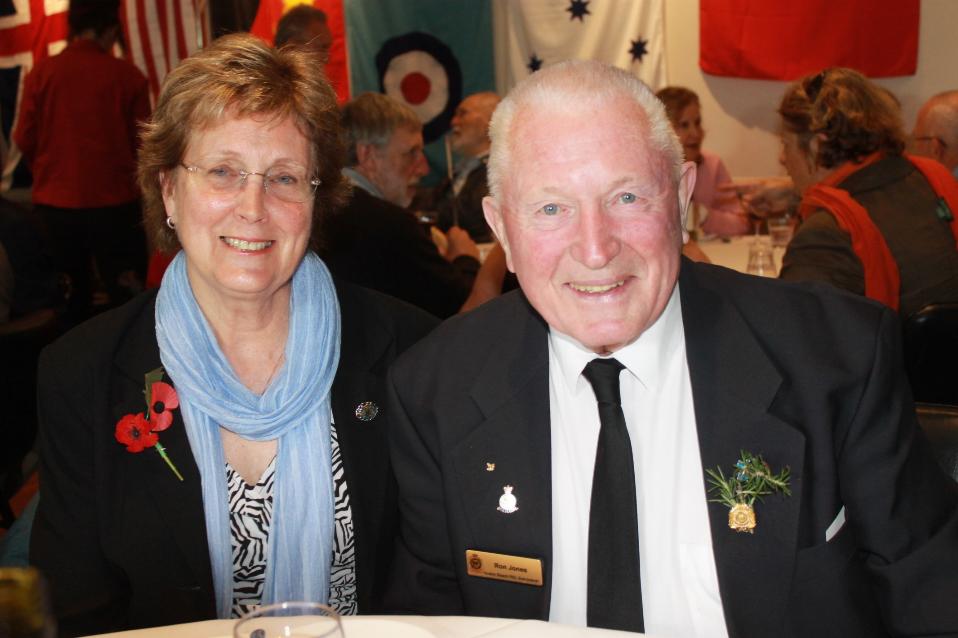 Mary and Ron Jones at an Avalon Beach RSL Sub-Branch Remembrance Day function. Photo by A J Guesdon.
Mary Jones, a committee member of Northern Beaches Prostate Cancer Support Group, has been announced as a winner of the prestigious Max Gardner award this week.
The Max Gardner Award for Distinguished Service is a prestigious award presented by Prostrate Cancer Foundation of Australia (
PCFA
). It is awarded to an individual member of the Network that has made an outstanding and significant contribution to reducing the impact of prostate cancer on Australian men, their partners and families, recognising the diversity of the Australian community.
This award is a peer-based form of recognition for PCFA Network members who are currently an official Ambassador, in a Support Group Leader role or an active member of an affiliated support group.
Max Gardner AM was a passionate advocate for cancer support services. He was diagnosed with prostate cancer in 1995 and firmly believed that if his cancer had been diagnosed earlier he still might be around today. With this thought in mind, he became an advocate for early diagnosis and dedicated himself to ensuring that other men diagnosed with prostate cancer would have a better chance in life than he did.
"Prostate Cancer Foundation of Australia received many Max Gardner Award nominations from across the country in 2018 for Support Group Leaders and Ambassadors. I am extremely proud of the wonderful accomplishments made by all those nominated and the collective, positive impact being made by the Support Groups and Ambassadors nationally." Steve Callister, the National Chairman of PCFA said
The award will be presented in June this year.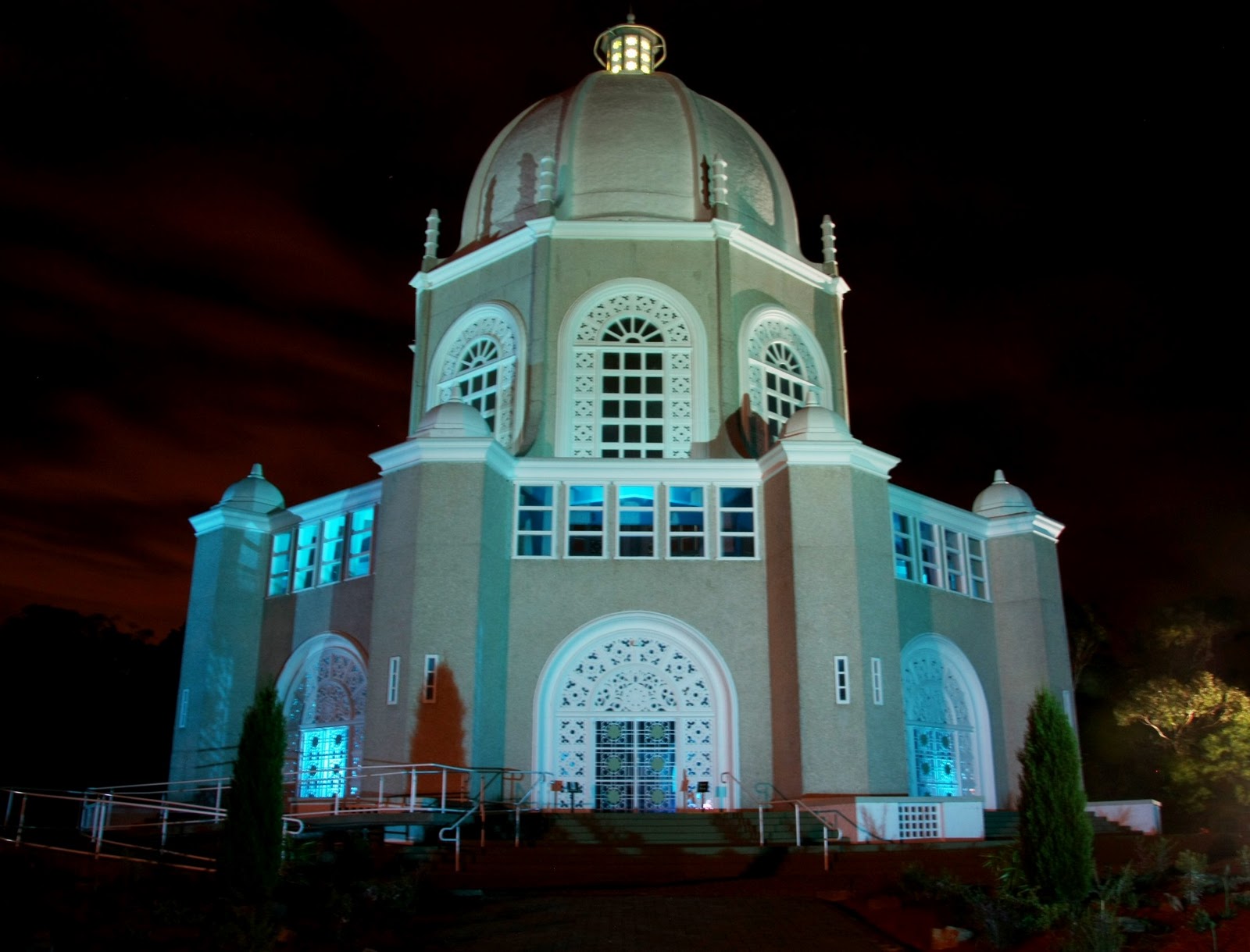 Pittwater residents may remember Mary as the lady whose work saw the Baha'i Temple lit Blue for Prostrate Cancer Awareness Month in 2011, or is the one who sends us in details of fundraising Trivia Nights or those Family Fun Days and Big Aussie BBQ's at Rat Park with wonderful vehicles on display from members of the Pittwater Motor Enthusiast Association.
All these fundraising activities are devoted to research into the disease.
Hooligan And Koa Capture Top TP52 Honours In Newcastle's SailFest Finale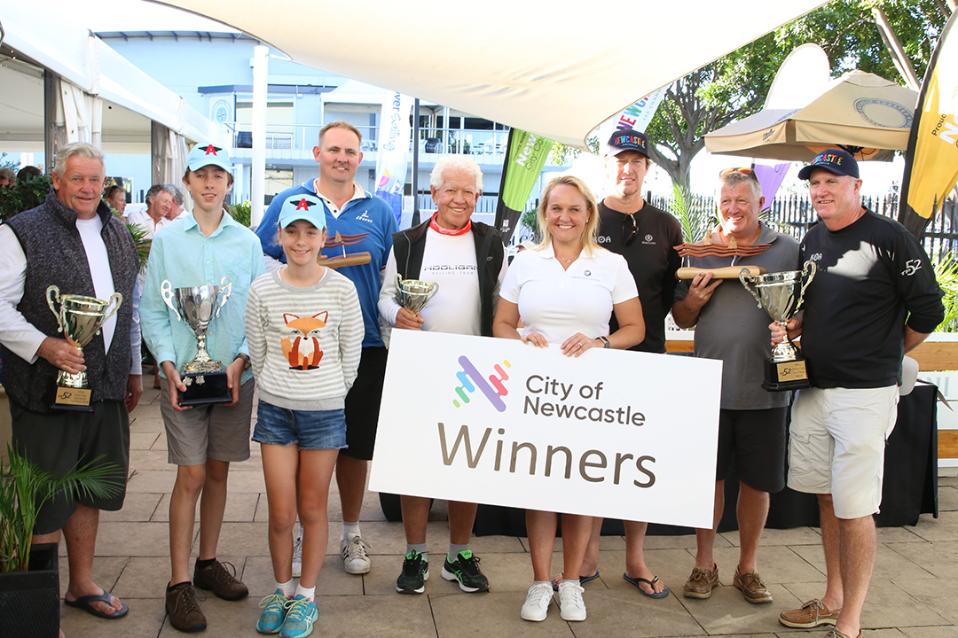 Monday, April 1st, 2019

The inaugural TP52 Gold Cup resumed in earnest on the final day of SailFest Newcastle, with the seven-strong fleet completing four windward-leeward races in challenging offshore conditions.
Koa, co-owned by Peter Wrigley and Andy Kearnan, capitalised on its opening day heroics to claim the class's bespoke TPR handicap trophy by two points from Sam Haynes's Celestial. Marcus Blackmore's Hooligan was third on countback after being level with Gweilo.
Hooligan, however, took top honours in IRC after adding two firsts and two seconds today to a fourth on Friday. Celestial was again runner-up after also being level on 15 points with the unlucky Gweilo.
The fleet encountered three-metre seas and a residual chop off the Newcastle coast, along with pronounced fluctuations in the westerly breeze, but the racing was close and hard fought to the end.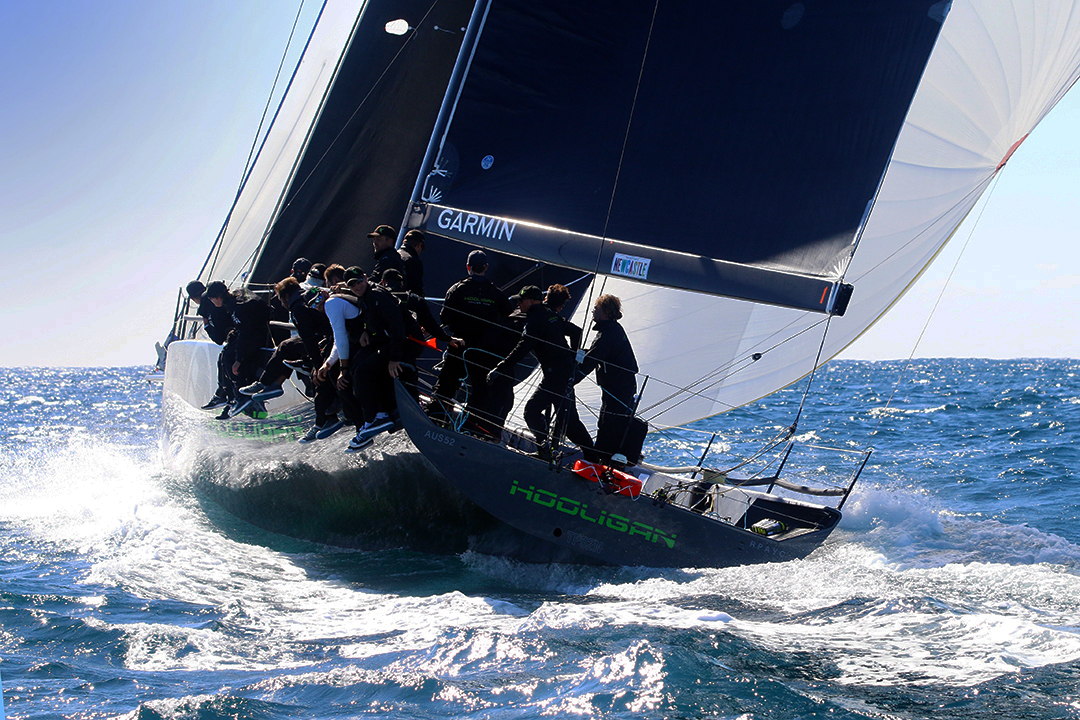 "It was a busy day out there and the competition was great. We had different leaders at the top mark, which is what it's all about," said Koa's Peter Wrigley. "Congratulations go to my crew as well – we only got together recently but we had a great regatta."
Blackmore's Hooligan didn't have its own way upwind but revelled in the runs thanks to sharp crew-work, clocking up to 17 knots at times.
"The beautiful thing about today is that a bunch of owners got together and decided how they'd manage the TP52 class," Blackmore said post-race. "It's evident on the race track – I might've won IRC but we were third on TPR, which brings the fleet together and augers well for the future.
"Sometimes we forget that we're here for fun, and this regatta was a demonstration of that. It's the nearest thing to one-design that we'll get, and our crew was certainly up for the challenge."
Newcastle yacht Frantic, owned by former Wallaby player Mick Martin, happily won the Corinthian trophy.
"Marcus brings the top pros, so we get a chance to sail against the absolute best. That's good for us because it sets the benchmark," Martin said. "That said, the best time of my life was going down to the park with mates in between footy seasons, and that's what sailing can be like as well."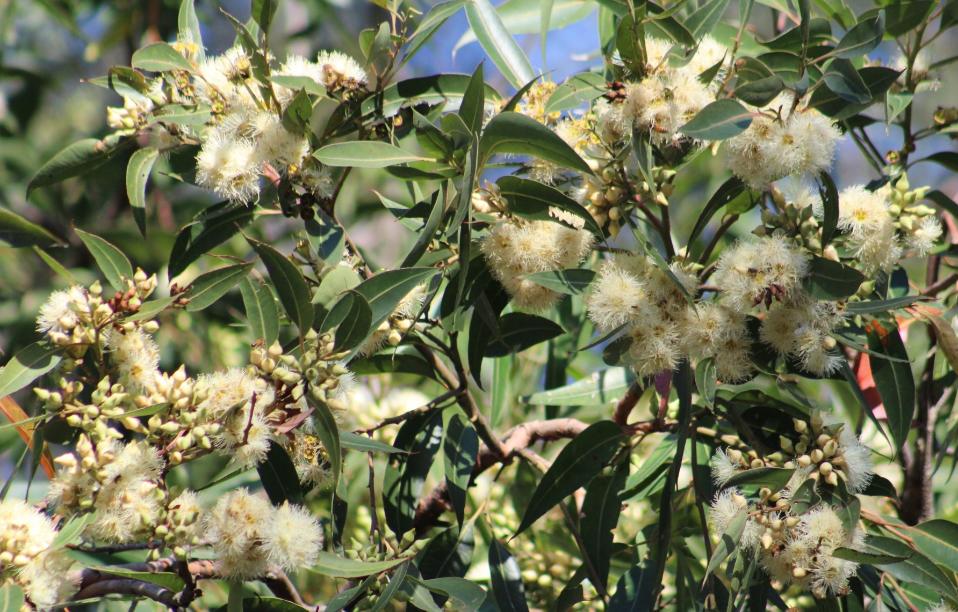 Swamp Mahogany, Eucalyptus robusta, is currently flowering - providing food for local fauna.

Past Features Archives (pre 2014)
Pittwater Online News was selected for preservation by the State Library of New South Wales and National Library of Australia. This title is scheduled to be re-archived regularly.
Archived Issues (2014 on) may be accessed here: pandora.nla.gov.au/tep/143700