April 7 - 13, 2019: Issue 400
Pittwater Lady Announced As Max Gardner Award Recipient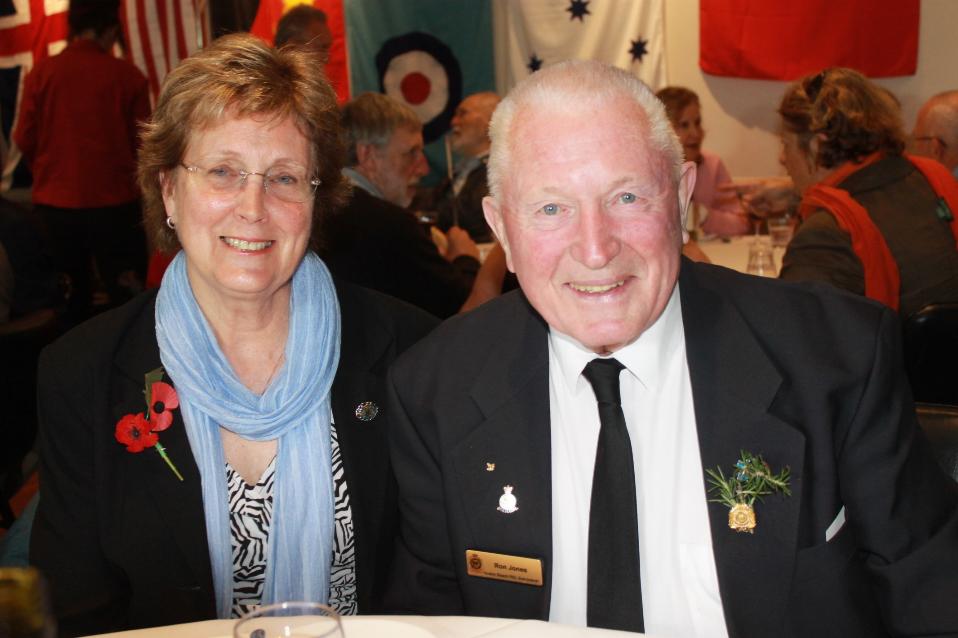 Mary and Ron Jones at an Avalon Beach RSL Sub-Branch Remembrance Day function. Photo by A J Guesdon.
Mary Jones, a committee member of Northern Beaches Prostate Cancer Support Group, has been announced as a winner of the prestigious Max Gardner award this week.
The Max Gardner Award for Distinguished Service is a prestigious award presented by Prostrate Cancer Foundation of Australia (
PCFA
). It is awarded to an individual member of the Network that has made an outstanding and significant contribution to reducing the impact of prostate cancer on Australian men, their partners and families, recognising the diversity of the Australian community.
This award is a peer-based form of recognition for PCFA Network members who are currently an official Ambassador, in a Support Group Leader role or an active member of an affiliated support group.
Max Gardner AM was a passionate advocate for cancer support services. He was diagnosed with prostate cancer in 1995 and firmly believed that if his cancer had been diagnosed earlier he still might be around today. With this thought in mind, he became an advocate for early diagnosis and dedicated himself to ensuring that other men diagnosed with prostate cancer would have a better chance in life than he did.
From diagnosis until his death in October 2004, Max worked tirelessly to raise the level of community awareness about prostate cancer, to promote research into this disease and to support men and women dealing with prostate cancer. He was instrumental in establishing the Network with other like-minded men and women. Max also published a newsletter for his own St Vincent's Hospital Prostate Cancer Support Group in Sydney and served on numerous educational, scientific and generic cancer committees and boards.
"Prostate Cancer Foundation of Australia received many Max Gardner Award nominations from across the country in 2018 for Support Group Leaders and Ambassadors. I am extremely proud of the wonderful accomplishments made by all those nominated and the collective, positive impact being made by the Support Groups and Ambassadors nationally." Steve Callister, the National Chairman of PCFA said
"At the most recent National Board of Directors meeting three new awardees were approved. It is with great pleasure that I announce that the Max Gardner Award recipients for 2018 are:
Mary Jones
Tony Maxwell
David Merry
Tony, Mary and David have all made outstanding and significant contributions to reducing the impact of prostate cancer on the Australian community. Each of these individuals have altruistically served our community, and genuinely encompass our core values of integrity, optimism, compassion, respect and commitment.
Their hard work has provided many men and their families with the support and awareness that is needed.
On behalf of the National Board, staff and our community, I would like to thank and commend Mary, Tony and David for their ongoing commitment to the cause and their valuable work. " Mr. Callister said
The award will be presented in June this year.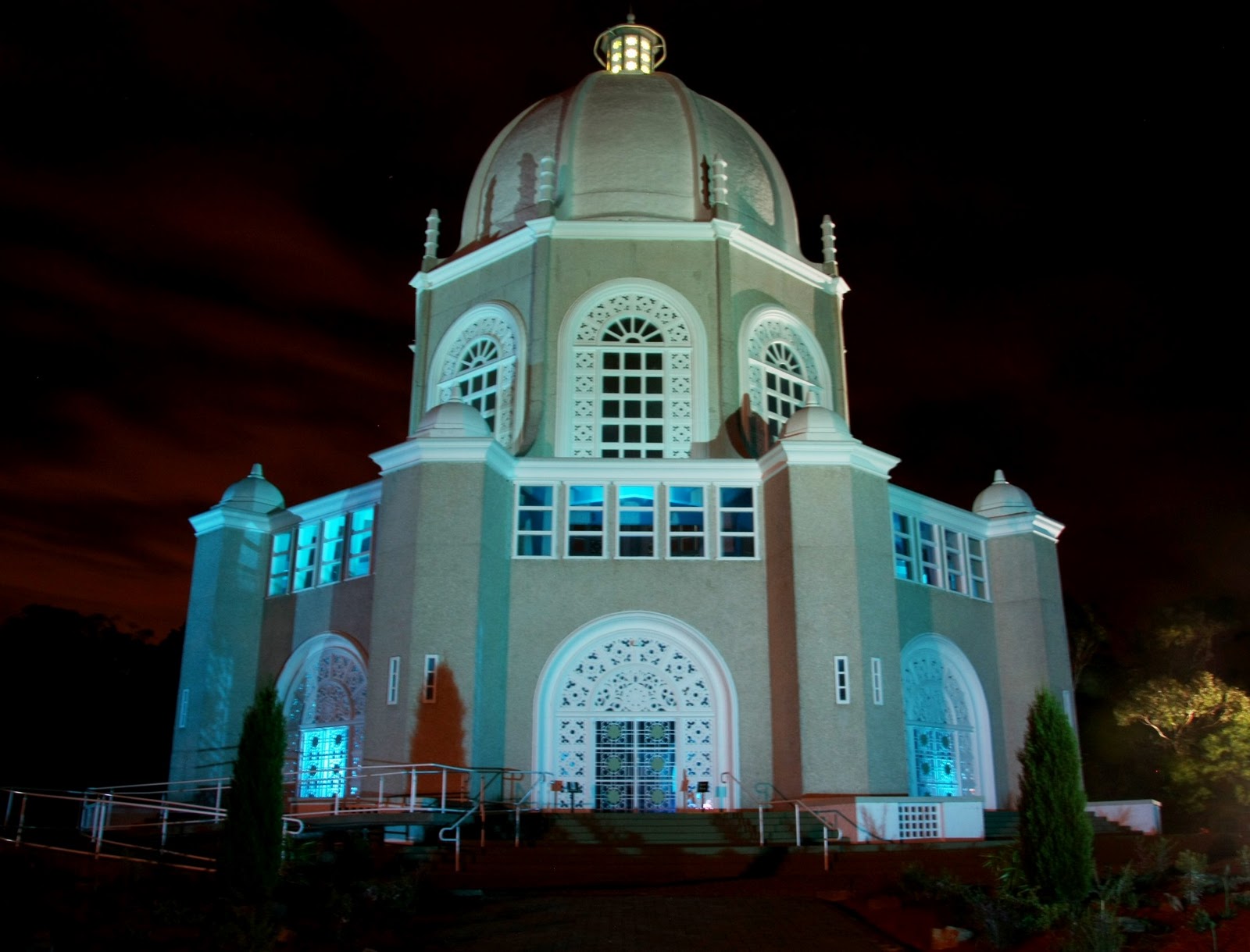 Pittwater residents may remember Mary as the lady whose work saw the Baha'i Temple lit Blue for Prostrate Cancer Awareness Month in 2011, or is the one who sends us in details of fundraising Trivia Nights or those Family Fun Days and Big Aussie BBQ's at Rat Park with wonderful vehicles on display from members of the Pittwater Motor Enthusiast Association.
All these fundraising activities are devoted to research into the disease.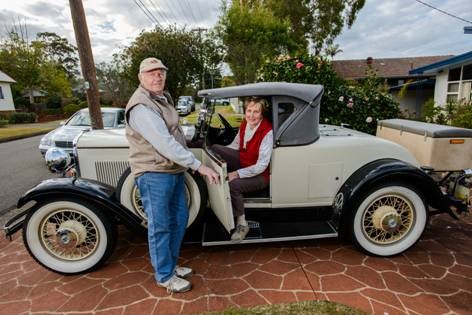 This car is a DA Dodge 1929 Roadster which was on display and is owned by Jimmy Hurlstone (in photo together with Mary Jones of the NBPCSG) Photo by Michael Mannington, Community Photography.

September is International Prostate Cancer Awareness month and the Northern Beaches Prostate Cancer Support Group organises these events to increase public awareness and inform the community that a simple PSA blood test could lead to early detection and save a man's life.
The work of these volunteers is vital when you find out that 3,300 Australian men a year die from Prostate Cancer and 20,000 Australian men a year receive a new diagnosis, that's 54 a day!

Mary is also
Editor of
the Northern Beaches Prostate Cancer Support Group
(
NBPCSG) Newsletter.
The Northern Beaches Prostate Cancer Support Group hold regular meetings and have guests speakers. In August 2013 Mary sent Pittwater Online a Notice about 'Facing The Tiger', a book written by Professor Suzanne Chambers, as a guide for Men with Prostate Cancer and the People Who Love Them.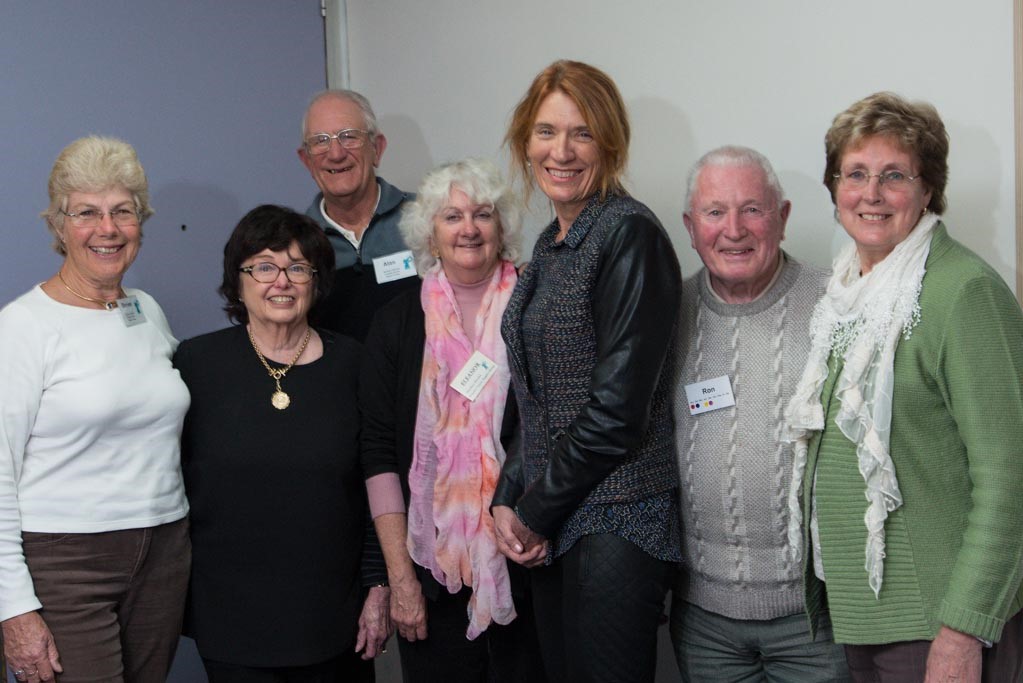 Northern Beaches Prostate Cancer Support Group Committee Members with guest speaker Professor Suzanne Chambers. Denise Taylor, Jo-Ann Steeves, Alan Taylor, Eleanor Swansbra, Suzanne Chambers, Ron Jones, Mary Jones.
Photo by Michael Mannington, Community Photography
Prof. Chambers is one of the world's leading researches into the psychological effects of cancer and how best to provide support for individuals and couples. She is a health psychologist at Griffith University in Queensland and made the journey to Sydney to be guest speaker at the meeting of the Northern Beaches Prostate Cancer Support Group on Tuesday, 6th August.
The Northern Beaches Prostate Cancer Support Group will have other speakers at their monthly meetings in 2019, including:
Dr Zaklina Kovacevic – Researcher
Assoc Professor Michael Izard – Radiation Oncologist
Assoc Professor Celi Vero -Urologist
Mens' Night Only
Speakers on new developments in the treatment of prostate cancer
The
monthly meetings
are held from February to December on the
1st Tuesday of the month at 6:30pm
and are held in the Palliative Care Cottage in the grounds of Mona Vale District Hospital, Coronation Street, Mona Vale.
Blue Light at Baha'i Temple
From Mary Jones
Editor, Northern Beaches Prostate Cancer Support Group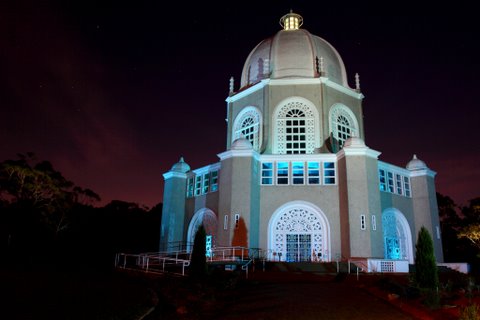 During the final week of September the lighting of the Baha'i Temple in blue has been organised to publicise Prostate Cancer Awareness Month and to make everyone conscious of the need to encourage men to ask their G.P. for a PSA (Prostate Specific Antigen) blood test. Early detection with this simple blood test could save a life.
Here on the Northern Beaches we have a wonderful organisation - the Northern Beaches Prostate Cancer Support Group which meets on the first Tuesday of every month at The Cottage, in the grounds of Mona Vale Hospital and is there to give support to sufferers and their families.
Dr John Conroy OAM, established the Support Group in 2002, when he, himself, contracted the disease. It claimed his life but the work he did continues to make a significant difference to people on our peninsula living with that disease. The group aims to keep his dream alive.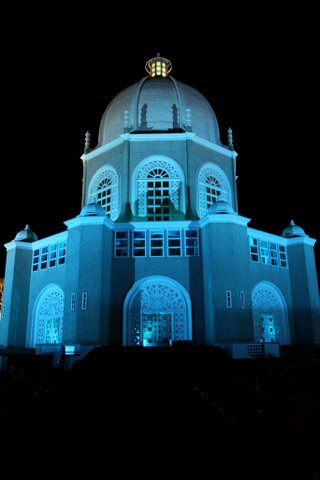 At each monthly there are interesting speakers who keep us up to date with the latest research and treatment options.
Supper is served after the meeting giving men the opportunity to socialise and to speak with someone in the same situation.
Prostate cancer is the most common cancer in Australian men and is the second most common cause of cancer deaths in men.
Each year in Australia, close to 3,300 men die of prostate cancer - equal to the number of women who die from breast cancer annually.
Around 20,000 new cases are diagnosed in Australia every year.
As many men die from prostate cancer as women die from breast cancer but a national survey by PCFA in 2002 showed that while 78% of women felt well informed about breast cancer – only 52% of men felt informed about prostate cancer.
For more information phone 9981 2616 or 9997 2709 or visit www.prostate.org.au
Photographs courtesy of Qi-Jie Oh of the Baha'i Temple
First published in Pittwater Online News in Issue 26, 2011
About
Prostate Cancer Foundation of Australia
The Prostate Cancer Foundation of Australia was formed in Sydney in 1996.
Australian support groups began to emerge in 1993, first in NSW with the formation of Prostates Anonymous, a self-help group. In the following years further groups emerged independently of each other throughout the country. Many of these groups were initiated independently of health services while others had informal partnerships with local health professionals who supported meetings with venues and occasional guest speakers. During these formative years some groups worked to raise public awareness about prostate cancer and initiated informal connections with other support groups or health agencies.
Independent advocates within these groups were important in driving towards a national collective. For example, in NSW the leader of Prostates Anonymous, Peter Schade, partnered with Us Too International to form Us Too Australia, that later merged as a division of the Continence Foundation of Australia in 1995, and in 1996 changed form again to become Prostalk, becoming now independent of these earlier affiliations. However, Prostalk was highly defined by its leader and so ended in 1998 when Peter died.
In this same period two organisations emerged in NSW which played a pivotal role in the national movement. In 1994 the television personality, Roger Climpson OAM, a member of the Rotary Club of Lane Cove, was successfully treated for prostate cancer. Roger was concerned by the confusing information available to him and by the apparent lack of research into the disease being carried out in Australia. In 1996 he persuaded fellow club members to join him in forming Prostate Cancer Research Foundation (PCRF) to raise funds for research.
Then in 1998 a committee of support group representatives from the greater Sydney and Newcastle area formed the Association of Prostate Cancer Support Groups (APCSG) that had a state focus but hoped to connect support groups nationally.
APCSG led by Max Gardner AM moved to affiliate with PCRF. As this occurred another NSW based fundraising group, the Australian Prostate Cancer Foundation (APCF) also emerged. In 1999 PCRF, APCF and APSCG merged under PCRF's corporate structure and the new name Prostate Cancer Foundation of Australia was chosen to reflect the organisation's widened agenda. Within this the APSCG maintained its own identity and autonomy.
It was not until 2001 that the relationship between the national support group movement and PCFA was clearly and formally established. At this point there were 40 support groups across the country. The key pivotal moment was an Inaugural Conference of Affiliated Prostate Cancer Support Groups (organised by PCFA) that provided the first national forum for support group representatives across Australia to connect and devise strategies to address priority issues for prostate cancer survivors and advance the broader movement. At this conference the support groups declared PCFA as the peak national body for prostate cancer and the Association of Prostate Cancer Support Groups became the Support and Advocacy Committee (now known as the National Support Groups Committee) within PCFA's governance structure.
To find out more, please visit: https://www.prostate.org.au/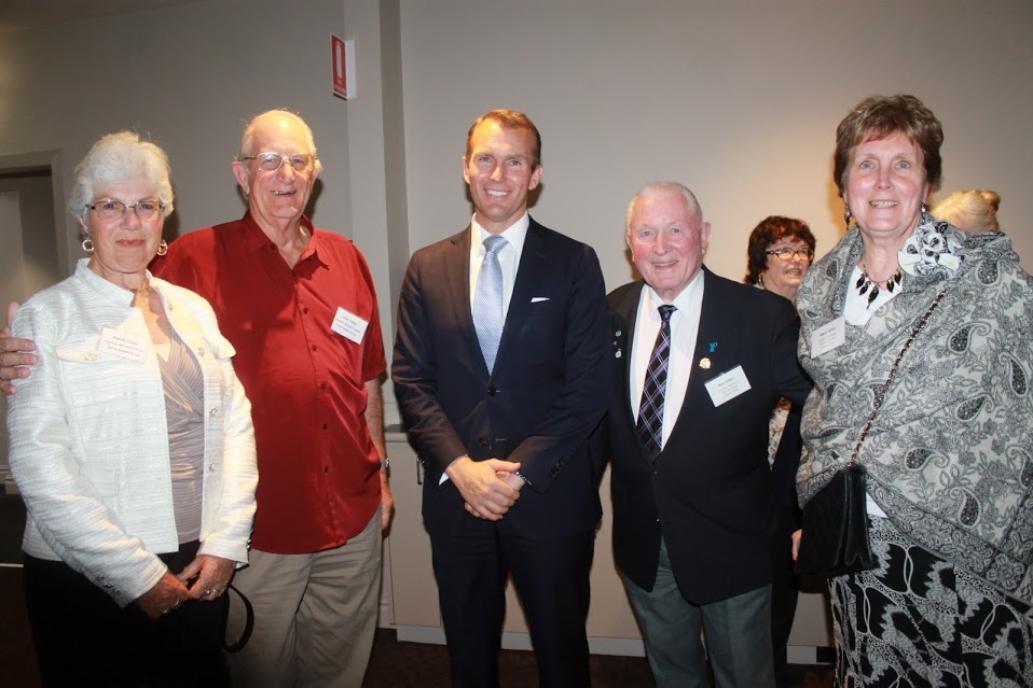 Denise and Alan Taylor – Northern Beaches Prostrate Cancer Support Group, Hon. Rob Stokes - MP for Pittwater, Mary and Ron Jones – Northern Beaches Prostrate Cancer Support Group, at the Community Service Award Afternoon Tea hosted by Rob each year.