April 7 - 13, 2019: Issue 400
Gold medal for Jason and lisa! Australian Sailing Team members at 2019 Princess Sofia Trophy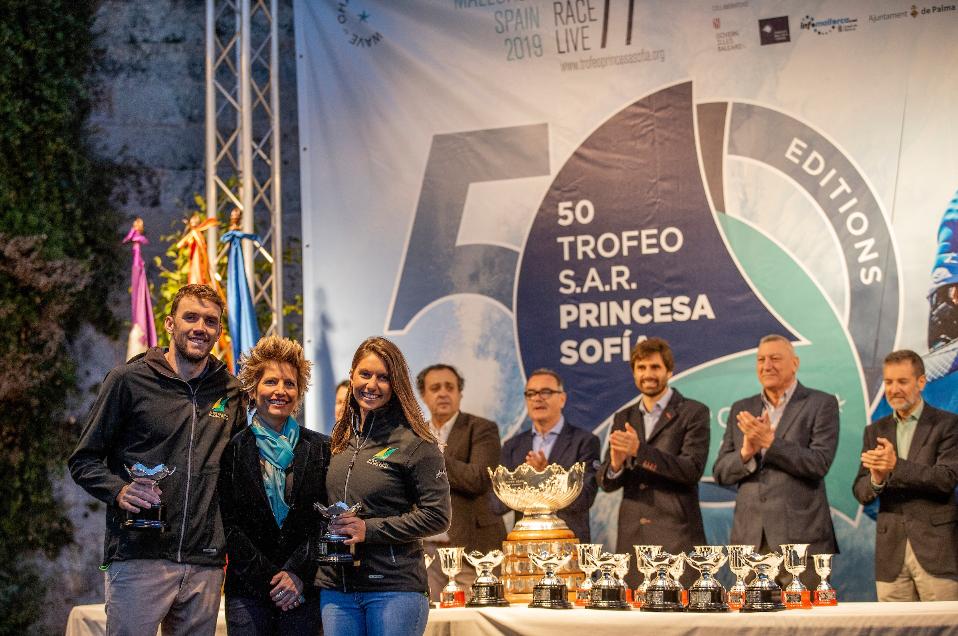 Jason Waterhouse and Lisa Darmanin win Nacra 17 Gold - Princess Sofia Trophy © Sailing Energy
Gold for Waterhouse and Darmanin at Princess Sofia Trophy
Sunday, April 7th, 2019:AEST
Australian Sailing Team members Jason Waterhouse and Lisa Darmanin have claimed Gold for Australia in the Nacra 17 class at the 50th Princess Sofia Trophy Iberostar in Palma, Spain today.
The Nacra 17's did not have the opportunity of sailing their Medal Race, as winds were high, causing big seas and waves. The Australian pair won the gold medal based on the fact they were at the top of the leaderboard coming into the Medal Race, 14 points up on their nearest rivals.
"A bit of an anticlimax, not racing, but good to have a win," Lisa said having waited ashore since 9am to see if they would race or not.
"The waves were just too big unfortunately. It's just not worth racing when it's like that, you end up breaking gear. The wind had dropped down, but the sea hadn't," she said.
"We are very happy. That's three big wins in a row," the NSW athlete said, referring to her and Waterhouse's gold medal performances at the Olympic Test event in Enoshima, Japan last September and at the Miami World Cup in January. "And now this one," she said.
"It feels pretty good, but to be honest, we still have lots to learn. We've learned big lessons here. We need to go and fix little things," Darmanin ended.
Australia's Mat Belcher and Will Ryan came into the 470 Men's double points Medal Race in fifth place overall. Waiting ashore for some hours, they finally started at 2pm local time and finished seventh for 14 points, to maintain their fifth place overall.
Initially 25 plus knot winds gusting to 30 on big seas with breaking waves delayed all Medal Races. It was quite ironic, considering racing was delayed on most others days because of too little breeze. Midday came and went, but shortly after, the Laser and Finn classes began their races as winds abated. Apart from the Nacra 17, the only other classes not to sail their Medal Races were the 49er and 49erFX, so their results of yesterday stand.
Reviewing the Team's performance this past week, Australian Sailing's Performance Director Iain Murray said: "We had expectations that were not fulfilled in the 470 Men's, so there's a bit of work to do there. Fifth is not where they belong. They had one tough race (DSQ in Race 1), but everyone gets that.
"We came here with higher expectations in the Finn, 49er, 49erFX and 470 Women's, so clearly those results are not great. We need to look at ourselves and ask what we're not doing right. Genoa (World Cup Series in Italy, starting in eight days) will be a testing event as well. Then we have a lot of European championships coming up, which are important," Murray said.
"We hope we can take away the hard lessons we learnt this week and put them into better practice in the next weeks and regroup."
Altogether, 1225 sailors from 67 nations participated, with the Australian Sailing Team squad represented in the 470 Men's, 470 Women's, 49er, 49erFX, Nacra 17 and Finn classes.
The next European competition for the Australian Sailing Team is Hempel World Cup Series Round 3 in Genoa, Italy, from 15 to 21 April.
For full results and all information, see here: www.trofeoprincesasofia.org/en/
by Di Pearson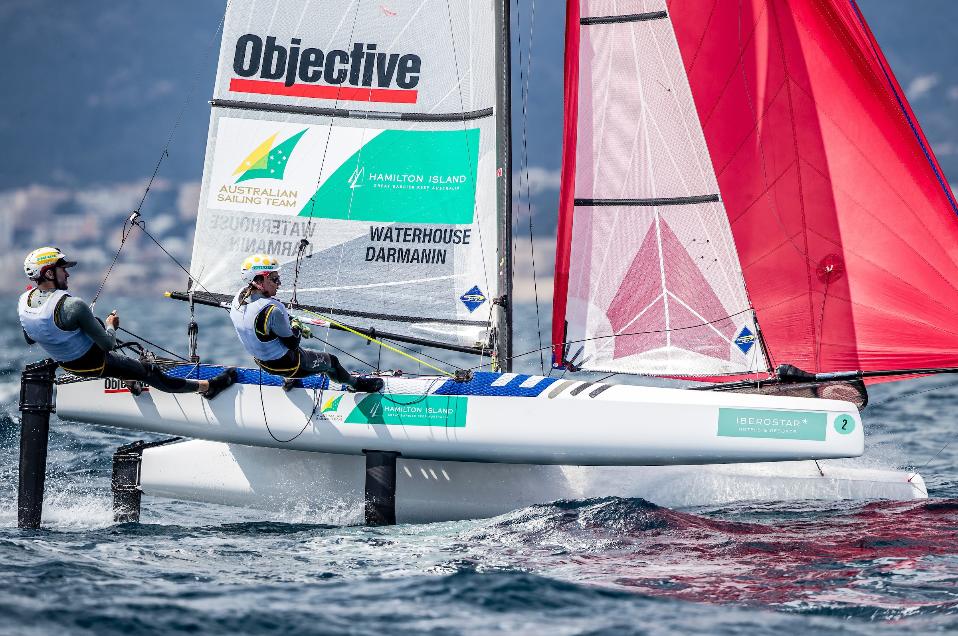 Jason Waterhouse and Lisa Darmanin on target for Nacra 17 Gold - Princess Sofia Trophy © Sailing Energy
Australian Sailing Team members, Jason Waterhouse and Lisa Darmanin (Nacra 17) and Mat Belcher and Will Ryan (470 Men's), are heading to the Medal Races at the 50th Princess Sofia Trophy Iberostar in Palma, Spain.
Retaining top place in the Nacra 17 at the end of racing today, Waterhouse and Darmanin are well-positioned to claim their second gold medal for 2019, following victory at January's Hempel World Cup Series in Miami. They are 14 points clear of Italian rivals, Vittorio Bissaro/Maelle Frascari (ITA), and a further point clear of third placed John Gimson/Anna Burnet (GBR).
"Today was an up and down day," Darmanin said. "We started with a shocker, hooking the pin end at the finish, and we were really unhappy with our downwind speed. We changed a few things between races and sorted our downwind speed out, so had a much better last two races."
Darmanin said the wind on their course area was light to medium for the first two races and a bit choppy. "The wind kicked in for the last race and the waves came," she commented.
"Jason did a great job managing the fleet today. We're really happy to be leading ahead of tomorrow's Medal Race," she ended.
Belcher and Ryan have made it into the 470 Men's Medal Race, but their 23rd place in Race 10, the last of the day, has left them vulnerable. They are precluded from winning the gold medal, as the Swedish leaders are 35 points clear of the Australians, who will have their work cut out to claim a medal.
Teams from Great Britain (10 points ahead), China (8 points) and Spain (6 points) are the stumbling blocks for Australia's 2016 Olympic silver medallists, who looked solid after finishing seventh in Race 9 for third place overall, until things went pear-shaped in Race 10.
"It was a tricky day, today; 9 to 11 knots with pressure up and down," Belcher explained.
"We were a little disappointed with our last race, but we're learning heaps and are happy with where things are at. We're looking forward to tomorrow," he said.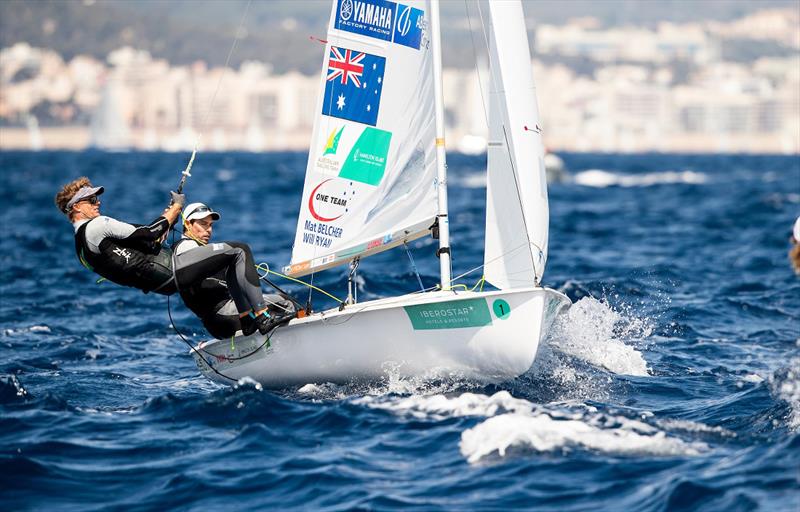 Mat Belcher and Will Ryan - Princess Sofia Trophy © Sailing Energy

In other results for the Australian Sailing Team on Day 5, Paul Darmanin and Lucy Copeland, finished 21st in the Nacra 17, while Chris Charlwood and Josh Dawson had a stronger day in the 470 Men's to finish 17th overall on scoring 11th and ninth places in Races 9 and 10.
In the 49er Gold fleet, the Gilmour brothers, David and Lachy, turned the tables on their team mates again. The West Australians sailed to 16, 8, 22 results to move back up to 23rd, while Thomas Needham and Joel Turner reverted to 24th after scoring 14th and 16th places, a UFD in the middle their undoing.
In the 49er Silver fleet, Kurt Hansen and Simon Hoffman were back to the good form they showed on the opening day. The NSW team end their regatta 10 places up on yesterday, scoring sixth, ninth and seventh places today. Sam and Will Phillips moved up three places, despite not competing in Race 12. The brothers' other scores were 15th and 13th.
West Australians Nia Jerwood and Monique de Vries sailed to 32nd and 28th places in the 470 Women's, ending the Olympic classes regatta 25th overall.
Jake Lilley moved up one place in the Finn, finishing the event with 25th and 18th places for 32nd overall.
Tess Lloyd and Jaime Ryan have ended best of the Australians in the 49erFX, but dropped down to 17th overall following 17, 22, 12 results today. Natasha Bryant and Annie Wilmot finished three places behind them in 21st overall. In the Silver fleet, Amelia Stabback and Caitlin Elks finished 27th overall.
There are 1225 sailors from 67 nations at the Princess Sofia Trophy. The Australian Sailing Team was represented in the 470 Men's, 470 Women's, 49er, 49erFX, Nacra 17 and Finn classes.
For full results and all information, see here: www.trofeoprincesasofia.org/en/
By Di Pearson