October 14 - 20, 2018: Issue 379

Shane Withington: Get Your Boots On For Mona Vale Hospital Rally & March Today!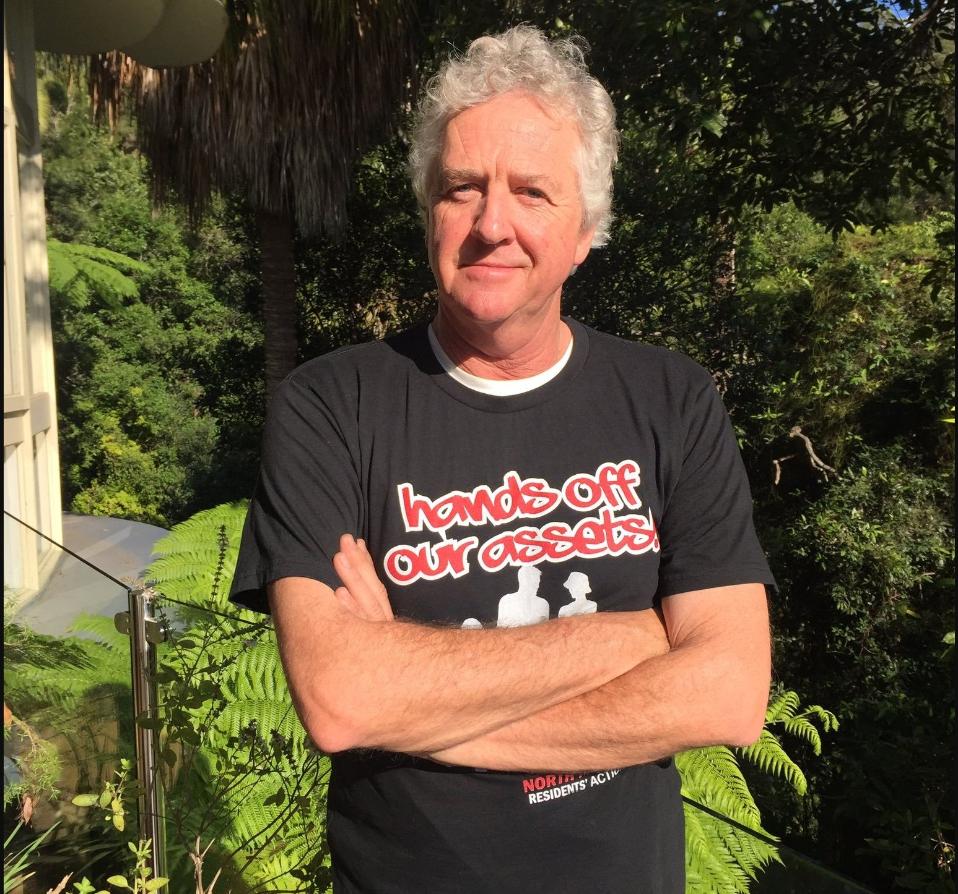 October 14, 2018

A rally to save the heart of Mona Vale Hospital will go ahead rain or shine today, with MC Shane Withington calling on locals to "put their boots on the ground" and join in.
Withington - a Home and Away star as well as leading activist in the successful campaign to secure the Currawong holiday retreat in public hands - said the community was losing a major piece of infrastructure in Pittwater.
Mona Vale Hospital's emergency, surgery, maternity and other acute services will close on October 31 after the Northern Beaches Hospital opens at Frenchs Forest the previous day. The main building will be demolished next year.
The actor and activist said the fight for the hospital was not over.
"The protest against the gambling industry at the Opera House this week shows what a community can do when it's galvanised," he told Pittwater Online News.
"I was told millions of times when fighting for Currawong, it's a done deal, it's over.
"Signing an online petition isn't activism but getting your boots on the ground is. And that's what we're wanting people to do."
The rally will start at 11am at Mona Vale Village Green, followed by a march to Mona Vale Hospital.
Meanwhile, the Save Mona Vale Hospital group secured the public support of 20 local doctors this week.
The GPs, with practices from Mona Vale to Avalon, all signed a statement that read:
"As a practising doctor in the northern beaches, I consider it is essential that Mona Vale be a level 3 hospital with an emergency department, surgery, maternity ward and other acute services. If the new Northern Beaches Hospital becomes our nearest facility, patients requiring resuscitation, anaphylaxis and other critical support will be at risk."
Amongst the 20 is long-term Mona Vale Hospital campaigner Dr Suzanne Daly, who collected 11, 866 signatures on a petition and presented this to Pittwater's MP to submit to parliament in 2012.

Save Mona Vale Hospital chairman Parry Thomas said the current petition with doctors' names had been collected over a period of just two days and he expected many more would be prepared to sign up.
"The NSW government must listen to our local doctors who know better than anyone about the need for emergency help close to home," Mr Thomas said.
"What will be left are a collection of ancillary services that meet the technical definition of a hospital but the heart, acute care, will be ripped out.
"We need a good turn out today – rain or shine - to convince our local (NSW) MP Rob Stokes and (NSW) Health Minister Brad Hazzard to change their minds about the closure – rather than waiting for people to die in transit on the Wakehurst Parkway."
Withington said hospitals along with schools, parks, and other public infrastructure were central to the community, which would be diminished by the loss of the local hospital.
His family, like most others in Pittwater, had benefitted from its proximity and caring staff.
"Our children have been born there and our loved ones have died there and every one of us has had things chopped off, stuck into and pulled out of us there," he said.
"It's reassuring to see it on the way home - and one of the few places where you can look out the window and see whales breaching. It's a treasure."
Despite torrential rain overnight, Mr Thomas said the rally would go ahead.
"We woke up this morning preparing to have a rally to save our acute services at Mona Vale Hospital to hear that as we've feared and often occurs in these conditions Wakehurst Parkway is flooded," he said.
"This just proves what we have been saying for nearly 20 years about the risks to our community that will arise when emergency moves to Frenchs Forest."
The Mona Vale Hospital Rally starts today, 11 a.m., in Mona Vale Village Park.
Report by Miranda Korzy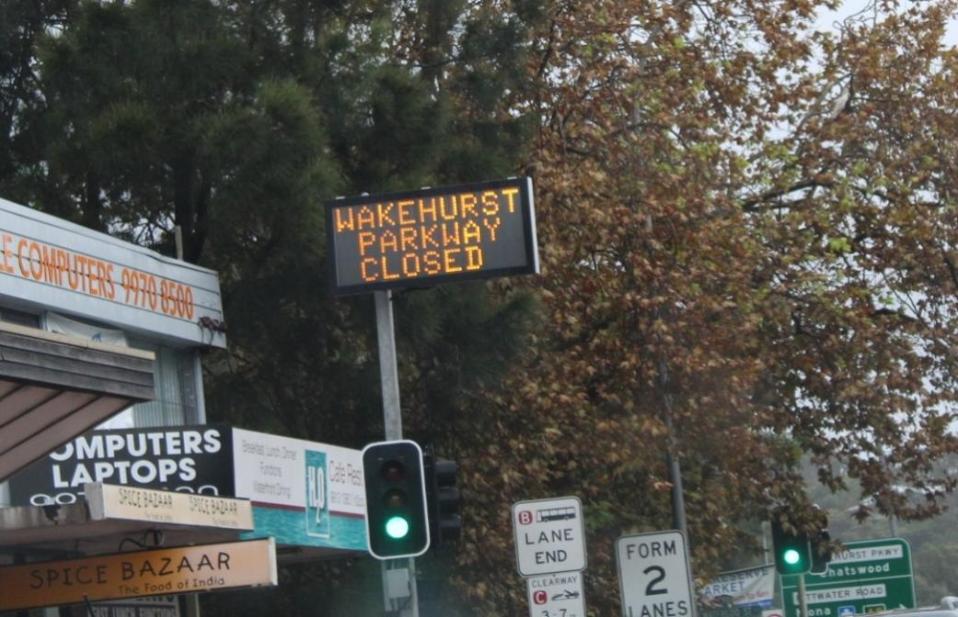 Ocean Turns On A Cracker Wave For Rick Millar Memorial: His
Benchmark Made a

Permanent and Lasting Legacy


13th, October 1948 - 8th August, 2018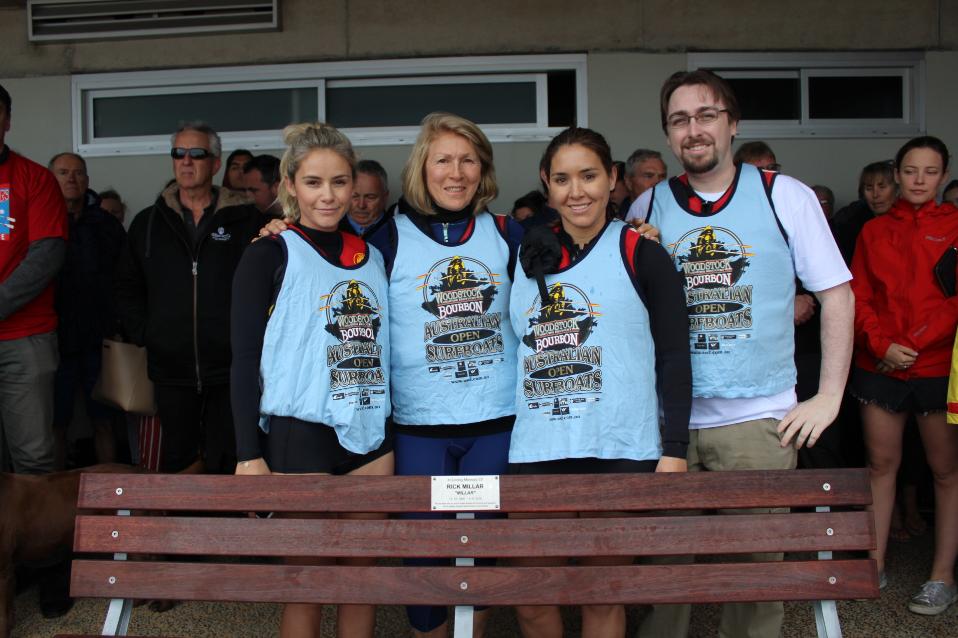 Rick Millar began sweeping boats in 1977 and devoted over 40 years of his life to sweeping, training and inspiring generations to do their best, for themselves first, and as part of a crew, a team.
Being a father of two gorgeous girls whom he adored, Lara and Skye, he was one of those surf boat legends who always had crews of girls and women he mentored, world beaters and Australian champions among them.Rick was coach and sweep for Avalon Beach SLSC's first women's crew in the 1993/94 season. The young men he had as crews were champions under his sweeping and went on to help others too - they followed his example.
He was a marathon man, The George Bass marathon was an adventure to him. George Bass did it only once - Rick must have sweeped women almost around the whole of Australia during GB Marathons, training sessions that began when it's dark on the Pittwater estuary, and countless carnivals with innumerable heats.
He was upright, he was honest. There was no facade about him, not one shred - if you'd done something stupid, he told you. He told you like you were a member of his family because you were. The 'watermark' of a person who can reach people was strong in him - and as all know, those who spend so much time investing their all in others are actually those who genuinely love other people, whoever they are, in whatever circumstances, despite any raw exterior.
Rick was always just himself with you, he didn't need to do or be anything else - and he was like that because that was his nature - and that allowed everyone he gave a moment or a season or a lifetime to to just be themselves to - and that's how Rick still is in many of use. That is his very best 'lesson'.
"The bigger the better" was how he liked his waves, wanted everyone to enjoy the sheer magic of catching one, of being on one, of being in control and melded with the ocean. That was life to him - a bigger and better wave.
Last Sunday surf boats came from north and south in N.S.W., with even one from Victoria and Newport and Bilgola crew rowing in from their beaches, to join his wife Sue and Skye and Lara in fare-welling the man by placing his ashes where they would meld with his favourite place, and honour him by the traditional oars raised heavenwards, and catch a Rick kind of wave.
Woolworths Surfer Groms Comp At Coffs Local Surfers Among 2018 Winners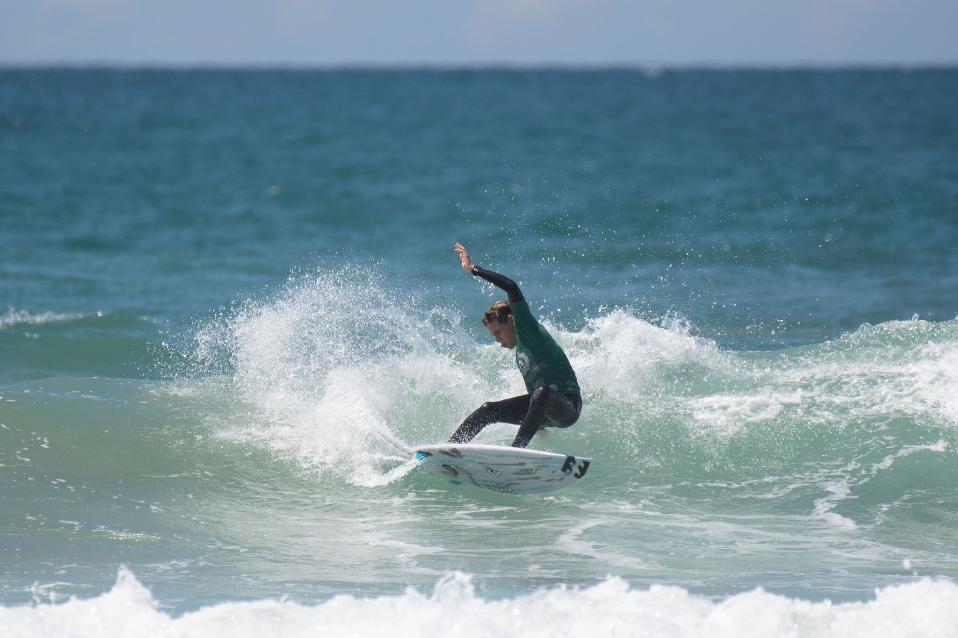 Xavier Bryce (Mona Vale) - photo by Ethan Smith/Surfing NSW
PARK BEACH, COFFS HARBOUR

Monday, 8 October 2018
The Woolworths Surfer Groms Comps Series presented by Pic's Peanut Butter saw seven new champions crowned today following an exciting day of surfing in playful two-foot beachbreaks.
Dembe Ryan's (Lennox Head, NSW) decision to site wide of his fellow finalists paid dividends in the Under-14 Boys final as he proceeded to find punchy corners on the low-tide. Ryan nailed a handful of impressive forehand snaps in the final to post a 14.27 two-wave heat total and take the top spot on the dais.
Local surfer Rosie Smart (Sawtell, NSW) continued her heat winning momentum, taking out the Under-14 Girls. Smart surfed a well-rounded heat, nailing a handful of impressive snaps to post a 13.66 two-wave heat total to claim the title convincingly.
Northern Beaches native Fletcher Kelleher (Freshwater, NSW) claimed his hat-trick of Woolworths Surfer Groms Comps victories, taking out the Under-12 Boys division. Following his victories at event one and two of the series, Kelleher was able to make it three-from-three at Coffs Harbour, posting a respectable 14.5 two-wave heat total to snatch the lead from Novocastrian Felix Byrnes (Merewether, NSW) who claimed the runner-up spot.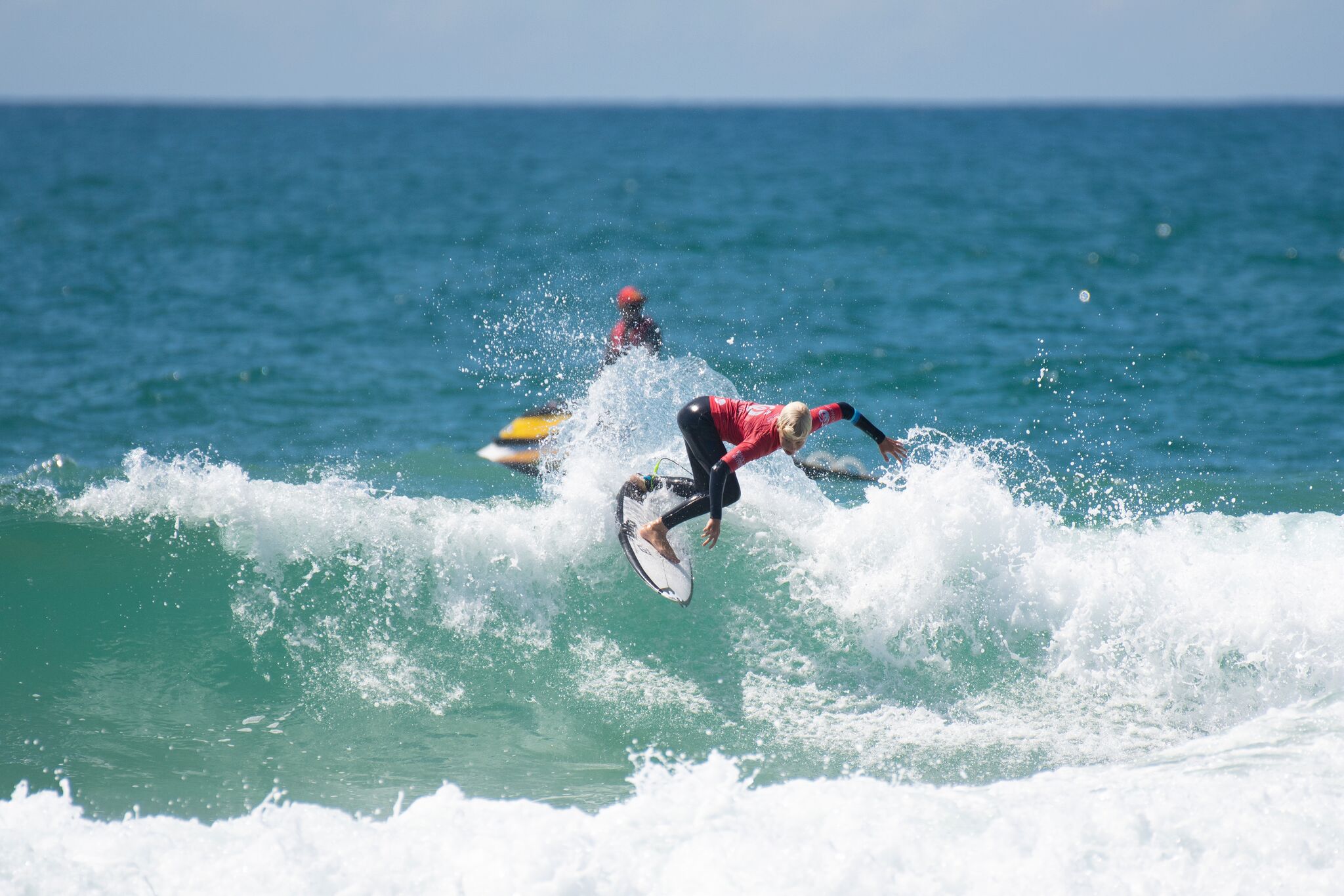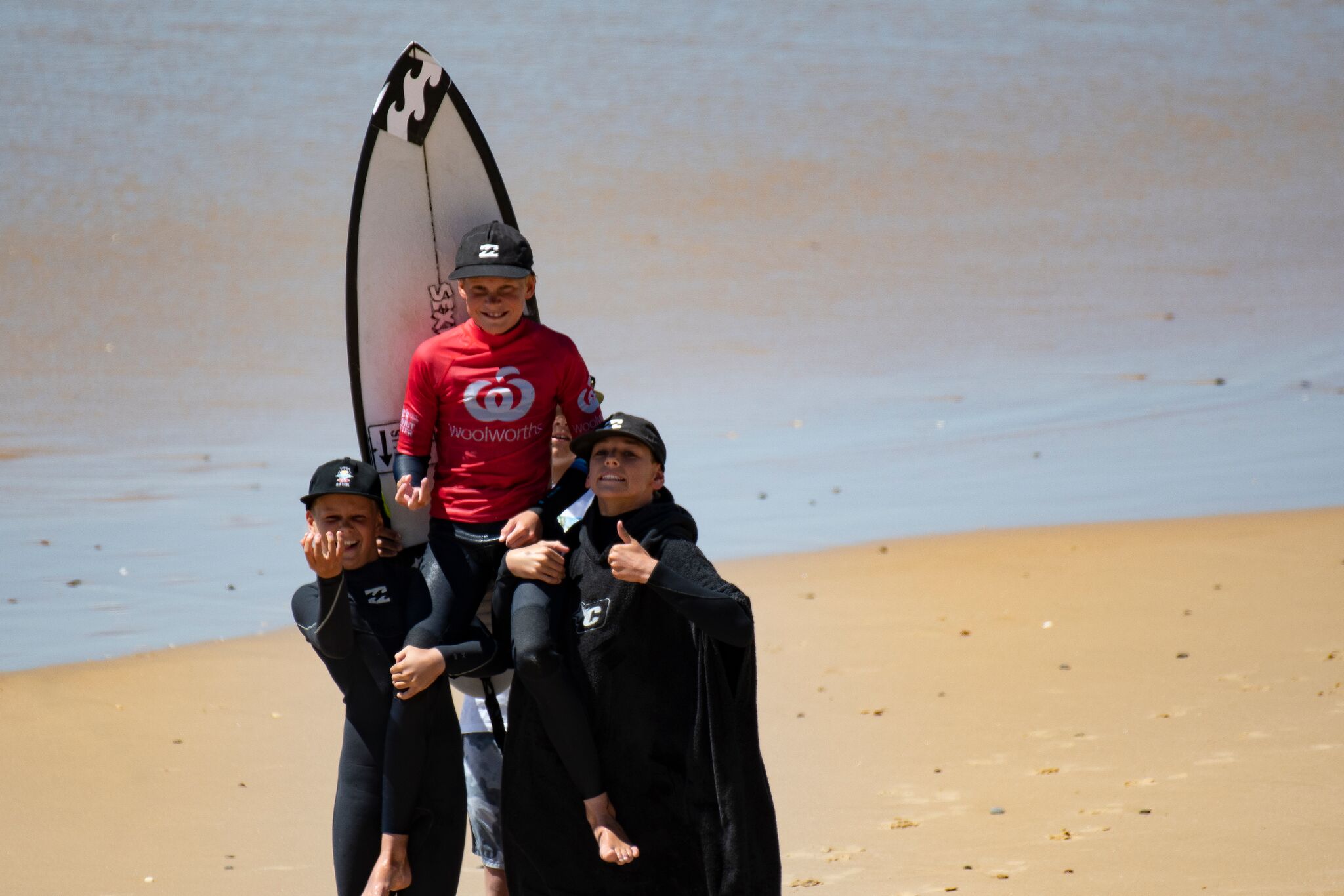 Fletcher Kelleher- photos by Ethan Smith/Surfing NSW

Champions Crowned At The Rip Curl GromSearch At Merewether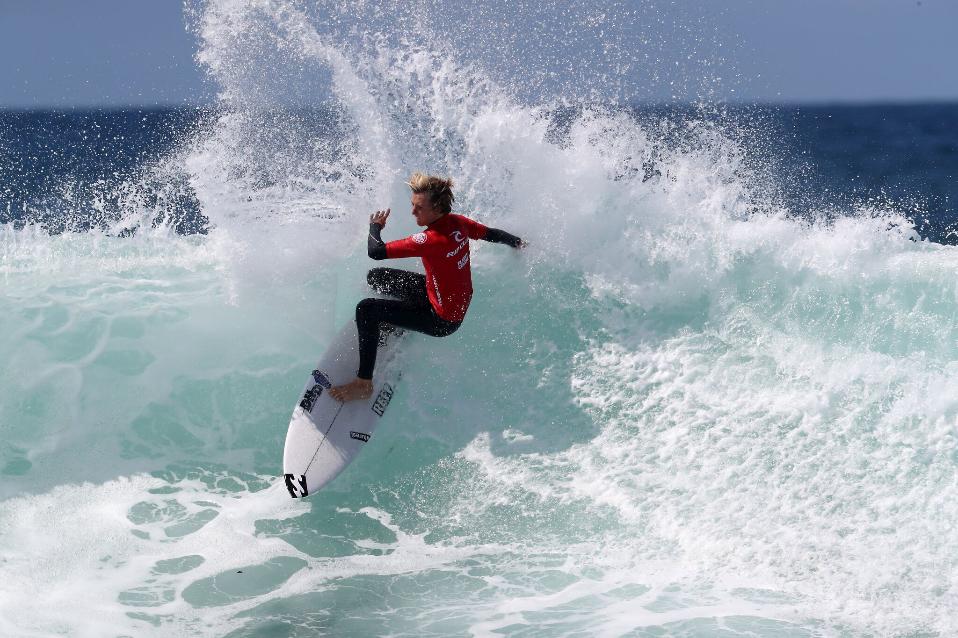 Jamie Thomson - photo by Throwing Buckets / Surfing NSW.
MEREWETHER BEACH, NEWCASTLE

Tuesday, October 2, 2018
The Rip Curl GromSearch National Series presented by Flight Centre saw six new champions crowned today following a thrilling day of finals action in picture-perfect four-foot Merewether.
Jamie Thomson (Narrabeen, NSW) continued to capitalise on the momentum he showed earlier in the event, taking out the 16-and-Under Boys division. Thomson synced his innovative forehand repertoire with the long right-handers on offer at Merewether, nailing a respectable 12.57 two-wave heat total to claim the title.
Perennial junior event standout, Carly Shanahan (Wooli, NSW) added another accomplishment to her portfolio of stellar results, taking out the 16 Girls division. Shanahan executed a handful of powerful and flowing manoeuvres to gain the edge in the heat with a decent 13.67 two-wave heat total.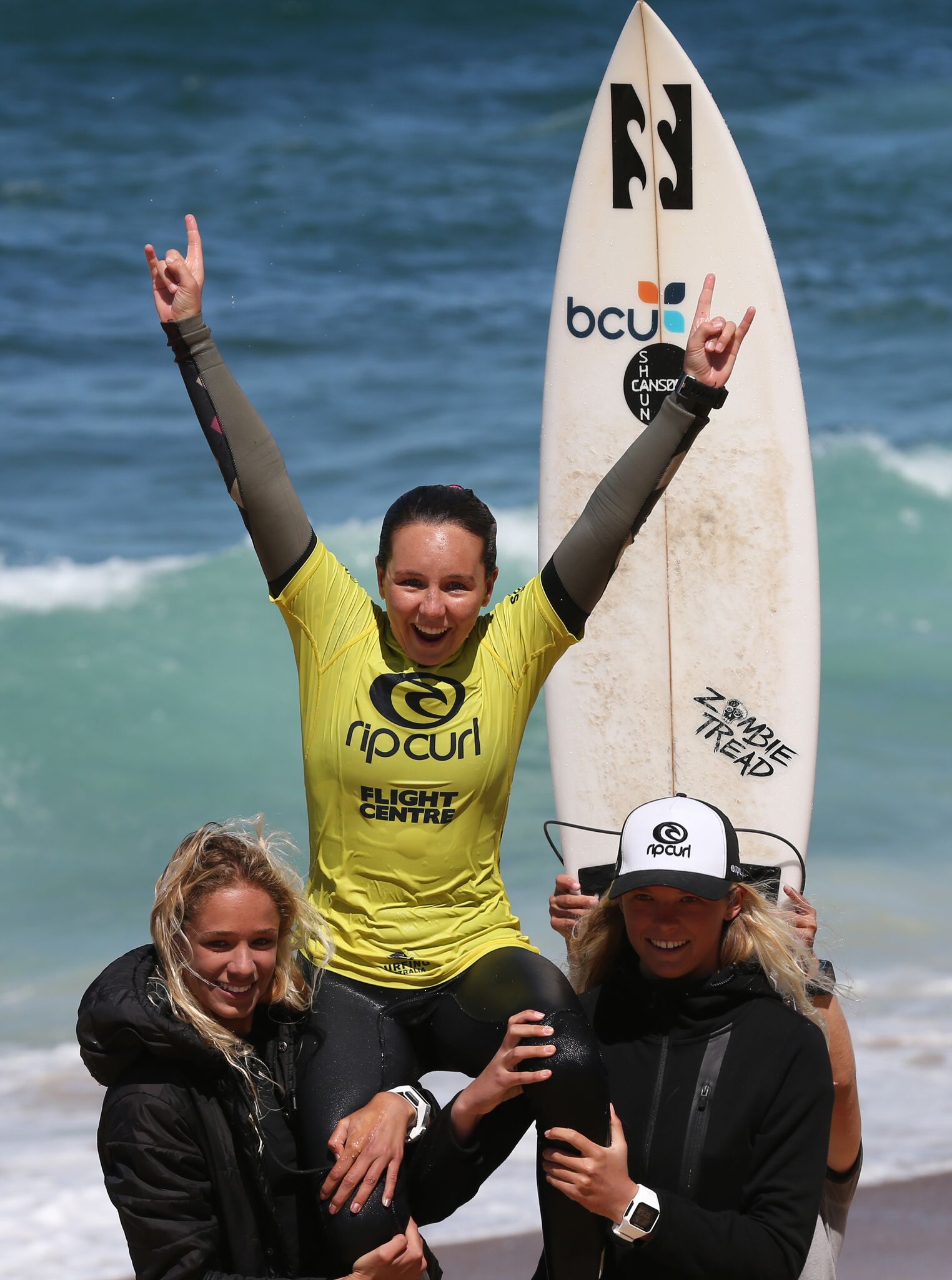 Carly Shanahan - photo by Throwing Buckets / Surfing NSW.

Hailing from only an hour-and-a-half north of Newcastle, Oscar Salt (Boomerang Beach, NSW) showed his nous of mid north coast beach breaks, taking out the 14 Boys division. Salt put on a commanding performance in the final to post a 16.00 for a variety of impressive turns and snaps and gain the title.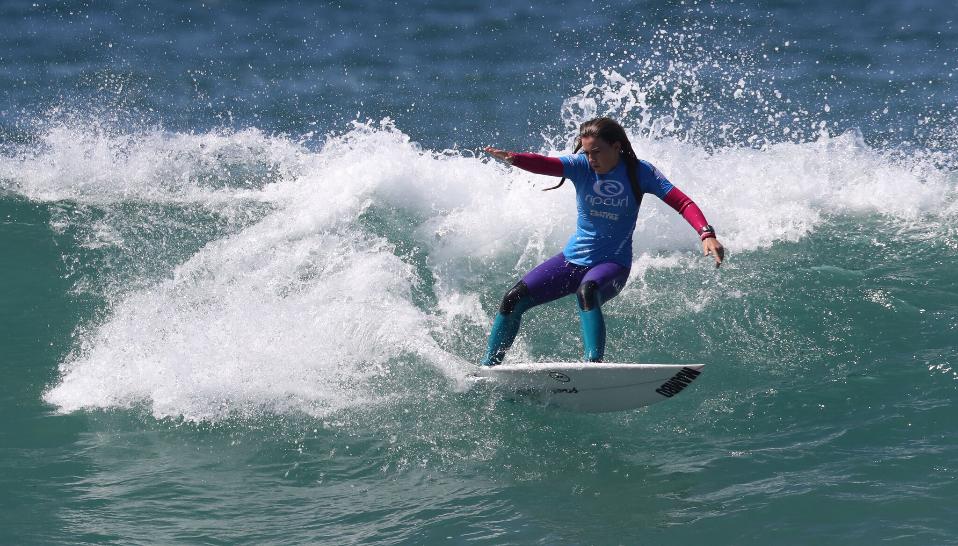 Lily MacDonald - photo by Throwing Buckets / Surfing NSW.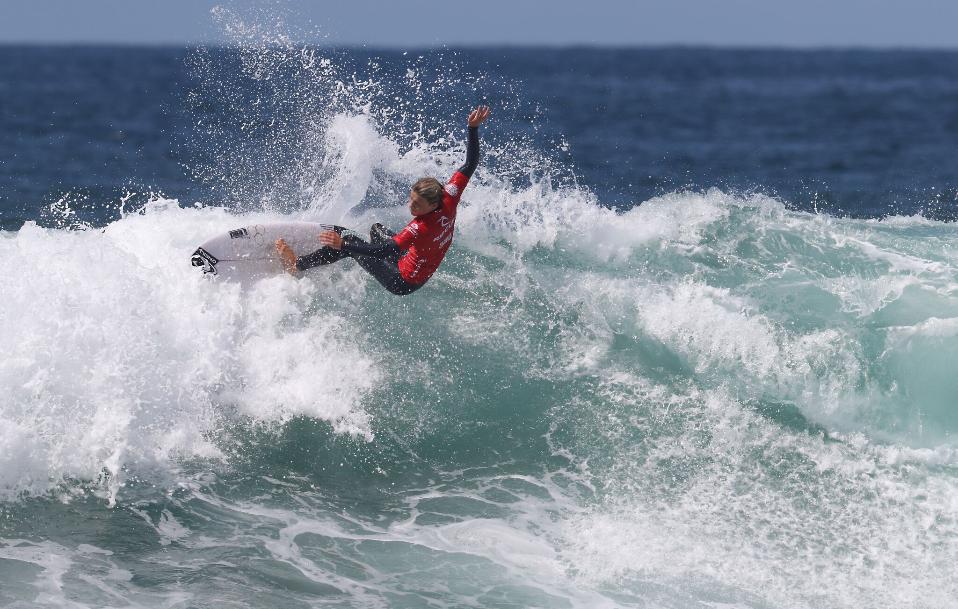 Van Whiteman - photo by Throwing Buckets / Surfing NSW.
A Visit To Bungan Castle By ABHS
John and Pauline Webeck kindly hosted a group of Avalon Beach Historical Society Members recently, sharing stories and showing some wonderful historical items the castle 'houses'!
John shared stories of his uncle, Adolph Wilhelm Albers, how Bungan was one of our original Artists Colonies - literally everyone who was anyone in Australian Art during the 1910's through to 1930's stayed there, and how John has plans to renew the castle as an Artists' mecca.
Clearly there is a lot more to share here and John will allow us to delve deeper with him as his project to renew and return Artists to Bungan Castle draws closer - with plans to launch the venture in 2019 - one hundred years after that wonderful landmark atop Bungan Head was first ready to throw open its doors to the best creatives and wordsmiths in Australia.
In fact there will probably be more on that and Bungan, Mr. Albers/Alvers and the Webecks before that - we hope!
Geoff Searl presented John and Pauline with a copy of his great new book 'Times Past' as a thank you on behalf of ABHS.
This week some of the many articles from earlier times that have granted insights into Bungan Castle and Mr. Albers, a passionate campaigner for Australian Artists, and below these, the way Bungan Castle looks today, in the Spring of 2018 run for our Readers and as an extra 'thank you' for John, with hopefully a few items that will bring a smile to him too.
Thank you John - just wonderful !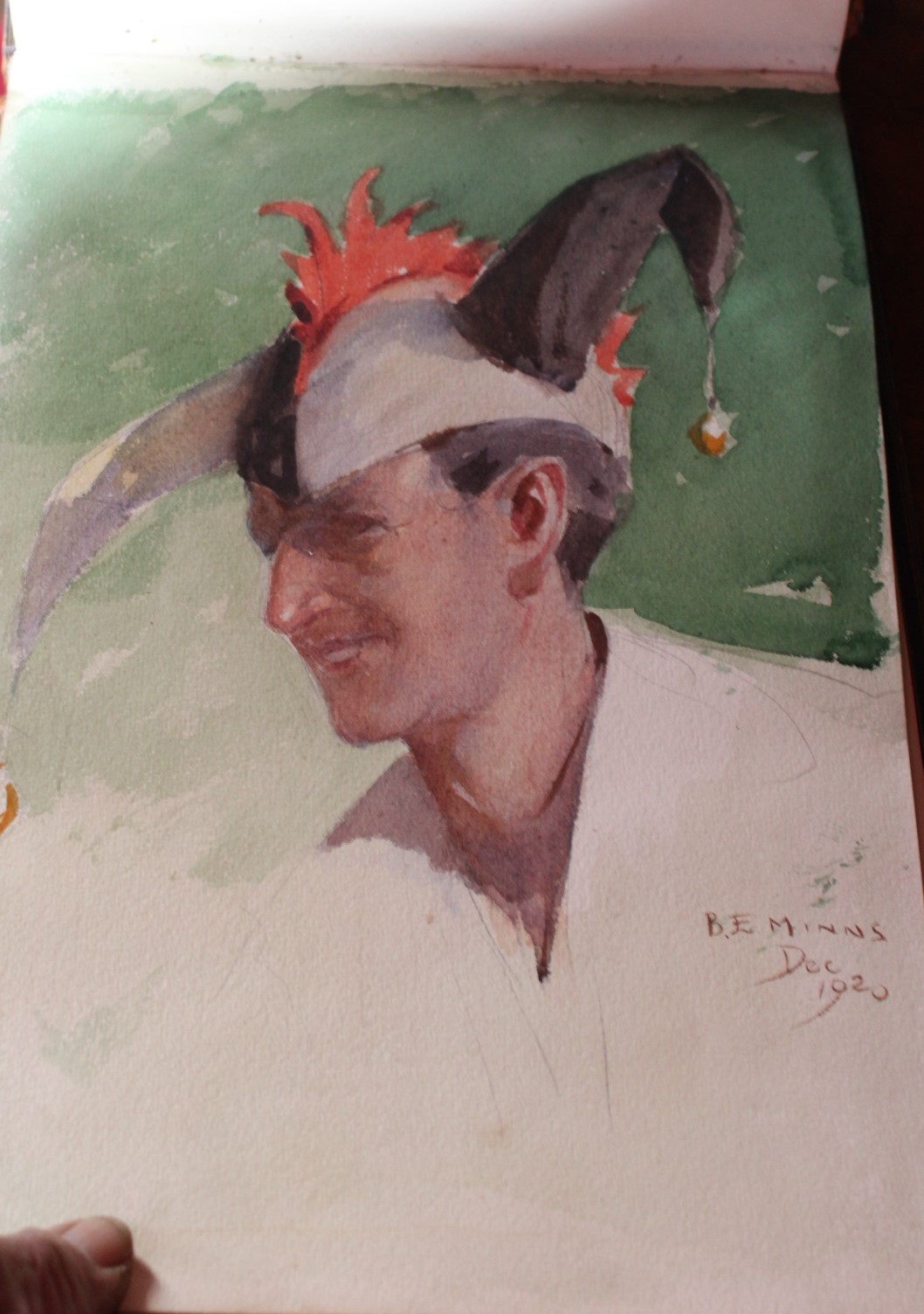 John's uncle, Adolph. W. Albers, by B E Minns, Dec, 1920 - just one of the pages in the Bungan Castle 'Visitor's Book'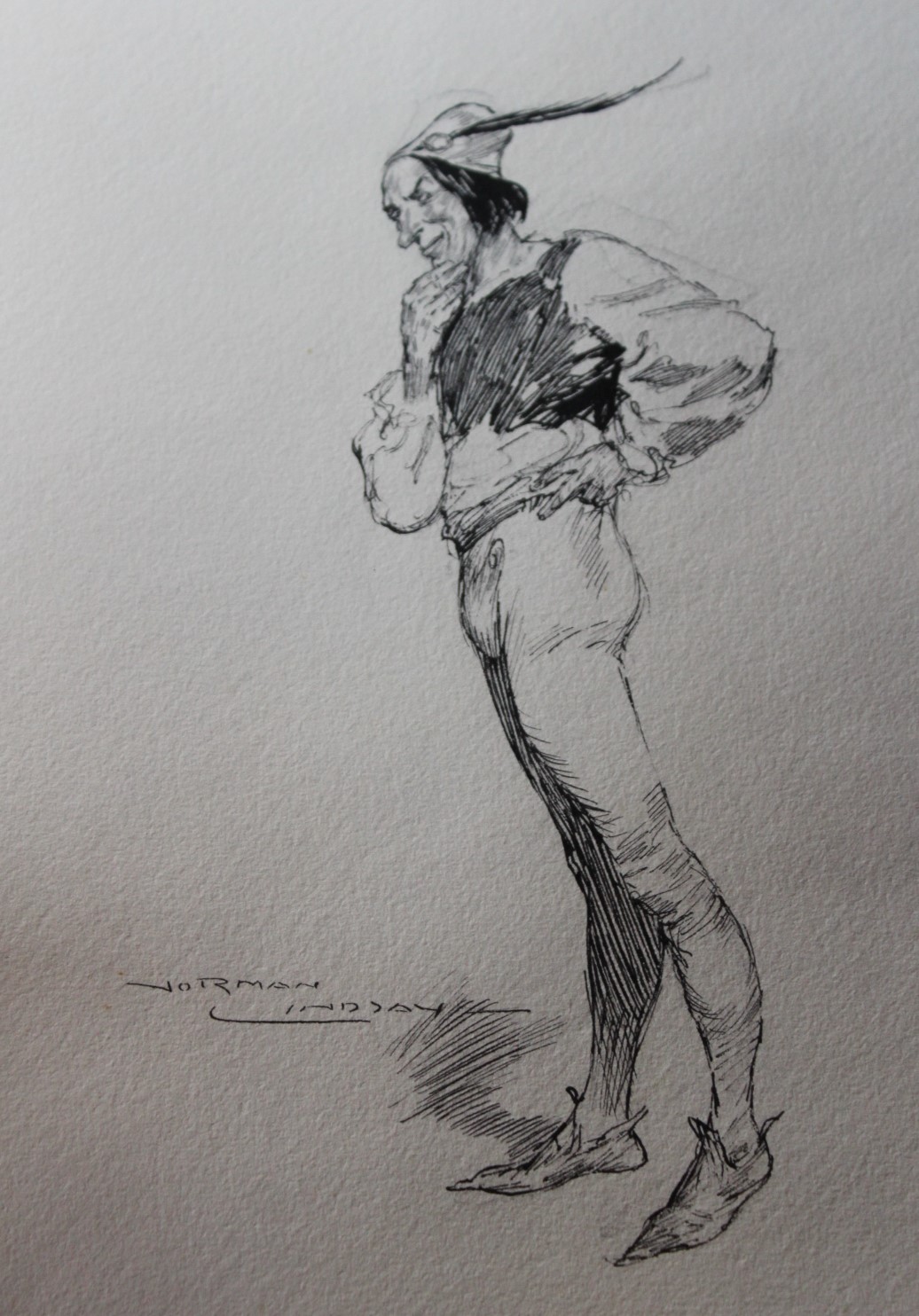 John's uncle, Adolph. W. Albers, by Norman Lindsay in the Bungan Castle 'Visitor's Book' - who didn't visit the castle one may ask!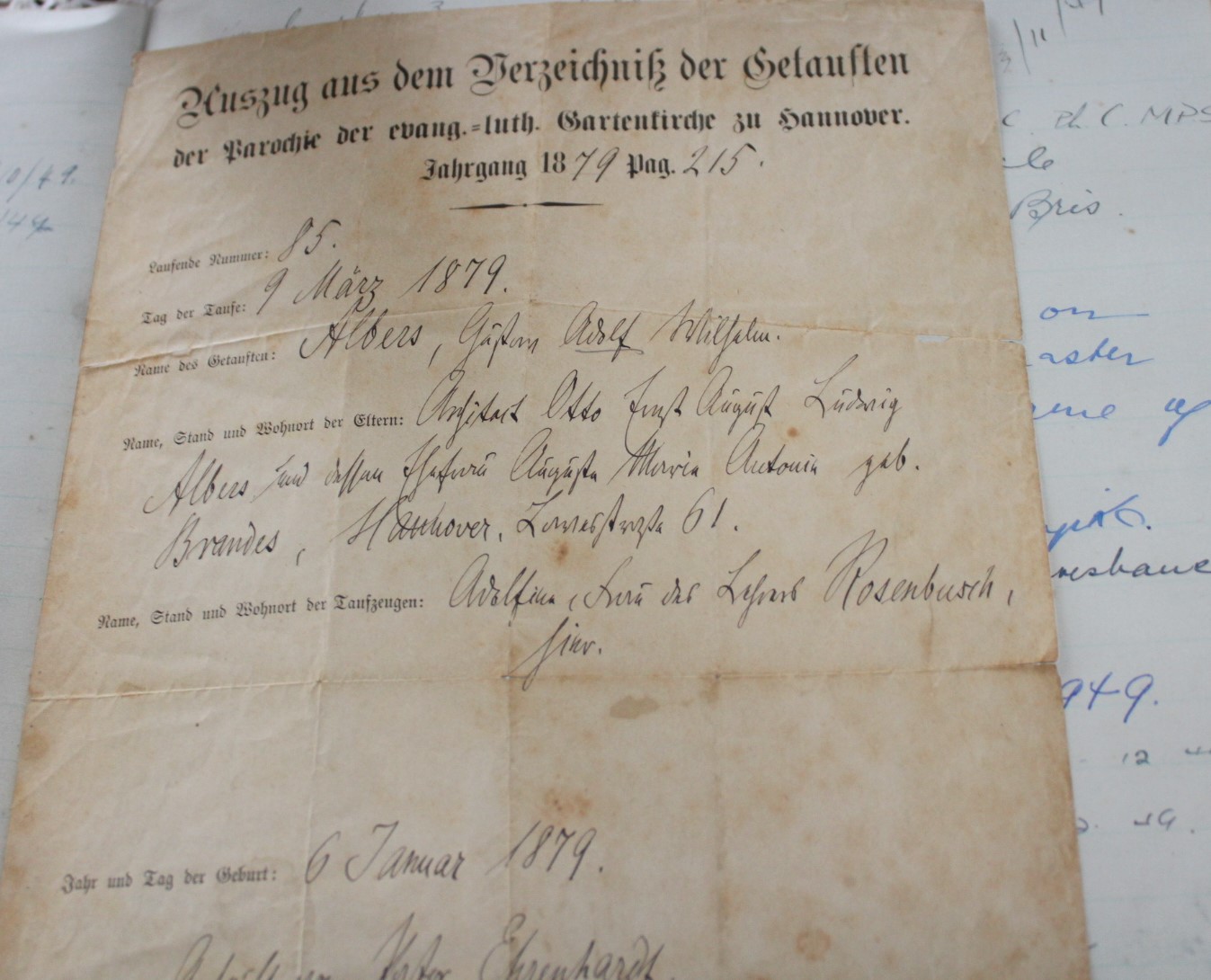 Adolph. W. Albers - born March 9, 1879, in Hanover - passed away in Sydney in 1959 aged 80 (St Leonards registration)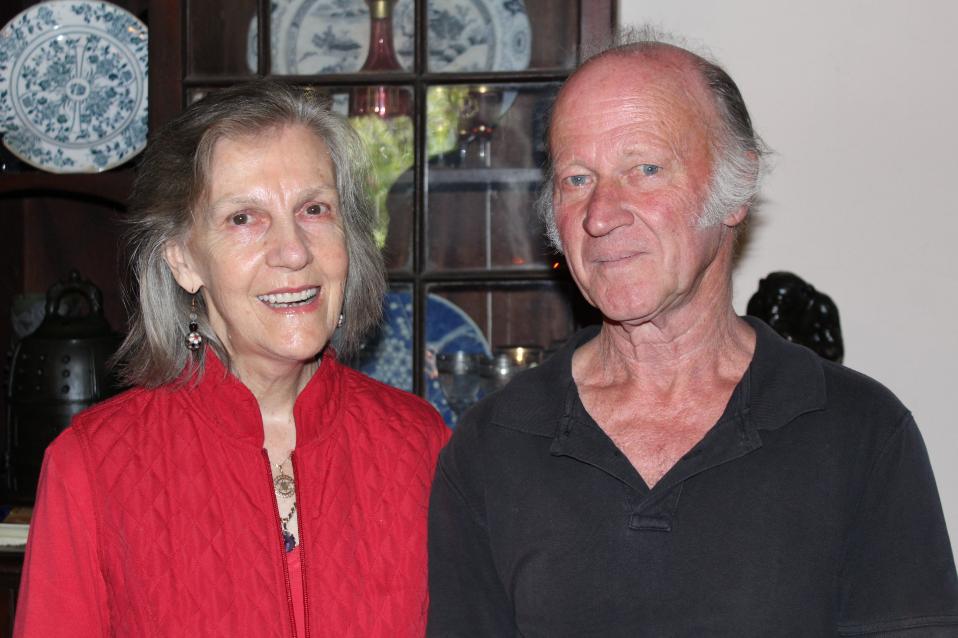 Dendrobium - kingianum - cultivar : 'Bungan Castle' - given to us all from the Albers-Webeck Family!
Past Features Archives (pre 2014)
Pittwater Online News was selected for preservation by the State Library of New South Wales and National Library of Australia. This title is scheduled to be re-archived regularly.
Archived Issues (2014 on) may be accessed here: pandora.nla.gov.au/tep/143700
Search Pittwater Online Articles