October 14 - 20, 2018: Issue 379
Ocean Turns On A Cracker Wave For Rick Millar Memorial: His
Benchmark Made a

Permanent and Lasting Legacy


13th, October 1948 - 8th August, 2018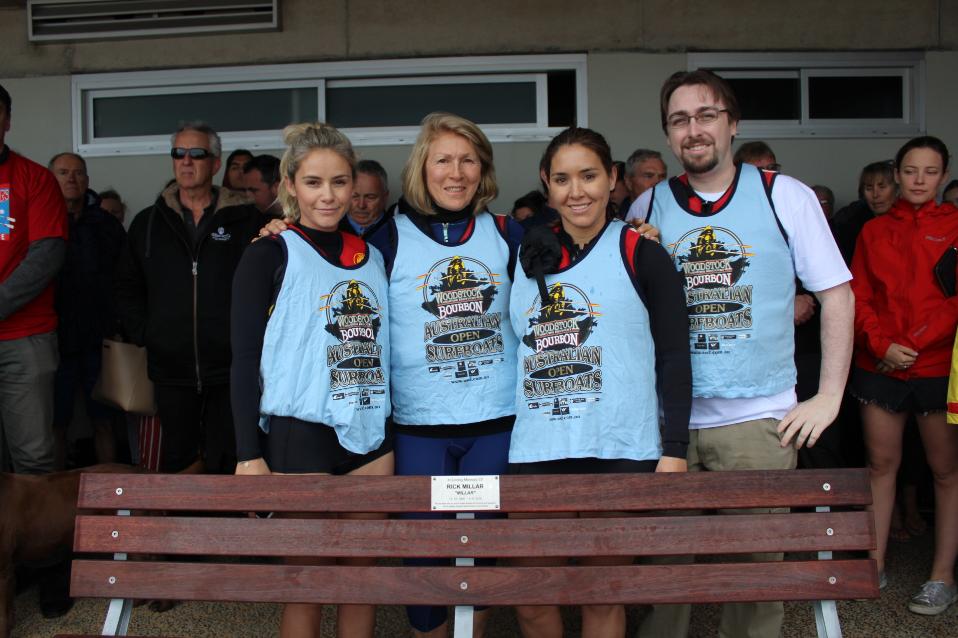 Rick Millar began sweeping boats in 1977 and devoted over 40 years of his life to sweeping, training and inspiring generations to do their best, for themselves first, and as part of a crew, a team.
Being a father of two gorgeous girls whom he adored, Lara and Skye, he was one of those surf boat legends who always had crews of girls and women he mentored, world beaters and Australian champions among them.Rick was coach and sweep for Avalon Beach SLSC's first women's crew in the 1993/94 season. The young men he had as crews were champions under his sweeping and went on to help others too - they followed his example.
He was a marathon man, The George Bass marathon was an adventure to him. George Bass did it only once - Rick must have sweeped women almost around the whole of Australia during GB Marathons, training sessions that began when it's dark on the Pittwater estuary, and countless carnivals with innumerable heats.
He was upright, he was honest. There was no facade about him, not one shred - if you'd done something stupid, he told you. He told you like you were a member of his family because you were. The 'watermark' of a person who can reach people was strong in him - and as all know, those who spend so much time investing their all in others are actually those who genuinely love other people, whoever they are, in whatever circumstances, despite any raw exterior.
Rick was always just himself with you, he didn't need to do or be anything else - and he was like that because that was his nature - and that allowed everyone he gave a moment or a season or a lifetime to to just be themselves to - and that's how Rick still is in many of use. That is his very best 'lesson'.
"The bigger the better" was how he liked his waves, wanted everyone to enjoy the sheer magic of catching one, of being on one, of being in control and melded with the ocean. That was life to him - a bigger and better wave.
Last Sunday surf boats came from north and south in N.S.W., with even one from Victoria and Newport and Bilgola crew rowing in from their beaches, to join his wife Sue and Skye and Lara in fare-welling the man by placing his ashes where they would meld with his favourite place, and honour him by the traditional oars raised heavenwards, and catch a Rick kind of wave.
Ashley Cardiff, President of the Avalon Beach SLSC acknowledged that in welcoming everyone to his place;
"Thanks to everyone coming to celebrate and commemorate Rick Millar today. It's great to see he has turned on the conditions for us today and I'm sure he's up there smiling away as he wouldn't have it any other way with the rain and the surf the way it is." Ashley said

The mark of a person in our lives is the impact they have one us. I'm sure all of the people who are here today have had some connection and have benefited from having Rick as part of their lives.
He was always there to give a hand. Always there to help out; "If you need a hand, give me a call and I'll come down and help you."
Not only has he taught us all to row better, how to Sweep better, how to run Carnivals better, how to organise things, he's made us better people.
When I look around today I see generations of people. I see people that came through the club as juniors, junior men, junior women, who are now mothers and fathers whose children are also coming through the club now.
Rick was really happy with the way the club was positioned and happy with the way members were stepping up to take on a role and take the club forward.
Winning a gold medal this year was an outstanding achievement for the Chanels, for Rick and for us as a club. In this he gave us another fantastic memory that will live on.
He will badly missed around here and never forgotten."
Lara Millar spoke - bringing the full house to tears;
"On behalf of the family I would like to say a big thank you to everyone for coming here today to celebrate dad's life.
The support and love everyone has been showing our family during the last two months has been unimaginable and we can't thank everyone enough for everything you have done. It has helped us more than you will ever know and is a true reflection of what dad was and meant to everyone around him.
Dad was something different to everyone, whether a husband, brother, father, father figure, mentor, coach, competitor or friend. It's not hard to see why he impacted on the lives of so many around him in so many ways.
I know most of you won't be able to step onto the beach without think about dad in one way or another.
For us there isn't a moment that passes where we don't think of dad and how much we miss him. We will come to the beach and sit by the water where we will always fell closest to him.
Ever since we can remember dad has love the surf and being at the beach, either standing next to a surf boat or in it. It was a place he spent most of his life and was his happiest.
Today as we say goodbye we know there is no place dad would rather be than here in the ocean at Avalon Beach. Today we remember and thank dad for everything he has done throughout his life. We miss him so much but he will stay with us within our hearts."
Avalon Beach Club Captain Pete Carter said Rick was an inspiration to everyone.

''He was my coach for 27 years. He taught me how to sweep.
''One of the things he was very proud of was that he liked to nurture the local kids and have local crews.
''Rick certainly did it tough these past years but he never let on just how tough it was dealing with it."
''I was lucky enough to share a very special moment in Perth with him when my female crew (Bandits) also won gold."
''But Rick's life wasn't just all about surfboats.
''He had a heart of gold. He liked to help young kids become better people and he would help people financially. Once he liked you then you were his friend.''
Donna Wishart, a member of the phenomenal Antiques masters crew who went on the marathons with him as their sweep, said: ''He was certainly passionate and the rowers responded but also there was that rough, tough exterior. Deep down though he was a softie.
''One of the amazing things about Rick was how he would help people who had fallen on tough times. A really great man.''
Although Rick stated there's no way he has trained one thousand people, as some still claim, he has been doing it for a long time, and has easily brought a smile to thousands of faces. He was recognised by Pittwater Council with a Certificate of Appreciation for Services to Surf Life Saving on the Northern Beaches in 2012. There's been others too - in December 2017 his volunteer work was recognised by the Premier of NSW.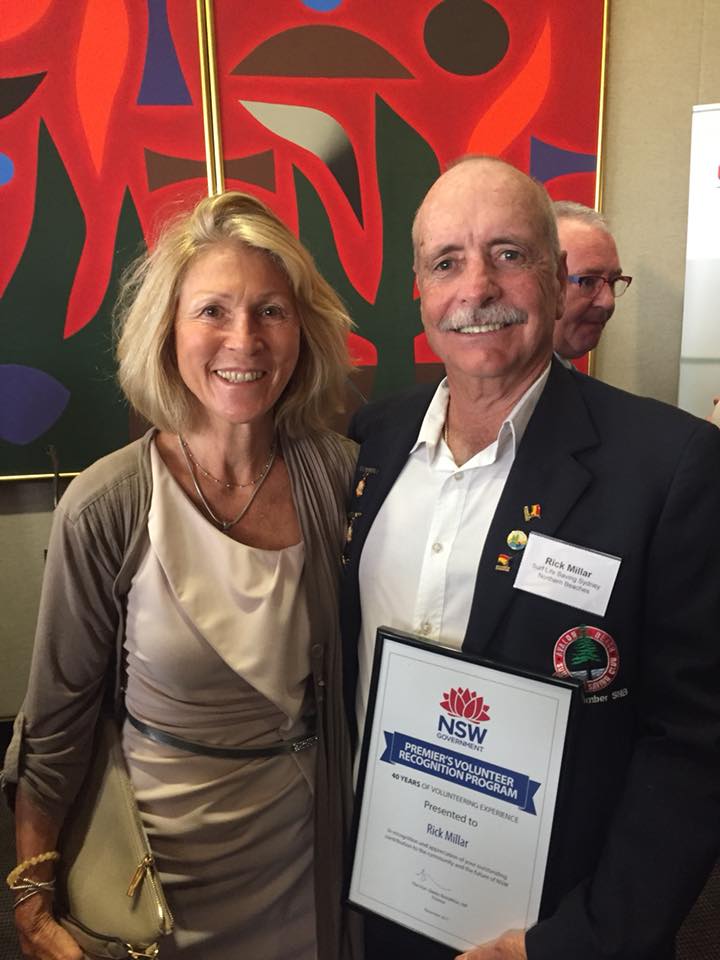 Sue and Rick Millar - December 2017
Besides phenomenal success in the surfboats arena, Mr Millar is known for a commitment to his crews that has not only been a positive in many lives but a life shaping experience that has set flexible steel in their backbones too.
"Rick is an amazingly skilled and motivated coach and sweep and surfboat rowing is his passion. We trust him implicitly, whatever the situation, and we're sure we would not have achieved the results we have if it weren't for him believing that we could do it," said the Antiques in a special report on their successes and being named Competitors of the Year in the Avalon Beach SLSC's 2012/13 Annual Report.
Over his many years of involvement with the Australian Surf Rowers League (ASRL) and surf boats, Rick held the positions of President, Treasurer, was made a Life Member in 2012 and is a multiple gold medallist. He has been sweep for many clubs, both locally and at World Championships. The amount of medals he's won at local, state, national competitions (The Aussies) and Worlds could actually fill a surfboat.
Rick was recognised for his services to surfboats by being inducted into the ASRL Hall of Fame, he was a Life Member of Avalon Beach and also Life Member of SLS Sydney Northern Beaches.

Just over two months Avalon Beach lost a man who loved Avalon. Last Sunday morning the 'Avalon Centipede' couldn't be long enough for all the members of the surf club who wanted to lift and carry the surf boat named for Rick Millar up high to the place where it would be rowed out.

Ashley Cardiff, President of the Avalon Beach SLSC explained the club had organised a seat in front of the club as a lasting legacy for anyone to sit on so all would remember Rick, and in remember him around the club. The new bench was unveiled by Rick's daughters Lara and Skye - his very first crew.

That chair is bound to get as worn as the caps Mr. Millar wore through year round being on and near the water.
He was friend, great mate and mentor to thousands.

Through the years at least a thousand photos of this master Sweep have accumulated in the archives here and always when trying to get just one of him alone it's been 'no, let's get one with the crews'.

Last Sunday the determination was to get a thousand more - a thousand of all those who loved him paying tribute, a thousand of all those boaties catching a wave back to the beach for Rick 'the bigger the better' Millar.
Rick Millar Memorial Paddle 7th October 2018
by Surf Life Saving NSW