May 13 - 19, 2018: Issue 359

Songs For Soibada 2018: The Lineup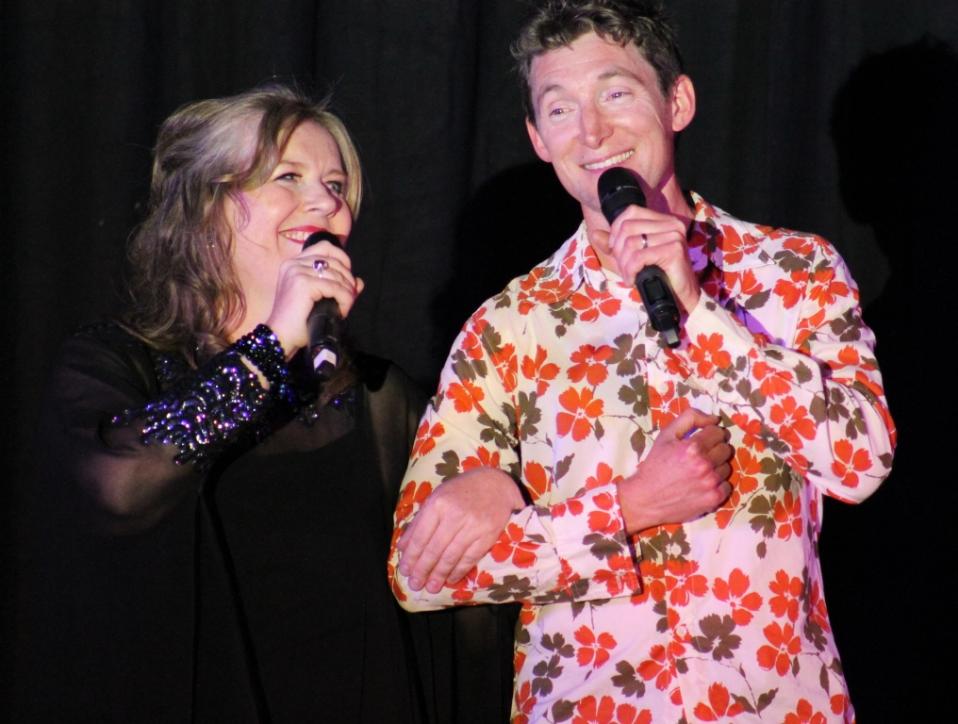 Samantha Shaw and Simon Hyland. A J Guesdon photo.
Saturday 19 May Barrenjoey High School
7pm to 10 pm
This year's concert is going to be different to those we have had in the past. We will still have our signature musical theatre pieces with Samantha Shaw, Simon Hyland and Caroline Mulvenna. However, because the focus is on raising funds for the construction of a technical college and senior campus in Soibada we thought it would be more appropriate to showcase some of the Northern Beaches amazing young new talent. The Peninsula is blessed with some amazing young performers who under the guidance of John Stone and Sam Shaw will be delivering a concert focussed on youth. The schools on the Northern Beaches are very involved in assisting the students in our sister village Soibada so it seems appropriate that we give them the stage!
In saying that, there will be entertainment for all ages. A truly community focussed event, a combined effort with students from The Pittwater House School. Mater Maria Catholic College and Barrenjoey High.
We are extremely lucky to have ASTRAL Plane who recently won the Northern Exposure Band Competition and Narrabeen's Blake Morgan who was in the last 20 contestants on The Voice.
Bands and performers from across the Northern Beaches are coming together to raise funds for education in Soibada, Timor Leste.
As well as entertainment and food, there will be a silent auction - some great items there that are worth a lot more than you may pay on the night!
For the full lineup - More HERE
Pittwater Residents Mark Second Amalgamation Anniversary With Delivery Of Demerger Proposal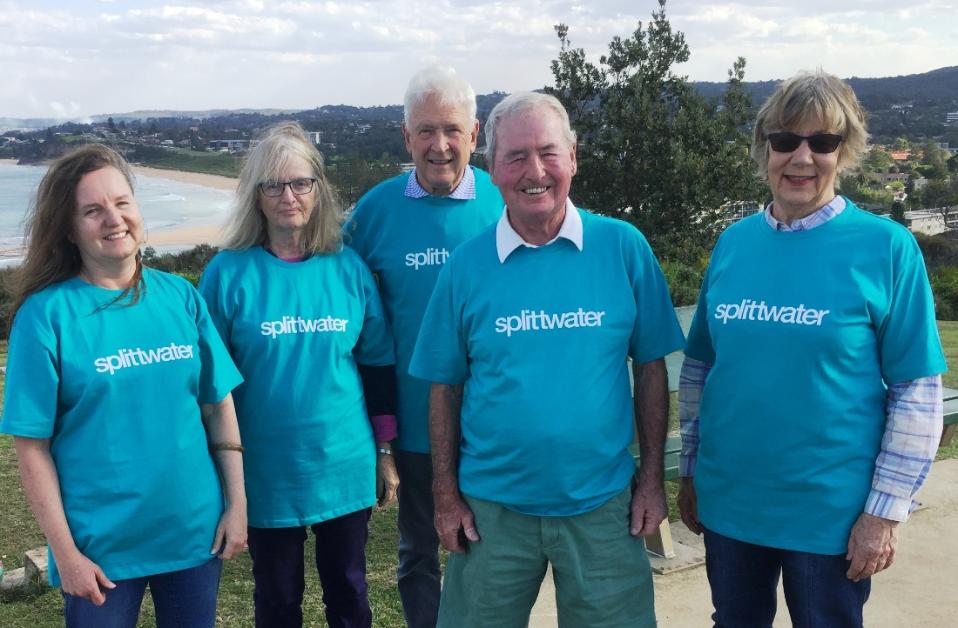 Protect Pittwater members Miranda Korzy, Pip Rey, David Wenden, Bob Grace and Lynne Czinner. Photo supplied.
Pittwater residents will mark the second anniversary of their council's amalgamation by delivering an official demerger proposal to the NSW government next week.
Former NSW Premier Mike Baird announced 19 council mergers on May 12, 2016, including that of Pittwater, Warringah and Manly councils into a single Northern Beaches Council.
Protect Pittwater Association president Bob Grace said the group would mark the occasion by presenting its official demerger proposal to the NSW government on the first sitting day of Parliament following the anniversary.
The group has hired a bus to transport supporters - wearing turquoise "Splittwater" T-shirts - to the city.
"We're going on the 'people's bus' to Parliament House to request the government demerge Pittwater from Northern Beaches Council immediately," Mr Grace said.
"We will not let the government forget its betrayal of the people when it broke its promise of 'no forced amalgamations' on May 12, 2016.
"Residents will present the proposal to NSW Local Government Minister Gabrielle Upton on Tuesday after months collecting signatures to support it."
Details of the trip are as follows:

Date: Tuesday May 15
Meeting place: Newport Beach car park
Time: 10.45am for 11am departure.
If you have anything turquoise - like the old Pittwater colour - please consider wearing it for the day. We also have turquoise T-shirts made up that we'll hand out in Newport before we leave to wear over clothes of other colours.
We'll disembark outside Parliament House in time for the rally from 1 to 2pm.
After the rally, a small contingent will take the proposal into the Local Government Minister's office and everyone else will re-board the bus for Newport (so that the less fit amongst us don't have to stand for too long.)
You don't need to bring anything special but it might be worth packing a light lunch and something to drink. We're making some placards and a banner with a turquoise background. If you feel like making one of your own please bring it along.
To book a seat on the bus please call 0439 788 867.
Palm Beach & Whale Beach Association 100th AGM 2018: A Celebration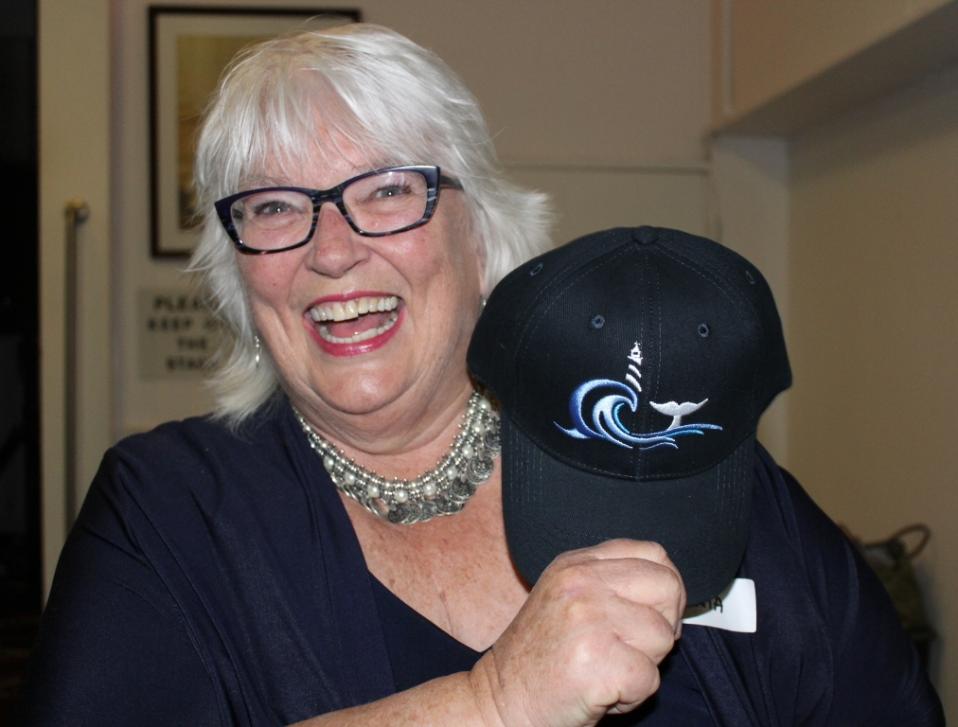 PBWBA Vice-President Virginia Christensen with a 100th anniversary cap.
Members of the Palm Beach & Whale Beach Association attended their 100th AGM on Tuesday May 8th. A great report was presented by Richard West AM, President of the association, with some key indicators of the associations current focus and how that reflects, still, its commencement principles.
The great news among the numerous items is that the association has decided to donate a Zapstand defib for Pittwater Park to commemorate its 100th year, near the ferry wharf. PBWBA Vice-President Virginia Christensen nominated that this be named for Richard to honour his work for the association over several years and due to a recent health scare perhaps, in some ways, being one of the inspirations for yet another contribution to the community by the PBWBA.
The Invited Speaker was the Member for Pittwater, the Hon. Rob Stokes who spoke to the theme of the association celebrating its 100th year in 2018 and celebrating what had been achieved through its works; Governor Phillip Park instituted as a public reserve for all for all time, the saving of Barrenjoey Headland and Lighthouse from inappropriate developments, not the first time it had been in the associations' radar: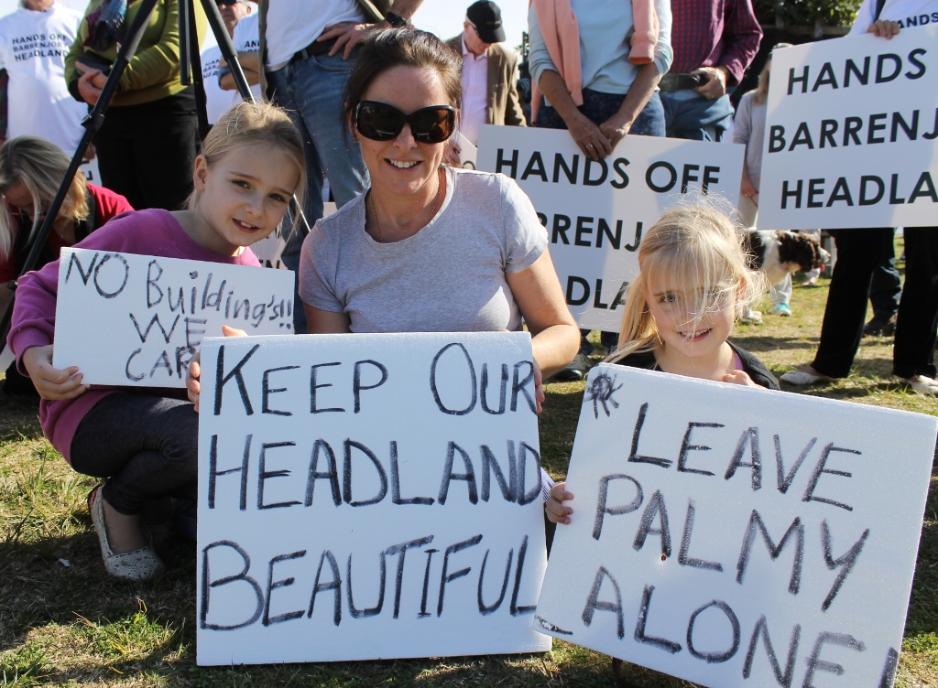 Sienna, (7 years old), Michelle and Matilda, (5 years old) Smith. Photo by A J Guesdon, 2013.

BARRENJOEY PROJECT
Opposing Views At Palm Beach
Palm Beach opinion is sharply divided as to the results of the reported lease of Barrenjoey Headland to an American syndicate. It is said that the Federal Government has already granted the lease, and that the syndicate will spend £200,000 on cabins for holiday-makers.
"That expenditure should be very welcome to Palm Beach, provided, of course, that it is spent in a way approved by the authorities," declared the chairman of Palm Beach Lands, Ltd. (Mr. R. J. McKay), today. "Transport and sporting facilities would probably be improved. I don't think it would depreciate land values. This, however, is the opinion only of myself and the firm I represent."
"We don't like it at any price," said Mrs. S. B. Hooper, secretary of Palm Beach Progress Association. Land values, she added, would slump immediately, and Palm Beach would become a commercialised business place, losing all the natural beauty and isolation that has made It an attractive holiday resort. BARRENJOEY PROJECT (1938, August 1). The Sun (Sydney, NSW : 1910 - 1954), p. 3 (LATE FINAL EXTRA). Retrieved from http://nla.gov.au/nla.news-article229128008
Mr. Stokes cited more recent examples of the association's work as well, stating the associations involvement in the children's playground at Governor Phillip Park, when working with Pittwater council, meant the finalised project provided a narrative which spoke to the heritage of the park and preserved its amenity: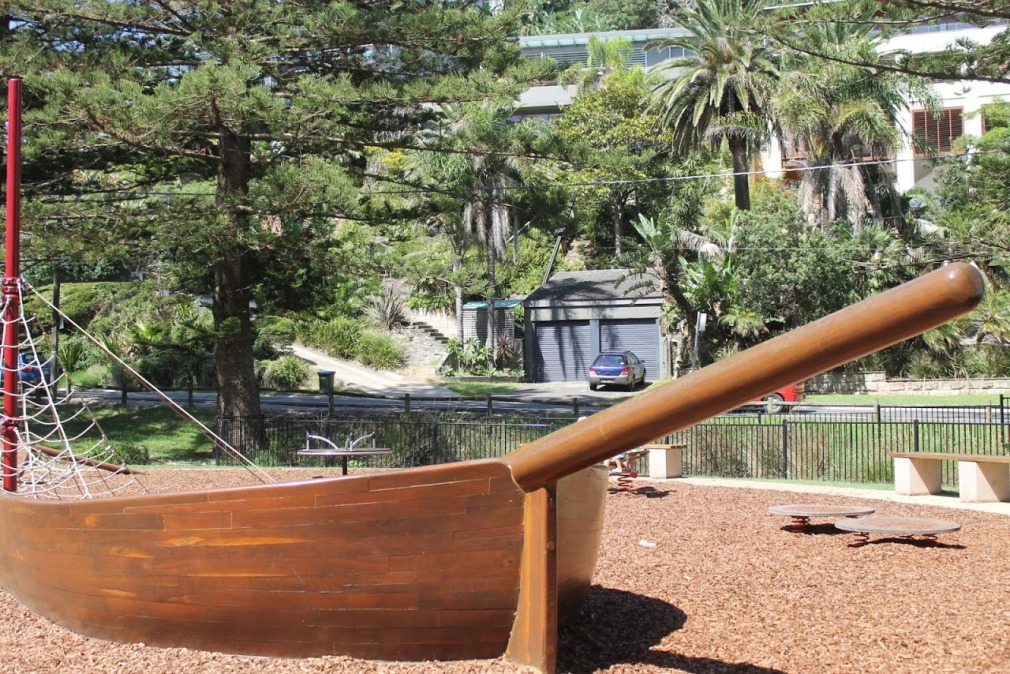 The people who had served as voluntary member on the association through the decades were stated to be integral to the the associations role as being integral to the area being preserved and enhanced by Mr. Stokes, MP. He cited people such as Gerald Hercules Robinson who secured for all people for all time the wonderful Palm Beach Bible Garden.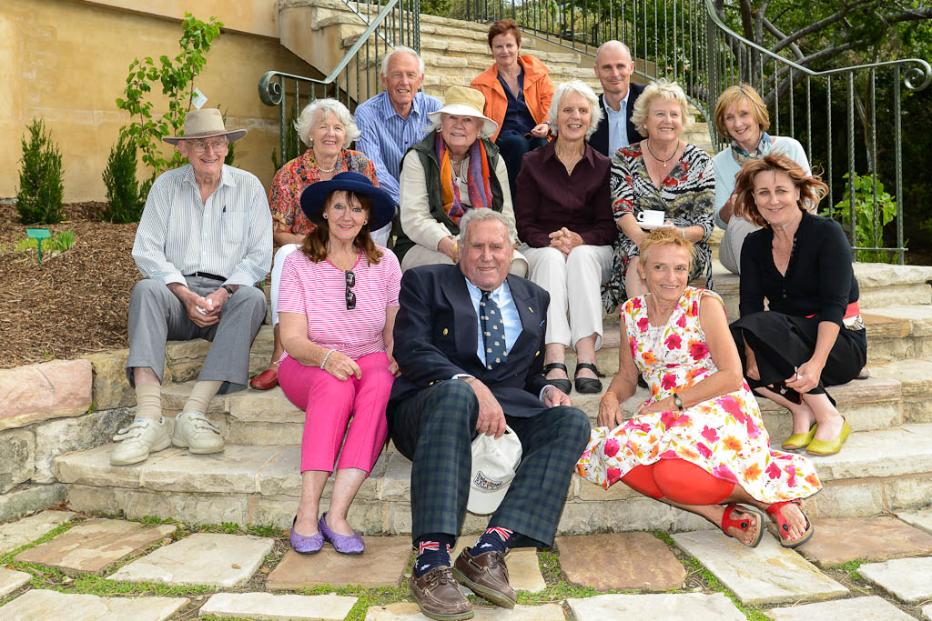 Friends of the Palm Beach Bible Garden Memorial Incorporated: Front Row: Leigh Major, Bryce Ross-Jones, Christina de Water, Jane Robinson. Middle Row: John Swainston, Margaret-Ann Caillard, Virginia Casey, Herminie Swainston, Jill Taylor, Susie Holman,
Back Row: Peter Kellaway, Kerry Robinson. David Robinson. Photo by Michael Mannington, 2012.
IRB Season Throttles Up At Stockton Beach: Round 1 Results + Bungan Beach SLSC Christens New IRB - The Col Rae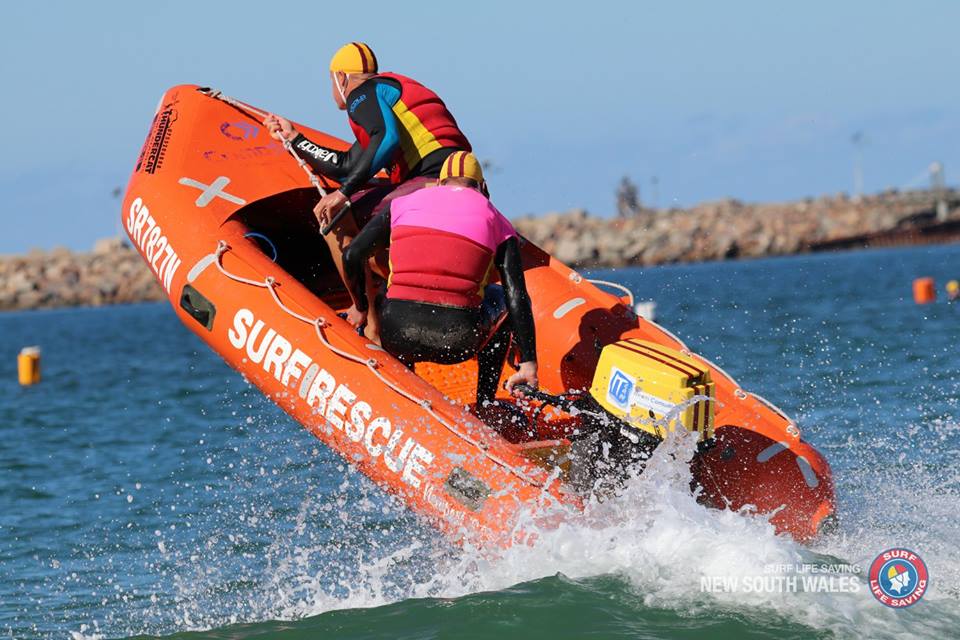 Newport SLSC scored 20 points in Round 1 of the 2018 SLS NSW IRB Premiership - photo by Richard Black
Five local clubs are taking part in the 2018 SLS NSW IRB Premiership; Avalon, Bilgola, Newport, Bungan and Mona vale Beach SLSCs'. The Premiership is run in the off-season as these essential pieces of life saving equipment are put to constant use during the season.
It was an exciting start to the 2018 NSW Sharkskin IRB Premiership season at Stockton Beach with the largest ever first-round of entries kicking off the campaign.
Over 300 surf lifesavers representing 24 clubs (including three debutantes) came together at the two-day event cheered on by a crowd of supporters who were there to watch the premier event of its type in the state.
Honours were shared among the clubs in most of the events with the Rookie and Relay races providing a particular highlight.
On April 25th Bungan Beach SLSC christened their brand new IRB. The boat was named after Life member Col Rae. Col has been an incredible member of Bungan Beach Surf Life Saving Club and has helped train many generations of bronze candidates, been a board member for numerous years and has helped the club develop into what it is today.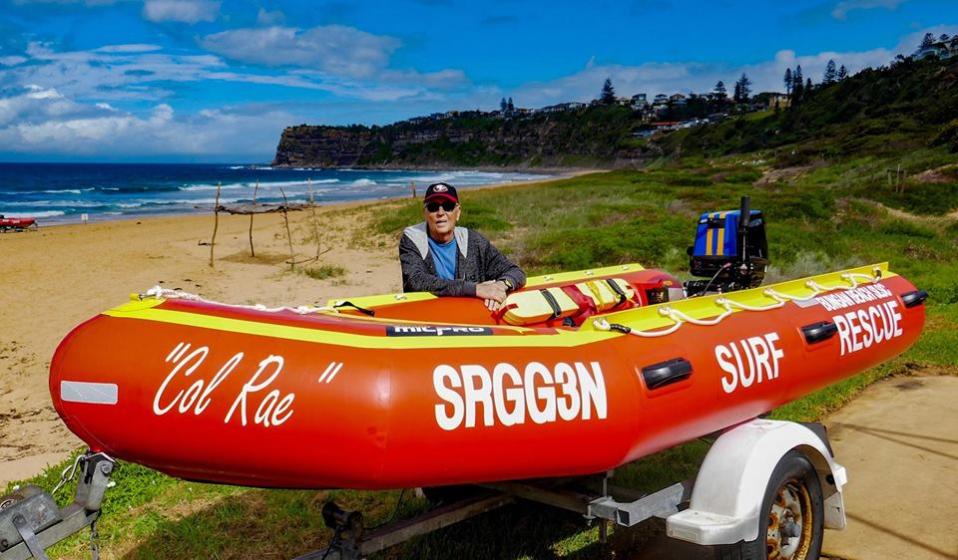 The
Col Rae - photo courtesy Bungan Beach SLSC
Autumn In Pittwater: 2018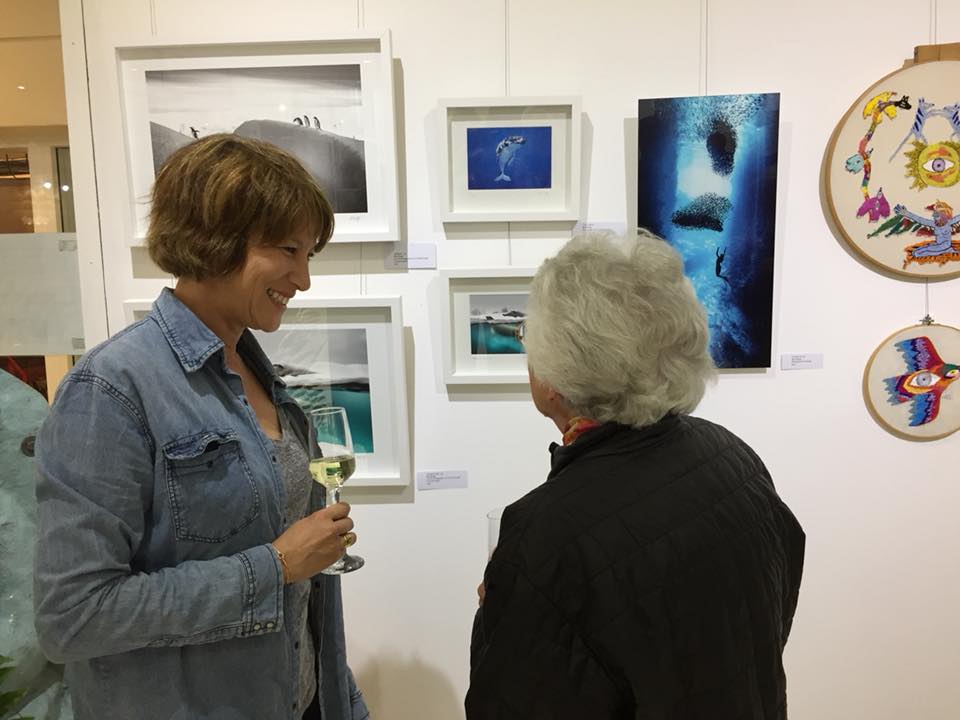 The wonderful
Rita
Kluge with some of her works at the opening of the Menagerie Exhibition, Avalon Art Gallery (39 Old Barrenjoey Road, Avalon Beach), May 12th, 2018; this exhibit of works by 16 local Artists is open until June 2nd - photo by Christine Hopton OAM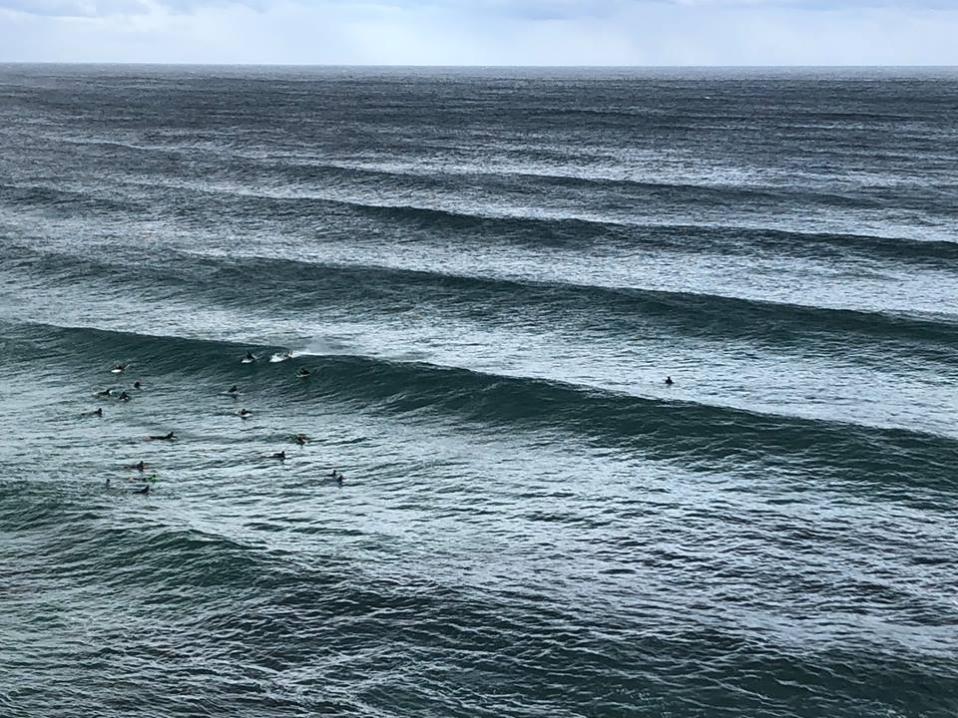 Swell Building - photo by Adriaan van der wallen, May 12, 2018
Past Features Archives (pre 2014)
Pittwater Online News was selected for preservation by the State Library of New South Wales and National Library of Australia. This title is scheduled to be re-archived regularly.
Archived Issues (2014 on) may be accessed here: pandora.nla.gov.au/tep/143700