January 14 - 20, 2018: Issue 343

Polo By The Sea 2018: Over A Hundred Years Of Loving This Game In Pittwater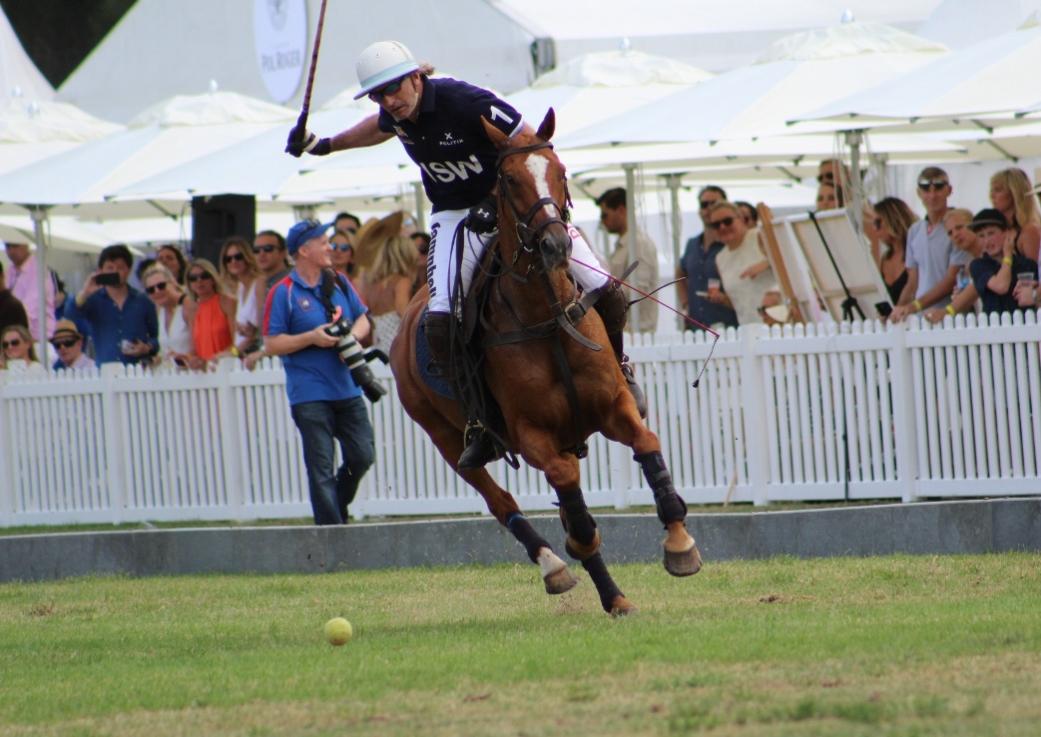 Angus Campbell - NSW Team, Polo by the Sea 2018
For everyone who loves horses, which is most of us here in Pittwater, the annual Polo by the Sea has become a Summer treat and feast for the eyes where glorious ponies with skilled riders showcase an ancient game in spectacular fashion - albeit on a reduced sized field.
In between games visitors stomp on divots, take part in fashion parades and dashes for prizes on field or listen to great live music by some of the best contemporary songsters. There was even a wedding this year!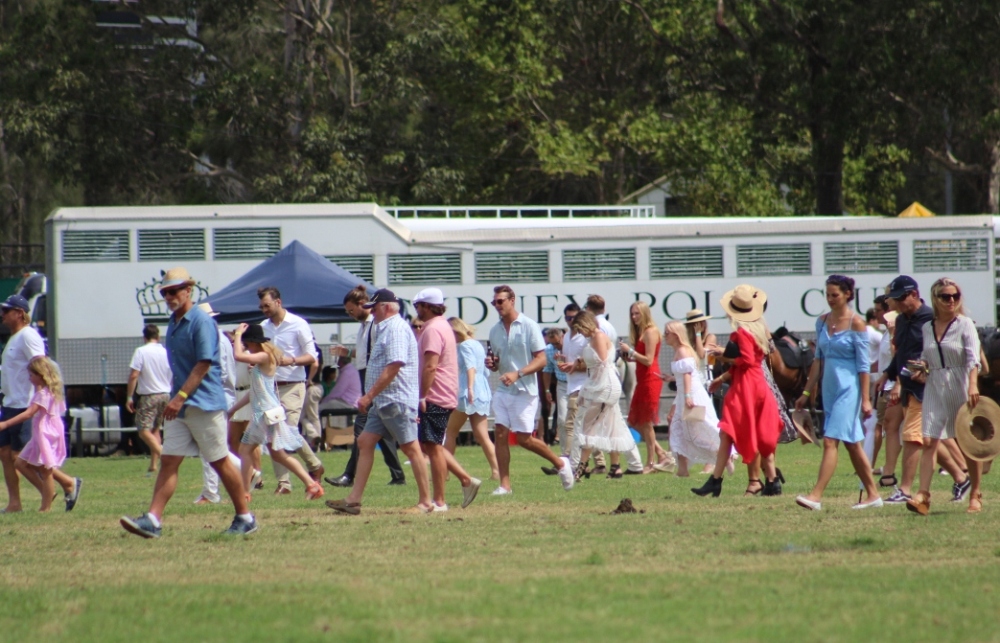 The first Polo by the Sea,
run in 2015
, gave added insight in the team behind Polo by the Sea letting us know the first polo game in New South Wales was played at Moore Park in July 1874, where the then 14th Governor of New South Wales, Sir Hercules George Robert Robinson, 1st Baron Rosmead, GCMG, PC, was a player.
Polo by the Sea isn't the first instance of a polo field and players and games in Pittwater as G S Brock, the owner and builder of
The Oaks
at Mona Vale, soon to be known as La Corniche, was a passionate player as was the father of W.D.M. and Australian aviation legend and Bayview resident Sir
P. G. 'Bill' Taylor
-
P. T. Taylor.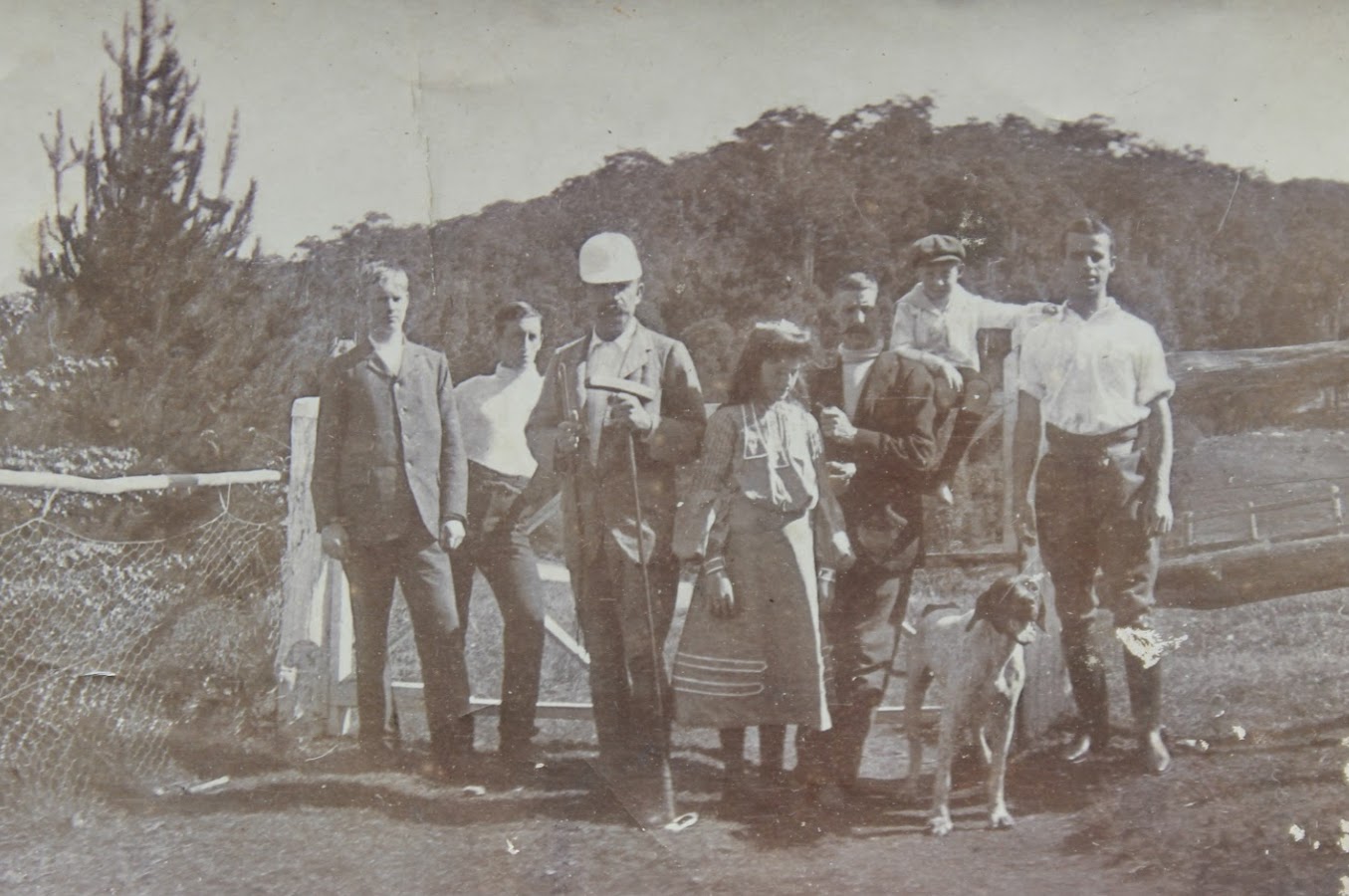 Don Taylor
(son of W D M Taylor) I can tell you who most of them are: it's the Taylor family without their mother. From the right is W. D.M., my father, sitting on the fence is Patrick Gordon, who preferred to be called 'Bill', that's an unknown, the girl is Norah, their sister, who looks like she's about 13 or 14 there, the man in the white cap is P. T. Taylor their father, he was keen on polo, then another unknown and the one on the extreme left is probably Ken. Photo courtesy Taylor family.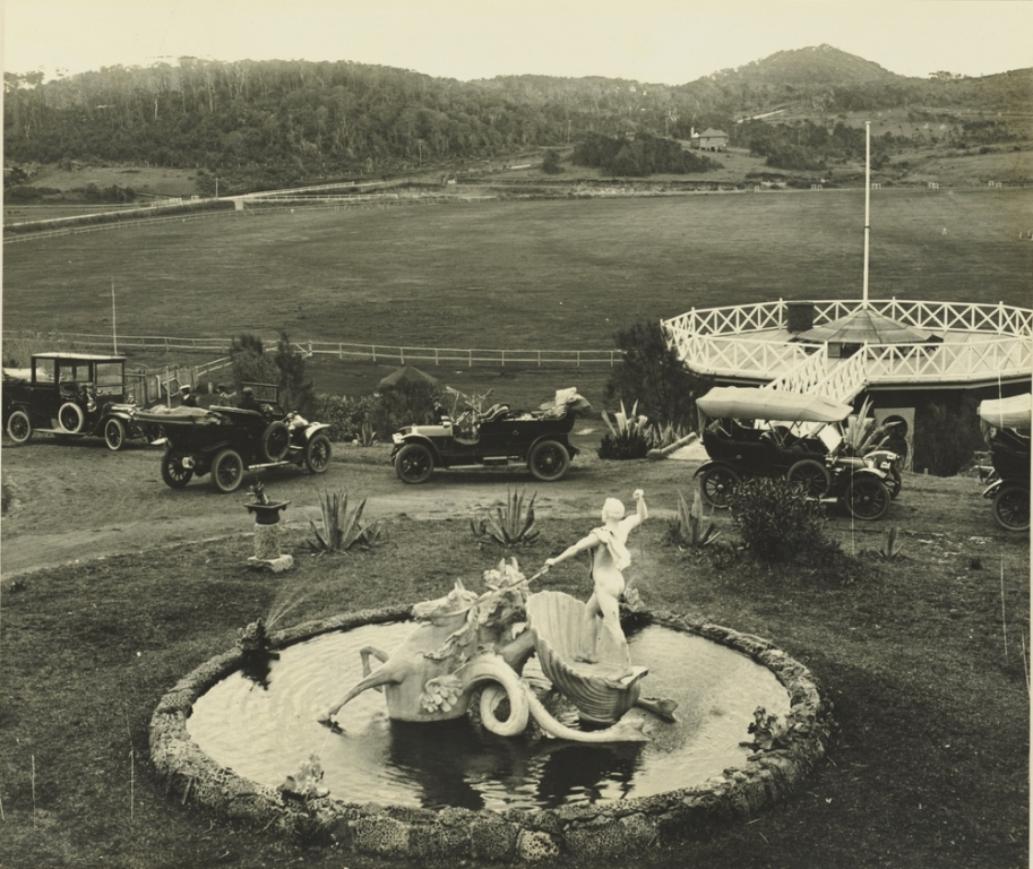 The dream came to an end for Mr. Brock when the slated tramway to Narrabeen came a few years too late to make his grand premises accessible during the early era of Pittwater when this place was still considered rural - although there is reason to dream a few polo pratices took place just over a hundred years prior to this year's games:
MILITARY. LANCERS' STAFF RIDE.
On Monday last the Sydney Squadron of Lancers returned from a three days' staff ride in the vicinity of Pittwater. The work was undertaken on a tactical scheme connected with the landing of an enemy, the whole being under the command and supervision of Lieutenant M'Mahon. Organised as a complete regiment, the squadron left Sydney about 9 a.m. on Saturday, on a rapid march on Bay View, two squadrons travelling via Gordon and Tumbledown Dick Mountain, and two via Manly and Narrabeen, the advanced parties, by means of signalling communication, coming simultaneously Into touch with each other in the scrub behind Rocklily. All ranks had duties of a higher nature than their existing rank, particular attention being paid to the issue of written orders, the forwarding of reports, and sketches In the field. Tents were not taken, the intention being to camp in the open, but owing to the wet weather, the men were billeted in one of Mr. Brock, of Mona Vale's, buildings, the 90 horses being picketed in the rear. MILITARY. (1906, October 4). The Sydney Morning Herald(NSW : 1842 - 1954), p. 9. Retrieved from http://nla.gov.au/nla.news-article14828169
SALE OF MR. BROCK'S STUDS.
The polo ponies and Jersey cattle, forming the studs at "The Oaks," Mona Vale, Pitt-water, were dispersed yesterday afternoon under the hammer by Messrs. Maccabe and Dodds, Sydney.
The sale took place along-side the polo ground of the picturesque residence of Mr. G. S. Brock,
and attracted a fair number of buyers from Sydney, as well as a good sprinkling of local residents. The polo ponies catalogued comprised upwards of 37 head, and the Jerseys-including four steers-17 head. Although the ponies figured first In the catalogue they were sold last. The Jerseys were all run into a paddock, and a start was made with the bull Duke of Melbourne, a five-year-old son of the Government-imported bull Melbourne-Kitty, g d, by Favourite-Baronne, Effingham Duke, imported by the late Hon. James White. Buyers' ideas of values wore not high, and bidding was not too brisk, except on odd lots. The noble Duke-a real fine Jersey bull-was started at five guineas, and knocked down at ten guineas. A son of the Duke's, out of Rosy, Rosy Dawn III., Boatswain, Bessie Black, Pomonas Dally, imp., realised half the price of his sire. The top price of the cows was nine and a half guineas, and the top price for heifers was eight and a half guineas; while the four young steers went to the local butcher at 39s per head.
The polo ponies were led out in a ring, and the first to appear was Queenie, a bay mare, very good in harness, and all she fetched was six guineas. Another bay mare, Reckless, an excellent polo pony, was knocked down for eight guineas. Pony, foaled a year later than Reckless, namely 1899, also a good polo pony, realised 10 guineas. Carblnesso, a brown mare, with colt at foot, by Souvenir, was passed in at 20 guineas. That grand polo pony stallion Souvenir, out of Annie, by imported Arab, out at Manaroo, Arab mare, was started at 20 guineas, and went trotting along up to 40 guineas. While at that figure Mr. Mackellar remarked that quite recently he sold a sister to Souvenir at 60 guineas. However, as no additional bid was forthcoming the crack pony stallion was passed in.
The 2016 event was cancelled due to Summer deluges. Polo by the Sea 2017 was fantastic - as was this year's, the third successful Polo by the Sea - where once again residents and visitors enjoyed spectacular action on glorious equines; but then, we've been doing so for a very long time now.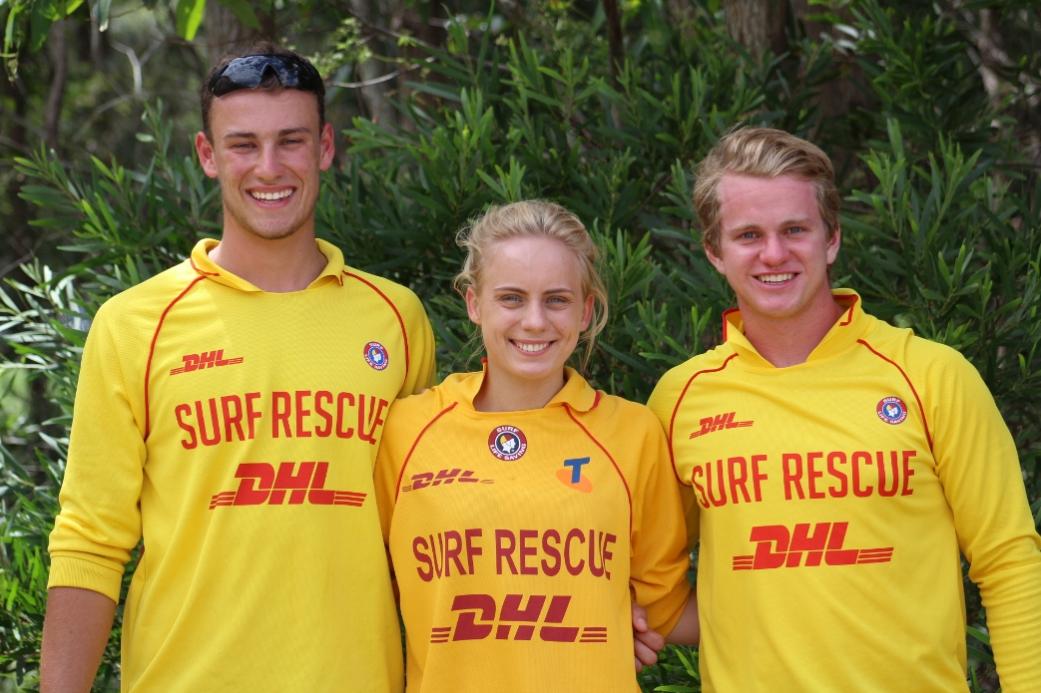 Palm Beach SLSC Members were goal markers and linespeople yesterday. As in previous Polo by the Sea events, a portion of funds raised is invested back into community, this year PBSLSC being the beneficiary.
Newport's Pool To Peak Swims Commence One For Younger Swimmers: Three More In Pittwater Ocean Swim Series To Come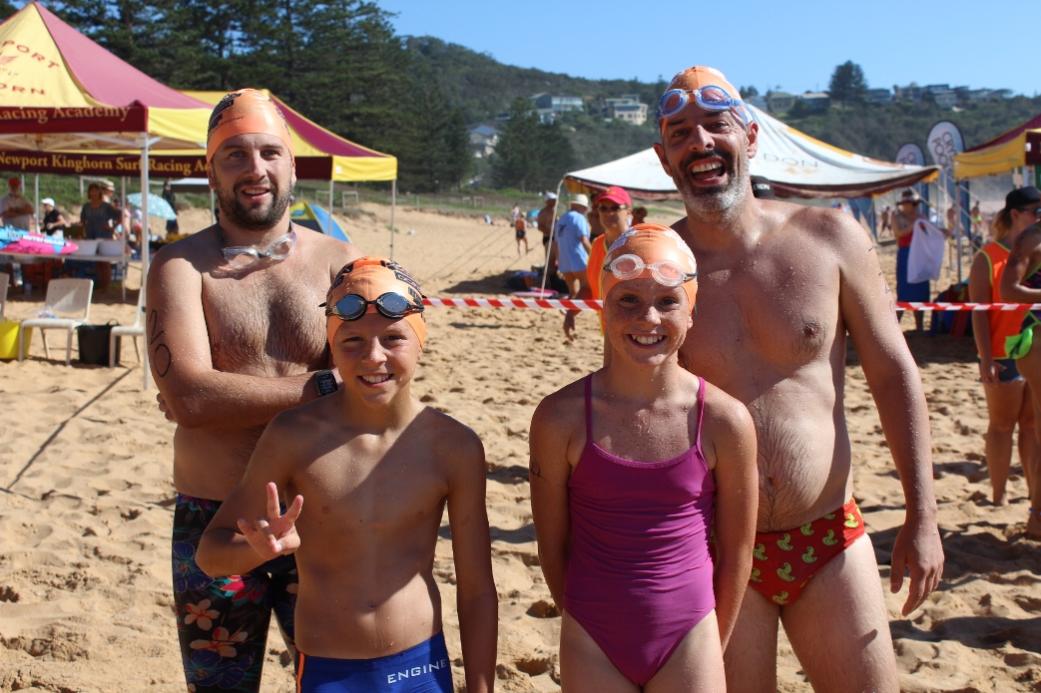 First four back to the beach in the new 400m Swim of the Newport Pool to Peak series of swims: Nick McCouat, Logan Bartlem (10-12 yrs.) Pascal Blanquer and Dominique Melbourn (10-12yrs.).
The second event in the Pittwater Swim Series of Ocean swims took place on Sunday January 7th
Newport SLSC Hosts an 800m event and the 2km event are a great chance to kick the new year's resolution into gear, and hit the water.
This year there was also a 400m swim for the younger swimmers, with 10-14 year olds able to test their skills just like their parents in a circuit just off the shore. The 400m swim was started as the club had a lot of requests from younger swimmers to be able to participate in their annual Pool to Peak event so they introduced the new 400m swim this year. The 400m course is also ideal for older swimmers who would like to have a go at swimming in the ocean to develop their skills and stamina.
The new event for younger swimmers and people wishing an introduction to Ocean Swimmer attracted just under 60 swimmers. The club were very pleased with this response and should continue with the 400m so swimmers have stepping stones for event distances of 400m then 800m and finally the big one at 2km.
Gary Cook, one of the Pool to Peak Ocean Swim Committee members said, "We had a great event with over 750 entries, the largest ever, and all went extremely well except few a few Blue Bottles stings during the early part of the 2km swim."
" It was also great to see Rob Stokes MP a regular swimmer in our 800m event who swam a very creditable time for his age group."
Rob is well known for his support of the Pittwater Swim Series and regularly takes place in the swims, commencing with Bilgola and is seen making it to Whale Beach in the annual Big Swim which takes participants from Palm Beach to Whale Beach.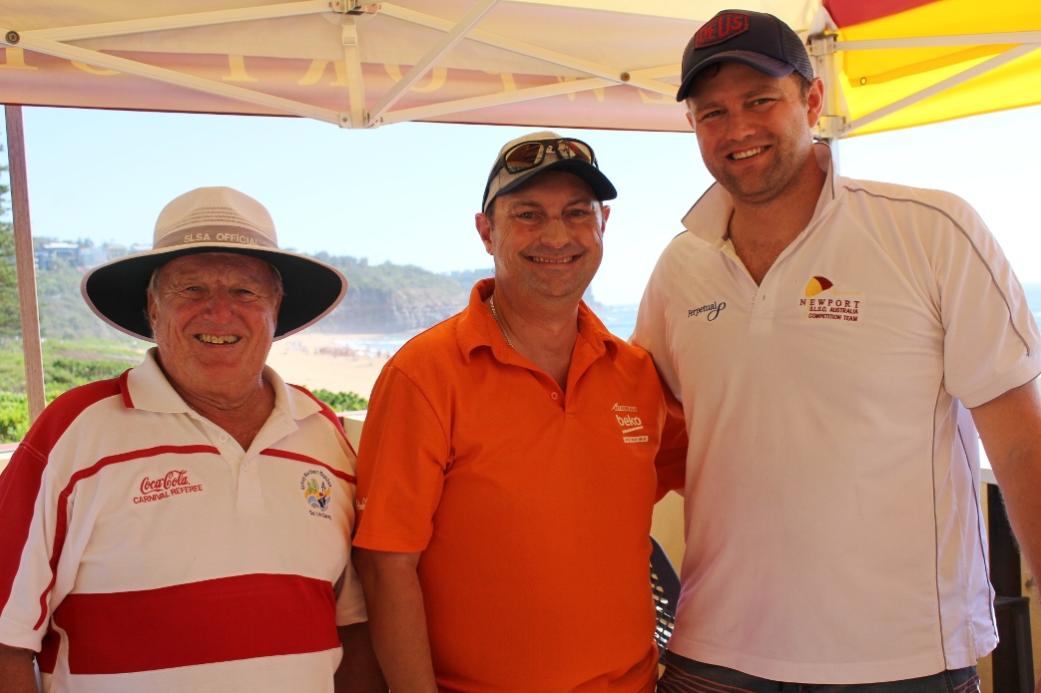 Gary Cook, Event Referee, Richard (Alphabet) Andjelkovic, Emergency Services Officer and Tom Kellaway, Announcer - Newport Pool to Peak Swim Series 2018.
NOPSEMA Acceptance Decision for Seismic Testing off Newcastle and Central Coast Paves Way for Gas Exploration in our Waters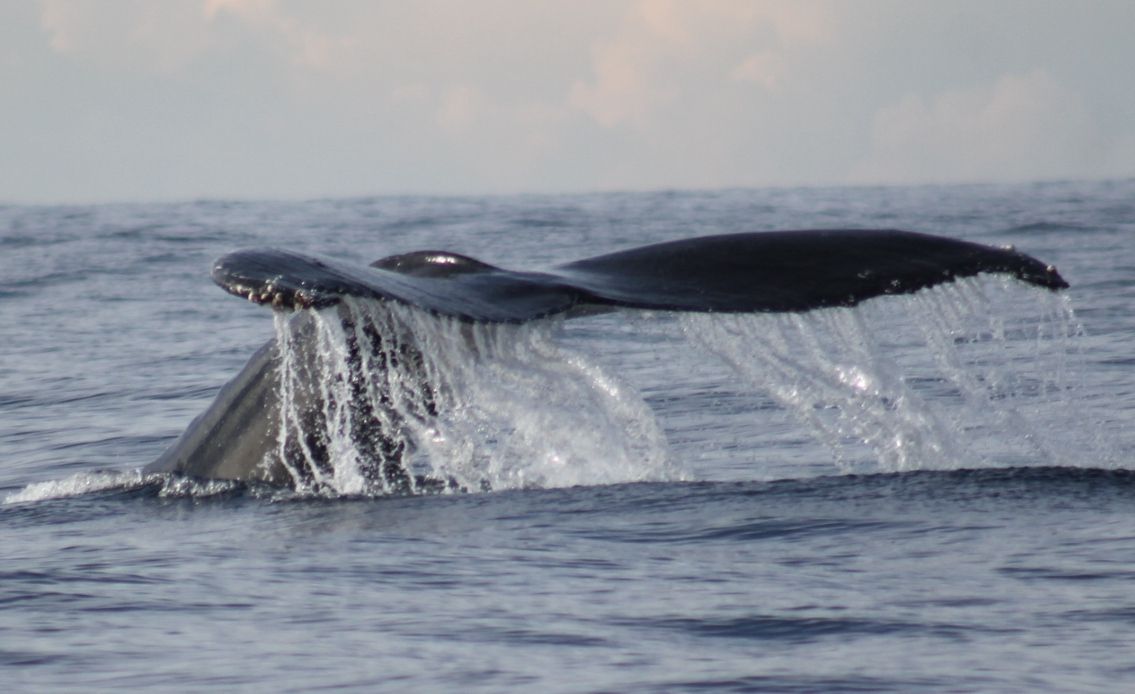 Bad news for local fishermen, fisheries, dolphins, seals, turtles and numerous other creatures at risk, such as Grey Nurse sharks, opens 2018 in the aquatic world. On Wednesday, January 10th, 2018, the National Offshore Petroleum Safety and Environmental Management Authority (NOPSEMA) announced it has accepted an environment plan from the firm that wants to conduct seismic testing off the coast of Newcastle and the Central Coast.
NOPSEMA states it is 'is reasonably satisfied that the environment plan meets the criteria set out in regulation 10A of the Environment Regulations.'
The decision paved the way for Asset Energy, a subsidiary of Advent Energy, to search for gas deposits about 30km off our coast.
A satellite image of PEP11, off the coast of Newcastle, where seismic testing as part of gas exploration will now take place.

The plan to shoot acoustic pulses into the ocean floor has been criticised in recent months and years by the NSW Greens and the Professional Fishermen's Association, who fear the project could have negative impacts on wildlife in the area.
Numerous scientific studies also point out that this kind of testing kills off fisheries, one published as recently as June 2017 by the world recognised
University of Tasmania - Institute for Marine and Antarctic Studies finding;
'
Marine seismic surveys used in petroleum exploration could cause a two to three-fold increase in mortality of adult and larval zooplankton, new research published in leading science journal
Nature Ecology and Evolution
has found.
Scientists from IMAS and the Centre for Marine Science and Technology (CMST) at Curtin University studied the impact of commercial seismic surveys on zooplankton populations by carrying out tests using seismic air guns in the ocean off Southern Tasmania.
The research found that the air gun signals, commonly used in marine petroleum exploration, had significant negative impact on the target species, causing an increase in mortality from 18 per cent to 40-60 per cent. [1.]
In 2014 a petition and bid to stop the testing by locals and by reports being forwarded to the company by then
NSW Department of Primary Industries (DPI) Minister Katrina Hodgkinson, included a summary of research on the effects of seismic testing on fish.
"In its submission, the department requested that Advent Energy consider the issues raised and consult with fishing stakeholders, particularly in the commercial sector."
When the last seismic testing was done a decade ago, fishermen described the ocean as ''like a desert'', with significantly reduced catches for up to two years.
The department's submission said the seismic's effects on fish, including decreased catches, could be significant and ''persist for some time''.
The company maintains its practices are environmentally safe.
Goh Hock, chairman of Asset Energy's parent company MEC Resources, wrote in an update to the ASX dated January 8th, 2018, prior to the NOPSEMA announcement, that
"Furthermore, an international marketing agency has been engaged to undertake marketing of PEP11 to suitable major international oil and gas companies and investors to fund the future exploration drilling of PEP11,"
That drilling, including an exploration well slated to be installed between February 2019 and February 2020, is to be followed by a 500 km2 3D Seismic Survey.
January 8th was also when
Goh Hock,
MEC, announced;
"MEC Resources Ltd (ASX: MMR) ("the Company" or "MEC") is pleased to advise that the National Offshore
Petroleum Titles Administrator ("NOPTA") has written to investee company Advent Energy Ltd to advise that
NOPTA has approved an extension to the term of PEP11. The term of PEP11 now concludes in February 2021."
In its statement following the decision, the company said it would "now commence mobilisation of equipment and preparations" to conduct the seismic testing, but no start date has been confirmed.
"This is another fantastic step for Advent Energy and the exploration of the offshore Sydney Basin," MEC Chairman said Goh Hock, chairman of parent company MEC Resources.
A Broken Boom Could Not Stop An Emotional Return For Kialoa II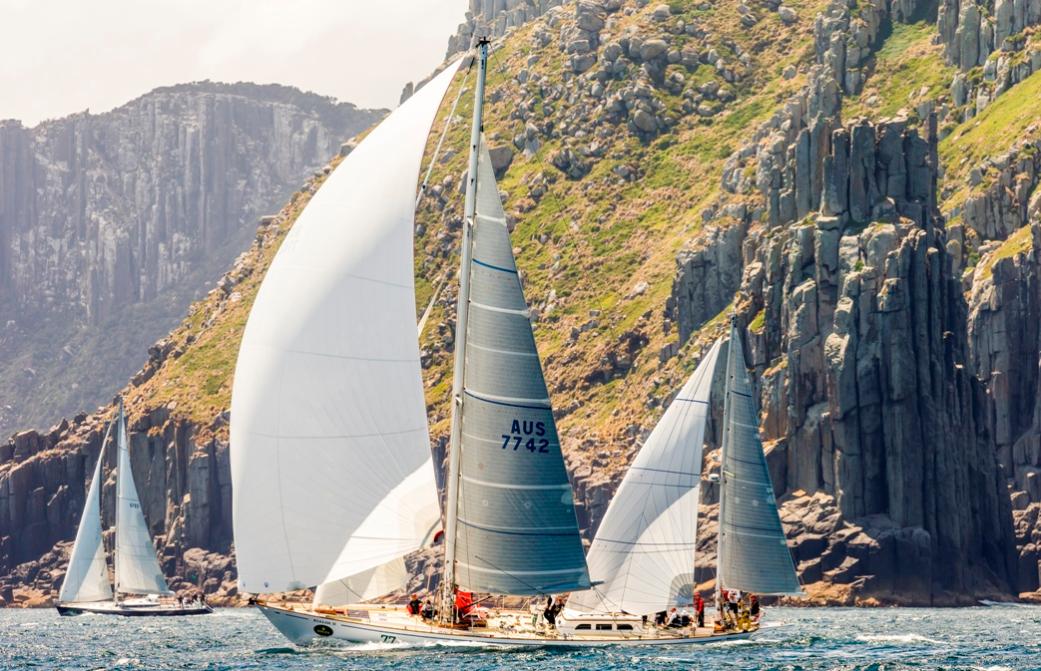 KIALOA II, FROM 1964, PASSES TASMAN ISLAND ON THE WAY TO THE FINISH OFF HOBART @Rolex/Studio Borlenghi
Paddy Broughton Describes The Rolex Sydney Hobart On Kialoa II
RSHYR News: 29 December, 2017: 8:02 PM
In 1971, American sailor Jim Kilroy sailed his 23-metre yawl Kialoa II to line honours victory in the Sydney Hobart Yacht Race.
For Hobartians, it added an exotic element to one of the key calendar events of their lives: an American boat had come here and, in their eyes, won the race and lifted its status to a world event.
Six years later, Kilroy returned with Kialoa III and took line honours in a race record time of three days, 13 hours, 58 minutes and 10 seconds.
Today, the original boat, Kialoa II, made an emotional return to Hobart, 46 years later, and beat her own time and that of her later namesake.
For brothers Paddy and Keith Broughton it wasn't the point. It was a matter of bringing her back to a place where she is still held in special regard.
They bought the boat in 2016 with a view to retracing her former glories, of which the Cruising Yacht Club of Australia's Rolex Sydney Hobart Yacht race is but one.
But it nearly didn't happen.
Entering Bass Strait, their boom snapped during a gybe and the same thought went through everybody's mind on board. Would they not be able to bring her home?
Summer In Pittwater: 2018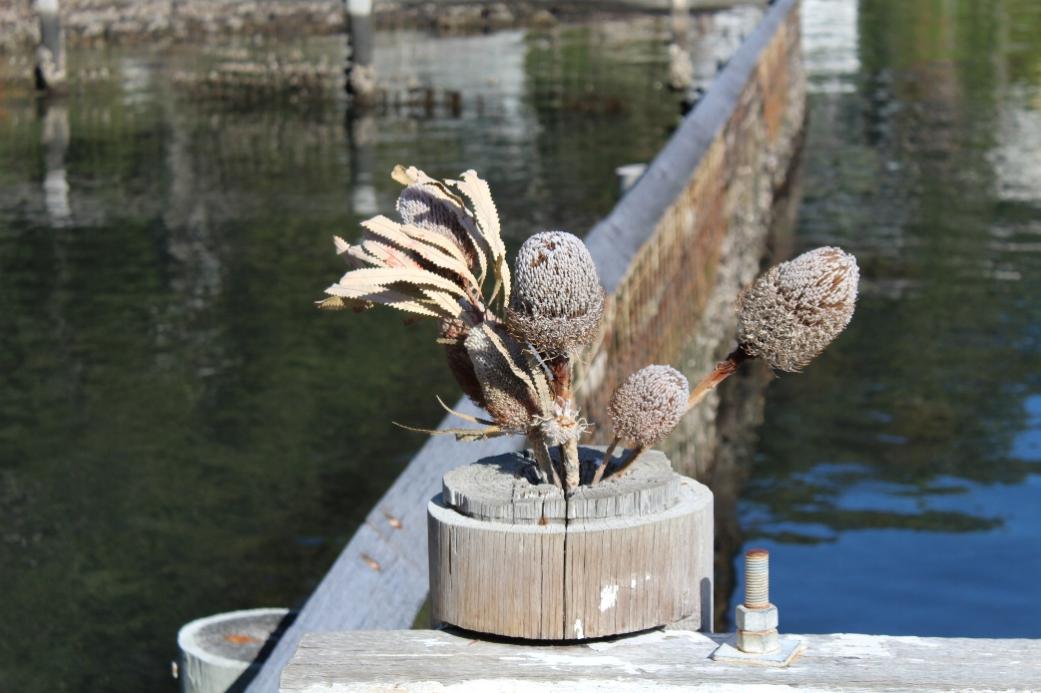 Past Features Archives (pre 2014)
Pittwater Online News was selected for preservation by the State Library of New South Wales and National Library of Australia. This title is scheduled to be re-archived regularly.
Archived Issues (2014 on) may be accessed here: pandora.nla.gov.au/tep/143700