January 14 - 20, 2018: Issue 343
A Broken Boom Could Not Stop An Emotional Return For Kialoa II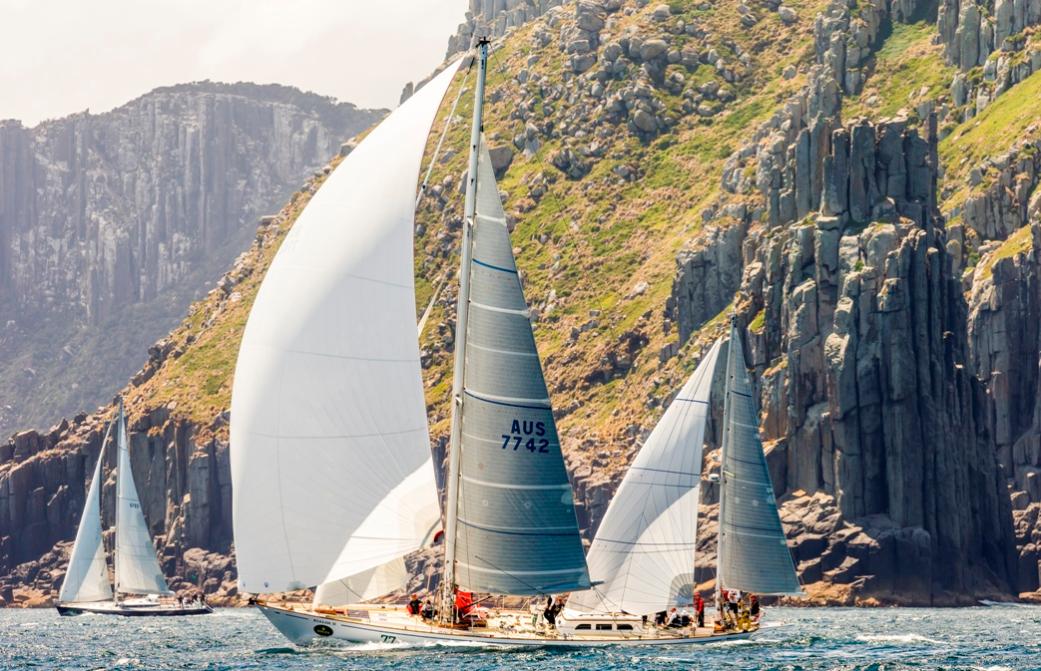 KIALOA II, FROM 1964, PASSES TASMAN ISLAND ON THE WAY TO THE FINISH OFF HOBART
@Rolex/Studio Borlenghi
A broken boom could not stop an emotional return for Kialoa II
Paddy Broughton describes the Rolex Sydney Hobart on Kialoa II
RSHYR News: 29 December, 2017: 8:02 PM
In 1971, American sailor Jim Kilroy sailed his 23-metre yawl Kialoa II to line honours victory in the Sydney Hobart Yacht Race.
For Hobartians, it added an exotic element to one of the key calendar events of their lives: an American boat had come here and, in their eyes, won the race and lifted its status to a world event.
Six years later, Kilroy returned with Kialoa III and took line honours in a race record time of three days, 13 hours, 58 minutes and 10 seconds.
Today, the original boat, Kialoa II, made an emotional return to Hobart, 46 years later, and beat her own time and that of her later namesake.
For brothers Paddy and Keith Broughton it wasn't the point. It was a matter of bringing her back to a place where she is still held in special regard.
They bought the boat in 2016 with a view to retracing her former glories, of which the Cruising Yacht Club of Australia's Rolex Sydney Hobart Yacht race is but one.
But it nearly didn't happen.
Entering Bass Strait, their boom snapped during a gybe and the same thought went through everybody's mind on board. Would they not be able to bring her home?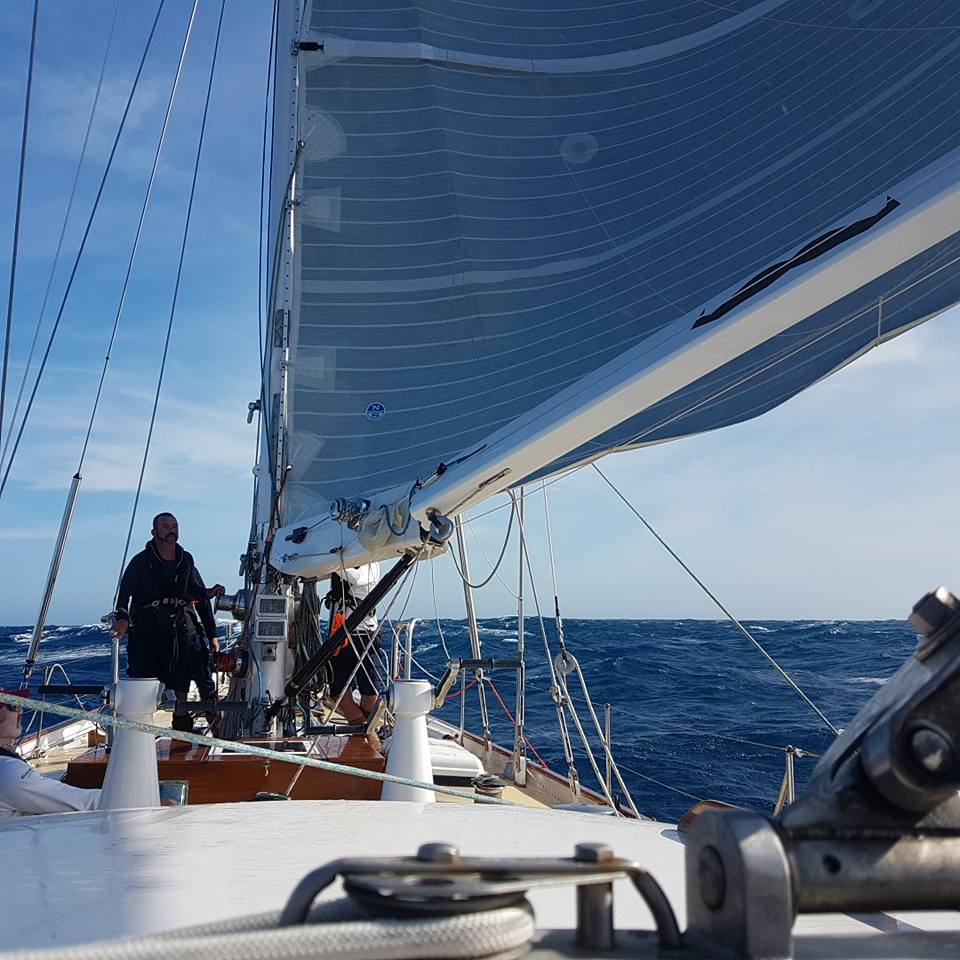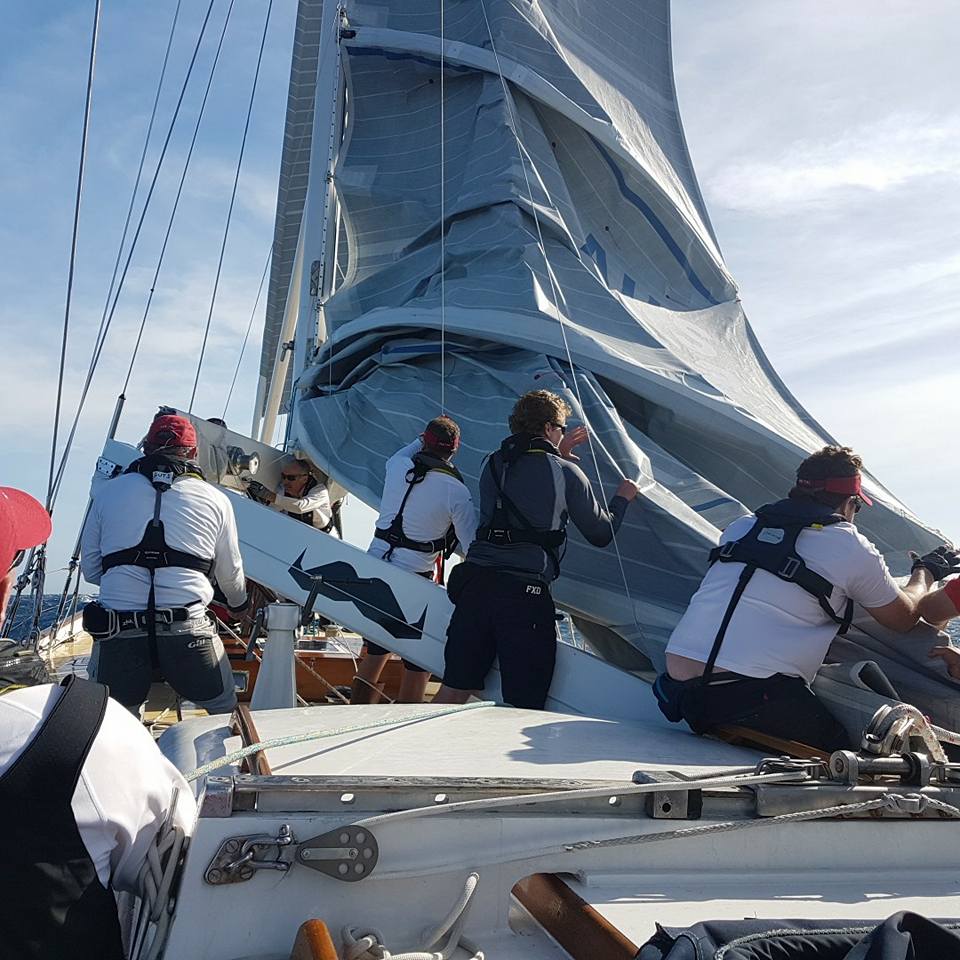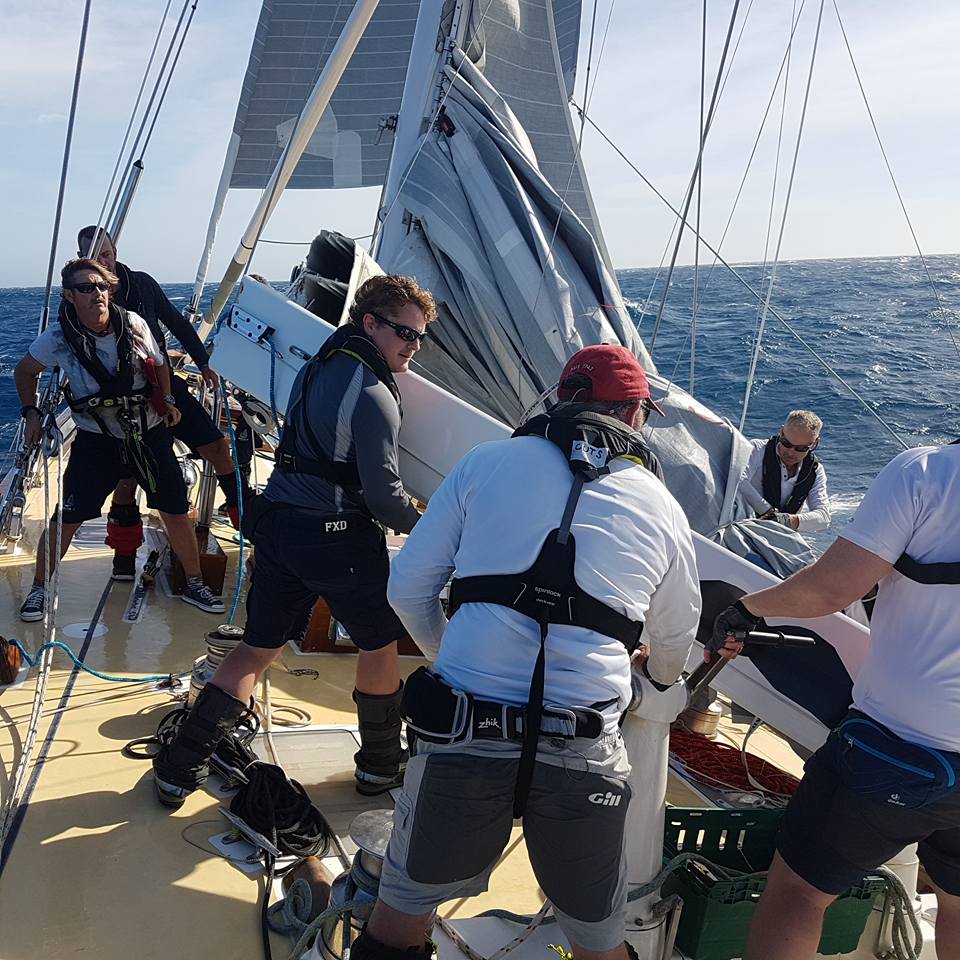 (At 1730hrs on Wednesday Kialoa II gybed in 30kts of northerly breeze and 2 metre seas. As the main came over the boom snapped just aft of the vang. The broken boom was strapped to the stanchions and the boat secured before the storm trysail was hoisted, allowing Kialoa II to continue.
At 2030 Kialoa is sitting on 9-10kts of boat speed in 25 knots of NNE wind with the genoa, trysail and mizzen set. "Disappointing" commented Paddy. "We can still carry plenty of sail so we will keep pushing on towards Hobart. I'm pleased that no-one was hurt, and very happy with the calm way the crew dealt with the situation."
In the midst of the action Grunter (Grant Chessels) managed to cook and serve a roast pork dinner with baked potatoes, pumpkin, peas, carrots, gravy and apple sauce with Yorkshire puddings, racking up the points for "Best on Boat". -
Kialoa II Facebook Page
The moments after Kialoa's boom snapped in a gybe in 30kts on Wednesday 1730hrs, pics By
Lisa Ratcliff
- OCC
)
Crew member Dallas Kilponen, whose father, the late David "Fang" Kilponen, was navigator on Kialoa III, sensed the drama of the moment as much as anyone. He was wearing his father's Kialoa belt. He wanted to get to Hobart.
"When we saw the boom go, we immediately set to clean it up, stow the mainsail and get going."
No-one thought about giving up.
"This is Cinderella stuff," Kilponen said.
Paddy Broughton lives in Sydney and his brother in the UK. On board with them were veteran navigator Lindsay May. The rest of the crew had their heart and soul on getting to Hobart.
"Unfortunately, we broke our boom about 350 miles out, marginally close to going home but there was never really any doubt that we would keep going and try and finish," Paddy Broughton said.
We all agreed that finishing the race was important and that we would still race to the best of our ability, so we tidied up the boom and worked out how we were going to deal with the mainsail."
He said that in the end it was another classic Sydney Hobart yacht race. It was great fun and deeply distressing at times.
How does he feel about reaching Hobart?
"I have been looking forward to that I have to say. In 1971 she had a rapturous welcome here even though it was about one in the morning all those years ago.
"There are a lot of people from Hobart who remember her. It was a big part of wanting to finish.
"We didn't want to pike and be feeble in the face of all that history, and so that helped us focus our minds to finish and finish well. We didn't want to limp in, we wanted to come storming in."
So they set a kite in the Derwent and did it in style.
By Bruce Montgomery, RSHYR media
Note from Kialoa… Kialoa III time was in fact 2 days, 13 hours, 58 minutes and 10 seconds.
The 70s KiaMOa crew in the Rolex Sydney Hobart race 2017...did she break her 1971 winning time of 3 days 12 hours 46 mins 21 secs? Nearly - 3 days 20 hours 37 minutes and 5 seconds.