December 4 - 10, 2016: Issue 292
Warriewood SLSC Hosts Round 3 Of SLS SNB 2016-17 Surf Boat Premiership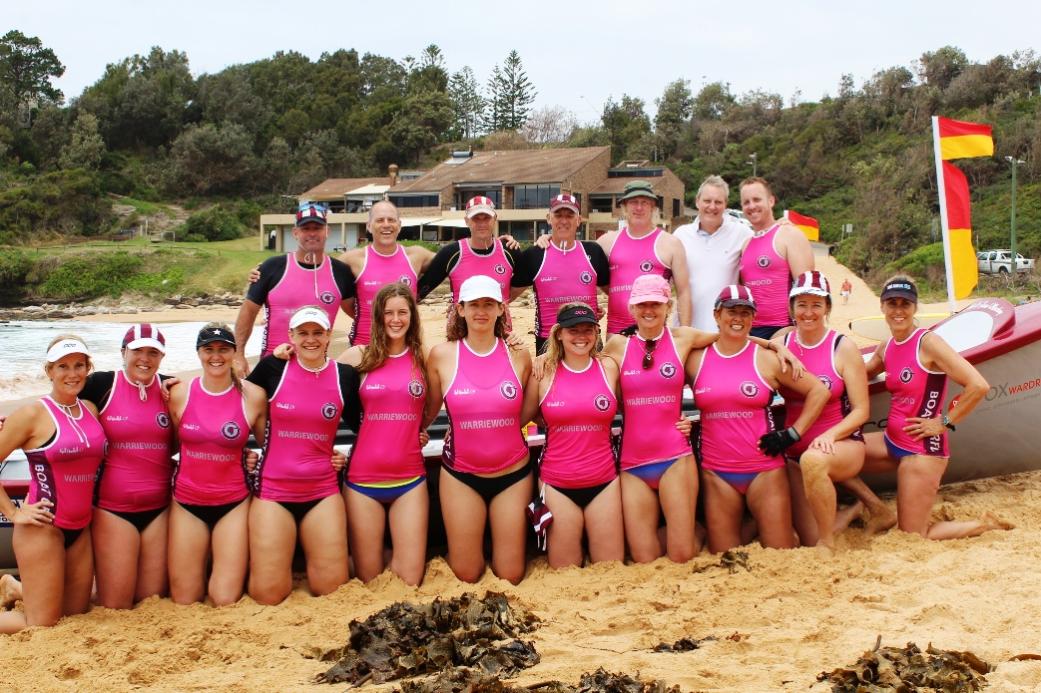 The last surf boat carnival for the year has taken place, hosted by Warriewood SLSC.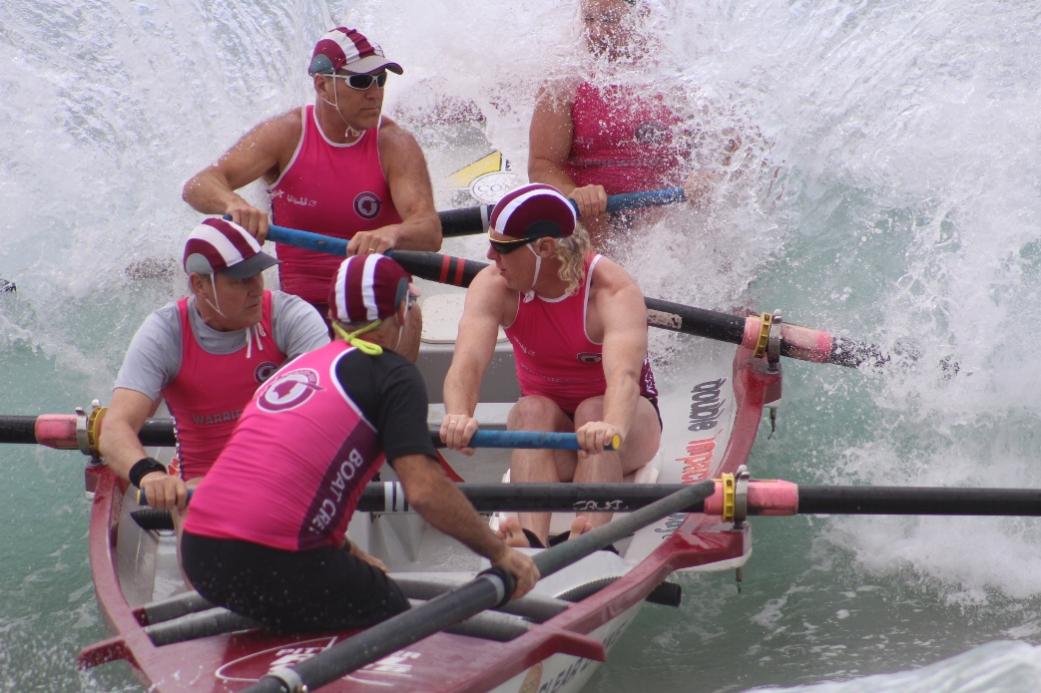 Draft Plan For Ingleside Land Development Released To Meet 2021 Completion Dates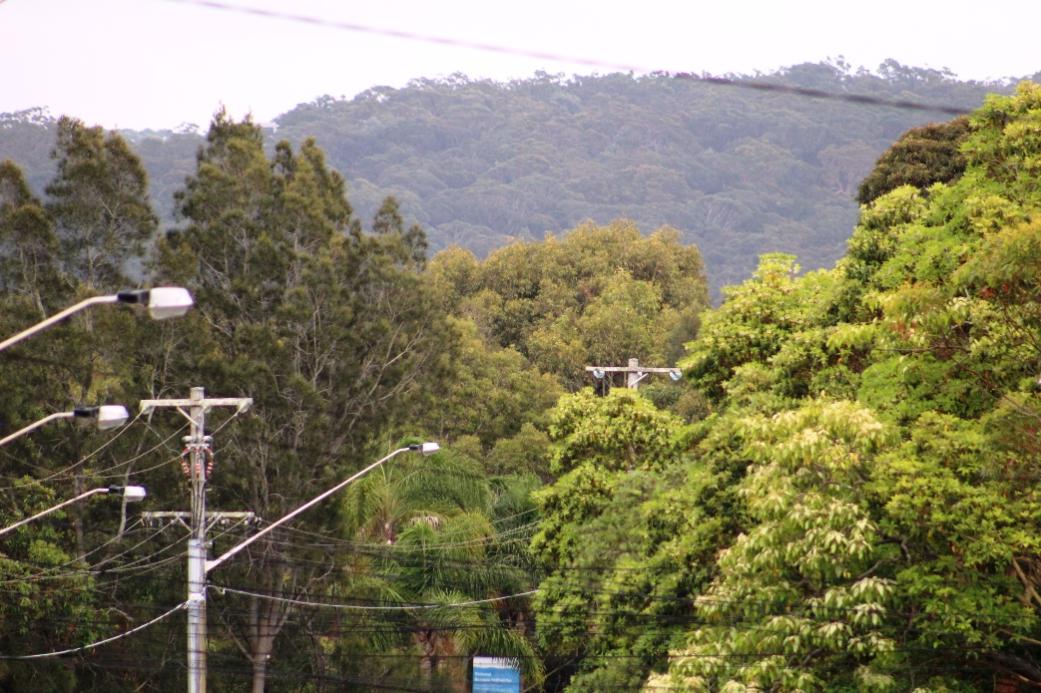 View of Ingleside hills from Warriewood, December 3rd, 2016 - photo by A J Guesdon
On Friday afternoon, December 2nd, NSW State Government Planning Minister and Pittwater MP, the Hon. Rob Stokes announced the release of the draft Ingleside plan which is available for comment until February 28th, 2017.
Community information sessions have been announced to take place from January 31, 2017 until February 28th. The State Planning Department will provide more details about these activities in their next update at planning.nsw.gov.au/ingleside. You can sign up to be notified.
Of 704.8 hectares slated to comprise this plan, Table 1 from the Ingleside draft land use and infrastructure strategy document shows the land use outcomes identified in the Structure Plan, and states that:
"...• 40% of the total Precinct area is proposed for development;
• 30% of the total area is proposed for conservation; and
• 30% of the area is unlikely to change, and any development will be subject to standard development controls. ..."
The Housing Developments are slated to be,
Houses on Larger lots (with
2,000m2 min. lot size - 50 hectares allocated to
yield
250 dwellings,
Houses (12 to 13 dw per ha - 550m² average, maximum height 8.5m * - 123 hectares allocated to yield 1,530 dwellings and
Low Rise Apartments/Townhouses (25 to 27 dw per ha - 300m² average , maximum height 10.5m * - 63 hectares allocated to yield 1,580 dwellings. A further 36 dwellings are slated for the
Neighbourhood Centre (maximum height 11m) for which 1.8
hectares has been allocated. The
estimated
population
for these 3, 396 new homes is 9000 people.
Mona Vale Place Plan Rally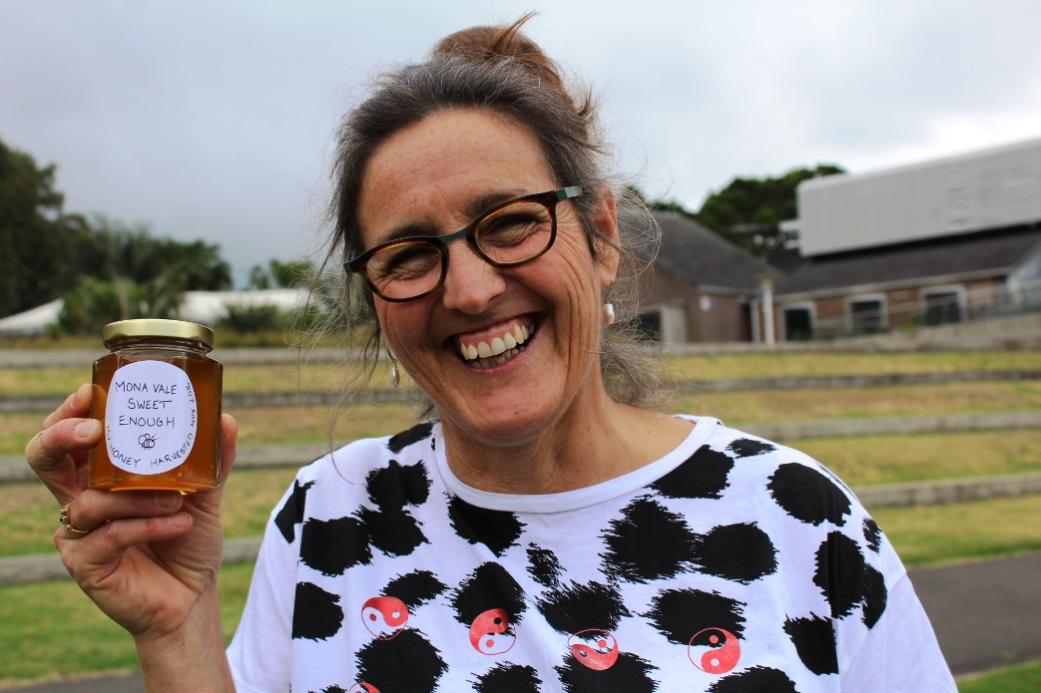 On Sunday November 27th at a rally called by the various Residential Associations in Pittwater
was opened by
Mona Vale Residents Association speaker Marcia Rackham who thanked former Pittwater Councillors Sue Young, Bob Grace, Julie Hegarty and Alex McTaggart for attending the Mona Vale Rally.
Marcia then opened the speaking, stating,
"We believe as a community that Mona Vale has a very strong sense of place and we don't need to be
told
how our place should be. What we want in planning is a top down approach not this bottom to up style of planning which is really an American style of planning that doesn't fit and is not suitable for here.
We also want to see developments progressed that were promised to people in Warriewood – this refers to a community centre that was promised and seems to have gone on the backburner now that a very large auditorium has been slated for Mona Vale on the park here where we're gathered today. Their Section 94 money was taken to build this facility but other than an announcement that plans are underway to make plans, nothing has progressed."

We do believe that we have a connection to Newport and Avalon and Palm Beach. In stating recently that these are not part of any plan and that they won't touch Newport or Avalon the General Manager and Administrator seem to be trying to place a divide between the various community organisations and residents associations.
Well we don't believe they won't touch these areas. We also don't like the fact that they're trying to create divisions within our community and the residents within our area. We find that the way this administration council is treating local associations, who have looked after their residents for decades, is quite shabby."
Once again the chasm between what was discussed at Mona Vale Place Plan consultation meetings in 2015 and what was touted as what people said was referred to. Widening footpaths was discussed, making laneways more viable and how important parks were – six and seven storey buildings, housing in the 5% of industrial area, which a few stated must remain as these are where young people have an opportunity for employment in Pittwater.
The similarities between what is in the draft Mona Vale Place Plan and what the Greater Sydney Commissions has slated for Mona Vale, with councils in the North District '
required to give effect to District Plans as soon as practicable after a District Plan is made
' was discussed.
The Greater Sydney Commission draft North District Mona Vale Proposed priorities, for which feedback is invited, are:
protect and enhance the commercial and retail function of the centre to provide employment growth and maintain high job containment

ensure sufficient retail and commercial floor space is provided to meet future demand

leverage the Mona Vale B-Line stop to facilitate intensification of uses in the centre, with an emphasis on the provision of housing affordability to retain 18 to 35 year olds

explore opportunities to increase residential diversification around the centre

improve access and linkages to local destinations, such as Mona Vale Hospital, through priority pedestrian networks

promote walking and cycling to the centre and within it

retain and protect the industrial precinct to the north of the centre to serve the growing population

investigate feasibility of existing planning provisions and controls as they relate to mixed-use and residential development within the centre

prioritise place making initiatives to promote mixed-use activities, urban activation and more diverse housing, and improve connectivity and integration with existing networks.
More HERE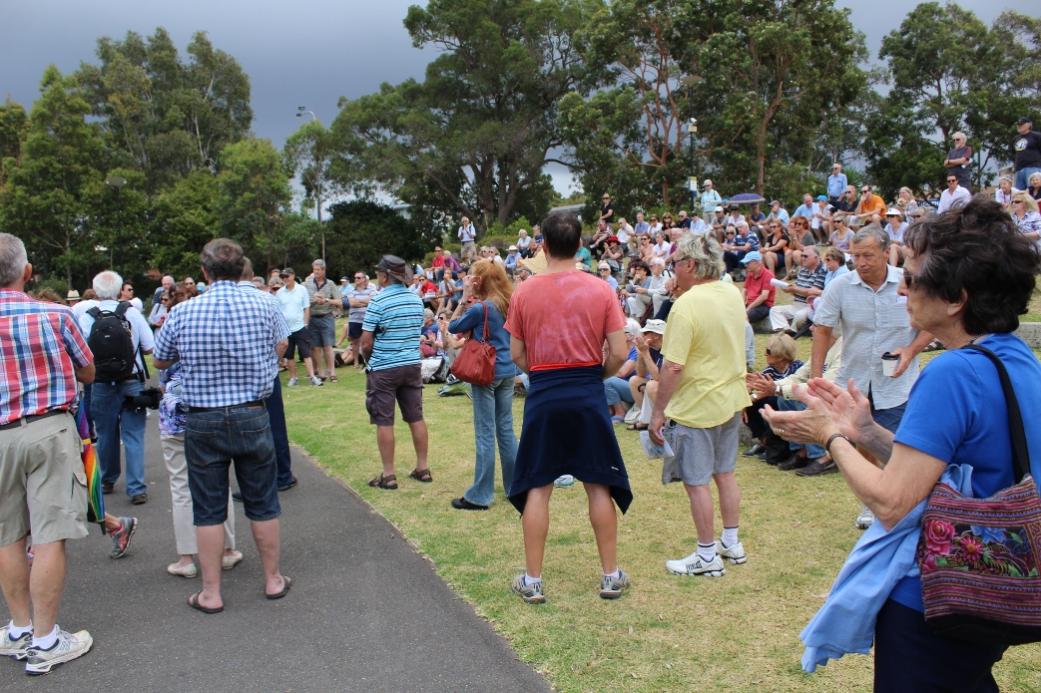 Neverfail Creek Polluted: Community Finds Council Response Completely Inadequate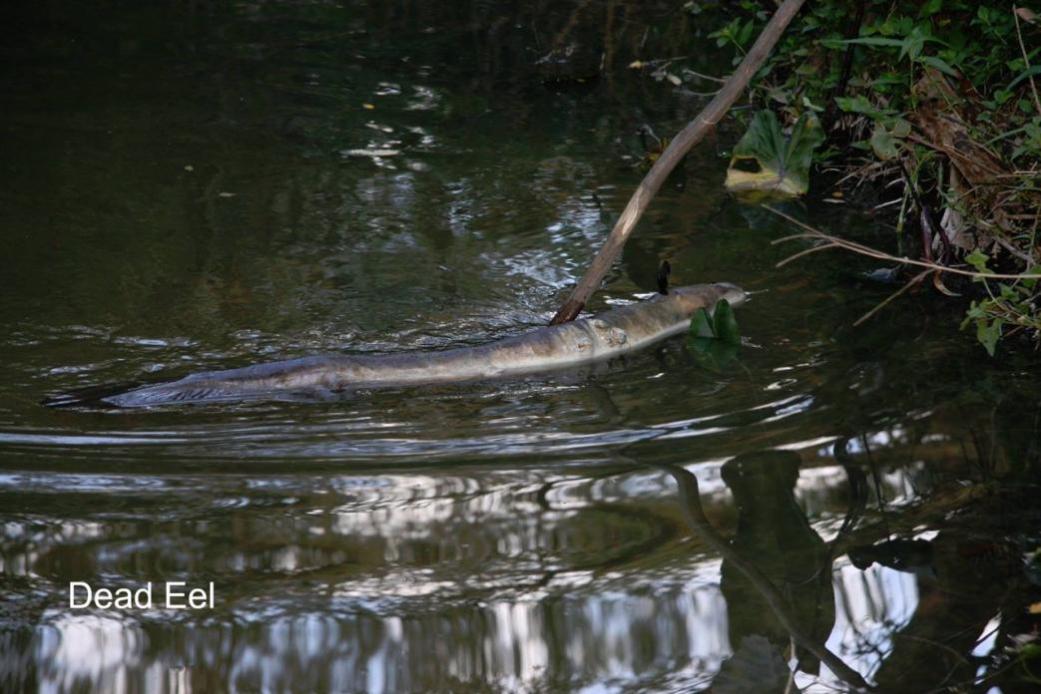 Neverfail Creek pollutant - photo supplied
Residents of Terrey Hills contacted us on Thursday and Friday very distressed about pollutants that have 'killed' Neverfail creek. One gentleman checking the creeks Neverfail joins stating "the contaminant has now run further into Kierans Creek, well into the National Park, possibly killing the Crystal Pools life."
Neverfail Creek is the water that runs over the rock ledge on the track near Kinma School, flows down through the Dundundera Falls reserve, through the National Park and then into Cowan Waters. The children will be unable to play in or near the creek as a result, angering their parents.
"Luckily we have the lovely Neverfail Creek running through the school - perfect for listening to, " Kinma has stated in the past, utilising the beautiful bush and creek areas as part of teaching through fun as recently as early November when Dennis, an indigenous elder of the land around here visited and told stories in the bush setting for some of the children. One of the stories told was a creation story about how the platypus came to be - perfectly set off beside the sound of that once clean warbling creek.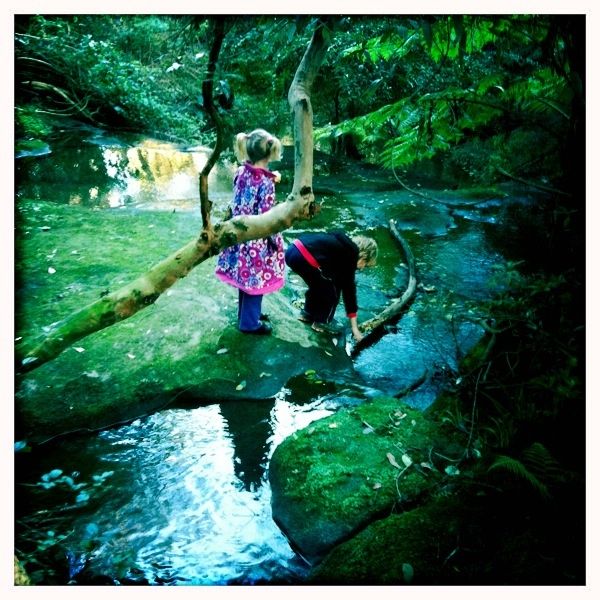 Kinma children have Neverfail creek music as part of their environment - photo courtesy Bea Pierce
A manufacturer of hand made soap has apparently admitted liability; what the pollutant is has not been determined yet but is being analysed.
Residents state the smell of the water would indicate it is some type of soap that has sucked all the oxygen out of the water.
"Whatever it was it has killed all the wildlife. There are dead eels floating in the water. The once clear pools now smell like old bath water. The white scum is everywhere and is way below the falls and is just waiting to be flushed down the rest of the creek after the next heavy rains into the National Park.
They are worried further damage will be done during the rains slated by weather forecasters for this week.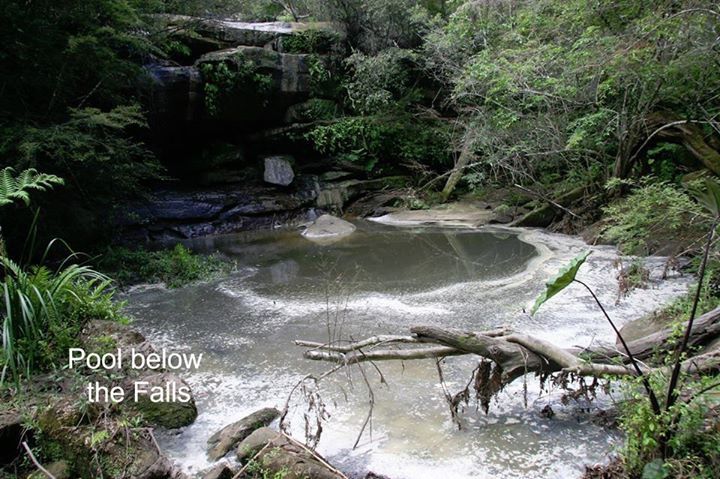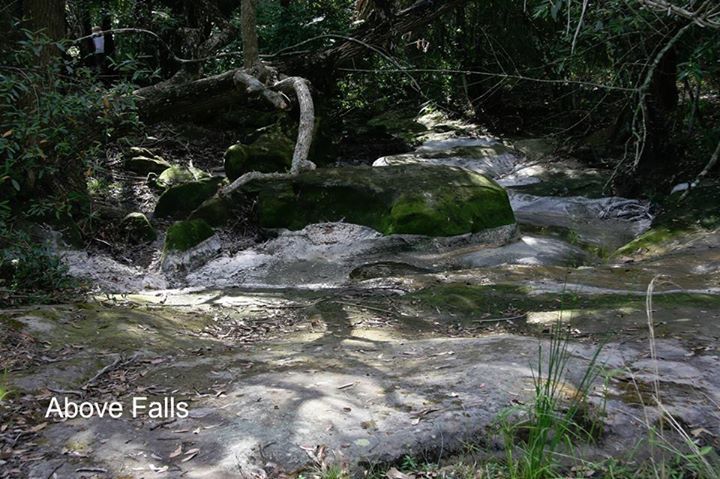 A HAZMAT team flushed the creek on Sunday November 27th when the white substance appeared and notified council. Terrey Hills residents
are critical that council then had to be approached by two Streamwatch people on Wednesday for any action to be taken, one gentleman commenting,
"
Is this slack response from council the new norm for Terrey Hills?" and wondered how council will present facts or assess fines with EPA without making an assessment themselves or taking photographs, for the record.
On Friday December 2nd,
Cecil Ellis,
a gentleman who started a
petition
to get things happening prior to more damage occurring,
reported,
"Council arrived at 15:30! Minimal response. Two people. NSW Fire Rescue HAZMAT installed booms and removed contaminant from some pools. But the process appears to have been bought forward.
More containment barriers will be placed downstream by various agencies over the weekend. Onsite meetings between Council and EPA are now happening on the weekend and not next week.
Please go down the Neverfail Creek and have a look and ask questions. Be careful!! At the edge of the Creek the white contaminant is very slippery. The smell from the dead Eels and Crayfish is getting worse."
Streamwatch commented, "
An ongoing unsatisfactory saga where grass roots determination by the community seems to be the only real action to date."
On Friday, a hot day, some of that grass roots determination was again in action as the locals ensured water dishes were placed where animals could get a clean drink. Something those that are furred and scaled and feathered who survived had not had for six days by then.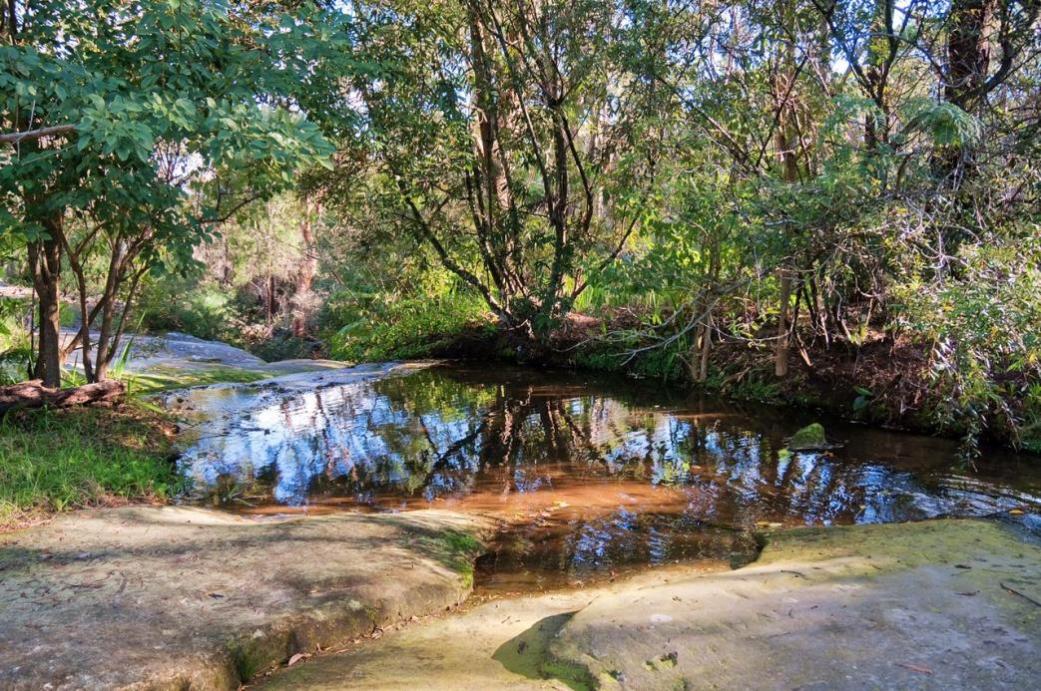 Neverfail prior to incident - photo by Bea Pierce
Avalon Beach SLSC Youth Program New Zealand Tour 2017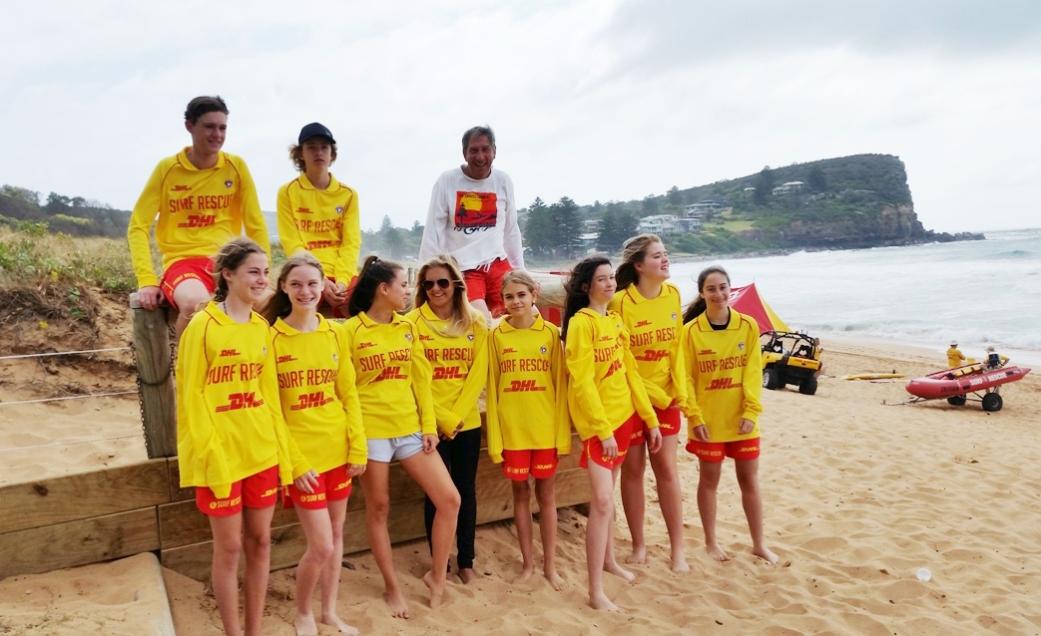 Avalon Beach SLSC continues its reputation as a surf club that encourages innovative approaches to all surf rescue related matters...

The Under 15 age group for surf clubs generally, are in a sort of gap year after completing their Surf Rescue Certificate as Under 14s after moving on from Nippers, but they are too young to do their Bronze Medallion to patrol as senior members of the club.
As a way of keeping the kids interested and involved in the surf club during a time when some members might drift away, particularly young female members, Brian Wetherall came up with a novel approach to encourage a group to continue to be involved and later do their Bronze Medallion as Under 16s and go on to be patrolling members of Avalon Beach SLSC.
In January 2017 a group of enthusiastic Under 15 members will be travelling to New Zealand as a special educational tour group representing the club.
Avalon Beach SLSC members are currently supporting a special fundraising effort to help send the team on its worthwhile mission.
Members of the public who might like to help out with donations or sponsorship are also more than welcome to contact the club for further information at avalonbeachslsc@gmail.com (website: www.avalonbeachslsc.com.au )
More in report by Roger Sayers, ABSLSC LIfe Member
HERE
60th Anniversary Of Club Palm Beach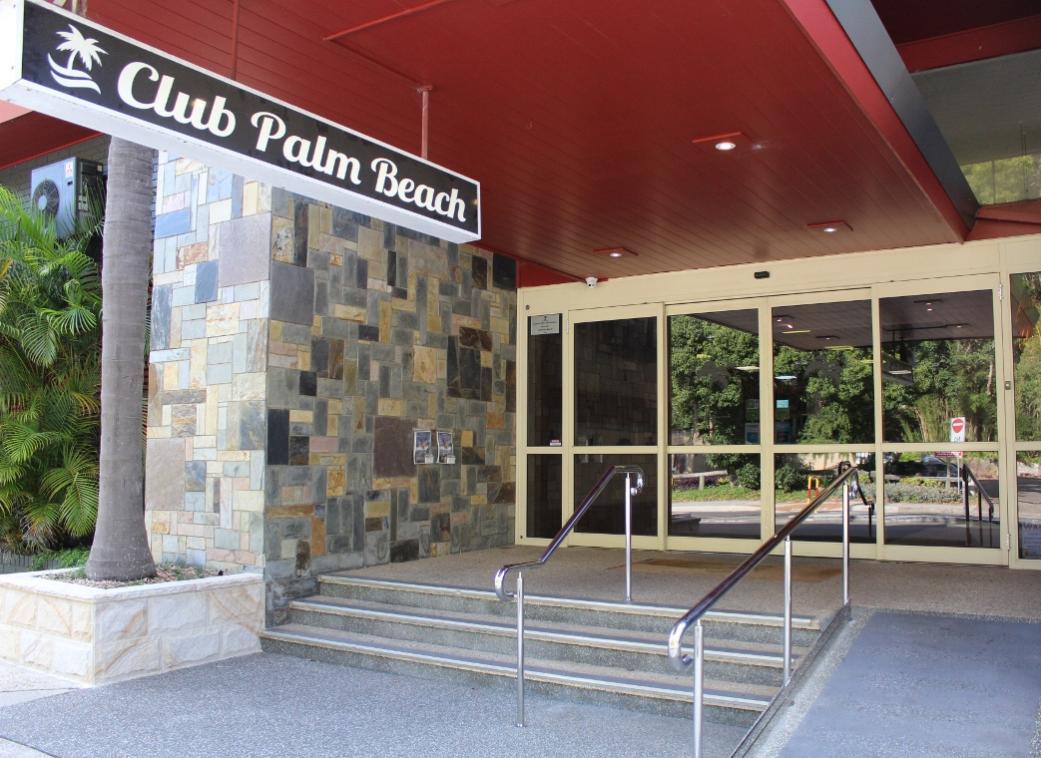 Club Palm Beach is going to celebrate the 1957 opening, its 60th anniversary and we would like to get as many people from the past and present as possible to join us in a reunion here at the Club. This includes old friends, relatives, neighbours, local sports clubs, sailing mates, students from local schools, campers from the old camping ground near the Golf course, EVERYONE!

Leading up to the reunion we want to hear your old stories and share your photos from the good old days. Stories from the camping grounds, for example some families lived at the camping grounds while their family homes were built. John Oliver was one, he says the camping ground was a community in itself. Other campers such as the Trainor family loved the camping community so much they moved permanently to Palm Beach.
More HERE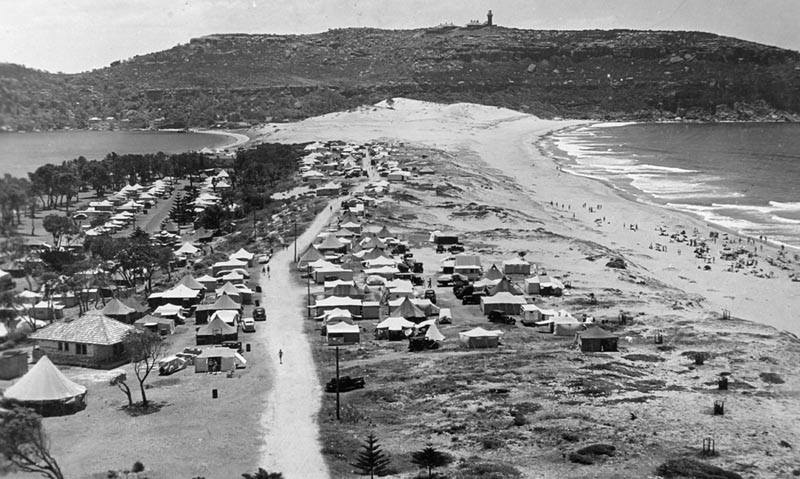 Camping at Palm Beach, circa 1950 - photo courtesy National Library of Australia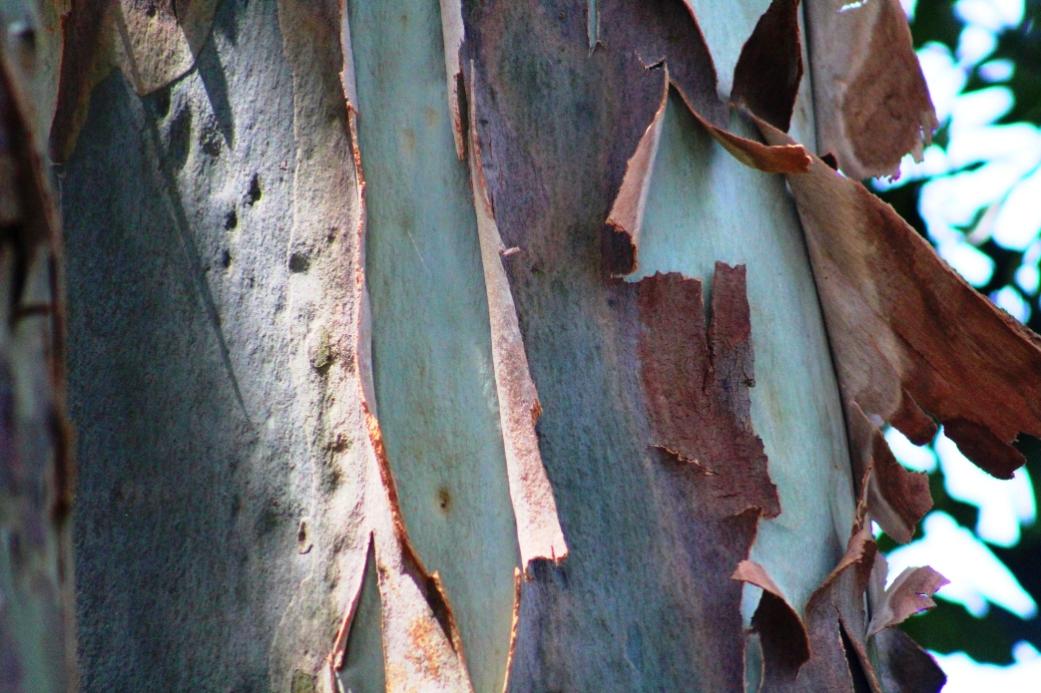 Spotted gums and Anghoporas are currently shedding bark - while last of the Angophora blossoms are falling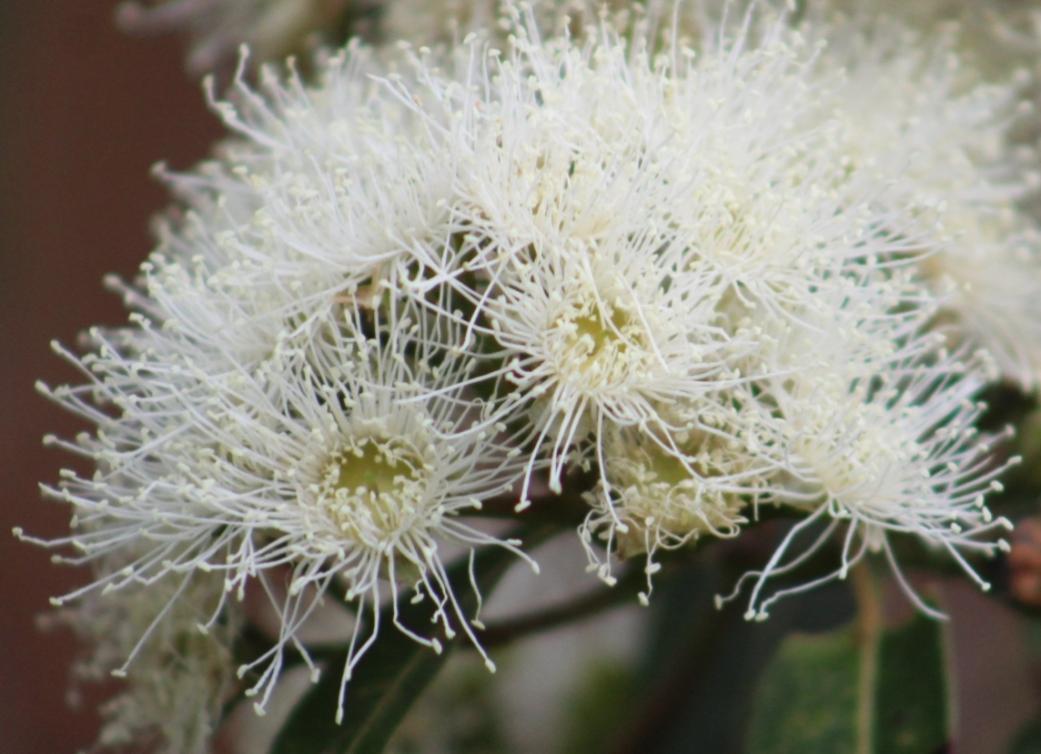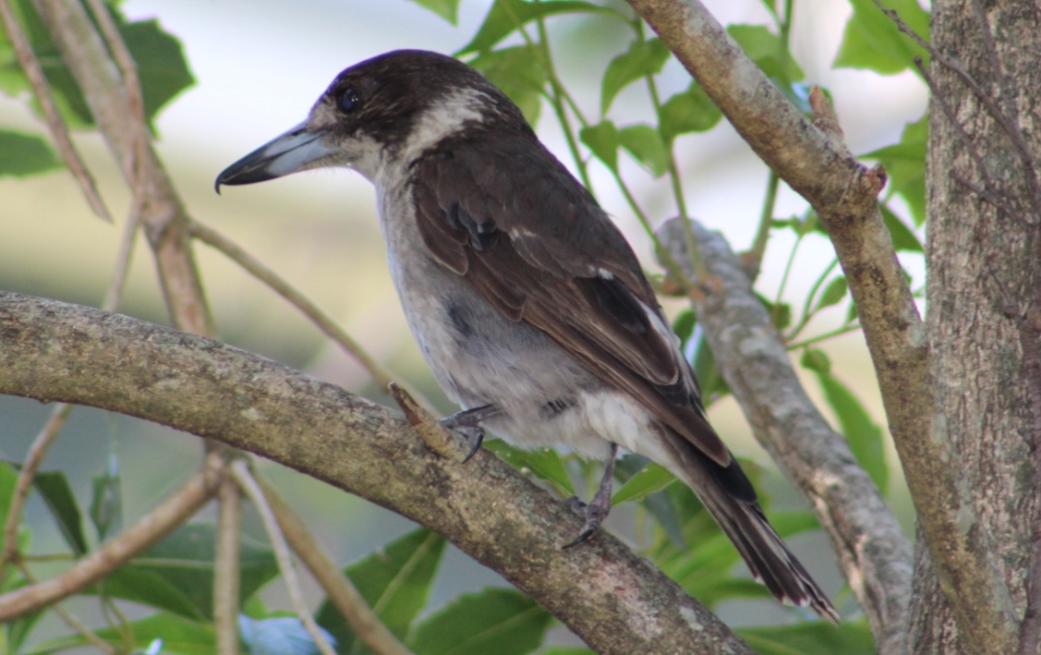 This Butcher Bird sang the song of 10 other birds outside the Pittwater Online window on December 2nd, 2016 - kookaburras, currawongs, lorikeets, cockatoos, bush turkeys, crows - it's watching a cockroach in this photo, which it then caught and ate.
Local Skaters Give Mona Skate Park A Big Thumbs Up
While waiting for a bus at Palmy on Saturday afternoon (Dec. 2nd, 2016) with a couple of 10 year olds, skateboards in hand, they explained they were on their way to Mona Vale skate park, one stating;
'It's really cool"
the other proclaiming;
'It's the best skate park in Australia"
Pretty much a ditto from three others waiting at Warriewood bus stop when heading back north later that same afternoon - although they may have been 12 years of age.
Our young citizens love it - and they're outdoors getting some fresh air and exercise - triple bonus!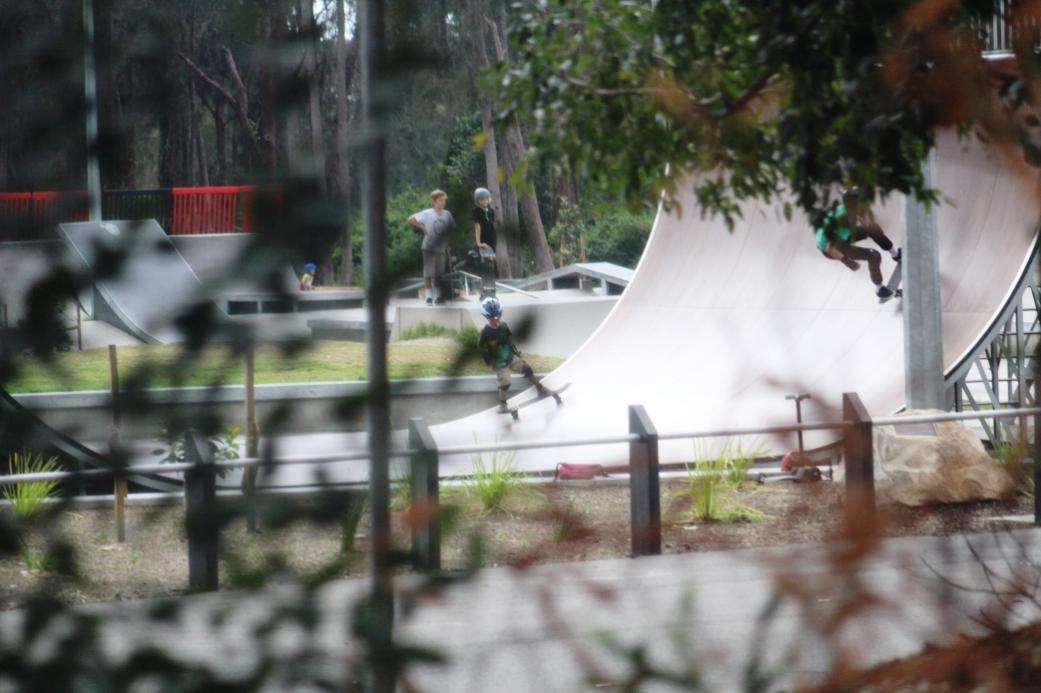 Past Features Archives (pre 2014)
Pittwater Online News was selected for preservation by the State Library of New South Wales and National Library of Australia. This title is scheduled to be re-archived regularly.
Archived Issues (2014 on) may be accessed here: pandora.nla.gov.au/tep/143700