December 11 2022 - January 14 2023: Issue 566

Another Great Surf Boat Season Underway: What's Happened So Far - What's Coming Up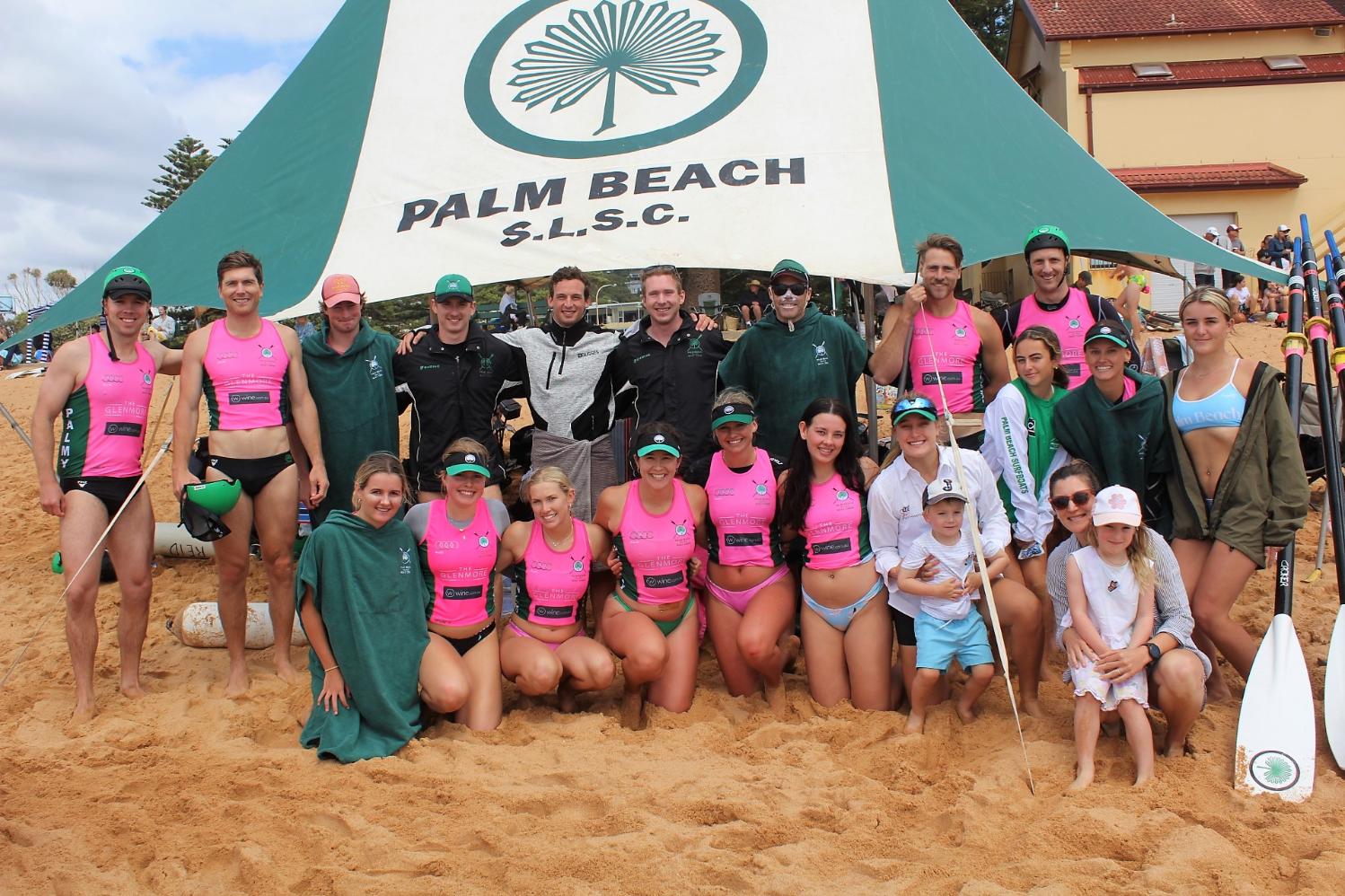 Some of the 16 crew strong Palmy Army for the 2022-2023 Season, by January there may by 17 crews racing in all age divisions. Palm Beach SLSC won five gold medals in the recent National Short Course Championship & Mixed Crews Championship at Queenscliff, Peter Spence has plans to take a large contingent to this Season's ASRL Open and Aussies as well. Photo: A J Guesdon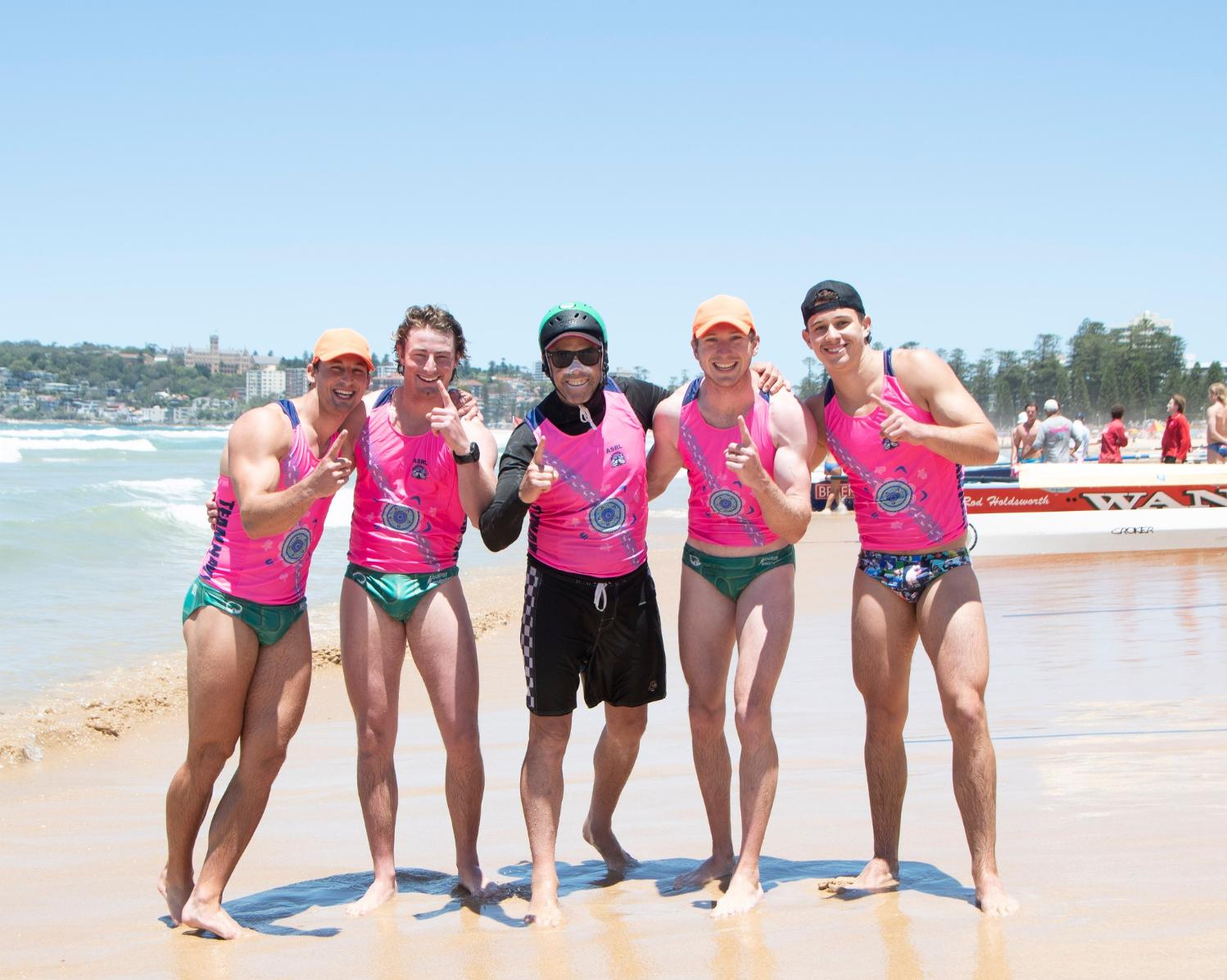 Palm Beach SLSC winners at National Short Course Championship & Mixed Crews Championship at Queenscliff. Photo: Malcolm Trees
Local surf clubs surf boat divisions commenced their 2022-2023 Season with a SLS Sydney Northern Beaches Premiership carnival hosted by North Curl Curl SLSC on Saturday October 29th, followed up by another at Freshwater on November 12th and Newport on November 26th was the first and only Surf Boat Carnival to be hosted by a Pittwater club this Season. Bilgola SLSC's annual carnival will not run this year, nor will that hosted by Warriewood SLSC.
Collaroy will host the Young Guns on January 8th, 2023, North Steyne a double on January 14th and 15th, part of the SLSSNB Premiership, with the final in this series being hosted by North Narrabeen on January 28th. The Branch Championships for Surf Boats will be at Collaroy this Season, running Saturday February 18th.
Newport Life Member Michael King and long term Sweep for Newport stated Newport's Carnival was another excellent club effort .
''The boaties, current and former, got stuck in early and had the setup and catering done well before time.'' Michael said
''A bit of cloud, cool southerly, and a bit of swell equals Newport on carnival day. A high tide at 10:30 also made it challenging on the edge for crews and starters. Matt Edwards, Peter Finch, Brendan Doyle and the rest of the team set the cans and then provided their usual excellent water safety for the event.
Our U23 girls, Nemos were 2nd, and the Open Men, Hellfish, in a special guest appearance, finished a credible third. Thanks again to all those who contributed to another successful Newport event.''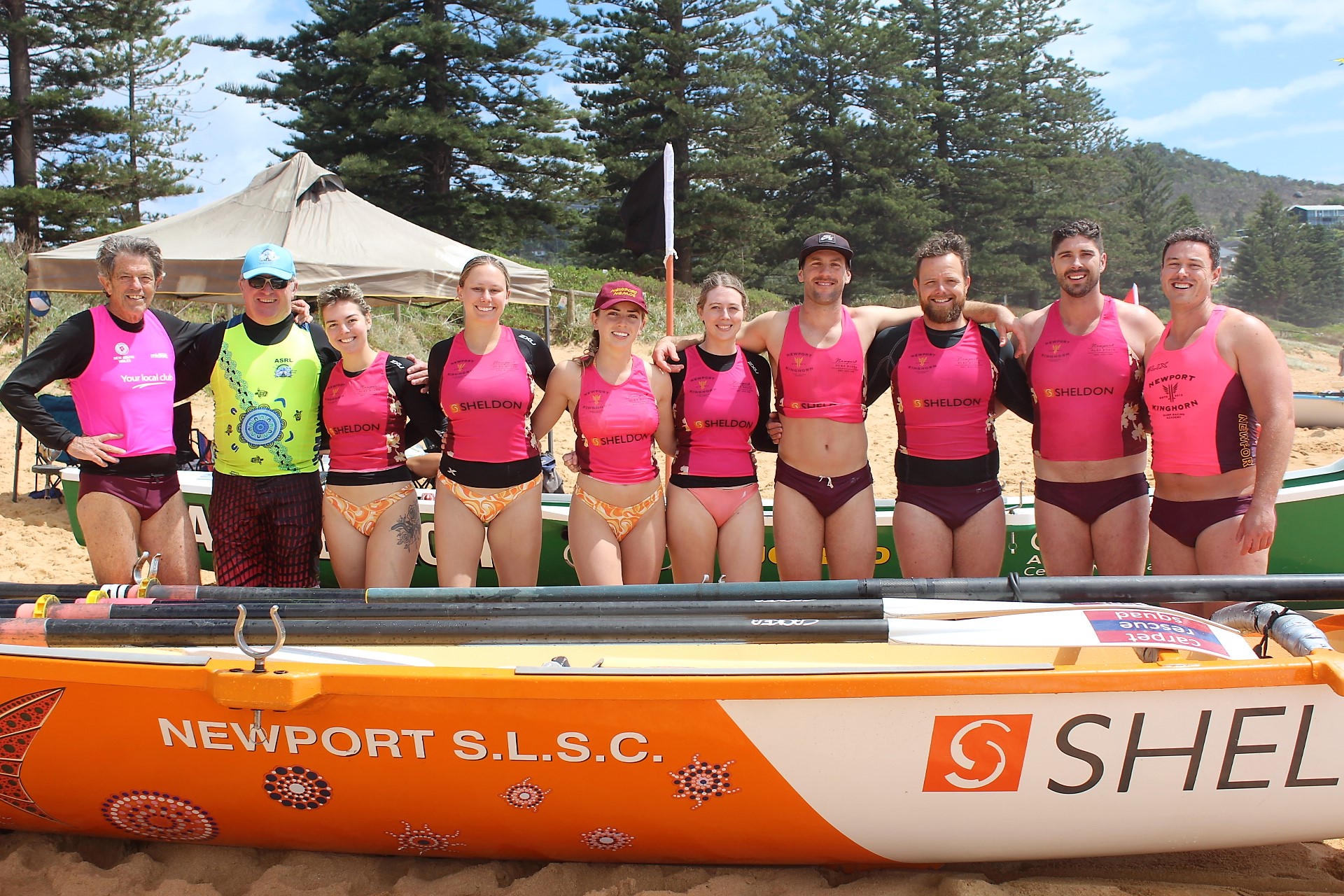 Newport Surf Club's Open Mens Hellfish and Under 23 Womens Nemos with sweeps Michael King and Rob Emerson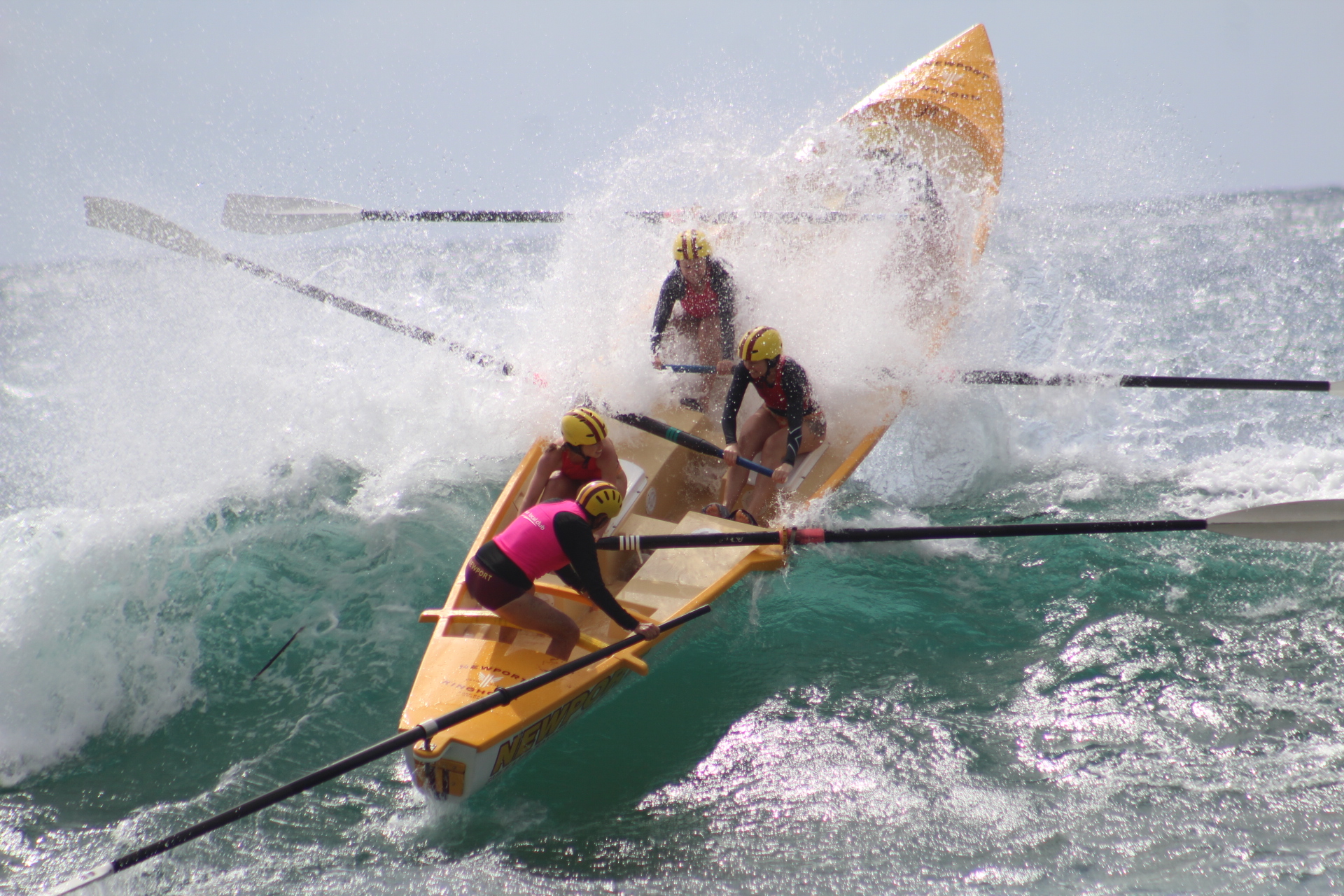 Newport Surf Club's Nemos in action at their annual carnival

Over three days, December 2nd to 4th, the National Trials Selection Event for the Trans Tasman 2023, to be held in New Zealand this time around, and National Short Course Championship & Mixed Crews Championship at Queenscliff.
Surf Life Saving New South Wales reports NSW crews took out 10 of the 12 events and saw two teams selected to represent Australia as a result.
The event, held in challenging but spectacular 4-6 foot surf, showcased the incredible surf sport and the strength of the specialist athletes who also competed in the Surf Life Saving Australia national team selections.
The short course event, first run in 2019 at the Australian Championships on the Gold Coast, had its time to shine. It was just the third time it's been held with the half-course also opened to Reserve, Under 23 and Under 19 divisions this year.
The event differs from the traditional Surf Boat racing format whereby the crews race out and around a turning can and return to the beach with a distance of just 400m – half the distance of the traditional course – and takes the top crews around four minutes to complete.
In addition to the Short Course Championships, an exciting new mixed division was added to the lineup. For the first time, mixed crews were able to compete whereby two men and two women (and a sweep) could combine. Four divisions were contested – Open, Reserve, Under 23 and Under 19.
Australian Surf Boat Rowers League (ASRL) President, Nick Sampson said the league was working on outside-the-box ideas to progress the sport and increase participation.
"We've been working really hard on how to make the sport and competition more accessible to all clubs, especially the smaller ones. Adding the mixed divisions to the short course event was a success," he said.
"We saw clubs enter who didn't have enough men or women to field a full crew in the traditional divisions and that was the goal. Overall there was positive feedback from everyone, and the foreshore was packed with people watching."
The sentiment was echoed by veteran Palm Beach sweep, Peter Spence.
"Personally, I see real potential in the mixed events. There are so many popping up now with various other sports so it's really good to see how it can benefit our sport. It was a really enjoyable race," he said.
Spence said the three days of racing was a great success and praised the ASRL and competition referee, Greg Heard.
"The team did a great job at running the event over the three days. They ran it to the conditions and it was a lot of fun," he said.
"Anyone that raced, even if they didn't make finals, had a smile on their face being able to be part of it."
On the conditions he said, "it was the most challenging surf we've had in a while. I didn't have any hesitation though, I just got into race mode and it was a lot of fun.
"There's a lot of luck when the waves are on, but you and your crew can make the luck too. I think we rolled twice, in one division we still won with a roll. We're really pleased with our results across the whole weekend.
In the Surf Life Saving Australia National Team selection event, NSW crews Port Kembla (Open Men) and South Curl Curl Under Dogs (Under 23 Men) along with Queensland's Currumbin Hunters (Open Women) and South Australia's Glenelg Grenades (Under 23 Women) will represent Australia in the Trans-Tasman Series to be held on February 4 2023 at Waihi Beach alongside the North Island Surf Boat Championships in New Zealand.
The Under 23 Men, South Curl Curl Australian Development Surf Boat Team comprises Tremayne Chivers (2nd stroke), Zac Lowery (stroke), Harry Andrew(bow), Rob Lowery (sweep) and Tasman Farrell (2nd bow), along with:

Open Women, Currumbin
Marianne Walker
Genevieve Kelly
Michelle Gaffney
Lyle Clark
Elise Buchanan
Open Men, Port Kembla
Mitchell Hogan
Mitch Foran
Aaron Jackson
Jack Patison
Corey Jackson
U23 Women, Glenelg
Siobhan Roe
Madison Fielke
Taleala McCarthy
Ella Borlase
Peter Tidswell
SHORT COURSE RESULTS:
Open Men
1 South Curl Curl Death Riders (NSW)
2 Lorne Chops (VIC)
3 Wanda Weapons (NSW)
Open Women
1 Maroochydore Chums (QLD)
2 Elouera YYC (NSW)
3 Lorne Edge (VIC)
Reserve Men
1 Macmasters Fat Dads (NSW)
2 Palm Beach Peppers (NSW)
3 Palm Beach Pad Locks (NSW)
Reserve Women
1 Coogee DMGs (NSW)
2 Elouera Power (NSW)
3 North Cronulla Diamonds (NSW)
U23 Men
1 Palm Beach Plumbers (NSW)
2 South Curly Underdogs (NSW)
3 South Curly Sneaky Nuts (NSW)
U23 Women
1 Glenelg Grenades (SA)
2 Coolum Raptors (QLD)
3 Palm Beach Peastmode (NSW)
U19 Men
1 Palm Beach Penitokos (NSW)
2 Surfers Paradise Serpers (QLD)
3 North Cronulla Adrenaline (NSW)
U19 Women
1 MacMasters Minis (NSW)
2 Collaroy Cobras (NSW)
3 Long Reef Castaways (NSW)
Mixed Opens
1 Wanda Weapon It (NSW)
2 Maroochydore Chorce (QLD)
3 South Curly S Club (NSW)
Mixed Reserves
1 Palm Beach Prerolocks (NSW)
2 Maroochydore Fums (QLD)
3 Palm Beach Pepperdactyls (NSW)
Mixed U23
1 Palm Beach Plummode (NSW)
2 Glen Curl Green Dogs (NSW)
3 Glen Curl Gold Dogs (NSW)
Mixed U19
1 Palm Beach Pearanas (NSW)
There were 100 crews in the Short Course Championships, 35 crews entered in the Mixed Short Course and 52 crews entered in the National Teams Selection to defend Australia retaining the Trans Tasman Cup.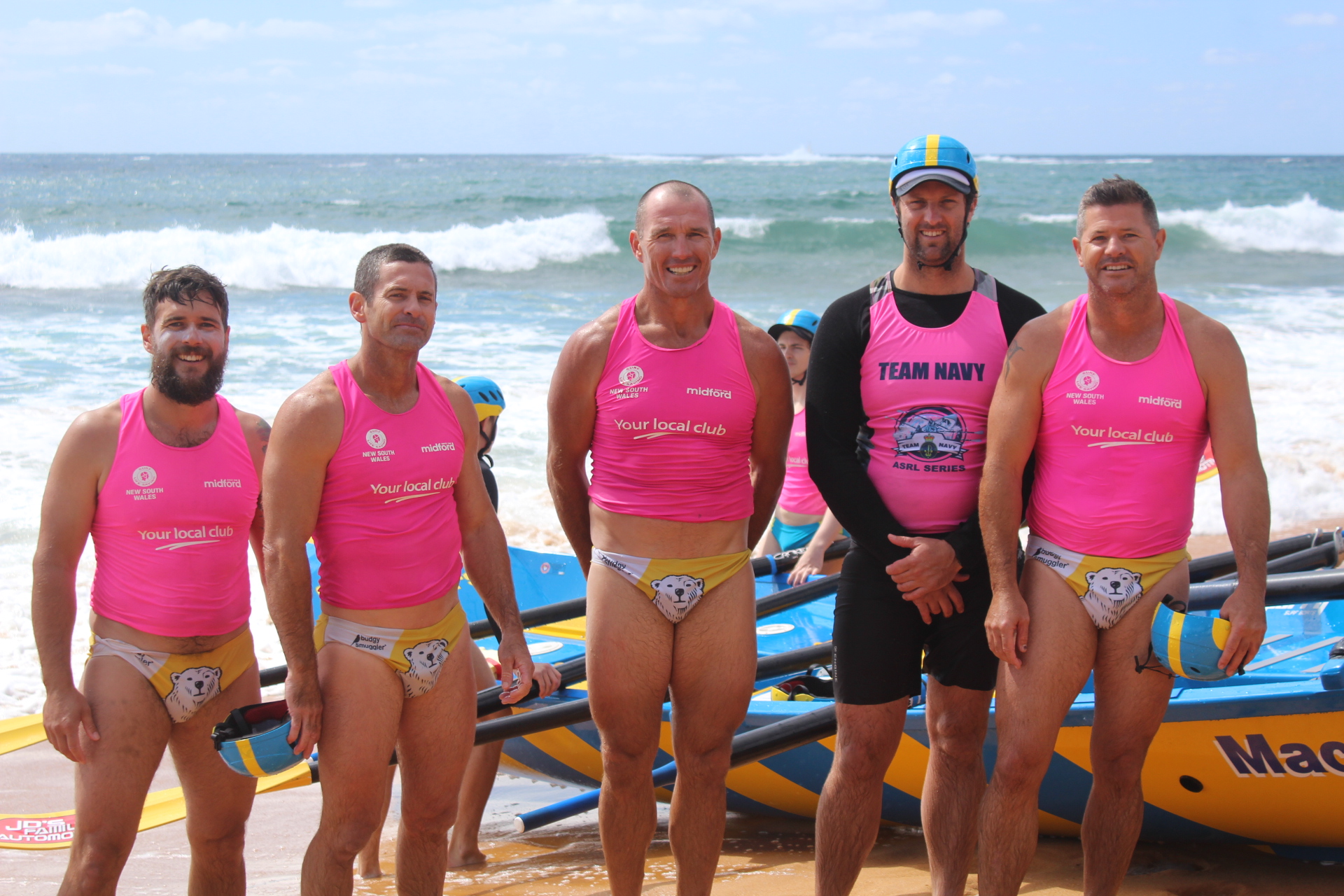 NSW Reserve Men Short Course Championships winners Macmasters Fat Dads had a practice run at the Newport Surf Boat Carnival, leaving home at 4am to get to race. Their Under 23's Whippets crew also raced at Newport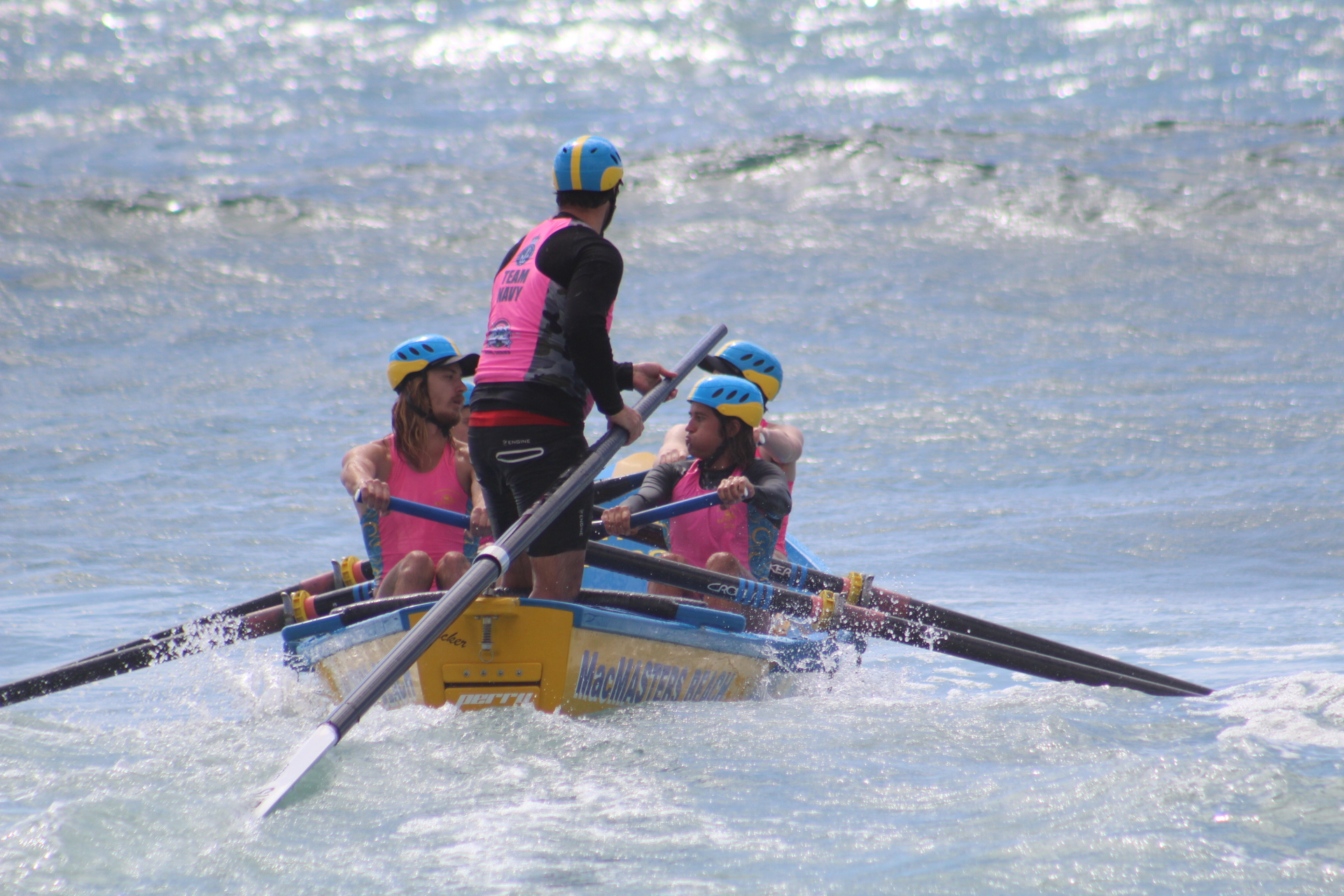 The George Bass Surf Boat and Ski Marathon returns this Season for its 48th year. This is a 7 day, 190km course starting at Batemans Bay and finishing at Eden. The Bass has proved the toughest event on any rowing calendar anywhere in the world and crews of both men and women compete over seven gruelling days in every element that the ocean can throw at them, including local crews who have run and won from Avalon Beach SLSC's Antiques under sweep Rick Millar, Warriewood's Rustiques, under sweep Russell Lamb and Long Reef SLSC's Open Women's composite crew (with Moruya).
Running January 1-7, registration for the 48th George Bass Marathon is open now.
The Team Navy ASRL Open will take place at Bulli February 9-12.

The 2023 Surf Life Saving NSW State Championships will take place February 17 to March 5 at Queenscliff, Freshwater with the Surf Boat component being run at North Steyne between March 3-5, and the 2023 Australian Surf Life Saving Championships will be held in Perth, Western Australia at Scarboro SLSC and Trigg Island SLSC from 25 March to 2 April.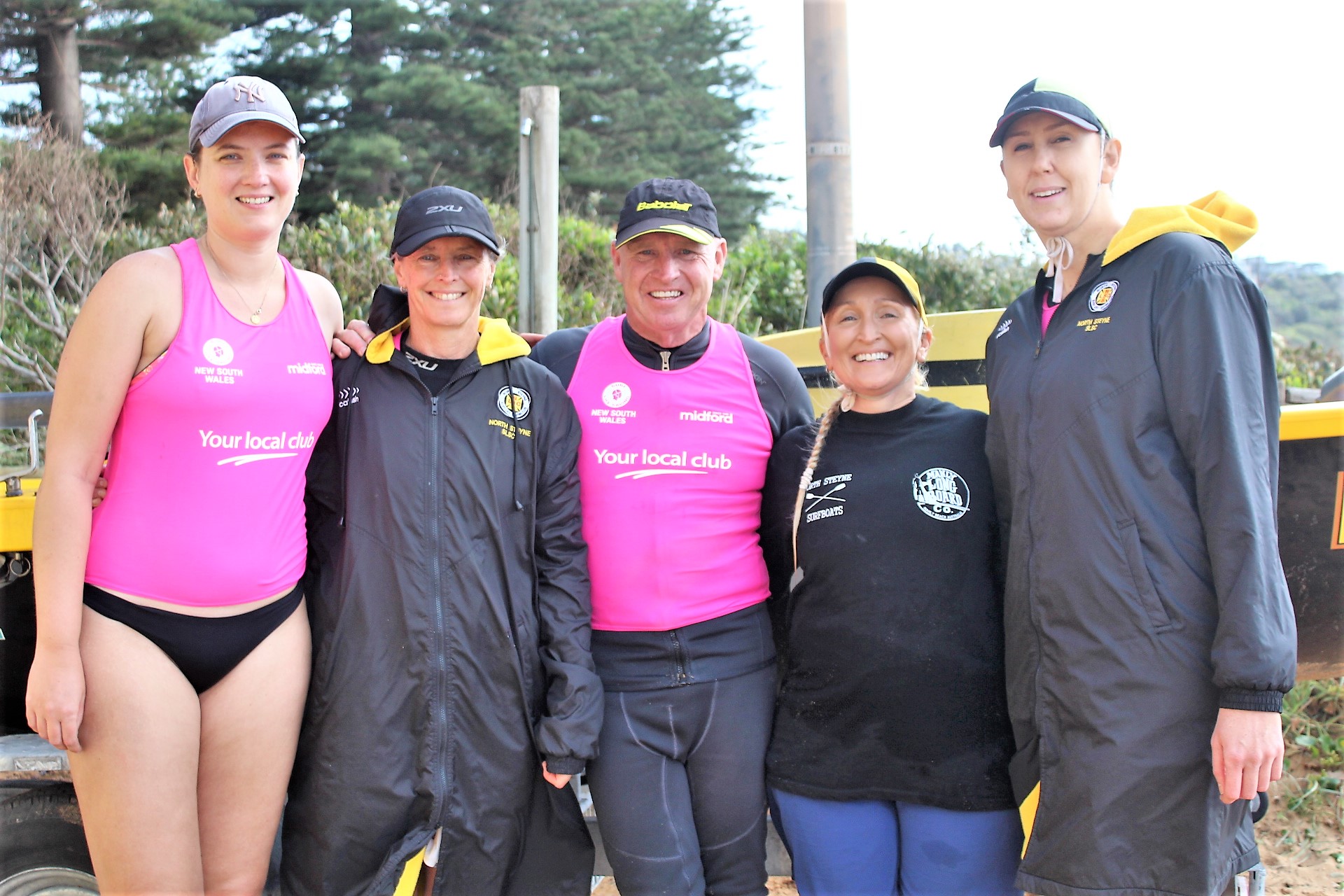 North Steyne Reserve Womens crew 'Alive' at the 2022 Newport surf boat carnival
Of course, the BIG events for local boaties each Season are the Team Navy ASRL Open and Aussies.
Palm Beach SLSC's Peter Spence recently explained the club has a record amount of crews taking place in competitions this Season, all keen to continue the wins that saw them top the medal stash at the Short Course Championships.
''We've got 16 formed at the moment, which, Australia wide would be just behind Currumbin in Queensland, which have 20. North Cronulla also have a large contingent but we've always been top 2 or 3 for numbers of crews racing each season. We've grown a lot this year in terms of numbers because a lot of people have come back in post-Covid lockdowns. We only took 7 crews to Nationals last year due to a myriad of reasons, which would have been our smallest number in 15 to 20 years, 5 of which were mine. So I was a bit of a one man band last year.'' Spence said
''But we've got Stephen Cox back this year, Matt Giblin has returned, Ryan Halangahu (Pebbles) from Collaroy has joined us this Season, and we have crews in every age division so we're looking very strong. We have 2 Open Women crews, 4 Reserve Men, 1 Reserve Women, 4 Under 23 Men, 2 Under 23 Women, 2 Under 19 Men and 1 Under 19 Women. We're just missing and Open Mens crew at the moment but have three guys who are potentially going to jump in in January, we're just confirming with one of my Open boys form last year to see if we can get a fourth who wants to do 3 months in the back end of the Season.''
The Plumbers who got back-to-back silvers at Aussies were racing for the Trans Tasman and went in as one of the favourites for Australian representation, while Pebbles had an Under 23 Women's crew, along with an Open Womens crew. Although they just missed out, having some boat upend upsets in the challenging conditions, the Palmy Army made it into the short end of those vying for a Australian representative spot.
There were 12 Palm Beach SLSC crews racing in the Short Course Championships which secured 1st place in five divisions and silvers and bronzes in others.
''The Palmy Army will be going down to Bulli for the Team Navy ASRL Open, with at least 14 or 15 crews taking part, and we'll have 14 or 15 crews going across to Perth for the 2023 Aussies. We may have a crew or two pull out but I have booked 15 apartments in Freo for our contingent, which means, if Currumbin doesn't take all of their 20 crews across, we'd be one of the biggest teams going across for the Nationals.
We're taking a back seat for Ocean Thunder this year as we have a lot of younger crews and we're focused on trying to bring them up and don't have the depth in the Open Women to warrant spending the money on entry for Ocean Thunder. In a couple of years time, if the event is still going, we'll look at bring some of our Under 23 crews into Opens and they would definitely be competitive in Ocean Thunder. It's a great event and I've enjoyed winning it with my Open Women four years in a row a few years ago, but we haven't quite got the senior rowers to warrant doing that event this Season.''
We saw you at the Newport Carnival – Palm Beach SLSC rowers seem to be going in every carnival available locally this Season?
''Yes, because we're not going in Ocean Thunder this year and have a lot of younger crews we're taking every opportunity available to provide them with experience and have already gone in four carnivals this year. We went in the North Curl Curl then Freshwater and went down to Port Kembla for the NSW State Selection Carnival, then the Freshwater selection and short course championship and then we'll do the North Cronulla boat carnival over the weekend of December 17-18 to round out quite a busy period before Christmas.
We're trying to get as much race practice as possible because you can train as much as you like but you don't get that intensity and competitiveness getting honed just through training. As we've had crazy weather conditions with the La Nina and we've lost a couple of carnivals over the last couple of years as a result through storms. That, complied with Covid, has formed our view at Palmy that you maximise going into the carnivals because if some are called off you don't want to look back and go 'wow, we haven't raced enough because we missed a few we could have gone to'. So we're trying to get back into going as much racing as we can as we know the variables are outside of our influence and control and so we intend to participate in as many as possible unless they get called off.'' Pete explained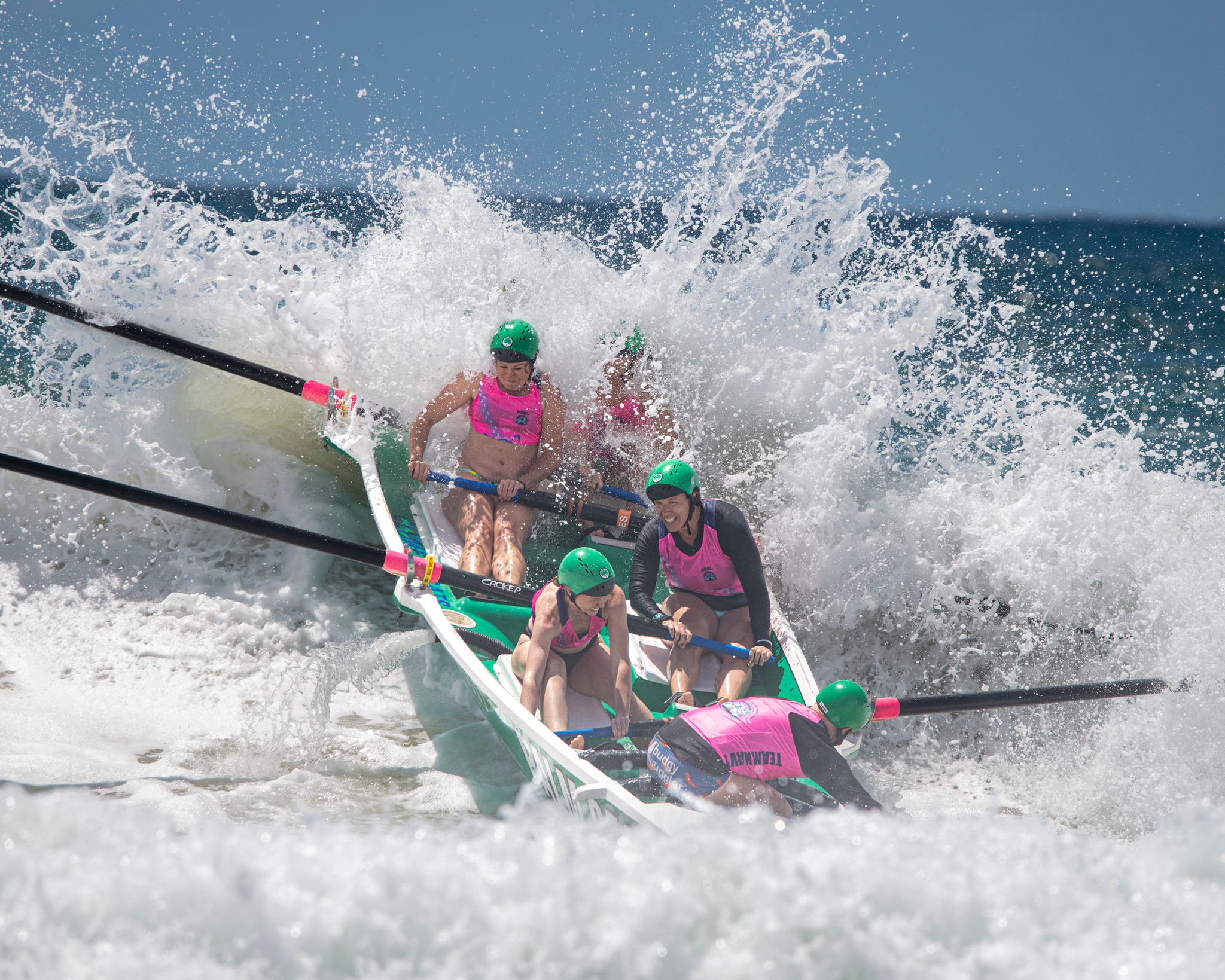 Palm Beach SLSC Womens at the 2022 National Short Course Championship & Mixed Crews Championship at Queenscliff. Photo: Malcolm Trees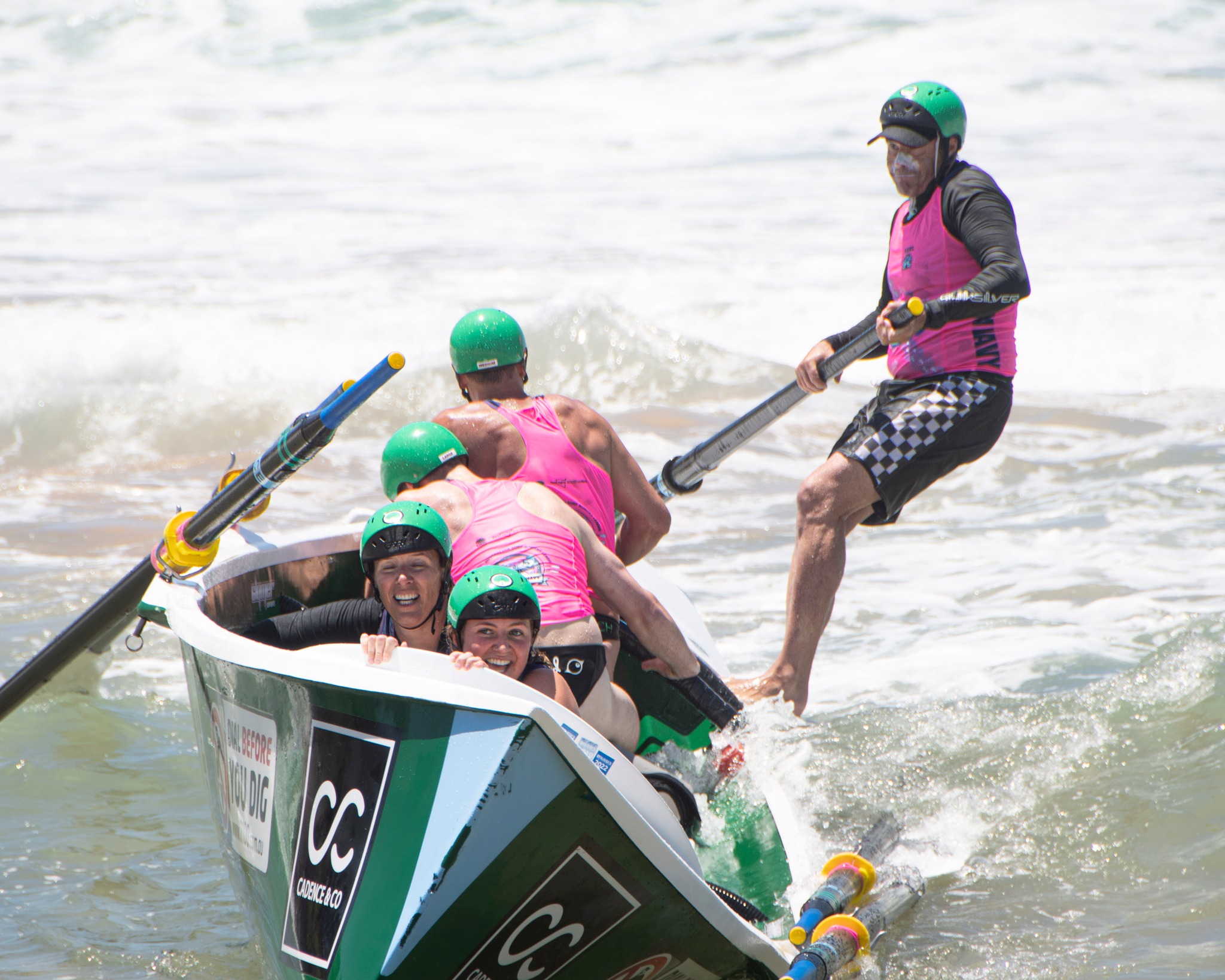 Palm Beach SLSC's Peter Spence steps out in the Mixed Crews Reserves leg to steer this crew to gold at the 2022 National Short Course Championship & Mixed Crews Championship. Photo: Malcolm Trees

North Narrabeen SLSC is also up there with participation numbers and has 8 crews formed up as their Surf Boat Division this Season. Don McManus, back at the club he commenced rowing with in our area, sweeping the 2 crews that have rowed with him for the last 5 years. Don has Open Mens and Open Womens, Reserve Men and Veteran Womens crews this Season. Fellow club sweep Brett Babicci has an Open Mens and Open Womens crew and North Narrabeen SLSC sweep Brendan Reedy has a Reserve Womens, Masters Mens and is training an Under 19's Womens crew.
''All our crews are progressing well so far this Season.'' Don said.
Don must be Australia's oldest sweep, still competing at age 78, with over 60 years of passionate participation in the sport.
The club has their four Open Mens and Womens crews in Ocean Thunder this Season swept by Don and Brett, all are going in the ASRL Open at Bulli and the NSW State Championships at Queenscliff, and Don's crews are heading across to Perth for the Aussies.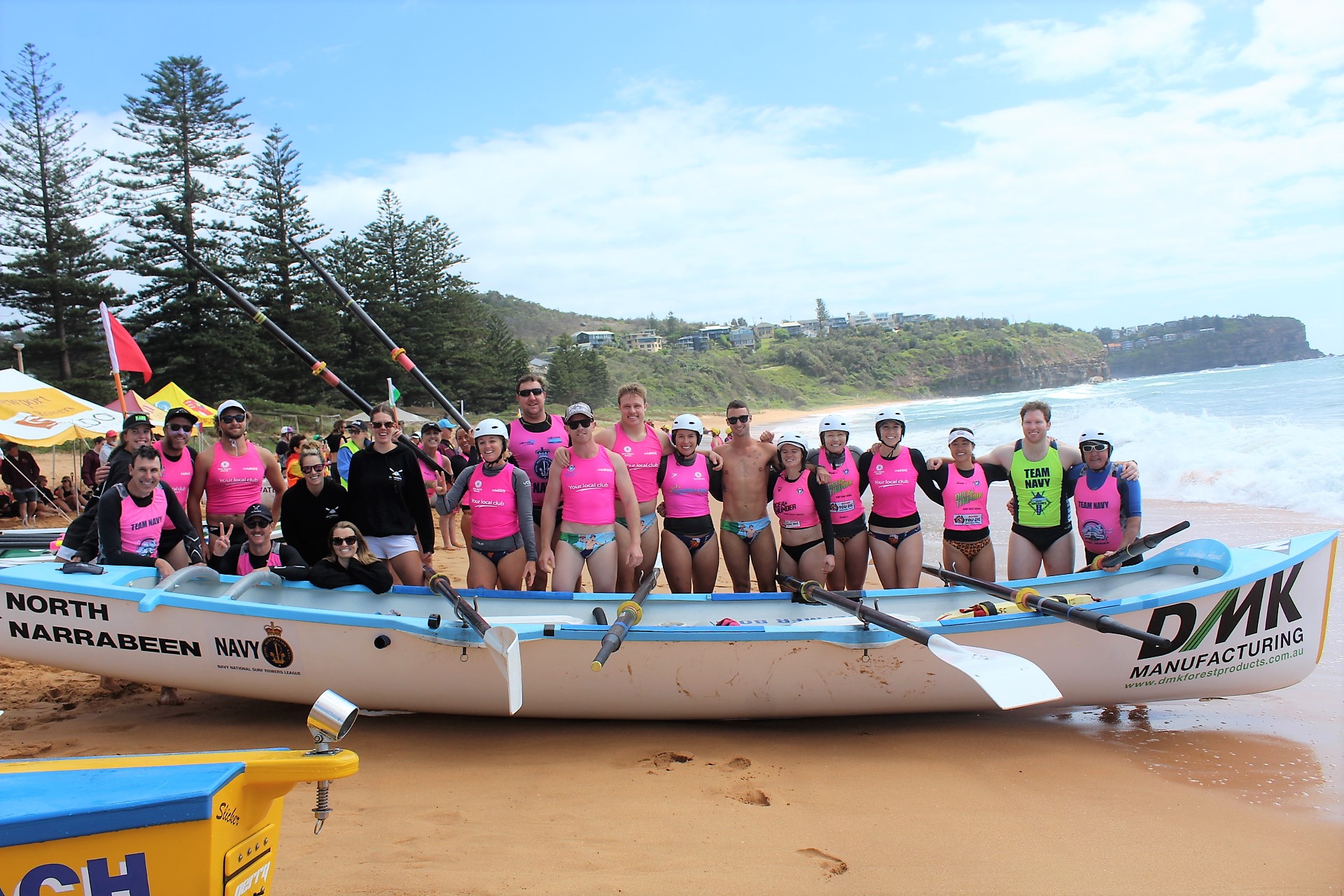 North Narrabeen SLSC's Boat Division crews at the 2022 Newport Surf Boat Carnival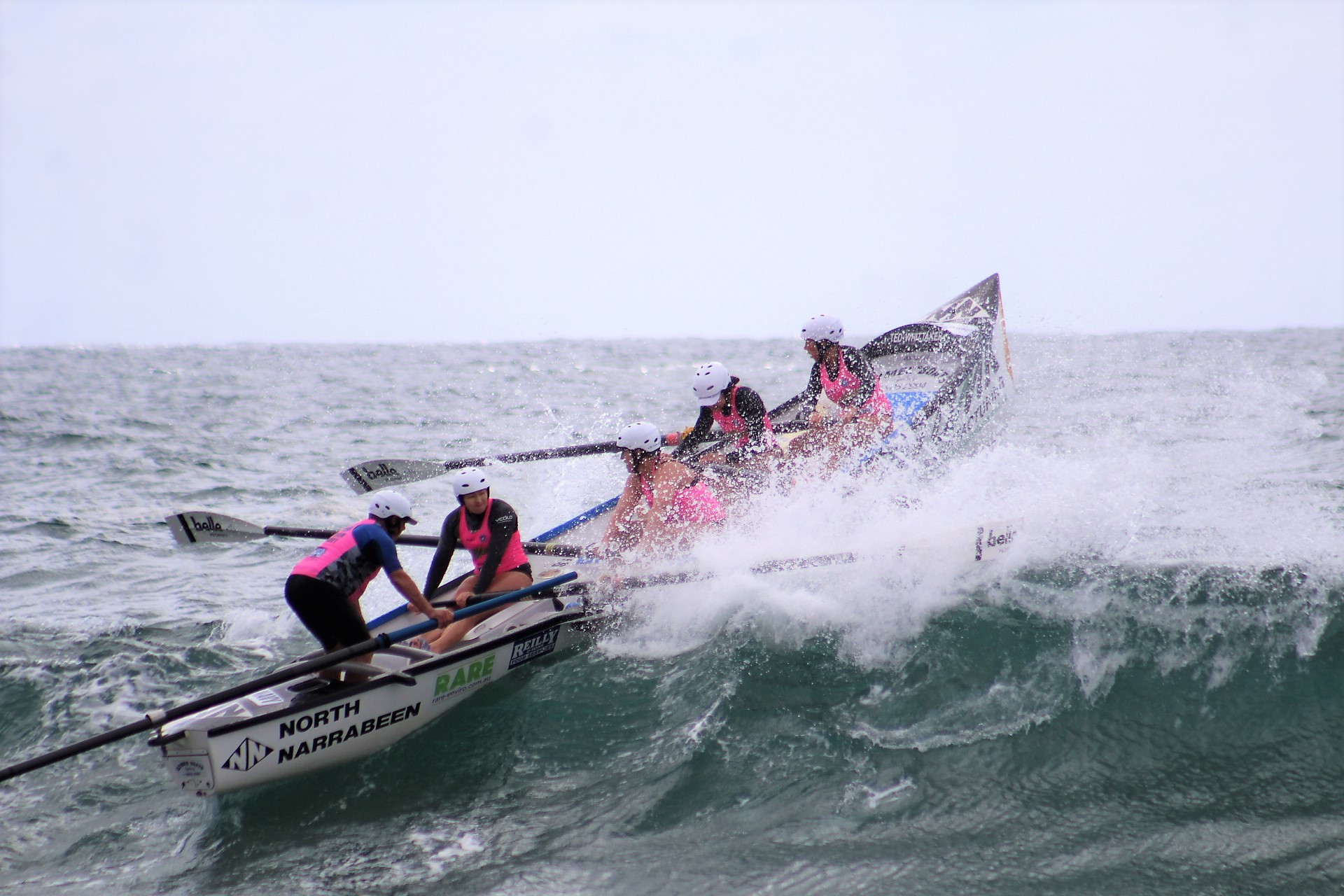 Don McManus and one of his North Narrabeen Mens crews at the Newport carnival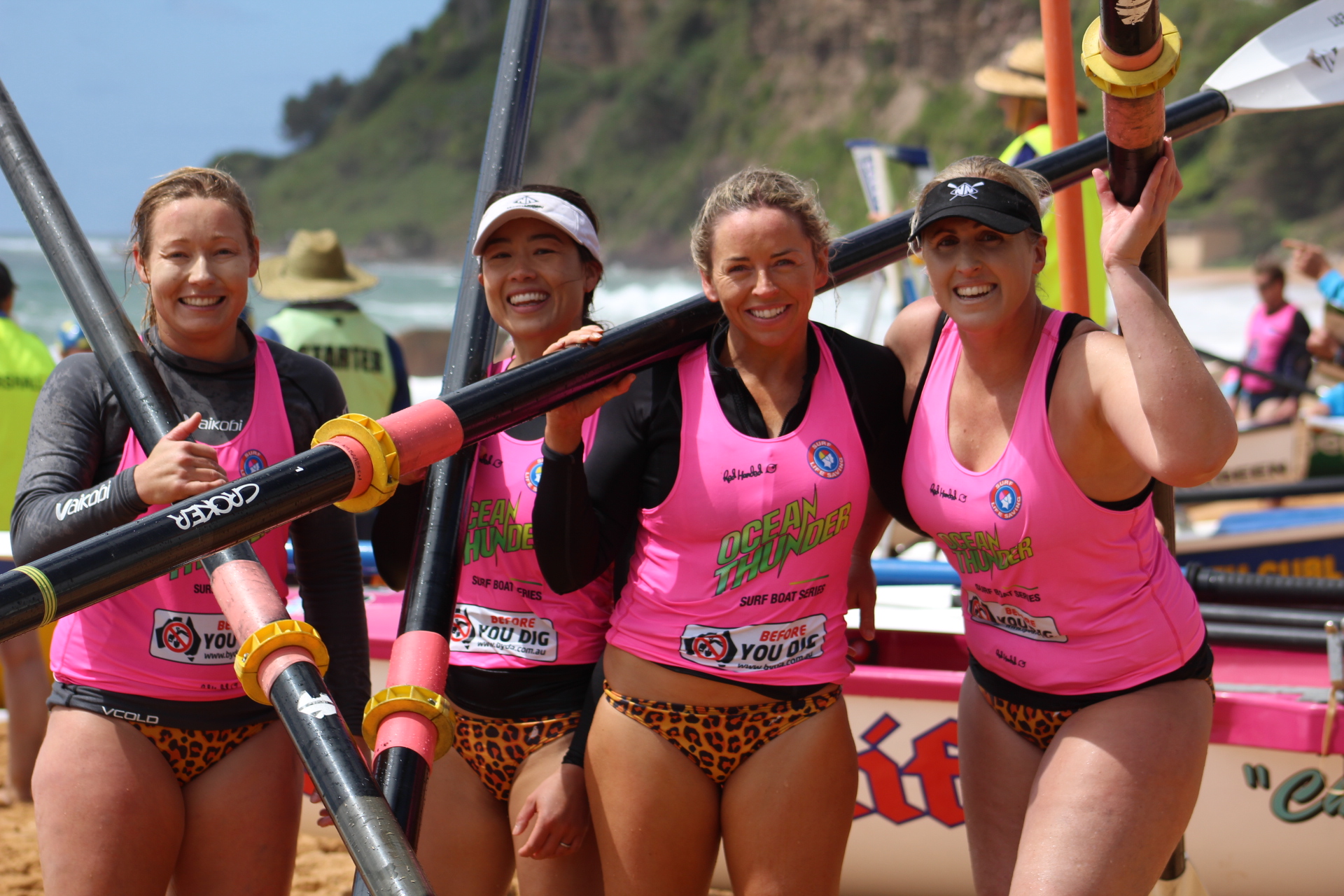 Don's North Narrabeen SLSC Open Womens Golden Girls crew
Don's old club Bilgola SLSC has their Masters Men Bilgola 'Older' still doing the club proud with Surf Boat Captain Mark Parsons looking to rebuild the division after the past two years of carnival cancellations and lockdowns.
Another legendary long-term sweep who took part in the Newport Surf Boat carnival is shipwright Nathan (NR) Perry. Freshwater Surf Life Saving Club had two B Mens crews in the Open Reserve grade battling it out at Newport. The Freshie Fiddlers placed 3rd while the Freshie Reefers placed 5th.
Their U23 women (Freaks) and U23 men (Little Men) rowed in the Australian selection event held at Queenscliff. The U23 Women (Freaks) swept by Moose, Scott Morrison, Freshies Boat Captain, finished 4th overall - winning two races along the way in their five rows (missing the final three row off by 1 point). Great result for this young crew rowing against girls a few years older than them and it showed them where they are in terms of boat speed against the really good crews.
The U23 men swept by NR had 5 x second places during the day, rowing really well in the big swell and holding a couple of great waves - again the lads missed the final three row off by one point. A great result and experience for both crews. Next stop for Freshwater was the Ocean Thunder Surf Boat series with the North Cronulla Christmas boat carnival their final run for this year.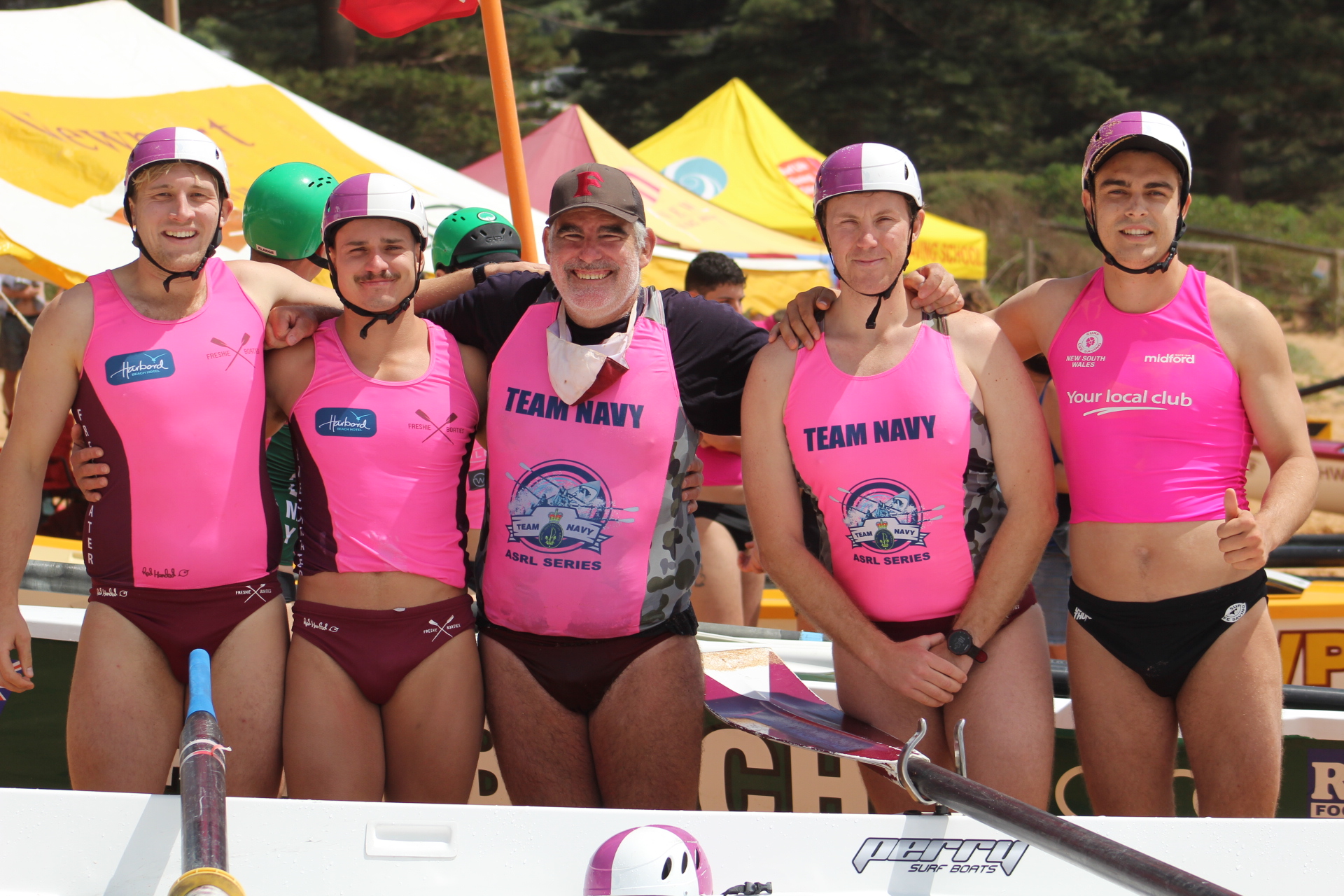 NR and Freshie at the Newport carnival
Collaroy SLSC had their Under 19's Butter Boys and Collaroy Cobras at the Newport carnival. In late November Collaroy Boaties and Mark Reece launched their new boat named for the "Mark (Reecie) Reece". Collaroy has a long and proud history as one of the strongest surfboat clubs in the country with many crews experiencing success at Branch, State and National titles and that is expected to continue.
Collaroy's Collaroy Crusaders, Giants and Cobras Womens crews were all medal winners at the Freshwater carnival, all swept by Mark Anderson. Their Open Womens Beach Club Collaroy crew are also taking part in Ocean Thunder this Season, swept by Mr. Anderson and placed 3rd in Round 1.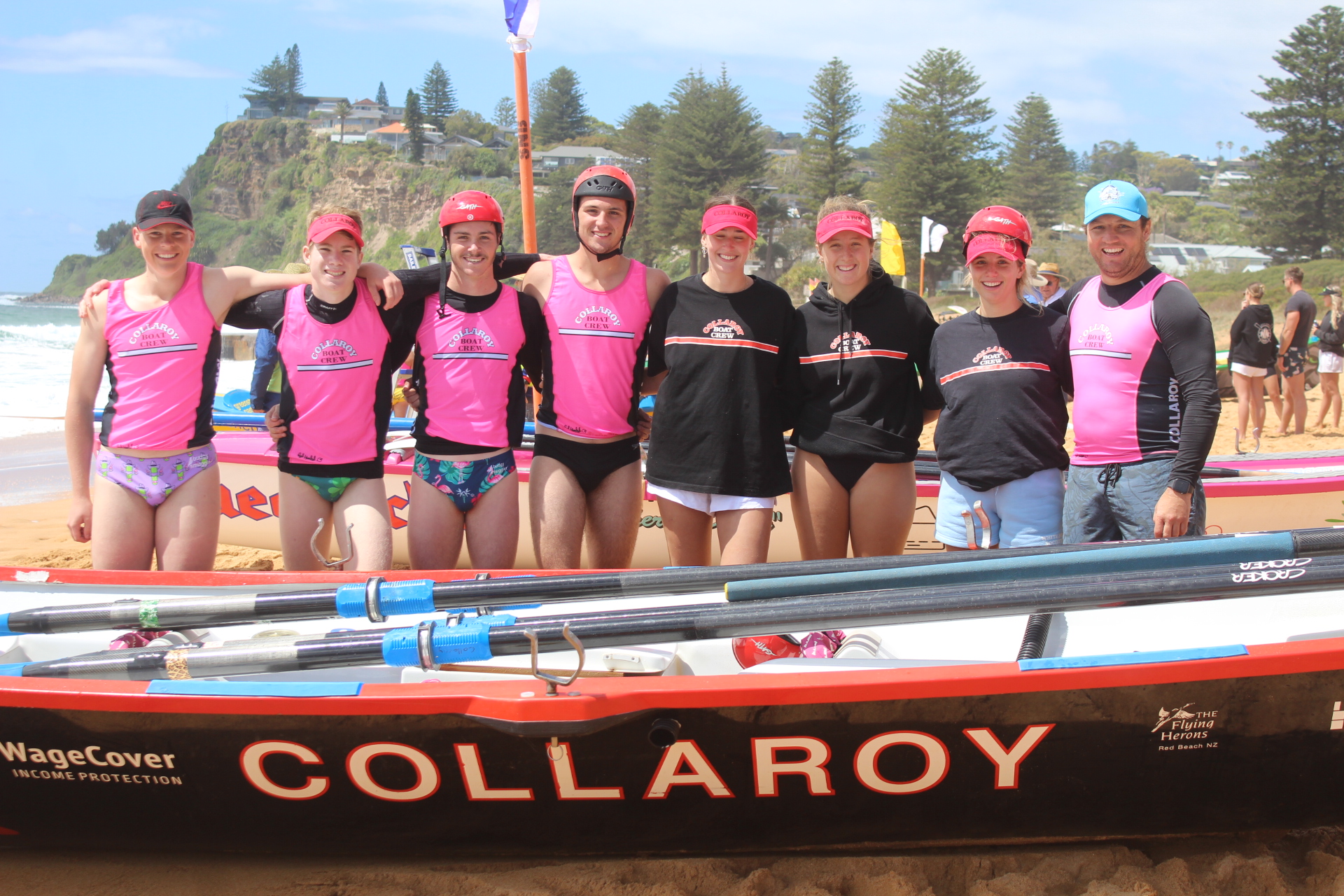 Collaroy's Under 19's at the 2022 Newport carnival
Host club for the National Short Course Championship & Mixed Crews Championship, and 2022 SLS SNB Club of the Year Queenscliff Surf Life Saving Club, had their Under 23 Mens Team A and Under 19's Mens Car Keys at the Newport carnival. Queenscliff has a proud history of Surfboat racing winning several Australian Titles over the years, the last being an U19 men's title in 2018. The club's focus on Youth Development is expected to produce great results in the surf boats. Former Warriewood SLSC president and sweep Matt Sheridan is sweeping the Madimack Hot Water Open Womens crew in Ocean Thunder.
Warriewood SLSC is not fielding any surf boat crews this Season, although the Rustys swept by Russell Lamb have been consistent medallists in recent years.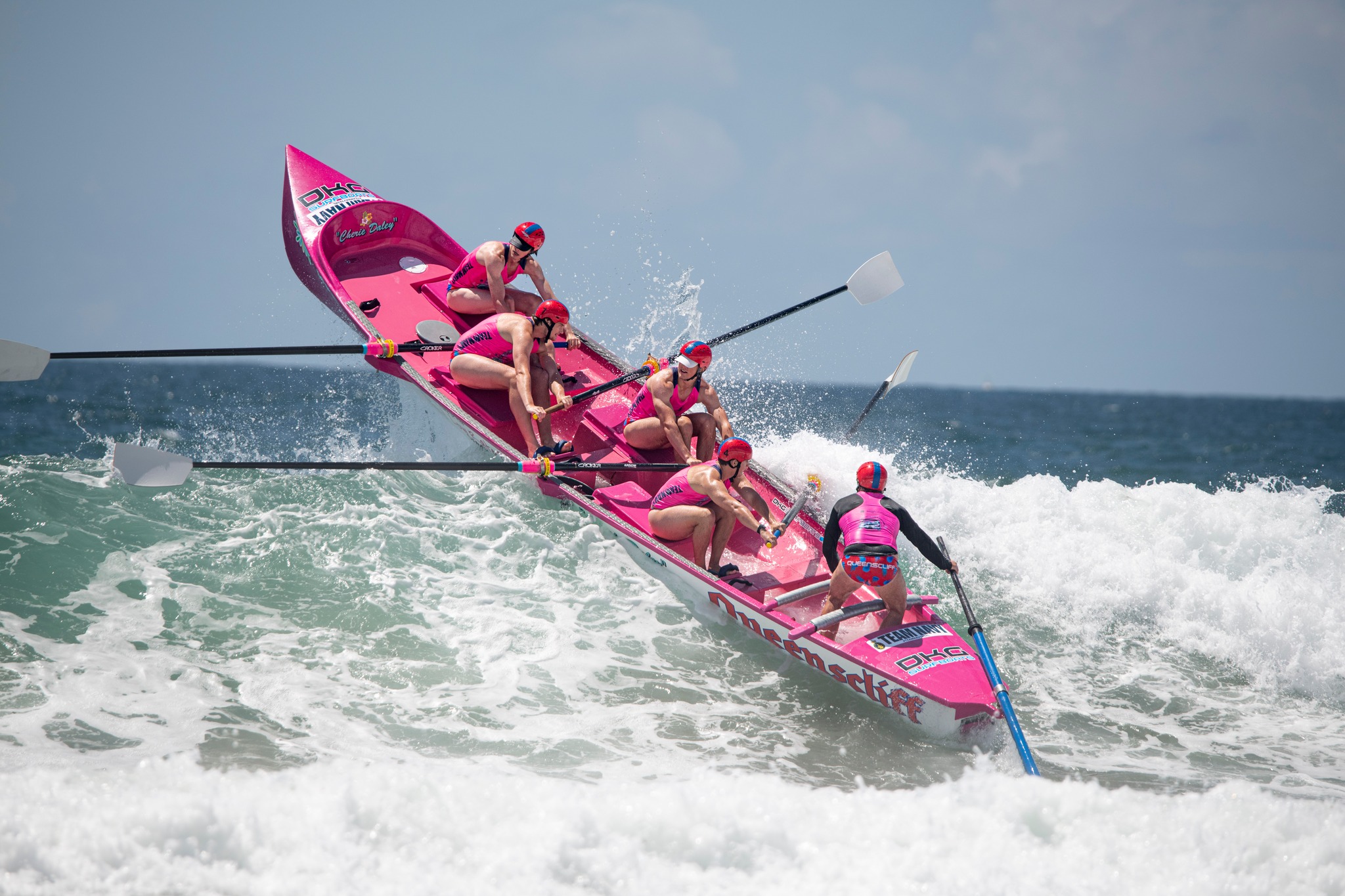 Queenscliff SLSC at the 2022 National Short Course Championship & Mixed Crews Championship at Queenscliff. Photo: Malcolm Trees

South Curl Curl have two great sweeps in 2023 Trans Tasman U23's Rob Lowery and fellow Curly member Gus Spiteri. They have two Open Mens and one Womens crews in Ocean Thunder this Season. South Curl Curl's Mens Sydney Beach Home were the winners in Round 1, held November 19th while their Womens Hardie and Company Plumbing secured a 2nd.

North Curl Curl's Mens Vivid Property Services crew, swept by Shaun Stacey is also excelling at in the Ocean Thunder series, placing 6th in the highly competitive series held each year on Dee Why beach.
Mona Vale SLSC Boat Captain for this Season is Kai Cooper again. Mona Vale's Reserve Womens 'Single Ladies' and their Open Mens 'Milk' crews took part in the Newport carnival in the Open Women and Reserve Women rounds and had crews racing in the North Curl Curl carnival, the first for the 2022-23 Season.
Mona Vale had a large Surf Boat Division last season (2021-2022). Nathan Wilson sweeping their Under 19's Venom had some amazing results throughout the season, getting a third at ASRL state championships, as well as winning the U19 Sydney Northern Beaches point score. The Fluffy Ducks had a mixed start to the season due to injuries back came back strong, representing the club at the Aussies. Mona Vale's Drifters Womens crew had the gruelling task of recruiting and rebuilding. Starting later than the girls expected, although leading the way home, making the ASRL Final, then finishing third and the ASRL state champions when the States were cancelled due to the east coast flooding. This left them in a great mindset for the Aussies in Queensland. Unfortunately, their amazing form hit every wave and some more as well as the kitchen sink, leaving them all very disappointed at what could of be a huge finish.
Mona Vale's Open Men crew competed throughout the Ocean Thunder as did their Queens Open Womens with help from girls from Queenscliff when 7 day isolation rules around covid impacted on their rowing. The men had a mixed season making the last 12 on 2 of the four occasions, while the women made one of 4 finals throughout the series. Kai Cooper states this was a great learning experience and set up the rest of the season for the Queens, who grew on every outing to finish one race short of the final at the last Australian Surf Titles.
Matthew Collins and Kai Cooper have crews in Ocean Thunder this Season.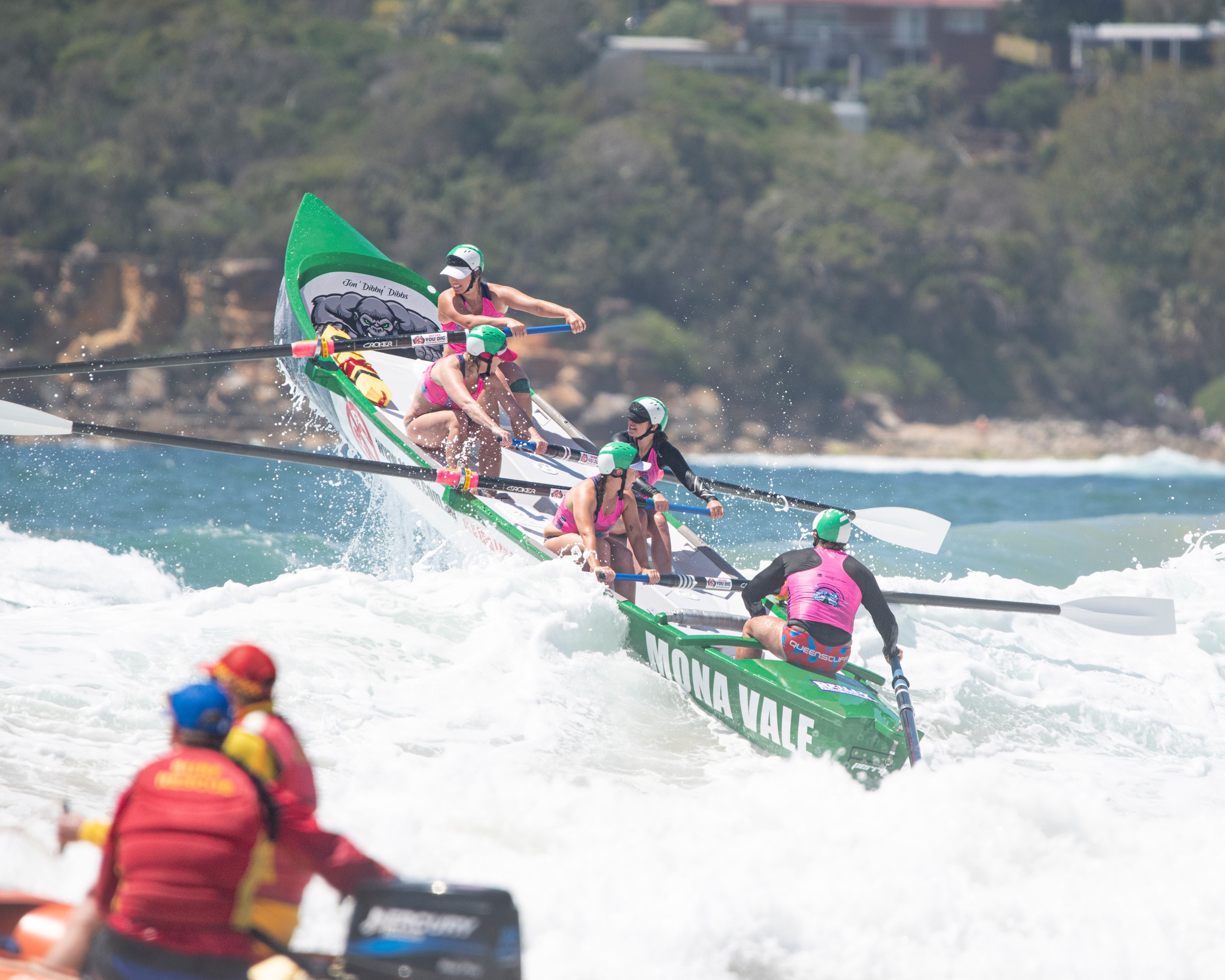 Mona Vale SLSC at the 2022 National Short Course Championship & Mixed Crews Championship at Queenscliff. Photo: Malcolm Trees

The Queenscliff Australian Selection event and the National Short Course event was run as a joint ASRL and SLSA event.
Avalon Beach SLSC Member of the multi medal winning crew the Pinkies and current President of Team Navy ASRL Nick Sampson explains the ASRL the Australian Surf Rowers League celebrates indigenous heritage and culture and that remains the core theme of all carnivals ASRL is involved in this Season. Artist Rheanna Lotter, a proud Yuin woman from the NSW South Coast, who grew up in the Southern Highlands worked in collaboration with ASRL to design a piece of symbolic art that would tell the story of Surf Boat Rowing, Surf Life Saving and the surf boat members connection to each other and the ocean.
The Australian Surf Rowers League Indigenous Design features on the new singlets. ASRL has provided the detailed meaning of this beautiful design:
The story begins in the centre of the artwork with the meeting place, which represents the surf boats sport and the surf boat carnivals we meet at. This is followed by the symbols of five men and five women, showing the gender equity we have achieved within our sport. Surrounding the members are five rings that are symbolic of the ASRL core values of respect, integrity, courage, solidarity, and determination. This is all held together by the half circles on the outer edge, which are representative of our Athletes, Officials, Volunteers and Supporters. If we break our values, we break the meeting place, if we do not have the Athletes, Officials, Volunteers and Supporters our sport and meeting place will break apart.

The footprints coming in towards the meeting place is symbolic of our current and emerging members, making the journey to our surfboat rowing events. The outgoing feet recognise our members who have passed on from our great sport and are no longer with us. Our feet are connected to the ocean and sand.

Surrounding the central artwork is a man and woman, these are the athletes who together with the boomerangs show our fighting spirit, hunger for success and resilience. Lastly, the turtles are symbolic of our connection and deep respect for the ocean.
''The ASRL are looking forward to getting lots of crews out on the water this Season and trying to build the participation of the younger age group in the Under 19's. It's always great to see new athletes coming into and enjoying our sport.' Nick told Pittwater Online
''Team Navy ASRL is looking forward to a great Open down at Bulli this year with crews from all over Australia visiting to take part.
There's a fair bit involved in organising the ASRL events, which is my passion area, and what I get heavily involved in. For the Australian Trails and Short Course Championships we started dropping in the setup on the Tuesday so that could commence on the Friday. We had a live stream over all 3 days of the event, so there's a fair amount involved and a great Officials team ensuring everything runs smoothly. We like to keep busy.''
How many crews do Avalon Beach SLSC in the surf boats this year?
''We have 5 crews this year as a few are moving away and going into Uni, so we'll have Reserve Grades and Under 23's in Mens and Womens and an Under 19's Womens crew taking part in local carnivals, with Matthew Myall, who is also Surf Boat Captain this Season, and Nathan Wellings and Peter Carter as our sweeps. The Under 19's, the HCMF's, have all come through Nippers so it's great to see their progress through the club into surf boats.
At this stage all 5 crews will be going to Perth to take part in the Aussies.'' Nick said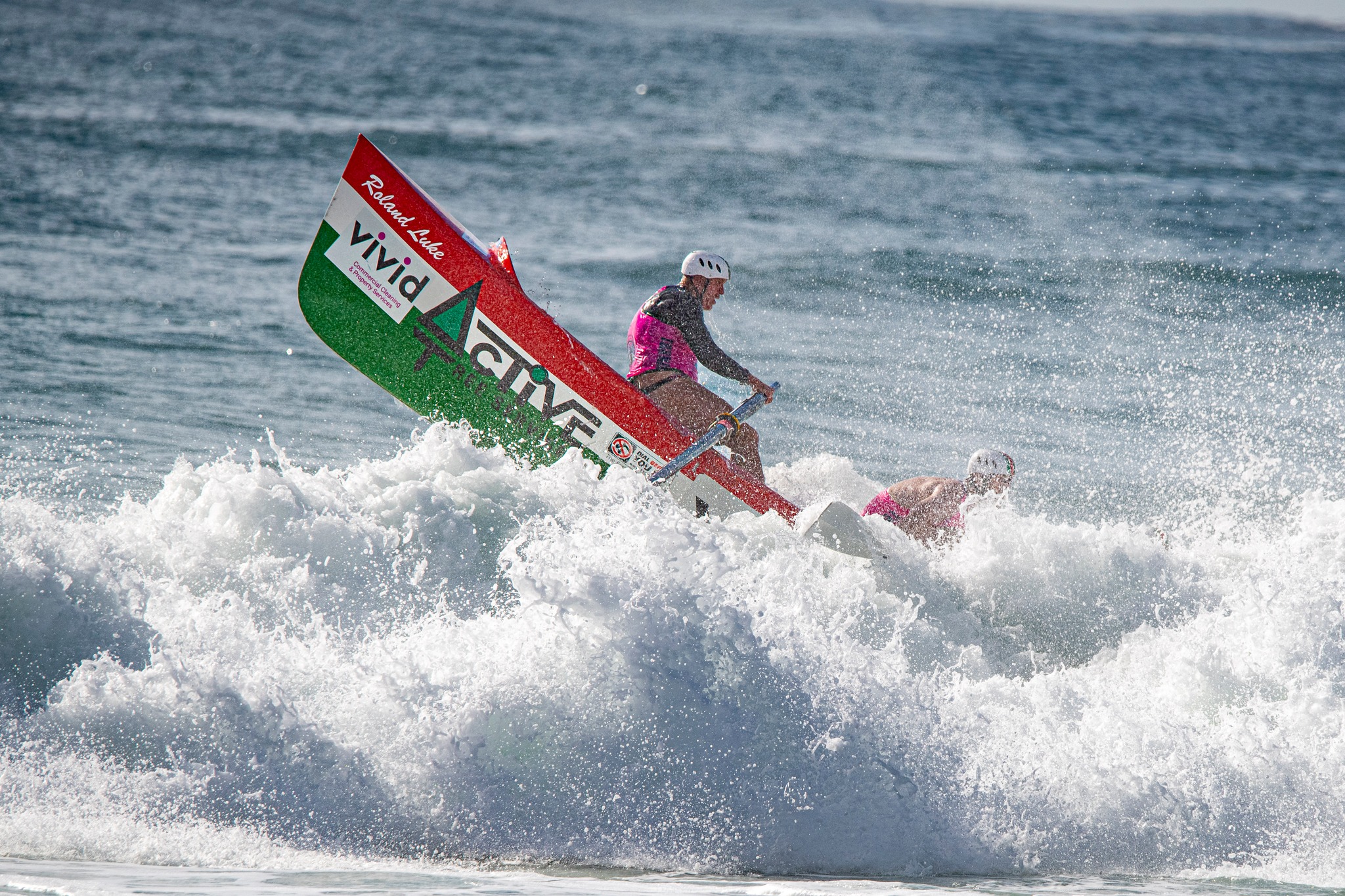 Avalon Beach SLSC at the 2022 National Short Course Championship & Mixed Crews Championship at Queenscliff. Photo: Malcolm Trees
Nick has been a part of surf boat sports for 13 years, having joined Avalon Beach SLSC after a friend convinced him to get involved. Legendary sweep for the club, Rick Millar said he should row, and that was it. Unfortunately Nick won't be rowing with the Pinkies this Season due to a shoulder injury but is always on the sand as an Official, even when his leg has been strapped up due to injury.
He also takes part in the IRB Premiership each Winter and has been one of the Emergency Response members from Avalon Beach SLSC responding to emergency weather events. Nick Sampson and Jason Dale received the SLSA Rescue Medal at this year's SLS Awards of Excellence, for their outstanding rescue skills, rescue management, displays of initiative and resourcefulness in exceptional circumstances during the flood crisis on Monday, 4 July 2022 and were awarded with Surf Life Saving NSW's Rescue of the Month for July 2022.
On their way back to a hotel on July 4th after a full day assisting the SES in response to the heightening flood emergency in the Liverpool area, Nick and Jason found themselves caught in flash flooding where, for close to three hours, they switched gears back into lifesaving mode to assist nearly 100 stranded vehicles.
Their rescue support varied from pulling people through car windows and carrying them to self-made evacuation points, to escorting and directing people through the waters.
Chief among their outstanding efforts was the rescue of an elderly woman who had been swept off her feet into the moving water as well as a policewoman who had jumped in to assist.
Nick and Jason are both Director of Life Saving (Club Captain) at the club this Season.
'It's been a busy Winter.' Nick explained, although he tries to sneak in a holiday during Winter by heading to the snowfields.
The Club also were award two Group Certificates of Merit at the SLSA Awards of Excellence this year. Avalon Beach faced challenging conditions on Sunday, 2 January for both the morning and afternoon patrols. With 71 recorded rescues during the course of the day it was very much an 'all hands-on deck' scenario for the members.
The other was awarded to members Zachary Dale, Todd Barber. On Saturday, 19 March Avalon Beach received a Surfcom call to support a mayday call from a 35ft boat taking on water North of the Beach, off Careel Point. With 45km winds and a 4–5-meter swell, Todd and Zachary launched the IRB and made their way to the scene. Challenging conditions met the IRB as it navigated its way to the boat off the Point.
On arrival Todd and Zachary found three people clinging to what was remaining of the submerged boat, just above the waterline. Within minutes of getting the patients on board the IRB, the boat quickly sunk out of sight. Any later the rescue scenario would have been completely different. Shortly after the IRB was joined by a Rescue Water Craft as well as a second IRB from Whale Beach. All assisted in returning the patients to calmer waters.
Details in Issue 531: Dramatic Rescue Of 3 People By Avalon Beach SLSC After 35 Ft Power Cruiser Capsized and Avalon Beach SLSC Lifesavers Awarded Rescue Of The Month For Flood Role
''Avalon has raced in every carnival other than Newport so far this Season.' Nick said 'And our girl crews are also going to take part in the Ocean Thunder series this year and in as Vivid Property Services, with Nathan as sweep.
Of course, when we go to the Aussies we tend to stick together as one Sydney Northern Beaches crew, all driving across the Nullarbor together and cheering for each other during the events.''
Any sign-off message from the ASRL President for the rest of the 2022-2023 Season?
''Get out there and get rowing! Enjoy your rowing and have fun.'' Nick says
And as a Captain at Avalon Beach SLSC?
''And thank you to the all the great team of volunteers who serve as Officials and in Safety at all our local carnivals. Without you these wouldn't happen.''
Some of the great Officials who served at the 2022 Newport Surf Boat Carnival: