July 23 - 29 2023: Issue 591
2023 Surf Life Saving Sydney Northern Beaches Awards of Excellence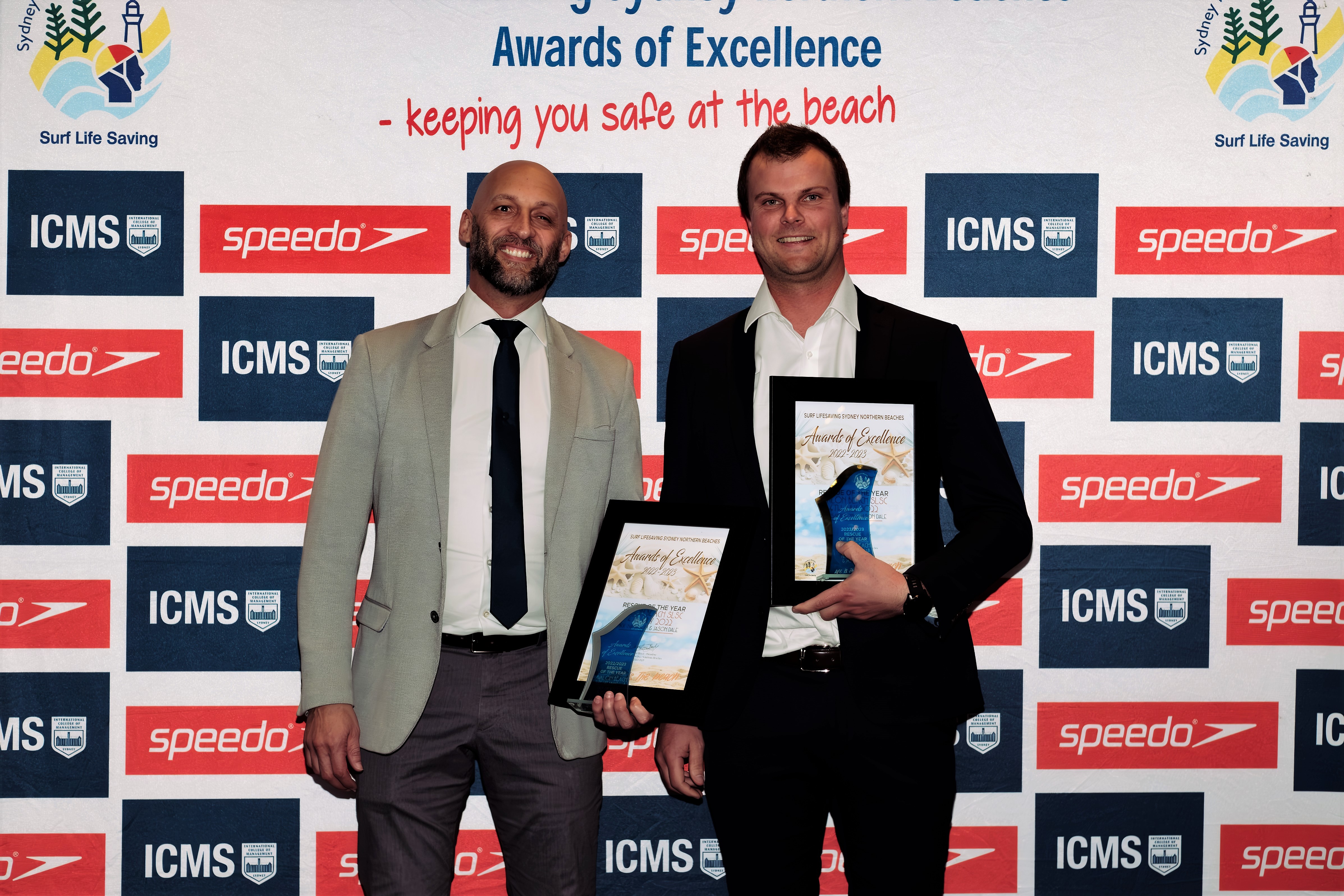 Rescue of the Year to Avalon Beach SLSC Captains Jason Dale and Nick Sampson. Photo: SLSSNB
The Surf Life Saving Northern Beaches Branch consists of the 21 Surf Clubs on Sydney's Northern Beaches, from Manly's North Head to Barrenjoey Headland on North Palm Beach. Each year the Branch Awards of Excellence are held to recognise the efforts of volunteers across a wide range of categories in all the areas surf life saving operates.

The Community Education Program of the year, Young Lifesaver and Lifesaver of the Year, the Assessor, Trainer, Administrator, Rescue of the Year or Facilitator are recognised alongside the Surf Sports Team, Athlete and Masters Athlete.
There are Perpetual and Directors' Choice Awards for an Radio Operator Award or Outstanding Service Award, as well as Life Membership and Service Honours awarded and recognised.
Branch President, Tracey Hare-Boyd, stated prior to the June 30 2023 Awards evening, ''The calibre of the nominations coming through is amazing and making judging so hard this year.''
''We are lucky as a Branch to have such outstanding members and thank you to the Clubs for recognising and nominating them. I can only urge Clubs to continue to recognise their members for what they are doing at Club and beyond and to follow through and nominate for a Branch award, which, if they win, have the potential of being a SLSNSW and SLSA award winner. '' Ms Hare-Boyd said
The Branch states that Member recognition is such an important part of the organisation and a way of recognising and thanking Members who put so much effort and time into their roles within each Club.
''We value the contribution made to the Branch by our members and there are a range of awards that are available to Clubs to recognise their members.''
The Rescue of the Month, available at both Branch and State level for the most outstanding rescue for that period, has shifted a little in recent years. This award still recognises the exceptional rescues and first aids performed over and above normal duties which showcase an excellence in lifesaving skills and procedures, recognising excellence in lifesaving and service delivery - but more and more these rescues are taking place away from the beach and offshore waters.
In 2019 the State Government commenced enlarging the role of surf life savers to support other emergency services in places and events they had not formerly worked in for those with the skills or willingness to acquire these skills. SLSNSW had worked with local police and emergency services since 2008, but this was an expansion of the capabilities to respond to emergencies by all services.
The 2019/2020 Black Summer fires, which saw surf life savers on the south coast of NSW deployed to evacuate or rescue people, was one case where this became obvious to those outside of the surf life saving movement.
The floods that followed, when teams of IRBs and jetskis assisted the SES with flood relief activities on the mid and lower north coasts in 2021 and in western Sydney in February and July 2022, also illustrated this kind of deployment. Even locally teams of surf life savers were out door knocking at Narrabeen at night during evacuations of low lying areas, or using surf life saving equipment to help move people from flooded areas in Narrabeen.
Callout teams in IRBs conducted evacuations of people and in some cases animals stranded by floodwaters, assisted with food drops and supporting other emergency services organisations with logistics. Along with IRBs, Duty Officers were positioned in all of the Emergency Operations Centres as Liaison Officers and UAVs were deployed to provide intel on conditions and continued to assist in the recovery phase of the disaster.
All up over 700 surf lifesavers were deployed to each flood event.
This had been preceded by an upgrade of SLSNSW's State Operations Centre.
In September 2020 Surf Life Saving NSW announced better emergency communications and coordination capability, after then NSW Minister for Police and Emergency Services David Elliott officially opened the new State Operations Centre at Belrose. Mr Elliott said surf lifesavers play an important role in protecting the community and it is pleasing to open a centre that will properly support them.
"This facility will reduce response times, improve coordination between agencies and most importantly help keep everyone safe on our waterways," Mr Elliott said.
The new State Operations Centre was designed in consultation with other NSW emergency service organisations including the Rural Fire Service and the State Emergency Service and builds upon learnings from the design of their emergency operations centres. The recent multi-agency emergency responses - including the response to the NSW bushfires in January 2020 - also helped inform the design of the new centre and how it can be used for maximum effectiveness for the protection of NSW communities.

Local volunteer life savers have continued as part of these multi-agency emergency responses alongside their SES, RFS, Marine Rescue, NSW Police, Ambulance, Fire & Rescue colleagues.
There have been many outstanding rescues performed by these teams of volunteer surf lifesavers - but one stood out as clearly over and above normal duties.
At this year's SLS SNB Awards of Excellence the Rescue of the Year was announced as Avalon Beach SLSC Captains Nick Sampson and Jason Dale for their work in the July 2022 floods. They had been recognised by SLSNSW as well when they were named as the October 2022 Rescue of the Month.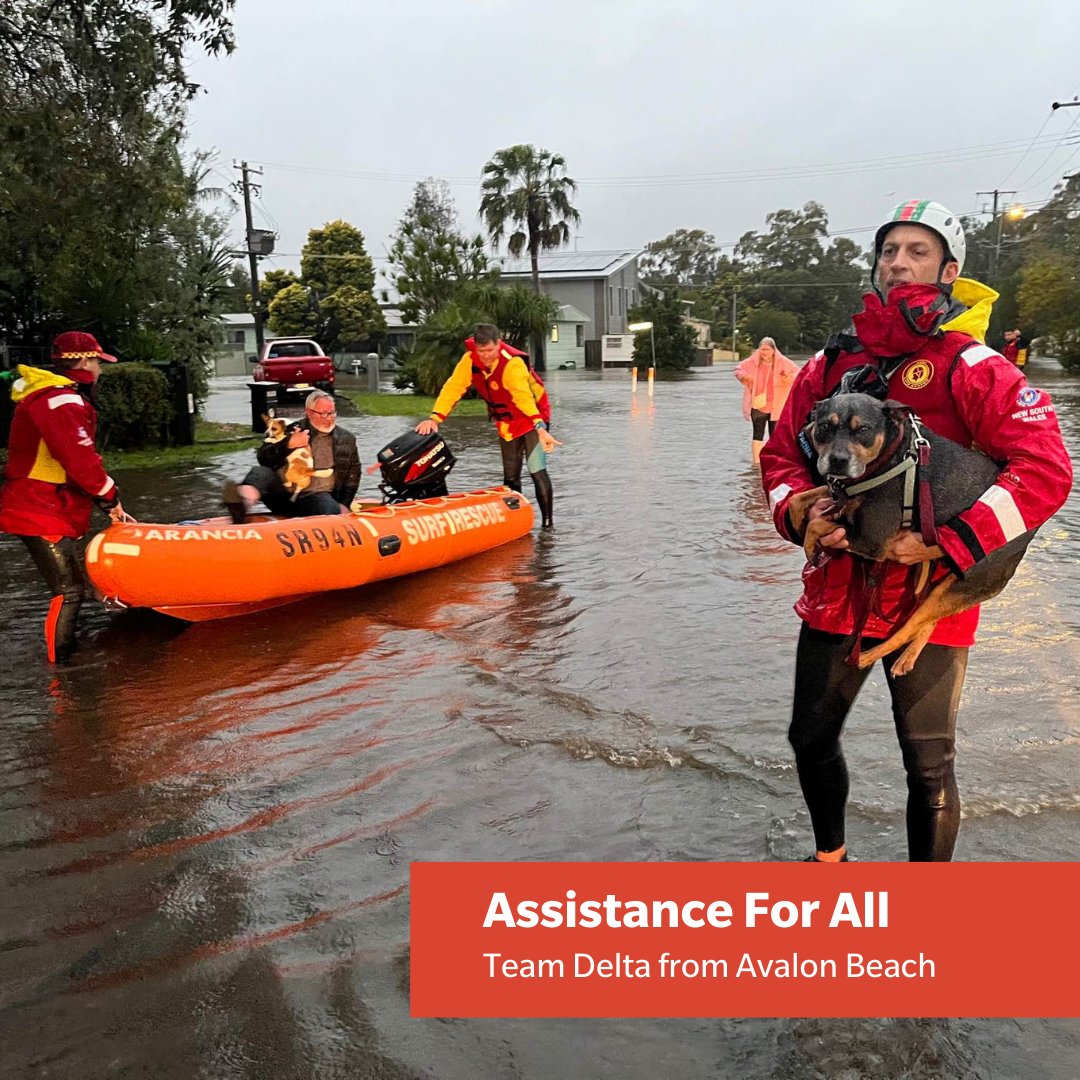 Nick and Dale were part of the teams of surf life savers who had been deployed to western Sydney.
SLSNSW reported that on their way back to a hotel on July 4th 2022, after a full day assisting the SES in response to the heightening flood emergency in the Liverpool area, Nick and Jason found themselves caught in flash flooding where, for close to three hours, they switched gears back into life saving mode to assist nearly 100 stranded vehicles.
Their rescue support varied from pulling people through car windows and carrying them to self-made evacuation points, to escorting and directing people through the waters.
Chief among their outstanding efforts was the rescue of an elderly woman who had been swept off her feet into the moving water as well as a policewoman who had jumped in to assist.
Jason and Nick were able to rescue them both before they were washed into a nearby creek.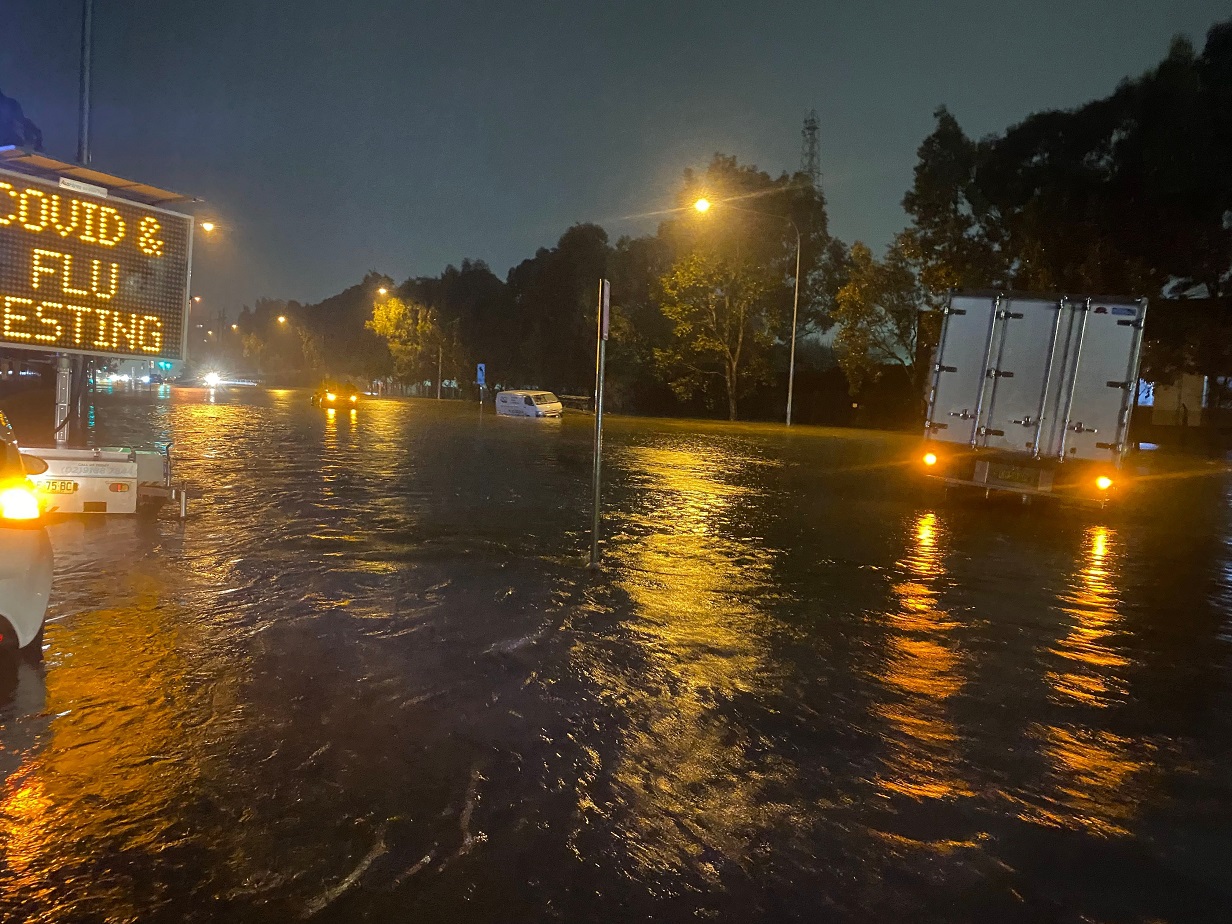 July 4th, 2022 site - photo by Nick and Jason
"If we weren't there, there would have been a significant number of cars that had broken down in the water and consequently a lot more people in vehicles so also a higher chance of somebody being caught in their car," Jason said.
"I think that would've played on my mind a fair bit if that was the outcome, but fortunately we were able to play our part."
"The people that we got out at the very beginning, by the end their cars were completely submerged," Nick added.
"Without a doubt there would have been fatalities at some point."
Lifesavers had been posted to multiple flood emergencies over the past 12 months, with thousands of volunteers turning their backs to the ocean to face the burning issues within their communities. While it is far from the nature of a beach patrol during the summer, Jason said the skills are largely transferrable.
"It really comes back to beach management skills," he said.
"We were able to look at everything that was going down and make calls on how to prevent what was going on from getting worse.
"When we were interacting with other services, we were able to give a proper stripe through the lens of what was happening quite quickly, rather than getting caught up in too much detail.
"Being able to identify risk to ourselves as well was important."
The pair also reflected on the exceptional interoperability of the agencies involved, inclusive of Surf Life Saving NSW, given the shared and unique skillsets allowed for great outcomes for many people.
"To be trained in those in-water skills as lifesavers are, it made a massive difference to a lot of people's lives over those weeks," Nick said.
A well deserved win by ABSLSC's dual Captains.

Bungan Beach SLSC scooped a bag of recognitions. Congratulations to their winners and awardees at this year's Sydney Northern Beaches Awards of Excellence. Nic McGibbon won Youth Lifesaver of the Year, Josh Bryden won Lifesaver of the Year, Rod McGibbon was awarded Distinguished Service by Branch and Matthew Lloyd won the Cupcake Award (first President to lodge report to Branch). A pretty good haul really.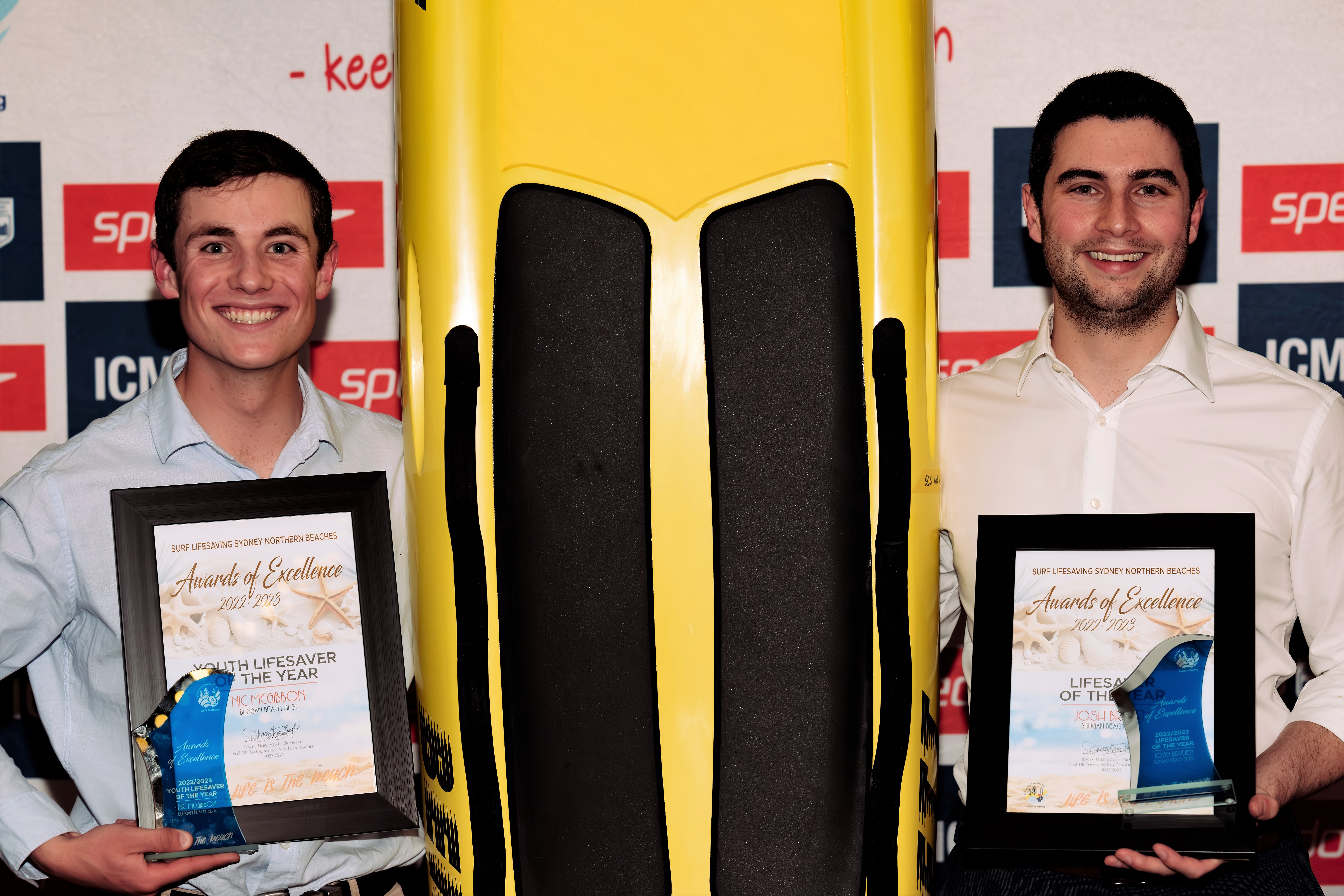 Bungan Beach SLSC's Nic McGibbon and Josh Bryden. Photo: SLSSNB
Warriewood SLSC was named 'Club of the Year', Surf Sports Team for their Masters Relay men who just cannot go to a Branch, State or Australian competition without coming home with gold medals, while Cameron Powell was recognised for Outstanding Service.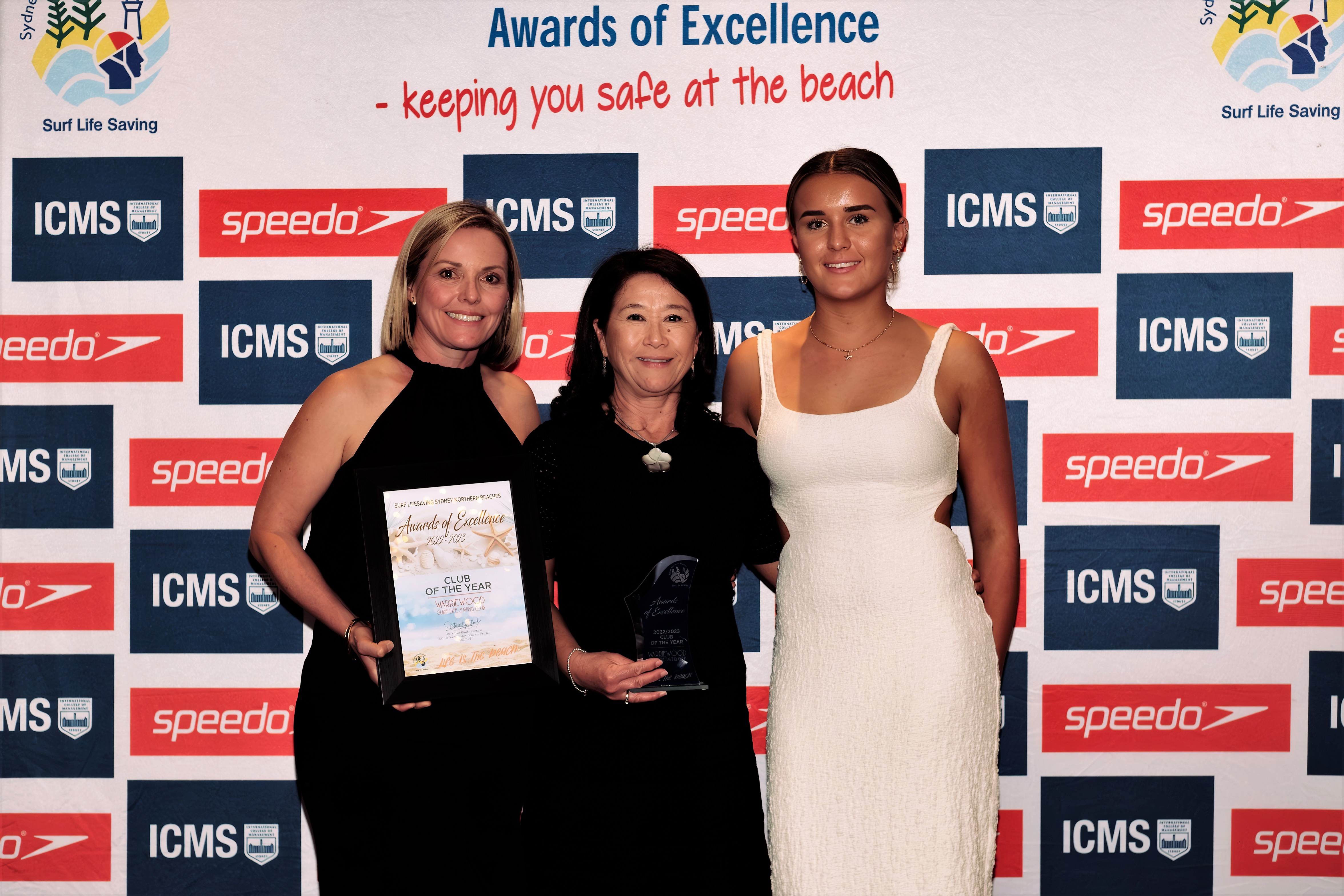 Warriewood SLSC - 'Club of the Year'. Photo: SLSSNB

Newport Surf Club had a trifecta in surf sports with their athletes named as Young Athlete: Conner Maggs, Athlete; Blake Drysdale and Masters Athlete: Ashley Brown in the Awards of Excellence.
The full list is:
Assessor: Herve Vichemont, Dee Why
Community Education Program: Forest High Beach Safety, SNB
Facilitator: Peter Fenley, Bilgola
Trainer: Chris Pienaar, Long Reef
Rescue of the Year: Jul-22, Avalon Beach
Patrol Captain: Kirsty Dollisson, Manly
Support Operations Member: Dylan Kovacevich, Palm Beach
Youth Surf Life Saver: Nic McGibbon, Bungan Beach
Surf Life Saver: Josh Bryden, Bungan Beach
Youth Volunteer: Luca Stein, South Curl Curl
Volunteer: Justine Head, Dee Why
Innovation: Under 8's Fun Carnival, Bilgola
Administrator: Richard Hawtin, Freshwater
Athlete: Blake Drysdale, Newport
Coach: Bill & Peter Yeates, South Curl Curl
Masters Athlete: Ashley Brown, Newport
Official: Matt Molinia, Dee Why
Surf Sports Team: Masters Relay, Warriewood
Young Athlete: Conner Maggs, Newport
Club of the Year: Warriewood
Handicap PointScore: Narrabeen Beach
Championship Pointscore: Manly
Bennet Board Competition: North Steyne
Perpetual & Directors' Choice Awards
Member Services: Director's Choice; Mel Brock, Manly
Surf Sports: Director's Choice; Elisha Cuthbert, Manly
Harry Ragan Outstanding Service Award: Rob Cook, Narrabeen
Raymond Matthew Brown Radio Operator Award: Marianne Troop, Collaroy
Presidents Award: Jenny Drury, South Curl Curl
Life Membership & Service Honour Recipients
Michael Getz - Outstanding Service, Queenscliff
Cameron Powell - Outstanding Service, Warriewood
Louis Tassone - Distinguished Service, North Curl Curl
Rod McGibbon - Distinguished Service, Bungan Beach
Gregory MacMahon - Life Membership, Collaroy
Branch President, Tracey Hare-Boyd, said ''Congratulations to all the winners, all so well deserved. We wish them Good Luck as some of them progress through to the SLSNSW AoE. ''

The Surf Life Saving NSW Awards of Excellence will be held on Saturday 26th August 2023 in Sydney.
In a happy final note for this year's Branch awards. on Thursday July 20th Her Excellency the Honourable Margaret Beazley AC KC, Governor of New South Wales, accompanied by Mr Dennis Wilson, visited Long Reef Surf Life Saving Club, and met with Surf Life Saving staff and volunteers, before presenting service and training awards and touring the newly re-built facilities.
Surf Life Saving NSW stated;
''We were delighted to welcome the Governor of New South Wales, Her Excellency the Honourable Margaret Beazley AC KC and her husband, Mr Dennis Wilson to Long Reef SLSC today for a tour of the facility which opened in February this year after a remodel.
Her Excellency and Mr Wilson are long-standing patrons of Surf Life Saving NSW and tremendous advocates for the tireless efforts our 76,000 volunteers put in to protect our coastline every year.
Her Excellency also took the time to award the Surf Life Saving Sydney Northern Beaches Trainer of the Year title to Long Reef member, Chris Pienaar and honour Jack Sutherland of North Steyne S.L.S.C with his commemorative pin for 70 years of service to Surf Life Saving.''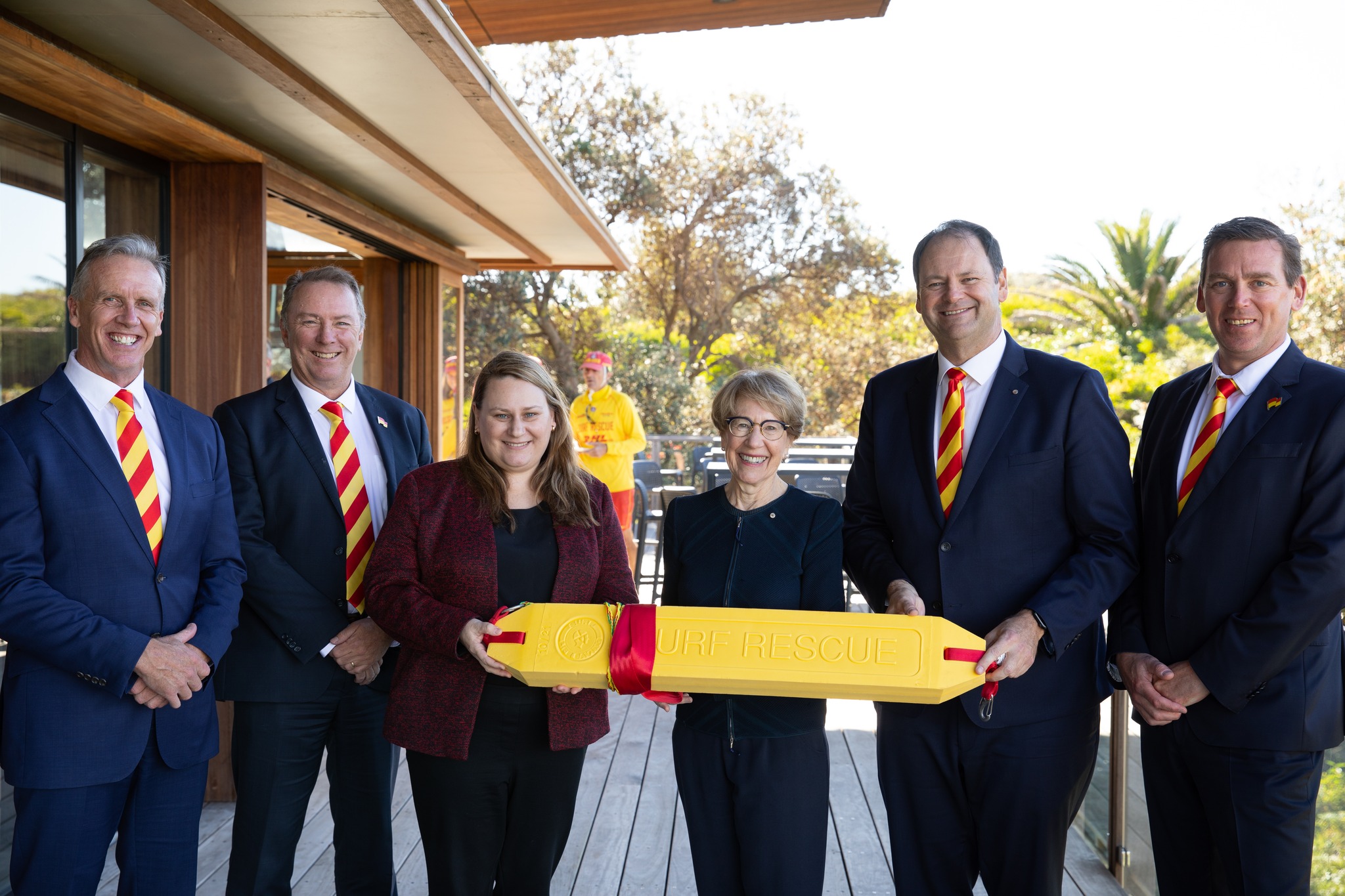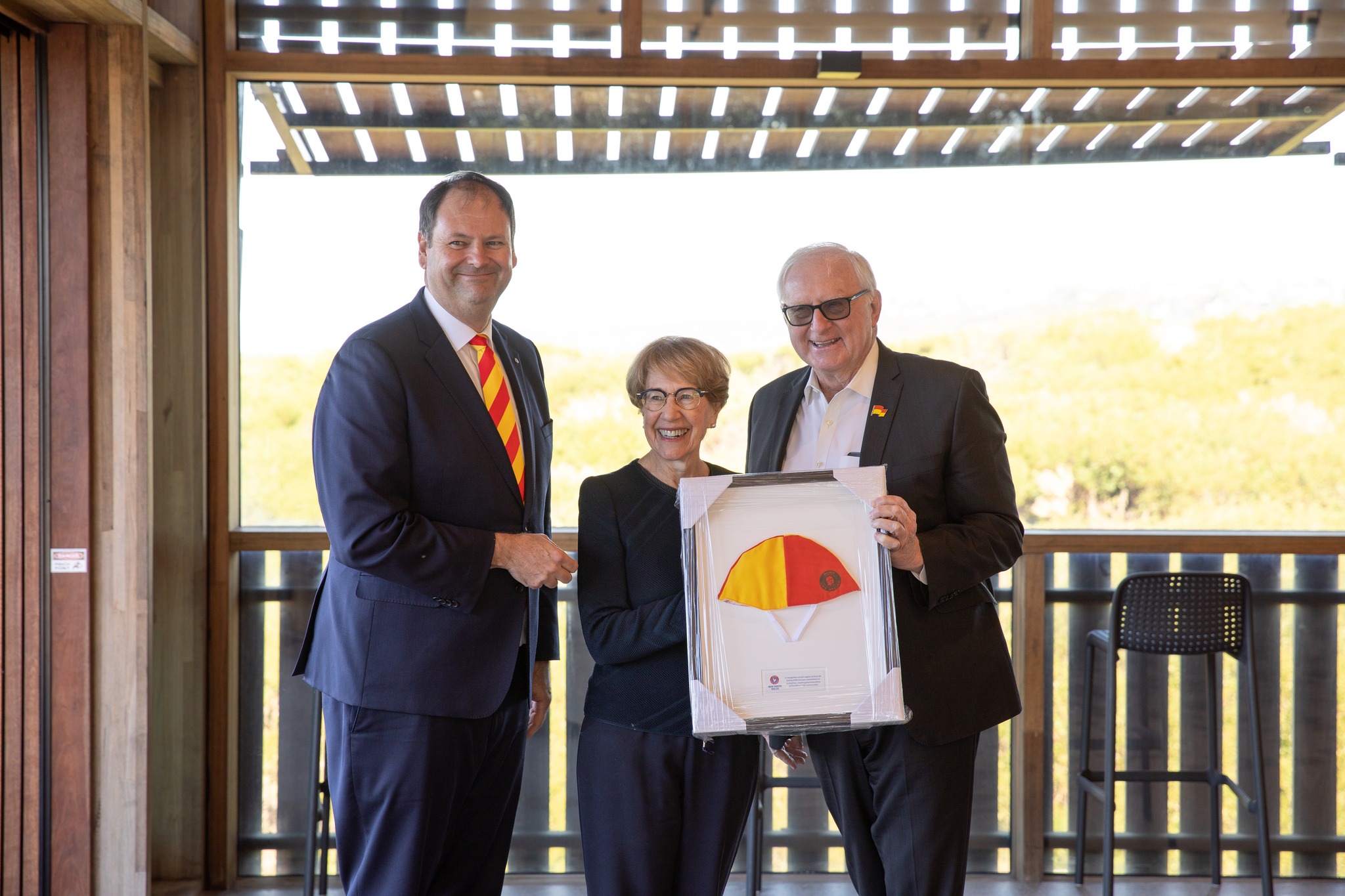 Photos: SLS NSW